Metals are unique and a sure deco plus to bring a luxe effect to interiors. Gold, silver, aluminium, bronze, copper… are values always on the rise.
METALS IN DECORATION: IN SMALL DOSES
– Where and how to integrate metallic accessories and furniture into an environment? The answer is easy: you just have to think about the style of decoration.
– In retro spaces, with decorative cages, carved frames, coat racks, mirrors and evocative vases. The warmest metals would be gold and bronze with an aged, rough, vintage finish.
– In contemporary style interiors, urban minimal or Nordic, bright lacquers and polished metals, in aluminium, steel and chrome, and the trendy copper, but also gold and silver paillete cushions, lamps…
– Metals in gloss, matte or a mix of both are a safe value, you just have to apply them subtly.
Metallic cocktail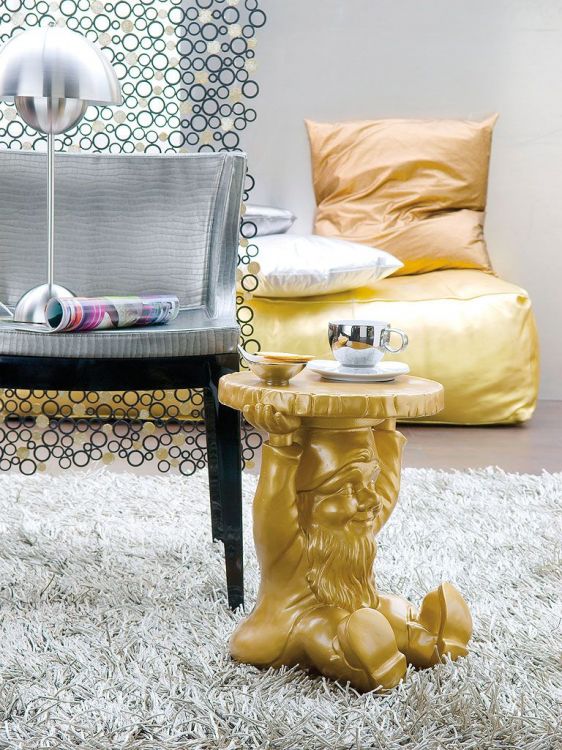 Metal finishes can decorate pieces of very different styles.
A bath in old gold turns the Gnome Attila side table, by Kartell, into a piece with a singular charm. The Mademoiselle chair, from the same firm, upholstered in reptile-effect leather, acquires an avant-garde air.
In the background, metallic pouf and cushions, for chill out environments. FlowerPot VP3 lamp, designed by Verner Panton in 1969, for sale at DomesticoShop and Nordicthink.
The eastern touch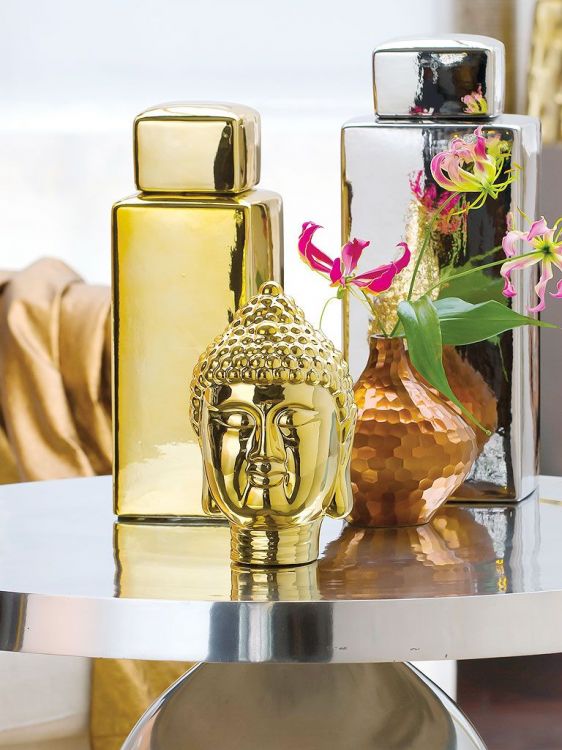 An exotic decorative still life, with a mix of metals and multiple sparkles. The head of the Buddha, worshiped in the East, draws attention, but the pieces that accompany it are also dazzling.
The game of heights and volumes is key so that each one shines with its own light and that the whole is spectacular.
Similar metal vases and pieces by Bloomingville and Madam Stoltz. Rockstar pedestal table, in aluminium, from PortobelloStreet.es.
Sophisticated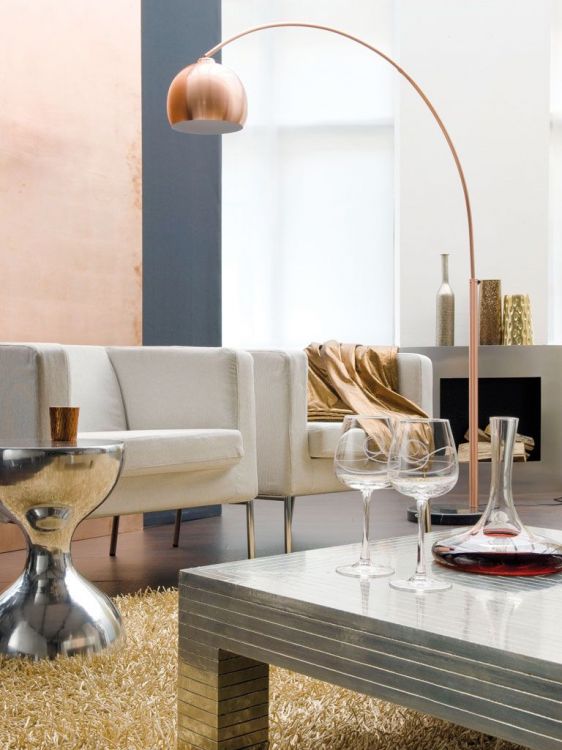 Copper is the revelation metal, but steel, aluminum and silver remain rivals in elegance. Can metals be mixed?
Yes, the effect is an eclectic style. In sober interiors, metals provide the point of light and warmth. Arch-type floor lamp, by Kare Design. Similar armchairs from Sancal. A long-haired rug with golden tones, similar to this one,
is the Cato model, from BoConcept.
The variety of metallic lighting designs is incredible, in tabletop, floor and suspension versions, although it is the large-format ones that become the protagonists of the environment.
From the famous polished copper globe lamps, by Tom Dixon, to those with an industrial aesthetic, by the firm HK Living.
A bit of gloss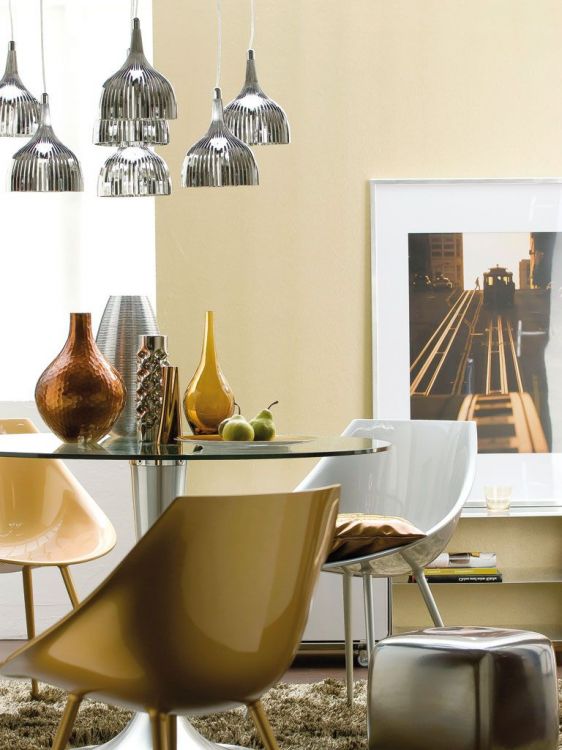 Metallic lacquers are all glamor and a chic alternative for dining chairs. In this environment they harmonize with glass and steel
and the set gains warmth with the fur rug.
Lago chairs, designed by Philippe Starck for Driade. Possibilita table, at PortobelloStreet.es, with tempered glass and brushed aluminum base in 1.10 m diameter. É model lamps, by Kartell, with a polycarbonate screen.
Gold and white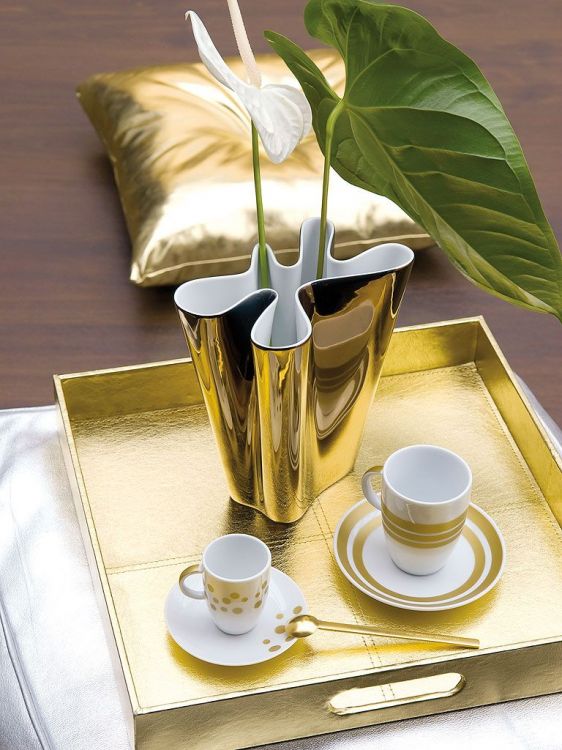 A refined and radiant duo like few others, which provides a plus of luminosity. Do you like white? Then you have to try adding gold details. In a polished version and with pieces with pure lines, its aesthetics are very up-to-date. With warmer, brushed, aged finishes, they are perfect for vintage and country settings.
Print a metallic look to a piece you already have. A wooden tray will look nice lined with gold/silver leatherette, to which you have previously been able to sew.
You can also decorate white ceramics with markers, such as Marabu's Porcelain Painter, in gold, silver, copper…
Cool, urban and cosmopolitan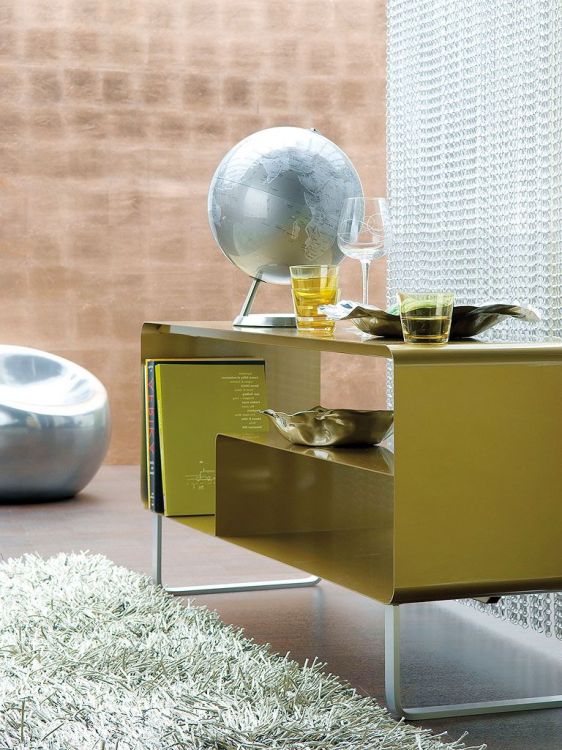 The pieces with a refined and metallic design have a high-tech effect in the decoration. There is only one condition to be respected: they must always have enough space around them.
Sideboard by the firm Müller, for sale at DomésticoShop. Globe, from Atmosphere. Similar round pouf, in XLBoom.
The Neat shaggy rug from BoConcept is very similar to the one in the picture.
Completely renew the aesthetics of a room with a metallic mural. The light, artificial and natural, will create multiple shades.
The one in the photograph is a self-adhesive panel with an aged bronze look, from the firm WallFace. Go to www.profhome.com to see their metal, leather, mosaic, mirror collections…