A birthday or the end of the school year are two good reasons to organize a children's party at home. Good humor, a delicious snack and lots of laughter are the keys to sharing a magical afternoon.
Cake platter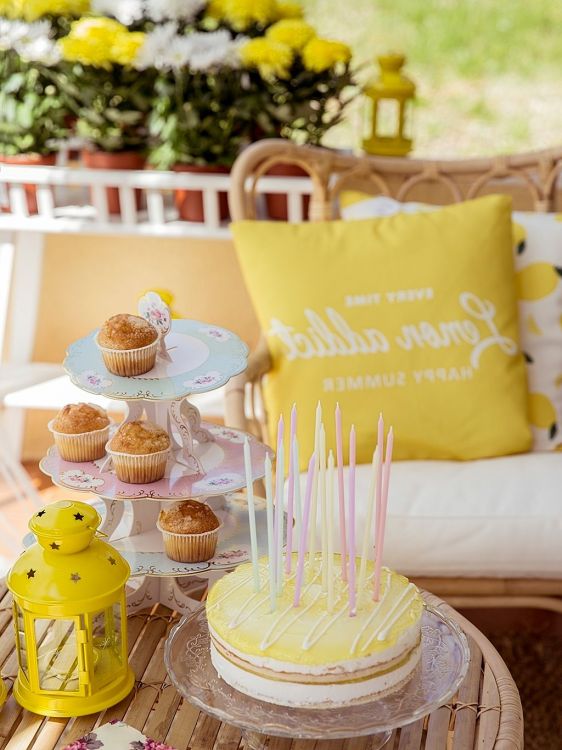 Some delicious muffins and a meringue and lemon tart are the sweet protagonists of the afternoon. Present them in beautiful cake holders with stands or in a multi-tier display case.
Buy Arv Bröllop cake dish with glass lid, from Ikea (€10)
Buy Exhibitor of decorated cardboard cakes, from Blaubloom (€15). Yellow cushions, from Maisons du Monde (from €15.99 each).
Garland of little flags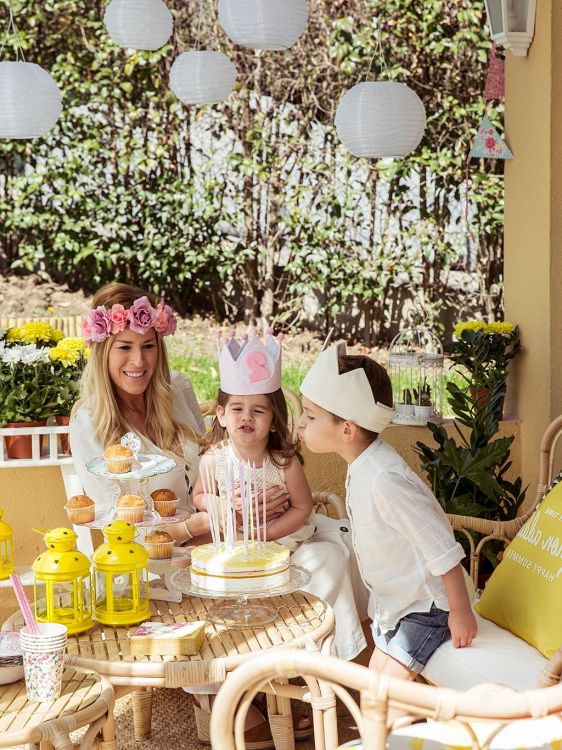 Romeo and India, the children of @mamiandchic, don't mind blowing out more candles than they are years old. Sitting on the porch they will have to vacuum hard or ask mom to help them! Joining the party is essential. Mastholmen rattan outdoor furniture.
Buy Ikea Lanterns (€16).
Paper napkins (€4/30), long candles (€0.25/1) and floral headband (€9.80), by Blaubloom.
Deco-top
Colored garlands are an essential element at any party, as well as artificial lighting, in case the evening goes on and it gets dark. Blaubloom flag garland (€9). Solar hanging lamps (€9.99/1) and white shelf for plants, from Ikea.
Picnic bench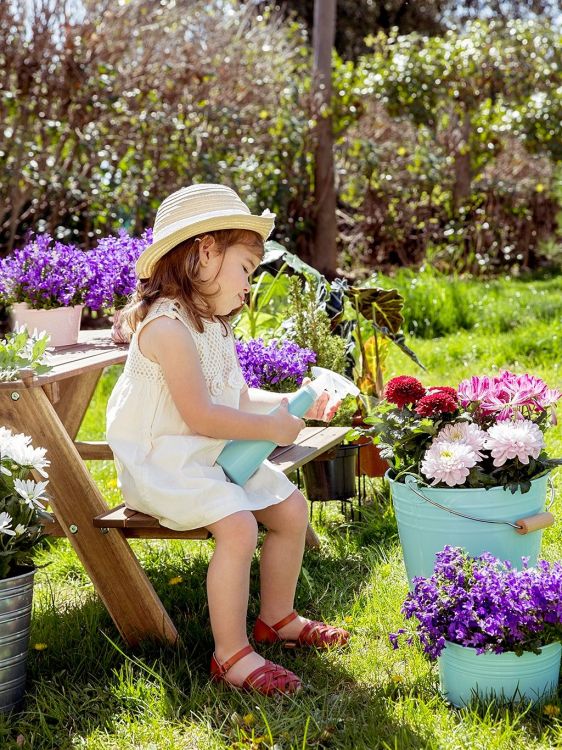 Between games and laughter, India has sat down on a bench to rest. He has covered his head with a straw hat to avoid the sun while he waters the plants in the garden and cools off a bit in the process. Playing is so hot!
Buy Resö children's picnic bench, (€45).
Plants adorn any space, and in a garden, they should not be missing. The pots are also protected with metallic turquoise cubes that give it a cheerful and fun touch. From Ikea:
Buy Socker bucket/pot (from €8)
Buy Tomat sprayer (€1.50).
All from IKEA.
Multicolored orchard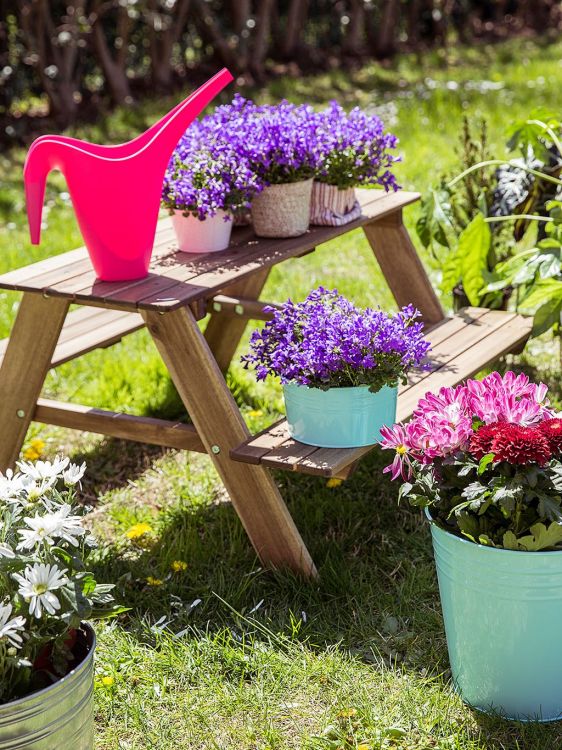 A multicolored garden: easy-care perennials fill the garden with their cheerful colours. Chrysanthemums or bellflowers are his favourites.
Buy Plants (€2.99/each) and Ikea PS 2002 fuchsia watering can (€1.50); all from Ikea.
Wooden tray/exhibitor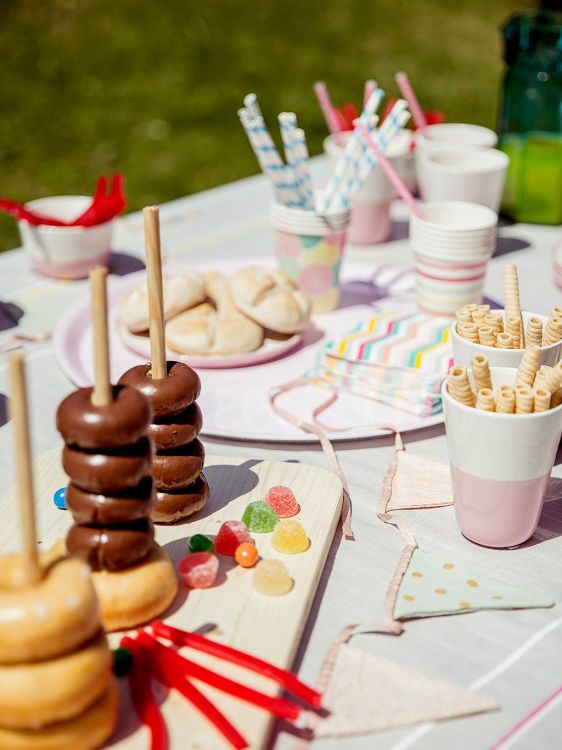 How sweet! Sweets and sweets cannot be missing from the snack table. Their different shapes and colors and a fun presentation make them even more appetizing. Wooden tray/exhibitor with sticks and pennants, from the Blaubloom firm.
Glasses and bowls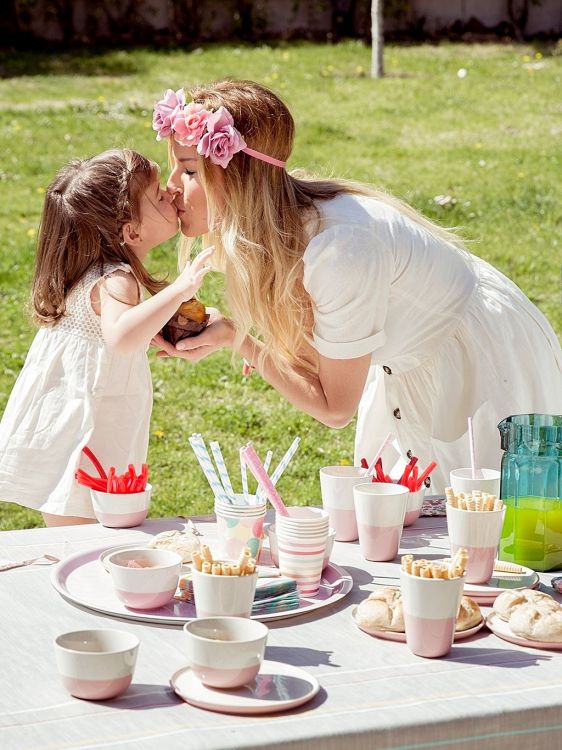 Make them happy: at snack time, we go to the table! India is at that age where everything is rosy; for this reason, at this party it is the tone that triumphs.
From the Sommar 2018 collection, by Ikea: tablecloth (€14.99), turquoise jug (€4.50) and two-tone ceramic glasses and bowls (from €2.50/unit). Spilltid Tray (€6.99).
Folding chair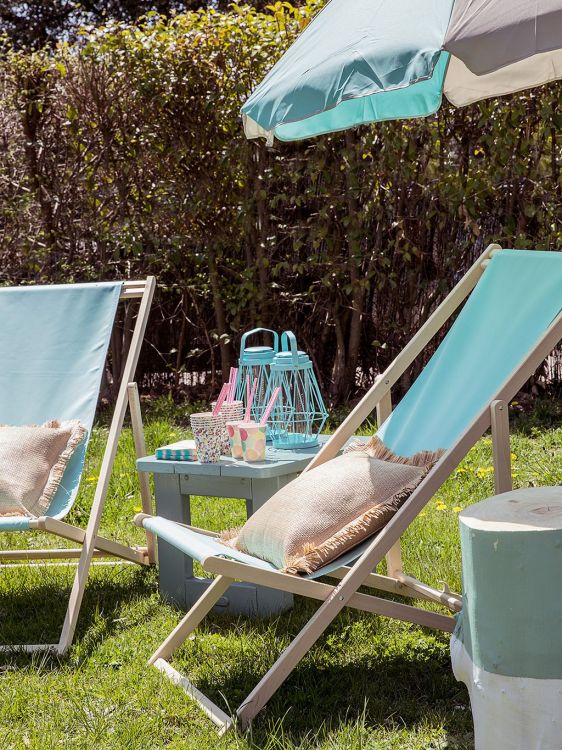 The children do not stop still for a second. It is convenient to dedicate a more relaxed area that serves them
resting or hiding!
Musings folding chair (€29.99) and Ramsö/Fiskö two-tone parasol (€19.98), from Ikea. Raffia cushions, from Maisons du Monde. Decorated trunk, from Treedays.
Relaxation area
A side table next to the hammocks will come in handy for a drink in the shade. And long straws in the glasses will make it easier for them to drink at an angle and prevent them from spilling the liquid on themselves. Sommar 2018 tea light lanterns (€7.99), from Ikea. Paper cups (€4.50/12), from Blaubloom.
Giant flower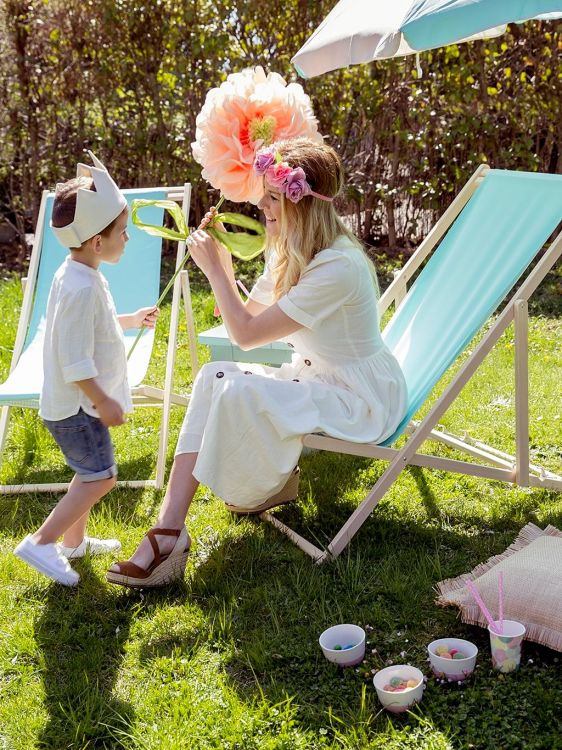 You can dedicate part of the afternoon to making paper crafts: boats, bow ties or flowers will set your most creative side in motion. Romeo rewards his mother with an XL flower as a thank you for such a wonderful party. Giant flower, from Blaubloom (€12.80).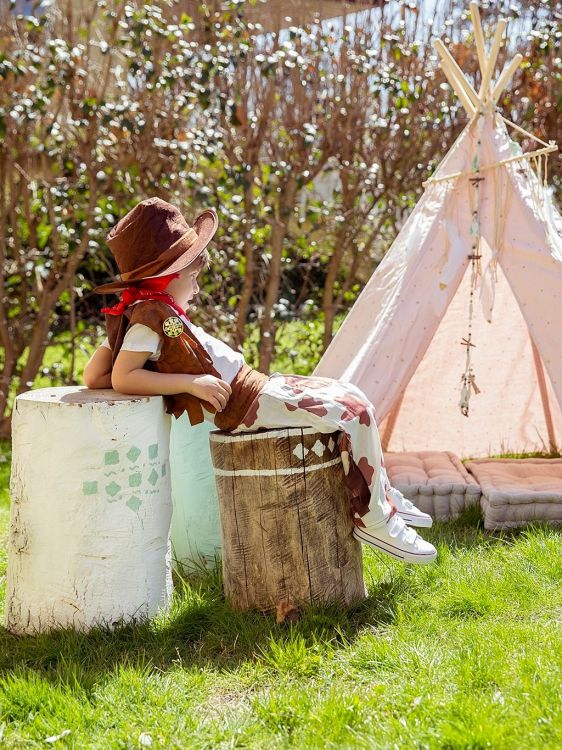 Is there anything kids love more than dressing up? Mermaid, princess, pirate or cowboy… theme parties give a lot of play. Romeo has decided to be a cowboy tracker. I wouldn't do it if I were you, stranger!
One of indians
Teepees are ideal for inventing a thousand and one adventures in the garden or for taking refuge inside in the purest Sitting bull style. Place some floor cushions inside and decorate its exterior with fun handmade wooden mobiles.
Buy Tipi Lilly, easy to assemble, (€89.99), from Maisons du Monde.
Trunks decorated by Treedays.
Painted mobiles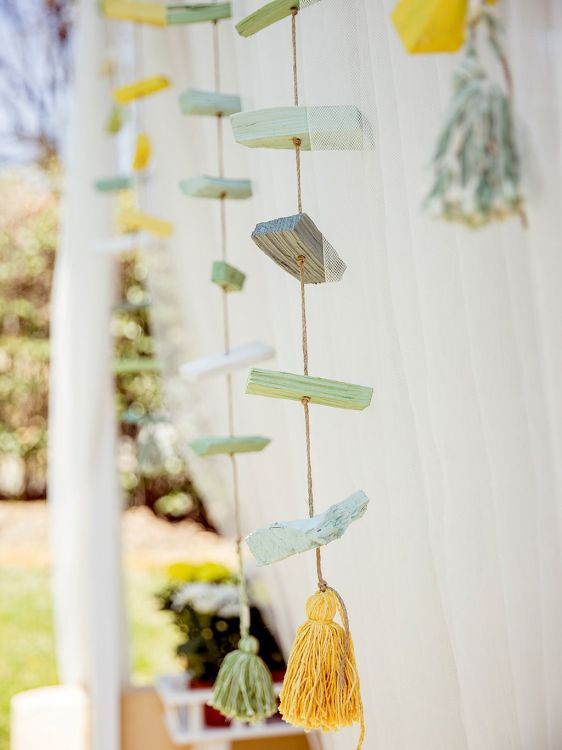 Personalize the porch: with jute rope, bits of painted wood and pom-poms you can make original mobiles. Use gauze or tulle fabrics at the entrance to protect them from the sun and insects. Mobiles painted by Treedays.
Buy white Tulles, from Ikea.
Giant pom poms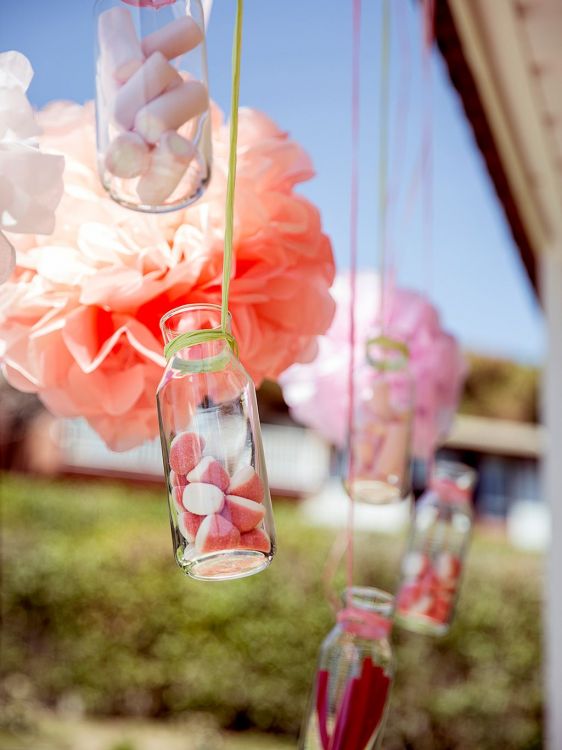 And use the sweets as decoration? Until the guests leave, put them in transparent bottles and hang them with colored ribbons around the garden.
Buy Ikea 365+ Bottles (€3/1), from Ikea. Giant pom-poms (€15/3), from Blaubloom.
Garlands and feathers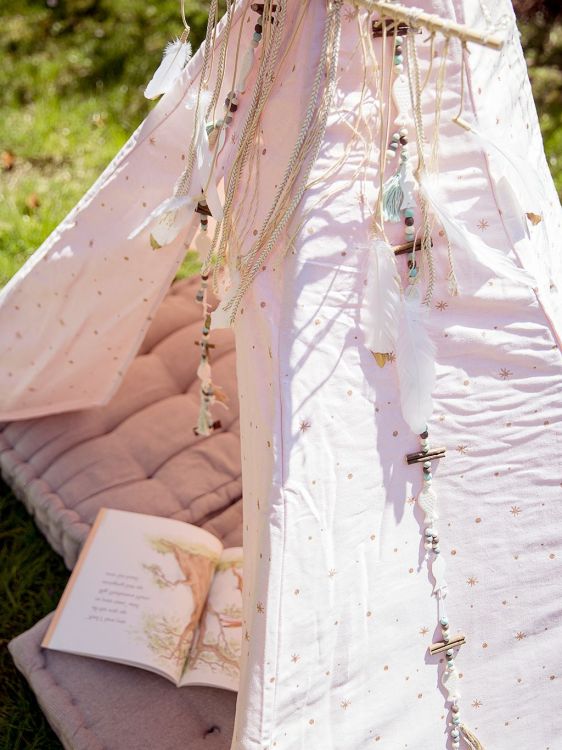 Reading room: children who want can use the tent to read stories. The good thing about summer afternoons is that they are very long and give rise to many activities!