A small space doesn't have to feel cluttered when you incorporate a few clever decorating and design tricks. It can be seen with style and sophistication. We will show you some modern small bathroom design and decoration ideas. The use of space when it is reduced is essential.
There is no need to rush and the location of each element must be well designed; after installed, wanting to change it is very complicated, tedious and expensive. If you have the possibility to invest a good sum in building the bathroom of your dreams, invest it, time will show you how rewarding it is.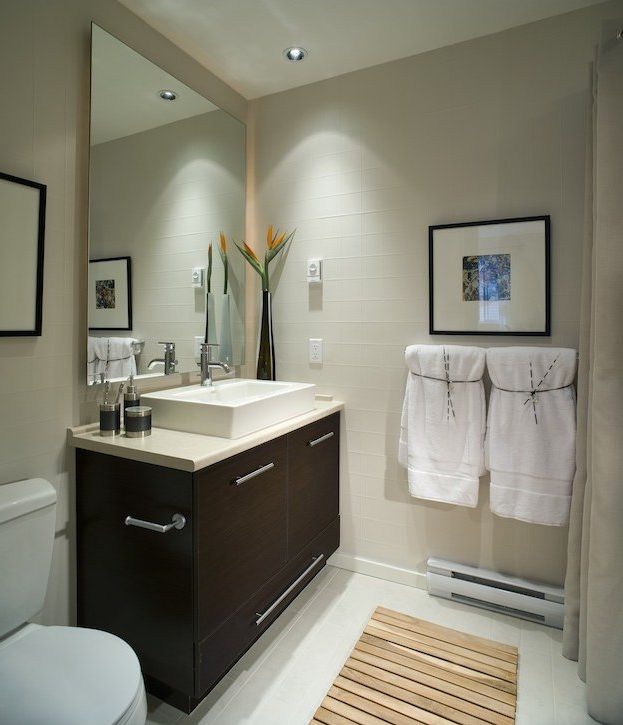 Сolors for small bathrooms
If you want to paint a small bathroom to make it appear larger, you should use light colors. Preferably white or pale gray. You should never use strong or bright colors because with those colors what is achieved is to make the place smaller.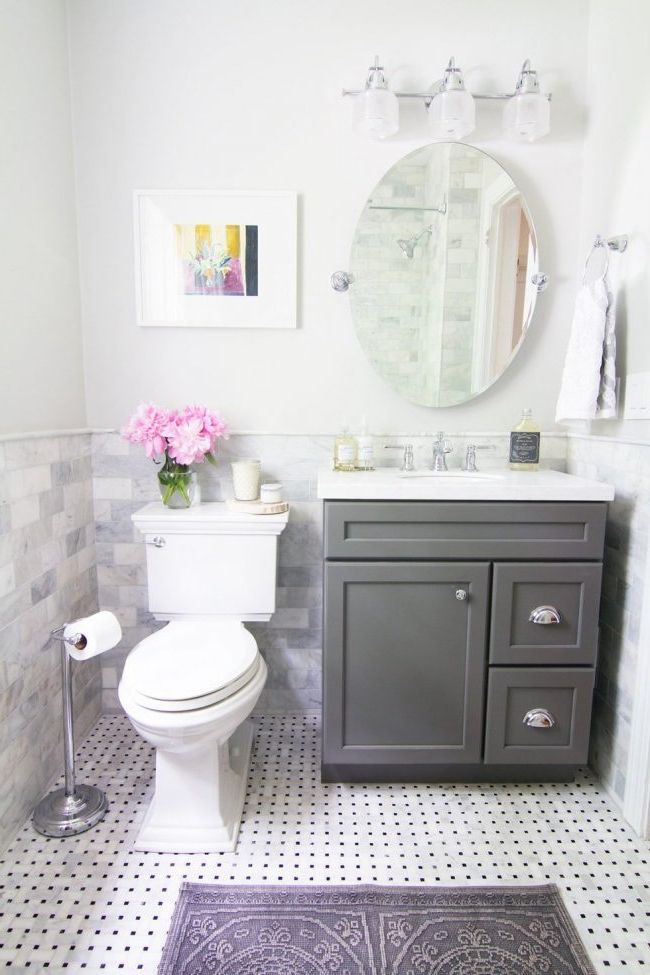 Soft colors tend to give the illusion of more space. Try to avoid strong colors and use accessories and towels in the same neutral color tones.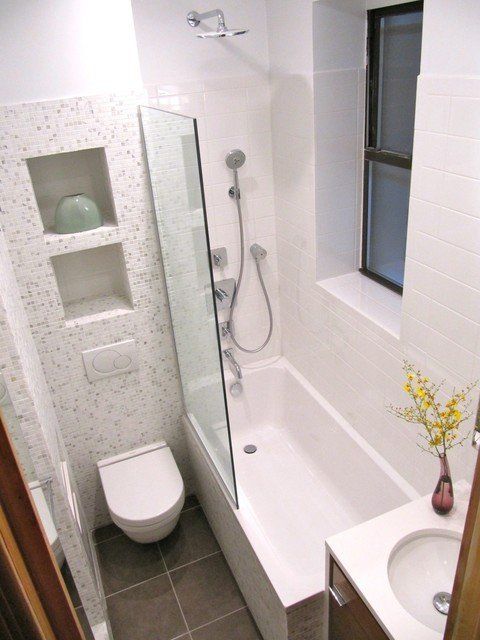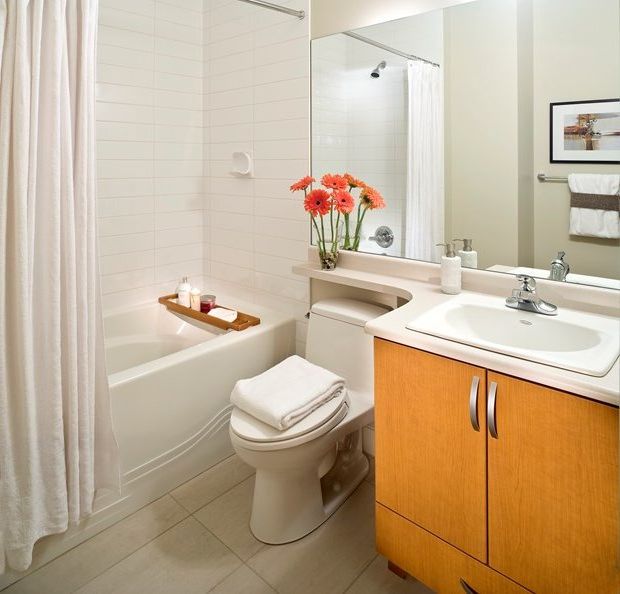 This bathroom has light and bright colors that help to illuminate the room well, creating an effect of spaciousness. Something that greatly helps this effect is the window, however, having a window in the bathroom requires special decoration. In this case a frosted glass was used. A similar effect can also be achieved by covering the glass with vinyl.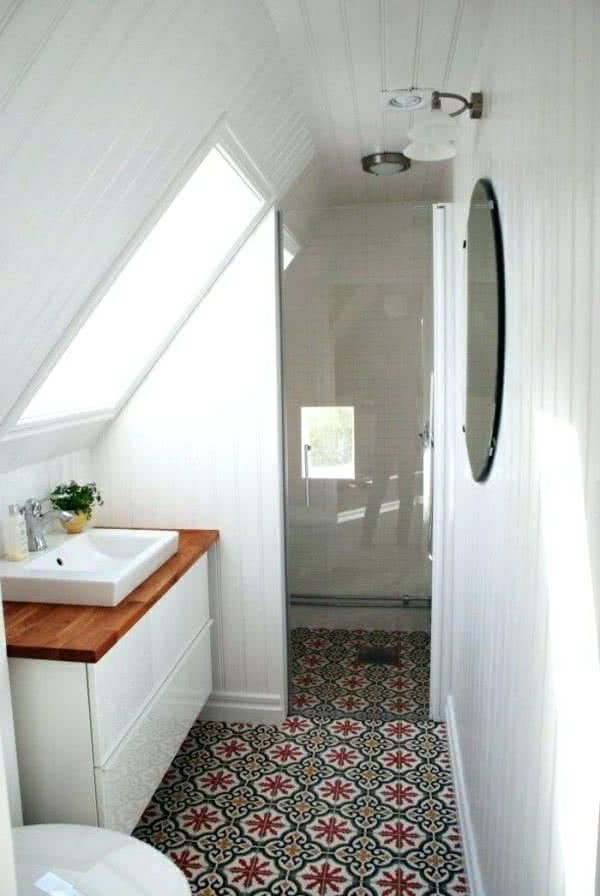 In this bathroom it is about accentuating the effect of spaciousness. To achieve this, the black tiled shower gives a lot of depth.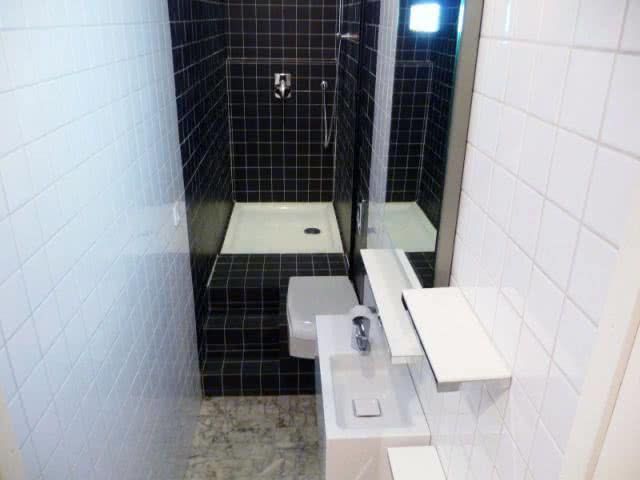 You can create a harmonious bathroom like this one, with a simple but stylish design. Original treatment walls, keeping the rest of the bathroom with simple accessories, such as a frameless mirror.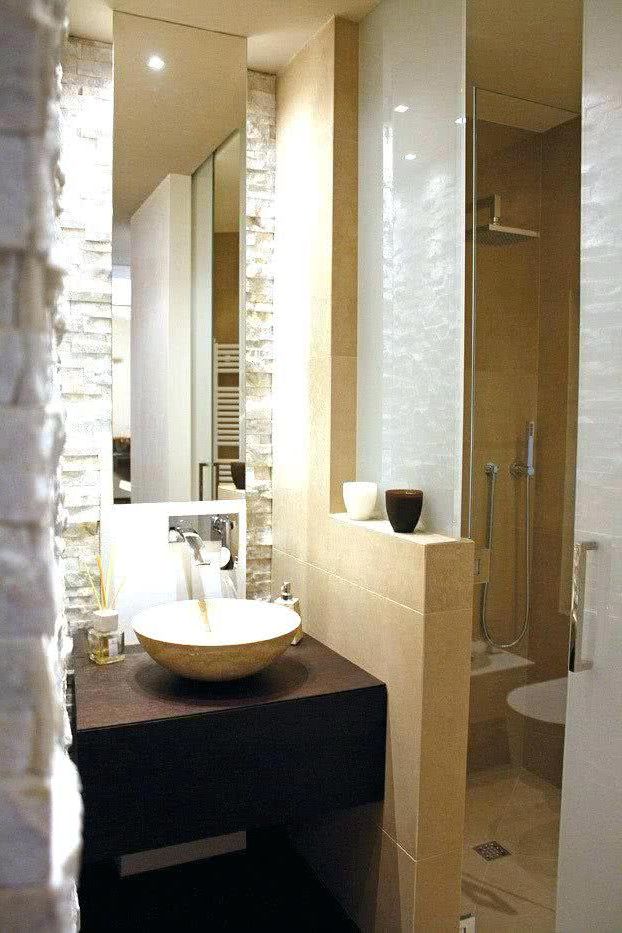 Choosing a few elements in a dark color like brown and contrasting the rest of the room with a bright, light-toned color not only helps to create a very stylish décor, but the bright color helps to expand the room. Keep the room with few elements.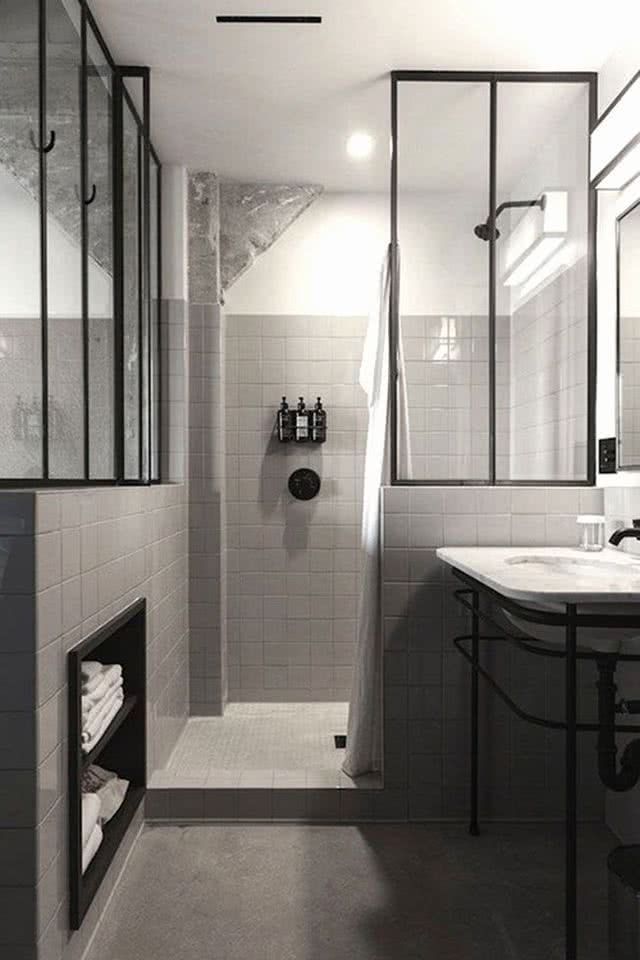 You can also choose a decoration that revolves around a similar range. This is known as monochrome decoration.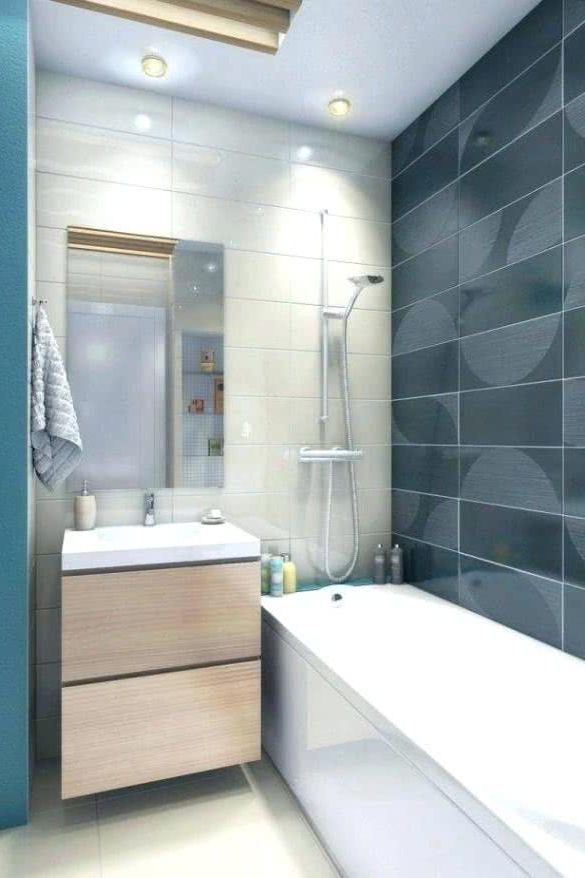 Mirrors
Place a very large mirror so that the light is reflected in the room and creates an illusion of spaciousness. You can also opt for a set of artistically placed mirrors, instead of a single mirror.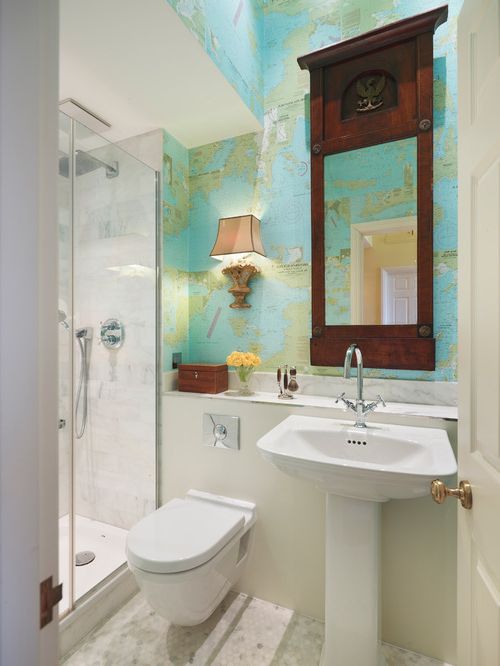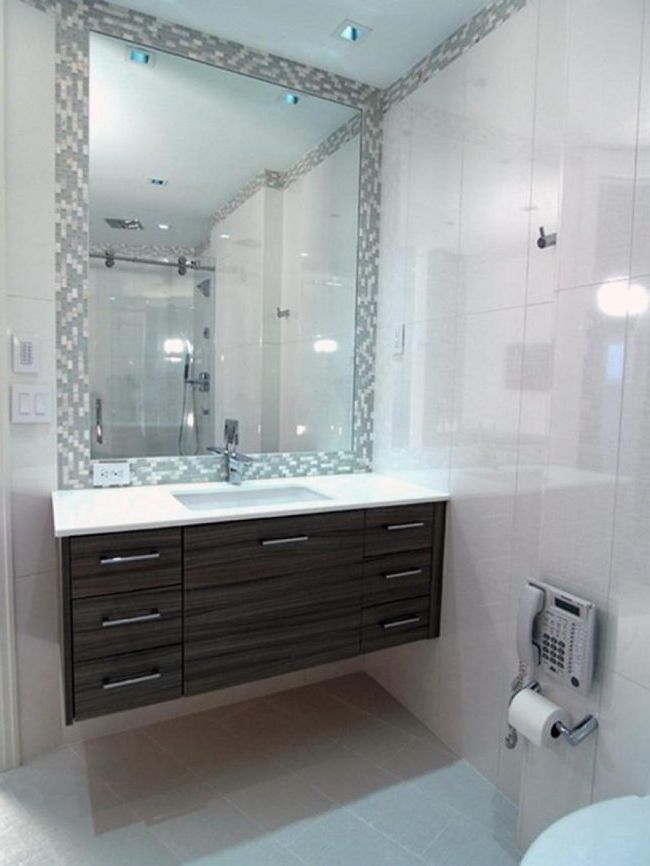 Another thing you can do to enlarge a bathroom is to put a mirror that occupies all or almost the entire wall. With this it will seem that there is much more depth throughout the bathroom, visually lengthening it.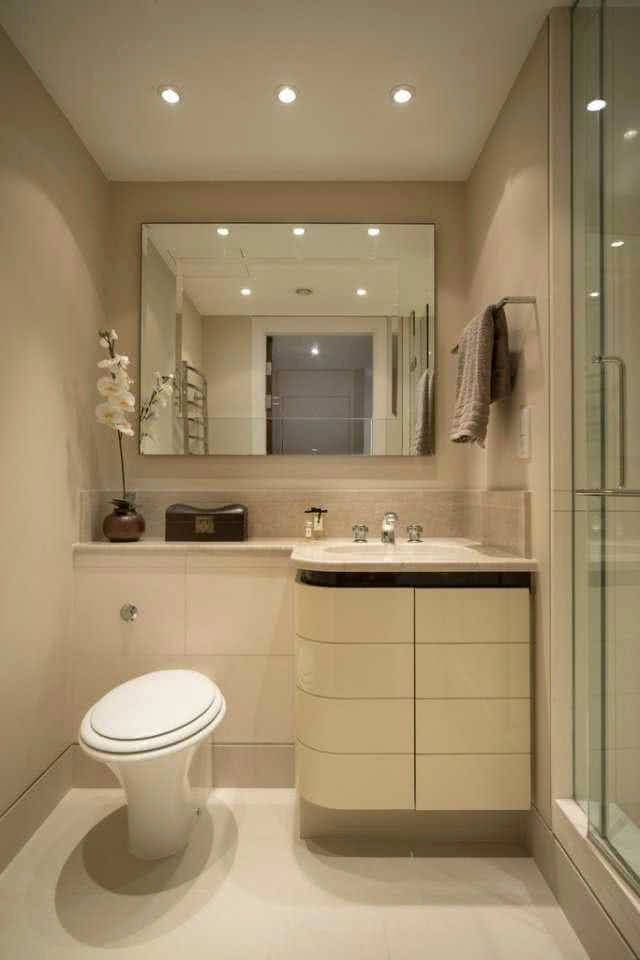 Putting the marble top under the mirror, completely hiding the wall, helps to create the feeling of space to support things.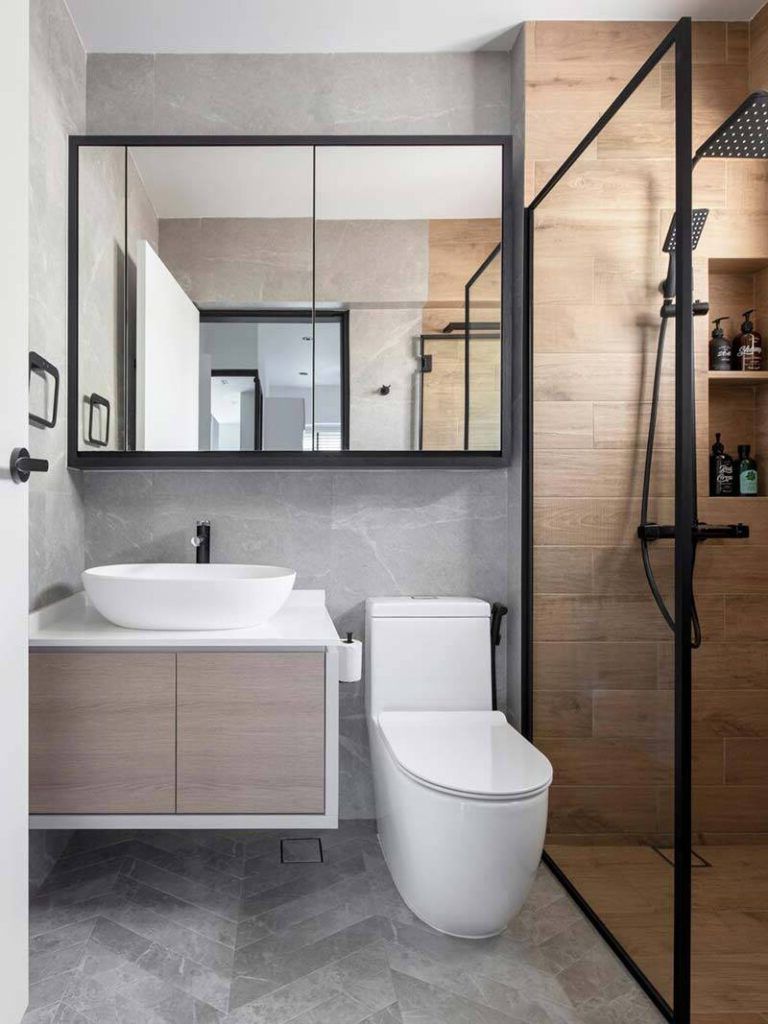 When the bathroom is small, a longitudinal mirror can double the feeling of space. Mirrors can be used to great effect, but too much can look cheesy. An L-shaped mirror around one corner can quadruple the sense of volume.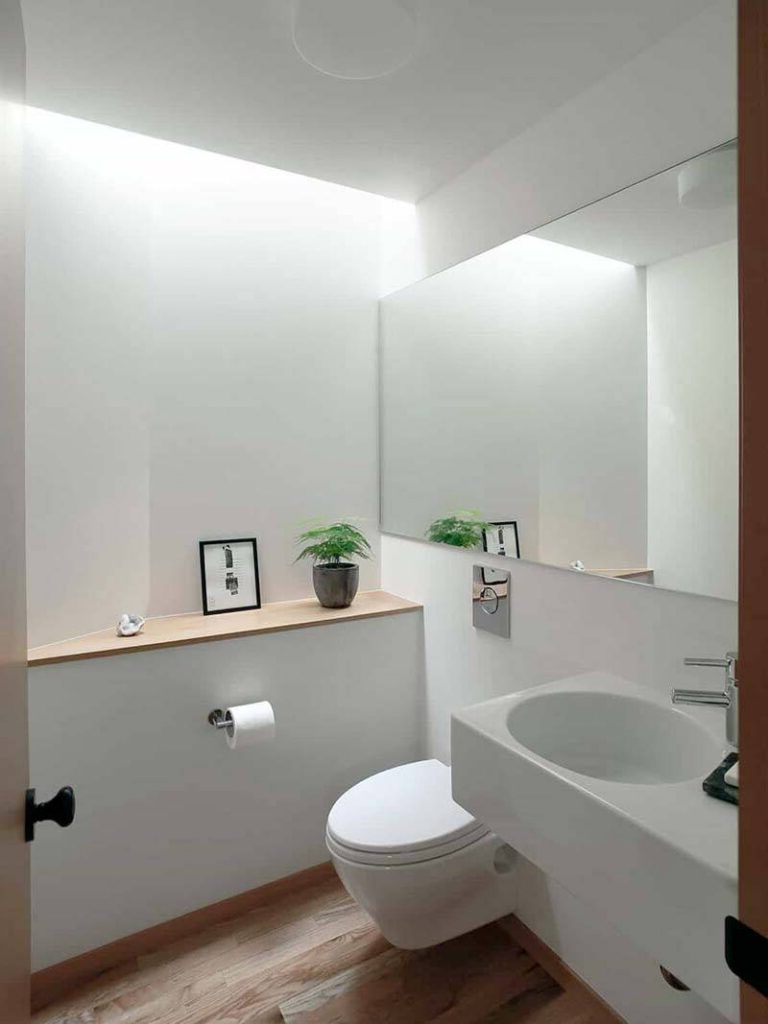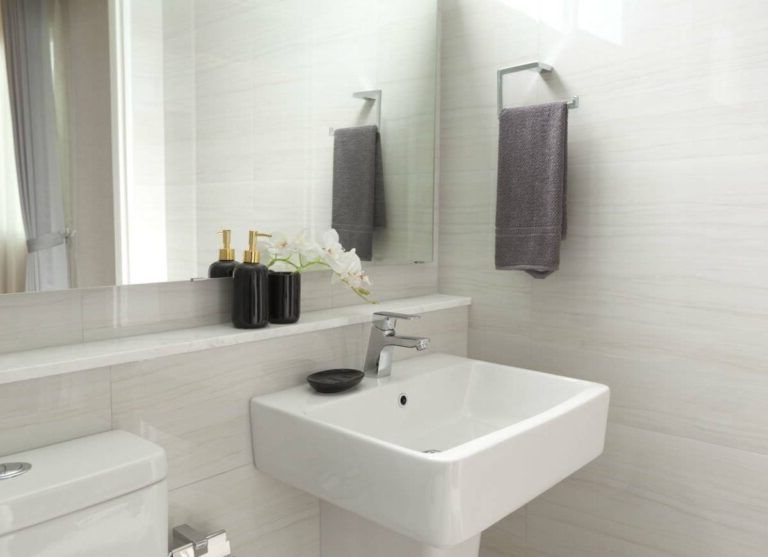 Furniture for modern small bathrooms
Small bathrooms are very uncomfortable if we don't know how to decorate and maintain them. If you have a small bathroom, it can become a difficult task to turn it into a practical, comfortable and well decorated bathroom. You must achieve an elegant bathroom without placing too many elements, otherwise it will become an uncomfortable bathroom as well as small. That is why it is very important to choose the right storage furniture.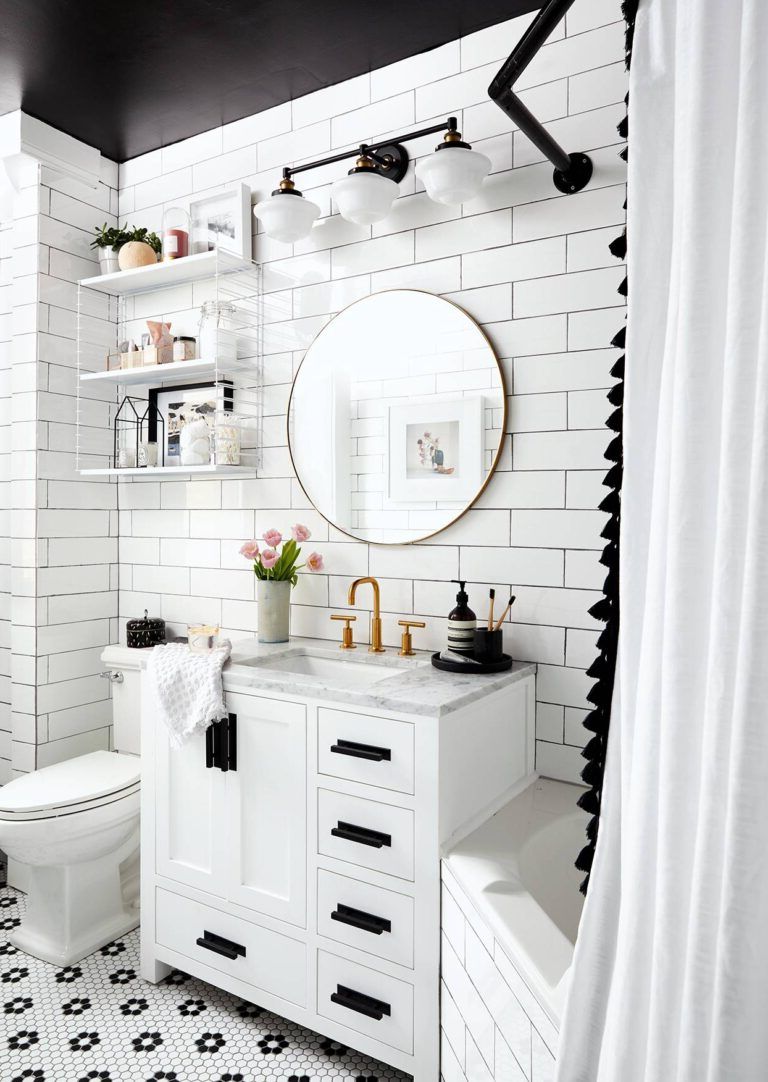 You can, without abusing the space, make shelves (if possible open so as not to lose depth) for storage of whatever. This will help the bathroom not to lose functionality.
When it comes to placing furniture, if we do not want the bathroom to look very overloaded, we should put as little furniture as possible. You should have cabinets to provide storage, but avoid placing it on the floor because the more you see the floor, the more illusion of spaciousness it will give you. Therefore you can place it on a wall.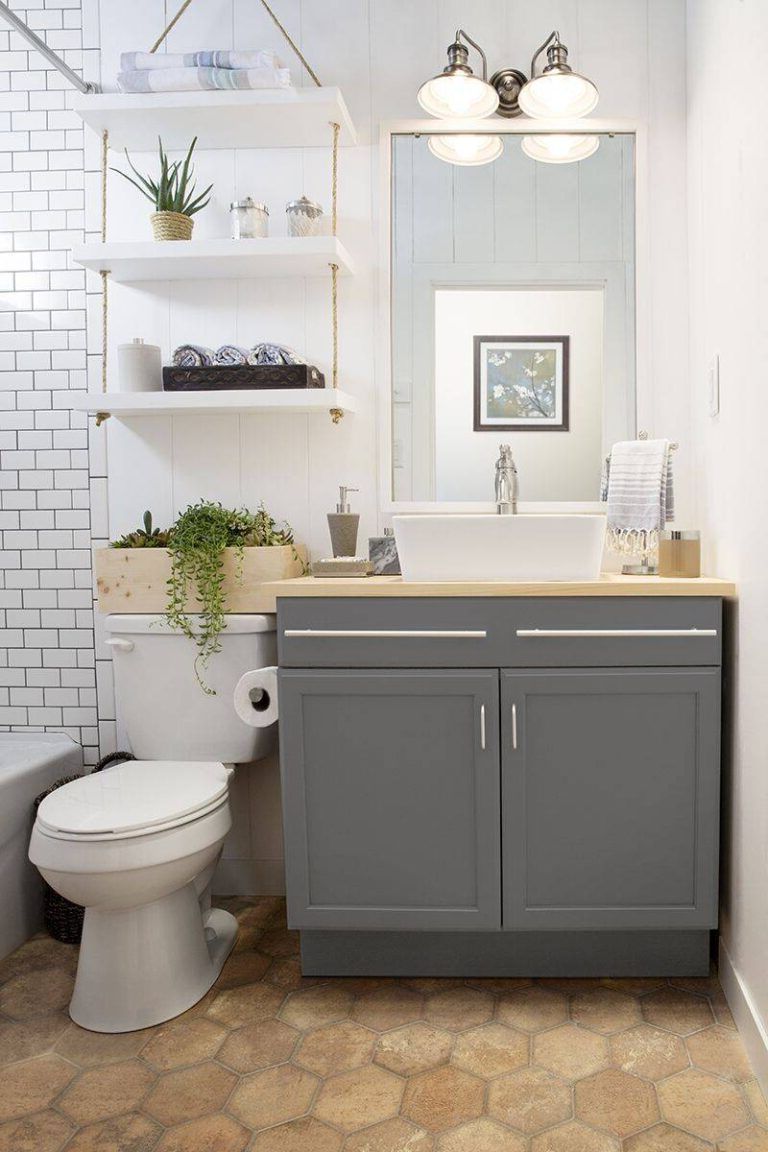 Even a very small piece of furniture or accessories can make the room look small. You must remove all those decorative accessories that "cut" the room.
Open shelves, without doors, are the most recommended, since they preserve the sense of depth.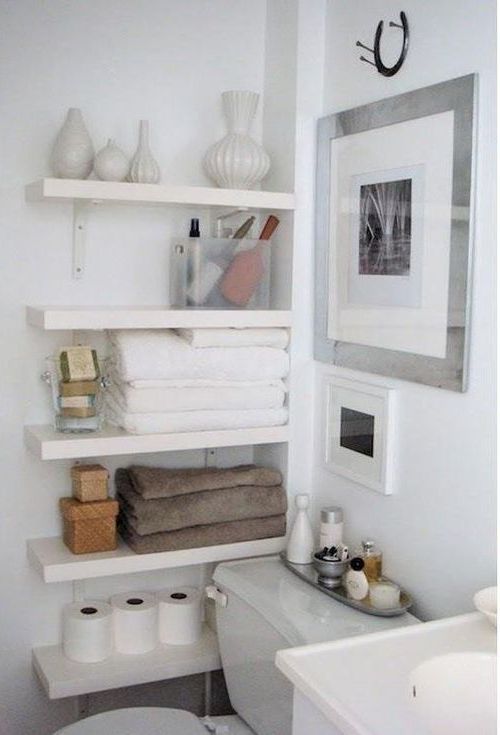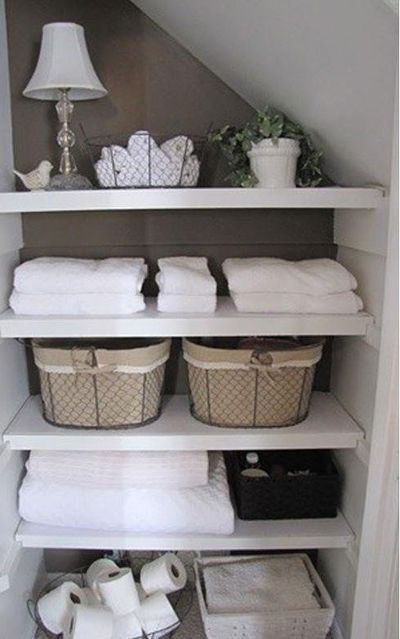 Mampara the transparent curtain
Another thing that can be done is to put a transparent screen in the bathtub. In case a screen cannot be placed, a curtain is also fine. Many people, surprisingly, think that the curtain is to cover them when they are showering and not be seen from the outside, but no… the curtain is so that the water does not fall out of the bathtub, so it does not matter if it is transparent.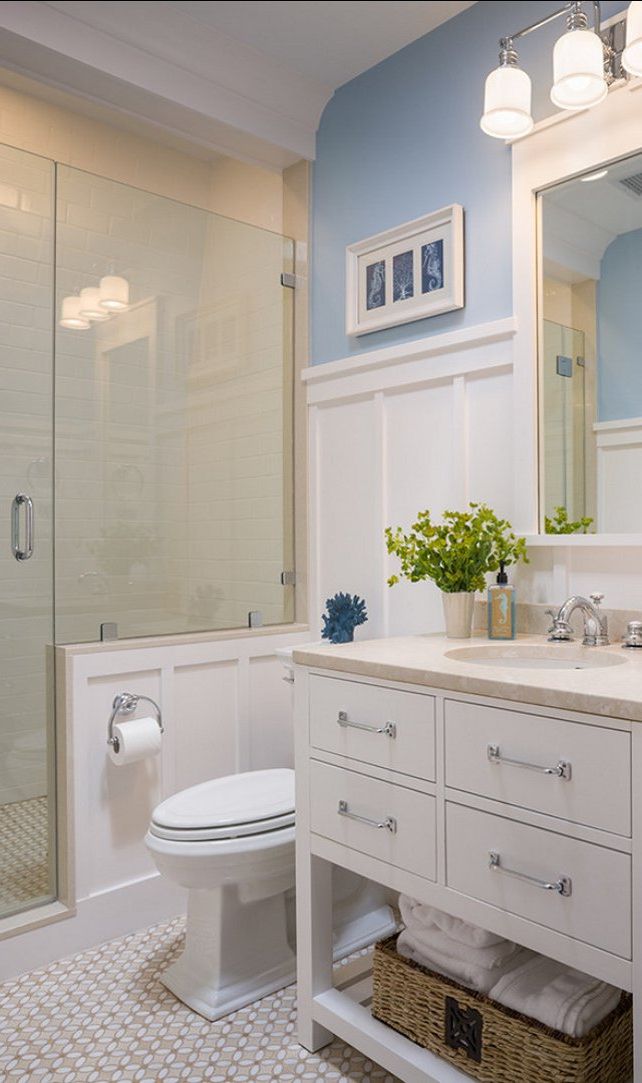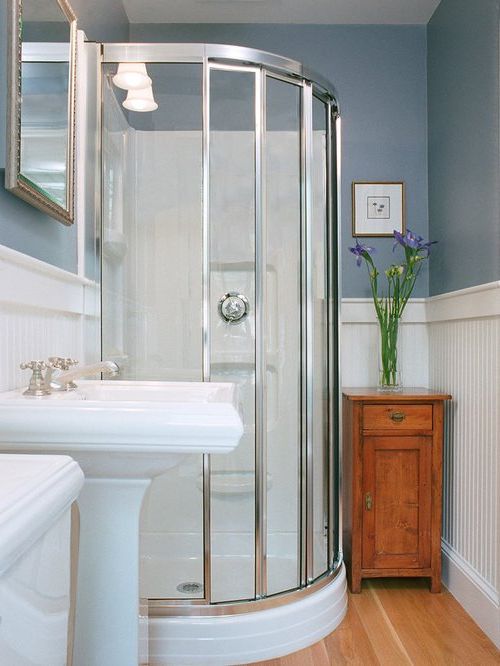 Elegance can always be present, even if it is a small bathroom.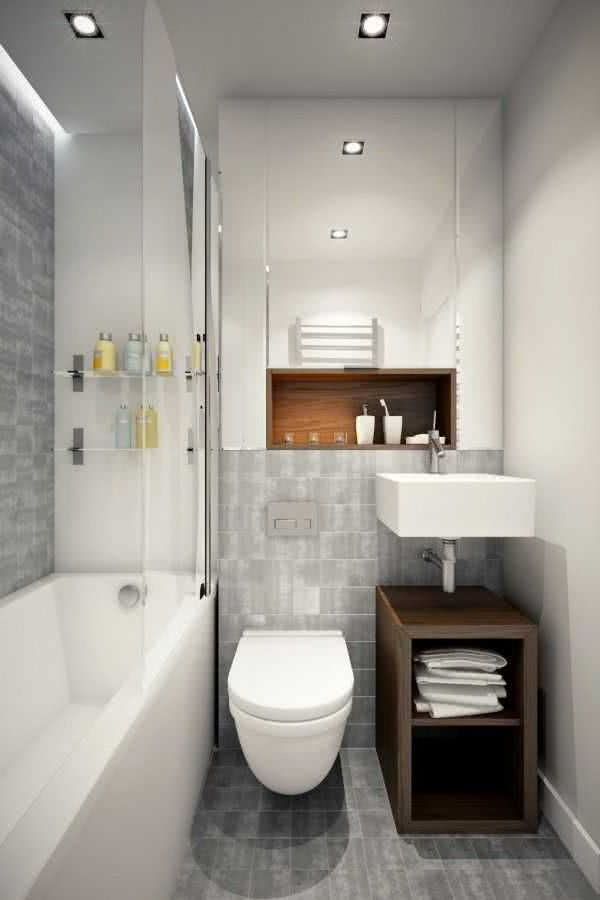 It is a strange sensation, but it is very pleasant, having the shower in an open space in the bathroom without any kind of separation, as we see below. This is also another option to consider in small bathrooms.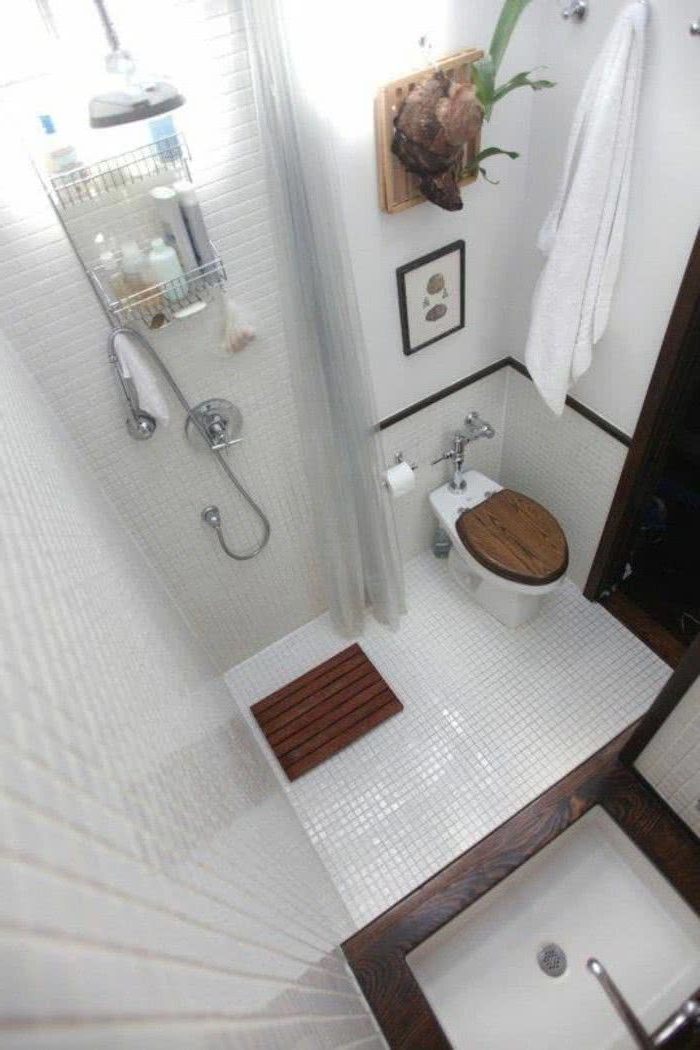 Organization and order in small bathrooms
In a small bathroom, it is forbidden to leave everything lying around, since this is something that significantly reduces it. It doesn't matter if it's just a towel and a comb, because it will look like a football team took a shower in it.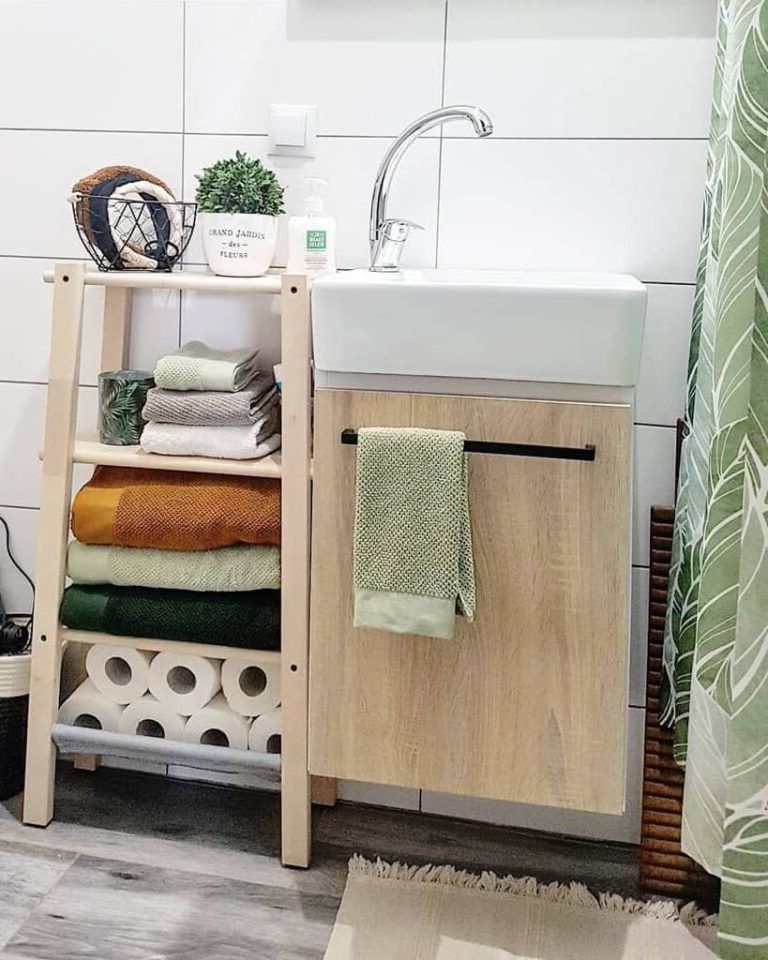 Having a small bathroom could be an excuse a few years ago, for the impossibility of organizing things well, storing all the bathroom linen in the bathroom itself or being able to take a shower in peace without having to move things that are stored in the shower while not used.
But today, that is over and space solutions for small rooms are endless and worth taking advantage of. Let's see how to organize things in small bathrooms.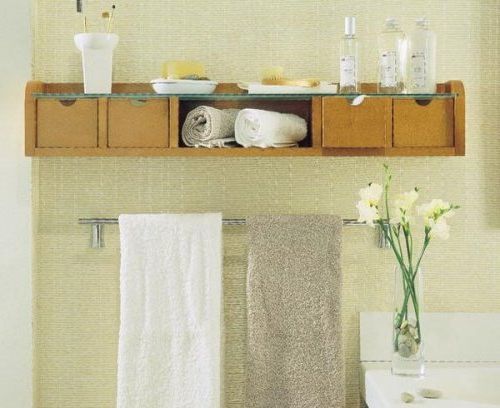 First, realize that every bit of space in the bathroom can be used. The walls, from the lowest to the highest, the ceiling itself, the sides of the toilet, the bottom of the sink, the entire door and of course, the shower or bathtub, while it is not in use.
There are so many options that you should not only focus on functionality, but today you can already think about decoration and choose the models that best suit the colors and trends of your bathroom.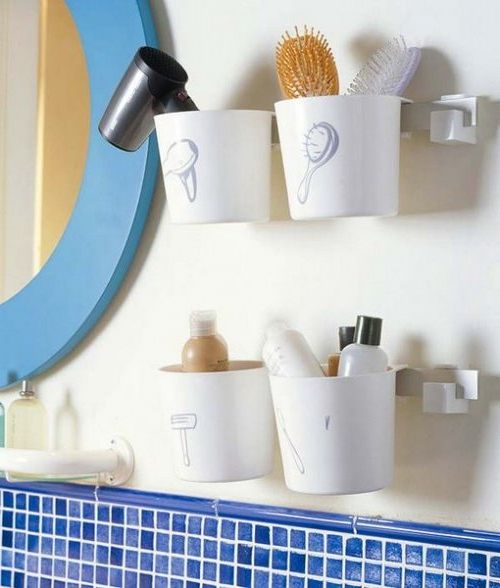 Among the images that you will see below, you will be able to appreciate interesting and much-needed details, such as hanging racks for the shower, where to dry clothes, but when using the shower, they recline and remain against the wall. Also all kinds of cabinets, shelves and various storage solutions that offer the best option depending on the object you want to store, since some can be visible, while others are not necessary or cannot be exposed to moisture.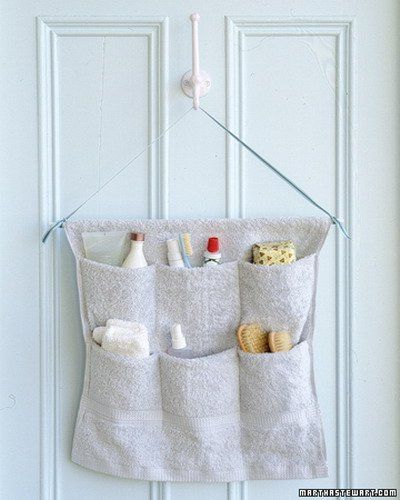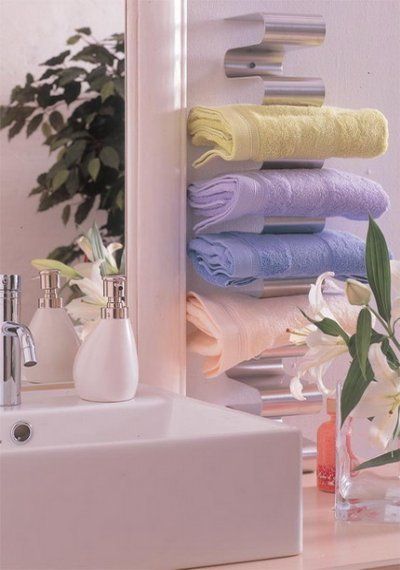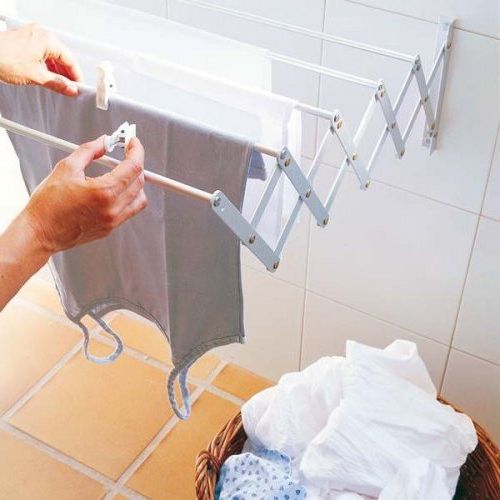 After this gallery of images it is more than clear that there is always an option that helps you take advantage of the space, it is only a matter of imagining it and carrying it out.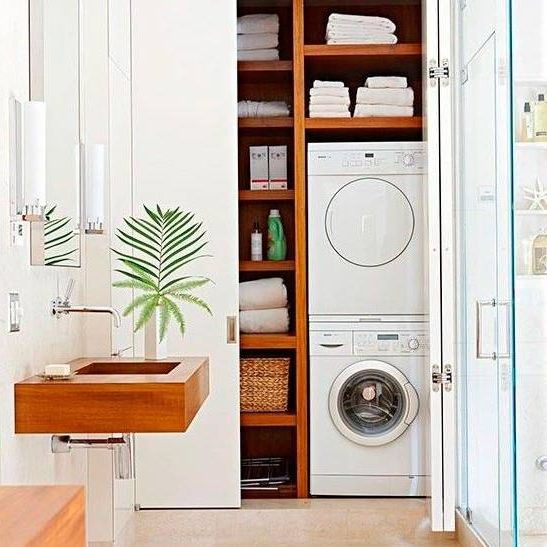 With a cabinet where you can hide a washing machine, you can create that little space, which is infinitely necessary, but without taking up space in the bathroom.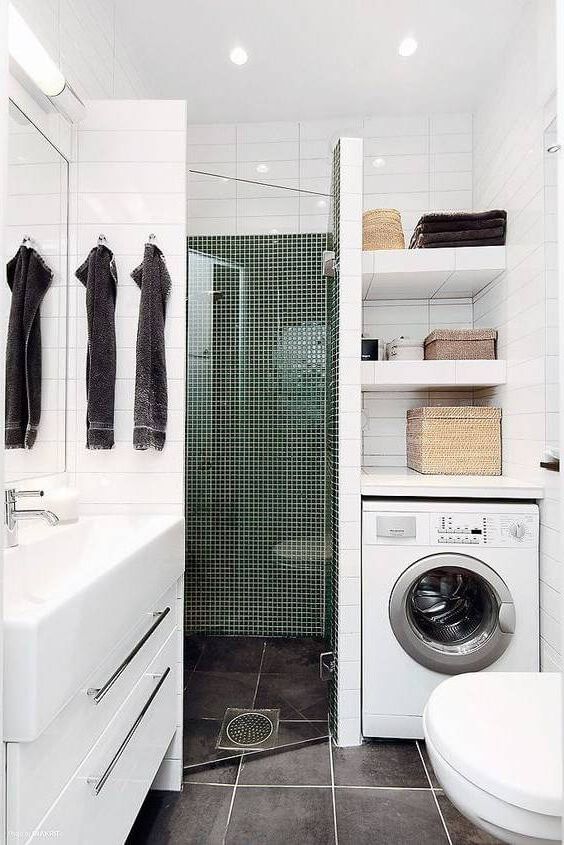 A very common mistake is to place several small decorative accessories, since that creates an impression of disorder that makes a small space even more annoying. Just a rug, towels, and a few pieces of art instead of lots of little ones will be enough decoration for a small bathroom.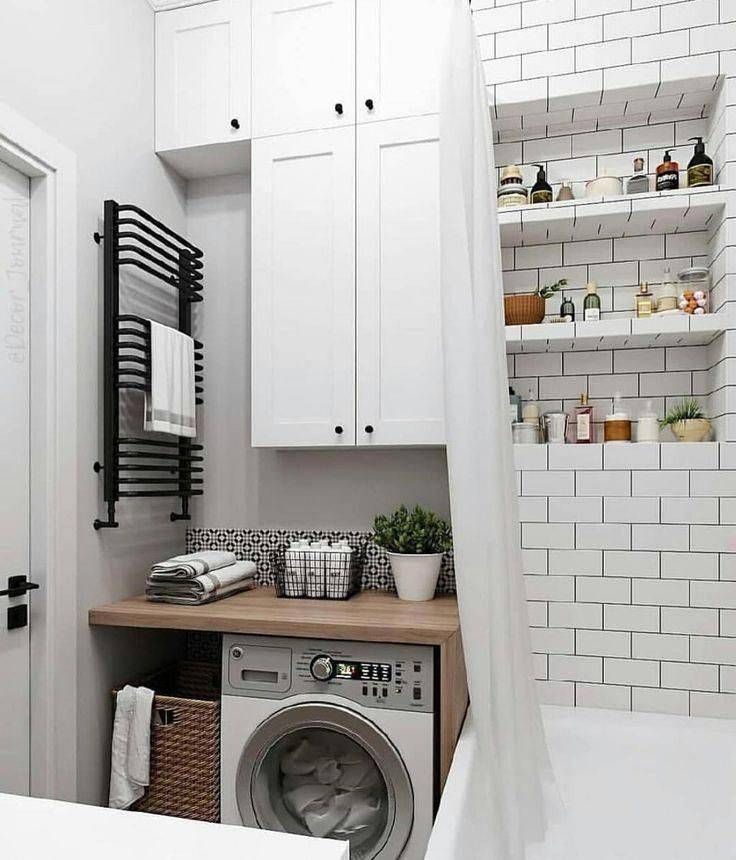 Lighting in small bathrooms
Add lighting to your bathroom to "open up" and expand it. Install other (more expensive) alternatives such as skylights or windows on the ceiling or walls.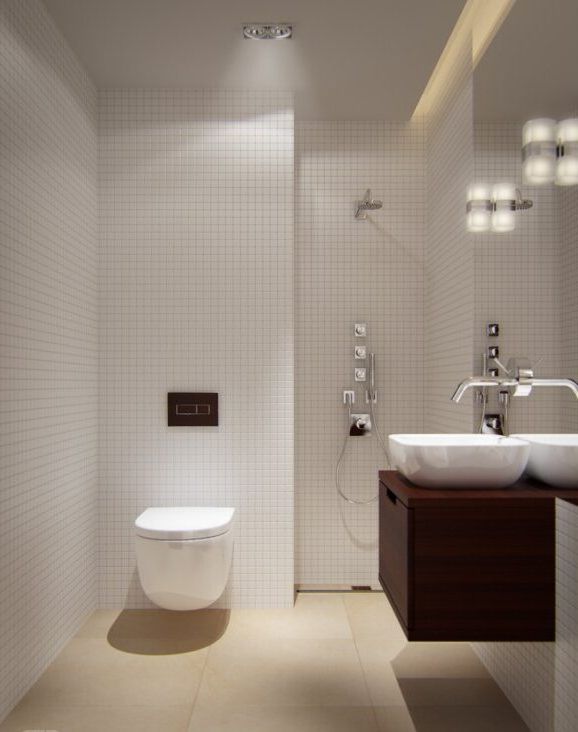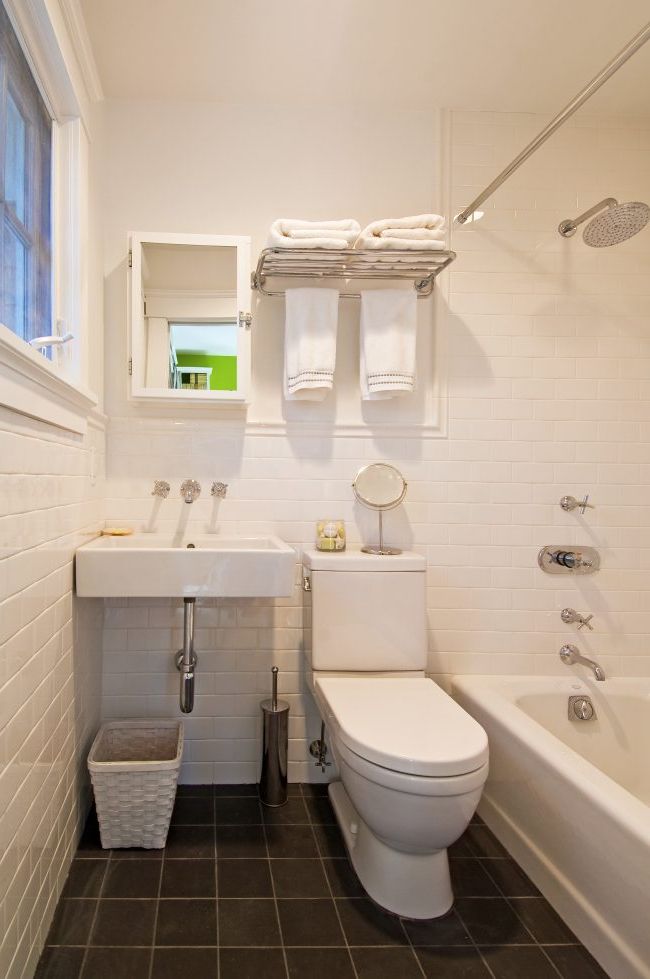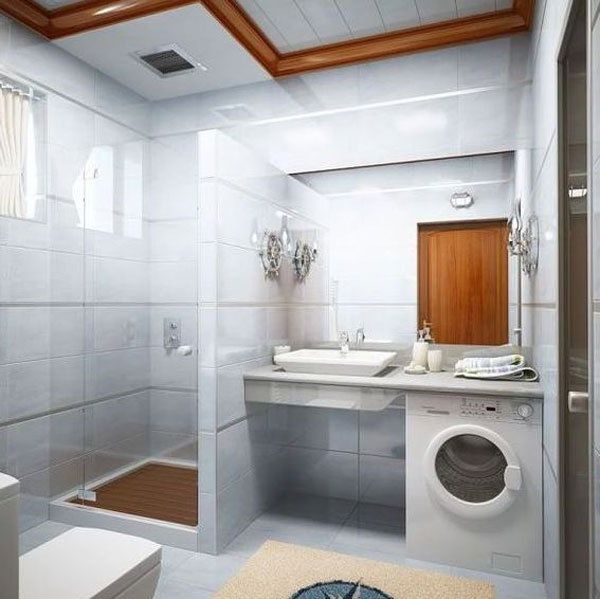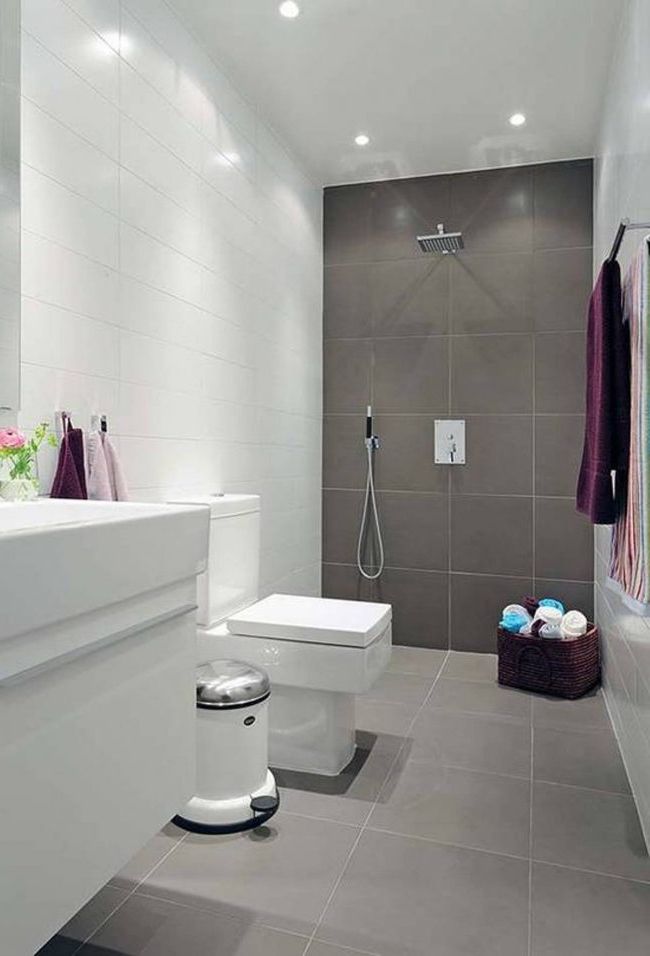 Not everyone has the possibility that the design allows it to be done, but being able to have large cracked glass windows and mirrors in the bathroom is a spectacular option for a bathroom based on natural light.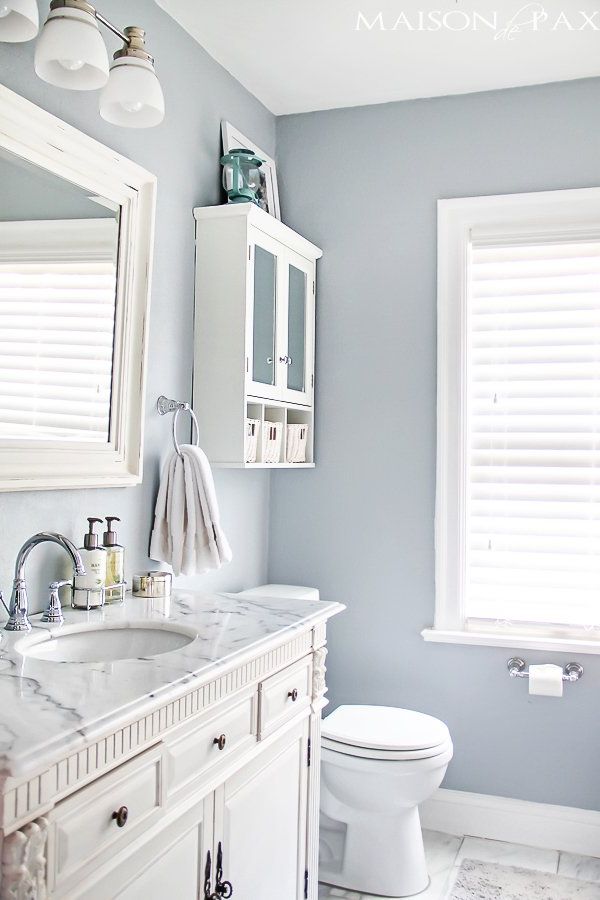 Minimalism
It is very common for the bathroom to be small and to give us a claustrophobic and depressing feeling. Depending on your style of decoration and a bit of visual magic, with color and lighting, you can achieve a calm, sophisticated and spacious bathroom without the need to move walls. If your bathroom is small, it will help you to continue adopting a minimalist style, where there are no decorations, only what is needed and has a functional utility.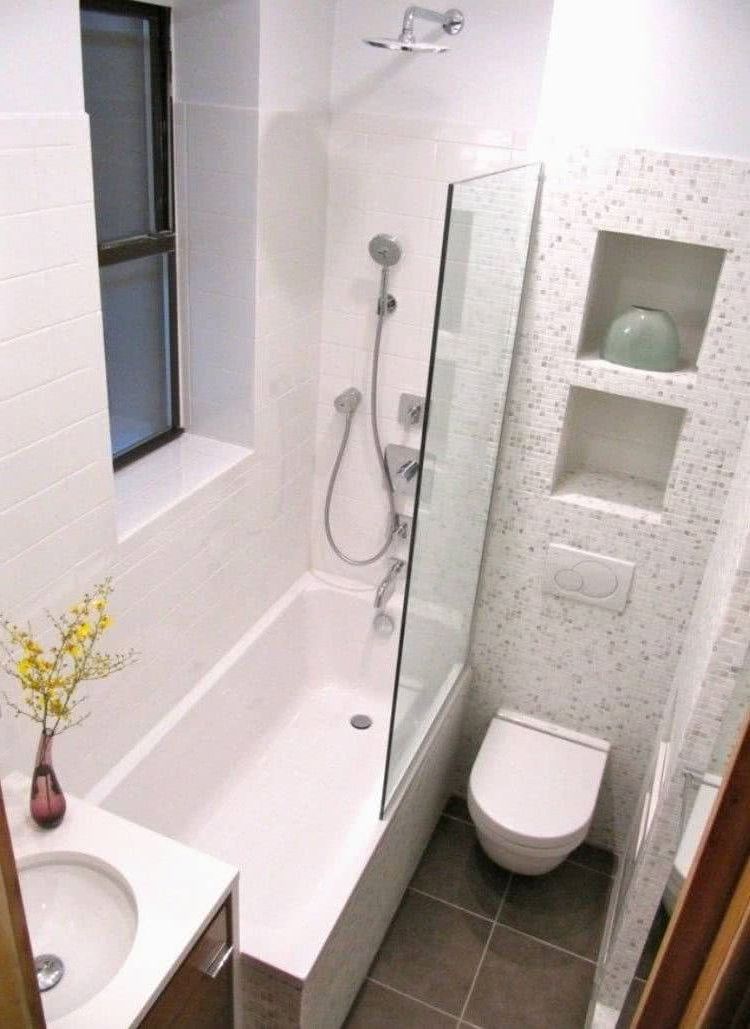 Well managed minimalism always gives excellent results in the decoration of small spaces.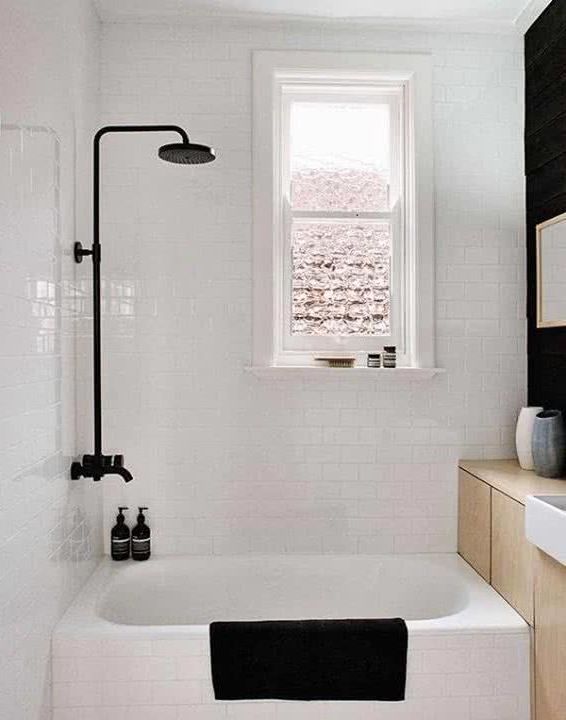 Walls and floor
Like the walls, if the floor is a light color, the room will seem to open up. If you can't replace it, put a light-colored rug on top of the floor.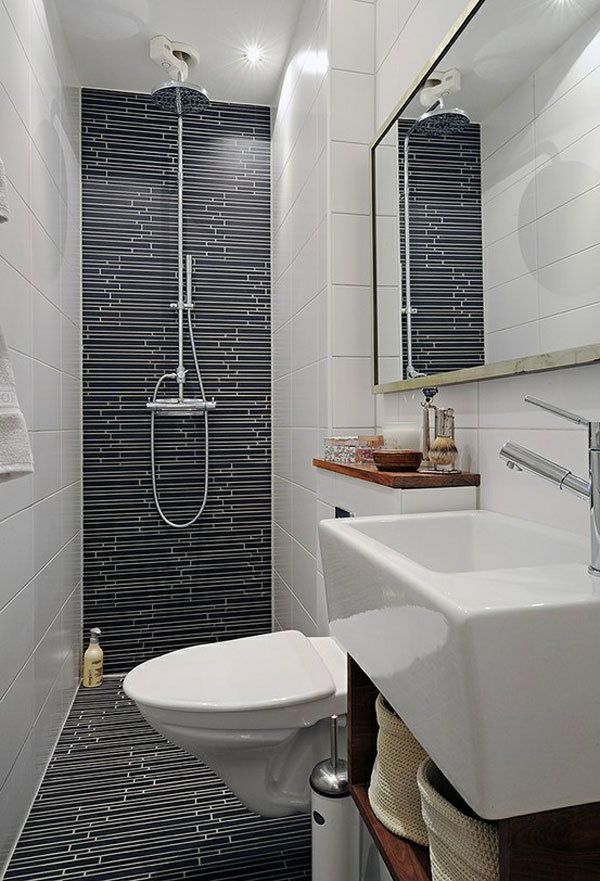 Using a backsplash and floor covering that is different from the other walls can create the optical illusion of depth and more space.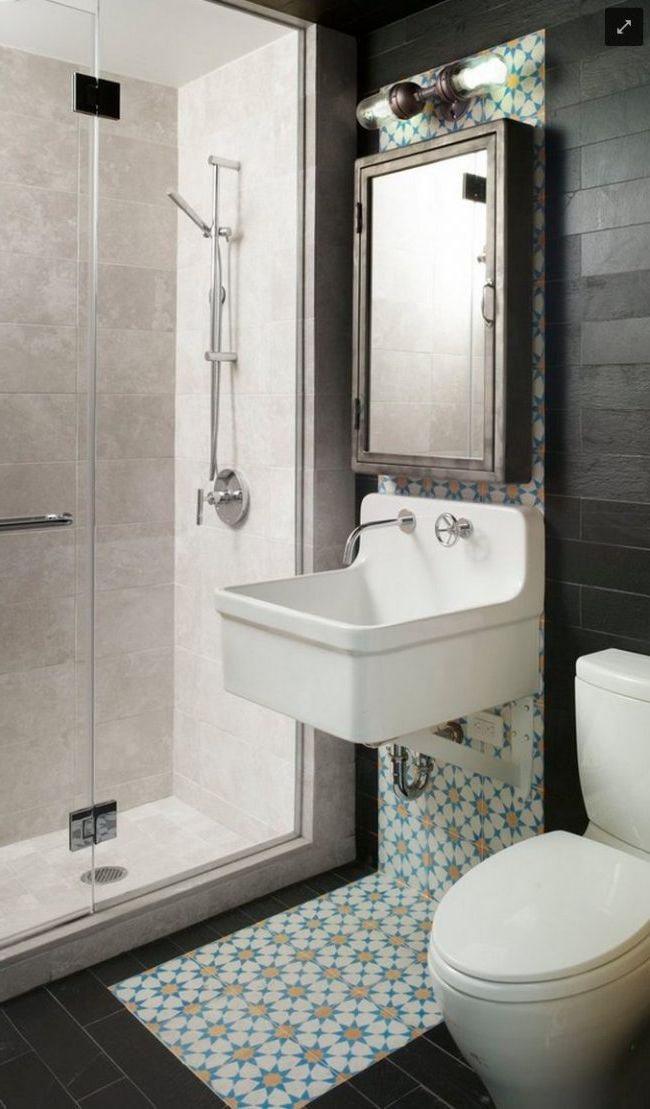 Toilets for small bathrooms
A small shower can leave space to place the toilet. This will help make the most of the space.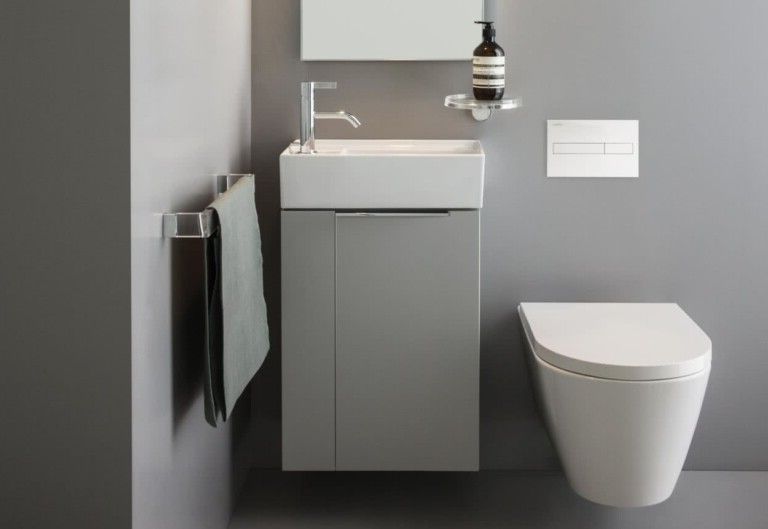 You can have a bathtub (for those who thought not). The secret is to make the space used for it, a multifunction place. In other words, where the bathtub is, also install the shower, and further away a mirror and shelves for shampoo, soap and creams.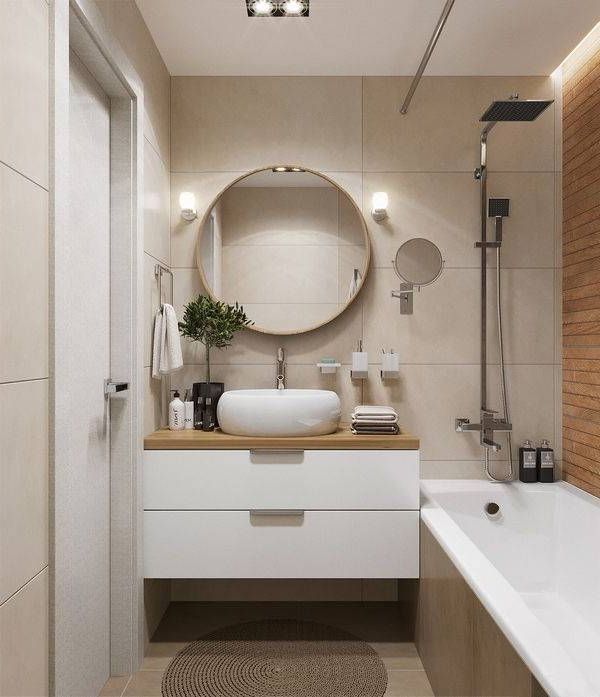 As far as possible, despite having little space, you should try to see where the floor joins the wall in some part of the bathroom, as this gives the room a greater sense of space.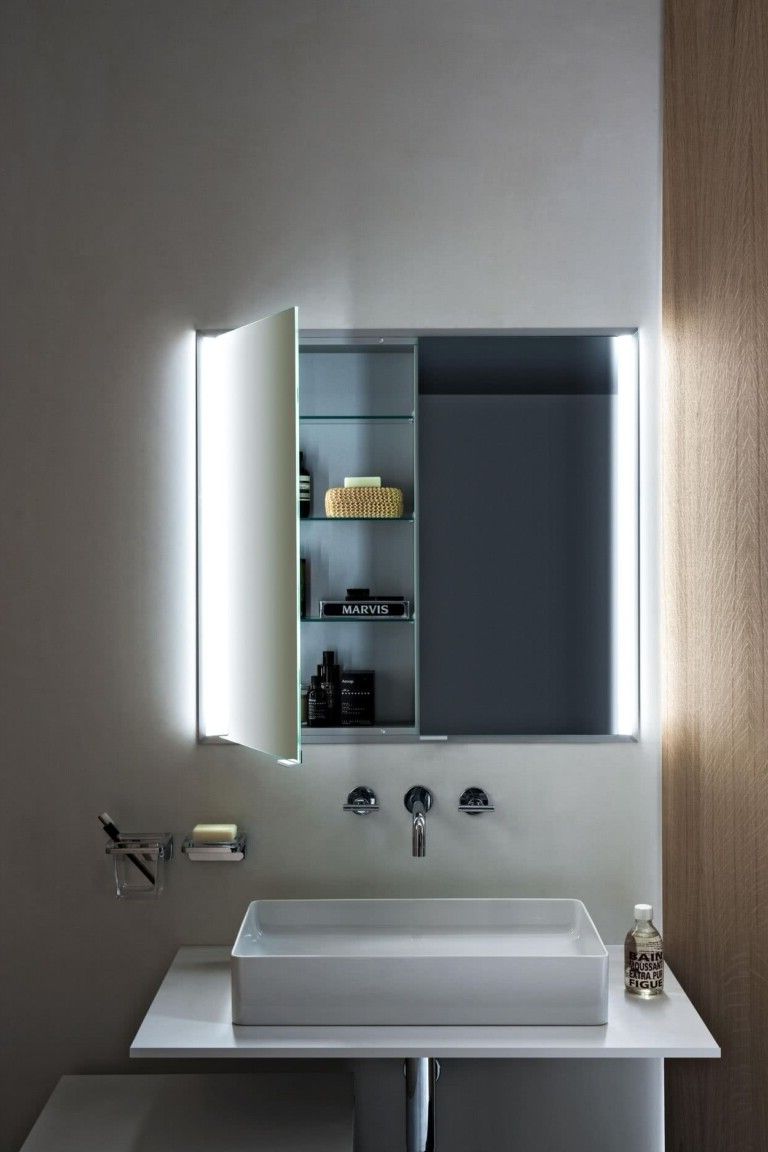 The cisterns attached to the toilet, or inside the wall, allow extra space for the placement of shelves.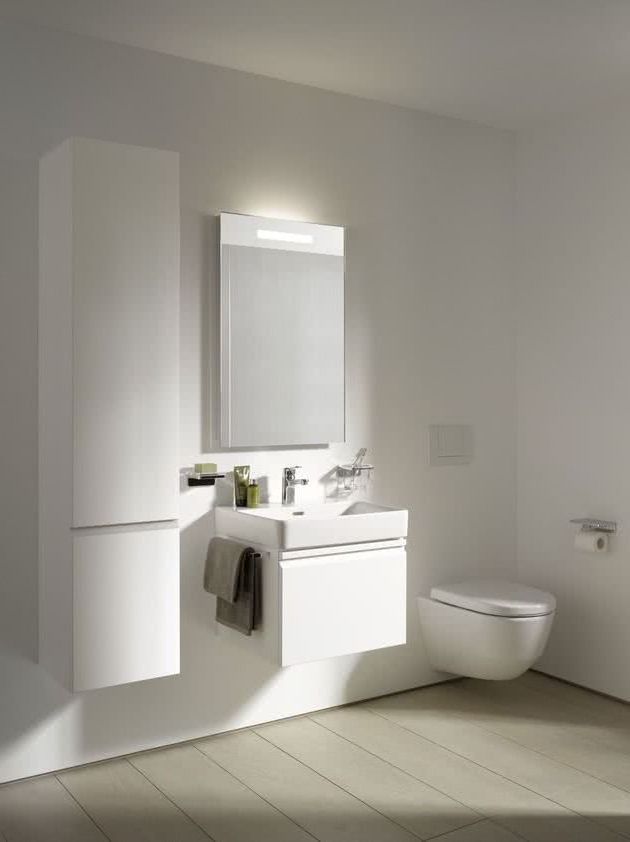 In the photos that we see below, we see pieces of the Laufen brand, designed for small bathrooms, which can serve as inspiration. Small and elegant, Laufen's Mimo bathrooms prove that beautiful things can come in small sizes.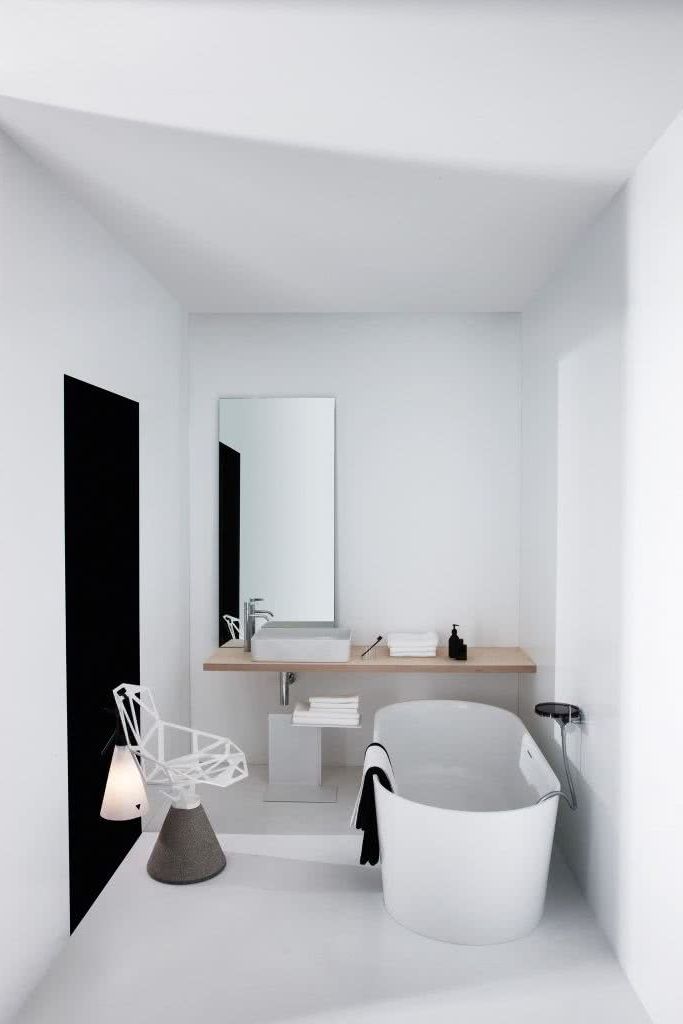 With softly rounded edges and elegant surfaces, these sanitaryware show smooth lines.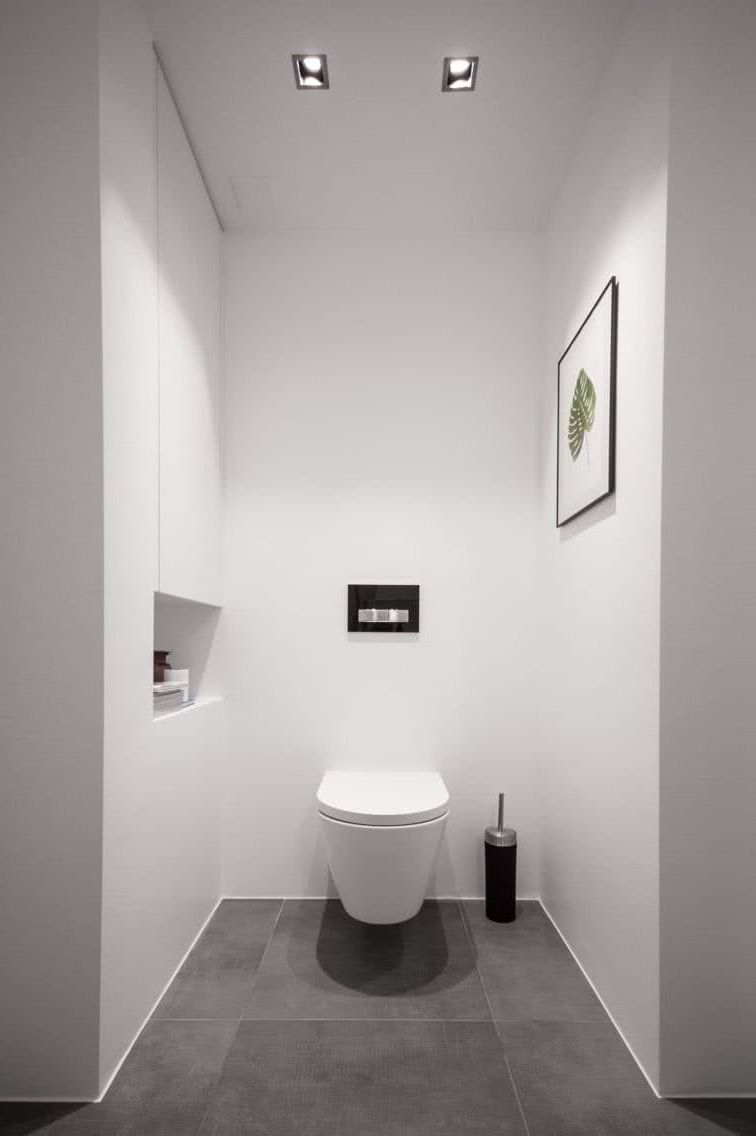 The central piece is undoubtedly the bathtub, designed to fit into any corner. Available in white, black and pink, these bathtubs complement the small wall units.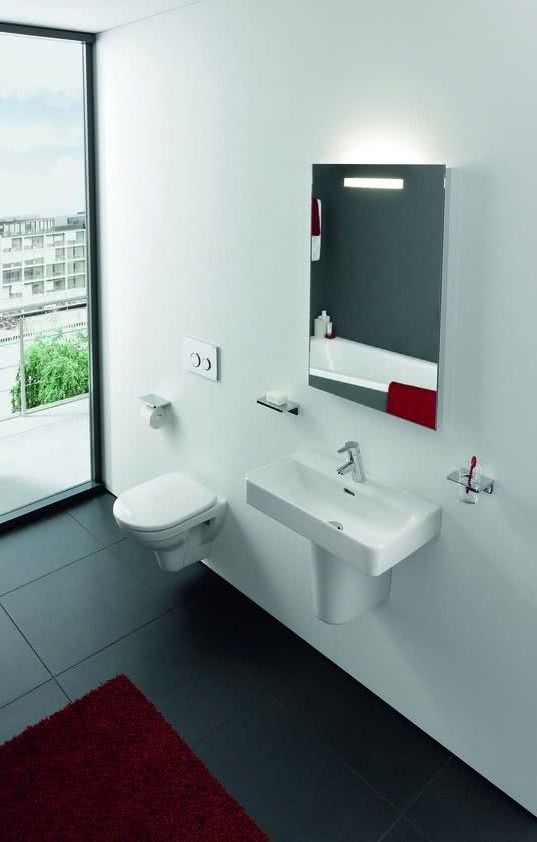 Something that should be clear is that a bathroom does not always have to be a purely functional place, but perhaps, having more than one bathroom in the house, one can afford to set up places of true relaxation, using a large part of the bathroom to put a good Jacuzzi or wall jets.