Your children need a space in which they feel identified. We show you good ideas for the children's bedroom with corners to rest, play and study.
Our children's bedroom should offer comfort and personality. It is important that they feel identified with the decoration and that they feel comfortable with all the chosen resources. In fact, they can participate in the choice of colors, furniture or distribution.
A double or private children's room
The objective that we set for ourselves is, basically, to create a harmonious space that is conducive to rest, study and play. It is interesting that there may be enough space for them to move freely, in the same way that we can take advantage of each of the corners to organize the furniture in the best possible way. We have the best solutions to order the children's room.
The decoration has to be according to all tastes. A children's bedroom can be worked from different points of view. First of all, we must point out the importance of having fun ideas to decorate and take advantage of the bedroom, hence the furniture adapts to each part of the room. If we want the bed not to take up too much space, it can be placed in height or as bunks.
As for the desk, we have the opportunity to arrange it in that part of the room where it is not a hindrance. In any case, it is important to create an adequate space for study. This is where they will do their homework, which is essential for them to pick up good habits; therefore, a design that offers comfort is worthwhile.
There is another interesting topic, how to transform a children's room into a youthful one. The bedrooms have to be growing since your child is born, but it is convenient that each stage has its own needs. It is also important to adapt the entire house to the size of children.
How to decorate a small room
First of all, discover the mistakes you should avoid when decorating a children's bedroom. There are many resources for the children's room to also be a playroom, no matter how much space is scarce. The furniture must be comfortable, but it is also important to have a decoration that is aesthetically attractive. We are referring, for example, to wallpaper for the walls; In this way, the space is themed, as is the color of the furniture that shows a more cheerful image and shelves to place dolls and other decorative resources.
The best way to take advantage of a mini room is with 2×1 or very versatile furniture, so these 15 very practical and fun children's bunk beds will inspire you. The idea is that we make the bedroom a charming place for them to enjoy every day. This is where they will spend most of their time. In turn, other furniture can be used to store toys, drawers under the bed, cabinets that help store clothes, etc.
In this sense, we have to value the idea that good organization is essential to achieve a comfortable bedroom, without forgetting that natural light must be present to enrich the interior and thus create a more pleasant climate. Here are some ideas for children's bedrooms that you will love. Let's start!
1 A bed with storage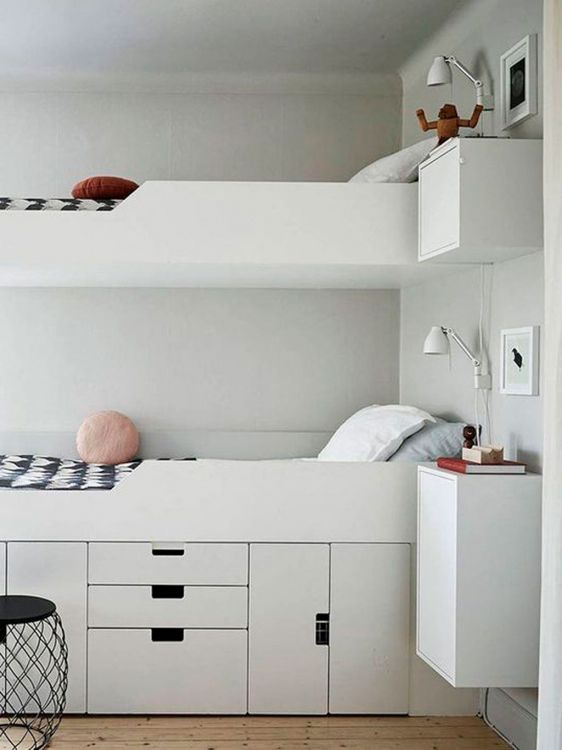 A good idea for small bedrooms is to take advantage of the bed to create storage space. The one in the image is divided into drawers. Another idea when you have bunk beds is to place floating nightstands.
2 A reading corner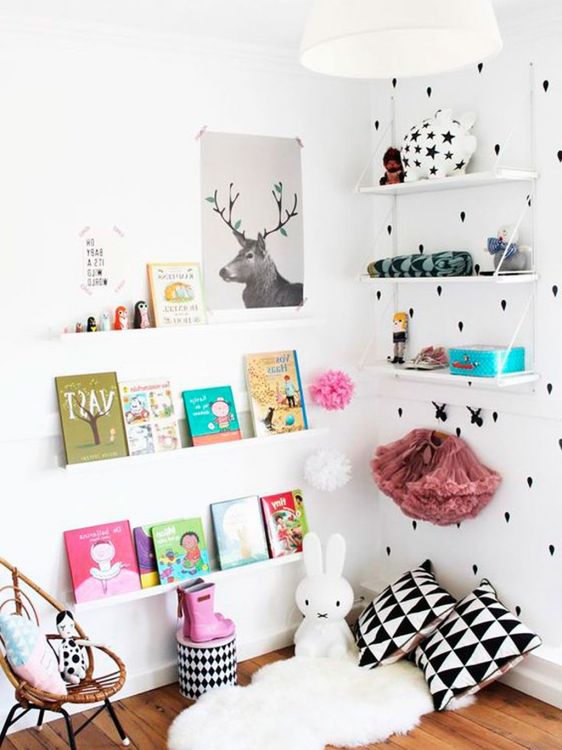 It is important to encourage reading in children, do not hesitate and create a small special corner for it. So reading will be pleasant and fun.
3 A multifunctional piece of furniture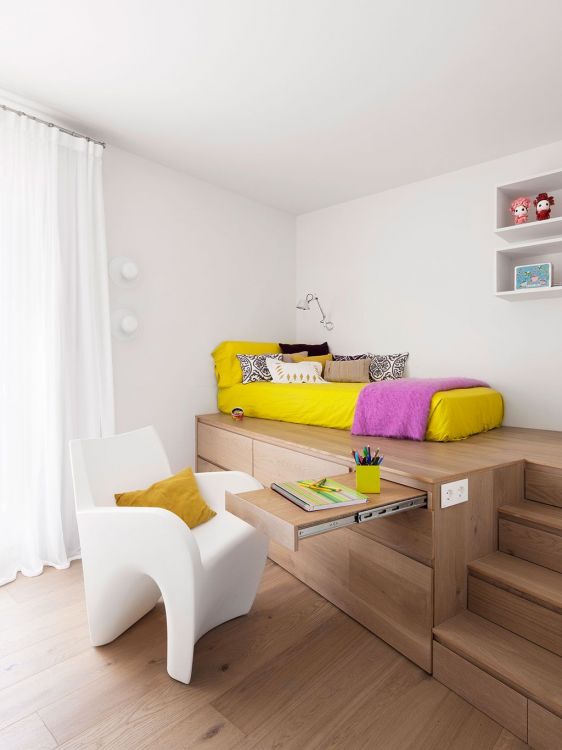 When children are young, we need a lot of space to store all their things and the bedroom in the image gives us a great idea. The wooden furniture serves as a bed and contributes as a desk and storage unit. Make a hole for their pencils, painting books, stuffed animals, which you can classify in transparent boxes that, in this case, are hidden in the drawers.
4 Lots of plugins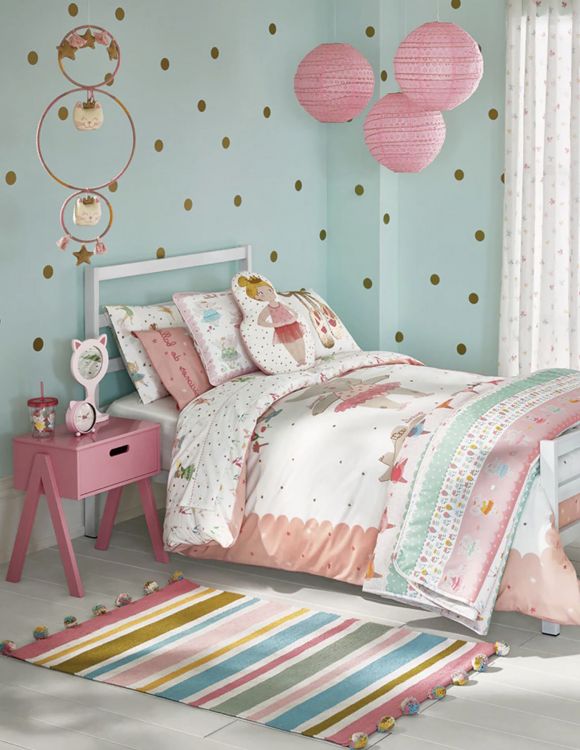 This proposal from El Corte Inglés is a dream come true. The white lacquered furniture is from the Mini Home collection, with the Kloten bed and the Tipy bedside table, but we love the wallpaper, with gold polka dots, and the prominence that the way of dressing the bed and the game acquires. of pillows on the bed.
5 Long live the colour!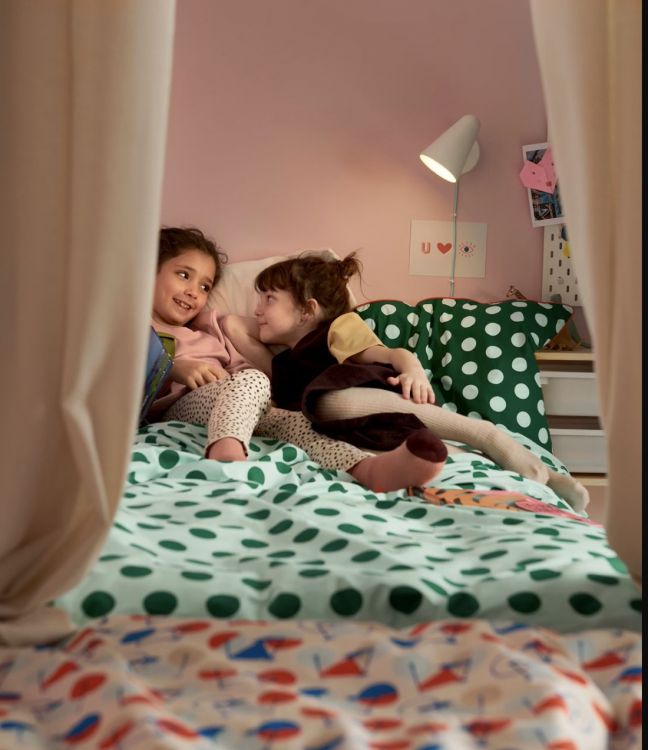 Bring the child's bedroom to life with bold textiles. Ikea duvet covers and pillows are perfect for the most restless minds and will add a playful air to the room. The Käpphäst model, with green dots, is available in 150 x 200 cm
6 A very original wardrobe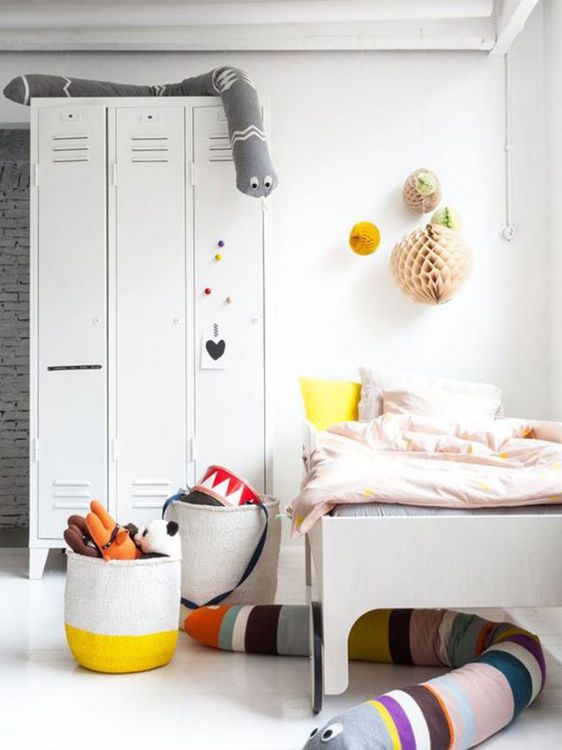 Dare to decorate with original pieces, this bedroom, for example, has a white wardrobe that resembles the lockers of American institutes. There are also other options like painting the one you already have a bright color.
7 Two consecutive beds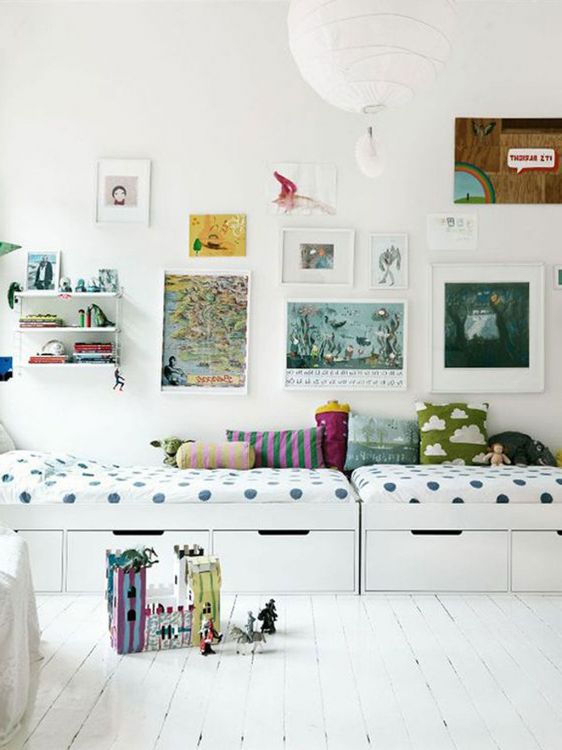 It is a good alternative to bunk beds or beds placed side by side. This makes much better use of space. Another idea that we can take from this bedroom is to decorate the white wall with posters and paintings that children like.
8 A very well used bedroom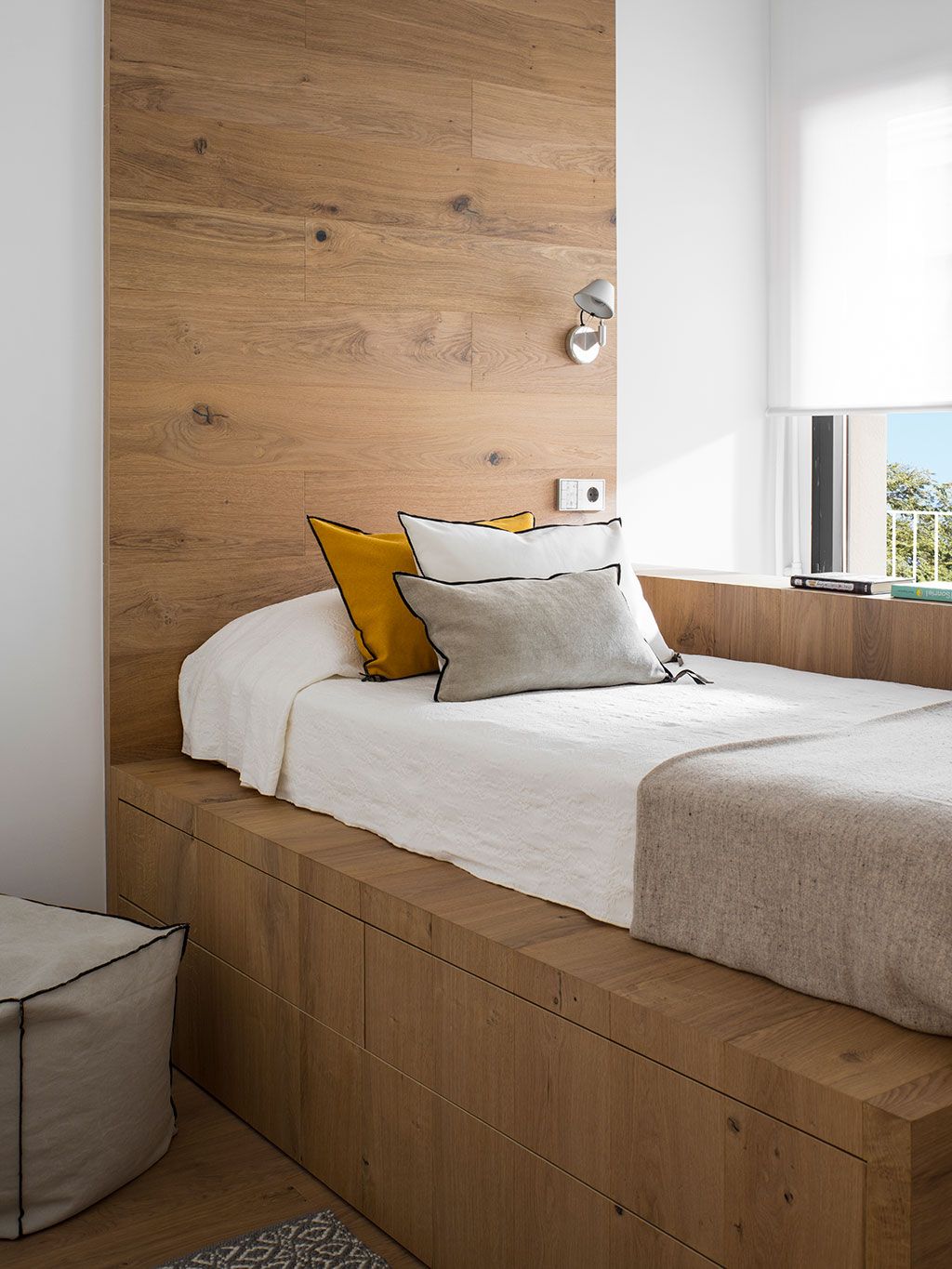 Light colors relax and calm the environment, white and wood are ideal for children's bedrooms. We love this structure that we see in the image, it serves as a bed, headboard, nightstand and storage area, it is ideal for small spaces.
9 L-shaped beds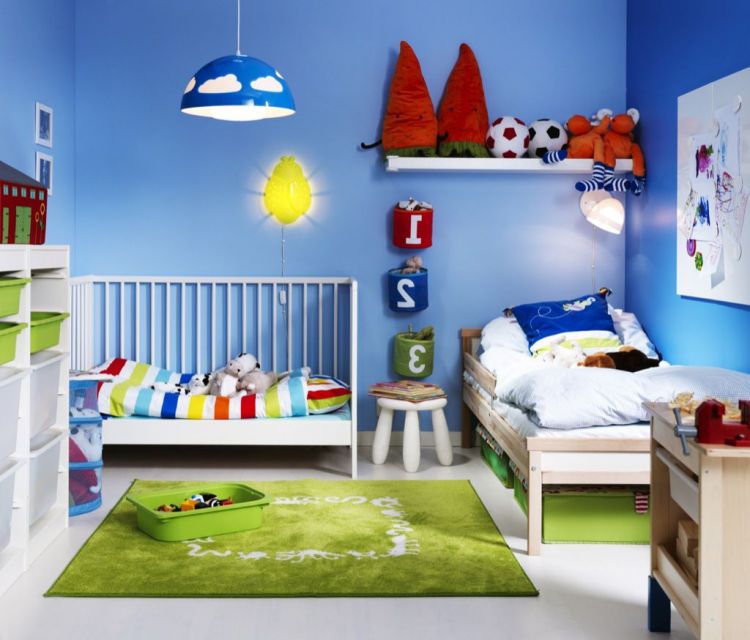 It makes the most of the space in the children's bedroom, which can be shared with the baby- This solution with bed and cot optimizes the corner in order to leave room in the center to play. Take advantage of the walls with shelves to store toys. And get boxes that allow you to order even under the bed! With the Mammut stool, from Ikea, they can sit down to play or paint at ease.
10 With study area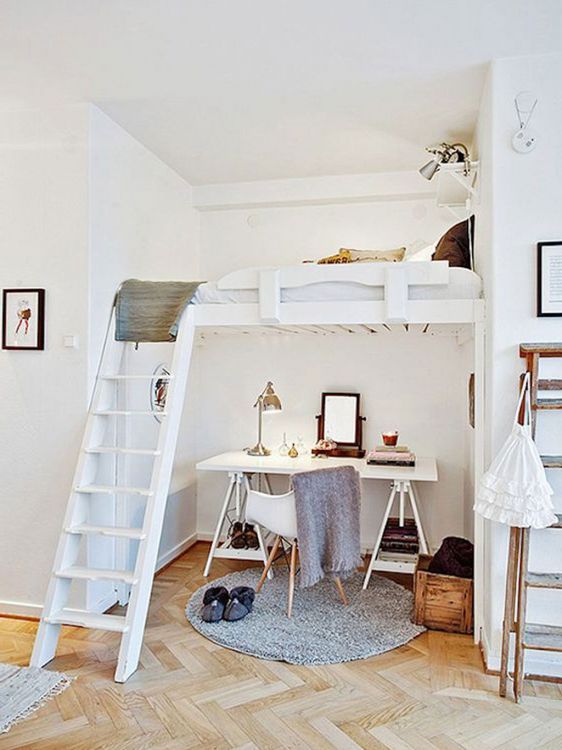 This idea is used, above all, for small and more youthful rooms. To make the most of the space, choose to place a single bunk bed and set up a study area under it.
11 One bedroom on two levels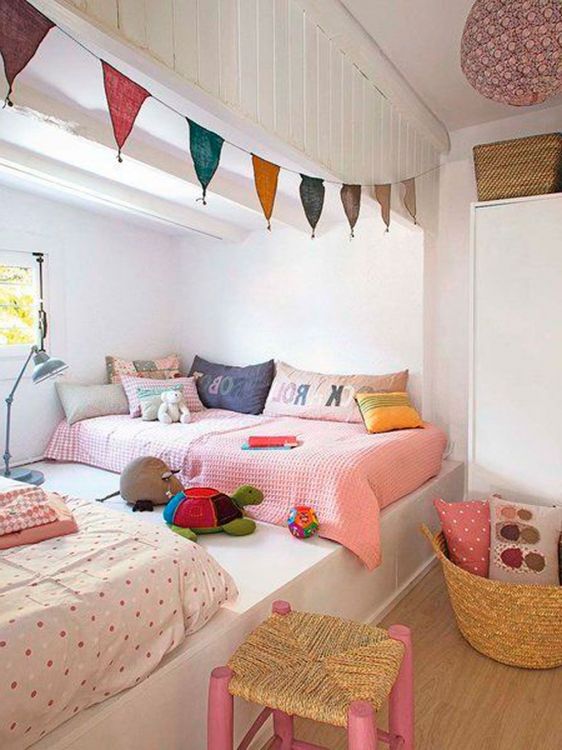 The original layout on two levels is a good idea for those small rooms that want to separate environments and gain a feeling of spaciousness. Also, if you want to add a touch of color to the space, put up a cheerful garland of bunting.
12 A large blackboard in the bedroom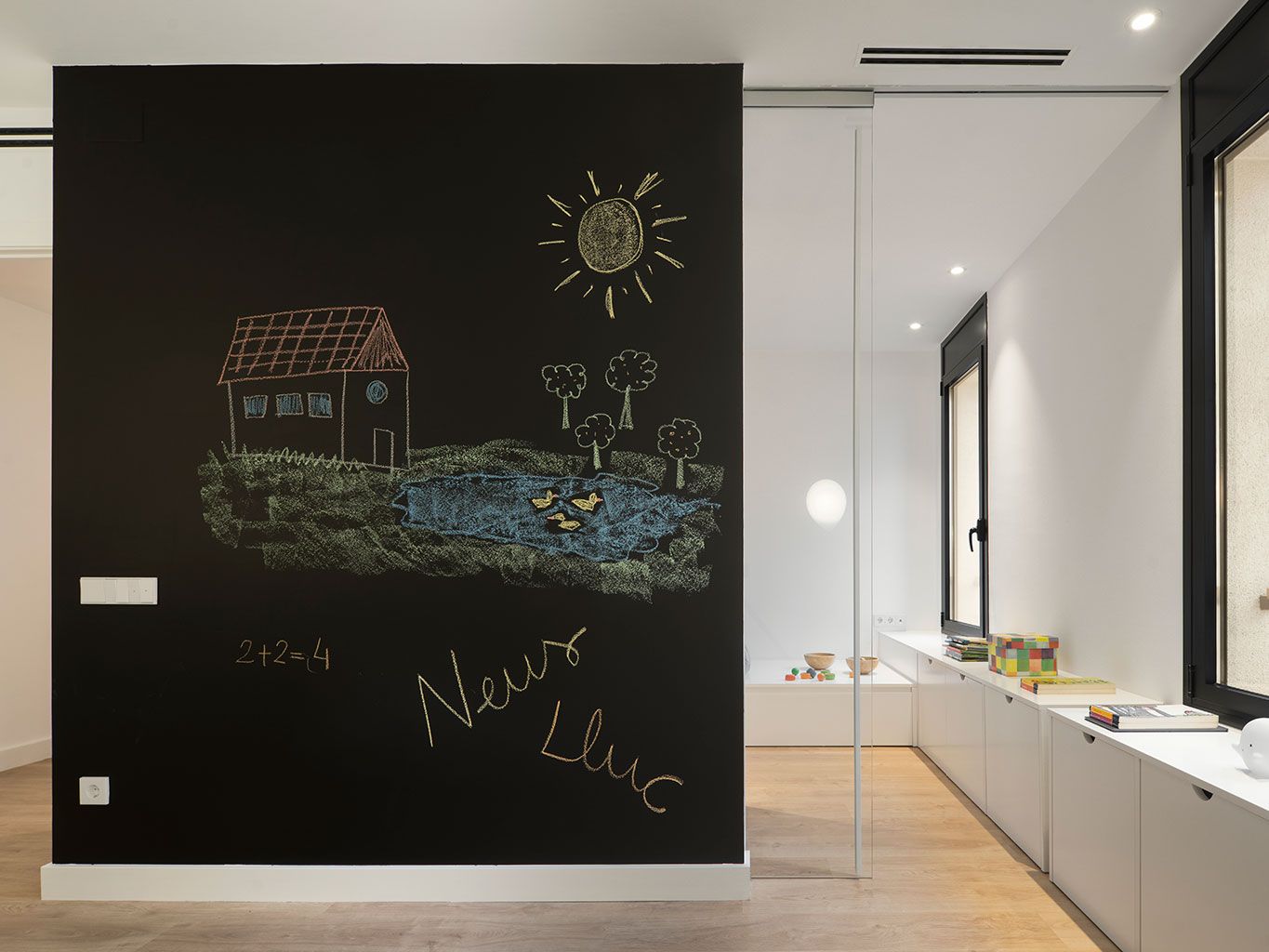 This may be every child's dream. Take advantage of an empty wall in the bedroom to place a large blackboard, it will serve both to review the lesson and to unleash your creativity.
13 An original wallpaper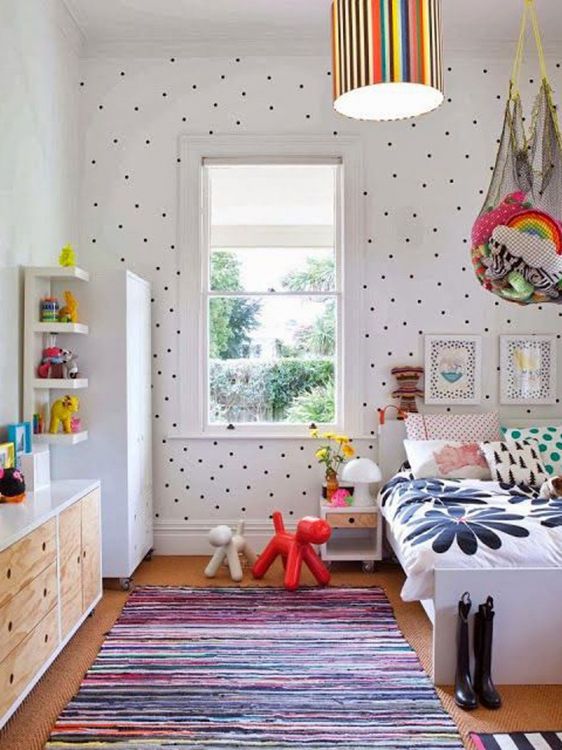 To decorate the walls of children's bedrooms, it is best to opt for wallpaper. There are many options and very original. In the image they have opted for a white one with black polka dots.
14 A small sink in the bedroom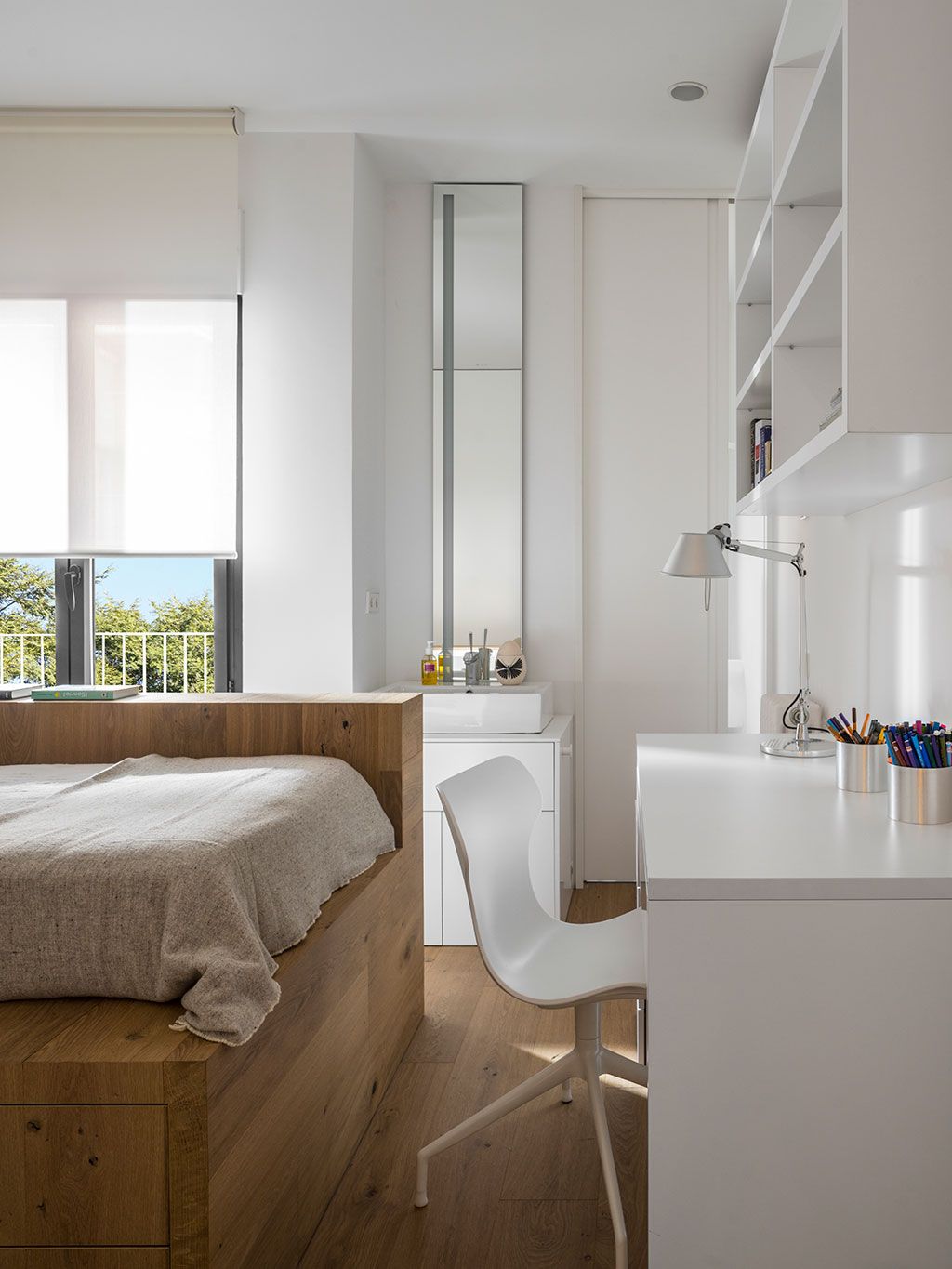 A good idea is to place a small toilet area in the bedroom, all you need is a cabinet with a sink and a mirror.
15 A relaxing room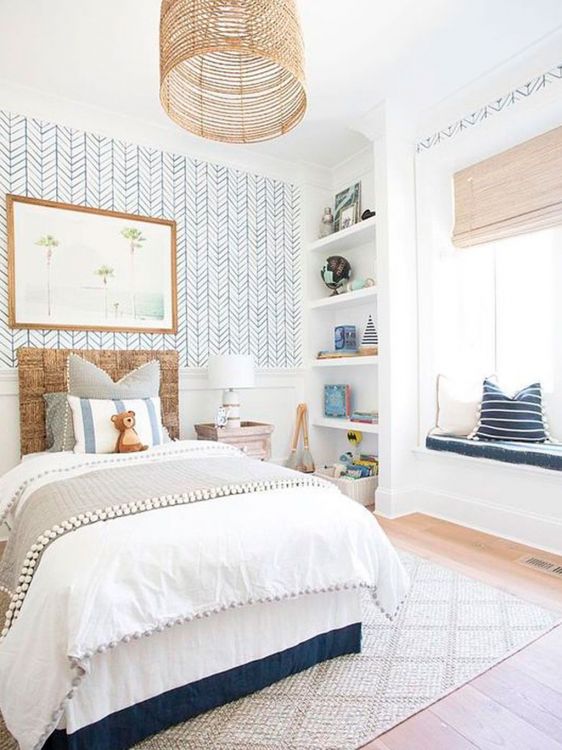 It is important to create a pleasant space that invites you to rest or play quietly. We can achieve it by decorating the bedroom in light tones. Opt for white as a base color and then add small touches of blue and wood. As you can see in the picture, it works great.
16 For your mini artist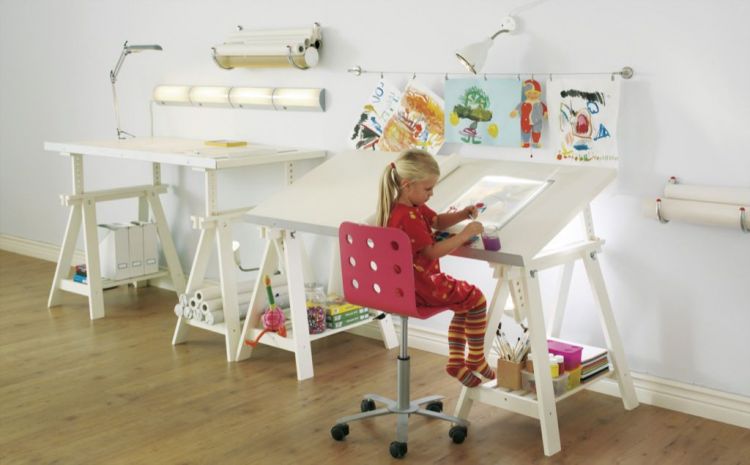 Painting and drawing is great. Encourage this activity and place an easel and a height-adjustable chair in a corner. These are the Finnvard and the Jules, from Ikea.
17 A two-tone wall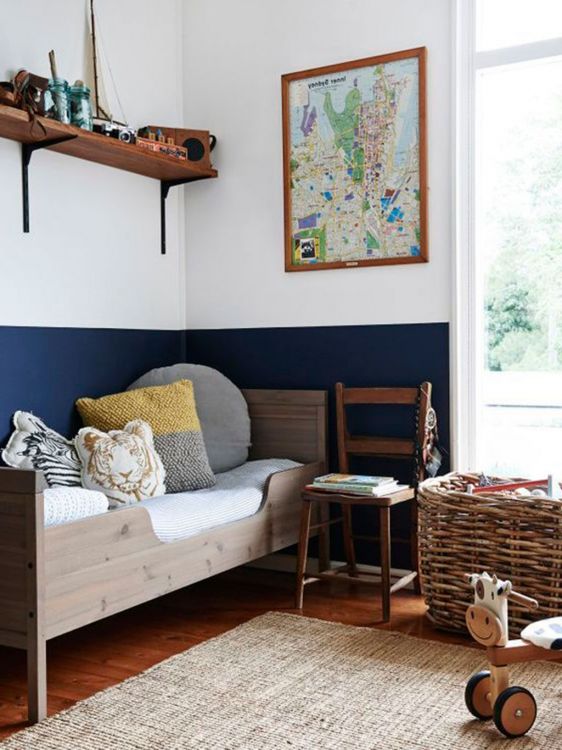 We love the idea of painting the wall in two colors, it looks elegant but fun, it also works as a separator. It is also key to know what the most interesting color palettes are, according to their age.
18 A play corner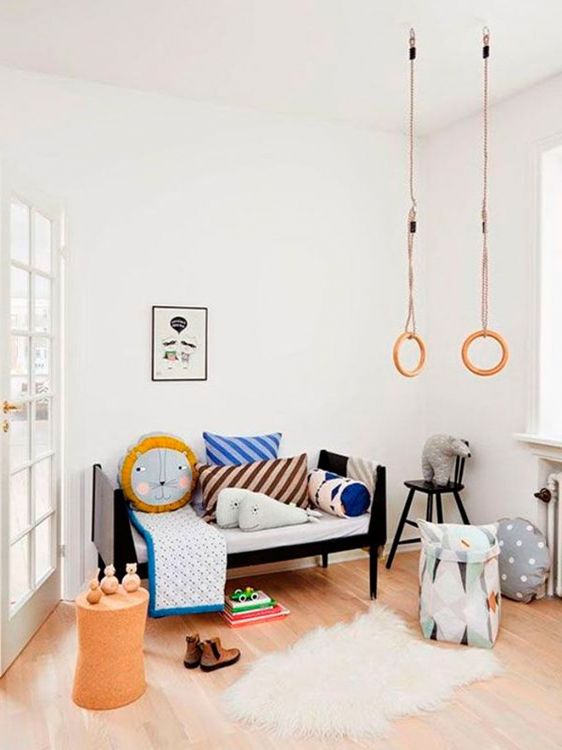 And although the bedroom has to be a quiet and relaxed area, there is room for a small corner to enjoy games, yes, everything has to be tidy. Store the toys in baskets and place some original piece like these rings.
19 With leisure area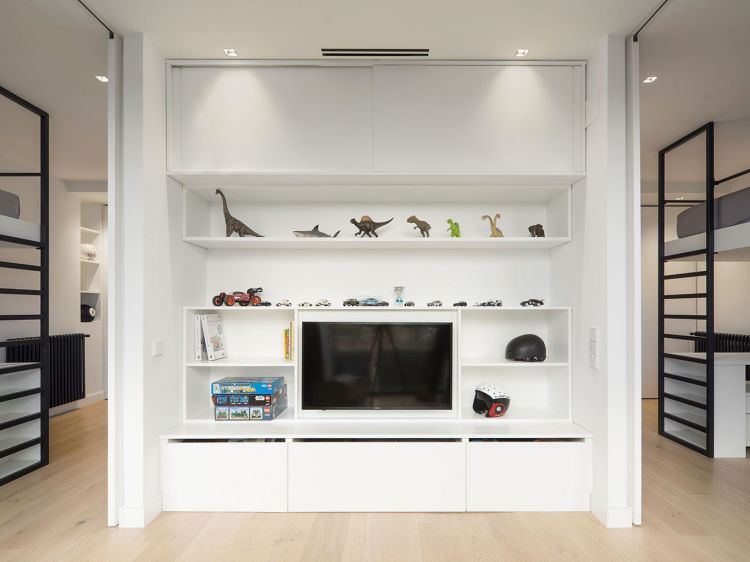 Choose a bedroom wall to place a cute entertainment area with television, board games, books or action figures. This idea is great for larger, shared bedrooms.
20 A Royal Bedroom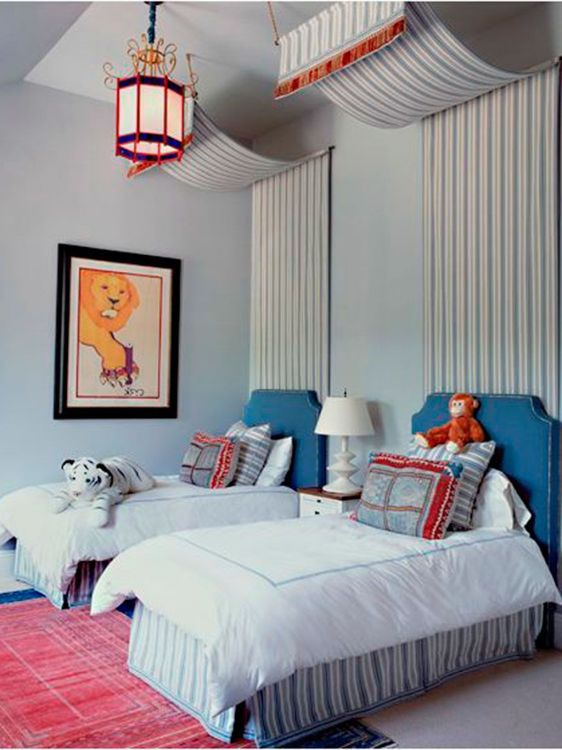 An original idea is to decorate the children's bedroom with a theme, in this case they chose to create two beds for little princes or princesses. What we like most are the original canopies.
21 To put away the toys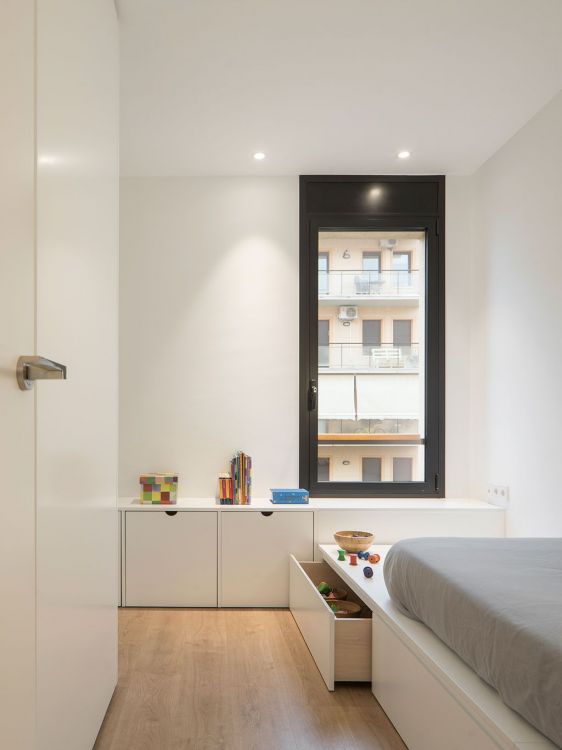 It is very important that your child's bedroom is well organized and easy for him to do on his own. For this reason, a good idea is to have drawers under the bed or a storage unit suitable for the little ones.
22 in the attic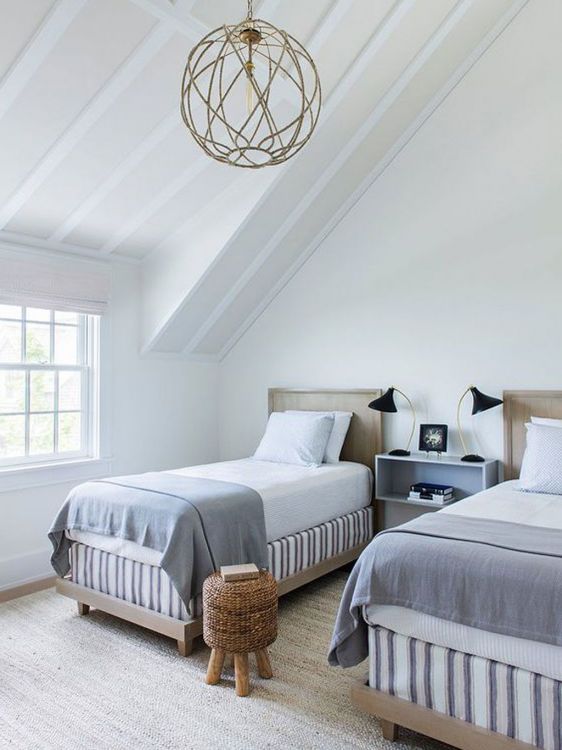 When the space is bright, an attic bedroom can be wonderful. You can create a nice room using colors like white or gray. It's time to talk about "My side and your side". If the brothers have to sleep together, create an area for each one, with their bed and desk. To "fix the border", a sticker on the floor and a cupboard that comes in handy to store.
23 Bedroom with two rooms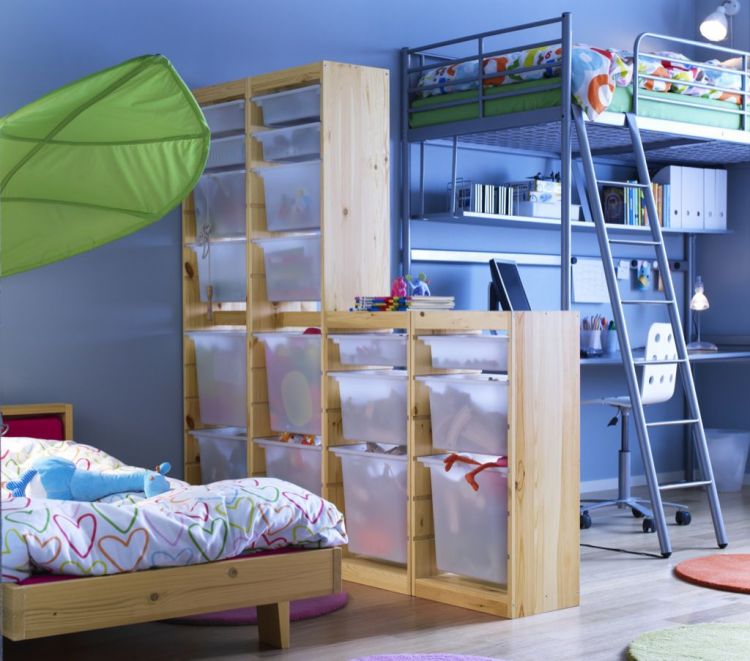 If they are of different ages or are in their teens, it is a good idea to create two separate atmospheres in the bedroom shared by two siblings. Install a shelf as a separator, like the Trofast, from Ikea, and you also multiply the storage capacity.
24 Curtains to separate environments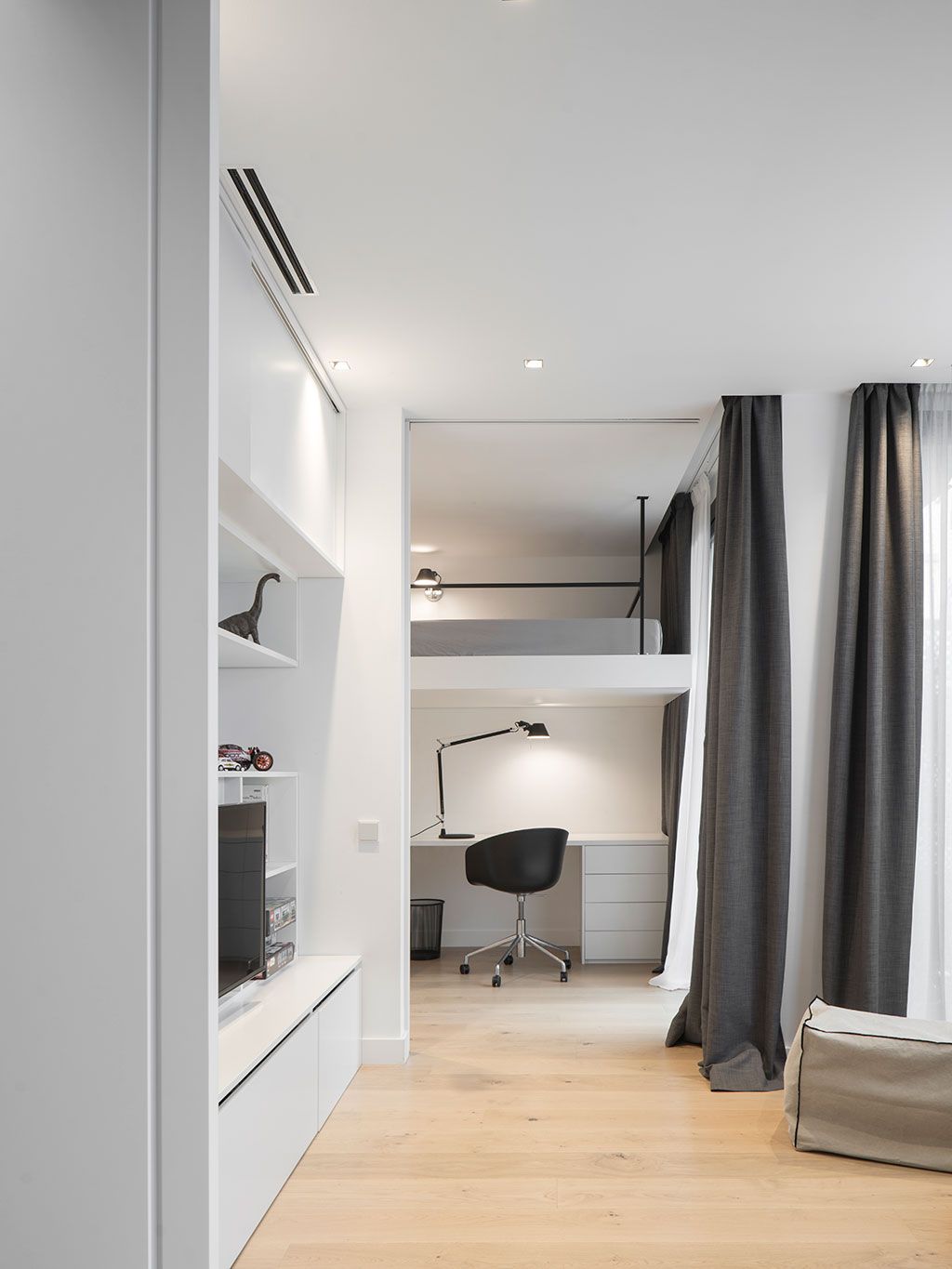 A very good idea is the use of curtains to separate environments, so you can have an open and wide space when you want it or, instead, a private and quiet one.
25 A fairytale bedroom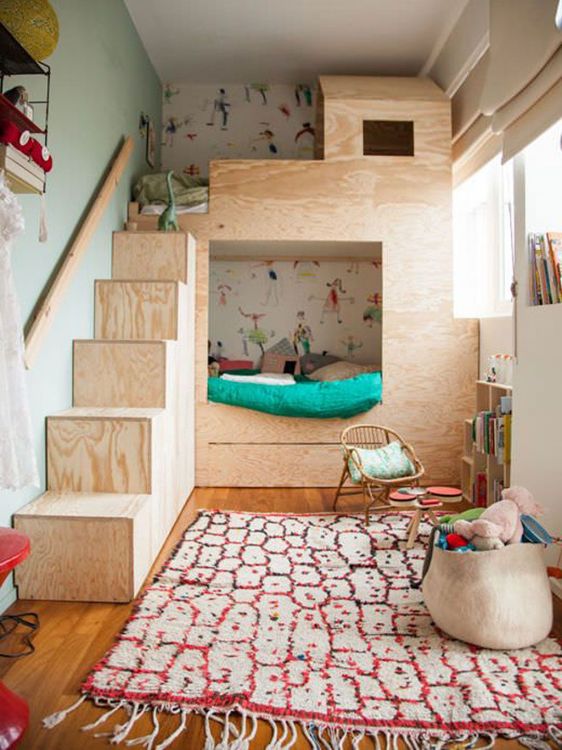 Children's imagination is very important, so it is necessary to encourage it. In this bedroom they have tried to recreate a castle with two beds and storage space on the stairs.
26 Shoes in place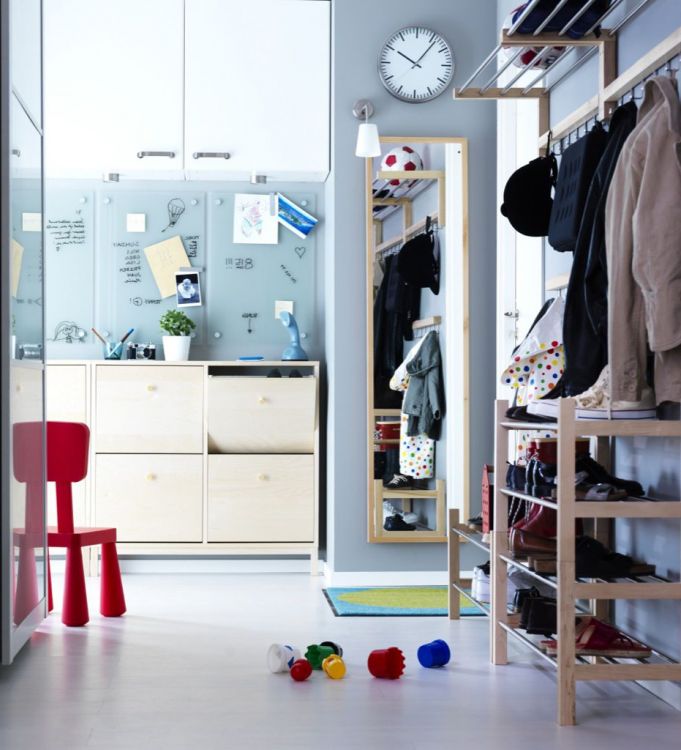 Why not adopt the Nordic custom of leaving your shoes in the hall? You only need to install a spacious shoe rack to your liking, and also an accessible coat rack for you to leave your outerwear. The order, first!
27 Toys throughout the house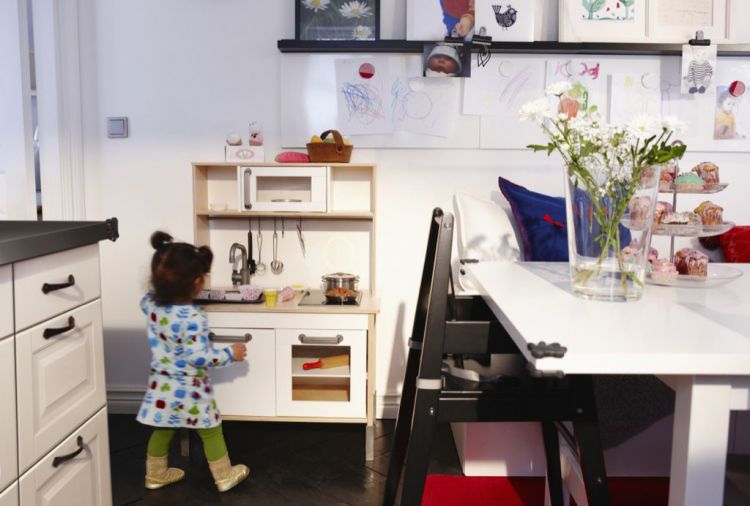 Let's play food! They love to imitate their elders. Put a toy kitchen, like the Duktig, from Ikea, for example, next to the office, and you will have them playing by your side while you cook. Decorate the wall with your best drawings. Mark your area, even if it is integrated into the living room, with a special decoration: your best drawings hanging on the wall, a children's vinyl or with some shelves or a toy rack.
28 A house for children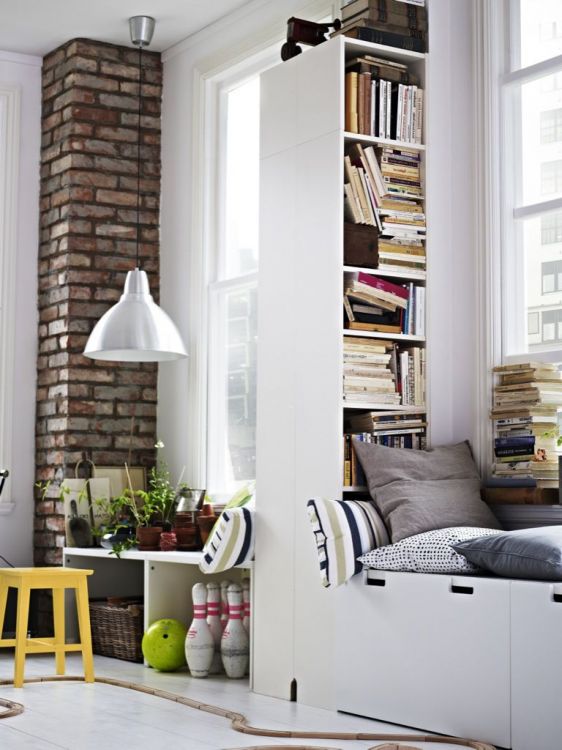 Take advantage of every corner and make sure that everything is tidy to have an impeccable living room in no time. With imagination and the right furniture you will win corners for your children's belongings: the Stuva bench with drawers, from Ikea, which here forms a reading corner, or the shelf under the window where the pots are. You can also group their things in boxes with wheels.
29 A bathroom to suit you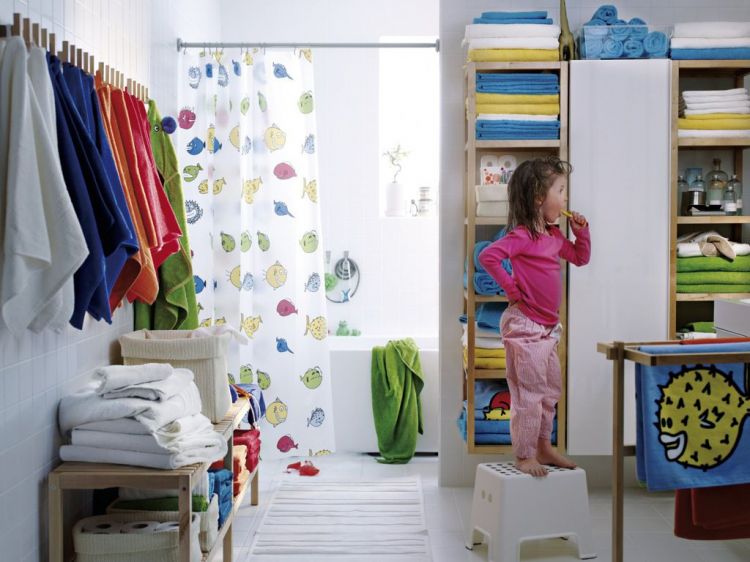 Stand up to him. That they do not reach the sink and the mirror? A stool will lift them. Put your towels and accessories within reach with low furniture, like a bench or mini towel rack. Choose towels and shower curtains with color and fun patterns. Find a place to store bath toys, store them along with bath accessories in a caddy.
30 Shared work area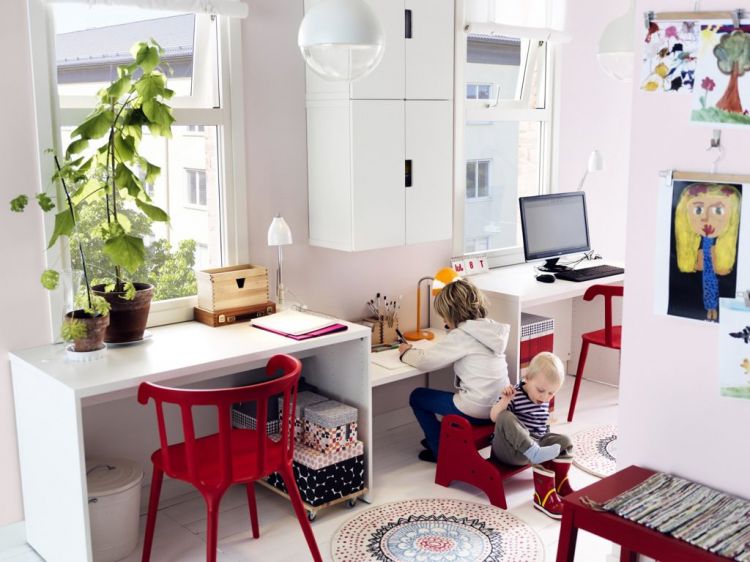 Where two fit… fit three! Between mom and dad's desks, there is a space for a work table tailored to your little angel. He will be happy to do his homework. From Ikea.