Modern architecture is a term applied to a group of styles that arose in the first half of the 20th century and became dominant after World War II. It is based on new construction technologies, in particular the use of glass, steel and reinforced concrete, rejecting the neoclassical architecture that was popular in the 19th century.
We will show you below, facades, exteriors, interior design and decoration of modern houses. With the industrial revolution, the availability of construction materials such as iron, steel and glass led to the invention of new construction techniques.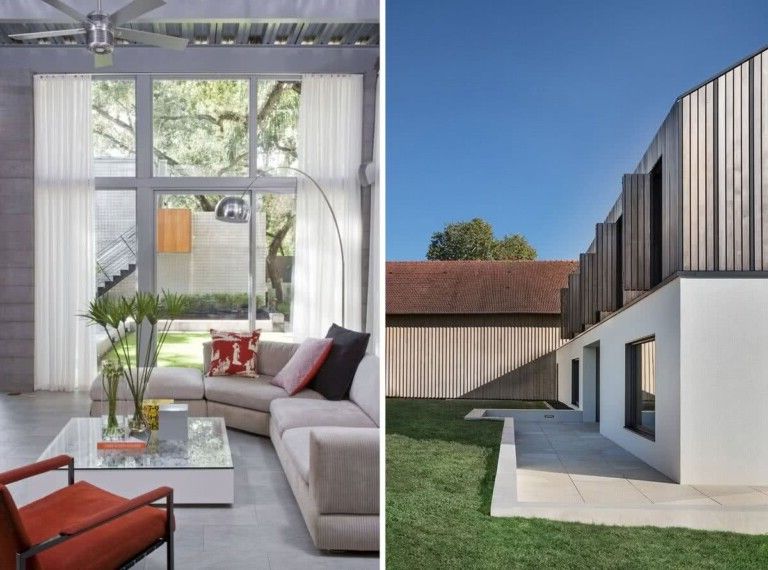 Facades and exteriors of modern houses
Straight lines
Modern architecture and decoration have varied over the years, adapting to the characteristics of the present and representing today's way of life.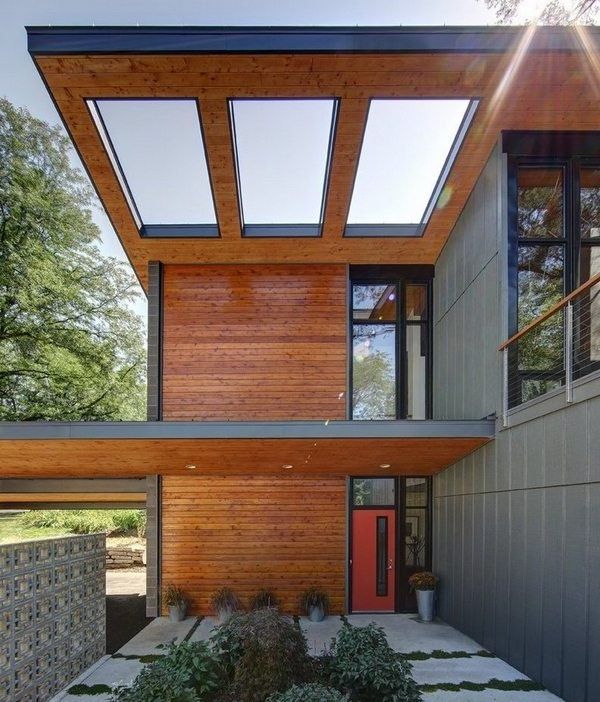 Hundreds of years ago the walls were very wide, and the windows were small. Nowadays modern houses leave large expanses of glass and much narrower walls. The lines of modern architecture are straight and right angles replace curves, gabled roof and carving techniques. In recent years, the incorporation of aerodynamic lines and the bold use of steel has increased.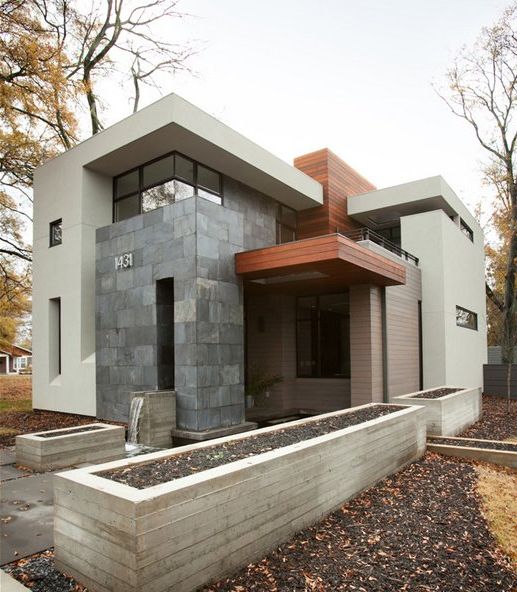 As the years go by, everything evolves and trends change, presenting innovations. Architecture is one of the things that is changing thanks to new materials, technology and new techniques. Architects today can create truly impressive and unique buildings.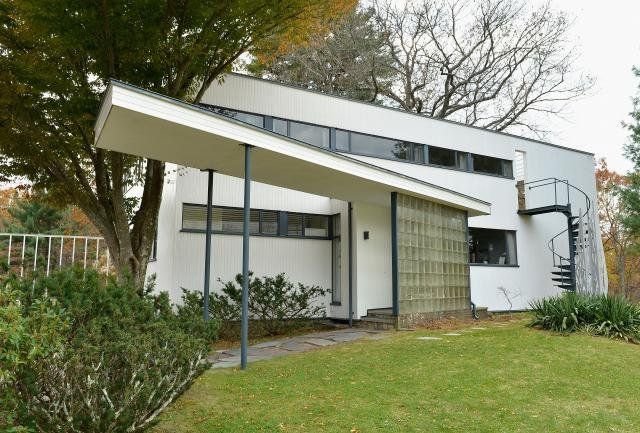 Incorporate the topography of the land
Modern architecture almost always tries to incorporate the topography of the land on which the house is built, which is why large windows and the use of unevenness are important.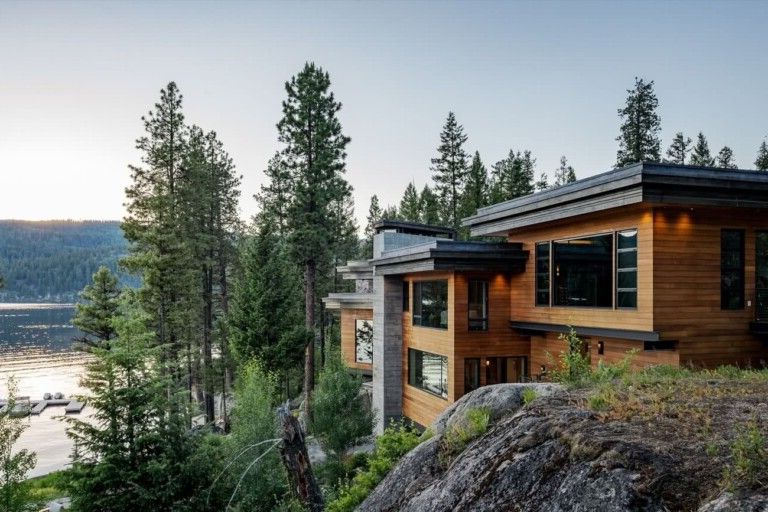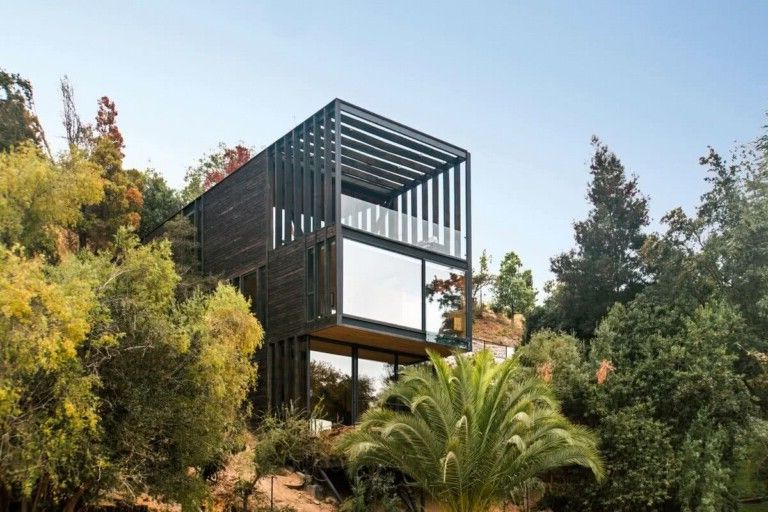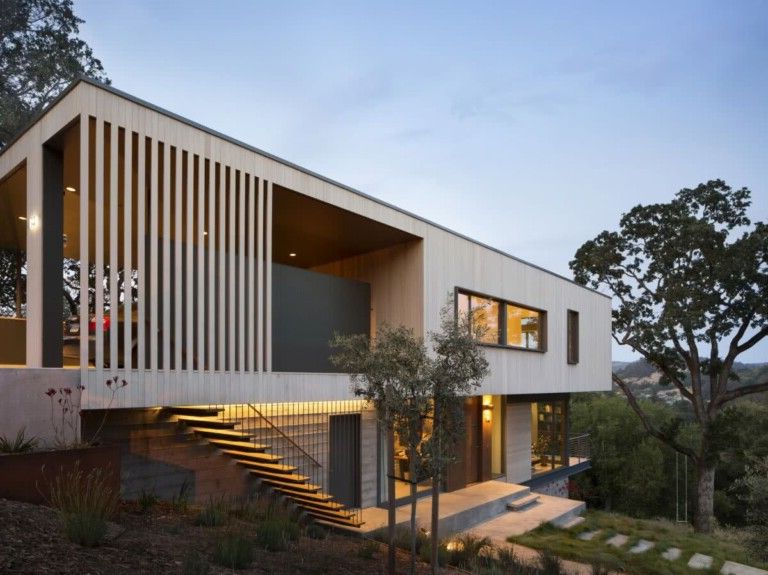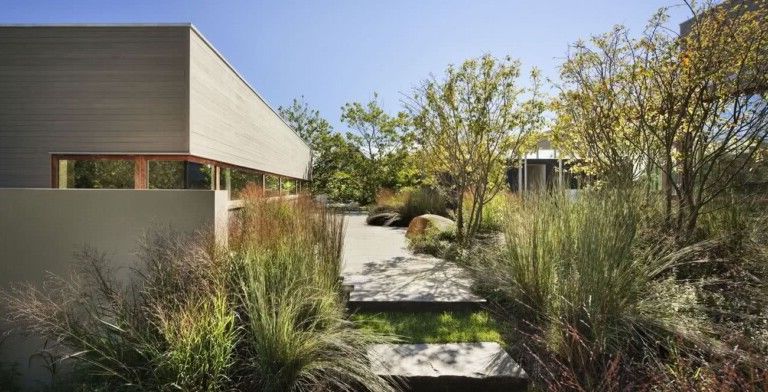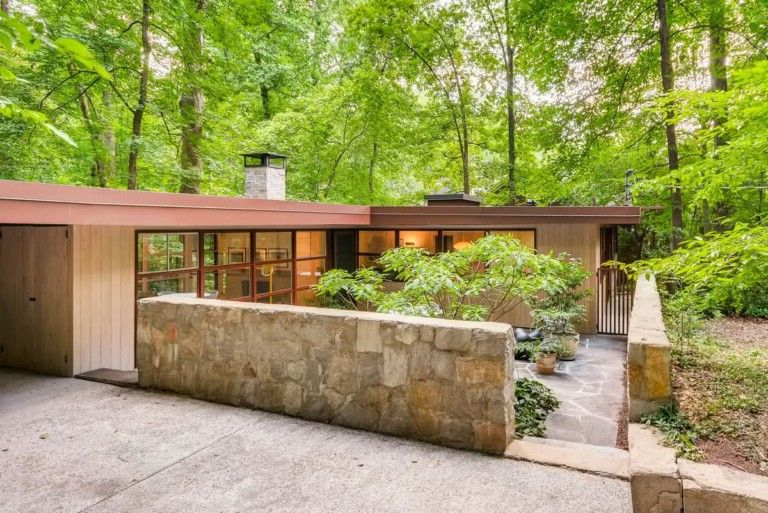 Cement, wood or steel facades
These materials are being used a lot in modern facades.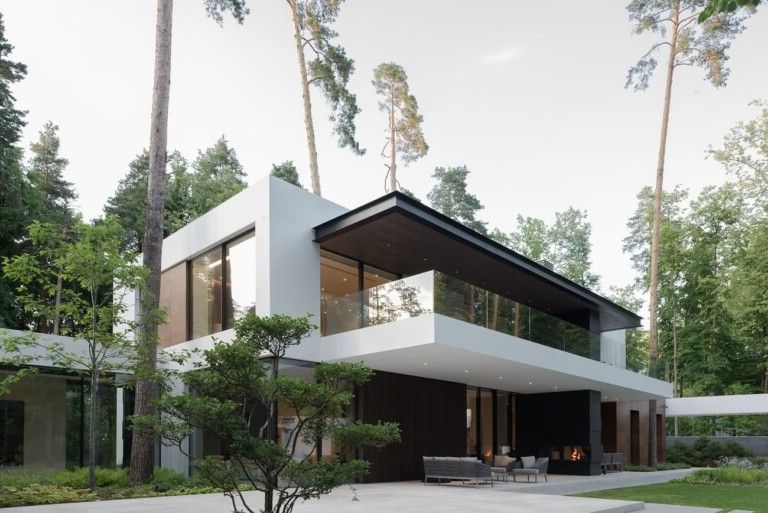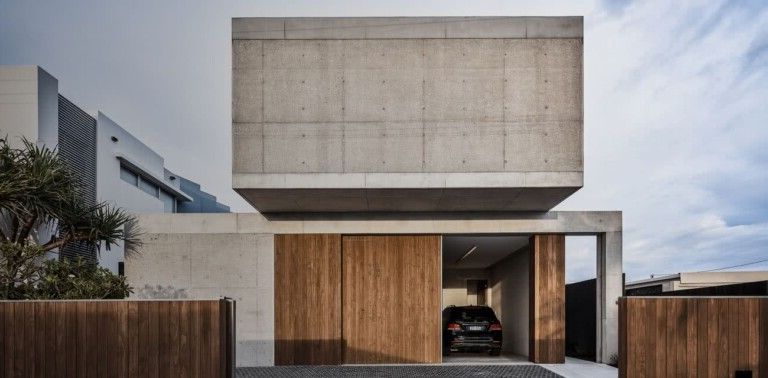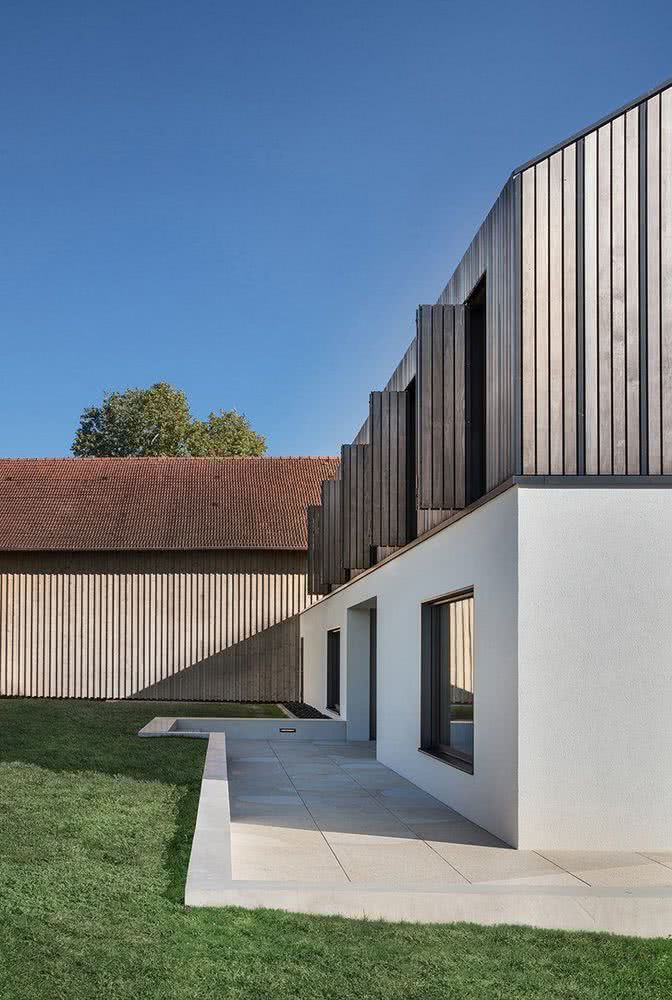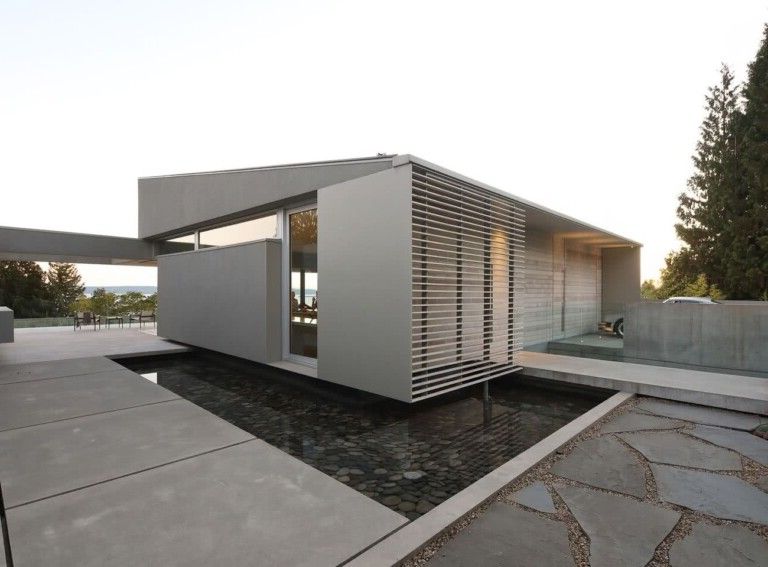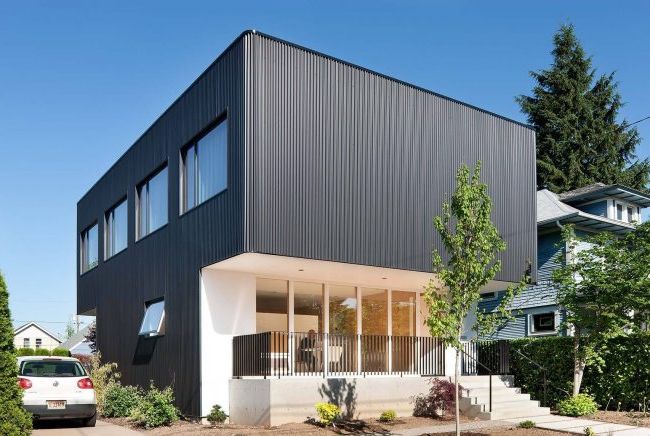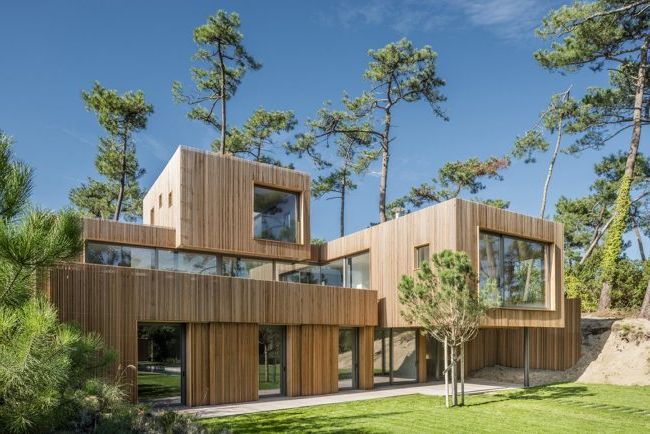 Interiors and decoration of modern houses
Functionality and comfort
The modern style is the one that has gained more popularity in recent decades. What makes this style of decoration so popular is that it gives the feeling of a cosmopolitan lifestyle that is comfortable and functional.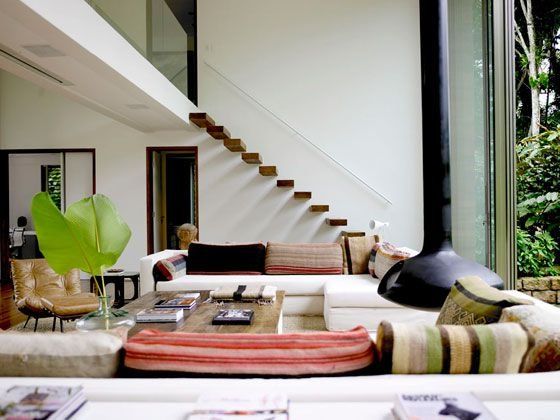 The furniture must offer clean lines and must be complemented with few decorative elements. Leaving ample room to walk around furniture is essential.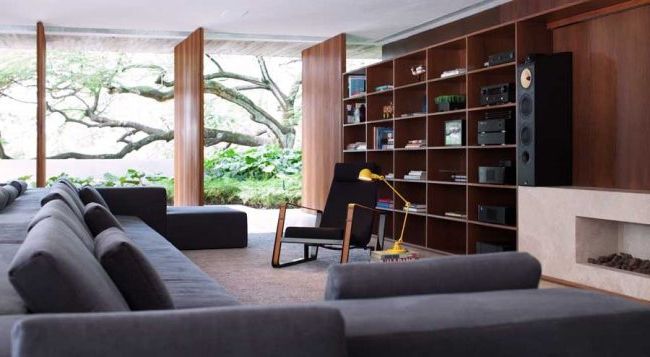 Floors
It is preferable to keep the floors without carpets. If you want a rug it should match the decor but not stand out. Adding a rug to delimit an area can be a good idea. You can even leave the concrete exposed and add a patina of color. Hardwood floors are also perfect for a modern look in the home.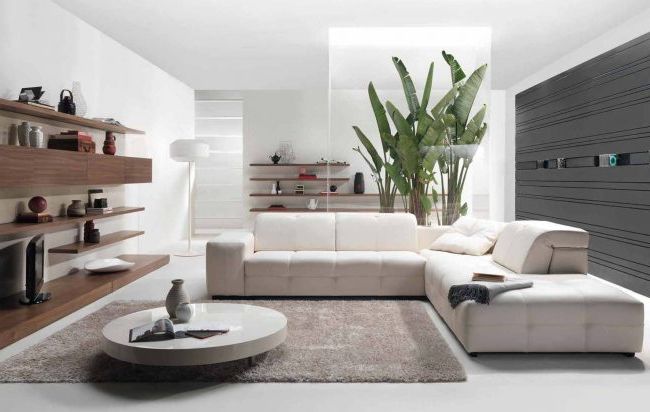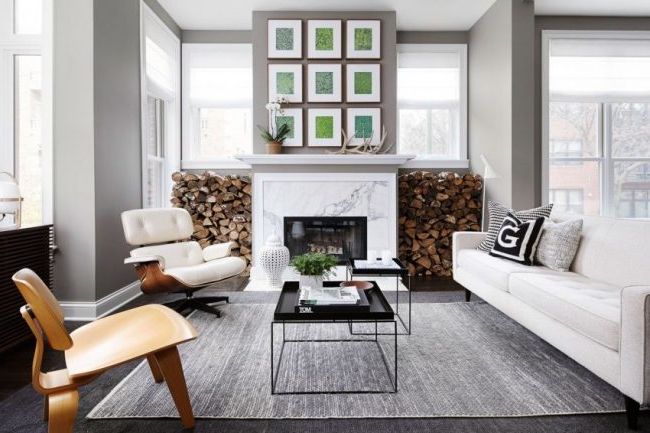 Neutral colors
Although the predominant color palette in modern houses is neutral, that is, white, beige, brown, gray, small touches of color can be given through furniture, decorative items such as cushions, as well as colored illustrations to decorate walls. It is important to add few decorative elements such as cushions and table decorations.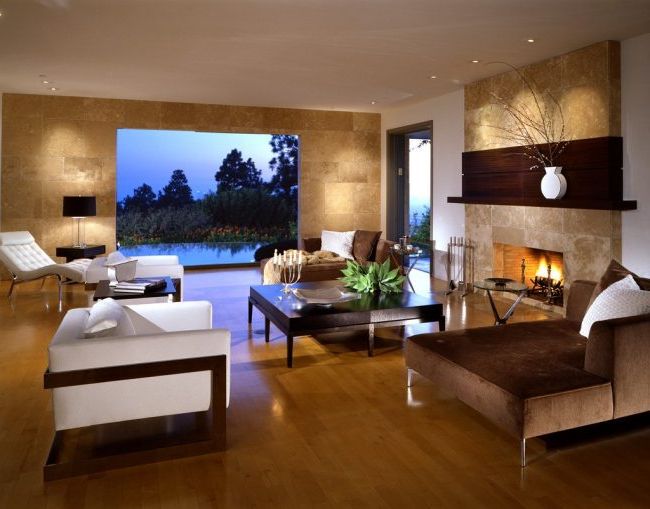 Minimalist curtains
Despite the floors without too much treatment, the treatment of windows in a modern style is important. Do not choose fabrics with too flashy prints, a predominant minimalism should always be maintained. In the case of high windows, the use of remote control technology can be considered.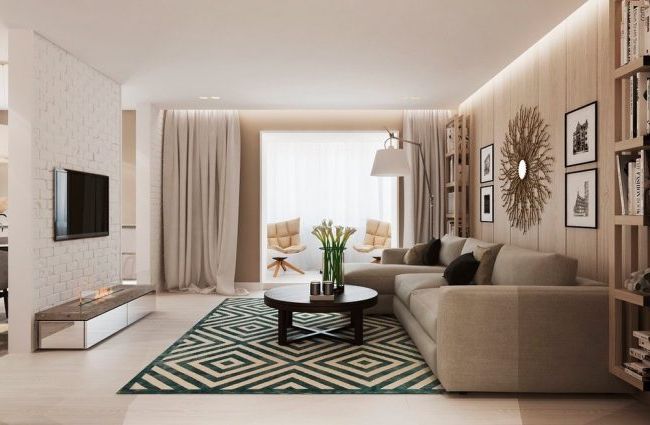 In this second example, we see a work by the architect Ana Noguera. It is a medieval-style 16th century house in Girona, Spain, which has been renovated into 2 luxurious apartments, which juxtapose the medieval style with the most modern elements, to give the visitor an unparalleled feeling of comfort.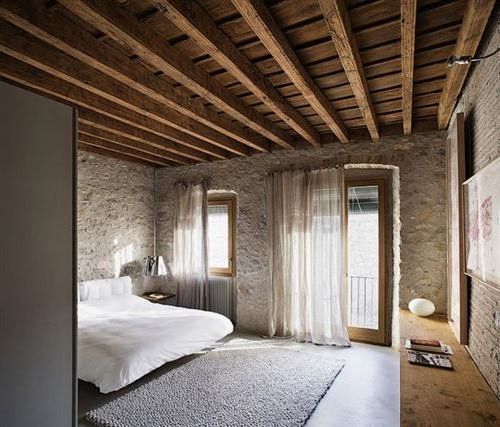 Few walls
Contrary to other styles, in the modern style the feeling of several rooms occupying the same space is perfect. The most prominent features include interior plans with fewer walls.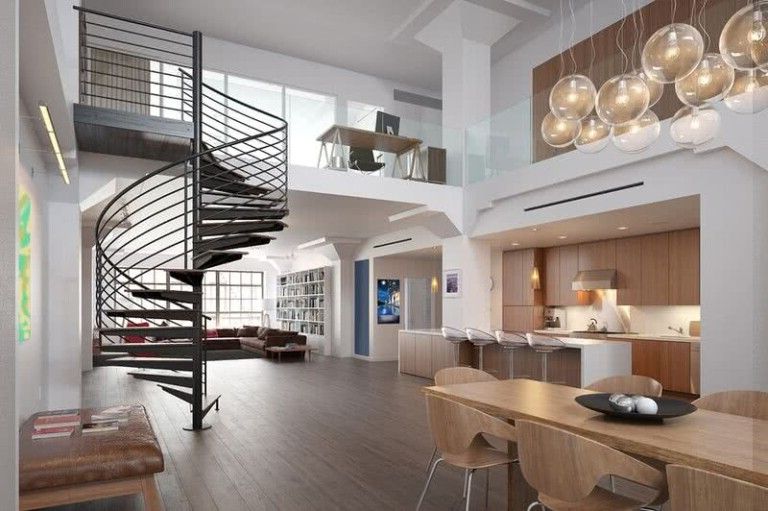 This is the main concept of modern lofts. Lofts are becoming more and more popular, especially for those looking for a modern space. The name loft means a large plant, usually unfragmented. It is a large space without separation between the different rooms and the presence of a second floor is very characteristic.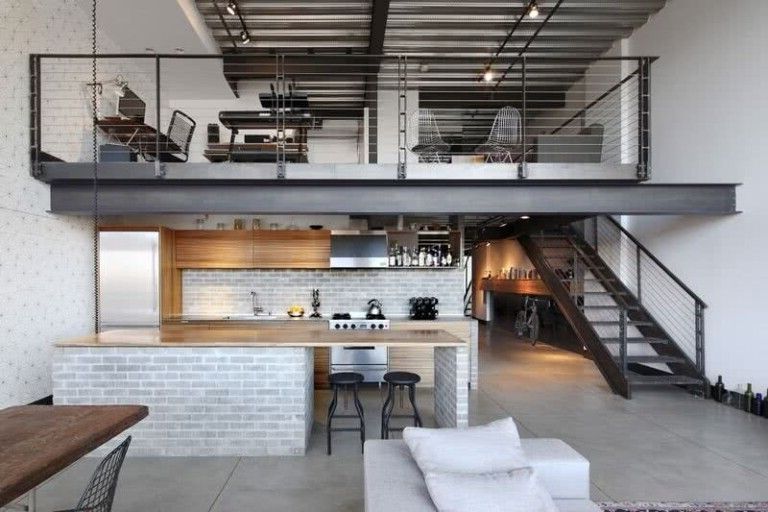 Without a doubt, it is a very original and modern idea, which often requires a great deal of design capacity, since it does not have walls, creating different spaces can be difficult.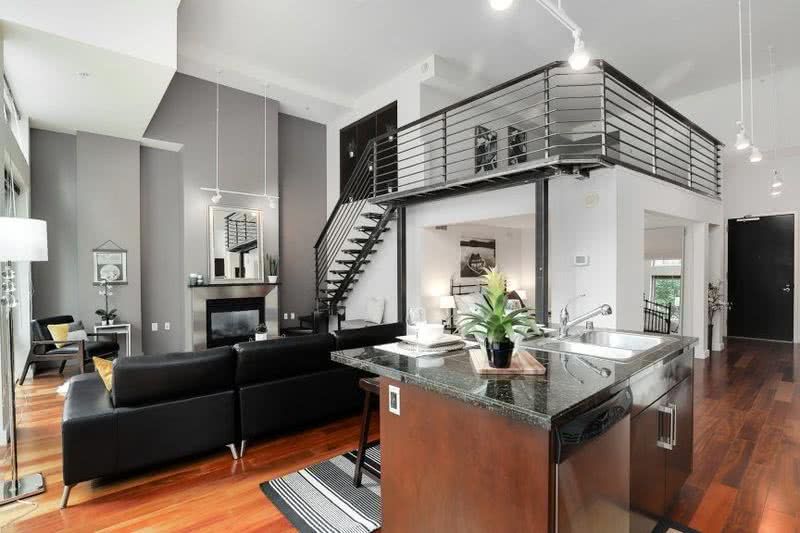 A great idea for space separation is to use furniture. For example, to separate a kitchen from a dining room, the use of an island or high table is a perfect idea. Another example, separating a bedroom from the living room, using a metal and glass structure.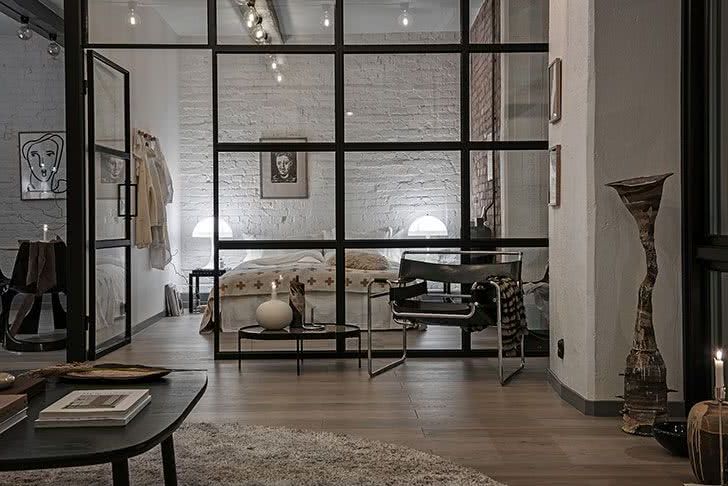 Another way to create different spaces is by using rugs or different finishes on the floor. For example, the living room with a large rug and the dining room with a different type of flooring. The same with painting. Paint one space one color and another space a different color.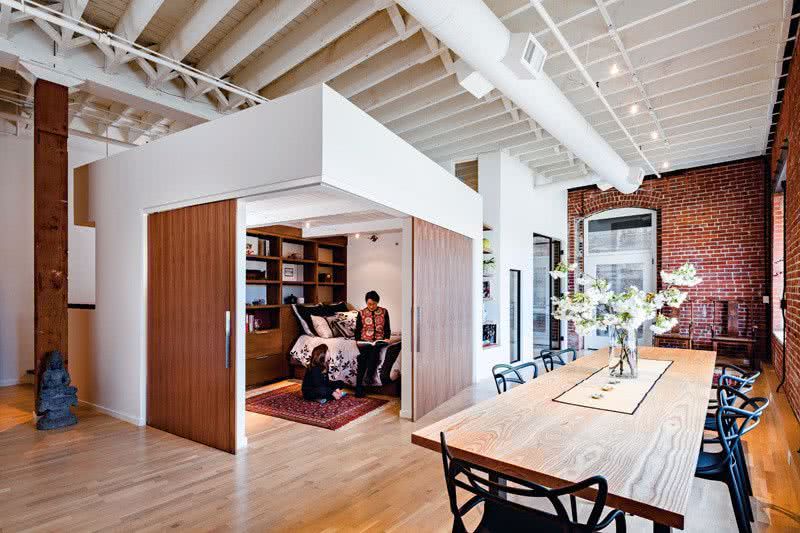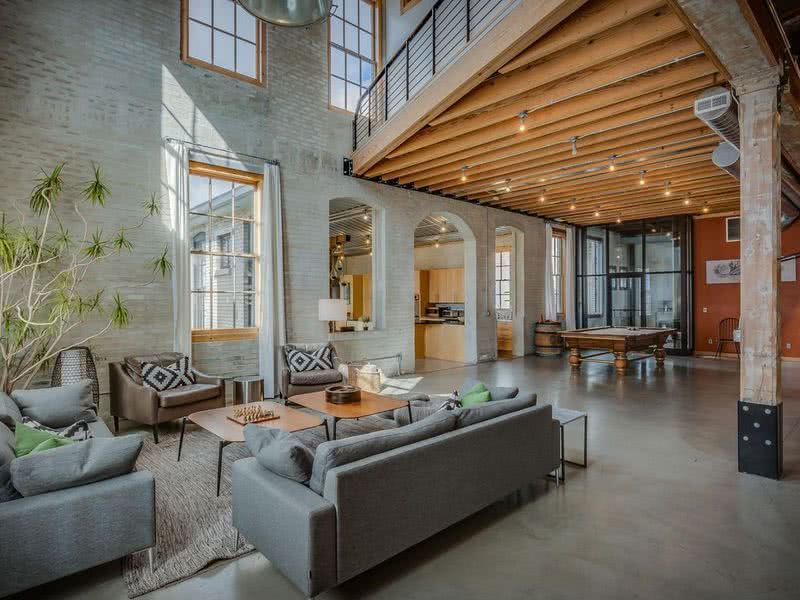 As for furniture, it is important to choose furniture that combines with the modern space and it is also important to keep free spaces to be able to move without difficulty. Don't add too much furniture.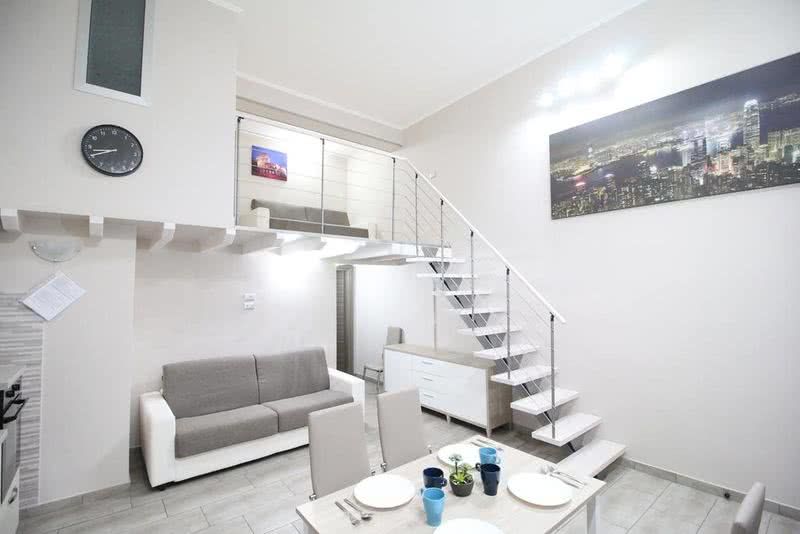 Pools or fountains
It is about integrating the water element into the interiors of the houses, either through a pool or fountain.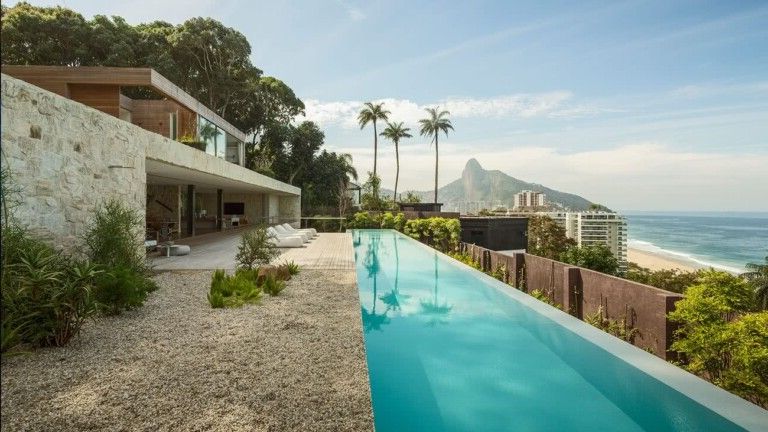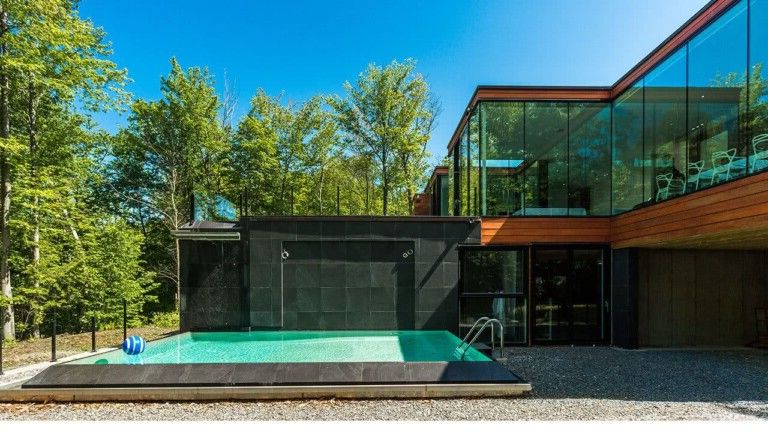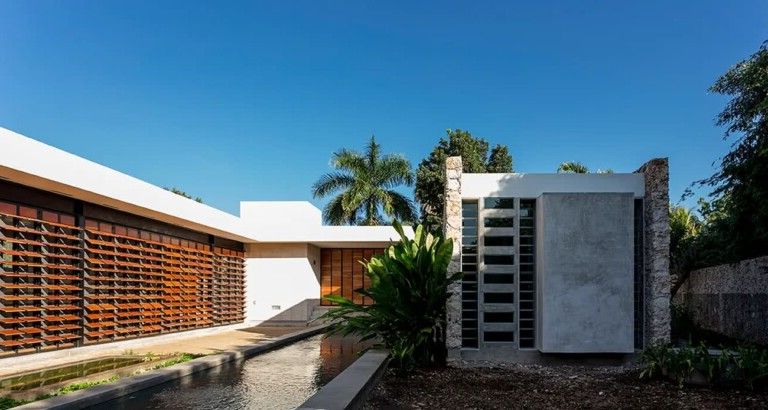 Plants
For a good balance with nature, interior gardens are also usually placed. It all depends on your preferences in terms of architectural designs.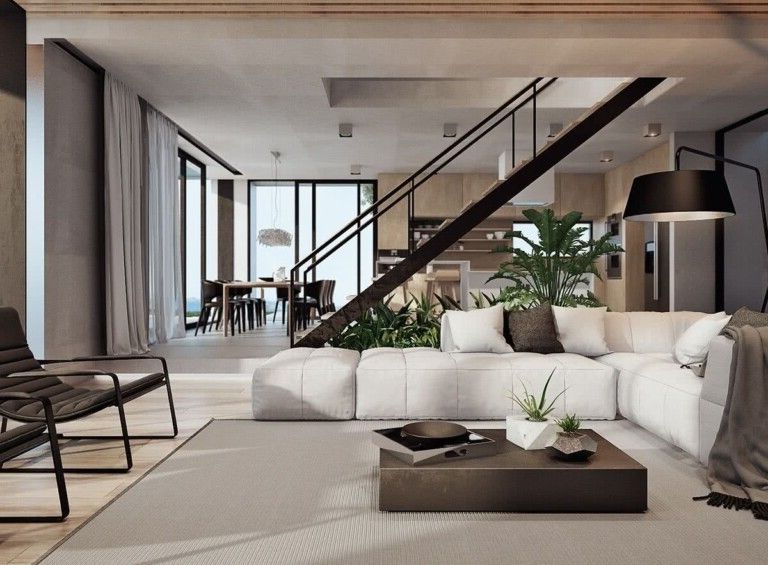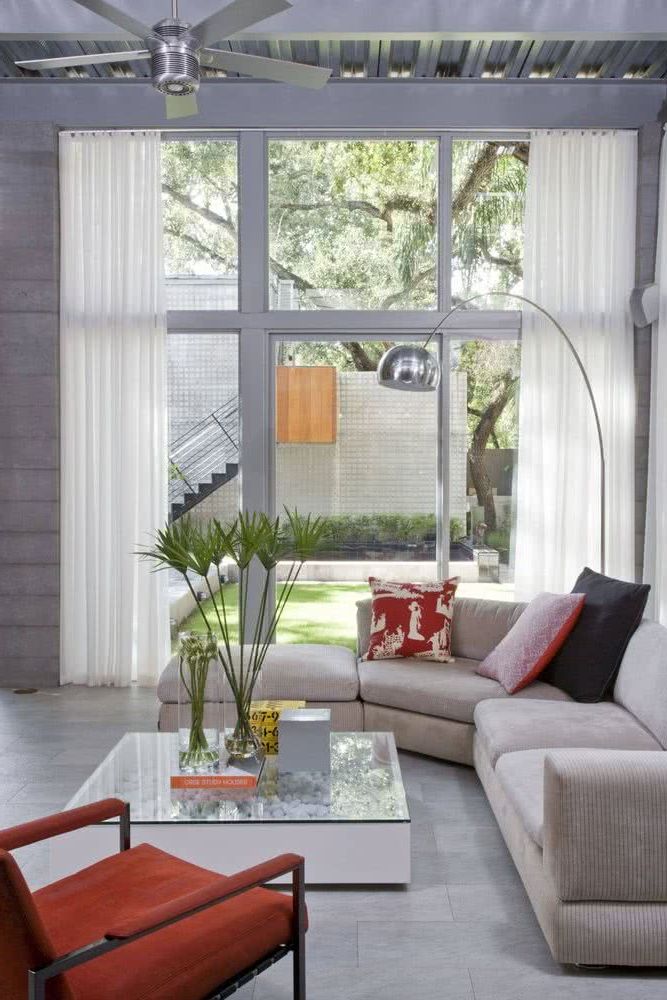 But we always have the option of placing plants in pots, as we see below.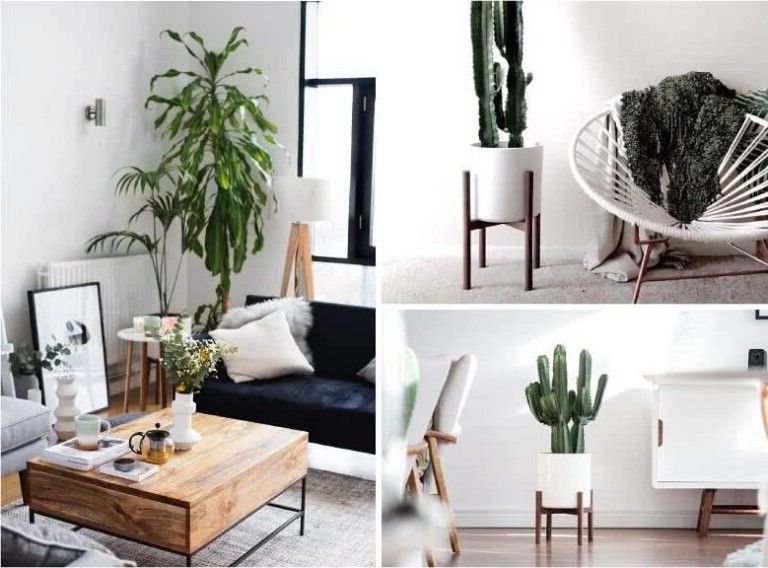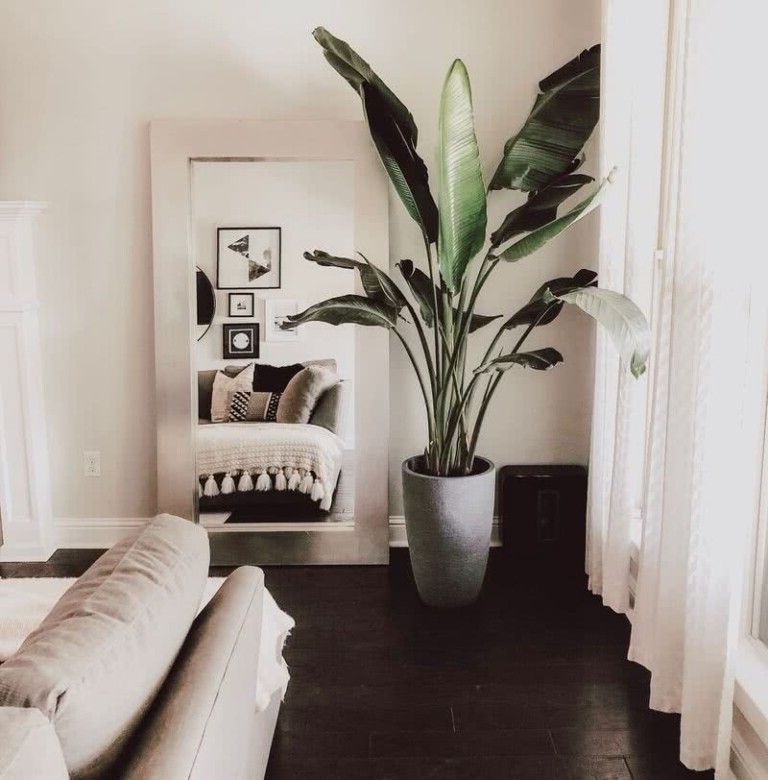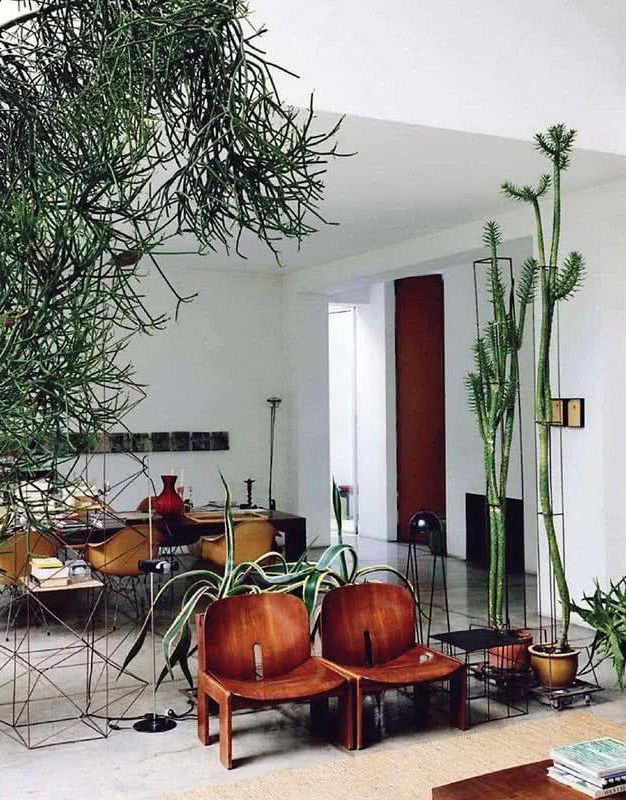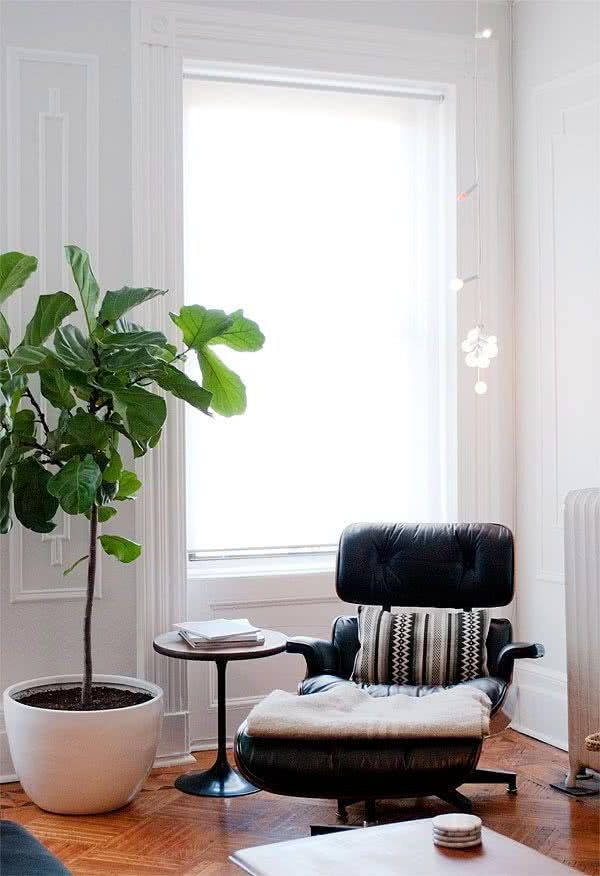 Minimalist storage
If you use cabinets and storage elements, they should integrate perfectly with the architecture of the house. And if possible, stay low.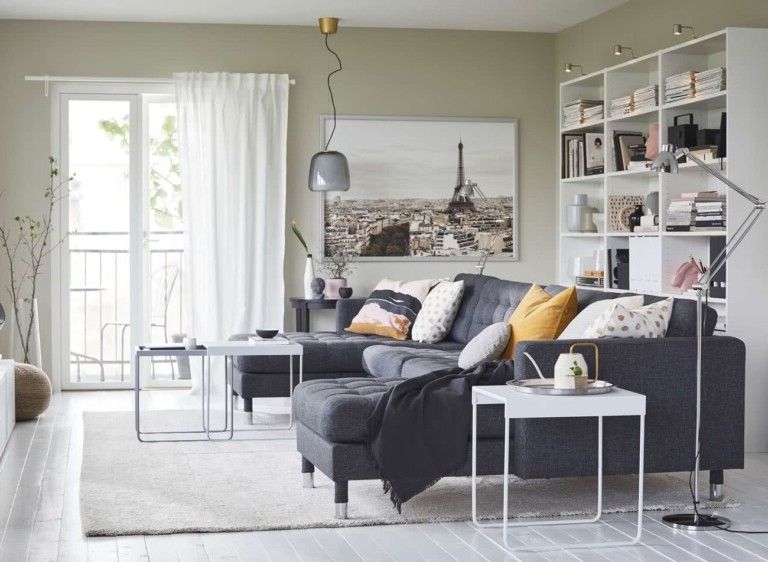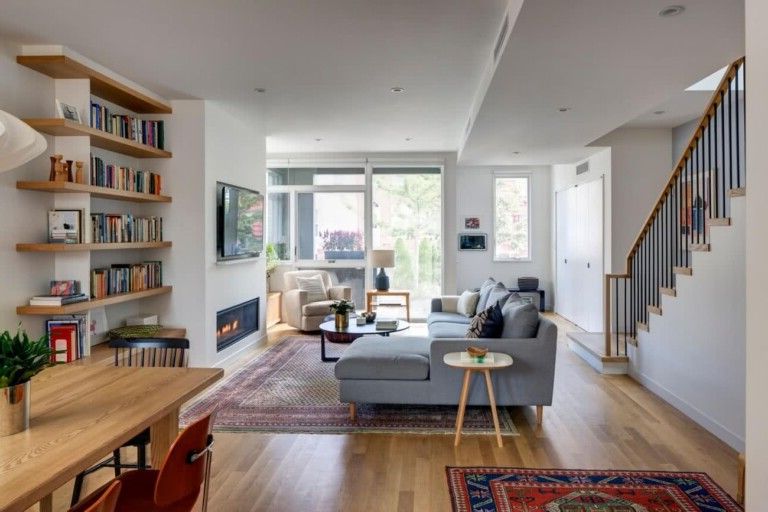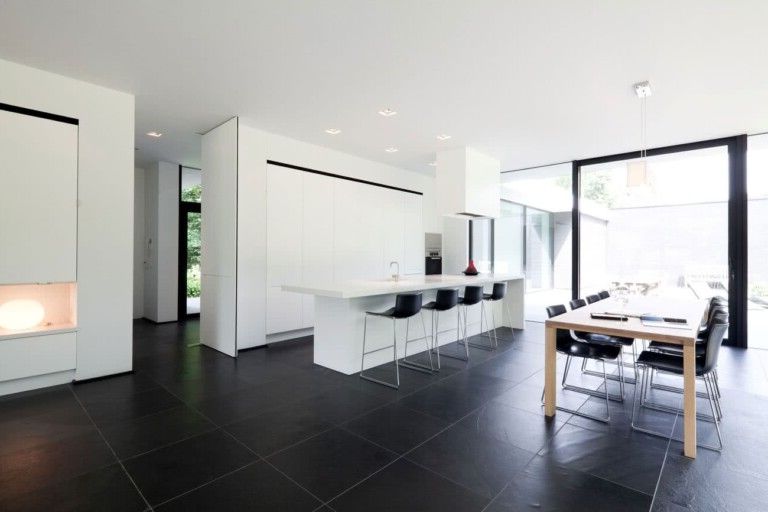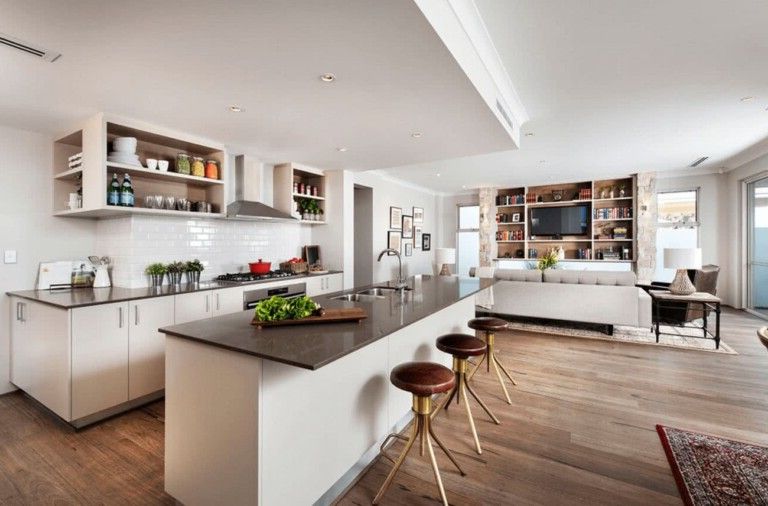 Large windows
Summer is the season when most of us take a vacation outdoors, but there are some lucky people who get to experience nature all year long.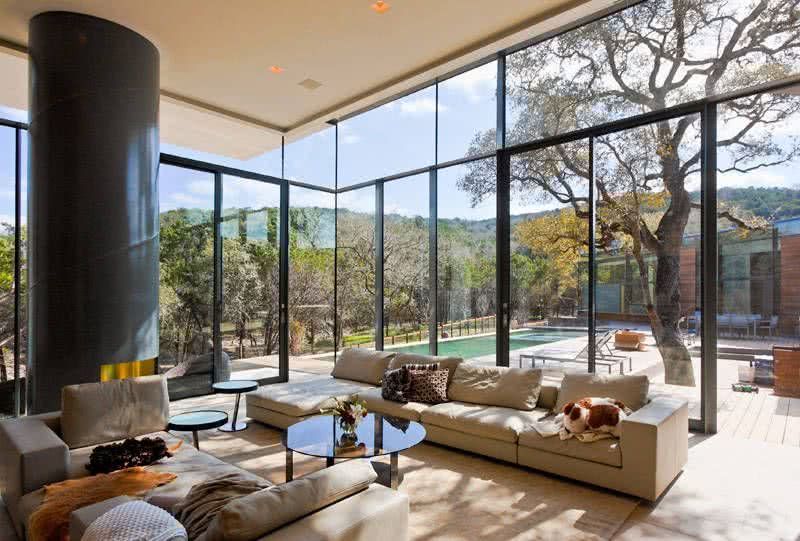 The houses built with glass walls, each season, change their image for those who observe from inside, giving shades of green leaves, autumn gold, white winters with the mountains in the background, or why not the sea. It is one of the most impressive features of some modern houses.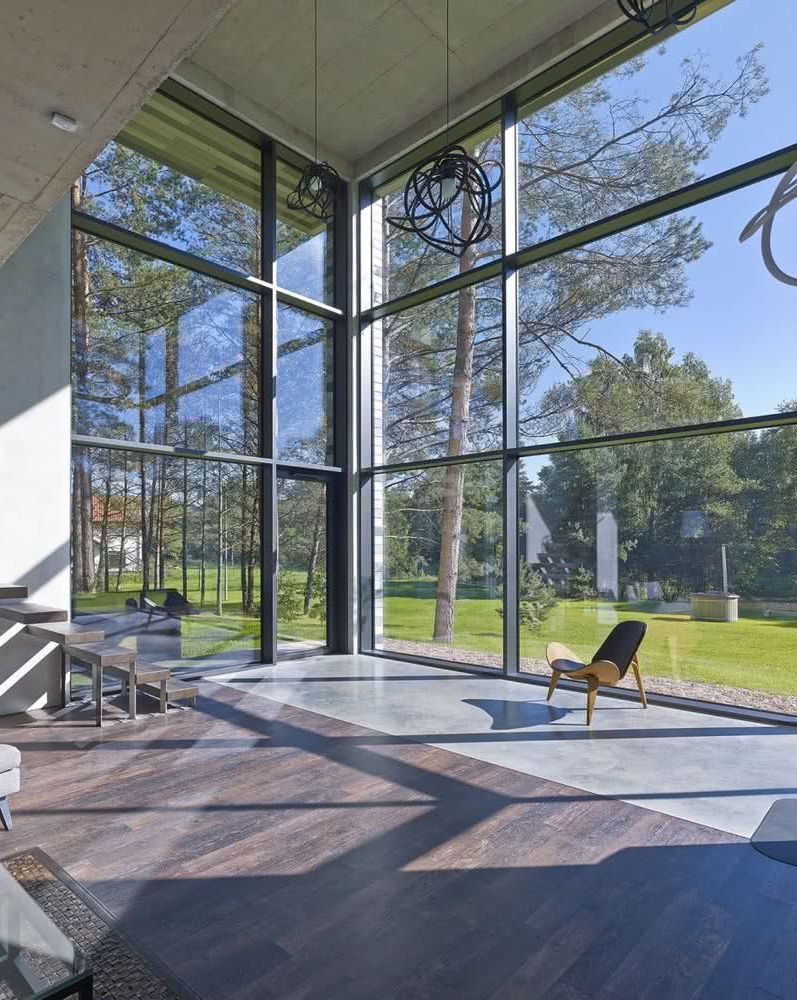 Wall-to-wall windows have some issues, like privacy and heat gain, but they also provide a bigger view, lots of natural light, and best of all, a sense of connection to the landscape outside.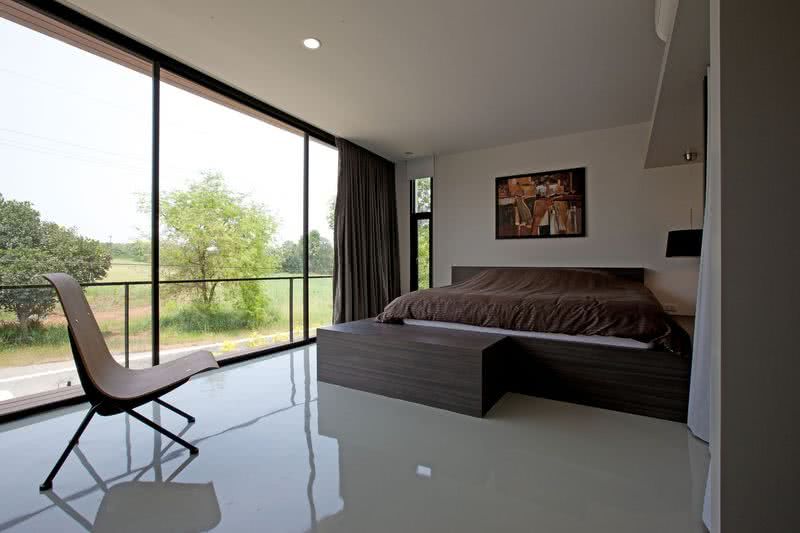 As you can see in the image above, it would seem as if the garden were inside the living room, a really fantastic feeling, and with good outdoor lighting, at night it can give an unimaginable effect.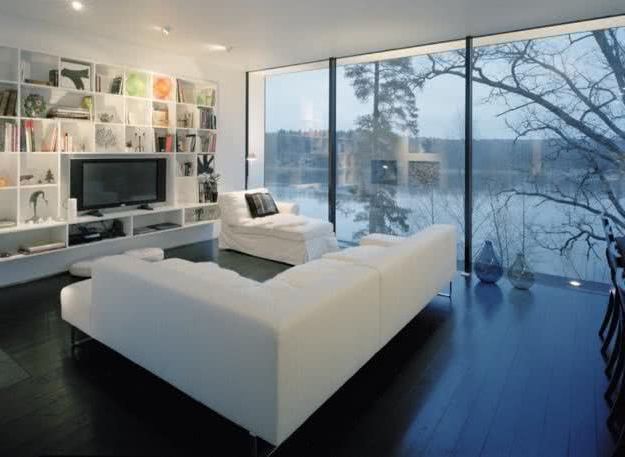 For areas like those shown in the photos, surrounded by thick vegetation, there is no problem, because the exposure is minimal, but look at this photo: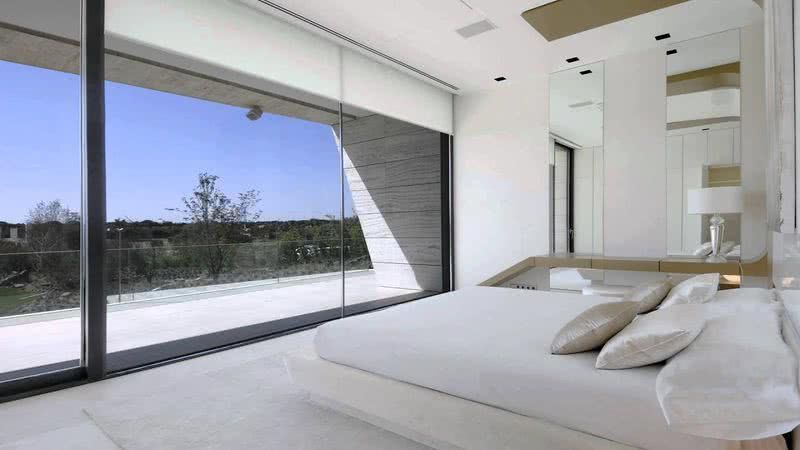 Spectacular, but are you willing to show everything? Absolutely everything that happens in your bedroom. Obviously it has curtains, but precisely the idea is to have them closed as little as possible.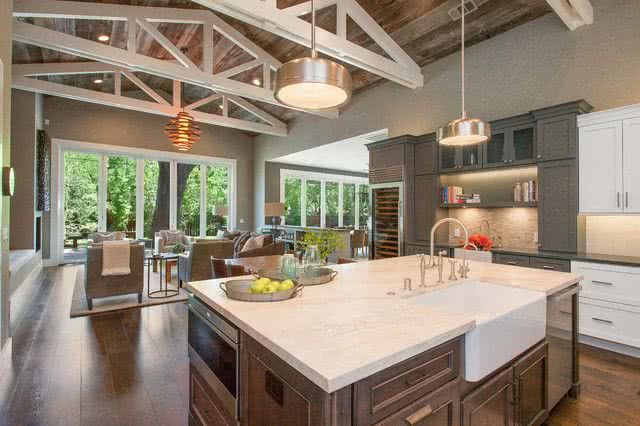 If you are one of the lucky ones who have the possibility of living in front of a view as splendid as that of a large garden, take advantage of it, develop your house so that all life passes facing that beautiful landscape.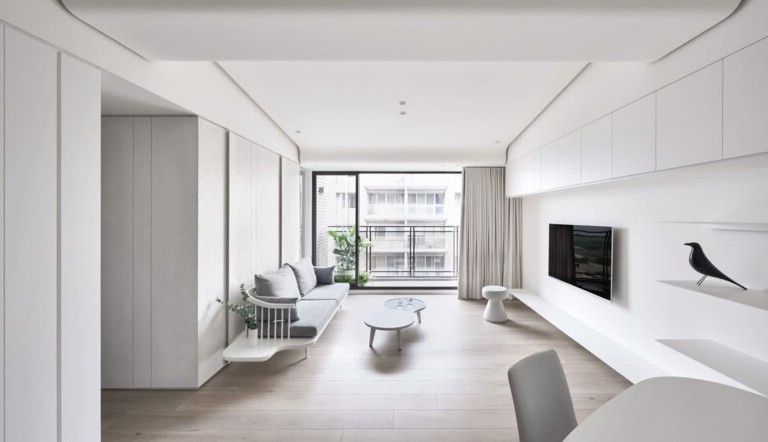 It could be said as a final summary that glass walls are an excellent idea, as long as they are applied to houses in the countryside, mountains, forest, with a large fenced garden, or on the height of a building, if that is the case wants to preserve privacy.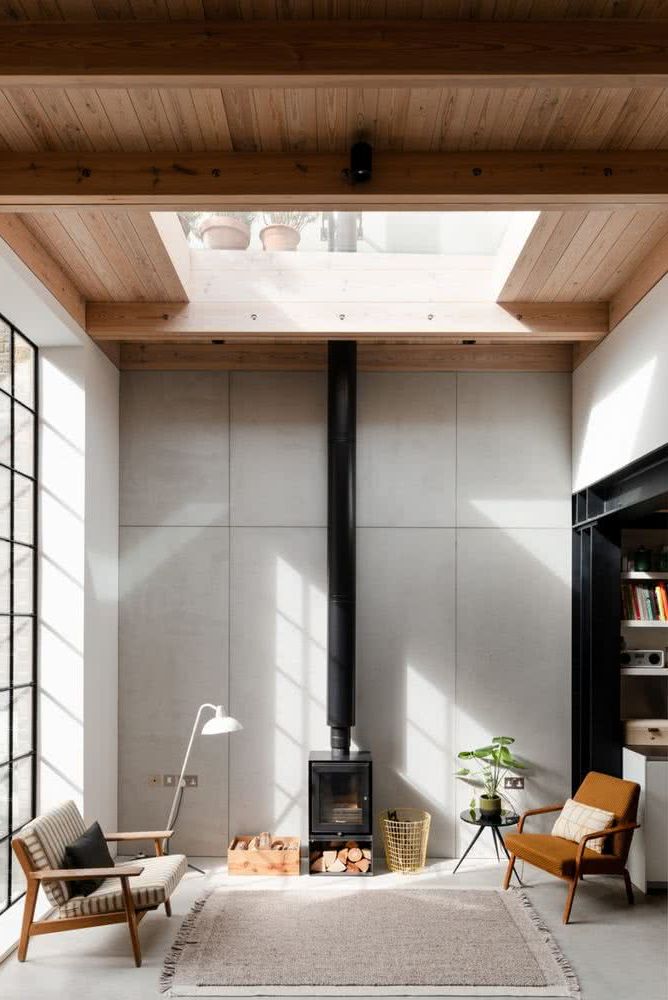 This is a construction of the Spanish architecture company A-cero. The main characteristics are luxury, comfort and design, which are embodied in beautiful homes.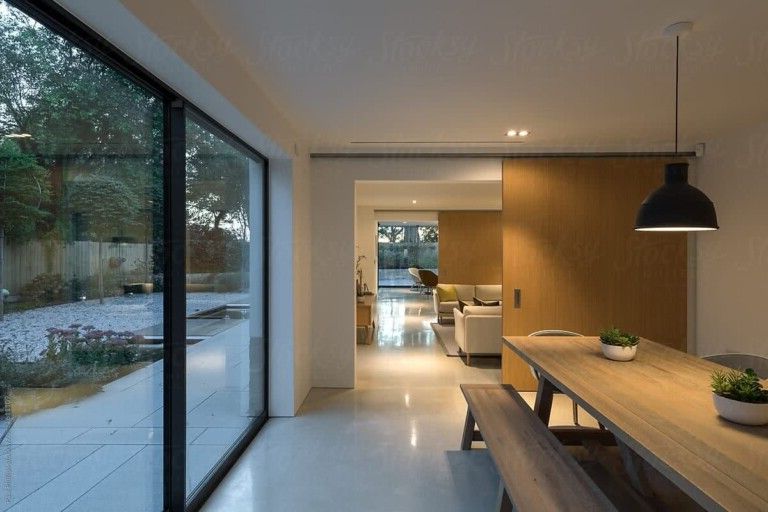 As for the luminosity, most of it is given by the implementation of large windows and skylights in the main rooms. At the same time, the white on the walls increases the sensation of light and cleanliness, making the space a very habitable place.
Mix of materials and textures
It is about using materials with different textures. The materials used are basically marble, wood, tiles (in kitchens and bathrooms).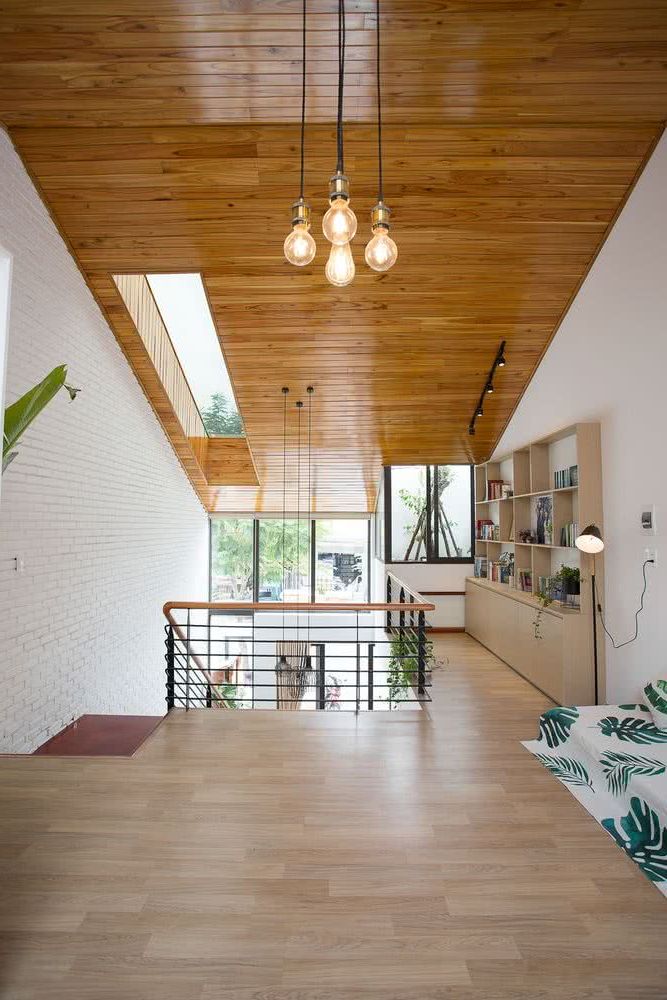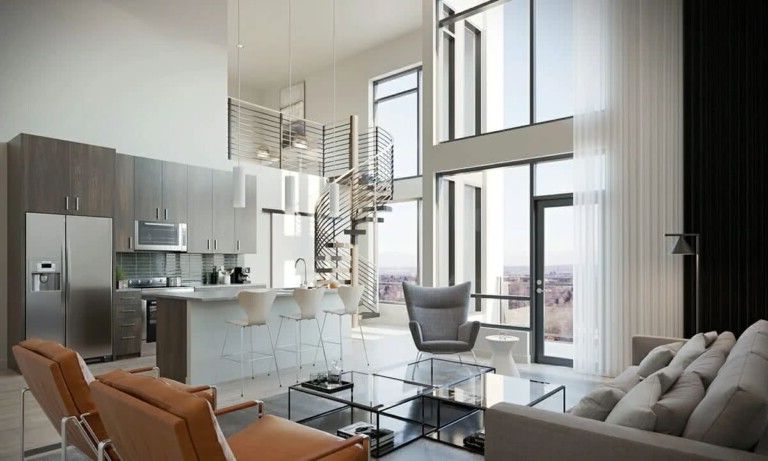 Rustic elements such as stone walls and wooden ceilings can be left exposed, combining them with modern materials such as steel and glass, achieving a truly spectacular contrast of textures.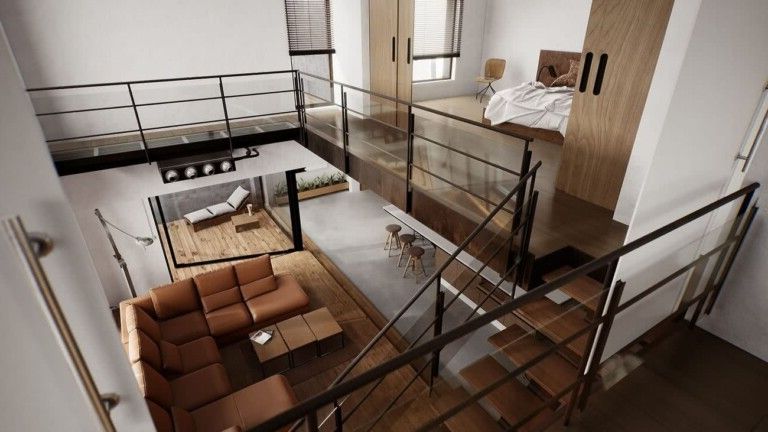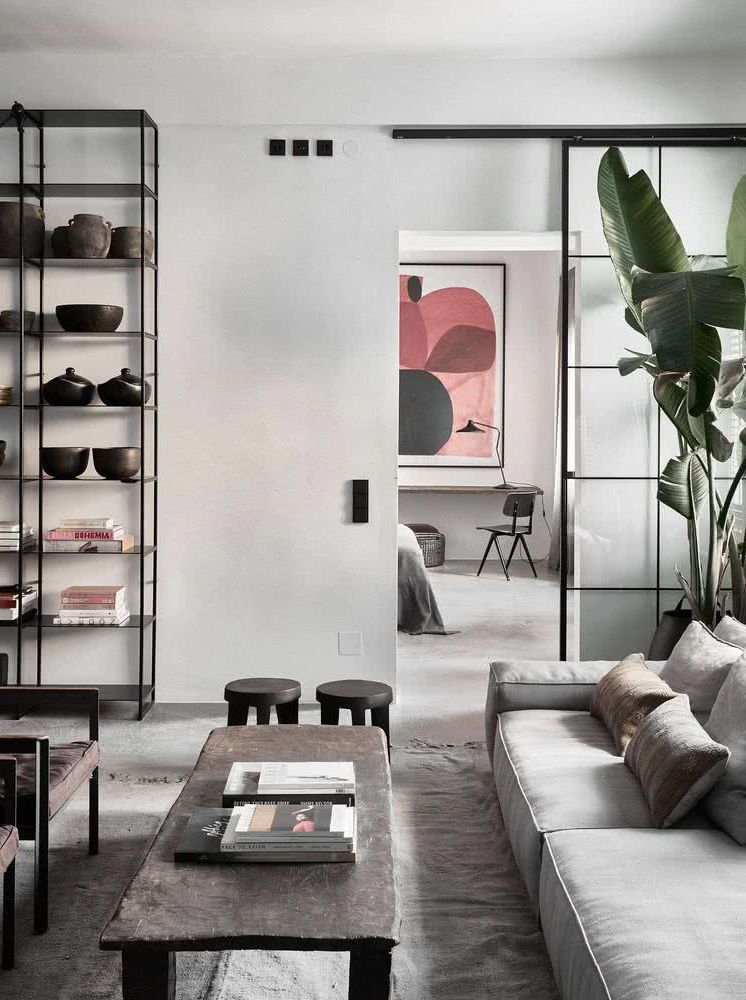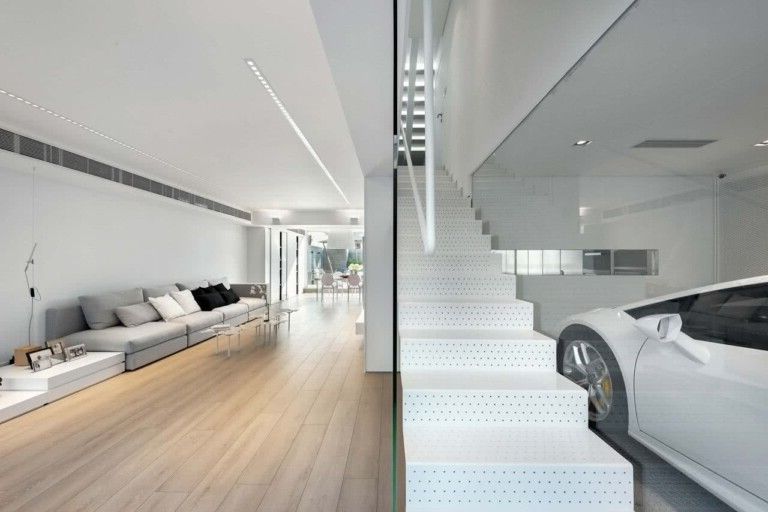 Do not miss:
40 Contemporary Houses Facades, Design and Decoration
Rustic kitchens 25 photos and design and decoration ideas