Today's modern bathrooms have become a place of refuge and relaxation to release the tensions of the day. The days of simple bathroom design are long gone, new trends and accessories are now on the horizon.
Towel heaters, soap dispensers, showers with heads on the walls and on the ceiling, Jacuzzis, place for television, among many other amenities.
Bathroom renovation is a huge investment in time and money, so it's important to plan everything before you start. A budget should be set and the right designer found before the upgrade. If you need inspiration, here we will show you the latest trends 2022 and many photos, to help you clearly establish what you want and need.
Materials in modern bathrooms
The elements that are most used today are wood, glass, small tiles both on the floor and to cover the wall, terrazzo or marble.
Wood
A natural material that brings back the domain of nature in our homes is, without a doubt, wood. It is being used primarily as a wall and floor covering, but is also seen on countertops and furniture.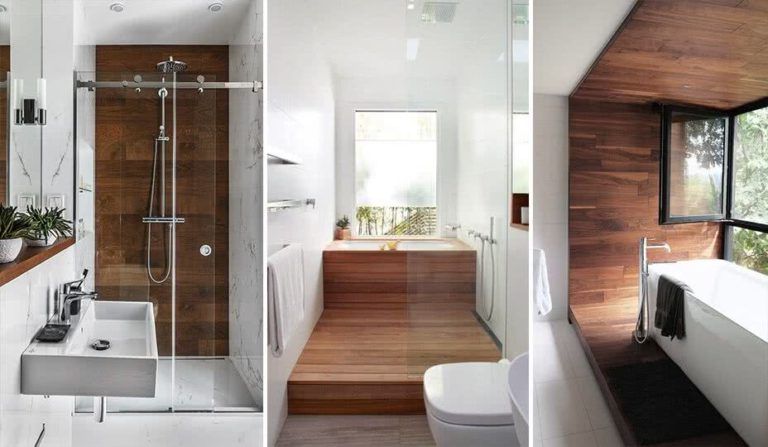 These designs give us an excellent example of elegant combinations between natural materials that can be suitable for a modern bathroom. A wooden base with stainless steel accessories, an innovative and classy combination.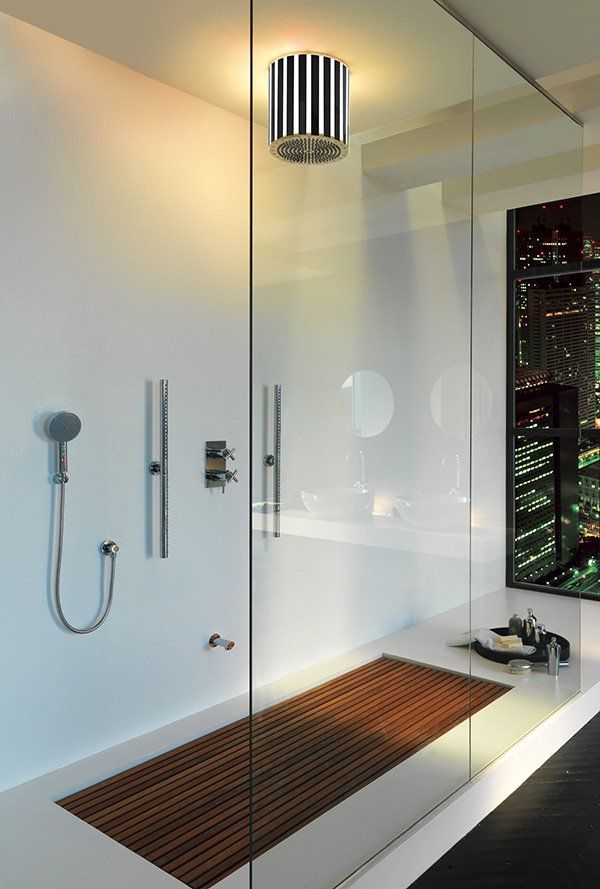 The presence of the clean and fresh texture of wood in the design brings a touch of luxury to the composition.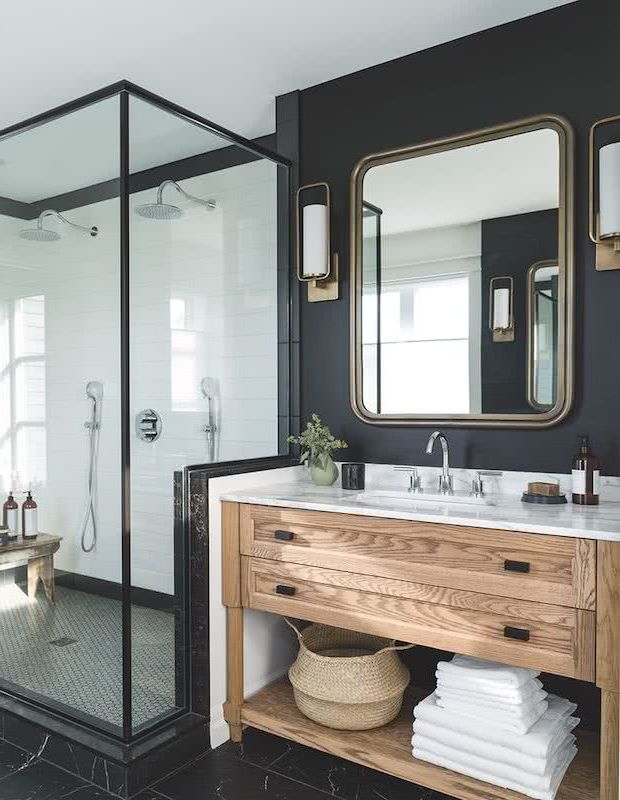 The launch of new specially designed wood products allows us to bring its natural warmth into a space where the use of this material was taboo. It can also be used on walls.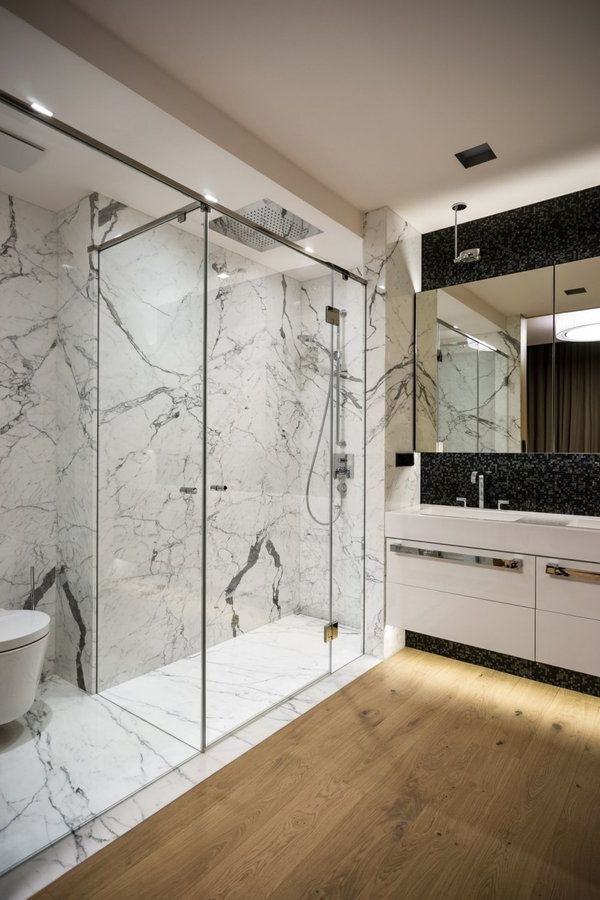 Wooden floors are also one of the great trends in modern bathroom design. They are wonderful for bare feet, as they feel very warm. It can also be used to balance the coldness of the tiles.
Marble or stone
The year 2022 will be marked by the return of marble. The colors will be white, gray, red. The seamless flowing lines and arrangement of spaces will be practical and simple, but with a touch of organic and elegant comfort.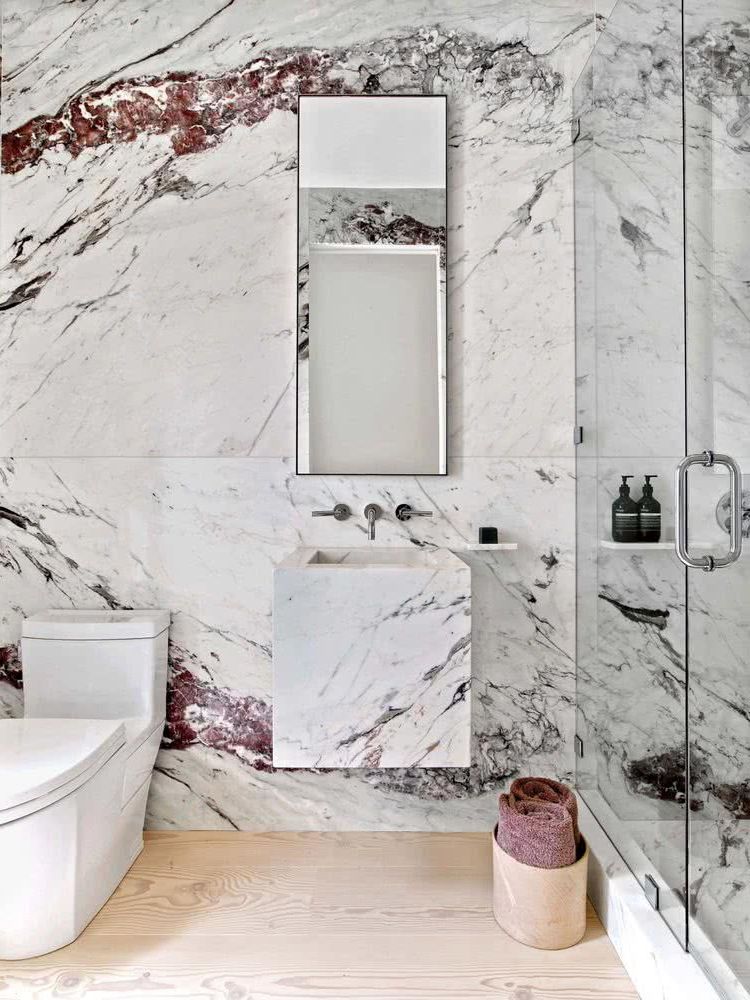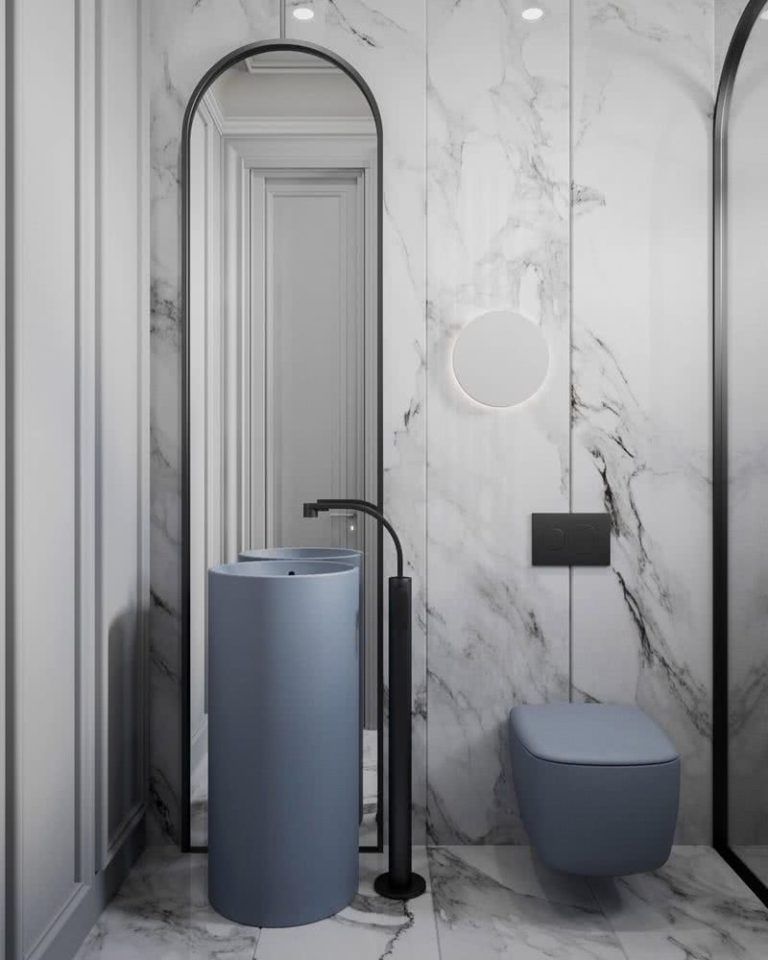 Marble and wood are not the only natural materials that will be a trend in the coming year. Natural stone will continue to be used, not just on the floor and walls, but also on countertops and sinks. It plays with the majesty of natural materials that contrast with each other, offering us visual and tactile texture in a room that has become a sanctuary.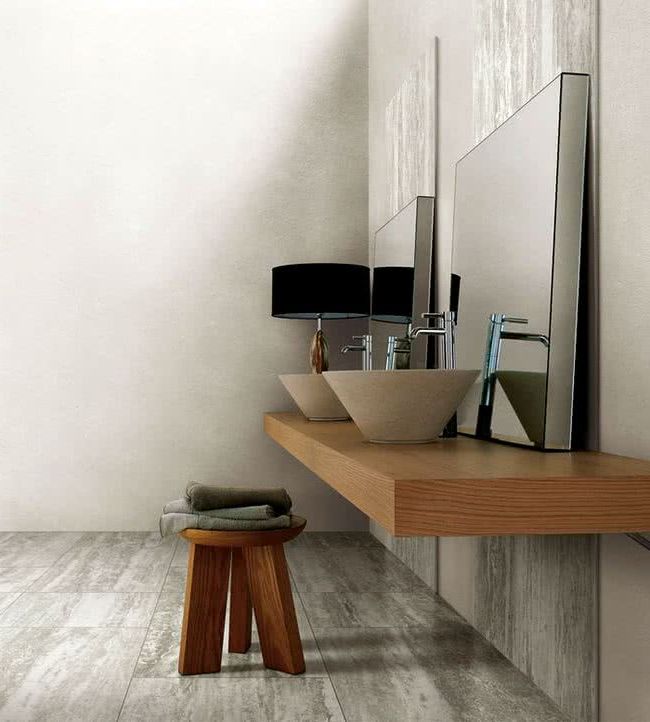 Here is an example of how the nobility of stone in combination with other natural materials can compose a truly elegant and contemporary environment. If you are going to put a wooden countertop, make sure it is protected against water, there are currently many paints that keep them perfect for years.
Golden metals
Metal has been a major interior trend in recent years, and it looks like it's not going to be falling out of favor. Gold metals offer glamor and contrast with natural materials.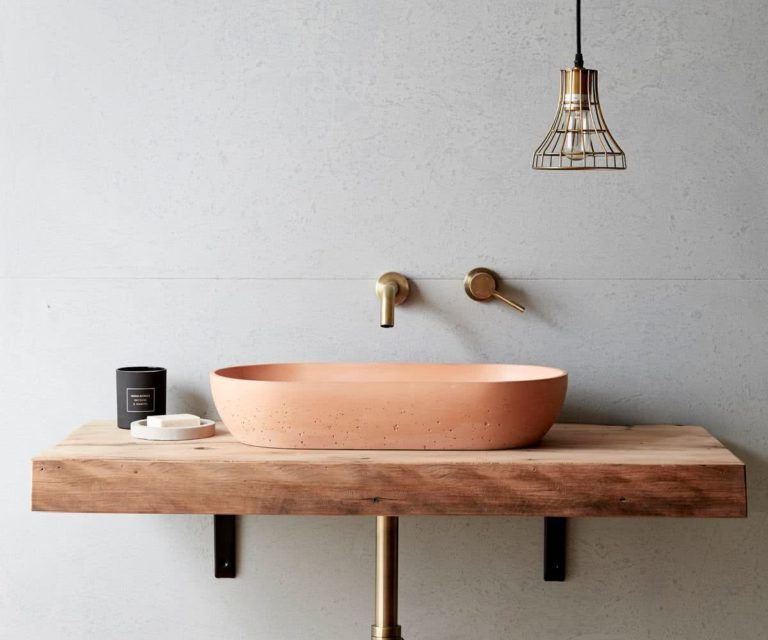 They reflect light and inject style, whether it's with an industrial edge or a touch of glamour. Metals with matte or satin finishes will be especially popular this year.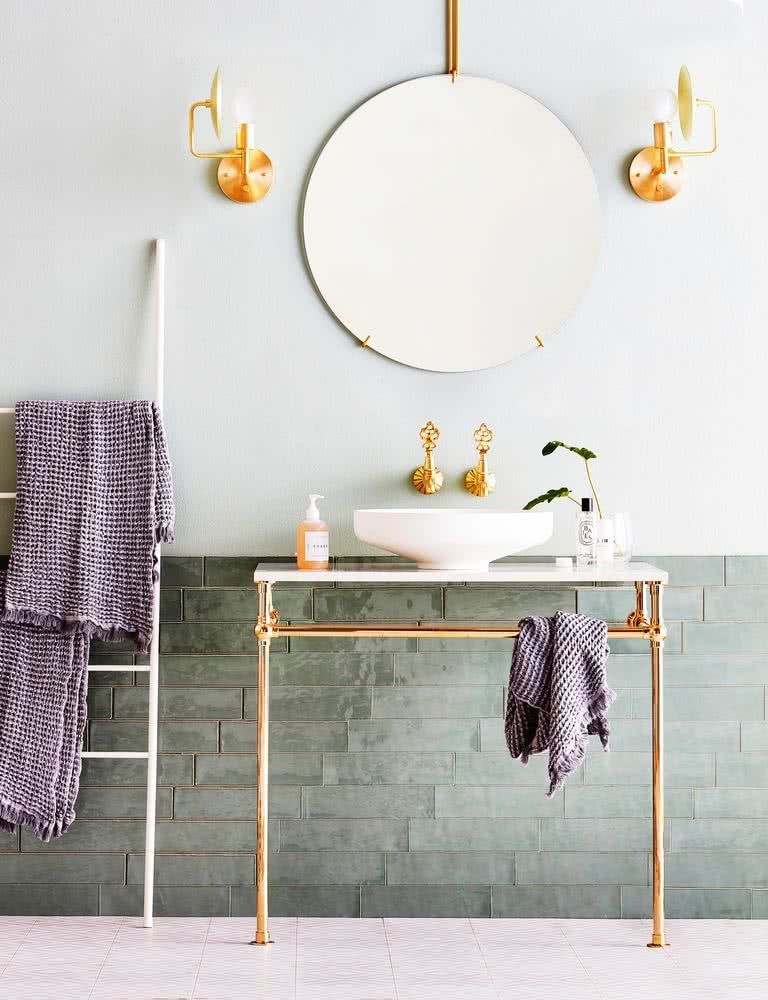 Metal accessories in shades of brass and gold is another trend. An elegant return to the aesthetics of the 70s in the combination of colors and shades.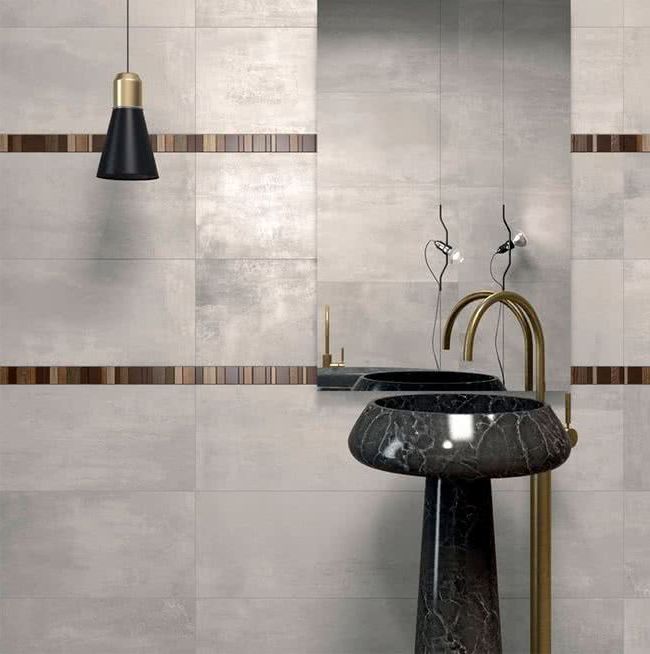 Combine organic and modern
When a combination of modern and organic is used, a clean and elegant atmosphere is created. For example, the juxtaposition of wood and glass is one of the most beautiful options.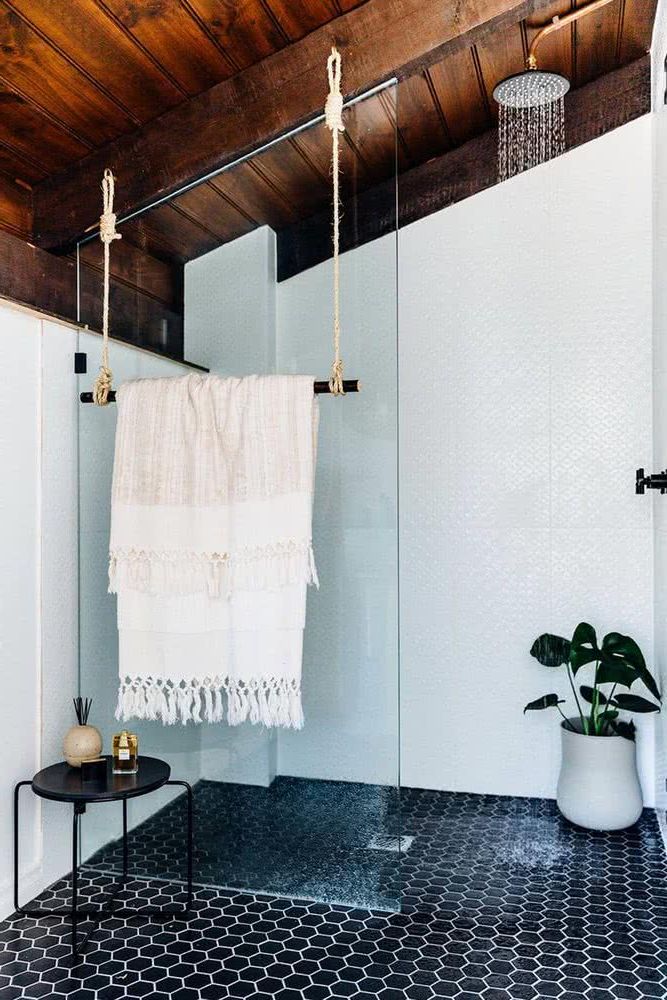 In the image we see a shower that is placed between the warmth of the wood and the shine of the ceramic and glass tiles. A combination of complementary materials that are easy to maintain. A modern yet homely composition.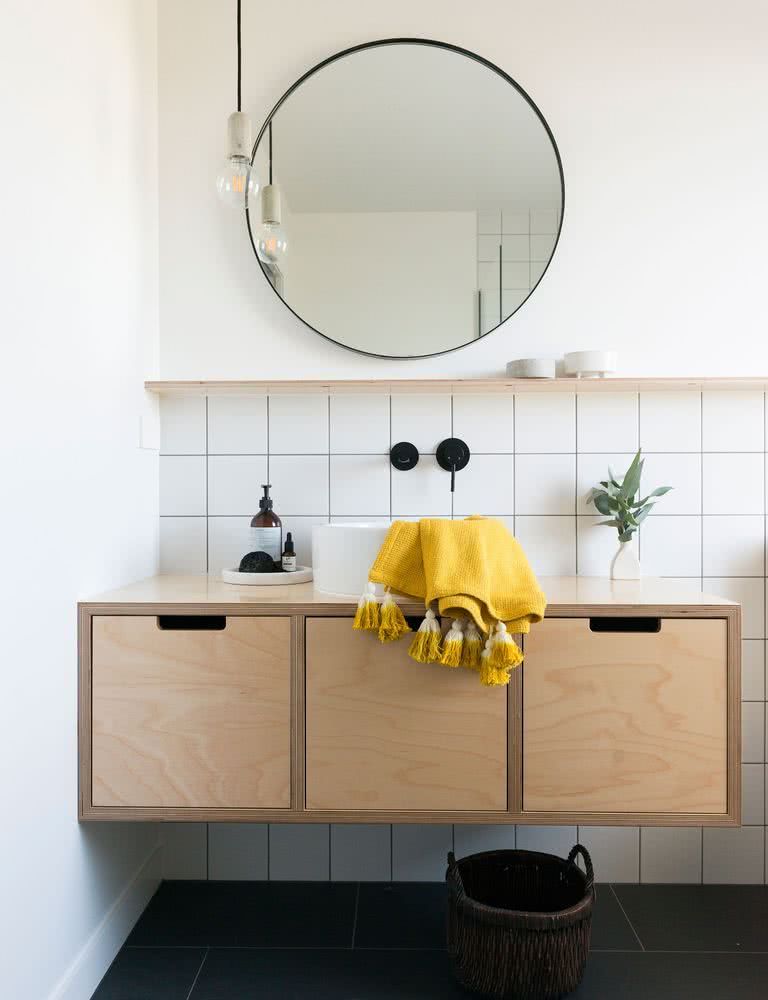 This balanced atmosphere can be achieved by combining classic and modern, minimalism and warmth, innovation and nature.
Small tiles
Small, mosaic-type tiles are being widely used today.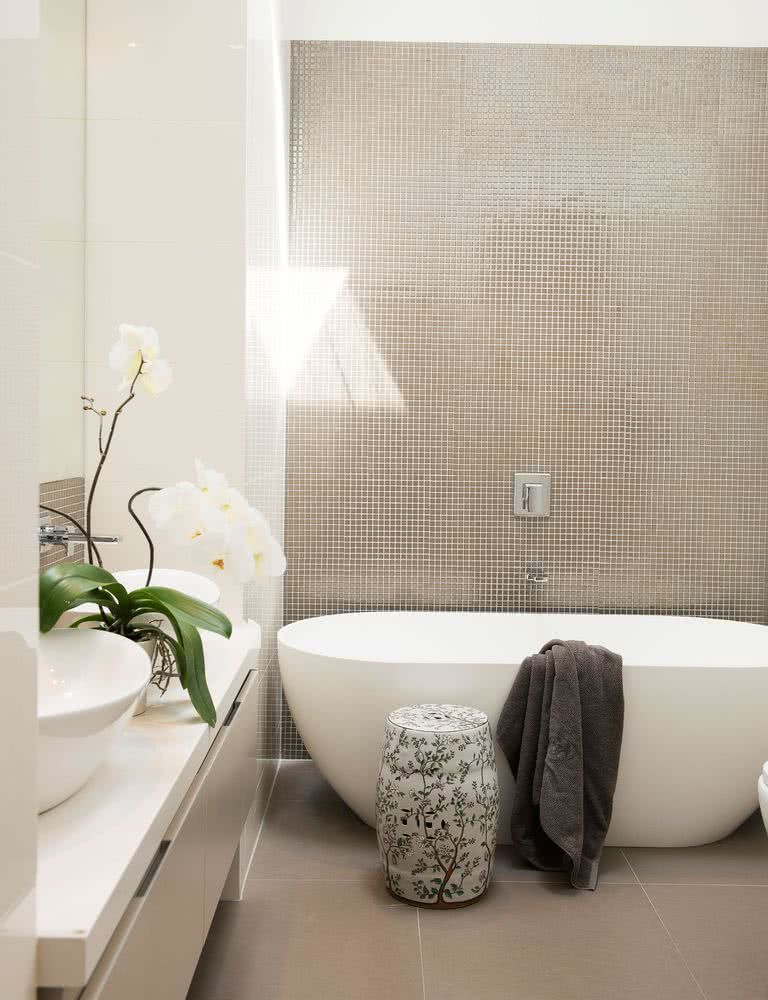 Or in the form of small strips.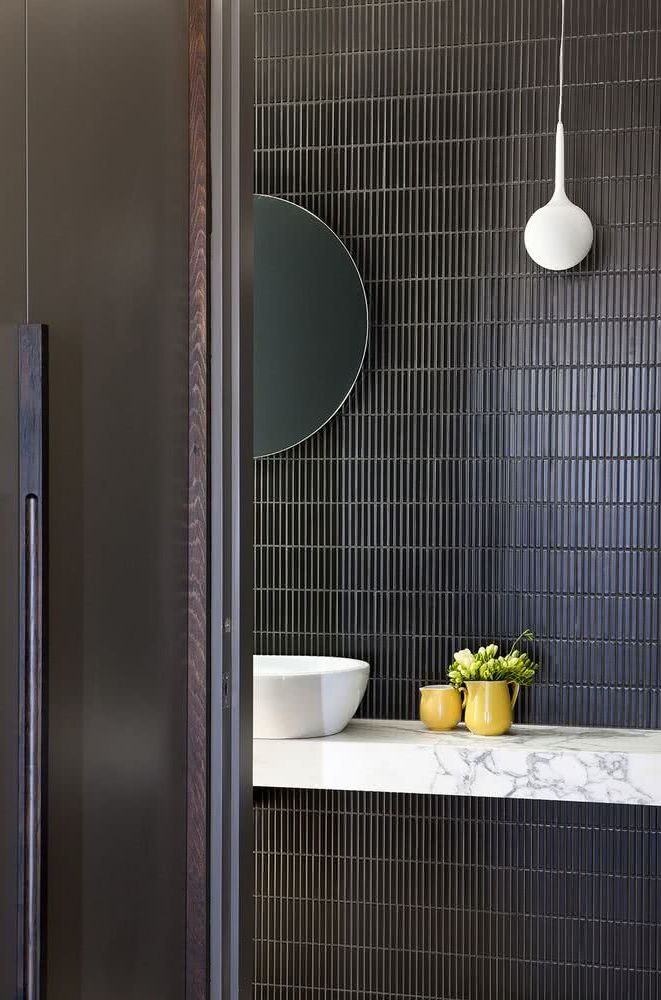 The classic subway tiles.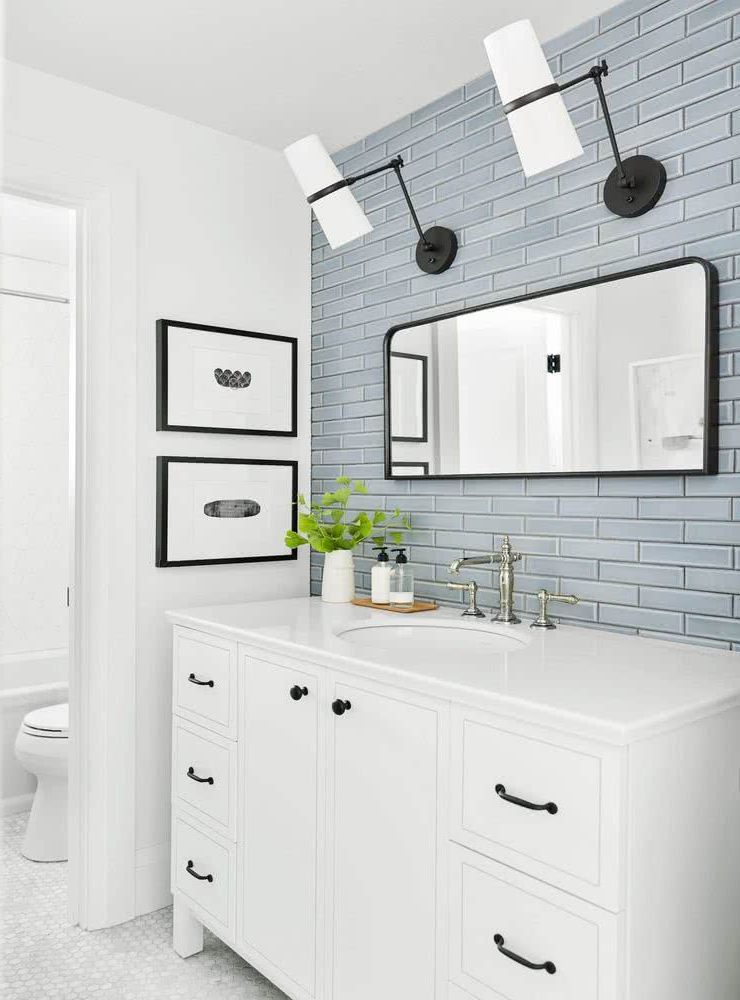 Handmade tiles are also a trend. Beautiful in their imperfections, they infuse a rich texture as well as visual appeal. The contrasting texture of the handmade tiles and the natural grain of the wood are very complementary.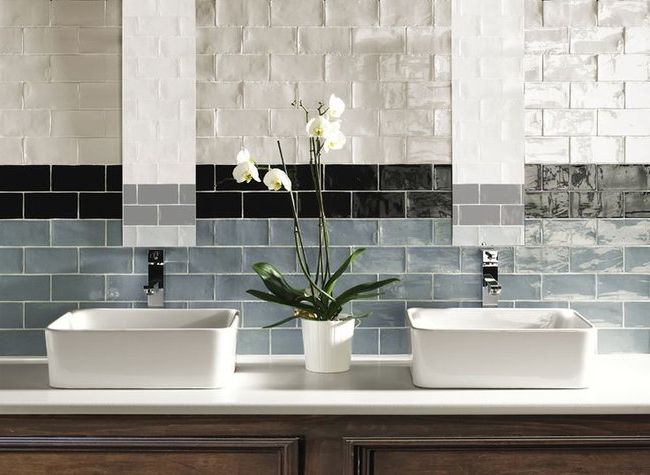 Tiles with creative patterns
Geometric patterned tiles may have been very popular in recent years, but it's back to plain, basic tiles, but with a creative twist. For example, a herringbone pattern adds a dose of elegant appeal.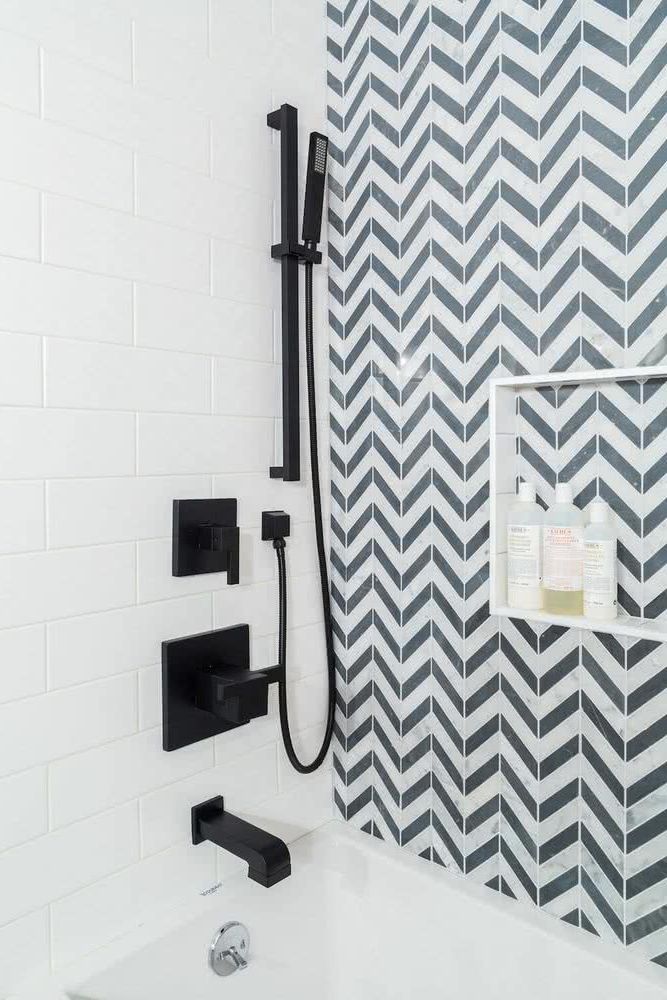 Basket weave patterns will also be popular in modern bathrooms.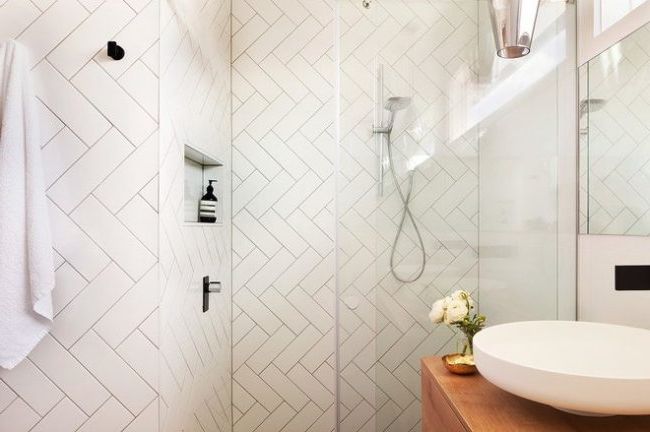 Terrazzo
Regarding the floor, one of the current options is terrazzo.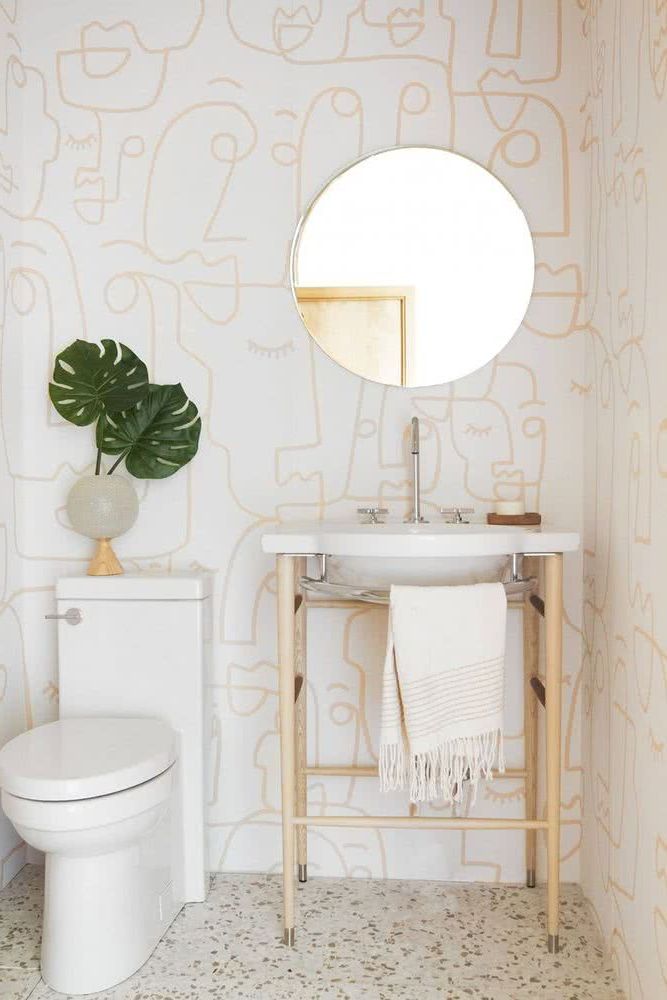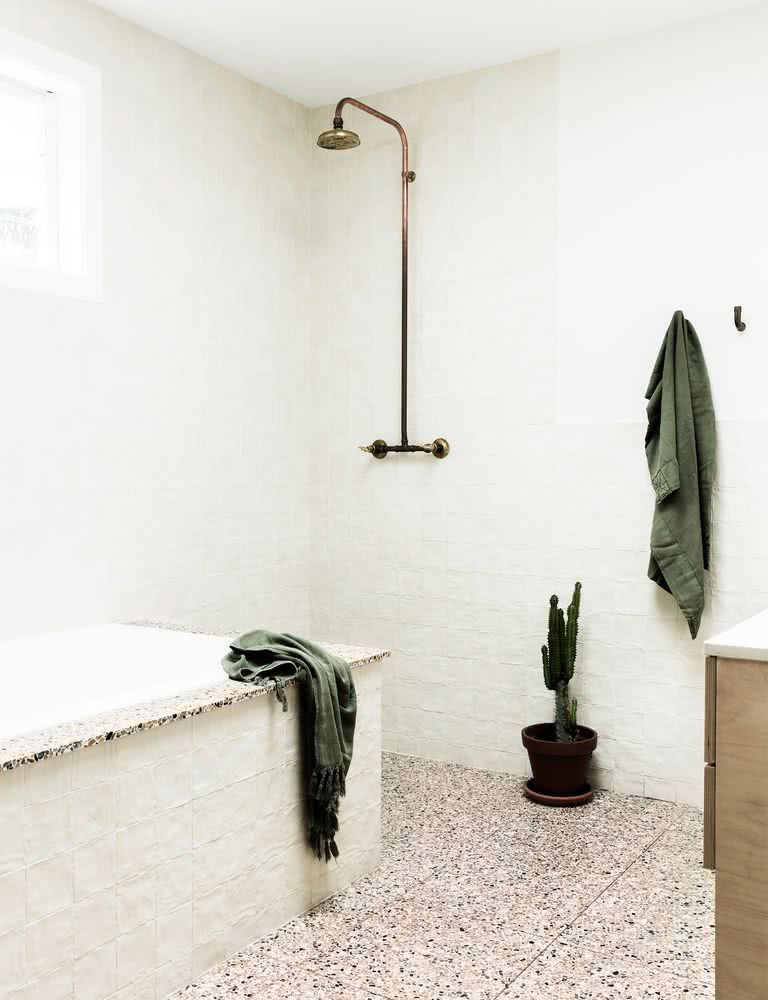 Accessories and decorations
When decorating the bathroom, many times we do not pay attention, without realizing it, to the number of people from outside the house who visit it throughout our lives. Therefore, it is important that we take care of all the details as if it were the entrance of the house.
Sinks and faucets for modern bathrooms
Thanks to the great variety that exists on the market, we can choose from the most classic taps to the most sophisticated, it all depends on the style we want to give the bathroom.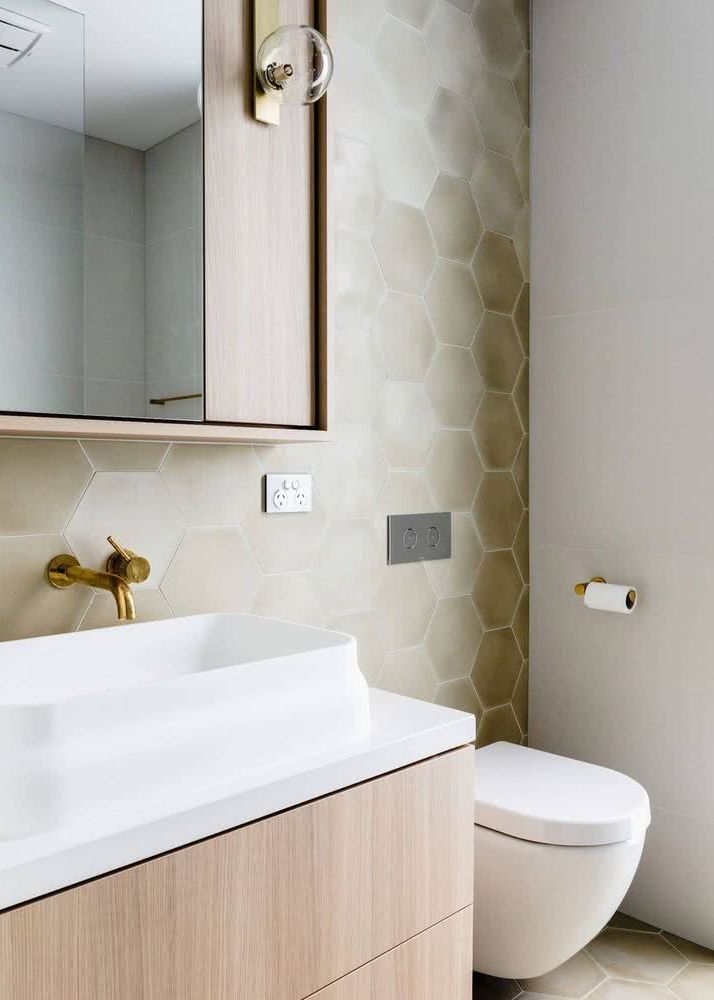 For example, if the bathroom has a minimalist style, it is best that we choose to put a very modern faucet. If we are going to opt for a vintage style, the classic faucet is the best option.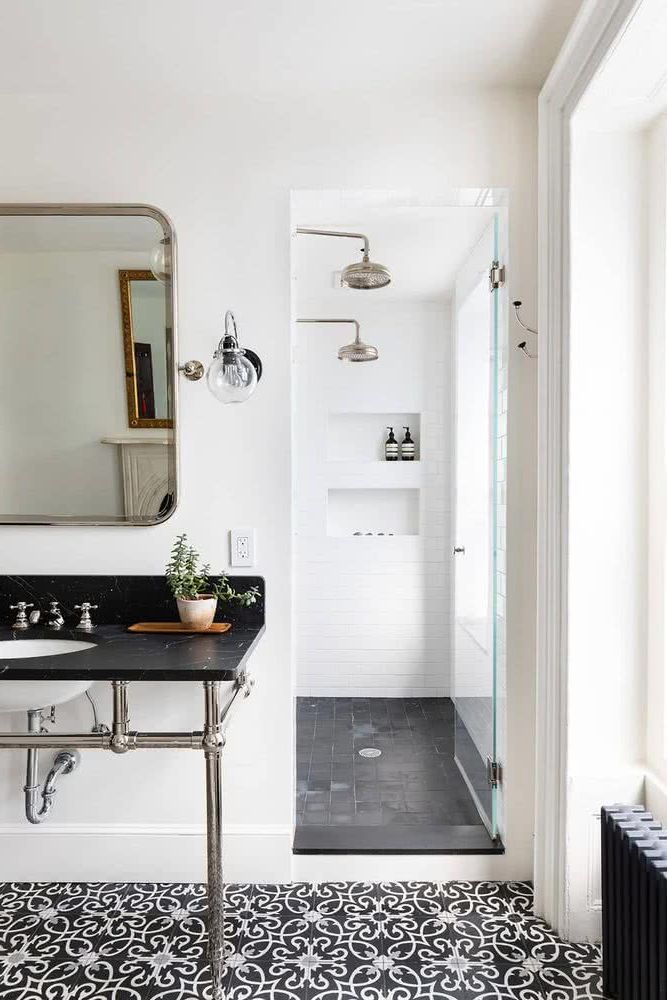 There is a great variety of designs and materials in sinks, for example, below we see a marble sink, one of the current trends. The mix of materials give the bathroom a super elegant and refined touch.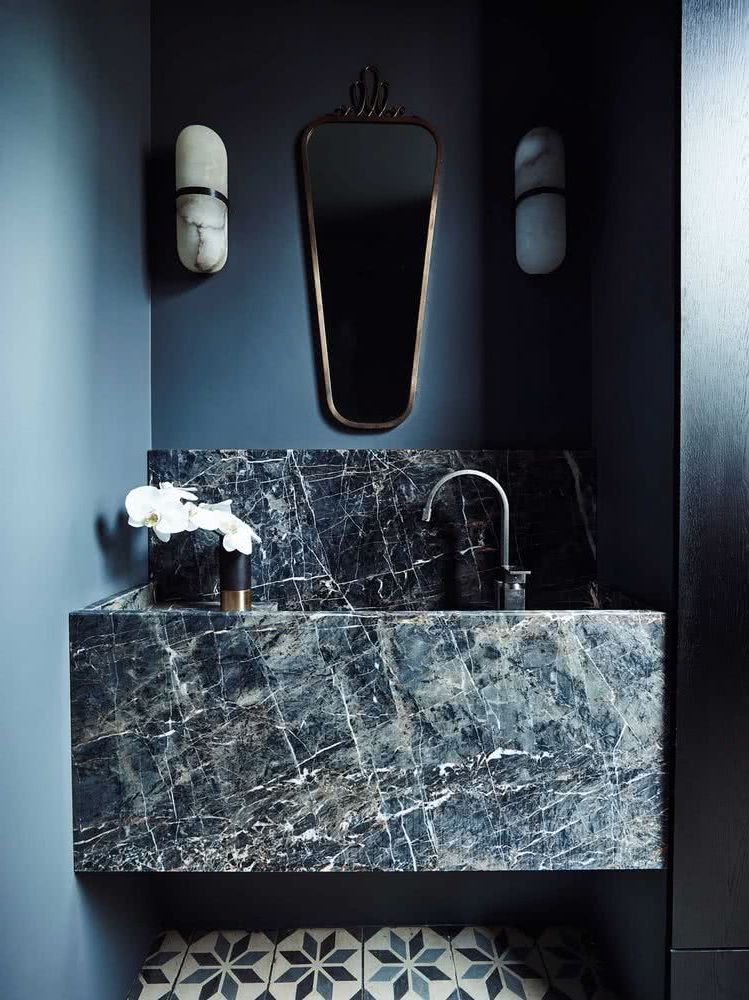 Double sinks are also another trend.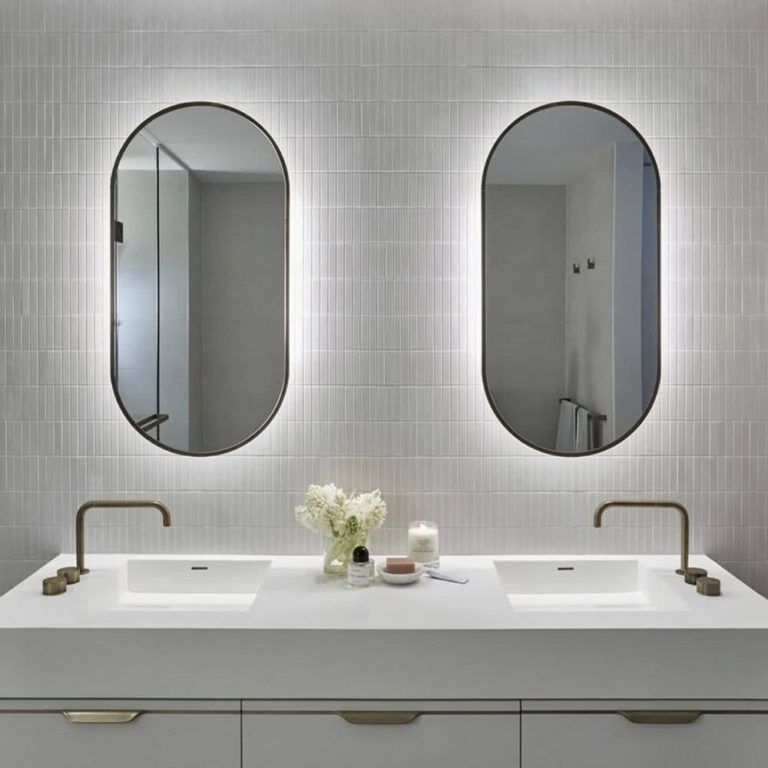 Or the support toilets.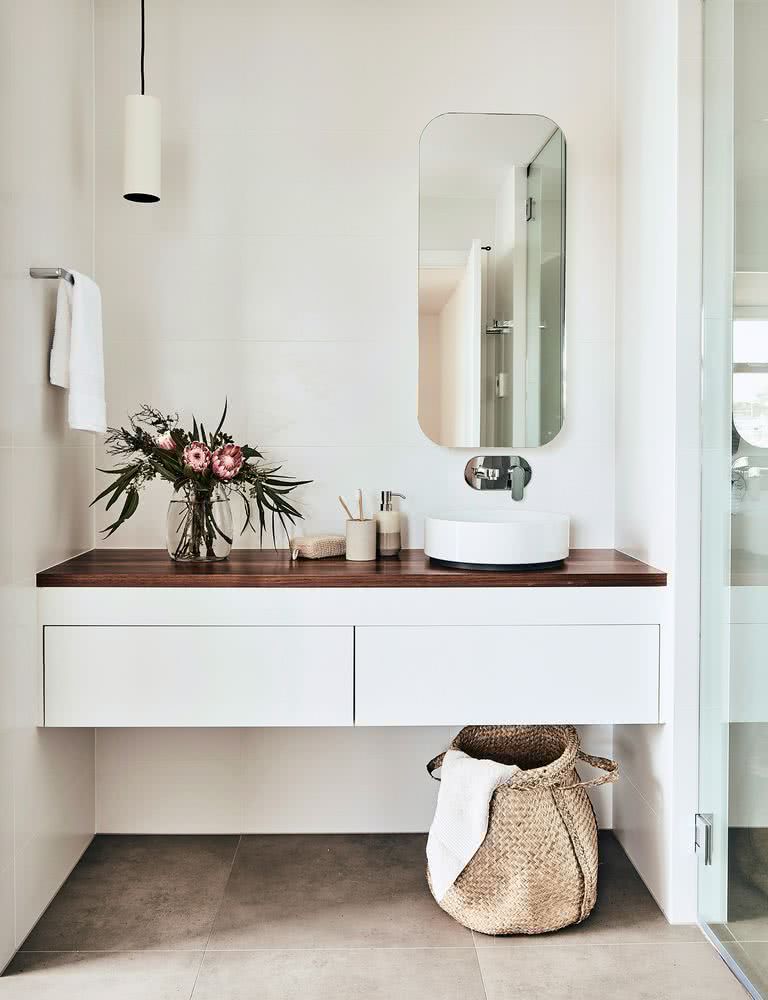 If we like Zen touches, the latter is a great option.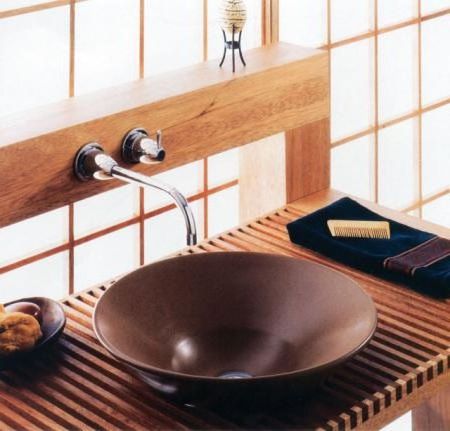 Bathroom heating
The heating designs for bathrooms bring very original proposals, as you can see in these photos.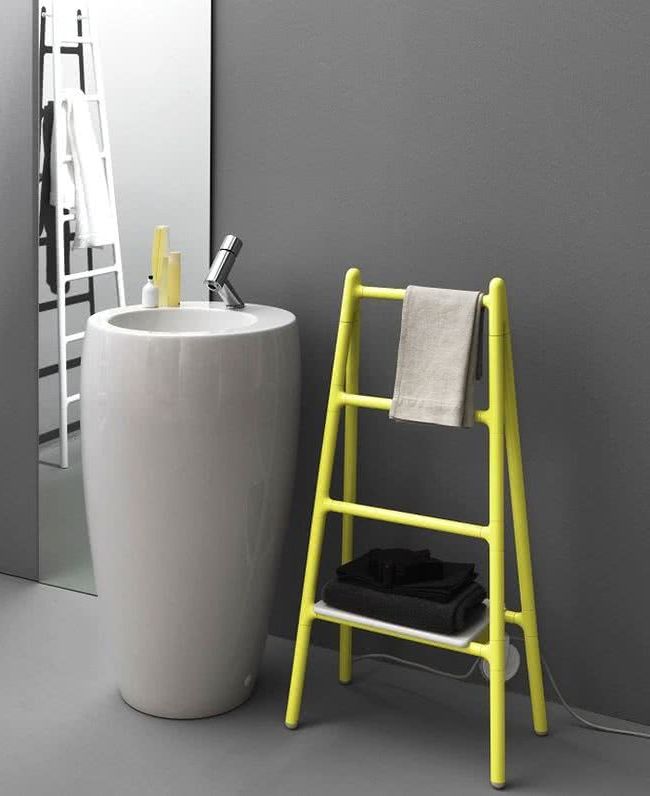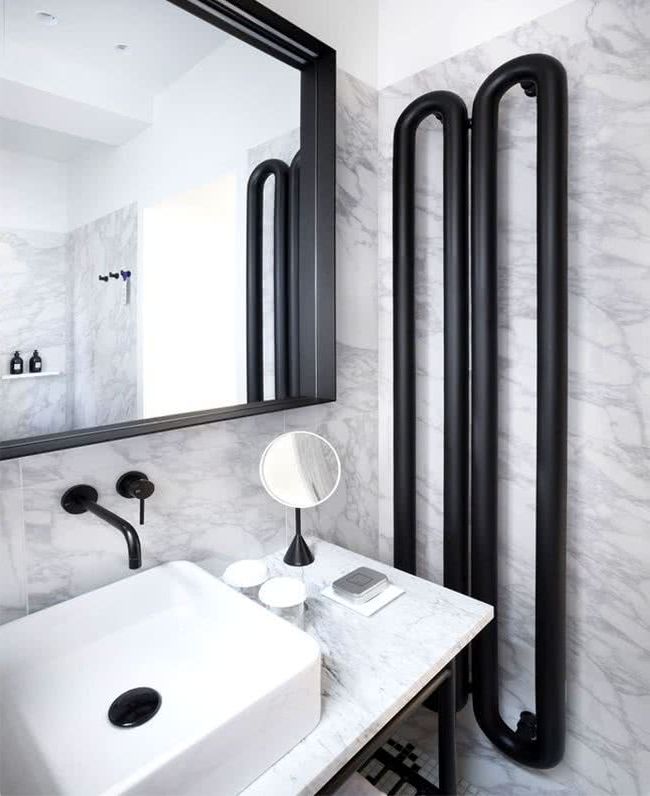 Modern bathrooms with shower or bathtub with hydromassage
If we think about what bathrooms were like a few years ago, we can see how the comfortable bathtub reigned in almost all houses. Bathtubs have always been perfect because you can fill them with water and sit for hours on end until your fingers wrinkle. With the arrival of showers, this was left behind, and modern life makes us go faster and faster, leaving little room for what used to be one of the pleasures of life: bath time.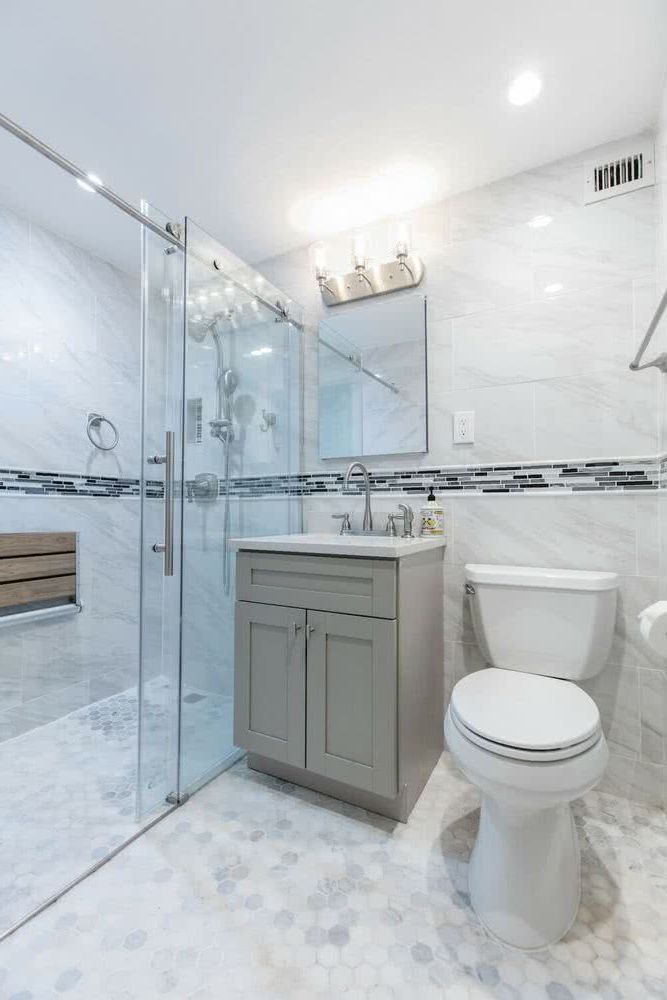 But that's not to say that today's showers don't give us plenty of great options. As you can see, they take up much less space than a normal bathtub and have the advantage that you can walk freely and move more comfortably.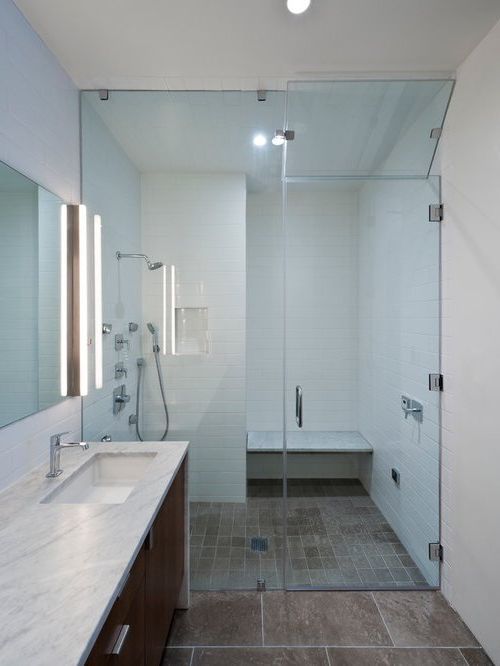 A shower with built-in massages may seem like a luxury that not everyone can access. However, it is also one of the great additions to modern bathrooms, and it is not as expensive as it seems.
An installation consisting of a separate oversized shower head and hand shower, rather than two shower heads mounted on the same pole. Not only does it offer a more luxurious, invigorating and customizable shower, but it also offers a stylish look in modern bathrooms.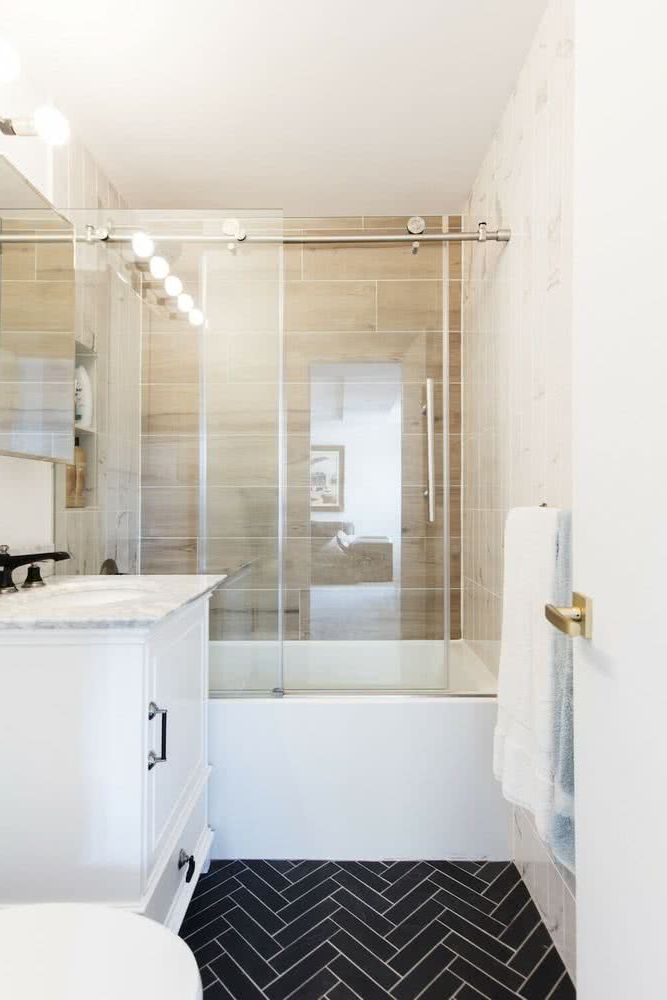 Modern bathtubs, on the other hand, also usually come with a large number of comforts, especially hydromassages.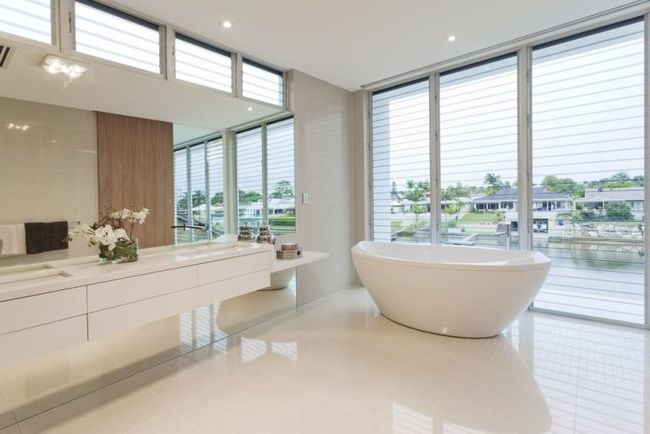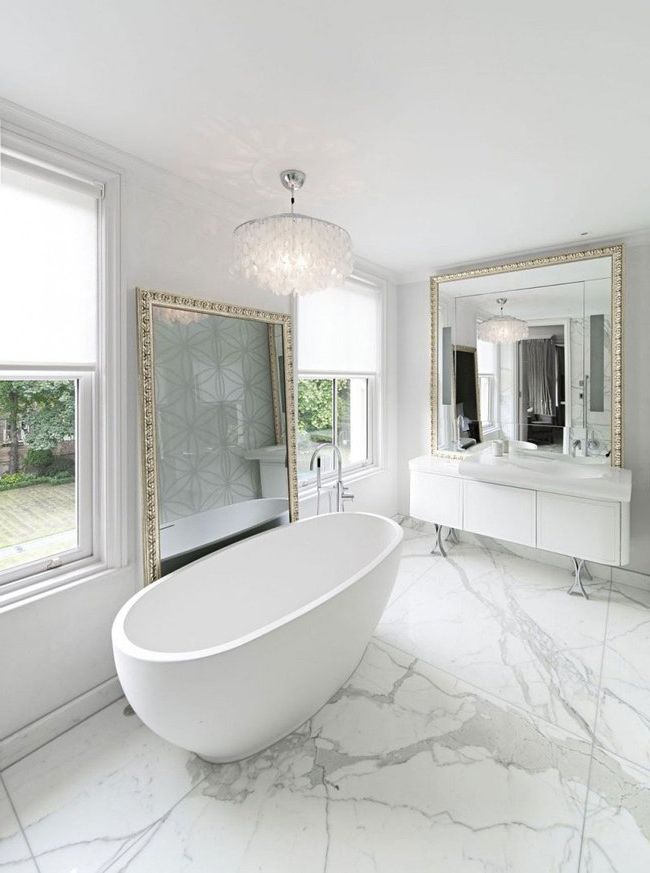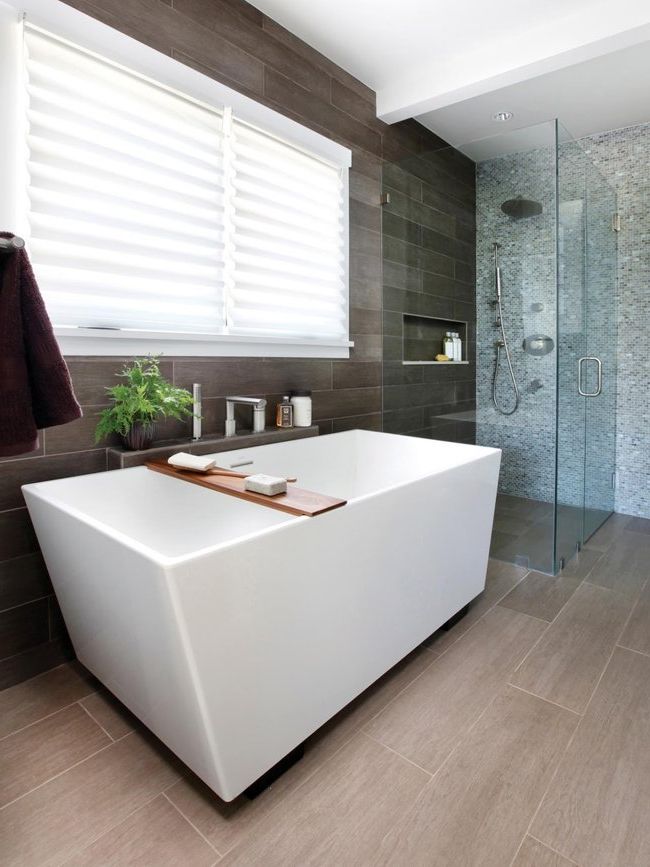 Lightning
If possible, the bathroom should have natural light.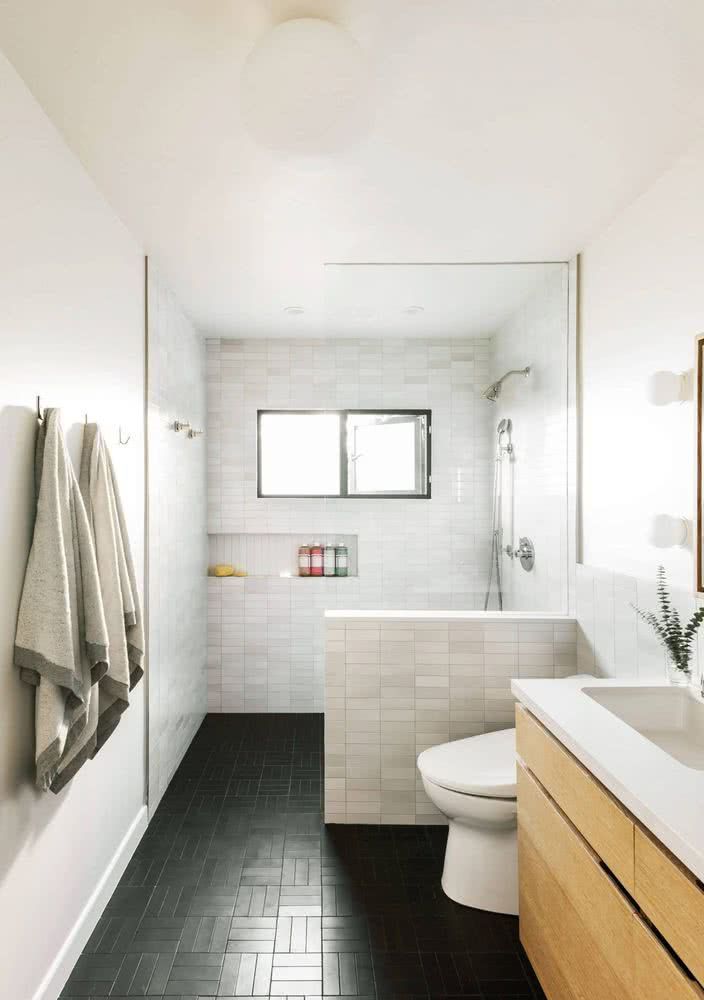 Regarding the luminaire, there are many offers on the market. One of the best proposals are the lights that can be adjusted, in order to set the bathroom at ease according to the occasion.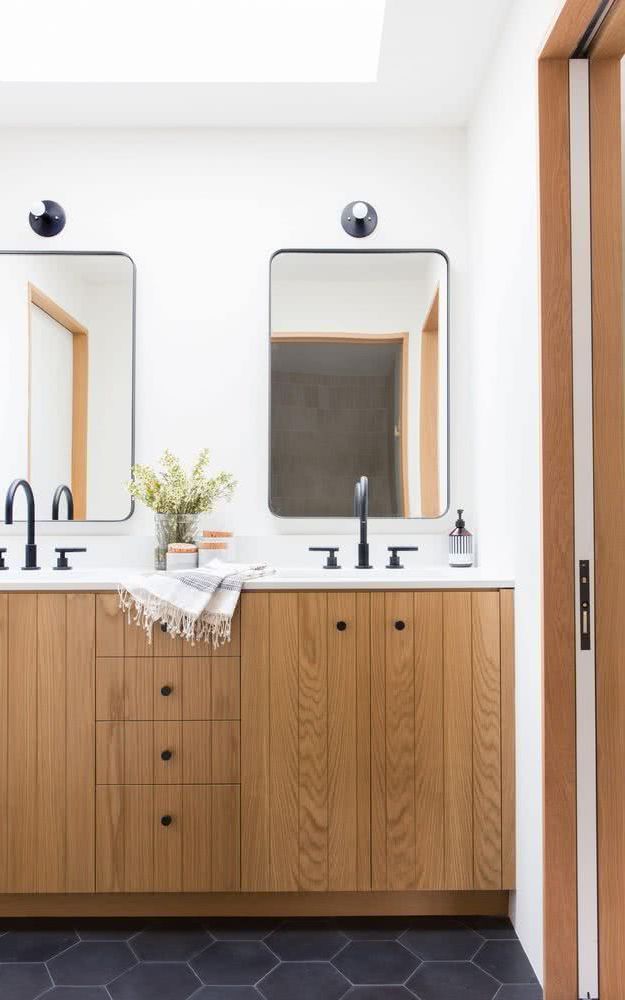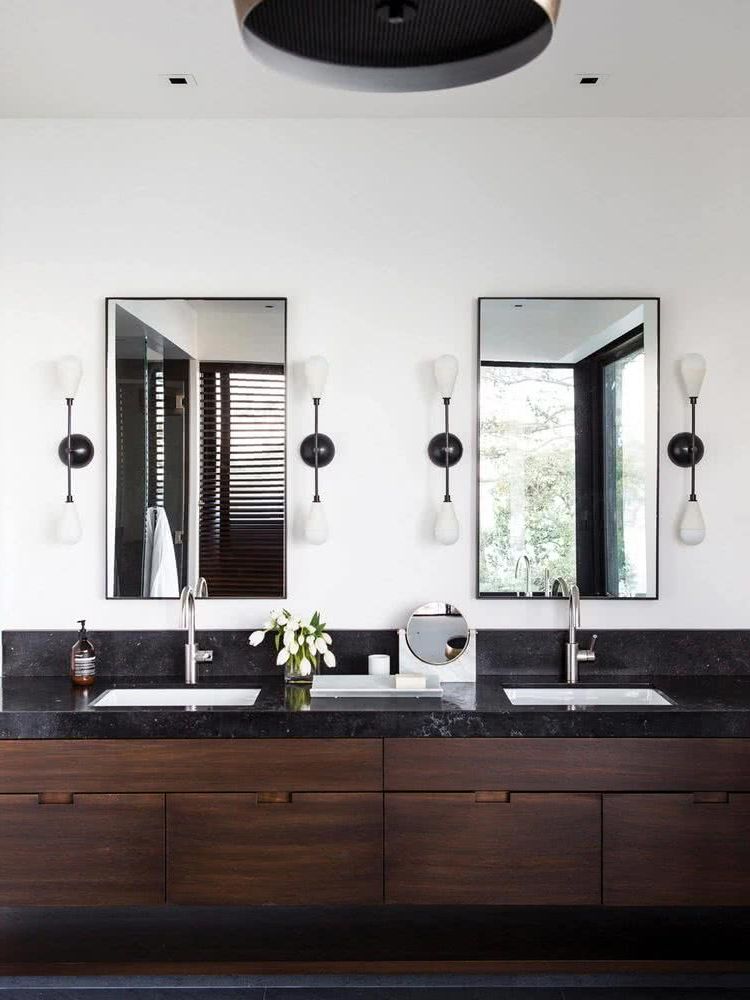 Mirrors
The oversized mirror is a common sight in modern bathrooms. These types of formats are currently being seen: square or rectangular with rounded corners.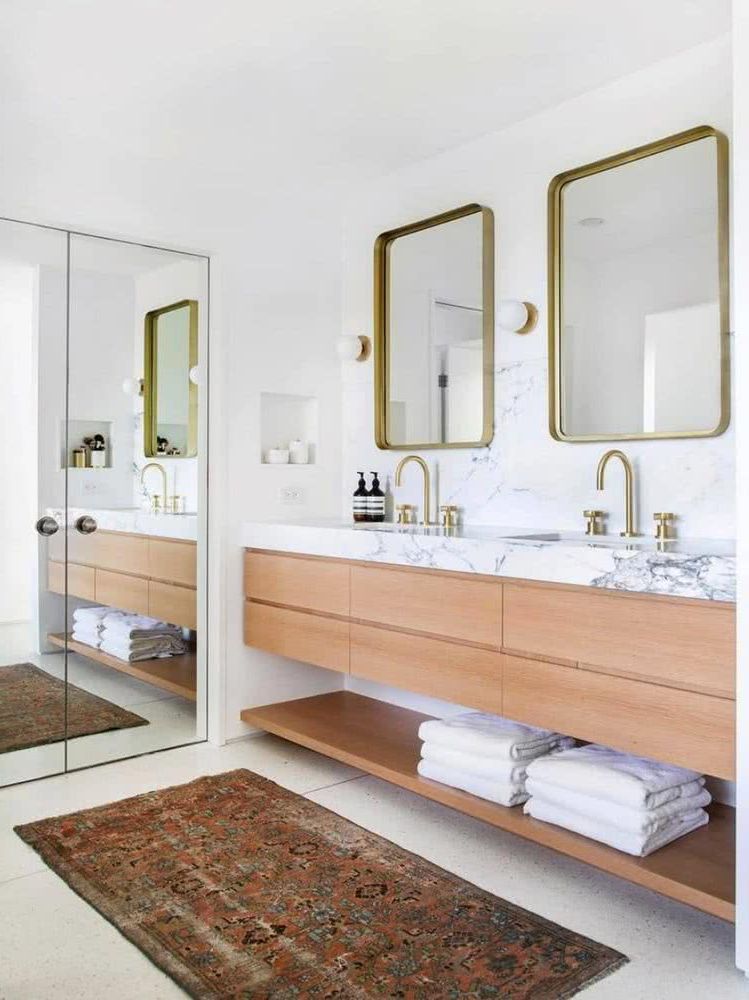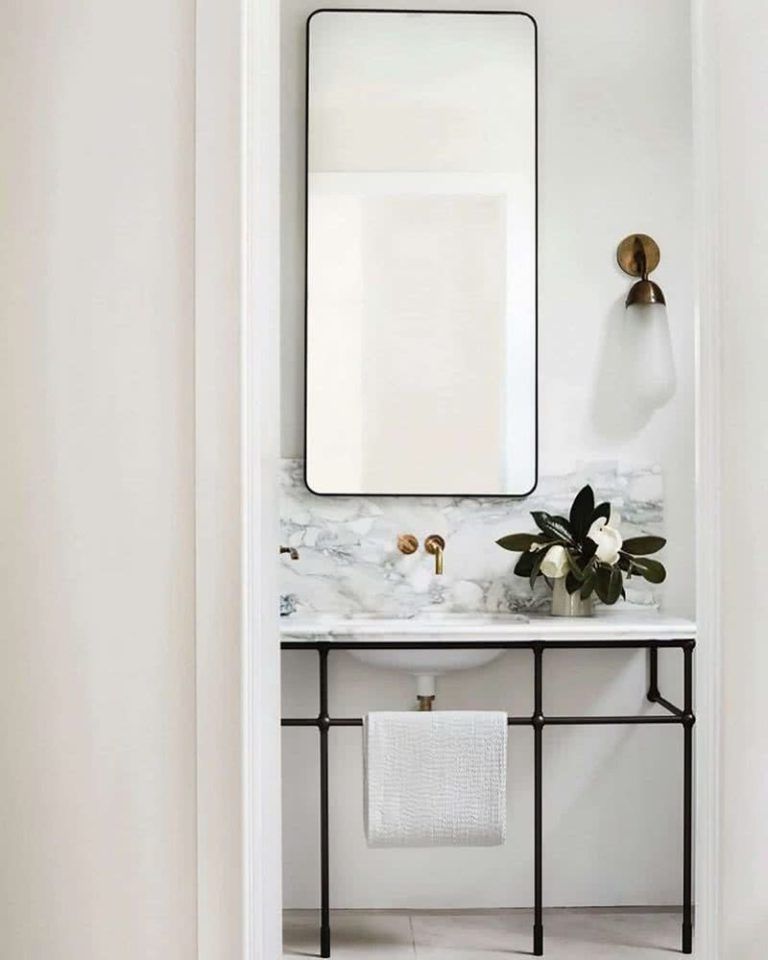 Floors
This was a trend last year and will continue to be. The indoor plant brings the beauty of the outdoors and forms part of the bathroom design. It is not a simple accessory, but an integral element, which can be changed with the seasons.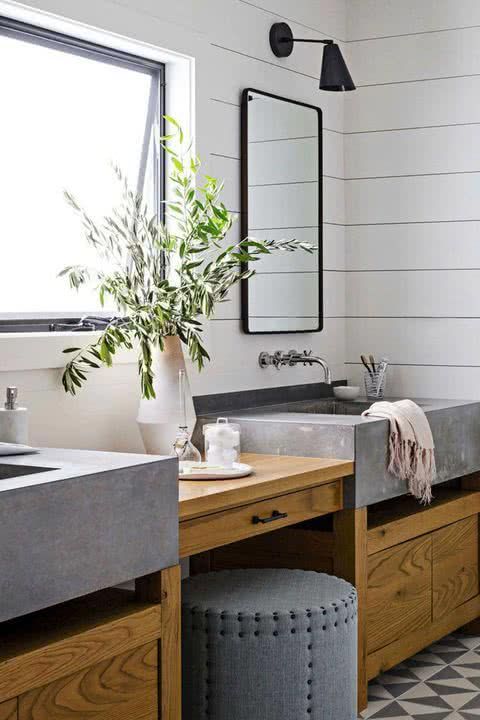 Plants in bathrooms are not only fashionable, but also add a wonderful touch to designs.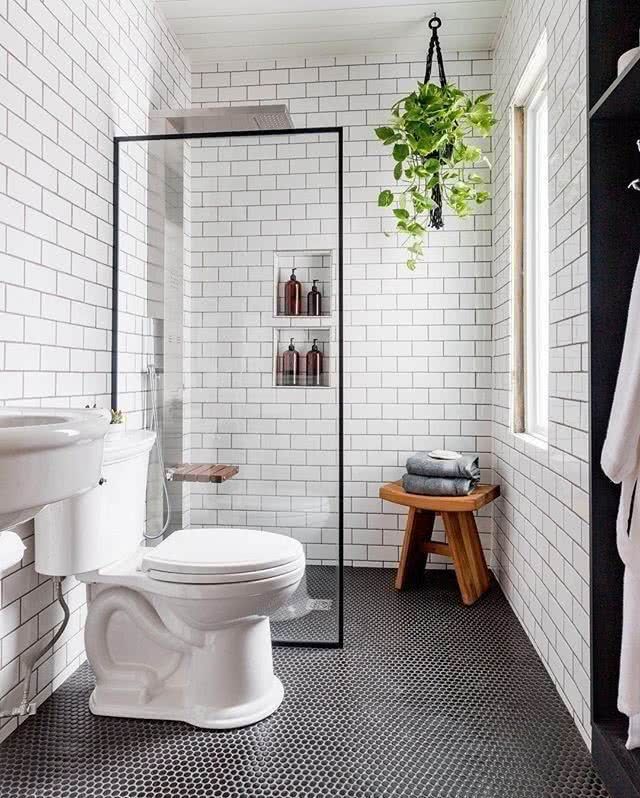 Modern bathroom design
At first glance, it may seem that the bathroom is the most inconsequential space in the house, but if you think about it, you will see that it is one of the places where you spend a lot of time. So why not let your imagination run free and turn this space into a place full of style and beauty?
Geometry
Geometry becomes important in architectural and structural details, but also in tile coverings.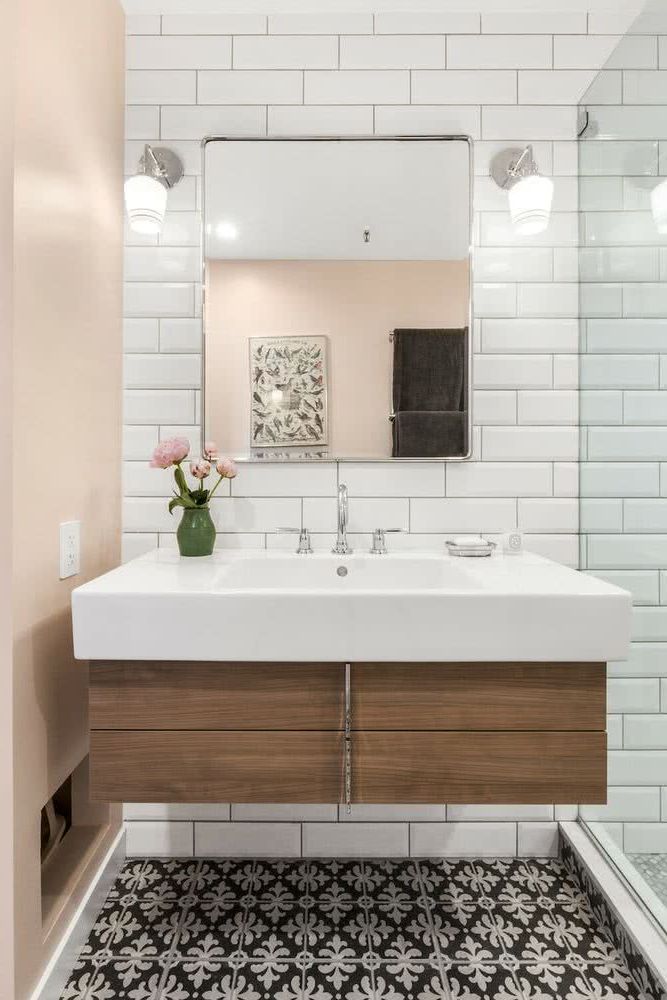 This rectangular shape of the tiles is a trend that is sure to last for several years and a very popular design combination with multiple variations. Even 3D depths can be achieved.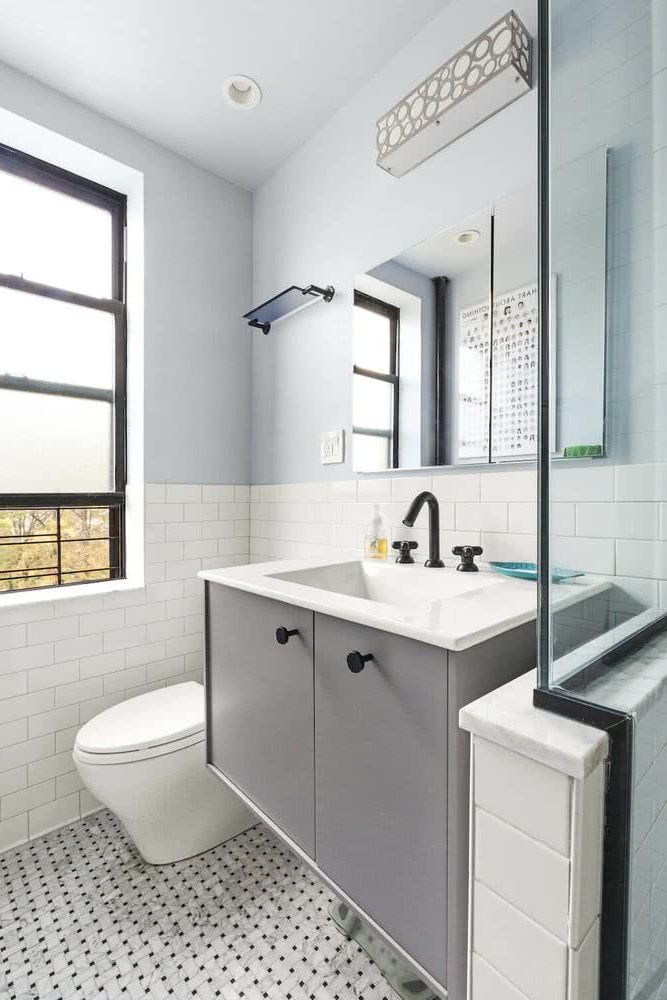 Simple lines
Everything is based on a style of straight lines, spacious, a lot of work with mirrors, stainless steel, black, white and neutral tones. Simplicity reigns in modern bathrooms, with a good deal of minimalism. Simplicity not of comfort but visual; order, no extra furniture or accessories, everything in the same color or tone.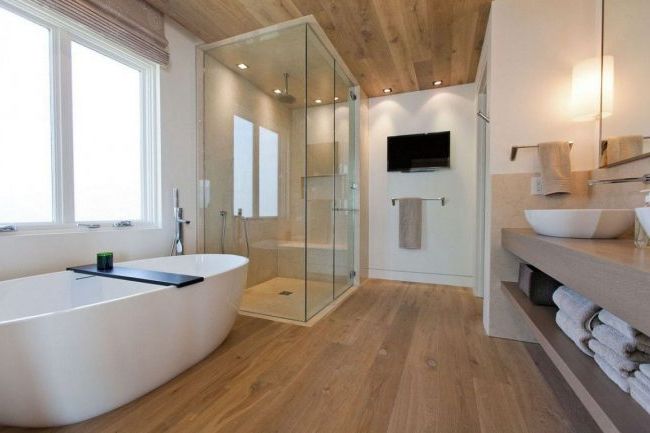 Functionality
This is sure to be good news for renovators who detest clutter and overdone design, in favor of a clean, practical and efficient look. Make sure there is adequate storage to hide your hair dryer and lotions. The elements that are not functional are hidden, which allows an orderly and calm environment.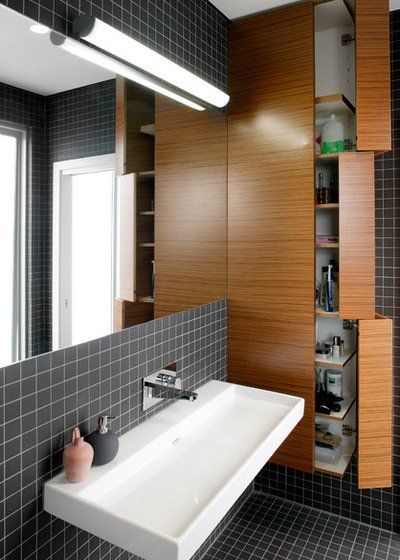 Comfort
The bathroom is no longer purely functional, but also a place to escape from the daily grind, and this will be seen in the custom made furniture and ambient lighting. A nice dressing table, with a stool to put on makeup in the bathroom, will make you feel very comfortable. Think stools, armchairs, poufs, bathroom rugs, and pendant lights.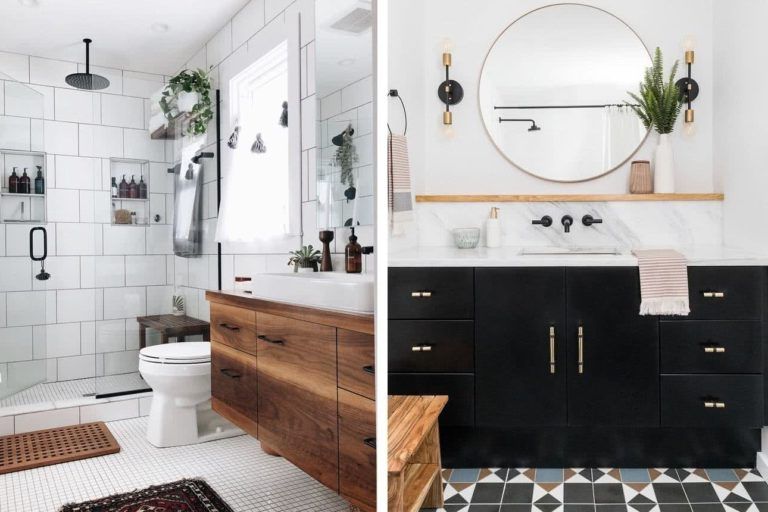 Industrial style
Industrial design is on the rise. The use of cement, sandy or silky smooth if you opt for a polished finish, not only on the bathroom floor, but as a wall finish.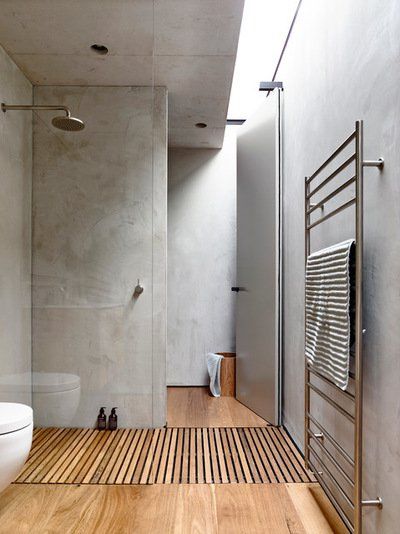 But keep in mind that concrete can make a space feel cold and hard. Introducing contrasting textures like wood, natural fibers, and plush bath rugs and towels will help soften the look and add comfort.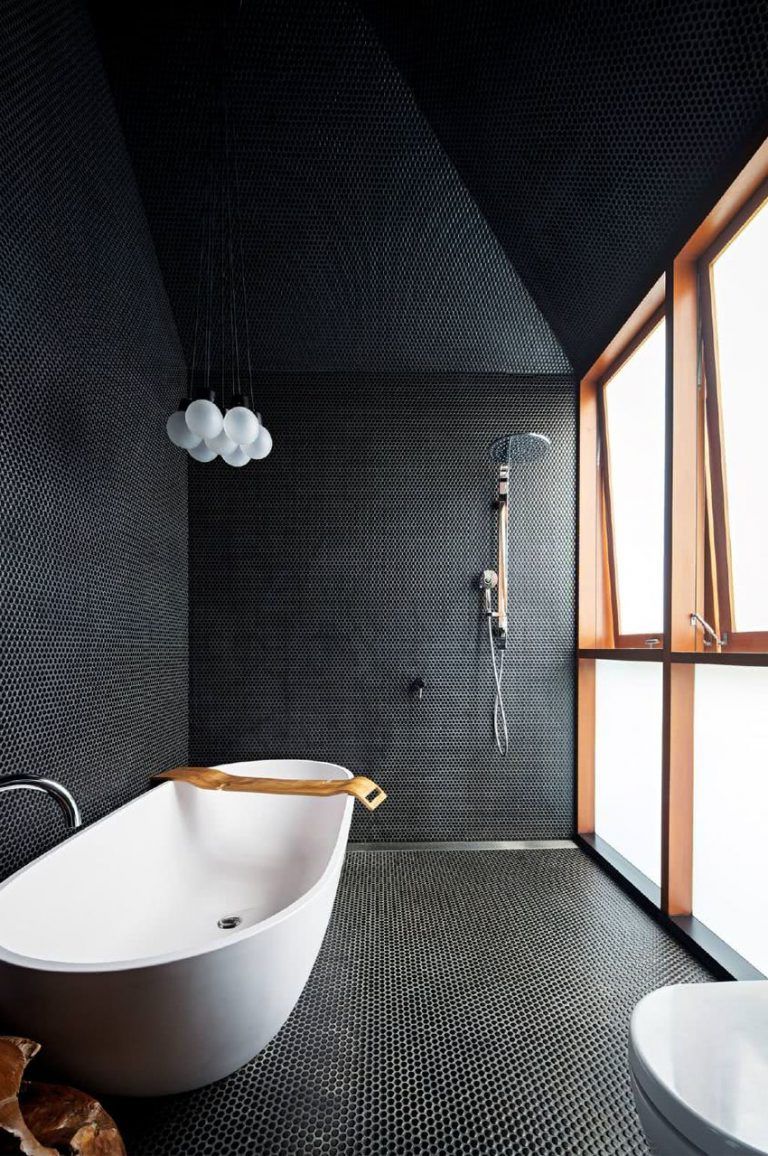 Minimalist bathrooms
It is about using simple lines and few decorative elements.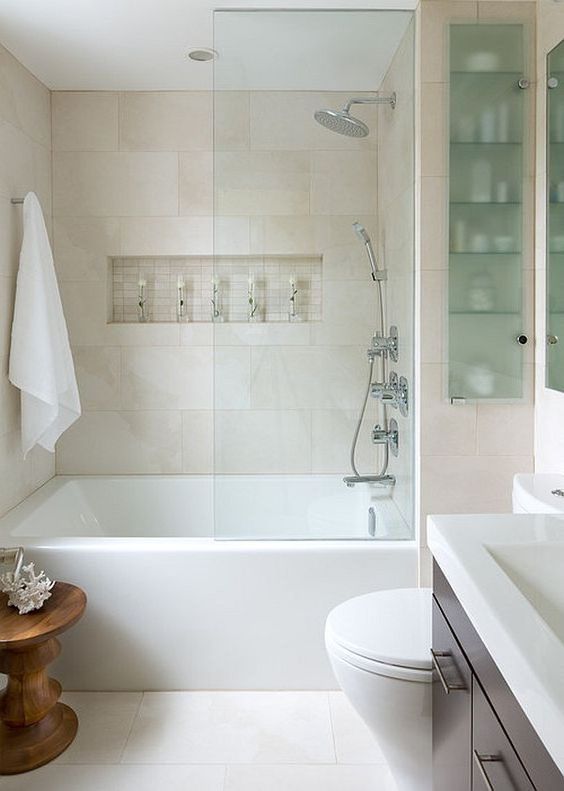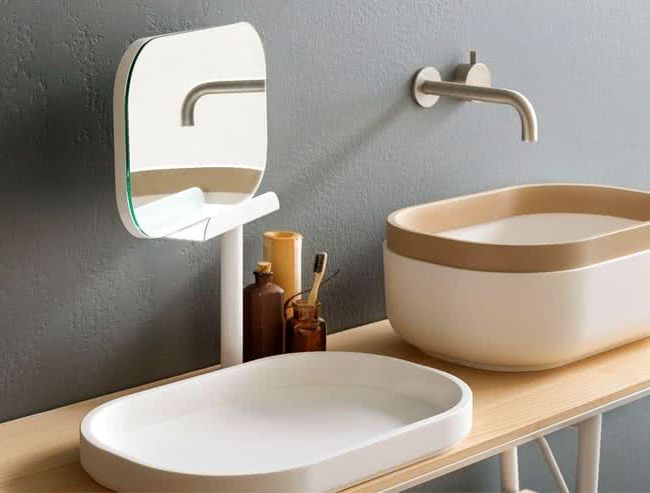 Colors
Details in dark colors
Dark colors make a big comeback in the interior design fashion scene this season. One of the trendiest colors this season, as an accent on the details, will undoubtedly be black. This color doesn't have to look boring, it works beautifully with a rich variety of hues and tones.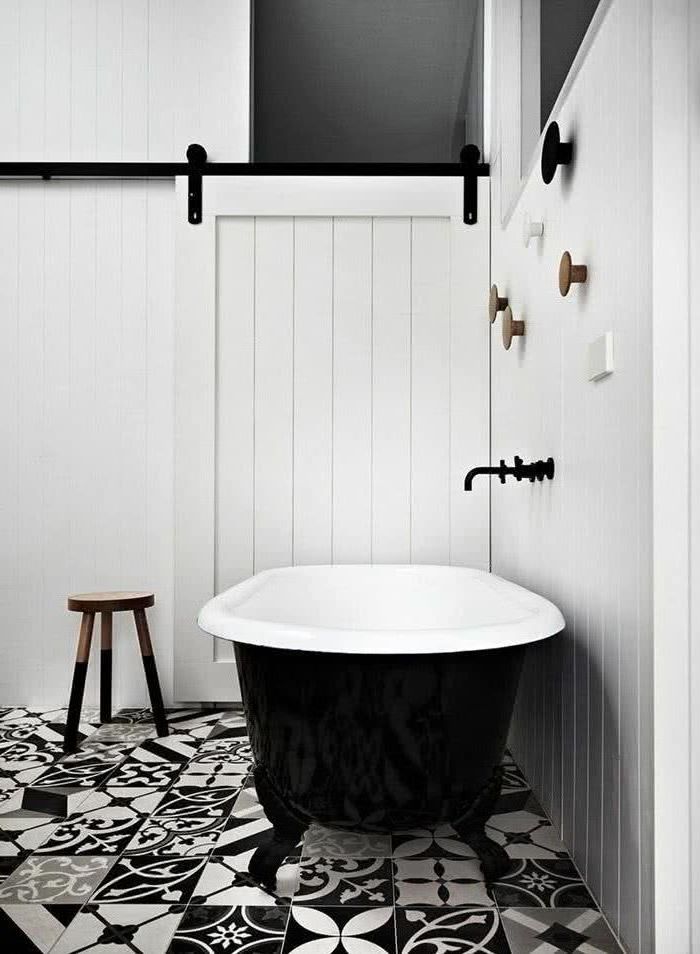 Matte surfaces in either earthy or neutral colors are on the rise. These colors can be used to blend with the darker grays, and introduce some contrast to the overall color scheme.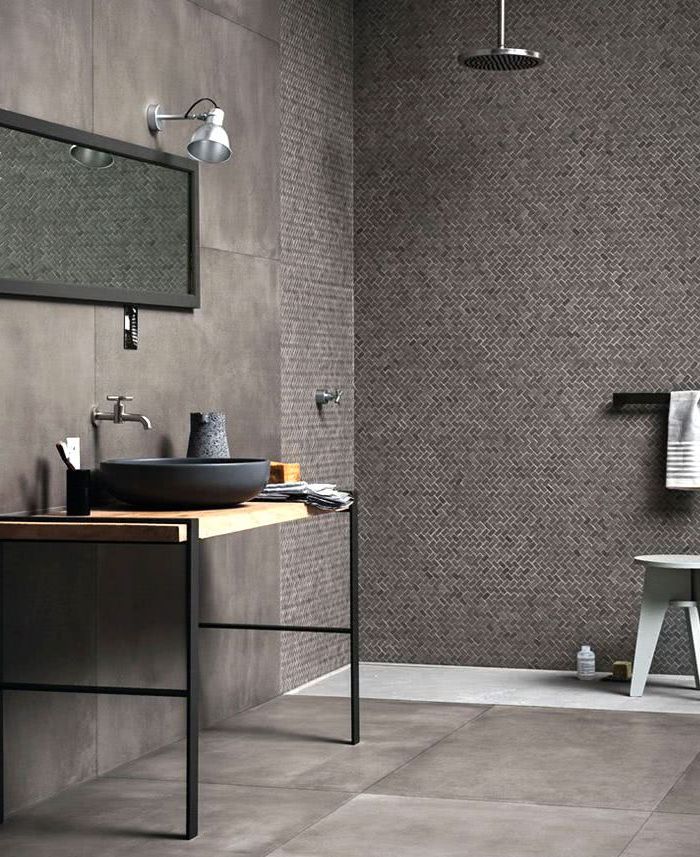 Green, blue or pastel shades
Shades of pastel blue or green can also be used to add a touch of color.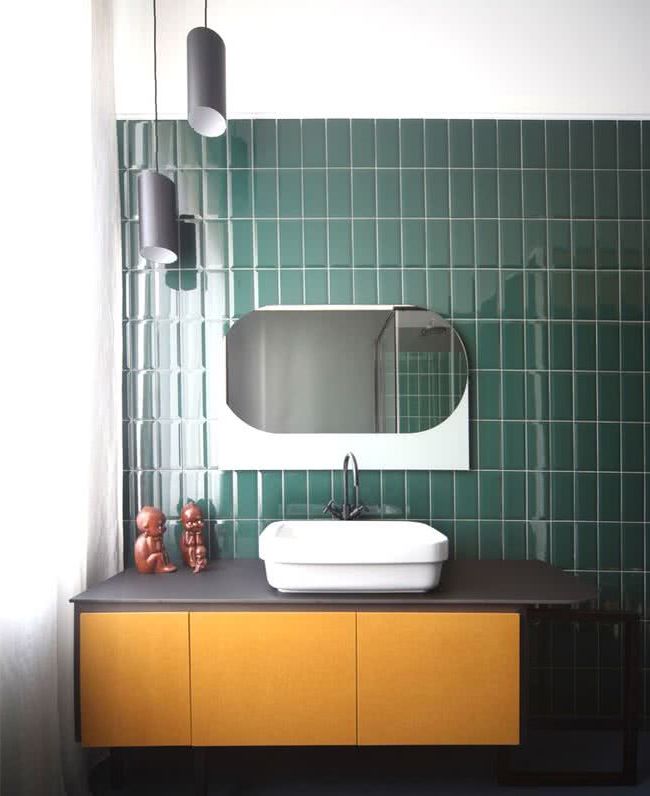 Cool tones that create a calm atmosphere, and will be trending in 2022. Some of the best options for cool hues are blues and emerald greens. They are combined with white and touches of wood for a fresh feeling, with metallic details and rustic materials for a more sophisticated design.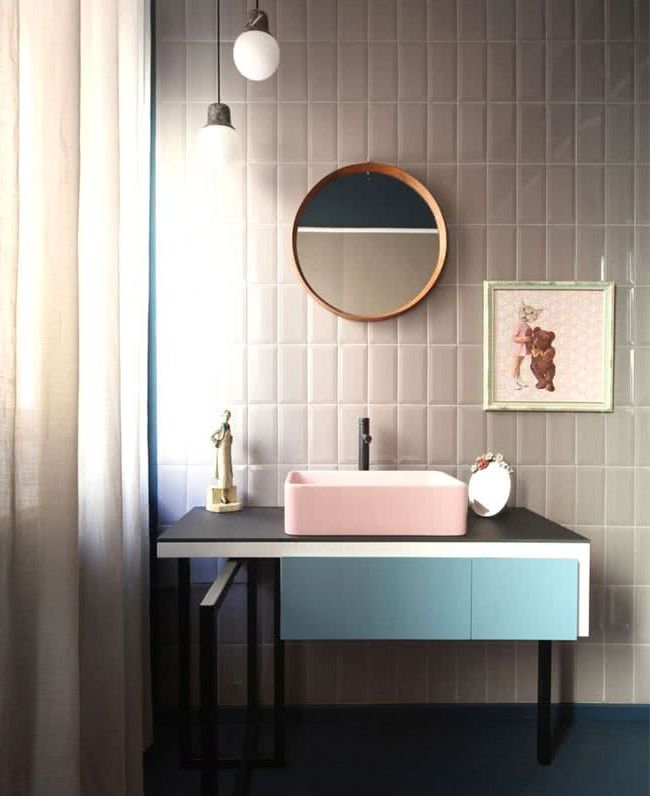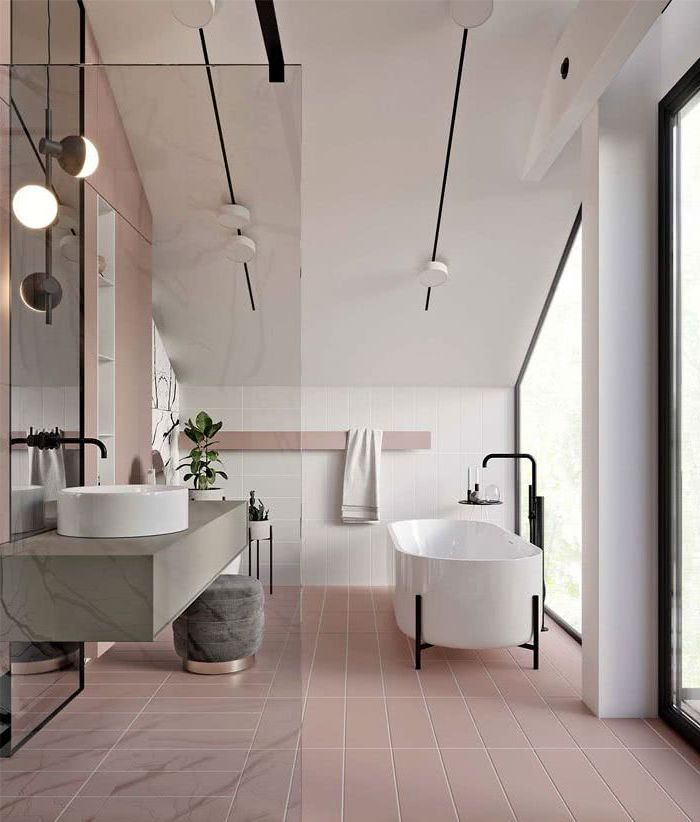 Beige
This is one of the classic colors that will never go out of style. It is elegant and very cozy.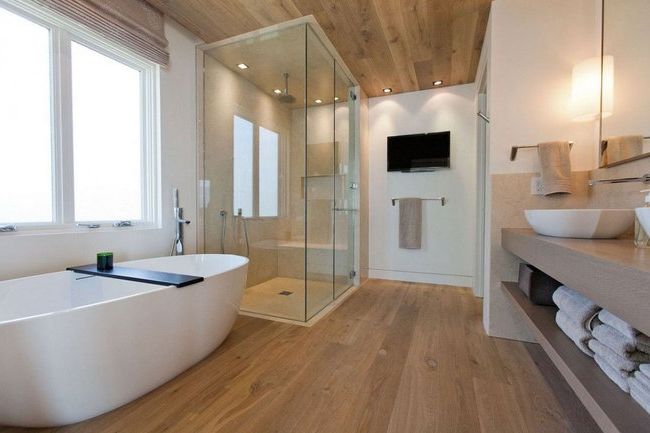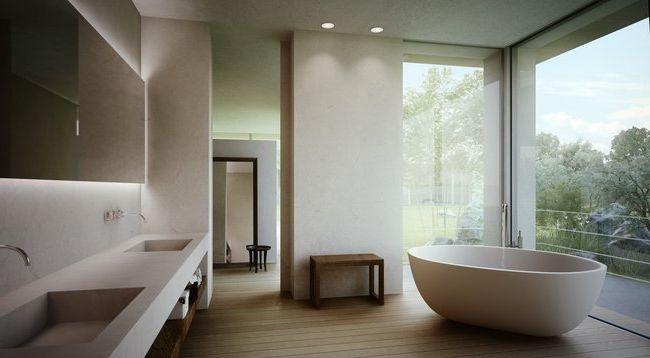 White modern bathrooms
White is usually the predominant color when it comes to bathroom accessories. Helps create a fresh and contemporary environment. Use white accessories for a clean look, contrasting with walls or cabinets.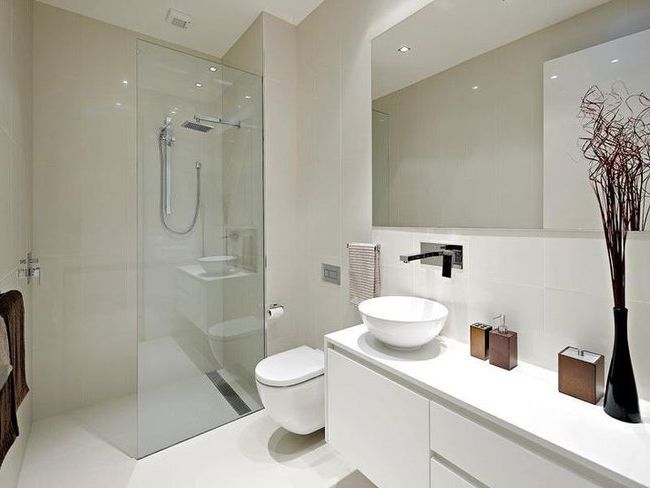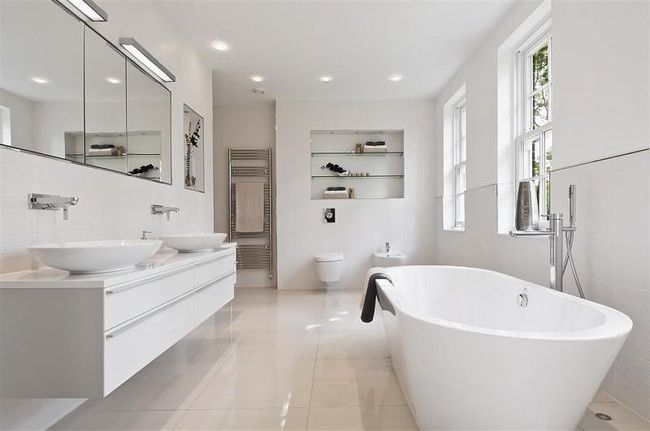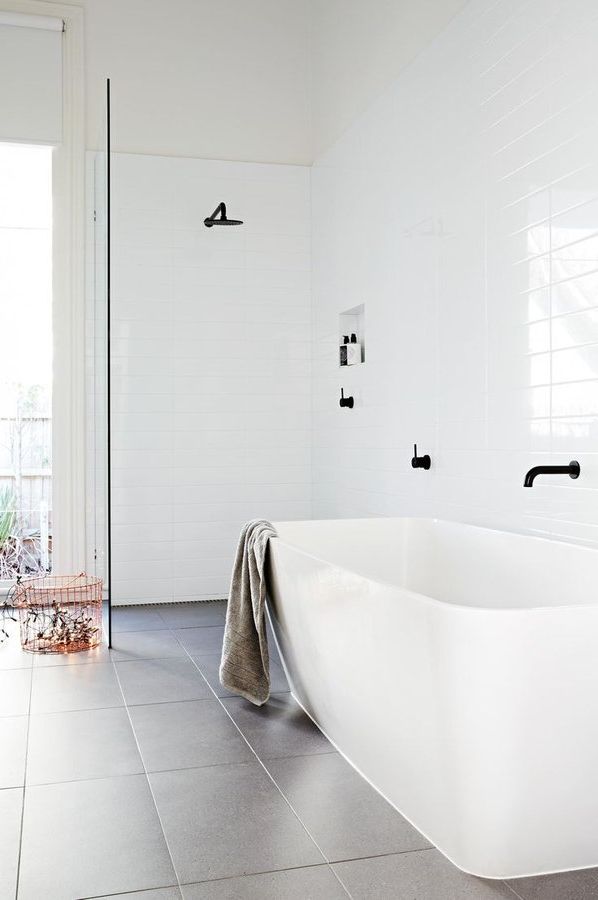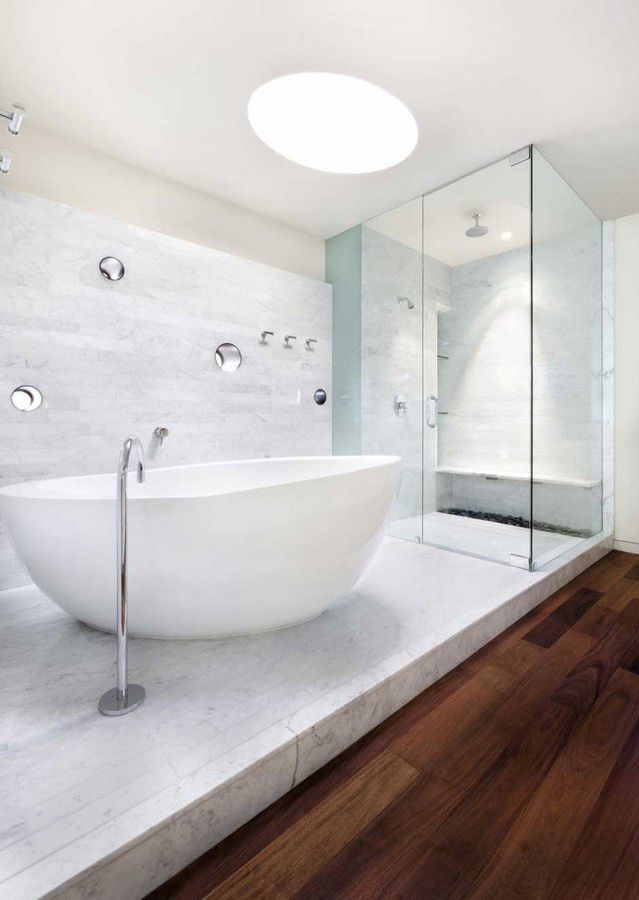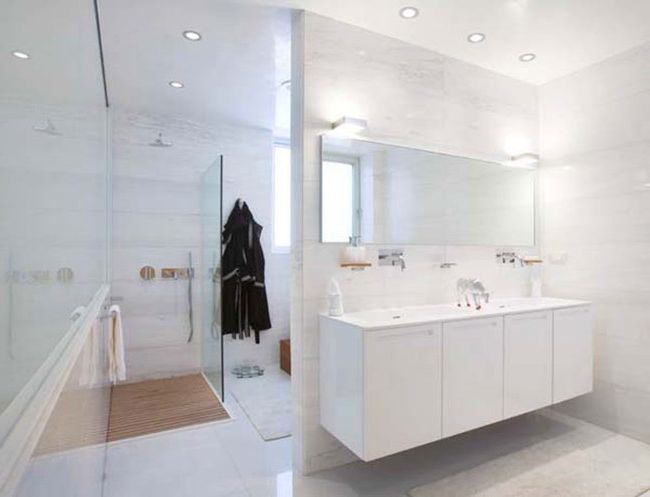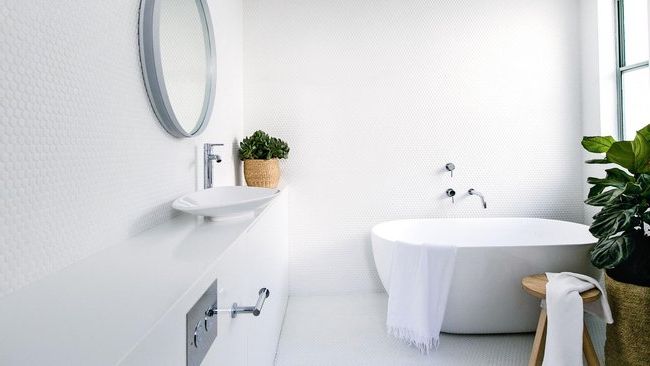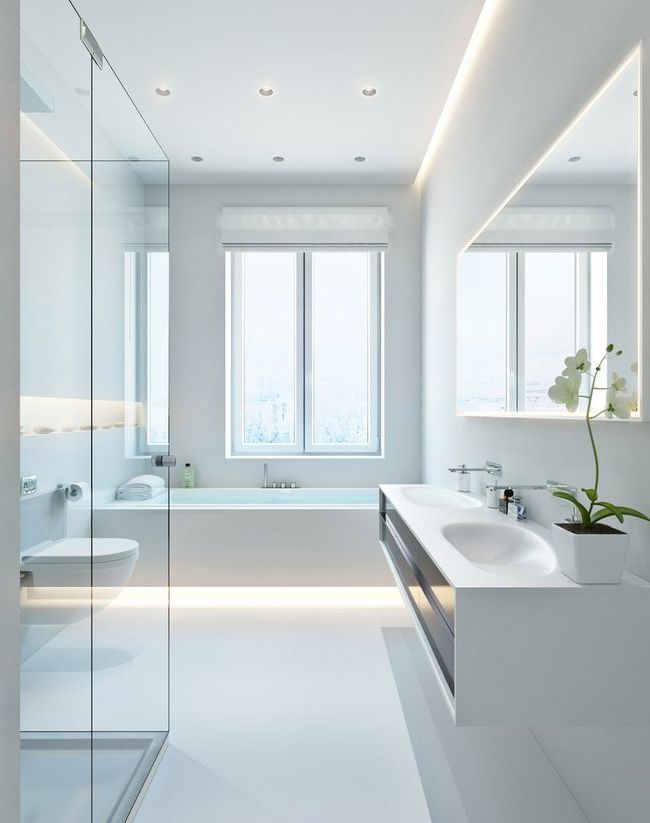 Gray modern bathrooms
The gray color will continue to be widely used as the predominant tone in bathrooms.