The decoration of matrimonial bedrooms is not usually an easy task. It has to be designed so that both members of the couple feel at ease and comfortable. In addition, the design of the room must be consistent with both personalities and personal tastes.
It is estimated that we spend a third of our lives in our rooms, so this room deserves the best. We will show you some trends and tips for modern and elegant double rooms that can inspire you in this arduous task.
Whatever your interior style, the bedroom should be a relaxing sanctuary, where you feel away from the outside world, so you can recharge after a long day. The design of this room must be carefully considered and with countless styles and schemes, it is difficult to choose the best one for each of us. That is why we have selected our best bedroom decoration ideas.
Modern and minimalist bedroom
The modern, simple and elegant rooms are one of the most popular options. Often linked to minimalism, these bedroom designs are light on embellishment, with a few select pieces. They look particularly amazing in monochrome colors.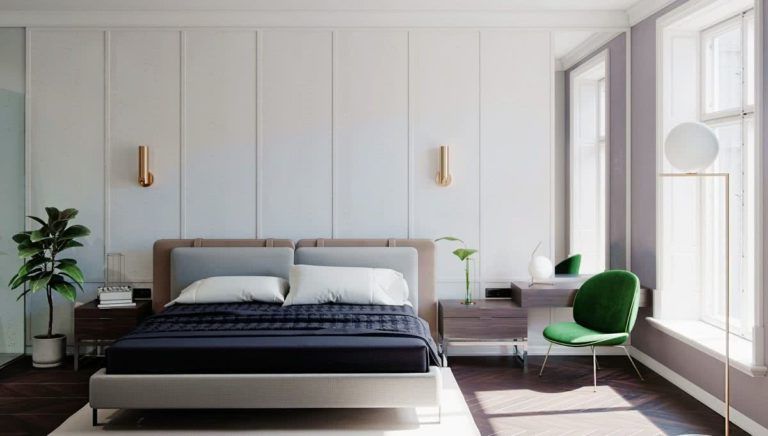 As for the lines that dominate modern decoration, the clear prominence of the minimalist style can be seen, through its straight and polished lines. Style that is also revealed through the arrangement of the furniture, since it goes for a reduced number of them, following the phrase that inspires the style: "less is always more".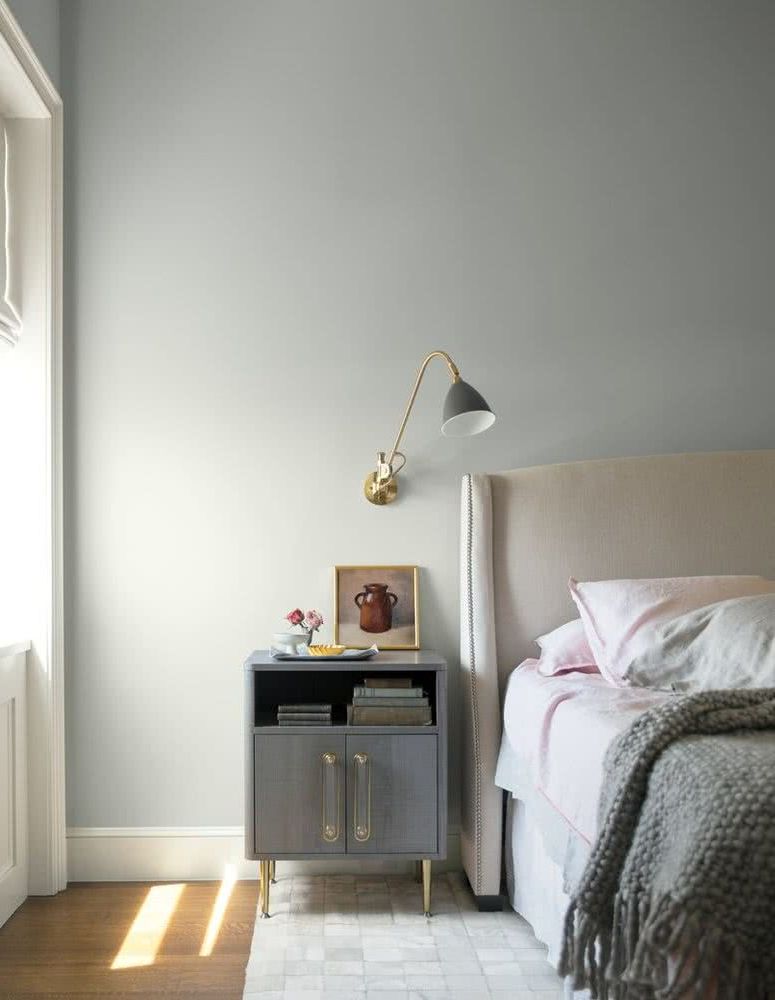 The room should not be messy because in addition to not resting well, it kills passions.
Industrial bedroom
If you yearn for a loft style, an industrial room is perfect for you. Metallic elements predominate in these rooms, so look for vintage-style metal bedsteads and furniture along with muted colors and hints of brass or copper. It also helps to have an exposed brick wall.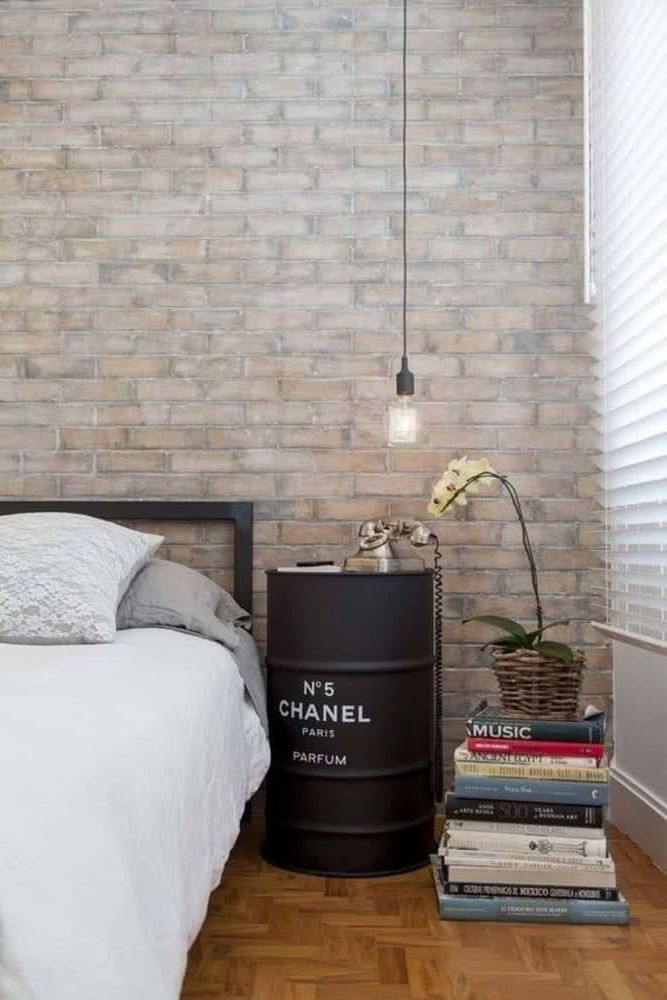 By making inexpensive purchases, you can transform your bedroom into a very chic room.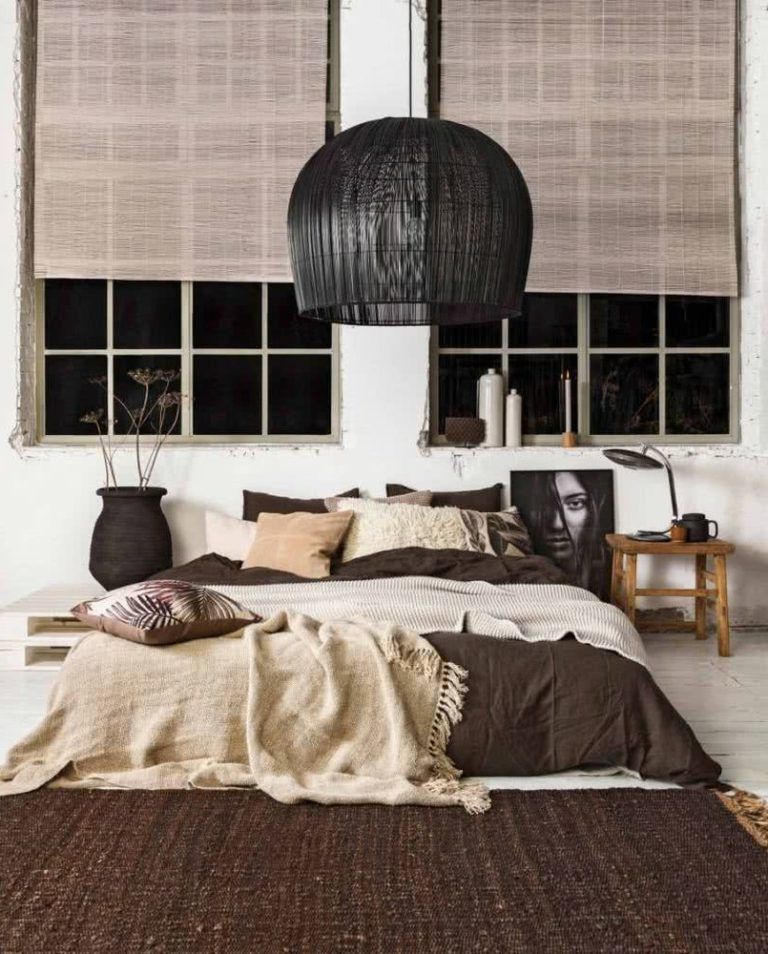 It's no secret that the Nordic style is on the rise. Relaxed and elegant, this type of bedroom is the perfect example of timeless Scandi style, with its muted color palette and natural materials.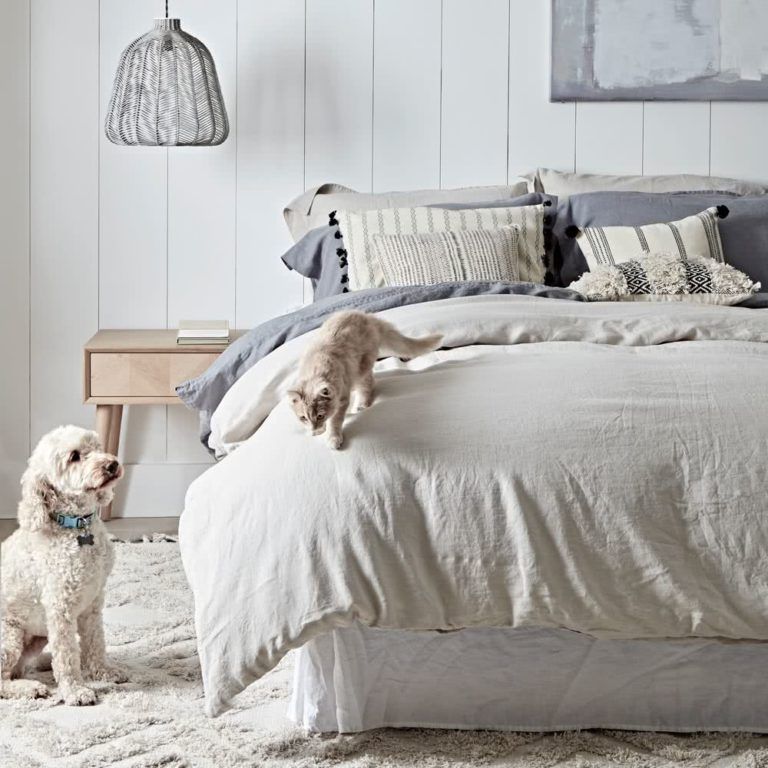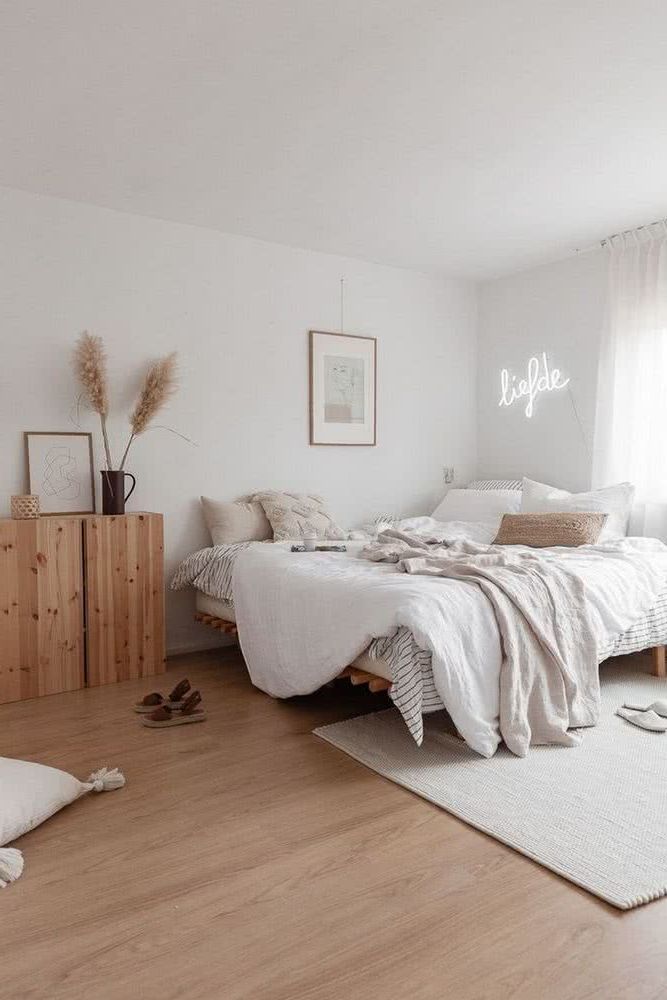 Vintage bedroom
If you are a fan of the shabby chic style, a vintage room is an excellent option. Filled with unique elements and pastel hues, the bedroom has a calming look that is sure to help wash away any troubles from your day.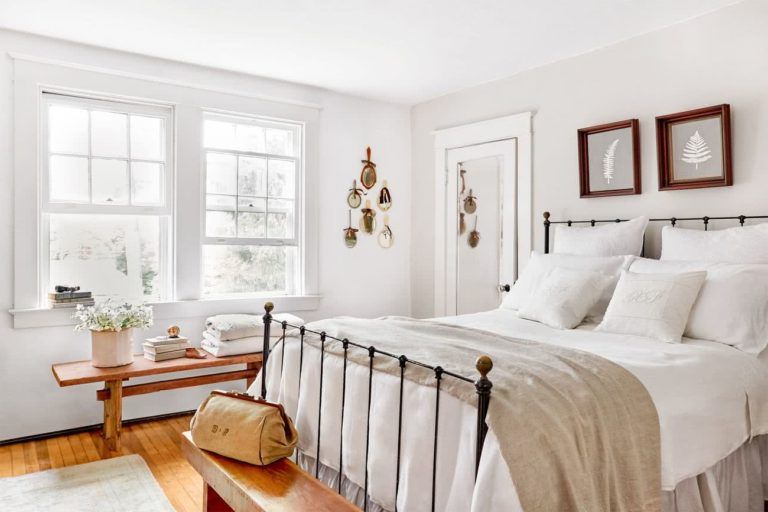 This style never goes out of style, and allows us to decorate using old furniture and decorative objects that we have. They can also be found at very good prices in second-hand markets.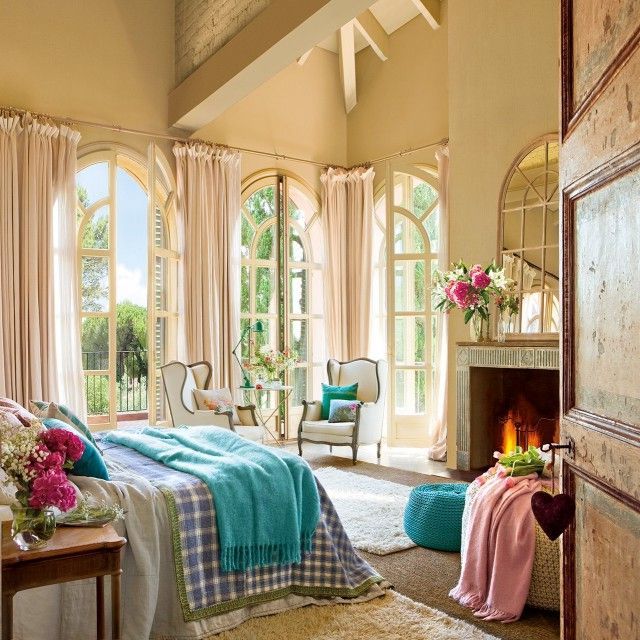 This bedroom is designed with French inspiration, combining used objects and furniture and other inexpensive items. If the room is large enough, place a small sofa so that the couple can sit and relax together.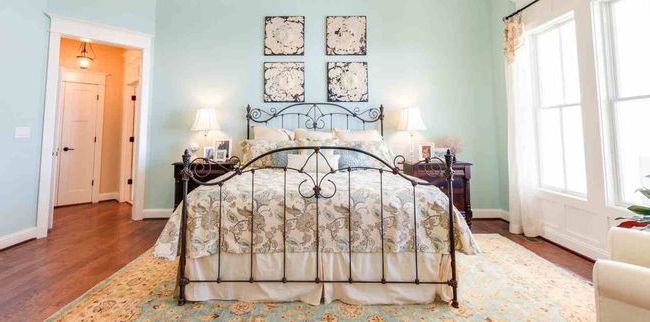 We can be inspired by different eras, for example, the 20s, 50s, 60s or 70s.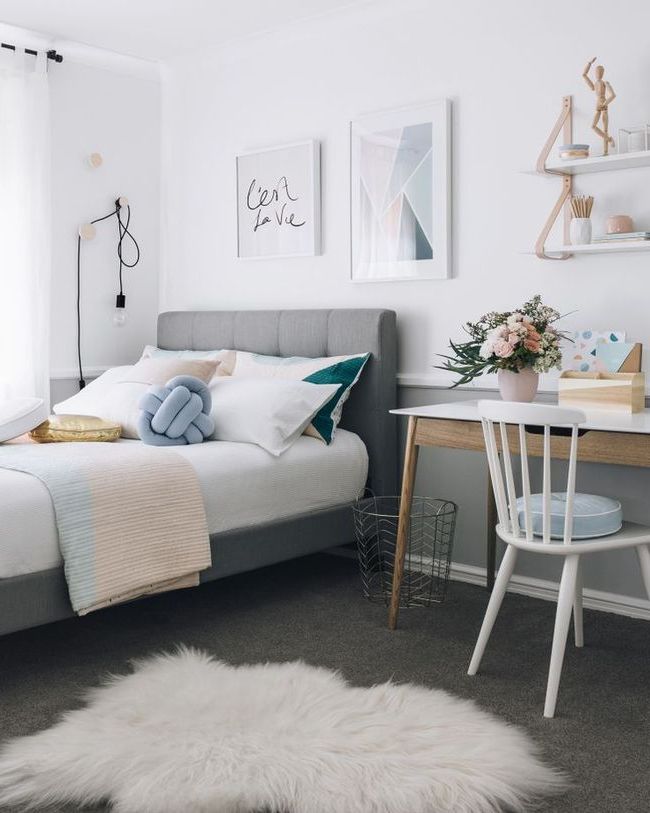 Rustic and modern room
The balanced mix of a rustic and modern style is very fashionable today. We are talking about soft colors, rustic and natural wood and decorative elements made from natural elements.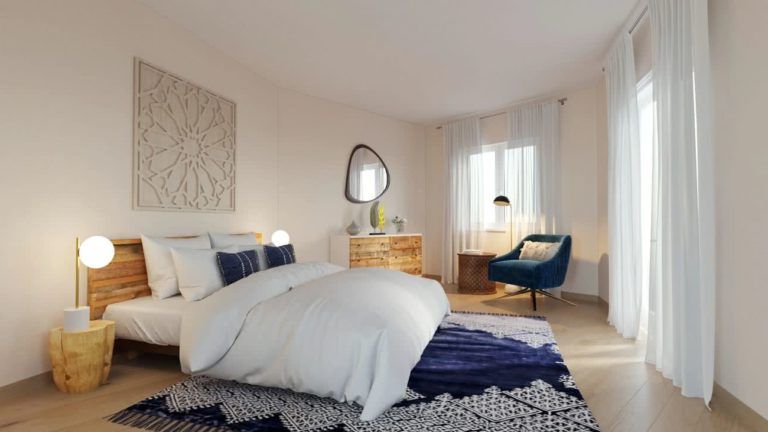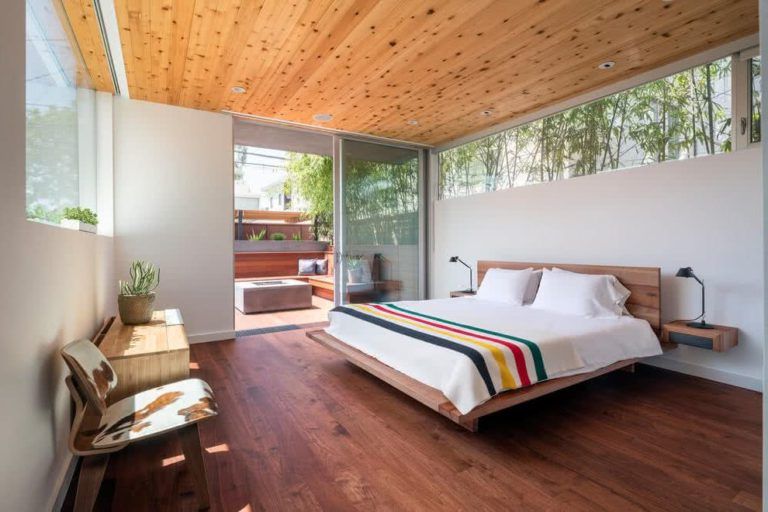 Bohemian bedroom
Bohemian style is one of the most versatile looks out there and you can approach it with a relaxed "anything goes" atmosphere, combining pieces from different decades and styles to create your own eclectic style. Whatever you add to your bohemian room should be fun and simple.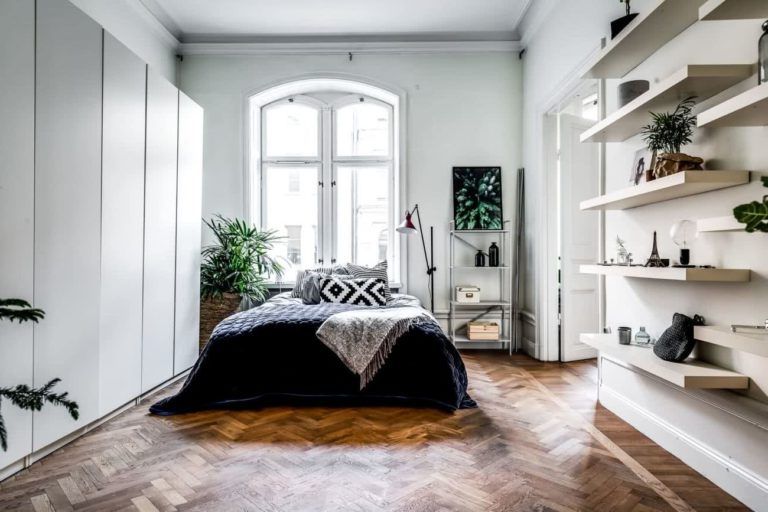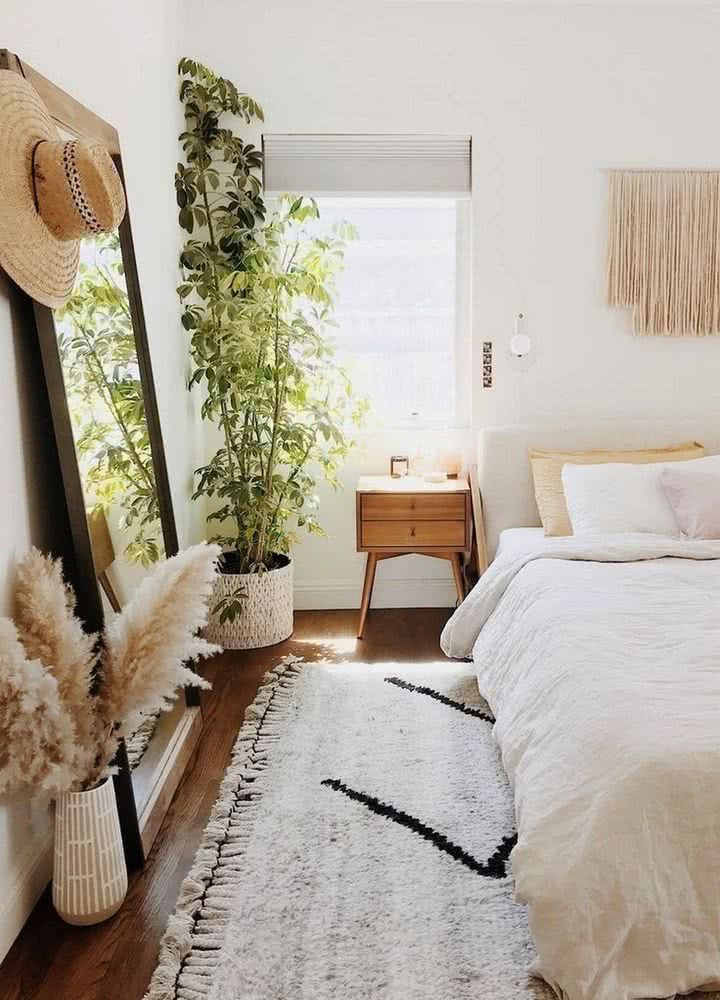 Art Deco Elements
If you are looking for glamour, the best option would be the most glamorous of the design eras. The Art Deco design movement of the Roaring 20's is still incredibly popular today and is the perfect combination of opulent and frivolous design. Experiment with bold colors, geometric embellishments, and shiny metallics. The room will radiate glamour.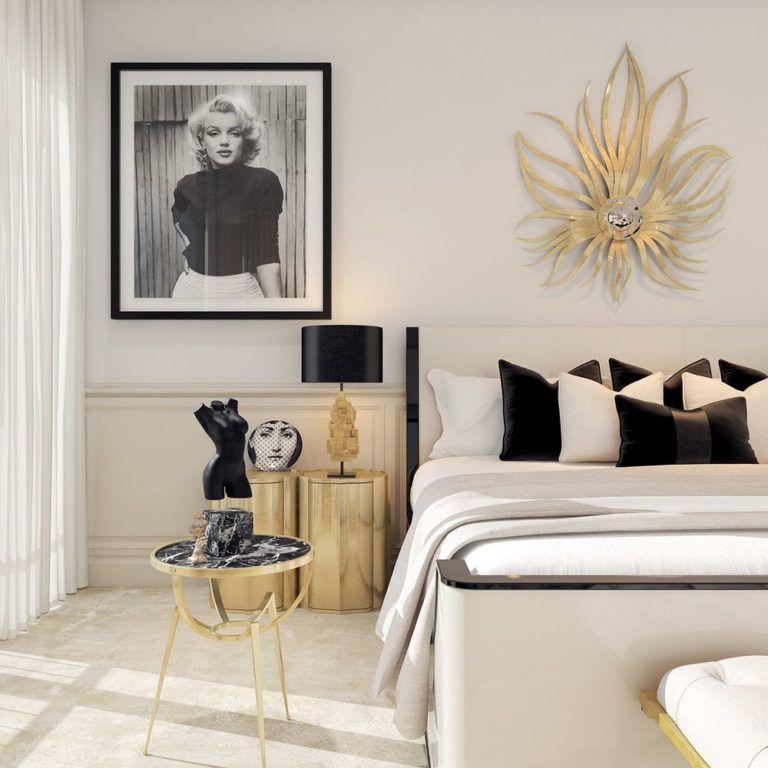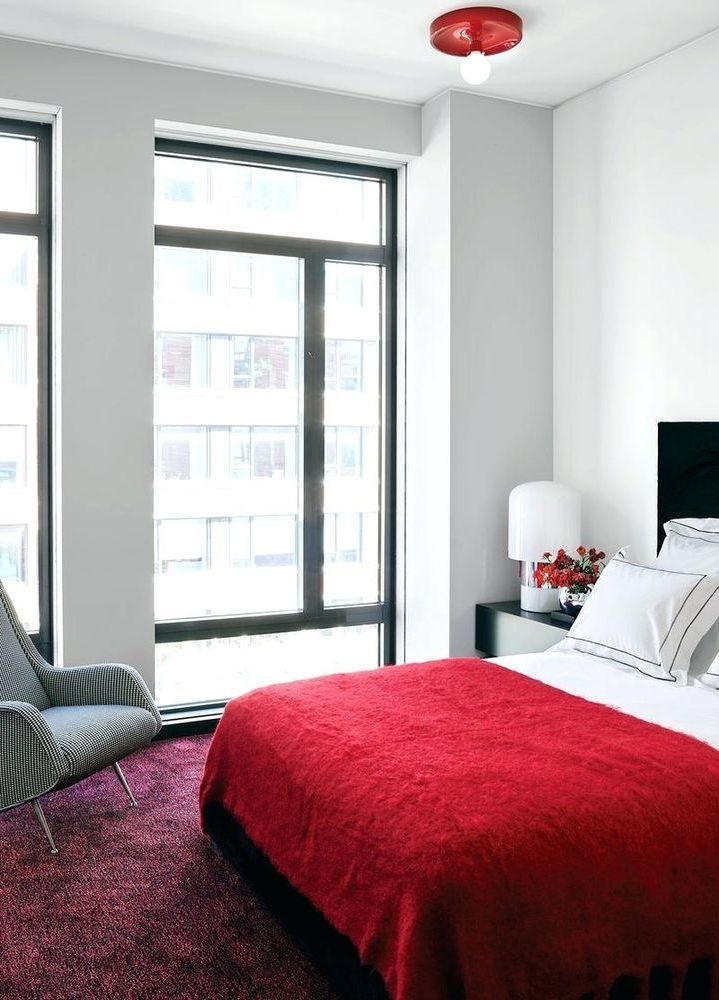 To create a luxurious room, you need to focus on materials and textures. Any color scheme, whether neutral or bright, will instantly take on a luxurious feel with the addition of luxurious textures like velvet, fur, and soft cotton sheets. Layer on opulent materials like shiny metals and cool marbles and you'll give your sleeping space a luxurious feel.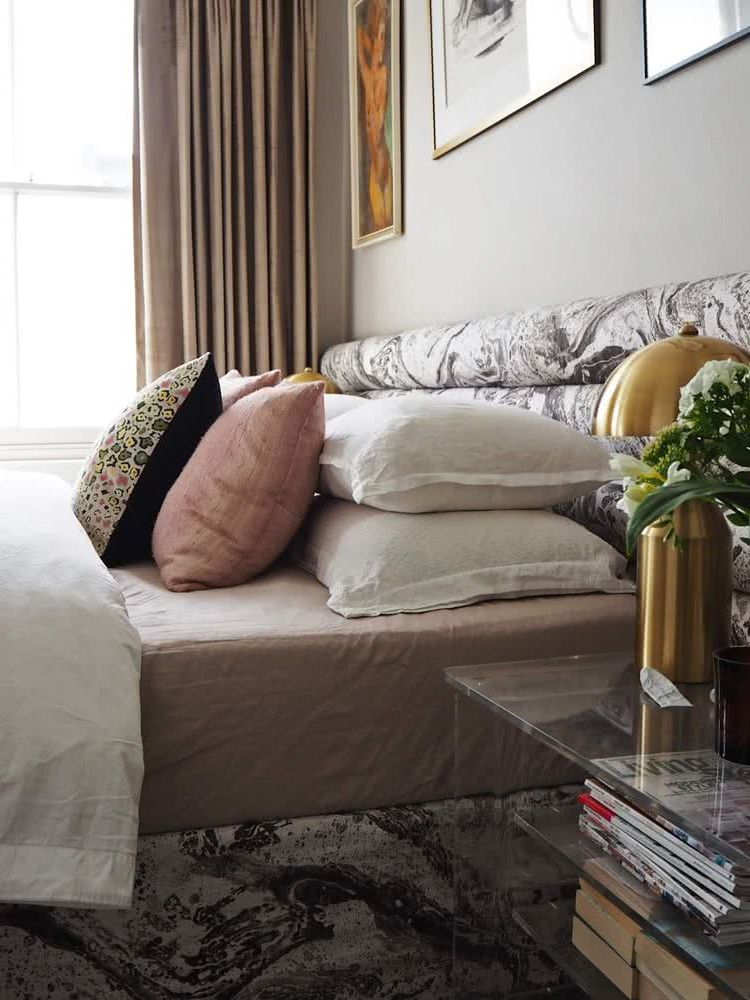 With a sewing machine, you can get inspired and design your own covers, curtains and pillows.
Tropical decoration
Tropical interiors are a trend that continues. From large-scale leaf prints, to shades of green and pops of tropical flowers, this bedroom style will make you feel like you're on vacation when you wake up in the morning and it's fabulously fun.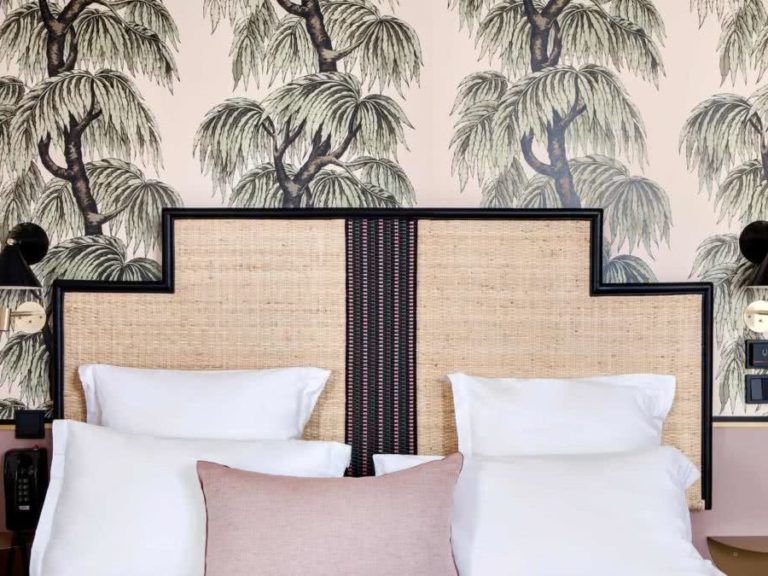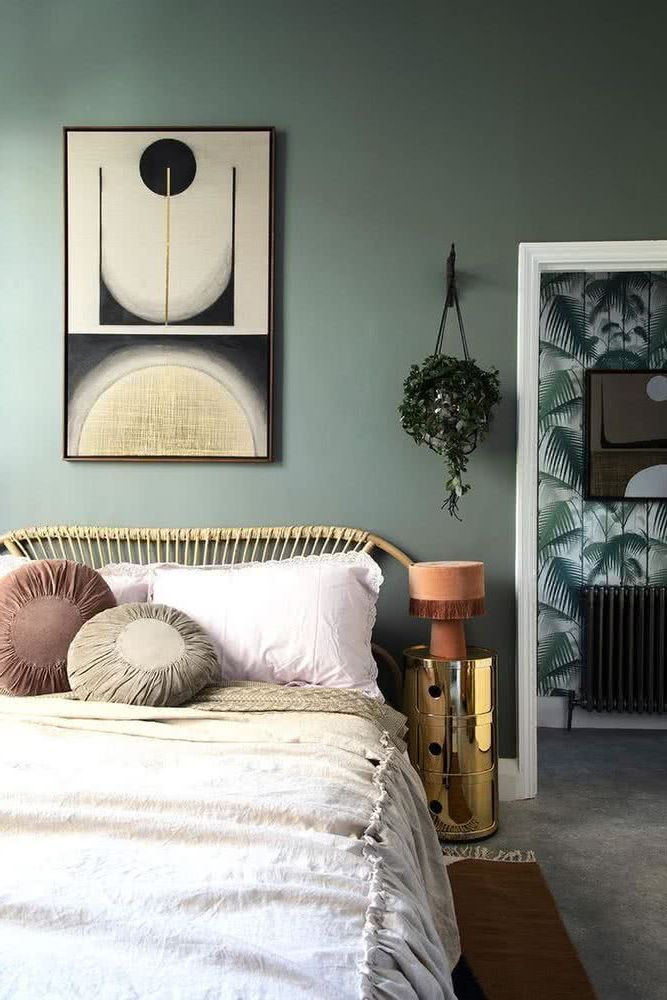 Floral bedroom
Charming and romantic, floral rooms are always in style. A great way to design a floral bedroom that looks perfect year-round is to choose a color palette that works for all seasons, keeping accessories light and bright for summer and adding richer hues in winter, which is can easily be done by exchanging bedding and small decorative details.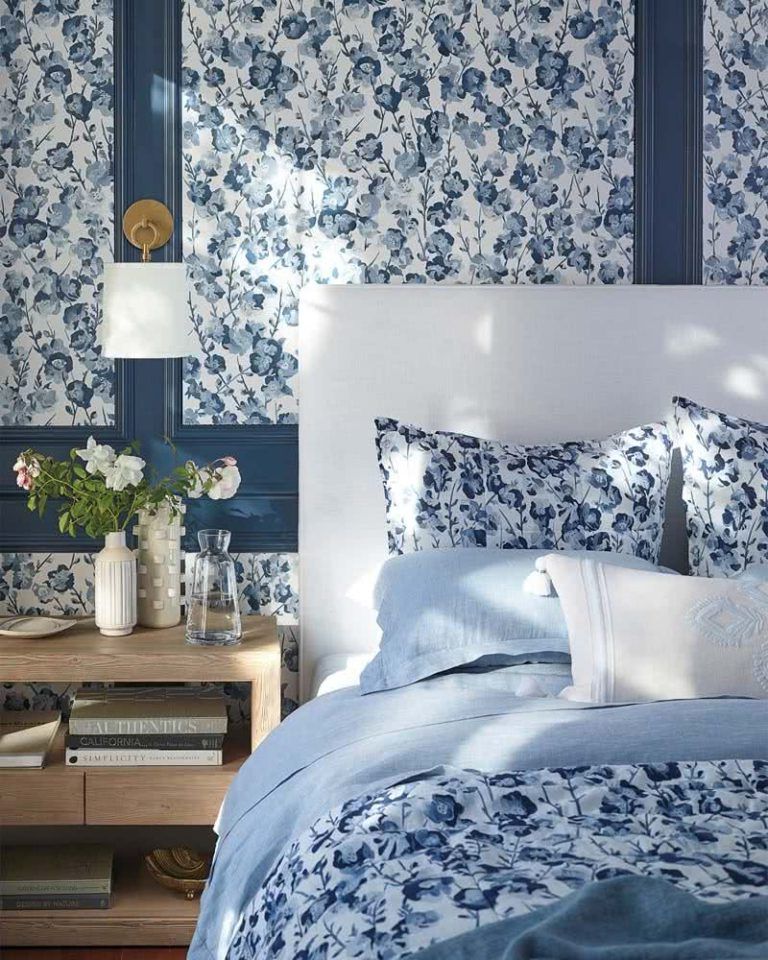 Wood paneled wall
Within the trends, an element that clearly stands out is the wood used on one of the walls. It helps us to easily achieve a cozy and highly sophisticated environment.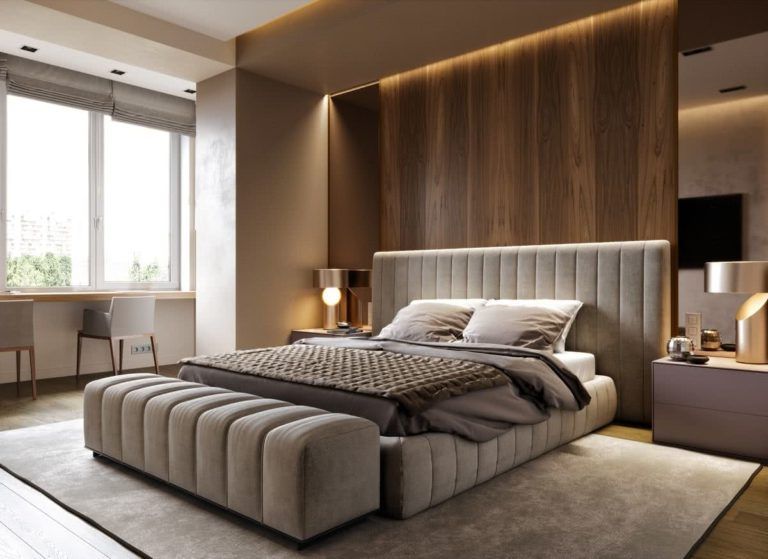 In many cases, this natural element can also be brought to our walls, for example behind the bed.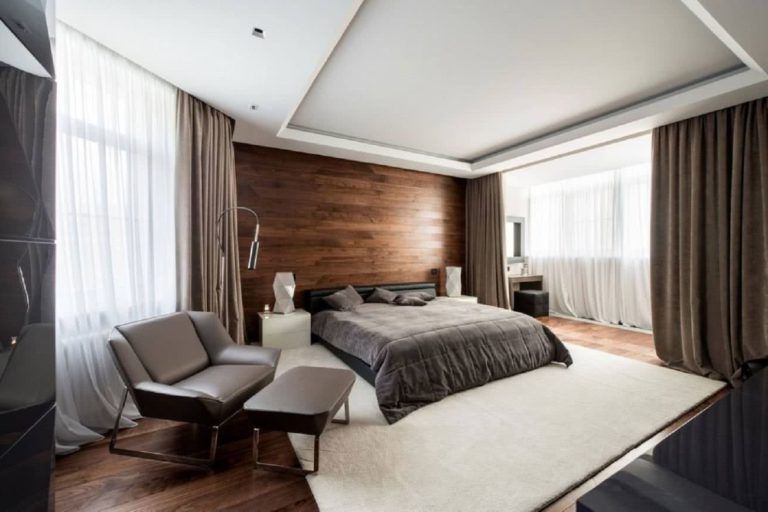 Polished cement floor
You can bet on another of the fashionable materials: polished cement.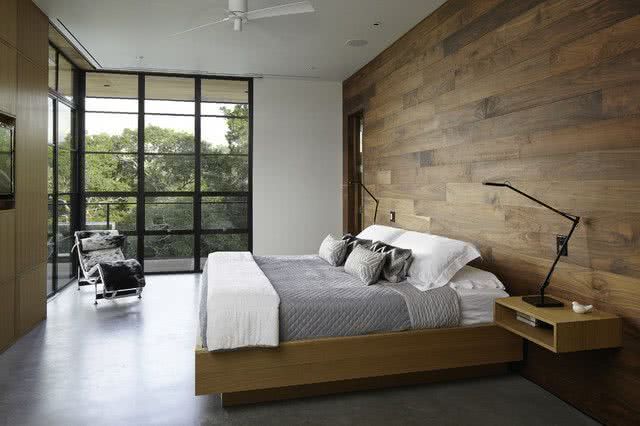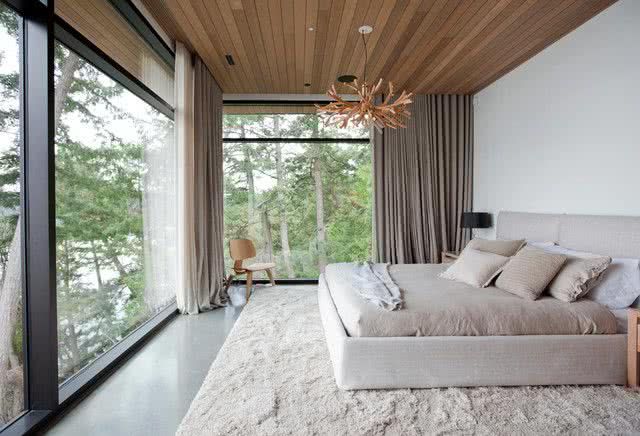 Color
The couple's room should be a place of rest and at the same time a place that fosters moments of passion and many times, achieving both is not easy. Colors can help us achieve this difficult purpose. It is advisable to choose neutral colors for the walls, and then add touches of color with decorations, cushions or bedding.
Earthy and neutral colors
As for the colors, we can see how there is a clear predominance of earthy and neutral tones, although an important place is left for the participation of vibrant and luminous tones in the details and accessories.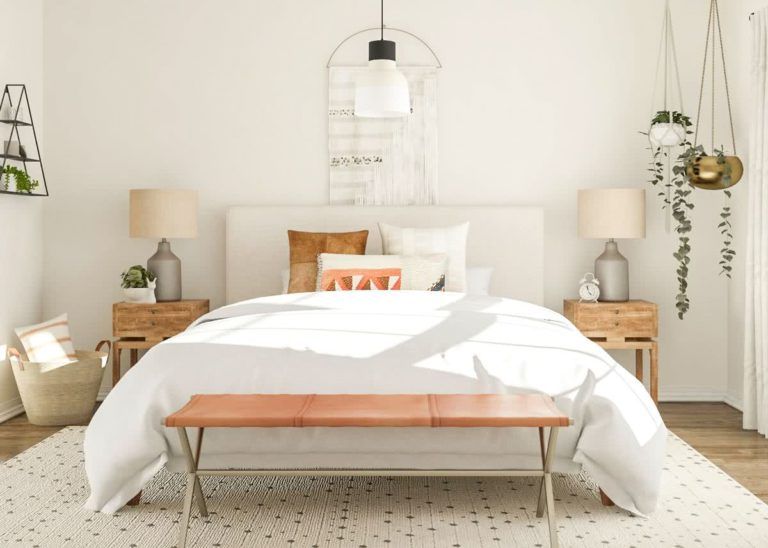 If you're not a fan of too much color in your home or just want your sleeping space to be a peaceful haven, neutral colors should be your first choice. A combination of soft greys, beiges and whites gives a classic look to the bedroom and when you see the result, it probably won't look boring.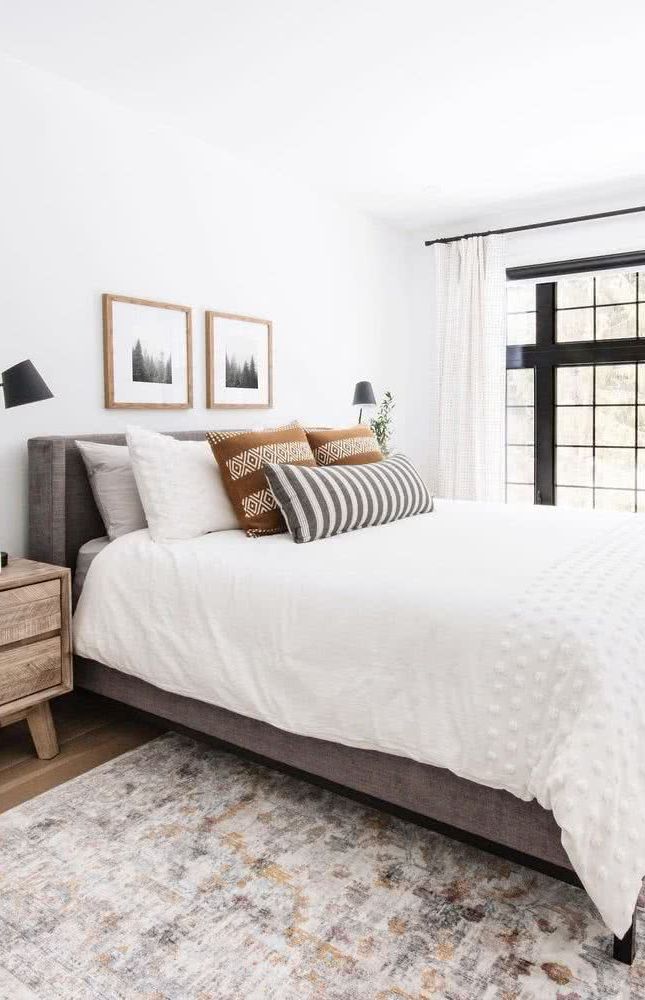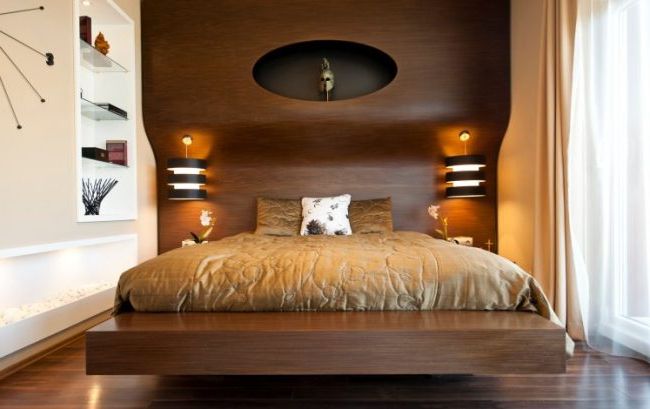 White double bedrooms
White color is one of the classic colors, which never goes out of style. It is that this color helps us to expand the spaces and illuminate them without too much effort. You can use different shades of white, for example, below we see creamy white, a very warm color. It is perfect to combine with natural wood, and highly recommended for old houses.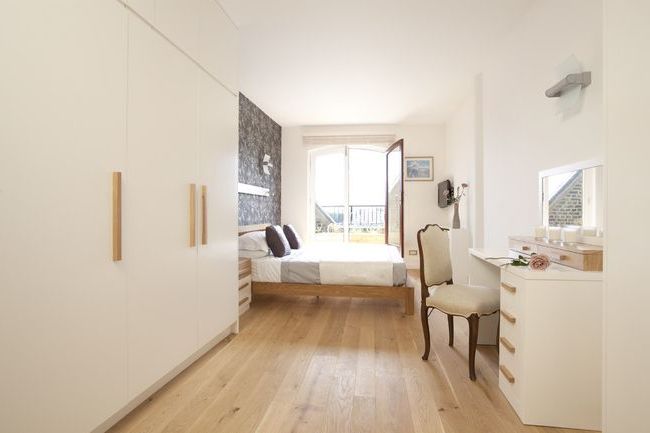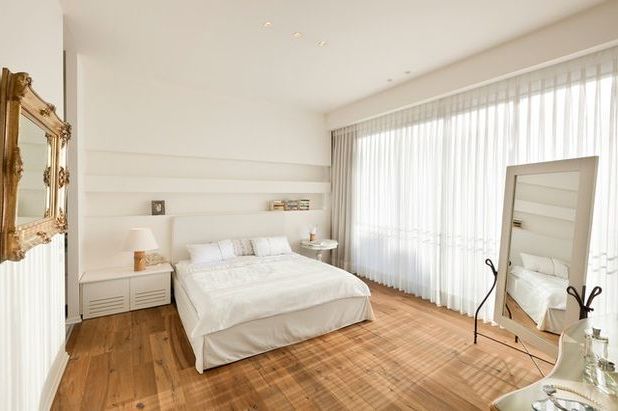 Here, on the contrary, we see cold whites, combined with black. This combination is ideal for small spaces. It can also be combined with gray or touches of color.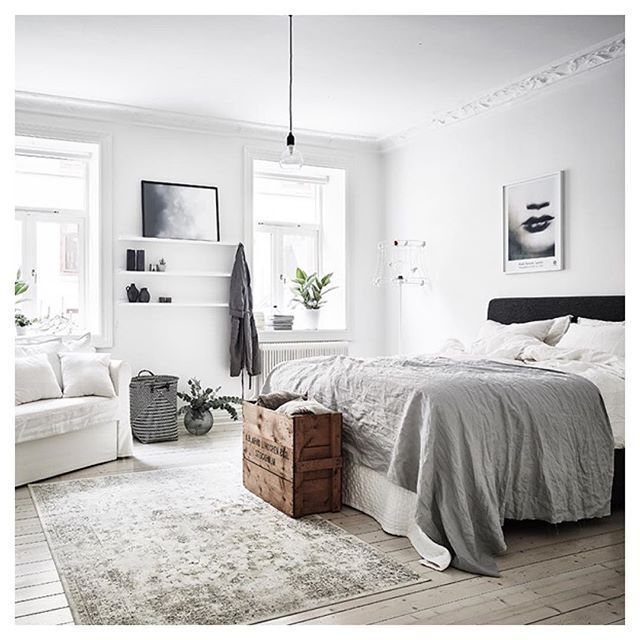 If you have wooden floors, white is, without a doubt, one of the best options.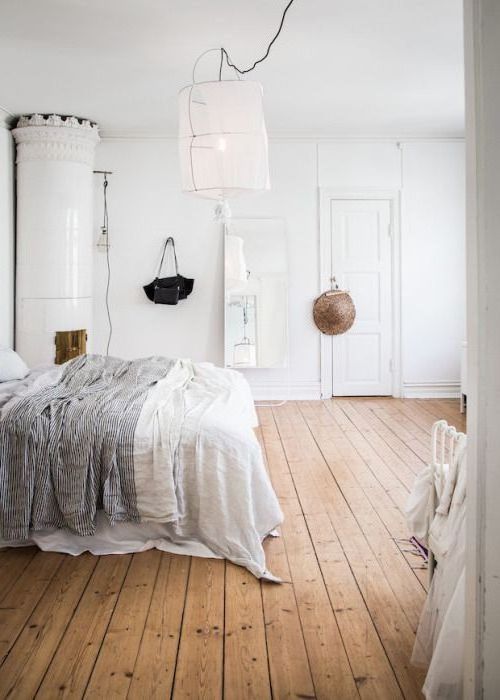 If you're looking to create a sleeping sanctuary, you can't go wrong with white. White rooms look eternally clean and fresh, so they're perfect for warmer countries, but they can also warm up with cozy textures in colder countries.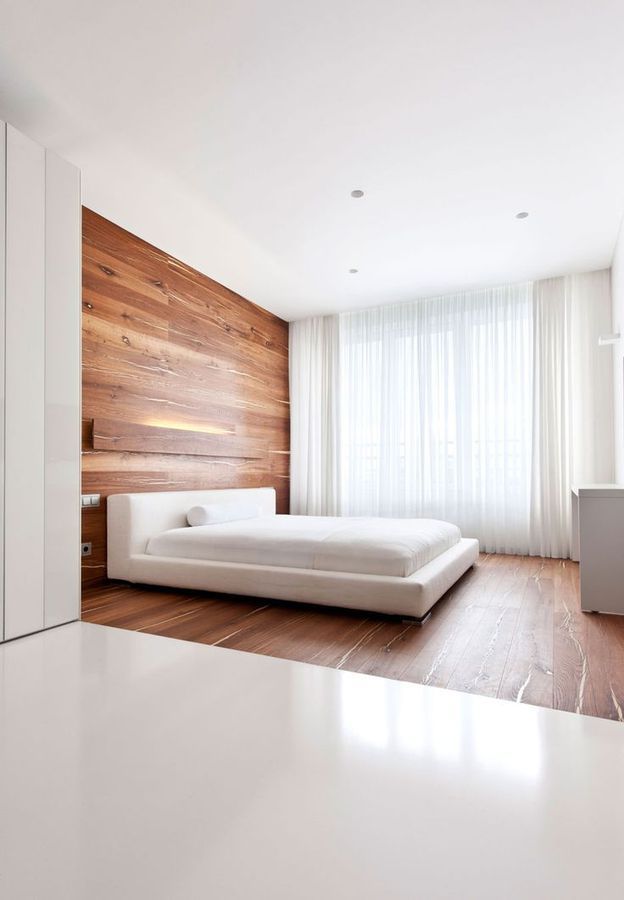 They have a versatile look for any style of home and will create a perfectly calm environment.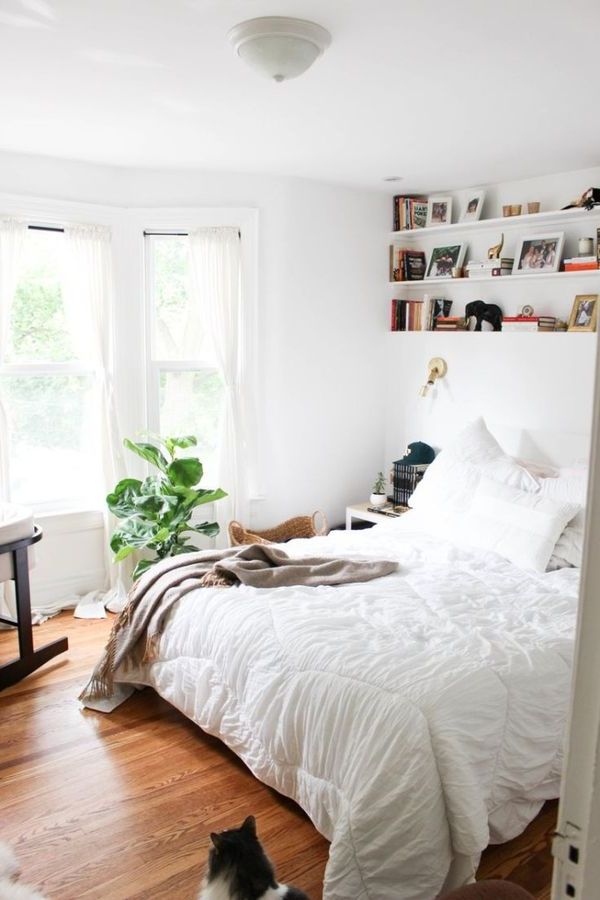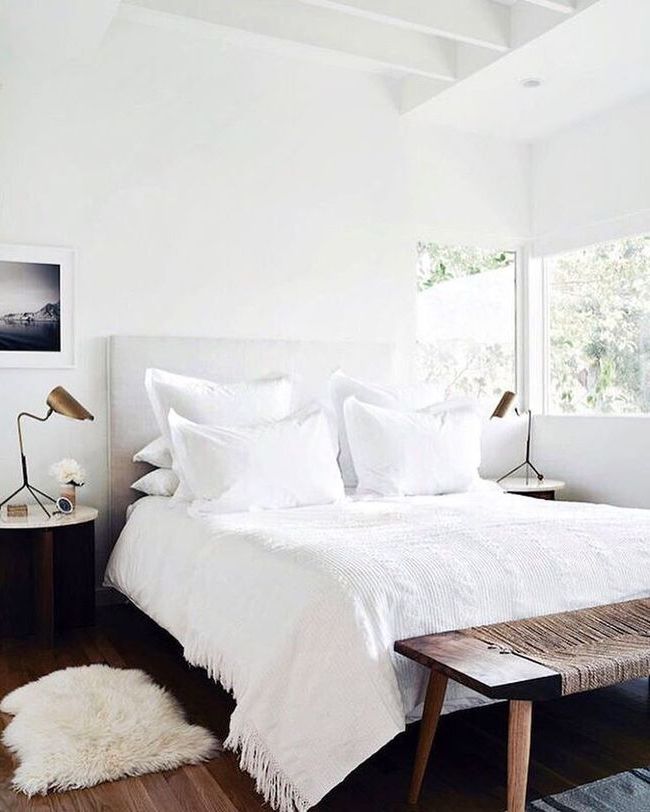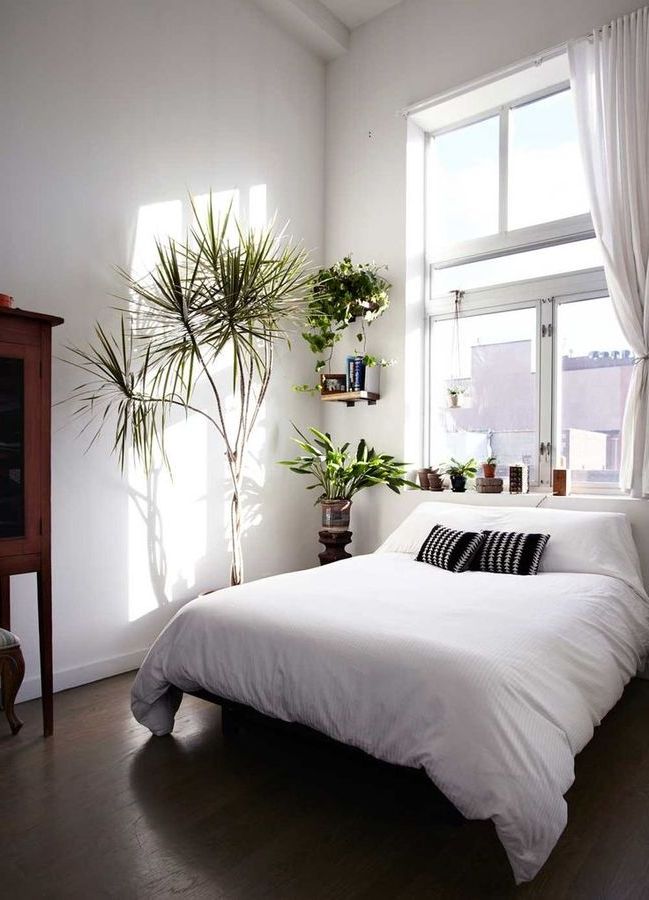 An all-white bedroom, even with white flooring, can also look fabulous.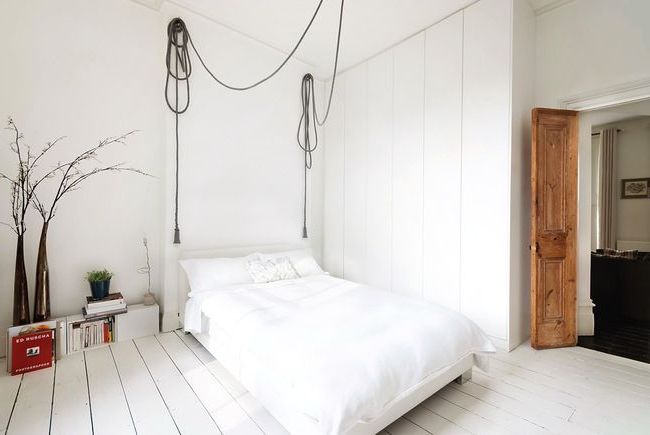 Black and white
As we've mentioned before, modern bedrooms lend themselves perfectly to a monochromatic look. One of today's favorite monochromatic color palettes is classic black and white.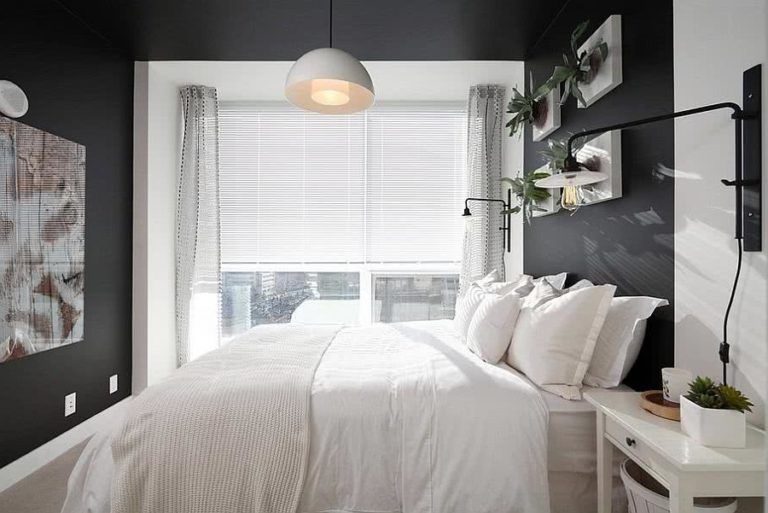 Double bedrooms in pink tones
Whether as an accent color or an entire color scheme, pink has been one of the most popular colors for the home in recent years. This is another of the classic and favorite colors to paint and decorate a double bedroom. Unsaturated colors, known as pastel, can be chosen.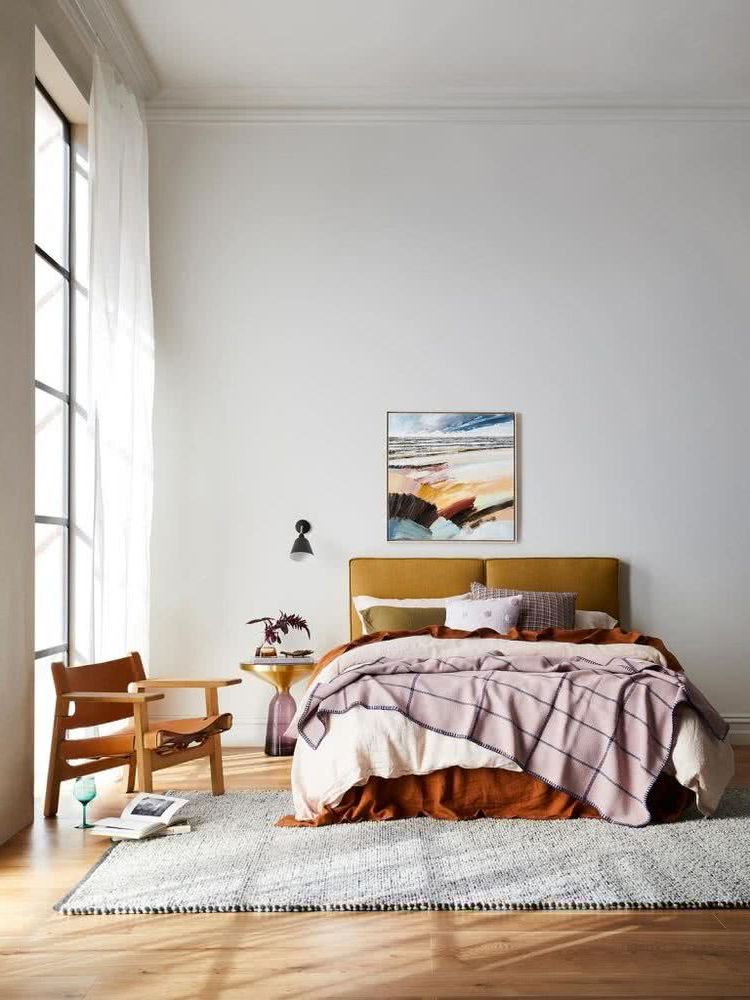 You can create a low-budget bedroom yourself. Together with your partner, you can be inspired by the idea in the photo to create sliding doors for the closet with old doors.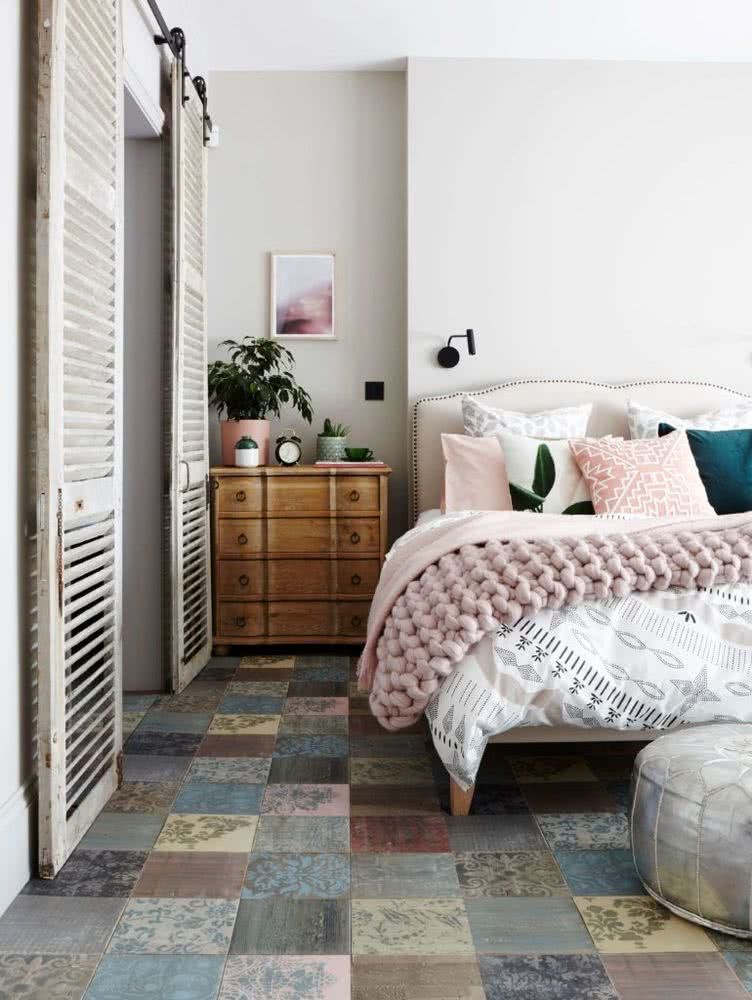 Coral pink, slightly orange, are also another of the shades of pink that we can use, to achieve a very cozy and cheerful bedroom.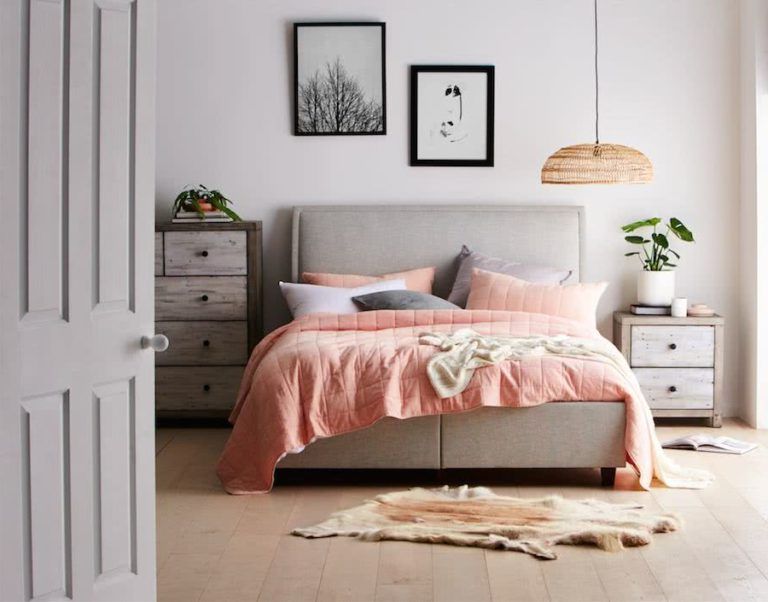 But we can also take risks with saturated tones, which are close to fuchsia.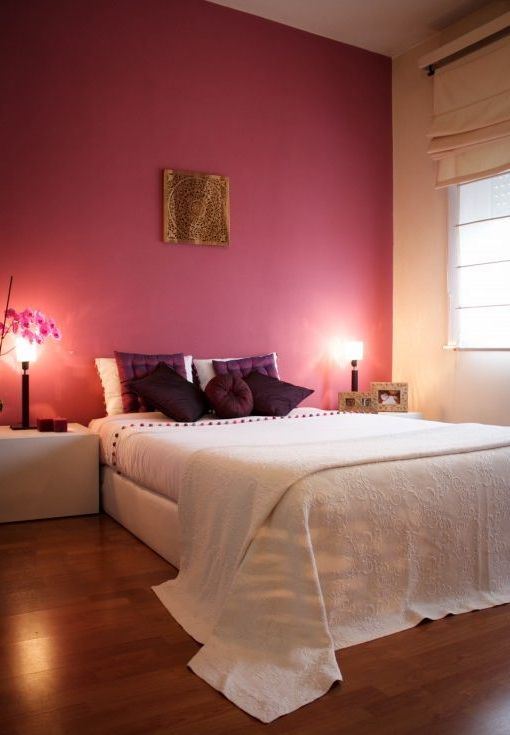 Gray
It's a fabulous option anywhere in the house. With so many different shades to choose from, a gray room can look clean and fresh or cozy and warm. As with any color scheme, the key is in the shades you use.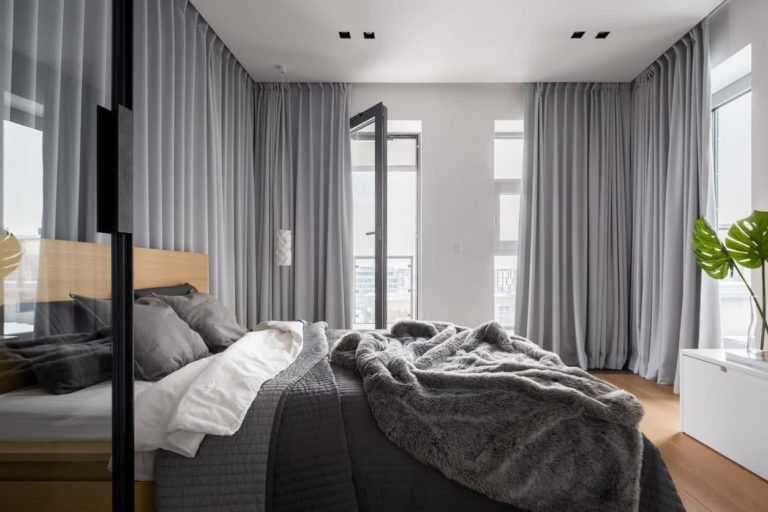 Gray and yellow
One of the most popular color combinations for bedrooms is yellow and gray. If you like the gray bedrooms we mentioned above but want a bolder pop of color, a gray and yellow bedroom might be the one for you. Gray is a fabulous base for sleeping spaces and just about any accent color will work well with it, but one of the current favorites is rich mustard yellow.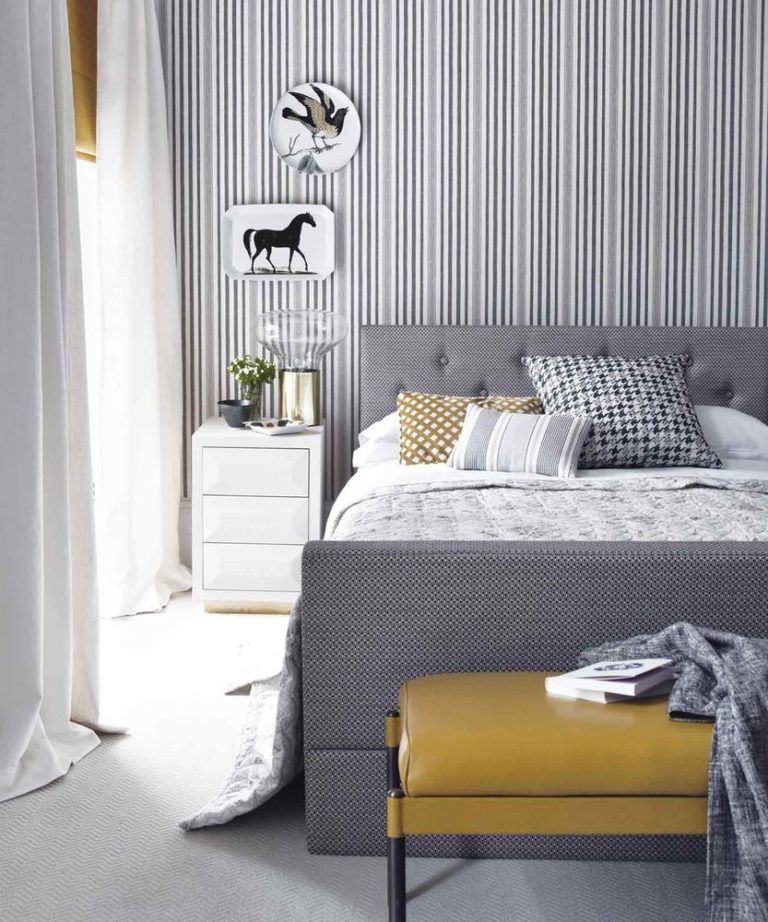 Blue
This color is having its moment in the indoor world, which means blue bedrooms are on the list. Whether it's dark and dramatic, or cool and refreshing, a blue room can give off any feel depending on the hues you use.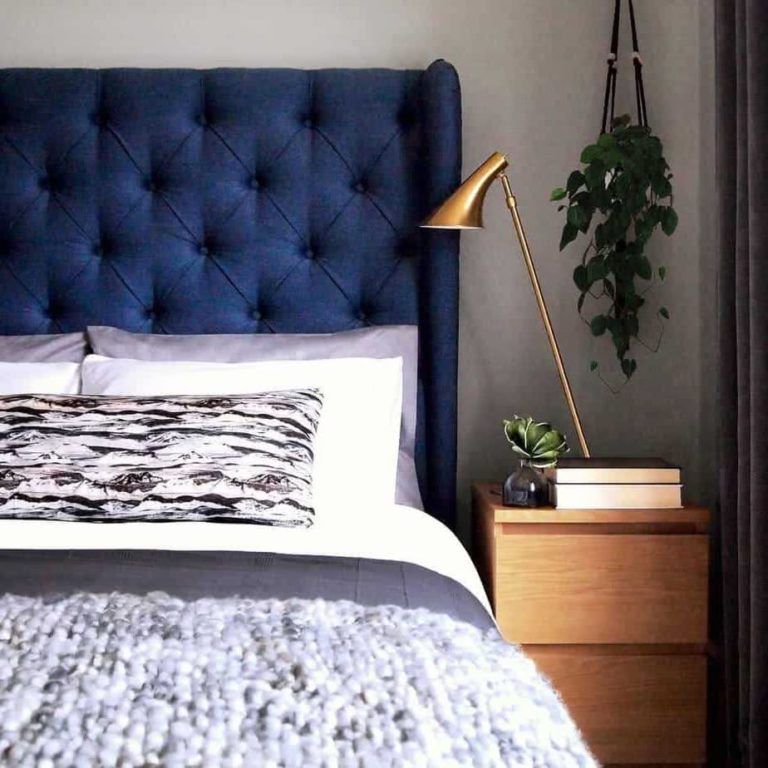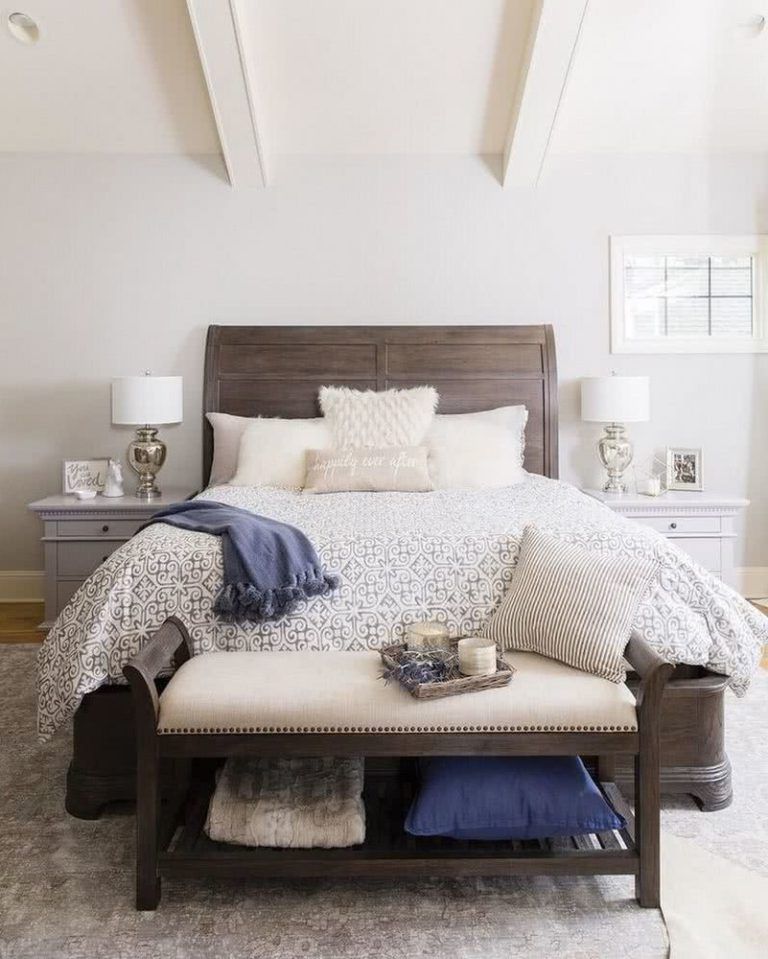 Combining brown and blue colors is a very successful choice within design trends.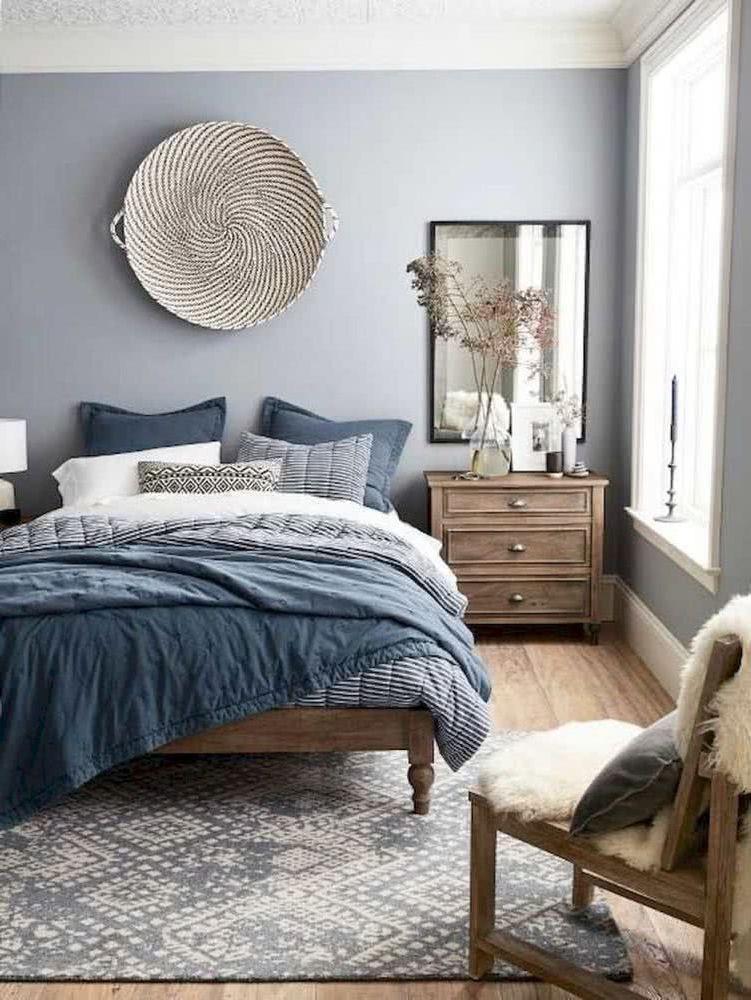 Golden elements
A gold room doesn't mean you have to decorate everything gold, but a gold detail here and there can instantly turn a dull room into a wonderful one. Gold accents draw attention and work well with many wall colors.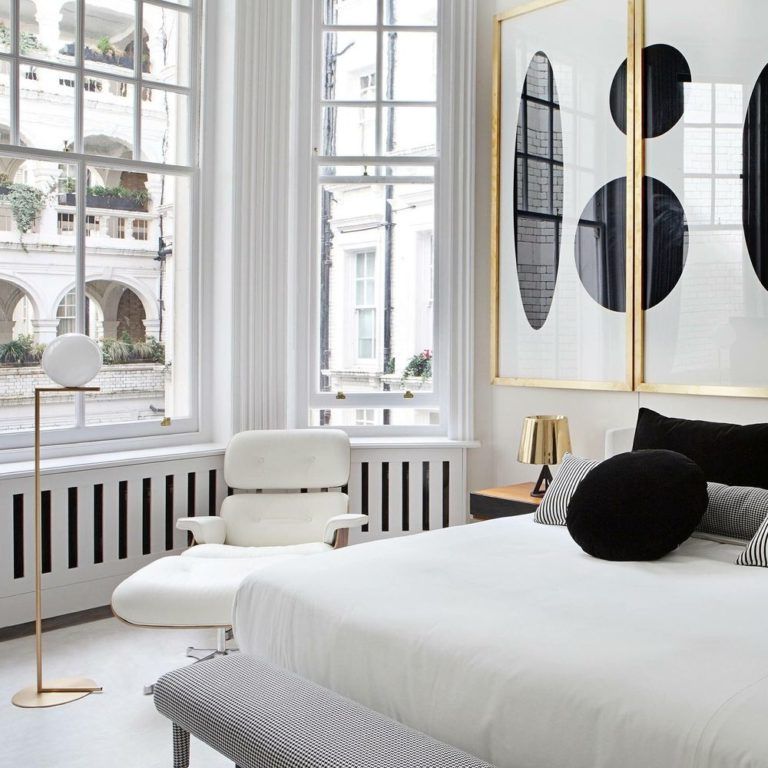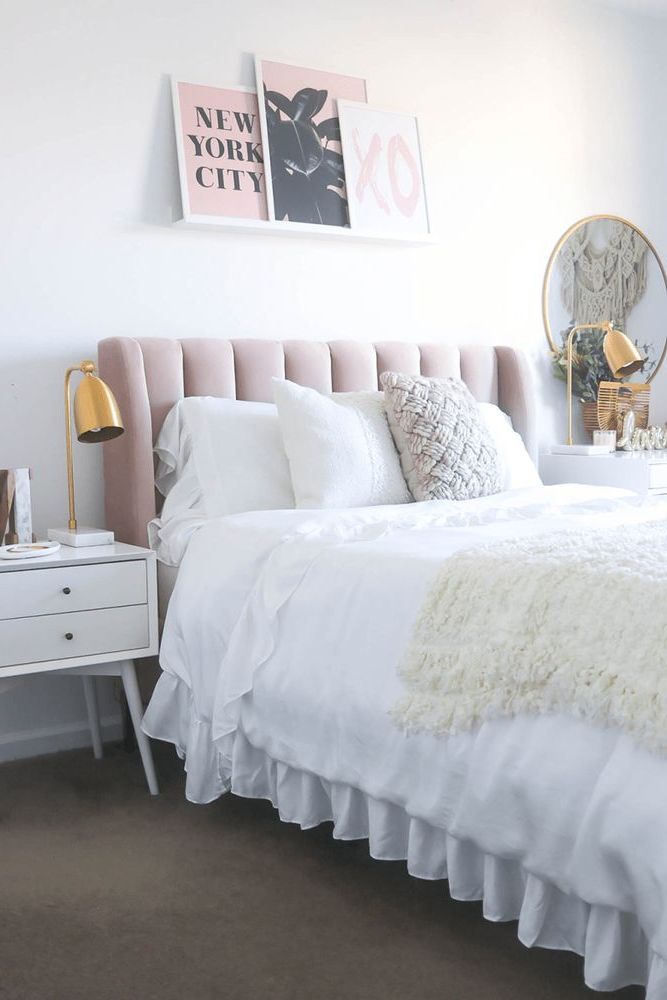 Dark colors
Dark colors are no longer just used as room accents, they are becoming a key style in their own right. Gone are the days when dark walls were thought to make a room feel small, so why not be bold and choose a dark room for your next renovation?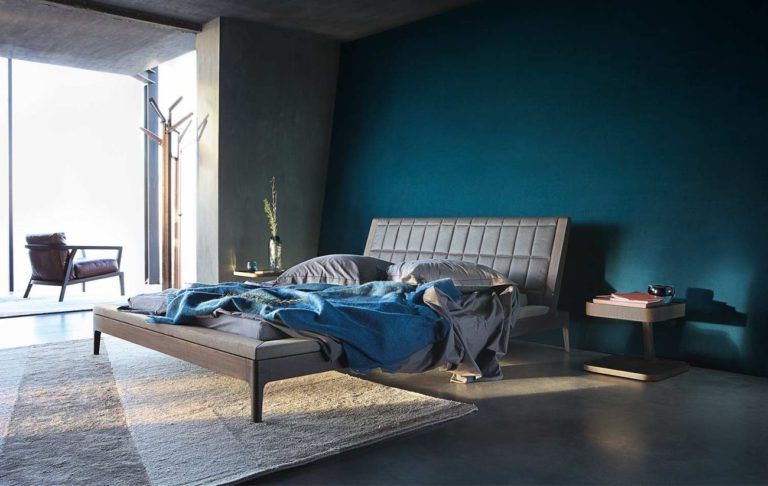 The couple's room is usually complicated when it comes to choosing colors, she does not want a purely masculine color and he does not want to see himself as a visitor in a room that seems entirely feminine. So starting from the premise that it is a room for two, you have to choose a color that stays in the neutral field and that allows you to explore decorative aspects without leaning only towards one of the two trends, feminine or masculine.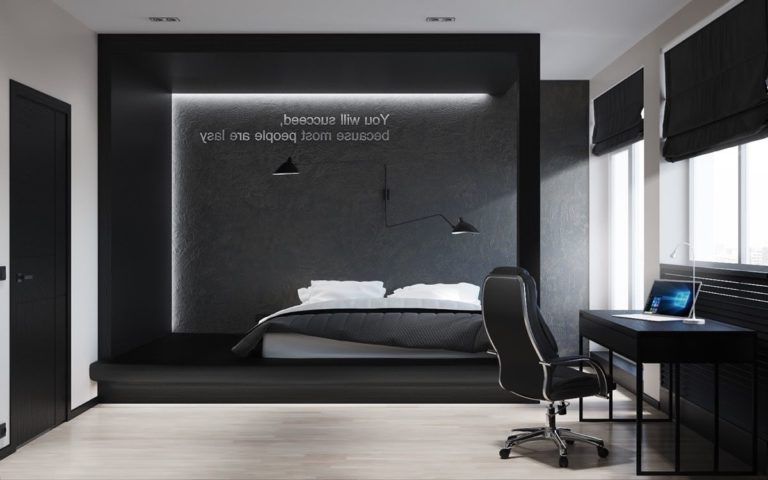 Put to choose the color that dominates the environment, and that we place on walls, we can take advantage of the dark gray color. It is a color that has many shades and that combined with white brings a style of calm and relaxation to the room without being feminine or masculine, but neutral. It also allows you to play with other colors in the ornaments and in the furniture.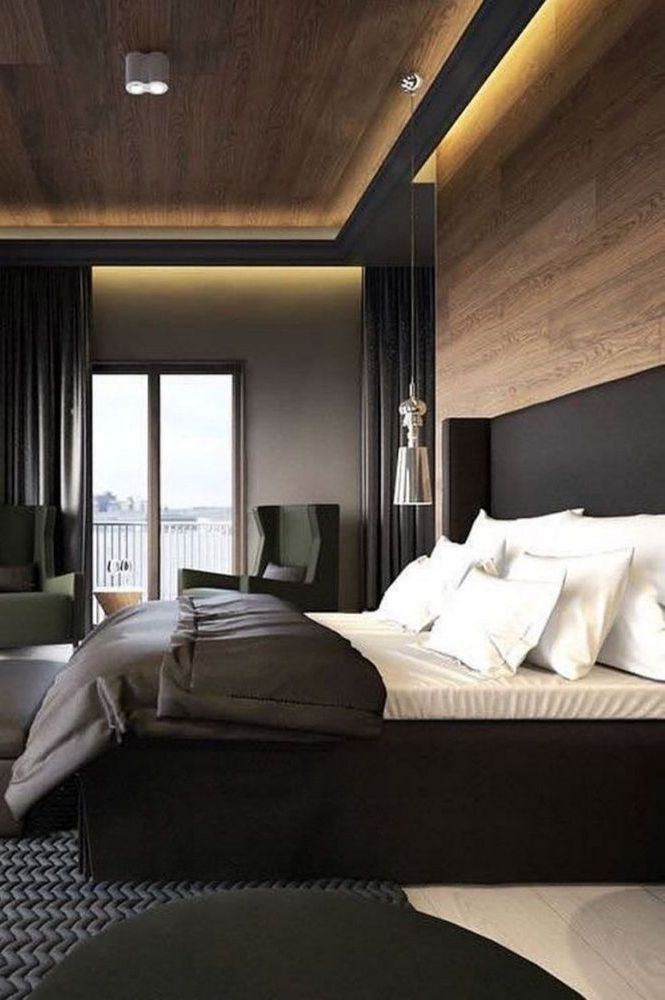 Charming shades of purple can be chosen in solid color or combined with purple in patterns as well. This color adapts perfectly to different styles of decoration, which is not usually the case with all colors. And it is a color that resists the passage from summer to winter, so in that sense it is also very practical.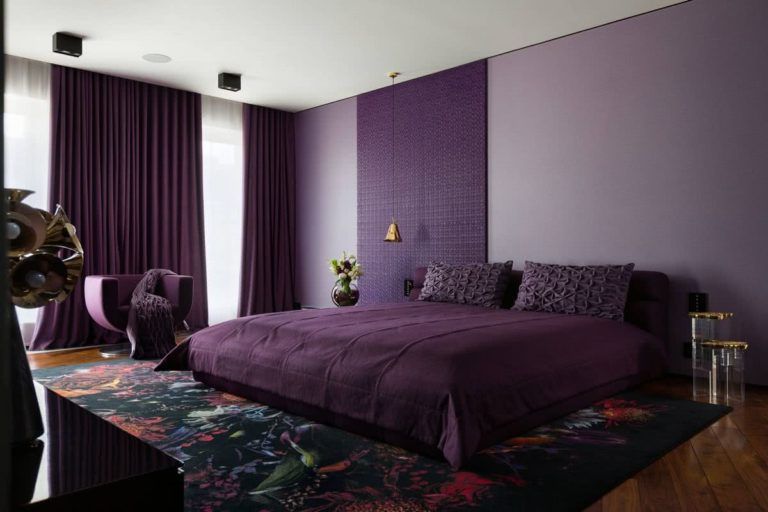 Small double bedrooms
There are some tricks to make a bedroom look bigger. For example, paint the wall opposite the entrance in a darker color than the rest of the walls, preferably painted white. This gives a lot of depth to the room.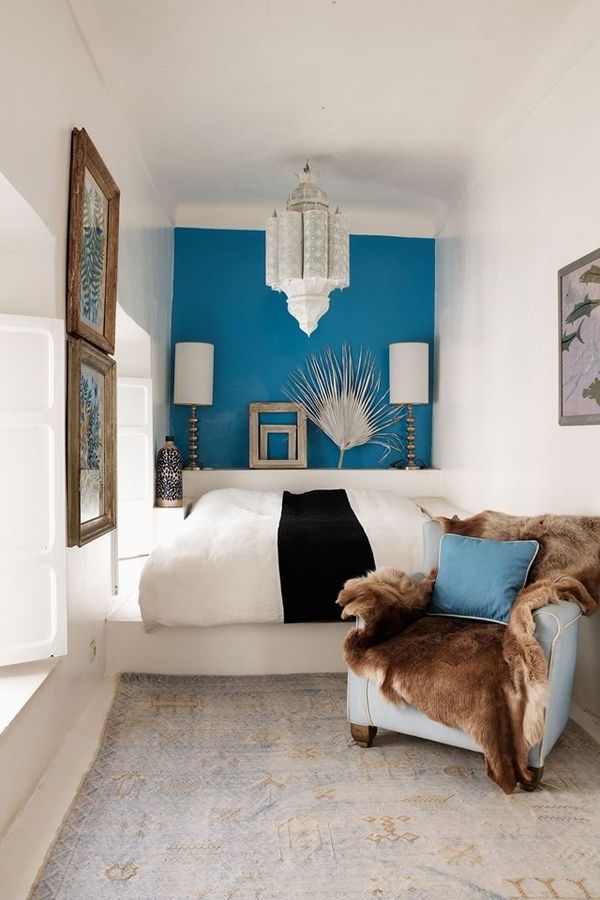 If we want to decorate the room with a chair or armchair, it should be placed away from the area where we take off our clothes or away from the closet. With this we achieve that the room is not messy, since we tend to put the clothes on the chairs with the excuse of putting them away later.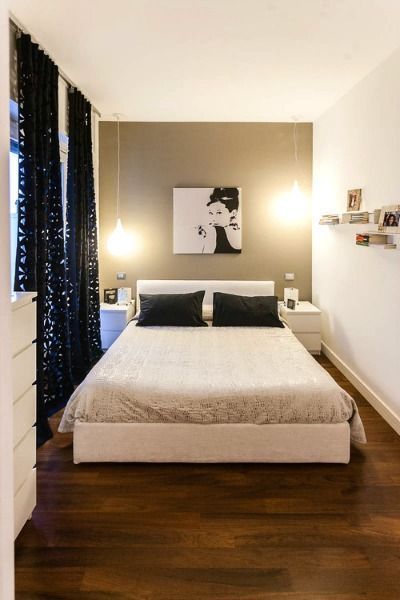 If we do not have enough space to place a wardrobe, an excellent solution is to place the storage behind and on both sides of the bed.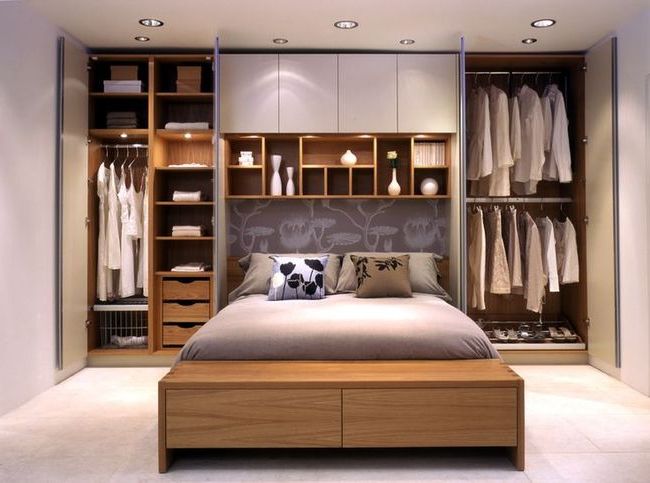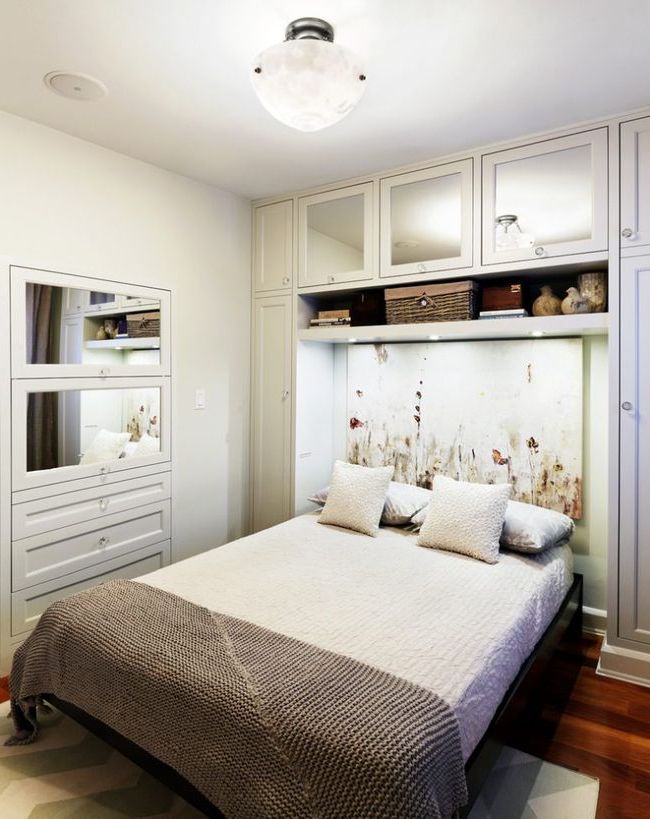 We can also place the bed against a wall, in this way, we will have more free space.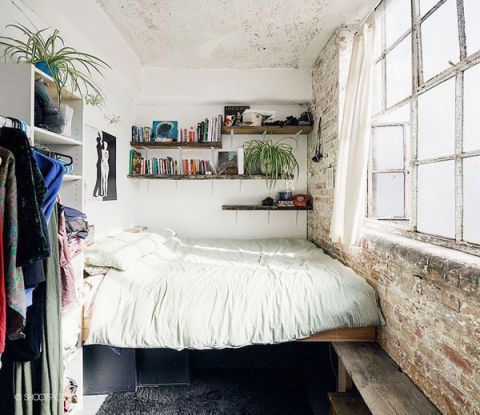 One of the first rules of bedroom design for couples is to never put too many decorations and furniture. This will make the bedroom feel cramped and cramped.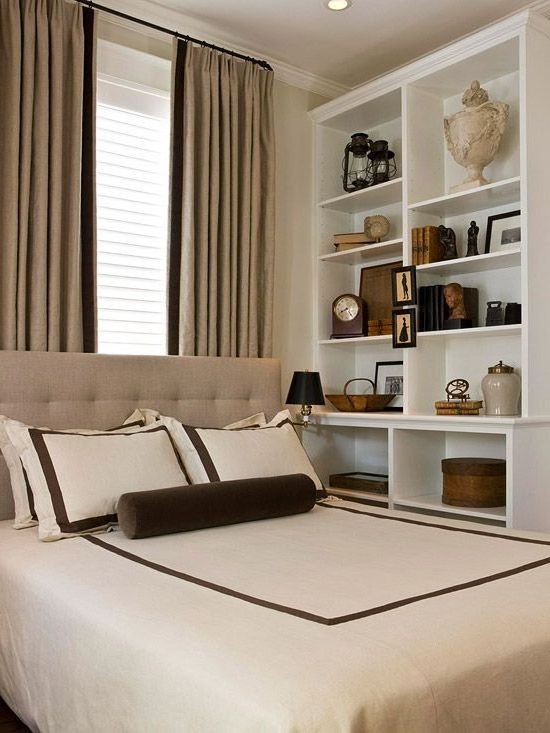 If space allows, we can place the bed in the center of the room, and on either side of it small tables to place the night light and other belongings. Pendant lights help a lot to give more space and comfort.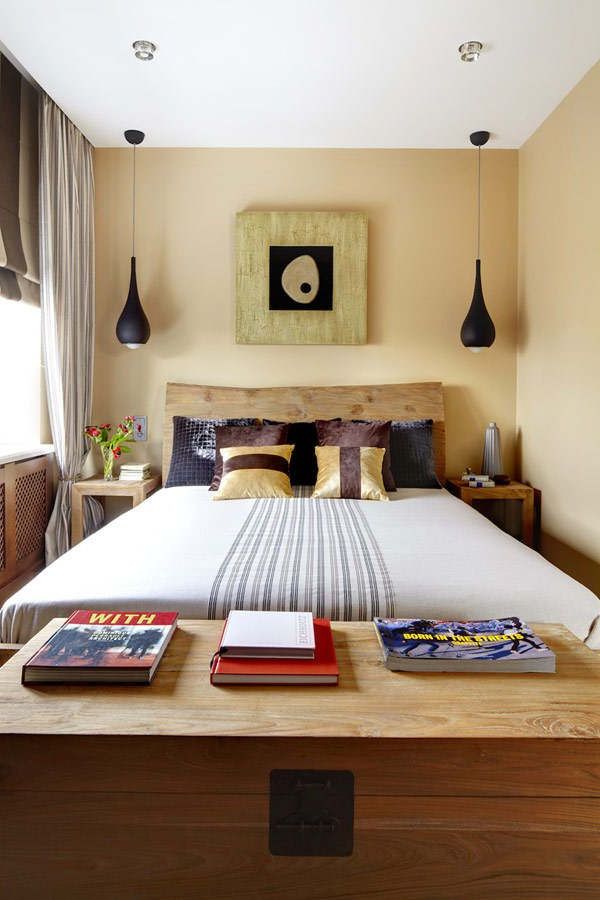 Instead of buying an illustration, which is usually expensive, buy a brush and create your own work to decorate your bedroom.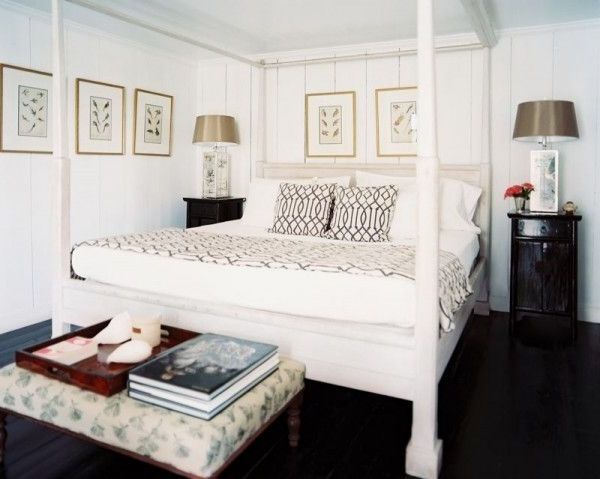 The placement of the bed should be right in the middle of the room to ensure that neither part of the couple looks uncomfortable when getting up and feels free to walk around the room if they want.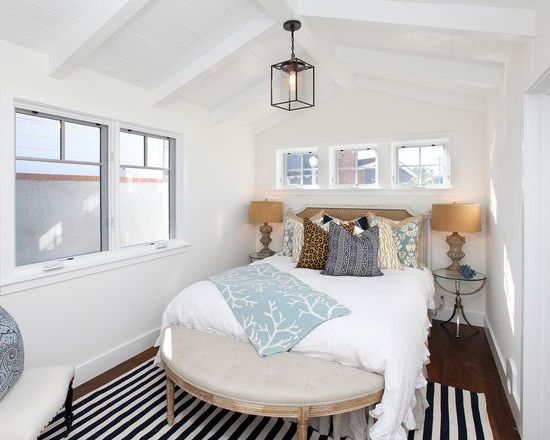 Small details can make our room a nice place to enjoy. Use some pillows and cushions on the bed, but not too many.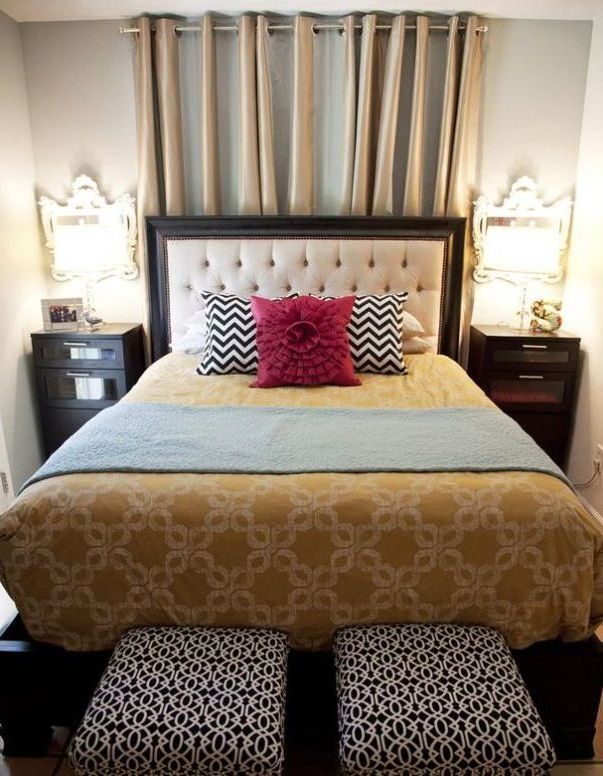 If the room is not too big and you want to put a television, choose one to hang on the wall, so as not to steal living space from the room.