Keys to make your living area warmer and more pleasant. How hot!
We are already into the coldest days of winter and that is why we want to prepare the living room so much to spend hours and hours in it, give its decoration a twist and make it much warmer. Arriving from the street with cold hands and face and entering a cozy and enveloping room… what a pleasant feeling! Notice how our skin warms up little by little and sit in a comfortable chair. Are you at home. We all like that moment, but do you know how to fill your living area with charm to enjoy it alone or in company? We offer you the best tips for decorating the living room, according to interior design professionals.
We give you keys to create a warm and comfortable living area in the living room. Super comfortable sofas, flowers, warm fabrics and decorative details to spend a warm winter in your home. It matters little that the storm rages on the other side of the window. There are decorative resources that convey a feeling of warmth. Simple solutions that will help you raise the temperature in the living room. Take note and get the best shelter in which to shelter yourself this winter. Do not forget that living rooms are multipurpose spaces, so you will like these 15 tips to decorate a room with independent environments.
Ideas for a warm living room
The living room is the center of your house, so you have to pamper this little temple and make it more cozy. We have the keys for you to experience our proposals and find a comforting environment. Make good use of the distribution of space and think of a pleasant rest area, with sofas, armchairs and poufs that predispose to chat. You can achieve a feeling of spaciousness if you know the interior designer's tricks to make your living room look bigger.
Textures and fabrics define a space, so put the accent on a good selection of furniture and accessories with materials that are pleasant to the touch and with great aesthetics to please the sense of sight. Examples? Leather armchairs, velvet cushions, cotton rugs, silk plaids…
Begin to transform the space by masterfully using the color palette. Bet on warm tones and includes the ranges of oranges, yellows and reddish tones. To give personality to the living room, use green or purple furnishing accessories and select cold colors, gray and blue, to immerse yourself in a relaxing atmosphere.
Lighting is very important to define a room. Get warmth with table lamps, which you can place on a sideboard, shelf or side table. Floor lamps are very important to accompany reading moments, next to a sofa or an wing chair. On the ceiling, opt for architectural designs or lamps with personality and if your house is dark, it is best to use LED wall lights with white light.
1 Colors that give warmth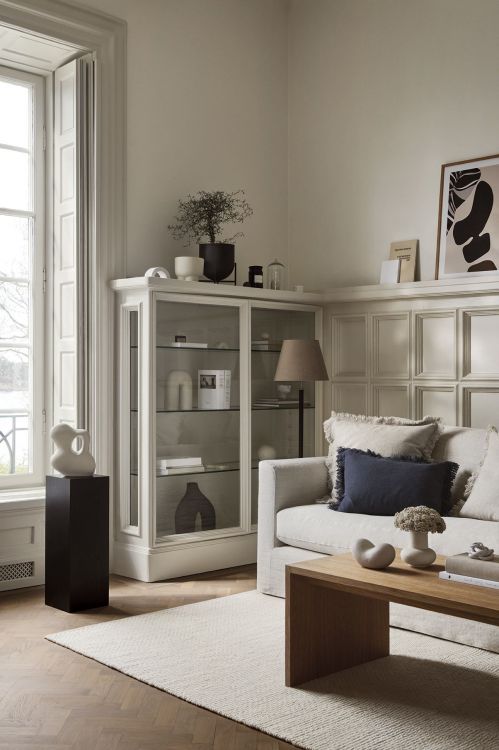 This room is anything but cold because pure white walls have been avoided. Its color chart is a succession of more or less intense sand tones, cream, light wood… and black accessories that give intensity. From H&M Home.

MORE IDEAS: 25 LIVING ROOMS IN NEUTRAL TONES, MODERN AND BEAUTIFUL.
2 Details that add up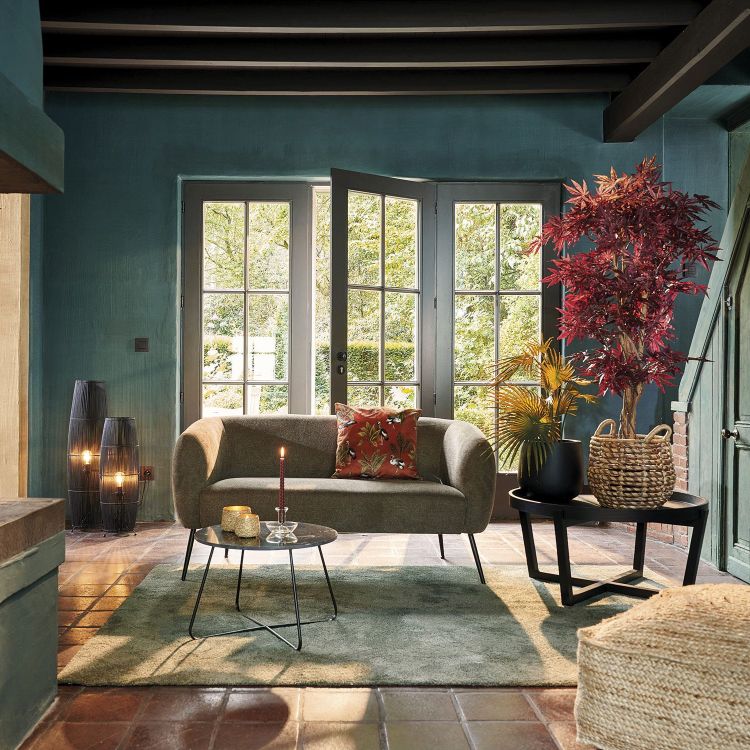 An ethnic side table, like the Draco model in this room, is an extremely warm piece. In black and dark brown, it covers the sofa and the plant on it has beautiful autumnal brushstrokes with its tiled leaves. Pay attention to low lights: they create an intimate atmosphere of luxury. From home.
3 Walls with hook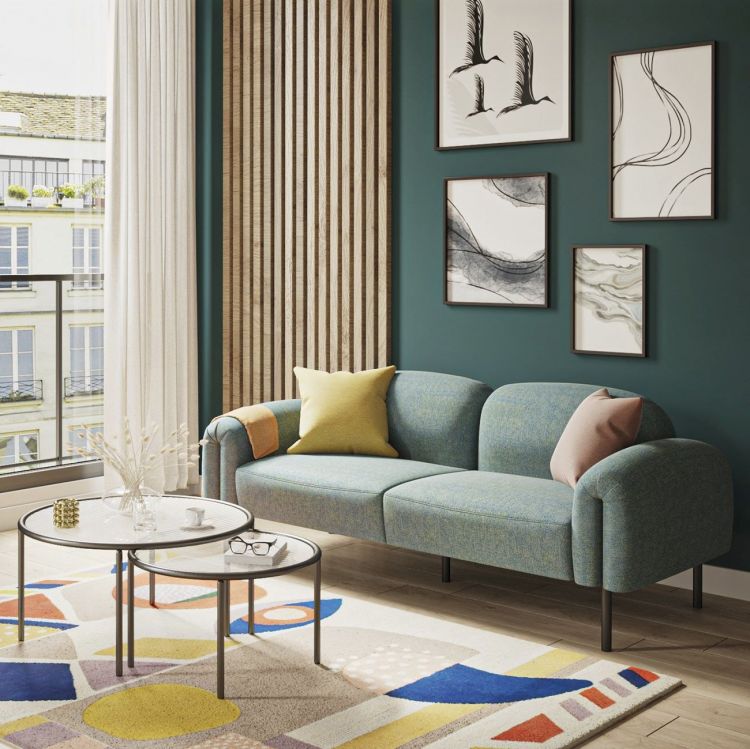 This Habitat idea makes clear the key role played by the walls of the living room to feel that its decoration surrounds you. The wood slat partition panel is an extra warm surface. And the composition of paintings on the wall of the sofa dresses and covers the area with great style.
4 A minimal environment in the heat of the fire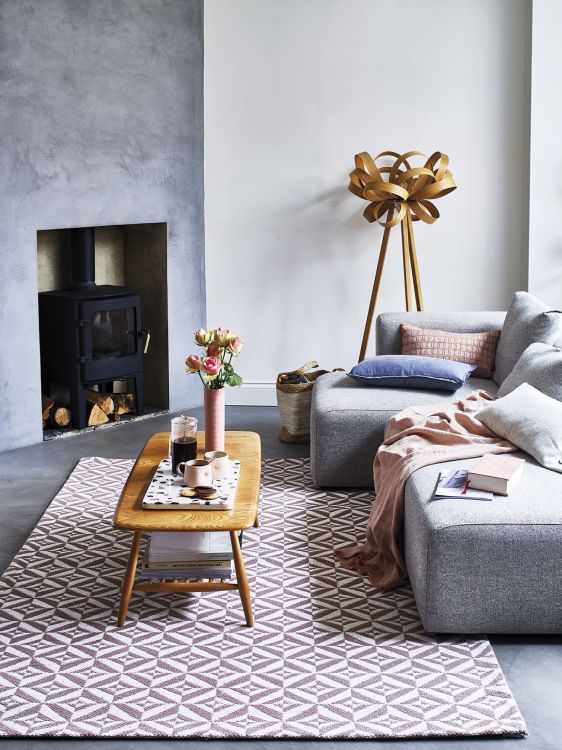 Having a minimalist living room does not imply giving up traditional solutions, to enjoy a plus of warmth and comfort. How to fit in a wide corner an insertable cast iron stove with a chimney for the smoke outlet. This material conserves the heat of the wood more efficiently than steel models and its installation is simpler than construction solutions. The one in this environment has been very integrated and decorative by painting the mouthpiece in an industrial gray that goes with the sofa. Get inspired by this idea!
ON THE FLOOR. A rug is another way to gain warmth in record time. The wool ones are amazing for their soft tread.
5 smooth lines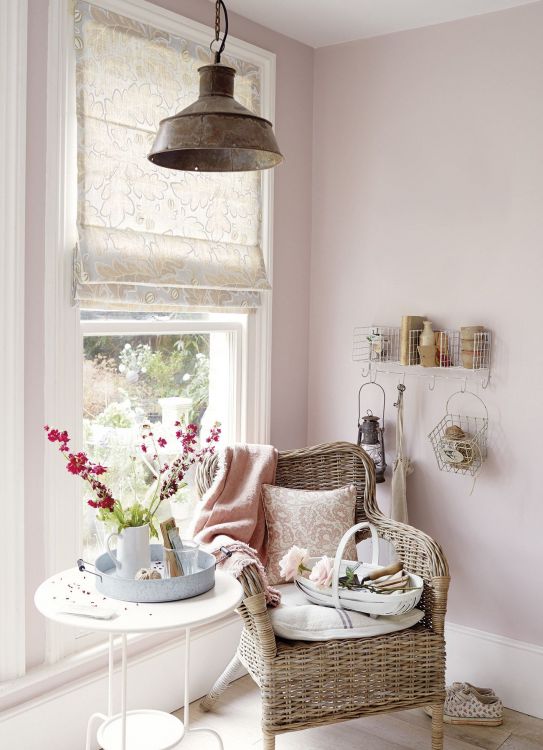 The shapes of the furniture help make the living room more welcoming. This reading corner invites you not to move along the lines of its braided wicker chair. And the round table enhances that feeling, as well as being light and promoting circulation.

MORE IDEAS: 25 CHARMING AND STYLISH READING CORNERS.
6 intimate lights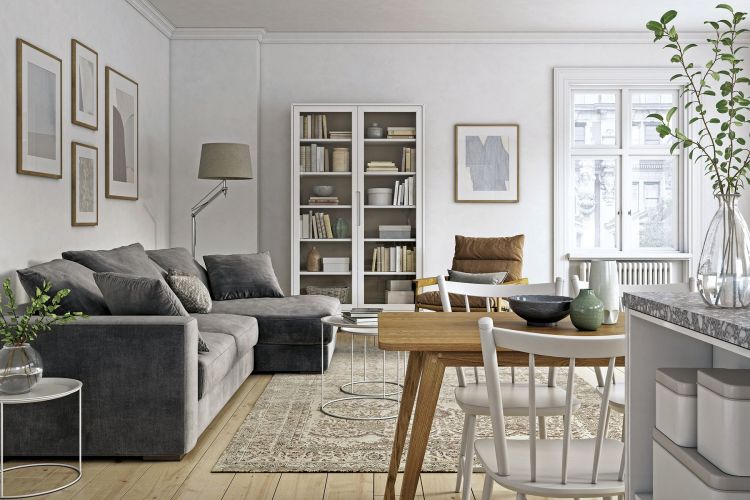 Betting on an ambient light does not fail when it comes to creating enveloping corners in any room. It is worth reserving a place for a floor lamp that goes well with the rest. Pay attention to the color temperature of your light. The ideal? Lower than 3,300º K.
AND ALSO… A few table lamps and a bunch of flowers on auxiliary furniture create very charming interiors.
7 natural light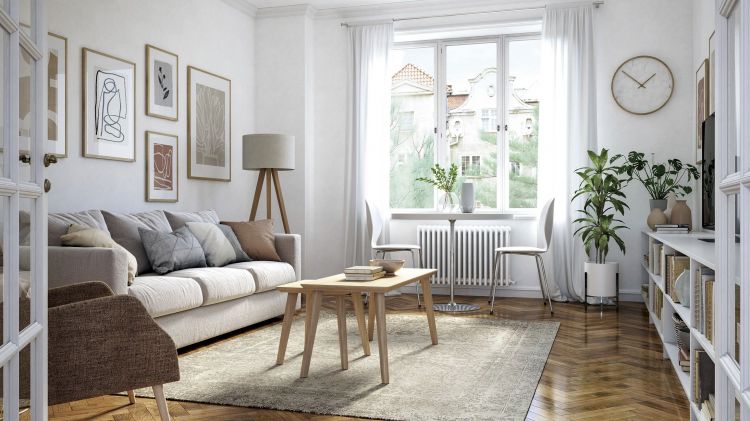 Making the most of the orientation of the room helps to give it a more welcoming image. It is convenient to leave the window area free, or reserve light furniture that fits well in the lower part. The table and the set of chairs in this environment fulfill it and its white color harmonizes wonderfully with the neutral colors of the room.
8 Between the countryside and the city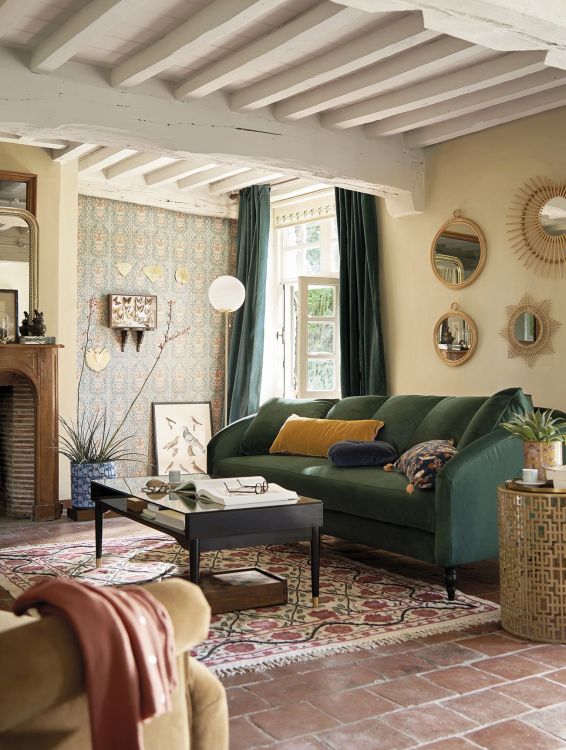 This is how this room is and, thanks to the mixture, its look exudes warmth. The wooden beams are the starting point and by painting them white their image is more of a city. The walls are another point of interest: one painted in a vanilla color and with sun mirrors and the other covered with classic wallpaper, they have served to give a lot of charm to the environment. They form a luminous backdrop that has made it possible to include a sofa upholstered in olive green, matching the curtains; a trending color for living rooms. The occasional furniture is contemporary designs with gold details and the floral patterned rug allows for barefoot walking in the living area. It's from La Redoute.
MORE IDEAS: INFALLIBLE TEXTILES FOR A WARM AND VERY COZY AUTUMN HOME.
9 The importance of upholstery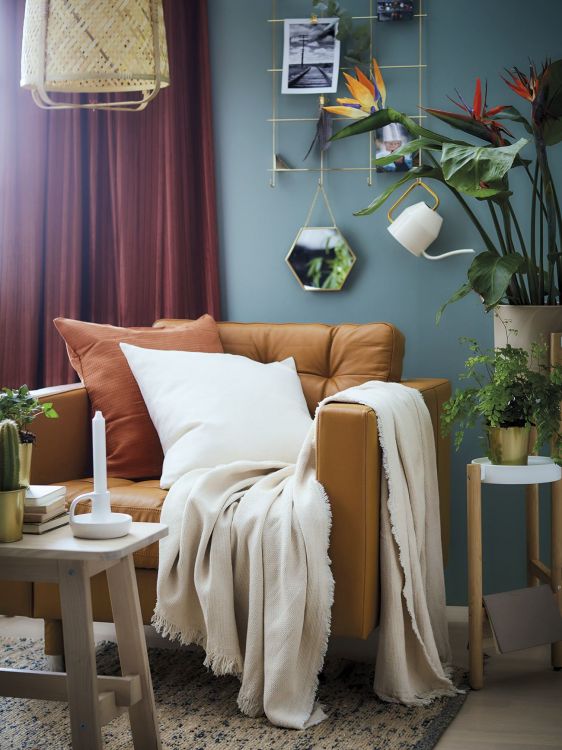 Whether the living room is more or less warm depends eighty percent on the upholstery of the sofa. If it is a brand new model or it is worth investing in its reupholstery, bet on intense lands. A few blankets and ivory, tile… and small wooden tables will do the rest; Ikea.
10 Cozier, Impossible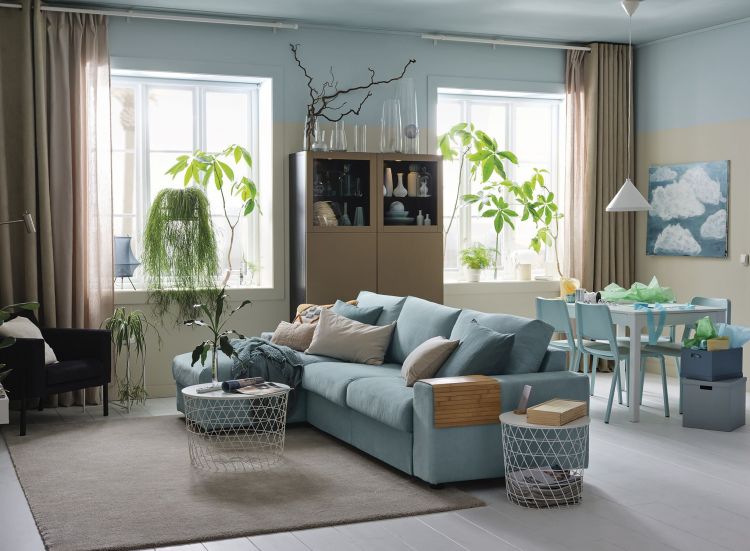 This room invites you to feel especially comfortable due to its color palette and its fabrics. The sand color of the walls, the showcase and the curtains, has been a success to increase the warmth of the environment. Like the idea of dressing the windows in layers: first a blind, then a translucent curtain and then an opaque one; Ikea.
AT NIGHT… If surprise guests arrive, this multipurpose sofa with chaise longue converts into a comfortable bed to rest at will.
11 A seating area with a hanging lounger. How nice!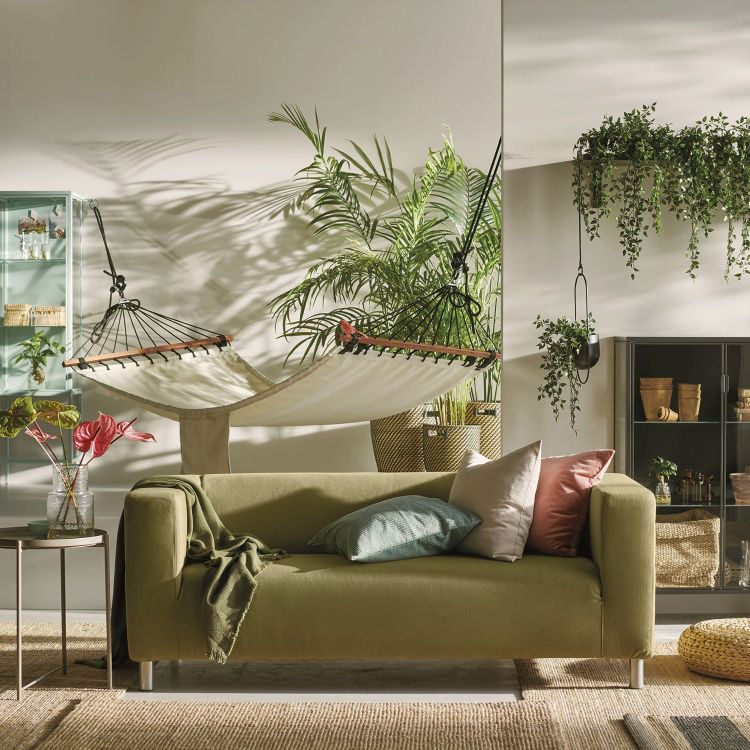 This living room is a lesson in comfort, it invites you to rest without great complications and everything revolves around the sofa. To make it more pleasant to sit on, it has been dressed in three large, soft cushions. These allow to soften its straight backrest and the blanket, matching the green of the upholstery, increases comfort. The proposal, from Ikea, also captivates by including a canvas hammock, fixed from wall to wall securely to support the weight of an adult. Thus the rest area is doubled. Great idea!
MINI GARDEN. XL palm trees, wicker baskets and hanging plants bathe the décor in natural tones. Ideal.

MORE IDEAS: 30 BEAUTIFUL INDOOR PLANTS TO DECORATE THE LIVING ROOM.
12 Textures that wrap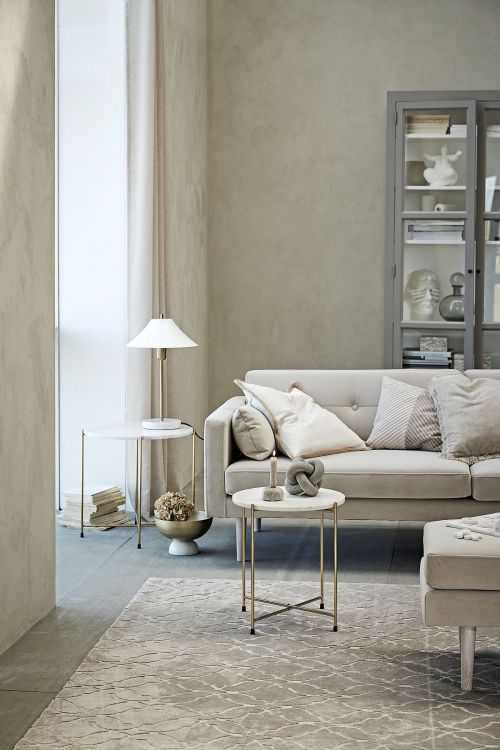 Textiles make the living room a refuge from which you do not leave when the cold arrives. If autumn is just around the corner, bet on chenille, corduroy or velvet cushions. And save those made of linen and natural fibers, which are amazing!, for the rest of the year; Lene Bjerre.
WINDOWS. Dressed in linen drapes or with sets of blinds and curtains, the living room is more welcoming.
13 A surprisingly comfortable sofa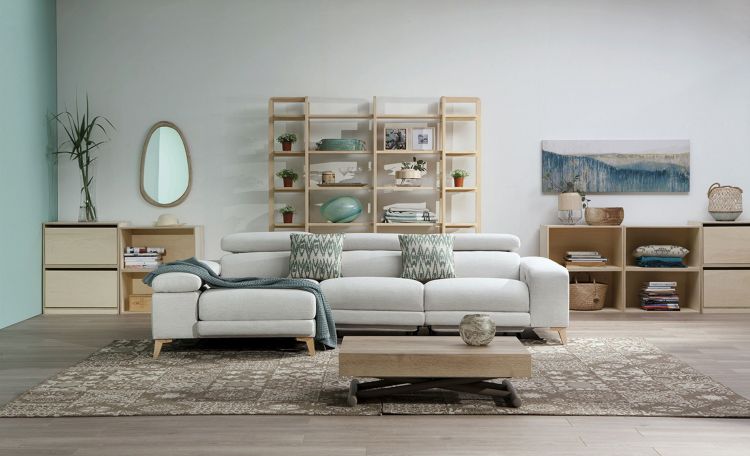 Nothing like an XL and super anatomical design to achieve it. But a few simple tricks can make it warmer, like wrapping it up with cushions and plaids. The mohair ones are the favorites in autumn due to their long hair and delicate touch. They also insulate well from the cold. From Mimma Gallery.
14 A very British point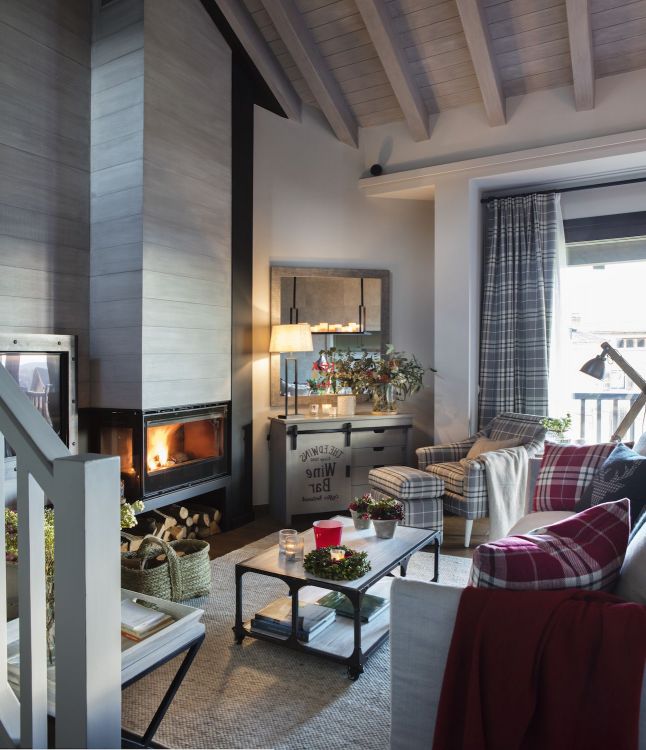 Some fabrics with large British checks are an ideal resource for the living room to become very homey. They provide warmth, give a distinguished touch and it is possible to create dynamic coordinates in bright reds and blues. Like the living room of this house designed by the Knowhaus Studio.
15 warm walls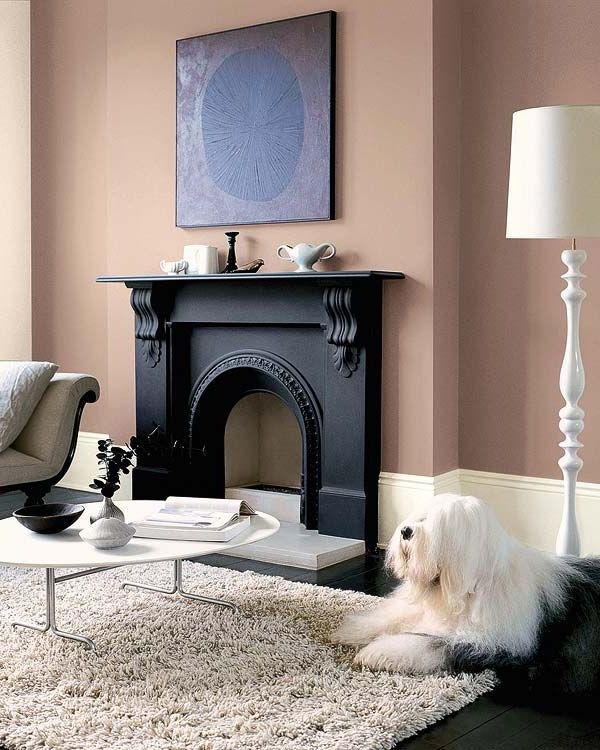 They surround us from floor to ceiling creating a different environment depending on the color of the paint. Red has the ability to warm the environment; even in its softer versions, such as muted pink, it adds elegance. The reason? For centuries it was one of the most expensive pigments, hence it was only available to royalty. Color Mix paint, by Bruguer (€27/4 l).
16 Rugs that insulate from the cold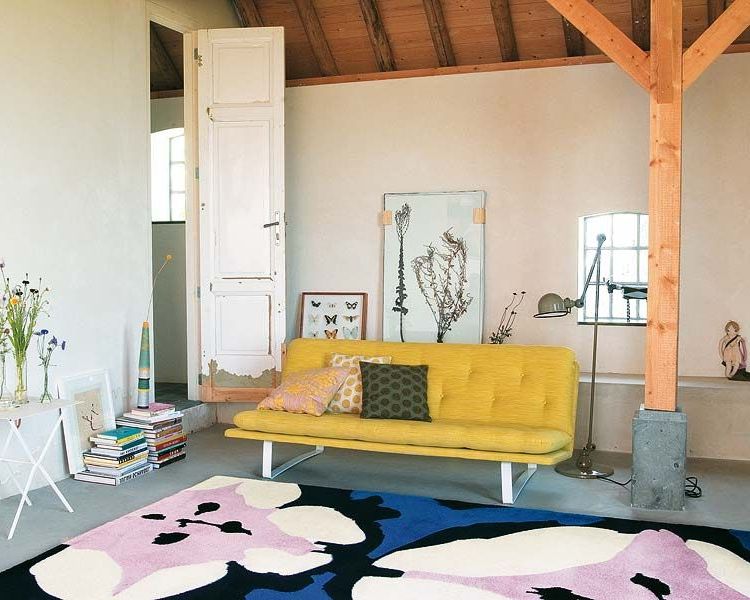 The mere sight of a soft rug causes a feeling of comfort. And it's not just a psychological effect. Wool is a natural insulator that allows you to keep your feet warm no matter how cold the temperature of the floor is. The Ripe model, by Francisco Cumellas, is made of mohair yarn, from the angora goats of Mount Kilimanjaro. Available in both long and short hair, it can be customized in format and colour. Among its warmest possibilities, printed and plain colors in pink, yellow and chocolate brown.
17 A Golden Hall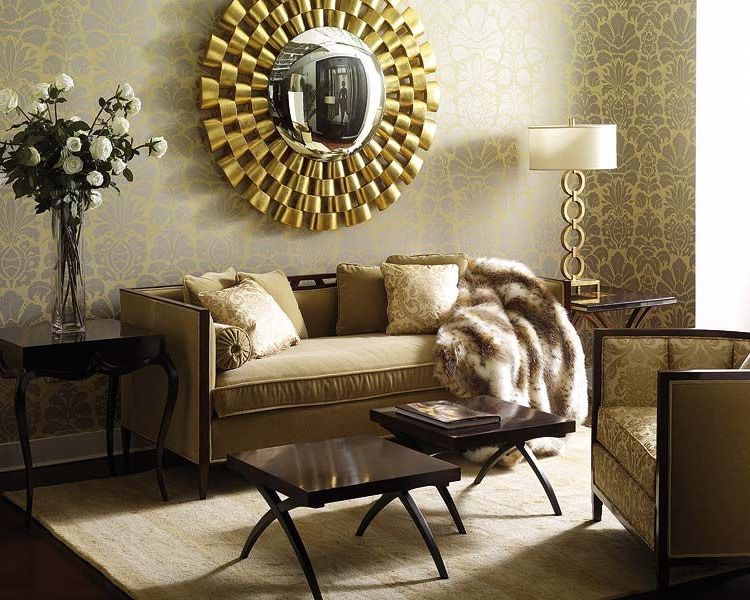 Take a look at this seating area. What is the first thing that catches your attention? The jewel mirror, with its convex lens and a spectacular frame carved in gold-lacquered mahogany, is the main piece. The strength of golden yellow is so intense that a single complement in this tone is enough to warm the environment: its vision evokes the sun's rays and the living flame of a burning fire. If you like to have the house to the latest, get a gold detail, it is the fashion trend! Circular mirror, in 1.20 x 1.20 m (€1,646) and furniture, all from PortobelloStreet.es.
MORE IDEAS: 12 ROOMS WHERE EL DORADO TRIUMPHS.
18 The importance of the sofa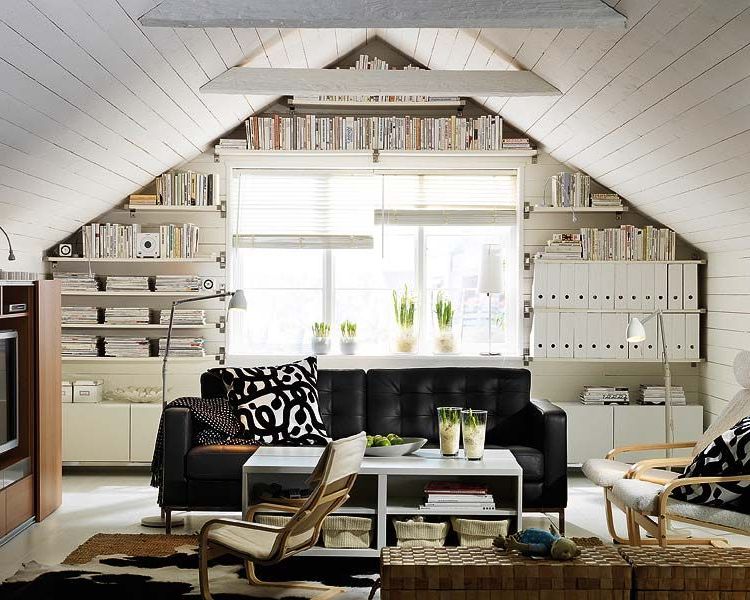 What do you feel when you recline on a leather sofa? Its touch is warm and the flexible seat adapts to the shape of your body, enveloping it. In this room, the Karlstad sofa upholstered in Grann leather (€879), from Ikea, adds extra warmth to the environment. But it is not the only one responsible for that sensation of comfort that emerges from a space with sloping ceilings. The shelves full of books and magazines, as well as the pots in the window, reveal hobbies and small passions of those who use the room. Because nothing is as welcoming as the traces of a lived environment.
19 Mustard: good dressing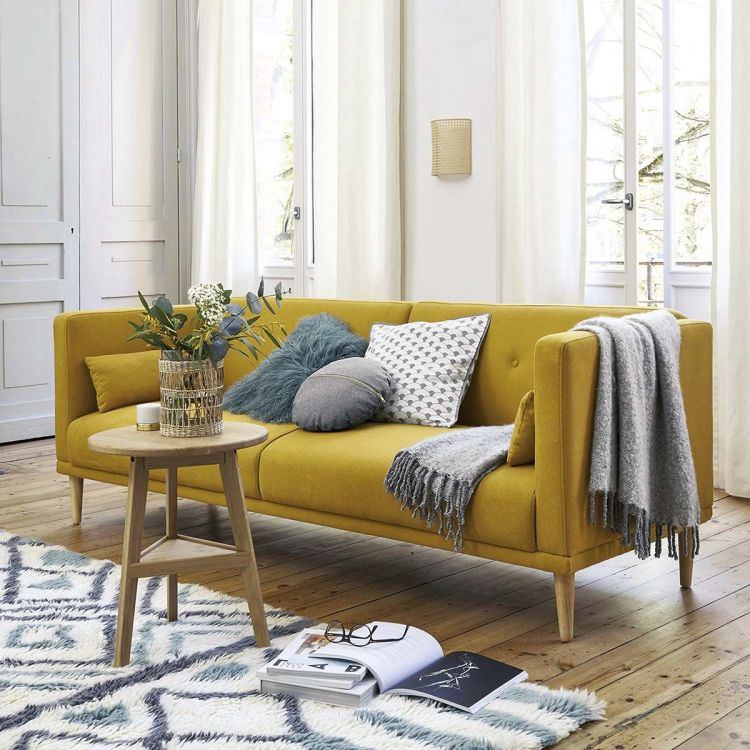 It is a discharge of optimism. In this living room, from La Redoute, mustard upholsters the sofa and is accompanied by gray-green accessories, which go very well. And another top that triumphs: the long-haired cushions and the matching rug. Is there anything more delicious than that soft touch when stepping barefoot?
20 Dusty colors and earth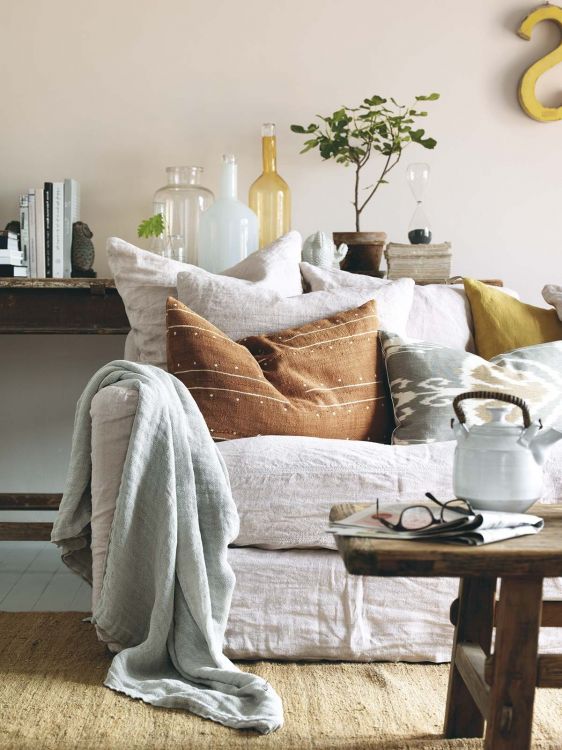 If you want to create an ultra cozy atmosphere in your living room, opt for soft tones but with character. Like the pale pink that "paints" the wall and the sofa, and complement it with neutral and earth tones -gray, cauldron or mustard-, which in this example give life to the cushions, the blanket or the rug. As for textiles: linen, cotton, chenille… they caress and embrace.
21 Plaid and Stripe Coordinates: The Most!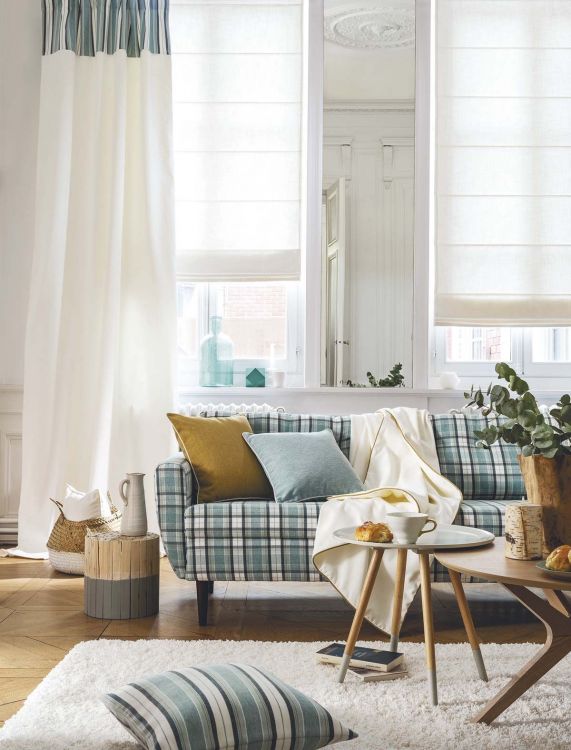 It is a first class resource when it comes to animating a cold or bland space. Patterned textiles create a focal point around which the rest of the décor revolves. In this room, fabrics from the Windsor collection, by Camengo, have been selected: checkered to upholster the sofa, coordinated with striped cushions in the same colours. The rest of the furniture, in wood, and the white carpet and curtains provide a calm counterpoint, to avoid a feeling of clutter. The result? A lively set that raises the ambient degrees.
BLIND + CURTAIN. The windows are dressed with this double option, to add warmth and a plus of style.

MORE IDEAS: 10 IDEAS TO CHOOSE CURTAINS AND BLINDS, ACCORDING TO YOUR STYLE.
22 Golden sparkles and geometries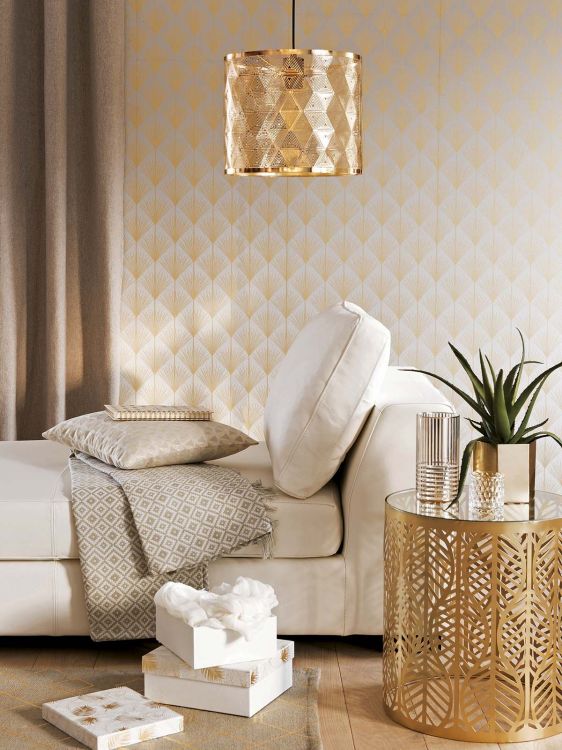 Nothing like the color gold or copper to raise the temperature in any environment. In small doses, both put on sparkle and sunshine. In this living area, decorated by Maisons du Monde, both the metal lamp and the side table, finished in gold-copper, add a differential note. Also the geometric prints: rug, blanket and wall provide a very elegant and chic retro point.
WALLPAPER . This type of cladding not only dresses, but also warms the rooms.
23 Yes to vegetable fibers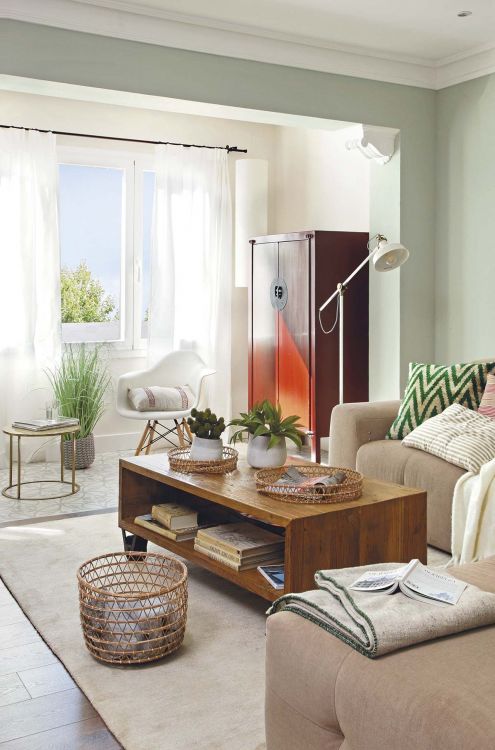 Esparto, rattan, hemp… weave furniture, decorative baskets, trays… Traditional vegetable fibers have found their place in today's homes. Opt for wooden furniture and ornamental elements made of fiber, as in the image: you will add an attractive plus of naturalness to your home.
SANDS AND TOASTED. They are neutrals that caress and serve as the perfect background in very "friendly" environments.
24 Japanese minimalism: flowers to animate and create atmosphere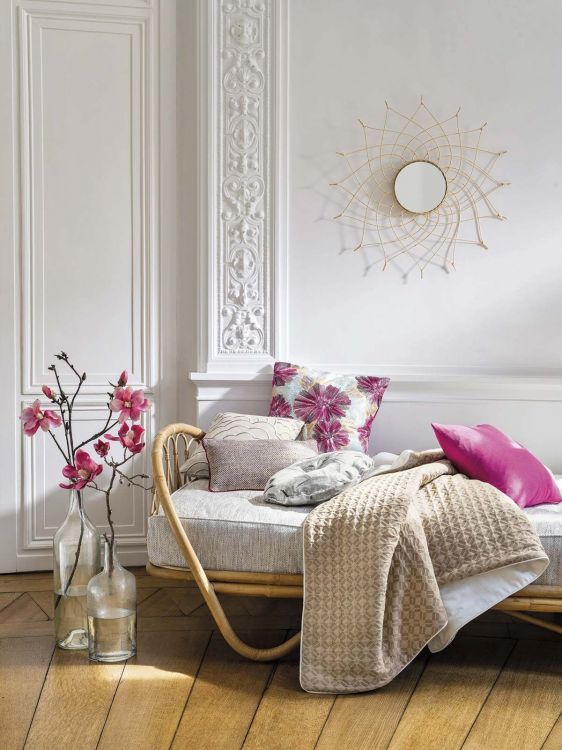 It is not necessary to fill a space with furniture to fill it with warmth and delicacy. It is enough to select the textiles and accessories well. The top photo is the best example. A corner of the living room has been furnished with a cane divan. On it, a fluffy double-sided blanket and cushions that contrast ecru tones with a vibrant fuchsia in plain fabric or with floral drawings. Everything from Camengo. Flowers, both printed and natural, adorning very simple vases, add color and aroma. Don't miss them in your home!
SPARKLES IN FUCHSIA. It is a fashionable color, explosive and elegant. White enhances it.
25 The wooden floor provides warmth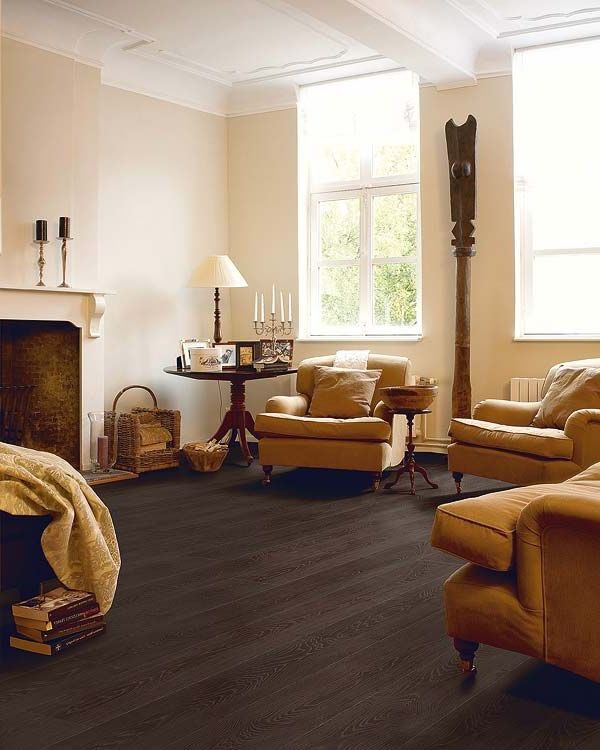 Its appearance, with knots and veins, transmits warmth. Technology has evolved in such a way that today the same effect of a natural wood floor can be achieved with materials -whether ceramic or laminated- that reproduce the finish and even its feel, but at more affordable prices. The Largo model, from the Quick Step laminate firm, warms up and adds visual depth to this room thanks to its extra-long planks in an oak finish; in 2 x 0.20 m (€30.90/m2 approx.).
26 Alpine look with a stove-salamander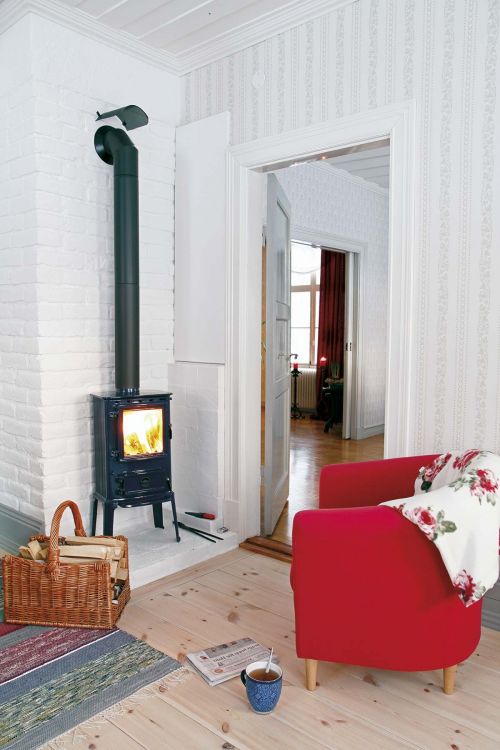 In addition to being aesthetically very beautiful, it is super effective for heating rooms. Salamander-type stoves feed mainly on wood or pellets and produce very economical heat. Also, they take up very little space and there are countless models and sizes. A perfect heating system for country or mountain houses, for example, is shown in the image: it conveys a super comfortable sensation, thanks to details such as the light wooden floor, the kilim-type mats and the sparkling red color of the armchair.
METAL STOVE. It must be installed by authorized personnel and have an adequate smoke outlet.
MORE IDEAS: NEW STOVES AND FIREPLACES WITH BEAUTIFUL DESIGNS.
27 Paneling up to the ceiling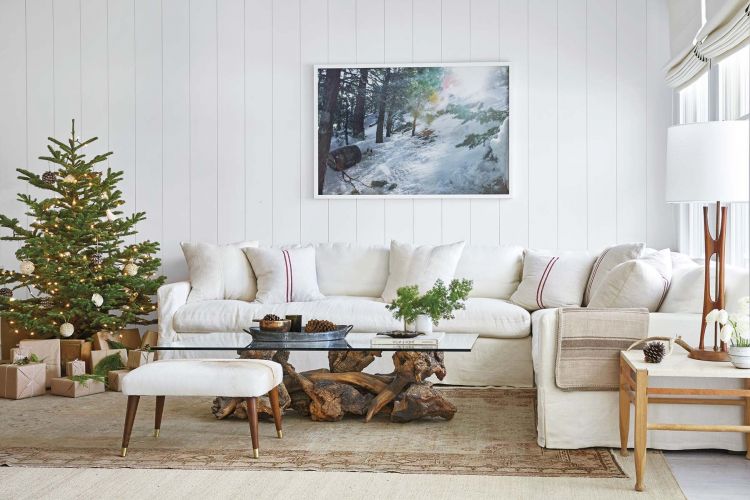 The wooden boards, in this case white, are an excellent system to give a different air to any room and, at the same time, isolate it from the cold. The coverings are fantastic in rustic-chic style environments, like the one in the image, furnished with pieces of wood and cotton fabrics that imitate vintage models.
RAW. The foot of the table is a wooden trunk that accentuates the special charm of this bright space.
28 Choose comfortable furniture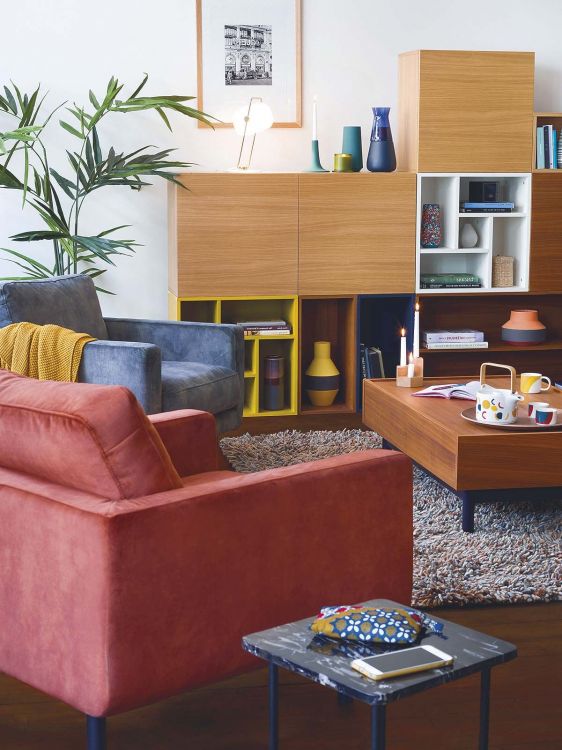 Opt for ergonomic sofas and armchairs and upholstery with an enveloping touch. For example, microfiber, which also has a simple maintenance. Velvet is also a material that provides a warm and extremely pleasant sensation: luxury within reach.
29 Surround yourself with green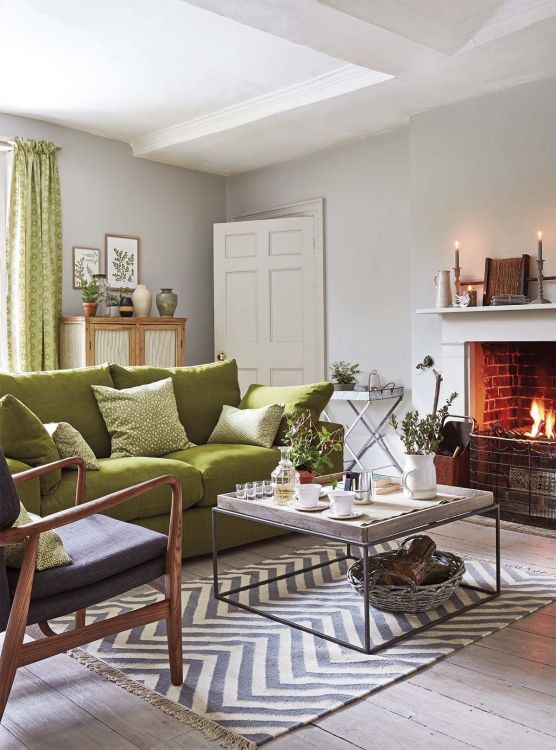 This color floods the space with positive energy. Look at this example: the sofa in the living room in a moss tone, with matching cushions and curtains, spreads its good vibes throughout the room. Reinforce that feeling, plants, vases with plant decorations and tables with botanical prints. Thus the space "breathes".
Styling: Ben Kendrick.
30 Walls that shelter… dress them!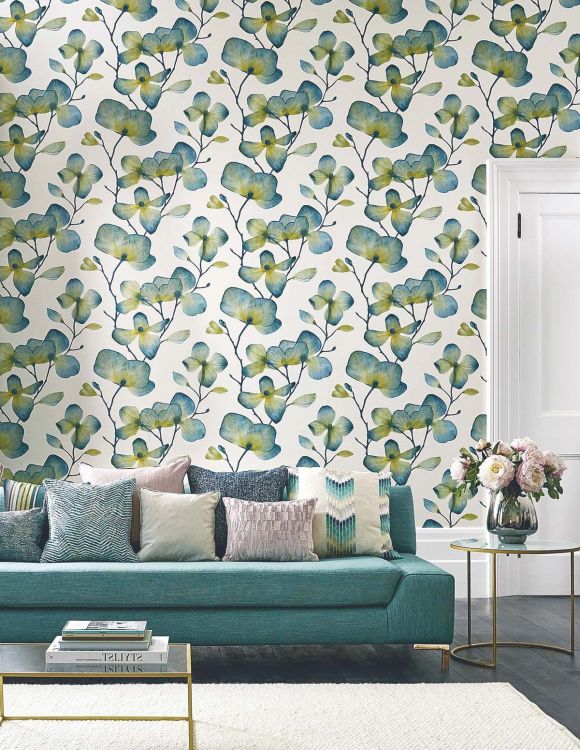 If you think it's time to give your living room a little change, dare and wallpaper it. Wallpaper has the ability to transform rooms, giving them a personal touch, providing warmth and filling them with life. Light colors, geometric motifs, horizontal and vertical stripes and, of course, flowers, will make your living space more welcoming. Combine with the rest of plain textiles or with different prints, but making sure that they have tones that harmonize with each other. Harlequin atmosphere in Pepe Peñalver.
PAINTED PAPER. If you choose patterned designs, opt for models with a white background so as not to overdo it.

MORE IDEAS: HOW TO DECORATE THE WALLS, 30 IDEAS YOU WILL WANT TO COPY.
31 Knit Complements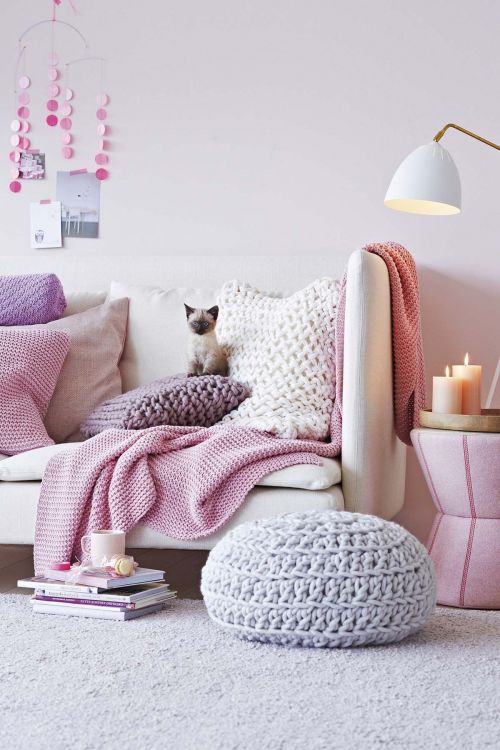 Tweed and crochet are all the rage, and there is a revival in "hand-knitted" accessories with wool, cotton and yarn. Cushions, plaids and poufs wrap and add charm to sofas, chairs or beds. Like these, in pastel colors and in the same range: they couldn't be more delicate…
32 Cover the walls with paper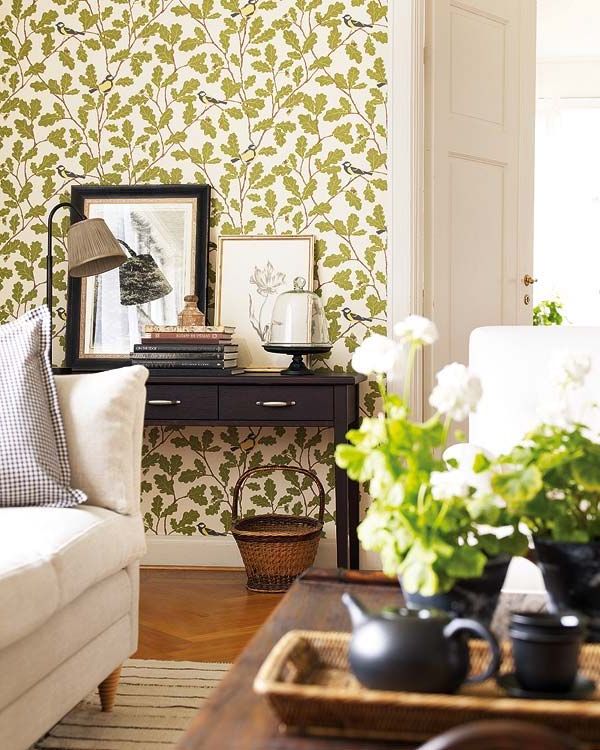 An option as effective as painting is to cover the walls with paper. This model, printed with leaves and birds, turns the living room into a warm tropical garden throughout the year. It belongs to the Gustav collection, from the firm Sandberg (€73.85/10m roll at Pepe Peñalver). Make sure that its placement is carried out by an experienced professional, so that the motifs fit together and the wall offers a continuous pattern, without random encounters.
33 Coordinated furniture and textiles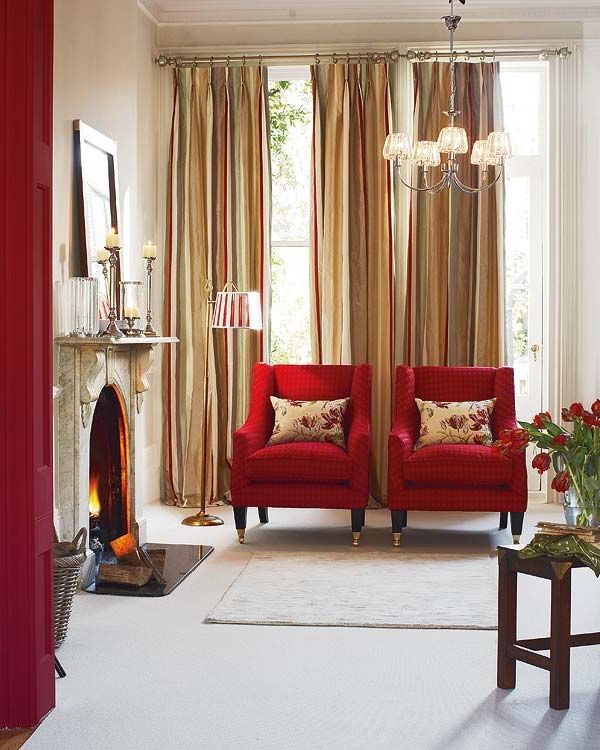 Sometimes a touch of color is enough to recreate that cozy atmosphere. In this room, the Upholstery armchairs, upholstered in cranberry-coloured Ruben fabric, add just the right dose to warm up the atmosphere (€1,665). The Caspian silk curtains, striped in shades of tan and red (€61/m), are the perfect counterpoint. Its dense weave visually insulates the exterior in case of rain or wind: thus, the focus is on the interior space, collected and warm. Everything, from the firm Laura Ashley.
34 Create charming corners in the living room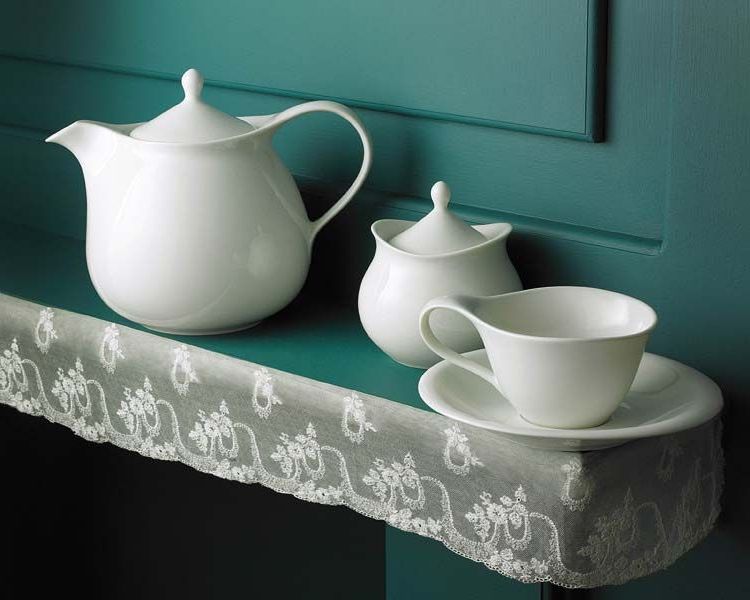 Traditional work has a special charm that recalls the cozy little rooms of yesteryear, in which a skilled expert sewed by the fireplace. Delicate lace, meticulous embroidery and small crochet work dress the room with a homey touch in tiebacks, curtain bottoms or, as in this case, softening the straight lines of the fireplace opening. From the firm Portmeirion: teapot (€70.68 approx.), sugar bowl (€25.39 approx.) and cup (€19.35 approx.).