From a certain age, children have to do homework and, later, spend many hours studying. Prepare a practical work area, adapted to your needs, whatever space you have.
We present several proposals to set up a practical work area, adapted to your needs, whatever the space you have. Choose the environment that you like the most and get inspired by these desks, which can fit into these 60 proposals to decorate youth rooms that every teenager will want to have.
What does a study area need?
Many things or few, depending on how you look at it. You have to choose a good place, with natural light, better if it is projected from the opposite hand to the one you use to write, thus avoiding shadows. It's the same advice you'll follow with artificial lighting. When meters are scarce, you need solutions to create a work area at home that barely takes up space.
Make sure the room is well heated, because they will not be able to study well if it is too hot or if they are cold. IF you have plenty of space, it is worth placing corks or whiteboards to leave reminders of exams or about handing in work, even for family or friends photos.
It is very important to maintain order, so it makes it easy to organize your things and your books with shelves and storage boxes placed at your height. Mental activity and memory improve when distractions and superfluous items are removed, especially small toys or school supplies scattered across the desk.
The choice of color in the area dedicated to the study is not trivial, it can even define your personality, as is the case in these 15 youth bedrooms for the boys of the house. The atmosphere of the room has to be calming, so you'll need a neutral color palette to help your child stay focused. We recommend green and blue, better in pastel shades, or beige. The darker colors, better that you use them in other rooms for leisure or fun.
Avoid by all means that you have unnecessary electronic devices, from a television to a mobile phone. It is the perfect place to become the screen-free zone in your home. If it is essential, you can place the computer in the youth bedroom, but it must always be completely turned off when you go to bed.
Custom desks
Youth bedrooms are a little puzzle, because they need to multiply the multipurpose options to be the best refuge for games, study and rest. In this sense, it is common to resort to work areas designed to measure, which manage to have the lighting conditions and basic ergonomics to adapt to the needs and physical complexion of your child.
Personalized desks become the best resource in shared rooms, since they can be equipped with two study stations. The seats are very important, so choose to acquire adapted chairs, which collect the lumbar area, have four support points and wheels. In this case, double the lighting options aimed at the work area, much better if they are flexible table lamps or lamps with arms, with the white light source, with at least 400 lumens, located above the head. This selection of 12 lamps is very practical to better illuminate the desk.
1 Online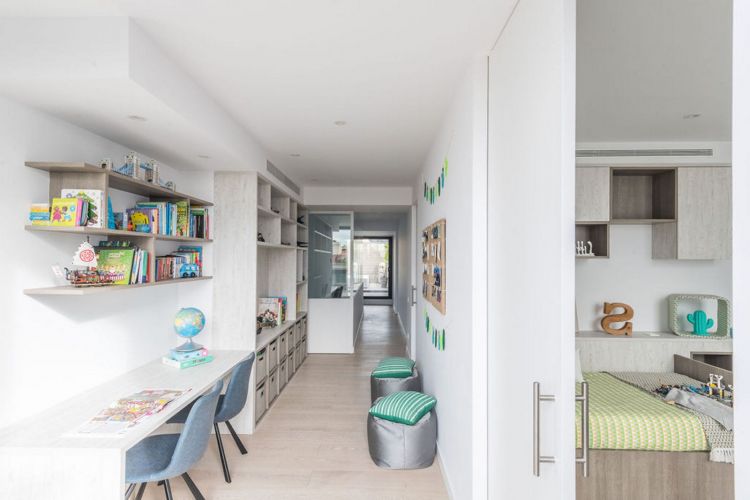 The distribution is key when it comes to organizing the youth bedroom well. In this Tinda's Project, an extra work area for children outside the bedroom has been optimized. It is a personalized place, with a storage area arranged on shelves, which occupy the entire wall, and a large sideboard equipped with pull-out boxes. On one side, a double study area has been arranged, with a custom-made desk and two ergonomic chairs.
2 Maximum use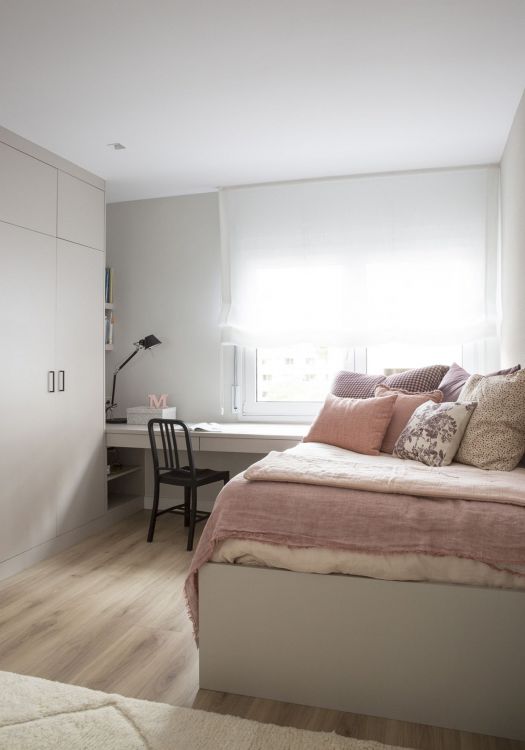 This children's bedroom has a desk under a large window to optimize the passage of natural light. Form of a reform of a Barcelona apartment, which was carried out by the interior designer Pia Capdevila. The furniture is made to measure "creating neutral bases on which we apply different textile complements, accessories and auxiliary pieces" to provide personality.
3 Very used attic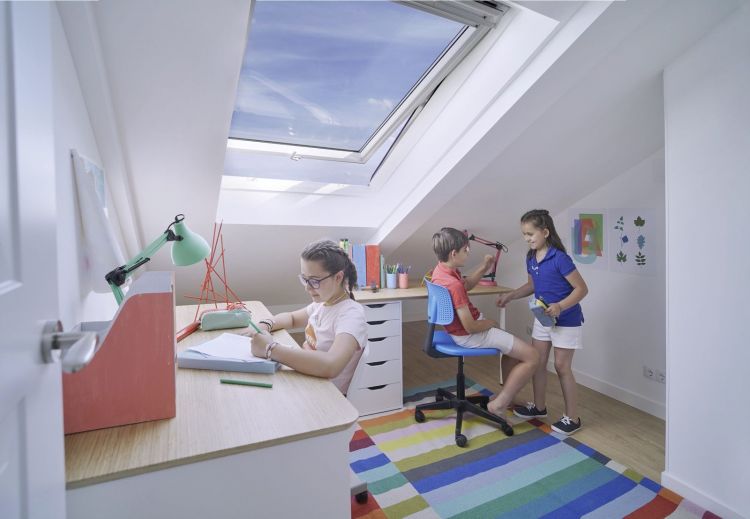 Sara and Pedro live in an independent house with their large family. With 7 children, they needed to make some changes: " The reform consisted of enabling an unused low roof, allowing to increase the useful square meters of the house without sacrificing valuable spaces such as the garden, for example". The result is this area of study with desks and chairs with wheels Natural lighting, with Velux, is the best solution.
4 in a front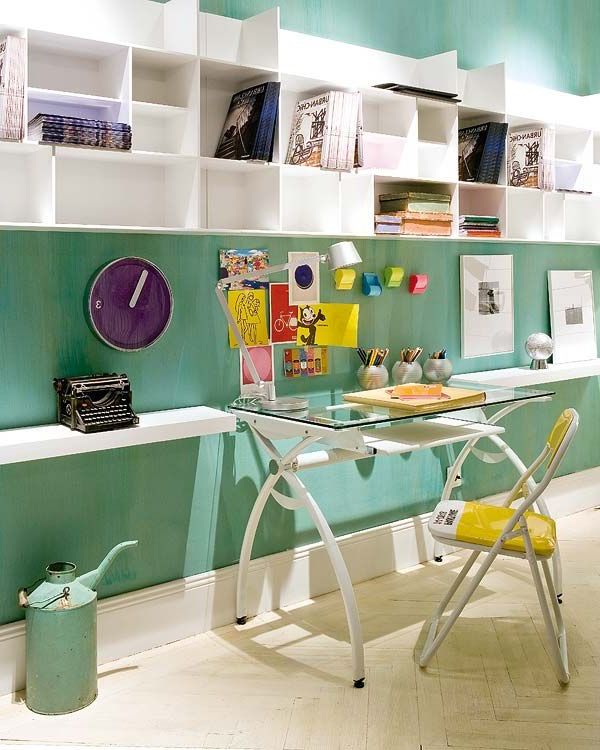 A transit area -the entrance to the house, a distributor or a corridor- is perfect for a solution like this one; the key is the wall, painted in an intense green, and equipped with a modular composition that allows vertical space to be used. The desk, very light, has a glass top.
5 Angled Desk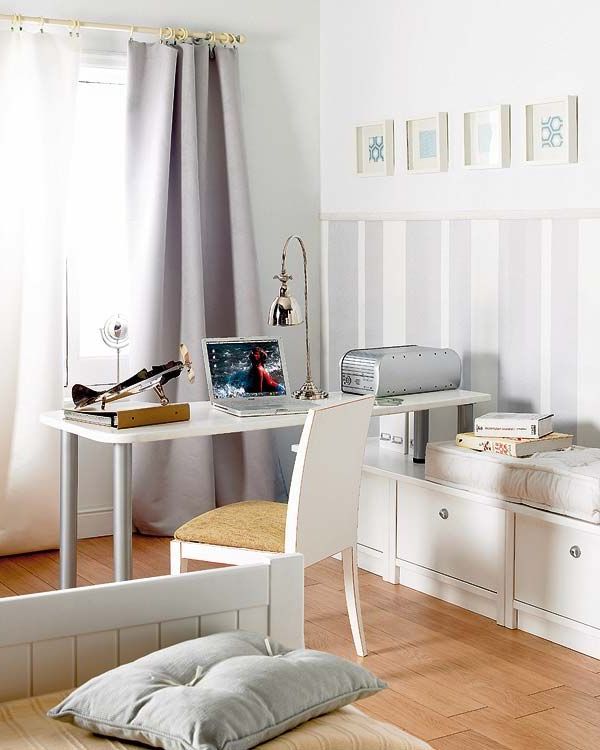 This youthful design includes three practical drawer modules on which the top rests, forming an L-shaped composition. The base units also act as a bench by placing a mat on top.
Composition, from the firm Asoral. Accessories, for sale on VTV.
6 Order in the study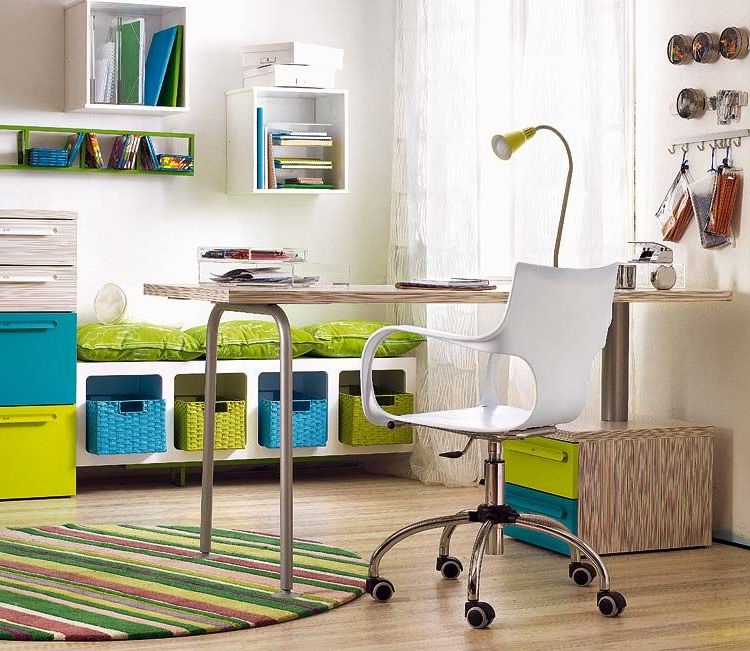 A functional and very fun proposal that combines different warehouse modules; it is a dynamic composition that flees from symmetry. In front of the desk was an original bench with baskets.
Desk and chest of drawers, by BM. White module, by Decor Idea Kids. Baskets, by Yes Kids
7 Headboard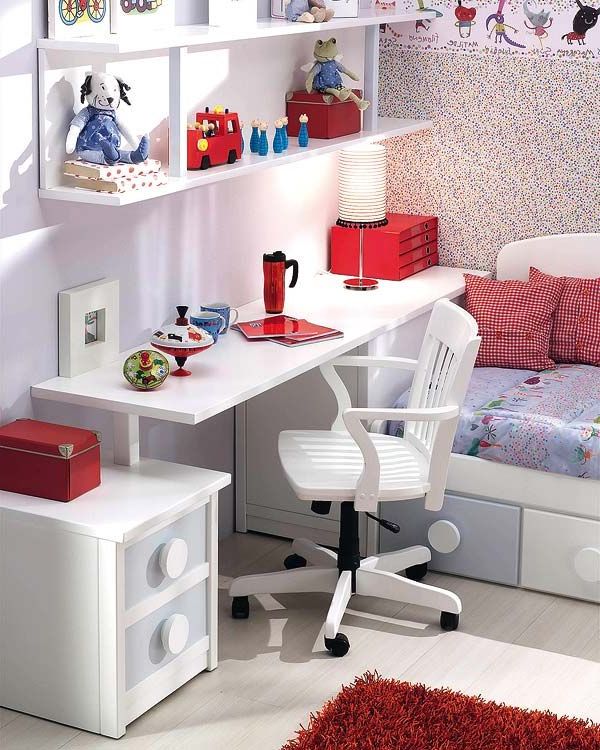 In small bedrooms it is common to extend the study table from the headboard of the bed. In this way, the work surface is increased and it is not necessary to incorporate a table. The space between the bed and the wall has been used with a pull-out module, ideal for storing bulky bedding or backpacks from school or sports classes.
This design belongs to the Newport collection, from the youth firm Garabatos.
8 Attached Desk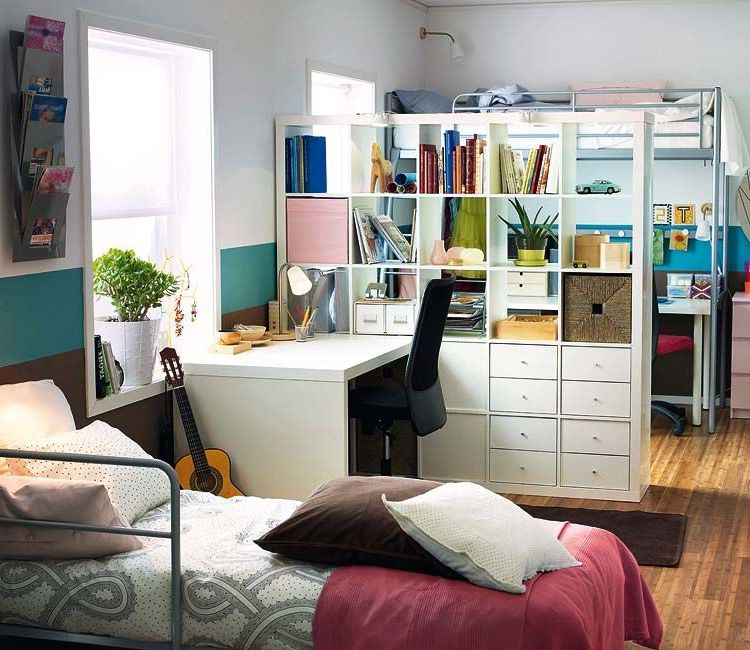 Can you think of a better combination than a bookcase and a study table? They are the perfect partner for a work area; In this case, the shelf includes drawers, doors and open shelves without back and an attached L-shaped table. A piece of furniture of this type is very appropriate to separate environments when two brothers share the same room.
9 Desk for two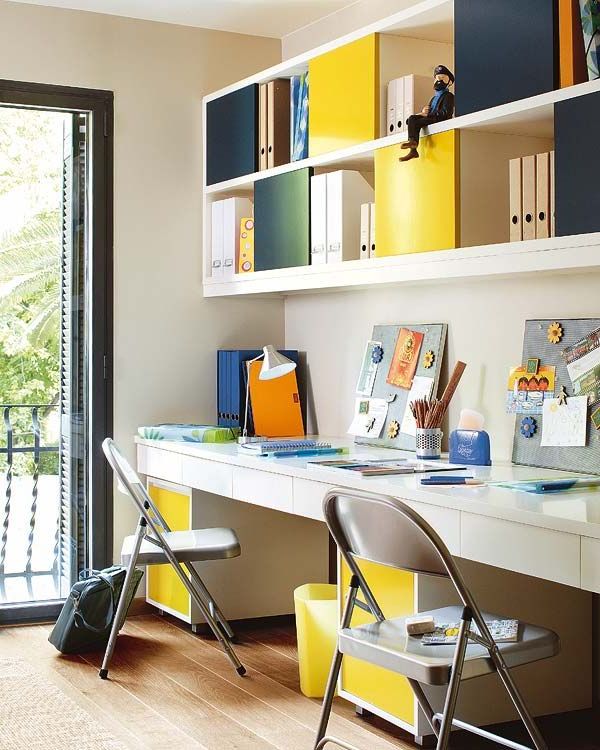 When the room is shared, it is essential to plan the work area well so that none of the children invades the space of the other. In this case, each position is delimited by a chest of drawers located under the table. The upper area is occupied by a shelf that combines open compartments with other closed ones. In addition, the table top was designed with a row of drawers without handles.
Macadam chairs, from Habitat. Study material, from the firm Konema.
10 corner table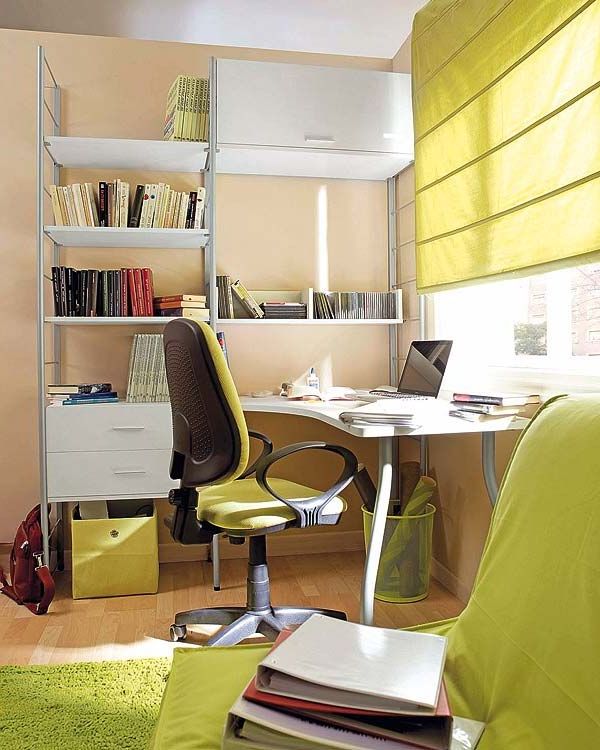 For a room intended for work and study or in the same bedroom where the bed is. Its design includes a tall two-section shelf with drawers and a cupboard, a corner table and a CD shelf. Its structure with steel poles gives it an industrial air that any teenager will love, who will also have everything they need to study in a well-organized corner. Complete it with an ergonomic chair that helps you maintain the correct posture.
11 for teens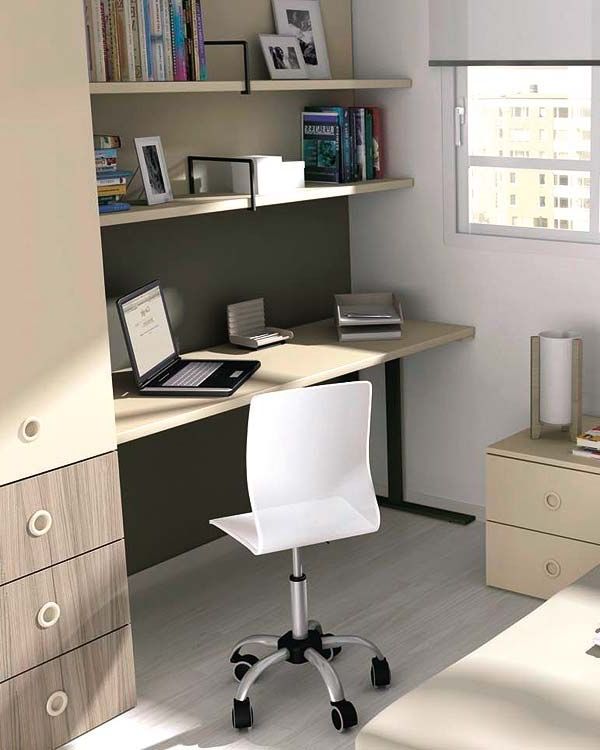 Already a teenager? Choose a design with an eye to the future, so that it will feel comfortable for many years. Your study needs have changed and your tastes are changing. Plan space to store all your books and accessories in drawers and shelves. The symmetrical designs that integrate the table and the shelves in parallel enhance the sense of order. Current accessories, such as a study lamp or a suitable chair, are key to personalizing the bedroom.
12 Desk under the window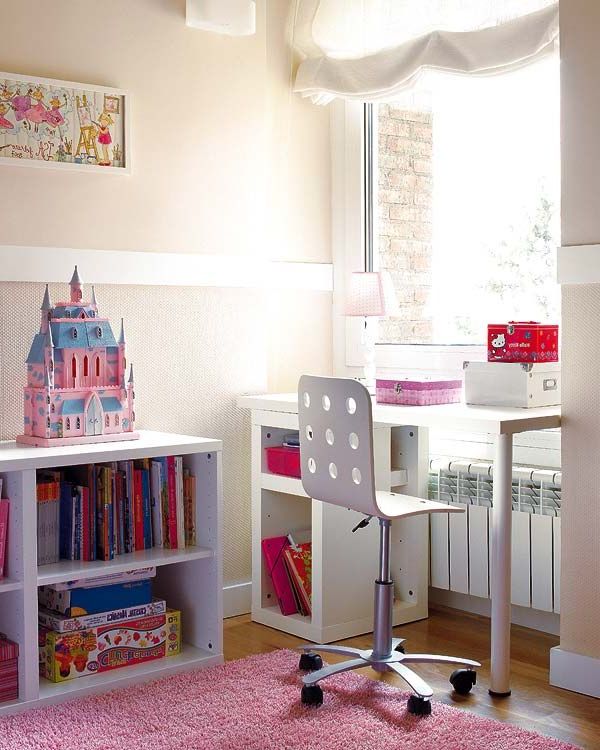 When the room is small, or if you prefer to leave the central area clear for your games, taking advantage of the space in front of the window is a perfect option. In this case, the very light study table is made up of a top with legs at one end and a bookcase module at the other. A low shelf has been placed next to it, for books. A useful fact: the ideal is that the desk measures 70 cm deep; although when children are young, licenses are allowed.
Table and chair, from Ikea.
13 all white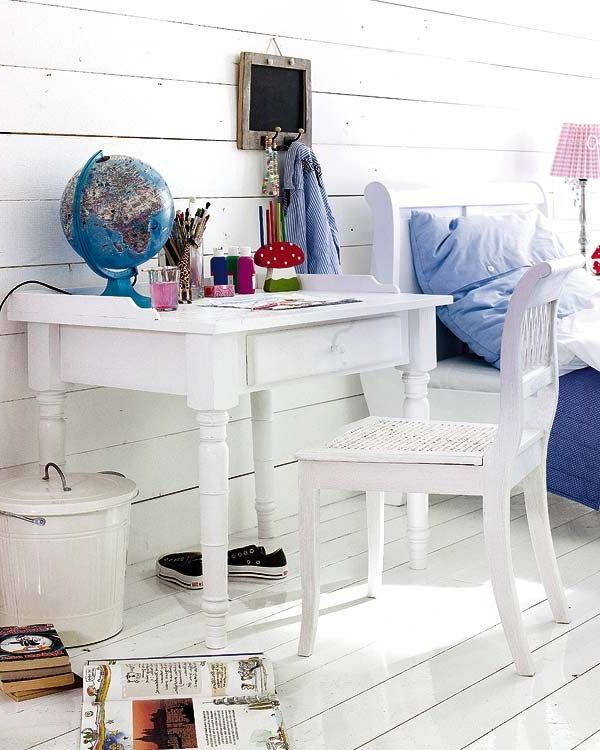 Space problems? Opt for a decoration in a single color; yes, try to be clear. White is, of course, the most popular solution and, moreover, it is a trend this season. This option, inspired by Nordic designs, is very fresh; with a drawer under the support surface you will have your material collected and on the table, in jars, the pencils.
14 Custom study area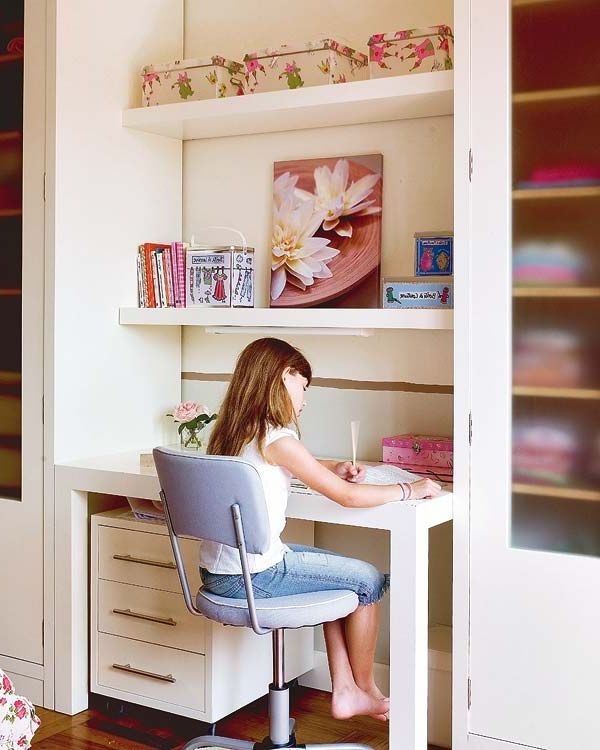 This space is located between two cupboards with different depths; its finish, in lacquer, like the rest of the furniture, facilitated its perfect integration. Under the table there is a drawer unit with wheels that expands the storage space. The corner is completed with two shelves. Instead of a table lamp, a spotlight was installed under the shelf closest to the desk.
15 Female Dorm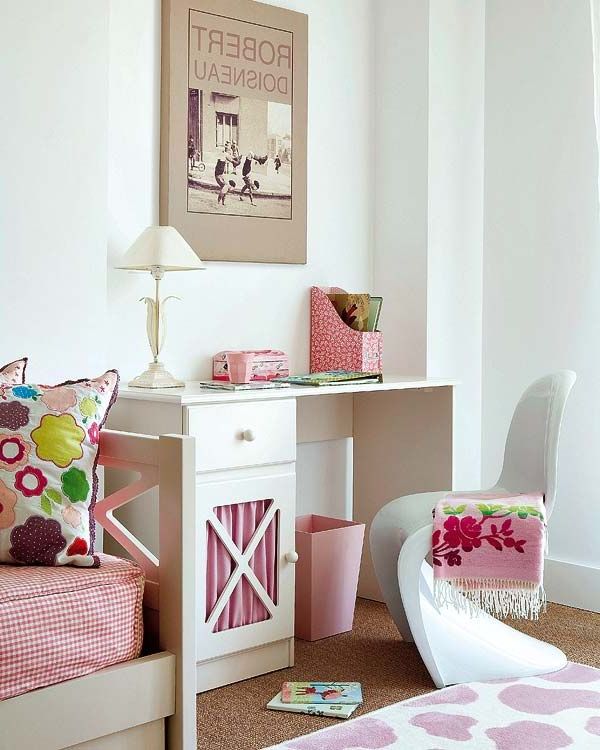 And with a nod to design; we like the option of combining a traditional line lacquered wood desk with the classic Panton model. To locate this study area, the space between two pillars has been used.