Halloween parties are increasingly expected by more people around the world, and for this reason, more and more people enjoy decorating their homes with this theme, in order to achieve a fun setting, in addition to giving guests the memory of an unforgettable party. That is why today we wanted to present you with several Halloween 2021 decoration ideas.
When the month of October arrives, it is inevitable for any of us to start thinking about the Halloween party or witches night, which will soon arrive. If this year you plan to have a party at home or simply want to set the tone, then we invite you to enjoy some decorative ideas.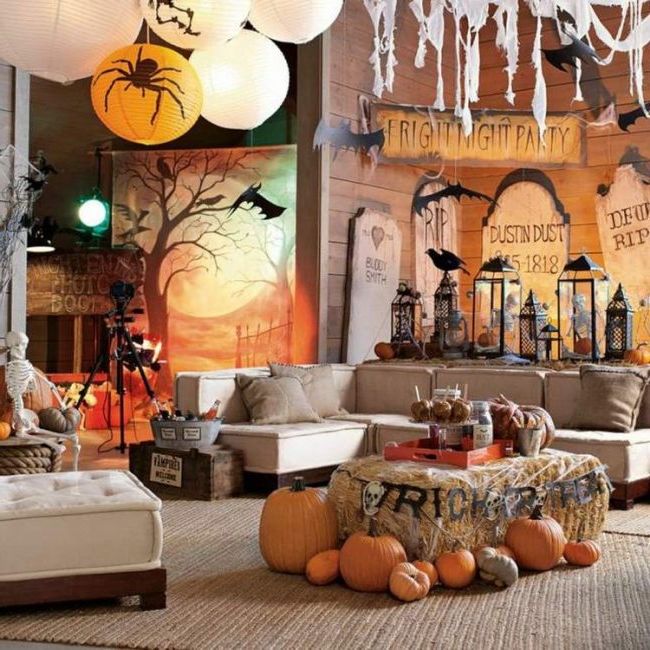 Specifically on this occasion, we wanted to focus on decorations composed mainly of these elements: bats, ravens, spiders, snakes, skeletons, ghosts, witches, cats, pumpkins and tombstones.
Halloween decoration with skeletons and skulls
Skeletons always come in handy, although they are probably one of the most expensive decorations. In any case, the investment is made once and then it stays forever. They can be placed anywhere, although the best thing is always to simulate that they are alive.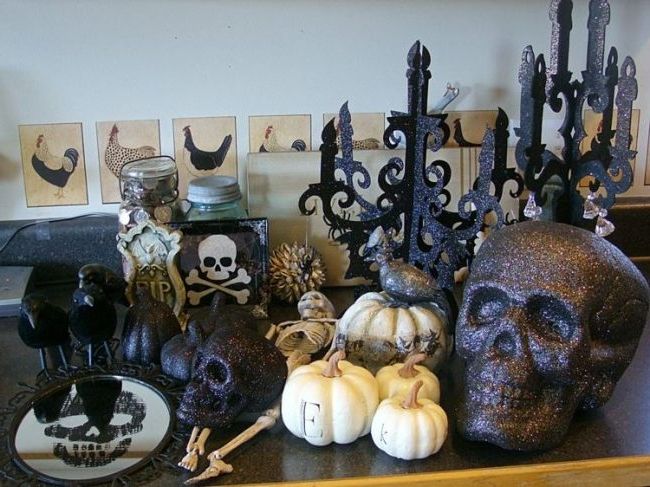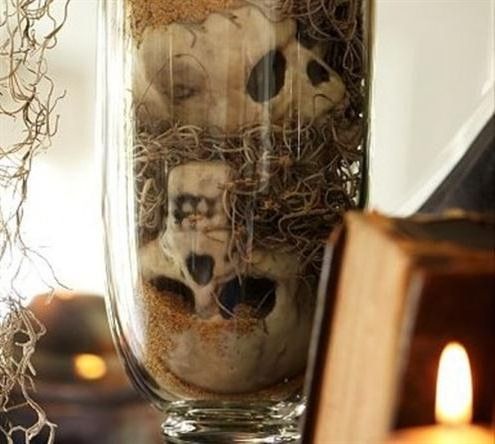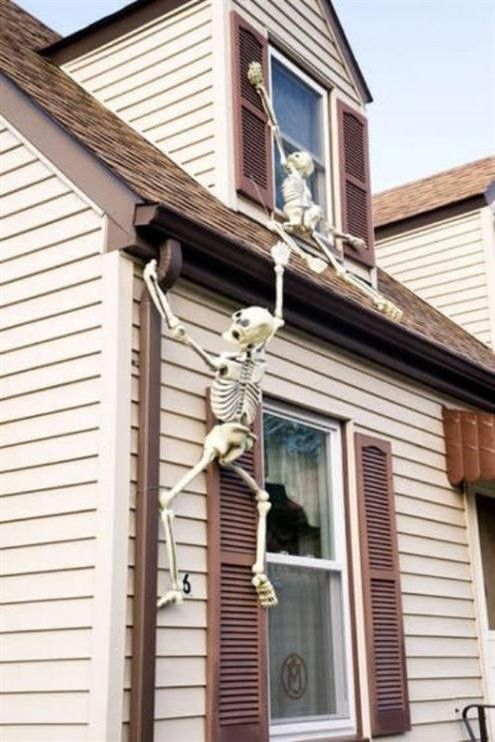 All those who have a fireplace in their rooms will find that this is a really ideal place to incorporate art and create a thematic corner, super representative of the holidays and above all very fun.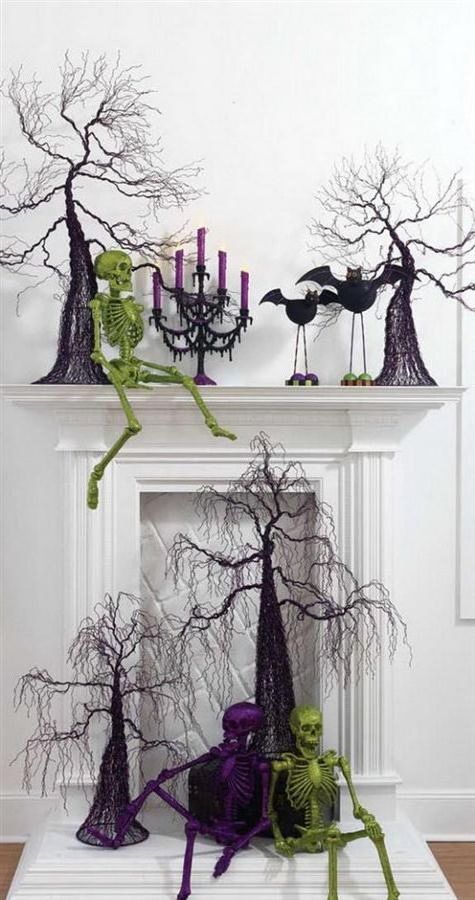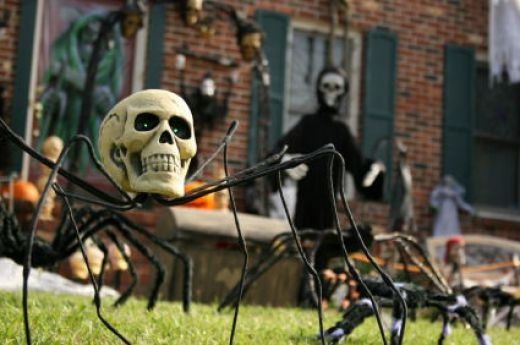 Probably another of the most interesting ideas is to get fake skulls, which many stores offer, and bury them with old clothes so that they look like the dead that are coming out of the ground.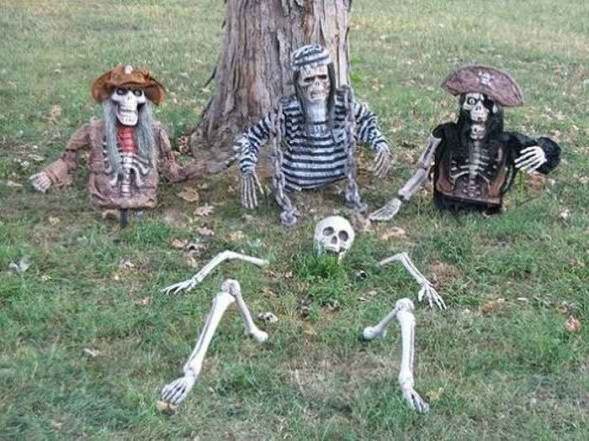 In your garden, paint rocks and stones creating drawings like skulls. It will be a very original decoration and for those of us who like details.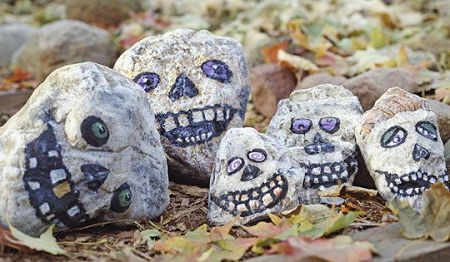 Bats, Ravens, or Owls
These types of animals have always been associated, such as witches' pets, or they always appear in cemeteries or in scary moments in movies. For this reason, they can be the ideal complement for a centerpiece, the hallway or other corners.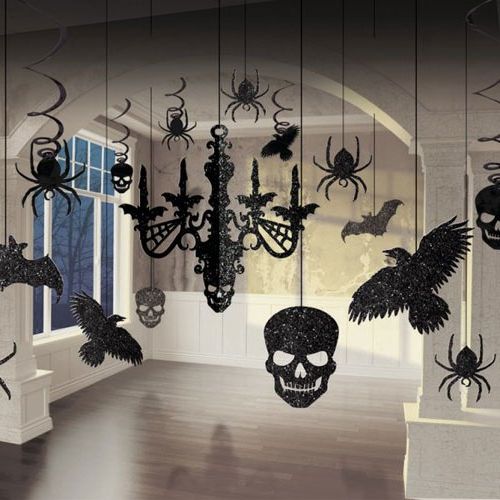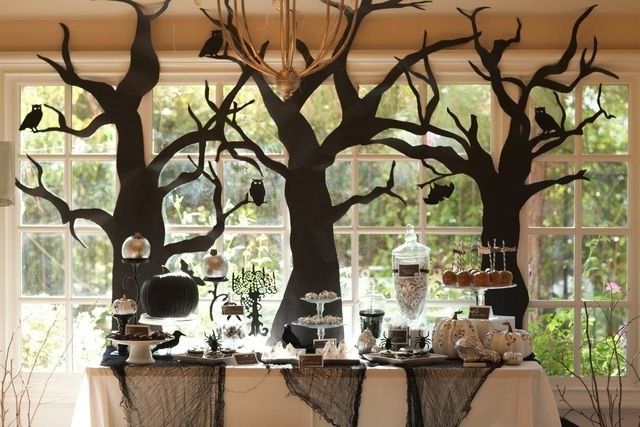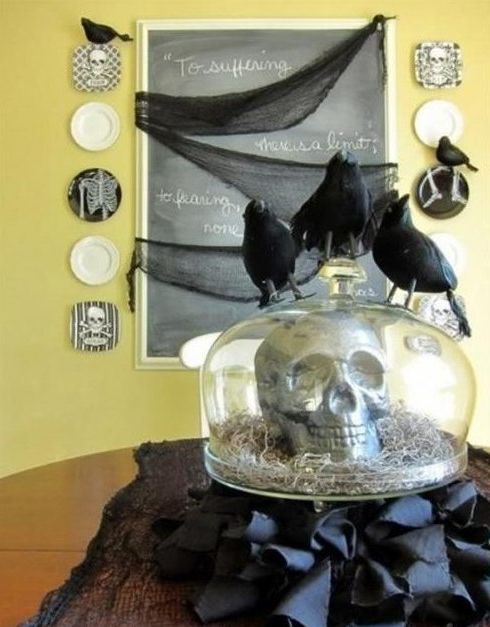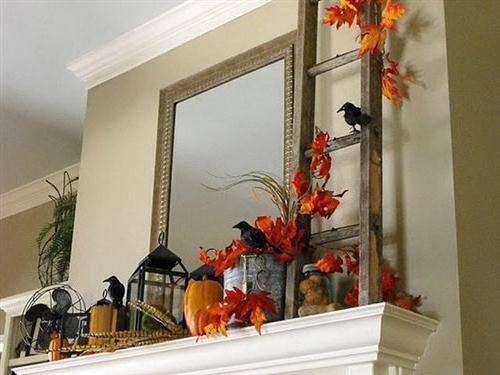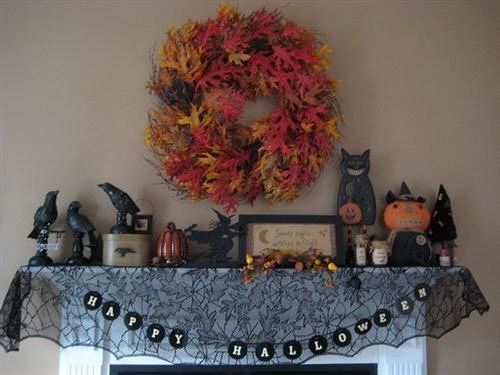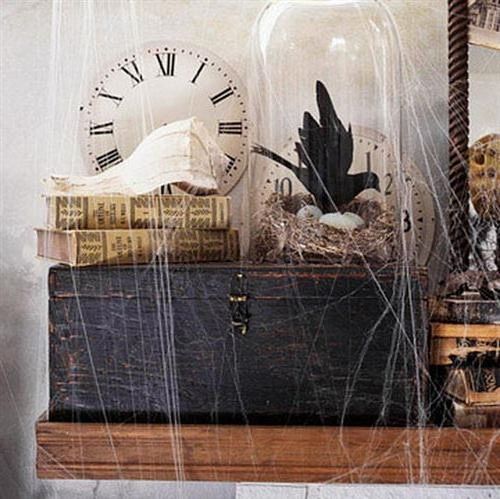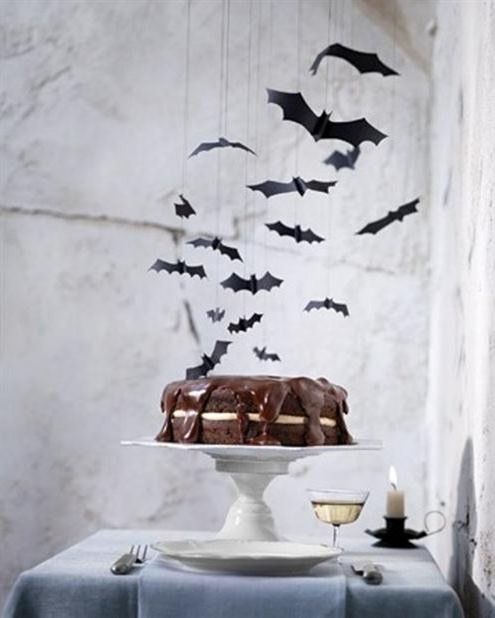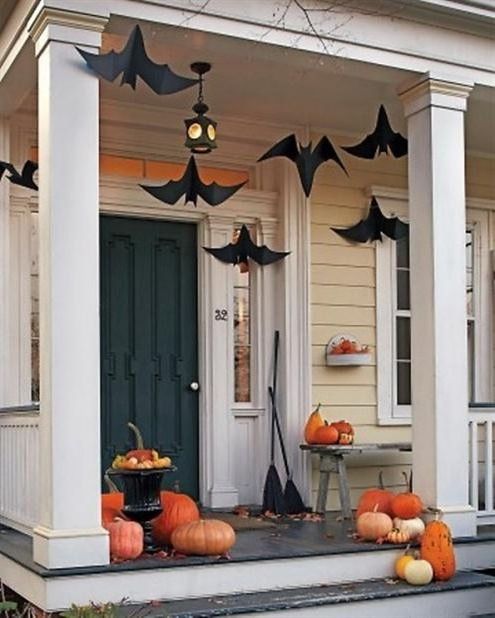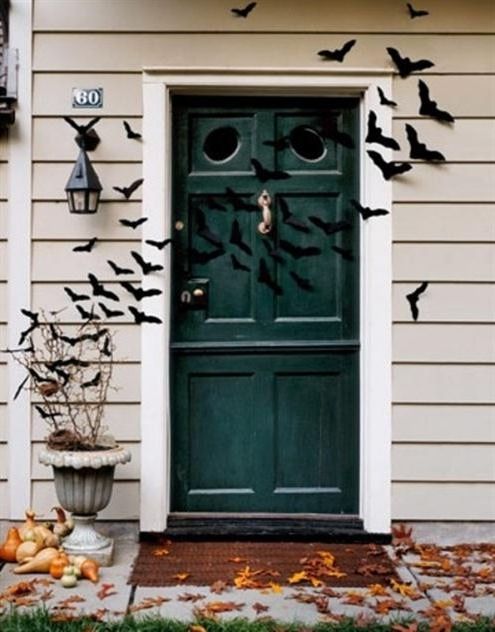 To decorate the exterior of the house, a garage door is perfect for creating an eye-catching and easy Halloween decoration. You don't have to paint with paint but you can use adhesive black vinyl or cardboard and stick with masking tape.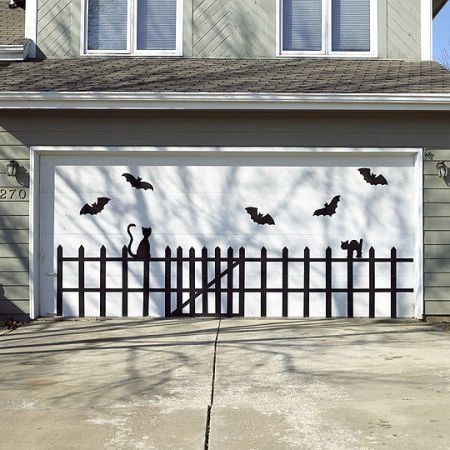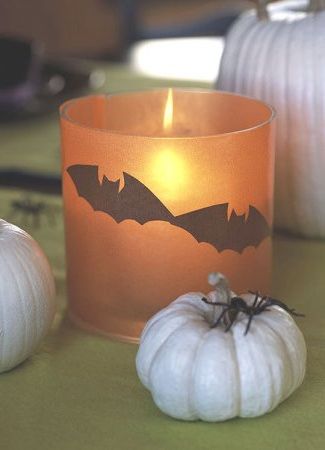 You can decorate glass in doors and windows with Halloween motifs. You need thick black paper, masking tape and create the Halloween silhouette that you like the most.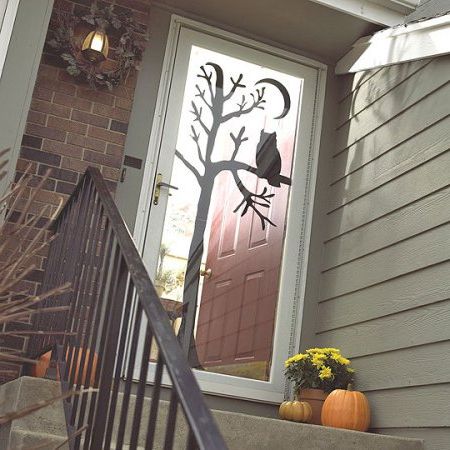 Ghosts
Ghosts are a craft that can be done in dozens of different ways, achieving excellent results. For example, among the ideas that we will see next, those made with paper, balloons and paint, white cloth, bottles of water or milk, meringue (to eat), cotton or whatever you have on hand to use stand out.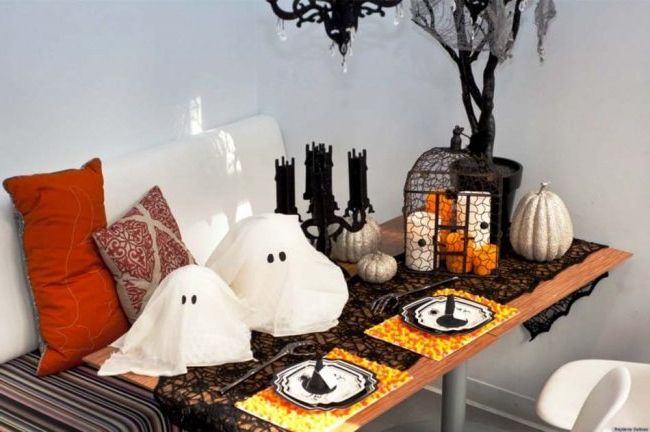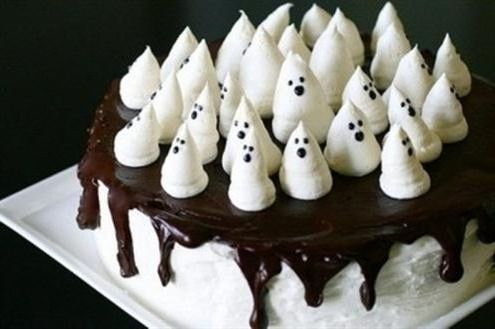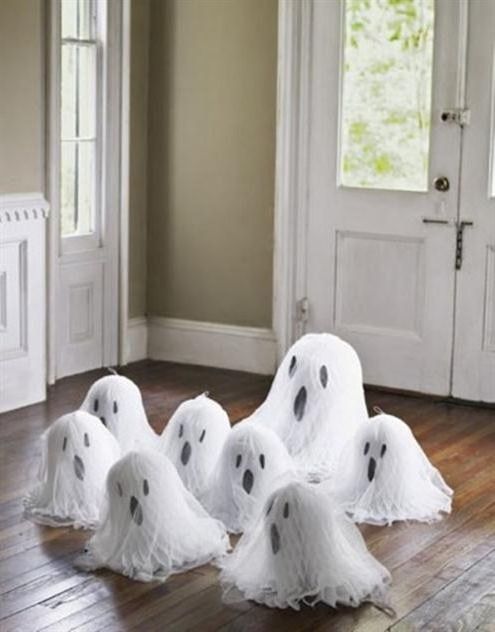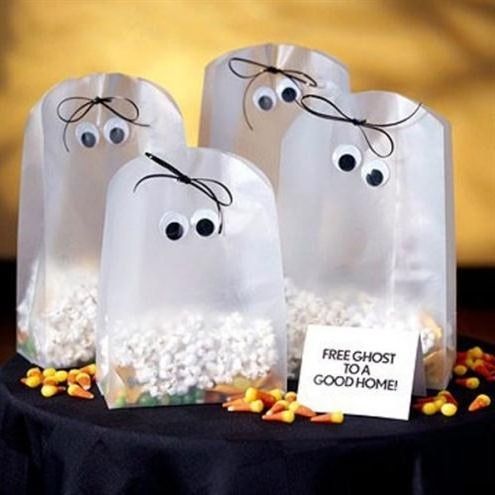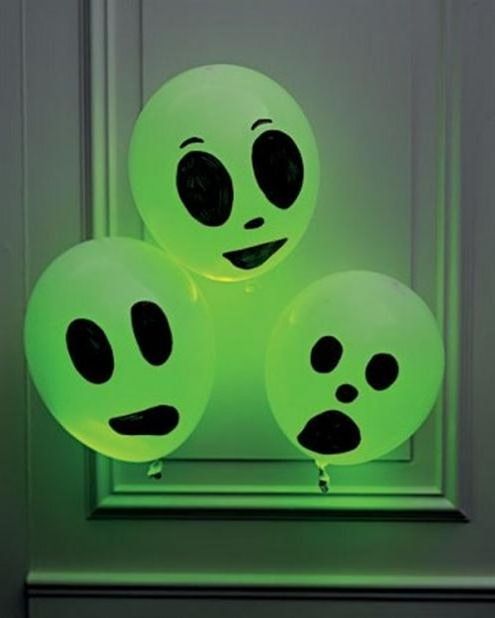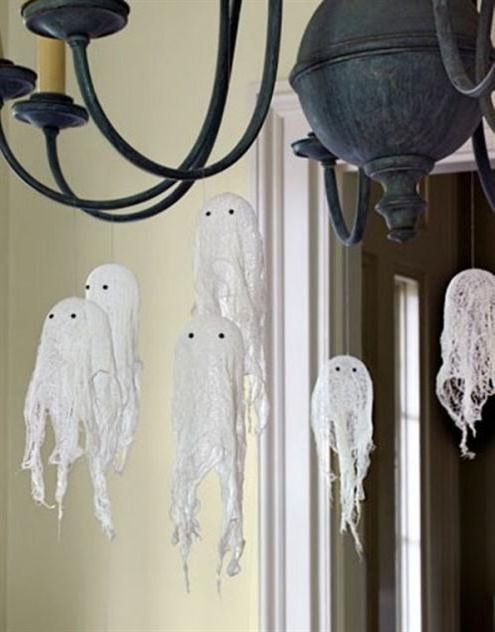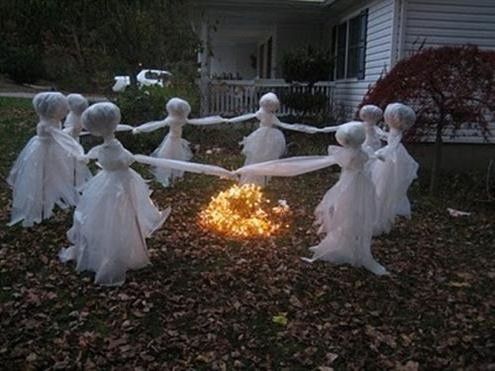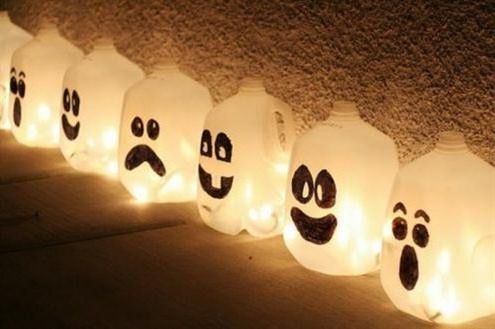 These ideas for Halloween are simple and easy to do. With some of these, you can achieve a fun and original Halloween decoration, without much effort.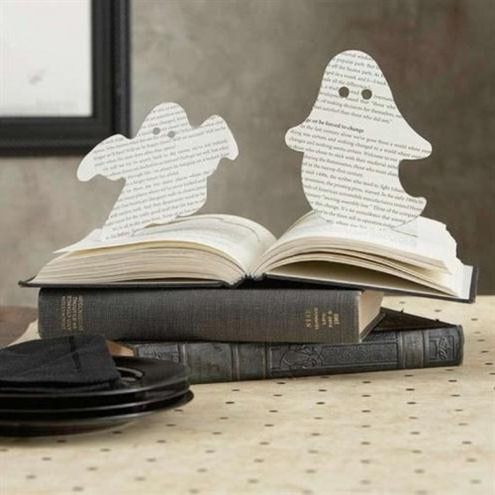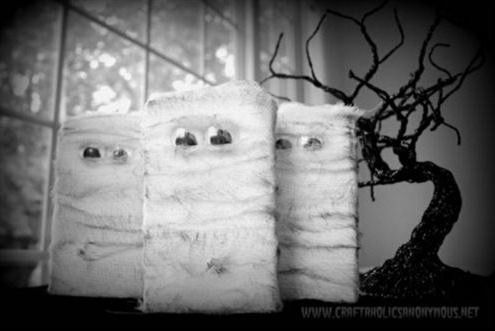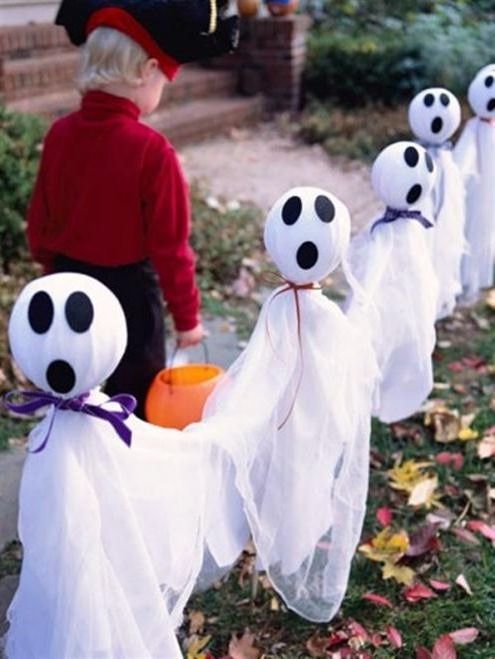 The branches of the trees can be used to hang balloons wrapped in white cloth with drawings of faces, which simulate flying ghosts, although a much more attractive idea is to place a semi-transparent white cloth on the lanterns in the garden, since that way In this way, when they are turned on at night, they will be much more eye-catching. In any case, this idea must be handled with care to avoid fires.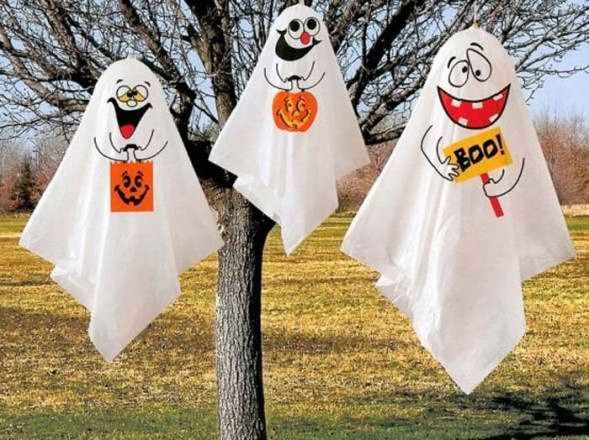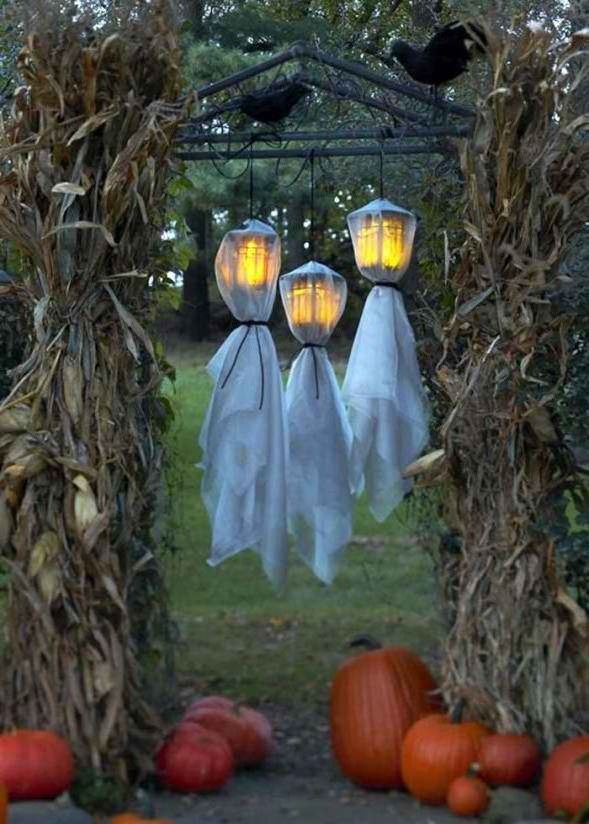 Mirrors are also widely used in this type of party, since in itself it is an element that has a lot of myths attached to it, and if we add to that the image of a ghost coming out of it, it can really give an interesting look, especially when the light is very dim.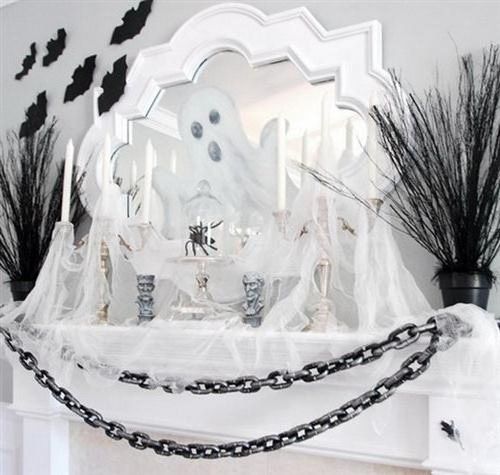 Spiders and cobwebs
One of the easiest options is to buy black cardstock and make the spiders manually. They do not need to be very similar in shape, but just by looking at these examples, you can achieve a good result, such as hanging them with string or sticking them on the wall. Cobwebs can be simulated with old and torn tulle.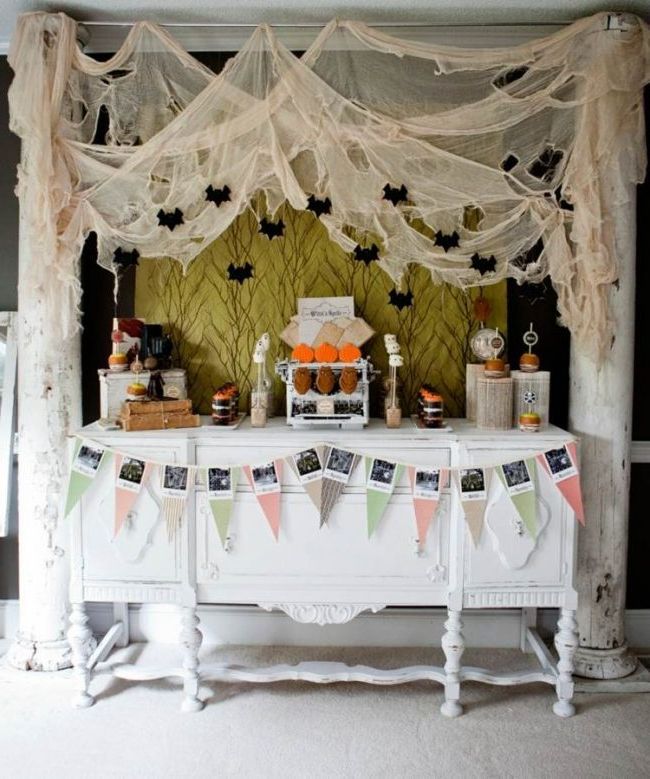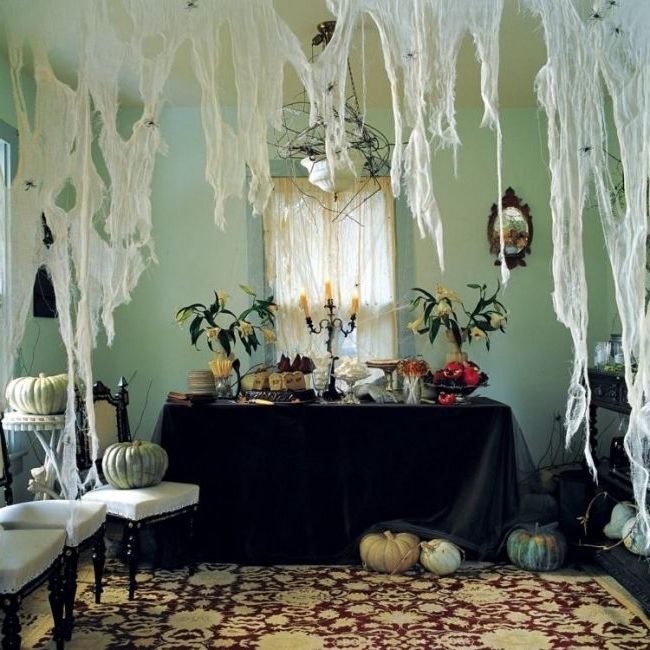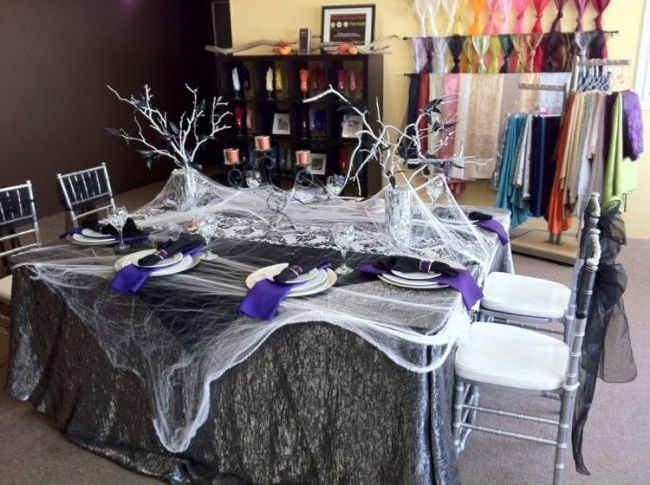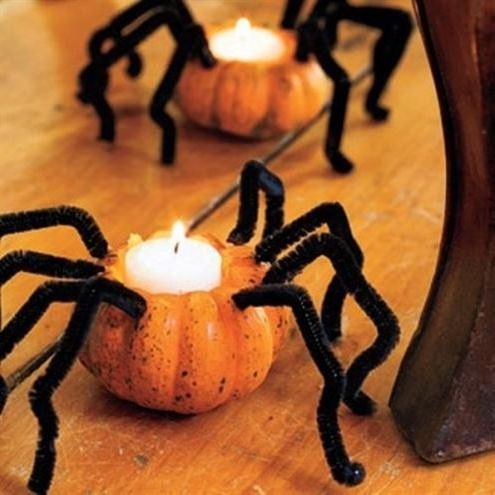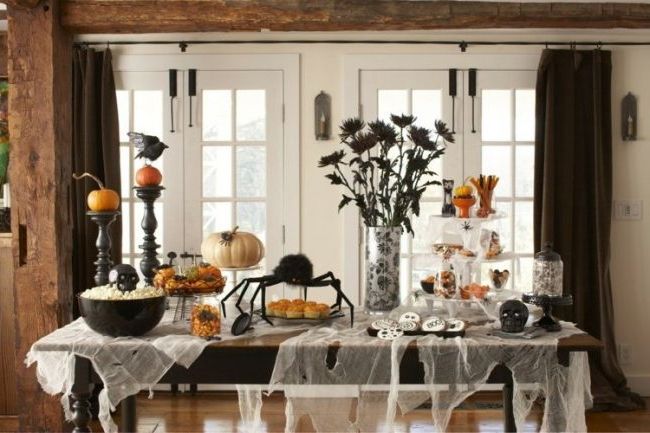 Chandeliers are usually bought ready-made, although there are always crafts to make and innovate. We can place them anywhere, although always simulating, as if they were real; near food dishes, in corners with their spider webs, in the bathroom near the toilet, among others.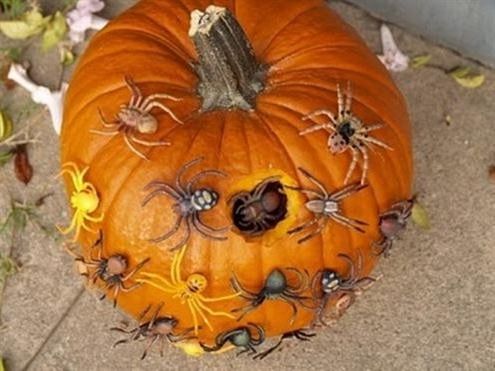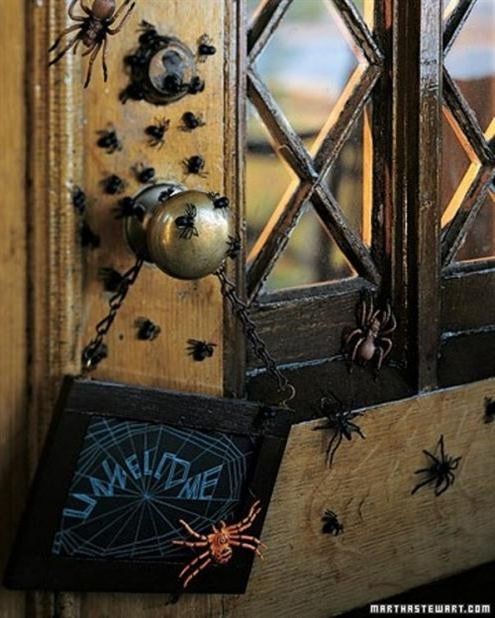 Snakes
Snakes are probably the most scary ornament and therefore it is interesting to place it in a place where you can understand what they are, but at the same time, there is not so much light and they can seem more real. Two interesting ideas are entrance wreaths for the home and threaded around carved pumpkins.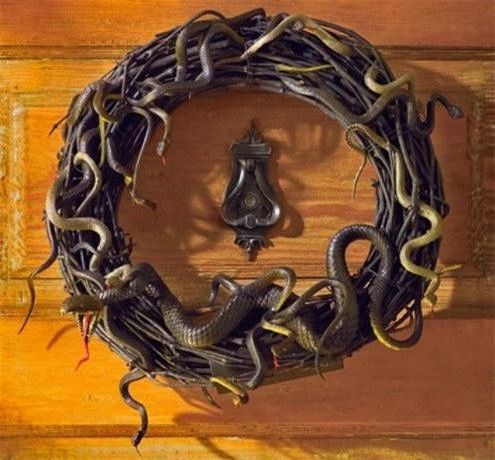 Innovating is a necessity every day and celebrations are no exception, since for Halloween, today many are satisfied with buying the typical store decorations, which not only do not set the mood well, but the vast majority of them , have cheerful accents, taking away the true charm of Halloween, of seeking to give even a little fear.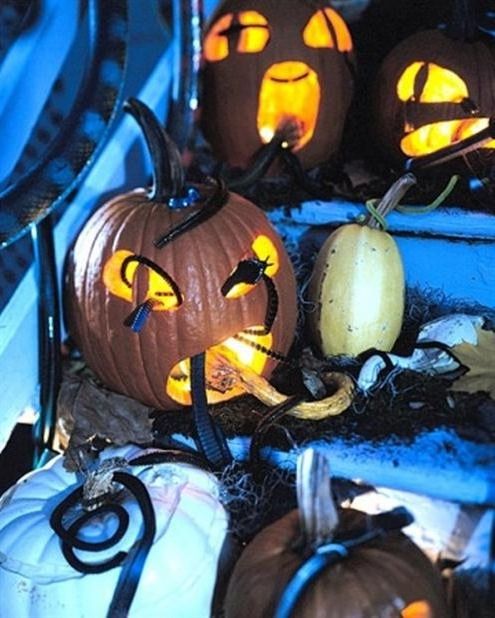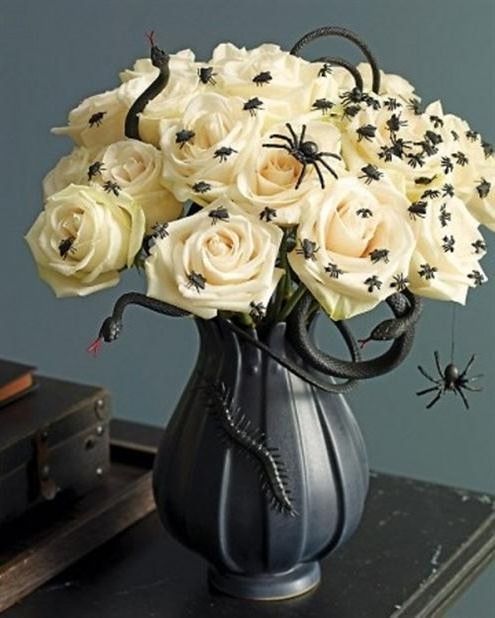 Pumpkins
They can be worked in many ways, achieving fun and striking faces. It is difficult to achieve something similar to the photos, but by trying we lose nothing.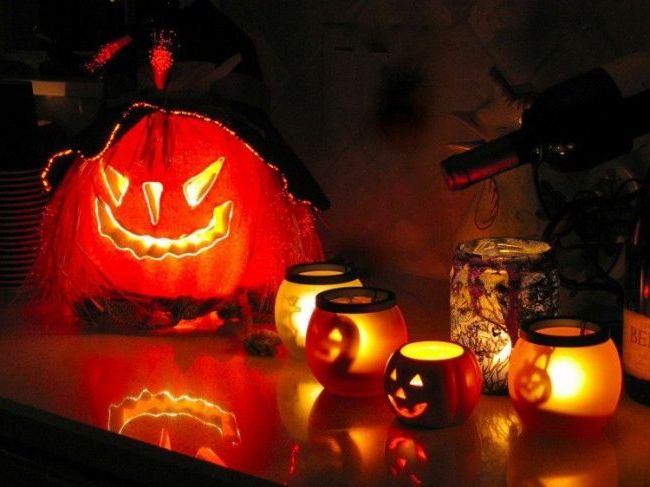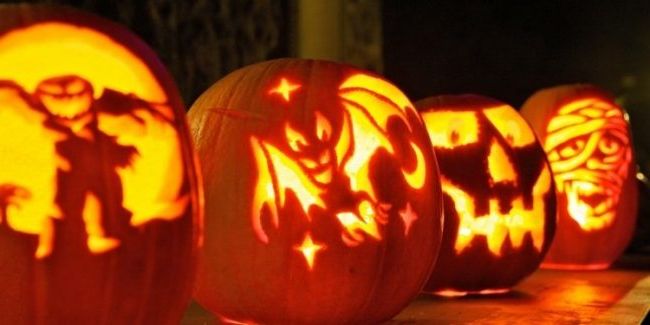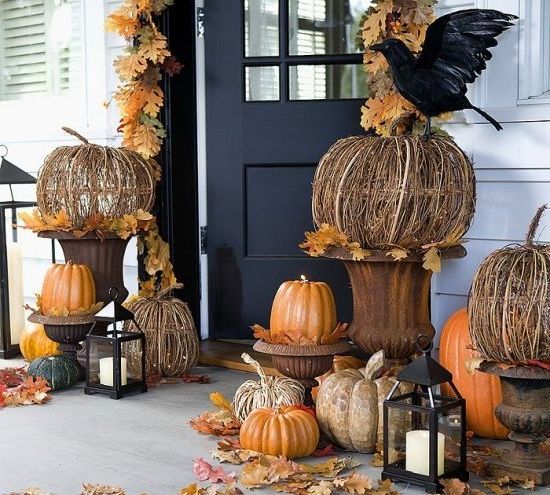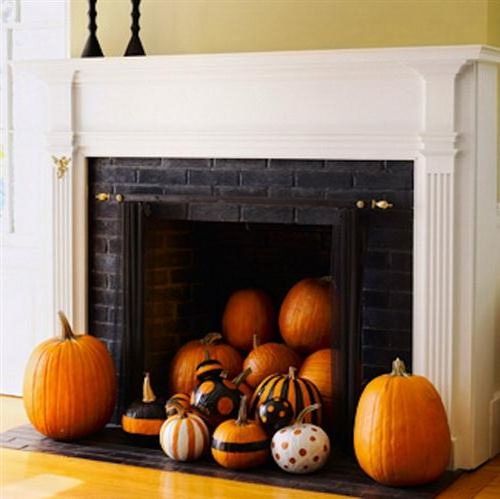 Small shelves on your walls can also be perfect to incorporate elements and details representative of Halloween on them.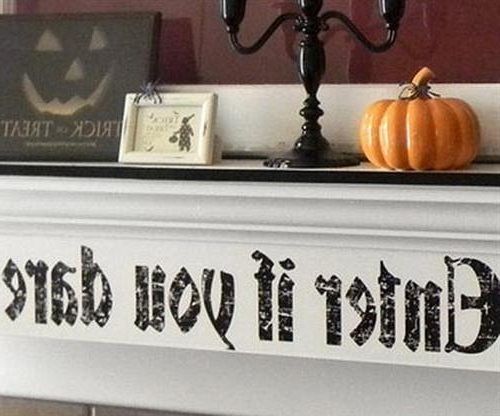 Another excellent idea can be to create a large theme table, adorned with candlesticks, sweets and any other representative element.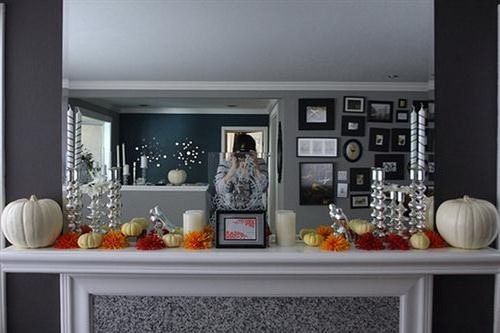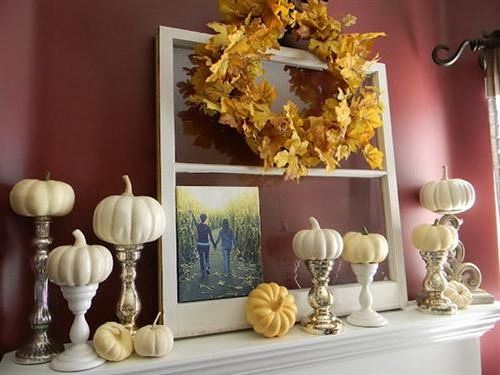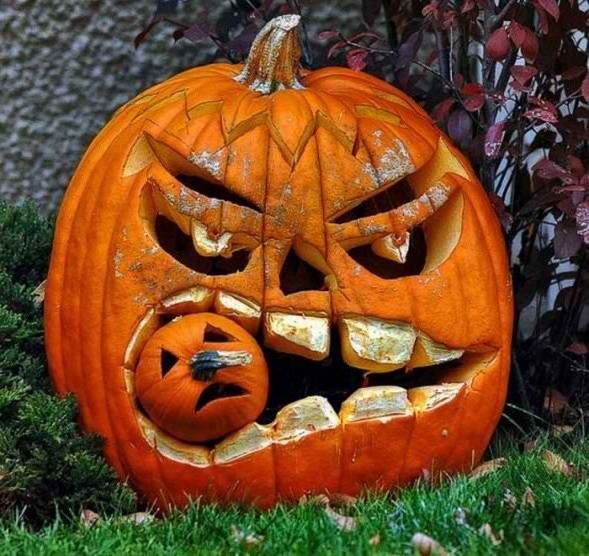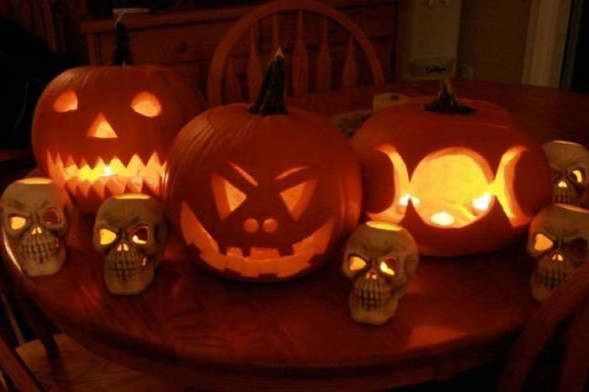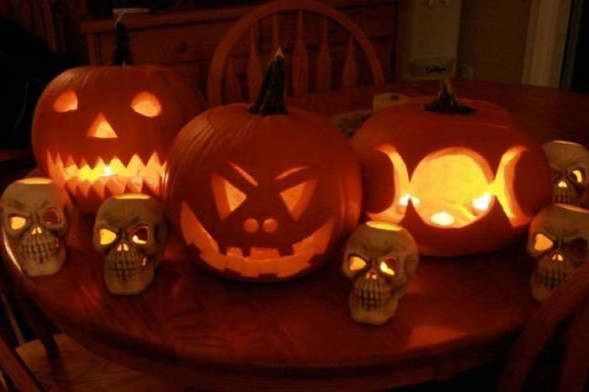 Autumn leaves can be a fundamental decorative factor, to set an abandoned garden, more dense and similar to those of witch movies. The bales of fodder also contribute to creating corners, where various elements related to Halloween are mixed.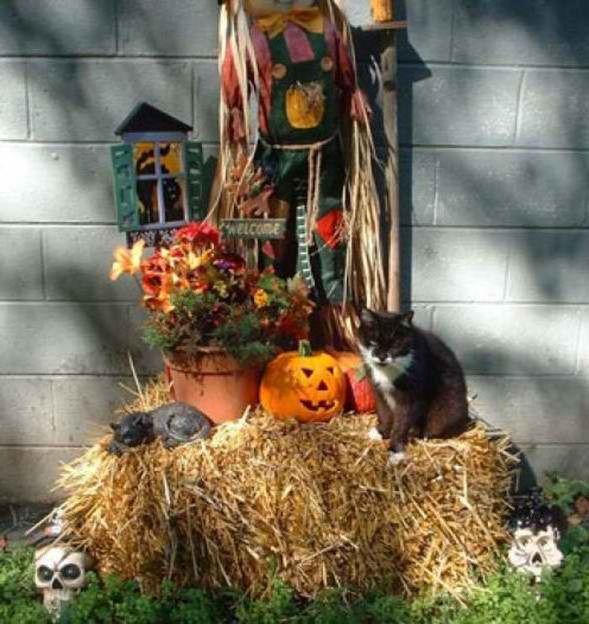 Black cats and witches
Let your imagination run wild, which is the best way to achieve the most fascinating environments, and incorporate witches, brooms or cat silhouettes.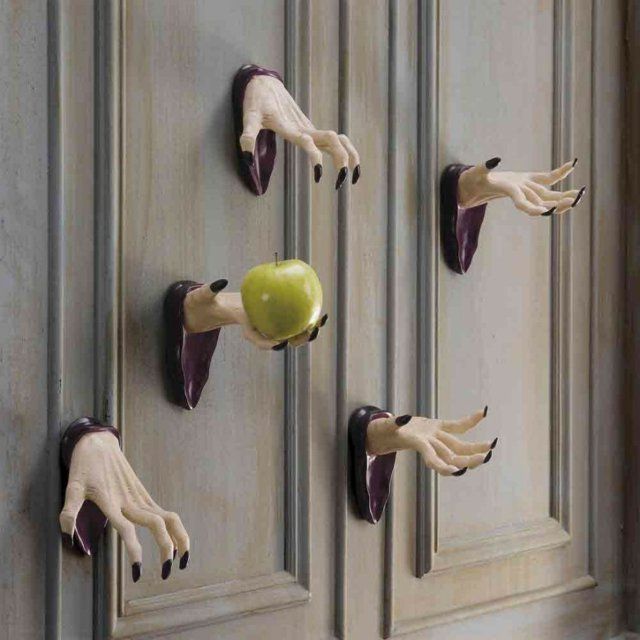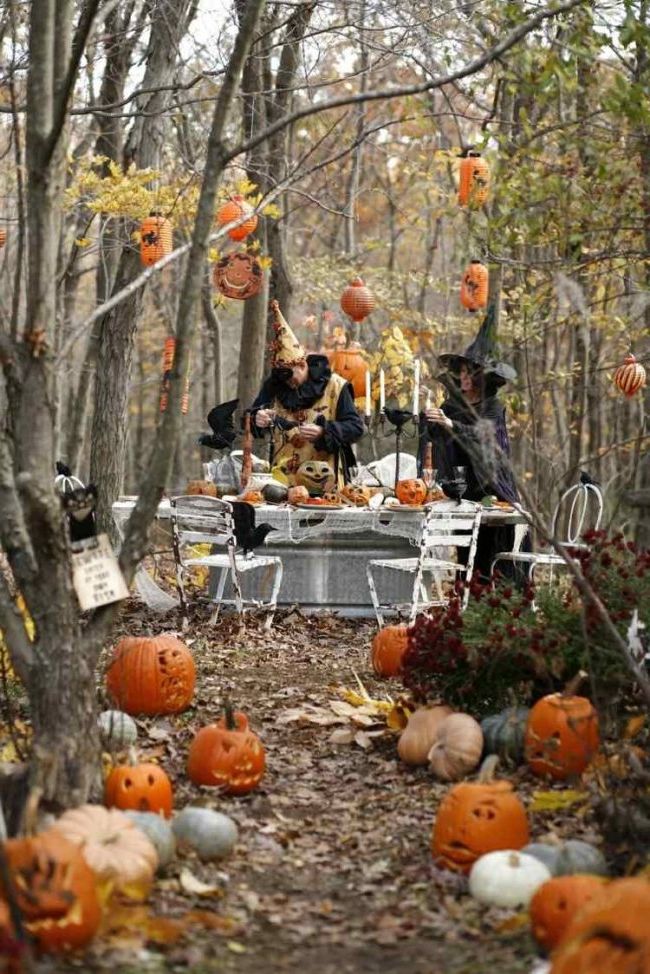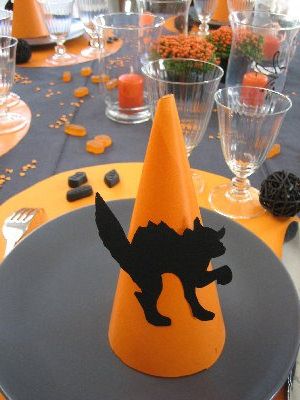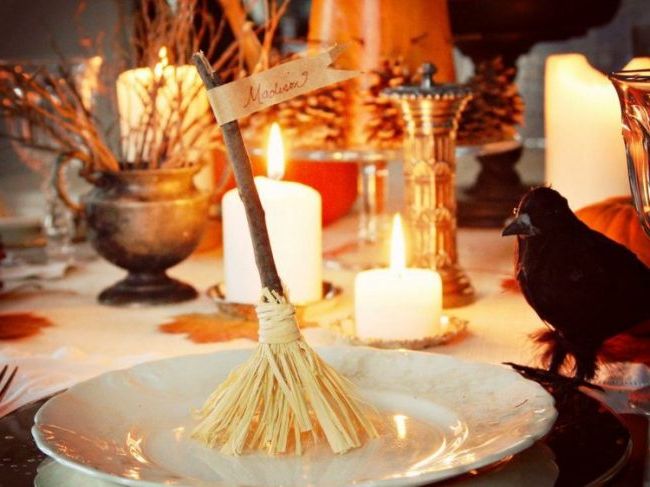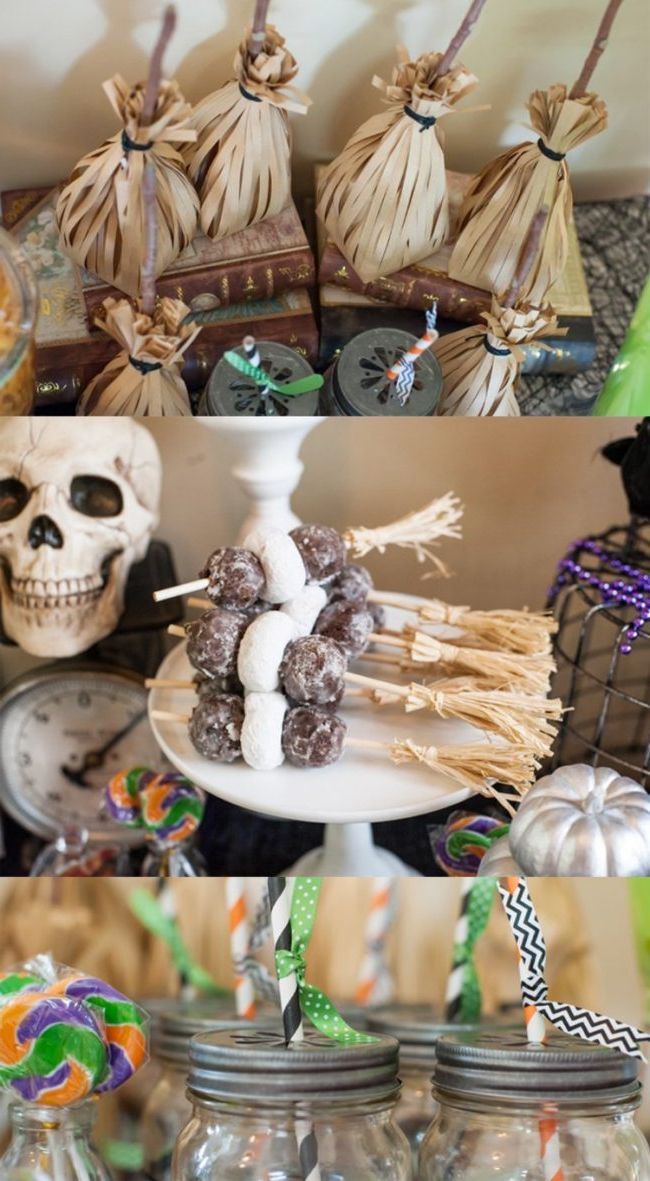 For the garden, you can also decorate the pots, painting with a marker. It is recommended that you make sure that it is one that can be easily cleaned, so that you do not change the pots again.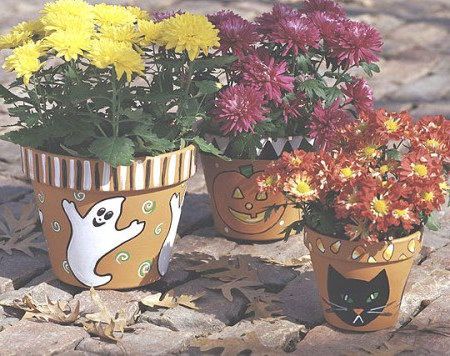 Another simple idea is to cut Halloween shapes like witches, stars and a full moon out of black paper. Then you stick it on the inside and when you turn on the lamp it will be perfect. Do it on all lampshades.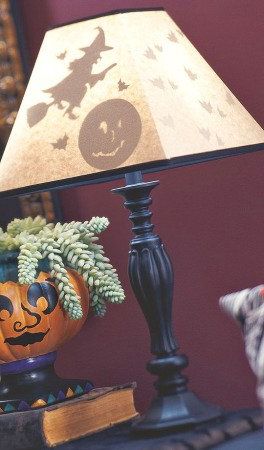 Finally, you can decorate elements that you will surely use, for example the plates. Choose clear glass plates and create a Halloween design, like an eye, with paint on the back.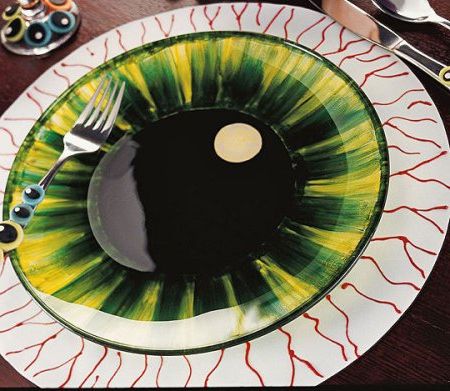 Tombstones
Another very simple but very effective idea to create an atmosphere of fear.