Do you want to take advantage of every square meter of your living room and turn it into a larger, tidier and lighter space? Follow our guidelines to get it.
Your living room has the meters it has and there is no magic wand to expand it, but there are some tricks that can help you get the most out of that room without giving up the decoration you like.
REDISTRIBUTE THE METERS
Before you venture to make changes in the room, think about whether the current distribution is correct. Determine how you want to use the space, what activities you are going to do in it with your family and the best ways to carry them out. Make a list of the positives and negatives of the changes you want to make and write down your priorities before reworking the area. You will see how a change of distribution can work wonders.
MULTIPURPOSE SPACES
Every time we see more examples of houses in which different environments coexist in the same space. In short, what it is about is making intelligent use of it. Installing different floor finishes, level changes and semi-permanent separations like a bookcase, for example, will help you create delimited areas for cooking, studying and relaxing.
CREATE NEW AREAS
Gaining space outwards or upwards are two good solutions. If you integrate the terrace in the living room, you will have gained meters as if by magic. You can also turn a large window with a sill into a cozy reading corner. You just need a mat and cushions. While in the case of high ceilings, you can create lofts with shelves, but without overloading the space.
UNCOMFORTABLE STRUCTURES
Sometimes old houses surprise us with structural elements that are difficult to solve, such as main pillars or setbacks. Take advantage of them with customized solutions that integrate them and, instead of hiding them, make them the focal point of the decoration.
A QUESTION OF DOORS
Something as simple as replacing the conventional swing door with a sliding model will allow you to save up to 1.5 m2 and will make the room lighter. You can choose it with guides or recessed so that it is hidden in the wall.
LIGHT FURNITURE
Opt for designs with fine structures, straight lines, light tones and glass pieces. Furniture with these characteristics enhances the lightness of the room. Choose pieces with double functionality to save space: a pouf or a table that serves as a seat and storage.
DECORATION TRICKS
Now that violet rules our chromatic universe, you may be tempted to use it on the walls of the living room; if you do, use it only on one. Keep light colors for the rest of the fronts and accessories. This will prevent the painting from dominating the room. As for the flooring, it uses long slats or continuous coatings, such as microcement, which multiply the space.
A REAR GIVES A LOT
If the sofa in the living room is not attached to a wall, you can take advantage of that space in various ways: placing a console as a desk; or poufs that allow the seating area to be enlarged. Or you can also have a wooden bench to store blankets, magazines or books. The only condition for this arrangement to work is that they must not exceed the sofa in height.
DOWN THE STAIRS
Does your living room have a staircase that communicates with the rooms? If so, you're in luck, because the hole below is a perfect place to put it to new uses. You can use it to create a reading corner by placing an armchair and a nightstand. Or if you prefer, make a custom cabinet with hinged doors to store the crockery, or a study area with a folding table and a stool. If you don't want to get involved in a lot of work, you can install the doors and leave the interior completely open, as a storage room, to store bicycles, cleaning supplies or sports equipment.
HIDDEN TREASURES
If your living room has a niche in the wall, turn it into a special place to display your most precious collections. To give the area more relevance, you can cover that wall with sophisticated wallpaper and place some simple glass shelves. You can also use it as a small auxiliary bookcase for books or records.
A STYLISH BAR
Cocktail fever has made the drinks cabinet back in fashion. Why would it be a good idea to revive a wall and turn it into a mini bar with fifties charm? It mixes open and closed shelves together with a mini sideboard to store the glasses and the cocktail shaker. Surely this corner is the busiest when you receive visitors.
THE BEST FRAME
Do you enjoy a generous window in the living room? Frame it from floor to ceiling with a huge bookcase. Organize the books well so that they give a sense of order. Instead of having them spread over several pieces of furniture, in one fell swoop you will have grouped them all in one place. In this way you can eliminate the other shelves and lighten the furniture room. Add a desk to your new illustrated lintel and now you have the perfect place to enjoy the views!
VARIED MOOD BOARD
Instead of occupying a wall with compositions of paintings, solve your decoration in a more original way: place a wooden board with photos, postcards or inspiring quotes that you can change and update to your liking depending on the theme or color you choose.
Living area with kitchen/dining room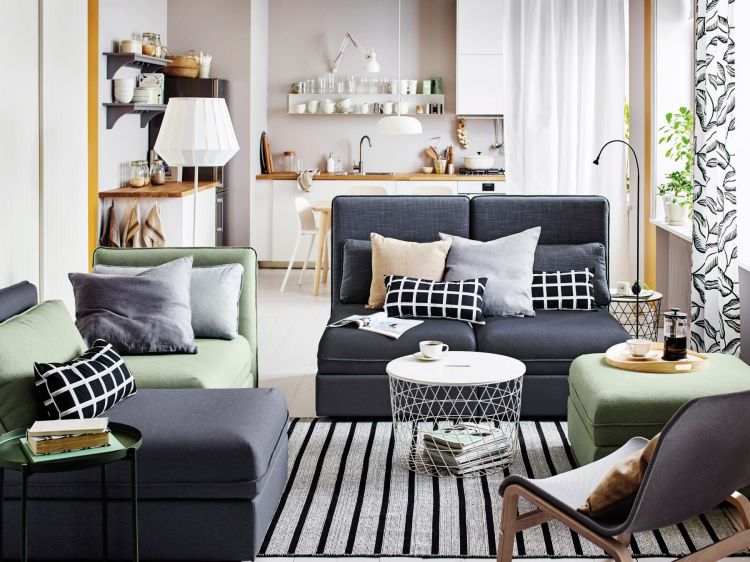 The fusion of the living area with the kitchen/dining area provides light and an immediate feeling of spaciousness. Use a sliding door or a curtain, as in the image, to provide them with the necessary privacy. In the living area, choose light storage tables, such as the Kvistbro model, from Ikea (€49.99).
Corner desk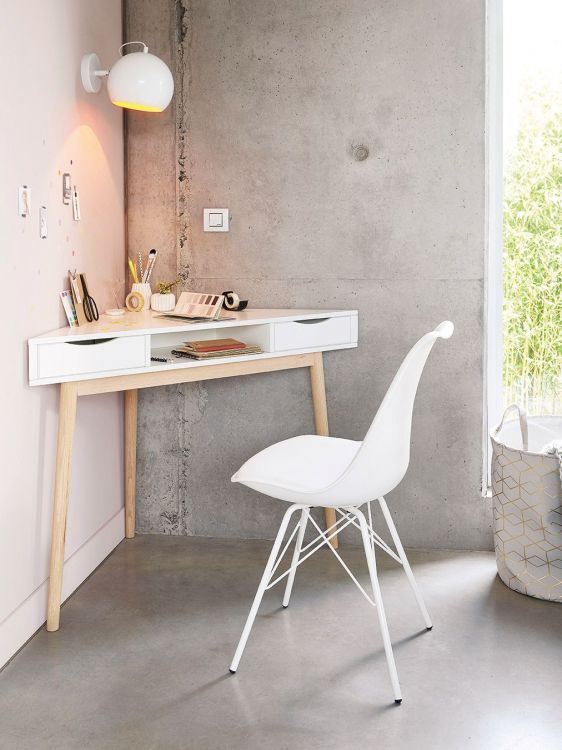 Take a look at your living room and find out which areas are wasted. You will surely find more than one. Take a meter and measure all those spaces that you want to give a new use to; if they are between 1 and 3 m2 it will be enough, even in those corners that, due to their particular shape, make it a little more difficult. A good example of this is the wall in the image above on which a corner desk has been arranged, perfect for small spaces.
It measures 78 x 80 x 80 cm and its light design is suitable for not overloading the area. What other options could have been adopted in this space? Place a corner cabinet or some simple shelves as extra storage, suspend a plant from the ceiling, decorate with a composition of paintings, fix a couple of full-length mirrors that visually enlarge the room, support a wooden ladder to store blankets… There are many solutions, you just have to think about your needs and see what are the best ways to carry them out to improve your living room.
Artic White Vintage Corner Desk, from Maisons du Monde (€130).
Shared space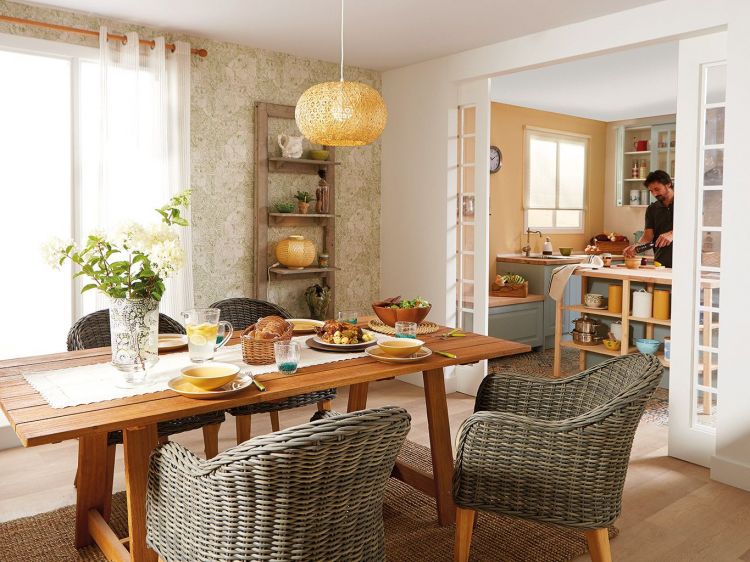 In the image above these lines you have a clear example of the basic characteristics that a shared space must have:
The choice of light materials, that is, light tones and light structures that avoid overloading the environment, such as wicker, wood or glass.
Total or partial integration with the kitchen thanks to the replacement of the hinged door with a sliding glass door. This, open, allows the dining room to acquire greater depth and, closed, allows light to continue to circulate freely between both rooms thanks to the glass.
With the use of light textiles in the windows, the curtains do not reach the ground, they only cover the window, which facilitates light traffic. 4. The use of different materials and colors in the coverings of each room, which enhances their differentiating character.
Placing a shelf on an empty wall always comes in handy. Try not to occupy it completely, better center it to leave free space on the sides and lighten the whole.
The dining room open to the kitchen multiplies the space. Utaka Inspire bamboo ceiling lamp (€39.95). Vinyl wallpaper or Leaves (€20.95/roll of 5.3 m2). Everything for sale at Leroy Merlin.
Shelving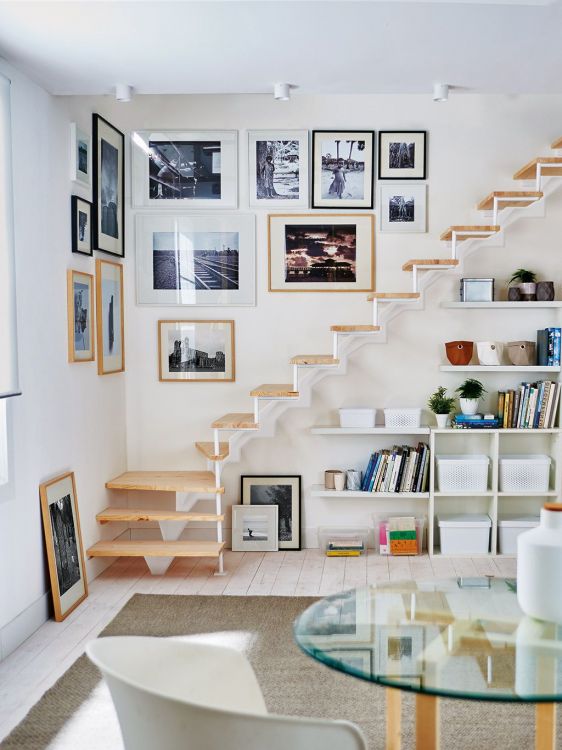 In this space, a staircase with a light structure made it possible to place a bookcase made up of modules and white shelves under it. Along with the books, the smaller objects were kept in boxes to give a sense of order. Spaceo shelf, by Leroy Merlin (€8.25).