Decorating a small modern living room correctly no longer hides secrets as we have seen over the years in Mil Ideas, with the hundreds of ideas for decorating living rooms that we have been enjoying. However, decoration is an art that is constantly being updated and makes us continue to explore and continue to bring ideas, this time, for the decoration of small rooms. Thus, we have prepared this fantastic collection of 50 photos of small living rooms that we are going to explore right now to find out their keys. Are you looking for ideas to decorate a small living room? So check out these great ideas.
Interior design Natalia Zubizarreta | Photography Felipe Scheffel
Warm and welcoming. A charming little room, designed by the interior designer Natalia Zubizarreta, the epitome of good taste. The materials, textiles and colors of this room provide it with an enveloping and welcoming atmosphere, worthy of imitation.
At-Home Project
All in white, eclectic in style, with the original vaulted ceilings in sight, and with touches of color in the woodwork painted green, and blue in the textiles of the blue sofa and the marbled carpet, achieving a living room
Become a Home Project and ARHome
Equally beautiful and well-equipped despite its small size, this other small room, designed by the Become a Home studio, exudes good taste and balance. More would be watered down, less, bland, but the studio hit the nail on the head with the furniture, textiles, and color accents in shades of yellow and gold.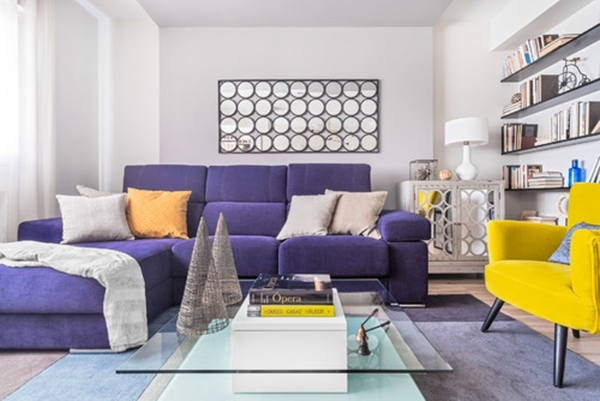 Interior design Itta Studio | Photography Light Studio
This other room, also with little space, was elegantly resolved thanks to the furniture that makes it up, since they add a bold and unique touch of strong color, but without burdening the space, which, on the other hand, was correctly decorated in neutral tones. .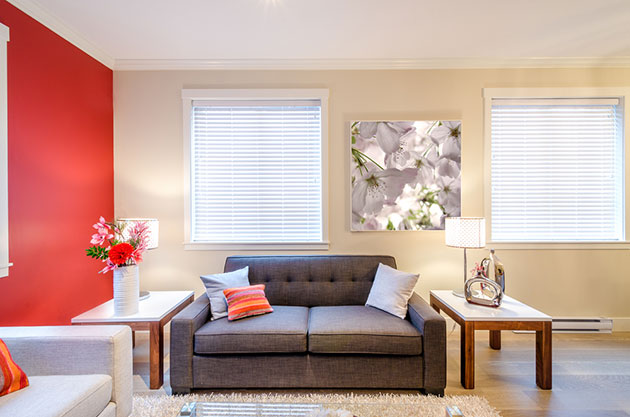 ShutterStock Photography
Painted in neutral tones, with a slightly risque off-white, and an accent wall in shades of red. The rest, anthracite gray sofa and two side tables on each side.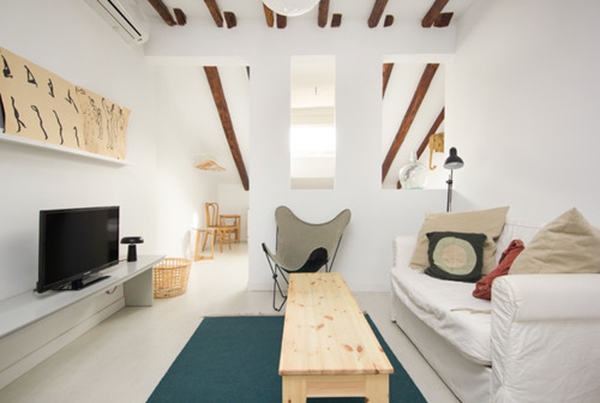 Nimu Project | Photograph by Alejandro Leon
Nordic style and opting for a total white look, always successful in small spaces and even more so when white is combined with wood to provide the warmth that white does not have.
JLM Consulting Project
Decorated in shades of gray and white, this other room has a more sophisticated atmosphere without losing warmth, thanks to the rectangular vegetable fiber rug that shelters the wooden floor. A floor lamp with a wooden base adds more warmth; the two elegant coffee tables, and the Eames Tower-type rocking chair, which you can buy here at a good price, adds design.
Foto ShutterStock
Nordic style, and practically decorated with IKEA furniture and accessories, achieving a very modern aesthetic. Gaining amplitude with white, and adding warmth with wood and other elements, and to create an elegant contrast, accents in black.
Foto ShutterStock
Minimalist and sophisticated this other small room, decorated in neutral tones and with few elements that dress the space, so as not to overload it and to fulfill the purpose of minimalism.
Foto ShutterStock
Equally minimalist, and very bright, without curtains so that they do not make the space darker even when they are open. Gray and white tones and accents of warm brown.
Foto ShutterStock
Much warmer. If you are looking for a warm decoration, go for wood in light tones and sand colors to paint the living room.
Interior Design Miriam Barrio
The interior designer Miriam Barrio projects a sophisticated and contemporary space in this small room, using a mosaic floor, walls and ceiling with moldings so that the walls have a presence without the need to paint them, and furniture of exquisite taste completes the scene.
Photography by Alfredo Arias
With a vintage touch thanks to the DSW coffee table and chair, also from the Eames. The rest in white, including the sofa, but with warm touches thanks to the exposed wooden beams on the ceiling.
More casual and ornate, but equally full of style, this other small room decorated in a bohemian style, in which textures, colors and materials brighten up the space.
Home Deco Project
Everything in white, to gain light in a small space that is already bright thanks to the windows it has.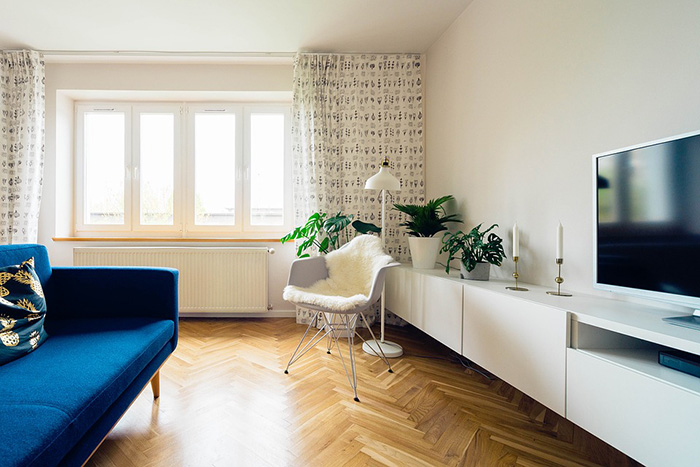 Nordic in style, with herringbone flooring, a wall-to-wall TV cabinet and the focal point, the pretty vintage sofa upholstered in dark blue.
Interior design Natalia Zubizarreta | Photography Felipe Scheffel
On this occasion, the interior designer Natalia Zubizarreta is once again in charge of creating this living room with a modern design with Nordic touches, warm and painted in an elegant neutral greyish beige that combines with the rest of the materials and colors in the room. The Shell chair by master Wegner, always successful. We can buy that chair here.
Decorated with a wooden wall covering all of it, and with a television cabinet also in wood in dark tones. The brown sofa and the rug in shades of brown complete the living room. The rest in neutral tones, creating a balanced space.
A decorative wooden frieze with moldings at the bottom, and a tropical leaf print wallpaper at the top. Dark wooden floor and successful color accents in yellow tones. Here we can buy tropical print wallpaper.
More elegant and sophisticated, with a contemporary classic cut, where straight lines, metal and glass are an important part of this decorative style.
Simple and pretty this other small room decorated in gray tones, with color accents in blue and wood.
Also decorated in gray tones, but with color accents in pink tones. The rest, wood to give warmth to the space.
A little larger, but it is also due to the quality of the photographer, in this case the photographer Sílvia Caballero, who portrays this contemporary room highlighting its strengths and hiding its weaknesses.
Photography by Mackenzie Schieck for Apartment Therapy
With the walls painted in a very light earth tone, and a grayish blue sofa. The rest, decorative elements in yellow and gold tones, which brighten the room and give light by reflecting light.
Project U + G Architecture Studio
Everything in neutral tones, from the sofas, to the walls, even the furniture. It's the multi-coloured striped rug and the checkered pattern that add a splash of color to this pretty little living room.
CotaCero Project Taller Arquitectura
Nordic style, with a brick wall, and the rest in white. The marbled rug sheltering the concrete floor, a current trend.
Photography by Jordi Folch
In A very pale shade of blue, with hints of yellow on the striped curtains.
Slow & Chic interior design
Neutral, modern and minimalist, all decorated in white with wood accents and a warm shag rug.
At-Home Project
Small but charming, with modern furniture that gives personality to the space and touches of yellow on the cushions.
Cristina Gimeno Project
This other room is warmer, thanks to the wood that shines everywhere and the dark brown background that the furniture shows off.
Photography Silvia Caballero
Designer furniture and accessories in a simple white shell. The Serge Mouille Three Arms ceiling lamp bringing style to the entire room.
Crystal Decoration Project
With a more rustic and cozy air, this other room, with details in wrought iron such as the table lamp or the coat rack. The rest, traditional furniture and white walls with a warm wooden floor.
Photography Roberto Herrero
Modern in style, with industrial nuances, thanks to the brick walls, leaving the rest in neutral tones and with a simple character.
Reforms Point Project
Thanks to the high ceilings this room does not seem so small. In addition, the neutral tones used make the space appear larger. Naturally, the decoration, nothing ornate, helps a lot to make the space light.
The Worker Queen Project | Photograph by Alvaro de la Fuente
Industrial cut, with a wall of bricks, wood and metal in black and the rest in neutral colors.
Project by Dara Díaz Nice Home Barcelona
Cozier, with the original hydraulic floor from the modernist era and a vegetable fiber rug creating a cozier space. Blue distressed Tolix chairs create a beautiful focal point. We can buy these chairs here in different colors.
Felipe Muepas Project
More modern, with the Cooper Gold lamps by the Tunisian designer Tom Dixon presiding over the space and a beautiful armchair in shades of blue to match the rug. Here we can buy these design lamps, or their replicas.
Marcos Mela Studio Project
An industrial bookcase gives personality and character to this small living room. In addition, the two suitcases as a coffee table reinforces that feeling. A surprising decoration, simple and with a great appeal.
Project by Dara Díaz from Nice Home Barcelona
Original vaulted ceilings, wooden floors, vegetal fibers and white walls. A totally successful combination for the decoration of a living room. Or any other space, don't you think?
Le Sable Indigo Project
With a vintage cut and Mid-Century style, this other room is simpler, without overloading, letting the original construction elements, such as the floor and ceilings, plus the beautiful furniture be the protagonists.
Interior Design Cozy Barcelona
Equally small this other room, its space is perfectly optimized. Bright, modern, with storage space and very classy.
Komoda Decoration Project
Attic and very charming. It is what these structures have that give a lot of presence to the spaces and with little they are well decorated.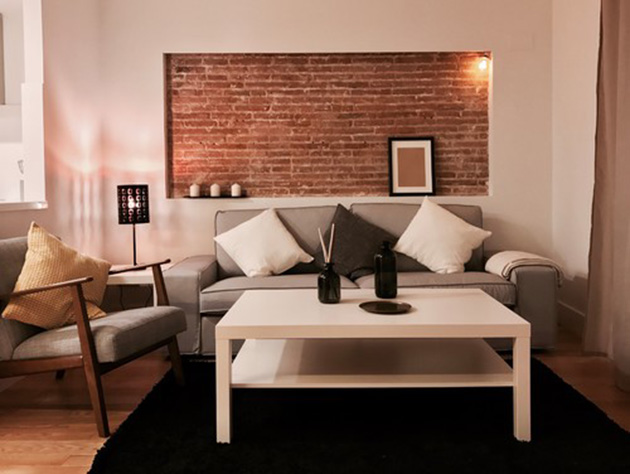 Area Design Project
This other room has a modern style, but with certain industrial reminiscences thanks to the piece of exposed brick wall that was left uncovered.
Egue and Mushroom Project
Fresher and lighter, thanks to the tones used to paint the walls, the small sofa bed and the rest of the elements that breathe with each other as they are not totally together.
Houzz Photography
With a retro eighties character. A room that combines textures, styles, colors and materials with great success, creating a very personal aesthetic.
MOTEL Project
This other modern room is more regal and sober, decorated with wallpaper, precious Chinese furniture and straight, pure lines.