You don't have to pay more for decorated pots, when you can decorate them yourself easily and cheaply. We will show you below 5 very beautiful and decorative ideas. Decorating with pots is very easy, if we go to a market and buy some nice and well-decorated ones, but what we are proposing today is something different.
Buy plain and cheap pots and decorate them yourself. You will achieve unique and creative results.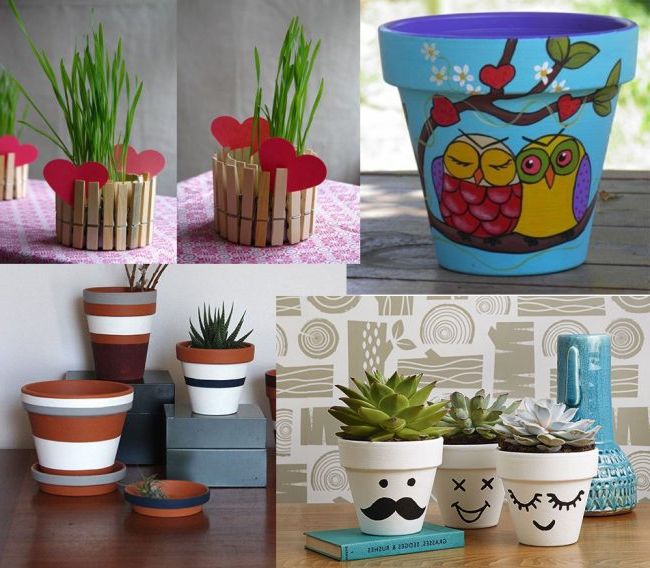 Pots decorated with stripes
To decorate the home, you do not need large expenses, but small details, such as the great idea of painting pots. The idea is simple, it is simply about pots decorated with various colored stripes, in order to give them a more cheerful tone and "eliminate" the classic brown color of clay pots.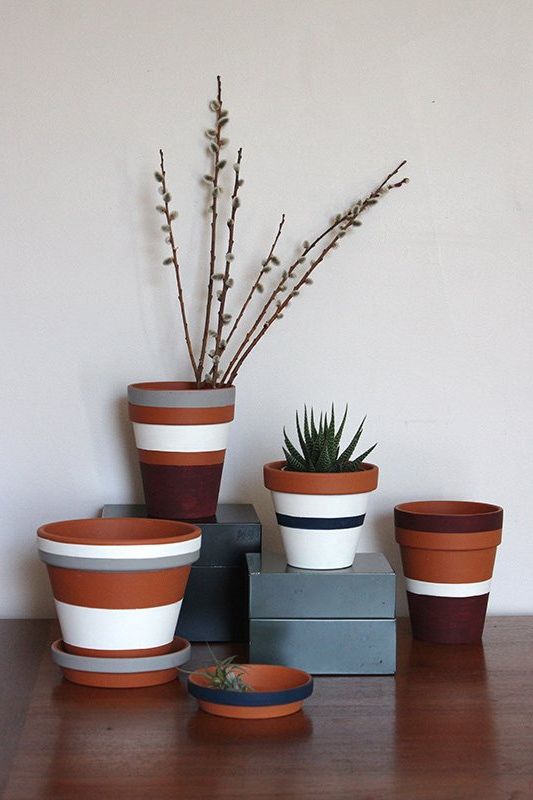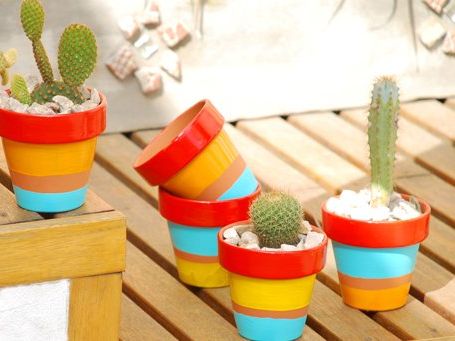 It is a simple, easy and fast technique, so you will not need too much time to start and finish this simple craft. In addition, to paint these wonderful pots decorated with paintings and various motifs, you are simply going to need a few materials, for which the expense is very little.
Stripes never go out of style, but sometimes they make a strong comeback, like in these times, when they have become very fashionable, not only in clothing, but also in decoration.
Materials
terracotta pots
painter's tape
Rubber bands
Acrylic paint
Brush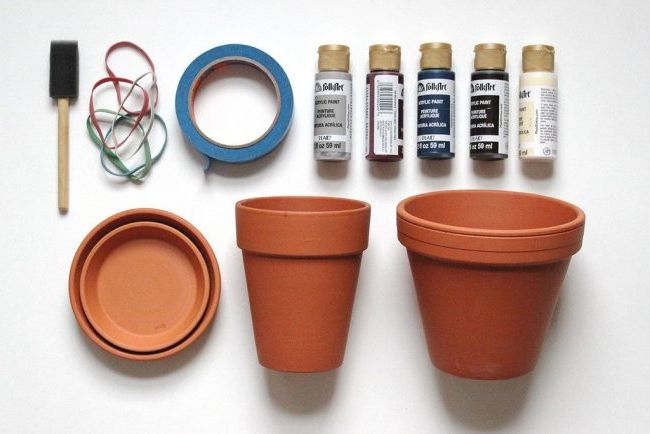 Instructions
1. Mark stripes with tape and rubber bands, depending on the design you want to create.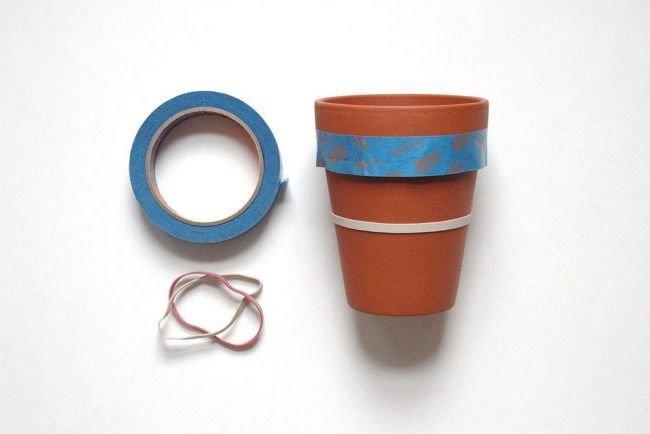 2. Paint the stripes. Let it dry completely before removing the tape and rubber bands. Add more stripes if you wish, pre-positioning more painter's tape and rubber bands.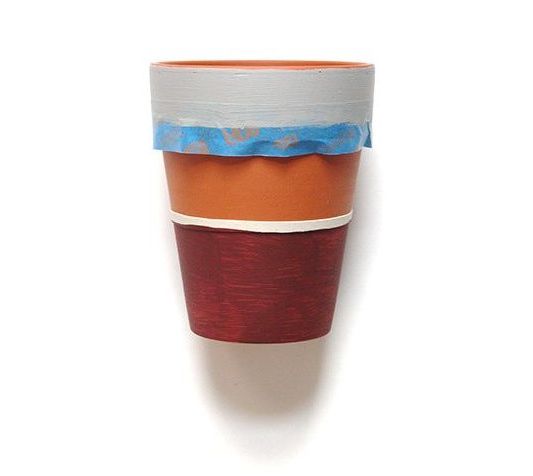 3. Repeat the process until you get the desired design.
Pots painted with creative designs
It is very easy if we put imagination to the matter. One of the best ways is to buy pots and paint them at home. The good thing about this option is that you can make the type of drawings you want. All that is needed are colored, enamel-type, water-resistant paints.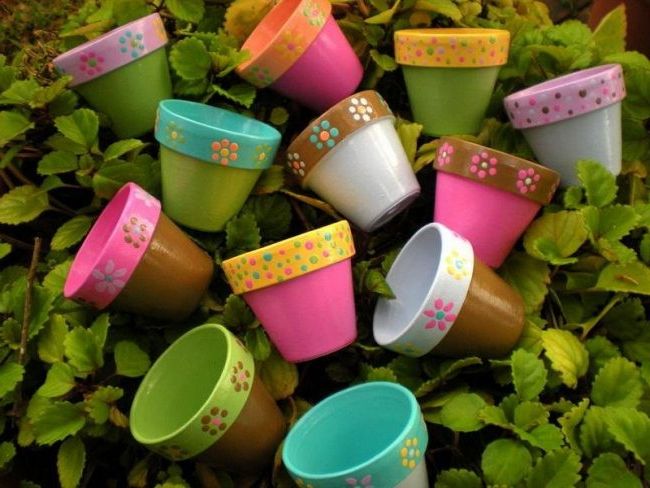 If, on the other hand, what you are looking for is something much more striking, you can opt for the trend of neon colors. You can do this fashion at home too, all you have to do is buy the paint in specialized stores.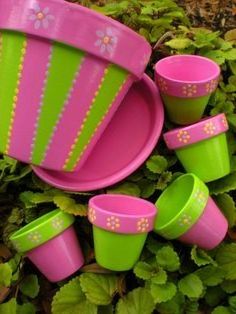 Remember that the most important thing is that you use your imagination. When making drawings, it is important that you have an open mind to different styles and above all that you remember that a garden should be cheerful.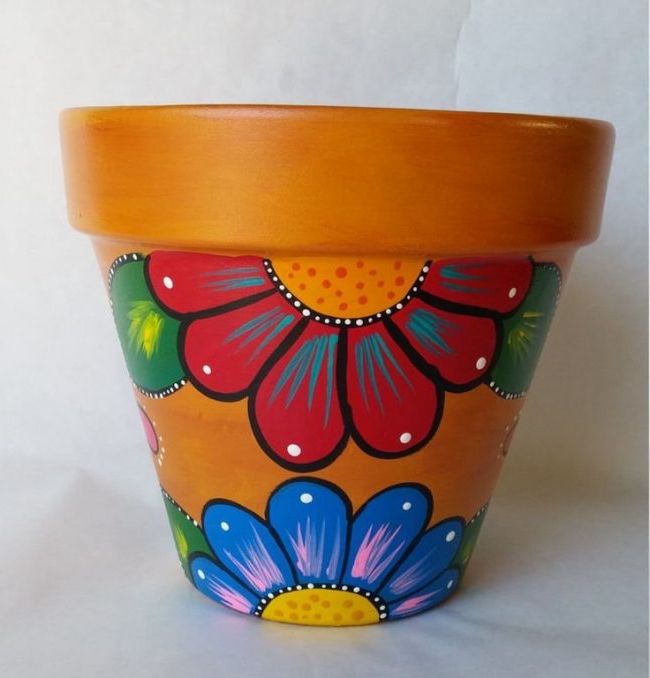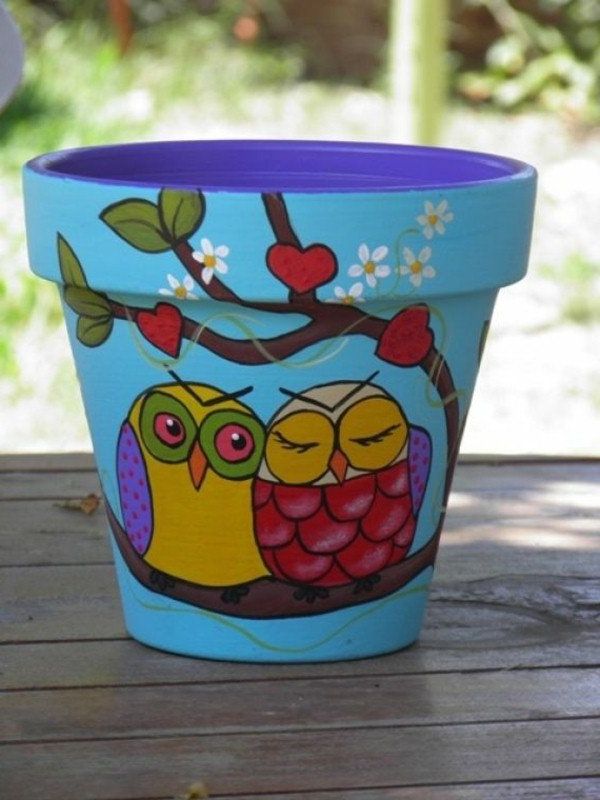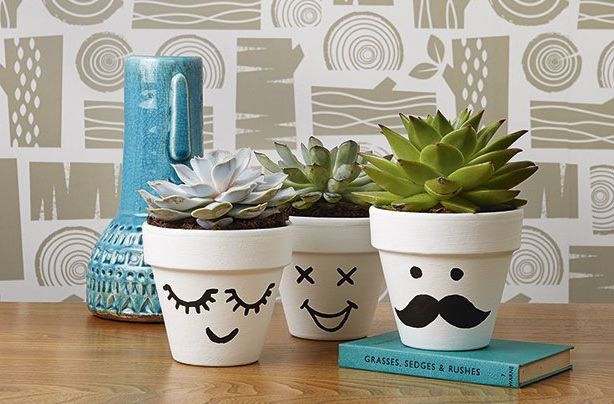 Pots decorated with clothespins
This is a very fun and simple idea. A nice flower pot with clothespins. The good thing about this pot is that it allows us to recycle. With this pot we can change the decoration of any place, since being wood, they can also be painted without problem.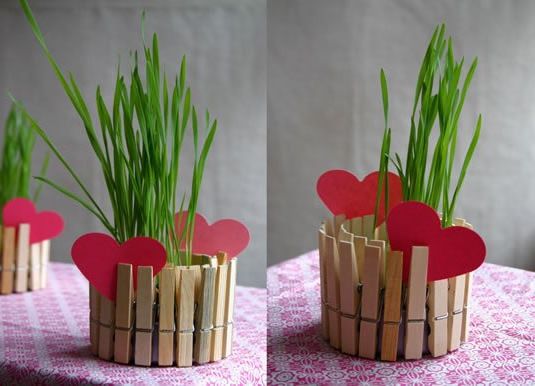 Te vamos a dejar un vídeo donde puedes ver paso a paso, cómo puedes hacer esta maceta sin problema para que si estas navidades quieres sorprender a tu familia, puedas hacerlo sin ningún problema.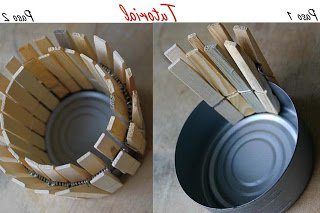 In the video, it is shown how apart from making a planter, it can also serve as a candle holder, but we do not recommend it unless you varnish it with fire-resistant paint, because it is most likely that you will quickly run out of decoration .
If you need a bigger one, you can overlap the clothespins to make it bigger.
We are going to leave you the video, with a little patience and very few materials, you will see that you get incredible planters. We encourage you to do it and tell us how it turned out for you.
Pots decorated with paper mache
Papier-mâché is the way in which an ancient oriental technique was named in France, which consisted of forming a paper paste that was used in decoration. The same, today has been reduced to using fragments of old newspapers and magazines, among many other forms, which are stuck with paste or other artificial adhesives in order to decorate all kinds of things.
Today we will show you how to decorate pots with papier-mâché.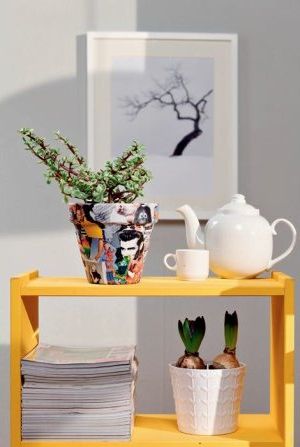 If you want to make the paste, it is made by simply mixing water with flour. It generates the same effect as vinyl glue. Then one must have the pot that one is going to use and the pieces of paper that one is going to use. A minimum of three layers of paper is recommended.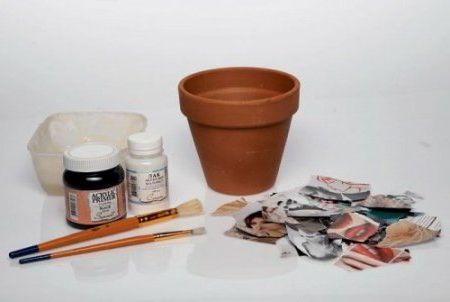 Then with a brush you must apply the paste in the pot and you will be placing pieces of paper. When you have finished the second layer, pay special attention because if the third will be the last, it must include photos or items that you want to see in the decoration.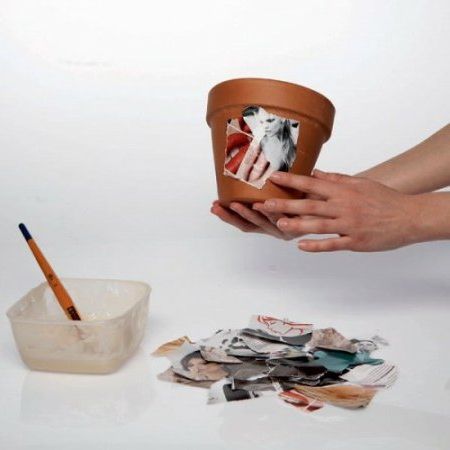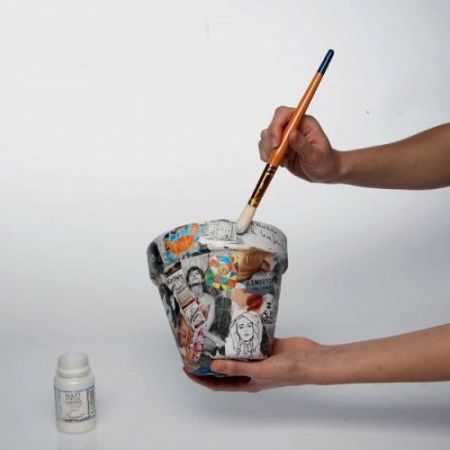 Let it dry and finally you can give a coat of black tempera or any dark color, which helps to cover the imperfections that remain on the inside of the pot and thus it will be finished.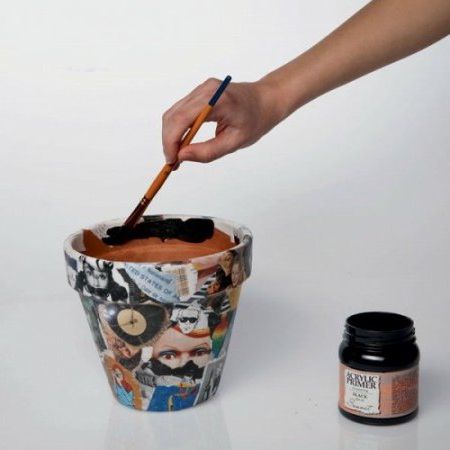 It must be said that the paste takes on a very ugly smell, so it is advisable to leave it drying outside and throw everything that is left over after finishing the craft.
Recycled tire pots
We present a proposal that, in addition to being highly recommended for decorating outdoor gardens, is very effective for recycling old tires; It is about making pots with recycled tires.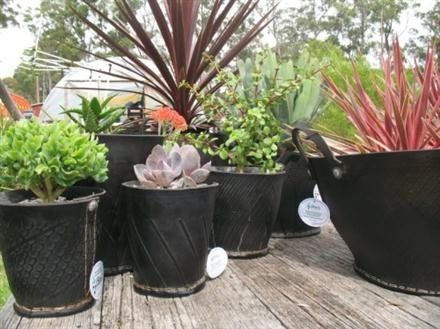 As you can see, they are highly recommended for planting all kinds of plants, since the size is something that everyone can regulate when making them. In addition to being an efficient way to recycle, it is also an excellent idea for personalized planters, two things that make them a great option for anyone who enjoys the outdoors.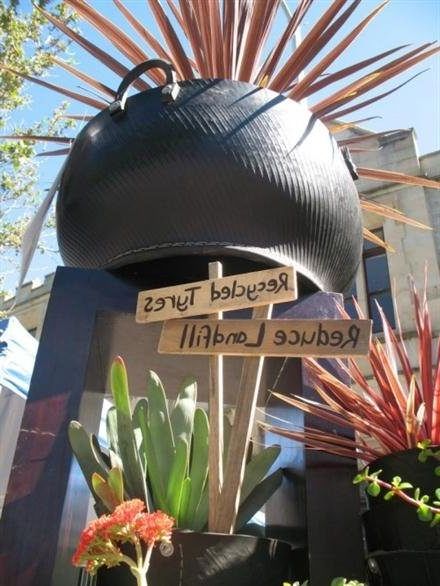 They are especially recommended for planting all kinds of succulents and shrubs; plants that can also be combined to give a greater visual impact.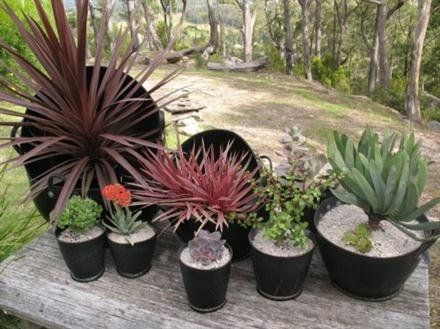 They can be used alone or combined in different sizes, since either of the two options are striking and the ways to include them in your garden will only depend on the creativity of each one and what you want for your space.