How beautiful the Earth looks on a map! Whether historical or current design, its charm is transferred to all kinds of accessories.
Any ideas
On walls. If you have space, bet on real maps, murals, wallpapers, vinyl … because all of them in large format offer impressive views. Find examples on the Tenvinilo and Printed Space websites. In mini spaces, the wall can be decorated with a composition of several framed maps. By the way, not all of them have to be world maps, they can be of cities or continents, among others. Customize. The maps have an unusual pattern, nothing to do with flowers, stripes and geometric patterns. Take advantage of this uniqueness to turn furniture and accessories you have at home into unique pieces: reupholster an armchair, renew a lamp shade, cover a table or a wardrobe… Globes. They have the advantage that they fit almost anywhere. On a sideboard, the fireplace, the desk or a shelf. Spectacular for their design, those of the Räthgloben brand, for sale in Astroshop. Some objects have great evocative power. An old oar, a float or an old compass add a unique marine stamp to the decoration.
Between seams
Join this trend and design your decorative details. Find a fabric by the meter with a map print —in Pieces and Fabrics, Saymi Confection and Divine Fabrics they have several models— and make cushions, a tablecloth or a table runner; or line boxes, albums and filing cabinets.
Map collage paper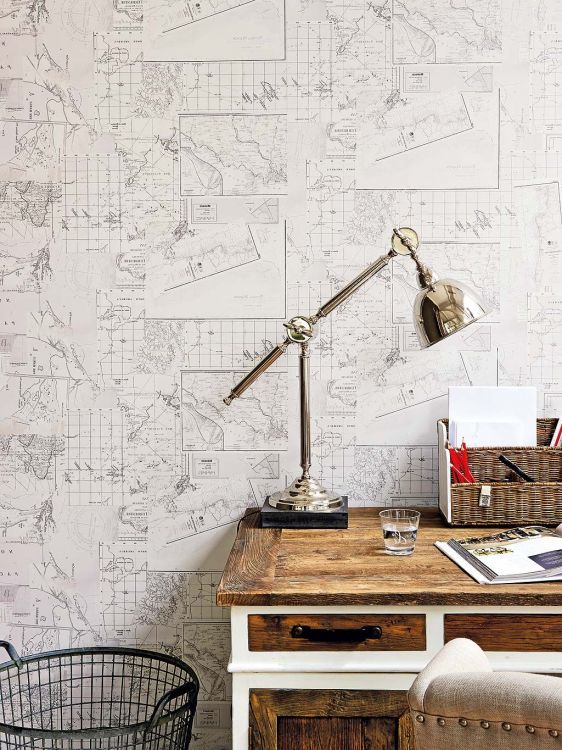 Continents, cities, islands, oceans, mountains…
cartography has endless motifs that can be adapted to decoration. The most detailed and in gray tones print a more sober air to the environment. Perfect in study and work areas, like this map collage that makes up the Oceans Vintage 2 wallpaper (€59.95/roll). Governor lamp (€359) and Redington desk. Everything from Riviera Maison.
Gift wrap with maps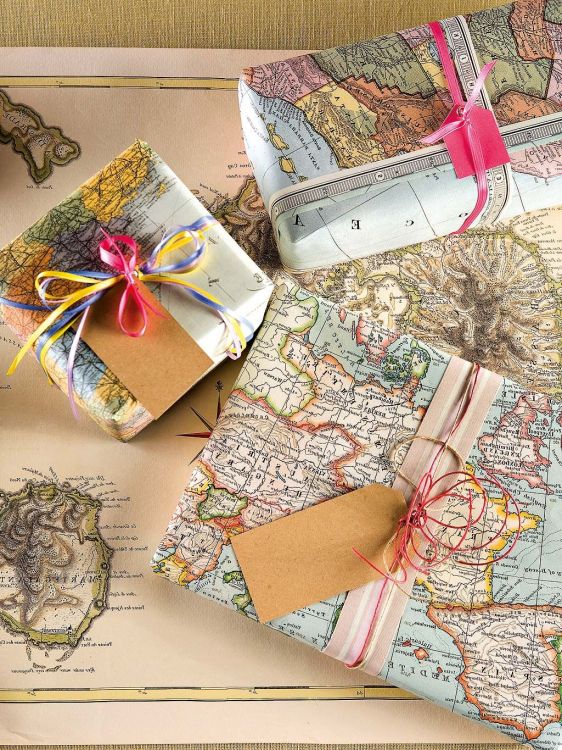 Maps are educational and decorative, but they are also paper and you can use them as such. For example, as very special gift wrapping. If you want to surprise or decorate with creative decorations, in the maps you have many options: origami figures, bookmarks, passe-partout, decoupage… Gift wrap with maps, different models (from €18.90 on Zazzle).
Tapestry with maps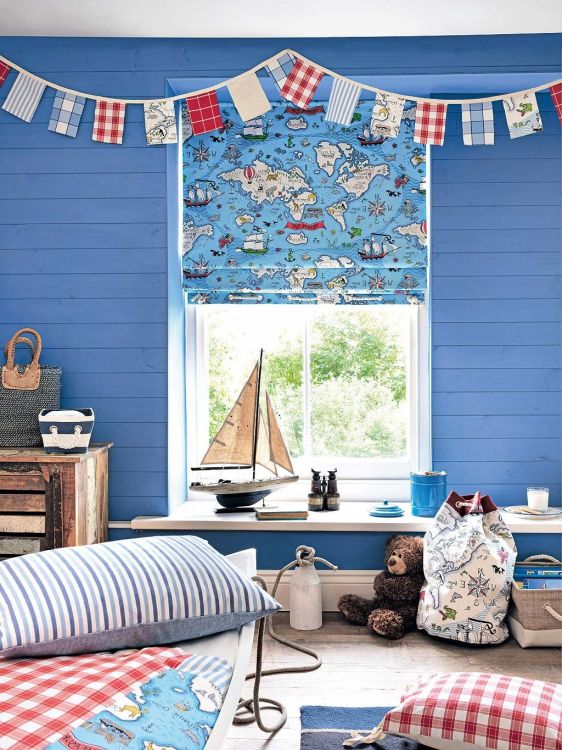 Its visual impact on decoration is enormous, as long as its surroundings make it stand out. Who can resist the curiosity that their motives arouse? From a young age, maps capture our attention if their design and color are appropriate. In this children's bedroom, the window captures all eyes, between the walls of an intense blue.
On the blind, the Treasure Map Sea Blue upholstery, by Sanderson (€51.36/m in Gancedo).
Painted paper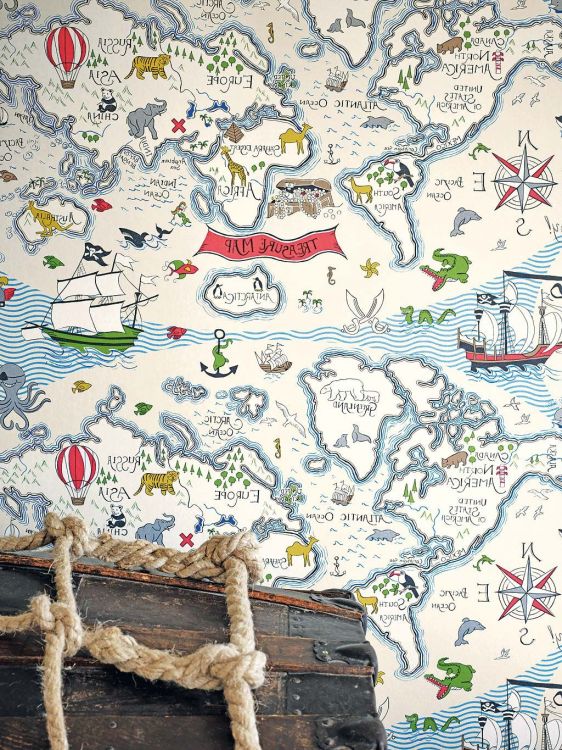 On a large surface, they look spectacular. Whether in a children's room, behind the sofa in the living room
or on the wall of the headboard, the maps have charm. Choose a design and a color palette according to the decoration. Paper from the Abracazoo collection, from the firm Sanderson (€70.91/roll at Gancedo).
Cotton scarf with map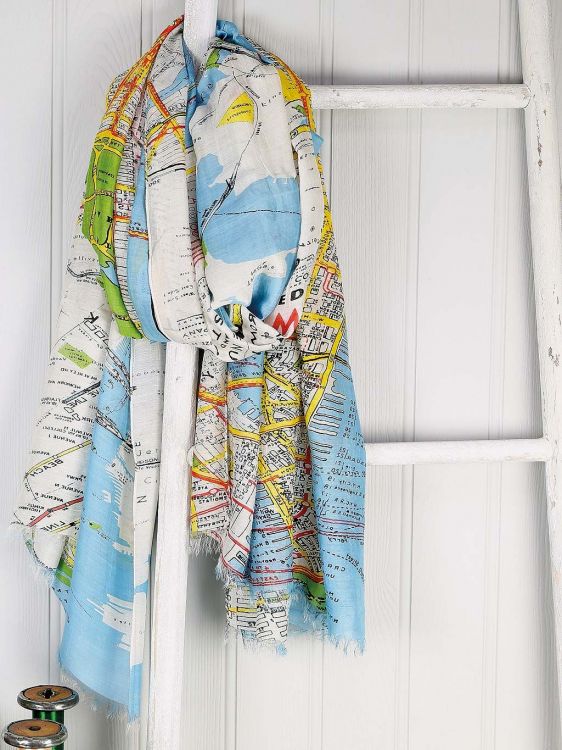 Fashion and decoration go hand in hand. A map of New York City is irresistible on the catwalk, on the street and at home too. Turn such a chic scarf into a decorative accessory. Stylishly placed on this staircase, it adds an extra dose of femininity to the setting. Decorating with hats, bags and necklaces is in fashion; arrives
the turn of scarves as special as the New York City model, by Lisa Angel, in cotton (€27.94).
North Pole Map Duvet Cover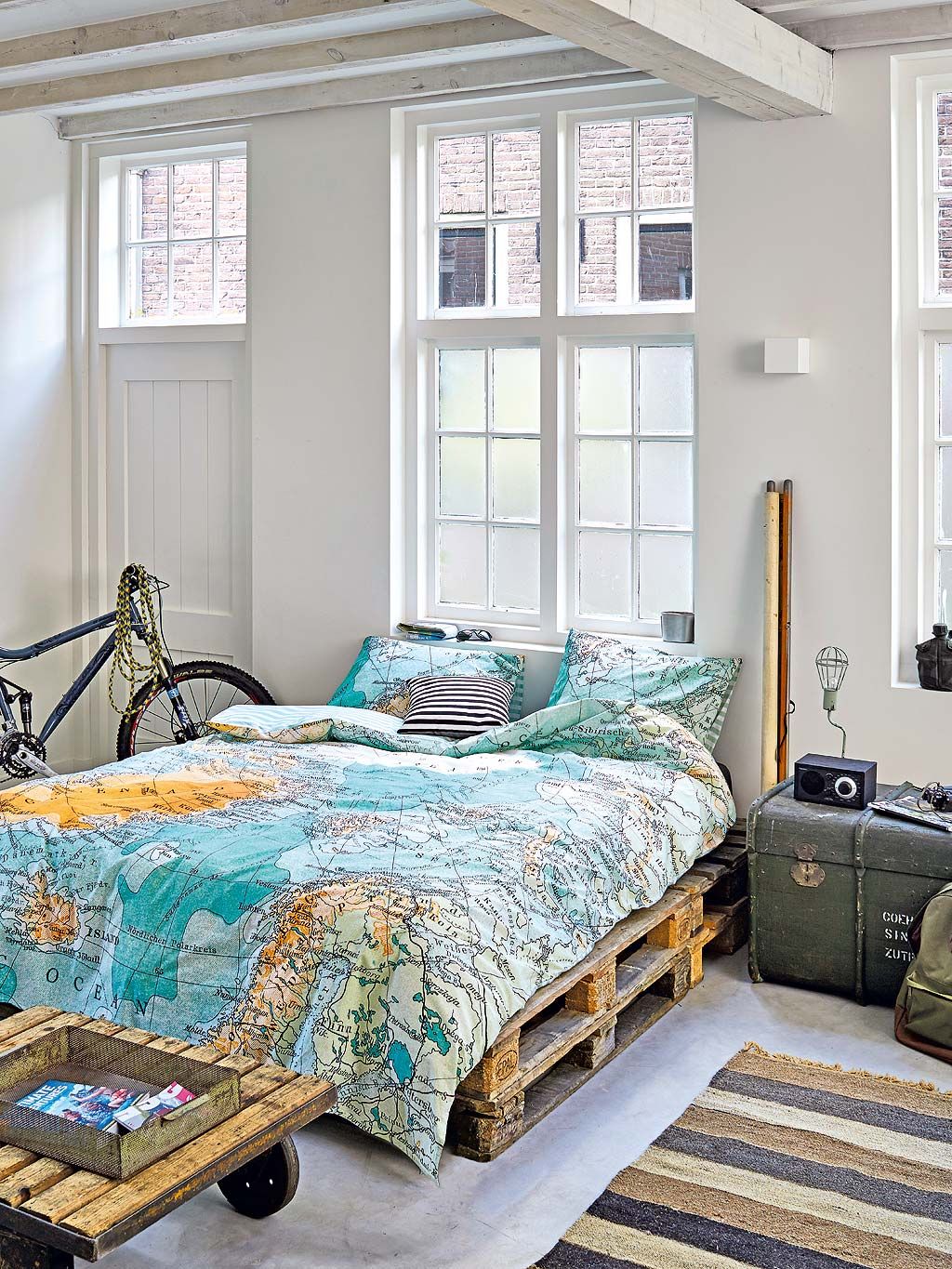 Maps invite you to travel, but they also have the gift of evoking your last vacation and making you smile. Get involved with one of them to dream about your next trips and be a little happier. This bedroom gets an adventurous air with super original bedding, which shows the map of the North Pole. North Pole Multi duvet cover, by Covers & Co, in cotton (from €39.95 at www.essenzahome.com).