It is natural that children's preferences change minute by minute, it is part of the fun, but when it comes to decorating children's bedrooms, it is impossible to update them to reflect the tastes of the little ones constantly. An exhausting task and also very expensive. The market is constantly inundating us with rapidly changing products and fashions, and children are the favorite targets of ruthless marketing.
The characters of films and cartoons are kept at most one year in the marquees, it is impossible to be adapting in such a hurry. That is why we offer you some fundamental tips to design children's bedrooms that accompany the growth of your child and that in turn express their personality. They are perfect bedrooms for children from 6 to 10 years old approximately.
Timeless classic furniture
Especially when we plan the arrival of our first child, we do not want to skimp and we want to create the most beautiful of rooms to await him. It's easy to be tempted to buy that trendy, original and flashy baby furniture. The point is that in a very short time the baby will stop being a baby and those beautiful furniture will be totally inappropriate. For example, instead of buying a small bed, it will be better to invest in one that adapts or instead of a small wardrobe, it is more convenient to opt for a wardrobe with good storage space for the future.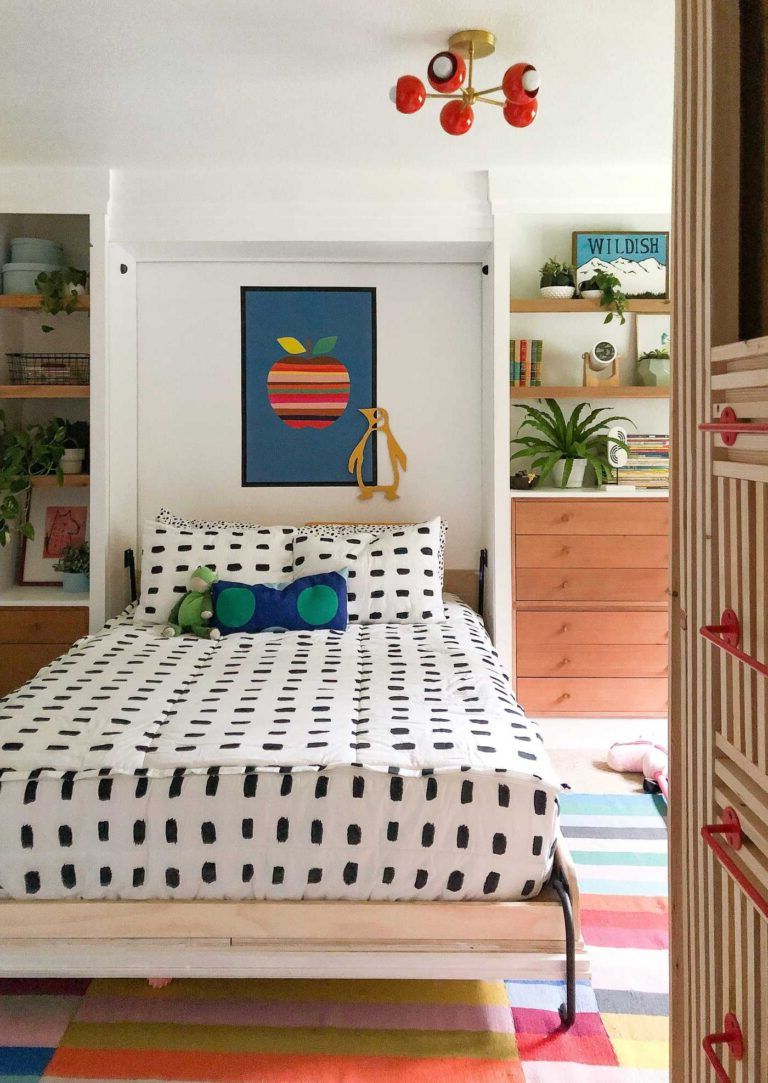 Furniture for all needs
It is also very important that as soon as they become aware, they find in their bedroom everything a child needs to play, but also to study. That's why it's important that your room is stocked with study furniture and a place to put your books. It is also recommended to have many storage places for toys, as this will greatly facilitate order in children's bedrooms.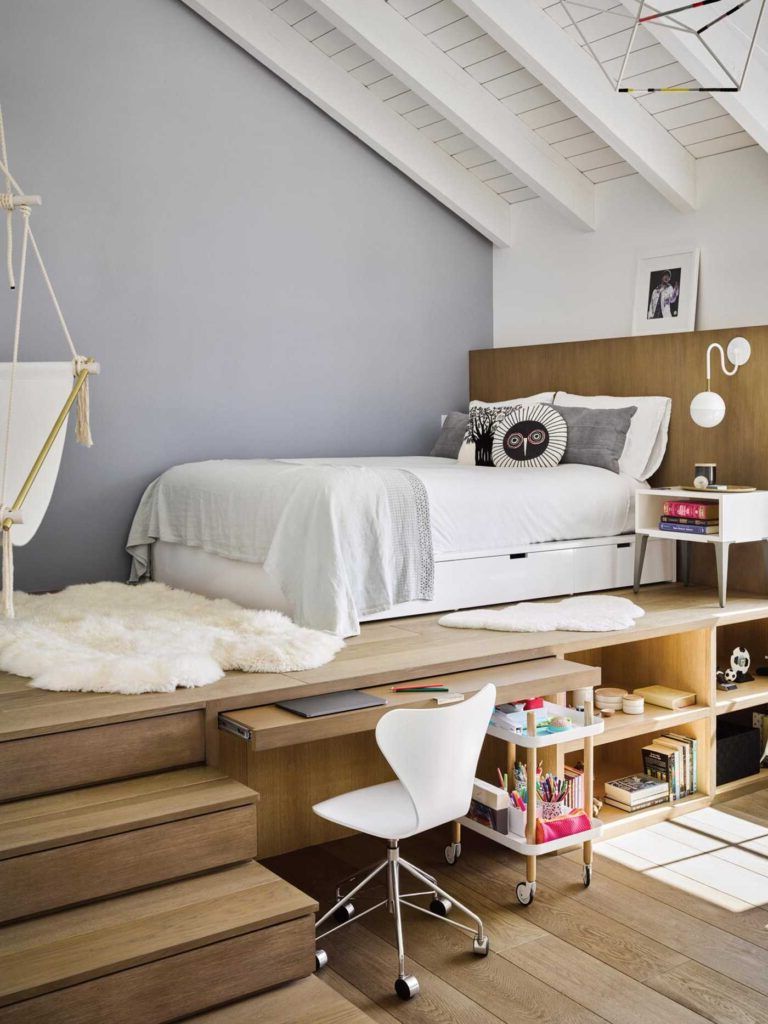 Multifunctional furniture in children's bedrooms
Furniture designed to be used for different purposes is ideal, taking into account the different stages of growth and therefore the different needs of the child. That is, instead of buying a traditional diaper changing table, it is advisable to buy a dresser or a desk that can be equipped with a padded changing table. This way it can be used as a changing table for as long as needed and then the child will have a desk to do their homework once school starts.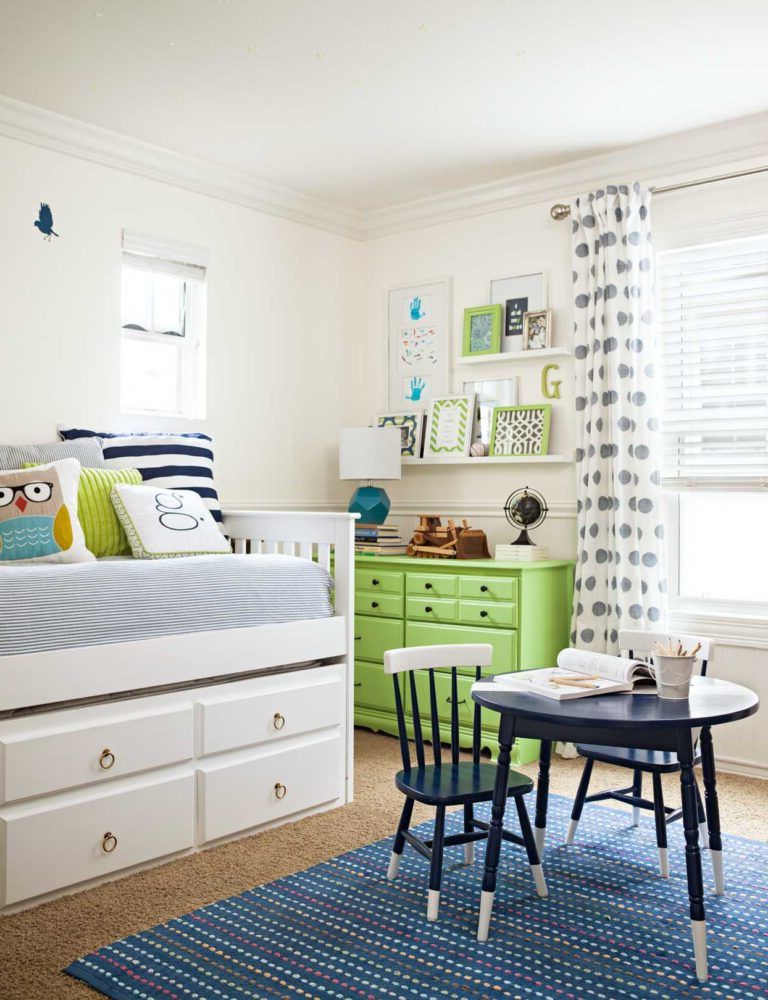 In the same way, when choosing a bed, in addition to making sure that it can be adapted to the child's growth, you can opt for those that have built-in storage space underneath. The huge amount of toys that accumulate in the first years of a child's life is incredible, you better prepare yourself, all the additional options to have the room clear and tidy are welcome.
Furniture for small children's bedrooms
In the case of small children's bedrooms, it is best to opt for multifunctional furniture, which offers several solutions at the same time.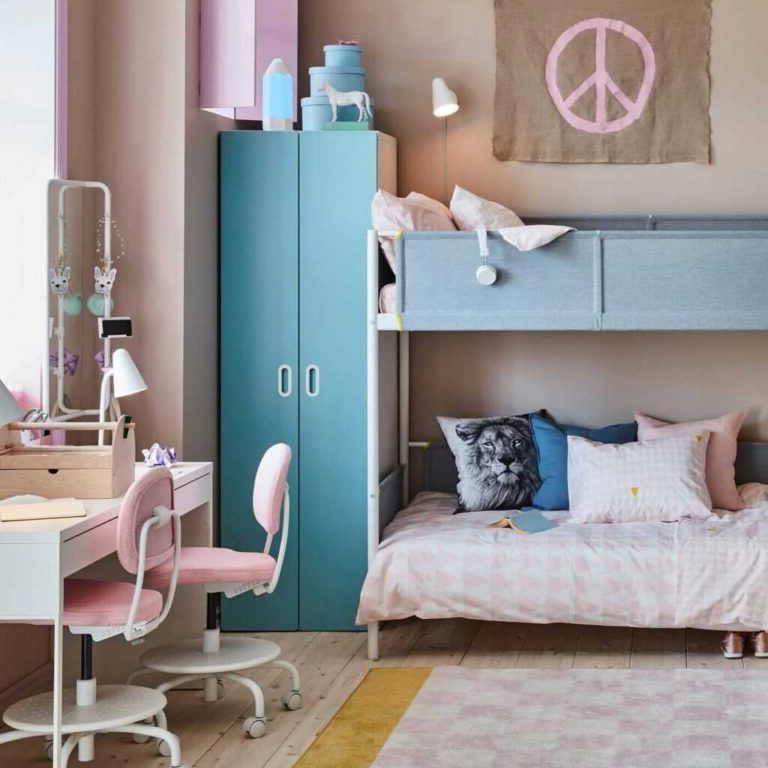 A bunk bed is one of the oldest solutions to save space, and it is still a perfect solution to maximize it. For example, this modular system, with a low bed and a loft bed, offers the perfect solution for a narrow space. Its bottom drawer can be used as a storage box or trundle bed.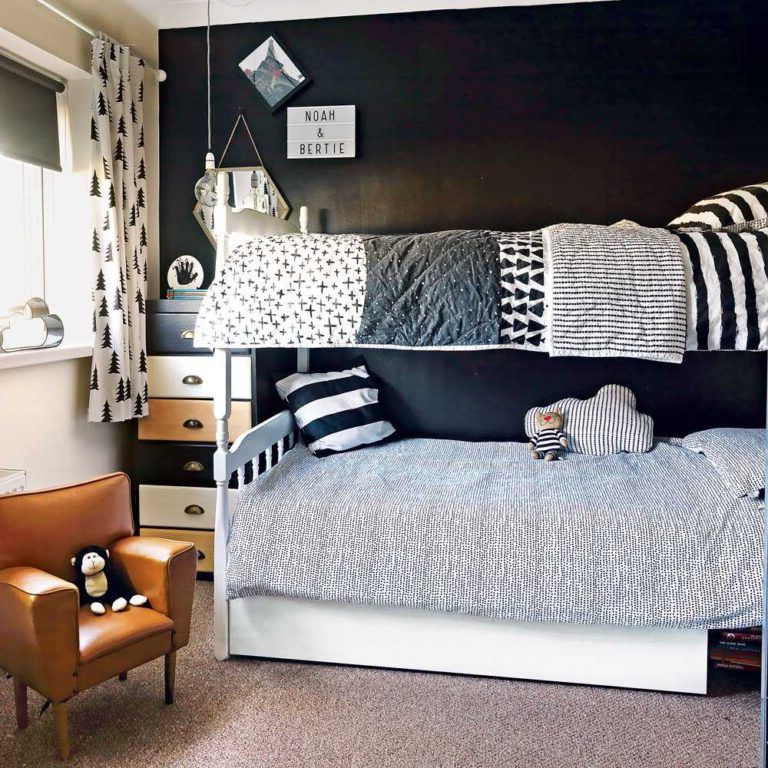 The bunk bed system has solved several problems in this room. Built-in shelf space is provided under the loft bed, as well as space for a table and chair. It also hides a storage cabinet at the foot of the bed.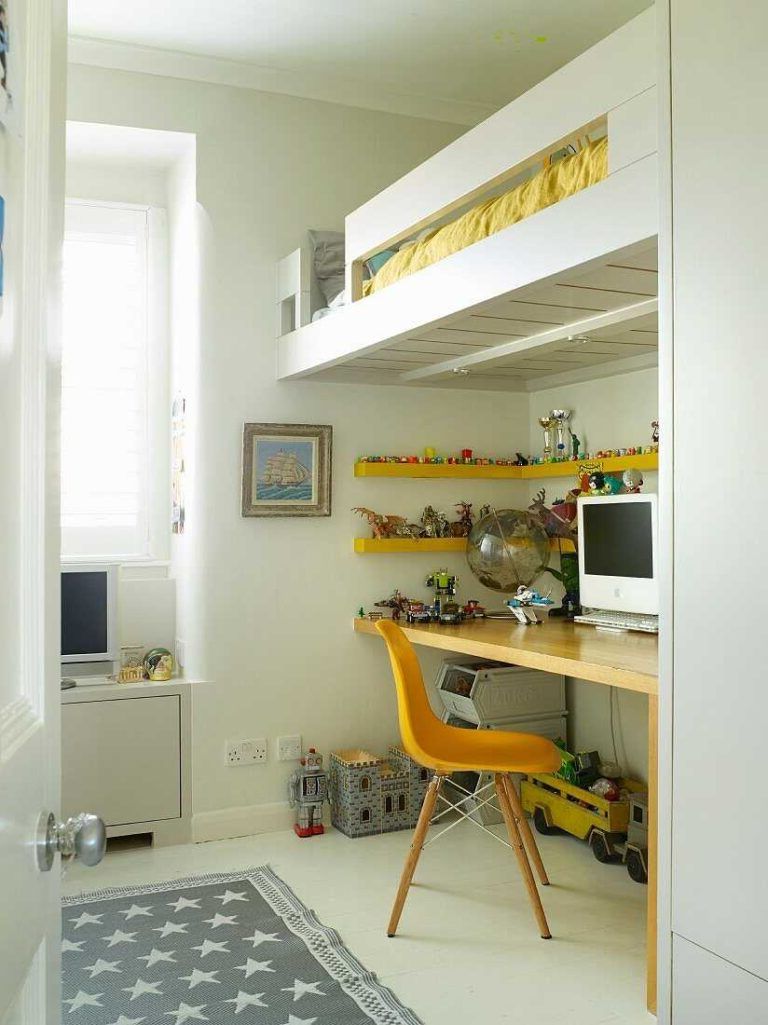 In a shared room, the spaces must be multifunctional and the upper bunks can be a great dilemma when it comes to lighting. The installation of a reading light on the wall would be a solution. To illuminate the entire room, pendant lights are also functional. They can visually diminish a high ceiling while adding extra flair to the room's décor.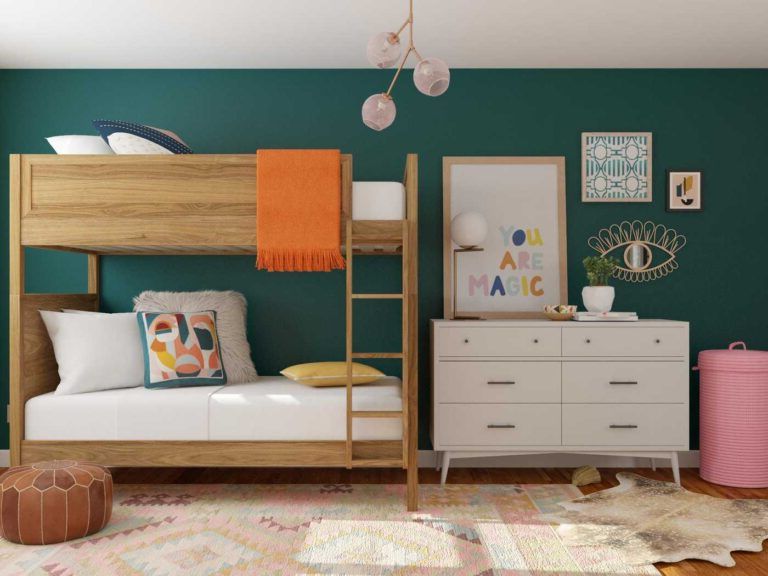 A closet, hidden under the loft bed, can easily store the sisters' clothes. It also leaves room for another bed.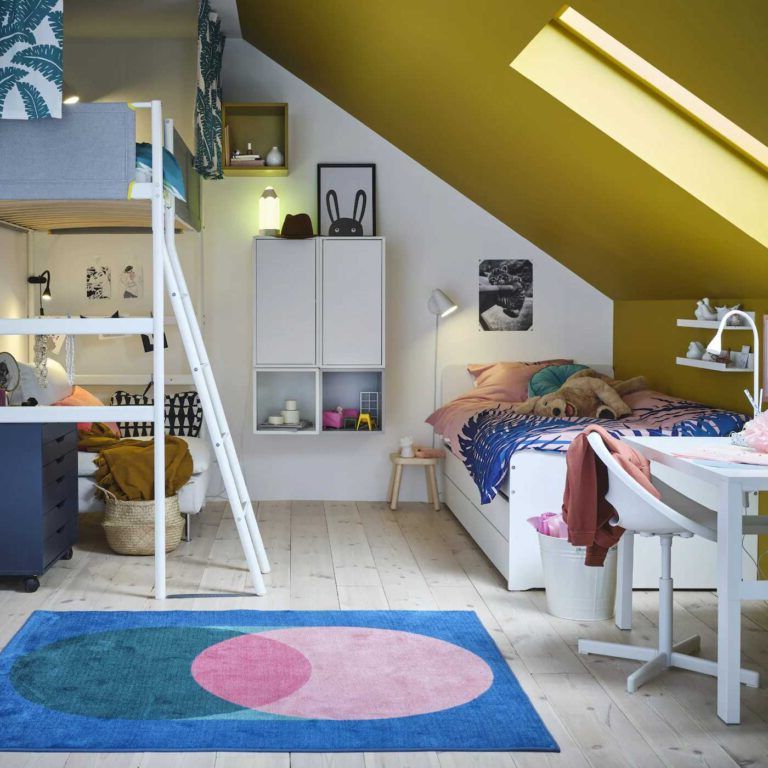 The space under the bed not only works as a storage space, but also as a play space.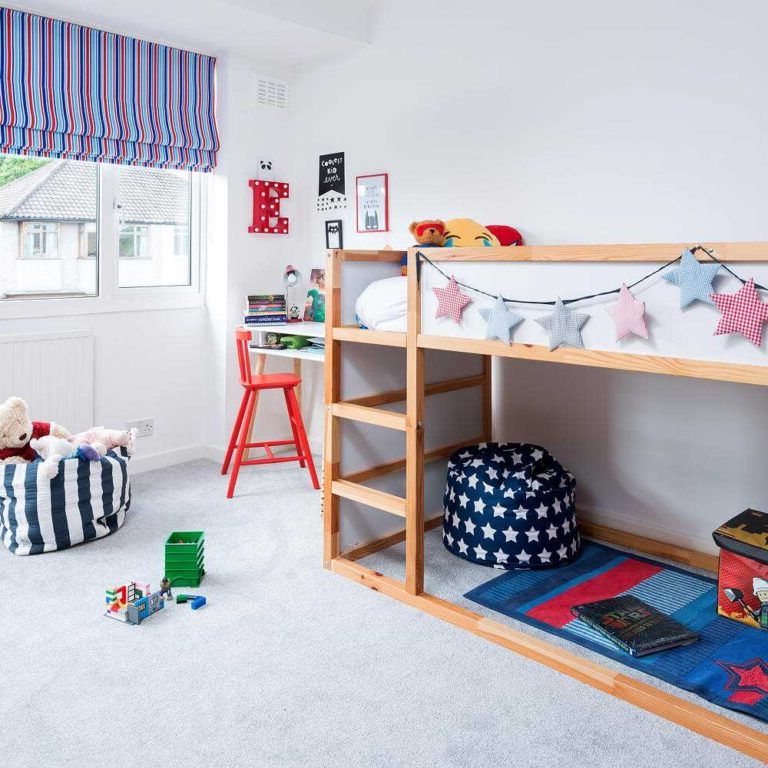 To maintain the feeling of open and wide space, the furniture can be white, giving amplitude and visual space.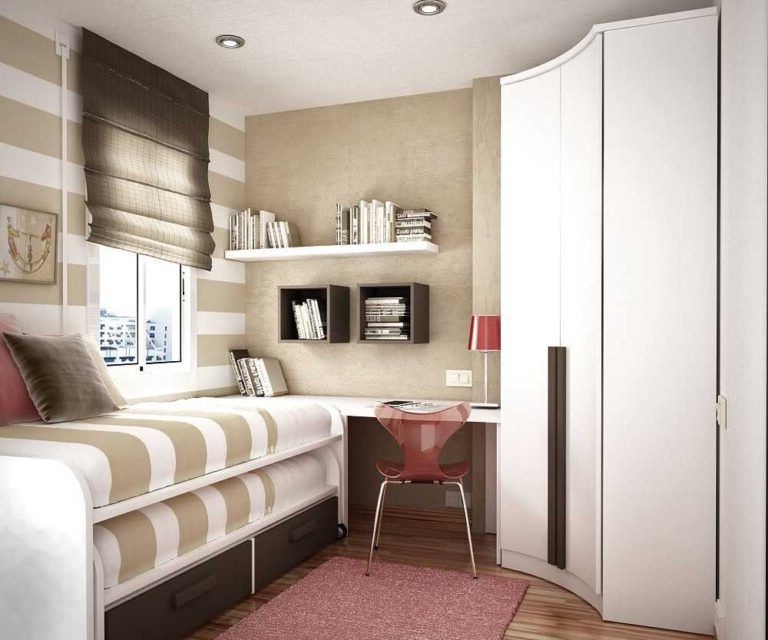 Storage possibilities are everywhere. Virtually every piece of furniture in this room includes storage. This modular system offers easy access to the beds and also blends perfectly with the room's décor.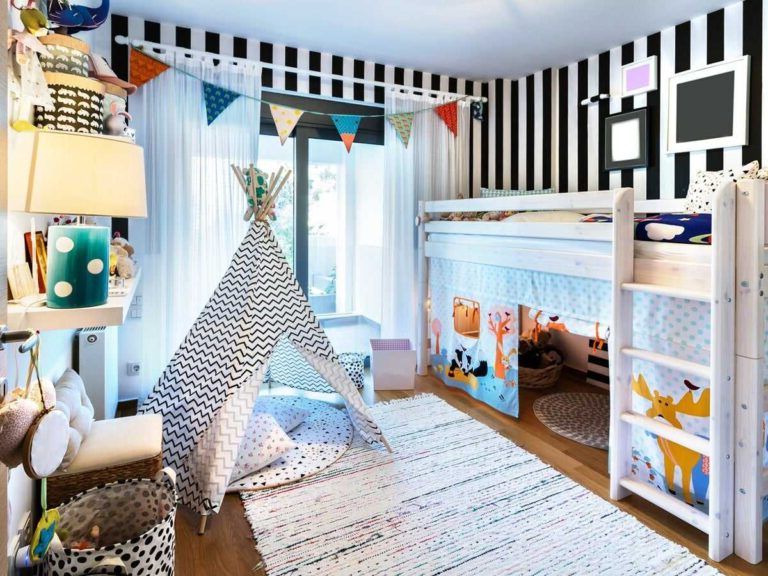 Themed beds in children's bedrooms
Decorating children's bedrooms should be something that should be done together with the children since they are the ones who are going to spend the most time in this place. Asking children is paramount.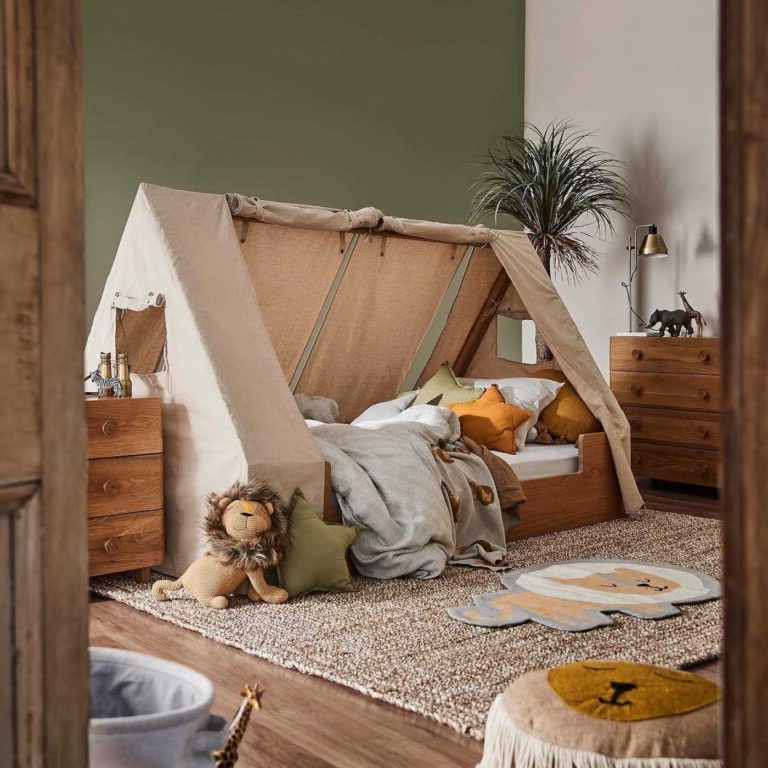 For example, if the child likes nature and camping, it will not be difficult for you to find a suitable decoration, since there are many easy-to-get elements that you can incorporate into the decoration, for example a bed with a tent on top.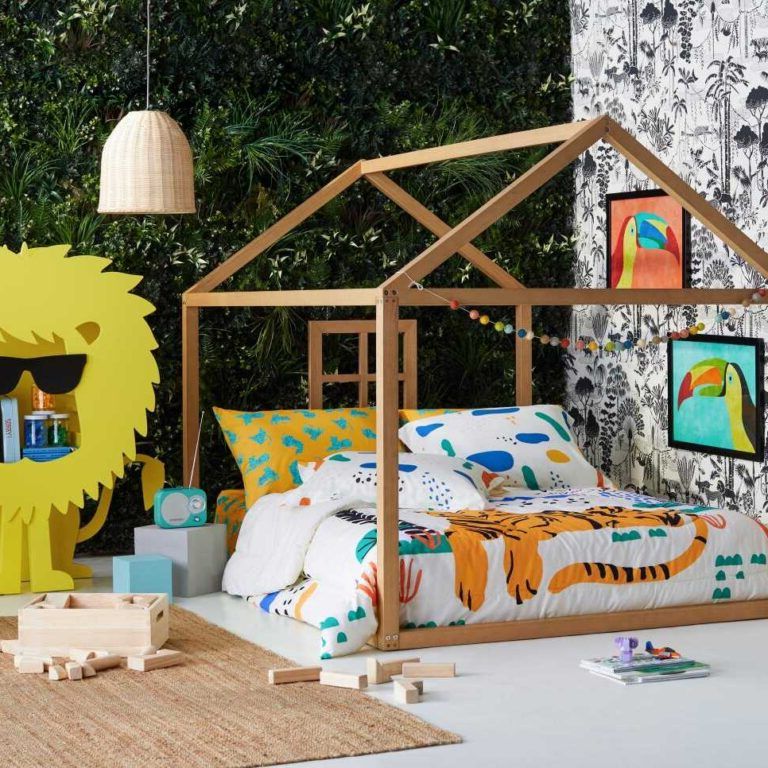 Beds with storage below
If you don't want to go for a themed bed, then you can go for a regular bed, but with storage drawers underneath. Remember that children tend to accumulate a large number of objects, toys, clothes, to the point that it always seems that we do not have enough space to store their belongings.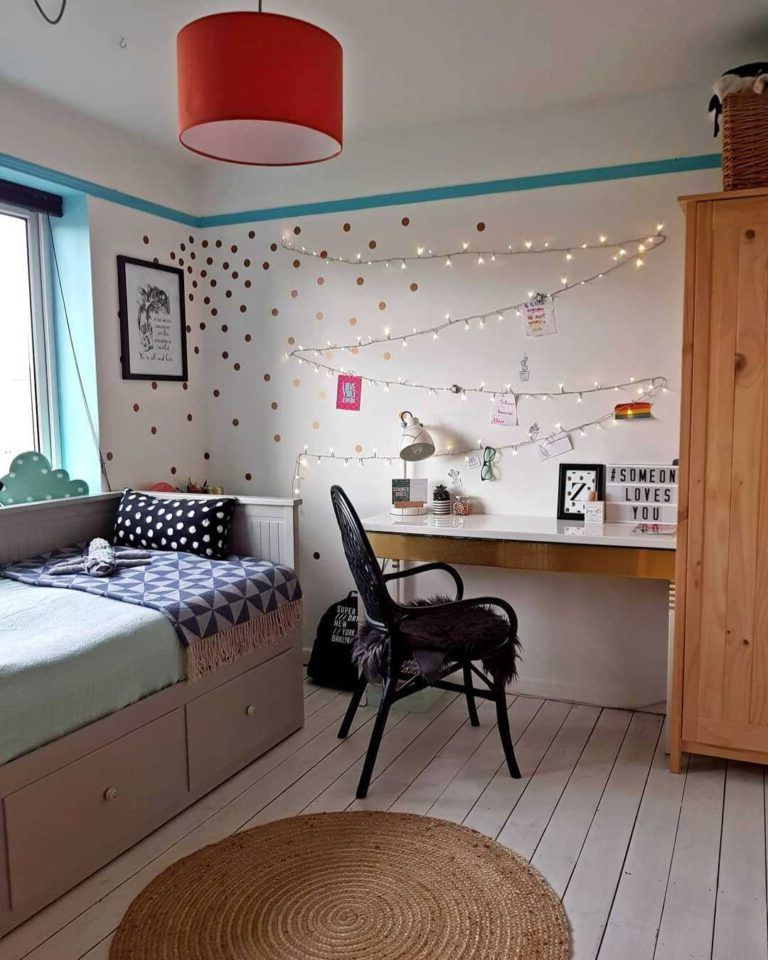 In what objects to invest more money?
Price + classic is a good rule to follow. If you're going to spend a significant amount of money on something, make sure it won't look out of date quickly. If you want to follow the latest trends, let it be in those objects that can be easily replaced when they are out of fashion, for example curtains, rugs, blankets, cushions, lamps and the like.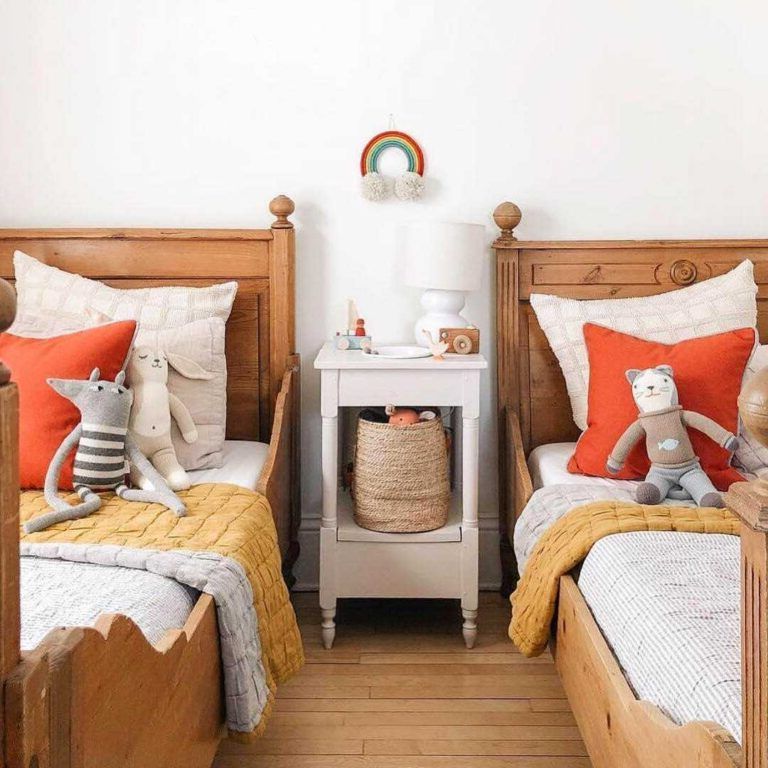 In every project there are areas that must stand the test of time, such as floor coverings, furniture, and wall paint. Instead of painting the nursery walls pink or light blue, choose colors that won't bore you easily. Warm and welcoming colours, good quality furniture and classic design, floors made of resistant materials and a neutral appearance that go with everything.
How to give personality to the child's room?
Not because you have opted for the neutral in the most important objects in the room, you think that the room may lack style and personality. On the contrary, it is their own space and they should be encouraged to use it to express who they really are. These touches that reflect your tastes and personality can be incorporated into accessories that can be changed as easily as your interests change. Allow your child to choose a few decorations, (not too many, to try to keep the mess to a minimum), it is good that the child feels involved in the design process.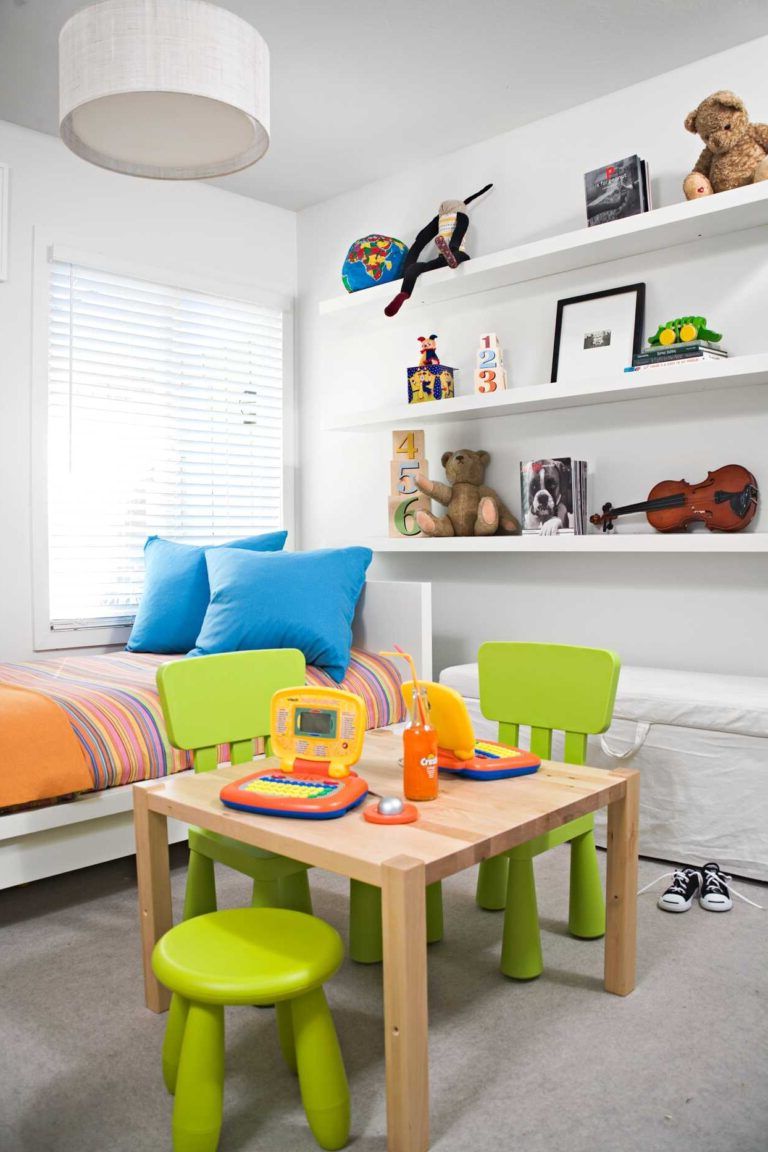 In short, when it comes to children nothing is permanent, they change their favorite colors, their foods, their styles. Why should your room design be an exception? You must be prepared for those change requests. However, by following these tips for designing a room that grows with your child, you can save a ton of time, money, and frustration in the process. Best of all, it gives you the opportunity to respect your child's unique personality.
The child must feel responsible for his room
The bedroom is the area where the child will spend most of his time, so it is essential that he feels comfortable in his space. But at the same time it is important that you feel the commitment and responsibility of maintaining order in your room. It must be clear that despite the fact that this is their territory, it is also part of the house as a whole, therefore from a very young age they must be clear that there are non-negotiable rules.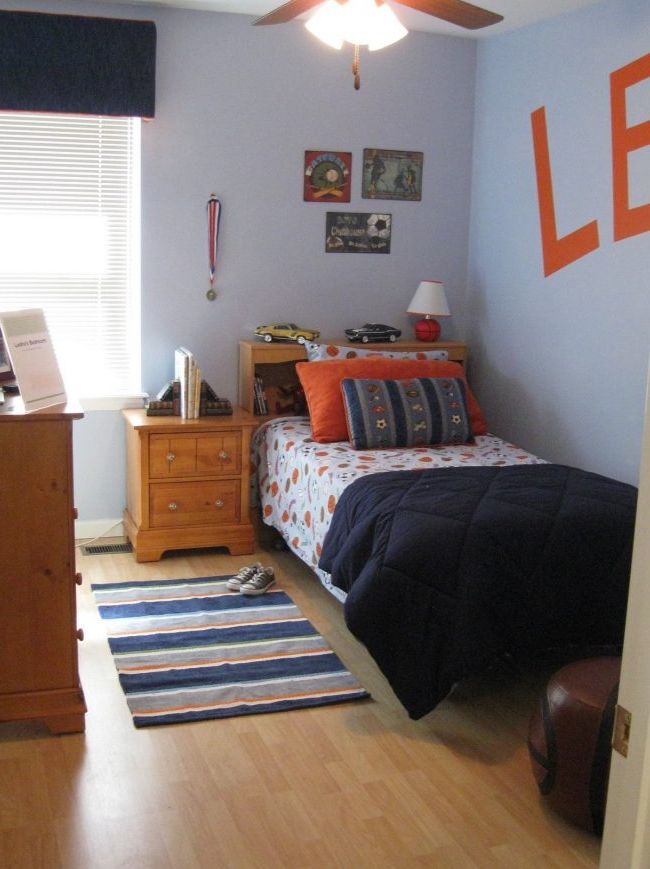 Choose a theme or character for the decoration
The decoration of a children's bedroom is one of the first ways that parents have for our children to live in a balanced and very happy atmosphere. A vital decoration, full of color and fun designs is one of the most effective ways we have to promote the imagination of our children from a young age.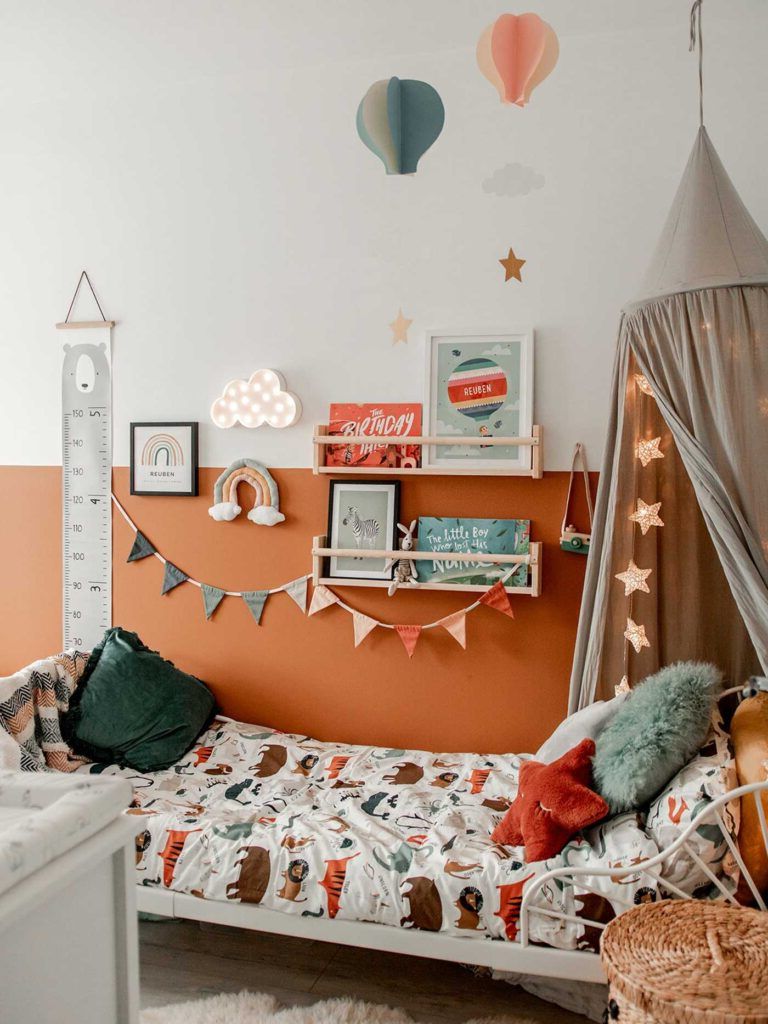 As you will see, modern decoration is based on classic standards, so intense colors and creative designs prevail. Today the possibilities are really endless, since Disney characters and the most diverse cartoons really expand our decoration possibilities a lot. Often becoming the protagonists of many of the children's bedrooms.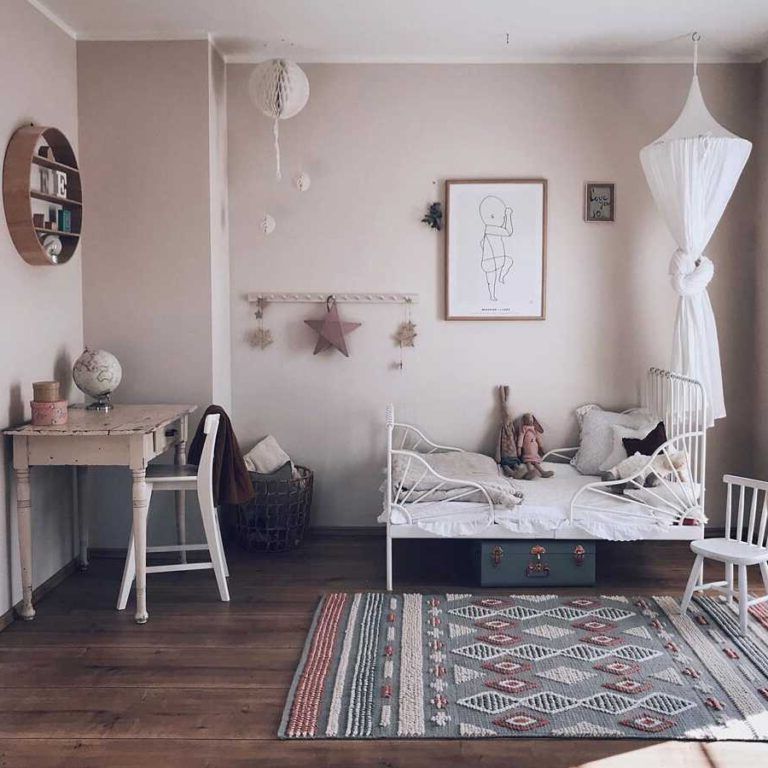 We can choose our children's favorite character and take it to the walls and accessories that give life to this very personal space that constitutes the bedroom. In addition to being an effective space for resting, it is one of the most pleasant places for leisure hours on gray days when playing outside is impossible.
Colors for children's bedrooms
The decoration of our children's room will always require special care, since it is the basis for awakening the child's imagination and creativity. It is very important to use light and bright colors for the walls, bedspreads, cushions, rugs, curtains and furniture, since a cheerful and well-lit room recreates a healthy space for the proper development of the child.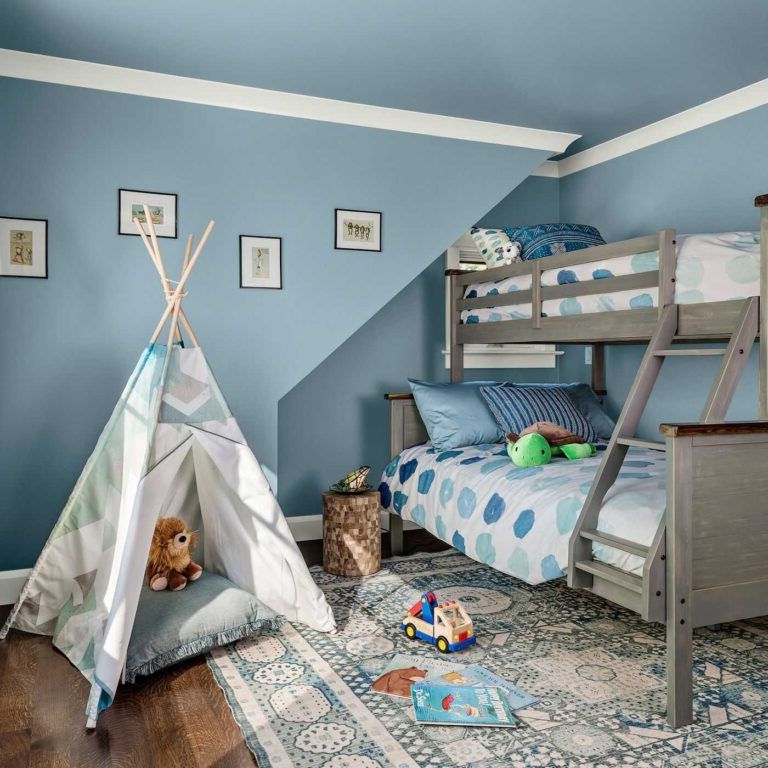 And in turn, we must give privilege to the color of the child's preference, since it makes them very good to feel that they are taken into account. Also, ultimately, they should be the ones who feel good in their own space.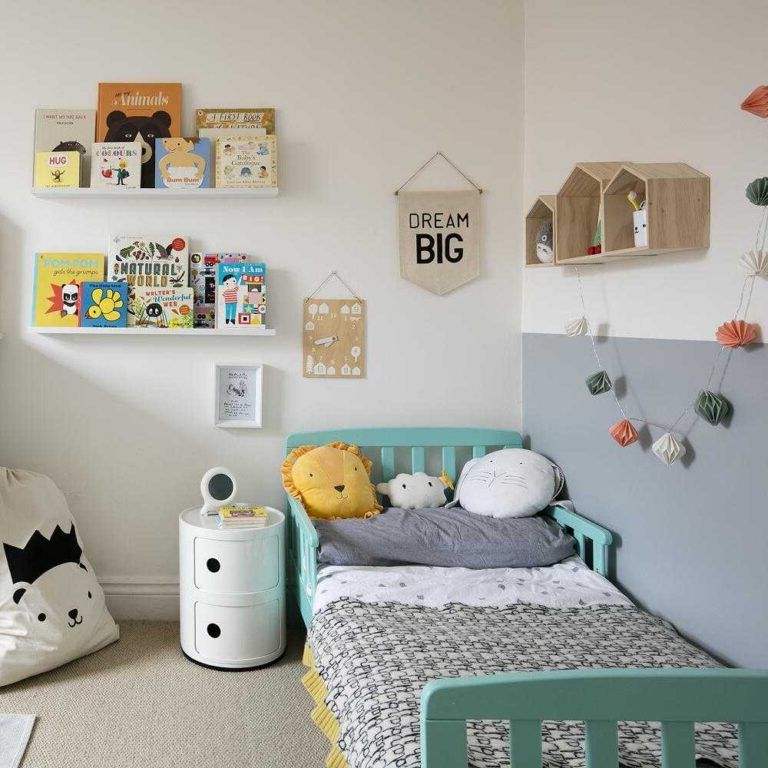 If you want to paint your child's room and you don't know what color to choose, green is a good color because according to feng shui, it is the color of growth and change. Never use colors like red that the only thing they get is to alter it.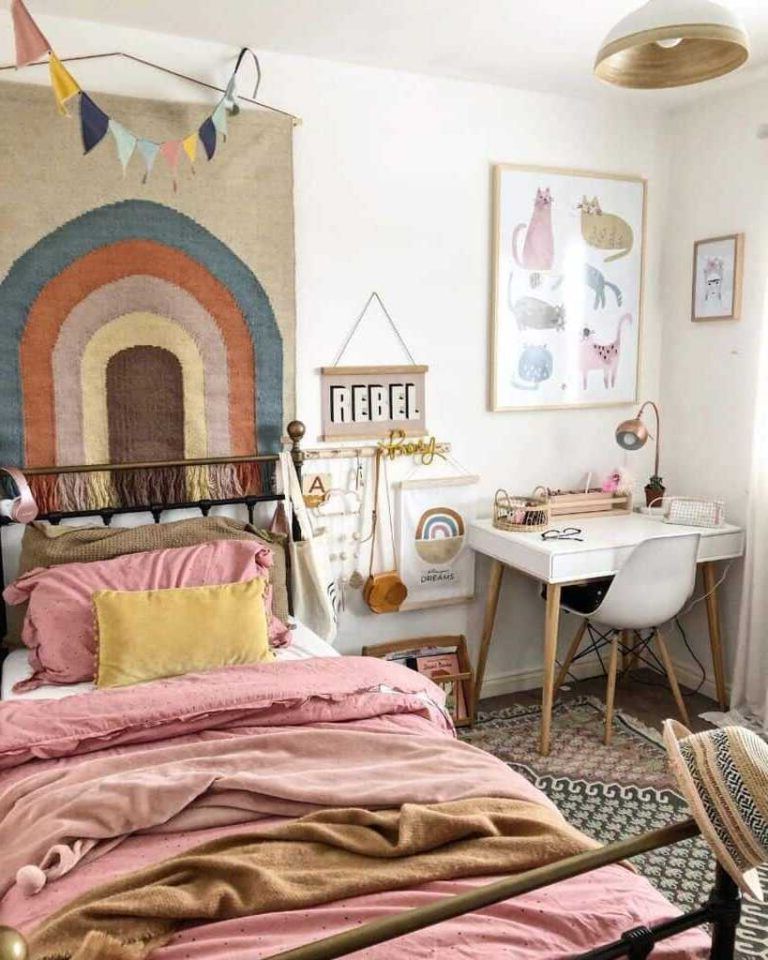 It is recommended that if they are young children, you use more pastel tones, and if they are older, opt for more vivid colors. For children's decorations, it is always very good to add a border with children's motifs, such as their favorite drawings, fictional characters or superheroes. To give the room more life, you can paint the upper part of the border in one color, and the lower part in another.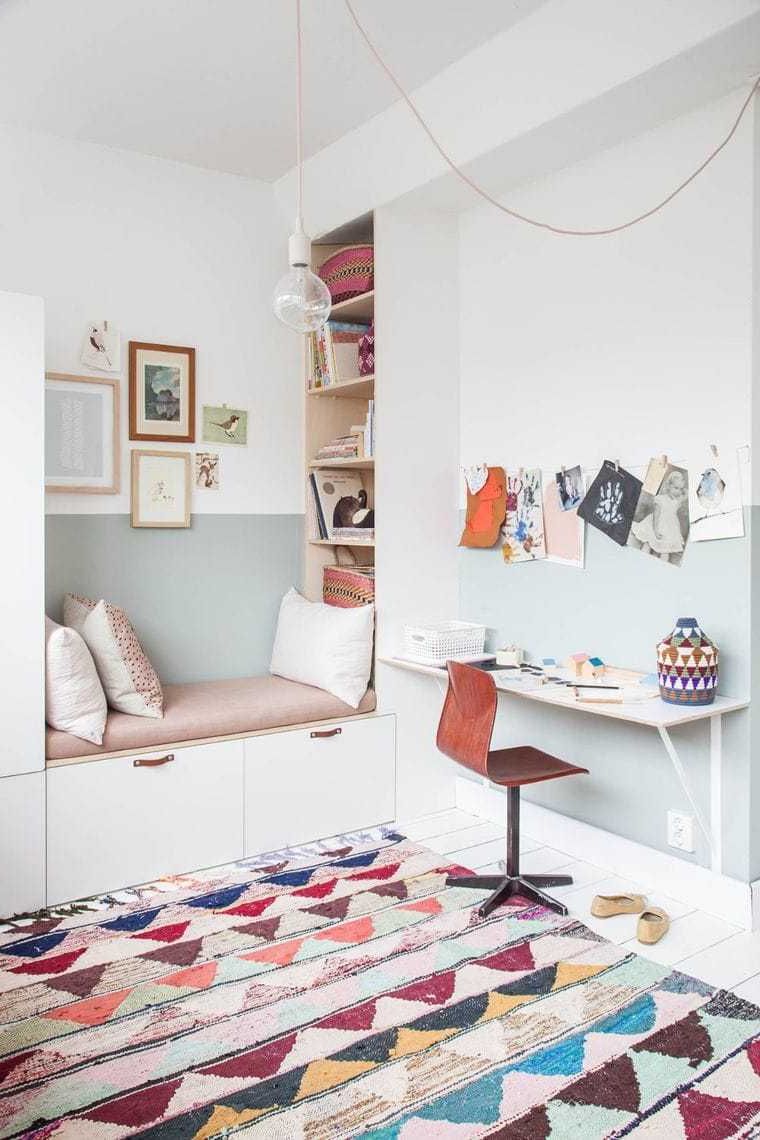 There is a very practical and original option, and that is to place a blackboard wall. On the one hand, the child will be able to express himself as much as he wants without fear of dirtying anything, and on the other, it gives the room more naturalness.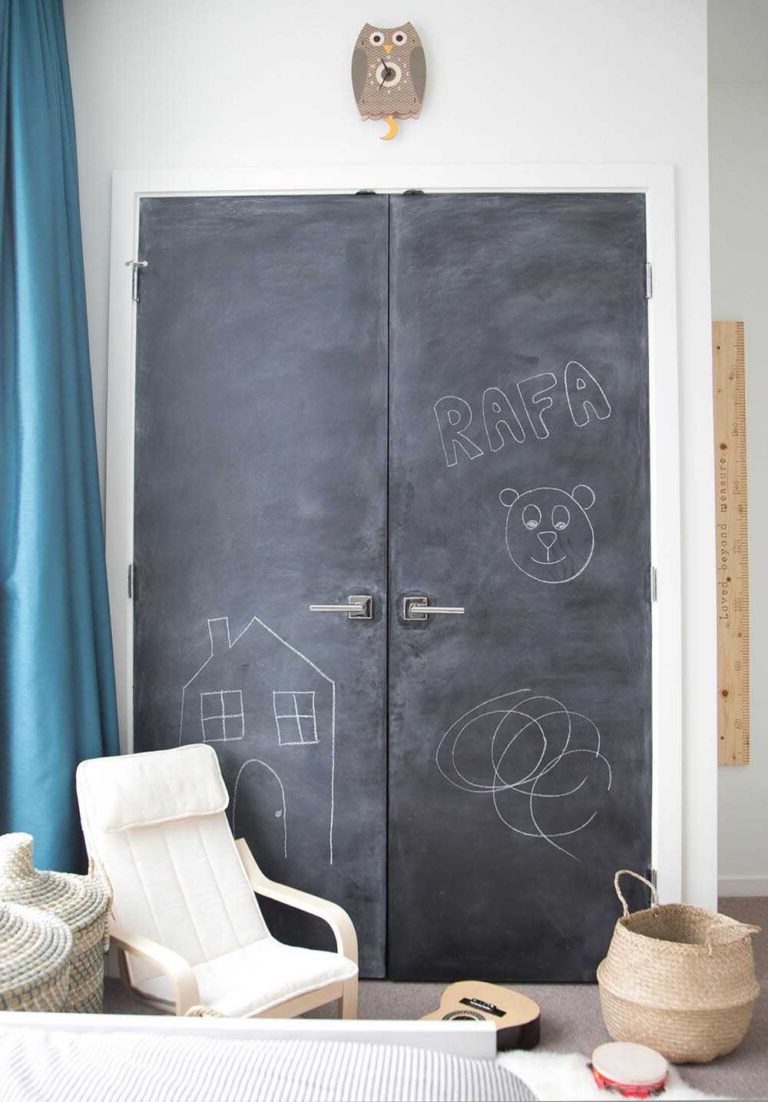 Decoration with animals and soft warm color schemes can be perfect for a baby's bedroom.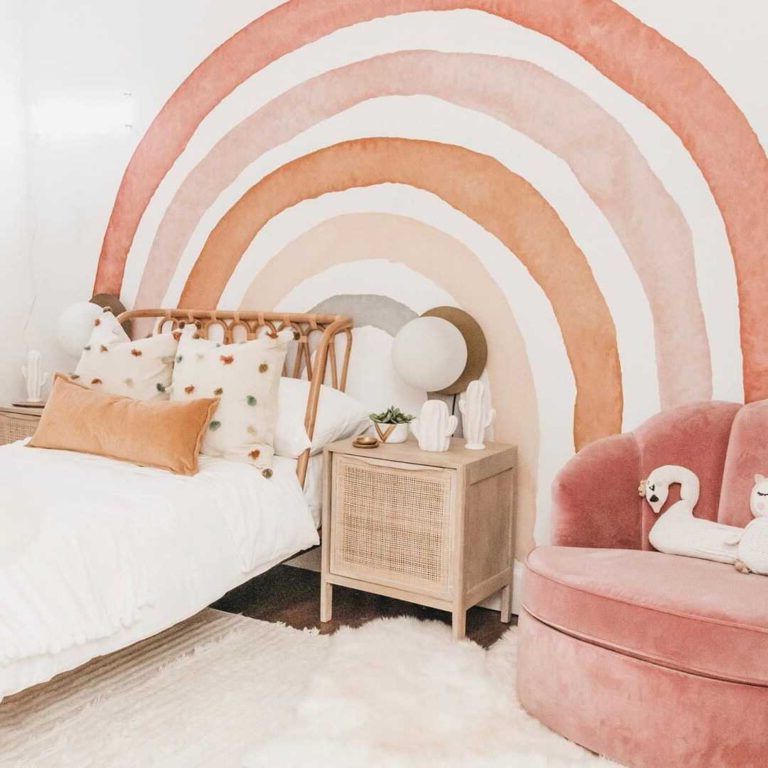 Pastel colors that calm the atmosphere, furniture that gives the bedroom a playful touch and colored boxes to store toys. Keep in mind that for children's decorations, it is good to use light colors or white for the curtains. This will give it greater vitality and luminosity.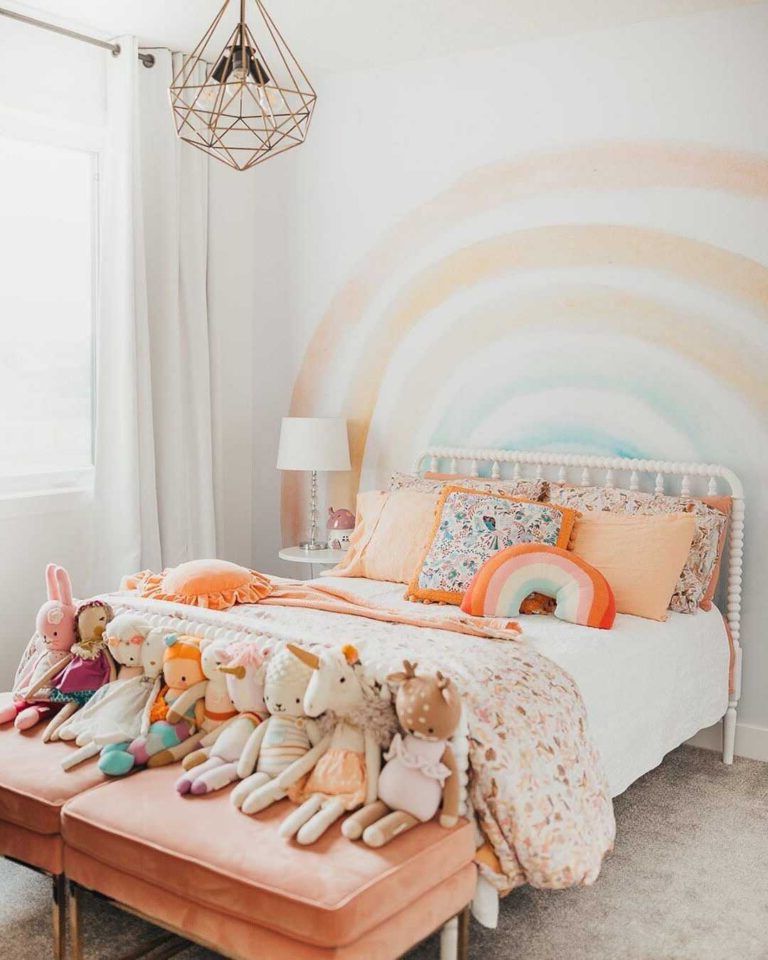 The white color is perfect for older children, who can grow up with that color and only change the furniture in their bedroom. The setting with stuffed animals is ideal for any girl of any age.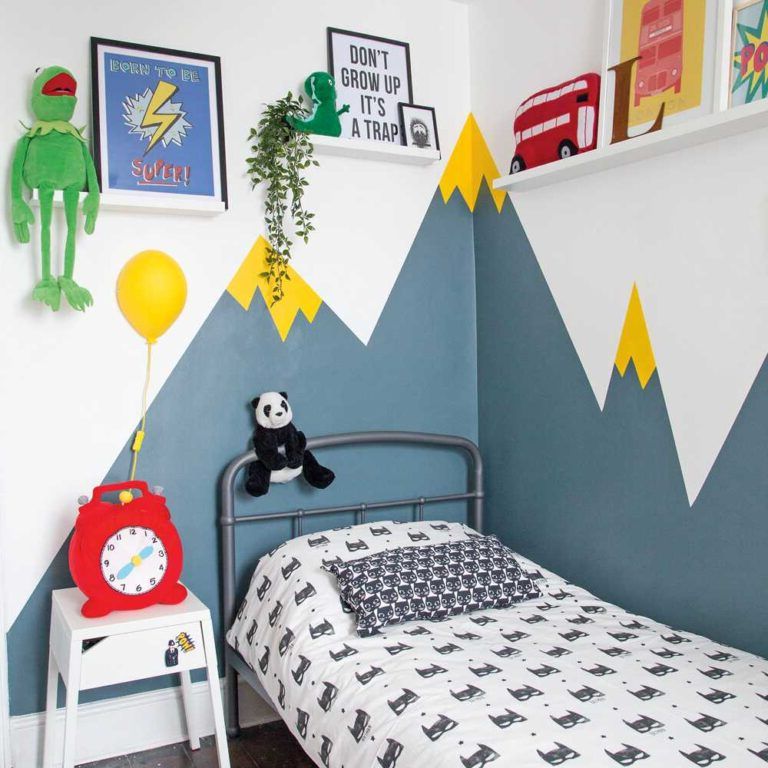 This vintage design can be varied for both boys and girls, modifying the colors a bit. The various drawings of airplanes add a touch of adventure to the bedroom.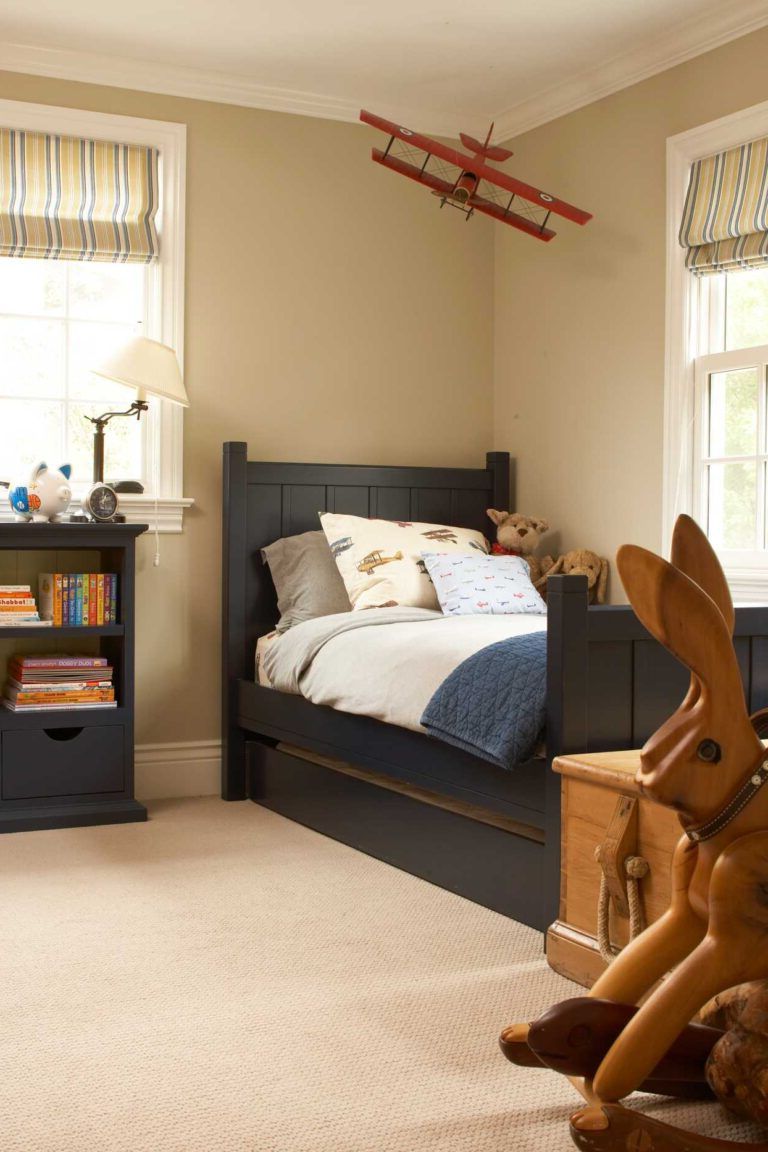 This is a very charming bedroom, very ethereal.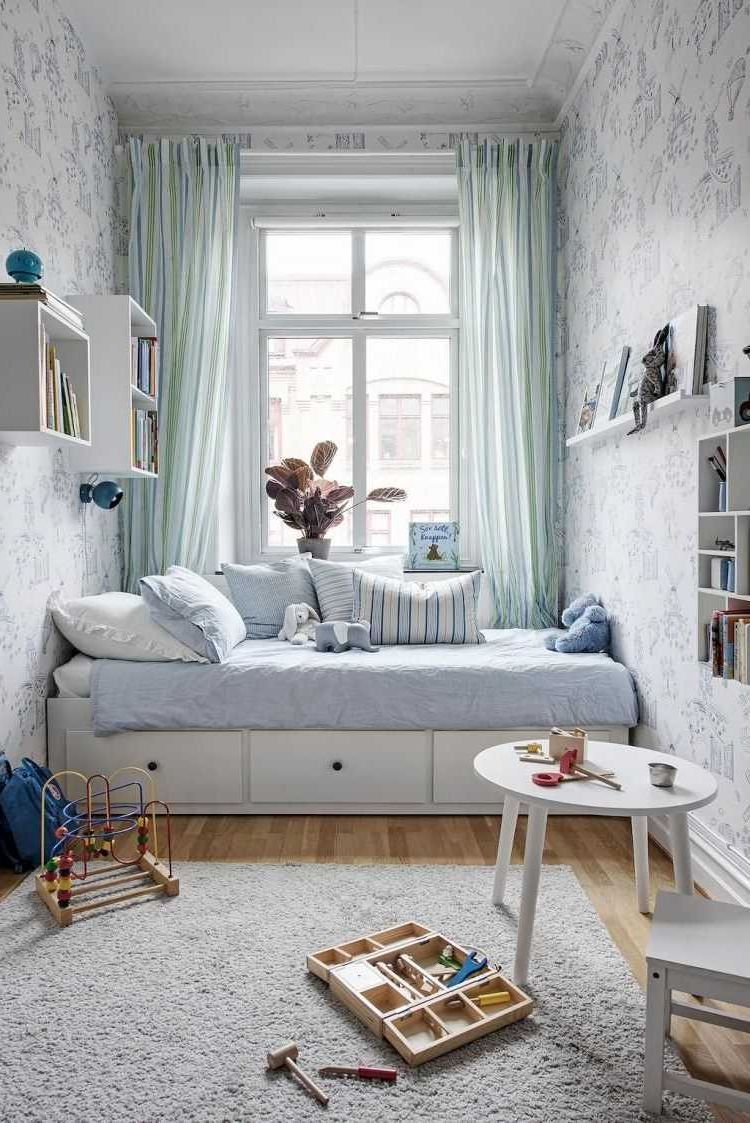 For a pre-adolescent child, painting stripes on the walls can be a very good option.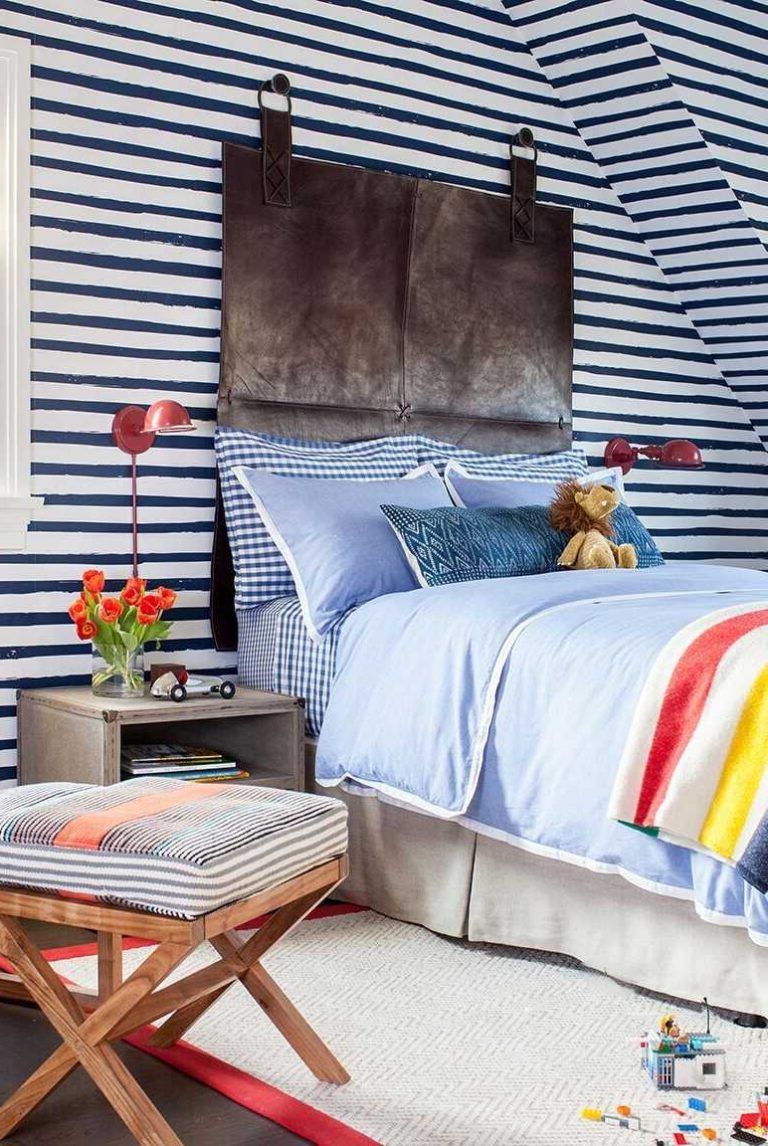 Keep everything in neutral colors with touches of bright colors, a lot of joy and modernity in the style and appearance of the environment.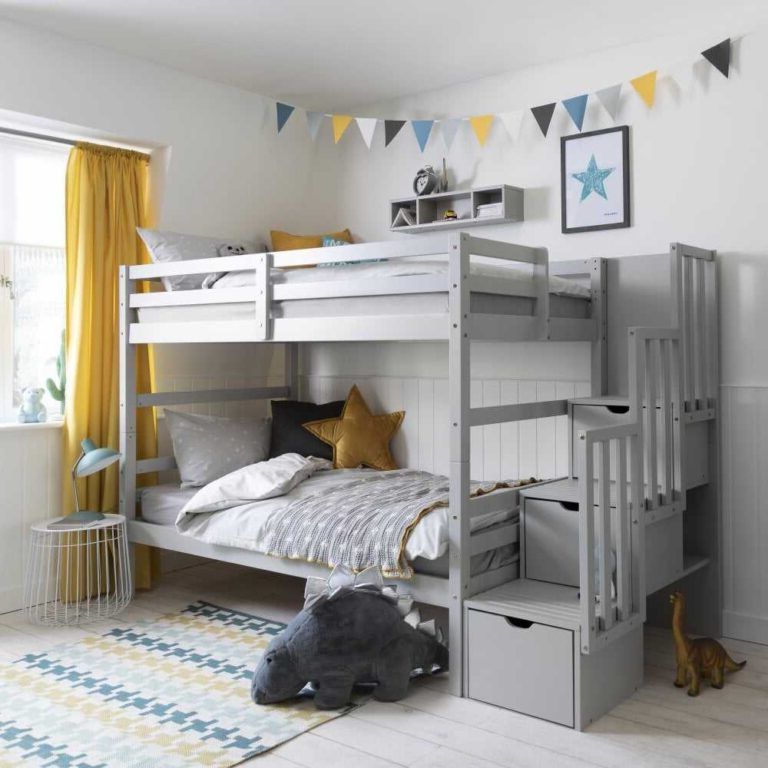 Children's bedrooms for boys
Our children's room can become too childish when they are getting older. It is important to achieve a decoration that can be changed as they grow and make them comfortable with the new decoration, since they are at an age where they already know what they like and what they do not.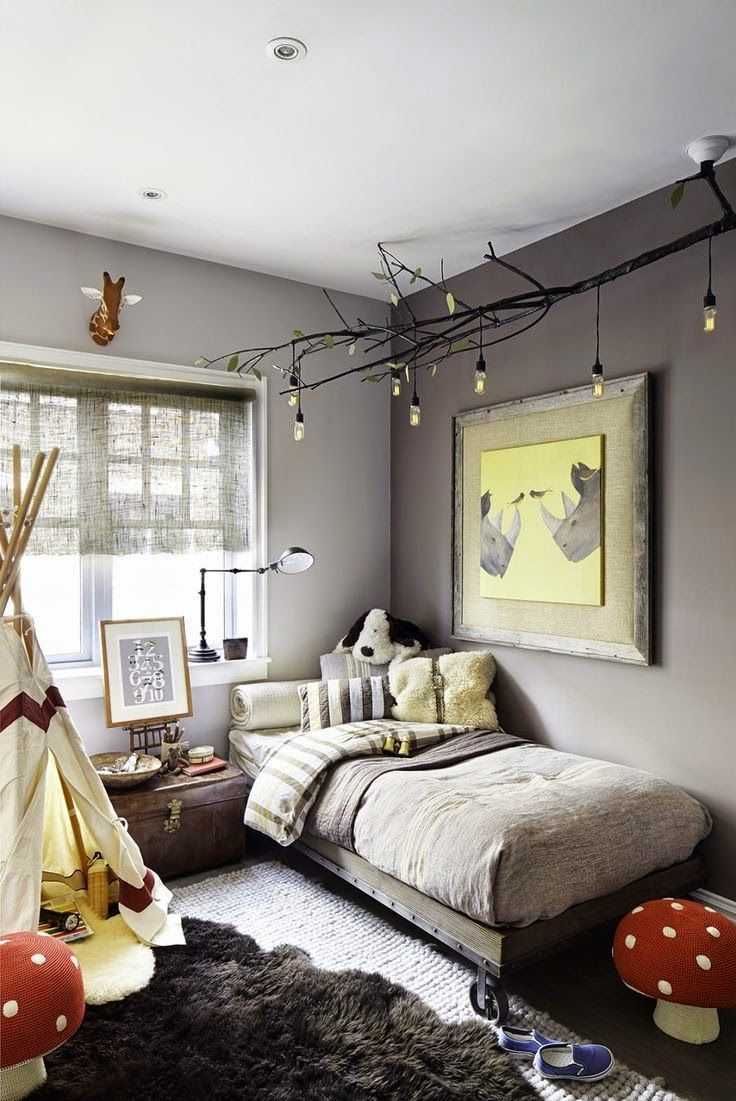 A choice that never fails is to paint the ceiling white, and the walls neutral colors such as blue, pastel or gray. Why not put reliefs or drawings of animals on the walls, and if it is in a striking color, all the better. With the cool beds that there are for children, why not put a themed bed with bedspreads, for example with nautical motifs. We could use a wardrobe to match the bed, the coffee table and the study table.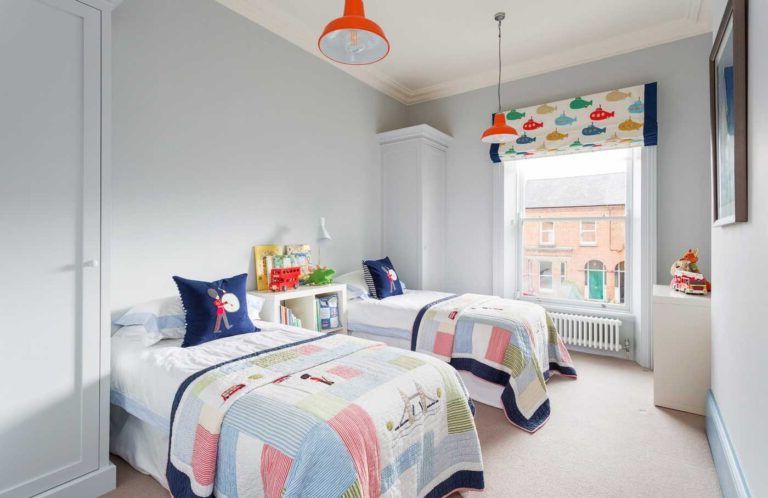 Playground: inevitable when you have many children. It's good to cover all spectrums of toys, to keep everyone busy and entertained.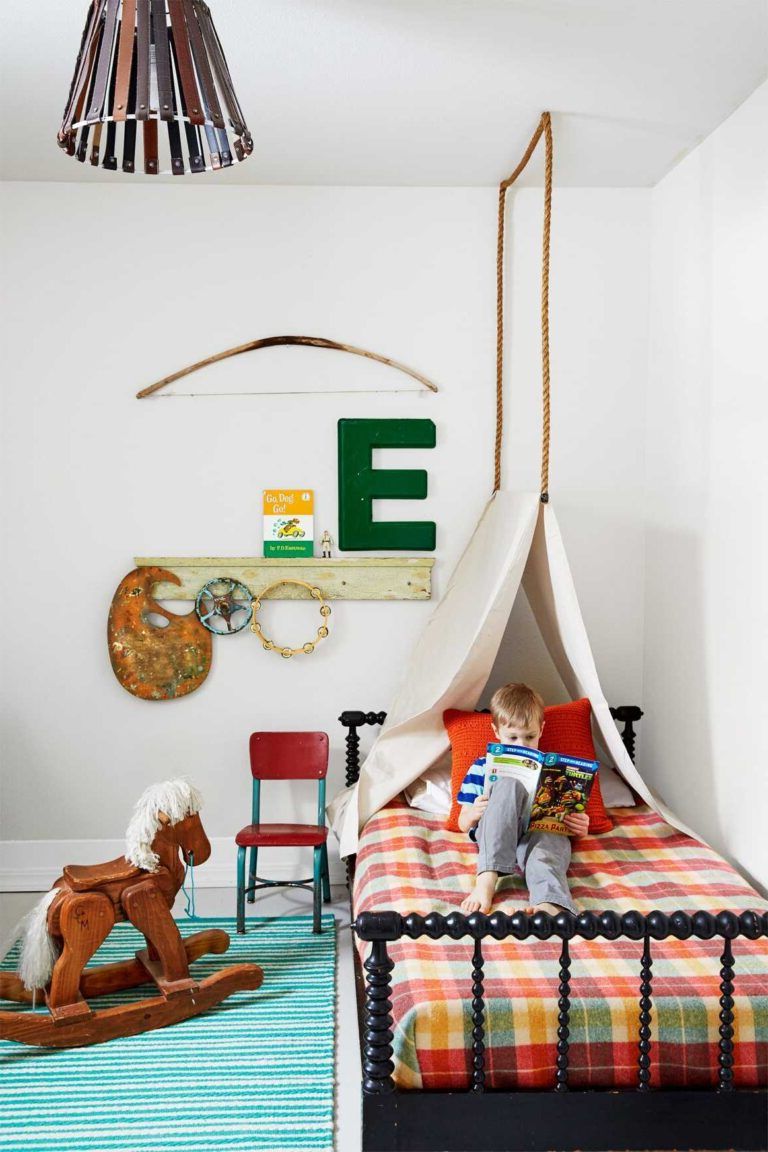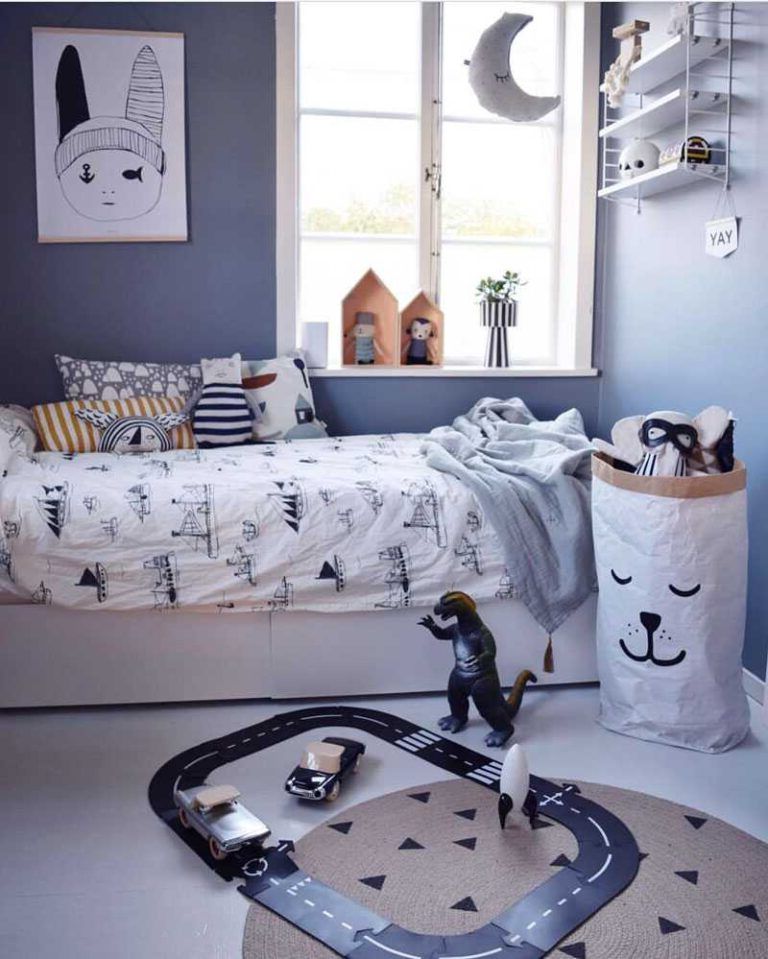 Children's bedrooms for girls
Girls' rooms are easier to decorate, since boys love cars, clowns or simply some cartoon character, such as superheroes or comics.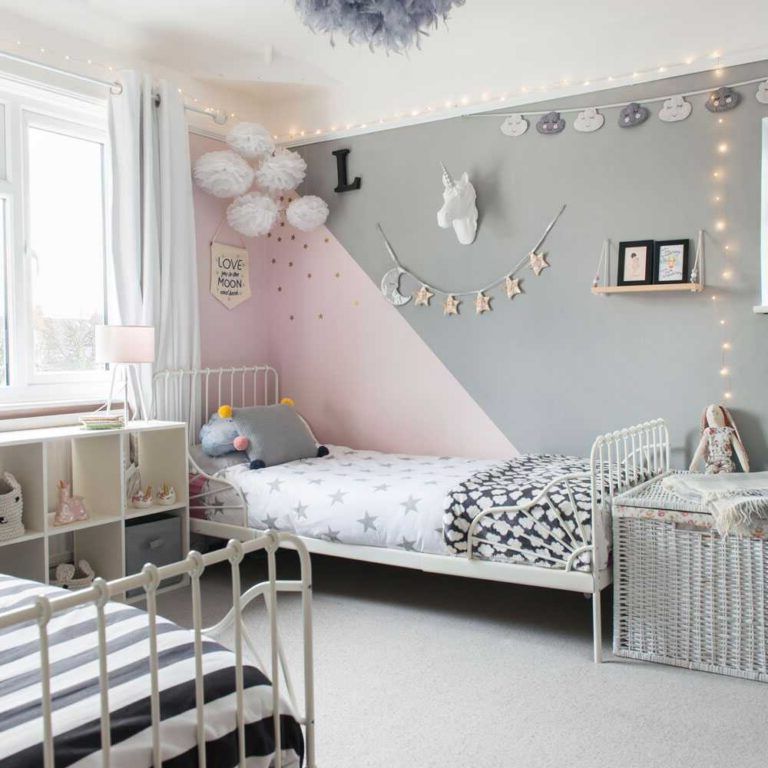 Girls tend to appreciate unicorn and fairy themes more, so stars and lights are very popular with them.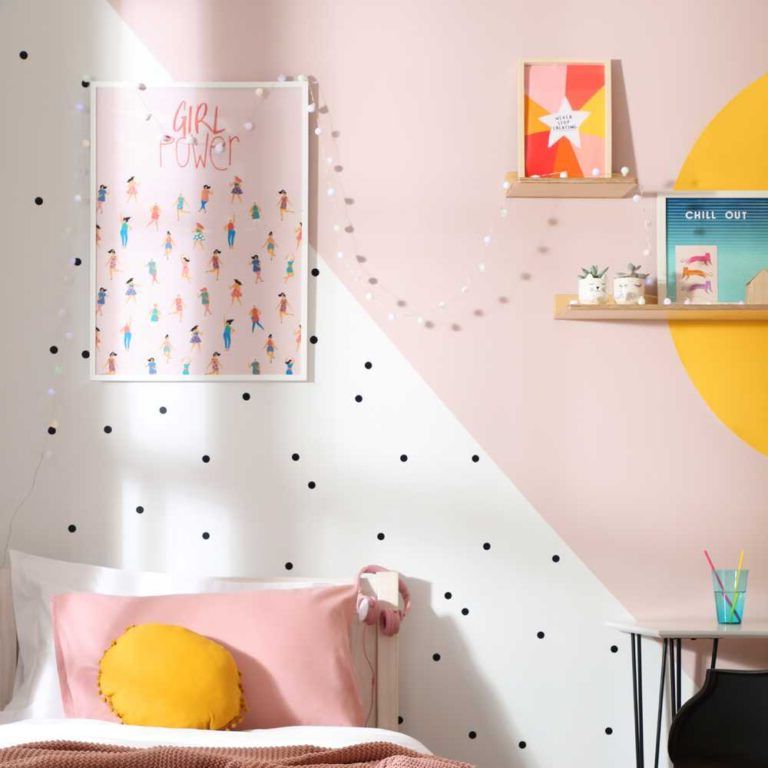 Warm pastel colors like pinks, salmon or delicate grays can help create this magical atmosphere.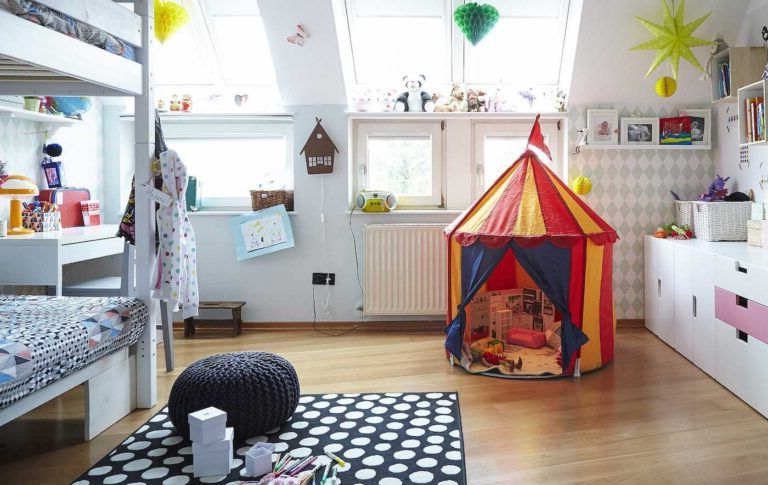 We can decorate with fairies, flowers and butterflies on the wall to have our enchanted garden in the bedroom. There are also very nice quilts or quilts with these motifs, it is a matter of choosing the one that our children like the most. On the bed we can put a pastel color as the color of the room, or why not a greenish color to brighten up the bedroom of our little ones.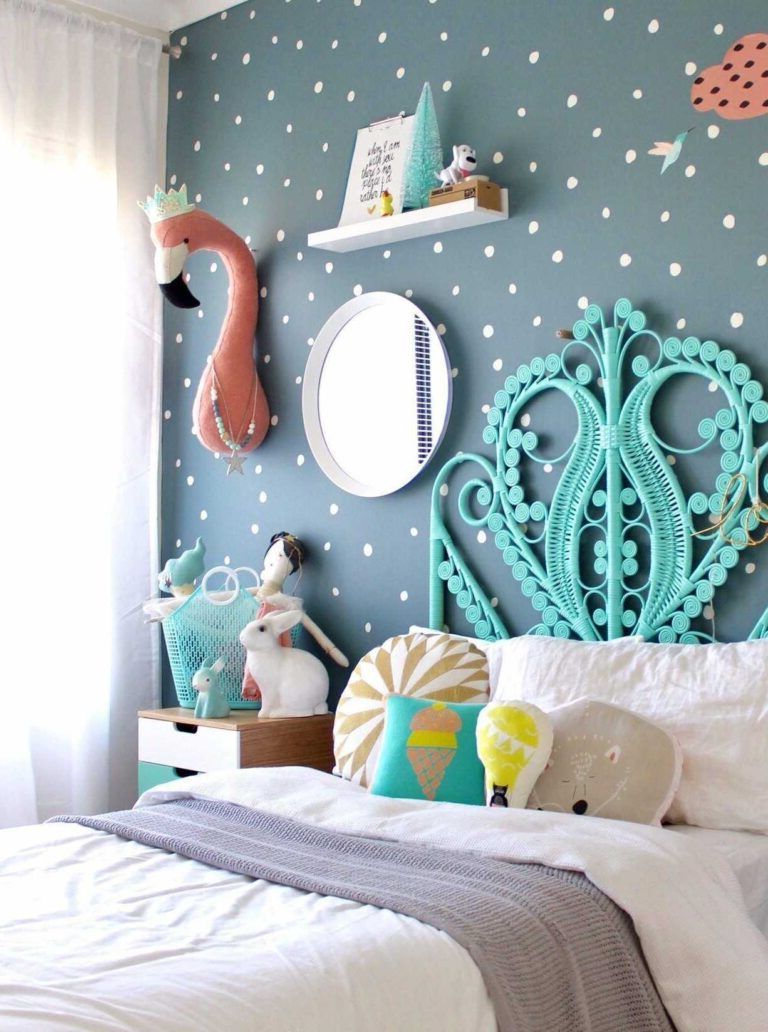 Simple bedroom, both in painting and decoration. The golden hearts add a feminine and classy touch.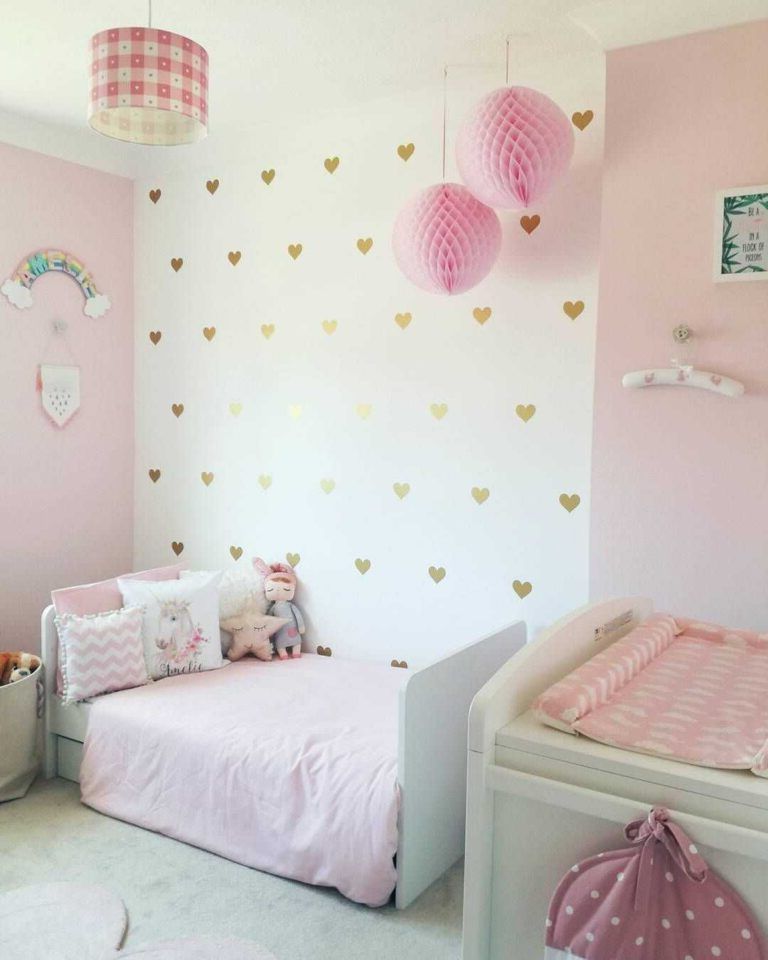 Cherished toys, magical books, good lighting, will transport your children to a world of fantasy.
Children's bedrooms vintage style cheap decoration
We show you some decoration ideas for children's rooms with vintage elements, a style that is very fashionable that allows us to decorate with little money.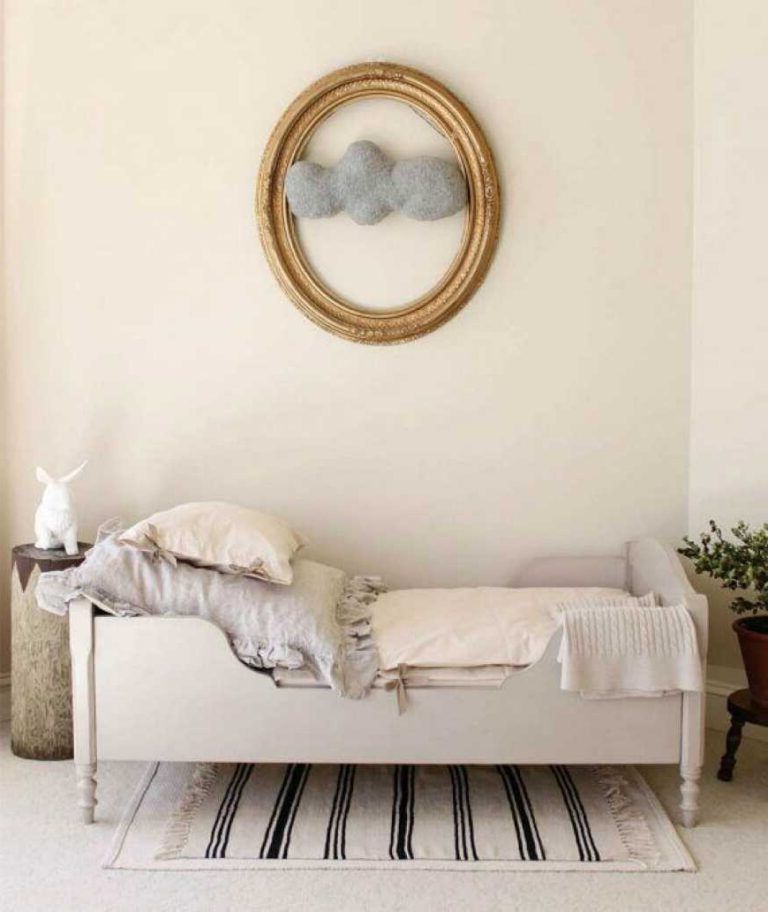 This room is decorated in a totally vintage style, from the bedspreads, stool and different decorative objects from previous decades.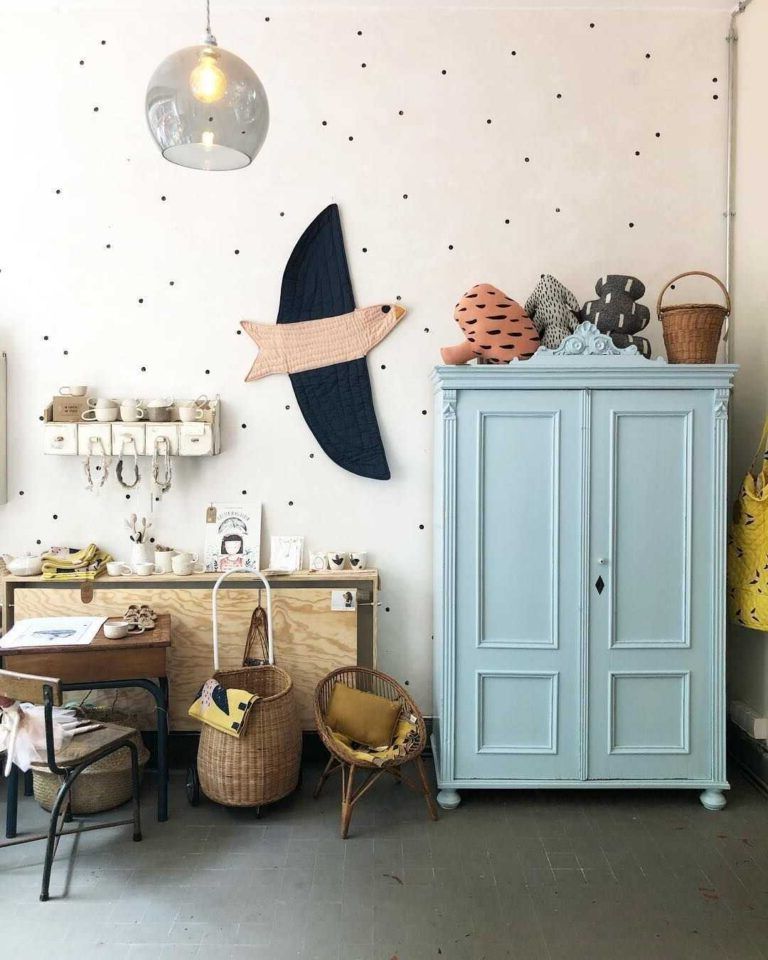 Another room decorated in a vintage style, where the furniture has been bought in used furniture markets and has been painted in bright colors. This type of decoration has a lot of personality.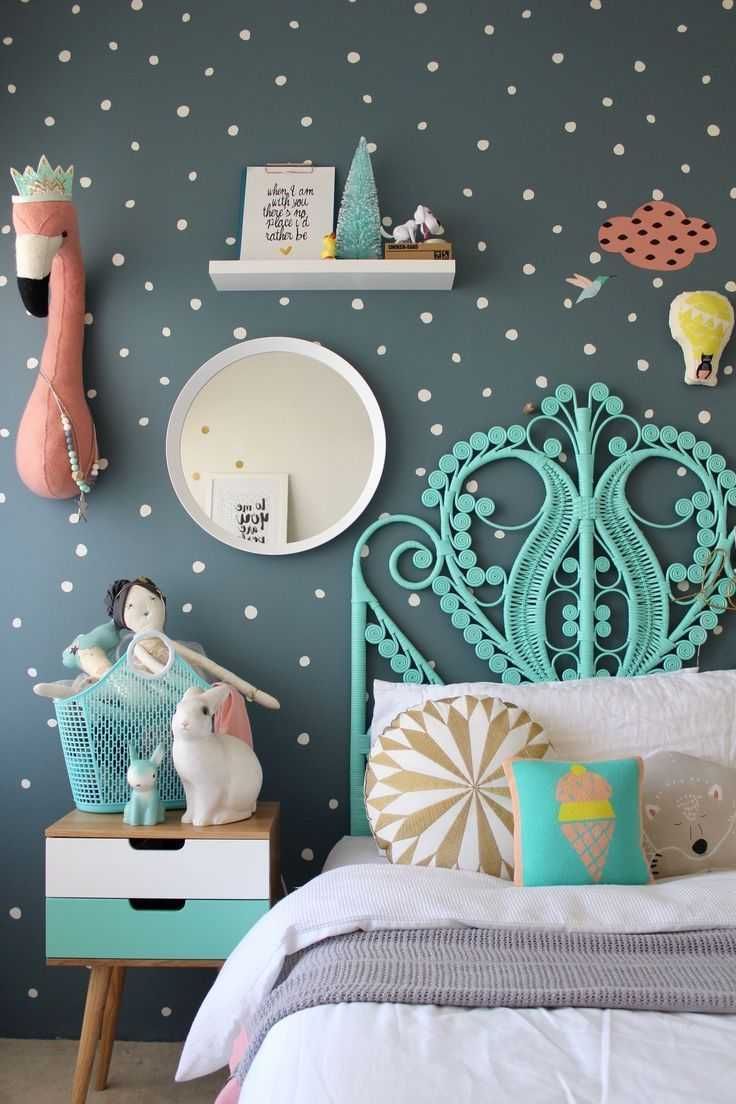 All blank. This highlights some interesting details, such as the back of the bed, chandeliers and lamps of different heights.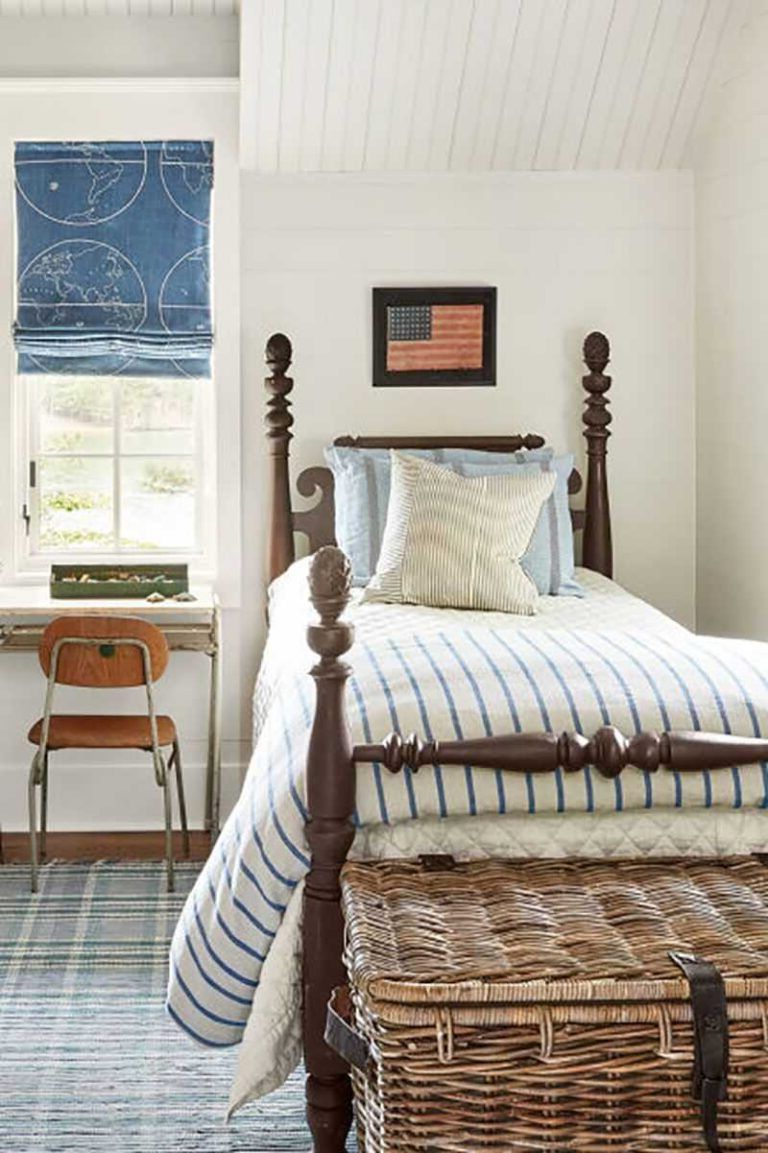 A white wall contrasts with the color of the bed. A quilt and striped curtains break with so much whiteness.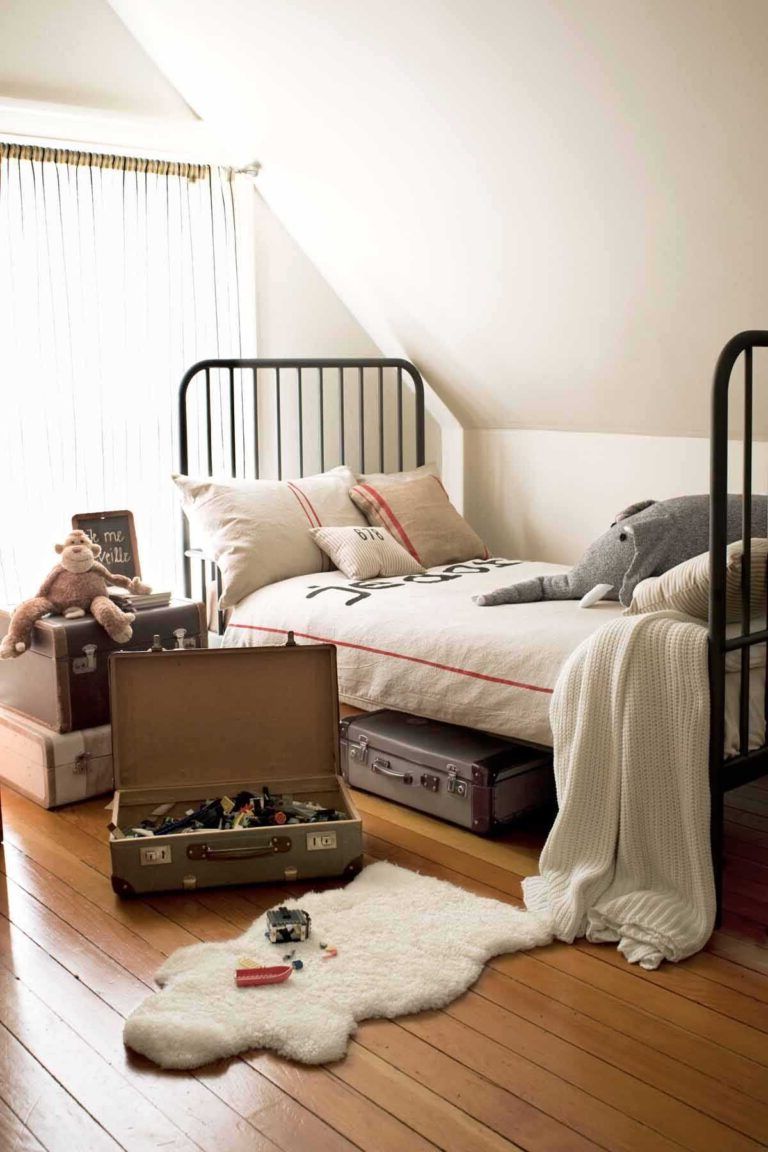 A green bed with an eye-catching cushion makes a beautiful space for a girl.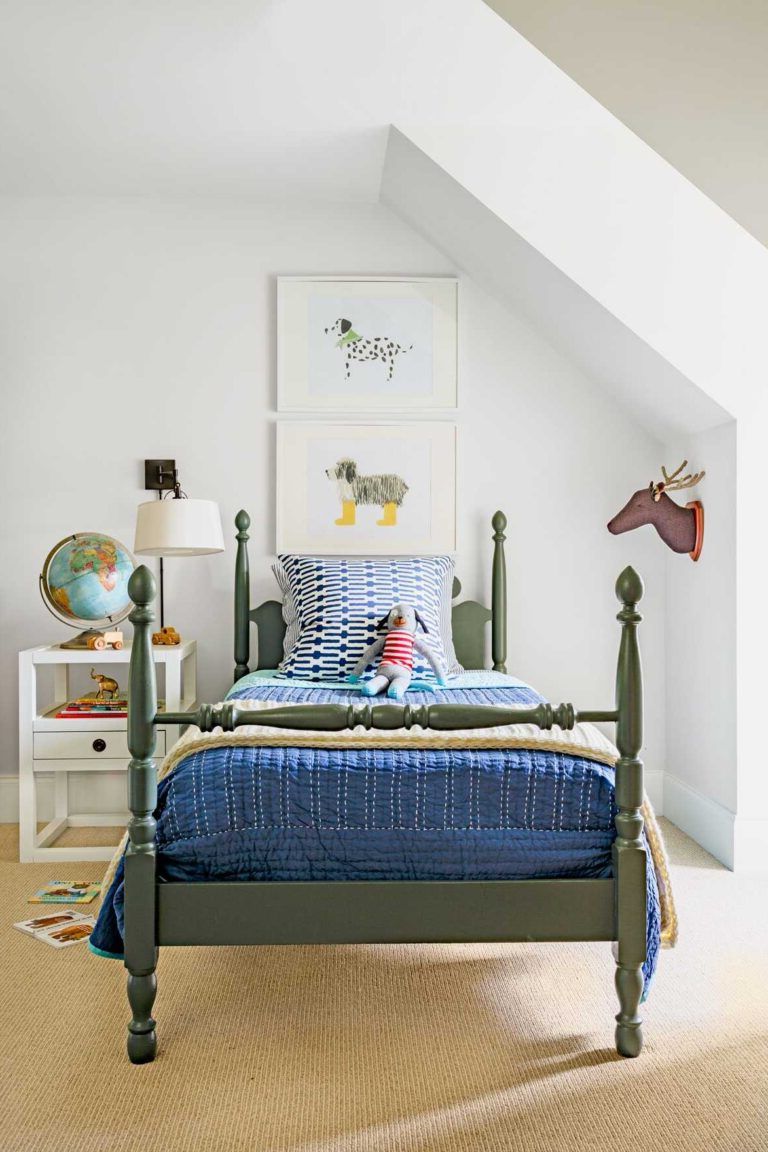 Another option in decoration is to decorate the bed with a vaporous canopy.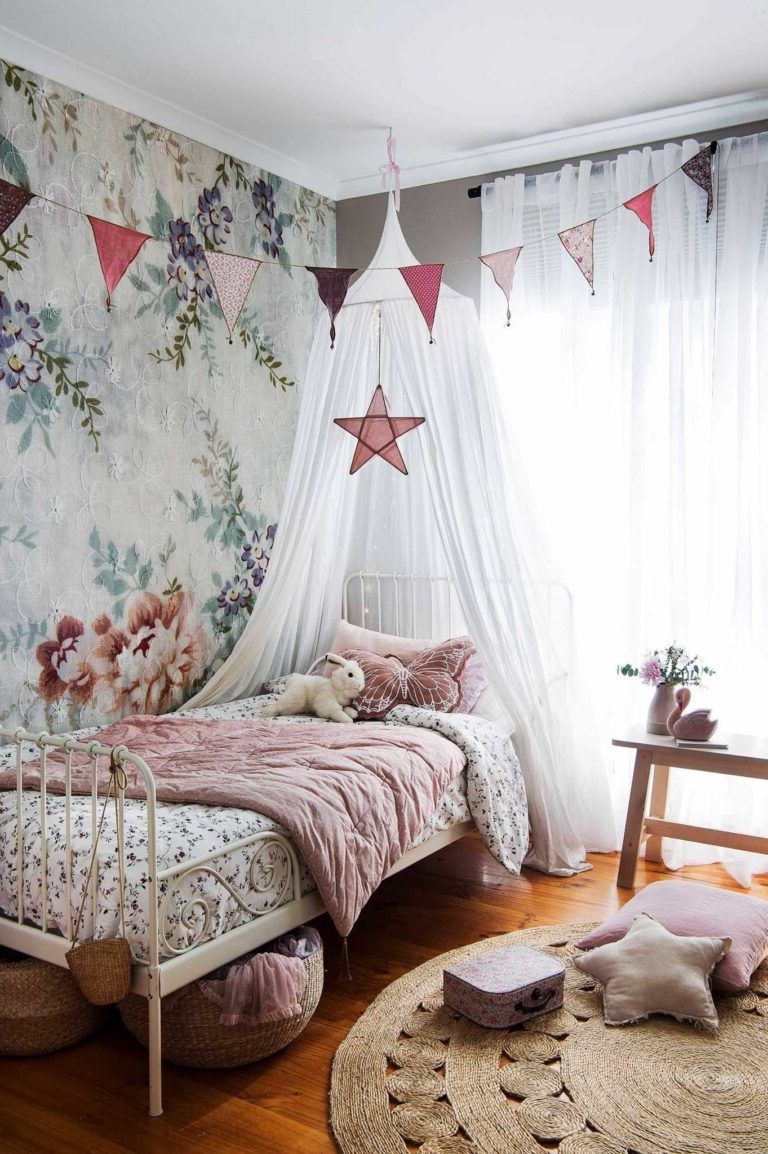 Vintage furniture can be complemented with antique-style stuffed animals. In this case, the main decorative motif is an antique bed and wardrobe.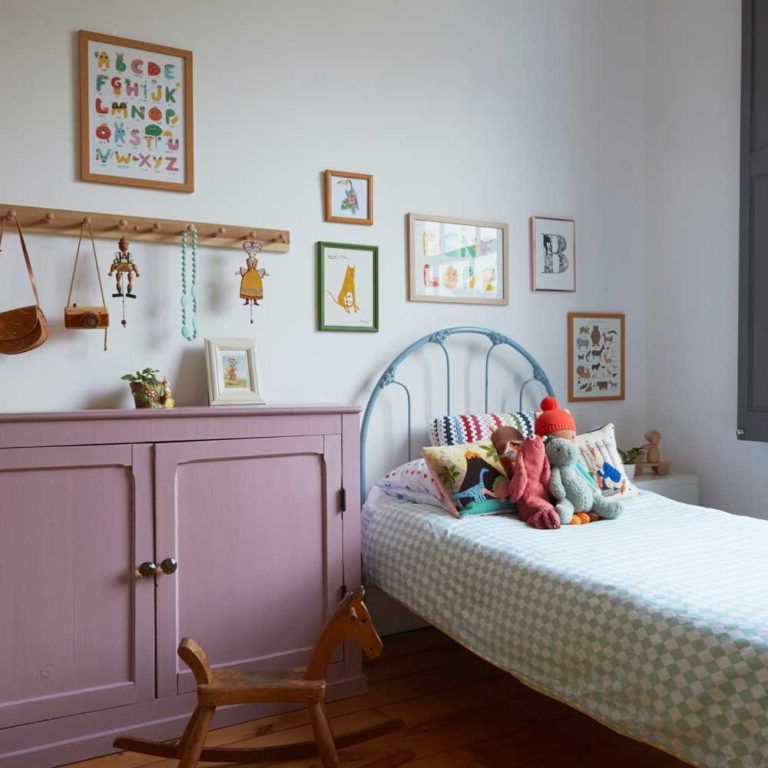 Nautical style children's bedrooms
One of the styles in interior decoration that continues to grow in terms of popularity is the marine style, especially in decorating children's bedrooms. It is a harmonious and balanced combination of the colors blue, red and white, in all their ranges, including turquoise.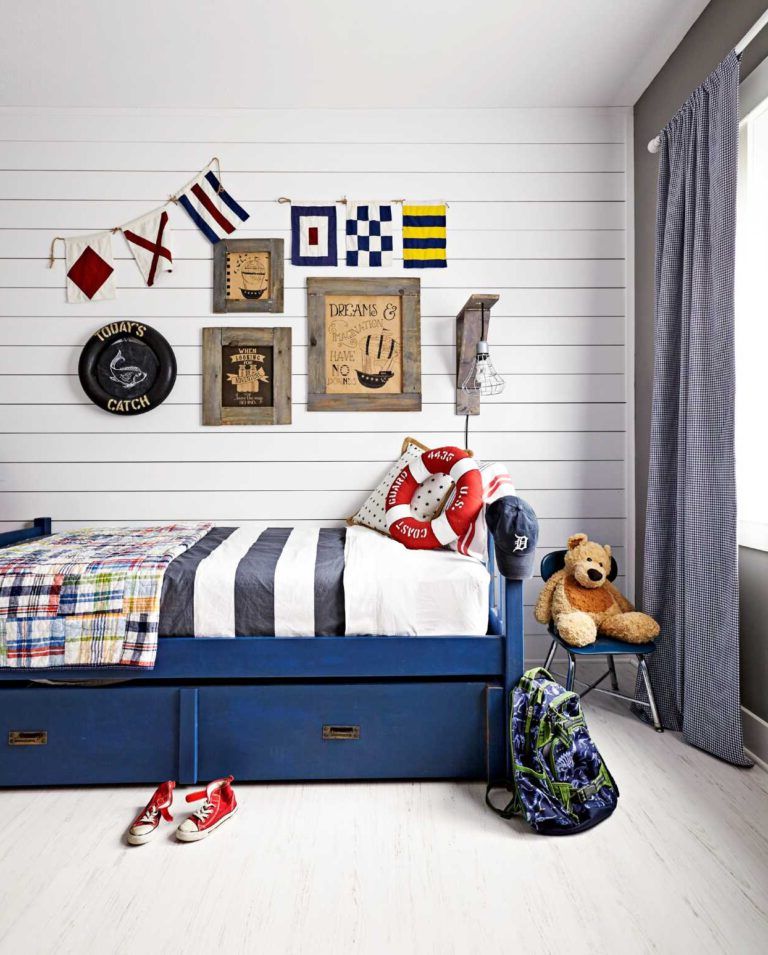 The marine style in decoration for children is perfect, since it has a theme that is usually very fun for the little ones. It is not necessary to fill the room with decorative elements such as life preservers, rudders or marine knots. The marine style is all about incorporating little details, like nautical themes in accessories, curtains, pillows, bedding, and wallpapers.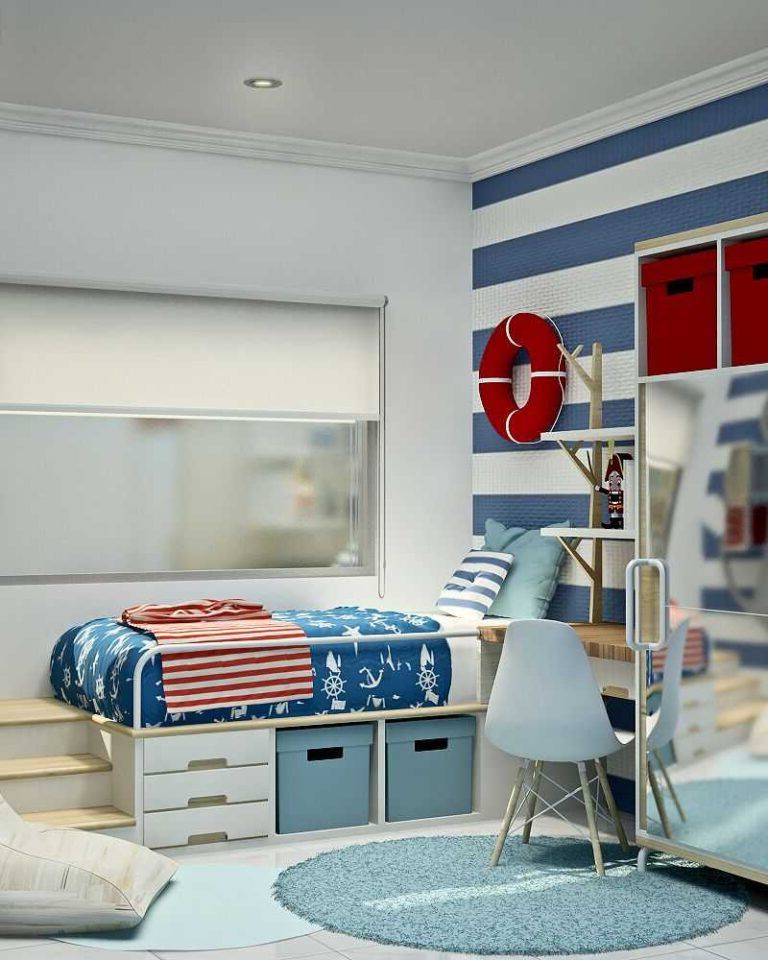 Currently, this style is very developed, so it will not be difficult for you to find accessories, even wallpapers are perfect for a marine-style children's bedroom.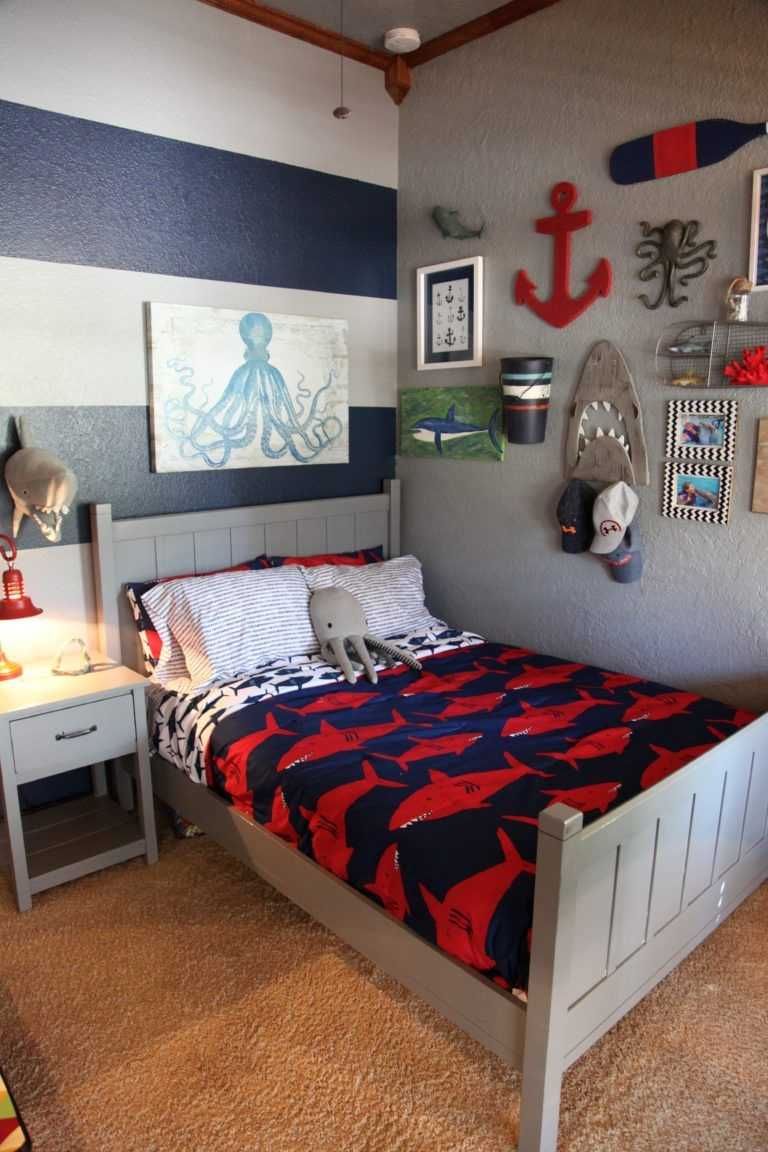 So that children can play quietly and without being cold, especially in winter, place some colorful rugs on the floor. Currently there are many original designs that you can adapt to the child's room.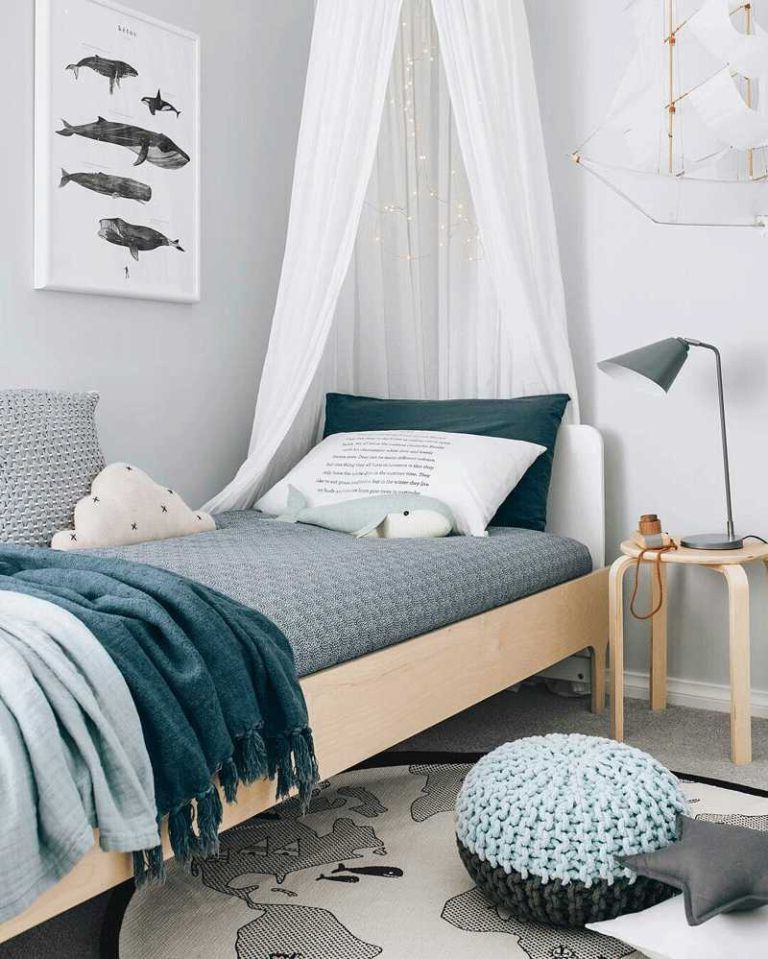 Remember that for lighting, choose a lamp that is quite high, to avoid problems, and for the child's bedside table, choose one that does not provide too much light, to facilitate sleep.