Transform your living room for little money and create a fresh, bright, and highly functional space.
The living room is the showcase of your home and reveals your personality. We tell you what to wear (and how to wear it) so that you can choose and adapt to your taste the one that best defines you. Get inspired by these lounges ideal for summer, they are fresh and super comfortable.
1 Marine inspiration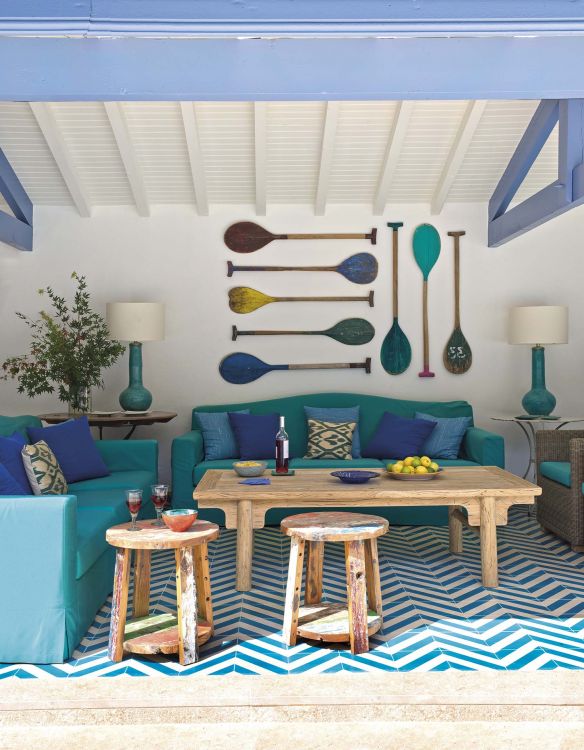 Rustic wood furniture with a worn finish, beach colors -blue, green and white-, thematic motifs -the oars on the wall- and a rug that imitates waves… The staging of this room, whose interior design is signed by Malian Randolph, is perfect and very refreshing for a summer house on the coast.
2 Coordinated textiles: do not miss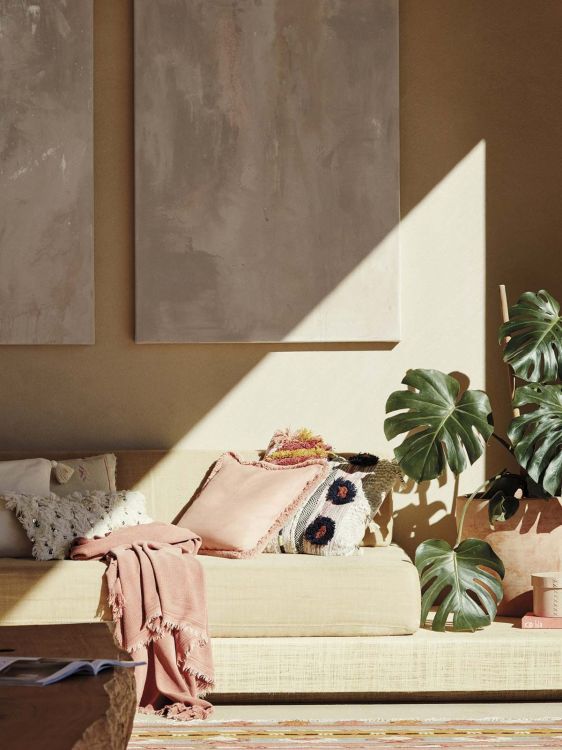 There are no accessories that embellish and personalize environments more: cushions, plaids, blankets… If you want a good result in your living room, coordinate fabrics in the same color range as the upholstery of the sofas, as in this environment from Zara Home… And triumph!
3 Color and rustic finish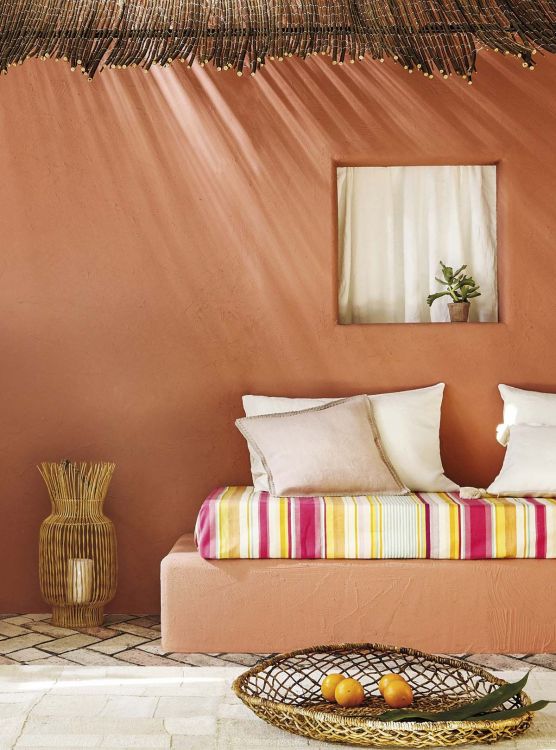 In this living room, furnished by Zara Home, the color of the cladding and the built-in sofa is the absolute protagonist. As is its rough finish so attractive. The mat fabric and traditional embellishments complete an ideal summer prop.
4 Velvet blue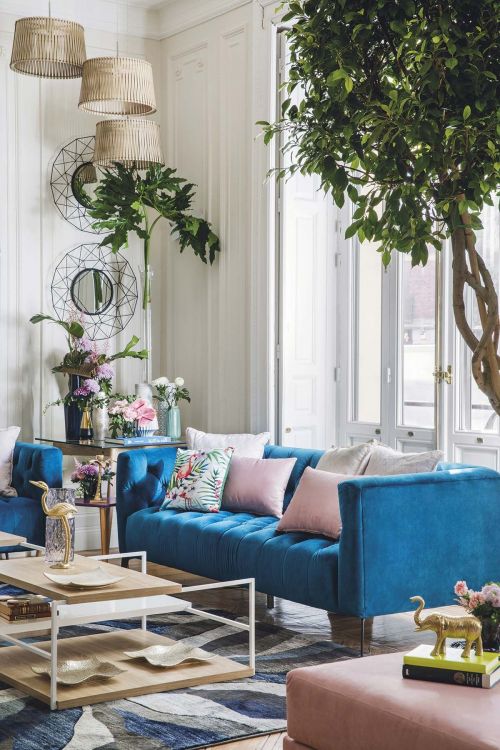 Sapphire blue, velvet and quilted: three top ten in decoration gathered, here, on the sofa in the living room. If you like this fabric, but want something cheaper, opt for a synthetic velvet. Pink cushions and floral decorations wrap up the star piece of this Conforama space.
5 Multifunction space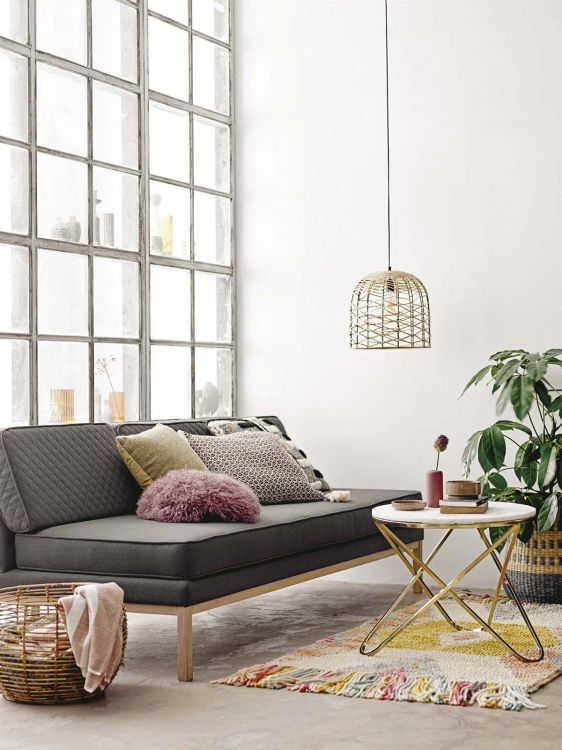 If your house is small and you often turn the living room into a guest room, this proposal from Bloomingville is perfect. The armless sofa becomes an occasional bed and the coffee table becomes a nightstand. Under it, a rug makes it more comfortable to walk barefoot… Good idea!
6 Star pieces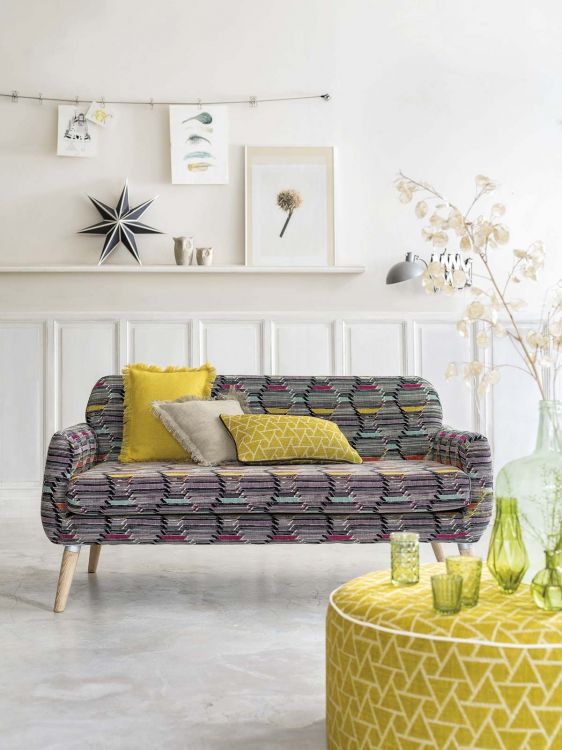 To completely transform a space, it is enough to choose an important piece of furniture and make it stand out thanks to a special upholstery. As it happens in this example: the sofa reigns in the living room, upholstered with a Camengo fabric that gives it uniqueness… Everything revolves around it.
WOODEN SOCLE
A good solution to give the wall a unique touch. You can install it without works.
7 White, gray and practical look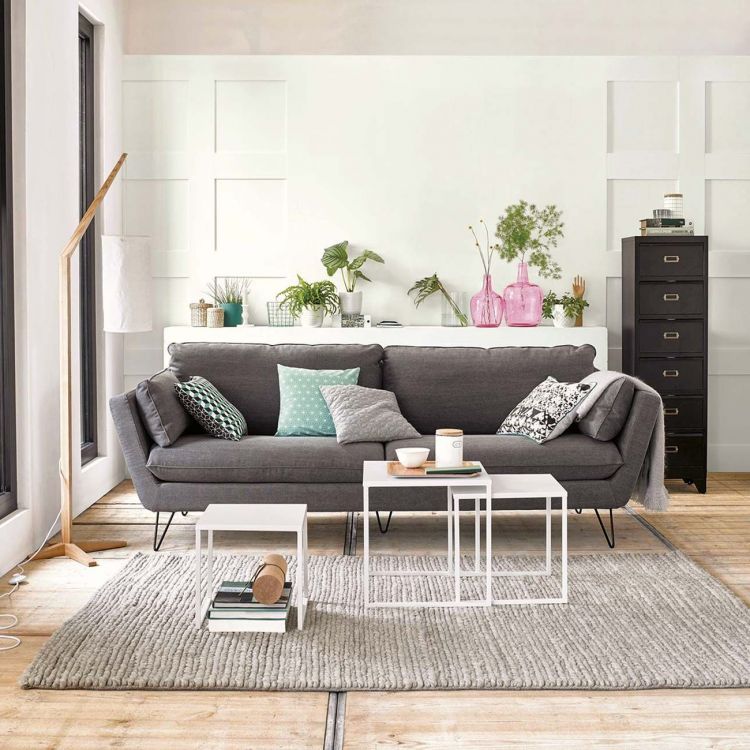 This combination will never fail you. Gray is sober and suffered and combines wonderfully with white and black, as in this room at La Redoute. Also, if you prefer a comfortable and light space, nothing like small furniture that is easy to move.
VEGETABLE STILL LIFE
Little pots, bottles and vases with plants have been arranged on the piece of furniture.
8 Throwback to the 50s: Tropics and Golden Touches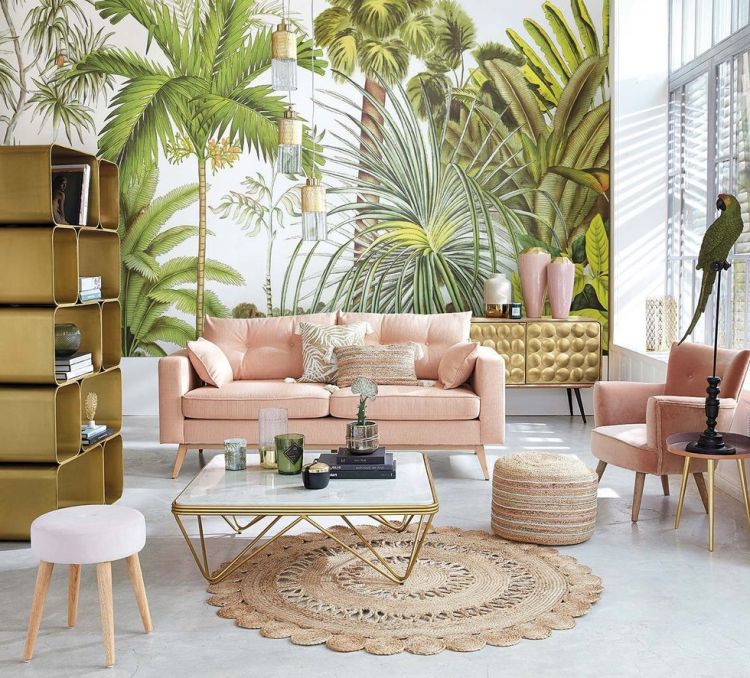 What a suggestive, fun and sophisticated atmosphere…! And how easy it is to get a decoration like this proposed by Maisons du Monde. How has it been done? A warm chromatic range has been chosen, with the salmon tone as the protagonist, and with golden sparkles that dress up the whole and add elegance. Natural fibers -rugs or poufs- are in full fashion and look wonderful in glamorous spaces. A wall covered with a tropical print wallpaper provides a magical and super refreshing background. The set, outstanding.
9 Mix of country and city elements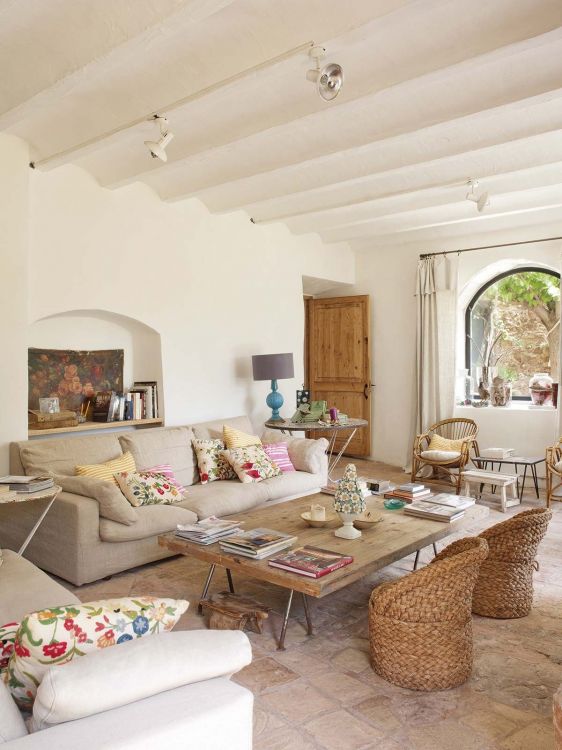 The spaces decorated halfway between the rustic and the urban style are very versatile. Mixing is a trend both in the use of materials and in very diverse finishes. This room is a good example. Modern furniture has been combined with other traditional ones, such as untreated wood, esparto grass, wicker, clay… And as a link between one world and another, floral motifs were used. Colorful flowers adorn cushions, paintings and decorative elements. A decoration like this fills your room with good vibes and energy.
DIRECTED LIGHT
The articulated spotlights on the ceiling allow different environments to be created and objects to be highlighted.
10 With a certain folk air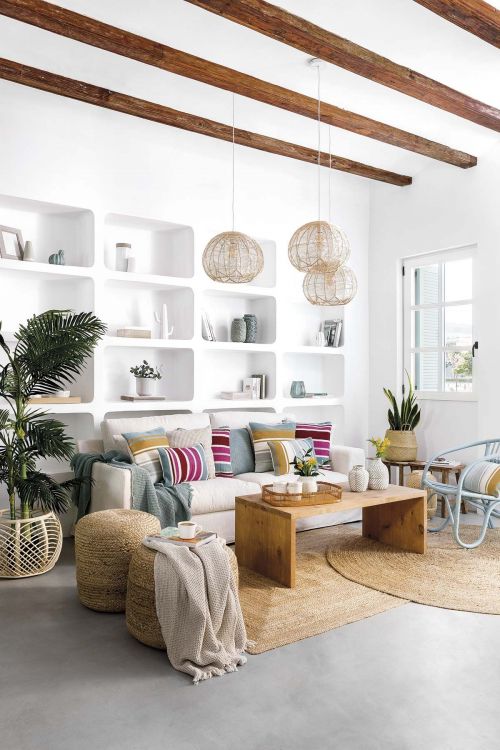 A couple that gets along wonderfully is the furniture of work and the wood. The accessories are also fundamental to sign the folk props of this room: striped cushions, fiber rugs, basket-pots and plants, many plants, will help you create this fresh and carefree atmosphere that Kenay Home suggests.
SEVERAL LAMPS
They are carried more than one and at different heights: hang 2-3 identical or different elements and you will see how they decorate.
11 Country charm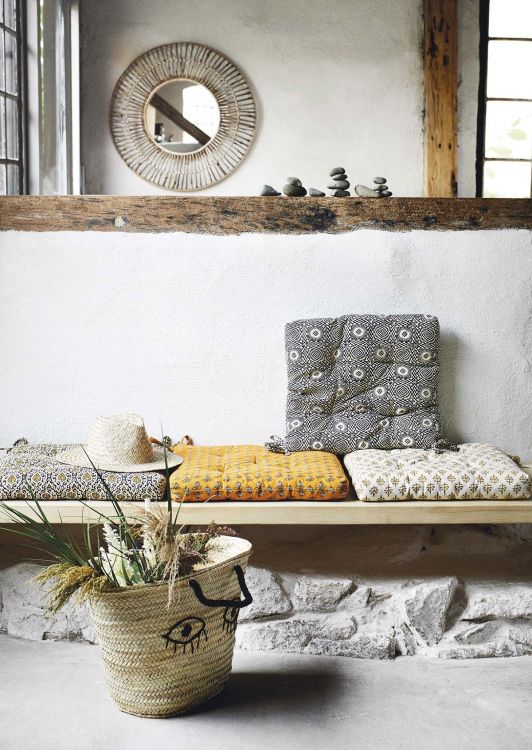 Simplicity, sometimes, is the best ornamental tool. In this space of the firm Madam Stoltz it is demonstrated. A simple wooden seat with cushions serves as a sofa. The auxiliaries -mirror and basket with dried flowers- add sparkle. No more is needed.
12 Bohemian and very modern style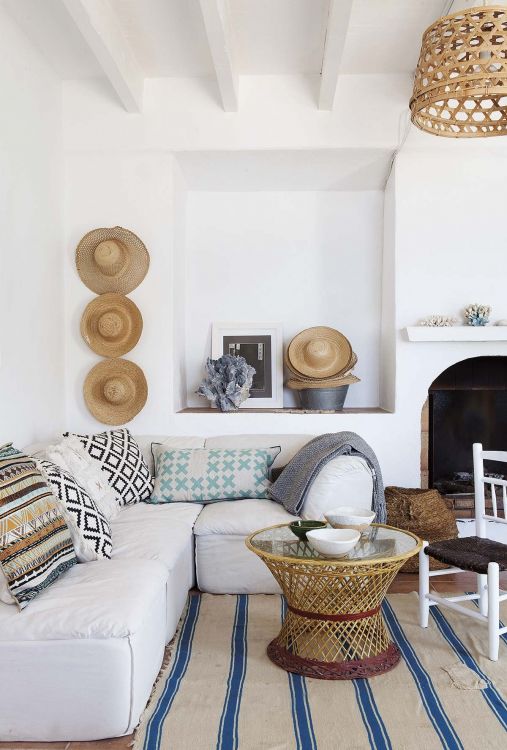 Relaxing, evocative, comfortable… This is the look of the photography salon. It is a space destined to rest, to chat between friends. To facilitate communication, the sofa has been arranged in a corner. In white, a hallmark of Mediterranean houses, the walls have been painted and the seats have been upholstered, enlivened with cushions with ethnic motifs and a Berber-type rug… retro, like the 80's wicker table and a traditional rattan chair. With few things, great result.
HATS TO DECORATE
Arranged on the wall they are original and fun. They decorate at the best price!
13 Little space: curved shapes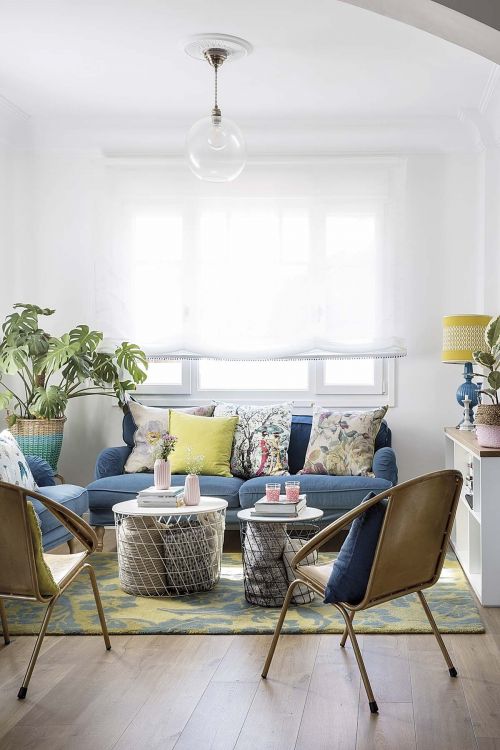 Small-format furniture with a rounded design makes every m2 profitable. This is how it looks in this living room with chairs with sinuous shapes, a sofa that barely occupies and two coffee tables, which are practical container baskets. These last pieces, from Ikea.
FRAME WITH CARPETS
This complement helps to delimit areas and adds an ideal decorative plus.
14 Gold and Tan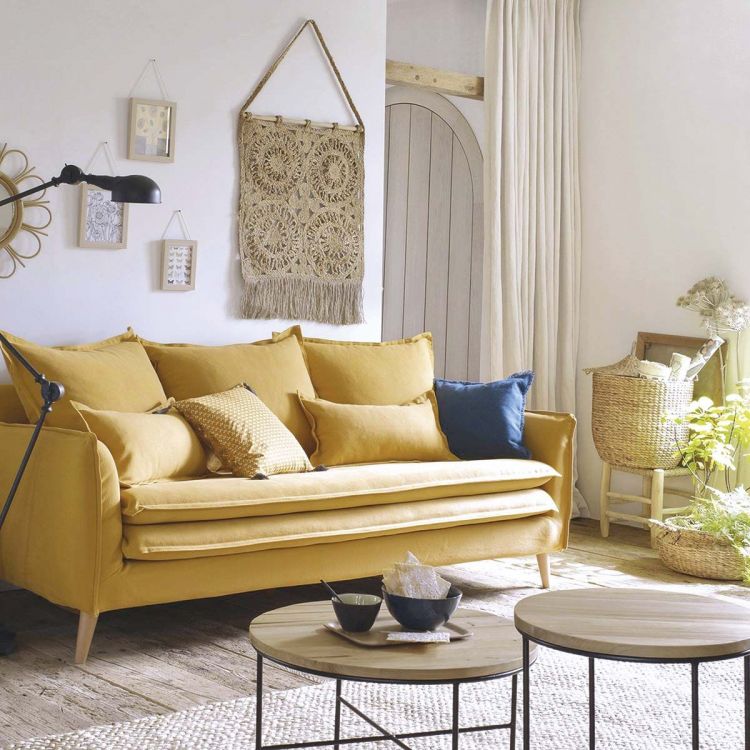 If you want to give life to a cozy, warm and timeless living area, decorate it with yellows, sands, toasted… This range of soft and bright tones integrates well with all kinds of styles, both urban and country, and never goes fashion, as this example from La Redoute shows.