His life is a continuous adventure full of laughter, surprises, games and illusion. Make your child happier with imaginative coverings and original ideas that transform their bedroom into a fun universe.
We propose you ideas with a lot of style:
– Wall art or panels with some relief. They are usually thin and in multiple finishes: wood, metal, papier-mâché, resin…
-For a children's decoration choose phrases, letters, numbers, animals, geometric figures, instruments and, also, LED designs and figures with string, a technique of tightening threads known as string art.
-A collage of photographs from your last trip or birthday party is a great option. You can place them with washi tape. It counts on your opinion for the selection of the images and their distribution on the wall.
– With blackboard paint you can create a blackboard of the color, shape and measurements you want so that you can make your drawings and doodles, write sentences, practice sums…
Cheerful prints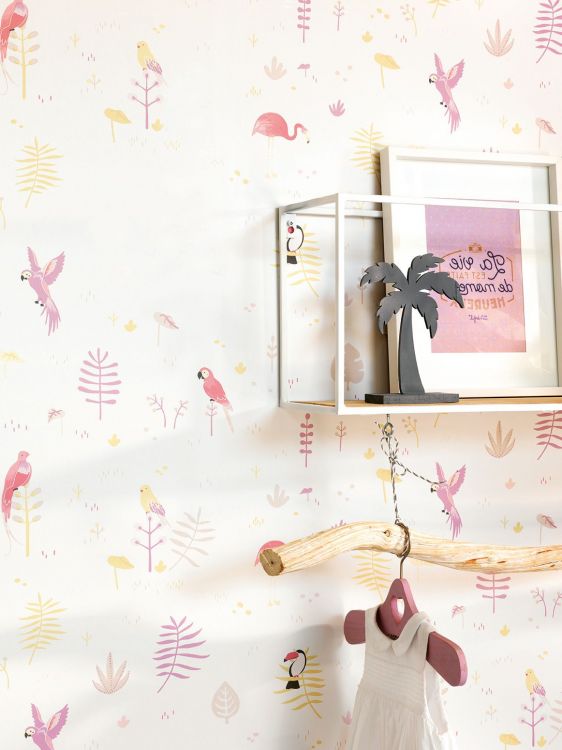 Creating an ideal atmosphere in your room often begins with a wall that conveys happiness, calm, security… The motifs and pastel shades of this wallpaper exude sweetness and turn the wall into a delightful landscape. Tropical model, from the Happy Dreams collection, by Casadeco (38.05 / 10 m roll).
New look
When you are about to decide on a role, the question may arise: will your little one like it? Of course! As long as the reasons
suit their personality and development. In addition, decorating the wall transforms the image of your bedroom. It will be like a brand new room. wow!
Geometry class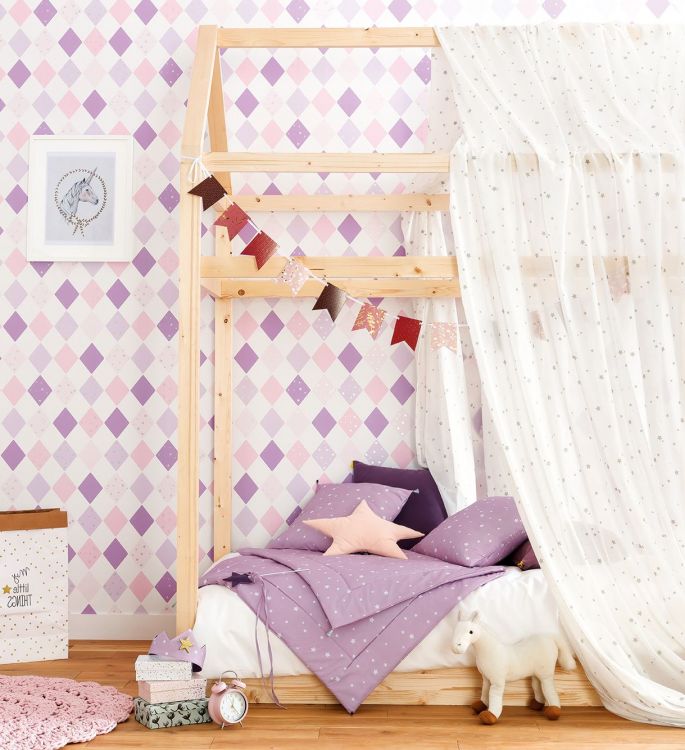 Squares, circles, triangles… have made the leap to children's decoration and on a large surface, such as the wall, they give the bedroom an arty air. Will they saturate it? No, as long as the color palette is ultra-soft or the mix of tones has a gradient effect. As in this environment, in which the rhombuses convey a sense of order with their repetition. Adding the bunting garland makes the look more festive. Paper from the Girl Power collection, by Caselio (€39.95/roll).
Great team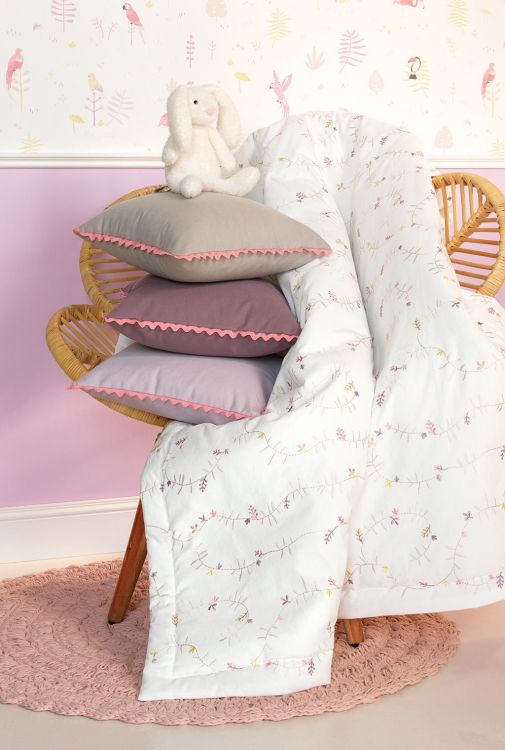 The formula that combines a plain paper plinth with another pattern is a timeless deco resource that always triumphs. In addition, it has a great advantage. Although the current papers are much more resistant than in the past, dividing the wall allows you to replace the lower paper, which suffers more wear with the little ones, with another, without having to change the one on top.
From the Happy Dreams collection, from the firm Casadeco: paper (€38.05/roll) and cotton fabrics (from €62.40/m).
Harmonic tones
Choose new textiles from the wall decoration so that the transformation of the bedroom is complete. If you bet on the same color range, alternate fabrics of various shades to give dynamism to the whole. Placing a rug will make the floor add style and be warmer.
Start with the letter…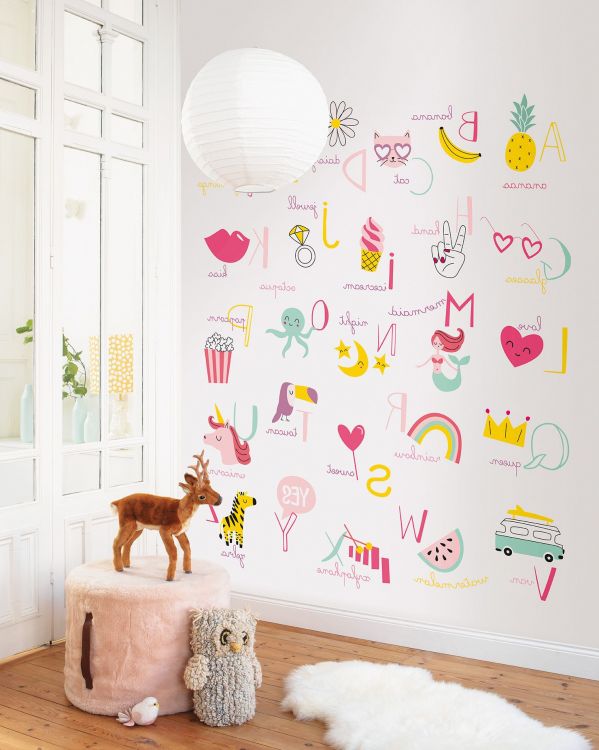 Decorative, playful and didactic. With this parade of letters and drawings, your child will learn the letters of the alphabet without realizing it. Thanks to the paper, the wall will have gone from being an empty and uninteresting surface, to arousing your curiosity. When your little one masters the letters, you can invent stories together with their cute motifs as protagonists. Design from the Girl Power collection, by the firm Caselio, in 2 x 2.80 m (€207.55).
A dream come true!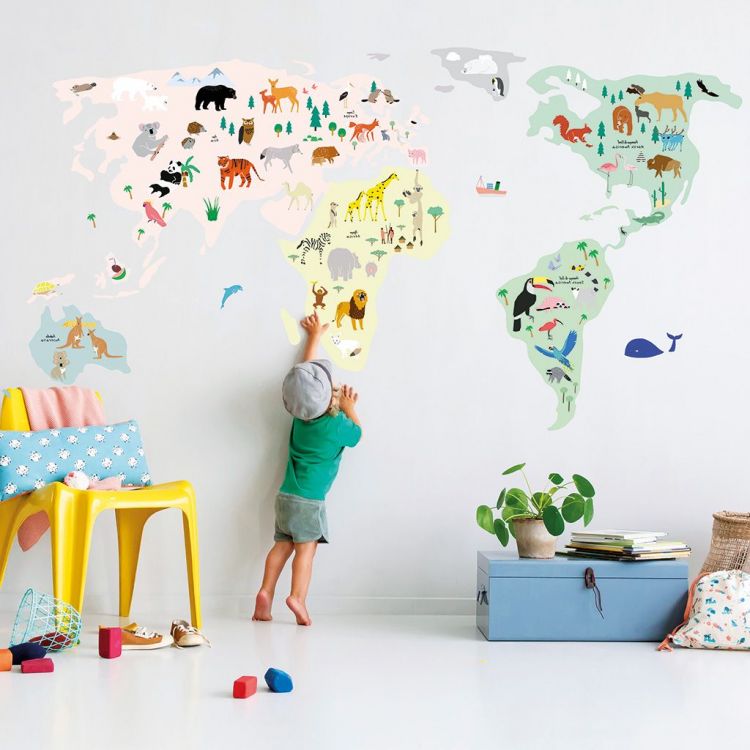 The wall is irresistible for the little ones. In their eyes, they are a huge surface to play on. Decorate it with motifs that invite interaction. A world map will give a lot of play because you can place figures of animals, famous monuments or landscapes on top. If you use templates to guide you when making the drawings, everything will be easier.
Your new gang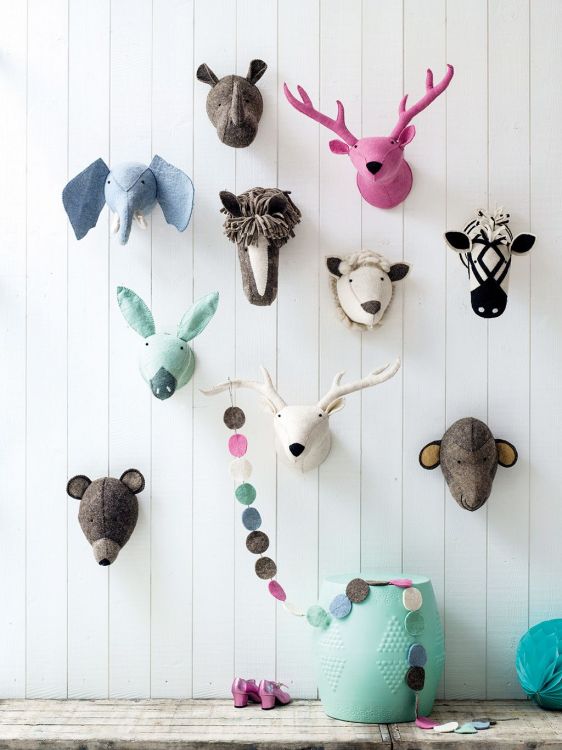 In this bedroom, the animals form an original assembly, a friendly group for which any child will feel empathy. From a young age he will consider them friends and will develop an emotional bond with them. The composition, from Kidsdepot, is made up of fake trophies covered in colored felt (from €29.95).
Animals
Motifs related to nature are a trend in interior design. But it is not about decorating with teddy bears, but about transferring the beauty of fauna to any space. You will find fake love trophies on the websites of Softheads, Chloé Fleury, Cardboard Safari, Manafka Mina and Brigbys.