There are many decoration tricks that interior designers and decorators use in all projects, basically because they work. They are effective.
Best of all, most of them are mere aesthetic movements, small changes, subtle touches, which can be done by anyone, with no knowledge of the matter, with minimal resources and most of them quickly.
Anyone and in any house, and improve it instantly.
And that is what we are going to see next: 50 easy decoration tricks that you can do at home, at any time.
Some will not interest you, others will come in handy. Choose the ones you need and apply them so that you notice an instant and considerable improvement in the decoration of your home.
I'm going to explain them to you, let's see them. If you are not interested in any, go to the next. It's up to you. We start:
How to get it right with cushions or any other small textile?
Many blog readers leave me comments or email me asking if the cushions they have in mind to decorate their sofa will look good on them.
Although with this decorative trick that I am going to tell you right now you will be able to see first-hand if those cushions suit you or not , I would like you to keep asking me.
I've gotten used to your comments and I don't know what I would do without them.
Well, imagine that you have seen some green cushions that you have loved.
And before buying them, doubts come to mind: Will these cushions go well with the color of my sofa?
Will these cushions match the curtains I have?
Will these cushions match the rug?
Will they match the furniture? TRUE?
These types of doubts are normal and are healthy and intelligent doubts.
So that you can know if those beautiful green cushions that you have seen are going to fit you, go to your bedroom, open the closet and look for some green clothing . If it is a green similar to that of the cushions, much better.
Now take that garment and put it on the sofa . And… et voilà, you are already seeing live and direct how a green cushion would look on your sofa.
The same goes for cushions as well as for any small element that you have in mind to buy and have doubts .
A painting, since you can momentarily hang a t-shirt of the same color as the painting to see if it suits you; a vase for the dining table, since you can put a textile of the same color as the vase on the table, etc.
Here you can see a video where I tell you about this very effective trick:
So, if you have something in mind and you don't know if it's going to fit you well or if you're going to like it once it's on, you can try it. Surely in your home you have something of the same color that you can put provisionally to see how it looks.
If you liked the video, I encourage you to subscribe to my YouTube channel by clicking here where you can see more interesting videos and learn decoration every week.
Hang the curtains as high as you can
Hanging the curtains as high as you can will make your windows look more stylish, as well as make the ceiling or height of the space appear visually larger.
Hanging the curtains low is a big mistake . Because they won't shine, neither the curtains nor the windows, and you will make the ceiling seem lower.
Look at the following example and you will see it with your own eyes:
Photography Thousand Decoration Ideas
Two equal curtains, in two windows at the same height. One hung from the ceiling to the floor, and the other below. Which one is better? Which one makes the space seem taller? Which one stylizes the window more?
This way, if you have the curtains down, take the drill, some plugs and hang the curtains in your house again, yes, this time, as high as you can . You will see what a difference.
And if what interests you is to make your ceilings higher, then I recommend that you see this article where I explain in detail how to make the ceiling of your house higher.
Let's continue with another curtain trick, since we are:
Pull back the curtains
As I say, not all the easy decoration tricks that we are going to see will help you. In fact, this trick and the previous one are totally incompatible.
This decoration trick is to gain light and make the house bigger visually .
And what needs to be done for it? Easy, just remove the curtains .
Although nothing else is to try, if your house lacks light and you want it to look bigger, try it, remove the curtains for a moment. You will see what change.
In fact, I advise you to remove them first. Then I go to another part of the house, you have a coffee. Or go outside, have a beer. And after a while, enter the room where you have removed the curtains.
You will literally be amazed at the change in space. It will appear larger and be brighter .
The curtains, even if they are completely open, still block out a lot of light that could enter from the sides. Once you remove them, the light will not have any obstacles .
This simple decorative trick is one of the most impressive, because the change is truly spectacular. And simply by removing the curtains.
If you have looked at the photos you see of many flats and Nordic homes, most of them do not have curtains. It is normal. They, in winter, have only about 3 hours of sun.
So they are experts in enhancing that little light they have. Hence, most Nordic floors do not have curtains.
And if what interests you is to make the living room brighter, in this other article you can see how to make a living room brighter at the moment.
Let's move on to the next decorative trick:
The rule of the odds: Add 3 elements to hit
If you are going to decorate a sideboard, if you are going to put some pictures on the wall, if you are going to buy some cushions for the sofa, or you are going to put any element in a group, like these that I have just mentioned, a set of odd ones is always better that of pairs
Let's take the example of putting some paintings behind the sofa. You don't know how many to put.
Maybe you want to put two, but also three, you're not sure.
In this case always put the odd number, that is, three squares .
When odd elements are placed, the scene becomes more dynamic and attractive. When even elements are placed, everything is more static, less fluid. Take a look at the examples below.
Wayfair and Desenio photographs
I have put two beautiful scenes, both extremely beautiful and well decorated, but if you look closely, the scene that has the 3 frames has more harmony ; it is a fluid, dynamic and attractive scene. More than the one with two frames.
So when in doubt, always choose odd elements .
Although he is mentioning 3 all the time, 5, or 7, or even 1 also works. Any other odd number of elements. I have simply put the difference of putting two elements (even) or three elements (odd), because it seemed easier to explain.
Separate the furniture a few centimeters from the walls
Photography @dasia.does.it
Even if you have very little space, separating a sofa or a piece of furniture from the wall will make the space look lighter , less compact, more fluid.
When we stick the furniture against the wall, we create a single block (wall + furniture) and everything seems more bulky.
When separated from the wall, both the wall and the piece of furniture "breathe".
Try it and see for yourself, it doesn't take long to separate the sofa from the wall a few centimeters.
Do it with all the furniture and you will see that the living room or room in which you have done it will look lighter and each piece will look better by itself.
I'm not telling you to separate them 10 cm. But a couple of them, just that they are not completely attached to the walls.
It is a very simple decoration trick, with great potential and that will not take you more than 10 minutes.
Do you have a small living room? Put a round coffee table
Design and photography @Smykkarola
There is nothing more uncomfortable in a room, whether large or small, than not having good passageways to pass and walk comfortably.
This is magnified much more in a small room.
Well, so that this does not happen to you and the passageways of the living room and access to the sofa are fluid and comfortable, put a round coffee table .
Square or rectangular tables are out of place because they have corners and make these passageways uncomfortable to walk on .
And that's the last thing we want in a small room, right?
Put the right size rug
The rug that you have on the sofa should always measure something larger than the sofa, and that the front legs of the sofa, as well as any other chair or armchair in the area, step on the rug.
Look at the following example, of how you should NOT put a rug:
As you can see, it is
a very small rug. It does not cover the area occupied by the sofas
. This creates a disproportionate effect and neither the rug, nor the sofas, nor the entire area looks as it should. And it all seems out of scale.
However, look at when a rug is the right size:
Photography Mauricio Fuertes | Interior design The Room Studio
The entire sofa area is cohesive. It is an all-in-one that works both as a "whole" and as each piece individually.
So if your rug doesn't cover all of this ground, it's probably worth buying a new, larger one that covers the entire area.
If you can't afford to buy one, maybe you could try removing it. Maybe you'll be surprised when you remove it and realize that the sofa area is better without that small rug.
For greater order at home: Place baskets in some areas
All baskets from Maisons du Monde
Decorative baskets are in fashion.
There are many styles and finishes to choose the ones that best suit your decoration.
Once you have found some that you liked, put them in some empty corners , next to the sofa, on the side of the TV cabinet, maybe one in the hallway or hall.
In this way you will not only add a decorative plus, but you will always have a storage space at hand to store certain elements that you always have in sight and that clutter the space both visually and physically.
It may seem silly, but once you get used to it and see a few baskets here and there, the general order of your house will improve considerably and effortlessly .
It's a very useful trick, but we don't know how much until we put it into practice. It is a way of putting more order in the house without even realizing it .
Also, as I said at the beginning, decorating with baskets is very fashionable: Here you can see ideas to decorate with wicker baskets.
Everything looks better on a tray
Life on virginia street photography
Any small element that may be , for example, on the coffee table, on a sideboard or in the hall, always looks more beautiful and more organized inside a tray .
If it's on a tray, it looks like it's on purpose to decorate the table or sideboard like this. Plus it's much easier to take off and put on when you want to clean or clear the table.
However, when we leave things loose, we create a small mess that detracts from the entire decoration.
Do not hesitate, get yourself some trays. And just put all those things inside them, you'll see what a difference.
Really, remember this simple premise to improve the decoration of your home: Everything looks better on a tray . Simple and effective.
You can also see these 40 ideas to decorate a coffee table.
Make the heights similar
2D decorative project of Thousand Decoration Ideas
If you want to maintain a visual order of paintings, mirrors, windows, doors and other elements that are on the walls, making them all have the same height or a proportional height will achieve it.
Not only that, but since everything is at the same height, the entire room becomes coherent and all the elements, both the mirrors and the paintings, will look better.
So take a look at the paintings you have hanging, at the mirrors, and see if they match in height.
Also, see if those pictures and mirrors match the height of the doors and windows.
It is not always possible to take this trick to the highest level, because there are houses that have higher doors or windows and we are not going to put a painting or a mirror two meters high.
But in an ordinary house, these simple changes will greatly improve the entire decoration.
In fact, if you don't have it like that, your paintings and mirrors are badly placed and are tarnishing.
Not everything has to be at the same height, but if you match more or less, centimeters above centimeters below, the height of your paintings, your mirrors, windows and doors, you will have greater harmonic stability throughout the room.
Use outdoor fabrics indoors
Todo el conjunto de Maisons du Monde
If you have children or pets, and the textiles are easily damaged, consider the option when you go to buy some textiles such as rugs or cushions, to choose them for outdoors .
They are usually made of much more durable and resistant materials .
In addition, today the same decorative interest is placed on outdoor pieces as indoors, so you can find very nice outdoor fabrics that don't even look like it.
Don't mind that it's labeled "for outdoors," it's just a label.
Thus, elements such as the rug, the cushions or any other interior fabric will last much longer and you will be able to clean it more easily .
Are you going to start furnishing your new home? Make a floor plan
Photography DepositPhotos
If you have just bought a house or are going to do a complete renovation, the first step you should do to redecorate and furnish your new living room is to create a floor plan, in 2D or 3D .
This will allow you to know exactly the exact space you have, and you will be able to take advantage of every last centimeter correctly .
By knowing the space and the exact measurements, you will not buy a piece of furniture that occupies more than necessary.
You will know in advance how much space the sofa, TV cabinet, dining table, etc. is going to "eat" you. And so there will be no mistakes.
Making a floor plan is very simple . You don't need any program if you don't want as you have some online tools to make a floor plan of your home in minutes.
In addition, these tools will also give you the possibility of adding furniture to the 2D or 3D plan so that you can see the available space and how everything fits you before buying anything.
All interior designers in all projects start with a floor plan. We do it like this for a reason. It is your roadmap.
Use masking tape to delimit spaces
If you don't want or can't use a floor plan, you can use masking tape to stick it on the floor to delimit the size of furniture such as sofa, dining table, coffee table.
In this way you will see live the size that they are going to "eat" you.
It is a very useful trick to take advantage of the space perfectly .
Crea un moodboard
In line with the previous trick, once we have the floor plan defined,
we can go on to create a moodboard to define the style of the new space
.
A moodboard is an inspiration board in which, through the process of adding different elements such as photographs, text, magazine clippings, materials such as fabrics, wood, ceramics and other objects to the board itself, we will create an inspiration board in where we can contemplate the soul of our project.
The final board has to express everything that we want to represent in our space to be designed : Colors, shapes, feelings, objectives, the general concept to be expressed and its nuances.
This is done with the aim of always being clear about what we want to achieve and not getting sidetracked. It is a very powerful tool to design any space .
It is the predesign. The concept. The soul.
And the best of all is that it is very simple, fun and free to do .
Here you can see how to make an online moodboard and tools to create it.
Follow your instinct
Everything that we add in the decoration should be designed to work together.
So it is normal that when you go to buy something new you are assailed by doubts as to whether it will look good, bad or average, along with other elements.
But beyond that everything must combine or contrast or look good together, first and foremost, you must like it, it must excite you .
So take some of the iron off the subject, and if you've seen something you've loved, go with your gut and buy it .
Do not misunderstand. It is worth questioning if that is going to look bad or good, or if it is going to combine, because they are intelligent questions.
The problem is that most of the time we stay there, in doubt, and we don't go out for fear of making mistakes. Like in a loop.
When that happens to you, follow your instinct and add what you like so much .
Remove doors or hall door
Interior Design Nook Architects | Photography by Iago Partal
It may seem crazy, but if you feel that you have little space in the room, removing the door will create the feeling that it is more spacious.
We are tired of seeing photos of open classrooms without a door.
In fact, more and more are designed like this, without a door, with direct access from the hall.
As I say, your living room will seem bigger, brighter, clearer and more accessible.
Renew your sofas with a cover
Sofa cover on Amazon
If you cannot afford to buy a new sofa and you have stopped liking the one you have or it looks old or worn and every time you look at it it makes your day bitter, put some covers .
It may seem obvious, but I know from experience that not a few people know the transformative power of a sofa cover until they put it on and see how your entire living room takes on a much more attractive new look.
Not just the sofa, but the entire living room. Literally.
And all for four dollars, as they used to say in the old days.
Although you can afford to buy a new sofa, you may not want to because you love the one you have, it is comfortable and a good sofa.
Put a cover and you will see the change that your whole room gives. That's what they are for. Don't get complicated, don't get bitter, don't think anymore. Buy a beautiful cover and completely transform your living room.
Hide all the wires
Progress is being made, slowly, but we are using fewer and fewer cables.
Still, I haven't seen a single living room that doesn't have a ton of cables on display.
They are still unavoidable if we want to use certain things, but they do not have to be visible, especially when we can buy a gutter for a few euros.
Then you paint the gutter the same color as the wall and that's it.
It is not as aesthetic as we would like it to be, but it does considerably improve the decoration and order of the space.
In addition to the gutter, there are other solutions in this regard. Here you can see 10 ideas to hide the cables.
It may not seem like much to you or you may have gotten used to seeing the cables loose, but if in addition to hiding the cables we add small things of the same caliber, such as, for example, adding a cover to a sofa that we no longer like, such as I mentioned before, collecting things on a tray, and fixing other small "decorative flaws", without realizing it we will have a much more beautiful, tidy space in which we feel comfortable.
It's the little details that really make the difference.
We all want a magazine house, but if you really look at the houses that appear in magazines, you don't see a single cable. TRUE?
So put a solution to these small details and you will notice a big change. In addition, luckily, they are the cheapest and easiest to solve.
Do you want your flowers to last longer fresh? Cut the stem at a 45º angle
Photography Amaflor Florist
Before putting the fresh flowers in a vase, cut the stem at a 45º angle. This will make the surface where the flower takes the water, that is, the stem, larger , and can "drink" more water.
Try it and you will see how your fresh flowers last an average of 2 to 3 days healthier.
If you are interested in this topic, here you can see other 10 tricks for fresh flowers to last longer.
For the flowers, put transparent vases
Following the thread of the flowers, although there are beautiful vases that decorate by themselves, to put flowers better use transparent vases.
The transparent vases highlight the brightness of the water, they are lighter, the flowers stand out more and give a greater sensation of freshness.
Use masking tape to put the flowers in a vase
Watch this super short video and you will see how with a simple adhesive tape your flowers look spectacular inside the vases.
You just have to make "cells" and then place the flowers.
This way they will look good upright and pretty. Each one in its place.
Subscribe to my YouTube channel and discover more tricks to decorate.
Use symmetry
Symmetry is a decorative resource that is widely used to give order and meaning to a specific space or area.
Do you have a sideboard and do not know how to decorate it? Do you have a corner, wall or other area of the house that you see and you are not convinced, modify that area symmetrically.
Look at the following example:
Design and photography Bellissimo and Bella
Both the curtains and the two lamps create a symmetrical effect that never fails.
But not only on sideboards, but also on sofa cushions, in paintings or in any other scene that you want to make it look good.
Symmetry is very pleasing to the eye . So if you have a corner, space or piece of furniture that doesn't quite convince you, go for symmetry and you'll see it perfect.
Karate chop on the cushions
Surely when you see a living room in a magazine and you see the beautiful cushions on the sofa, you wonder why yours do not look so good, even if they are the same.
It's because you haven't given them a good blow. Literally.
This trick doesn't fail. Pick up a cushion, and with your straight hand karate chop it on top . You will see how the cushion remains with a perfect shape to decorate the sofa.
Face two mirrors
Espejo of Houses of the World
If you have a small space and you want it to appear visually much, much larger, place two large mirrors opposite each other. This way they will infinitely reflect the space to each other , making your space gain a lot of visual depth.
Clean your windows
You can't imagine how much light dirty windows take from a house .
And I don't mean that they are shitty little foods.
All it takes is a little dust to settle and your house will have weird shadows , shadow veils, and poor lighting.
So even if it is a real hassle, try to clean the windows every 15 days at least , and your house will look brighter, the light will penetrate deeper and will be reflected in the different decorative elements and colors in a sincere way, without shadows or veils.
Follow the 60% 30% 10% rule to get the color right
There are many tips, tricks, and how-tos for creating a balanced and successful color palette for a home.
One of them is the 60% 30% 10% rule, which consists of using one color , the main color, in approximately 60% of the space; the second color, the support, the secondary, by 30%; and to finish off, in accents and others, another color by 10%.
Look at the green youth bedroom that we see in the photo above these lines and you will see that this rule has been applied in the following way:
60% is in green, which would be the main color. The second color, white, is 30% applied. And then you have the third color, which is blue, applied at 10%.
In this way you ensure that the color palette of your home is harmonious and balanced.
Of course, do not get obsessed, you have no practical way to measure exactly how much color percentage you are adding. It is a rule that works very well but do not take it exactly and literally, because it is flexible .
Take it as an orientation guide to apply the colors correctly.
You can read more about this decorative rule in this article where I tell you the 60% 30% 10% rule to apply color in your home.
Did you like this rule? Do you like percentages? Everybody likes percentages. Look at the following:
Apply the 60% 30% 10% rule to decorate your shelves
There is a big difference between storing and storing items on a shelf and having these items beautifully decorate the shelf.
If you have ever decided to decorate and order a shelf, you will have realized that it is not that easy and that the result is not as beautiful as the one you see in decoration magazines or internet photographs, right?
Well, in order to considerably improve the decoration of your shelves, if you follow the following rule, they will look like a magazine , especially if you have books.
The idea would be to put on the shelf a total of approximately 60% full of books, 30% leave it empty, free, so that it "breathes", and the other 10% with other decorative objects to add nuances and add decoration.
Take a look at the following example:
If you look closely, it is approximately arranged with 60% books, 30% empty, and the other 10% in different decorative objects such as bookends, photos, etc. And it has a perfect balance.
There are many other rules and tips for decorating shelves in addition to this rule, and you can see all of them in this article where I tell you how to decorate a shelf like a professional, in case you want to delve into this topic and this decorative trick that we have just seen will be for you. It falls short or it doesn't work for you because you don't use books to decorate and store on your shelves.
Form triangles in compositions
Whether to decorate a shelf, a sideboard, a console or any other surface, if you create triangles with decorative objects, you will ensure a good decoration. Look at the following image:
Sarah's Country Photography
By creating a triangle with the different decorative elements, the eye perceives a shape to which it is very accustomed: The triangle. So everything seems more orderly, coherent and beautiful.
Make the bed and decorate it as best you can
Interior Design Decor Aid
In the bedroom, the most voluminous piece of furniture, the one that attracts all eyes and the one that has the greatest prominence is the bed.
Especially in smaller bedrooms.
Thus, a well made and well decorated bed with beautiful textiles , and I say beautiful, not expensive, makes us have 70% of the decoration of our bedroom well done .
That is to say, we practically have all the work done, decoratively speaking, if we have a well-made and beautiful bed.
In fact, every time I design a bedroom for one of my clients, they can tell you how much emphasis I put on the bed and how wonderfully well-made and well-decorated the results are.
Surely you have seen many magazine photos with the bed unmade and that it is perfect. That better, we leave it for the magazines.
As I say, if you have an aesthetically beautiful and well-made bed, you already have more than half of the work done.
So learn how to decorate your bed like a pro and take your bedroom up a notch simply by decorating your bed . Here you can see ideas to decorate the bed.
That the legs of the mattress are not visible
Continuing with more decorative tricks for the bedroom and more specifically for the bed, if you have a bed base with legs, try not to see them.
When the legs of the mattress are visible, it gives the impression that the bed is unstable and cold.
So, make sure the quilt falls to the floor and covers the legs.
This simple tip can greatly improve the decoration of your entire bedroom.
Don't make this big mistake: Don't do paint samples in the middle of the walls.
I see a lot of people, blogs, and decorating magazines that recommend swatching colors on walls before buying a color, and they do it in the middle of the wall at eye level.
This is a huge mistake.
If you are going to buy a color to paint your house and beforehand you are going to make a sample to see how it looks, which is what I recommend, never make the samples in the middle of the wall .
Color swatches are always done next to doors, windows, and floors .
Why?
Well, basically so you can see how that paint color looks with your door frames, windows, flooring, and baseboards.
If you don't do it like that, what's the point of doing a paint sample?
Imagine: You go to the store for a sample of a color that you liked, you make the sample in the middle of the wall, you look at it and say: I like it.
You buy the paint, you paint the whole room and when it is painted you realize that that color makes the doors look older, or your floor look darker, or your windows take on more prominence, when you wanted to hide them, etc.
So always make samples next to door frames, floor skirting boards and windows. Take a look at the following example:
Is there really anyone who can appreciate what color is going to look best by making those horrible swatches? So the only thing you can see is an amalgam of colors that tell you nothing. The only thing you can figure out is which color you like more than another, more or less.
So if you want to waste your time and money making color swatches , this is a good way to go.
If, on the other hand, you want to see if the color you like is going to match you and look good in your home, make the samples as follows:
Photography Addicted 2 Decorating
See what a difference. With these swatches, you not only see the color(s) you like, but you also see how they go with: Flooring, doors, windows, baseboards, door trim, and drapes.
Doesn't that seem infinitely better? This is how you make a color swatch.
Change furniture handles
Design and photography by Julie de Lavander Julep
It is a very simple gesture that will take you little time and a minimum economic expense.
But you will give all your furniture, and therefore the entire space, a new, fresher, more current look.
I can't think of a better decorative trick to renovate a piece of furniture without painting it and without going crazy than changing the handles.
These have a huge effect on how we perceive the piece of furniture and its design.
Treat yourself to some new handles and renew your furniture and your entire living room.
You will see what change.
Here you can see more ideas to personalize and decorate the handles .
Get a more elegant, sophisticated and "romantic" atmosphere by having your curtains rest on the floor
There are many ways to hang curtains, and each curtain works better one way than another.
But if you have an elegant and sophisticated court space and make your curtains rest on the floor about 10 cm, you will enhance that environment .
Notice in the image above, how the curtains rest on the floor, touching the floor and falling on it, instead of staying flush.
That photo is of a styling set created by professionals to highlight a sophisticated and elegant space. Do you think they put those curtains that way by chance?
Obviously not; It's because when the curtains fall to the floor and rest a few inches on it, they enhance this elegant and sophisticated style more than curtains that are flush.
The basic textiles of the bed put them white
Why? For all these advantages:
They never fail and they always look good.
They give a feeling of relaxation and freshness and that is perfect in an environment like the bed, don't you think?
They are the perfect canvas to later add any color accent and combine you without problems.
Does it seem little to you?
Bathroom wall lights, never above the mirror, always next to it:
For the bathroom there are also a lot of simple tricks, such as the location of the mirror sconces.
I see a lot of bathrooms that have sconces above the mirror, and that's a big mistake , as they cast shadows on our face when we look at ourselves.
And that's not ideal for makeup, for example, is it?
To avoid all shadows and have uniform and adequate lighting, install the sconces on the sides of the mirror , also making the light frame you in a more flattering way.
You will have a more beautiful bathroom by adding bar soaps
Bars of Marseille soap from Campo di Fiore
Continuing with decorative tricks for the bathroom, there are others of a more homemade and simple nature, such as adding a few bars of soap .
Soap bars have triple use.
On the one hand, they serve to soap us.
On the other hand, they decorate; there are very, very beautiful ones.
On the other hand, they aromatize, since there are aromatizing soap bars .
With this simple gesture, you will have added decoration and charm to your bathroom.
They are very affordable and you can find them anywhere. Not enough advantages to buy a pair of them?
Decorative trick for €0: Change the site pictures
Photography Thousand Decoration Ideas
This homemade decorative trick will not cost you a single euro and you will achieve a great change.
Just move your pictures around .
What are you going to get with this? Get a new style , a new tint and a new decoration wherever you change the frames.
And this is so because your eyes have already become accustomed to those paintings that you have on the walls.
Although they look good and are pretty, your eyes are already used to them.
You can't imagine the great change that simply moving the pictures to another place or putting some of the living room in the bedroom and vice versa.
I do this decorative trick in many of the decoration projects that I carry out and all the clients are left with their mouths open, because they have seen how the decoration of their house has changed considerably, simply by moving a painting to another place.
In fact, the image you see above is one that Gloria, a client I recently worked with, sent me .
It turns out that in their old house they had several paintings that they didn't want to throw away but they didn't know what to do with them, because well, their new decoration was going to be modern and those paintings were old and they had seen them a lot but they didn't want to throw them away.
So we cleverly distributed them throughout the house, making them stand out.
For example, the one you see on the headboard, since it has yellow tones, we decided that the best place we could put it would be on the headboard wall, which was going to be painted a deep blue tone, so that both the painting and the color from the wall will highlight each other.
So it was. See how well the painting looks and how it stands out . Naturally, this gesture cost them €0, since they already had the painting.
So take a look at the paintings you have at home and move them.
In this way, every time you enter your living room or bedroom, you will not only see it differently, but you will also appreciate that painting or work of art that your eye had already become accustomed to.
Change your lampshades
Photography and mural by PIXERS
In the same way that your eyes have become accustomed to the pictures you have on the walls, they have also become accustomed to the rest of the elements, such as your lamps .
So, to avoid spending a lot of money or having to install anything else, simply try changing your lampshades .
The optical and decorative effect will be brutal.
The change will modify the entire space , and it will have cost you four euros and a morning of shopping, if you don't buy online.
Trust me, you will notice a huge difference. With this simple gesture you will have gained style, added decoration and changed the atmosphere of your space .
Change your cushion covers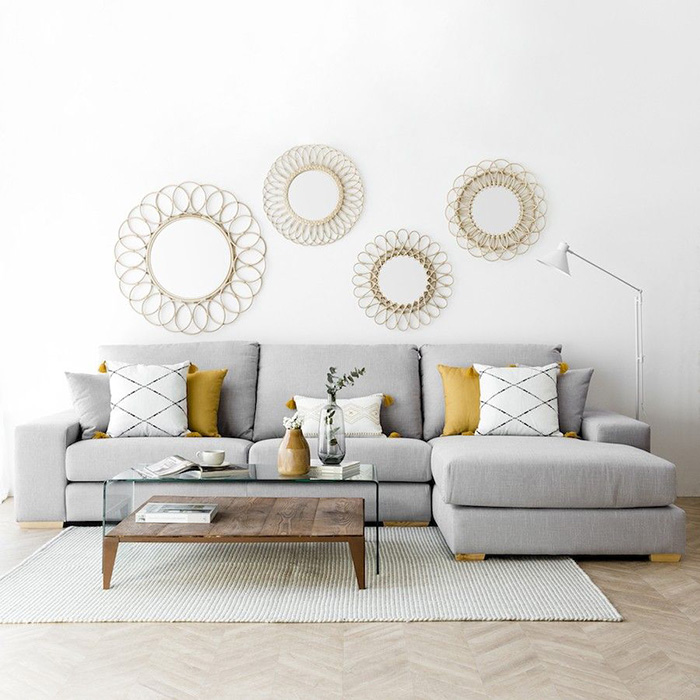 Sofa and cushions and furniture from KenayHome
It is the same concept that we saw with the lampshades.
There are super nice cushion covers that are worth less than €10. Or little else.
That is to say that changing the covers of the cushions will suppose a minimum cost .
And with this you will renew the appearance of your sofa and therefore of your living room .
As you may have seen, all these professional interior design and decoration tricks that we are seeing and that I use and use by other professionals , are tricks that, for the most part, focus on small changes.
And it is that, as I never tire of repeating, the secret is in the small details .
This being the case, changing the covers of your cushions for new ones will be a change, if not radical, extremely evident. And positive.
If you don't want to or can't afford to change cushion covers, try changing rooms .
For example, putting the ones from the bed on the sofa and vice versa.
The change will also be very remarkable. And for zero euros in this case.
Always start with the sofa
Habitat sofa
If you have bought a new house, or you are going to make a complete reform of the one you have and you are going to furnish the entire living room from scratch, I imagine that you will have a thousand doubts.
There is a decorative trick that never fails: Start with the largest piece .
In the living room, nowadays it is usually the sofa.
So, choose the sofa, then the rest follows .
It is often said that all it takes is climbing the first rung of a ladder to reach your ultimate goal. Well, in this case, the sofa is not only the first step but the ladder itself.
Once you have the sofa, you will know the size of the rug and its design, the size and design of the coffee table, and add and go.
So remember: When in doubt, start with the sofa.
Hang the lamps from the dining table at 75 cm high
The dining room table lamps are the icing on the cake.
They are the decorative detail that can define and highlight the entire dining room.
But for that to work, they must be placed at a height of 75 cm from the table top to the lamp.
In this way, in addition to having correct lighting, the lamp will be perfectly integrated into the dining room scene.
You can also see these 10 perfect lamps for the kitchen table.
Hang the kitchen island lamps at about 80 cm high
Kitchen from the Arrital kitchen catalog AkB_08 models
It is basically the same premise as the previous decoration trick.
For some lamps that are hanging over the kitchen bar to integrate into the scene and provide correct lighting, they should be at a distance of 80 cm.
From the top of the bar to the lamp.
Add a plant to fill empty corners: It always works
Photography @ninawilliams
Another of the most recurring questions that I receive by mail or in the comments that you can read yourselves is how to decorate an empty corner.
There are many, many ways to do it. In fact here I show you 35 ways to decorate an empty corner .
But if you don't want to get complicated and you want to get it right, put a plant.
A plant always looks good in any decorative style. So it is always a hit. Also:
You have large or small plants that fit your empty corner.
You have floor, wall or hanging plants.
You have natural or artificial plants, in case you are not good at taking care of them.
So simply by adding a plant, which I am 100% sure you can find a perfect one for your style and your tastes, you will have solved the problem of that empty corner that you did not know what to put and was disfiguring the entire decoration.
Make your room look bigger by painting the hallway or access to the room
This decorative trick is courtesy of the great architect Frank Lloyd Wright who, in order to make a space feel larger, would sometimes design the entrances to that space with lower ceilings and darker colors.
The result was that when you entered that space that I wanted to make bigger and brighter, you had the same effect as when you drive through a dark and cramped tunnel and suddenly come out into daylight. Have you noticed that feeling?
Well this is the same, but on a much smaller scale.
Look in the hallway above. It is a narrow hallway that is painted a dull gray and receives little light. How do you think you feel when after crossing the corridor you enter a bright white room?
Blend your furniture with the walls to make the space bigger
Photography @ilsevanelleswijk
It is not always possible, because you cannot or do not always want to paint a piece of furniture in one colour.
But if you dare and want your furniture to integrate perfectly into, for example, your living room, try the following:
Paint the furniture the same color as the walls .
In this way, since there is no contrast, the eye will perceive more depth and the space will appear larger . Cool, huh?
Separate two colors with a white marker
Photography Thousand Decoration Ideas
I learned this trick when I was very young with a master painter with whom I was working.
When we painted a room or any other space that had two colors, he would separate these colors by making a perfectly straight line between them .
And they were perfect.
Look at the photo above. It's a photo I took many years ago, when the quality of mobile cameras was minimal, that's why it comes out like this.
In that bedroom we separate the colors by painting a line with a white marker like this one right in the corner , where the transaction of the two colors occurs.
Thus the separation is perfectly delimited.
Also, if you don't have much of a hand cutting or outlining, surely the cut from one color to another has been a little crooked in some areas. This will make the cut completely straight .
To do this, simply put the tip of the white marker in the corner at the top, and then go down while supporting the tip in the corner .
The tip itself, resting on the corner, will guide you without the need to use anything other than the marker to create a completely straight line. (As straight as the corner is, of course.)
Create a common thread so that the whole house is cohesive
I've walked into houses where, even though each room was painted a very different color, the entire house felt like a whole.
And this is because there was always a common thread in all the rooms that made them connected.
Thus, if you feel that your house has a different room that does not connect, create a common thread between them.
For this you can use the following:
Pictures of the same theme
A color palette that is repeated in a different way throughout the house.
A color accent that is always in all rooms of the house.
Etc.
This will create a common thread between the spaces and the whole house will look and feel cohesive.
The living room carpet, if it is clear, better
Photography and interior design Kyalandkara
I understand that if there are children at home, they will look for a rug that is long-suffering. If this is your case, and you do not want a light rug, then move on to the next decorative trick.
Light rugs serve 3 purposes that can be very valuable:
If the floor is dark, they will make the space brighter.
Visually expand the space
They are very warm so the living room will immediately acquire a cozy nuance.
Besides that they combine with everything.
As you can see, with these simple decoration tricks that will not take you more than one Saturday morning, you will improve your home considerably.
Well, you decide how far to go, because with all these homemade decoration and styling tricks, your house could appear on any magazine cover.
Leave me a comment and tell me what you think and if you think this article can help a friend or family member who wants to improve their home, share it. Thank you!
I also invite you to subscribe to the newsletter by clicking here, where I will send you an email every time I publish an article with tricks, tips and more.