A touch of green in the interiors and fill your home with hope, style and a lot of charm. Plants convey joy, liveliness and enthusiasm.
The natural note is essential in the home. It is a way to refresh interiors and fill them with hope. For this reason, plants play a very important role in decoration, especially when it comes to creating a pleasant atmosphere in some rooms. So that no part of the house is left empty, we have made a selection of 30 ideas to decorate the corners of the house with plants.
On more than one occasion we have noticed that some parts of the house are soulless. There are many corners that we can decorate and that are not abandoned, hence the possibility of having some plants that, deep down, participate in the decoration and offer a particular style.
What are the benefits of having plants at home?
We all know the different functions that plants can fulfill in environmental matters, but we must know all the positive aspects that they bring us. To begin with, they are an essential component when it comes to renewing the air in the house. During the photosynthesis process, they emit oxygen during daylight hours and capture CO2; however, at night this process is reversed, that is, they consume oxygen and emit CO2.
These amounts are far from enough to be harmful to our health. What is clear is that plants are the ones that, by emitting oxygen, enrich the life of the environment where they are found. In this sense, why not put a bit of nature inside the house? After all, they are going to bring us good things, since indoor plants purify the air and help us sleep better.
Plants against stress
In case you didn't know, plants transmit hope and joy, in addition to filling interiors with life and color. As we have pointed out, they help purify the air, which translates into toxin-free environments that favor rest and, consequently, help us feel better. Therefore, we can say that plants reduce stress and free us from anxiety. In other words, they are Ideal to incorporate them into the home.
Reduce your carbon footprint
It seems that there are plants that reduce the carbon footprint and make the home a cleaner and more purified environment. In this way, you will not only decorate the interiors in an elegant and careful way, but you will also contribute positively to the environment.
In the study that we show you below you will discover amazing data, such as that the most effective indoor plant to reduce the presence of CO2 is the prayer plant, that 8 of the 10 plants studied were able to eliminate more than 10% of CO2 in 24 hours or even that the plant that reduces its carbon footprint the least is the treadmill. Actually, breathing clean air is the latest trend in homes.
Slide the screen and get inspired by these wonderful ideas to decorate with indoor plants and create green corners inside the house.
1 My tropical corner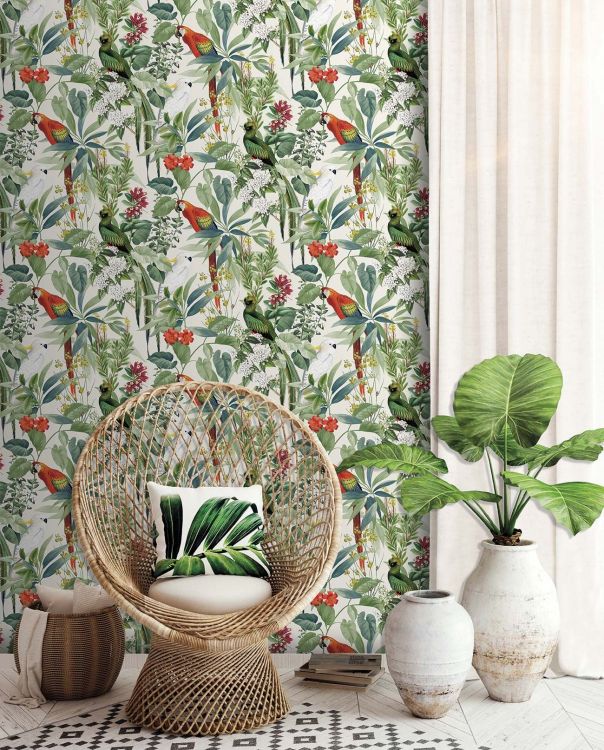 Let your imagination fly and travel to the Amazon jungle or North Africa. Decorate a home area with bright and bold colors; natural materials and lots of plants. Choose textiles or wallpaper with prints that combine animals and palm leaves, they bring vitality and positivity to the environment. By ManoMano.com
2 A wall full of life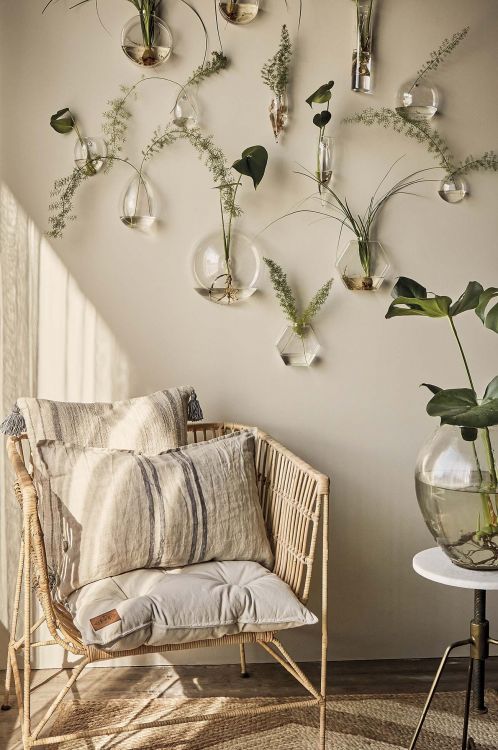 The walls are part of our home and many times they are the great forgotten. If you are tired of them being empty, decorate them with plants, they will fill your home with life and joy. A simple option is wall vases, they come in various sizes and shapes, like these from Affari. You just have to hang them at different heights, put a little water and place your favorite plant.
3 Use plants as room dividers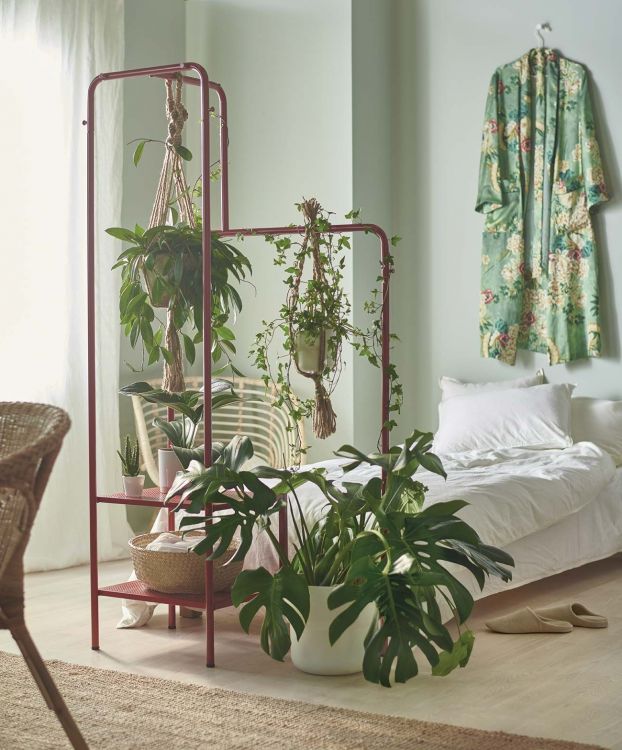 This trick is great if you live in a studio or an 'all-in-one' apartment, since large plants, in addition to decorating, can act as room dividers to separate the bedroom from the work area, or the living room from the dining room.. It will help you to choose tall and stylized planters.
4 Put plants in unusual places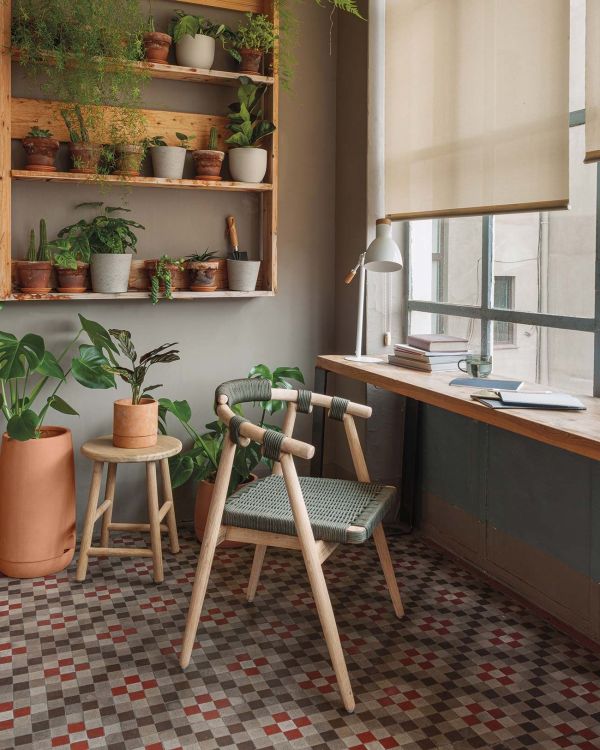 Take advantage of those small corners where no furniture fits to add your super plants. Remember that you have a lot of options: there are higher, lower, more exuberant, simpler… You can also play to place them at different levels with the help of planters and stools and set up a mini garden that is most Instagrammable.
5 nature lovers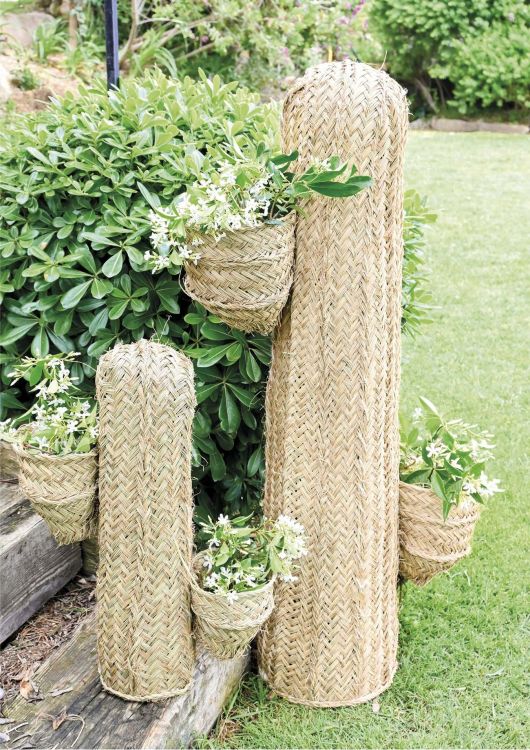 Choose original and different pots. Those made of wicker or rattan are a good option when it comes to decorating, giving warmth and charm to any space in the house. They are made by hand, they are resistant, they do not weigh and they combine with all decorative styles. These cactus-shaped ones are from Decowood.
6 Take advantage of the free space in the bathroom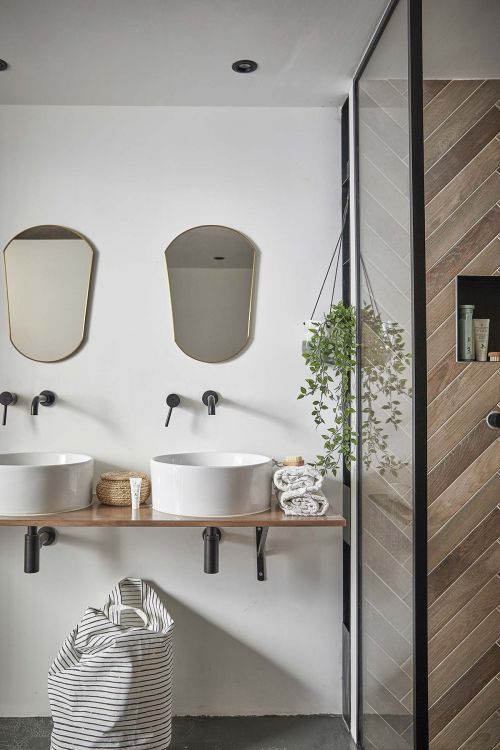 Bathrooms are often the great forgotten when it comes to decorating with indoor plants (although now it has become a viral phenomenon). Alocasias, ferns, anthuriums… take advantage of your bathroom to place one of these plants that need large doses of humidity. The visual spectacle is guaranteed!
7 Plants help hide unsightly areas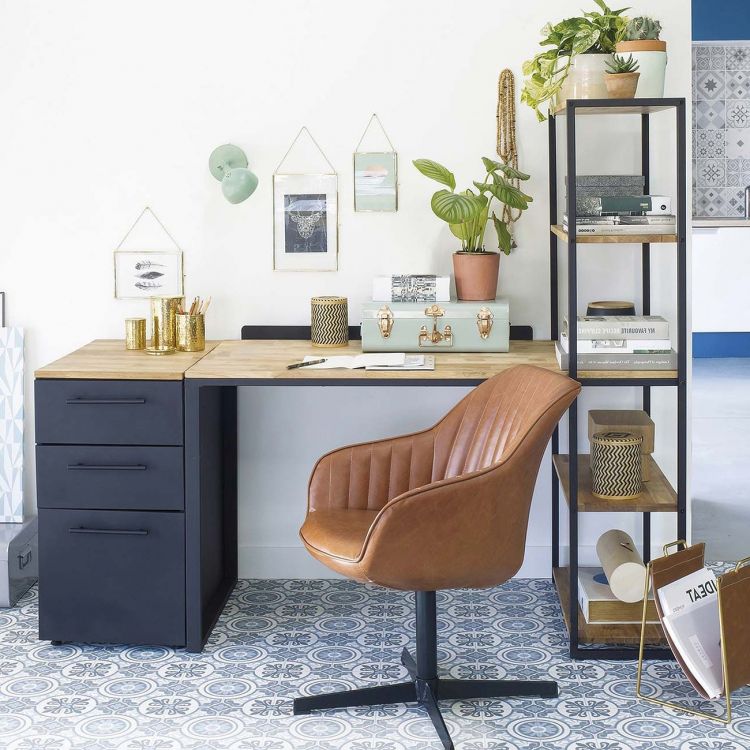 Think of those outlets full of kinked wires, or those little blemishes from peeling paint. Large plants are perfect for hiding the most unsightly areas of your home.
8 Bet on hanging plants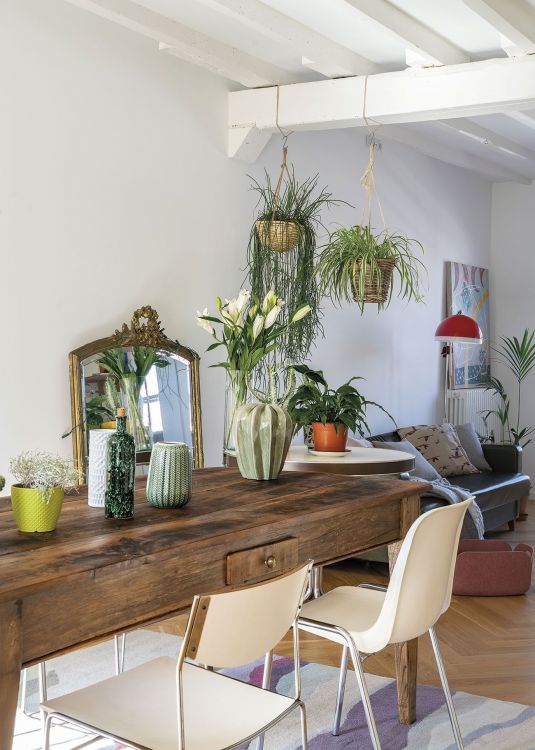 If you have run out of square meters on the ground, hanging plants will be your allies. Does your floor have exposed beams? Well, now you know where to hang the plants. You can also install hooks on the ceiling, or place a plant with an elegant fall (potho or ivy type) on a shelf.
9 In fiber baskets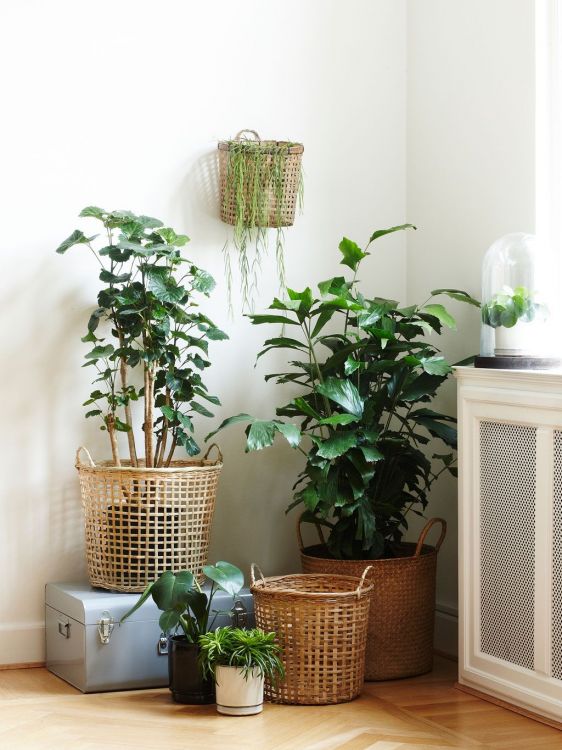 In fiber baskets and playing with heights. Place a plant high on a trunk or box. Accessories, for sale in Sostrene Grene.
10 If you have a balcony, you have a treasure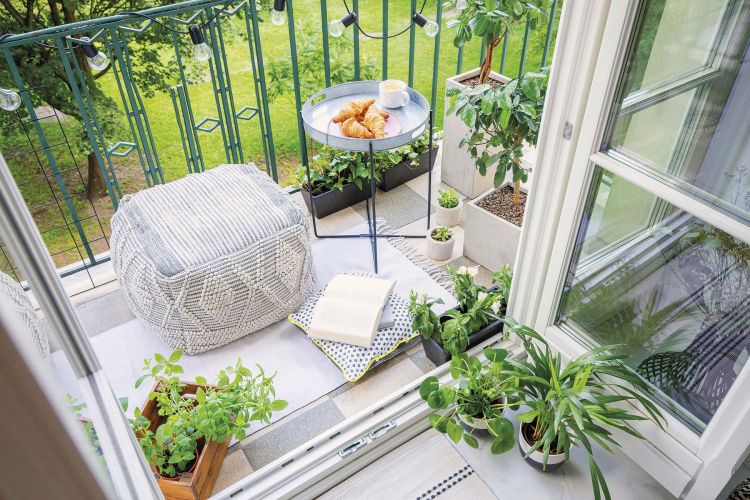 Take advantage of things you have at home and don't use, that pouf that is in a corner of the living room or that side table that you don't use. Check to see if you have plants that you can bring outside, like basil or aloe vera. Voila! You will have a corner full of life for little money.
11 Mini Succulents grouped in a tray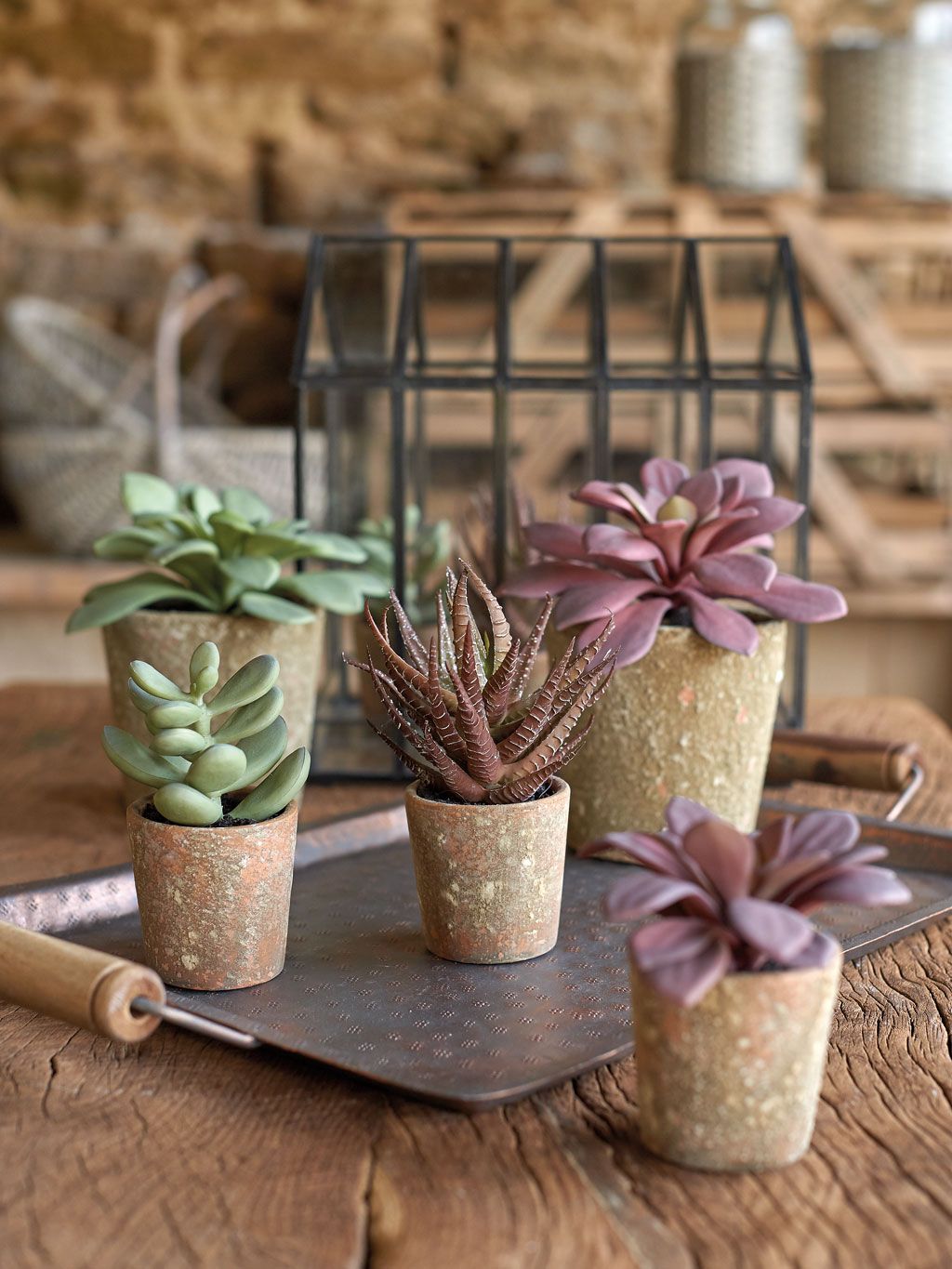 The succulents are resistant and their colors will allow you to create beautiful mini compositions, grouped, for example, on a tray. Accessories, from Parlane.
12 in paper bags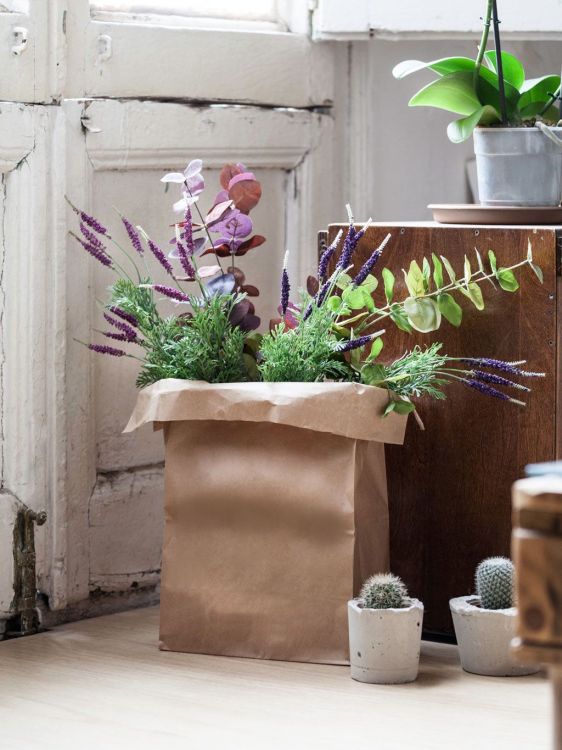 Paper bags or sacks without a good option. Many of these bags are protected inside with plastic in case the water overflows. They are also a good option to cover a not very shiny vase.
Wild, carefree green arrangements are pasted on it.
13 As if it were a point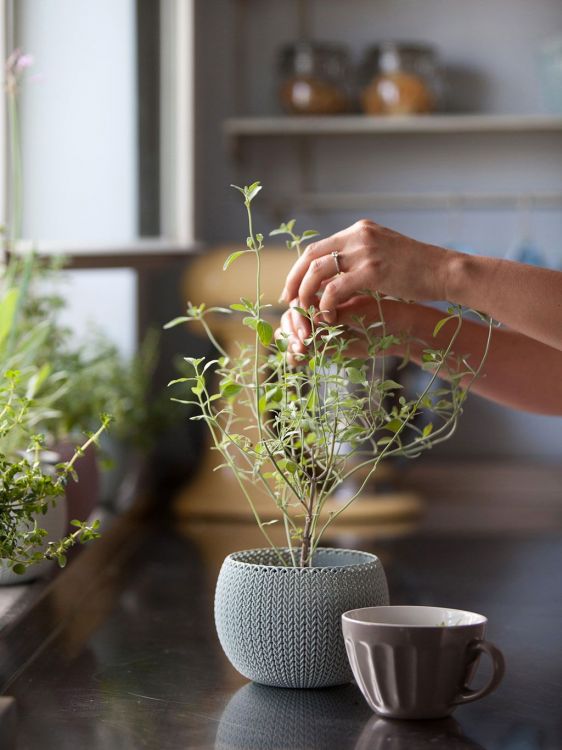 Pots that simulate knitted containers. But they are plastic. This is Trio Knit, by Curver.
14 On the sideboard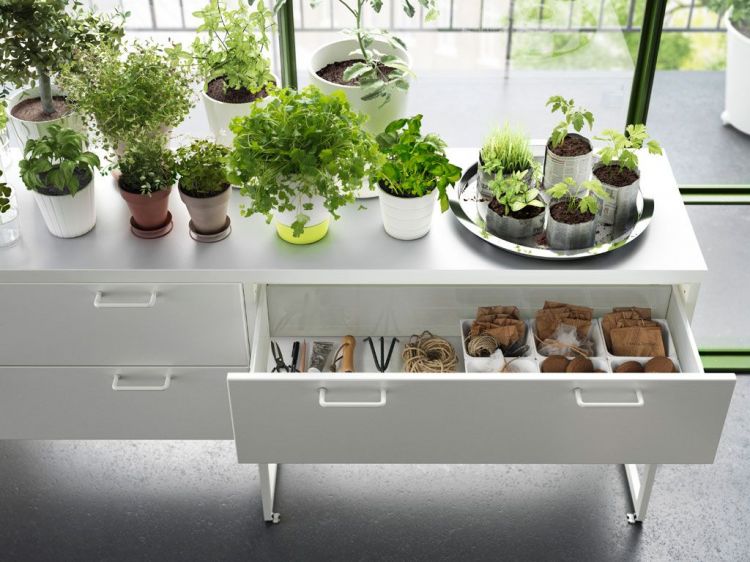 Different varieties in pots and trays on an entire surface. Everything from Ikea.
15 Decorating a showcase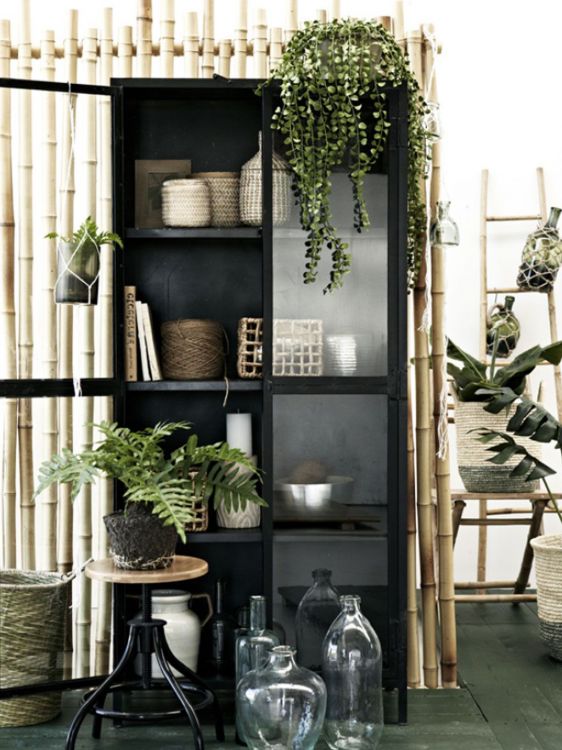 A plant hanging from above. A cascade of leaves that offers an elegant and sophisticated image.
16 Green next to the gazebo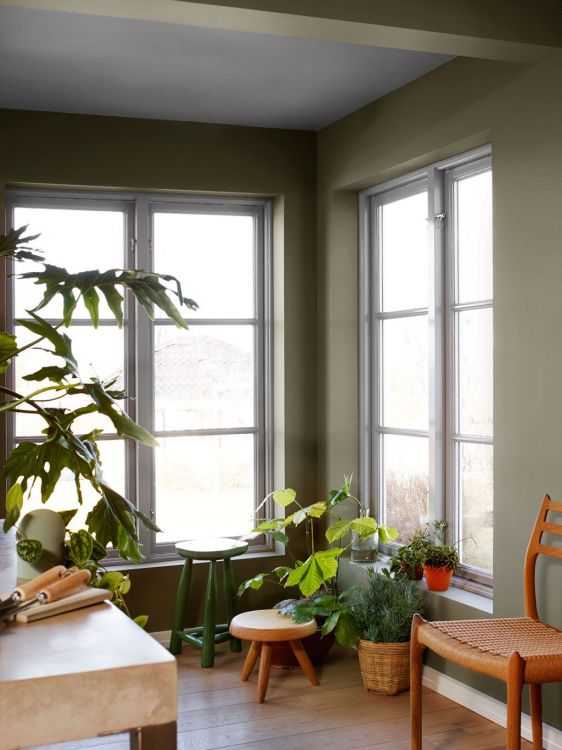 In a corner near a window or gazebo, in different flowerpots and between a stool that also serves as a seat to contemplate the views as well as a support for the plants themselves.
And if you accompany the natural green of the plants with a tonality in the range on the wall? Jotun signature painting.
17 Plants on the shelves of a bookstore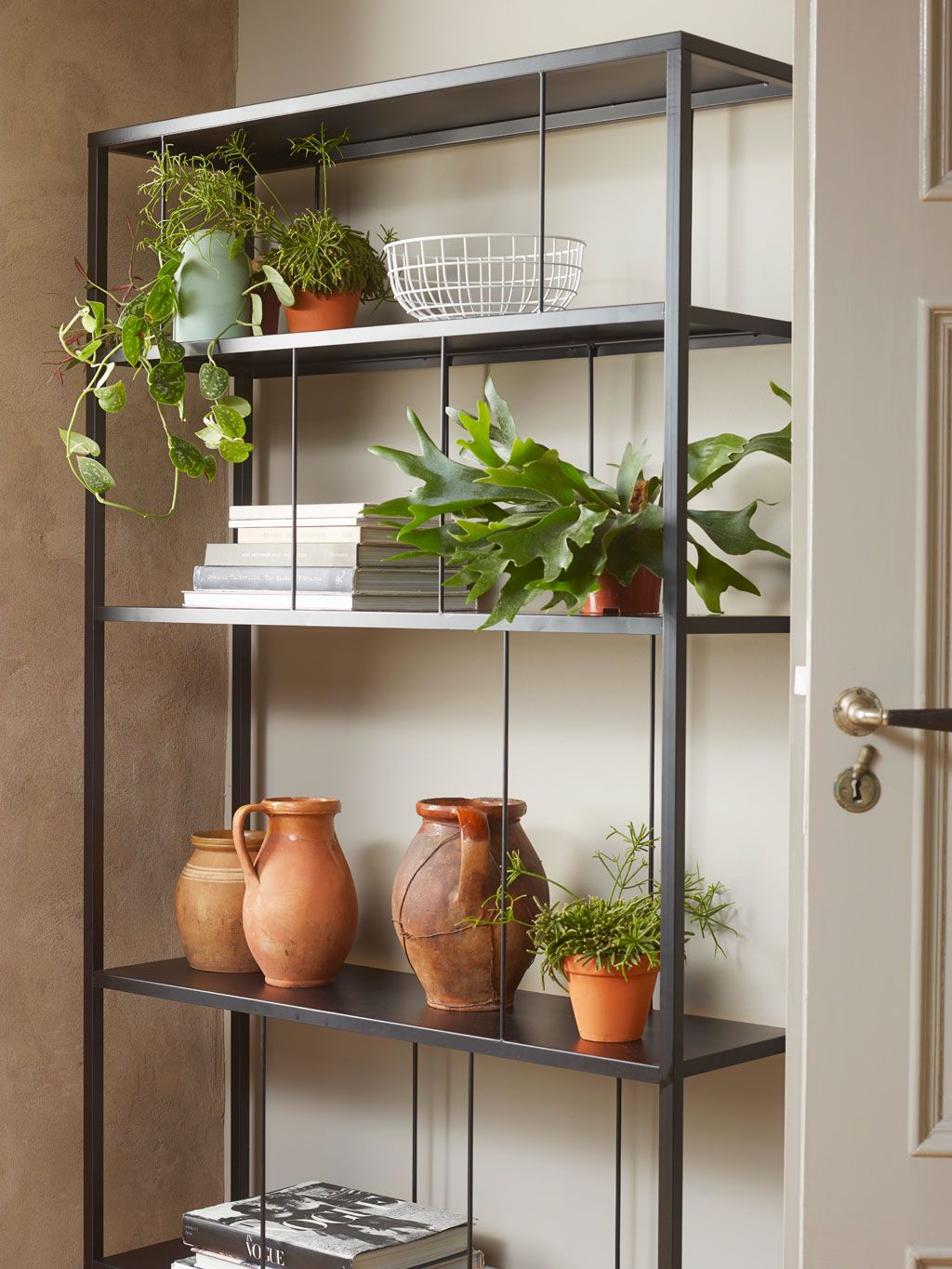 On a metal shelf and with a sophisticated image. Because man does not live by books alone… The walls are painted in a very natural neutral tone, by Jotun.
18 A mix with cacti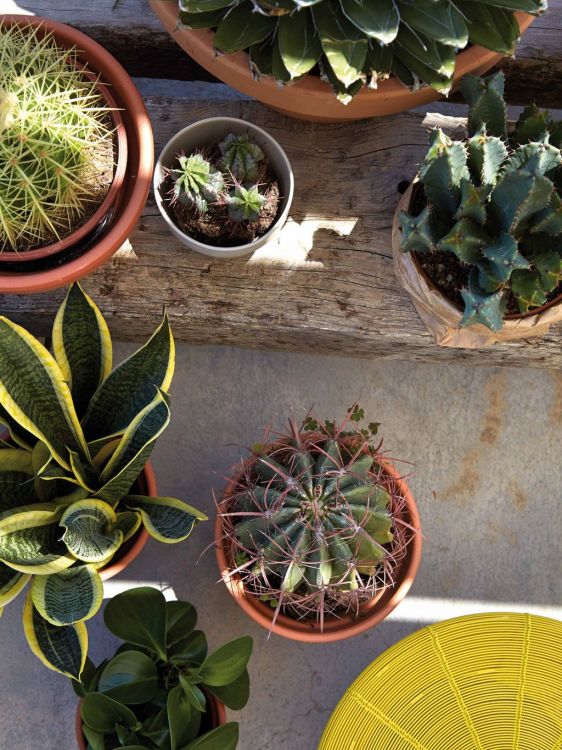 A mix with resistant indoor cacti. Keep in mind that it is a type of plant suitable for interiors.
19 White and green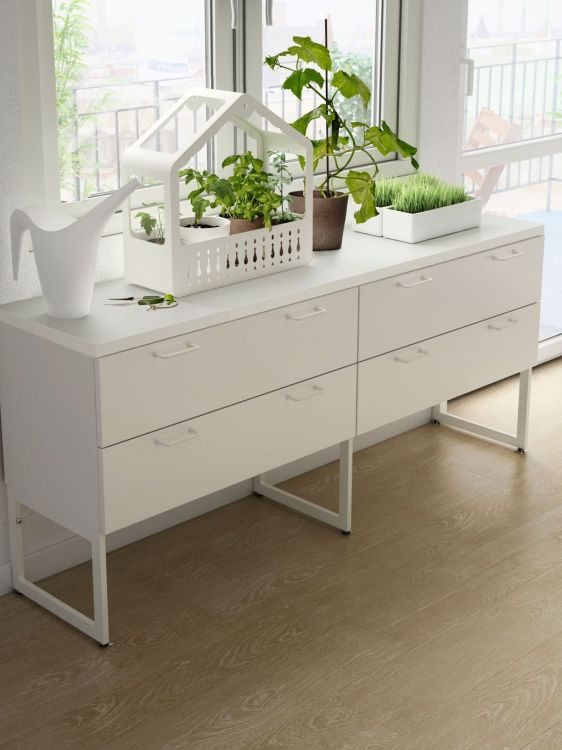 Use plants to add color to a snowy composition. Everything from Ikea.
20 All Green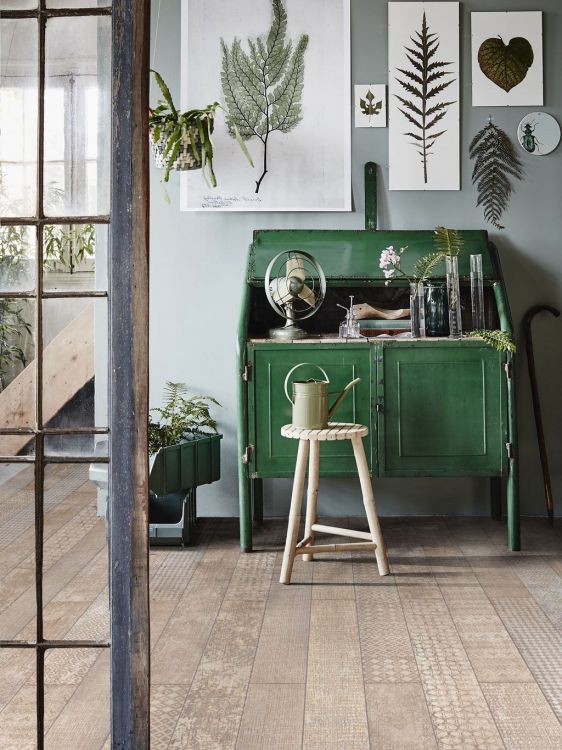 Not only natural, also in botanical sheets.
21 In glass containers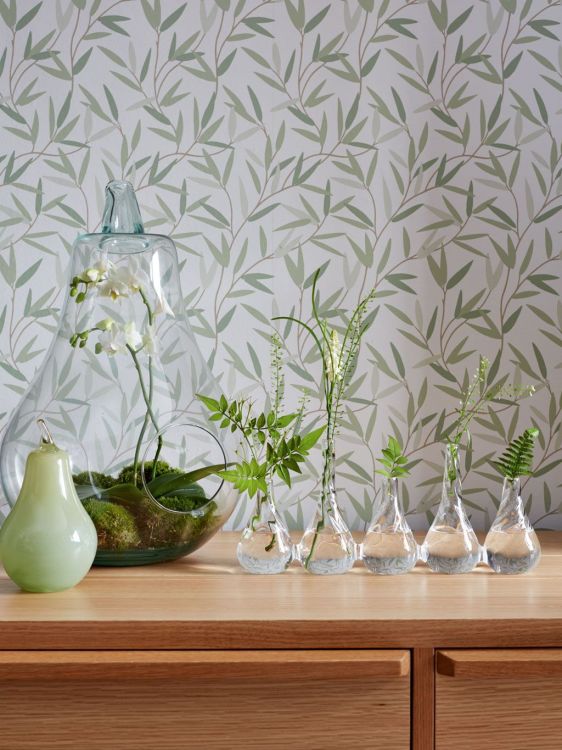 Mini vases or a bell-type container to create an ecosystem inside. Background wallpaper is the ideal setting. Everything by Laura Ashley.
22 On wooden shelves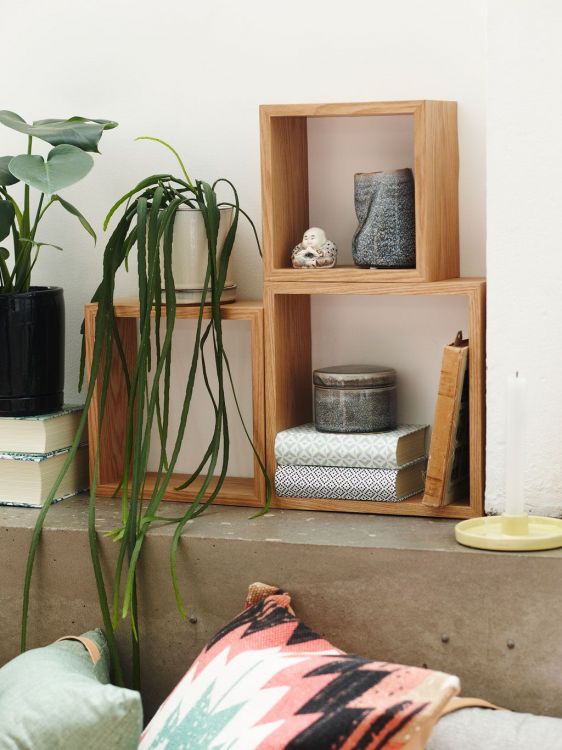 Perfect for brightening up cubic wooden shelves.
Photo, by Sostrene Grene.
23 Vertical garden in a corner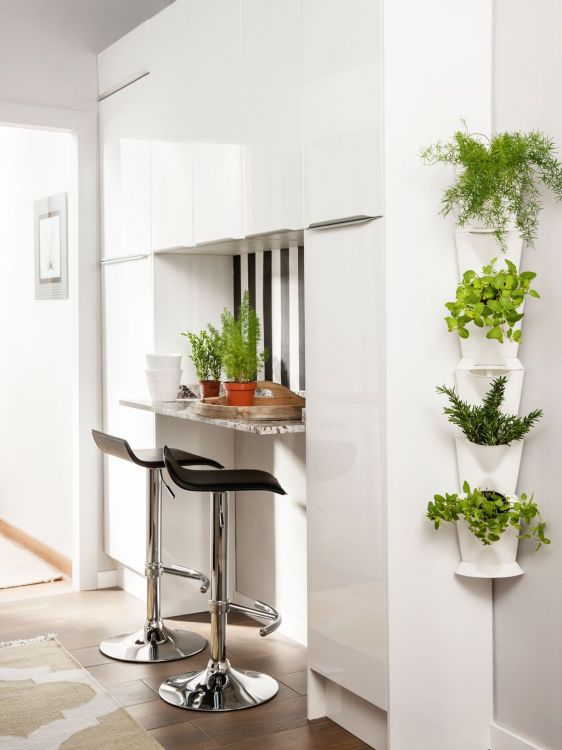 In one corner, an original and discreet vertical garden. Environment, by Leroy Merlin.
24 Under natural light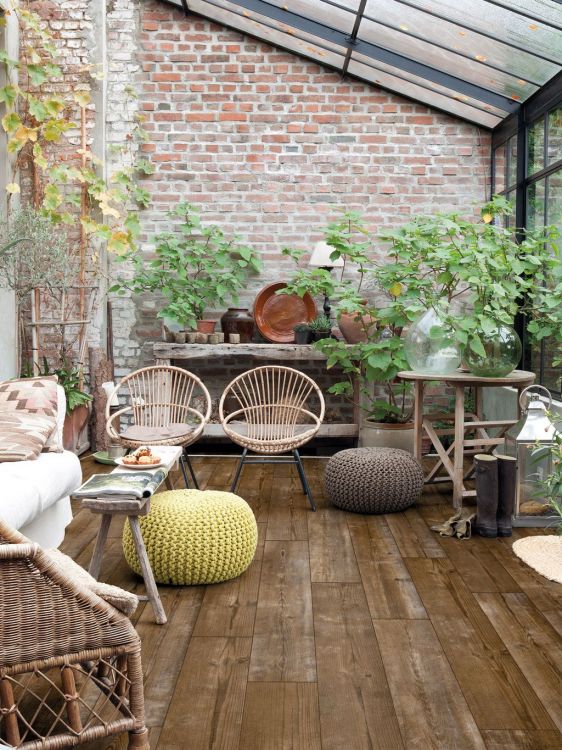 Perfect for a room decorated as a greenhouse. Wherever there is a bright space, indoor plants will grow leafy. Quick Step wooden floor.
25 sheets in glass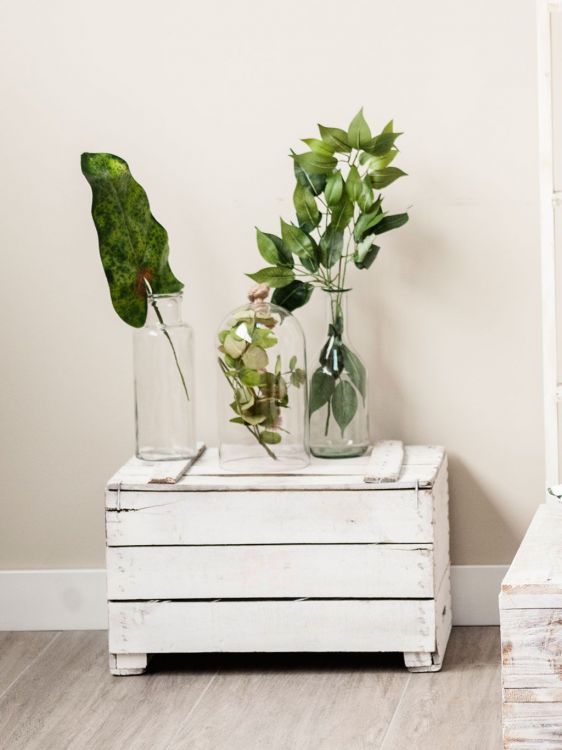 Simple glass vases with green leaves. Accessories, from Muy Mucho.
26 The grandiose simplicity of a twig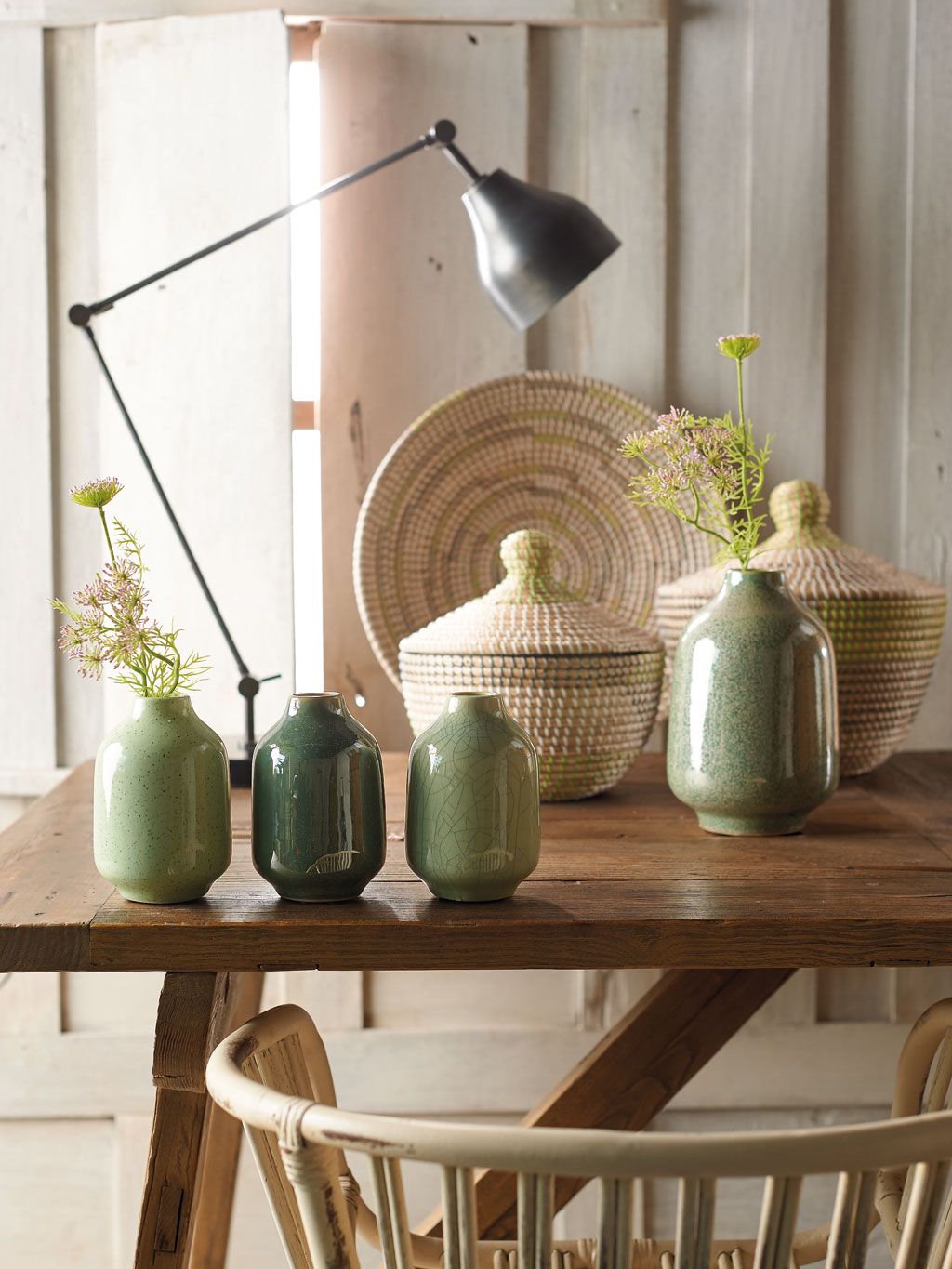 A simple branch brightens up a composition of vases.
Accessories, by Parlane.
27 On the table and on the floor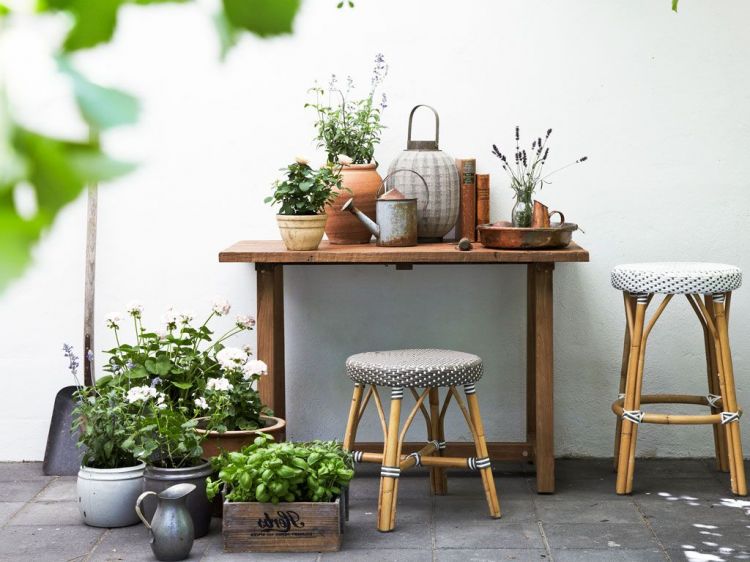 Environment, by Sika Design. A sophisticated design with different flowers and aromatic plants.
28 Perfect for animating transit areas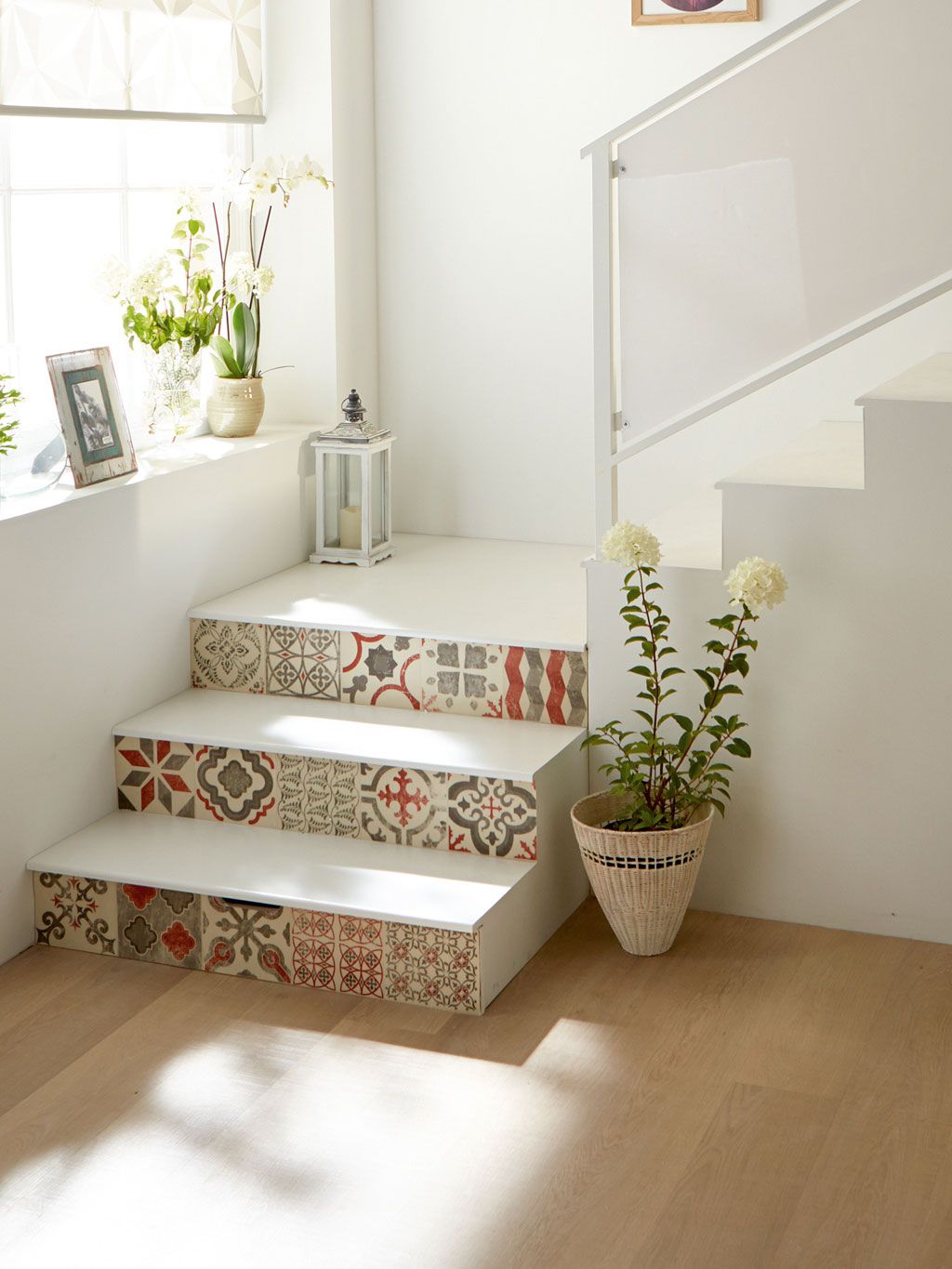 On a window sill or on a landing, plants add the decoration that a corner lacks. This staircase without plants would not be the same.
29 Green life in a "sachet"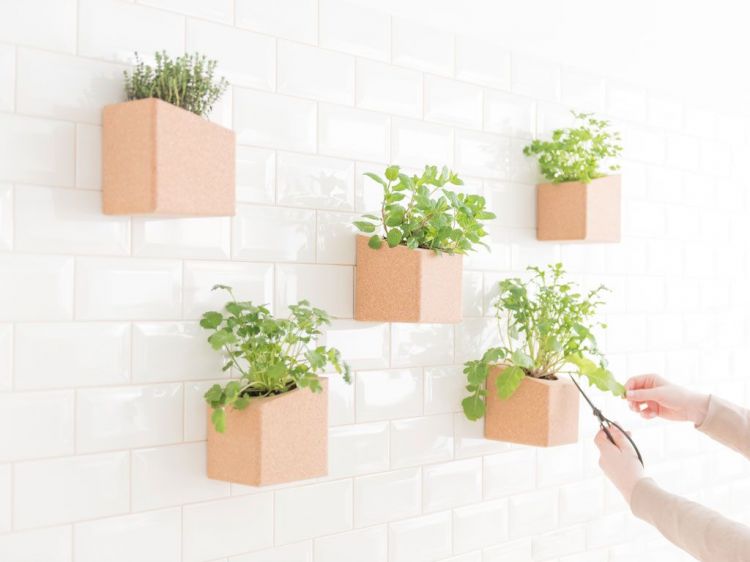 Cultivate your decoration with Life in a Bag, mini organic seed growing kits.
30 mini garden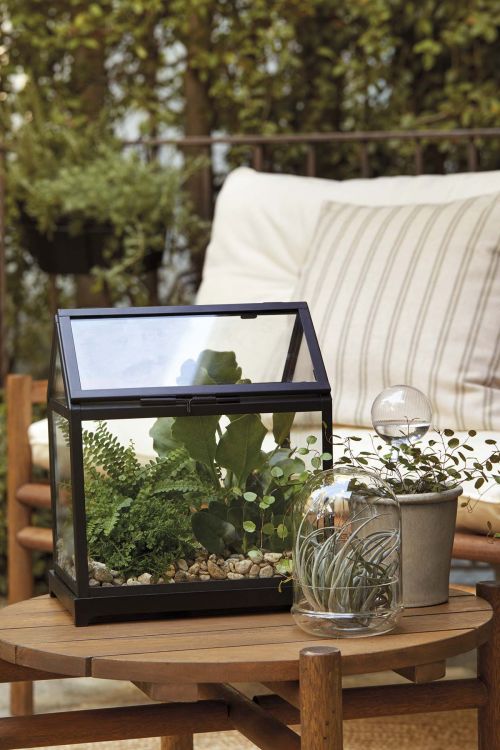 A very simple way to have fun, relax and reduce stress is by making a terrarium. Wash and dry the container you are going to use well. Place a layer of about 2.5 cm of gravel or stones that serve as drainage. Add a layer of moss and another layer of soil. Dig some holes and put the plants, without the leaves touching the glass, and cover by patting. Add more stones and water with a sprayer, you will have a nice terrarium like this one from H&M Home.