We have made a selection of our favorite rooms decorated in neutral tones and we leave you the best keys to decorate yours.
The decoration of our living room is one of the most important. This room is the nerve center of our home and that is why we have to give it the attention it needs. All the inhabitants of the house converge in the living room and it is the first impression received by people who come from outside. In addition, it is one of the areas where we spend the most time and that is why we have to make it as beautiful, functional and welcoming as possible (10 ideas for a very stylish living room)
Regardless of the style of decoration you choose for your living room, there is a color palette with which you will always be right and that is neutral tones. With the combination of these colors we managed to create a relaxed style living room ideal to enjoy with the family. Of course, one of the precautions that we must take when decorating our entire room with these types of colors is that we run the risk of creating a flat space without personality. To avoid this, we leave you the best keys to combine these colors and achieve a sensational living room in neutral tones.
Keys to decorate the living room in neutral tones

The first thing we have to differentiate is that neutral tones are not synonymous only with the Nordic style, all the decoration styles you can imagine can be reinterpreted in this color palette. The way to use these tones is very simple, you have to go from the lightest to the darkest, that is, a white or beige base, the main furniture in gray or earth colors and the accessories in more intense tones such as black. In this way we achieve better lit spaces and with a feeling of greater spaciousness.
Give personality to your walls, using wallpaper, changing the color of a brick wall, with strategically placed pictures… Look for the pieces that you want to give prominence to and, even if they are in neutral colors, have their own style. In this case it is usually the sofa, the armchairs or the coffee table. Do not give up plants in your living room, the green tones will contrast perfectly on the neutral palette. And do not forget to dress your floors with rugs to give it more warmth.
List the best ideas in these 25 examples that we leave you of living rooms decorated in neutral tones.
1 Skin deep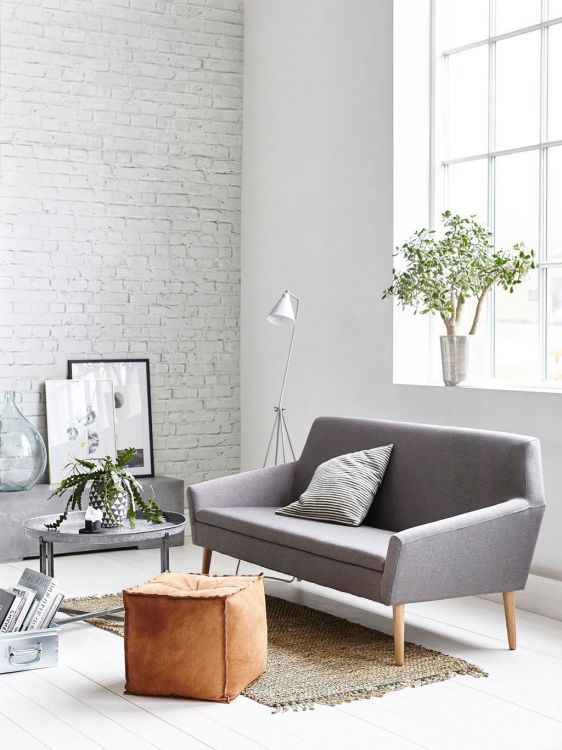 One way to make an interior with few colors interesting and not cold is to give a touch of warmth with textures, as in this room, where they have placed a leather pouf.
2 Good starting point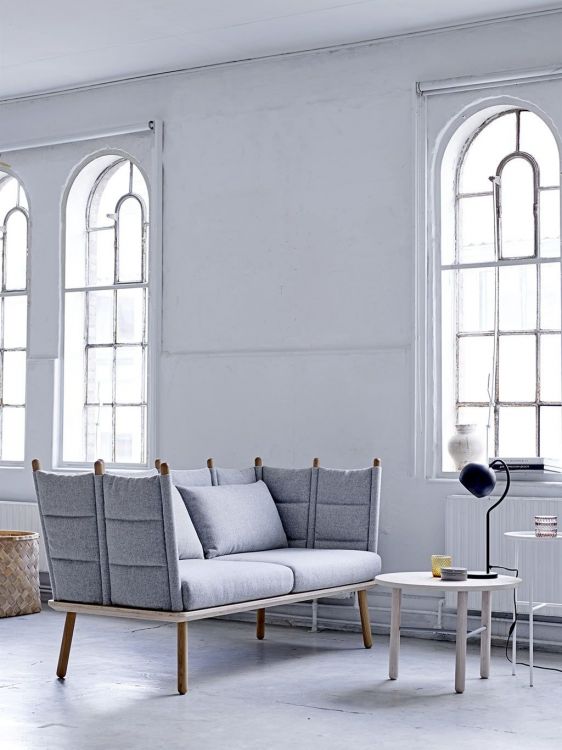 Living rooms with interesting architectural elements, like these arched windows, are the perfect place for a total look with neutral tones.
3 50 shades of gray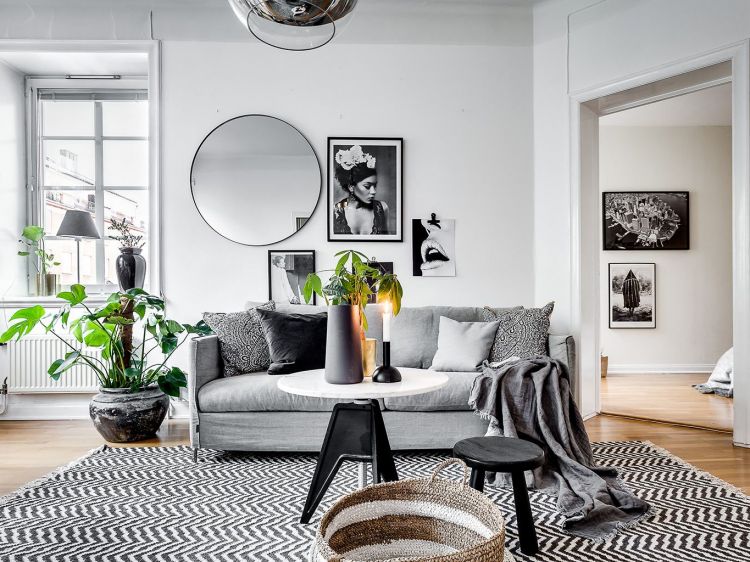 If you choose to wear a single color, such as gray, look for pieces in lighter and darker tones to add depth to the combination.
4 Neutrals, but varied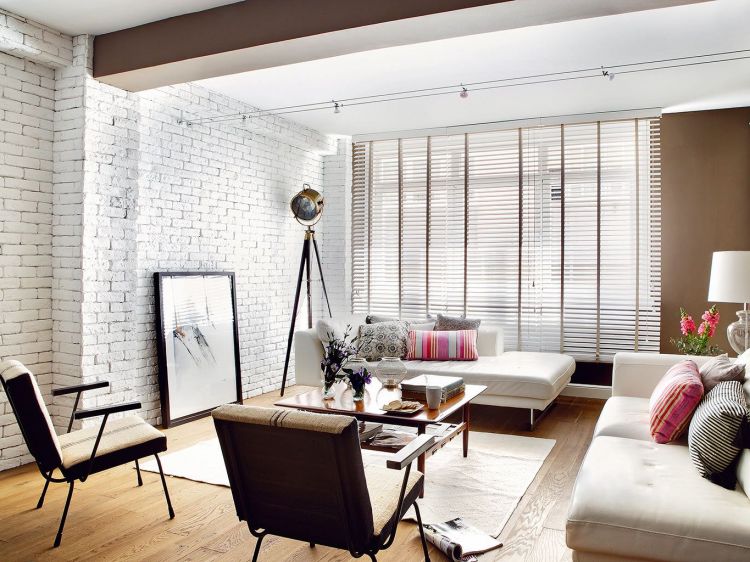 In this loft they have managed to give the space personality by painting each wall with a different neutral tone and adding texture with exposed brick.
5 Has fabric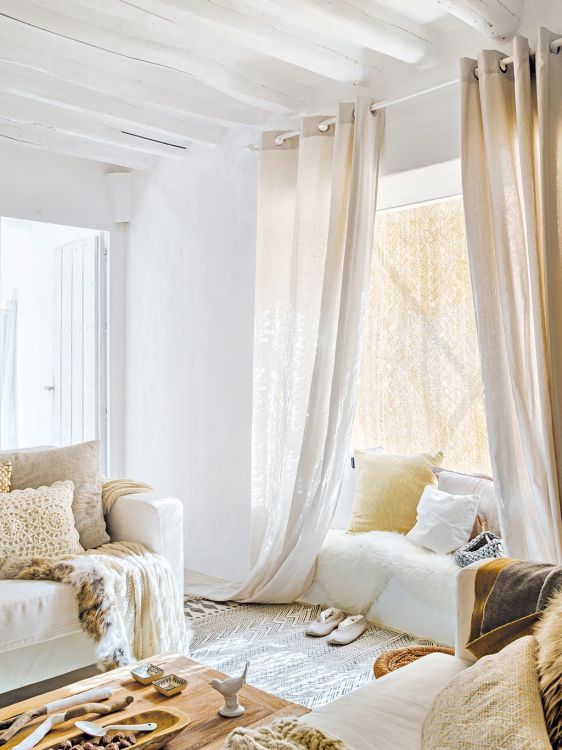 Textiles are a perfect opportunity to provide textures. In this room they have combined cottons, linens, wool, crochet, skins…
6 Prominence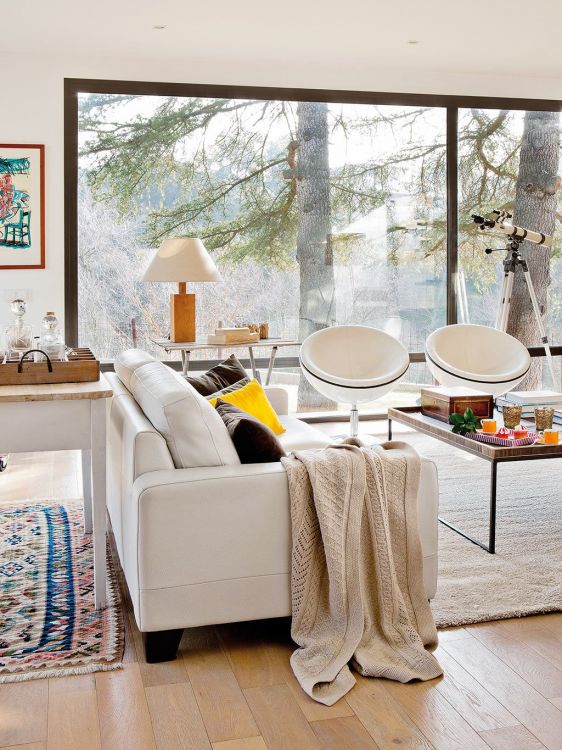 If your house has dreamlike views and you want them to be the focus of attention, neutral tones will be your allies. As an example, this living room decorated in white.
7 Natural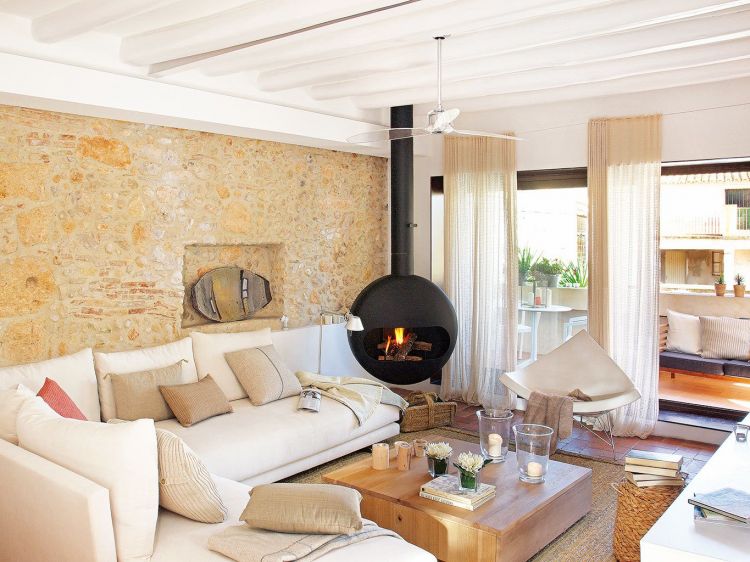 Sometimes neutral tones are given to us by architectural elements, like this stone wall in this 19th century house.
8 There is hope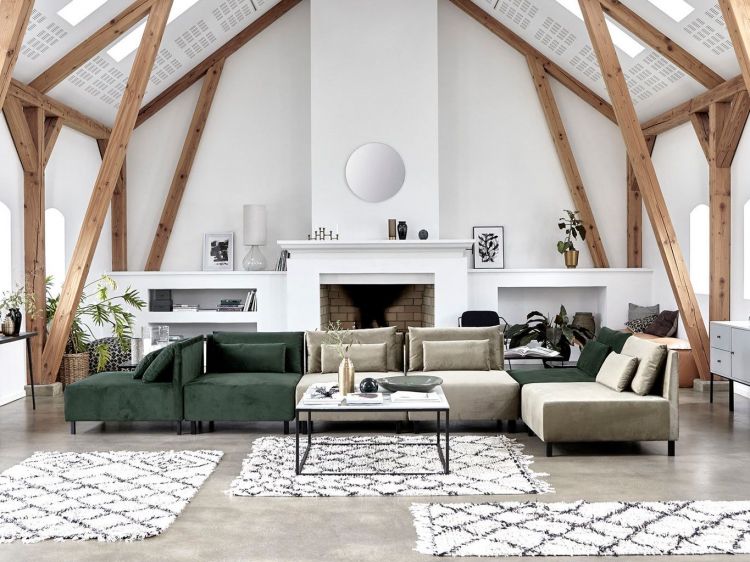 Not only white, black and beige are neutral colors. All those that do not compete for the attention of those who observe them, too, like this dark green in this room with a gable roof.
9 Rock it!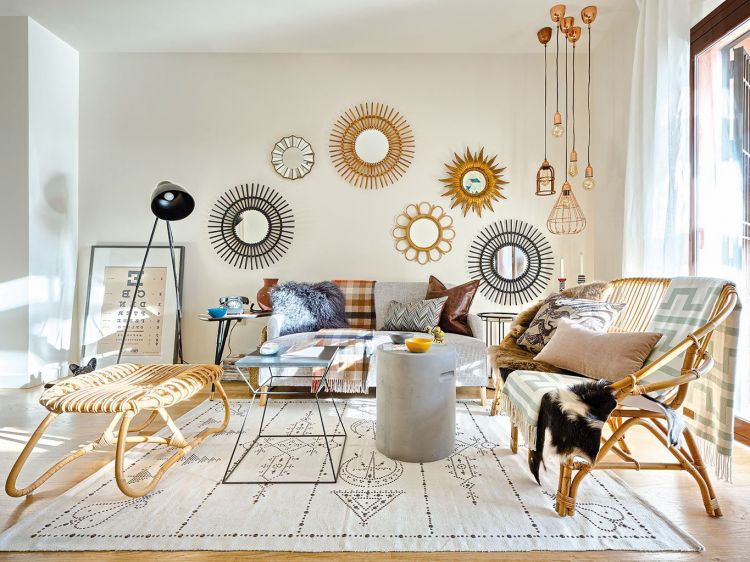 Bamboo, wicker or rattan will help you introduce textures in a room decorated in neutral tones without adding discordant colors.
10 Mix of eras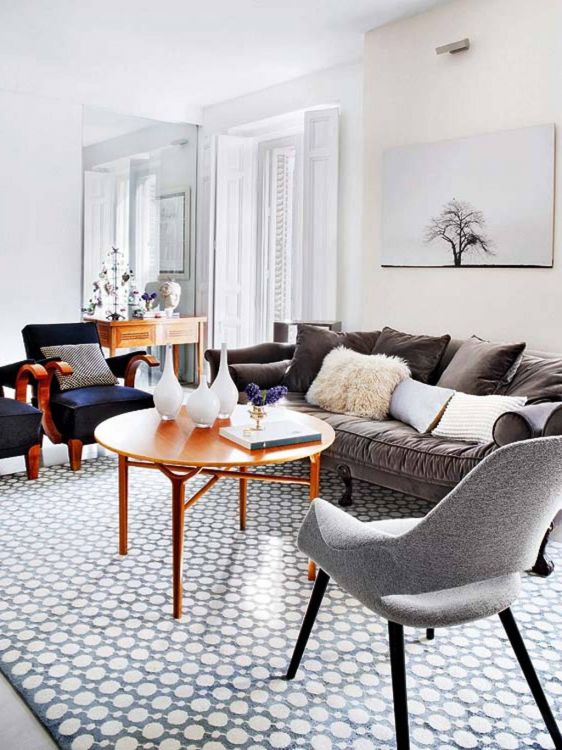 Not only the textures reduce the monotony of a room in neutral tones. Combining pieces from different periods is a very good way to give more character to the room.
11 Rustic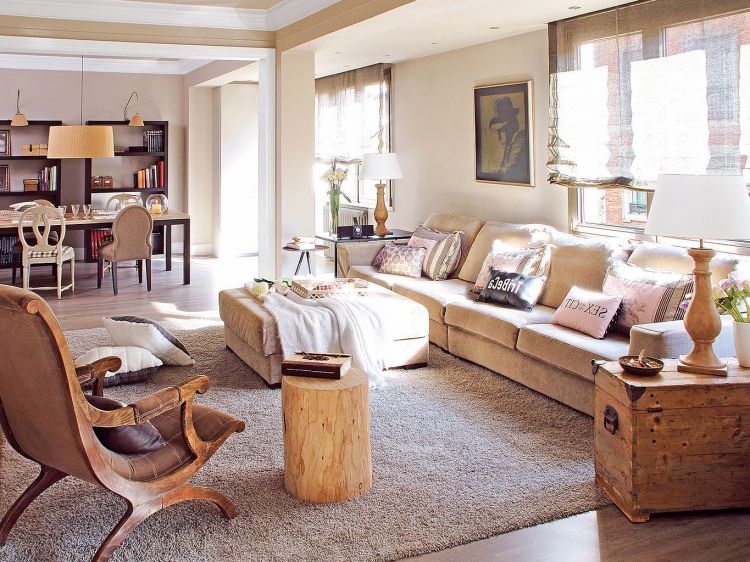 The rustic style is especially comfortable in neutral tones, especially beige.
12 Optimum conditions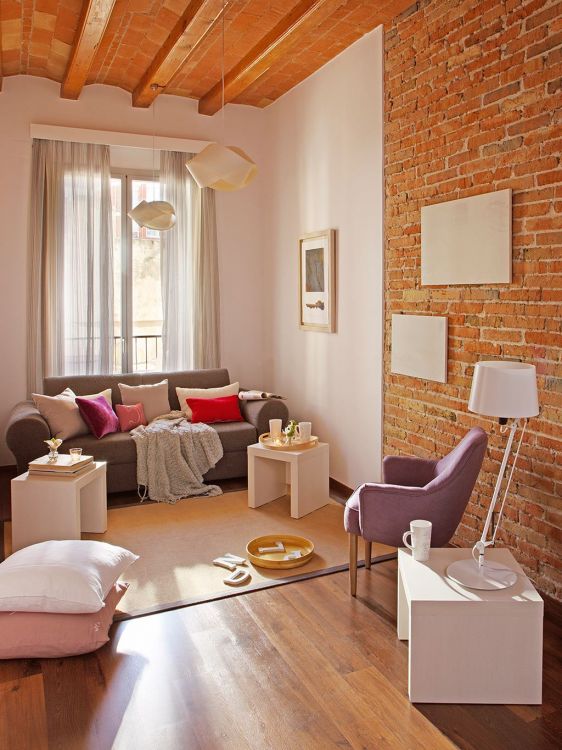 Exposed brickwork, Catalan vaulting, wooden floors… Serene colors find their perfect habitat here.
13 At bay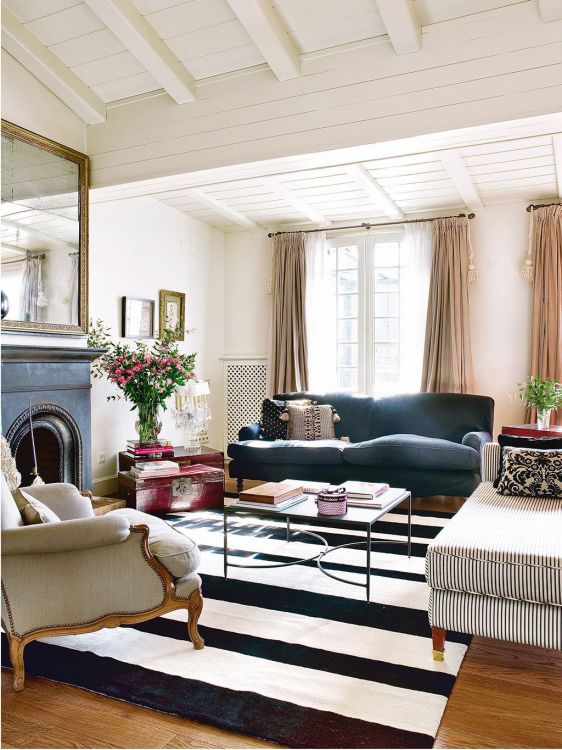 Playing it safe with colors allows you to experiment with patterns. In this room, they have dared with maxi stripes on the rug and mini stripes on the chaise longue.
14 Ethnic touches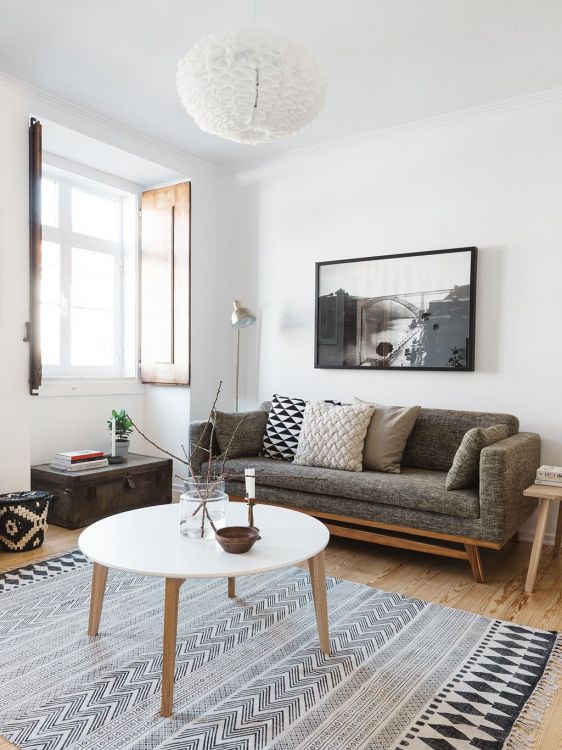 In this room decorated in white, black and gray, a basket and a rug with an ethnic print are the perfect touch to reduce solemnity.
15 Season Change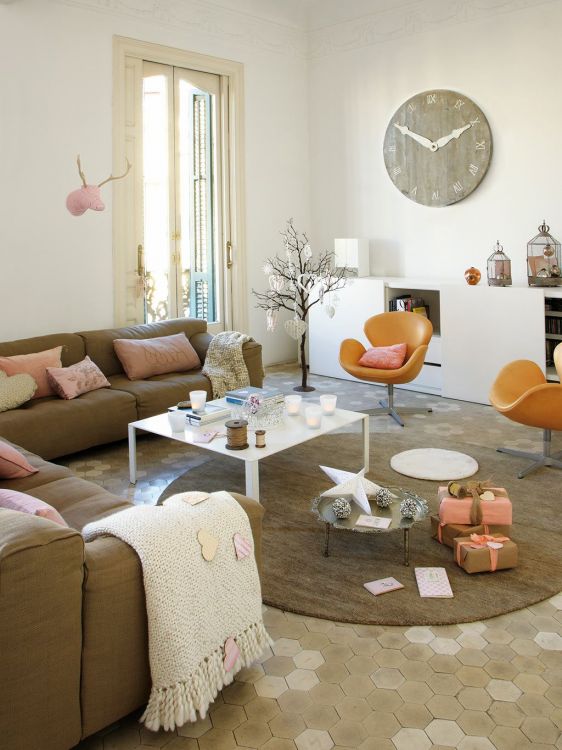 Neutral colors are a perfect base on which to try new things. Decorating your living room with furniture in brown tones will allow you to modify the style just by changing the color of the accessories.
16 Perfect Contrast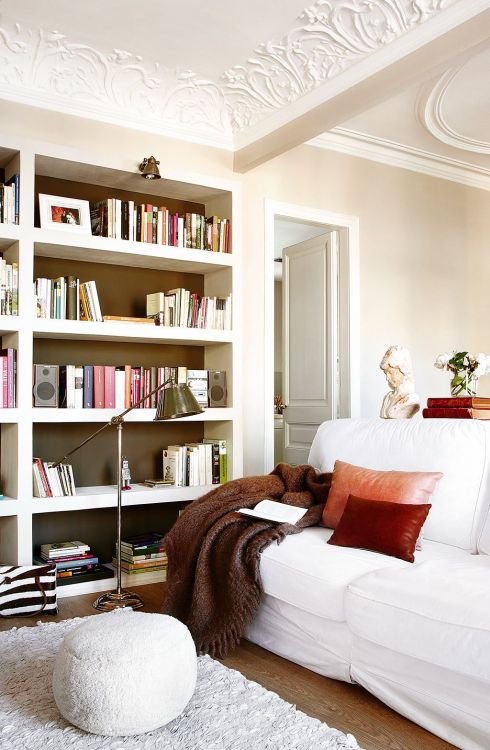 To visually lighten this room decorated with classic moldings, a black and white decoration and simple lines were chosen.
17 Black and white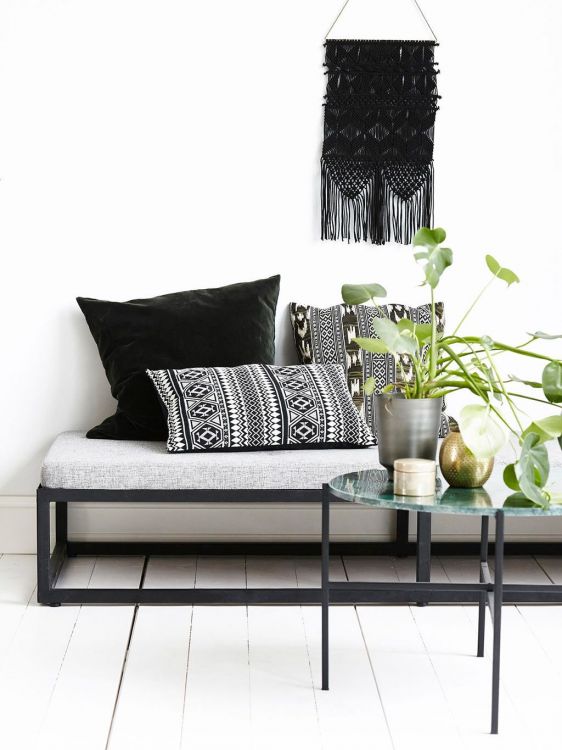 If you want to just use black and white and escape from a boring result, combine patterns and textures, like in this image.
18 Matchless Frames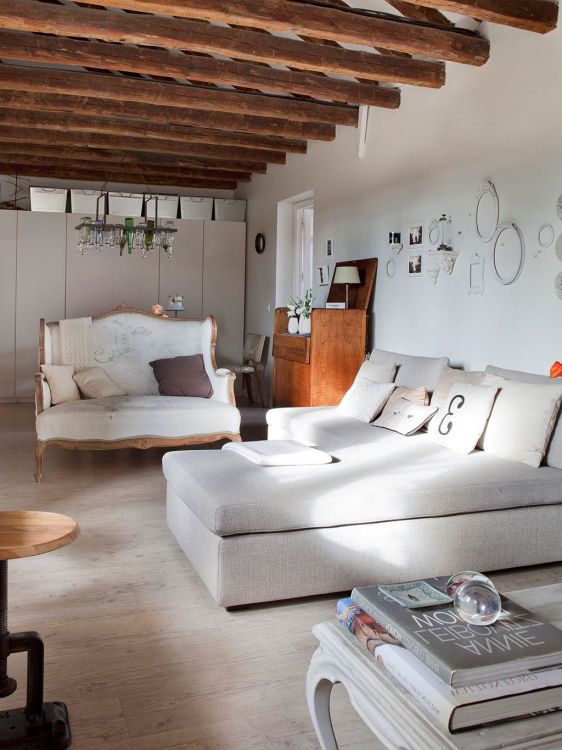 Some white frames on a wall of the same color, as they have done on the sofa in this image, manage to provide an interesting touch without breaking the harmony.
19 Out monotony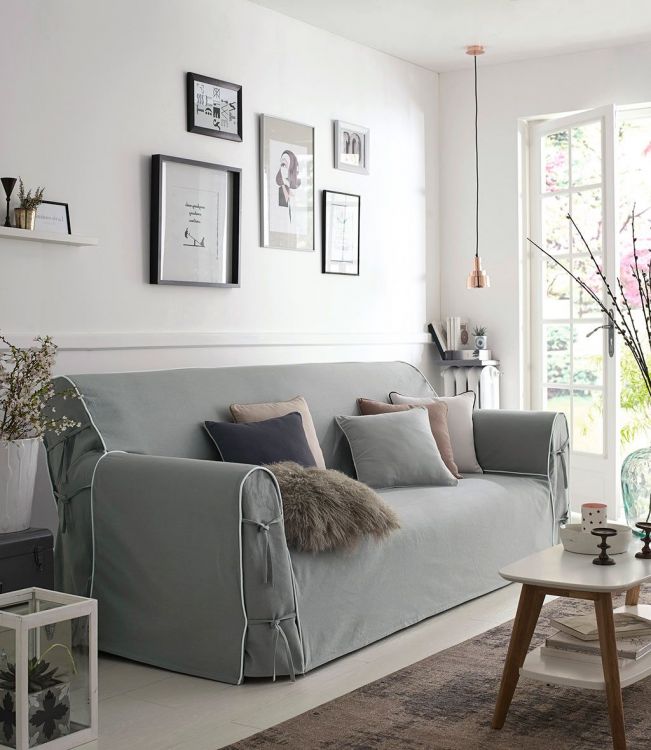 Another proof of how textures and art can detract from the monotony of a neutral-colored interior.
20 Serene Hall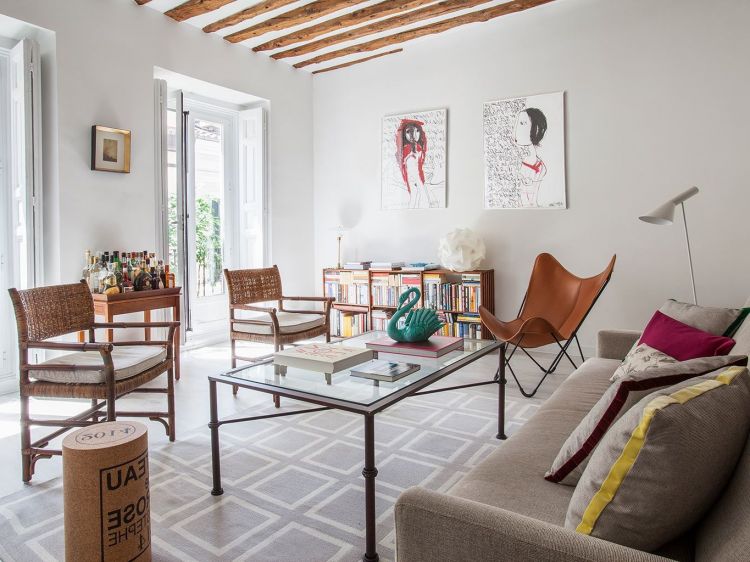 The leather, wood and wrought iron of the furniture take center stage thanks to the stone tones of the decoration.
21 Benefits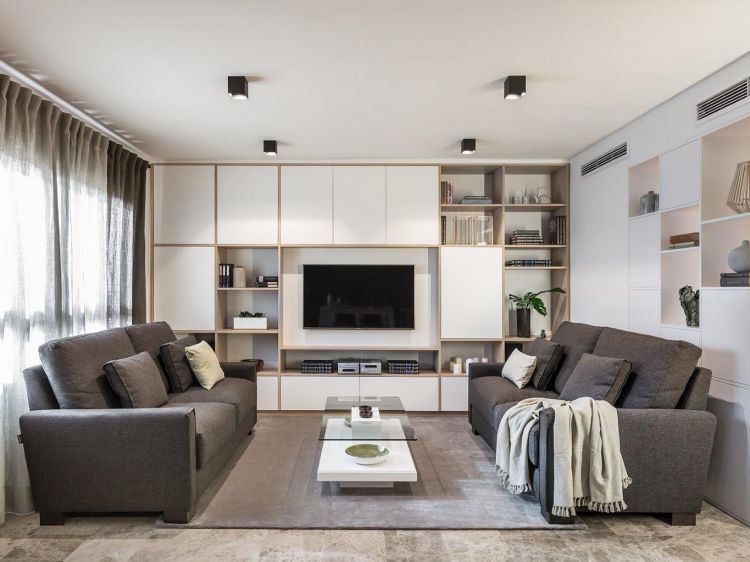 Neutral tones will not only calm your living room (visually speaking), but also make it appear more orderly.
22 Attention: curves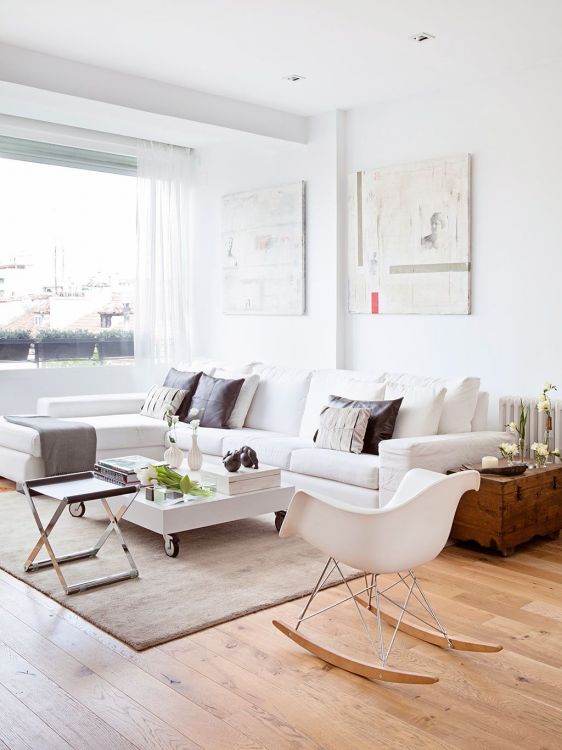 How to get an interesting living room without almost using color? Pay attention to the shapes: a chair with curved lines, like this Eames rocking chair, is a good element to add character to the space.
23 Gray and green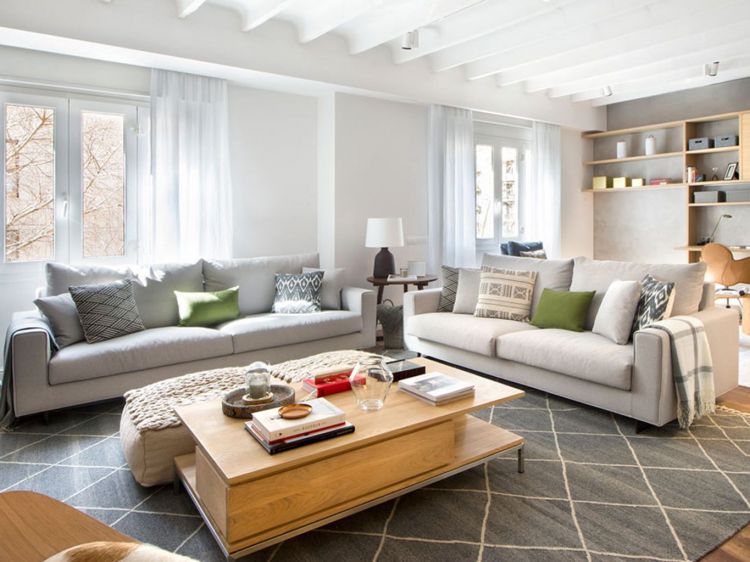 In this room in Barcelona, the Egue y Seta studio used shades of gray, a little touch of green, diamond patterns and a lot of wood.
24 Cozy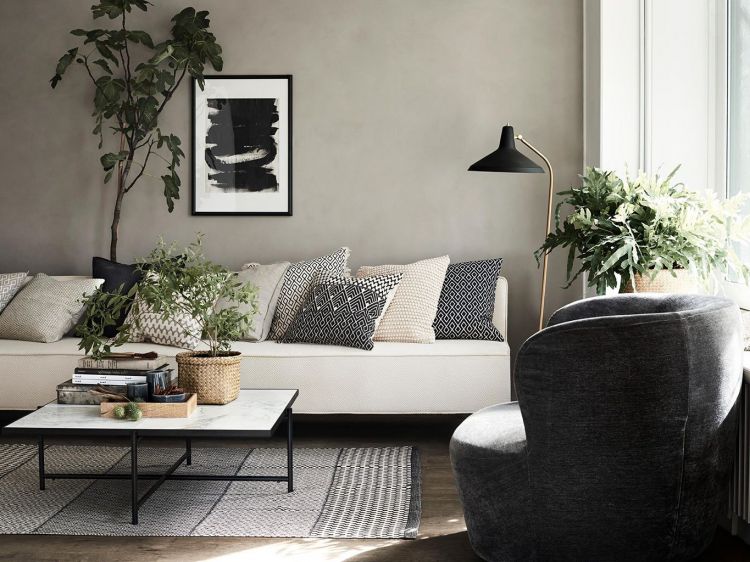 Beige, dark gray and a consistent selection of patterns make this neutral-toned living room comfortable and welcoming.
25 Comfort zone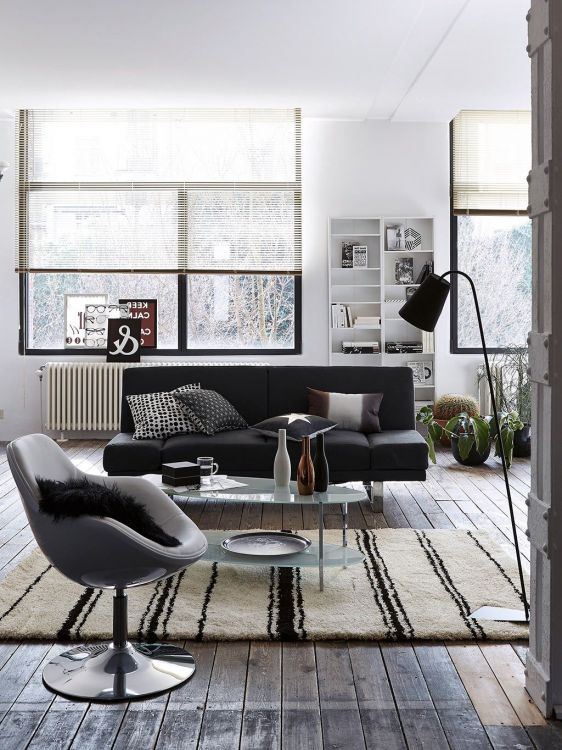 A good wool rug makes a black and white room become an area that invites you to rest and disconnect from the world.