Courtesy toilets are very fun spaces to decorate, because, although it may not seem like it due to its small size, bathrooms with a lot of charm can be achieved.
You just have to find the right details that make them special.
And that is what we are going to see next, 17 charming courtesy toilets, full of ideas and solutions so that you can be inspired and decorate yours. we start
Light bathroom furniture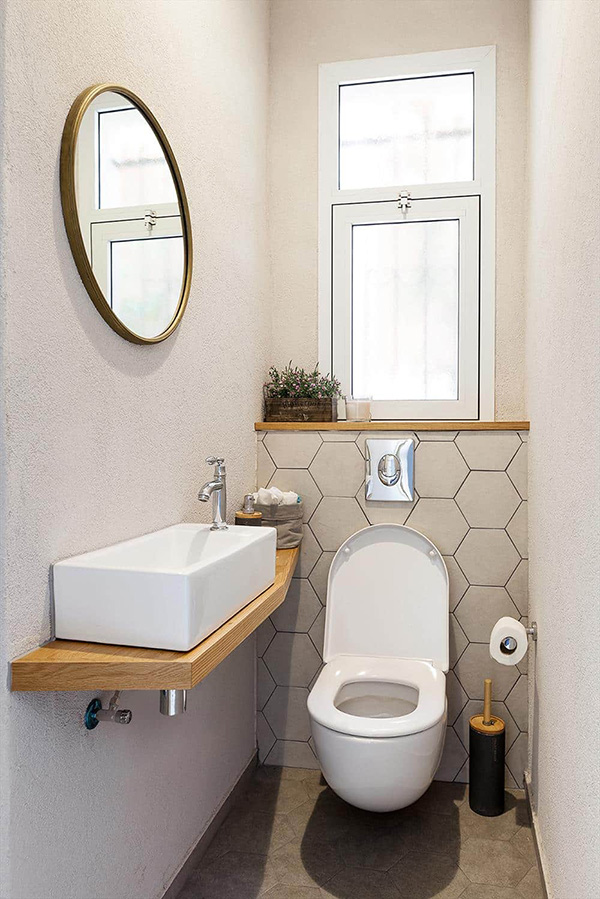 It all depends on what you need, but, in general, courtesy toilets are just that, bathrooms that are usually used occasionally and do not need a large storage capacity.
If you also think the same, and your guest bathroom is very small, then opt for light furniture. If they are suspended better, because they will make the bathroom appear lighter visually.
These pieces of furniture don't give you much storage capacity, but you don't need it either.
Thus, you can install countertops without drawers, where you can leave some towels and other items that are usually used in the bathroom, creating a practical and functional toilet, but without overloading it.
In addition, this type of furniture and countertops add more personality and character to the space.
Built-in cistern or not?
Design Paulina Łabuz
This doubt is resolved very easily by answering these questions: Do you plan to do work?
If the answer is no, forget about the built-in cistern.
It is true that it requires minimal work, but it does.
Do you have a very tight budget?
Then don't install it either.
It is also true that it is not very expensive, but it is much cheaper to install a basic toilet without the need to do any work.
Having said this, it must be recognized that the built-in cisterns leave an ultra-pure, clean and uncluttered finish in the bathrooms, and expand the decorative possibilities, since we can play with the lining of the boxing that is needed to install the cistern, and achieve very current as the courtesy toilet that we see above.
Let's see another charming courtesy toilet that gives us another good idea to decorate it:
Creates a sense of depth
Design and photography Bang on Style
An intelligent solution to decorate a very small guest toilet or bathroom is to create a sense of depth.
And for this, nothing better than color, either through ceramics or, if you are not going to tile the walls, with paint.
If you decide to use this technique to decorate your guest toilet with charm, apply a very light tone, such as white or off-white on all the walls, except one, where you want to add depth.
On that wall, apply a cool, dark color.
The ones that work best are deep blacks and dark blues, as you can see in the courtesy bathroom above these lines.
Although if you don't like dark tones, medium blues also achieve this effect: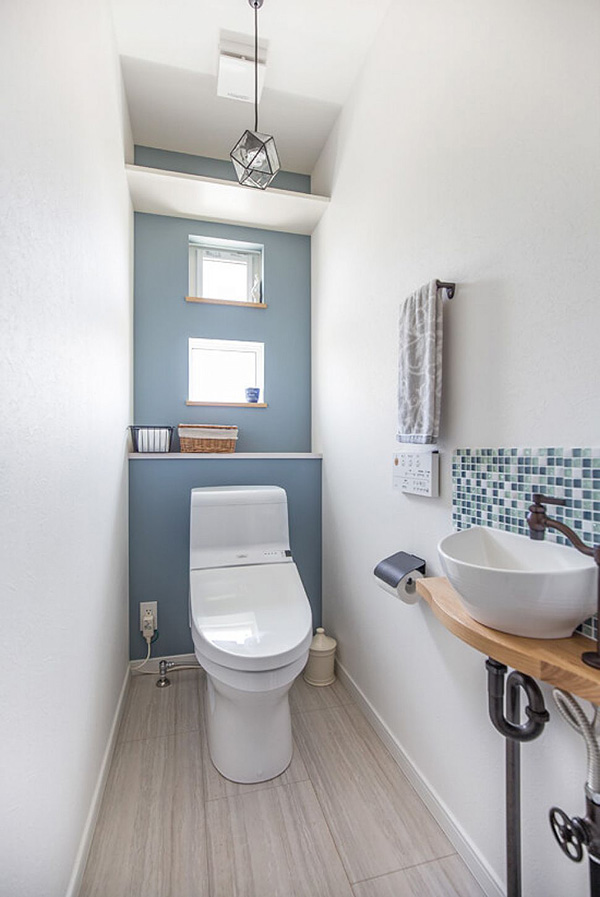 If the rest of the walls are painted or covered in a light color, such as white, a mid-tone blue will also create that feeling of depth.
If you are wondering which wall to apply the color to, think about the format of your bathroom floor. Is rectangular? Then apply the color to one of the smaller walls, this way you will accentuate its shape and make it appear longer, deeper.
Is the courtesy toilet square? Then apply it on one of the 3 walls other than the one with the door:
In this way, when you enter, you will see a painted wall yes or yes and you will achieve that sensation of depth.
If you paint the wall of the door, you will not see it and you will not achieve that effect.
If you liked this technique to decorate a very small courtesy toilet, you can enhance it even more:
Give depth to all your walls
Design and photography Just a Little Build
You can also give depth to all the walls of the bathroom.
But, since the colors that work best to create this effect are dark tones, instead of applying the dark color to the entire wall, since you run the risk of creating a dark and oppressive cave, apply the dark color on top. .
At the bottom, install a skirting board in light tones. Either with light tiles, like the courtesy toilet that we see just above, or with color, painting the area below white or broken white.
Another trick that is very well used in the upstairs bathroom to ensure that the dark color does not "eat" the bathroom is to add gold accents, as these "lift" the color.
These ideas work and are applicable to virtually any bathroom, but what if you don't like the color or just don't want to add those dark tones, is there a way to achieve that depth? Yes, there is:
Creating depth with neutral tones
If the walls of the entire bathroom are covered or painted in a light tone such as white or broken white except for one, and we paint this one in a darker tone, we will achieve that sensation.
It's not going to be as pronounced or noticeable as if we used cool, dark tones like blues, but we'd still get there.
So if dark colors, either in paint or tiles, seem excessive to you, apply neutral tones.
If these ideas seem a bit risky to you and you don't dare, the following way to decorate a very small guest bathroom may be the one you need:
In white and wood is always a success
Interior Design
If you are wondering how to decorate your toilet, as you well know, there are thousands, hundreds of thousands of options, and you may feel overwhelmed.
If so, bet on white and wood. There are many combinations for this duo to work, beyond the one we see in the charming bathroom above.
White tiles and wooden furniture.
Wooden floor and white tiles.
A wall covered with imitation wood tiles in continuity with the floor and the rest white.
Etc.
What is certain is that white and wood always work well. Let's say that would be the safe bet.
It is also a couple that is in fashion and the spaces decorated with this combination have a very current nuance.
Let's see another way to decorate a courtesy toilet with charm:
Wallpaper for charming courtesy toilets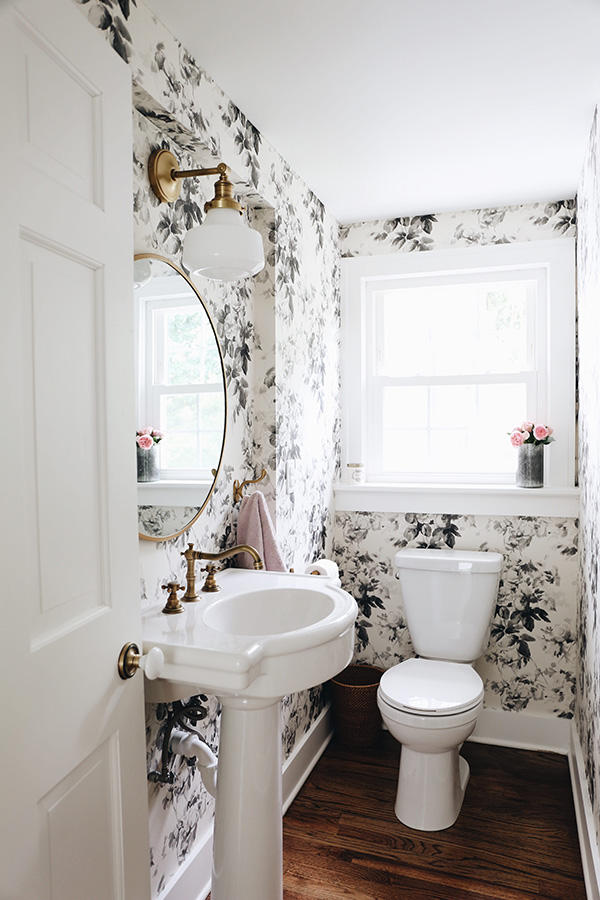 Design and Photography Garvin + Co
There are endless ways to decorate a bathroom. But, if what you want is a charming guest toilet, I can think of no better idea than to cover it with wallpaper.
Being a small guest bathroom, and not having a shower or bathtub, the risk of moisture damaging the wallpaper is drastically reduced.
So much so that any TNT (non-woven fabric) wallpaper of today would do without any problem.
Thus, we have a huge range of wallpaper options to decorate the walls and create a very charming bathroom.
Either by adding a floral wallpaper and with a certain classic touch or any other more modern one, like the one we see just below:
Simplified Bee Photography
This is one of my favorite wallpapers. It looks good in any room and immediately gives it style and good taste.
From a guest toilet to a children's bedroom.
It is a classic decoration of the firm Cole and Son called Woods & Pears. Here you can buy it if you like.
Another good idea to add wallpaper to a guest toilet is to combine it with tiles, as we see just below:
Photography Carina Romano
It is a guest toilet that already has time, it is not a new construction, it is not even renovated.
It's just well decorated, and you can't deny me that it exudes charm in every detail that makes it up.
Much of this is due to the combination of the original subway tile with the cheerful floral wallpaper that lines the top of the walls.
As I say, wallpaper in a guest toilet is a success, but you may not like it, or you simply do not finish seeing wallpaper in a bathroom, and prefer something more classic to cover your walls like tile. .
Tiles to decorate the guest bathroom. The classic that never fails
Design and Photography Deeply Southern Home
It is true, we are so used to seeing tiles on bathroom walls, that tile is a sure hit.
In addition, the range of options to decorate it with tiles is broader than that of wallpaper. Virtually endless.
A safe bet is to put a base of tiles up to an approximate height of 1m. or 1.10m. in light or neutral tones and paint the free surface of the walls in white or neutral tones, as we see in the bathroom above.
Another good idea to decorate a very small courtesy bathroom with tiles is to cover only a few walls: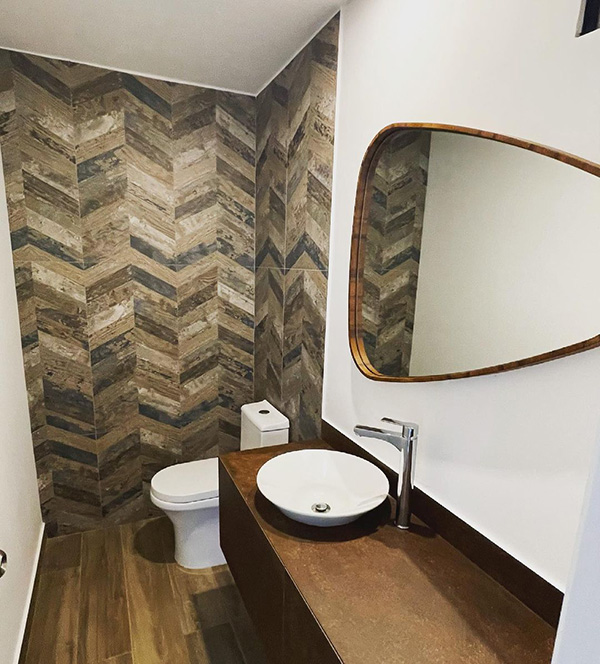 Design and photography Andrea Cavassa
Instead of applying the tile horizontally, choose a wall or a wall and a section, which covers the toilet or the bathroom cabinet and covers those entire walls with tiles, creating a great contrast.
The combinations are endless, but another one that I would like to highlight is the following:
If you want to add a sophisticated and elegant touch, opt for Carrara-type marble or imitation marble ceramic to cover your walls, and if it is brighter, better.
No matter how small the guest toilet is, white and gloss will multiply the light making it appear larger and brighter.
If you combine it with black accents you will achieve a very current, more contemporary aesthetic.
Naturally, these bathrooms are not only nourished by materials in white tones.
If done correctly, all sorts of colors can be applied, even dark browns: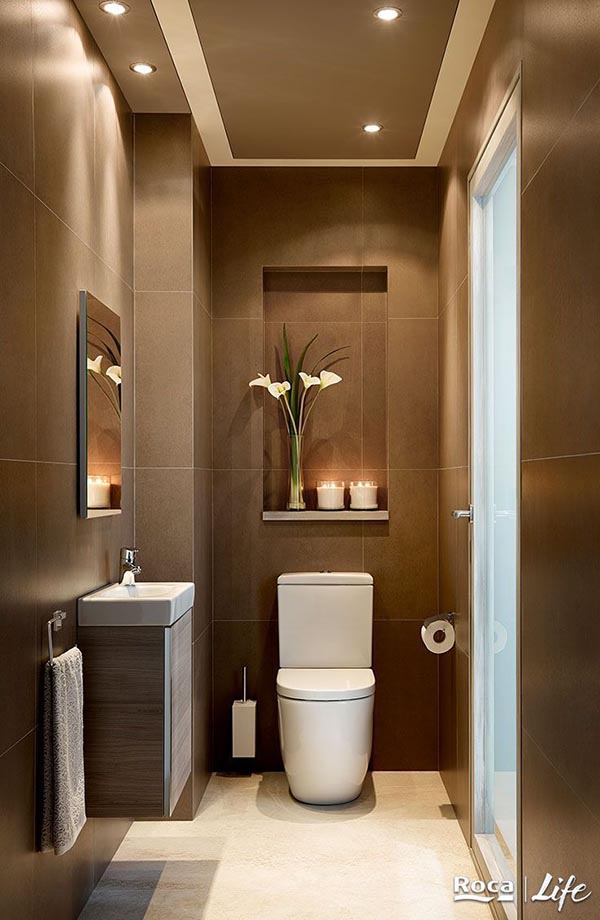 The whole set of Rock
Note that this bathroom has all its walls covered with tiles in a dark brown tone.
Even so, the resulting combination between its tiles and the rest of the accessories make the bathroom extremely sophisticated, current and very elegant.
You can also see :
Small bathrooms: 50 modern and beautiful small bathrooms
Colors to paint a bathroom: Without tiling and half tiled half paint