Whether you are passionate about gardening or if you are just starting out in the field, we show you the best examples so that you can succeed in decorating with indoor plants.
Our passion for plants and flowers has no limits. We are passionate about contemplating green in interiors and refreshing spaces with an intoxicating aroma. Any room in the house is enriched in a subtle and elegant way, in such a way that our love grows and we feel true devotion to natural environments.
For this reason, we want to present you with 15 Ideas to decorate the house with indoor plants and for you to discover all the advantages of introducing nature into your home. Would you like to know more? In this article we give you the keys to get the plants right.
Why decorate with indoor plants?
The best indoor plants are within our reach. They are an indispensable resource in any self-respecting interior design project. We must bear in mind that the power of plants is unique, not only as decorative elements, but also because of the great benefits they bring to our health, to the air in the house and to our emotional well-being.
That's right, plants provide multiple benefits. For this reason, we want to have them to decorate the spaces. They completely transform interiors, generate harmony, temperance and calm and make the home much more welcoming. You just have to look for the most beautiful and resistant plants. Of course, they do require some care, so it is recommended to start with cacti and succulents, which are usually even easier to care for and maintain.
Where to put the plants?
One of the most colorful places to put a centerpiece is the table of the living room or dining room. It helps us enhance the image of the furniture; however, it also has a place in the hall, where everyone will be able to enjoy its beauty. In any case, it is good to place it in a piece of furniture where you do not have many decorative elements, with enough space around its base.
In the living room, since it is usually the largest room in the house, you can opt for large indoor plants. A particular case is palm trees, large bamboo, a tall cactus or the kentia.
As for the kitchen, the queens are aromatic herbs. With them you can enrich the entire space with good aromas and they remain at hand to add a richer flavor to your dishes by using the freshly cut leaves.
Decorate personal spaces with plants
In the most personal rooms, plants play an important role. In the bathrooms and bedrooms we can work with decorative species. Therefore, don't hesitate and calmly place two or more copies to refresh the environment and convey naturalness. In this case, we can use indoor plants with beautiful and cheerful flowers.
The bathrooms are the great forgotten. When looking for a place for our new plants, we have the option of placing them next to the sink or even on shelves on the wall. Keep in mind that humidity influences vegetables. Therefore, plants in bathrooms develop perfectly.
If you want to get inspired and have a more general conception of the different ways to decorate your house with plants, we present below different very illustrative examples. You will love it!
1 A mini garden in glass jars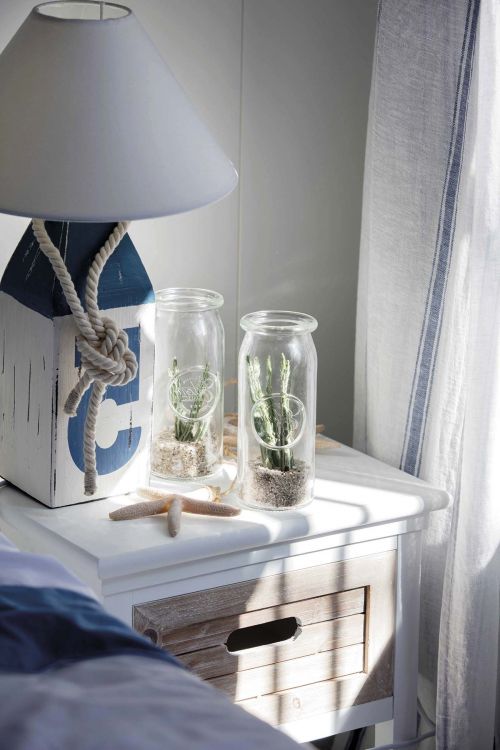 Recover glass containers that you have at home: jam jars, light bulbs, bottles… The more original, the more impressive the final result will be. Lay a base of small stones, a layer of activated carbon and, as a substrate, a small amount of soil. Next, plant the spices. The most recommended are the areas and succulents, as they need little water. An idea of Knowhaus.
2 On the desk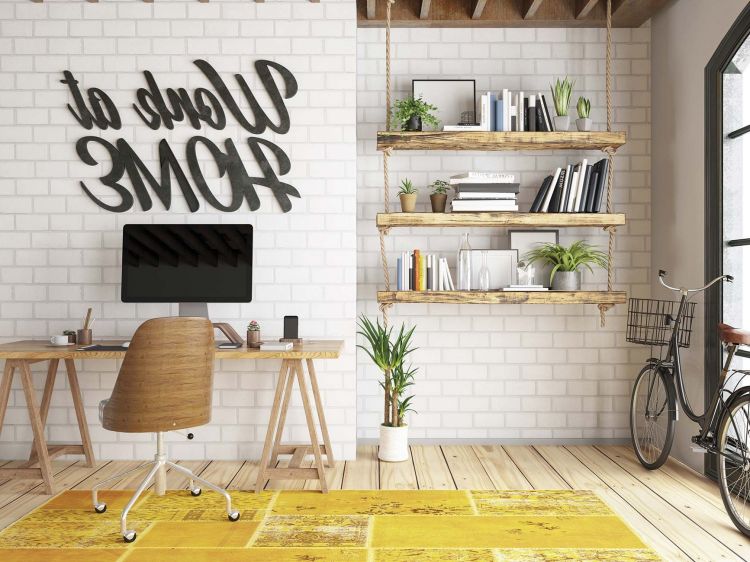 Plants are essential in study and work areas. In addition to purifying the air, they transmit serenity. Find the most suitable species and add fresh green touches to your desktop. In this environment, a pot with bamboo on the floor and pots with smaller plants decorate the shelf.
To make the shelf: Take three wooden planks that are the same length and a bit of esparto rope of a certain thickness. With the drill and make two holes in each of the ends of the table; Cut four equal pieces of rope, tie them at the end and thread each rope through the holes in each board. Always make a knot above and below the planks so that they are well secured.
3 Casual composition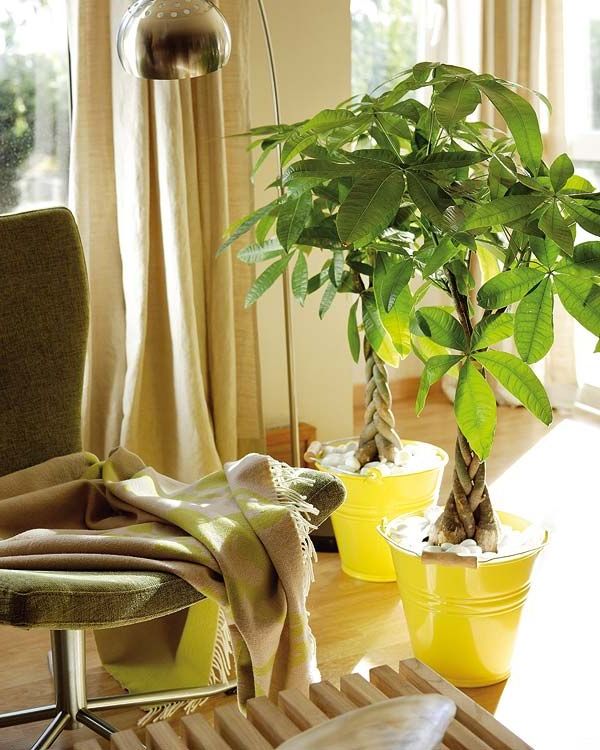 To display these water chestnut trees, the pots have been replaced by lemon yellow aluminum buckets. To hide the land, the upper part has been covered with river pebbles. It is a perennial and tropical tree that does not tolerate cold, but is very decorative due to its braided trunk. If it grows a lot, prune it after the winter.
4 Joint composition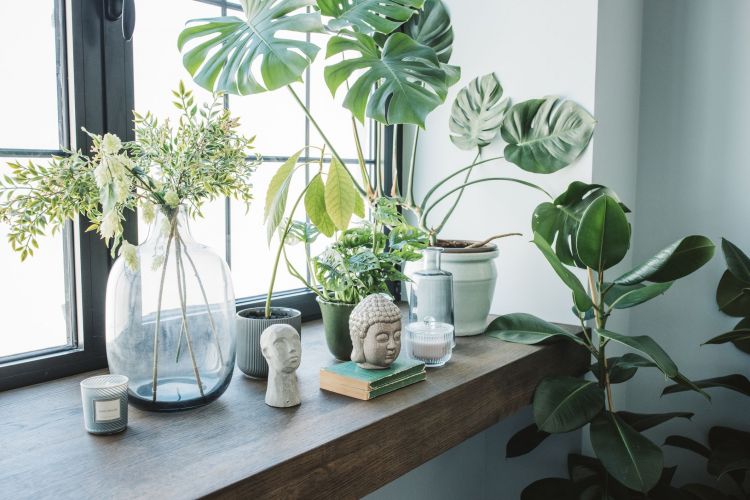 The composition of different indoor plants gives us the possibility of creating a harmonious and charming space. In this case, we have mixed several species next to the window so that they receive more natural light.
5 Land in sight…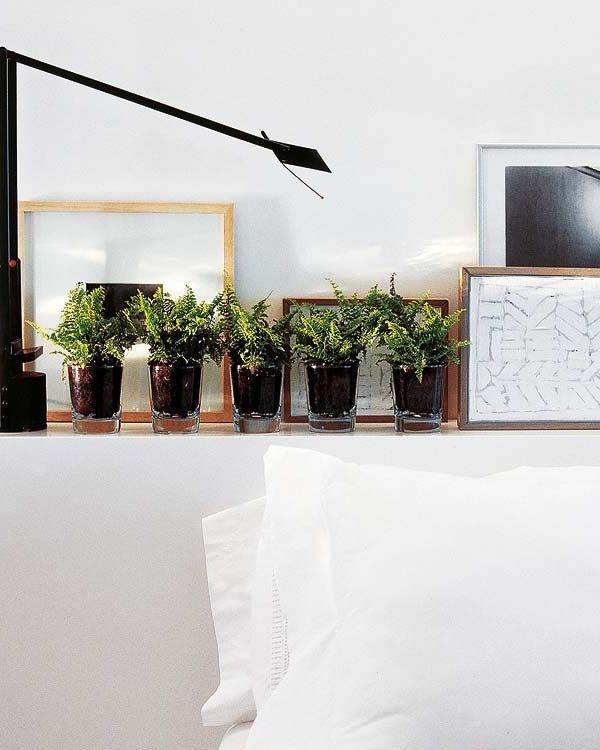 Clear glass pots are perfect for certain plants, such as orchids. Here, dwarf ferns have been lined up in cups that reveal their substrate. The composition is balanced thanks to the equal height of the leaves. This type of plant, small in size, is perfect for shelves or narrow walls.
6 To delimit zones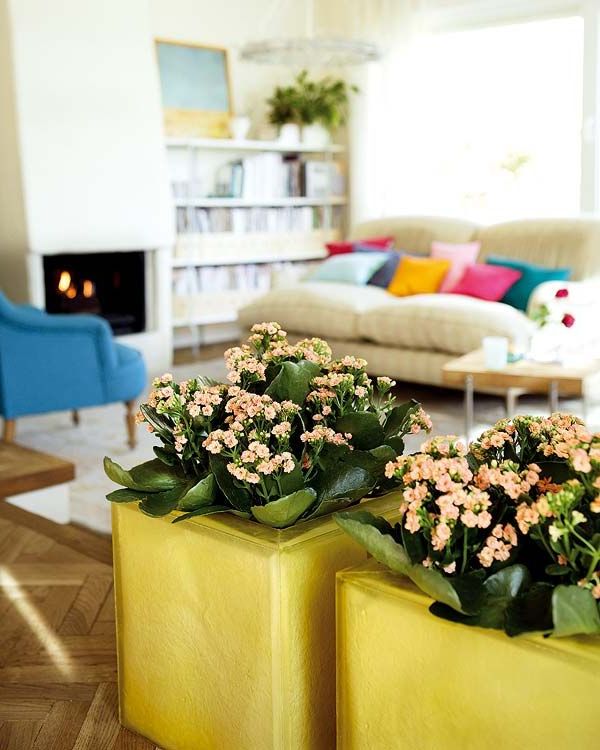 In this double-height room, some calanchoes have been placed in two large pots to mark the step and prevent falls. For these plants to flower again, they should not receive more than twelve hours of light a day. Fiberglass pots, similar in Fronda.
7 With white stones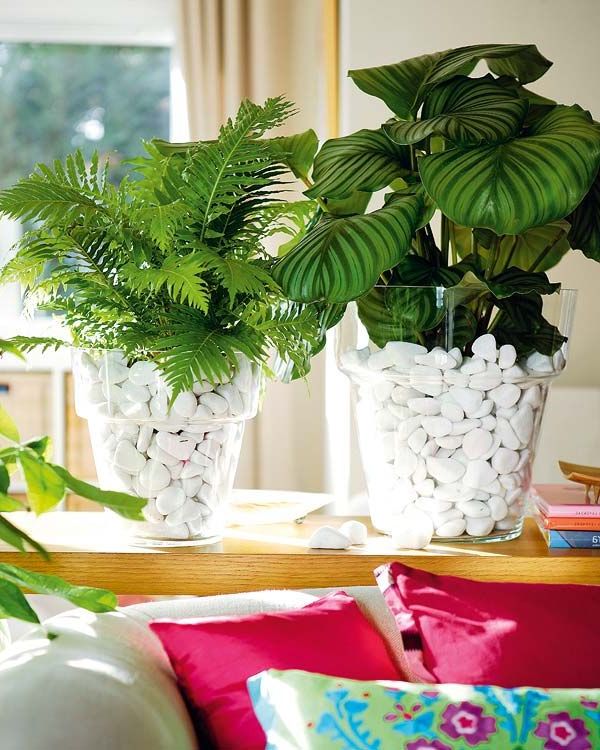 Place a small plant inside a glass vase and decorate with white stones around it. It is a different and natural solution that highlights the green of the leaves. Both calatheas and blecnos need natural light; place them near the window.
8 Showy flowers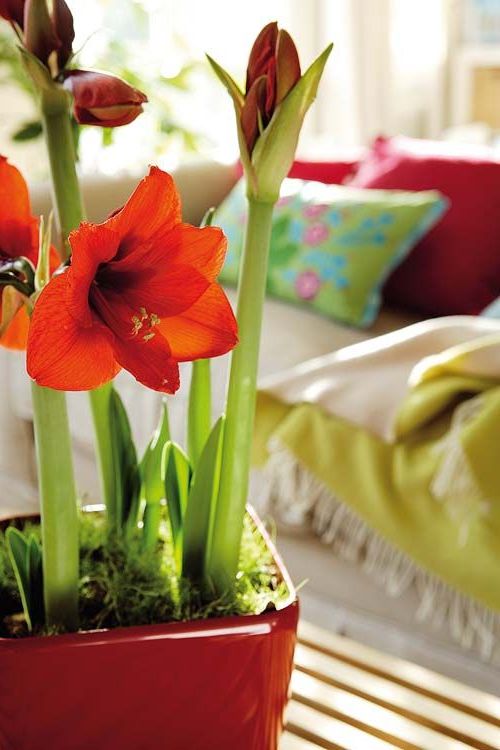 Choose a plant with personality for the centerpiece. The amaryllis, a bulbous that adapts very well to indoor environments, blooms every year and you just have to make sure that it receives a lot of light, although never direct. Place it in a contemporary planter in bold hues.
9 Tall bamboo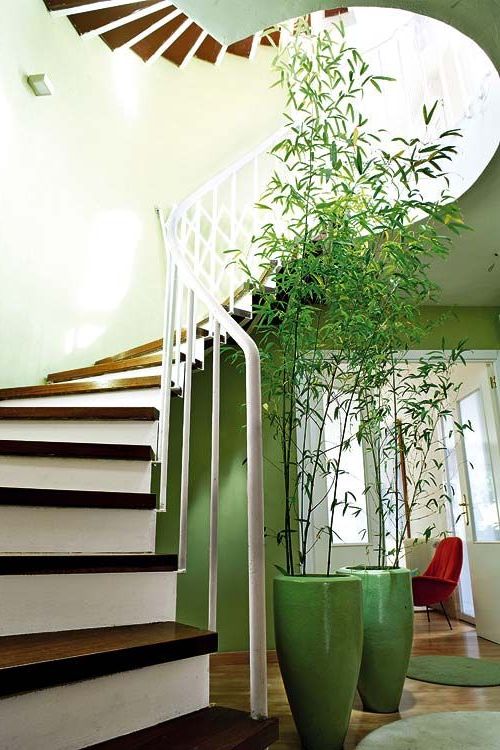 If you have high ceilings, or an open stairwell, decorate it with tall plants, such as bamboo, known as vegetable steel for its strength and flexibility. If you choose another type of variety, make sure that it is resistant and flexible at the same time, otherwise the branches could break. This plant should never be near a radiator or other heat source. You will find pots similar to the ones in the photo at Viveros Casla.
10 Statuesque Cacti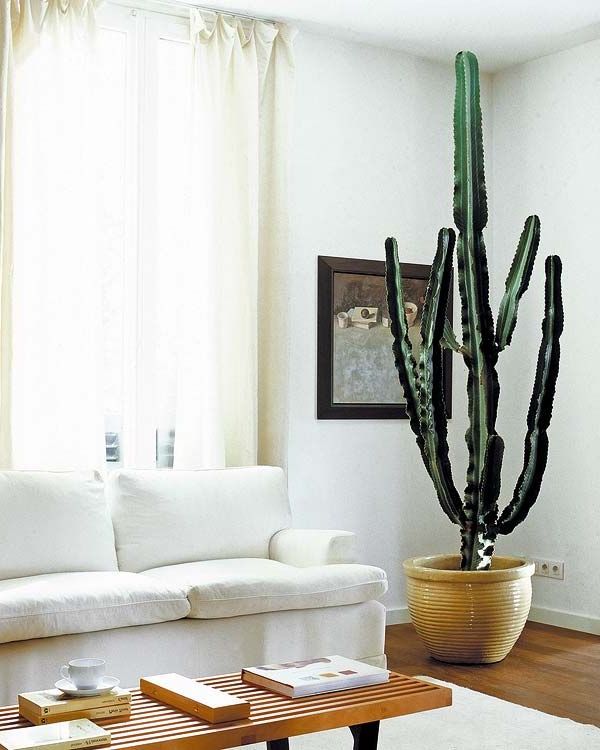 The development of the arms of some cacti is so spectacular that they look like works of art and integrate perfectly into design environments. This variety is the Euphorbia pseudocactus and needs little water.
11 Delicate arrangements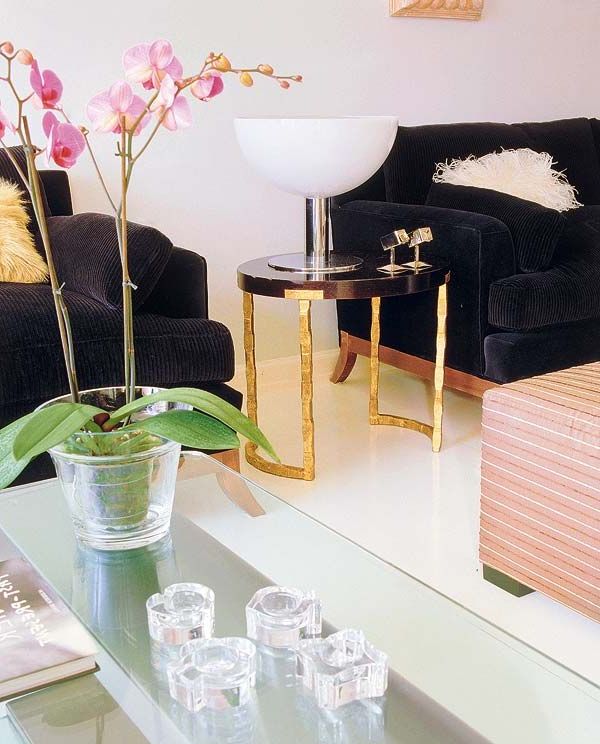 The orchid always turns out very elegant and delicate. Use it to add a touch of color, even in minimalist environments. In a pot, these plants do not need the saucer that is usually placed on the base, since it should not be in contact with water. Remember that you always have to water it with warm water.
12 Stylized plants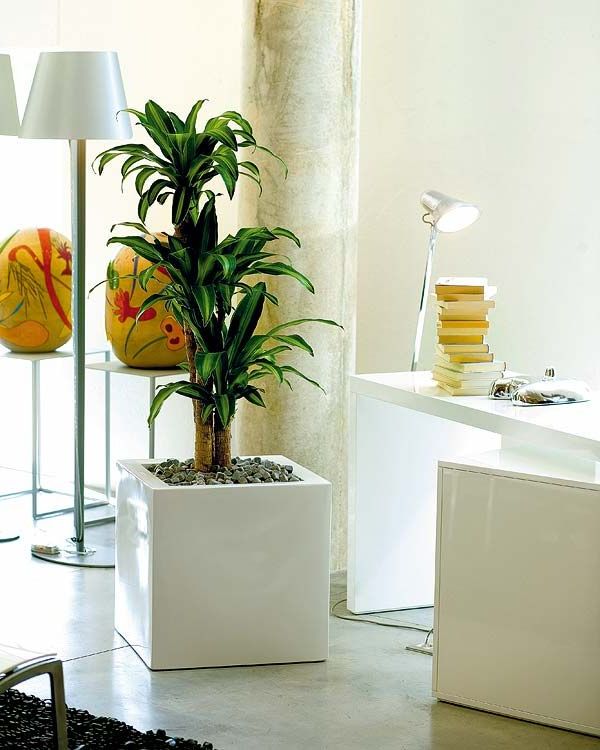 Do you have a desk in a transit area or integrated into another environment? Take advantage of the beauty of a plant to delimit the area. Choose a container in the same vein as the furniture. Foc planter from the firm Vondom. Many of these models allow the incorporation of self-irrigation and lighting systems.
13 Large plants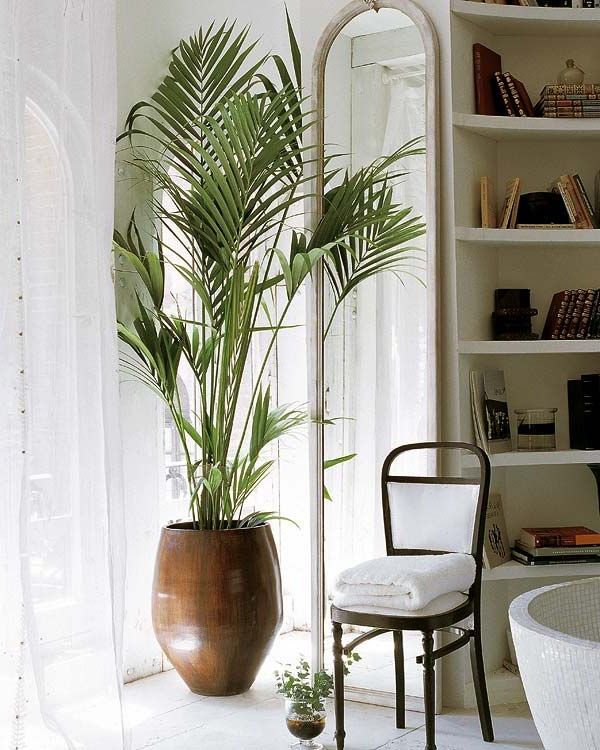 An extra large specimen is the focus of visual attraction in the decoration, like this kentia. Specifically, it is a Howeia spp that adapts to very varied conditions. The pot must be tall and have space around it for the plant to shine in all its splendor. If you are not sure what the needs of a plant are, avoid direct sunlight.
14 Color in pairs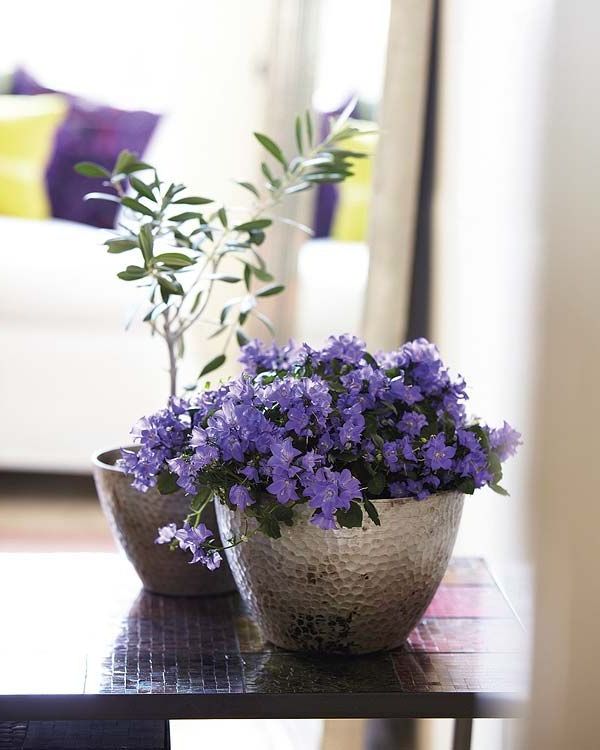 Use a couple of the same containers in different sizes to decorate a sideboard or end table. The plants will contribute their beauty and color. Aloes will also be very successful as a couple. In addition, inside houses they grow easily because they cannot stand the cold. The planters, from House Doctor.
15 Second Chances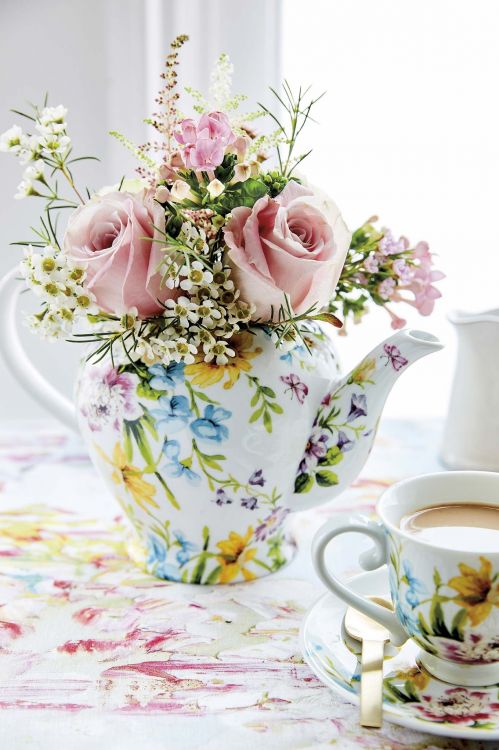 Recycle loose pieces of old crockery and create small details full of charm, like this coffee pot with flowers.