Because not everything is going to be sleeping and studying, right? And much less in these fun areas…
The only thing the little ones want is to run and explore at their leisure, but in these months of pandemic and health crisis they cannot always go out to the park, so, so that they can have fun at home and continue developing their skills… Why not have a magical corner where they can feel free?
A zip line… in the hallway!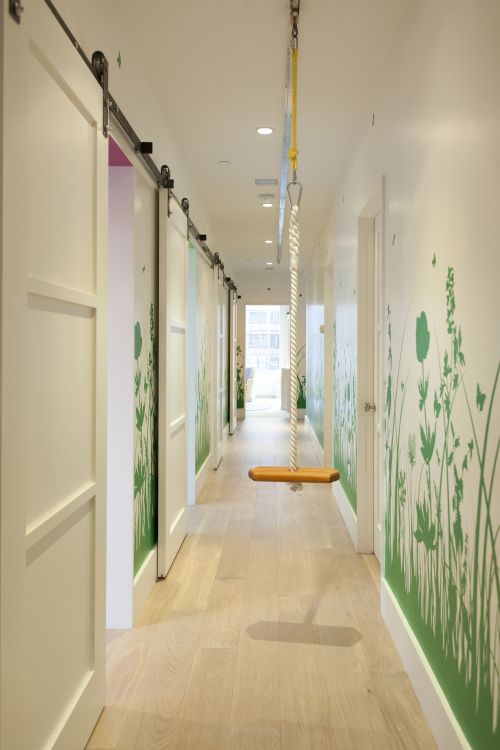 If you live in an apartment with wide corridors, placing a zip line like this will be a great way to entertain yourself on rainy days… and at any time!
Of course, it is better that they notify you when they are going to play, lest they take you ahead!
Boho-chic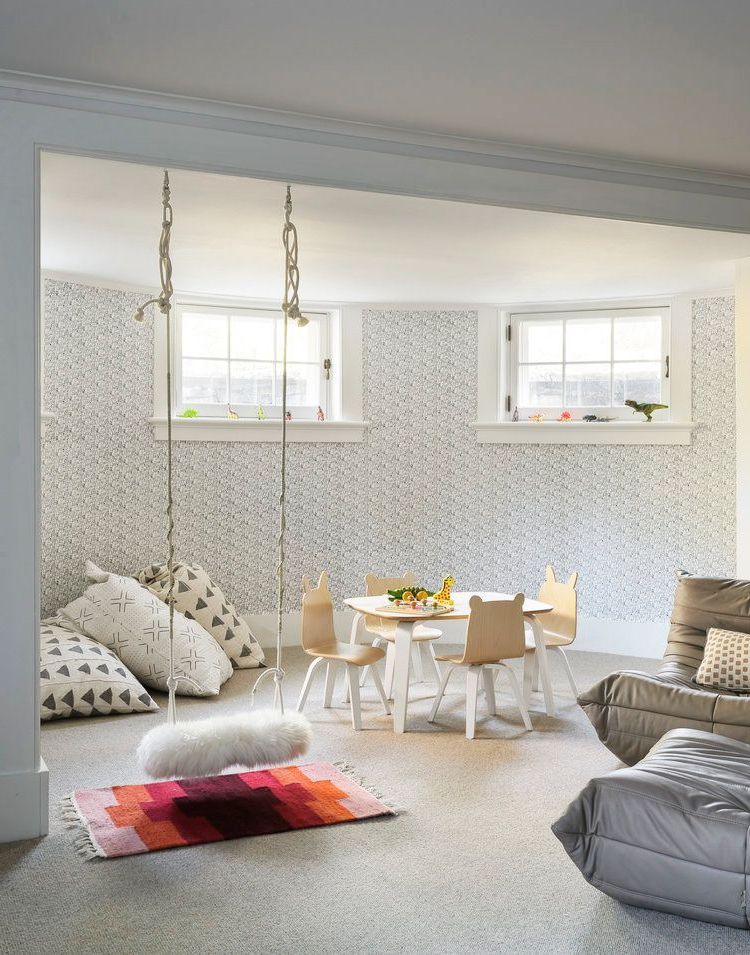 Did you think that this style was only for adults? Well, you see that it is not, because it is ideal in their play area. On the one hand, a relaxing corner made with a mountain of cushions; on the other, a swing that looks like a cloud of cotton; and next to it, a table for them to do their crafts, and an area with armchairs.
Little great explorers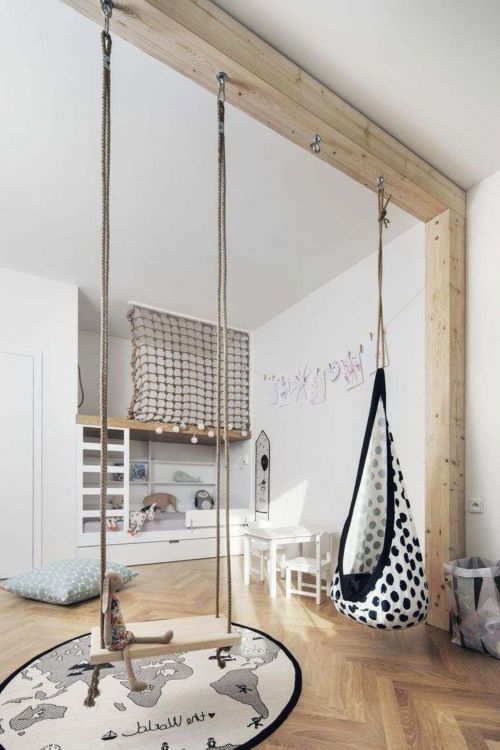 At this age, their room is their world, so it is best to motivate them as much as we can so that, once they are older, they remain curious to explore everything around them.
Kitchens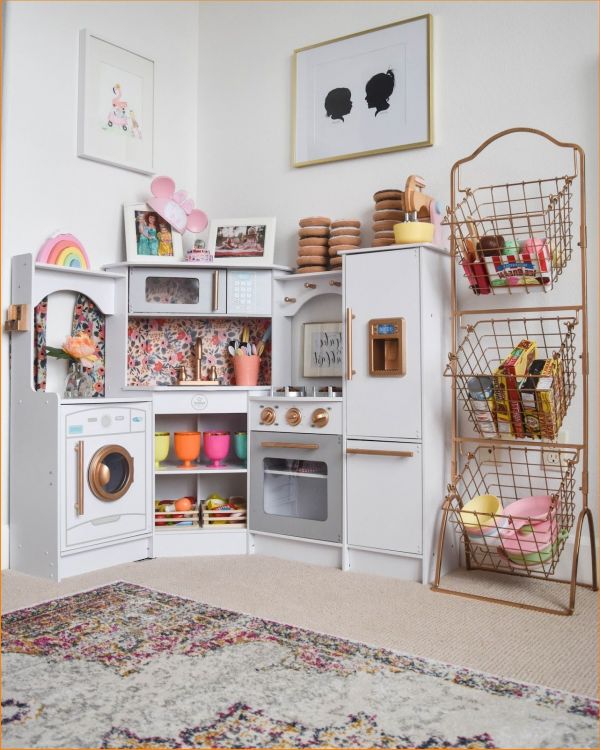 We would have liked to have a room like this to play kitchens. In fact, if it were offered to us right now, we wouldn't think of turning it down!
Craft time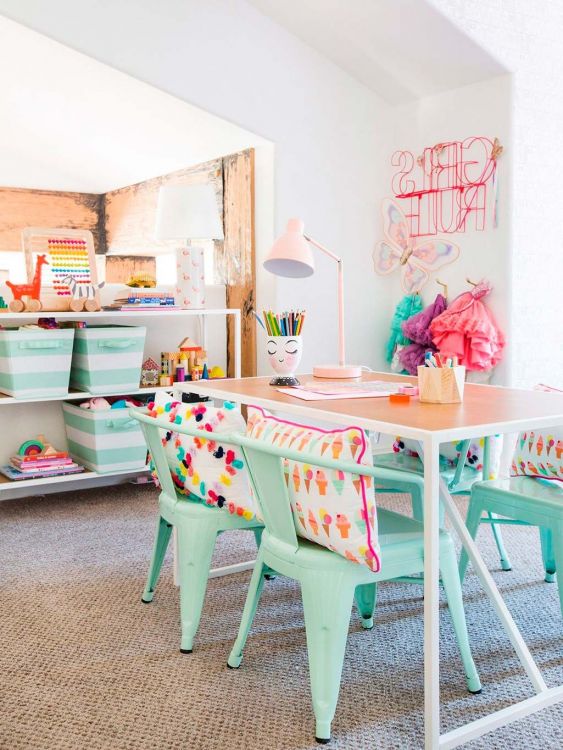 If you were born creative, you clearly need a room like this to show off your artistic skills… Doesn't it look lovely decorated in pastel shades?
Homemade slide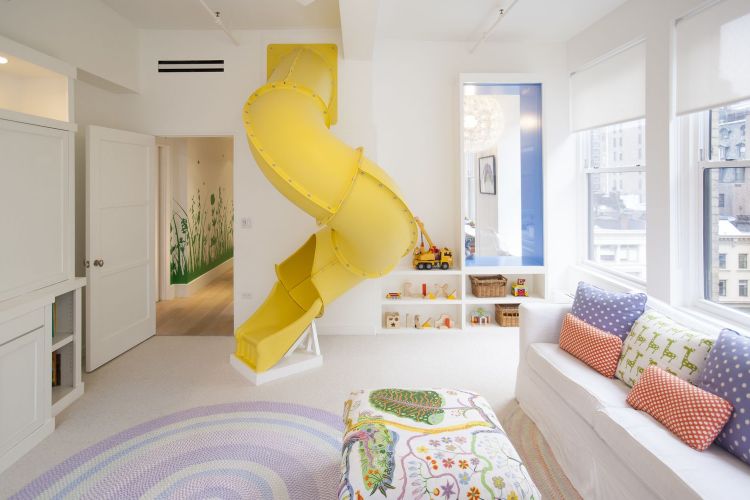 Who would want to go to the park with a slide in their room? We, of course not… Also, even if you don't have a multi-storey house, you can always opt for a typical slide.
To swing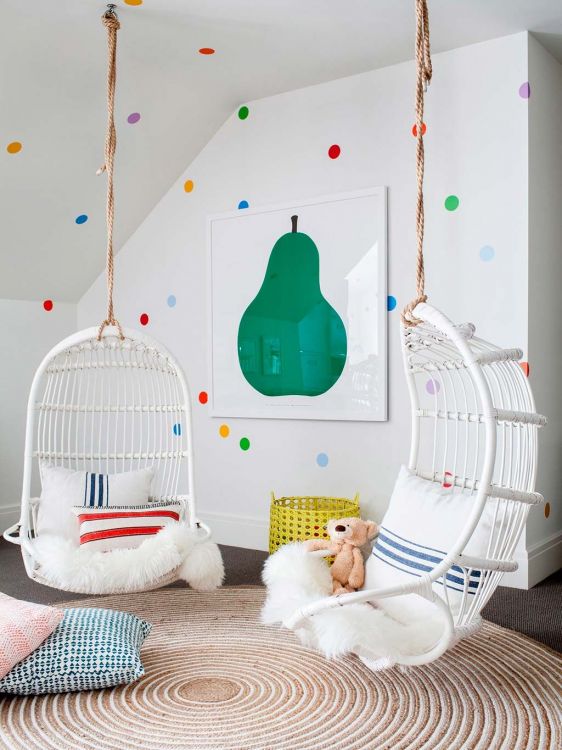 Swinging in the park is wonderful, but when it rains or it's very cold, nothing better than doing it at home! And the wall with colored polka dots… instant crush!
A little boat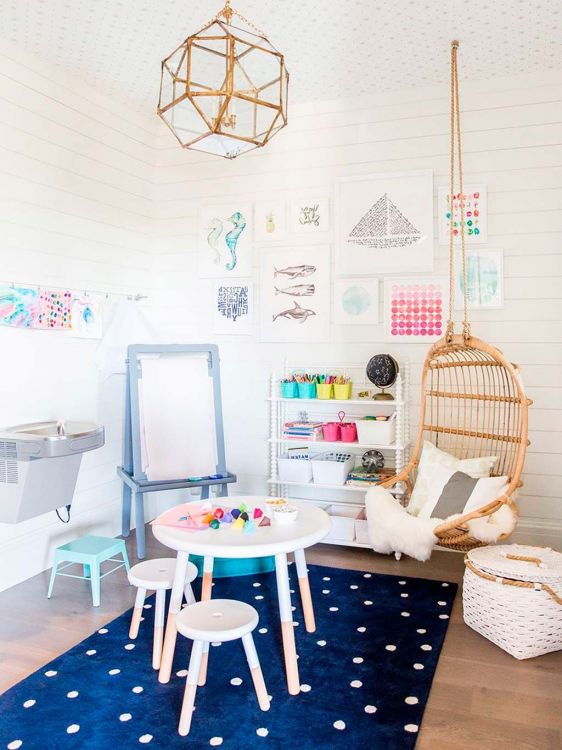 We don't know what treasures the sea will hide, but surely this playground will accommodate the most fantastic creatures…
Big time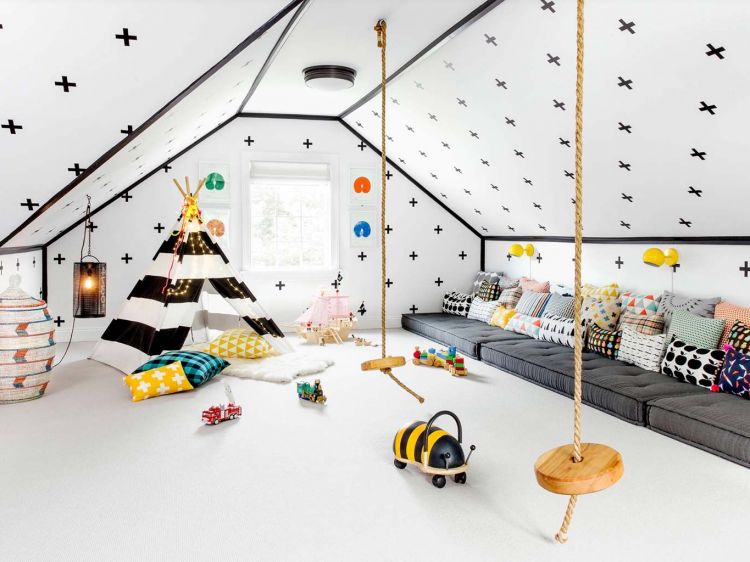 Almost, almost… like an amusement park! Between the swings, the tipi and the sofa area, they won't want to leave the house!
Flower explosion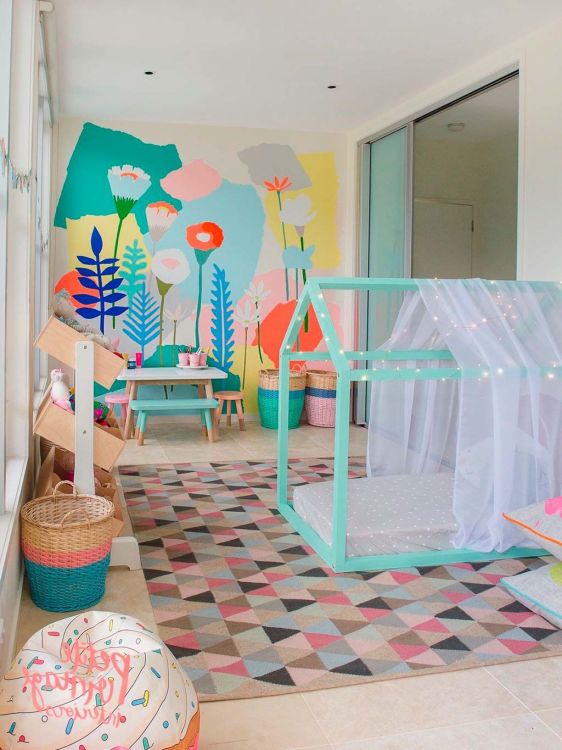 Bedroom and play area at the same time… We LOVE the wall full of flowers! And the bed in the shape of a house with a canopy… Oh!
Pure fantasy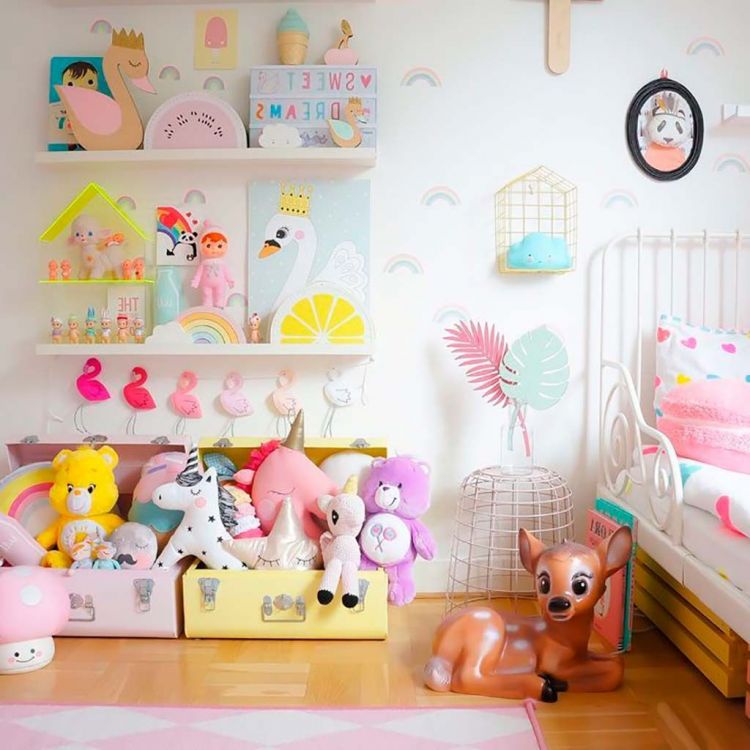 Fawns, unicorns, teddy bears… All animals have a place in this dreamy bedroom, but yes, they are neatly packed in their pastel colored suitcases!
Blackboard wall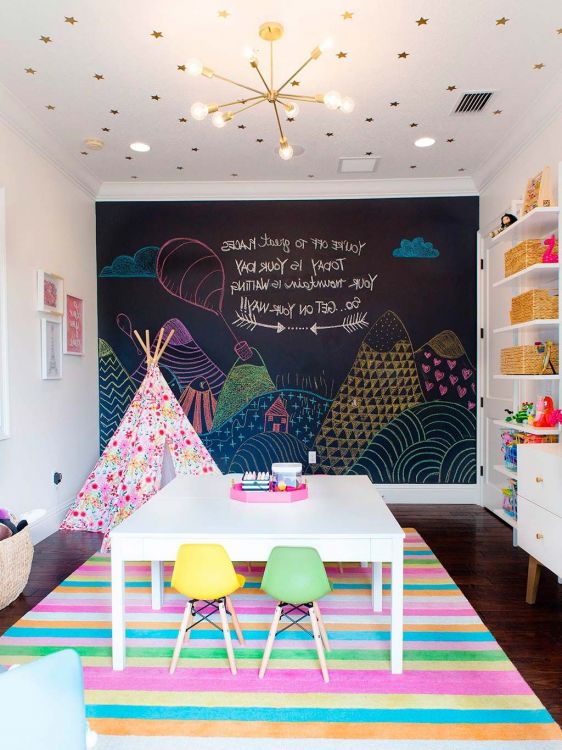 Literally! A wall to inspire freely (and with a lot of colored chalk). Of course, don't tell us that the flower teepee, the ceiling with little stars and the colorful carpet are not absolutely amazing… We're moving!
Cinema space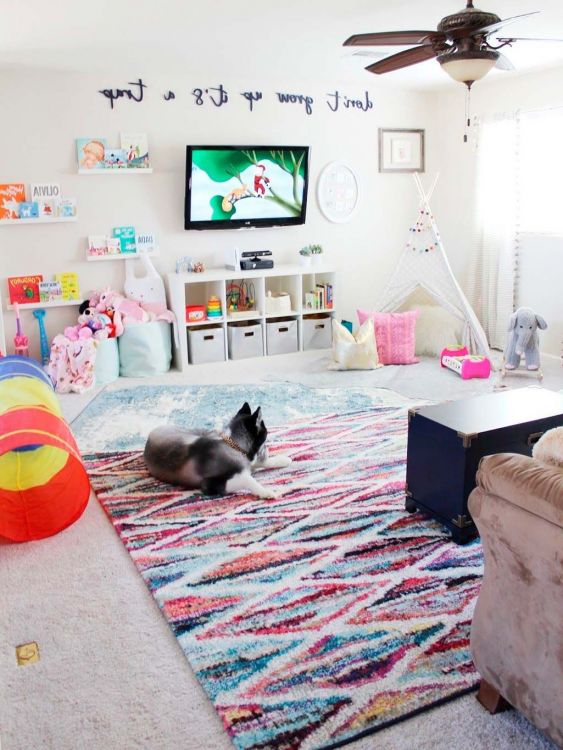 Little moviegoers should also enjoy their own movie theater… And if it's with such a cool and warm carpet at their feet, we want it too!
The fairy corner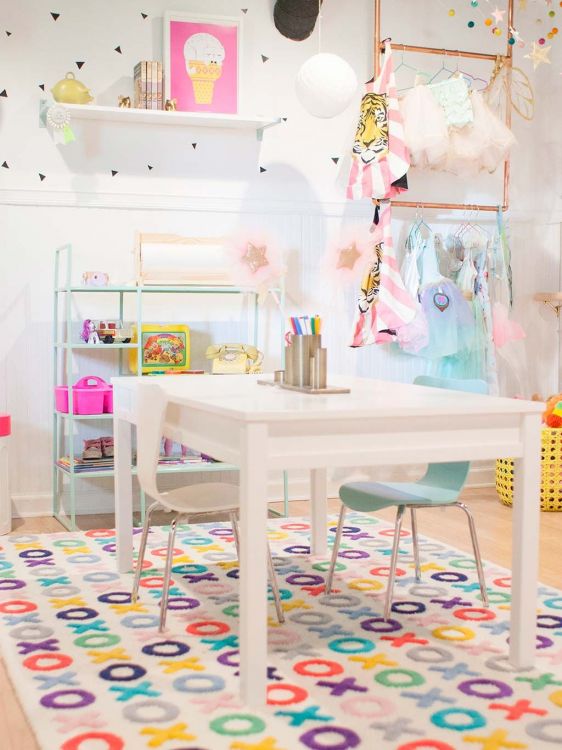 With a very large table for them to paint and draw, inspired by this beautiful room designed for fairies…
Climbing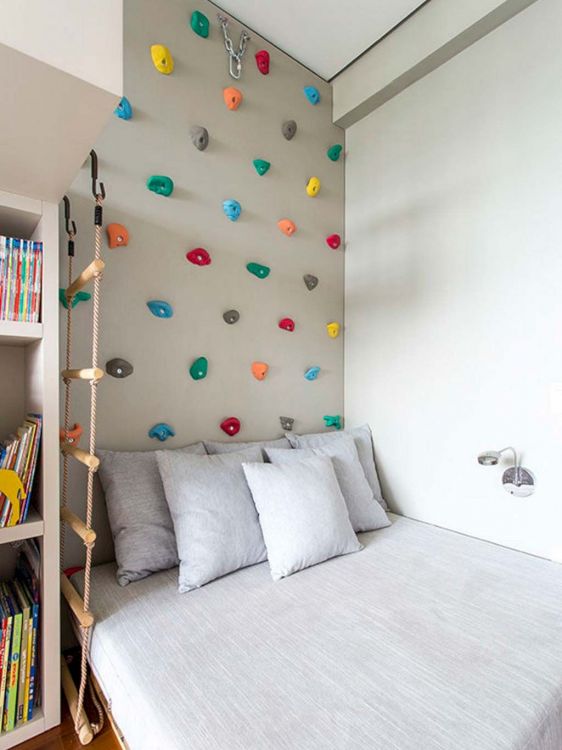 Is there anything more fun than a climbing wall on top of the bed? The fastest and safest way to feel… like Indiana Jones!