Introducing designs made with wood in its purest state, even with imperfections, into deco is trendy; In addition, it helps you to compensate for the technology that surrounds you.
Raw means raw, rough, rough, unpolished… The term began to be used associated with food, raw food or consumption of raw food, and that search for a more natural, healthy and eco-friendly life has made the concept jump to the fore. world of decoration and turn raw design into a pure trend.
How to hit? Two raw pieces are enough, sometimes just one if it has a lot of presence, to make a space connect with nature. Avoid the saturation of the environment with many of these designs.
Play with textures: add natural deco details, such as jute, rattan, linen, cotton, ceramics… Consider raw furniture as the ideal partner to combine with refined and contemporary designs, because its raw wood provides extra warmth.
Are you looking for a raw brushstroke in your day to day, but you don't want to change the decoration? No matter. This type of furniture is versatile and combines well with many decorative styles: Nordic, industrial, ethnic or boho chic, Mediterranean, Japandi, which fuses the Scandi style and Japanese minimalism…
Raw & arty walls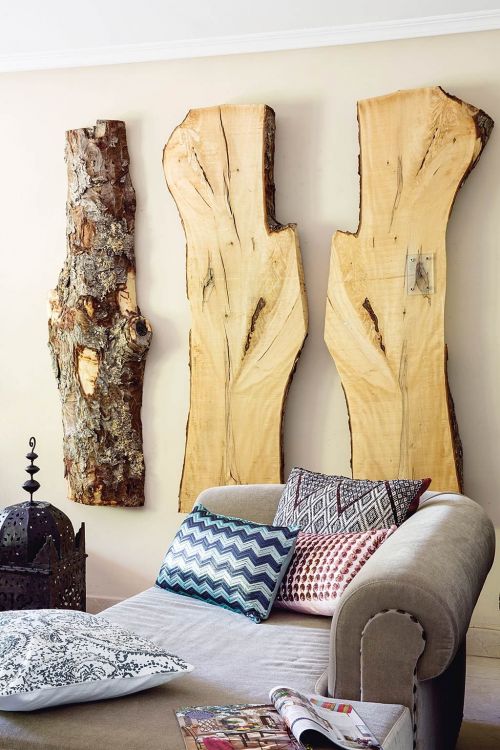 Make of wood in its purest state a mural art design, or wall art, that personalizes the decoration.
Rough and primitive wood is a material with a powerful aesthetic force, as shown in the work Castaño Herido, by Treedays —with a bullet from the Civil War lodged in the wood— that stands out on the wall of this room. Spectacular for its dimensions and authenticity.
The beauty of the imperfect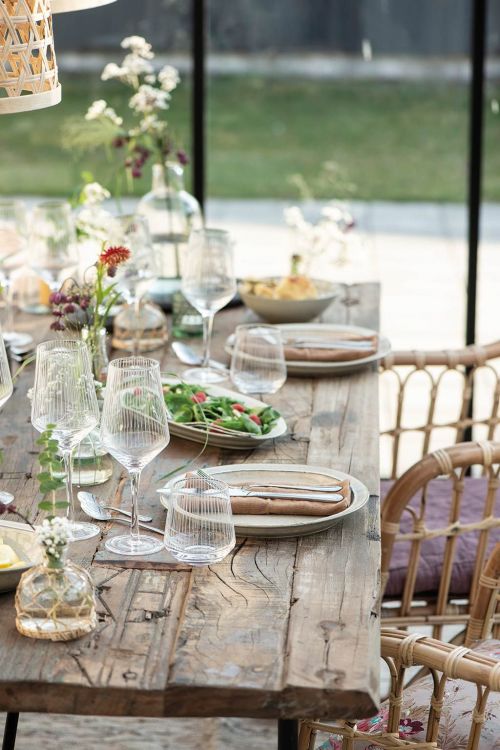 The dining tables with planks show the reality of wood and make nature the protagonist of the decoration. The wood may show signs of wear over time, as in this setting, or its charm may lie in the fact that it seems freshly cut in the forest and brought to the dining room.
In both cases, the raw tables attract all eyes; even when not in use.
Reclaimed wood table (€1,149), glasses (€9.75 each) and kitchenware, from the firm IB Laursen.
Magnet effect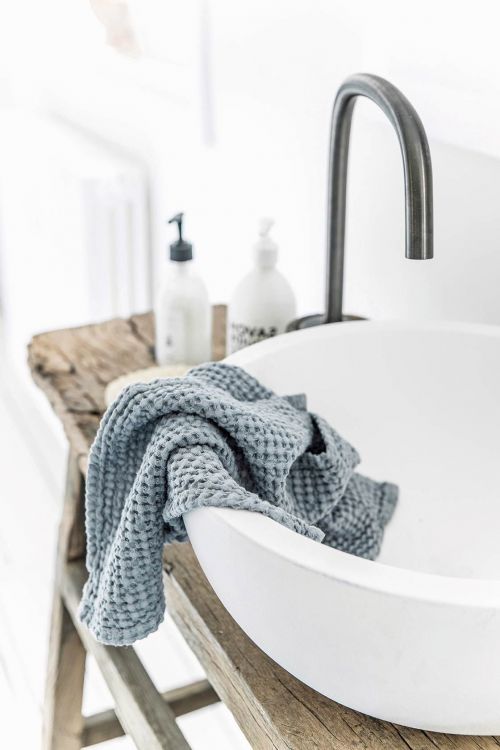 Here is one of the keys to the raw style: rough and rough wood, almost untreated, has an amazing facility to combine with contemporary, refined design. Ideal, the marked contrast of textures in this proposal.
Towel, by MagicLinen, a linen and cotton blend, in Gray Blue (€49/set of three).
Relaxation and wellness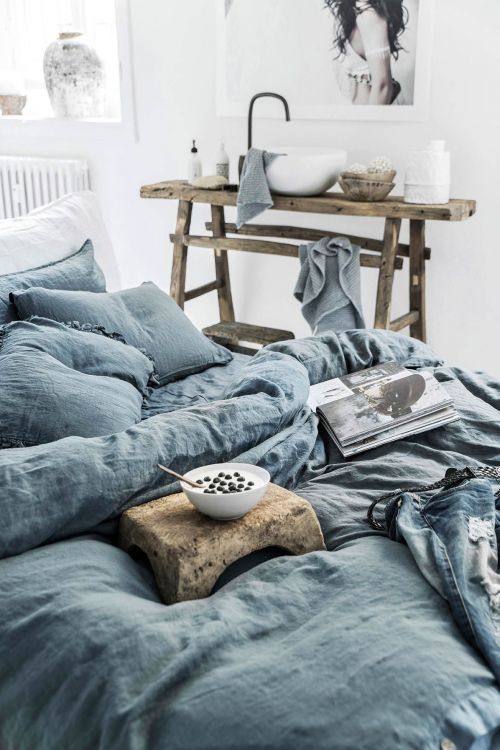 Natural wood and stonewashed linen come together to create a serene atmosphere in the bedrooms. The materials present in the decoration influence the mood. Bet on raw pieces and fabrics with a natural touch to relax the mind. Better yet, if you activate the do not disturb mode on your mobile.
Duvet covers (from €120) and pillowcases (from €40/two), by MagicLinen, available in more shades. Base for the bowl and vanity cabinet, from www.bestforhome.nl
New bedroom
The raw pieces go hand in hand with the slow deco style, which invites us to slow down. Is it really necessary to go running in the bedroom? With some raw design, natural fabrics, plants, and a goodbye to the superfluous, new textures emerge that provide emotional well-being.
Focal point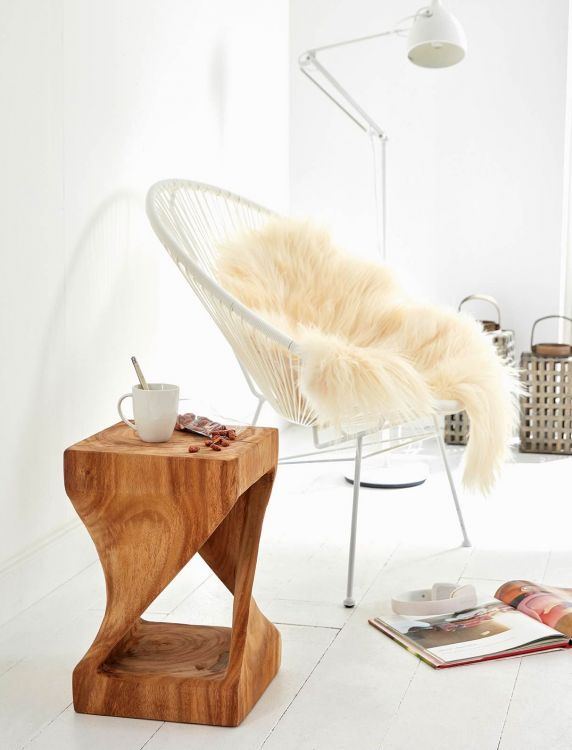 The essence and purity of wood is preserved in this versatile design, with a sculptural vocation. A solid piece sculpted by hand, which gives the decoration its unique shape and its naturalness, full of nuances.
Side table-stool, 30 x 30 x 45 cm (€188), chair (€109.90), leather (from €37.90) and lamp (€99), by Car Möbel.
I love!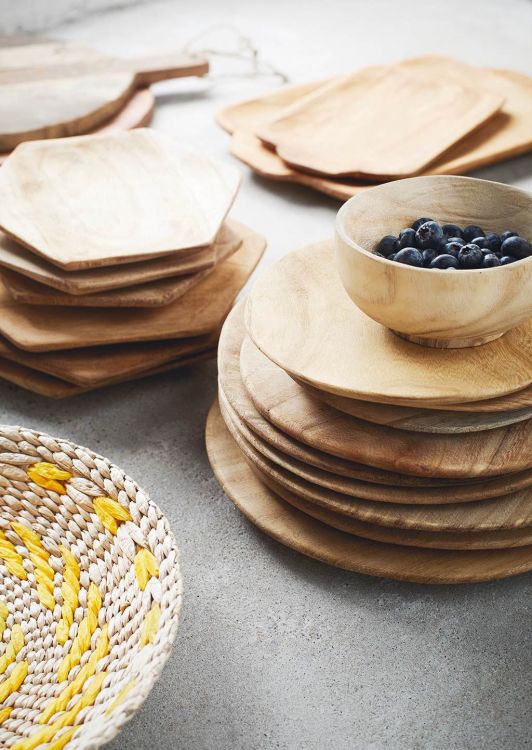 You already have ceramic plates, even porcelain, but if you want to be up-to-date, you are missing the wooden ones. They seduce with their incredible touch, their natural grain and their handcrafted finish. Octopus a fèira, sushi or pizza are just some of the gastro options to show them off.
Tableware, in paulownia wood (from €8.95) and wicker tray (€20.75), by Madam Stoltz.
More options
Wooden plates have multiple uses beyond the table. They give a lot of play because they can be used as a base to compose a center with preserved flowers, candles, ceramics, cacti, terrariums… Also as a tray, to keep jewelery and watches close at hand and even as a pocket emptyer.