And you will see how they brighten your day.
An image is worth a thousand words and if you combine several to form an attractive composition, its decorative value is multiplied. Fill your house with photos; They will brighten your eyes daily, and by the way, your life.
Friends & family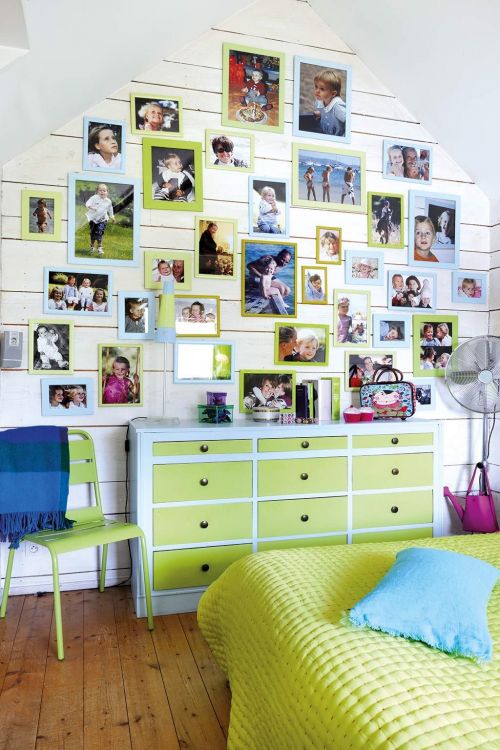 In difficult spaces like this one, with a gabled roof, a good number of photos become a decopuzzle that you will love to look at over and over again.
Tips to make the composition more dynamic: place them on diagonal axes, with alternating vertical/horizontal format, and frames in two/three colors that harmonize with the decoration.
In diva style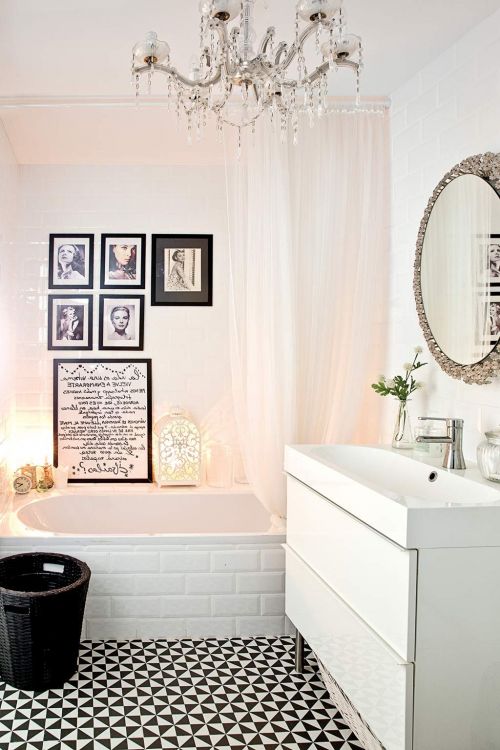 The glamor of Hollywood actresses can decorate your bathroom.
His charisma and elegance is capable of transforming the space and almost turning it into a movie set.
Below them, a framed print, by the instagrammer Lucía Be, and the ideal detail, with its play of light and shadow, the Gottgöra lantern, from Ikea (from €10).
Nordic style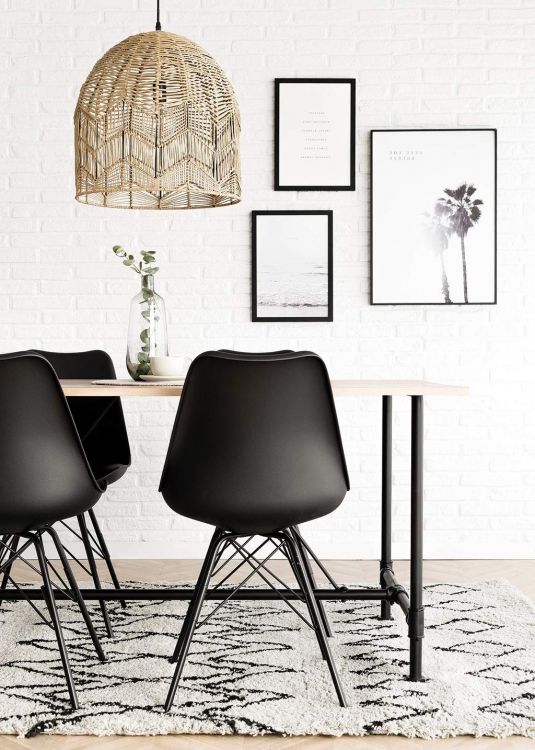 A composition of photos like this one, so casual, is the deco resource that works to energize, and make the scandi look more welcoming.
The black brushstrokes on the furniture and the rug are carried over to the white wall to create visual continuity.
Prints, without frame (from €9.60); table (€499); chairs (€71.25); lamp (€99) and rug (€209), by Kenay Home.
Decorate with collages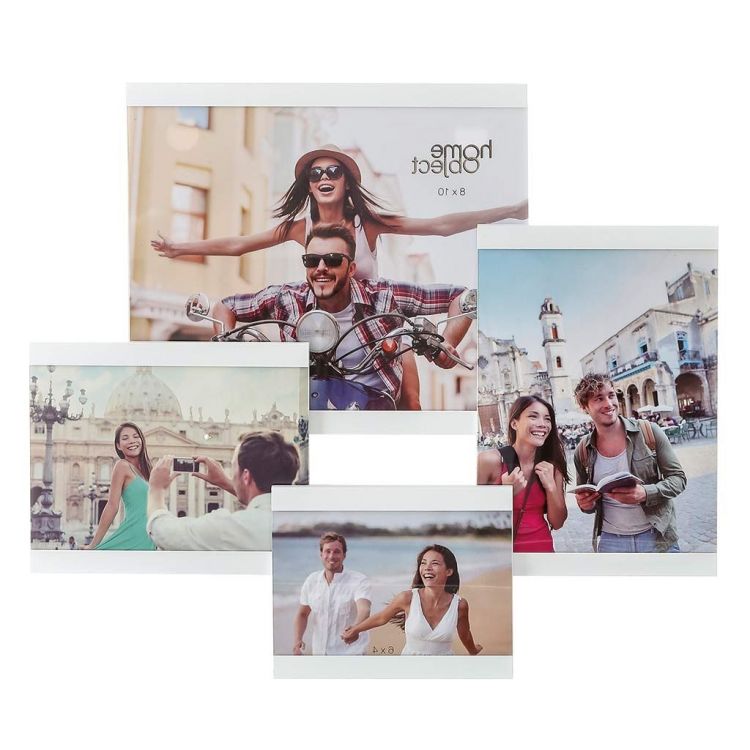 Five, ten and even twenty photos or more, that reflect those beautiful experiences you lived, can form an ideal collage with a special meaning for you.
There is total freedom to create them, and they can be combined with illustrations, clippings from a magazine… They are informal compositions, so go ahead and use washi tape, double-sided tape or pins and thumbtacks to fix them.
Stop footprints on the wall. And if you don't want the photos to leave marks or holes, there is always a solution: a collage canvas, with as many images and texts as you want —see at hofmann.es—, get a cork in the measurements you need and nail them, or put a thin rope and hang them with mini clothespins. Metal mesh panels, such as those used in stainless steel, are also in fashion. in kitchens, but now in black.
The plus of style: place a strip of microled with battery that enhances them at night.
Another option: a multiple frame, by Lola Home, with a collage effect; measures 43 x 37 cm (€19.90).
Oversized portraits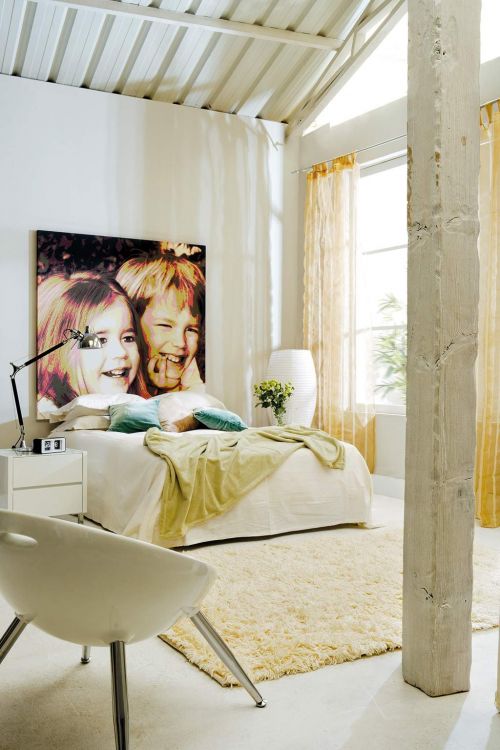 That moment of complete happiness captured by the camera takes center stage thanks to large format printing. Without a doubt, a unique headboard.
Works like this can be ordered in various media: canvas, aluminium, methacrylate, forex…
Look for options at Fann, Fotolienzo, Hofmann and Pixum.
Print mini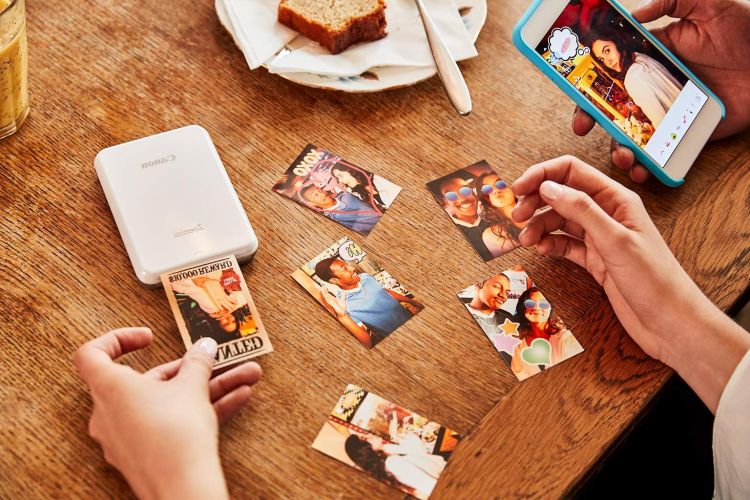 LIFE IN PHOTOS.
Above these lines, Zoemini portable printer, from Canon, light, compact and pocket-sized, a perfect accessory for your mobile device wherever you go; works via Bluetooth connection via the Canon Mini Print app.
FEATURES.
Get creative with eye-catching filters, AR effects, frames, drawings, text, or use the mosaic feature to turn multiple small photos into a poster. Prints 2″ x 3″ photo stickers with ink-free ZinkTM technology.
In solitary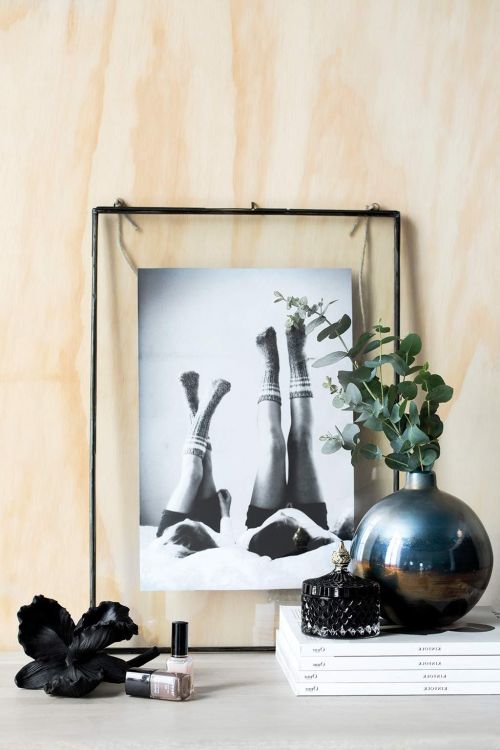 That photo from a professional studio session, or the fun one you took at home, with an original perspective, deserves a space of its own.
Accompanied by sophisticated pieces, like here, it will form part of a still life with visual impact.
Marco Auria, 35 x 52 cm (€80.75); vase (€49.75) and bottle (€13.75), by Lene Bjerre.
Staggered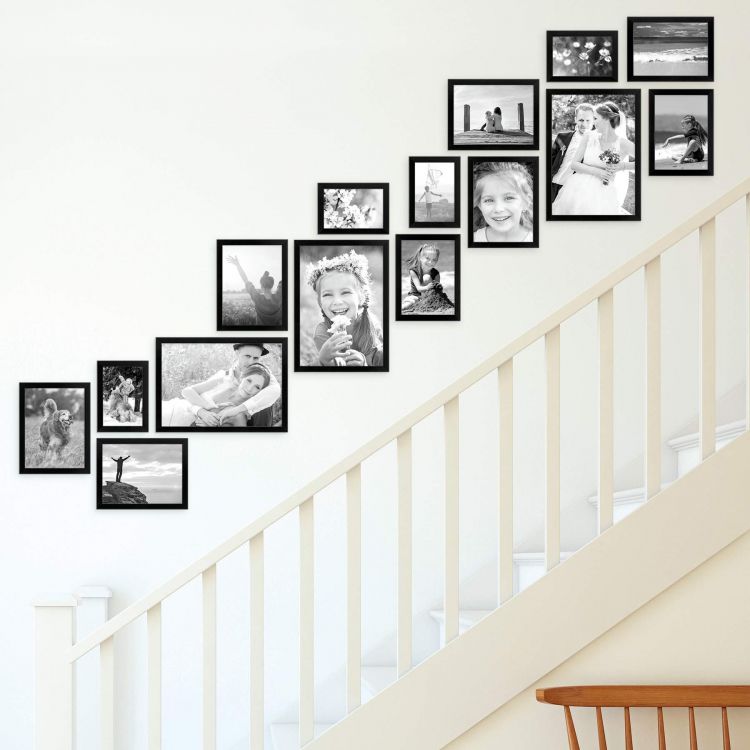 The stair wall arouses maximum interest with a series of photos. You will achieve the visual order of this Photolini proposal, if they are all in black and white, framed in black and arranged like this: draw a diagonal axis, like that of the ladder, the photos are placed above and below in pairs and aligned to the left or right, depending on its format.