Gardeners know that their spaces are never finished designing, they are in a constant state of change. Plants sometimes grow larger than we thought, weeds ravage a beautiful lawn bed, a Japanese maple falls prey to an unexpected late-season frost, and so on.
Also, our tastes may change, our gardens become stagnant and we need an update. If this is the case, consider the industrial style for your garden.
The industrial style has its roots in the arrival of machinery and factories in the late 1800s. The beauty of reclaimed metal pieces speaks to the relationship between form and function, they tell us about history and the simple beauty of everyday objects. .
Why does it work in a garden? Industrial pieces bring an unexpected element to a garden. They work from a design point of view based on the concept of juxtaposition. Keep these four characteristics in mind: size, shape, color and texture. When placing an industrial feature in a garden, it should be paired with a plant, rock, or solid feature based on one or two of these four characteristics. This way you form a relationship between the piece and its space, but still maintain enough contrast.
The reclaimed piece of metal shown in this photo works well in this garden, because the rust is related to dried flowers in terms of color and texture. The shape and size of the piece makes it stand out and creates an interesting accent. Let's take a look at some other examples and why they work.
Metal in industrial gardens
Industrial accents don't have to be antiques, nor do they have to be pieces of art. Here we see sections of rusty wire mesh reused as a trellis for an Atlas Cedar . The grid pattern speaks to geometry and matches the railing on the terrace above. The wire rust mimics the color of the railing, providing continuity between levels. The serpentine shape of the cedar breaks up the geometry of the space, adding softness and artistic interest. In addition, the silver color of the cedar trunk repeats the color of the concrete.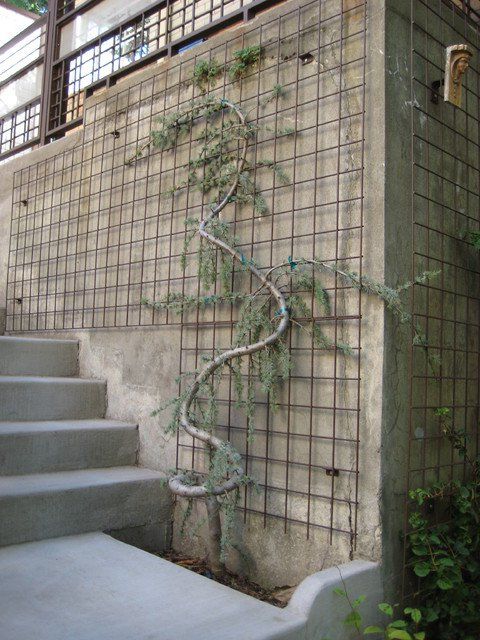 Mixed metals
This screen provides a perfect backdrop for a stone seating area in a rustic garden. Combining solid sections with metal mesh creates additional interest and a closed environment, without limiting light and air movement. The colors and textures of the different metals complement the stone.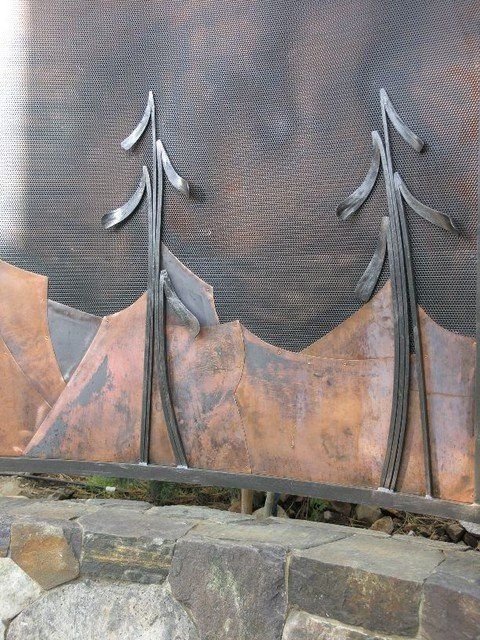 Metal sculptures
Consider a metal sculpture to create unusual interest. This piece, by metal artist Benjamin Parrish, works on multiple levels. Tufts of hair mimic nearby twisted branches. The implied movement of hair blowing in the wind gives it added interest. Finally, on sunny days the shiny metal reflects the light in this lovely shady wooded garden. On cloudy days it imitates the cloudy sky.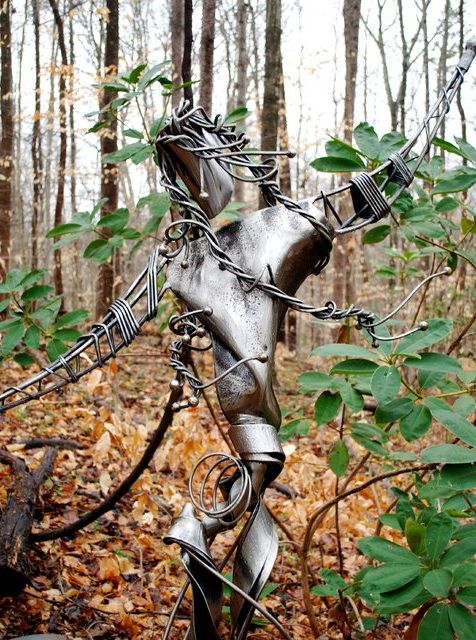 Glass in industrial gardens
Not all industrial items need to be metal. Frosted glass walls and doors provide a clean feel to the outdoor space. Reflective glass captures ambient light and mimics the reflectivity and color of the metal planter. All of this provides a stage for the traditionally pruned evergreen shrubs, creating a contrast that really works. Emphasis is placed on forms and it is done with style.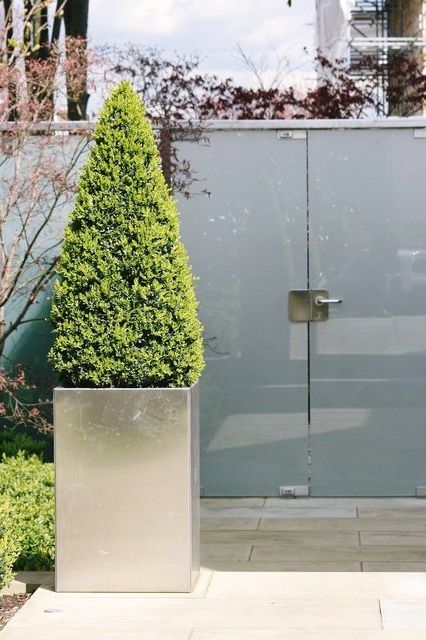 Gabion walls in industrial style gardens
Gabions, which are metal walls filled with stones and even pieces of colored recycled glass, can be used in the garden in new and interesting ways. The metal cage and gabion stones are in high contrast, adding interest.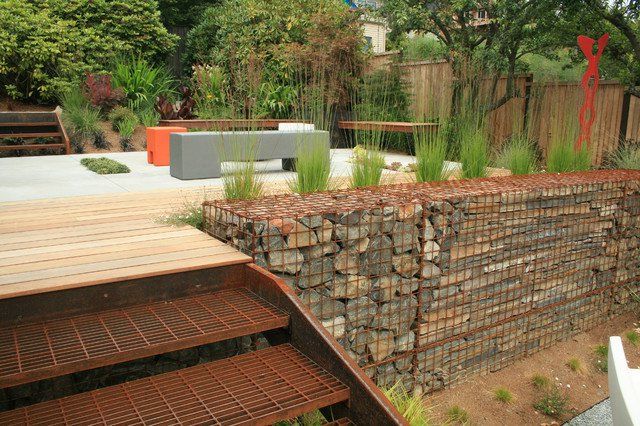 Concrete walls
There is nothing more industrial than concrete. For walls like the ones shown here, the wooden forms are created and filled with concrete. After the concrete partially dries, the timbers are removed, leaving unique patterns on the walls. As with gabion walls, consult a professional for this type of installation. This wall presents a high contrast between the concrete and the organic pattern of the wood.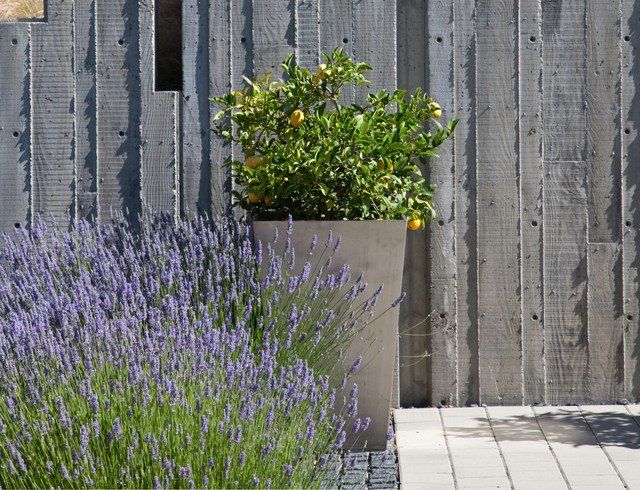 Concrete boards
This material, also known as cement board, is manufactured for use as a substrate for tile floors and shower stalls. It is made up of concrete, fiberglass reinforcement and polystyrene foam for weight reduction. There are several types of concrete deck. Be sure to choose one that does not contain paper.
Its low price, light weight and availability make the concrete board an excellent option for the garden. It can be cut with a circular saw. Keep in mind that applying a good concrete sealer will increase its longevity outdoors.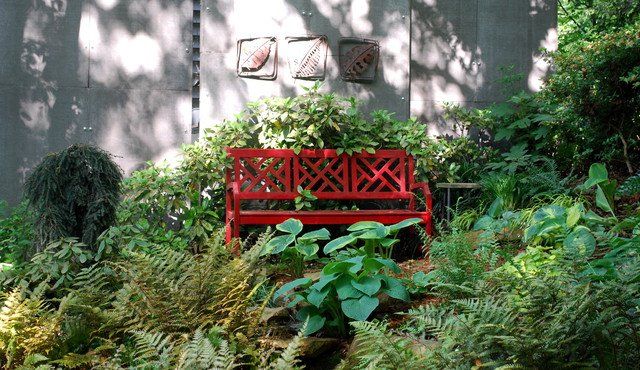 Water fountains in industrial style gardens
Consider a gutter (spout), like the one shown here, made of metal or maybe even molten glass. This offers the soothing sound of falling water that we all enjoy, but does it in a very contemporary, industrial way.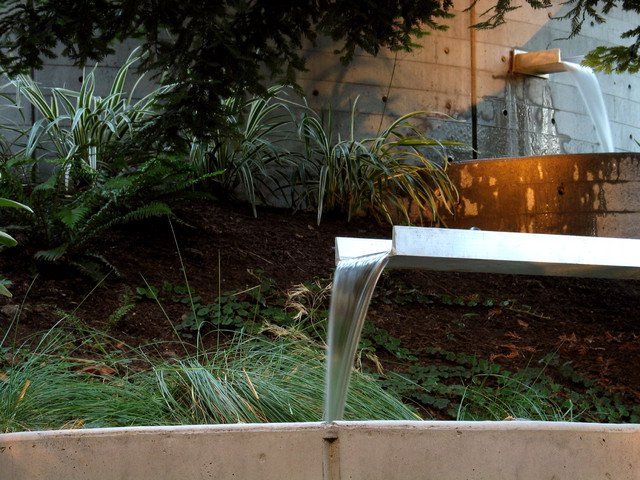 Details
Why use a standard door hinge when you could use a custom piece, like the one shown in this photo? Hinges, large fixing bolts and door handles can be a spectacular detail for the garden.