Surely with a bedroom like this, it jumps to the age of the turkey! And you so happy without lack of Valium…
When adolescence arrives, children transform… So it is very possible that the apple of your eye begins to fill her bedroom with posters of her idols, or begs you to buy her a bigger closet to store her new acquisitions of clothing (prepare for me to try 5,8345,897,857 different styles over the years). Boys will also want bedrooms decorated and equipped not only for their studies but also for their new teenage hobbies. But be that as it may, what is clear is that changes in the decoration are coming, and prevention is better, don't you think? Well, let's go there!
The little ones in the house put aside their childhood games to read, study, listen to music, share afternoons with their friends… Their room is transformed and now welcomes their dreams. The decoration of his bedroom also becomes older… but fashionable! There is no doubt, your little ones have grown and their bedroom is now their own world. If your son has grown up, surely you are considering redecorating his bedroom. As the change must please everyone, including your pocket, start doing calculations with these two budgets.
Optimize space, look for storage solutions and combine rest, study and play. So there are many factors to consider when planning the design, layout, and furnishings for a young teen's bedroom. Surely even a change in the color of the walls is also necessary. If as a baby and as a child you opted for pastel colors such as the traditional pink, blue, yellow or peach, now they are going to prefer more vibrant tones such as dark blue, green or even black or grey, the latter colors very much in trend in recent months..
The peculiarities of each stage of life are reflected in the bedroom. Seniors, teenagers and children want their space to define them. How old is your room?
These junior rooms meet (more than enough) all these requirements. Take a look at the photos below and choose the style that you like best, and that best suits your needs.
2 With raised bed and study area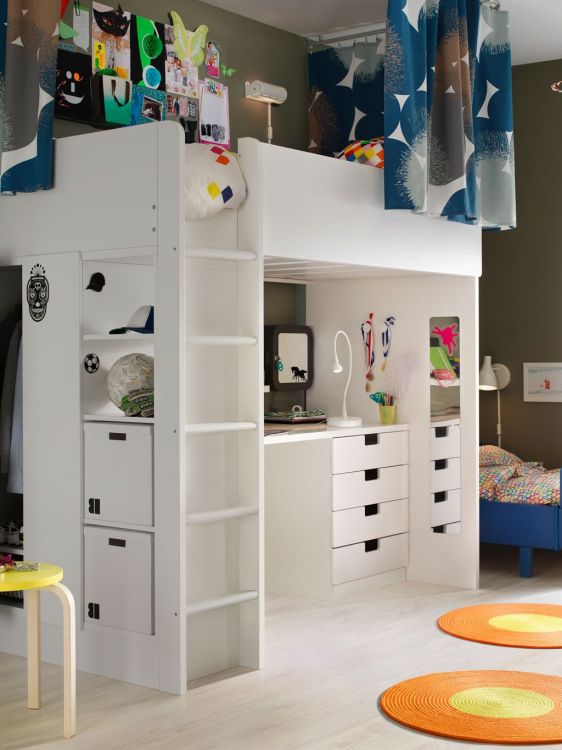 High ceilings? You already have the solution: a frame that houses the bed on the upper level (you will have to "climb" the ladder to go to sleep) and the desk at ground level, below the frame. On the side, storage space. It is an Ikea proposal.
3 Nordic youth bedroom in pastel green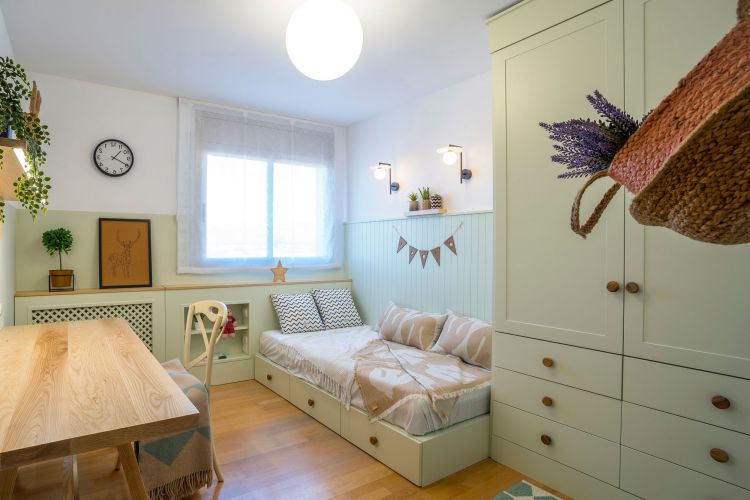 This bedroom has it all: a sitting area, storage, a desk and lots of light, all in a very cozy atmosphere. It looks like something out of one of those inspirational Pinterest boards! Don't miss what this room was like before.
4 One bedroom for adults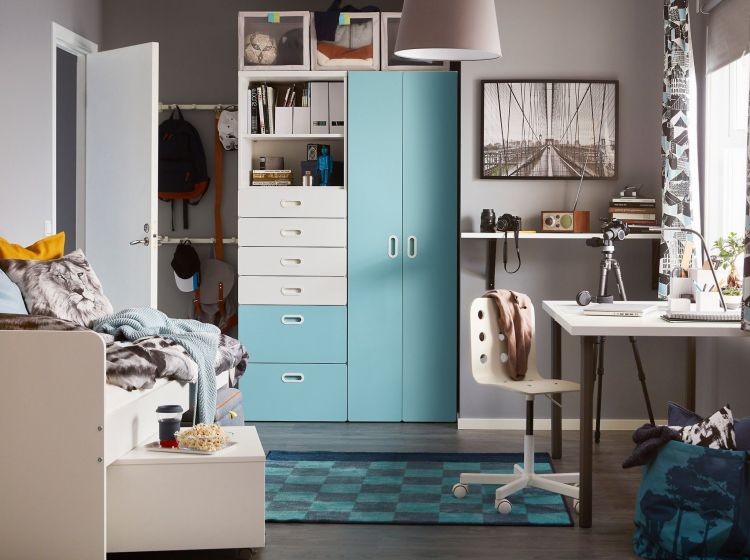 Adolescence is a stage of revolution at all levels, and a bedroom where chaos reigns will only encourage deconcentration. How to remedy it? Distributing space intelligently. If the size of the room is normal on the small side, an L-shaped distribution that takes advantage of the corners will be the solution. You can place a trundle-type bed with drawers in the lower part and storage in the headboard, and take advantage of the upper part of the wall to arrange several shelves. Another way to gain space is by installing the desk on one side of the room, preferably next to the window, and adding drawer units with wheels under the table. See how this bedroom was transformed from children's to youth.
5 Youth bedroom with desk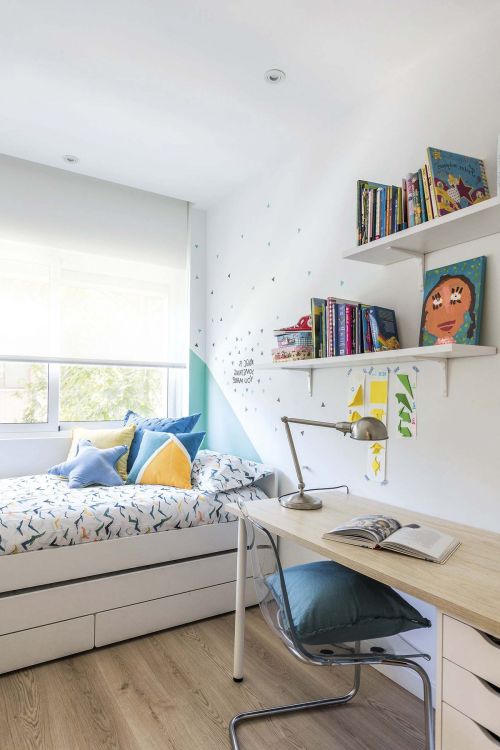 In this project, from Tinda`s Project, the wall of the headboard has been decorated with a vinyl, from Tenvinilo, in tune with the cushions, from Textura. Desk, chair and shelves are from Ikea. The exterior light is filtered by the roller blind, by Prodec.
6 Rustic wood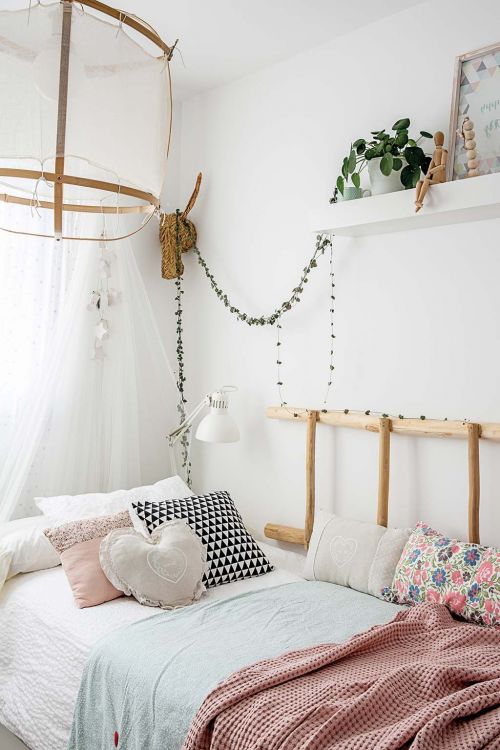 This bedroom brings together pieces that you will find in the most charming houses on Instagram and Pinterest. Carmen is still a girl, but she knows what she likes. Discover here the complete bedroom and all the details.
7 For a creative teenager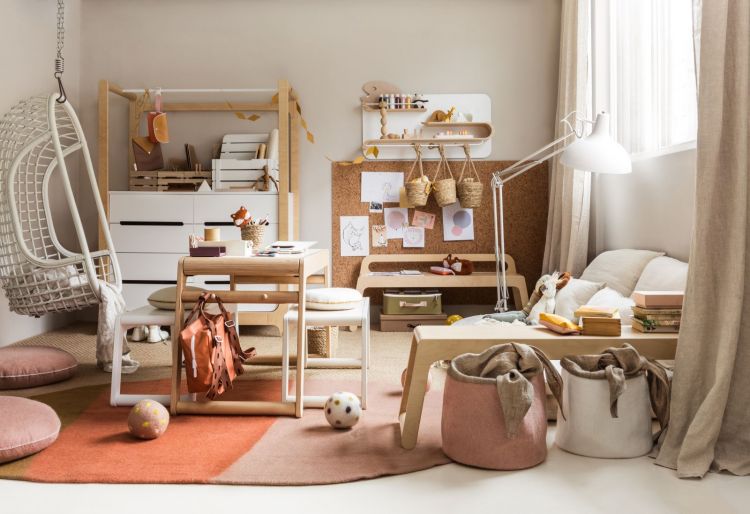 Creative potential is a gift, so we encourage you to activate it in their adolescent stage and, incidentally, move them away from the fatal attraction they feel for the screens. The decoration helps you activate this potential, you just have to see this proposal from the Rafa Kids firm, which designs modern furniture in a minimalist style.
8 convertible furniture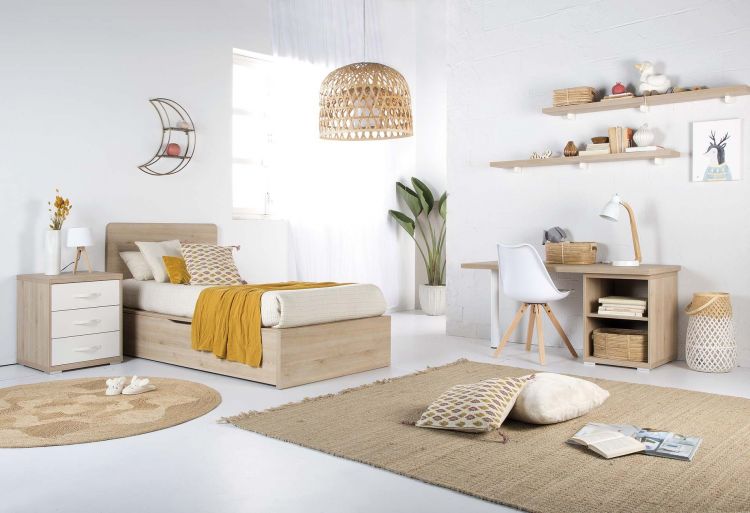 Children grow very fast and their bedroom must change at their own pace and meet their new daily needs. If you don't want to be buying furniture every so often, think about convertible pieces, such as cribs that become beds or changing tables that, over time, will be comfortable. See here what this bedroom was like before with the same furniture.
9 more sober colors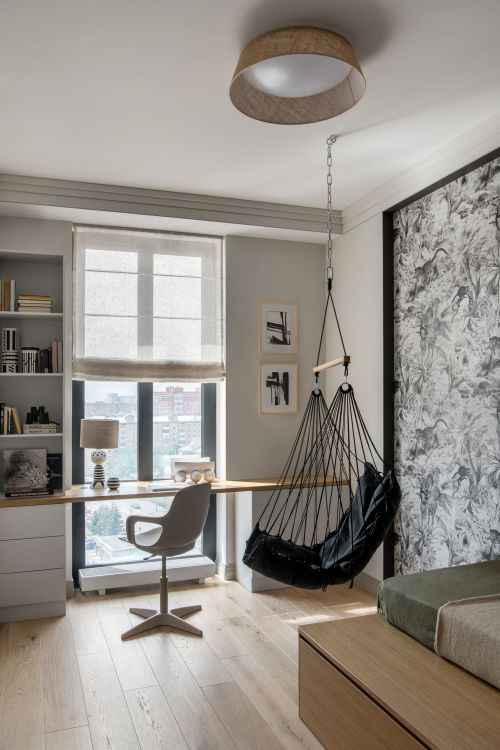 This modern youth room has its own swing. And the bed is super original. Discover the complete house here.
10 Now you see me, now you don't see me…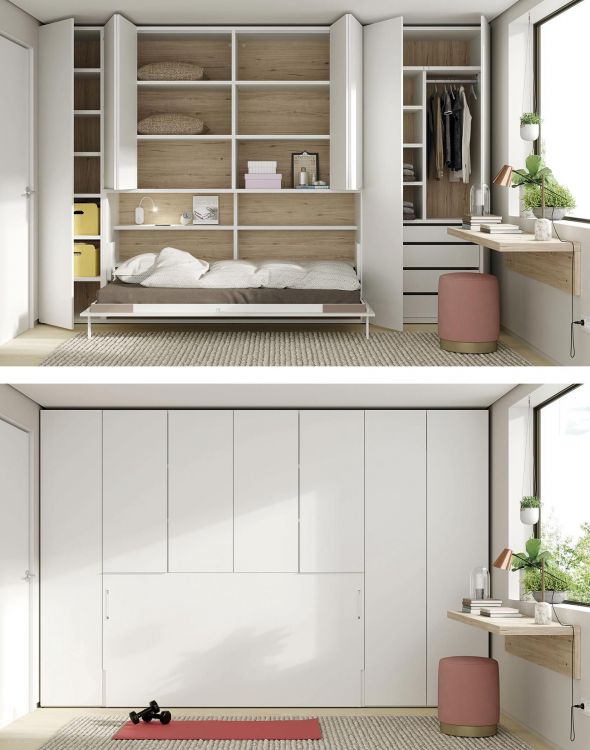 If the room is very small, opt for a custom wall cabinet. A homogeneous space, with a folding bed, side cabinet, chest of drawers and shelves, which will allow you to have everything organized and in order. This bedroom is a proposal from Jotajotape.
11 Youth bedroom with wooden furniture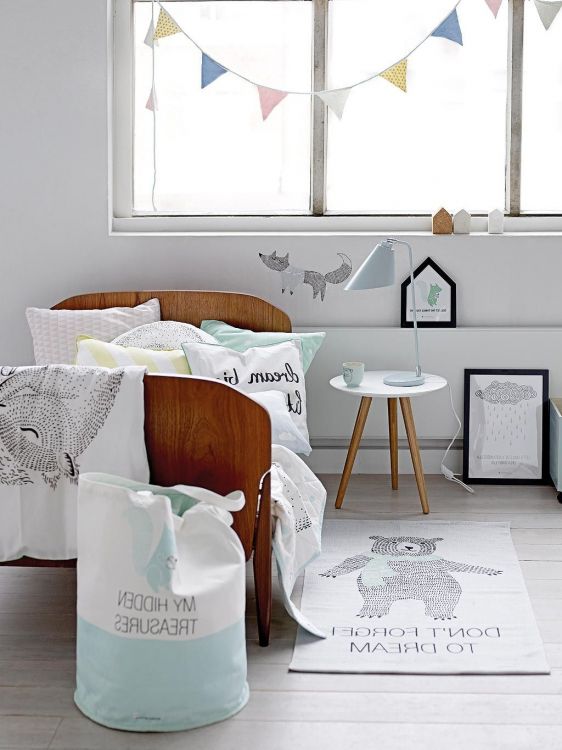 A room of major. You will see that they themselves request a change of room. They no longer want to see baby details and colors associated with their first years, not even in paint. Focus on whites and grays with subtle color details and you will be sure to hit the mark. Bedside table, from Bloomingville (€105).
12 Dorm for two brothers with folding bunk beds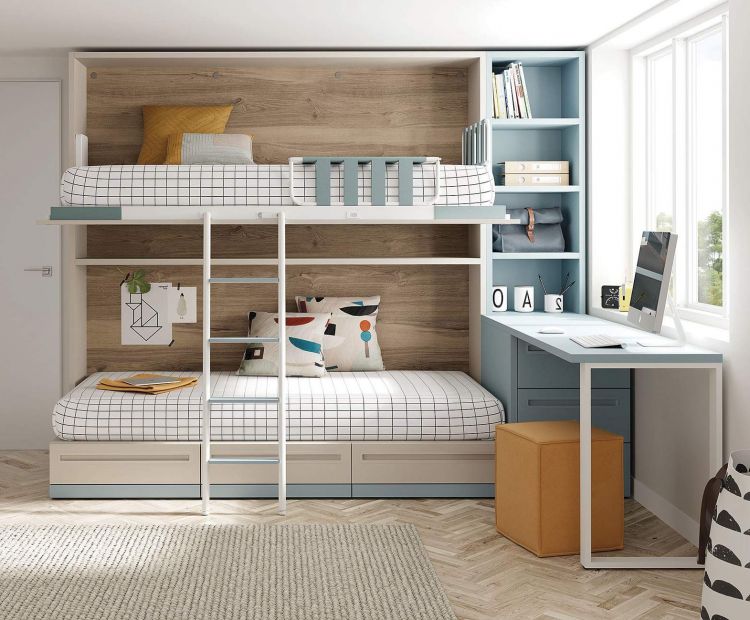 Take advantage of the space to the millimeter, to install two beds and a study area, without making the room cluttered: that was the objective in the youth bedroom in the image. It was achieved with this proposal from the firm JotaJotaPe. A bunk bed occupies one of the walls and there is still space to place a shelf with drawers fitted into the remaining space. The table has been arranged under the window. Great composition in "L".
Dynamize with color. A wood tone as the back wall of the bunks serves to delimit the rest area. Soft blue has been reserved for the study area. With this chromatic code, the environments are visually "separated" and the whole is much more attractive.
13 An original bunk bed with cool bedding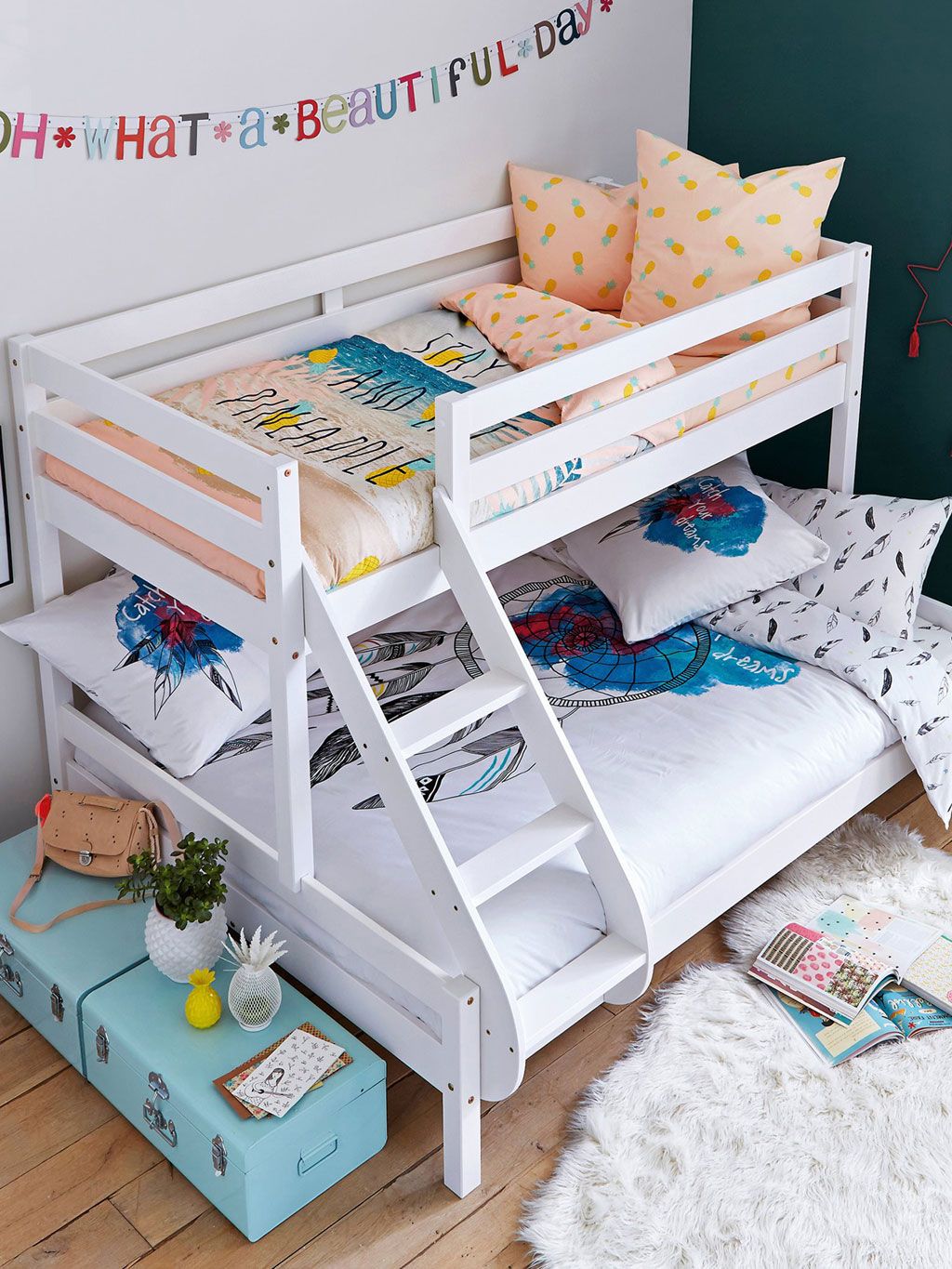 Bunk bed with two beds, one of which is wider. Choose fun bedding. Bedding and accessories, from La Redoute home.
14 with star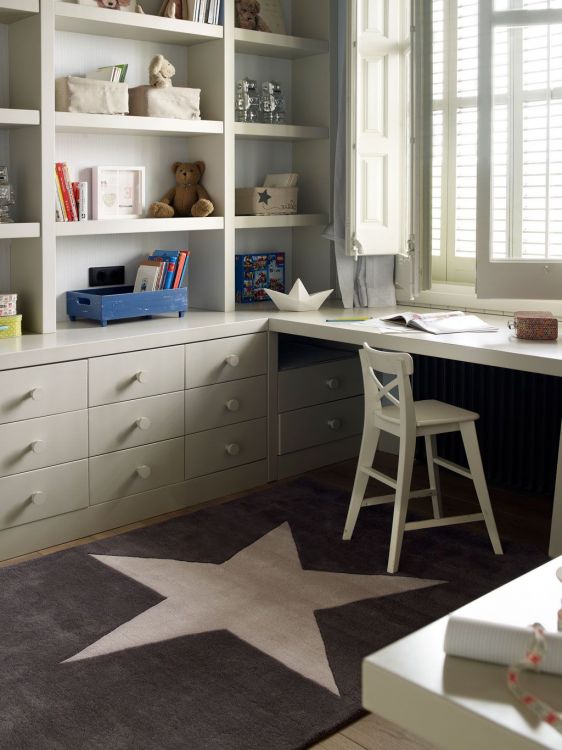 Because the star is him or her. Don't miss it in your room. A rug will give warmth and make your space more comfortable. If you complete it with a pouf or floor cushions, it will always be "thrown". Carpet, by Lorena Canals.
15 White and green bedroom with many drawers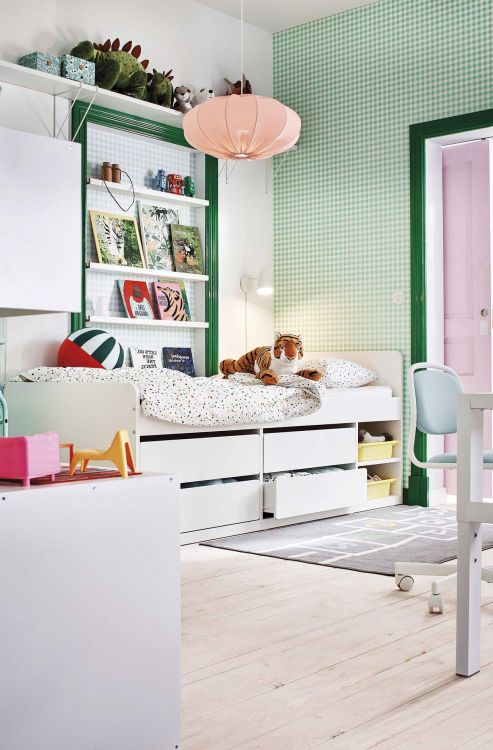 Multipurpose furniture is a magnificent resource in rooms with limited meters. In this bedroom, furnished by Ikea, the bed is also an important storage "container". Another good idea to take advantage of the space: built-in shelves in the wall or with a minimum depth, and shelves flown in the upper part of the walls, for light objects or stuffed animals.
green frames. The simplest ideas often deliver great results. The bookcase has been framed with moldings and painted in a moss green to match the door frame, and which intentionally coordinates with the lively wallpaper on the wall. Of ten!
16 Youth bedroom in blue and white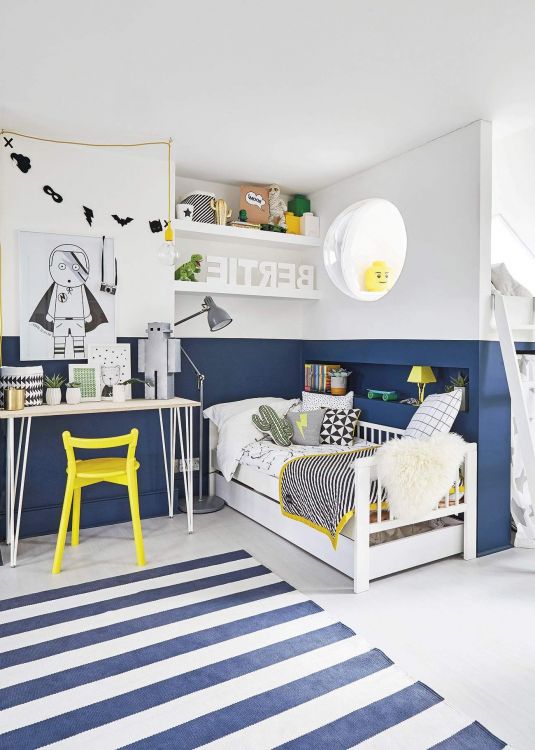 The plinth is the absolute protagonist of this room and gives it personality. The plinth painted in such an intense tone stands out against the white walls and floor and also highlights the furniture -the bed and the beech wood table-. In addition, the yellow sparkles (chair, accessories and textiles) are luxurious. Beware of the niche next to the bed: this shelf is perfect as a mini bookcase and integrates very discreetly into the wall.
multipurpose bed The choice of bed is very successful, since it can also be used as a sofa and, as if that were not enough, it has a removable trundle. The approximate minimum measurements for a similar piece of furniture with a 90×190 cm bed are 201/215 cm wide and 100 cm deep.
17 A very modern bedroom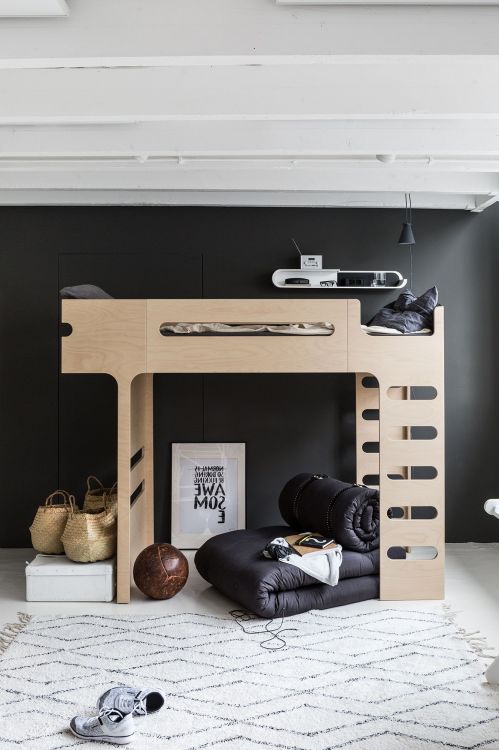 In this teenager's bedroom, furniture with modern lines fulfills all the functions you need.
18 A chic bedroom for a girl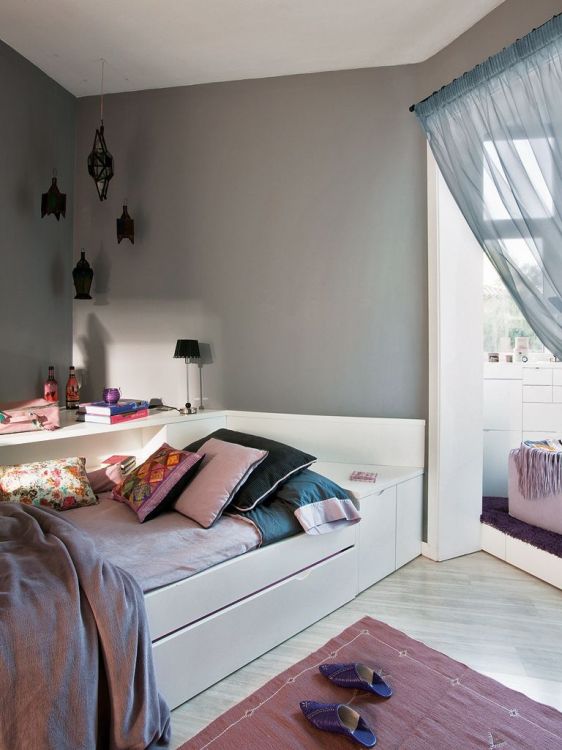 The irregular layout of this room made it necessary to custom design all its white lacquered furniture. The color comes from the hand of some accessories of marked Arab inspiration.
19 With folding bed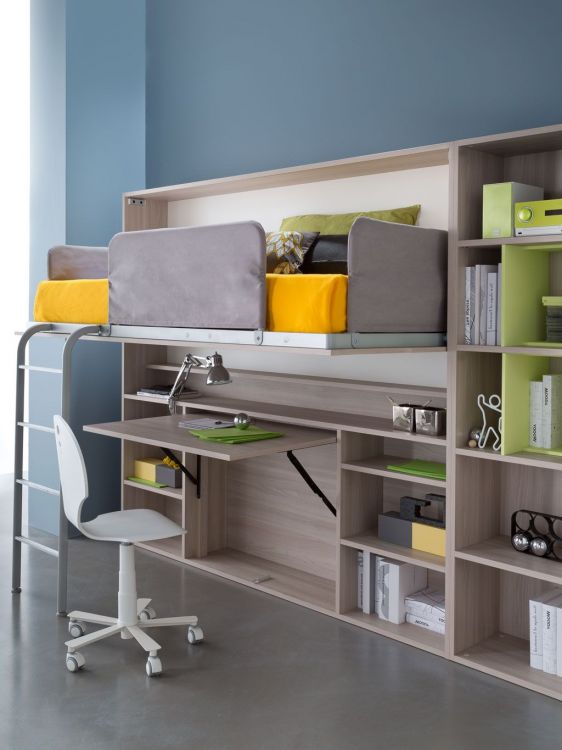 A structure, a single piece of furniture, with everything you need. The bed and the desk appear and disappear (they are foldable) depending on whether they are needed or not. A proposal from the Versar firm.
20 Minimalist and ultra modern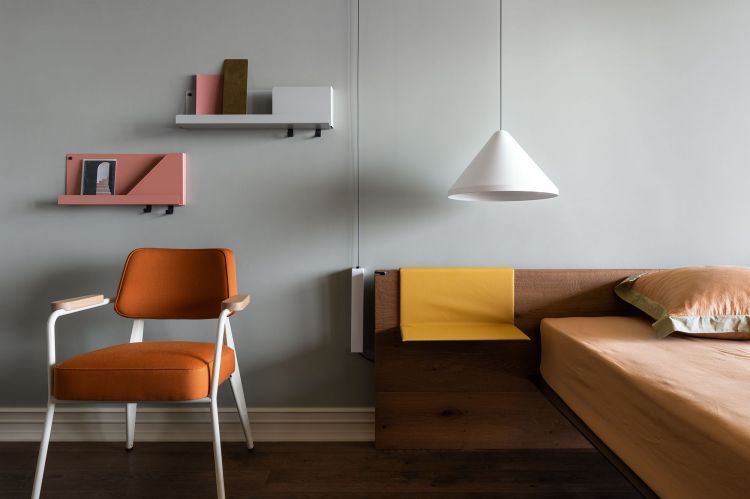 In this bedroom, a new space has been created for a teenager, where there used to be a children's room, there is now a youth bedroom with a modern style that is committed to color-blocking. The room has everything, even a space for the dog to rest with its owner.
21 A bridge type cabinet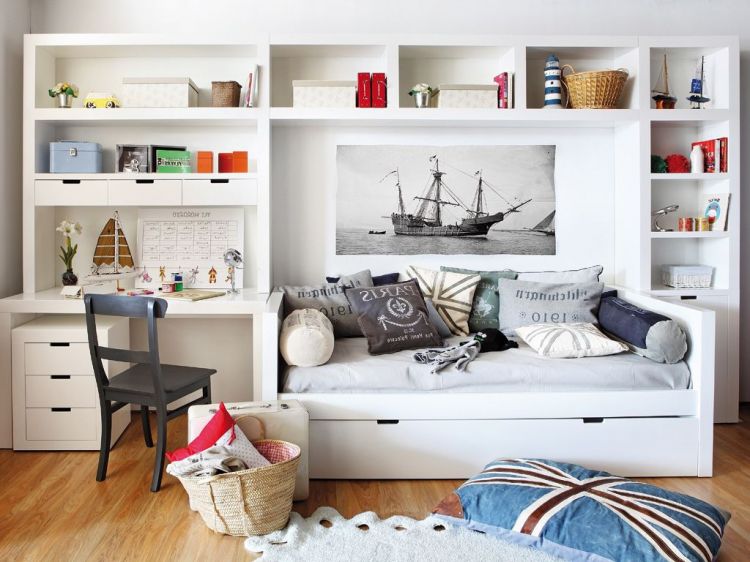 Your room is your haven and should reflect your personality and hobbies. It is important for the development of their self-esteem that they feel identified with the environment. Hours of study await you in your room, but also hours of leisure and fun. Take a look at this link to this functional and beautiful bedroom.
22 own style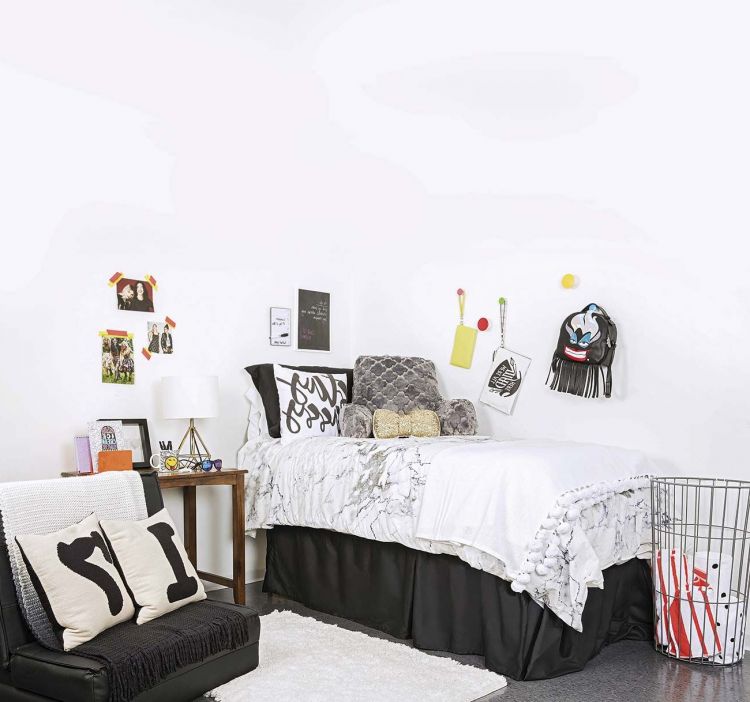 Bet on textiles that mark everything, play with a color chart that portrays their personality and recreate themselves with the accessories they wear every day. This bedroom has a very personal style, but we have decorated the same space with more style, go to this link and see how a space can be changed on a budget.
23 With corner bunk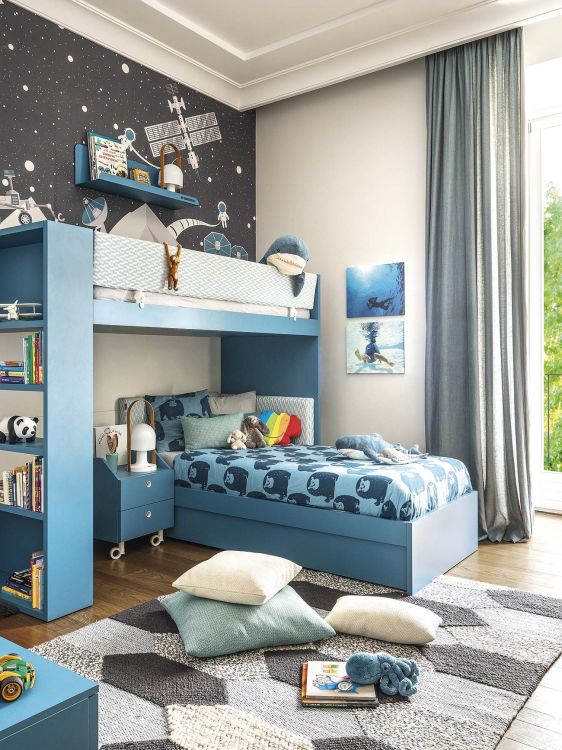 By placing the beds in an L shape, a dynamic layout was achieved in this bedroom for two brothers. In this way, the lower bed also has natural light. The upper one is supported by a bookcase without a back that delimits the rest area. The table, with wheels, can be moved if necessary
24 Surfers in action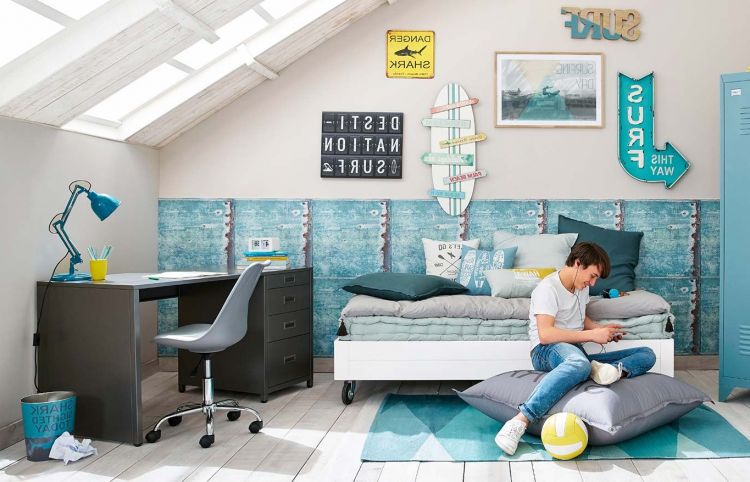 If you live all year long waiting for summer to arrive to pick up the surfboard, this bedroom will take away some of your anxiety… Maisons du Monde atmosphere.
25 State-of-the-art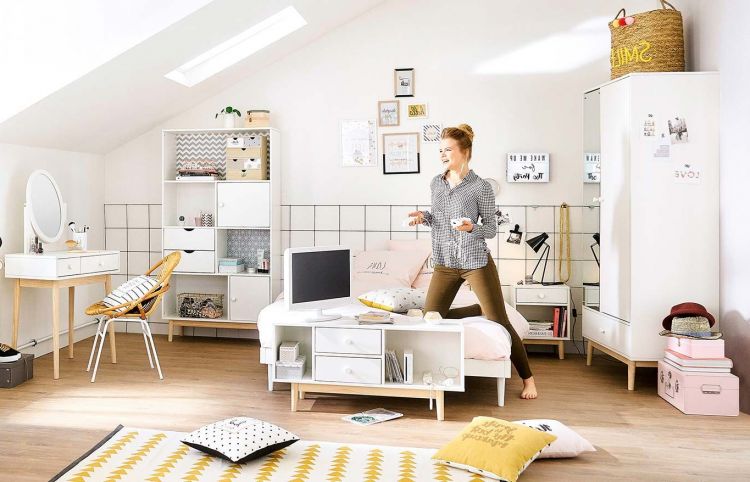 If your daughter is addicted to new technologies, in this bedroom she will have plenty of space to enjoy all her gadgets. And you to contemplate it as if you were before R2D2… It is a proposal from Maisons du Monde.
26 Melody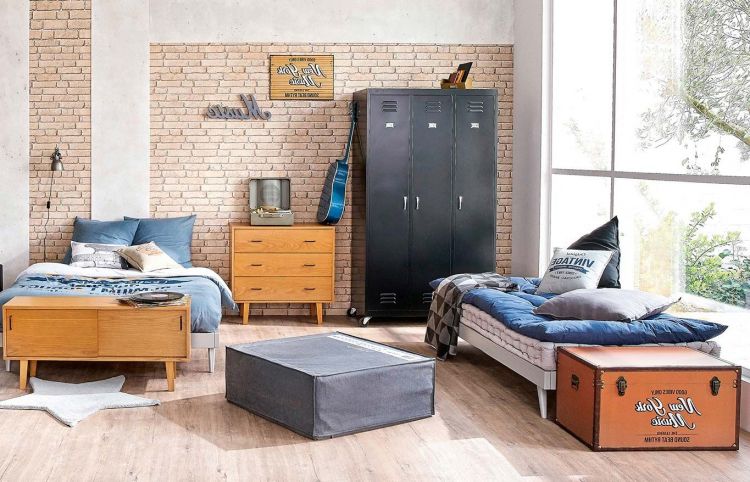 Is your vocation music? Well, go buy yourself some earplugs, because with this bedroom he will spend every night… playing the guitar! All from Maisons du Monde.
27 Chic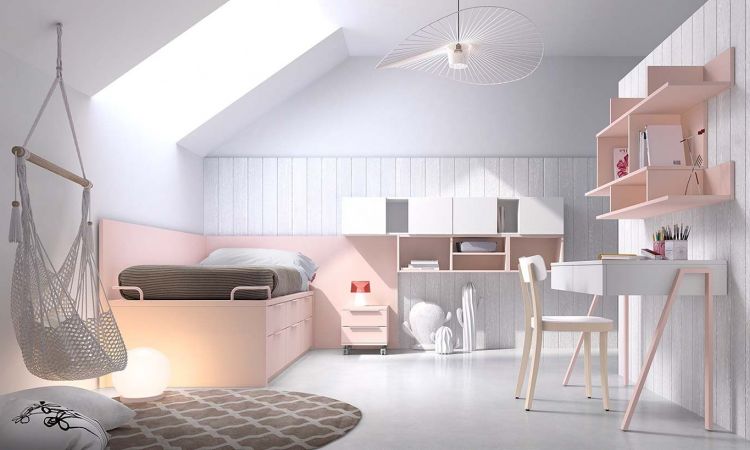 This bedroom will make her fall in love in such a way that she will never want to be independent, so be careful, because maybe the plan to go to the Maldives when you retire will be ruined…
Kibuk atmosphere.
28 Joy!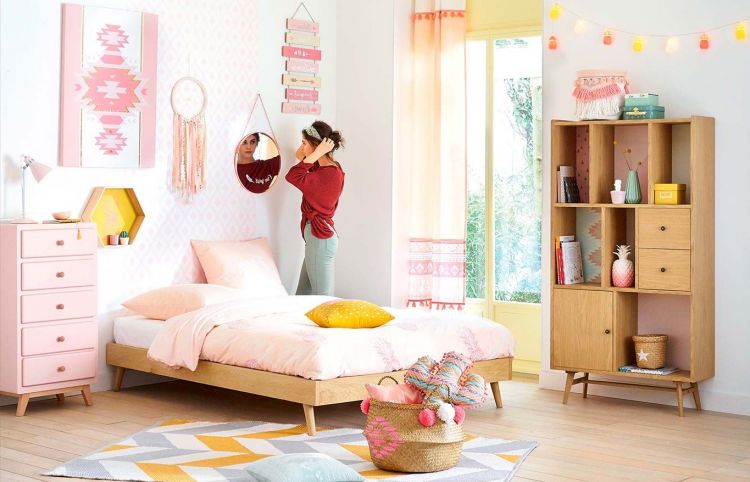 Pinks, yellows, and a very cheerful decoration inspired by… pineapples! It is a proposal from Maisons du Monde.
29 Nonstop!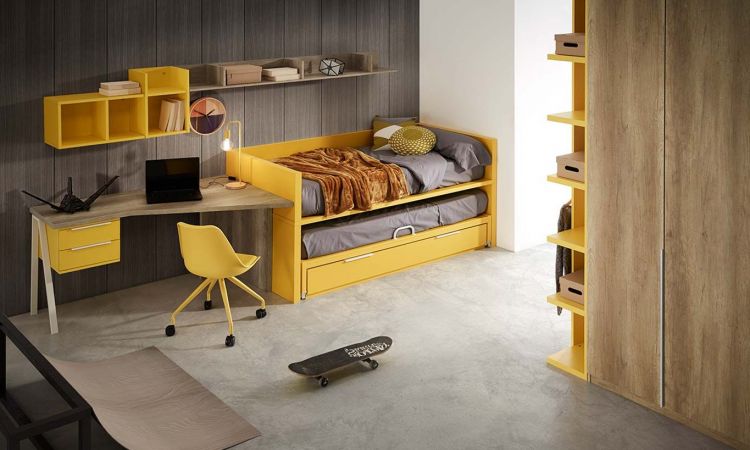 If your child is one of those who seems to have an integrated motor, this bedroom in yellow tones bears his name! Energetic, functional, comfortable… What do you think? Kibuk bedroom.
30 Your sewing room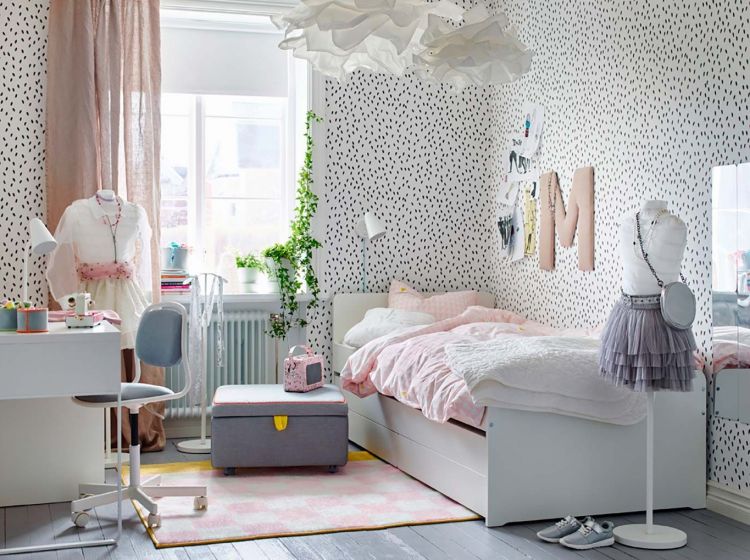 In the bedroom! Although more than a sewing room, we could say showroom, and that is often wallpaper! An IKEA bedroom.
31 all in one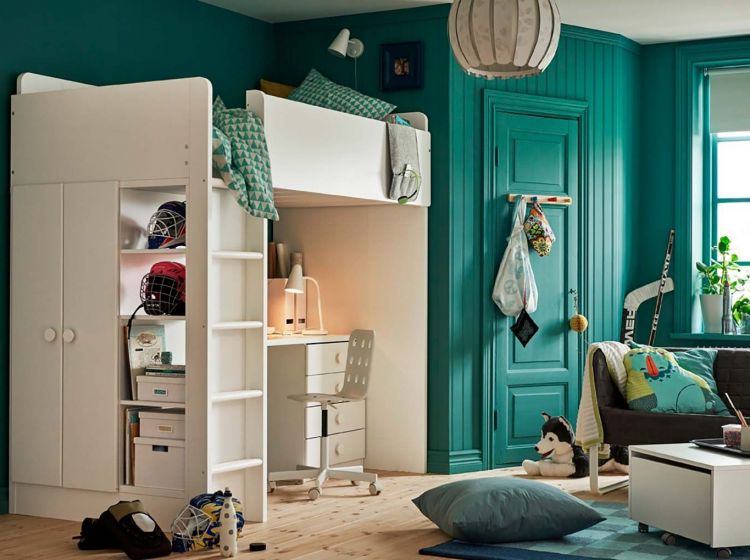 Study, sleep, play… With a structure like this you will have everything you need at hand. Everything is at IKEA.
32 Black and white youth bedroom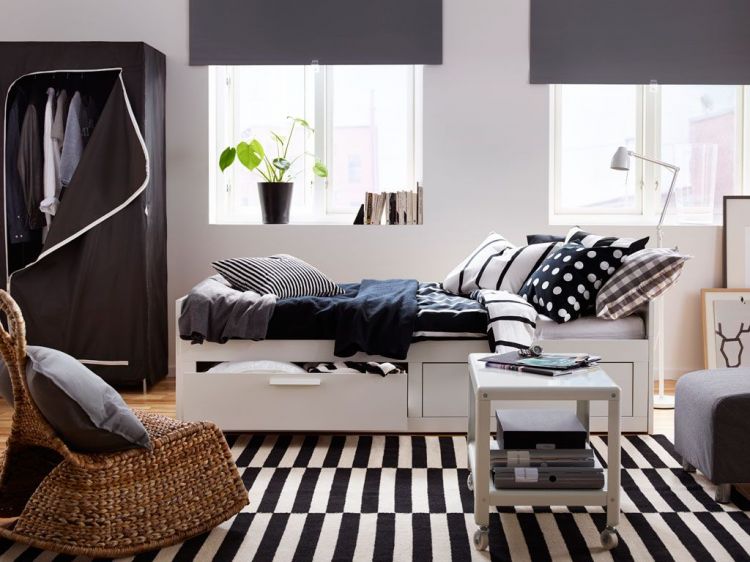 A very well used room and for a very reasonable price. The wardrobe has been solved here with a textile design, as a warehouse box. The door opens with a zipper. The bed is a design with drawers for storage.
33 Industrial Style Bedroom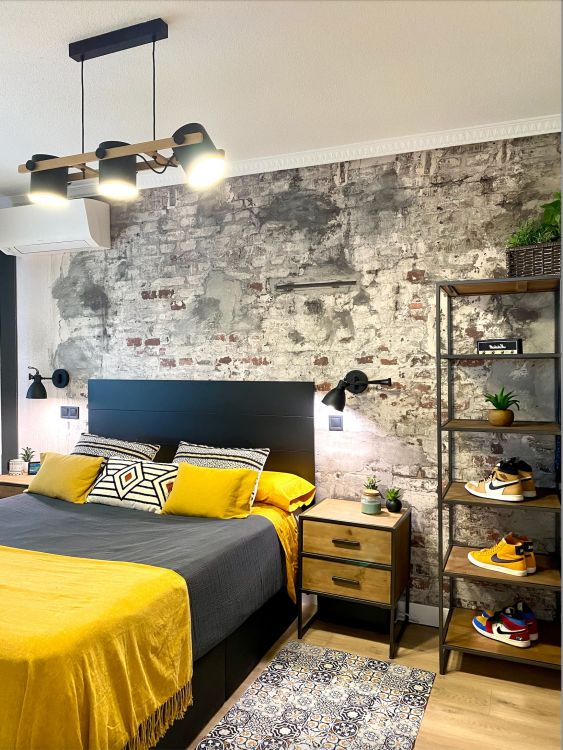 This bedroom designed for a young boy who is a fan of sneakers, clothes and electronics, manages to transport us to the very neighborhood of Brooklyn. The keys? An industrial style with the presence of iron, wood, exposed brick effect and a chromatic range of masculine tints. The project, by Ana Lorenzana, from Decoryver. Do not miss the before and after of this youth bedroom decorated in an industrial style.
34 Gain space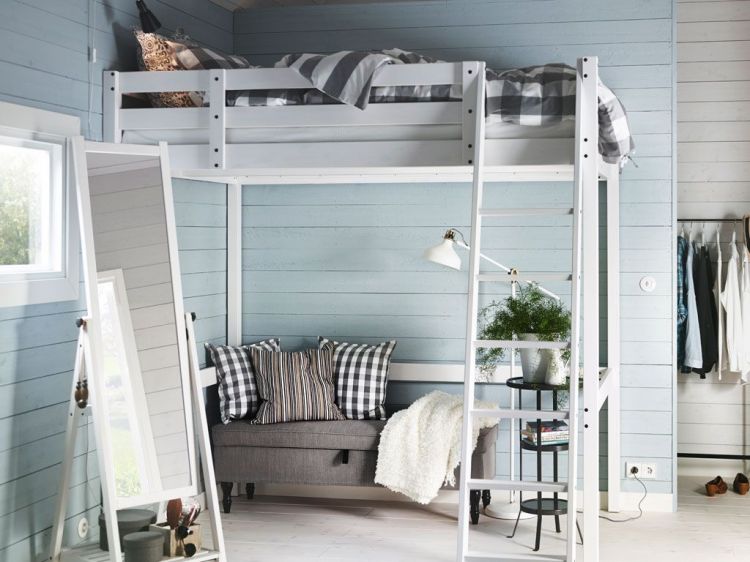 If you have a room with high ceilings, you can opt for a fun composition of this type. A structure that houses the bed in the upper part and leaves the lower space free to create a relaxation area. Everything from Ikea.
35 A college girl's room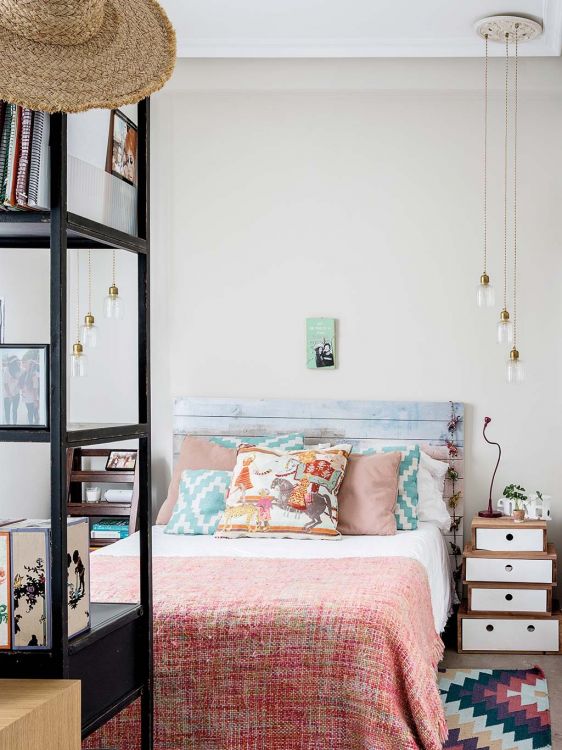 The interior designer María Mezquita, from the Nik Nai Nuna Architecture Studio, is responsible for this bedroom with an elongated floor plan, divided into a study and relaxation area, and with a bathroom included. In it its young owner finds her privacy.
36 high bed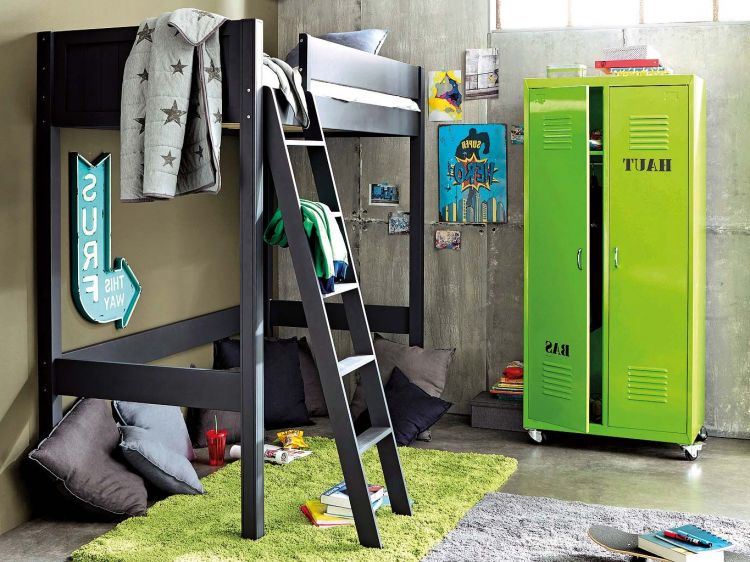 This youth bedroom shows a great option to take advantage of the space under the bed: use it as a living corner with a chill out air. From Maisons du Monde: Newport loft bed, in pine and MDF, measuring 2.06 x 1.02 x 1.99 m (€439.90); Loft wardrobe, made of metal with an industrial aesthetic; measures 0.85 x 0.50 x 1.90 m (€369.90); Surf light sign (€39.99) and Magic rugs (€69.99 each).
37 Future Mountaineers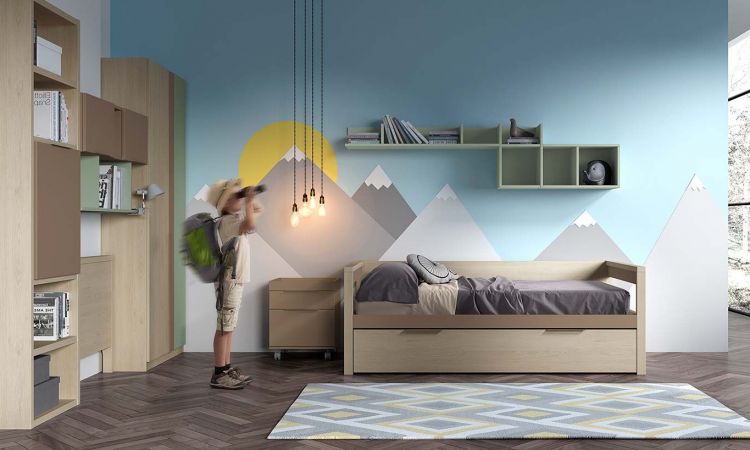 Do you spend weekends in the mountains? Well, with a bedroom like this, motivation will never be lacking! A proposal from Kibuk.
38 Fashion soul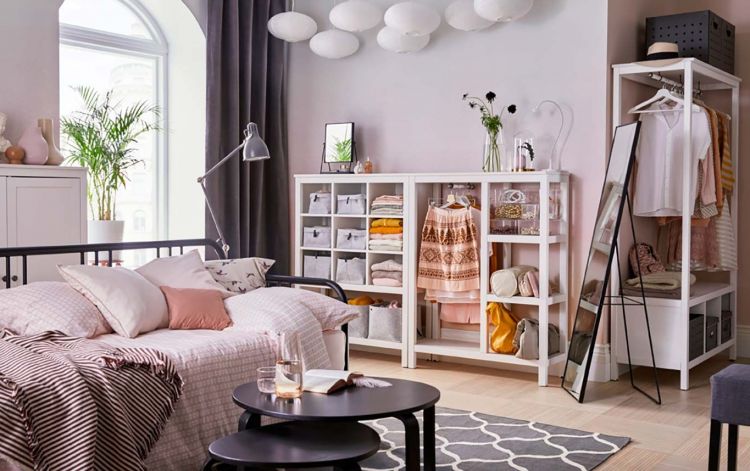 With open cabinets, so you can display your collection of clothes and accessories… as if they were the jewels in the crown! IKEA bedroom.
39Green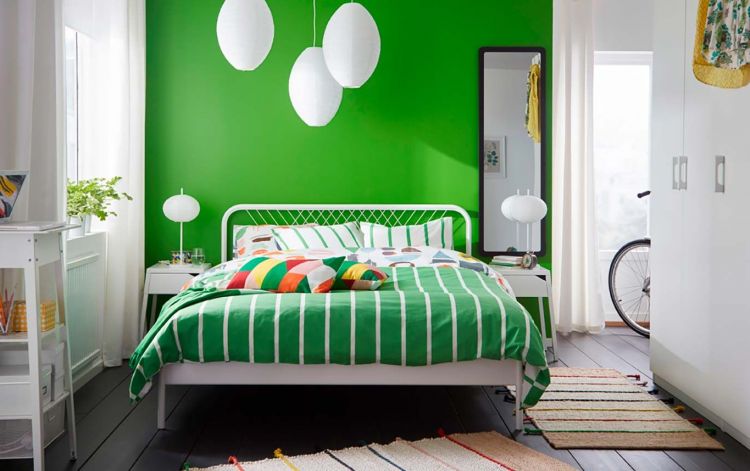 Green is still one of the trending colors, and it's normal, since it represents nature! But if you choose it in a tone as lively as this, you will give it the energy it needs when the alarm clock doesn't do its job… A colorful proposal from IKEA.
40 A bedroom with touches of color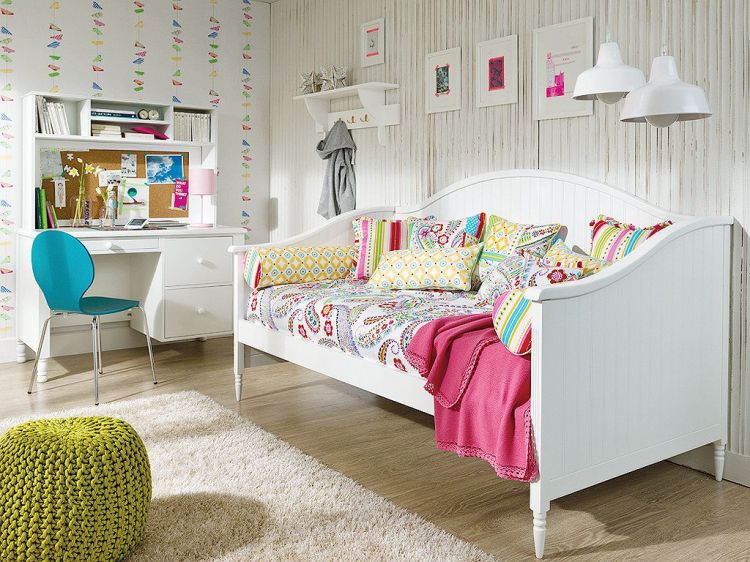 The beds that function as a sofa are very practical so that children can also have a living or playing area in their room. With a few cushions, a more cheerful and colorful space is left.
41 Marine-style youth bedroom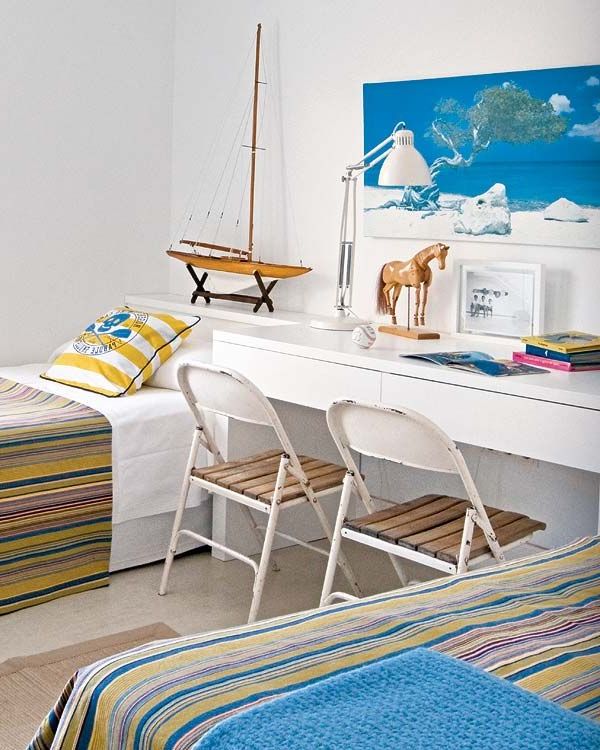 To make better use of the space in this bedroom with a bathroom, for two teenagers, the study and rest areas have been located on the same front; For this, the architect Pilar Roger and the interior designer María Lladó designed a custom-made piece of furniture. It is a composition of straight lines, lacquered in white, which includes a desk and two headboards. Cushions, from Lexington. Folding chairs and horse, by Carina Casanovas. Lamp and fan, by Ideas Luz. Photo, by The Goose.
42 for travelers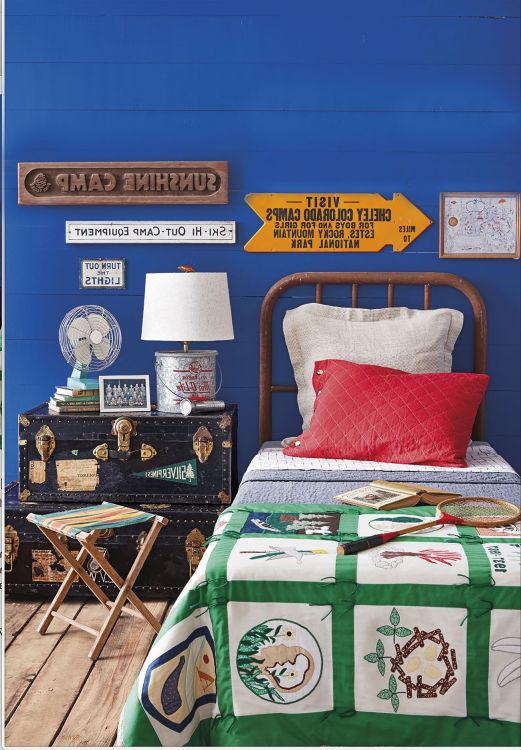 In rooms for young people or teenagers, the game of color can be more striking. In this bedroom decorated with travel details, they have dared with powerful mixes, although always balanced.
43 A loft bedroom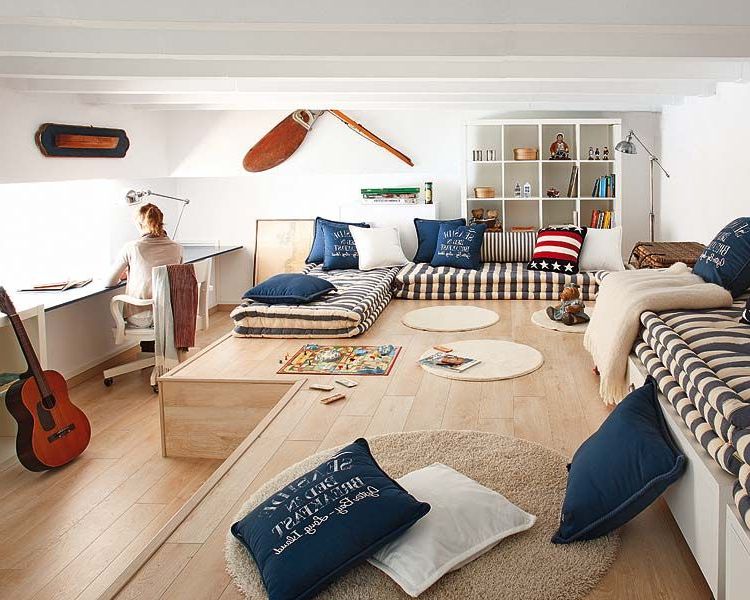 Any cabin boy would be delighted with this nautical-inspired bedroom, which has all the comforts of the best stateroom.
44 Spring Message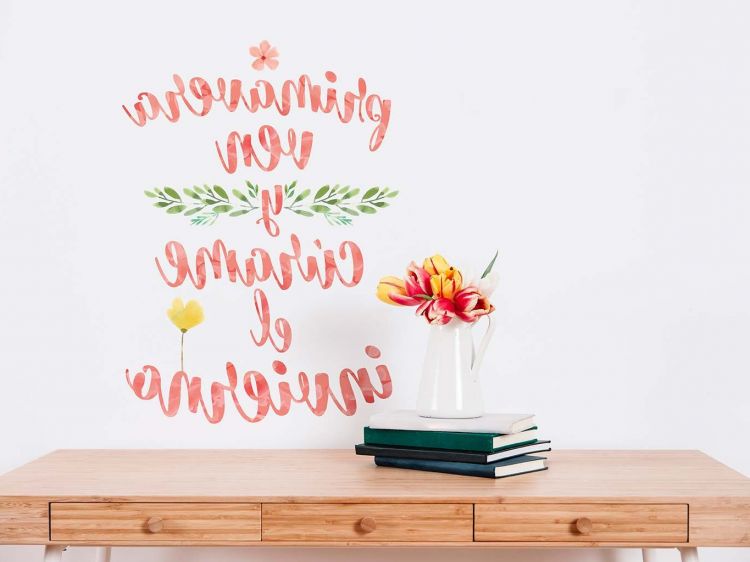 Now that spring is coming, this decorative vinyl for the wall… you're going to love it! From Tenvinyl.
45 for girls it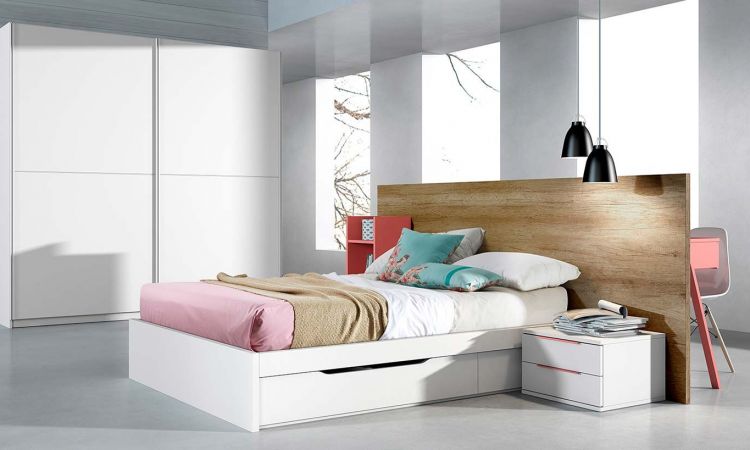 A bedroom as modern as it is functional, with plenty of storage space under the bed and in the closet. So there will be no complaint worth! A proposal from Kibuk.
46 Well equipped work area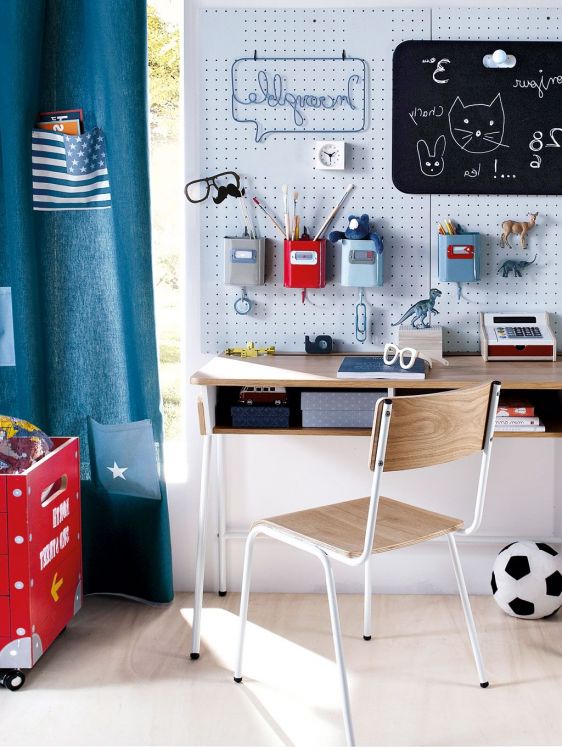 Make the study area a corner that also reflects your personality and is comfortable for you. He turns to the wall to organize his things. It is a Vertbaudet proposal.
47 Elements to personalize your space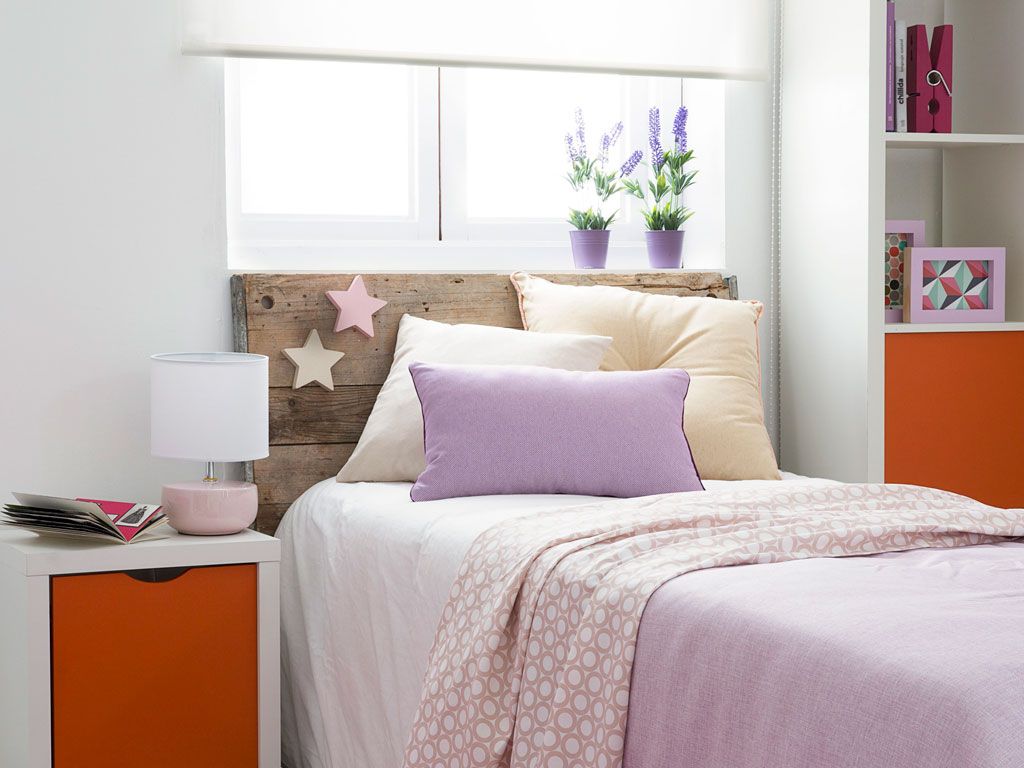 Let your child personalize their bedroom with, for example, a DIY bedroom. A Proposal by Leroy Merlin.
48 Wallpaper on the headboard wall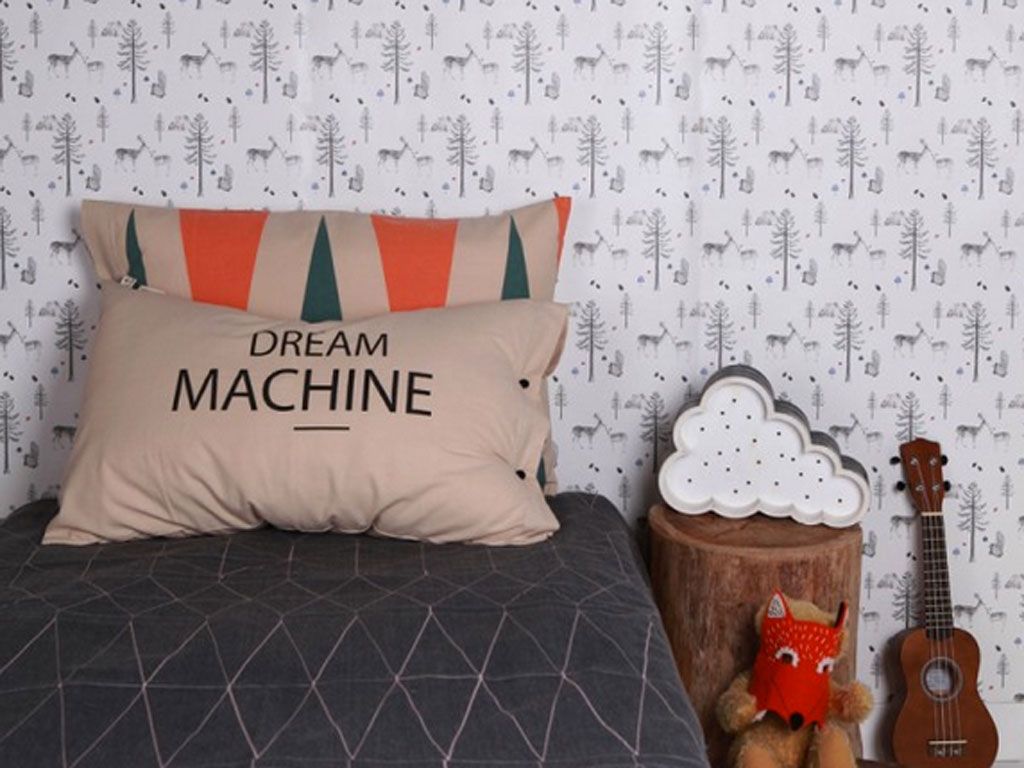 Wallpaper, from Love Mae.
49 plants in the air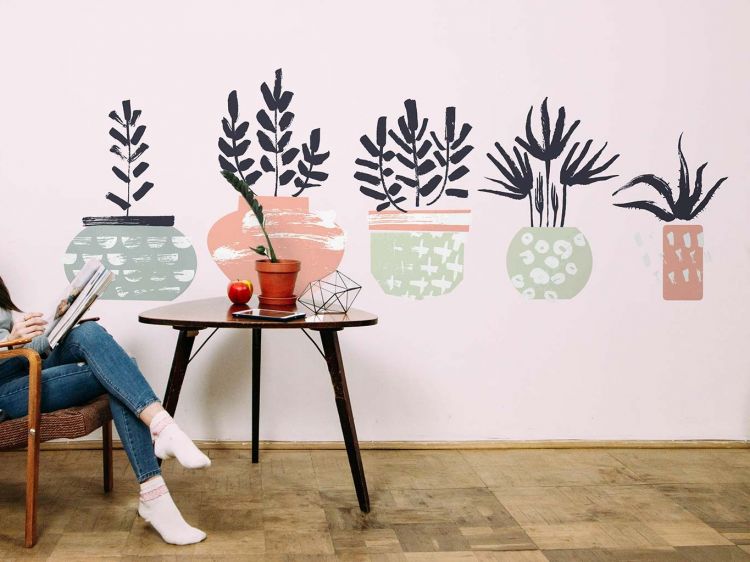 Easier to care for, impossible! They don't need water and they will always be just as beautiful… on the wall! From Tenvinyl.
50 How to give a new air without big changes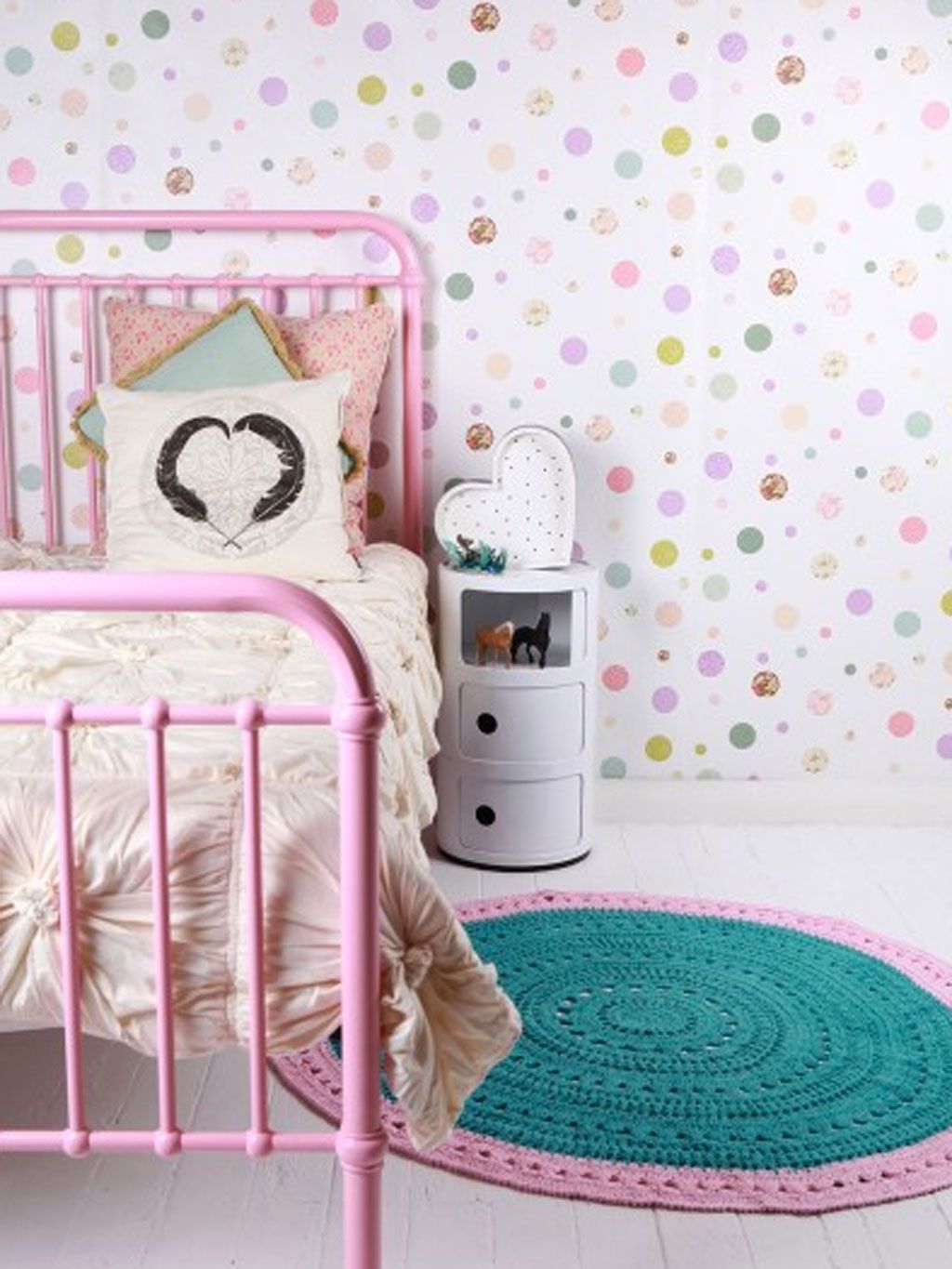 Paint her old bed in her favorite color. Replace the children's bedside table with a design one and your room will have a renewed air. Missing? A wallpaper on one of the walls, like this one from Love Mae.
51 Youth bedroom with sloping ceilings with wooden beams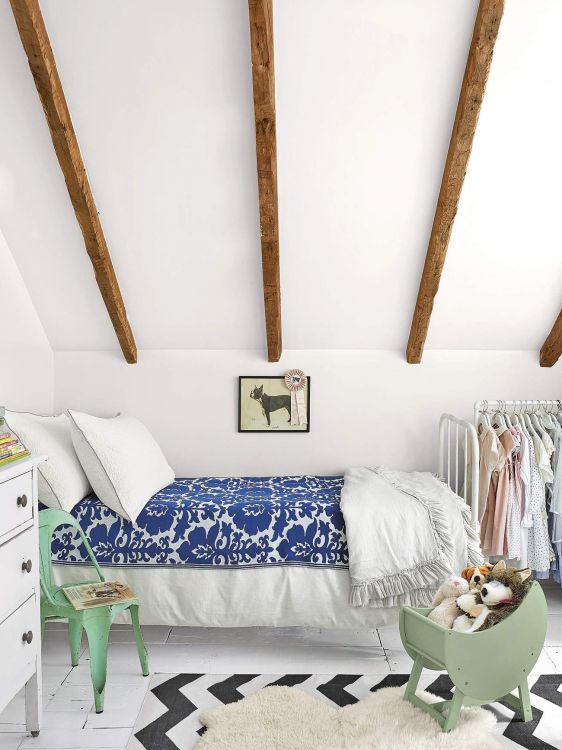 Very little furniture (just enough), but very good decorative ideas make any space unique. It is demonstrated in this bedroom, in it the textiles play a determining role. The striking bedspread and contrasting cushions. The two superimposed rugs, one with zigzag motifs and the other in shearling wool. Also the "faux aged" finishes of the furniture accentuate that beautiful and modern boho chic style.
Effective solutions. In small bedrooms or with sloping ceilings, it is best to resort to very basic furniture. The bed in this example does not have a headboard or footboard, it consists of a box spring and a mattress. And to hang clothes, nothing like a "donkey" of the simplest.
52 Bed with storage base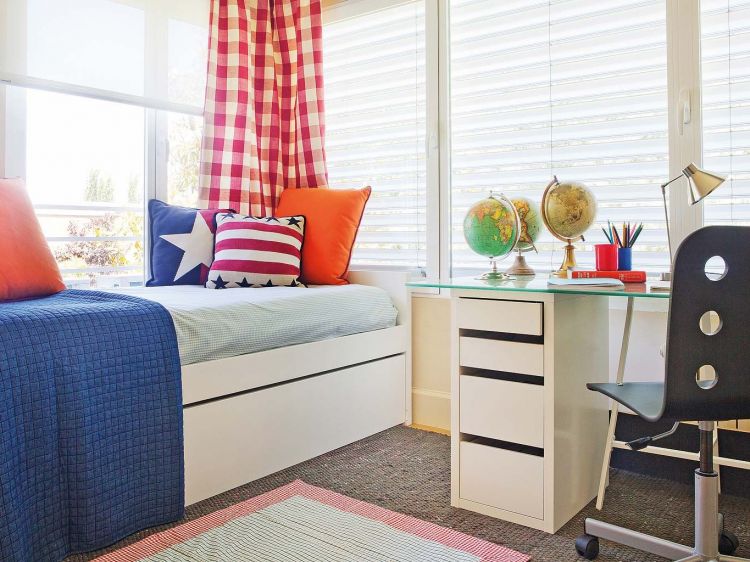 At this age they need a bedroom equipped to carry out their school activities; like this room, with a very complete desk and lots of natural light.
53 A bed and another one!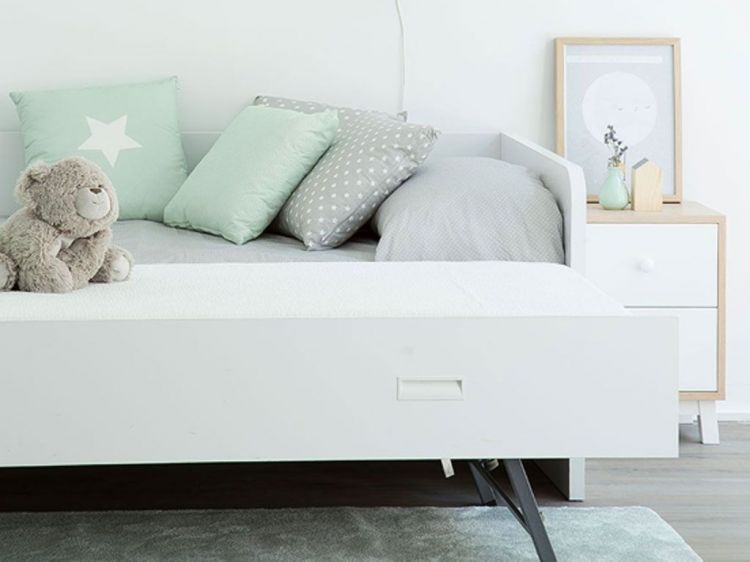 For when a little friend stays to sleep, this bed hides another one underneath, with a drawer front, removable and adjustable. It's from Kenay Home.
54 Looking to the future and complete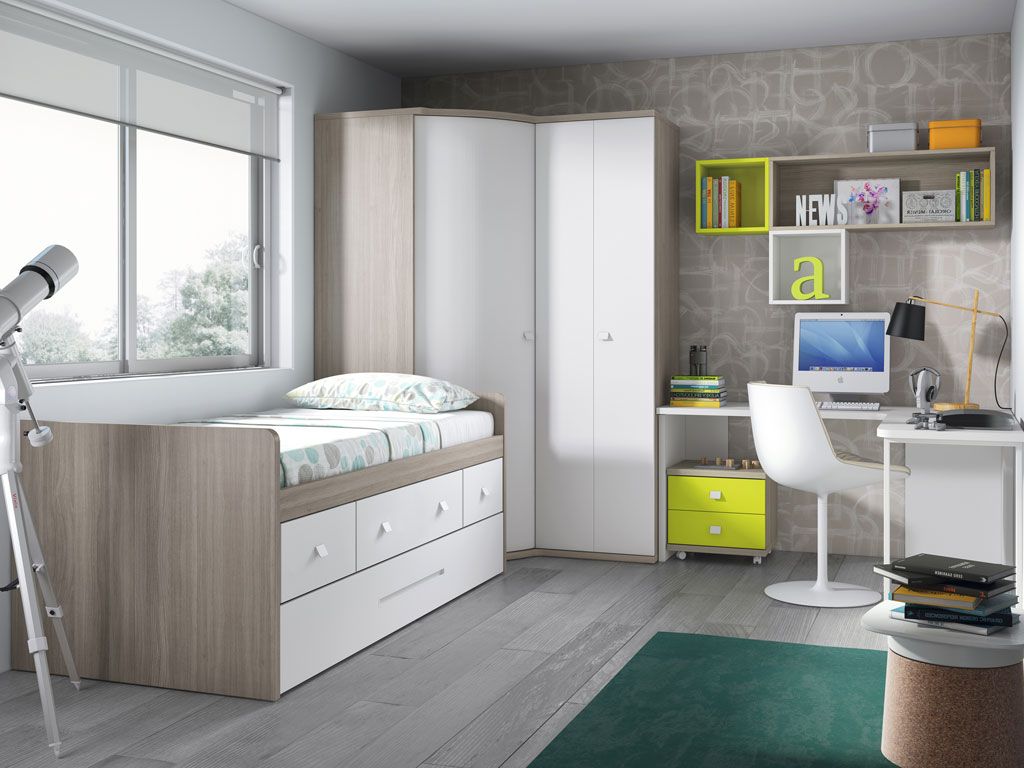 This youth bedroom has a bed (storage space below or another bed), wardrobe and study area. All attached to the walls and designed so that the young owner of the bedroom gets a lot of use out of it for many years to come. It's from La Oca.
55 Compact and functional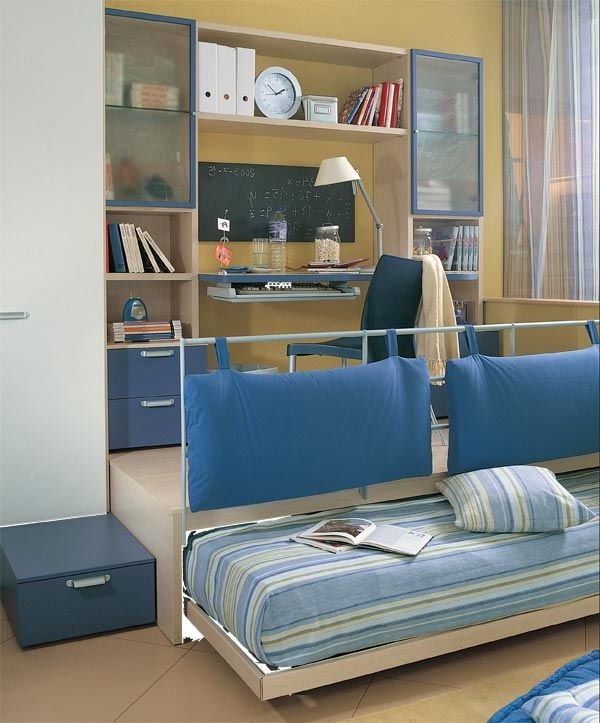 Get more out of the bedroom with this composition: the bed is hidden under a platform on which the study area is located. Dare with this functional, modern and youthful proposal. The bed slides easily on wheels and does not take up space during the day. The safety railing becomes a headboard with two large cushions hung with loops. Finally, the study area, with two shelves separated by a cantilevered table, is very spacious. Bedspread, striped cushion and curtain. Everything, in Jota.
56 Everything you need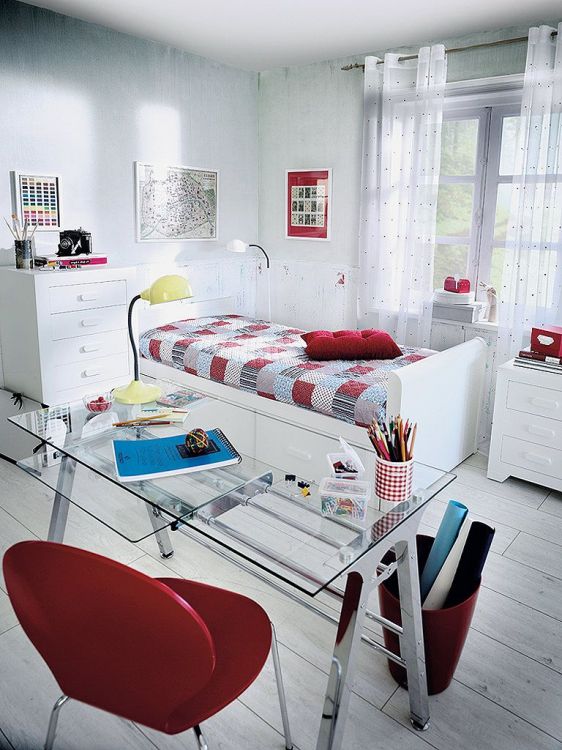 The study and sleeping area can be in the same room if we find furniture with measurements that fit us. It is comfortable and so children can have everything in the same space.
57 two in one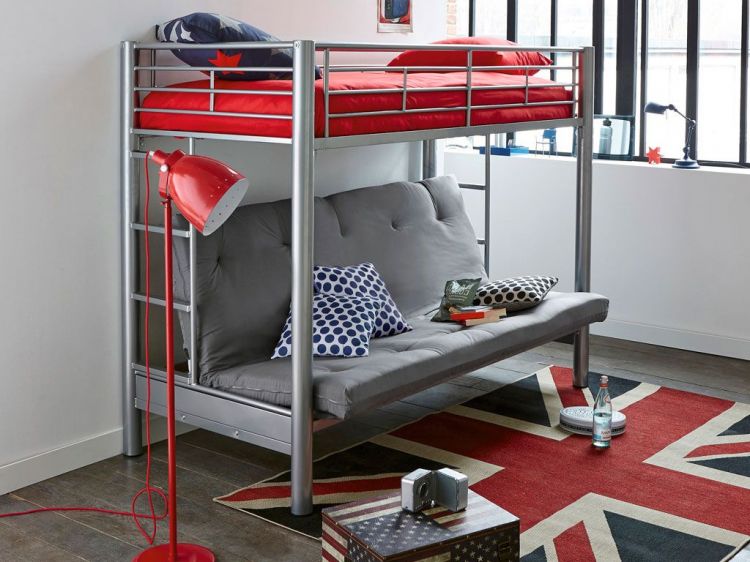 Bed and reading corner… The bed above and the sofa below. This way you have a reading corner built into the bed frame without taking up much space. Everything from La Redoute home.
58 A decorative vinyl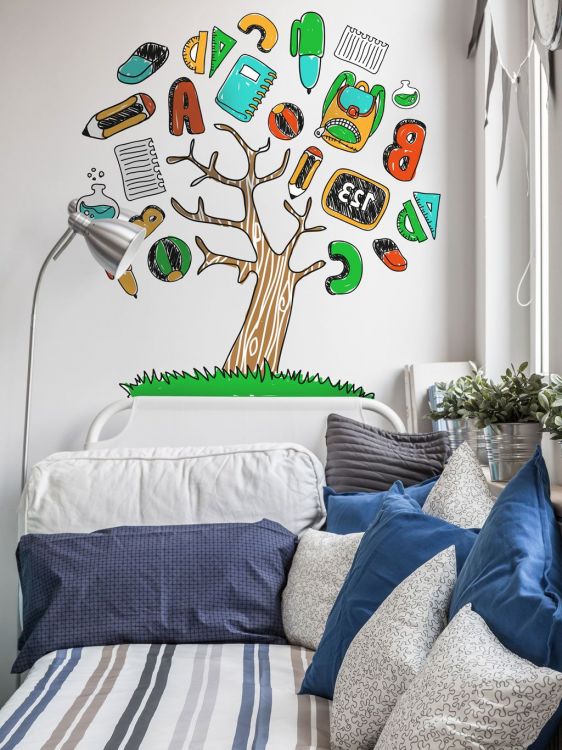 Together choose a fun and cheerful vinyl to decorate the wall of the headboard. This is from Tenvinilo.com
59 Warehouse cabinet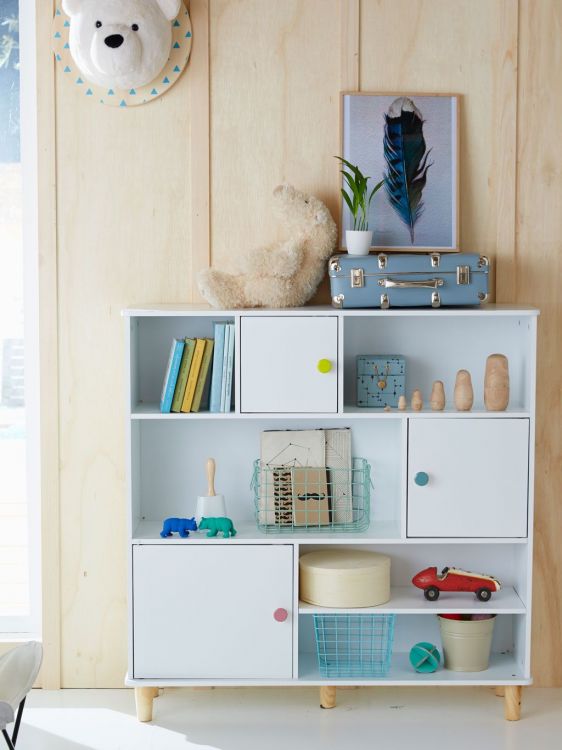 A warehouse piece of furniture that will accompany you for years. With closed doors and compartments it is very versatile. Perfect, for example, in a reading corner or by the desk. It's from Vertbaudet.
60 And as a bedside table…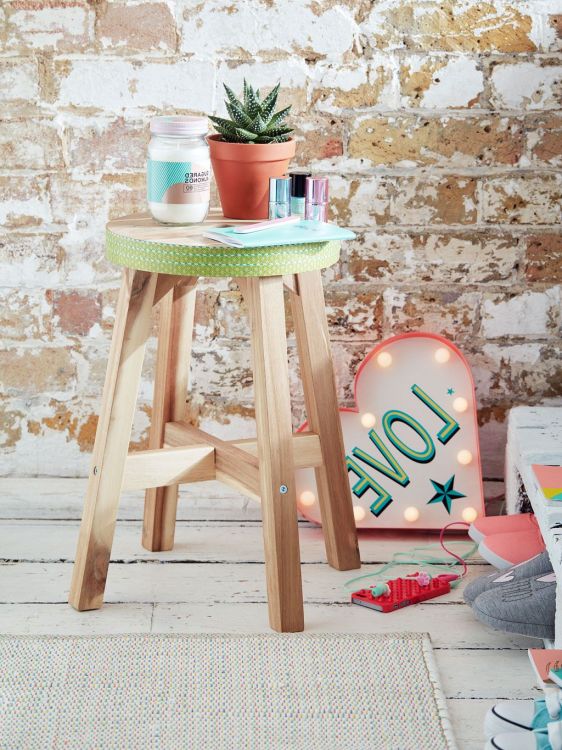 A stool! In wood and with a color detail, painted or vinyl. Accessories, from Primark.