If you think that rustic bathrooms are not compatible with the sophisticated, the photos and ideas that we present here are the best examples that this is not the case, since you will see that clearly rustic elements can easily be combined with other more modern and elegant ones, without that this produces a space of bad taste.
In reality, quite the opposite occurs, since they generally recreate the most comfortable and beautiful bathrooms that we have ever seen.
Natural elements
To achieve this fabulous look in the bathroom, you will need to include natural elements such as wood or stone. Wrought iron can also give the rustic look that we are looking for, and if all these materials are combined with good taste, you will easily achieve an elegant and spectacular space. Incorporating mother nature is a good way to make the bathroom look wonderful.
Stone
Stone tiles or tiles can have a huge impact on the appearance of a bathroom. They're great for creating rustic decor, so you might want to consider this option for your next remodeling project.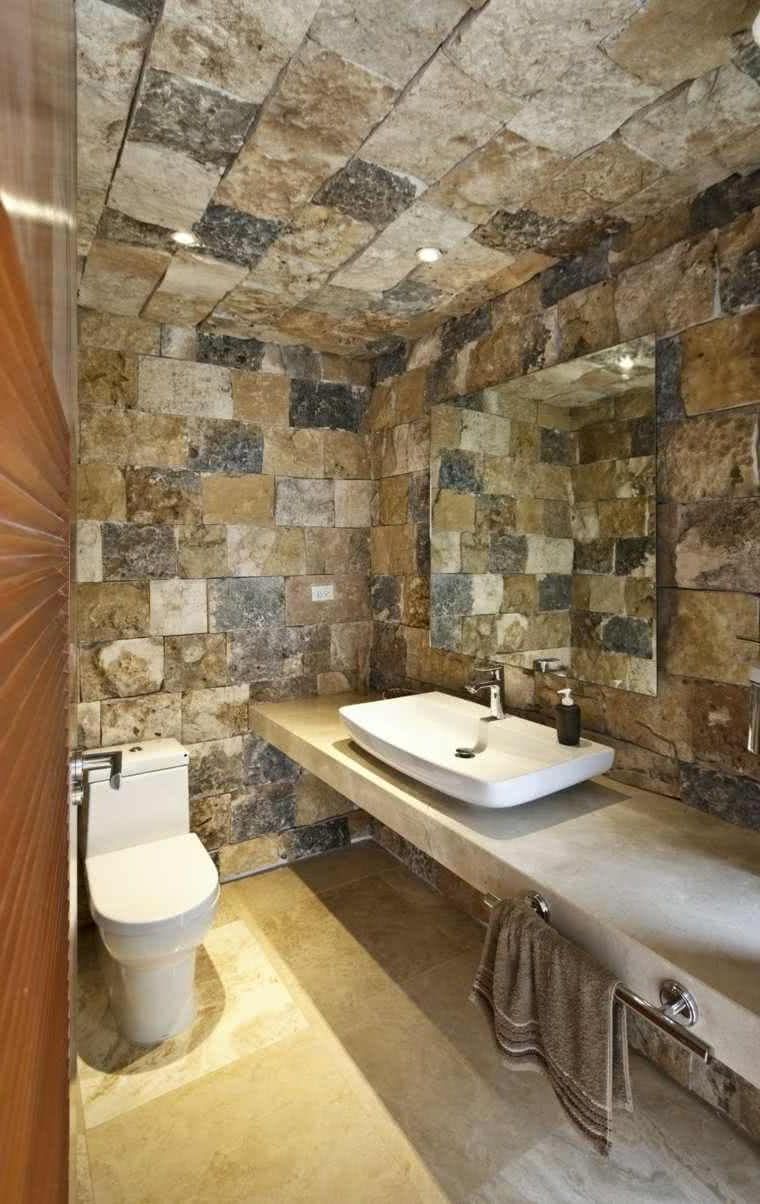 Instead of tiles that simulate stone, a real stone wall can be more efficient to create a rustic bathroom decoration.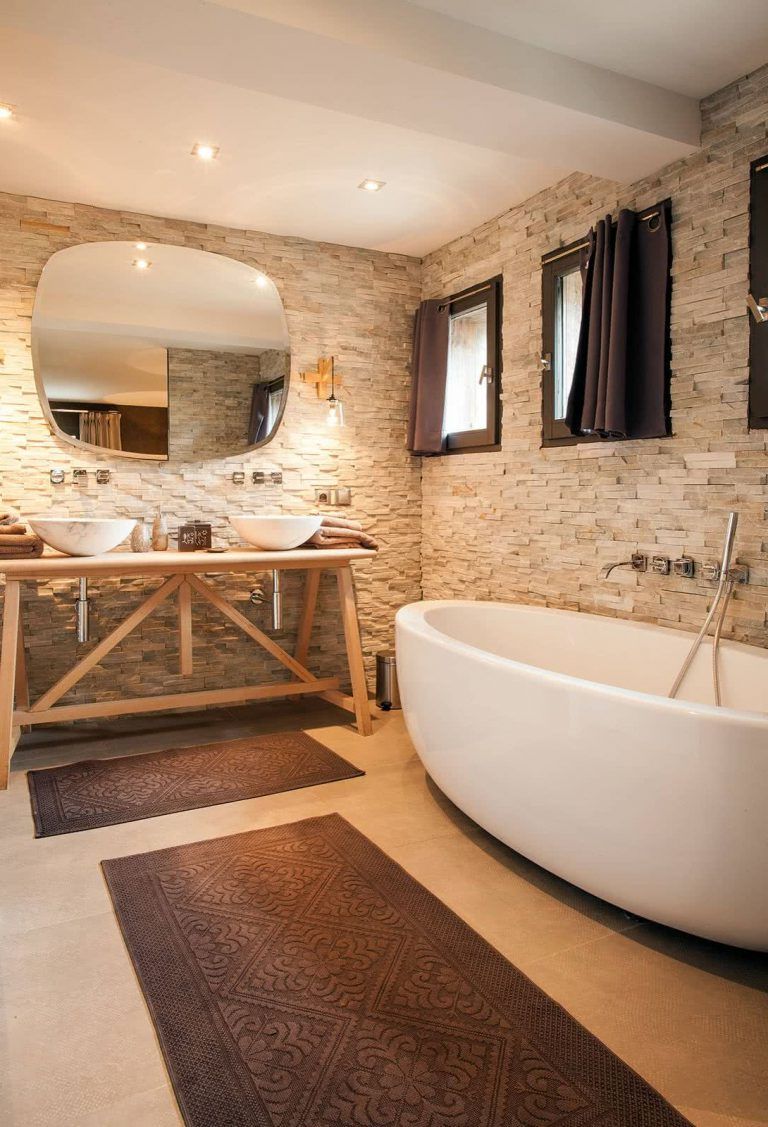 If you are going to make the walls the focal point of your bathroom, you should also try not to cover them too much with furniture. A clear glass shower stall can help with that goal.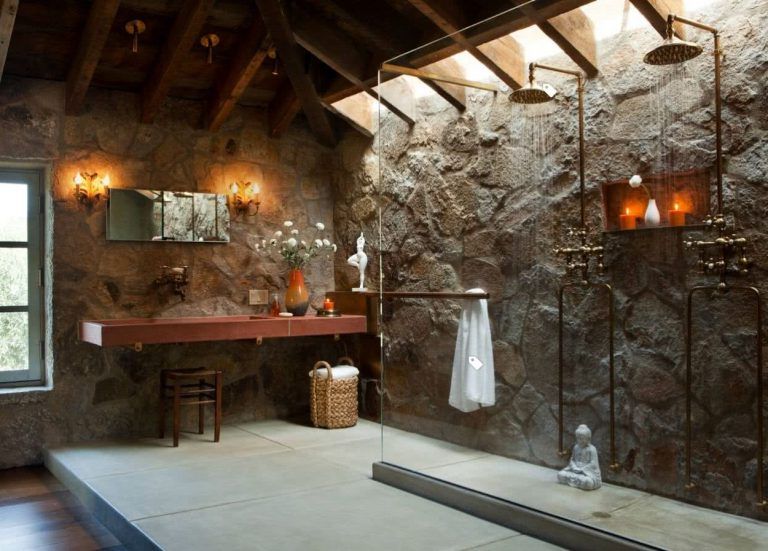 If you're looking for a way to give your bathroom a makeover, or planning to build it, there's a simple and affordable way to do it that adds a lot of class and style while not being unattainable. It is about using small stones embedded in cement, as we see in the image below.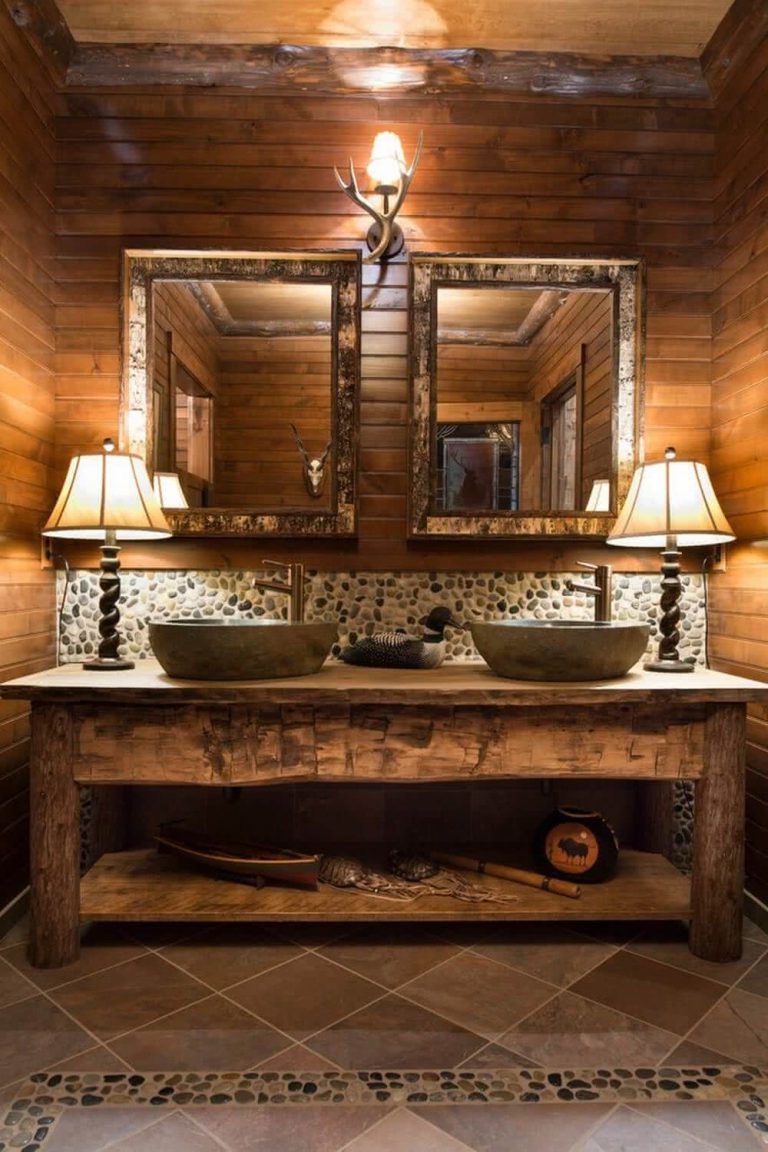 The lower image shows us a very sophisticated bathroom. The cement and stone walls contrast with the texture of the wood on the countertop. In turn, modern lamps provide a wonderful contrast.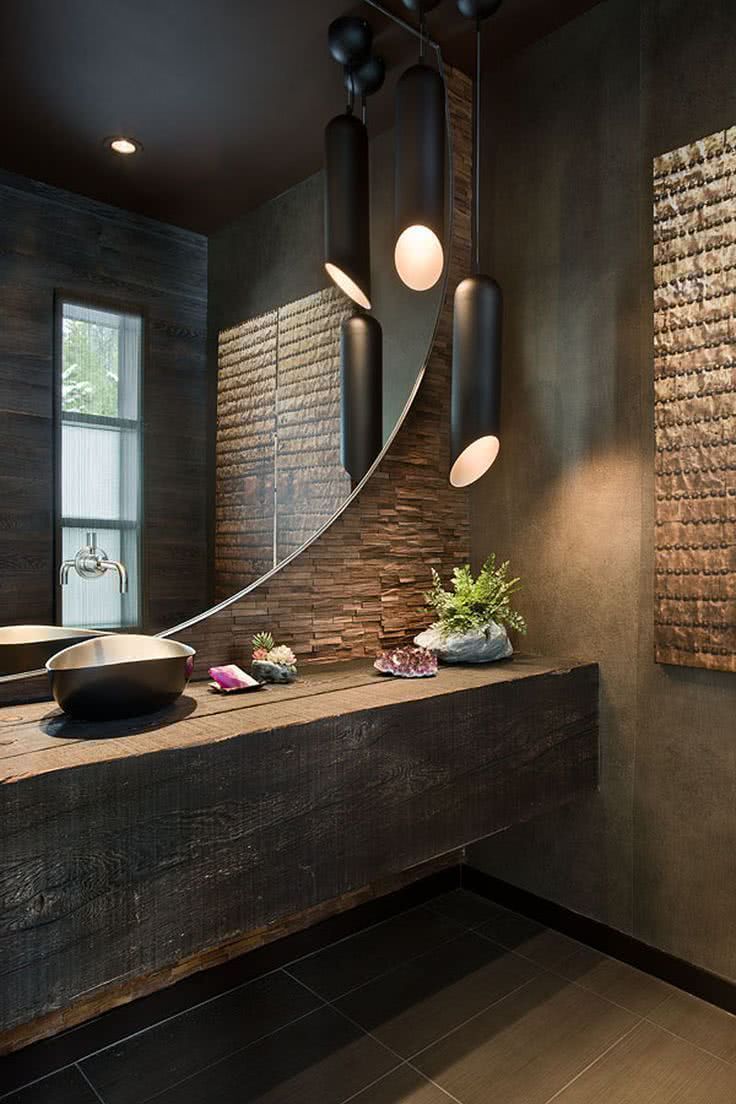 The possibilities change markedly according to the space available. Here we find a large rock wall, in a special corner dedicated to the bathtub.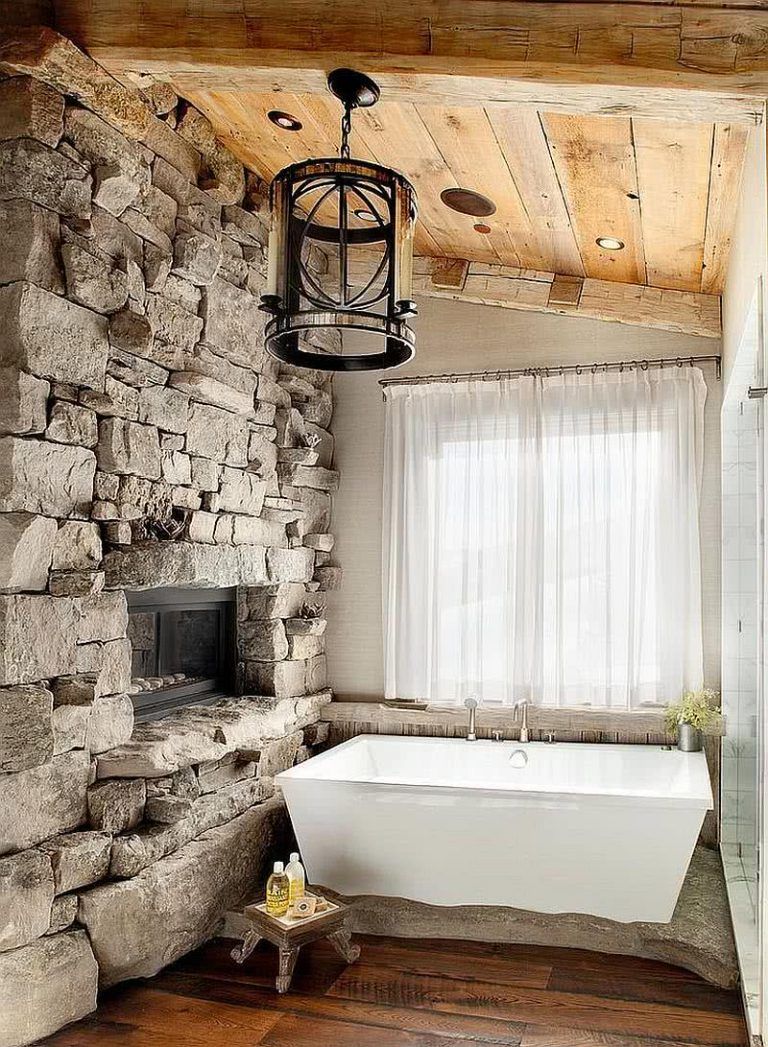 In addition, there are thousands of varieties of stones and that means that the options are also unimaginable. They can be applied in structures for furniture, sinks, room dividers, or simply to generate texture contrasts, together with wood, glass or other typical bathroom options, such as mosaics and tiles.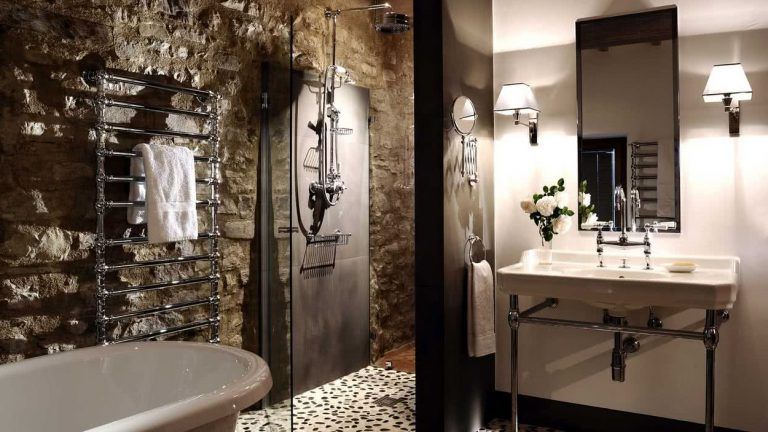 Wood
If the goal is to make the bathroom look rustic, consider natural wood or reclaimed boards that emphasize the natural beauty of the material in a unique way.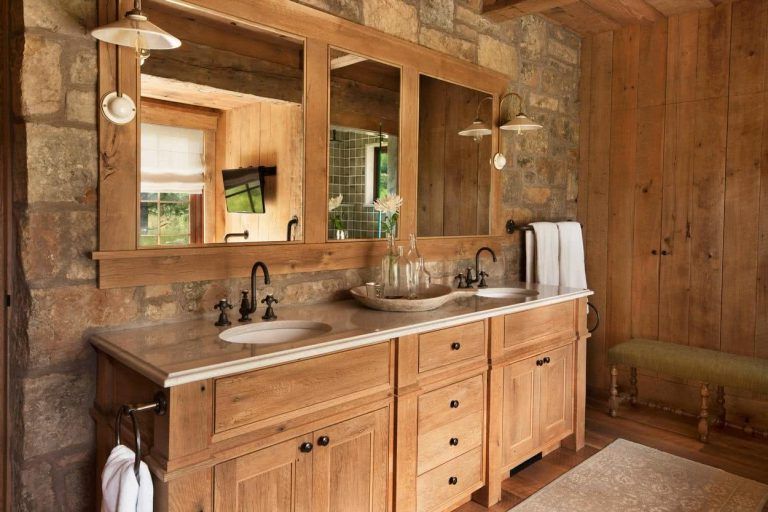 You can install wooden boards on one of the bathroom walls to create a rustic background, for example for the vanity and mirrors. For practical reasons, do not use wood in the shower area to prevent moisture damage.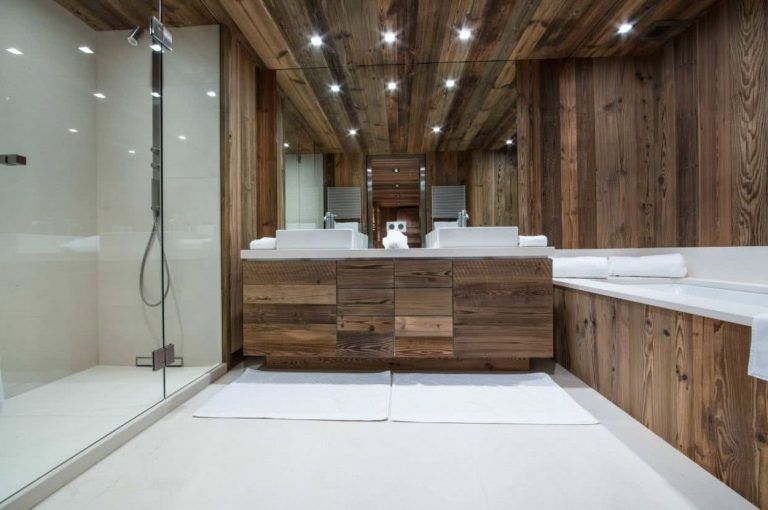 Both stone and wood are great materials to use in rustic bathrooms and you don't have to choose one or the other if you like both. In fact, together they look great. You could use stone for the walls and wood for the furniture.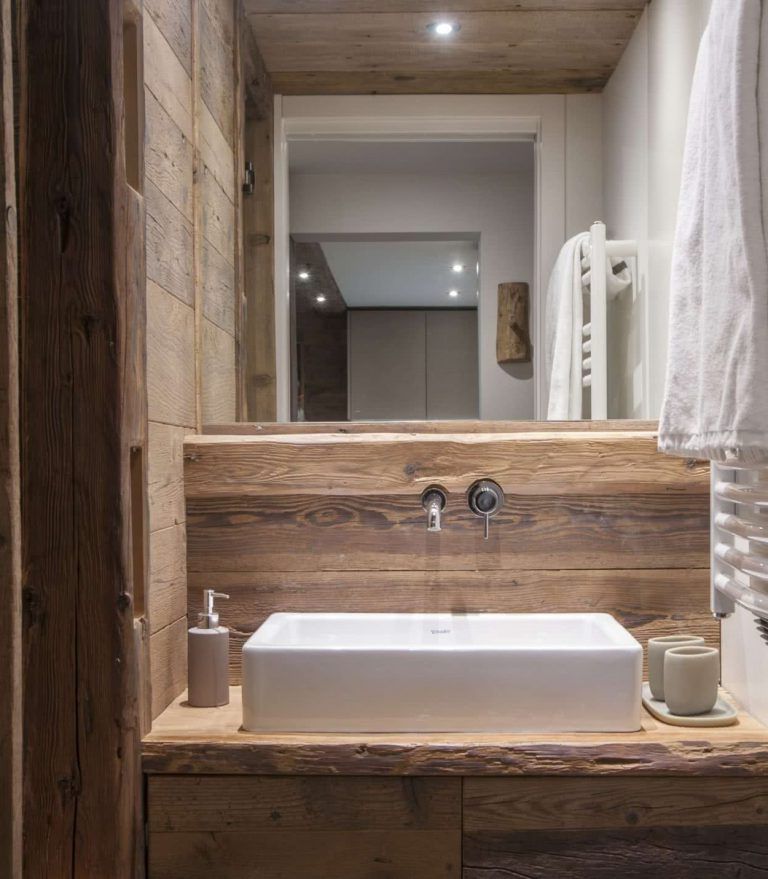 In addition to the beauty of the wood, the charm of the design can also lie in the details, such as elegant faucets, the shape of the sink and all the imperfections in the furniture.
This rustic bathroom reminds us of those cozy mountain cabins made of logs. While the flooring is rustic, other design elements are actually modern and minimalist, ensuring a nice contrast. A bathroom can look rustic and modern at the same time. However, finding the balance point between these two very different styles is not easy.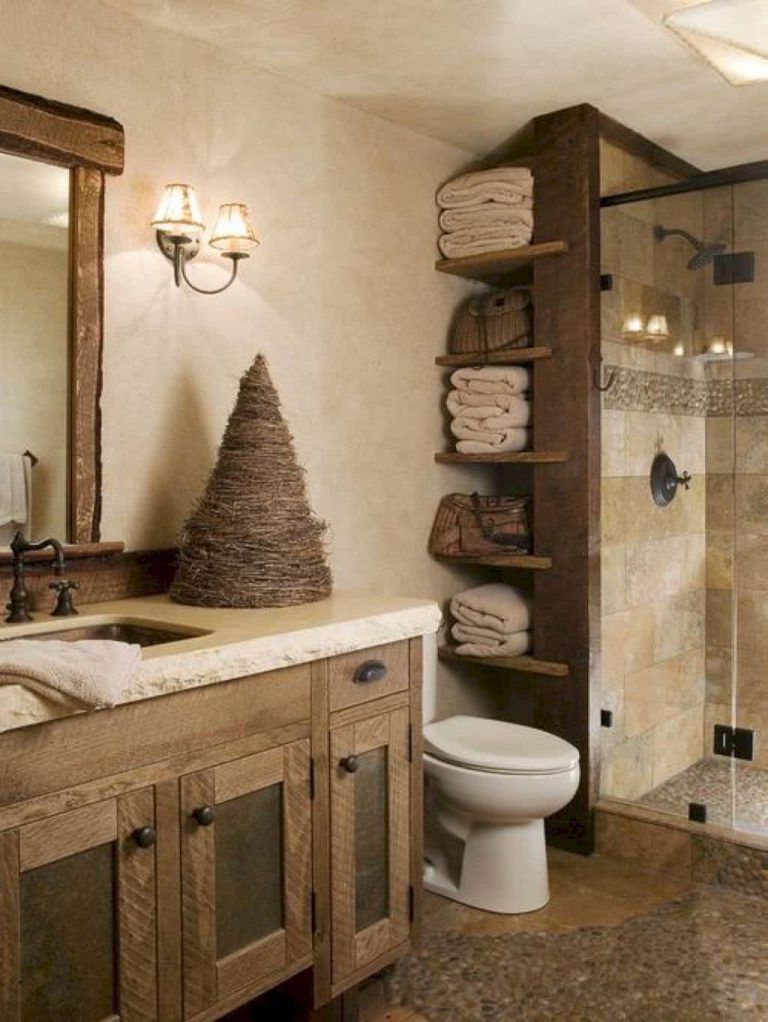 Experiment with different types of wood and different finishes when designing your bathroom, as a way to emphasize the material's unique properties and wonderful natural beauty.
Sinks
You can also buy bathtubs or sinks made of materials that add to the rustic style. For example, a metal or cement sink.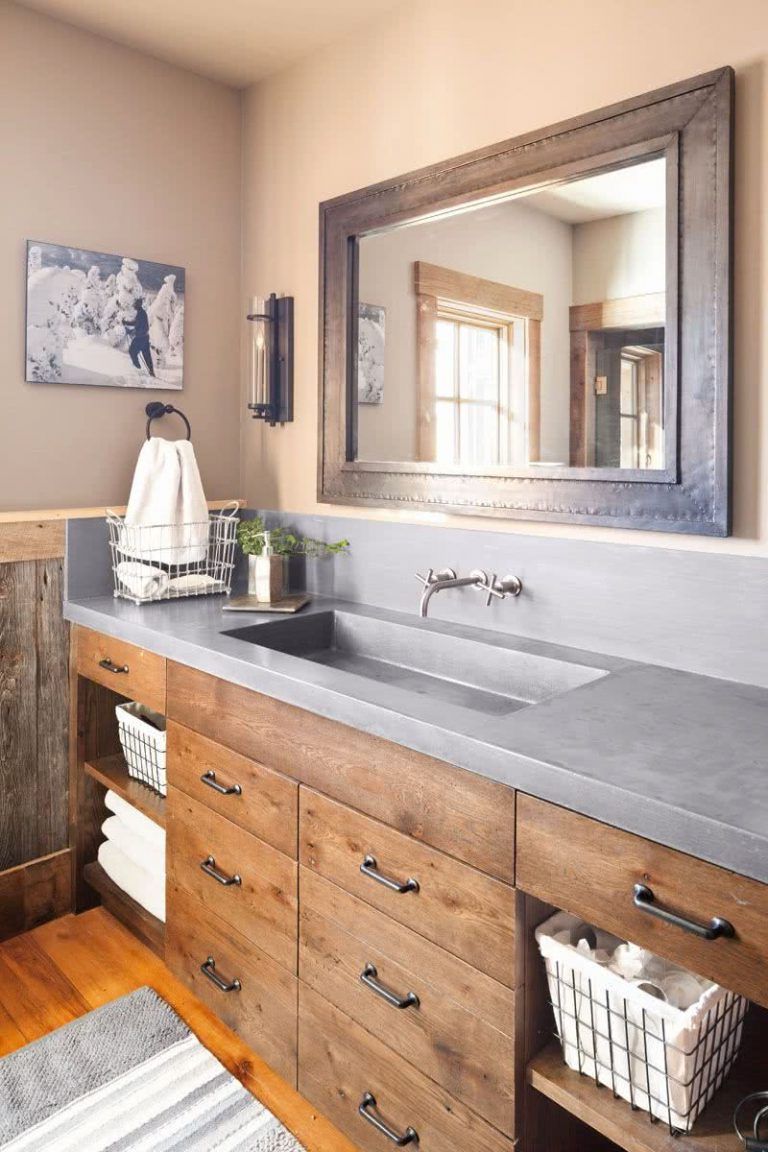 The rustic style does not necessarily require disorder, since this style of decoration can also be given a minimalist approach, if the elements are placed with a careful balance.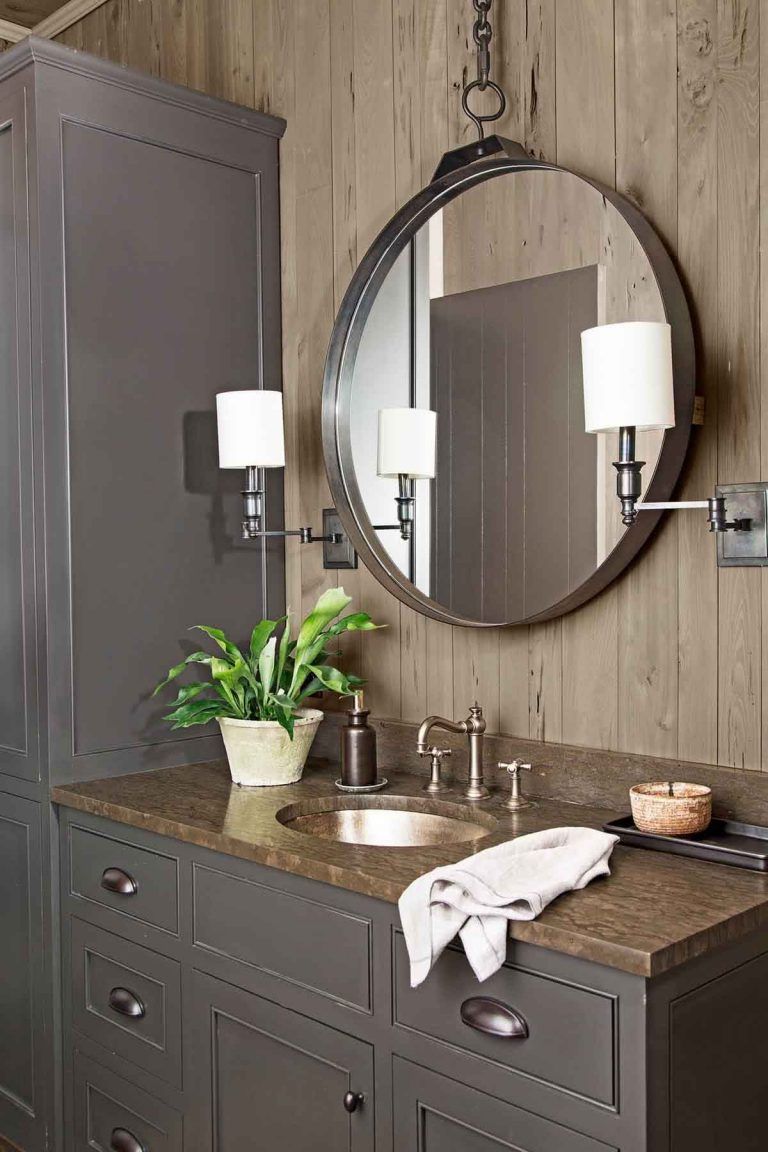 Accessories
You can also make the space look rustic with the help of accessories like a woven rug, candle chandelier, or antique dresser.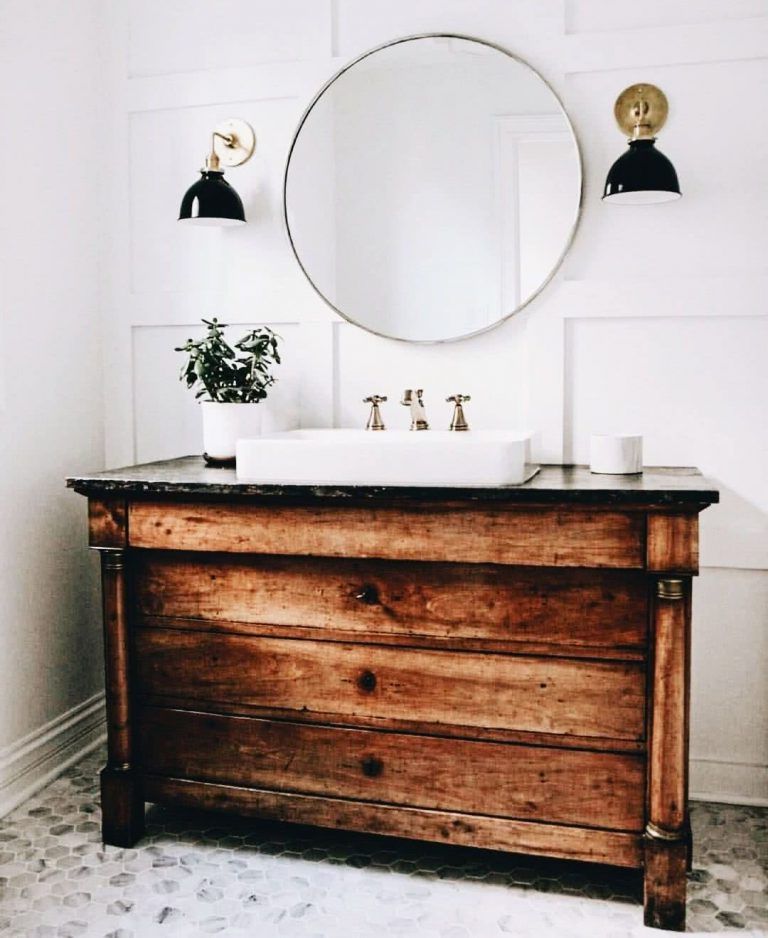 Rustic influences can also be subtle. For example, you can cover one of the bathroom walls with wooden boards, preferably the reclaimed type. You can complement the wall with an elegant mirror and a countertop made of natural wood.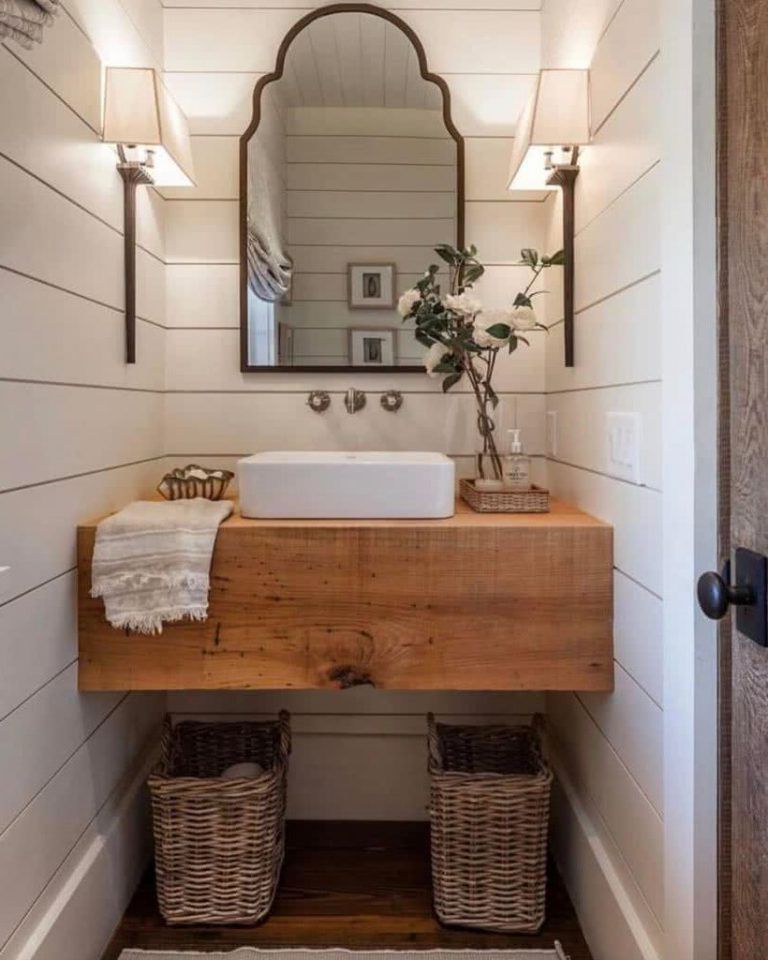 To perfectly achieve this style in your bathroom, you can opt for modern and elegant decorative elements (such as majestic bathtubs or sophisticated mirrors), while leaving the rustic for specific details, for example, the cabinet under the counter.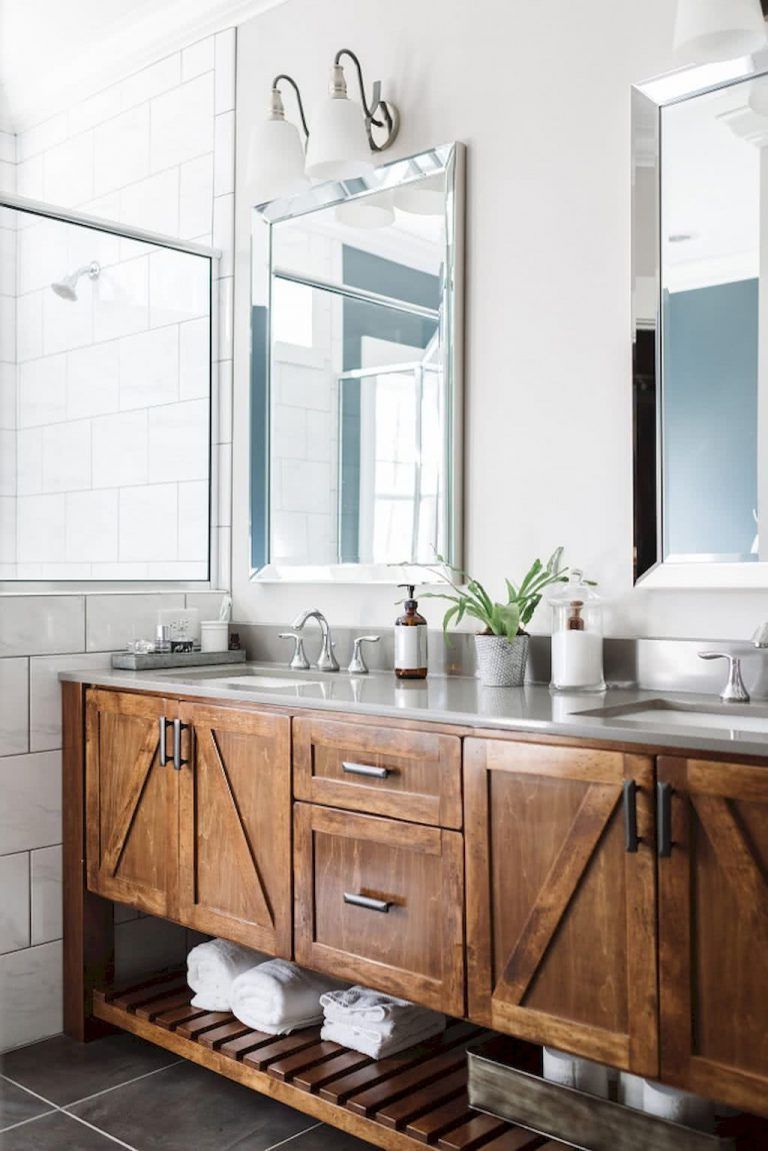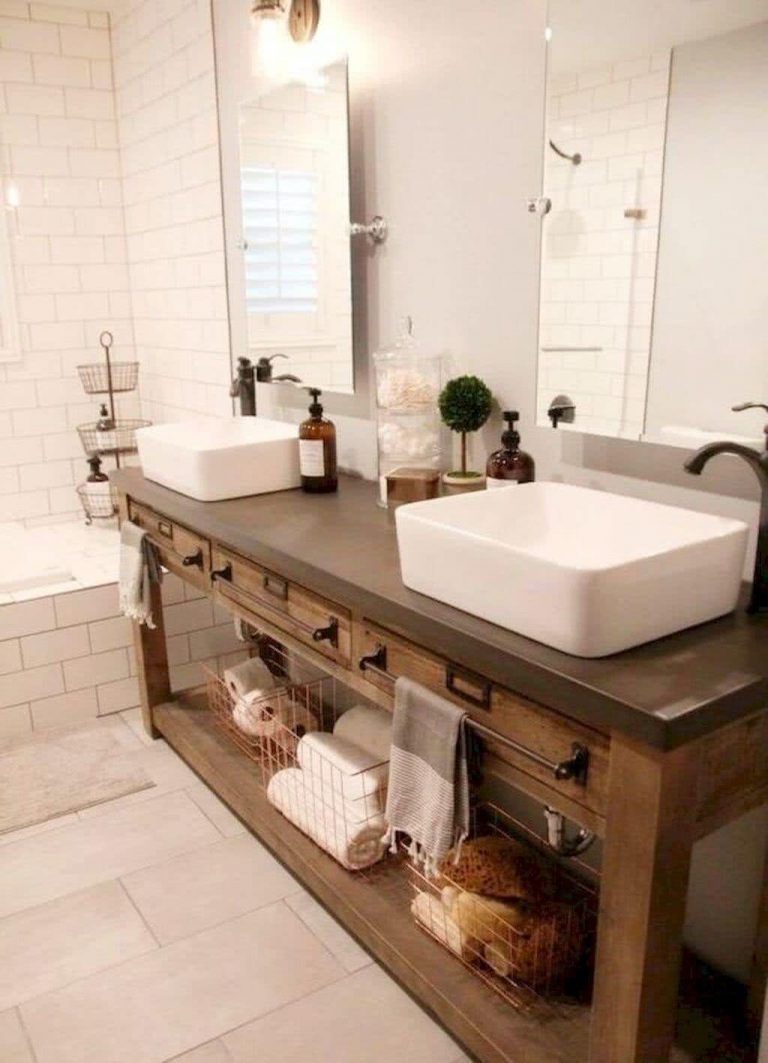 Doors
One way to add a rustic touch to a bathroom is by installing a barn-style door. It has a sliding mechanism that makes it practical and space-efficient as well as being really lovely from an aesthetic point of view.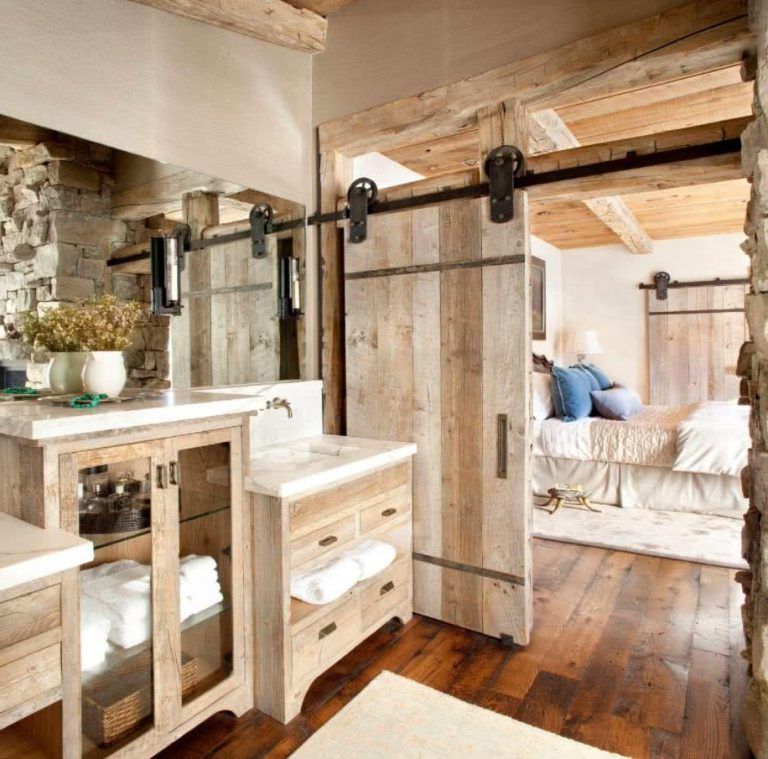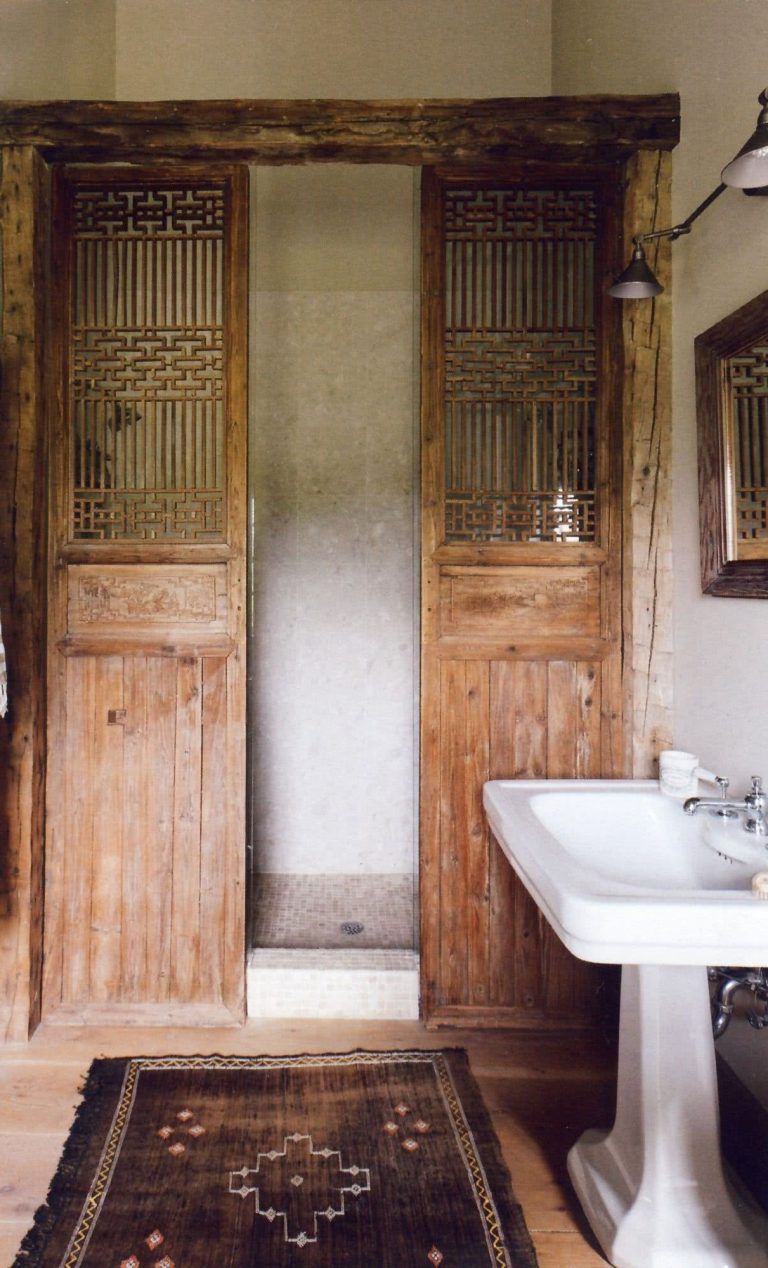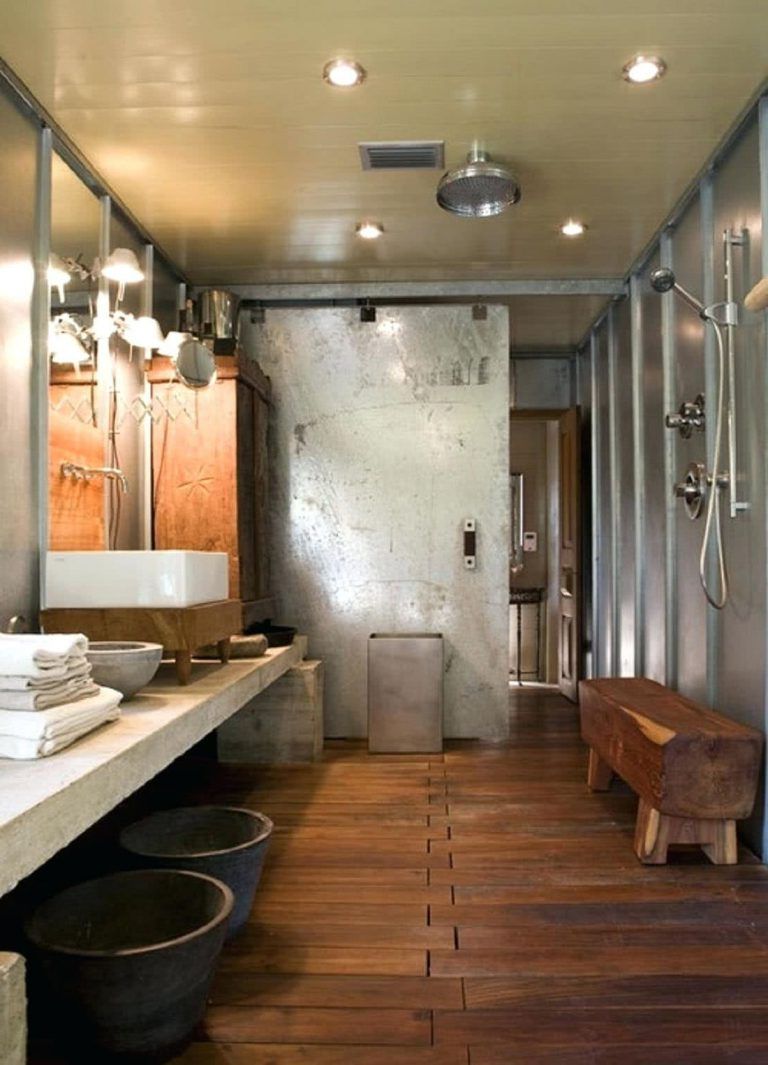 Lightning
The light from the pendant lamps brings out the texture and overall pattern of the rustic walls, making them focal points in the bathroom. The simplicity of the color palette is in harmony with the overall style.