The dining room is the perfect room to share with family and friends. For this, it must be a cozy, relaxing and elegant environment. Here we will show you the latest trends in modern and elegant dining room decoration for 2022.
A modern dining room does not have to look austere and cold. You can use colors, beautiful furniture and accessories to add character and interest.
Modern dining room wall decoration
When decorating the dining area, there are many details of composition and style that one must take into account. Aside from trends in furniture, colors, and textures, there are also little artistic details, material choices, and design structures that make up the space.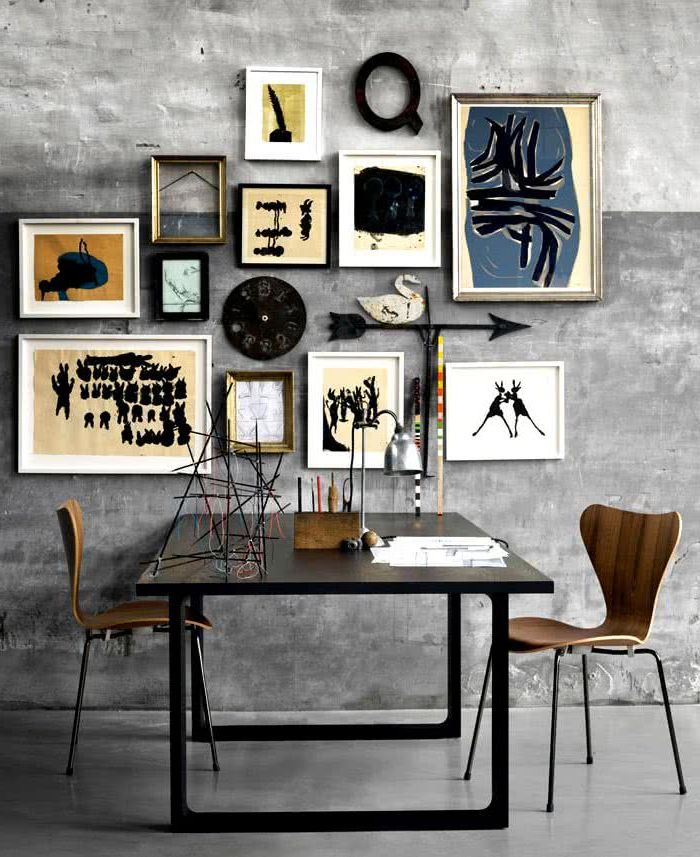 That is why we present some decoration ideas for the dining room wall that are on trend. Different materials and decorative elements, from the classic wood, marble and stone panels, to small details such as mirrors, plates or vertical gardens. In today's interior decoration there are no limits to creativity and imagination.
Personal art
Most people like to decorate their workspaces with drawings, photos and other personal memorabilia, but lately we've been seeing these little art galleries in dining rooms, an intriguing and personal touch that completes the decor.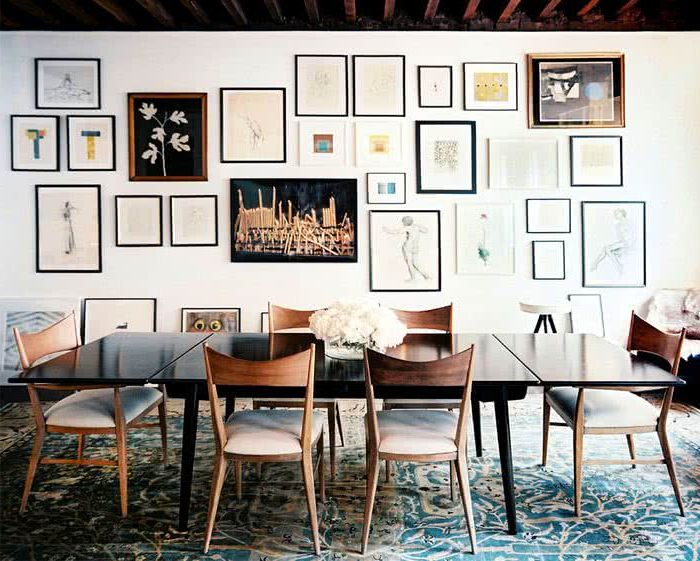 Often the content of this montage shows the private interests and passions of the inhabitants of the house. Traditional portraits and still lifes are replaced by modern posters of cultural events, book illustrations, and even street art.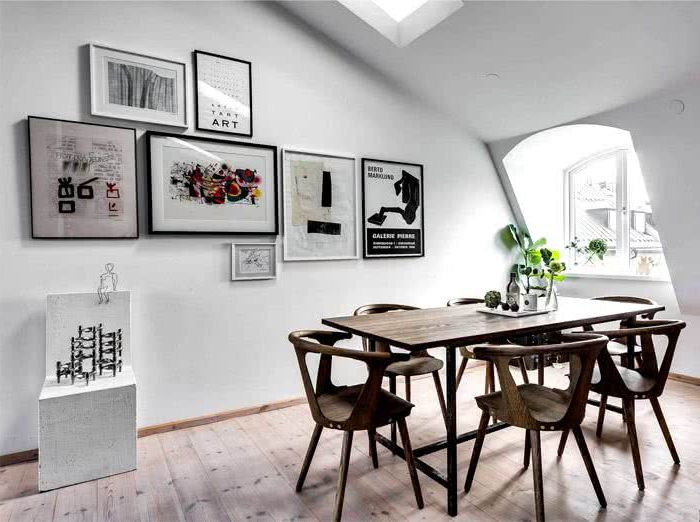 A white wall can be used, as well as a base of dark or intense colors. The important thing is that the frames of the decoration are contrasting with the base. Black, gold or silver frames are trending today. The dynamic juxtaposition of sizes, shapes and locations will add dynamic modern appeal.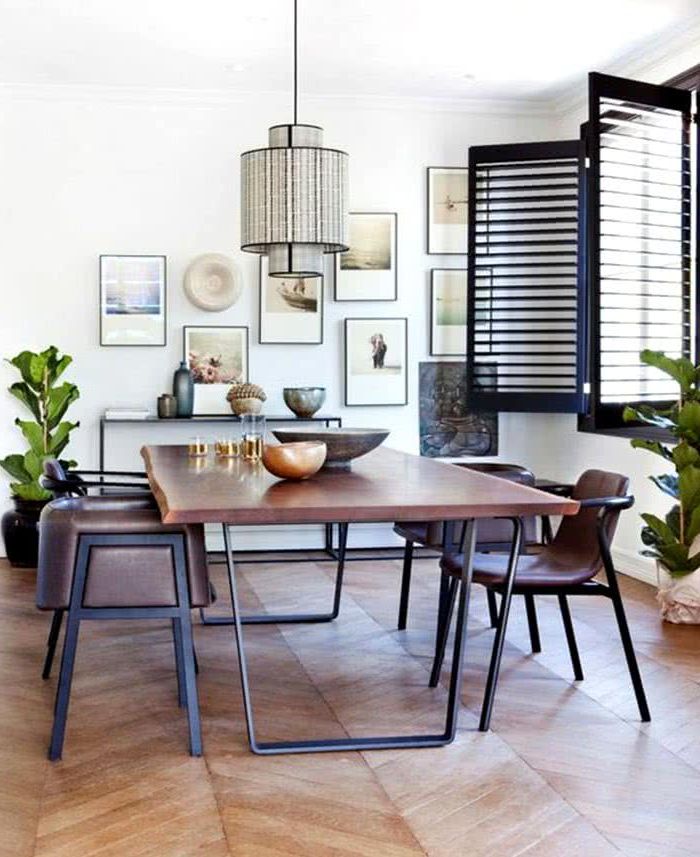 There are no limits or special requirements for the sizes, colors, contents or shapes of the different elements of said composition. You can choose pieces that have a common thread, a certain color for example or a theme. But you don't have to limit yourself.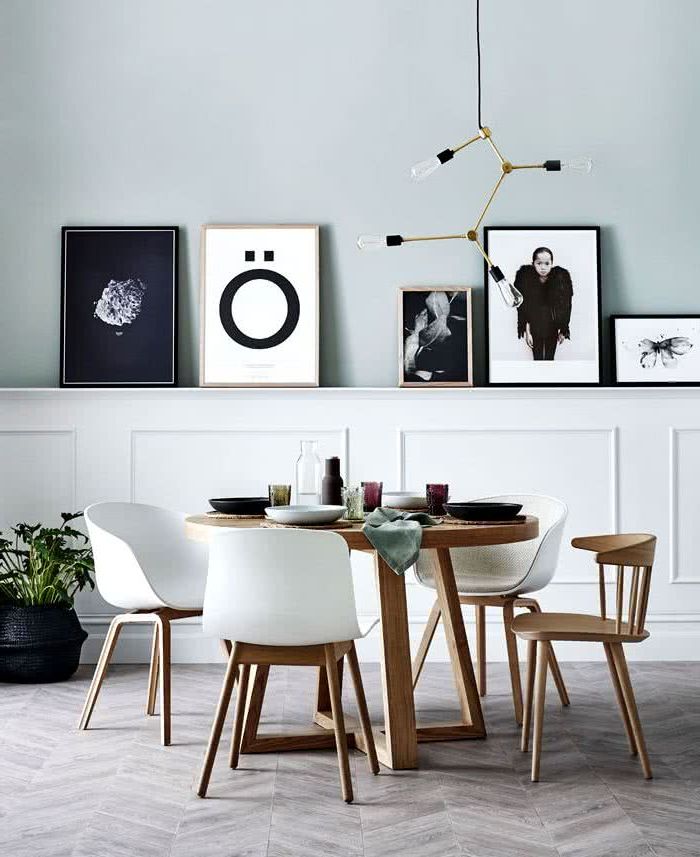 The only practical advice you can follow is to start by hanging the largest piece first. Place it slightly off center, and then dynamically distribute the rest of the pieces around it.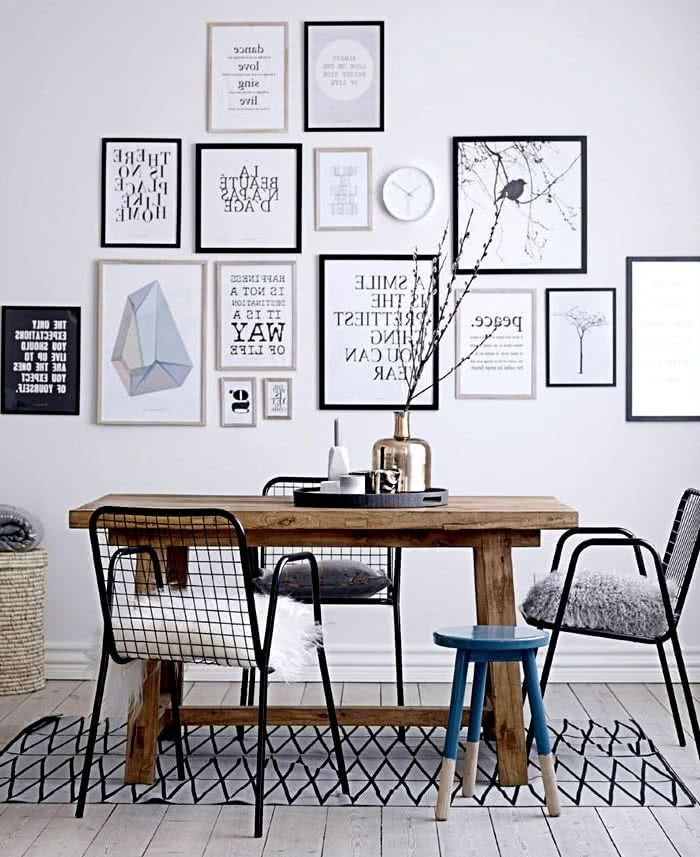 Large-scale piece of art
Art collectors enjoy displaying their collections in their homes, and the dining area is no exception. These places are generally suitable for all kinds of artistic themes and styles. Just keep in mind that you should choose a painting or piece of art that has a positive emotional influence on you.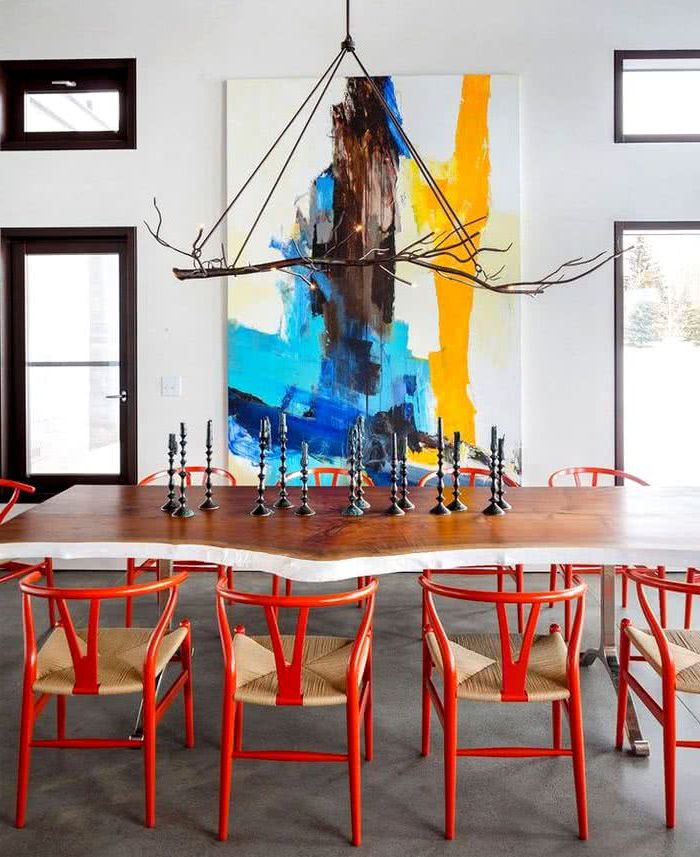 Large-scale art pieces typically provide a beautiful contrast to the wall they are displayed on and introduce a great visual effect and distinctive focal point to any decor composition.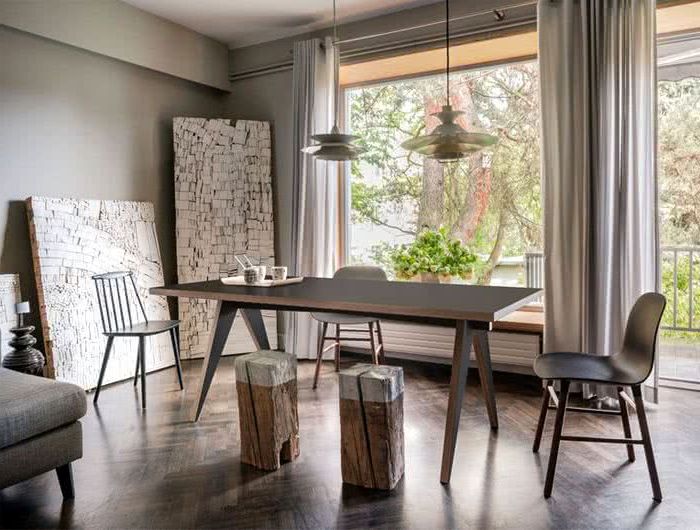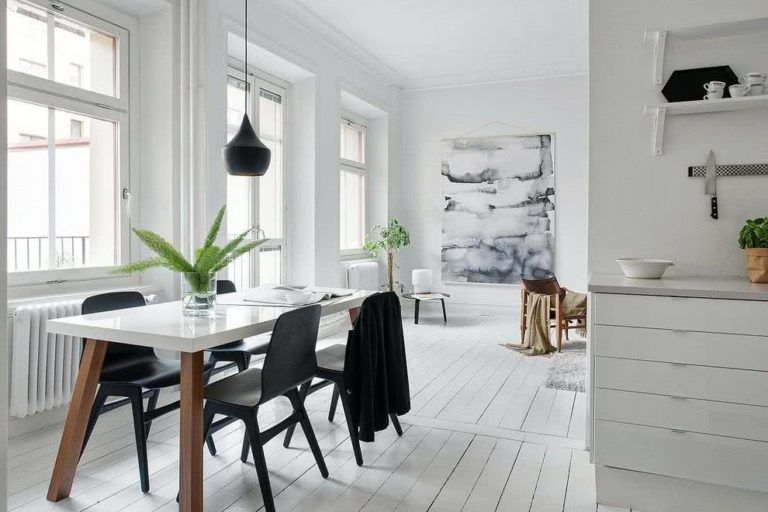 Wood paneling or siding
Wood cladding is equally suitable for modern homes as well as holiday homes with a more rustic feel. Wood as a material has many positive and unique qualities: excellent thermal insulation, it ages gracefully, it contributes to good indoor air quality and it is a sustainable material. In addition to all that, its decorative characteristics provide warmth.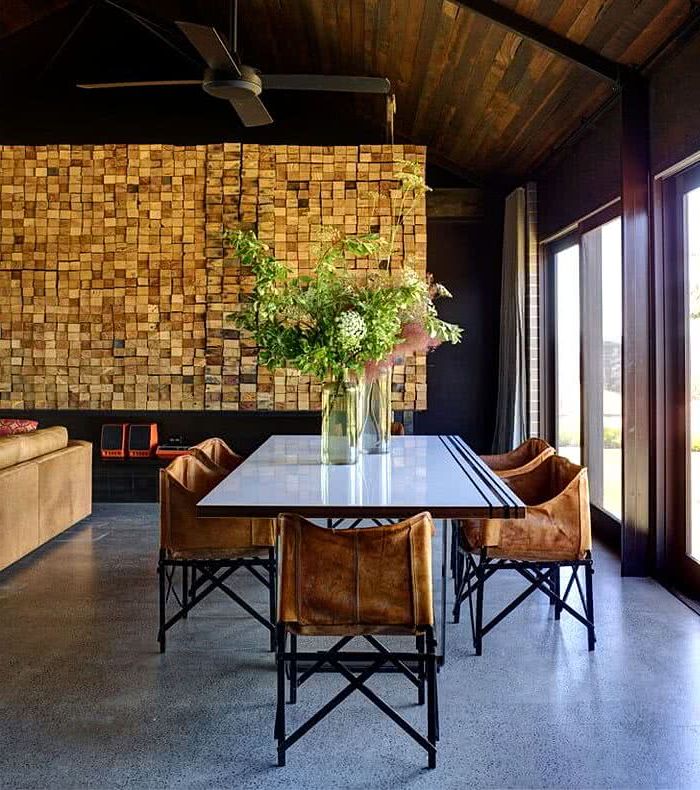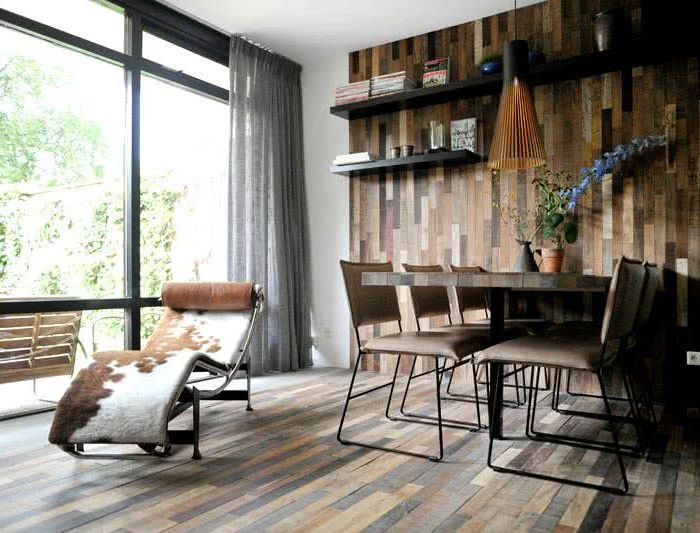 Pale and smooth woods characteristic of Scandinavian or Asian decorations are being used a lot, within Zen minimalism. Wood can have many different uses and appearances. And it is always elegant and warm.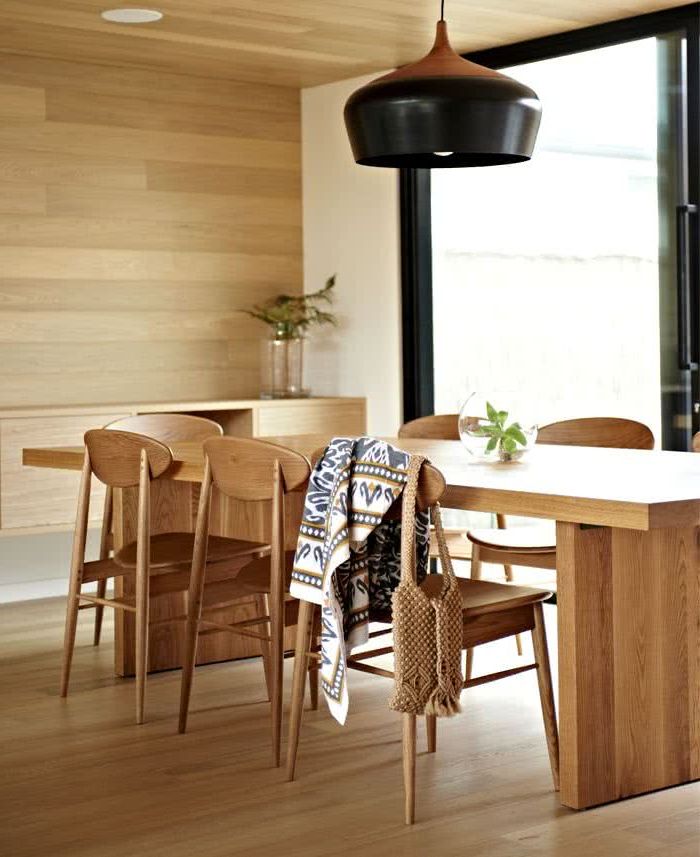 Room dividers
Separating large spaces through partial walls and dividers is a technique applied by contemporary designers and architects. Usually, these structures play a double role: as space definers and as decorative elements, they are part of the interior composition.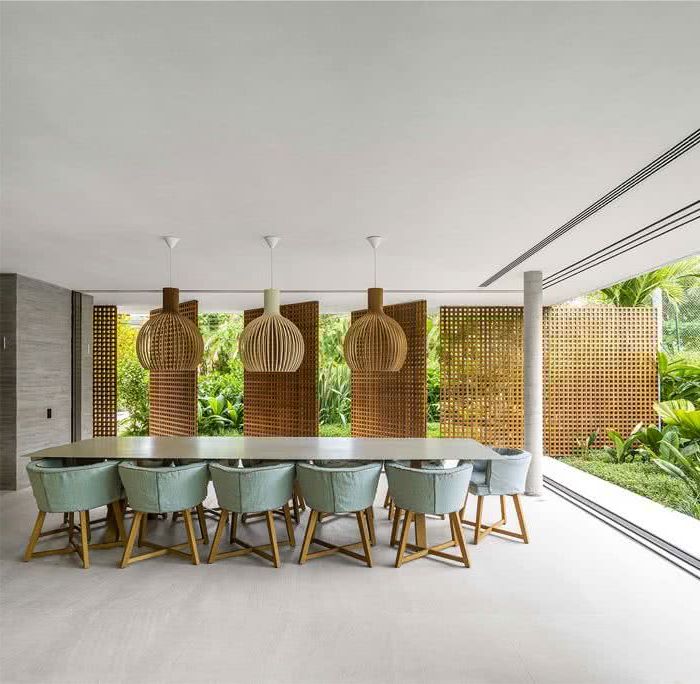 This is particularly useful for dining rooms adjacent to the kitchen or living room. Class materials such as stone, wood or metal can be used to achieve a useful and artistic spatial division in a decorative way.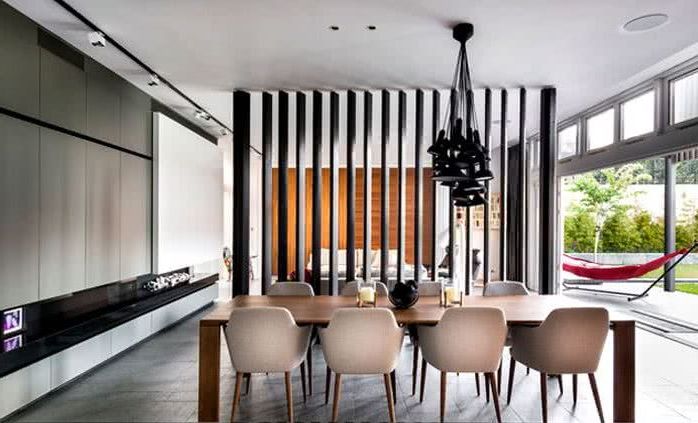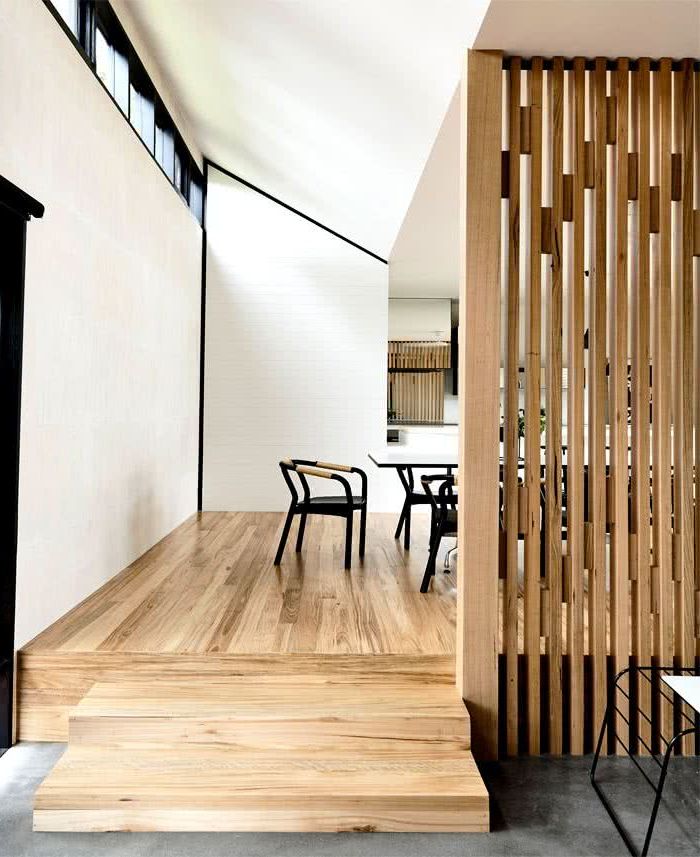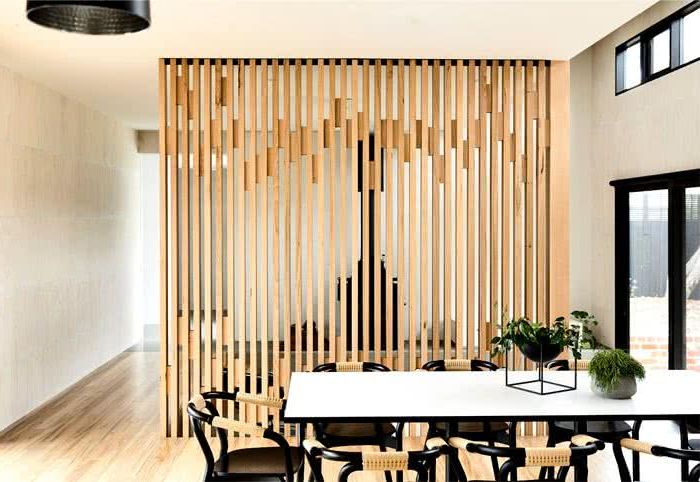 3D wall panels
In the contemporary interior design scene, 3D panels are often used to spice things up and add distinctive character. They often feature geometric patterns that add depth and a dynamic effect to the dining room. They should be used only on one wall (usually the one closest to the dining table) or as a partial decoration.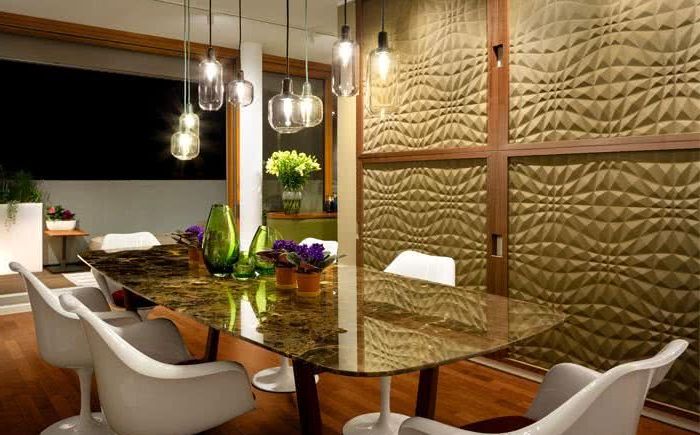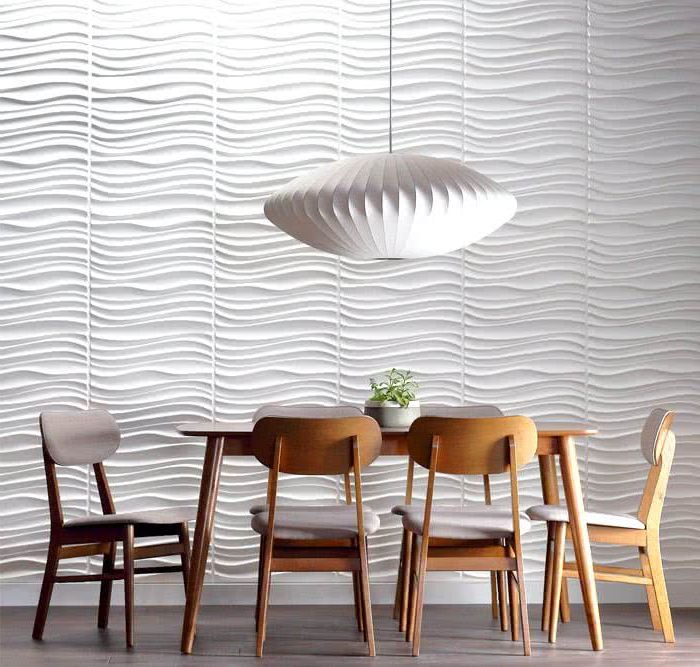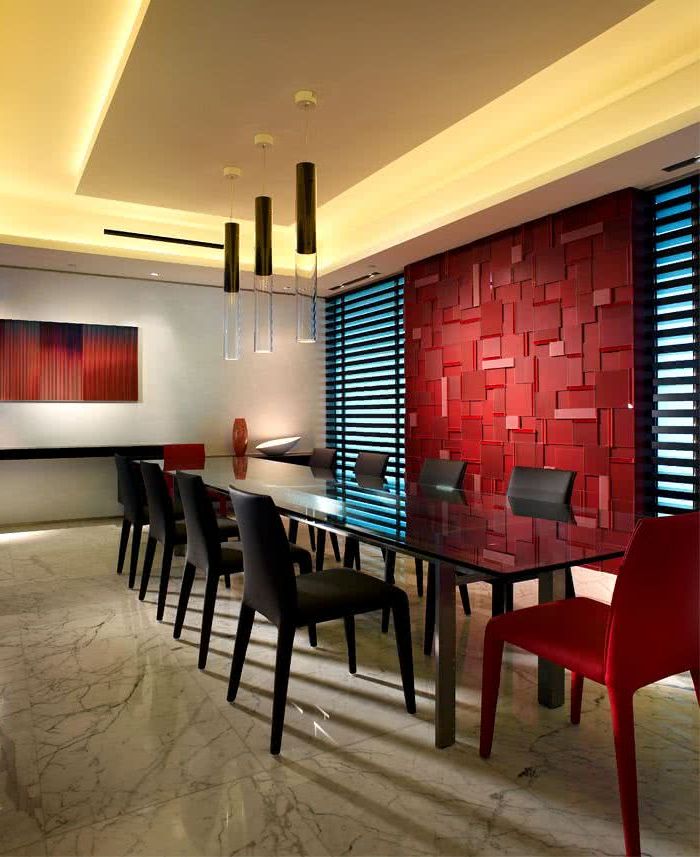 Mirrors
There are so many different variants when it comes to the introduction of a mirror in the dining room composition: variations in shape, size, framing style. From the use of antique mirrors with handcrafted wooden frames to minimalist frameless mirrors, from mirror clad walls to a simple and coy detail, the variations can be endless.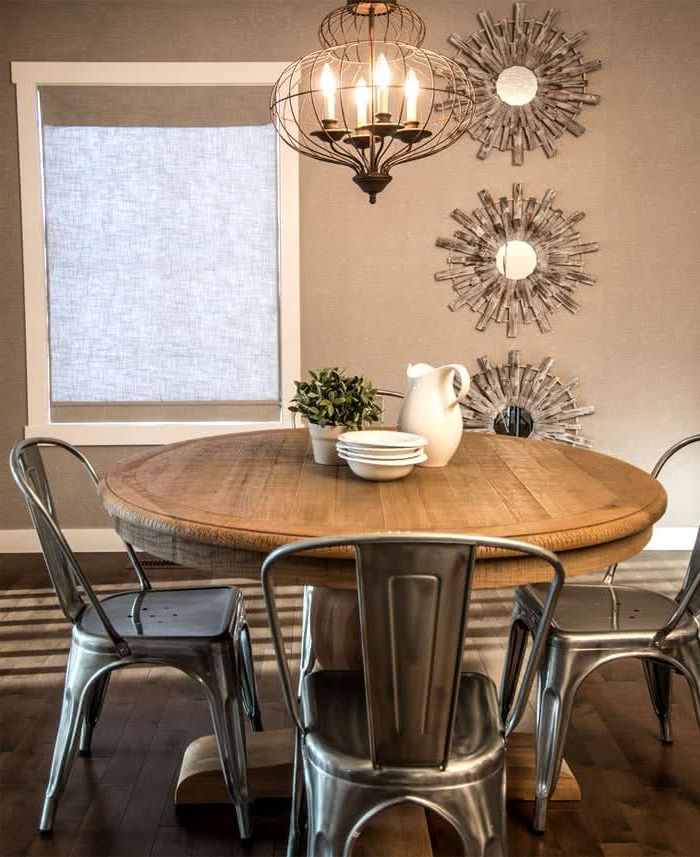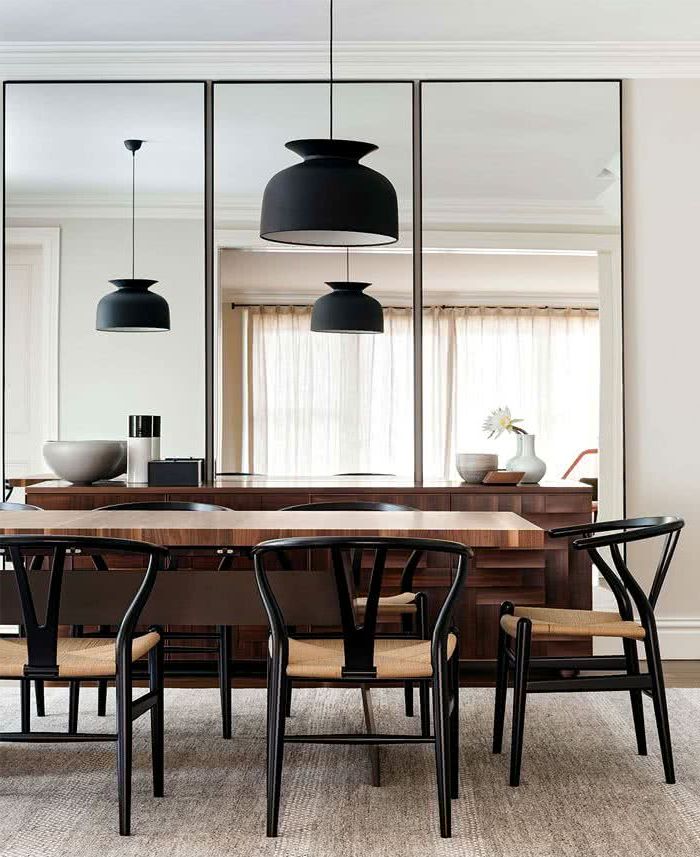 With their reflective qualities, mirrors can make a space appear larger than its actual size. They also add glamor around you.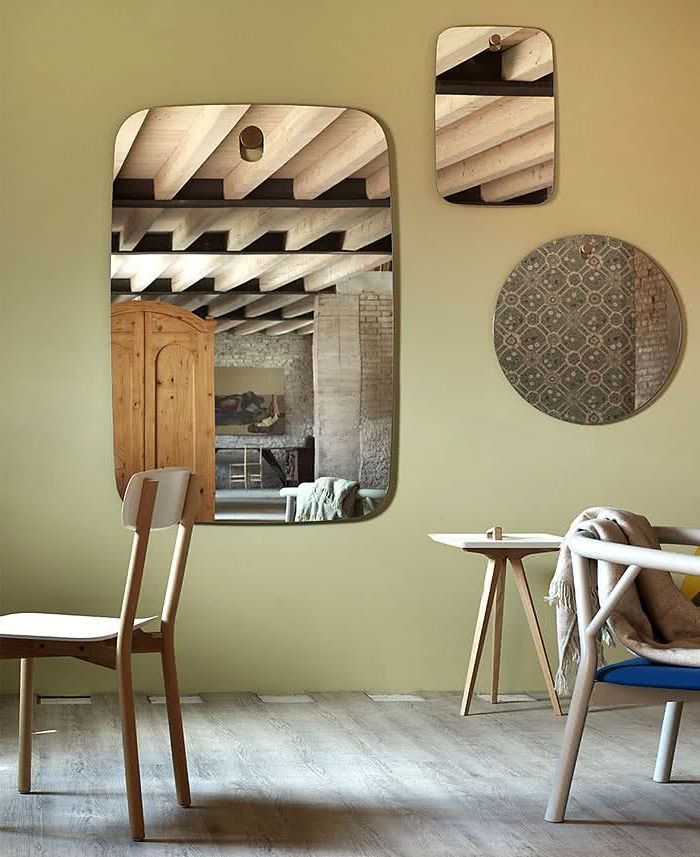 Marble cladding
When it comes to luxury and natural materials that can be used as cladding, one of the favorites is marble. Elegant and luxurious, this material introduces a lot of class in any space in which it is present. Its beautiful texture also brings a soft shine, glamor and diversity of colors: from white to almost black, from warm to chic or from solid to ethereal.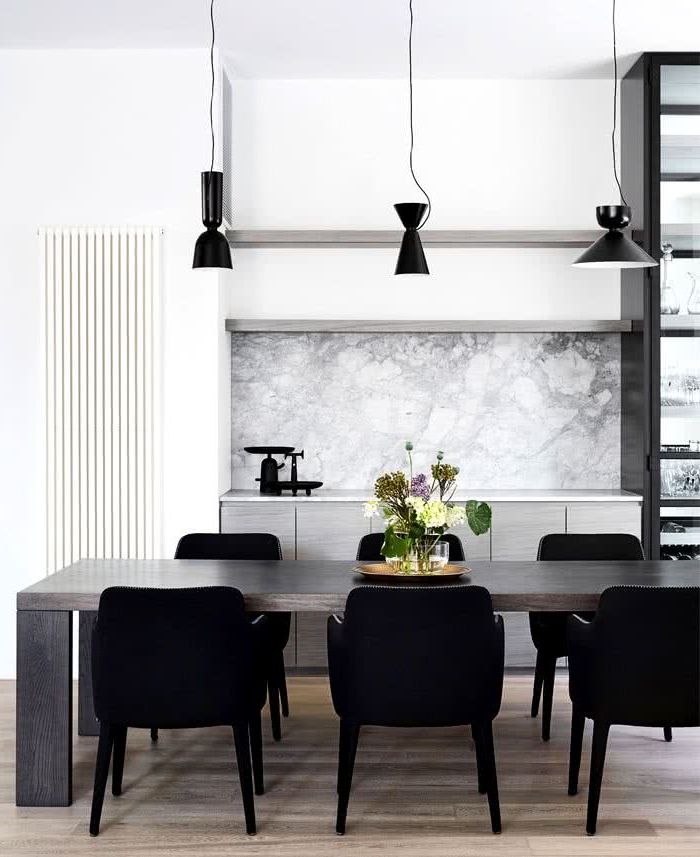 Marble has made a comeback in the world of interior design. However, the key is to use it in small doses. In this case, less is infinitely more.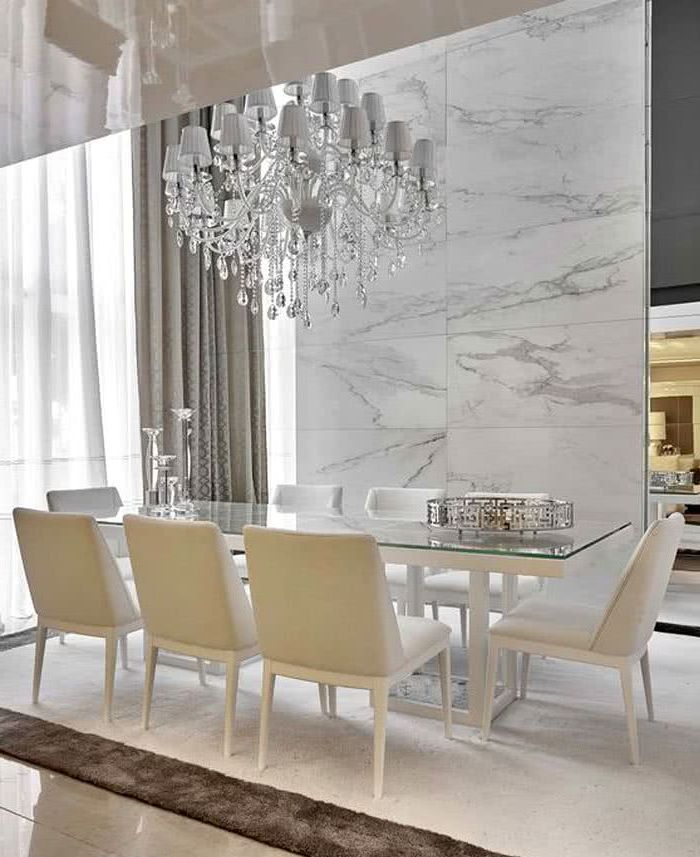 Stone walls
Another material that has a strong presence in the current decoration composition is stone. Traditionally used as an exterior cladding, stone was incorporated into houses in the 1950s and 1960s, when architects began to use it as cladding in dining rooms or around fireplaces.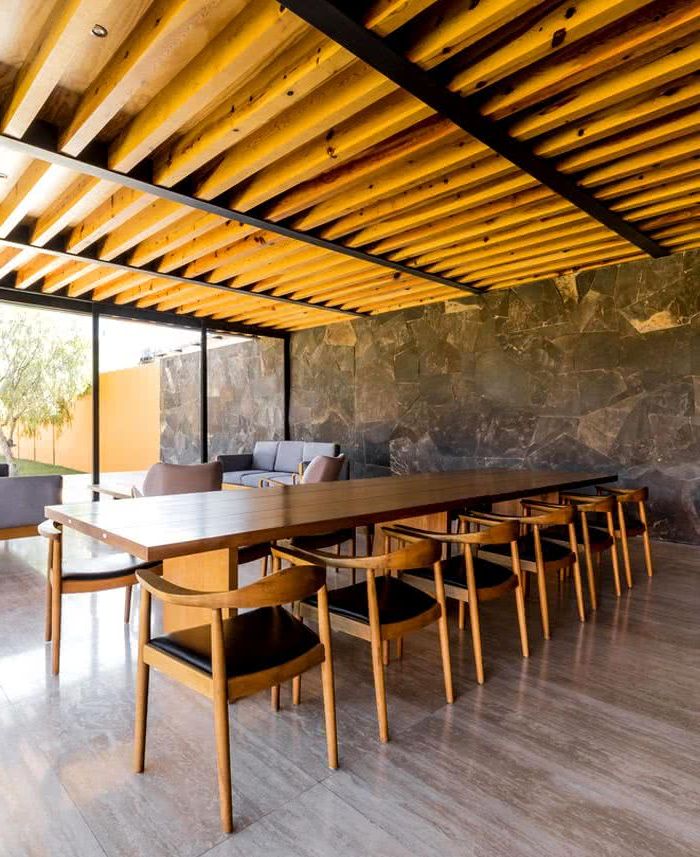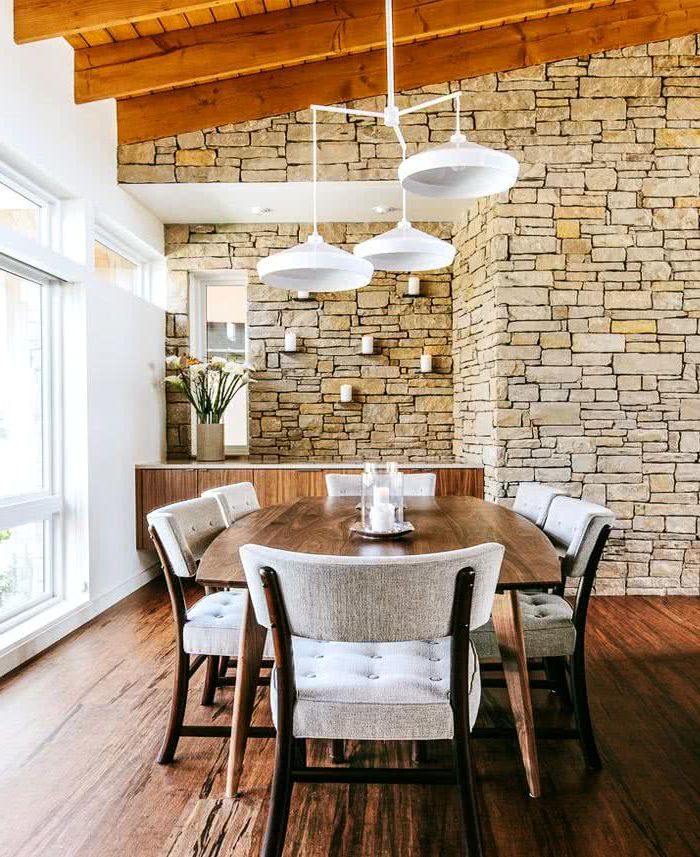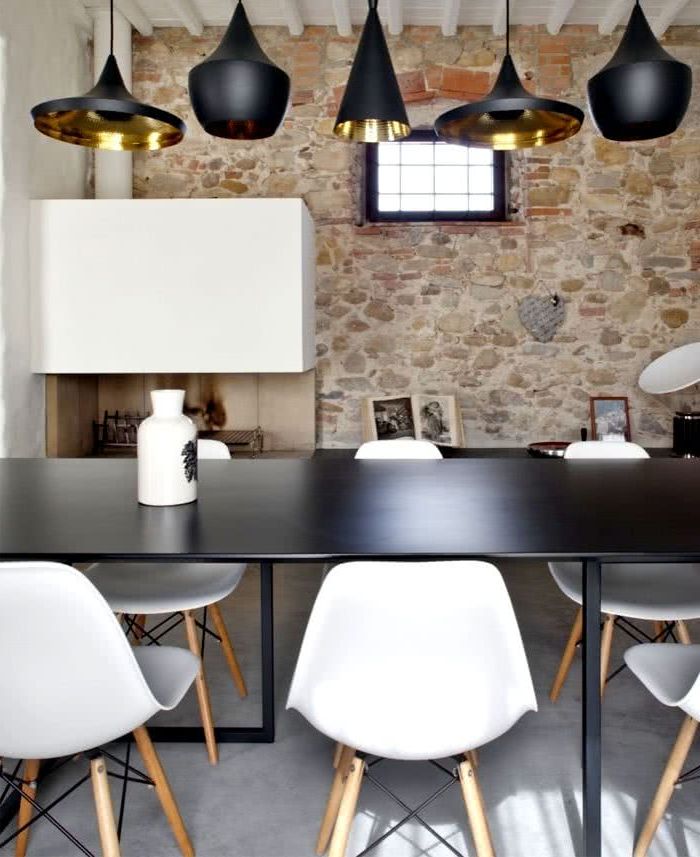 And although this material has a more rustic and rough character, its natural qualities and organic presence can compete with the use of materials such as wood and marble. Its thermoregulatory qualities, natural appearance and great variation of colours, shapes and textures make it a wonderful option to introduce a unique charm in the dining room.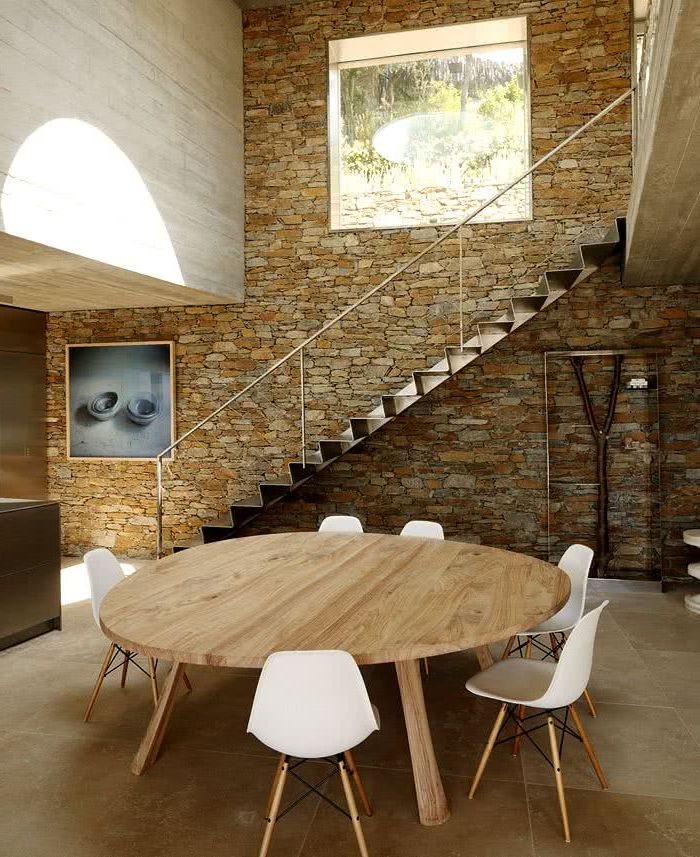 Therefore, a stone wall can be perfect for the dining room: it is functional, it does not age, it can be found in various colors and textures.
Brick walls
If not stone, why not brick? It can be combined very well with metal frames, large glass display cases, industrial lighting and contemporary details.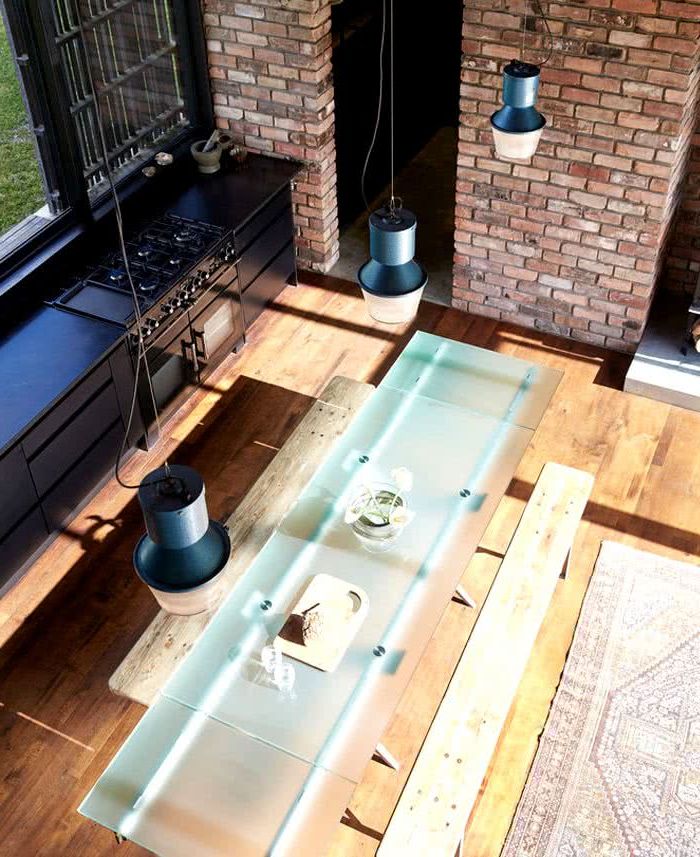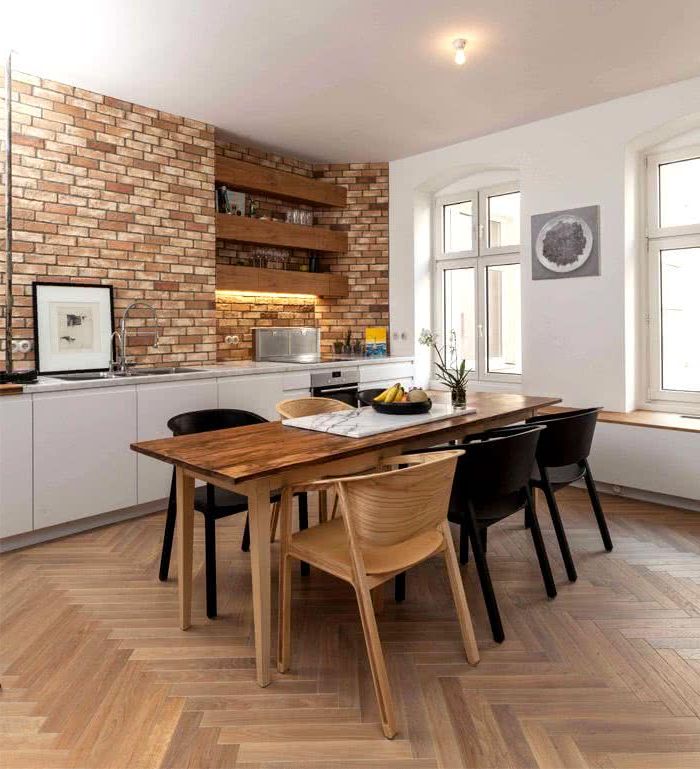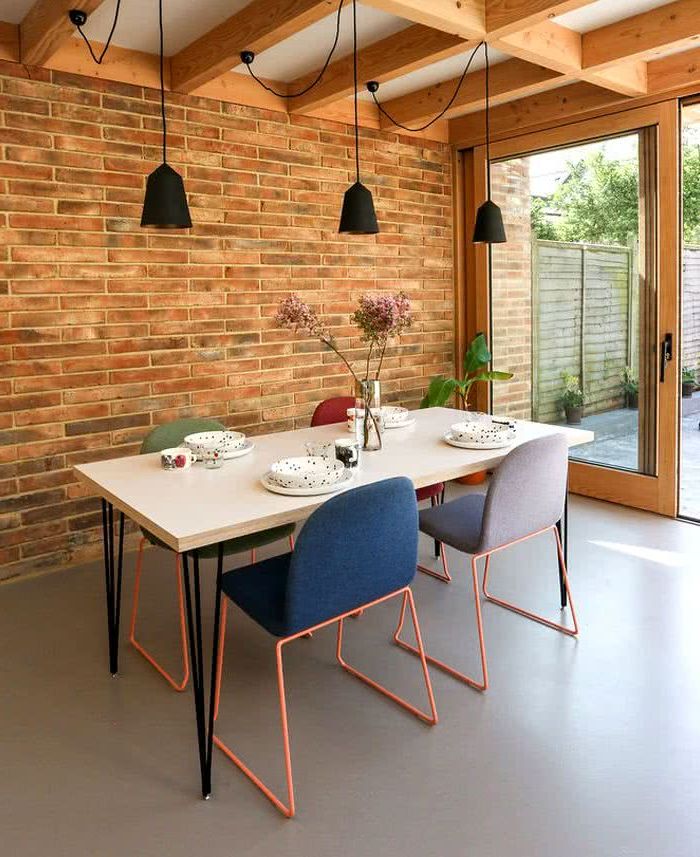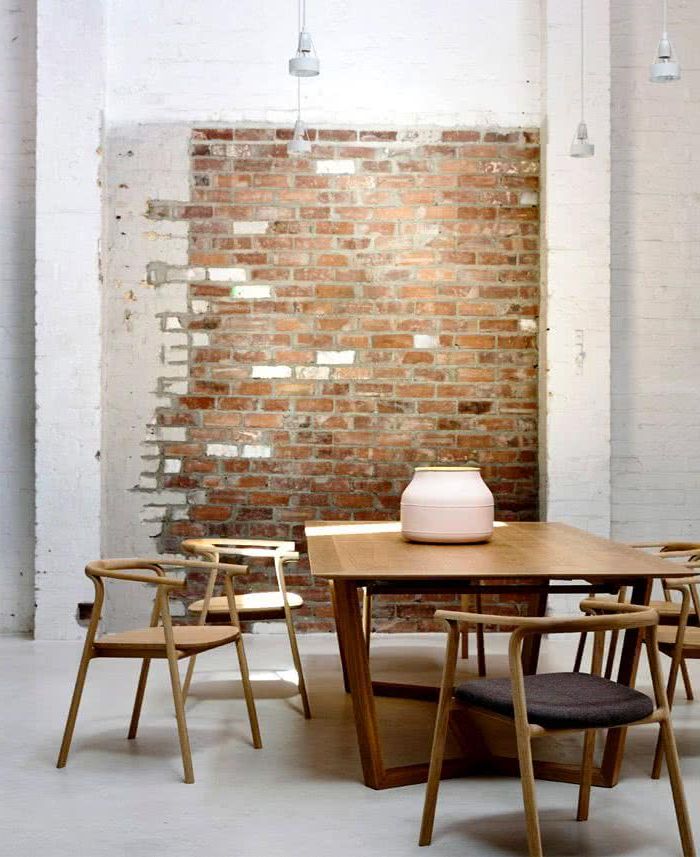 Plates and ceramics
Wall decorations with ceramic plates can be very entertaining and in a great variety, a small collage of different sizes and patterns can be composed. To achieve this decoration you do not need a specialist. All you need is the right selection in color, theme, motif, or just patterns and art that you enjoy.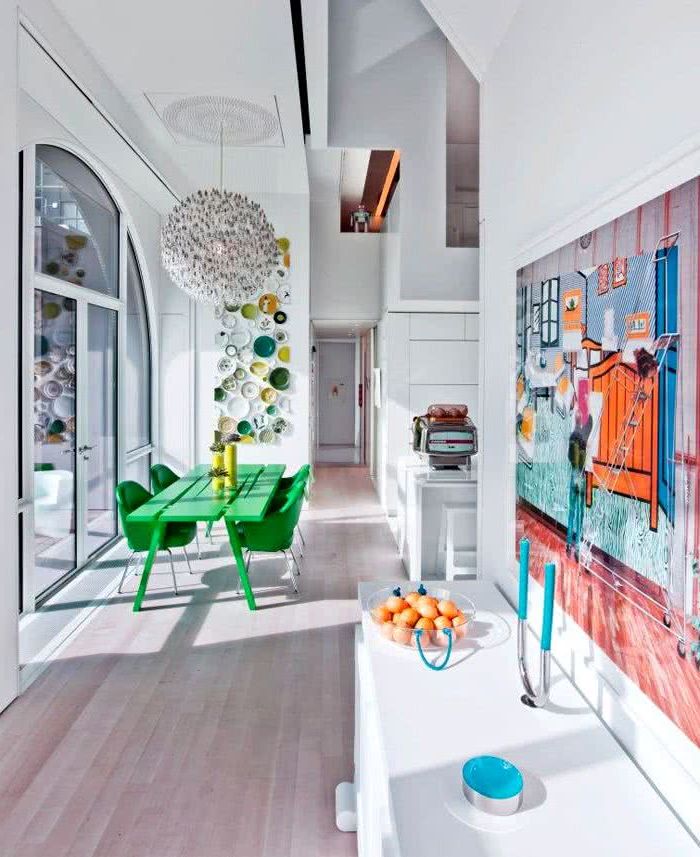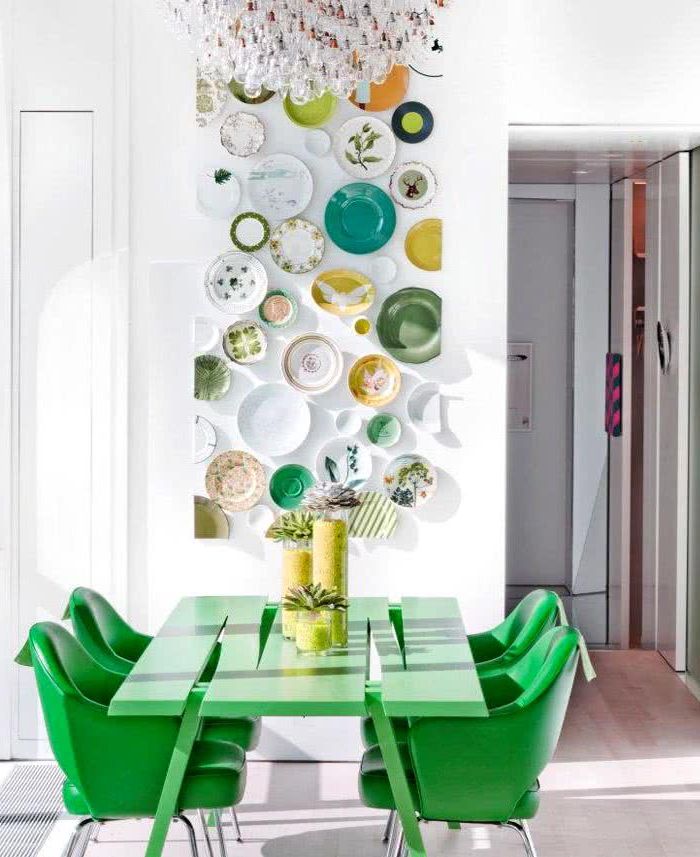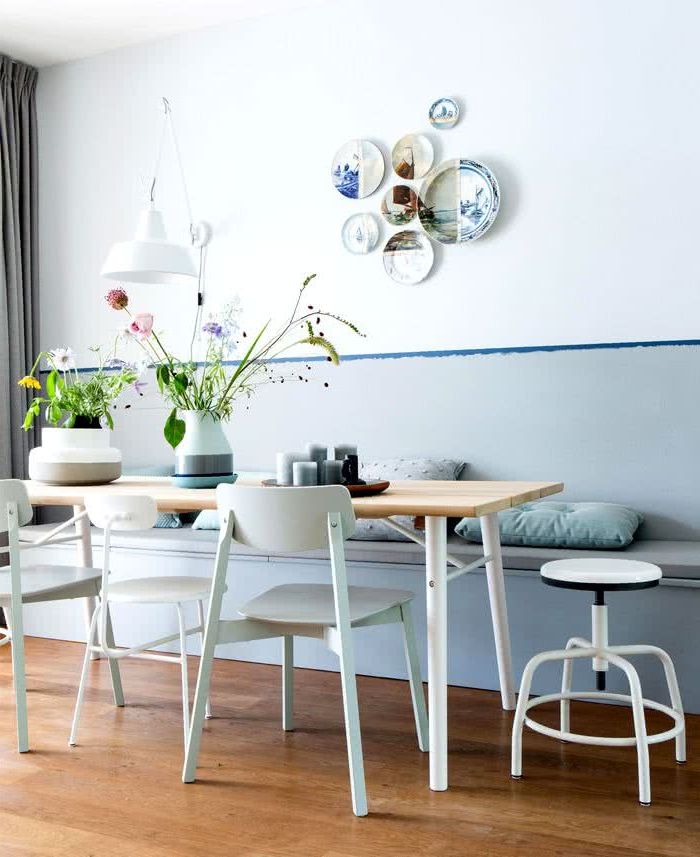 Wallpaper and murals
That is generally the most common option to decorate the dining room. Wallpapers and murals offer great diversity, rapid supplementation and relatively inexpensive solutions. The latest trend shows that many renowned designers prefer to experiment with artistic wallpapers: they play with texture, imitating marble or wood and natural patterns of flowers and plants.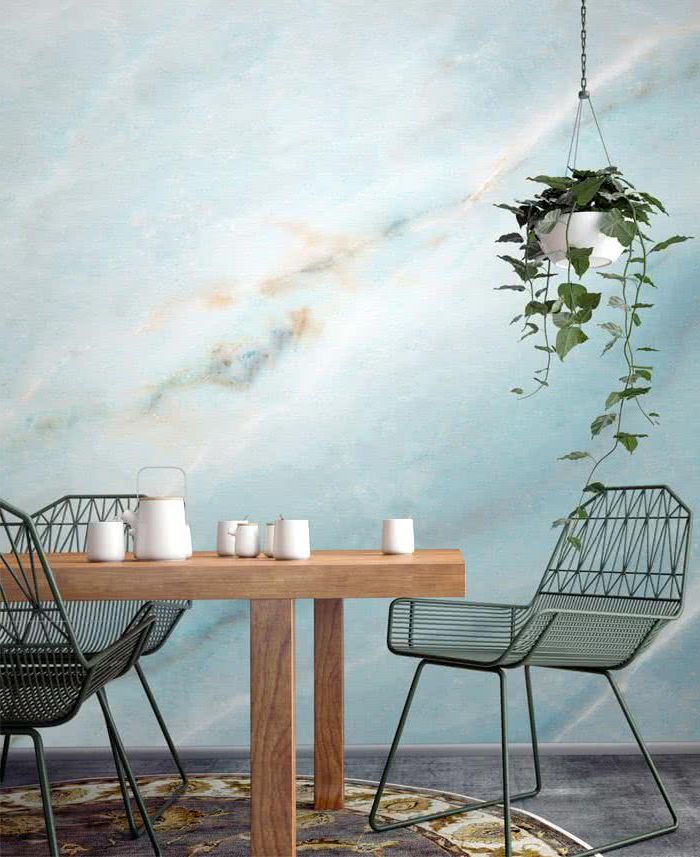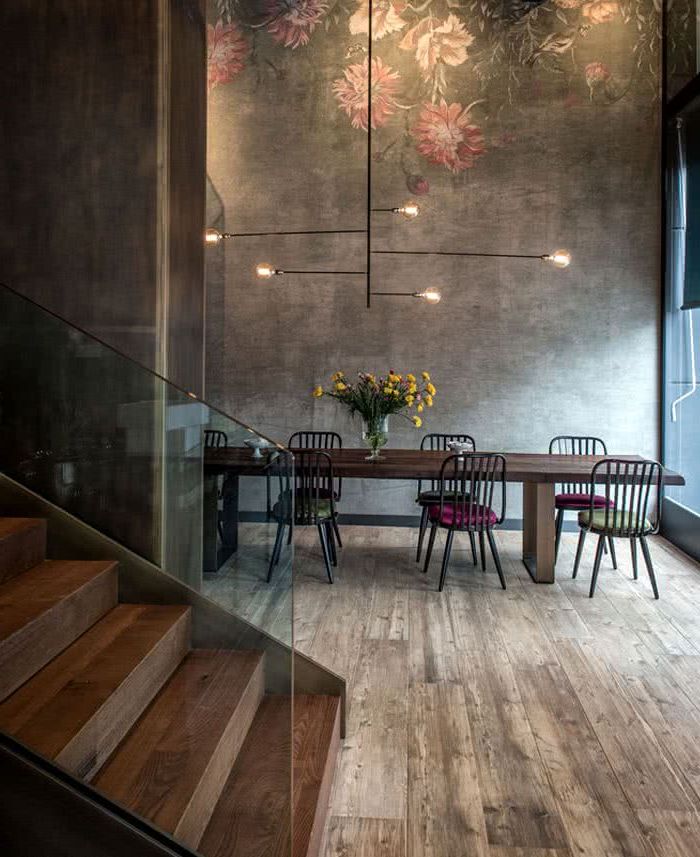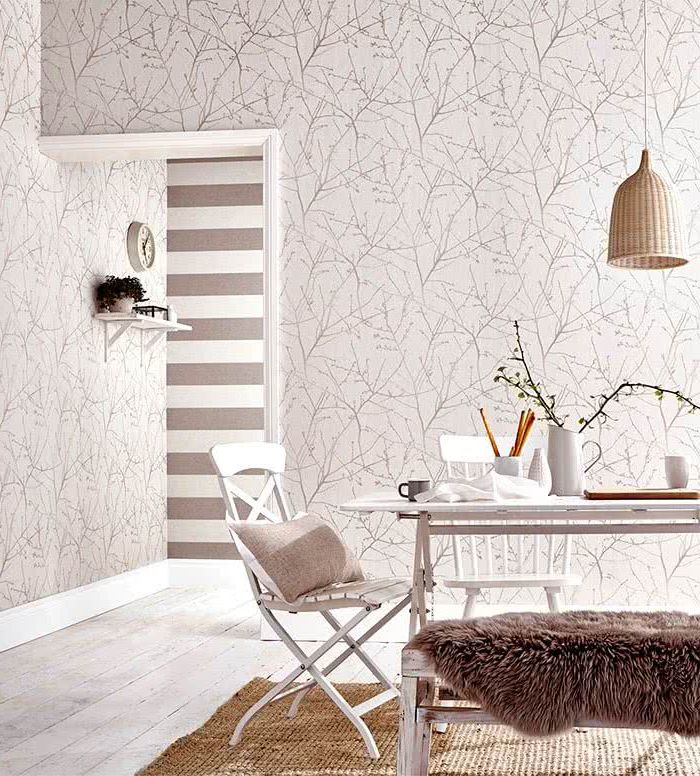 Plants and green walls
Keep in mind that this type of option is a living creature, so careful planning and constant attention are necessary. But the benefits are many: the fresh emanation and purification of the air, filters airborne toxins and benefits natural ventilation.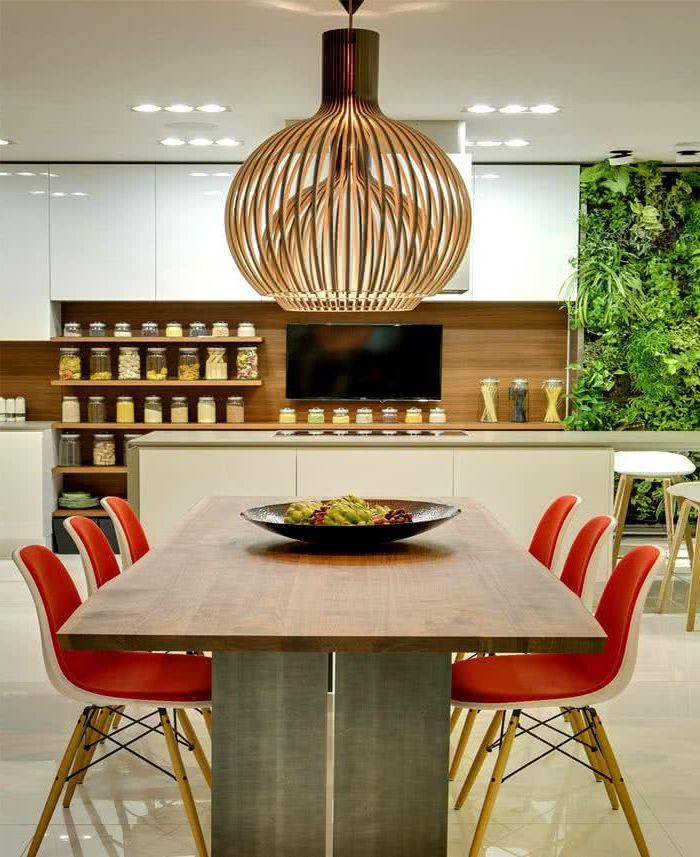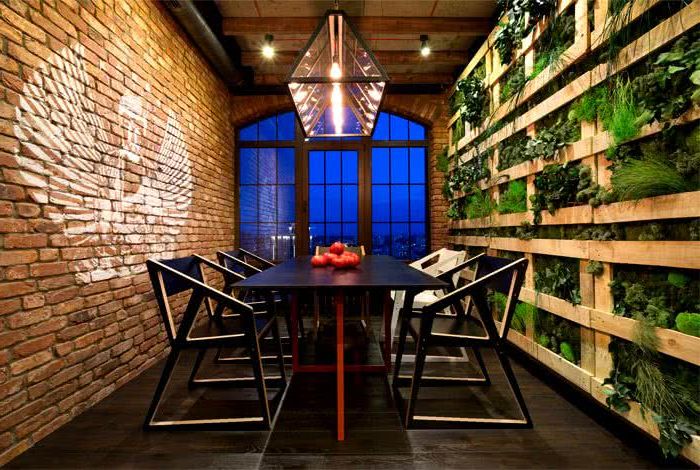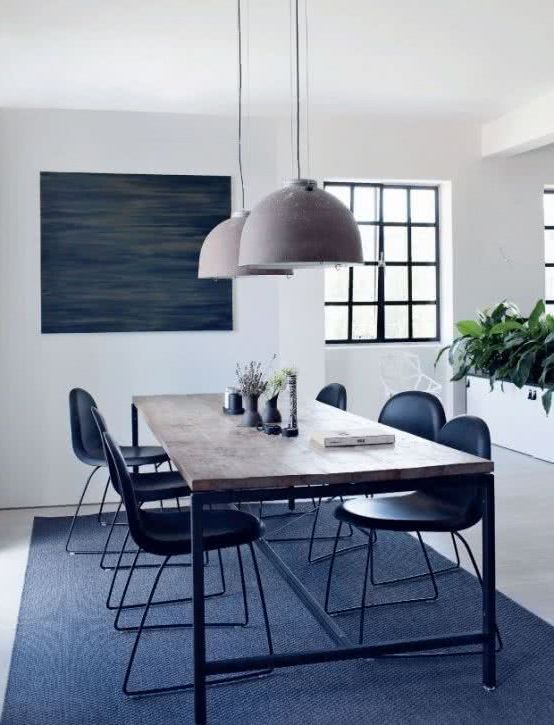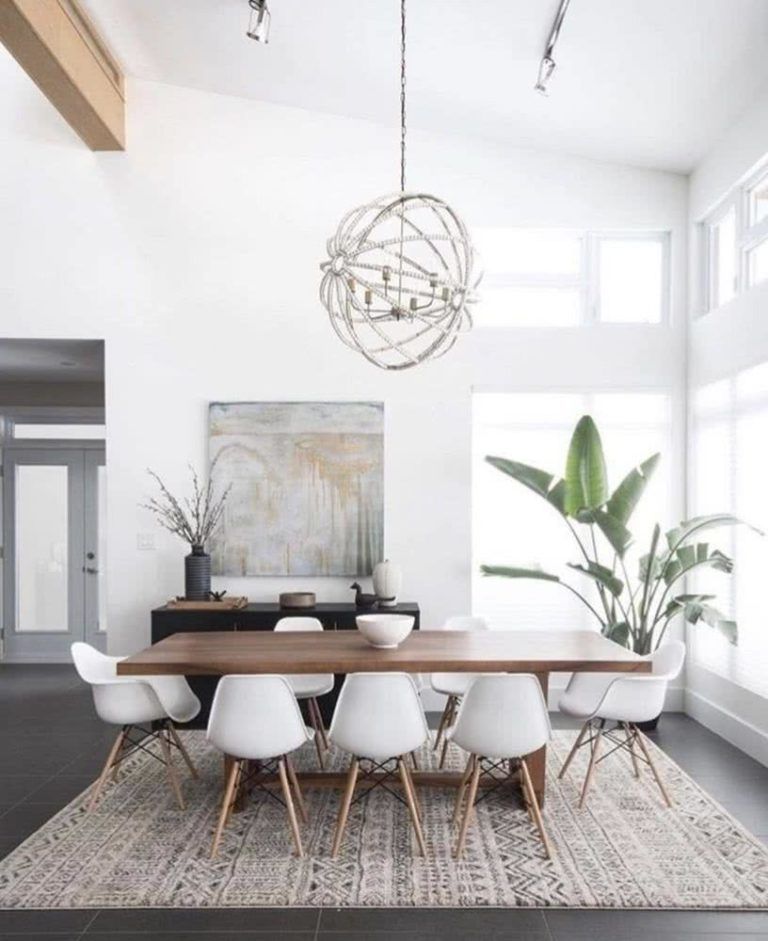 Modern dining tables
The modern style is mainly characterized by the use of clean lines and simple designs. Modern tables can be made from a huge range of materials.
Hardwoods are very popular for their strength and toughness. Furthermore, organic materials are always better than artificial ones because they have an exotic appearance as well as incredible robustness. With proper finishes, modern tables not only look prettier, but are also more stain resistant. Metal tables are also being seen, since incorporating details in an industrial style is very common in modern decoration. And of course glass tables are also another classic that can be one of the options to choose from.
As for the shape, we can find square, rectangular or round. The choice will depend on your personal taste and the space available. We show you some examples.
Round tables
They are ideal for small dining rooms.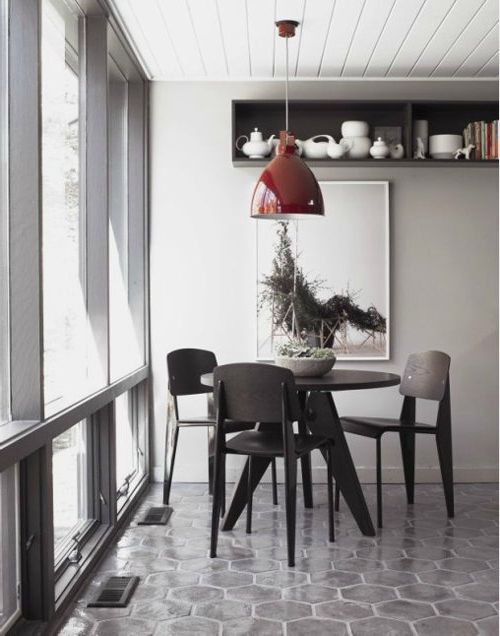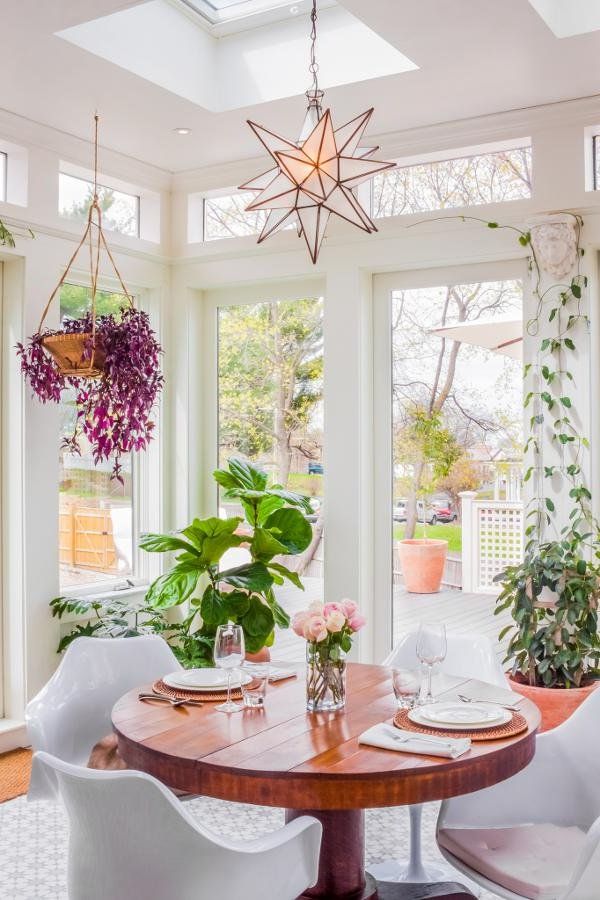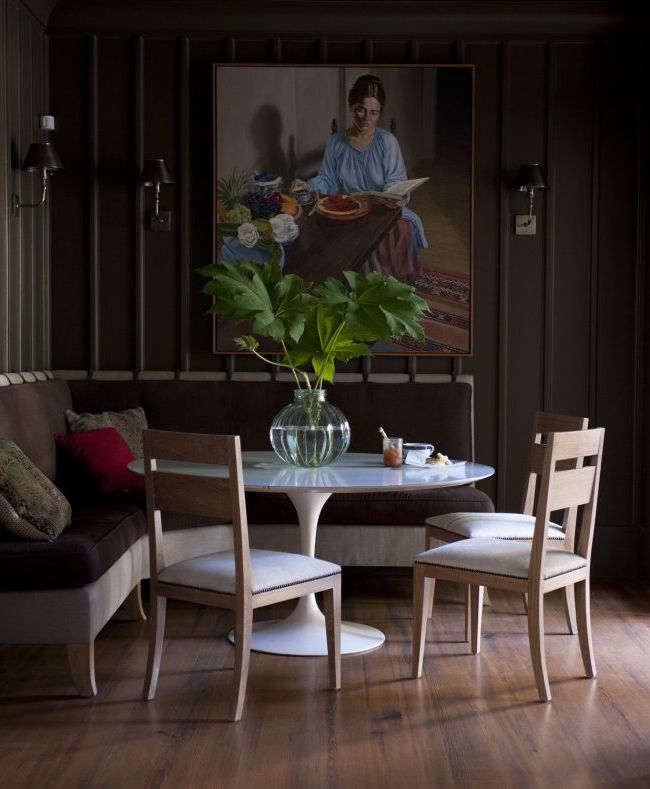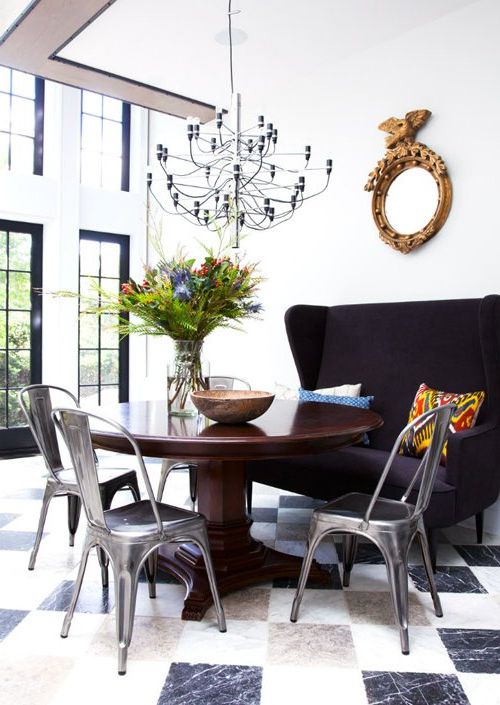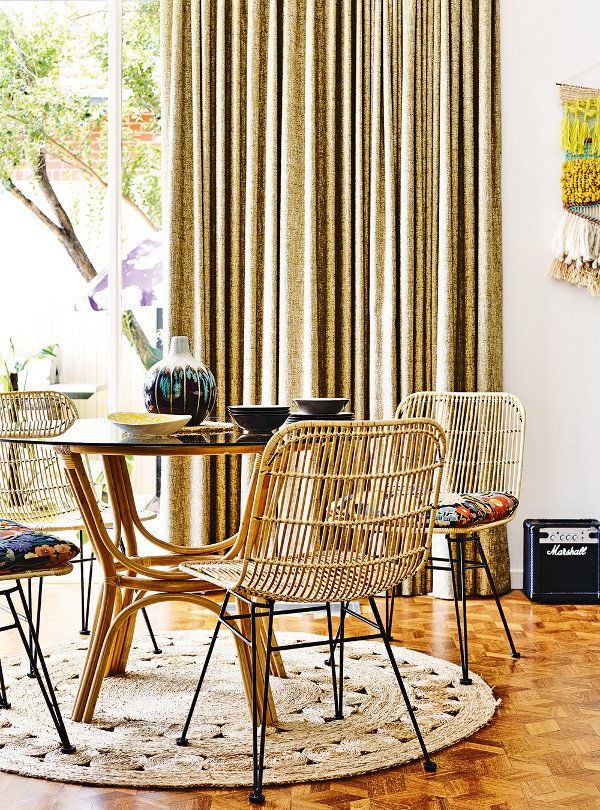 Rectangular and square tables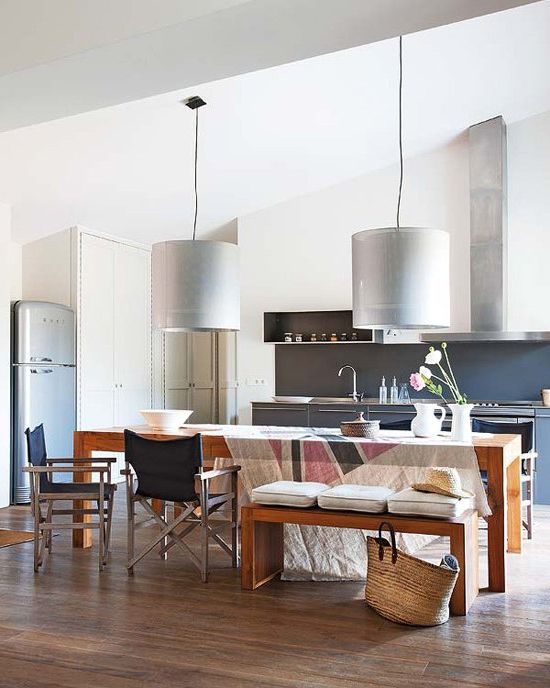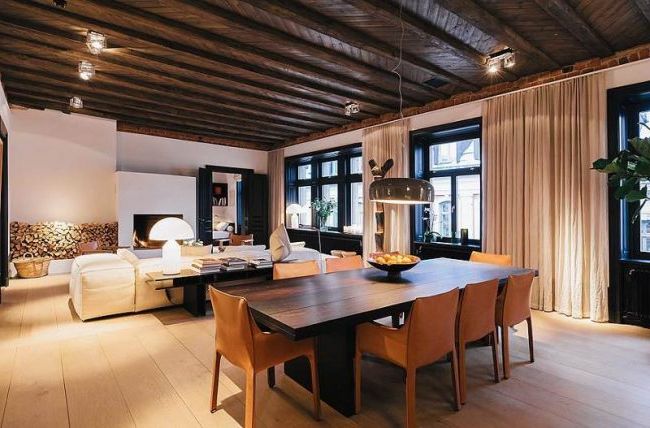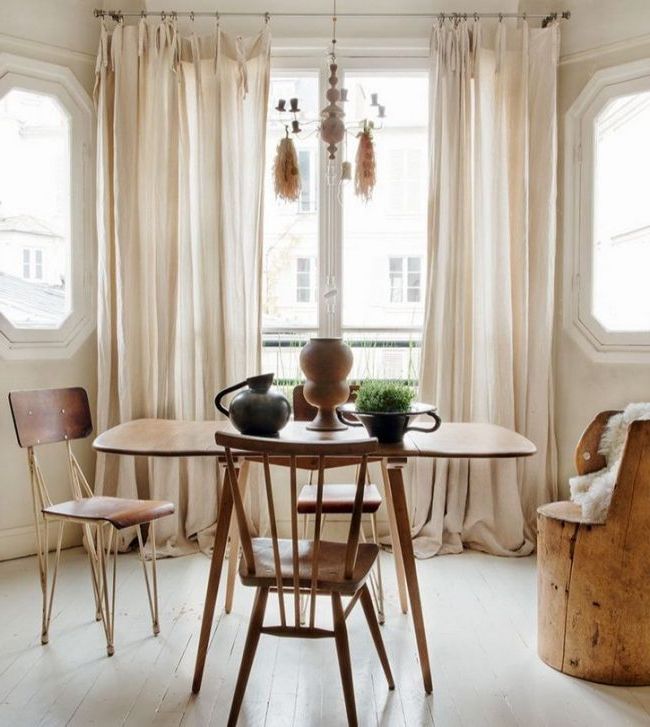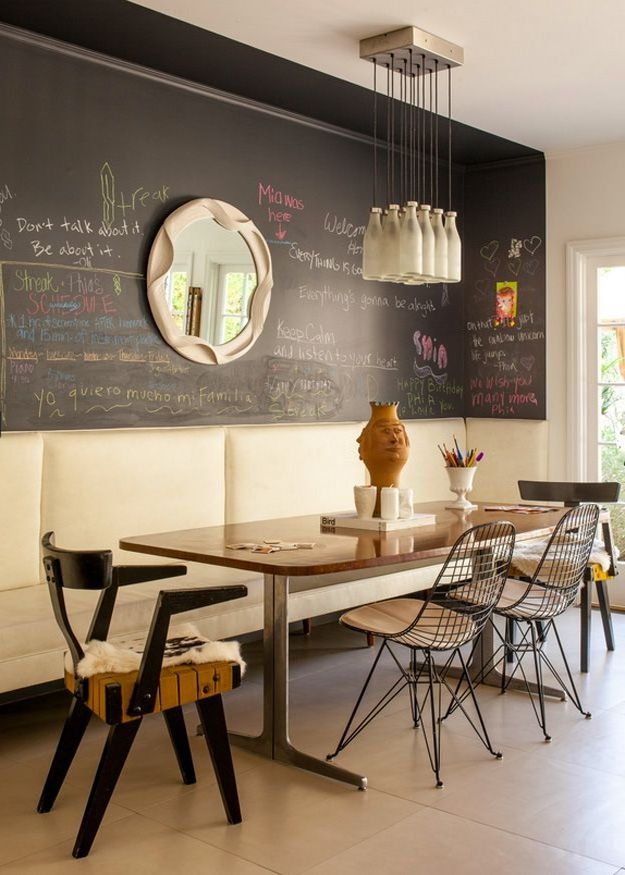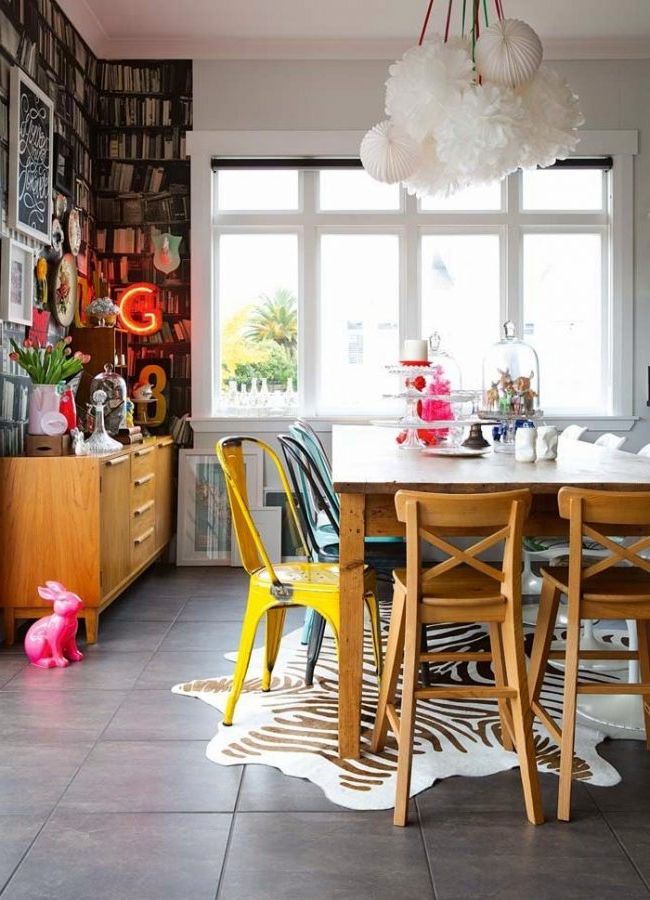 Cellar tables
In general, these types of tables are associated with informal spaces, however, they are currently also used in elegant and formal environments. In addition, they are perfect for saving space, and are usually very resistant and durable.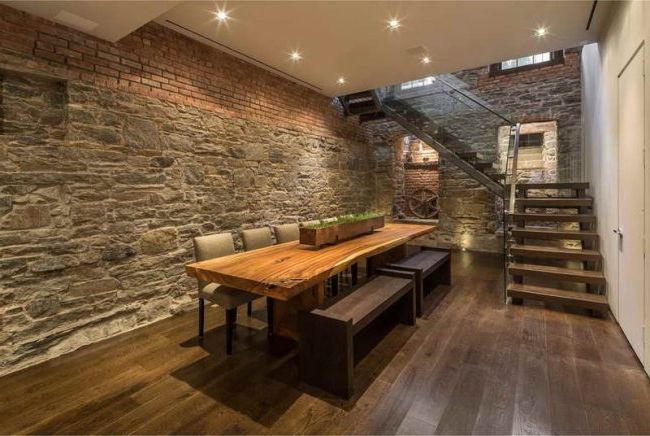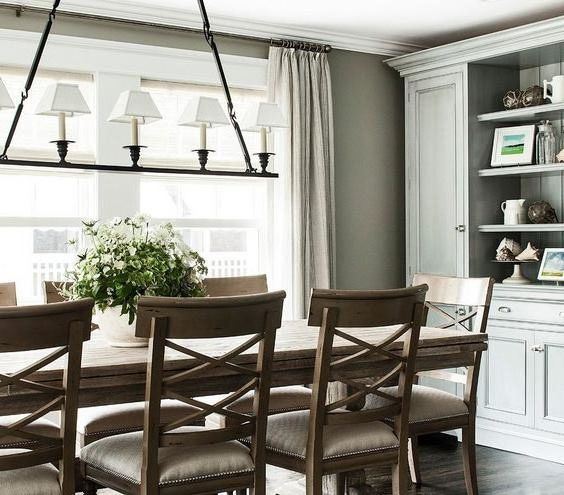 Tables with polished surface
Mirrors are not just for walls. Mirrored furniture is perfect for adding impact to a room. The head table is the most common piece for this. Also, they don't wear out over time, they always look fabulous. You can find these types of tables in different shiny materials.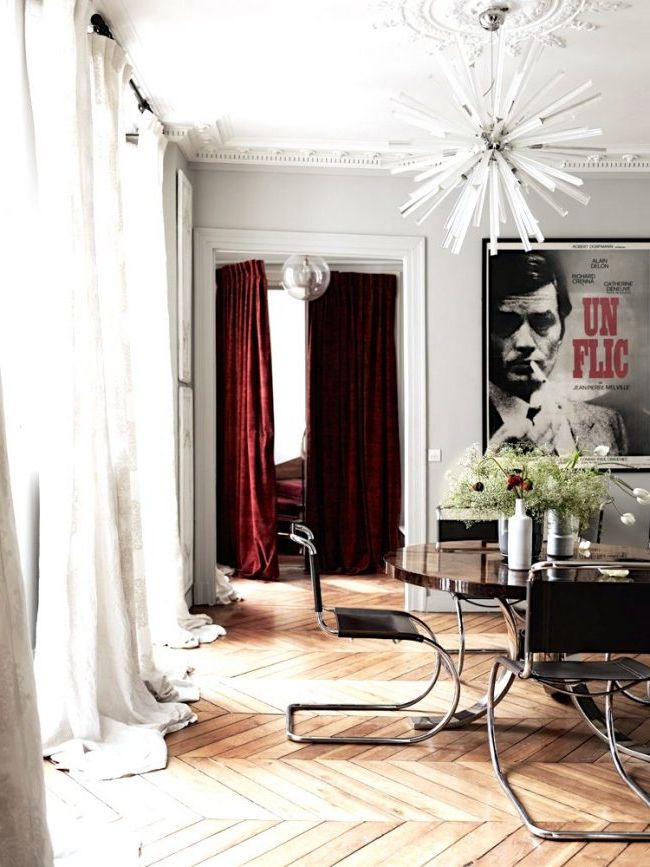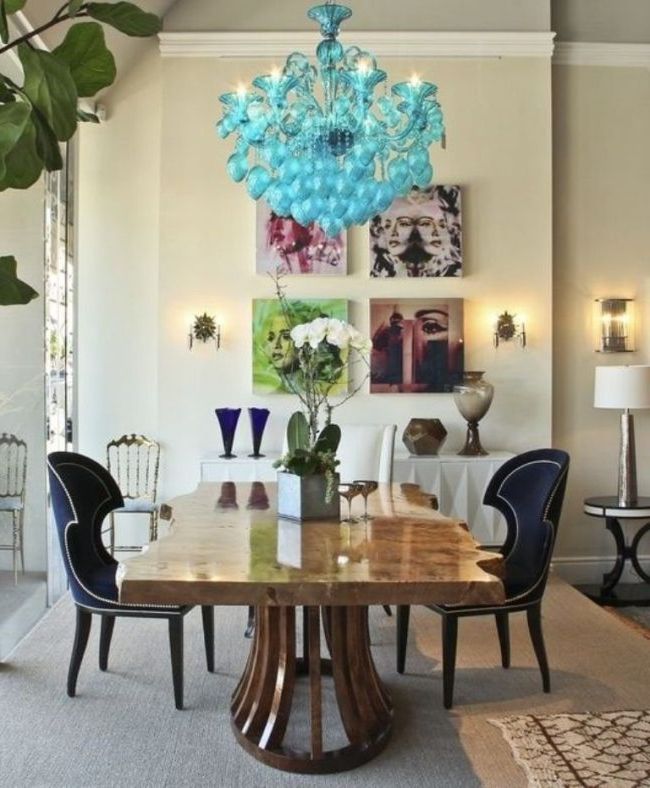 Modern dining chairs
One of the elements that can dress up a house the most and that we hardly realize, are the chairs. We do not usually pay attention to them, but when we see them we perceive a set that can suggest different sensations, depending on the choice we have made: elegance, freshness, warmth, comfort…
Dining chairs are part of the decoration, without neglecting their functionality and must be chosen according to the feeling we want to convey. There are many designs and colors of dining chairs, we present here the trends of this season.
Vintage chairs
It may sound crazy to you, but they fit perfectly with minimalist tables and modern designs. A metal table with chairs in bright colors will give a fresh and modern atmosphere to the room. Designs from the 60s and 70s are being used mainly, even with a worn look.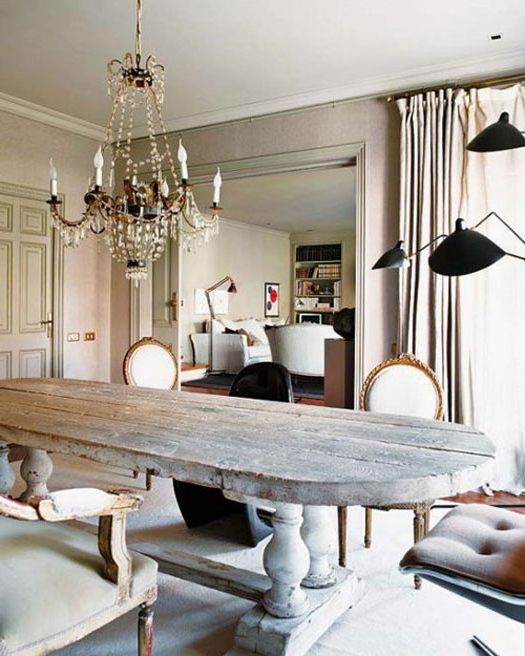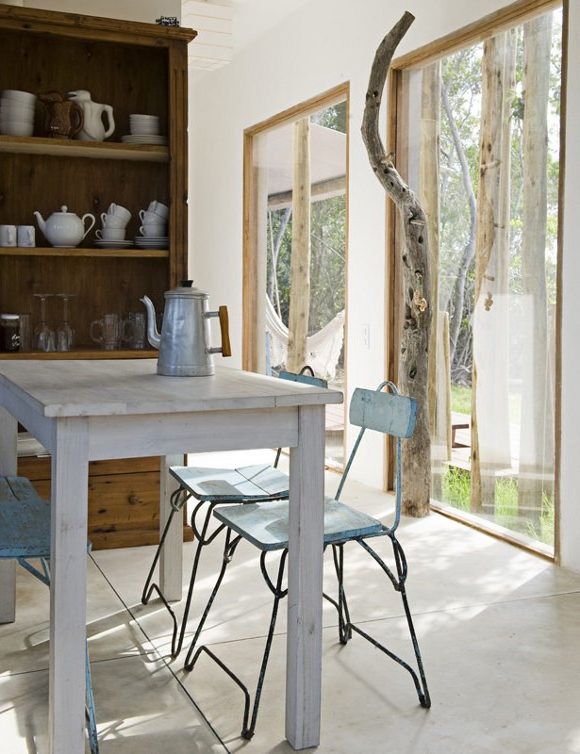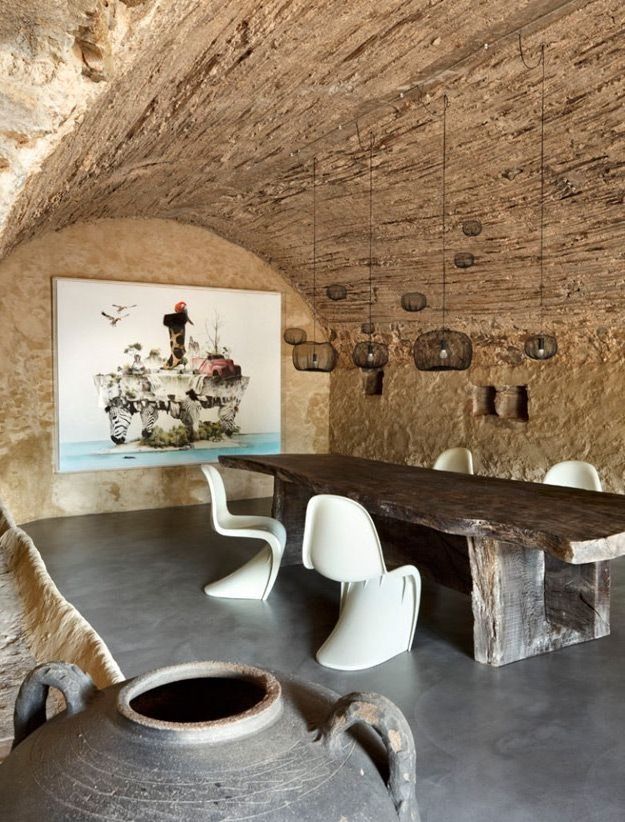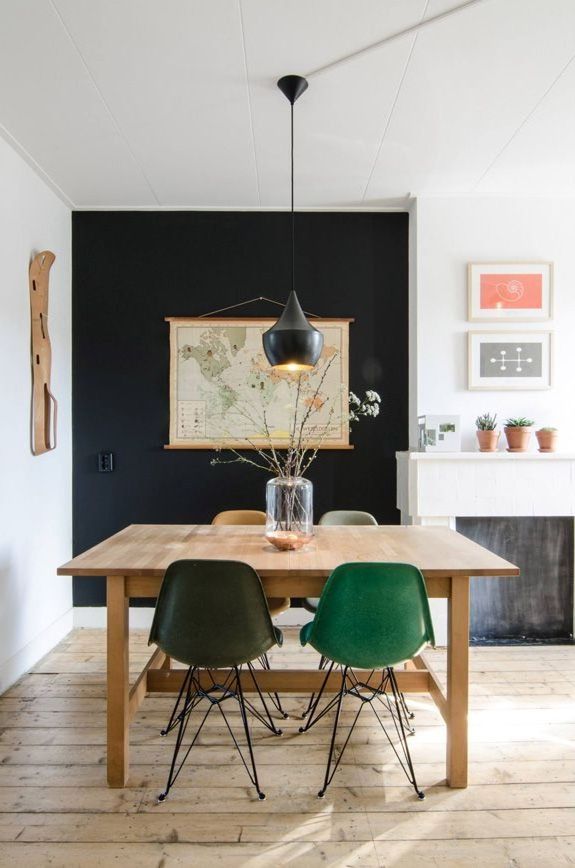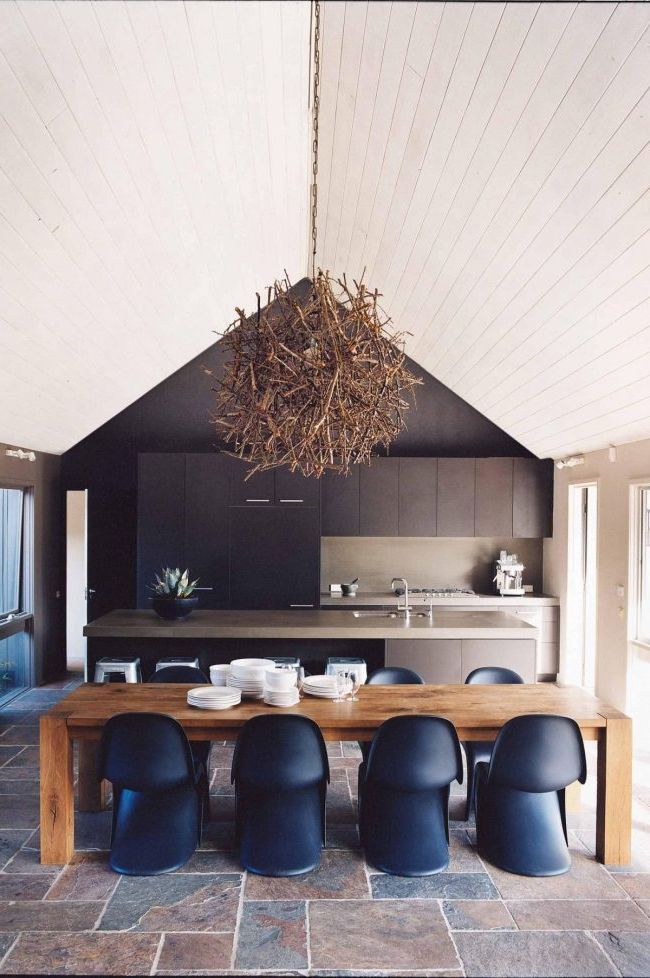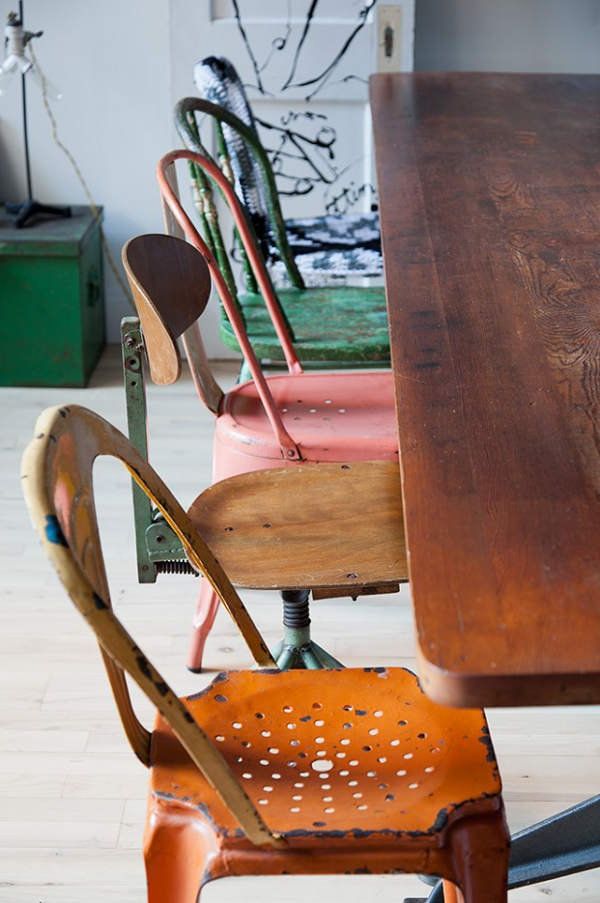 Stools
These chairs are perfect for very modern and even youthful styles. Although the trend has moved them from the American bar to the dining room, it is advisable not to fall into excesses and use them exclusively for dining rooms that merge with the kitchen. These chairs are what they are for, comfort is not one of their advantages.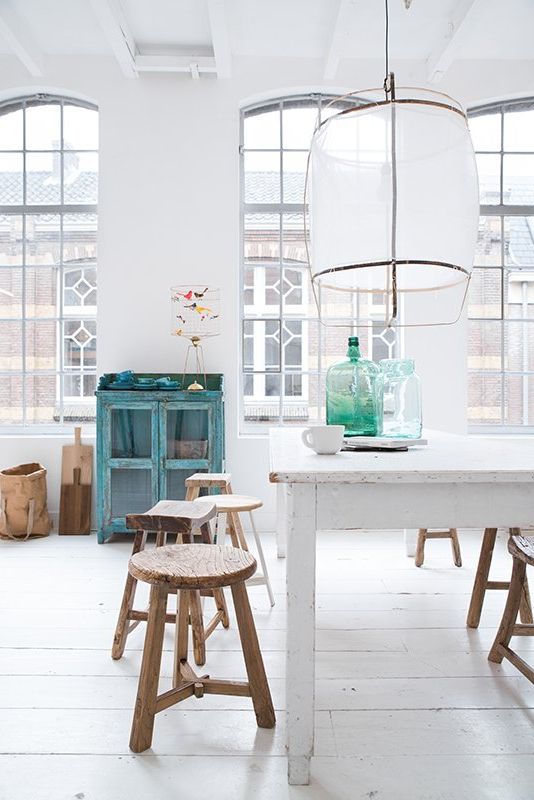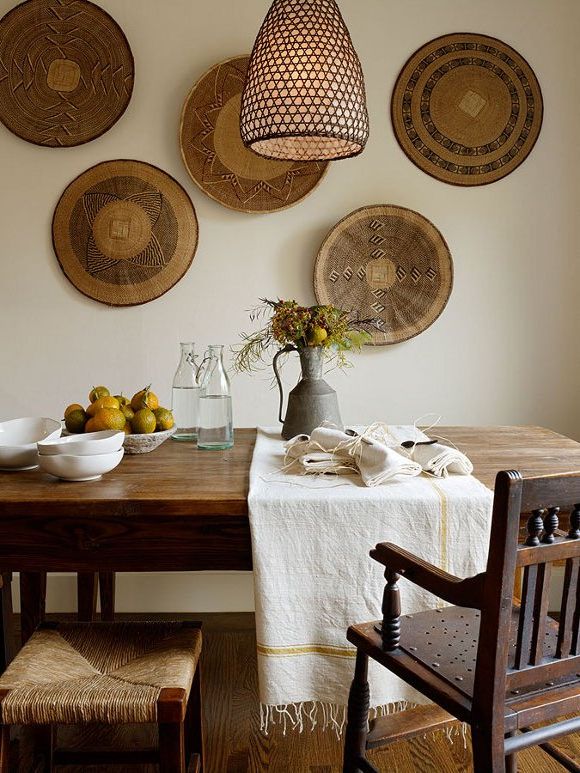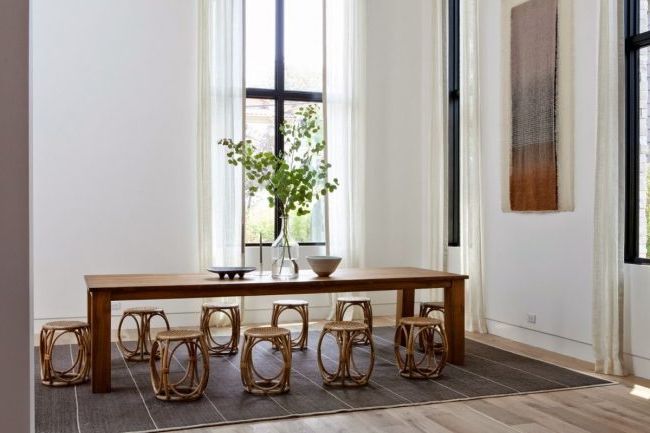 Traditional chairs
The traditional chairs, rather square and with their corresponding backrest, have also been reinvented in terms of designs, materials and colours. Don't be afraid to look boring or classic by choosing traditional chairs for your dining room, there are thousands of models!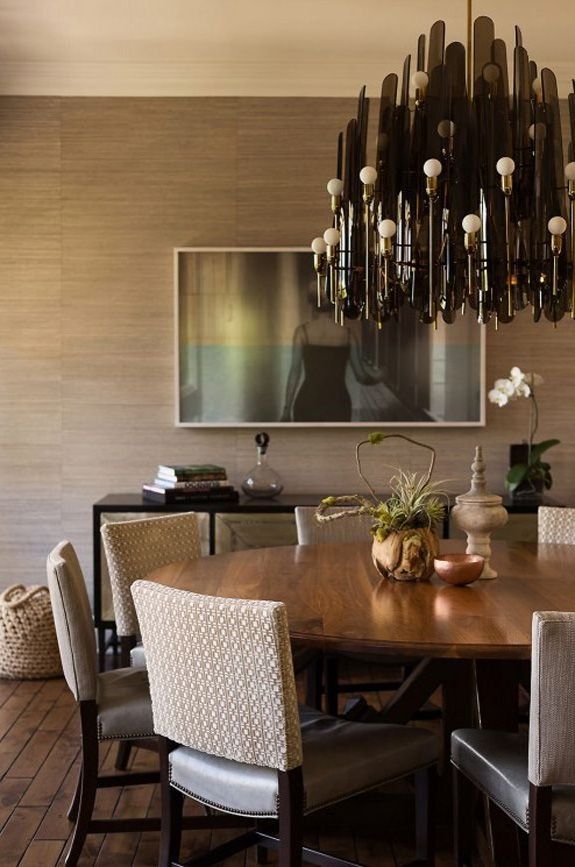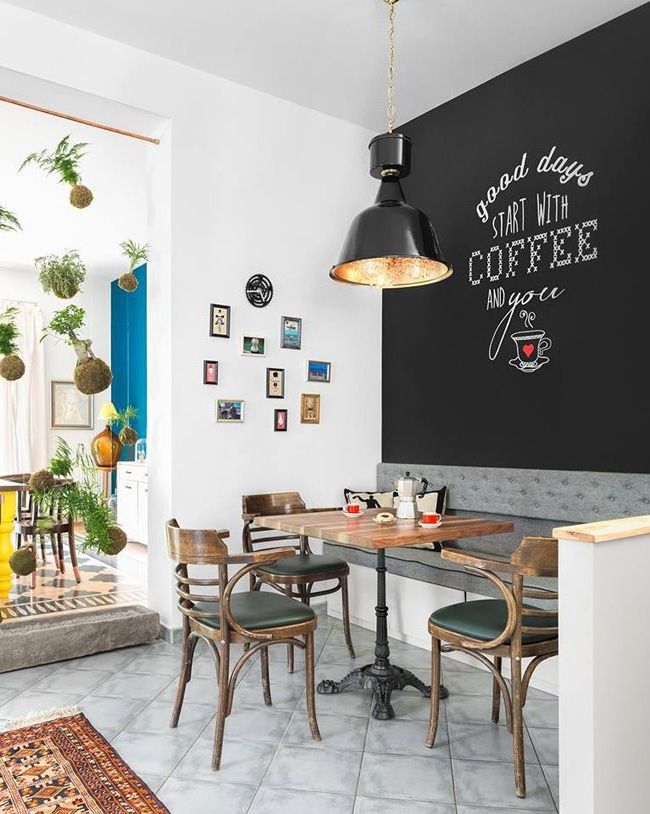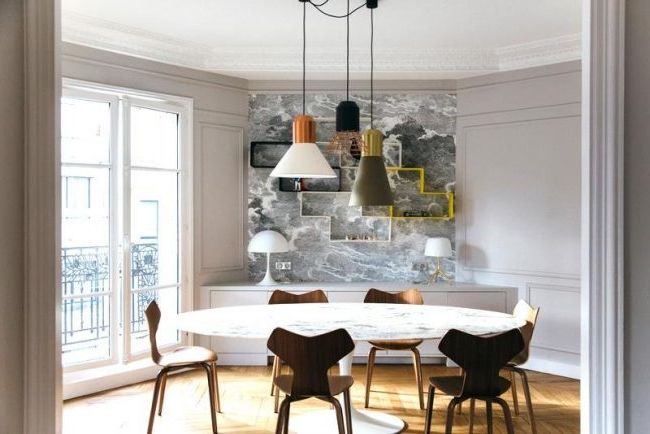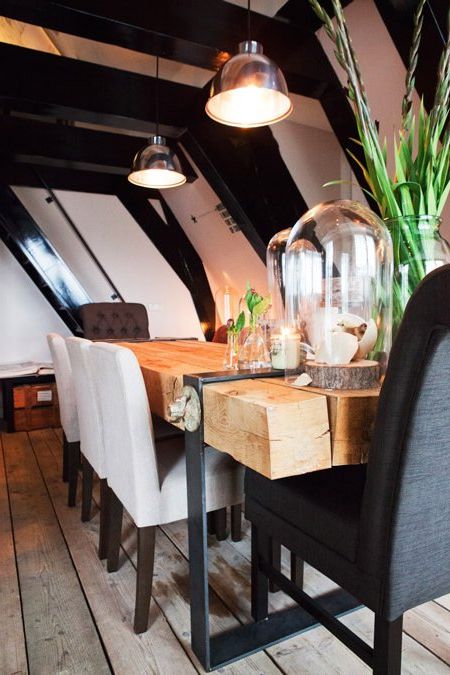 Styles in modern dining rooms
Rustic dining rooms
The rustic style is one of the best trends for dining room decoration. Try a rough-hewn wood table that adds a relaxed, casual vibe to the room. Industrial style decorative elements can be added, which is also a trend. For example, metal lamps and chairs with metal legs have been used here.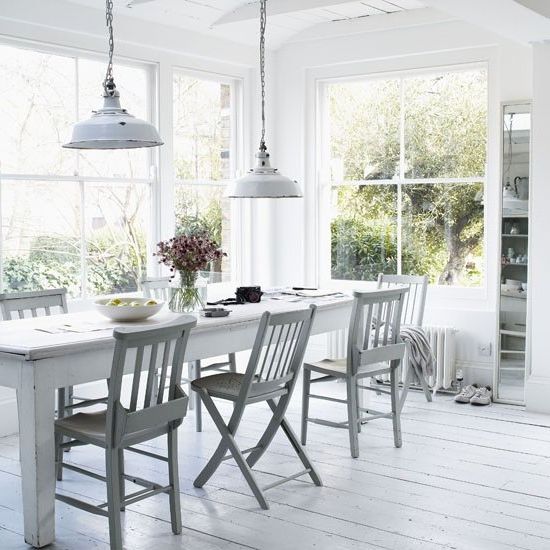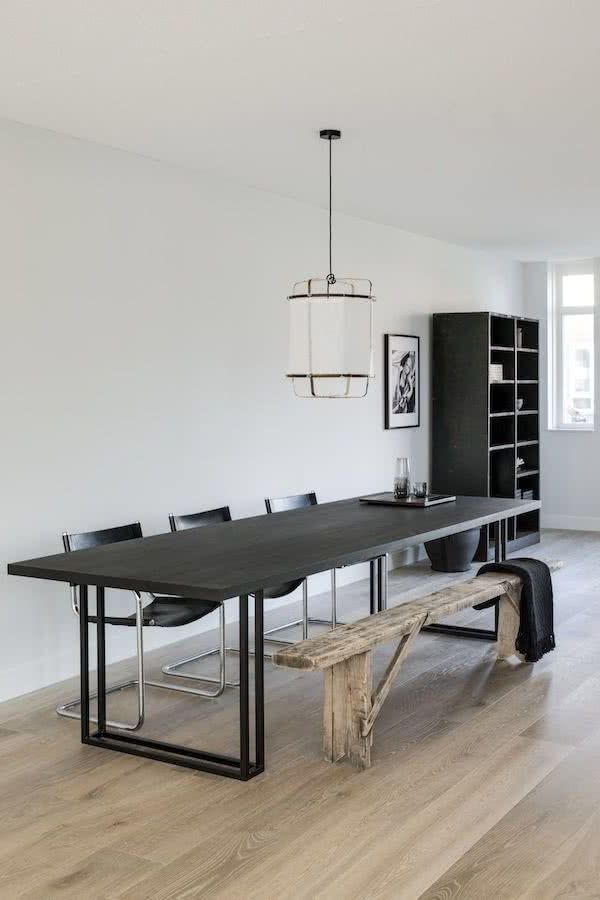 Eclectic dining rooms: mix of styles
A new trend in decoration is to leave behind the same set of tables and chairs. Mixing styles of furniture and fabrics make a dining room a more interesting space. It is a relaxed style of decoration that is gaining more and more ground in the world of decoration.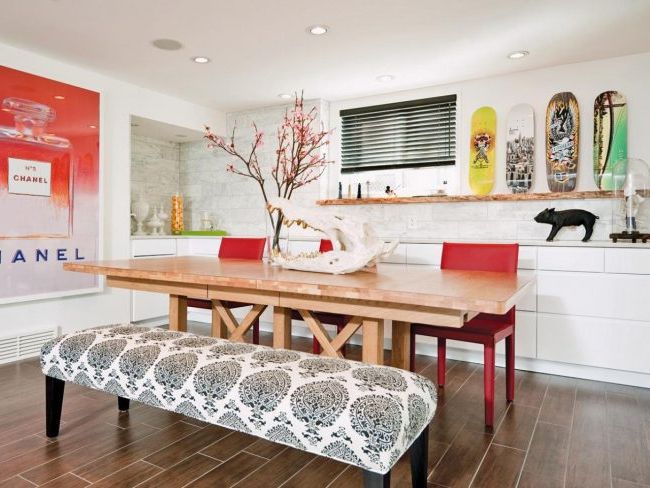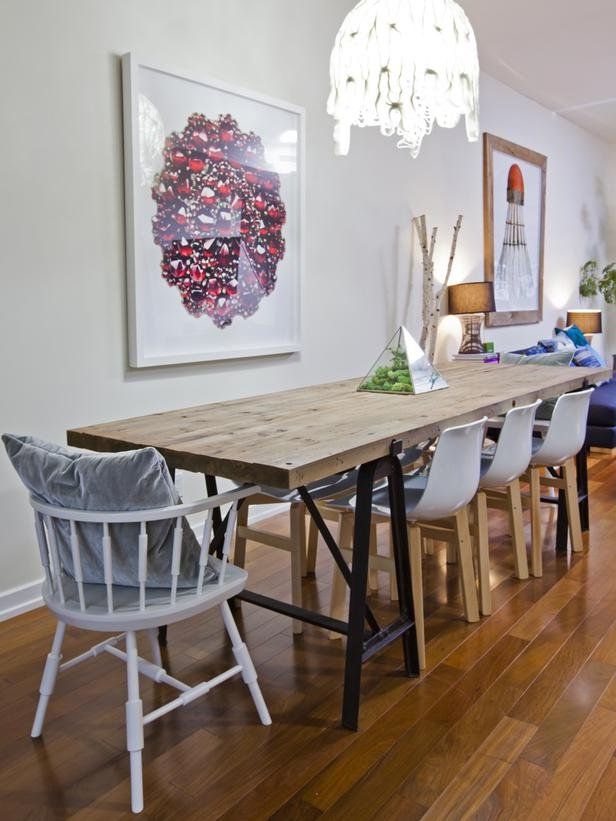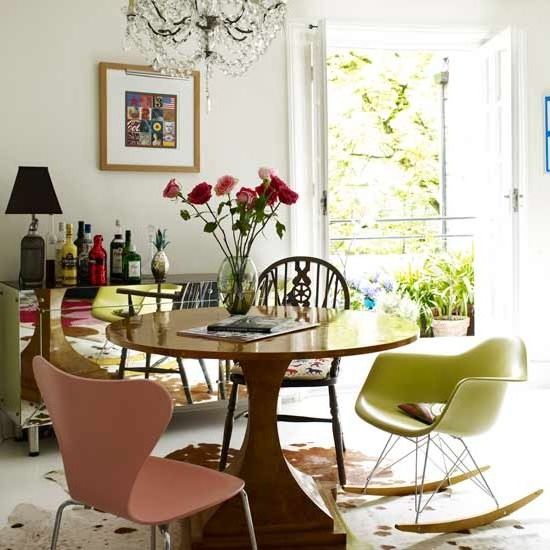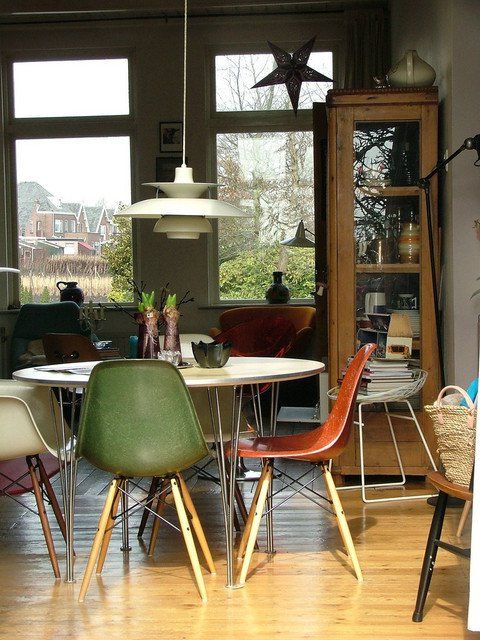 Originality and good taste may seem like two difficult points to achieve, but with a little creativity and getting ideas from decoration magazines, we can get inspired and bring together a lot of elements that together look spectacular like the photos that we will see below.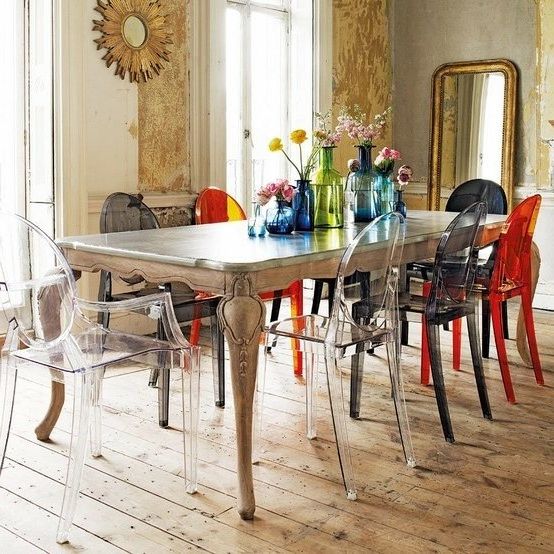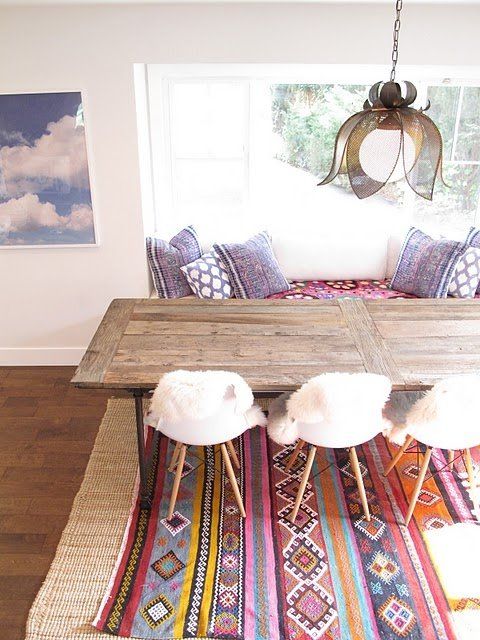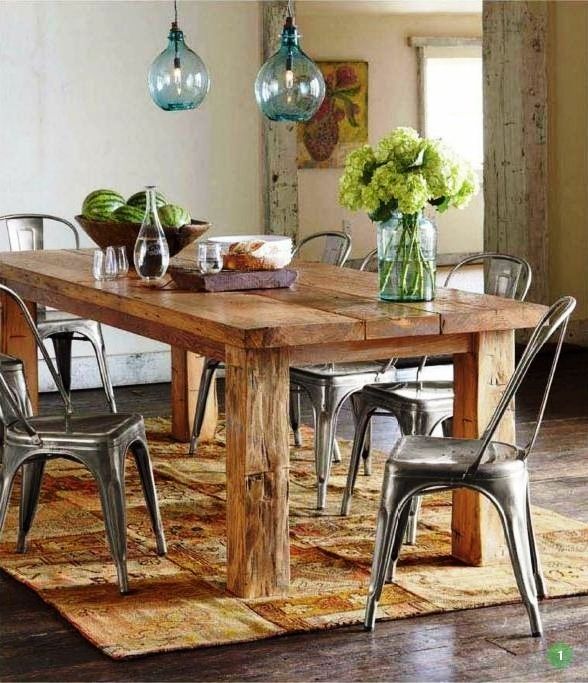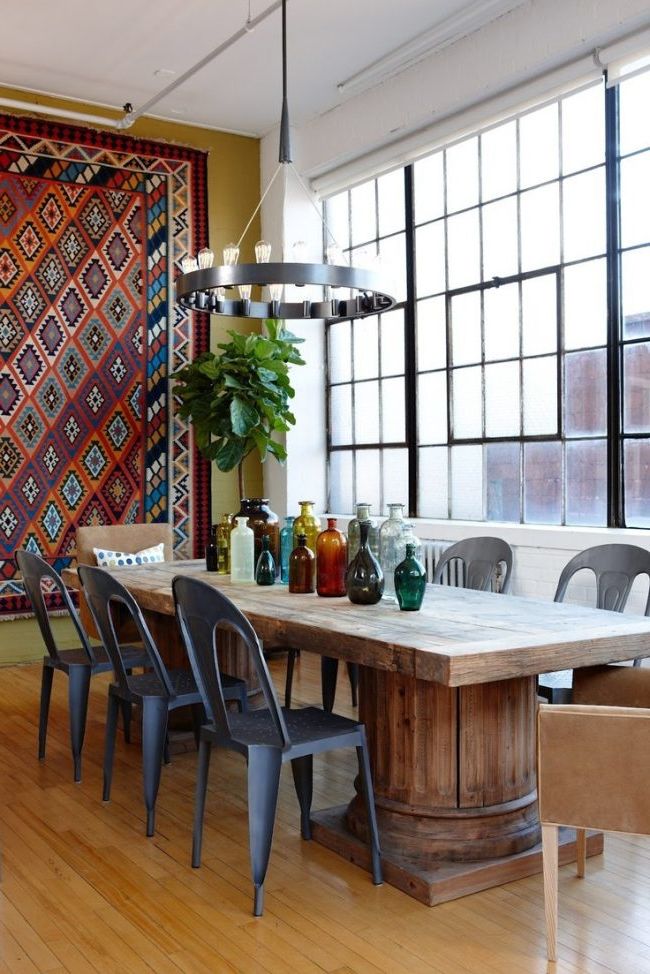 A classic opulent crystal chandelier is not necessary to create an elegant dining room. You can create a unique piece, for example, this chandelier is a collection of spoons and forks. Perfect in a well lit room.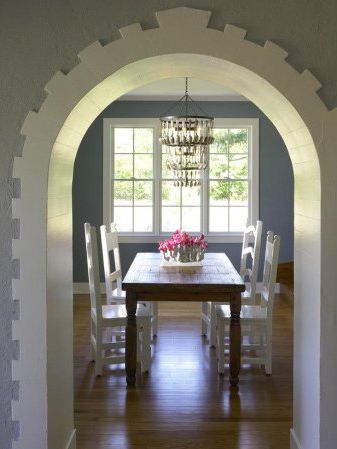 Vintage modern dining rooms
The retro or vintage style is increasingly popular in decoration, as it has the gift of giving spaces a lot of personality and charm. It is not an empty and sterile decoration, quite the opposite. And best of all, we can decorate our spaces with little money, since this type of furniture and accessories are usually found second-hand at very good prices.
In this kitchen-dining room, the period elements are maintained, such as the cabinets and the old wooden floors. The color scheme as well as the design of the furniture creates a retro 50's and 60's style dining room.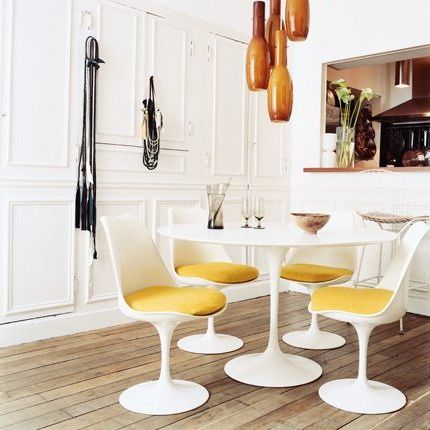 A quick and easy way to achieve a vintage dining room is through wallpaper in an old-fashioned and classic design. Use colored furniture that matches the wallpaper, in this case white, gray and lime white. In the center a painted wooden table, something characteristic of the vintage style in decoration. Lastly, cushions in different fabrics and retro prints.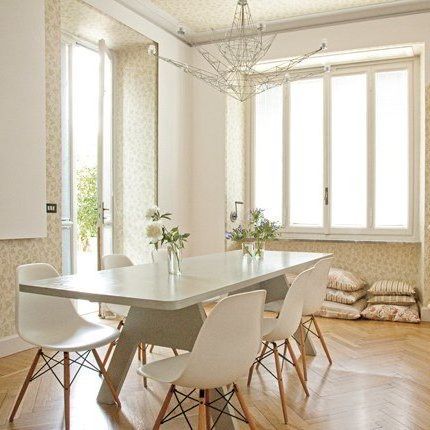 You can create a dining room in this interesting style through original design furniture. In this dining room the scattered furniture looks like works of art, a typical characteristic of the 60s and 70s. On the white walls black and white photographs. As main elements, a glass table and wicker chairs from the 50s.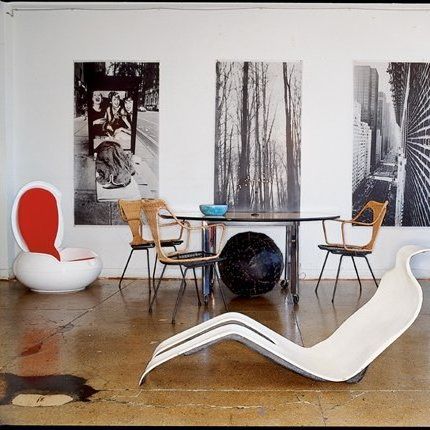 Table and chairs with a tone, in a typical design of the 50s and 60s. As lighting a large paper lamp, another typical retro element. The dining room has a small separation from the living room, which maintains the same style. Rustic rugs and curtains from the 60s and 70s, and colorful fabrics for cushions like brown, yellow and orange.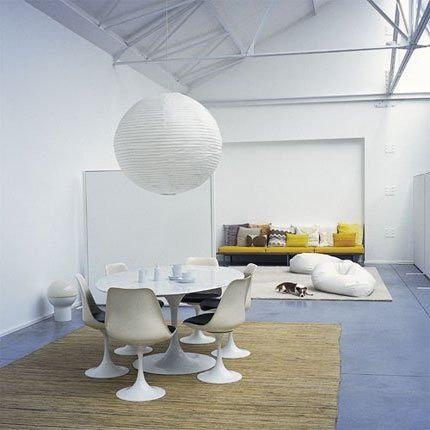 Create a well-lit dining room in white, with small details in a contrasting color, to enhance some materials such as that of the table, which is an imitation of marble, widely used in previous decades.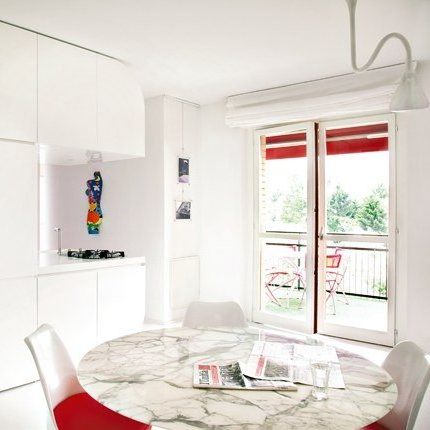 In the photo below, a retro and eclectic style has been achieved at the same time, since chairs from other decades have been used, all different from each other, but achieving a very interesting visual effect.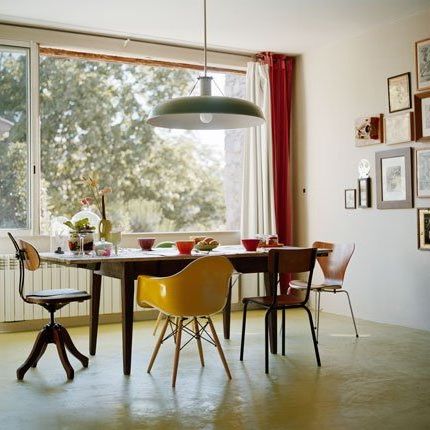 Minimalist modern dining rooms
This is another classic style that never goes down, and this year they can also be a design and decoration option. Simple lines and few decorative elements recreate a very calm and orderly space.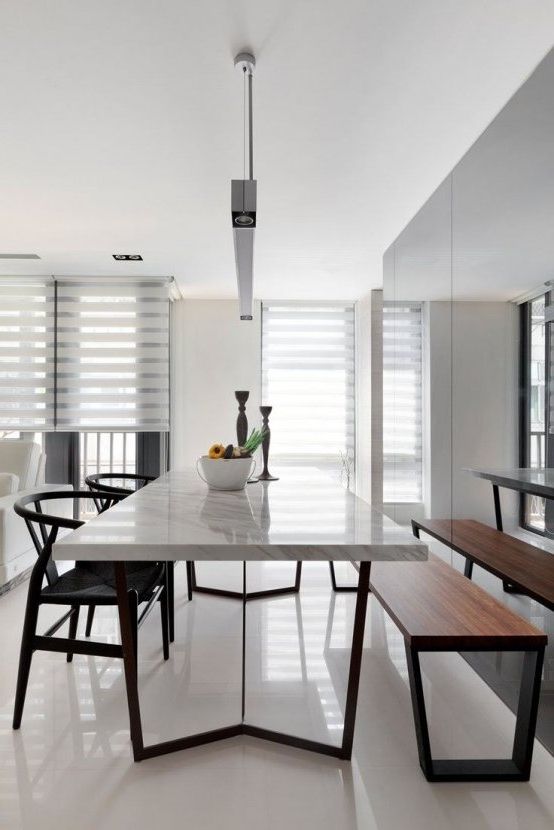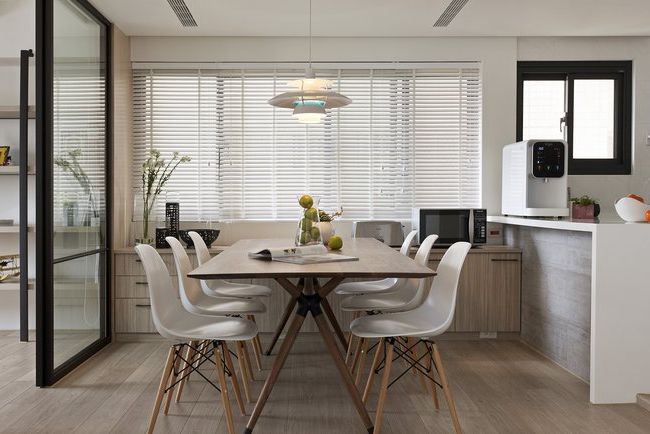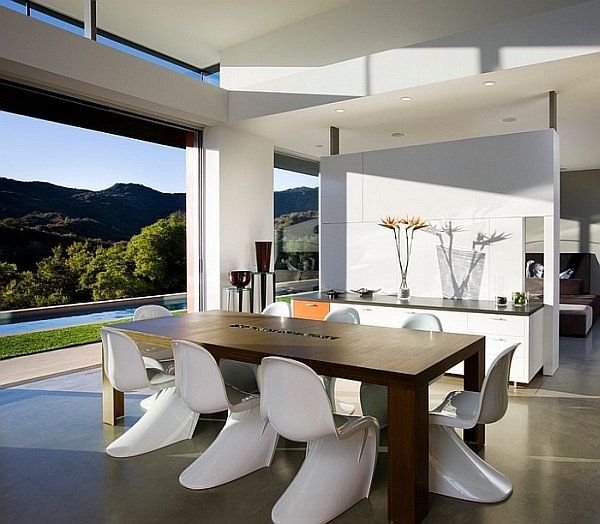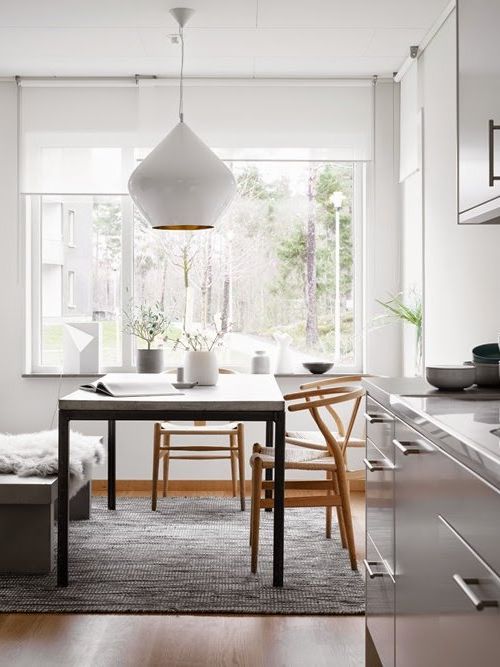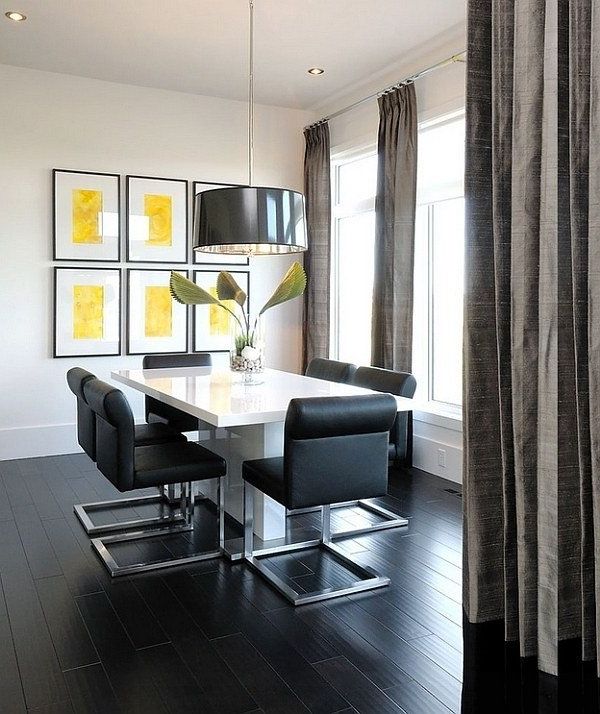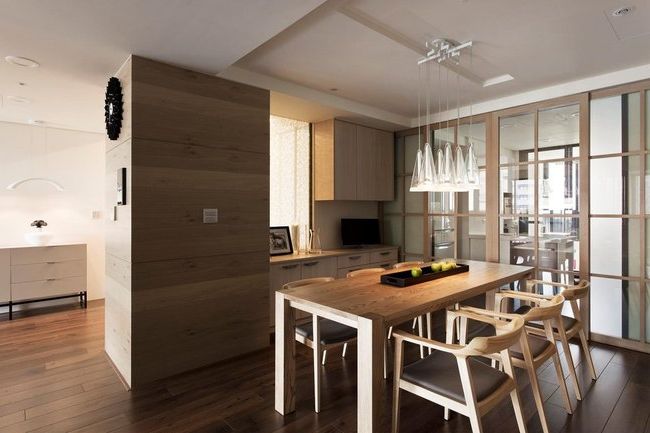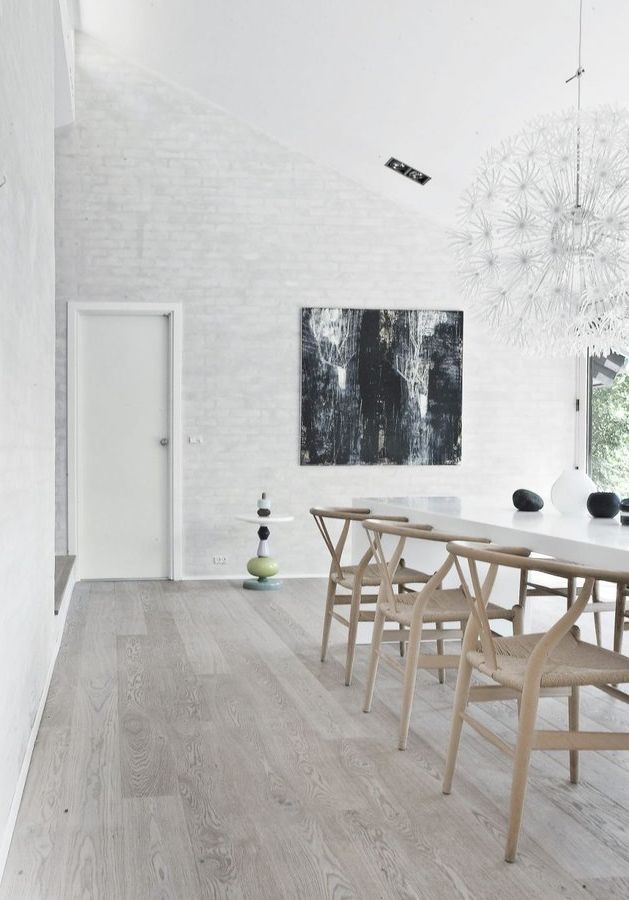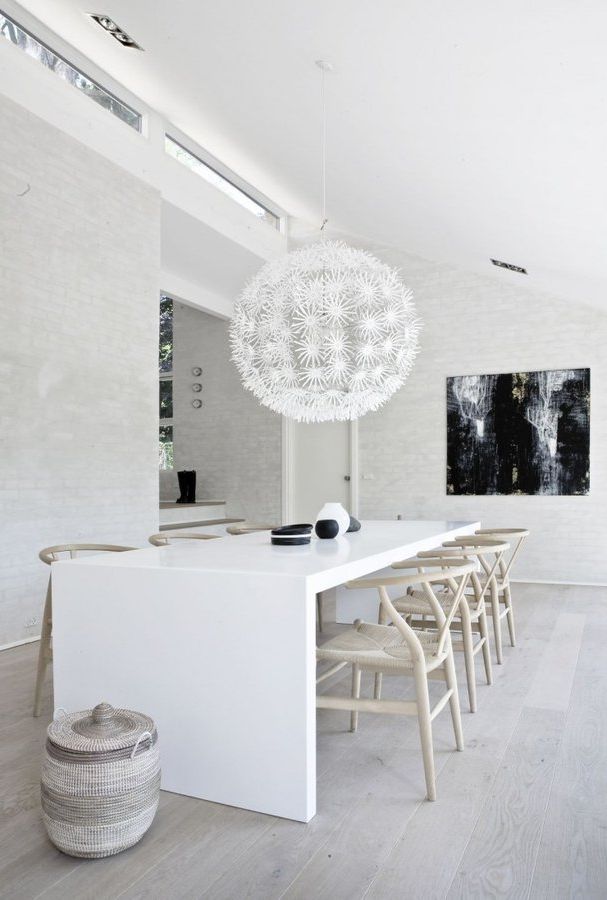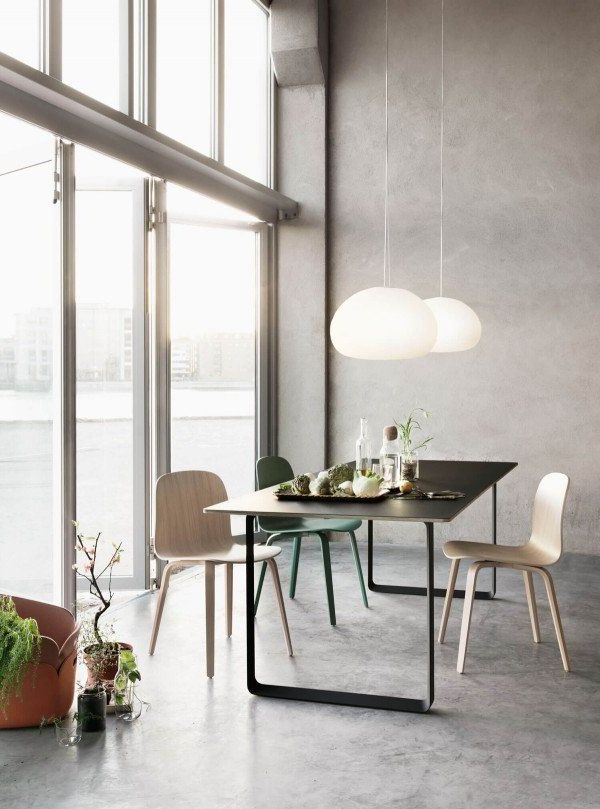 Colors in modern dining rooms
The dining room is one of the most important rooms in our home, since it is the space where we can relax and meet with friends and family. That is why adequate decoration is important, which allows us to relax and feel comfortable.
The color options are very varied and there are many shades that are perfect for the dining room. We just have to use them correctly, make them fit into our home and maintain a balanced environment.
White modern dining rooms
The white color is a classic for any room in the home, and in recent years it is having a great boom. Combined with natural wood it looks fabulous.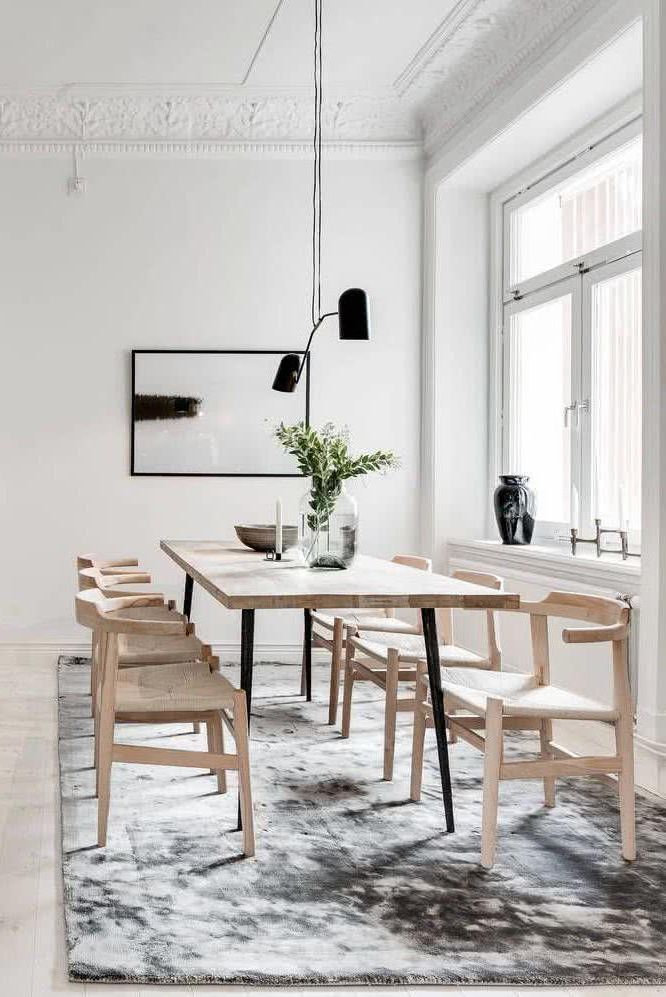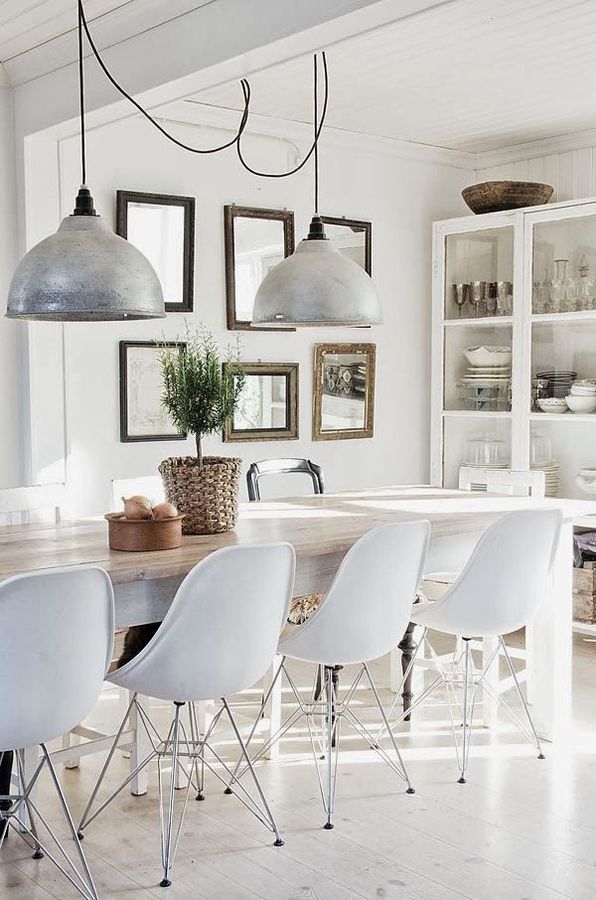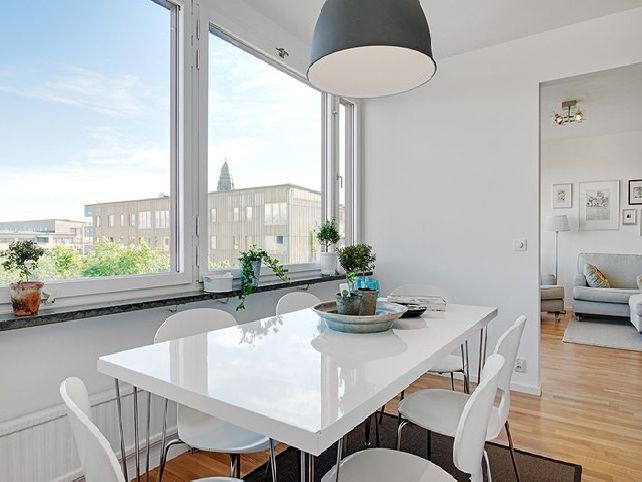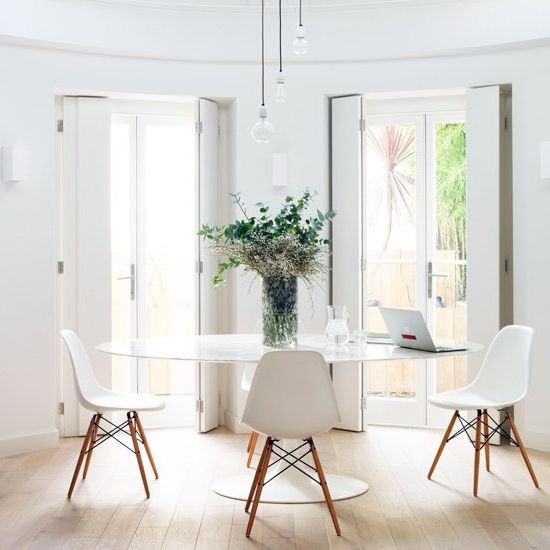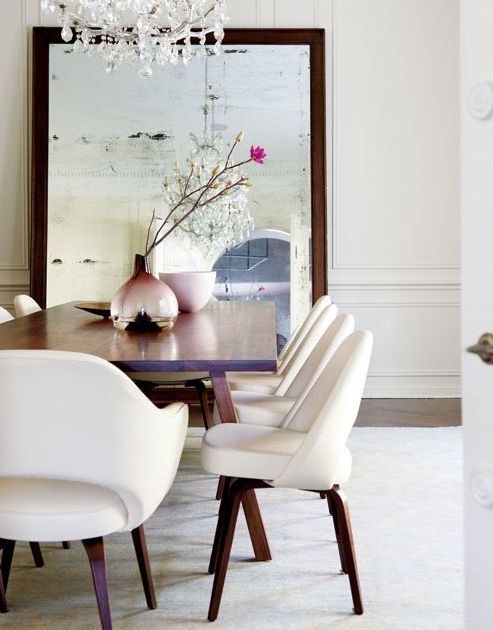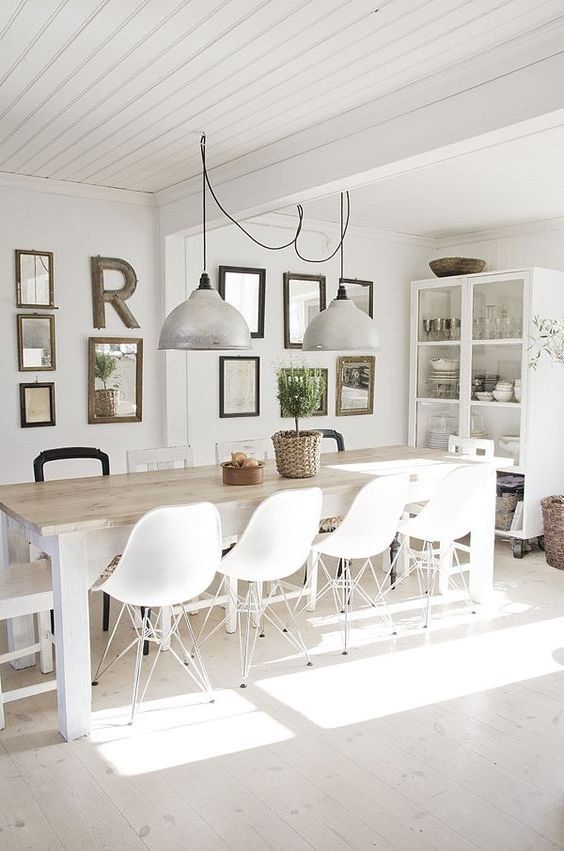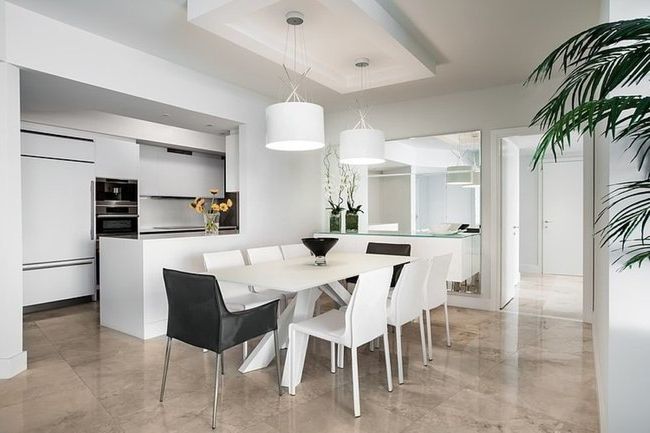 Dining rooms in orange
Colors generate emotions in people and we must find a perfect one for our dining room, which also creates a space where we want to stay and share moments with our loved ones. You can use the color on the walls or use the color on accessories, such as chairs, curtains, table sets, etc. We show you some examples.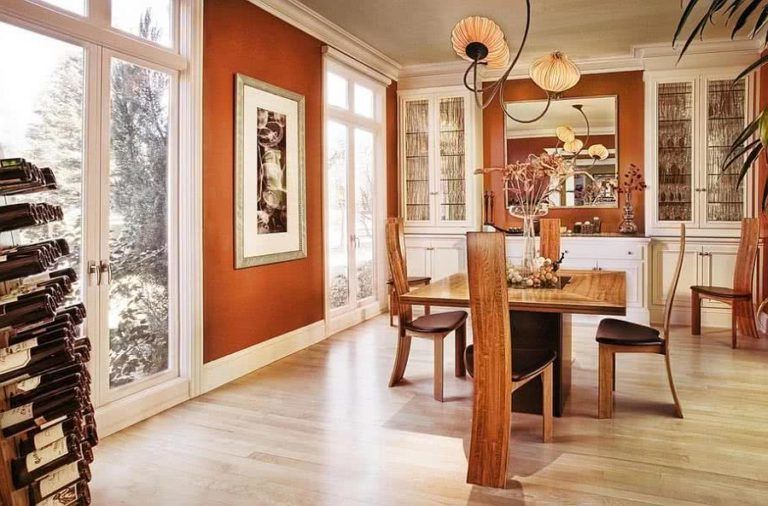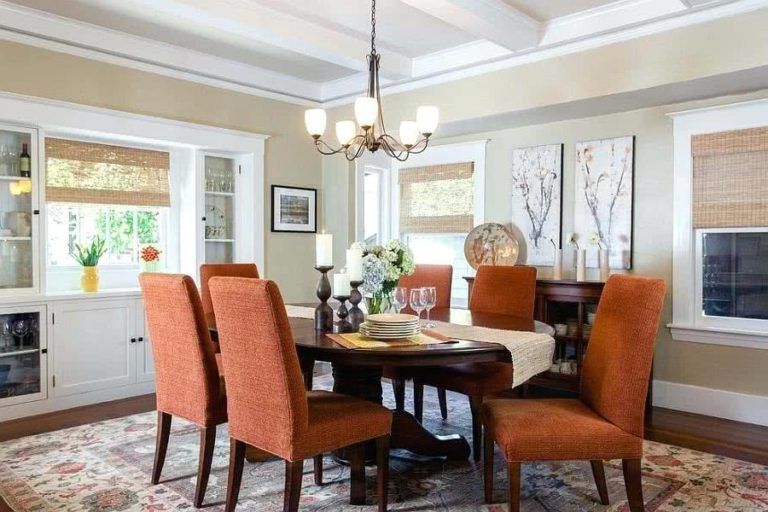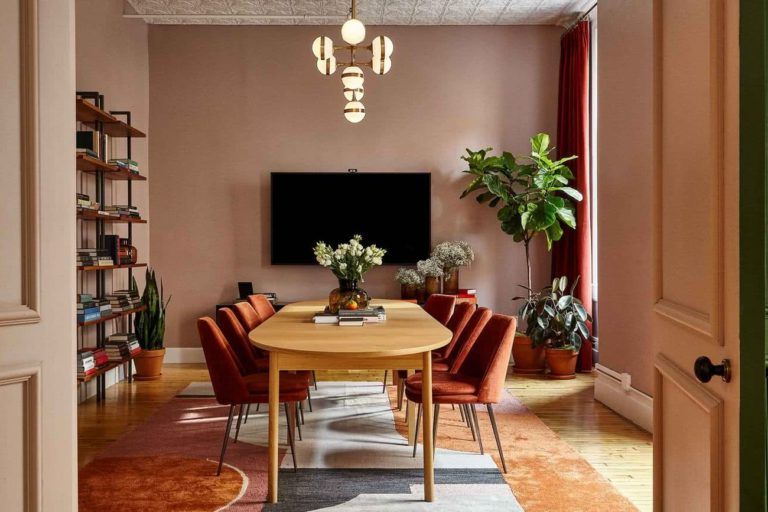 Dining rooms in blue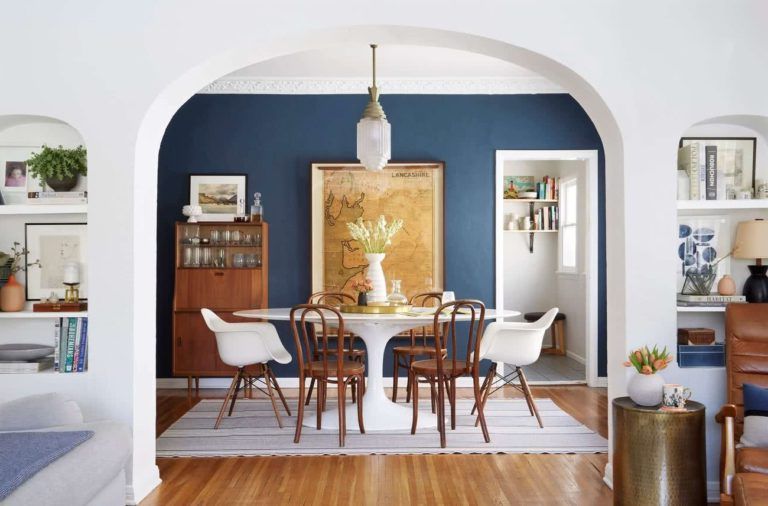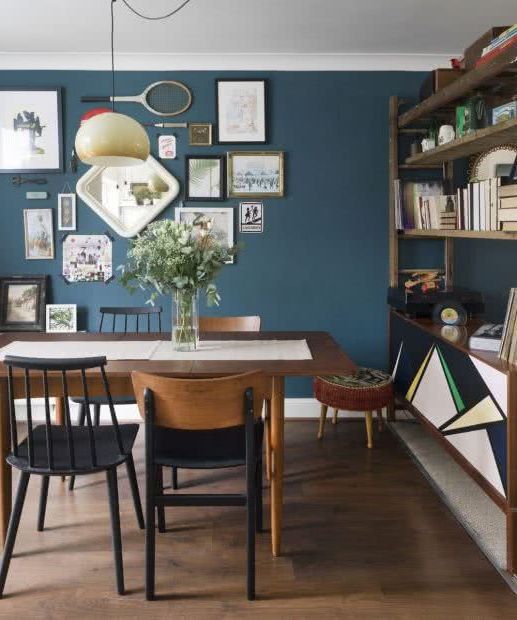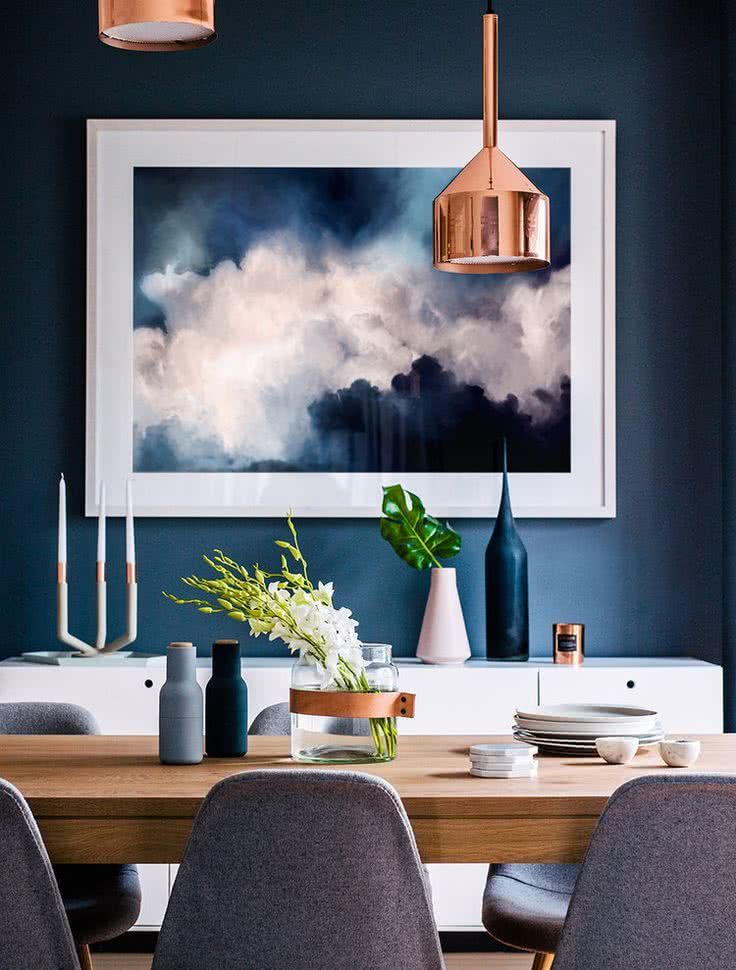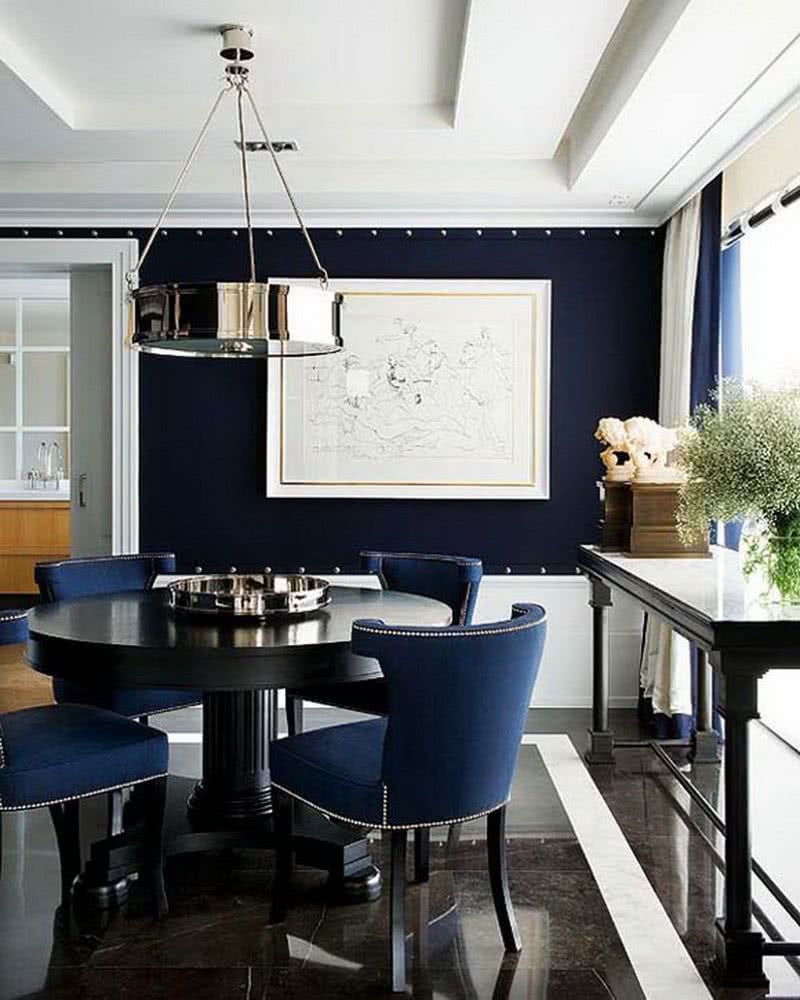 Dining rooms in yellow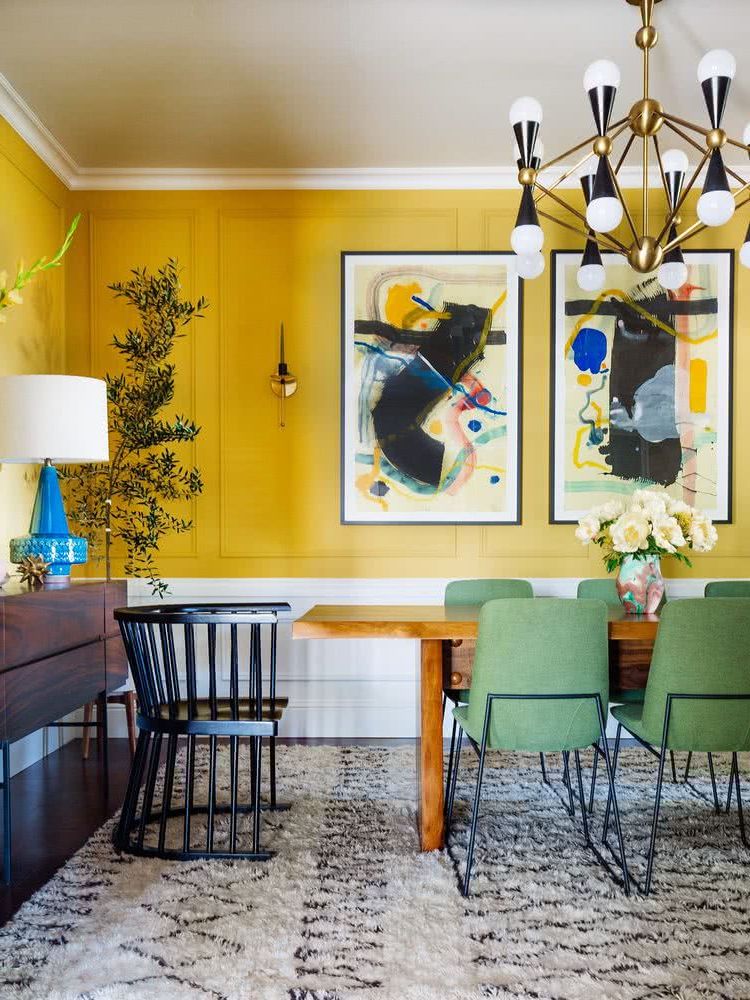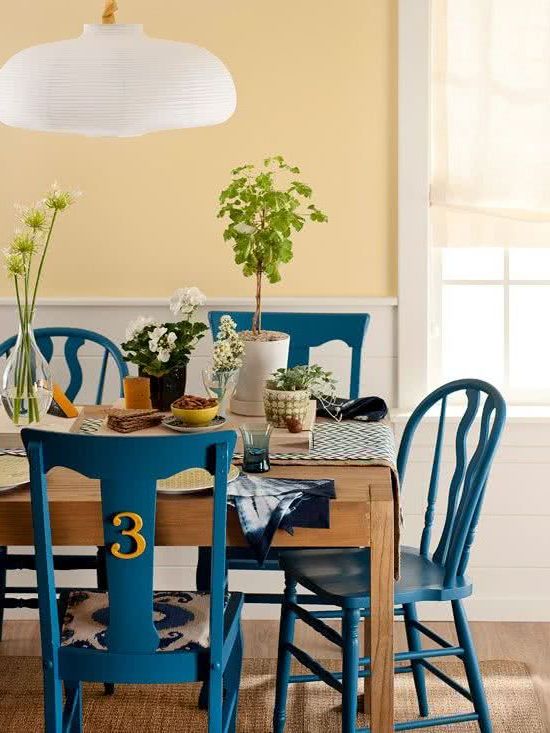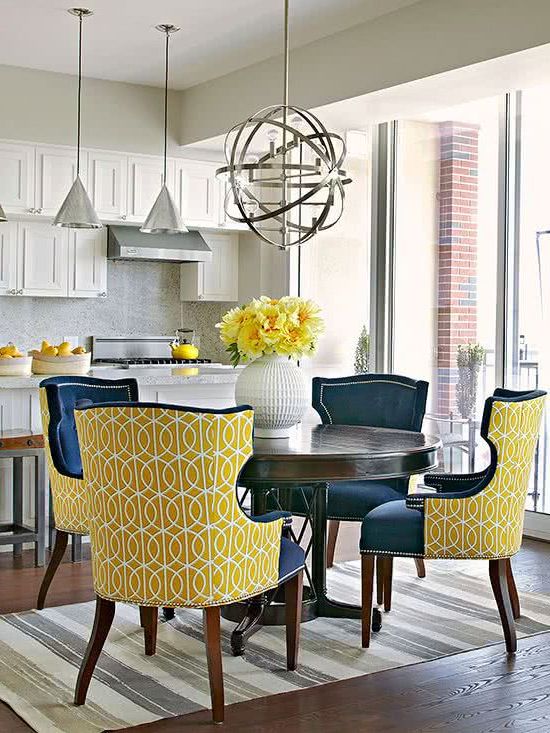 Dining rooms in green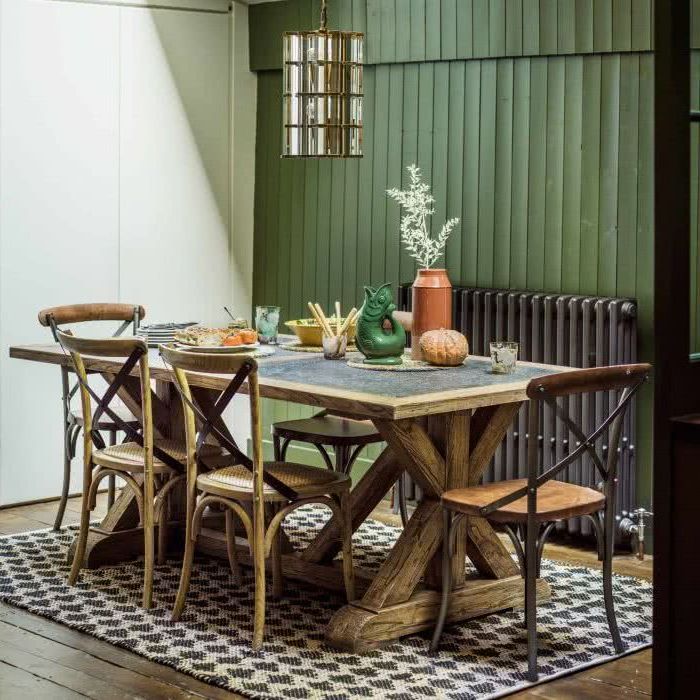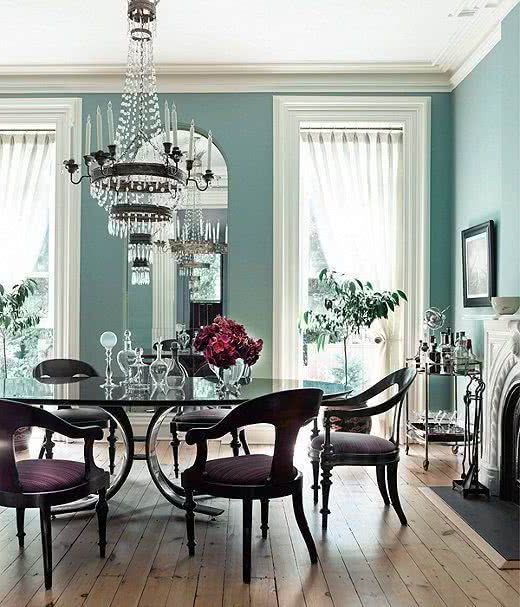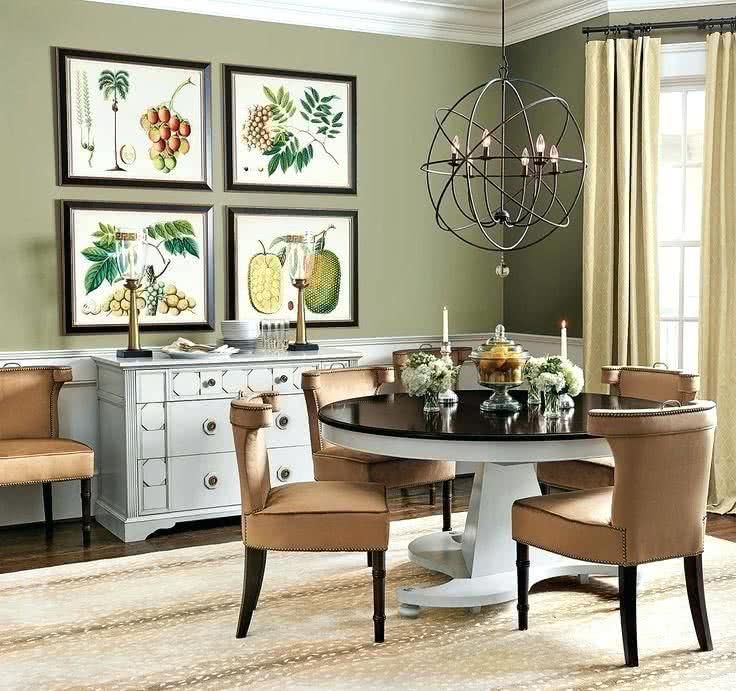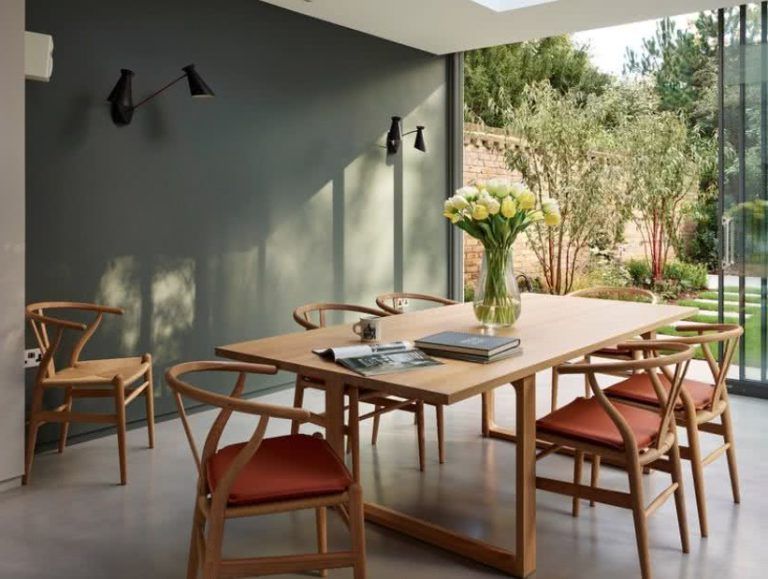 Dining rooms in pink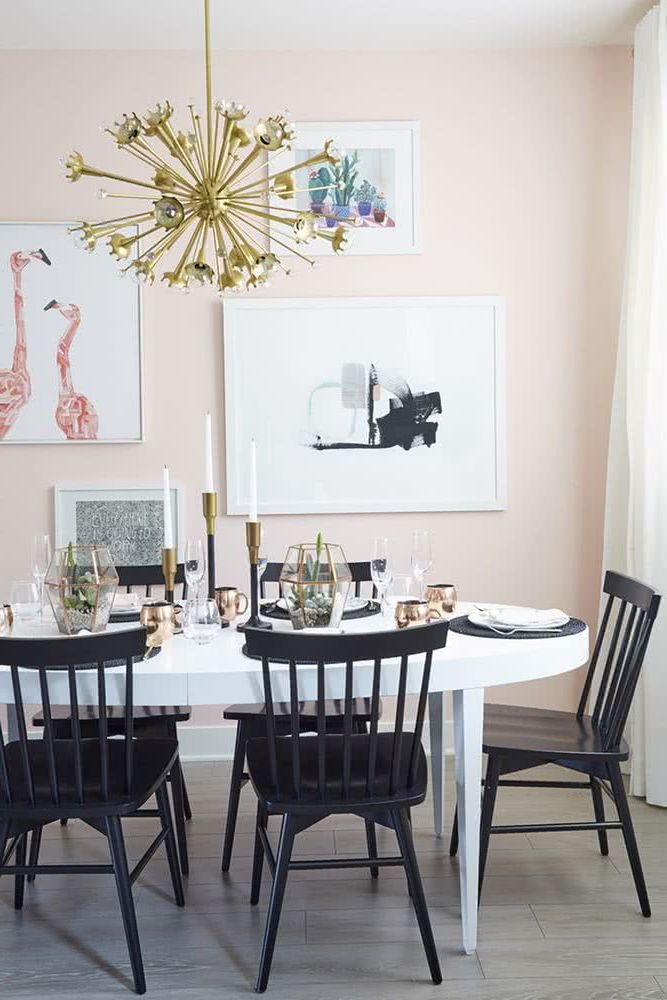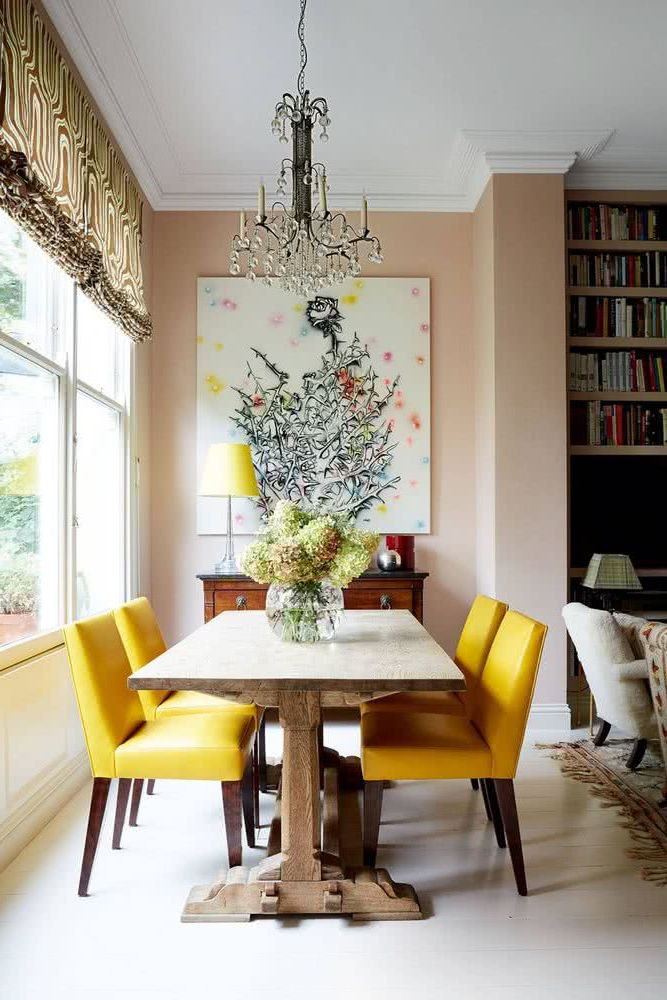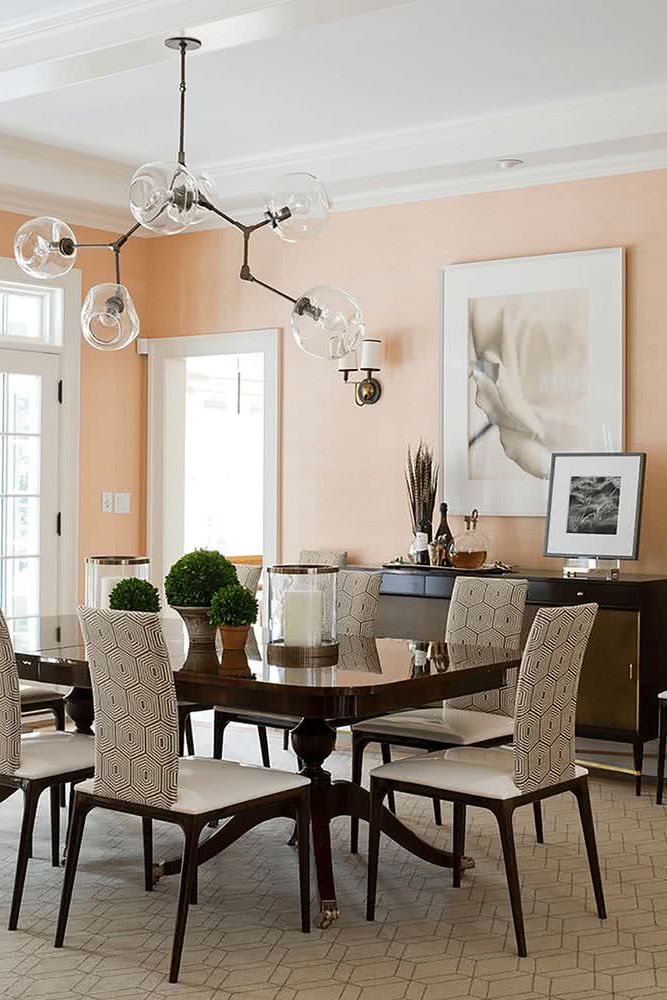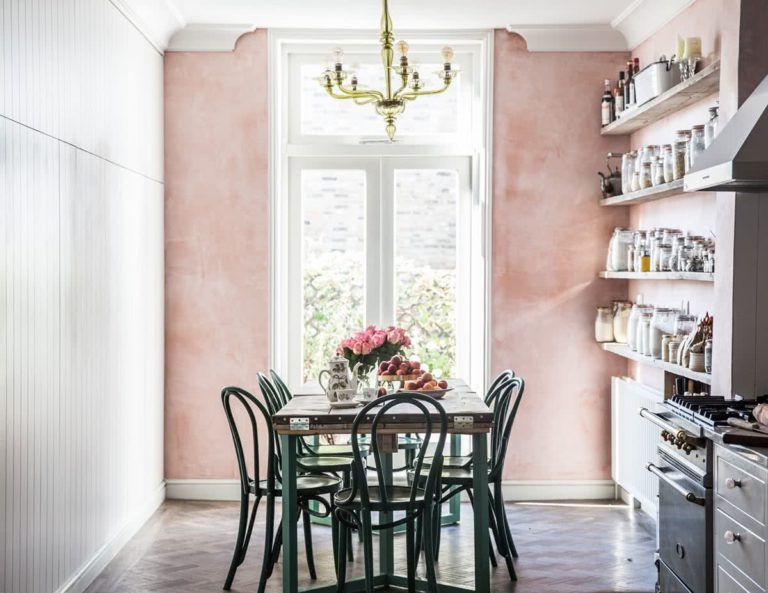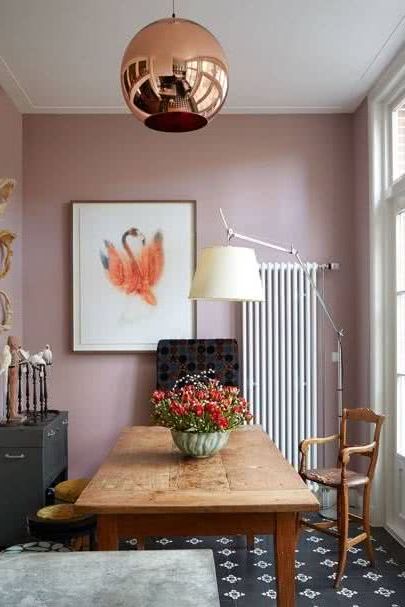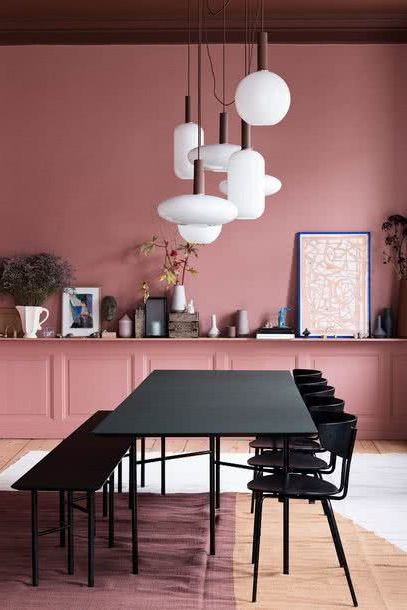 Gray dining rooms