Oriental decoration has been installed in Western culture for a long time, since it is a source of inspiration for many who seek harmonious spaces that transmit serenity, and that also keep us in contact with natural materials. For this reason, we show you a series of Japanese houses that can serve as inspiration.
Indirectly, minimalism is present in this ancient culture, since generally no space in the home is overloaded, rather only what is necessary to live comfortably and to be able to move easily through the space is used.
Foreign
Traditional Japanese architecture is easily recognizable and all the ancient temples and structures look absolutely fascinating. Modern Japanese houses, on the other hand, are very different, but retain some characteristics of their predecessors. Large windows and openings, pitched roofs, straight and minimalist lines.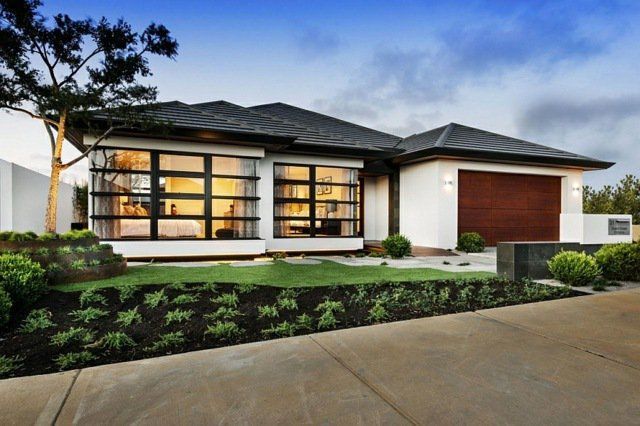 The roof of this house recalls the inverted eaves typical of old Japanese buildings.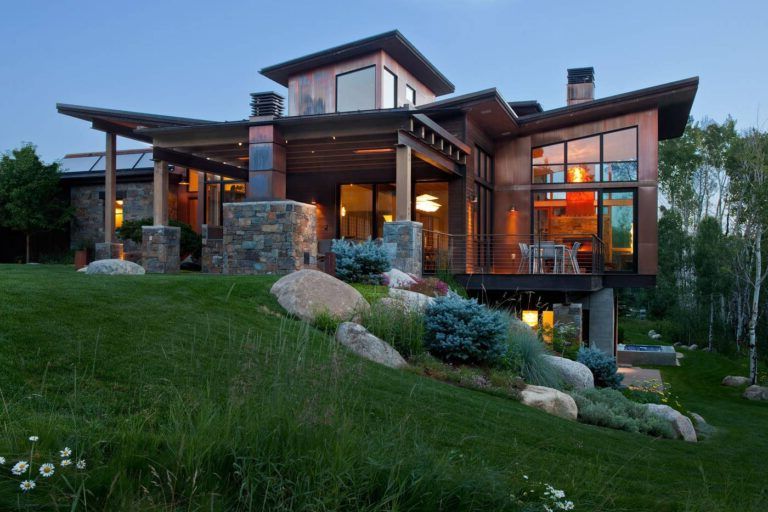 Open areas to the garden with tatami floors.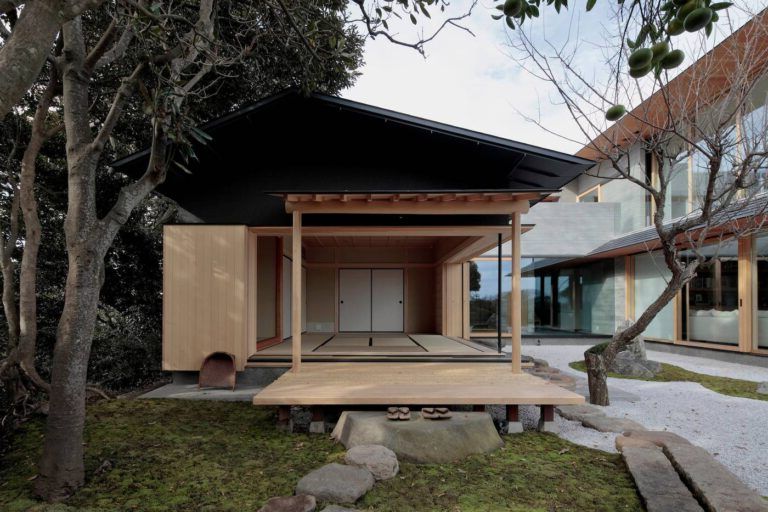 The connection between interior and exterior is emphasized through a series of hybrid spaces that are neither completely interior nor exterior and are sheltered under the extended roof.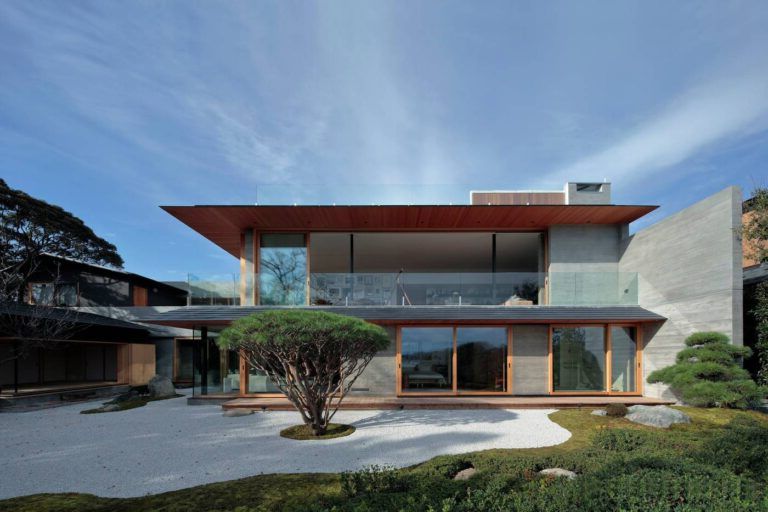 Japanese style entrance
Like most Asian homes, shoes must always be removed at the entrance of the house. However, Japanese-style entrances are a more explicit way to remove your shoes.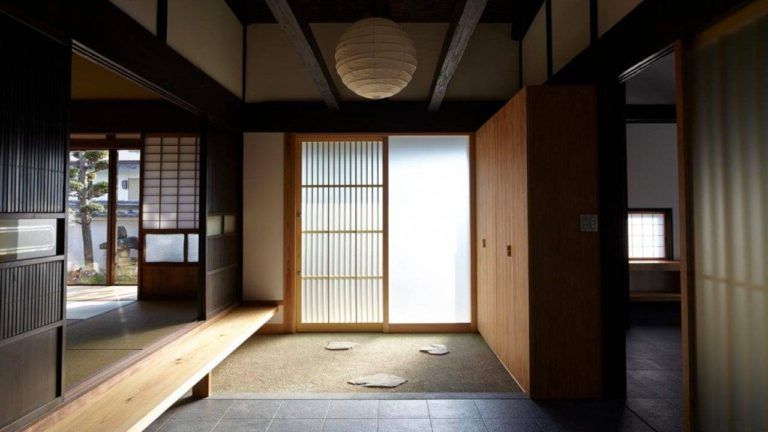 The entrance of the house is often set at a lower level than the rest of the house so that dust and dirt cannot enter. It is also a good transition space between inside and outside.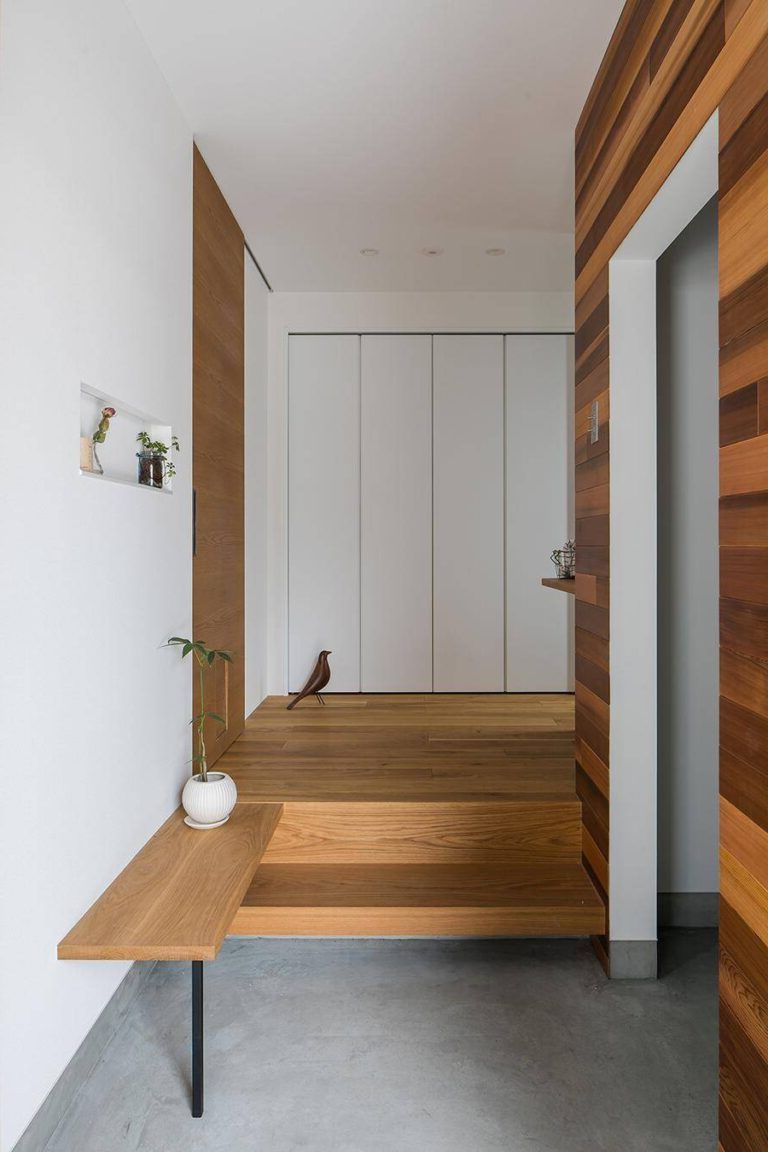 Materials
Regarding textures and materials, natural elements are used. For the interior of the home, we basically find linen, cotton and silk, as the most characteristic fabrics. For decoration and general construction, rock gardens, bamboo decorations or sliding wood and paper doors are some of the most characteristic points of the culture.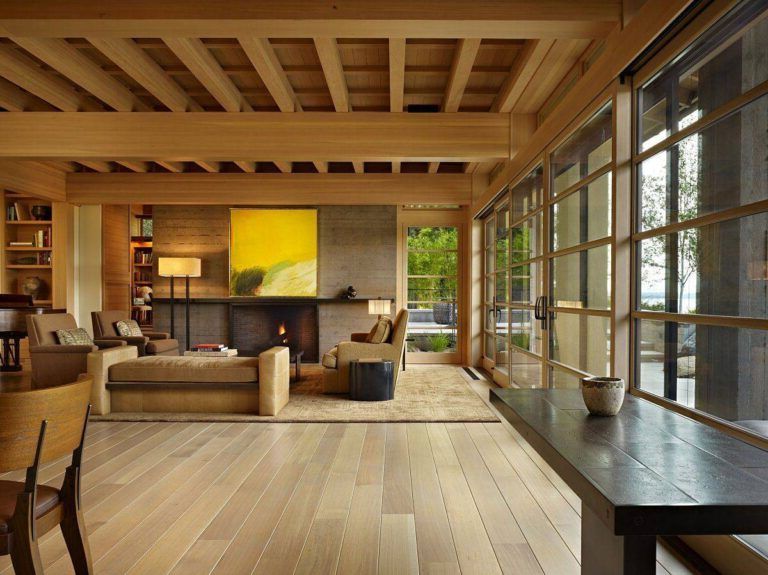 This modern Japanese house also retains several classic details in its design, most notably the sliding shutters and the extensive use of natural wood throughout the project.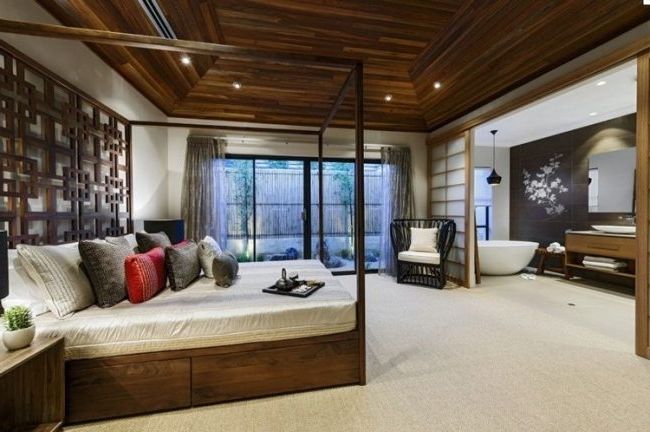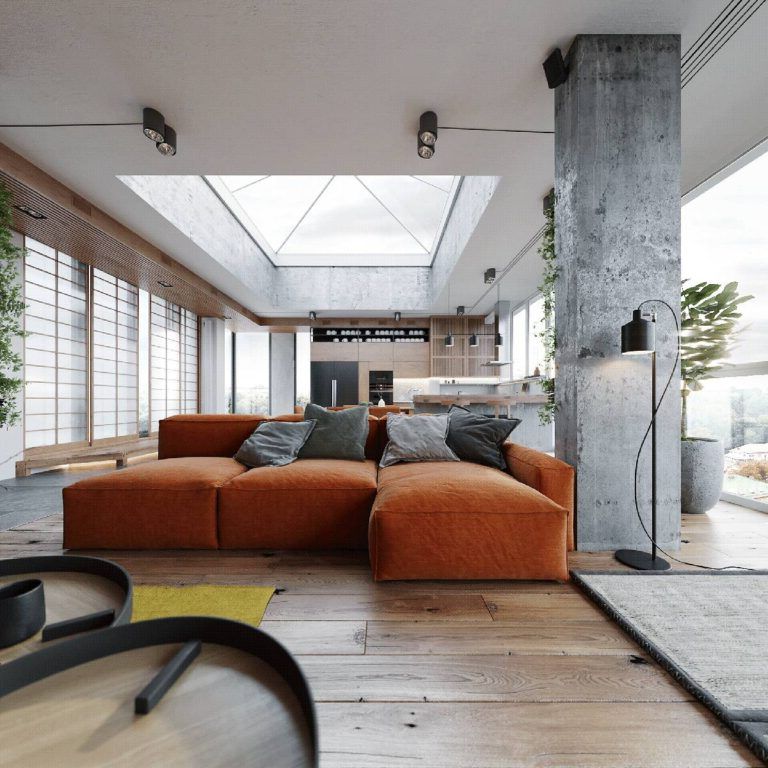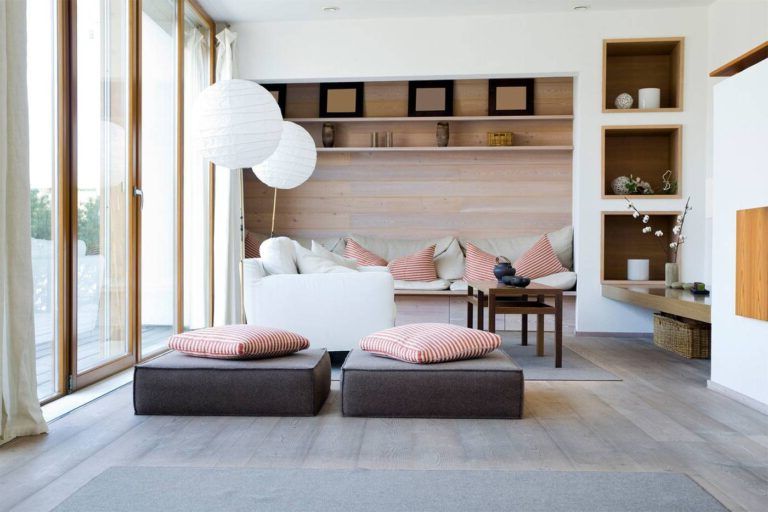 The warm wooden surfaces and furniture are distributed throughout the house creating a very simple but at the same time pleasant and welcoming environment.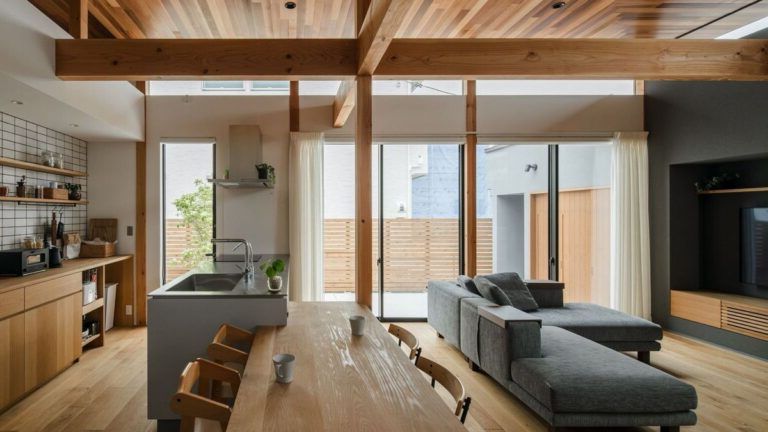 In the project of this house that we see below, the family wanted to combine oriental and southwestern American architecture, in a way to flow with the lifestyle of New Mexico, where it is located.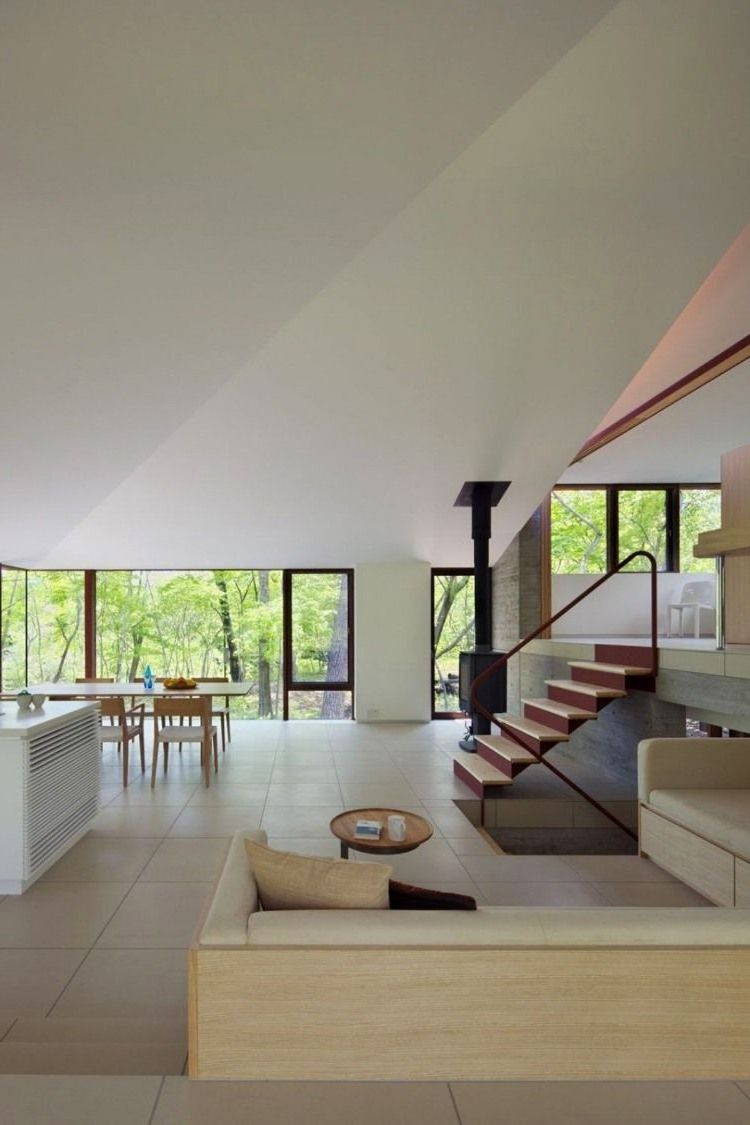 The architects took inspiration from traditional Japanese design using gabled roofs and handcrafted carpentry.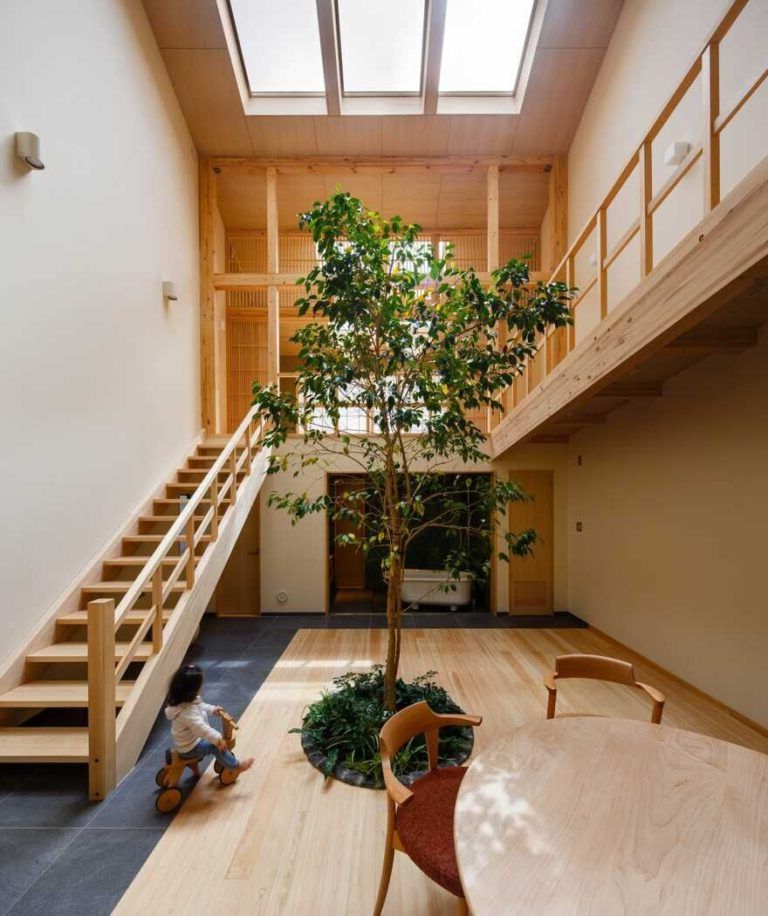 Wood is prized in Japanese interiors, and is used naturally, rather than painted. Wood stain protects and preserves the natural beauty of wood as opposed to paint.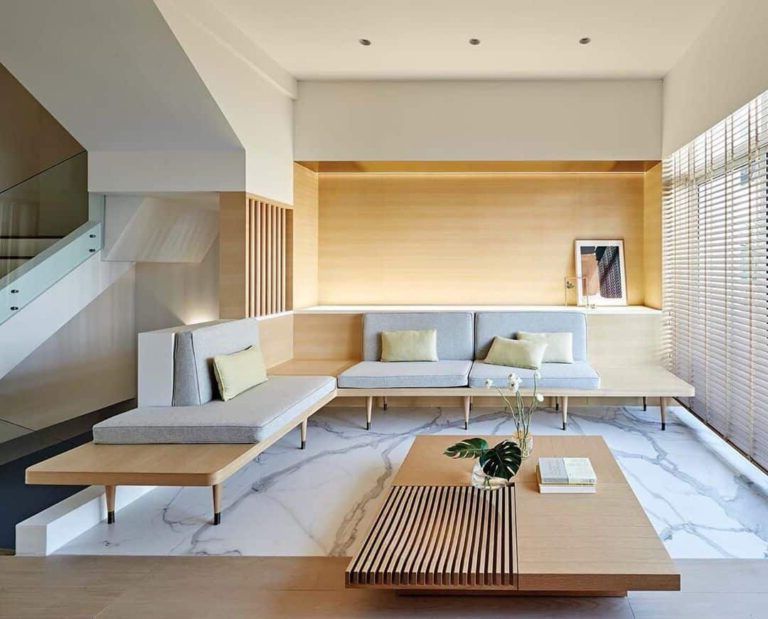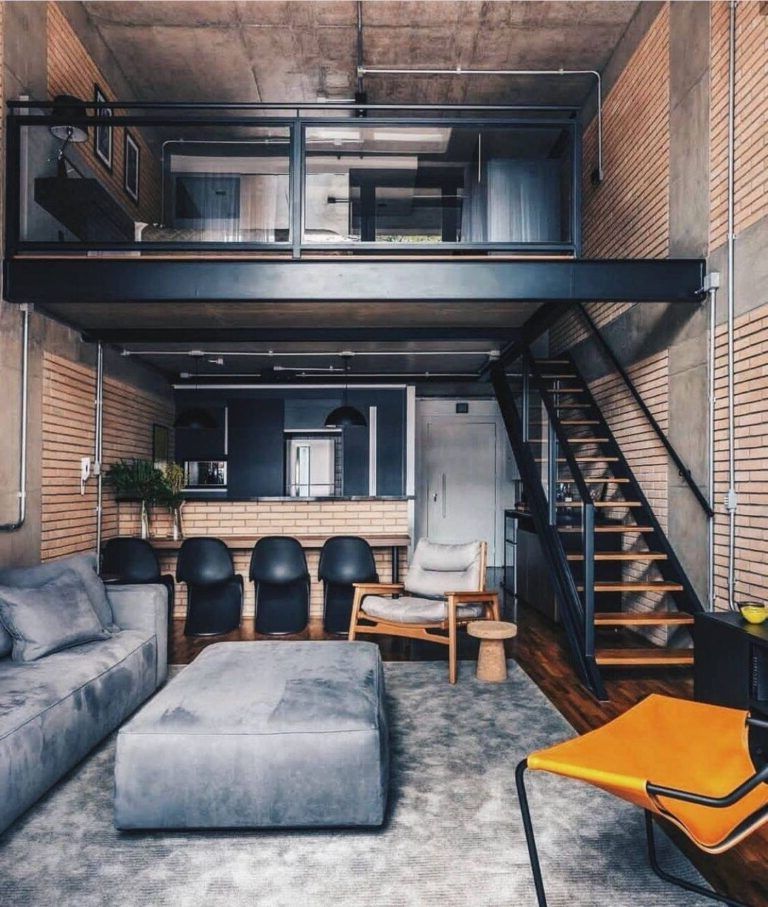 Traditional Japanese houses have tatami mats in the rooms, unlike parquet flooring, as it is cool in summer and warm in winter. When freshly placed, there is a fresh herbal scent wafting through the room that calms the mind.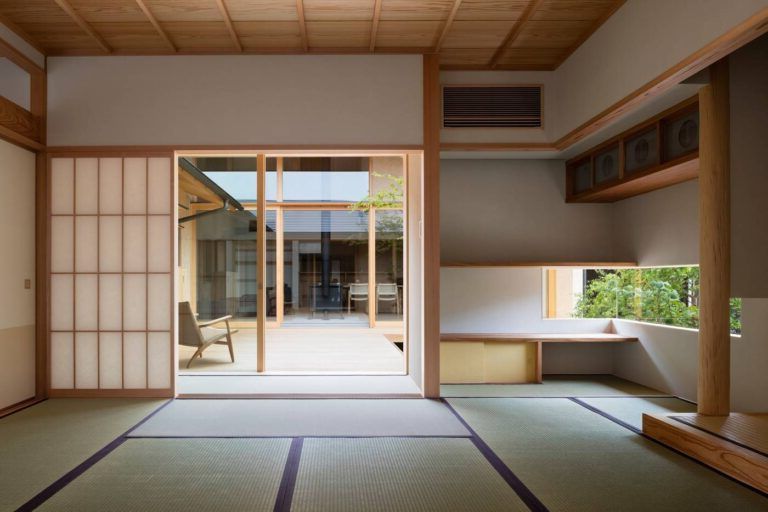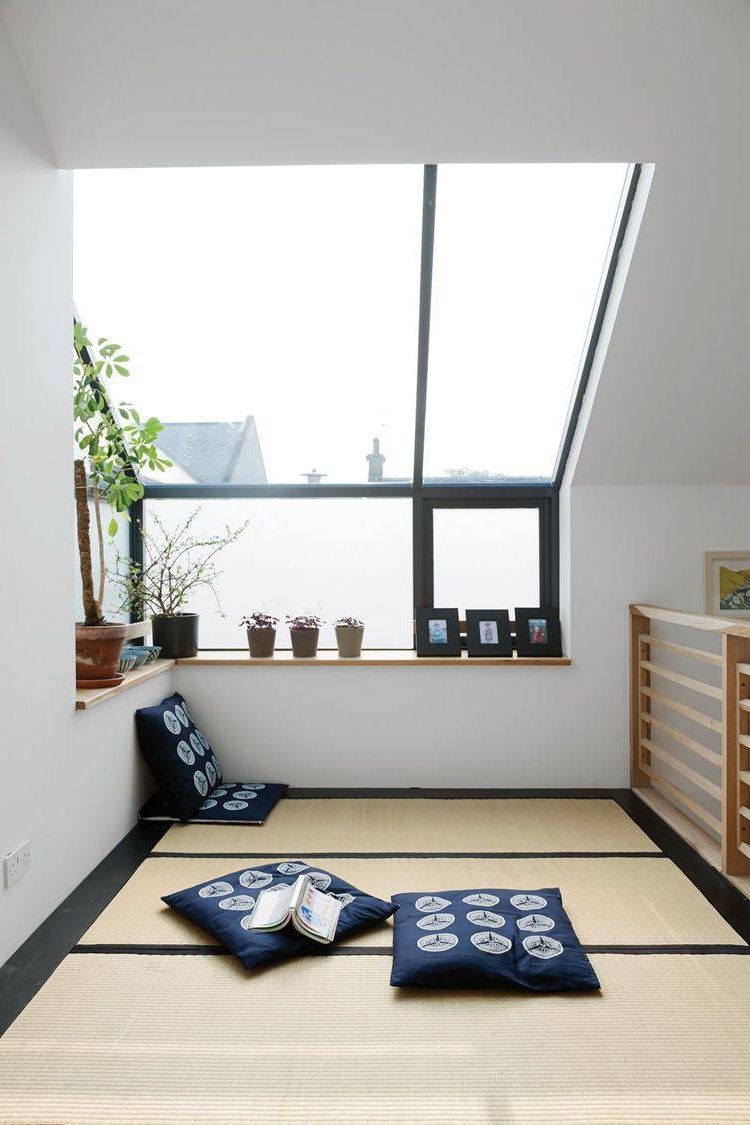 Japanese sliding doors
In the interiors, sliding doors are generally used, which consist of a frame made of wood, with translucent rice paper or some similar material.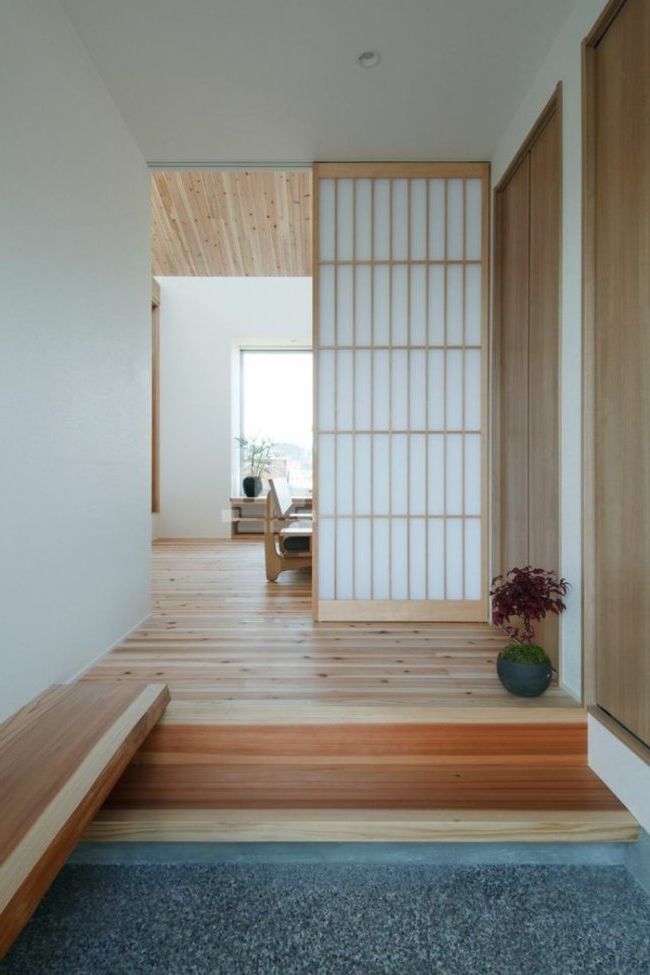 One of the most iconic elements of Japanese interiors is Shoji, also known as sliding screens. Traditionally, they are made of translucent rice paper framed by wood. Unlike regular swing doors, Shoji slide to the sides, saving space in small homes.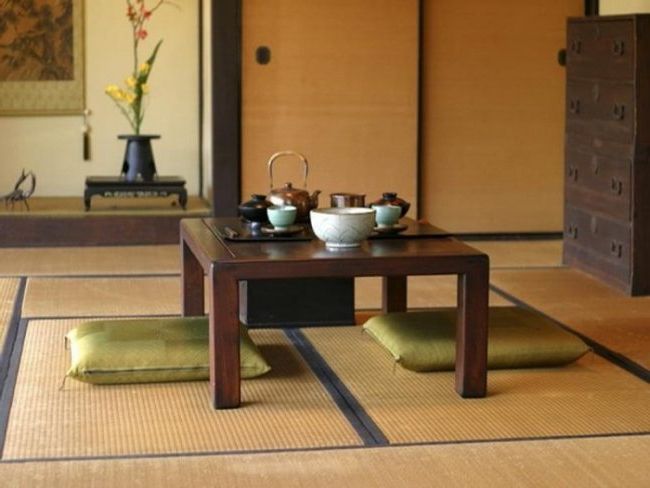 Modern versions of the Shoji use glass panels instead of rice paper for easy maintenance. A key feature of both modern and traditional Shoji is that it does not block natural light.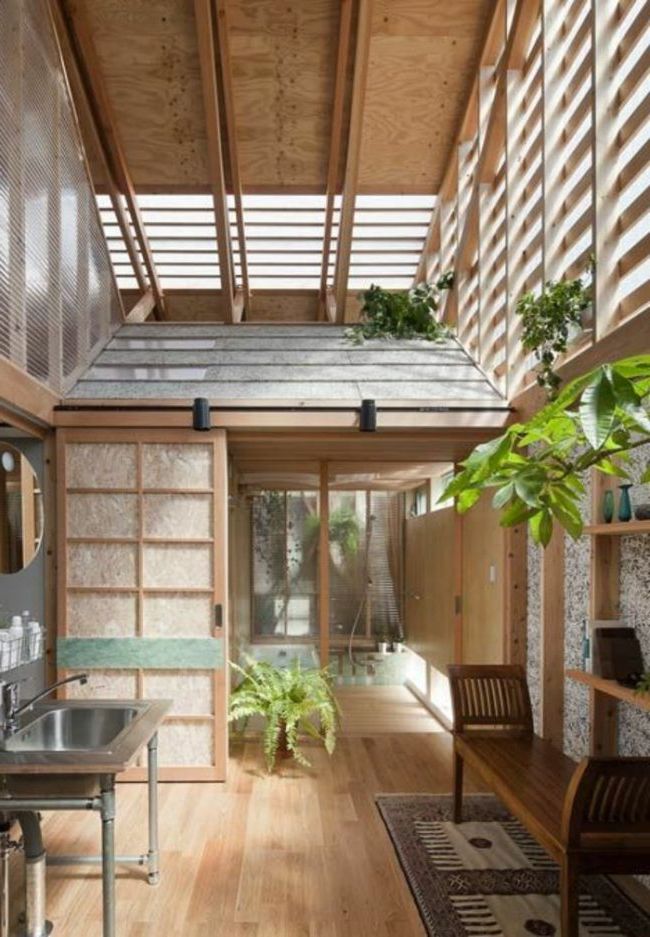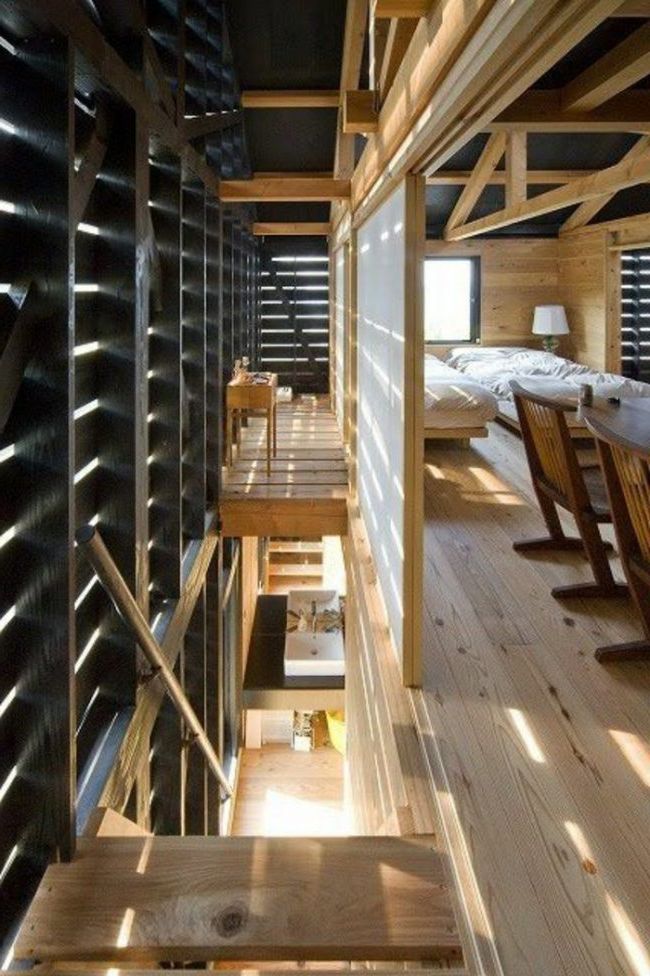 You can replace a large internal wall with a Shoji as it could be a great way to bring some light into the home.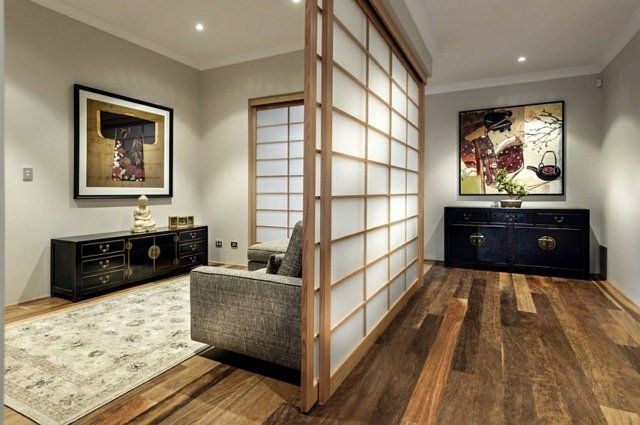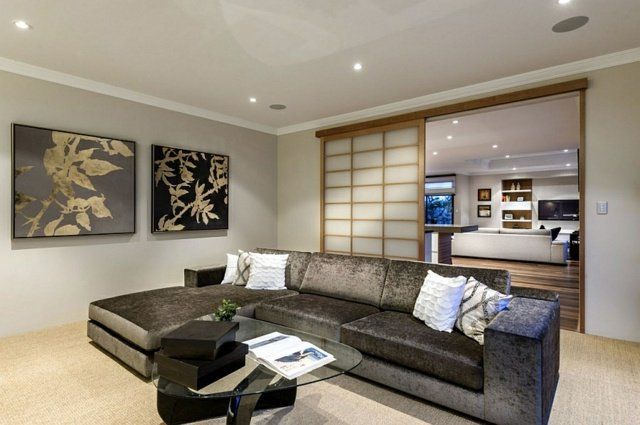 Japanese windows
Japanese windows are characterized by being designed in panels, using the concept of Shoji sliding doors, as it could be an excellent way to incorporate some light into the home, which form a kind of grid. Many times, to achieve more privacy, translucent glass is placed, but not transparent.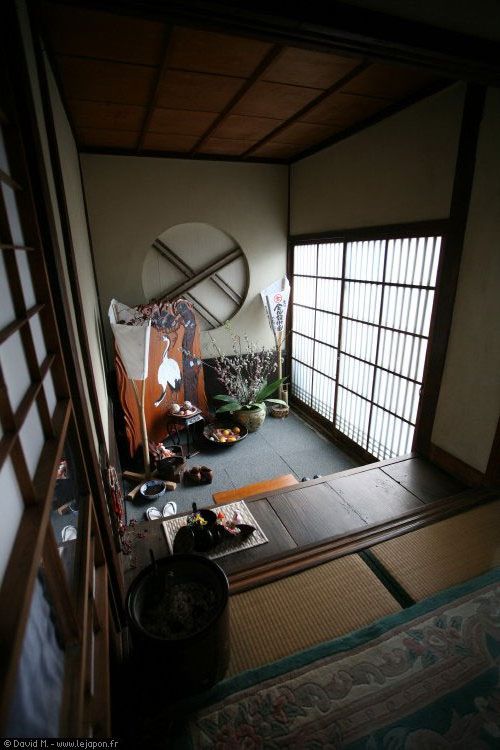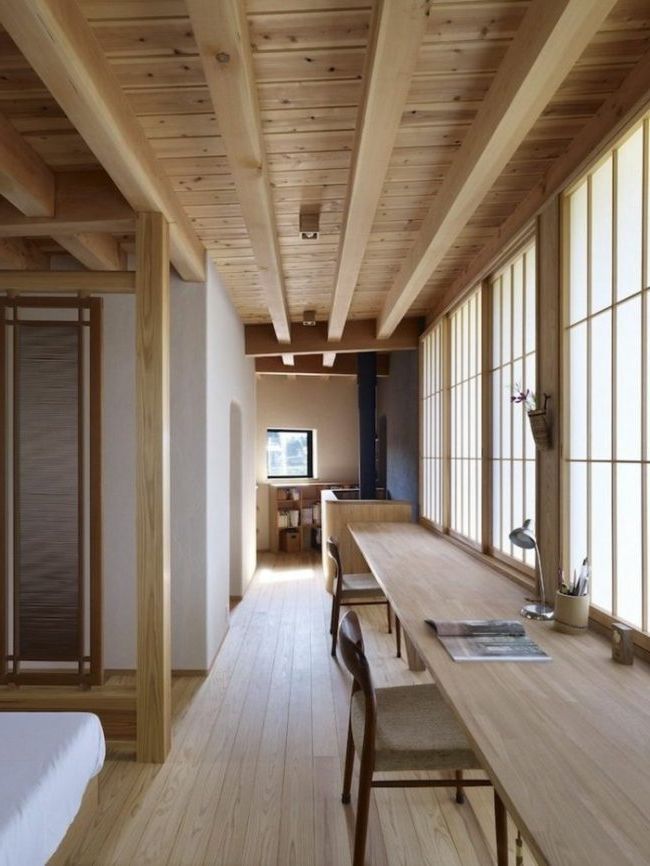 Minimalist design and open spaces reign supreme in Japanese interiors, and one way to achieve this design aesthetic would be the use of natural lighting. Natural lighting helps us to be more productive, happy and calm.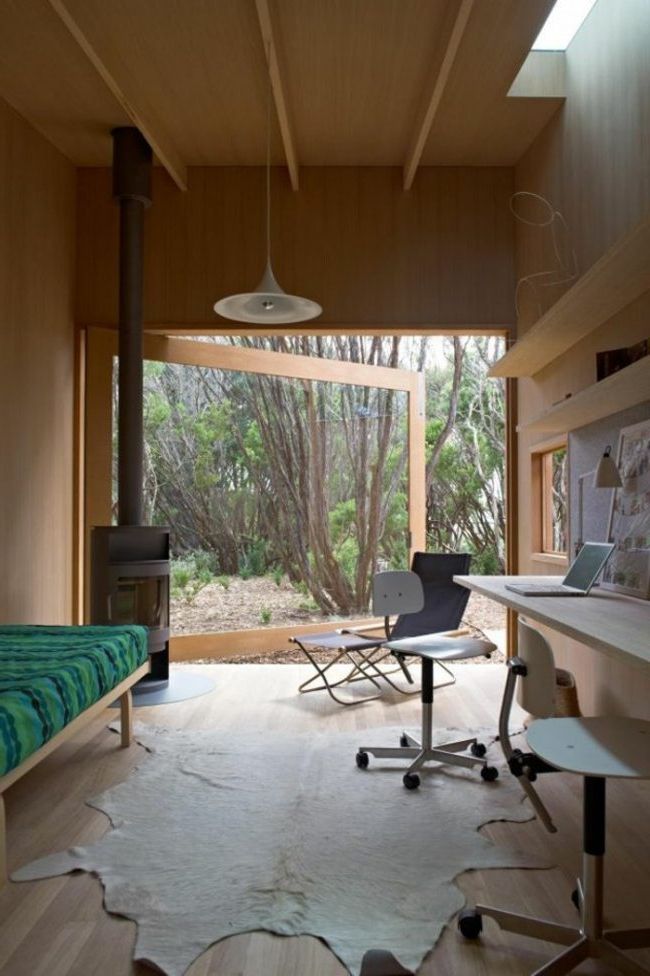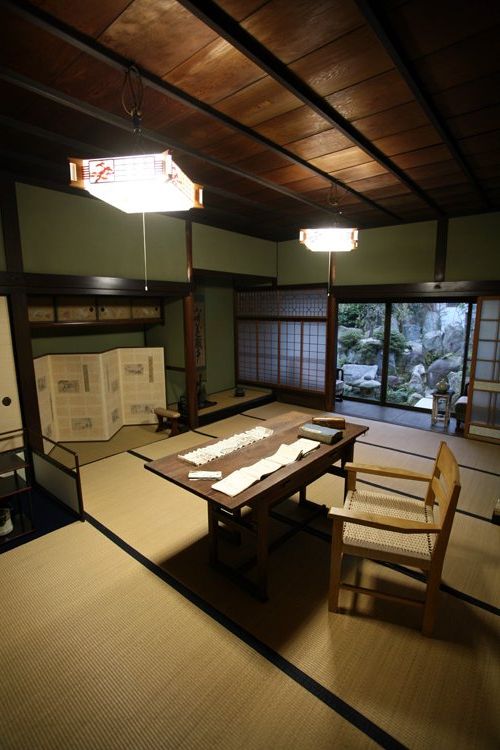 If possible, try to incorporate large windows to open up the house and avoid heavy curtains. If it's too sunny, opt for sheer, sheer curtain panels to frame the windows.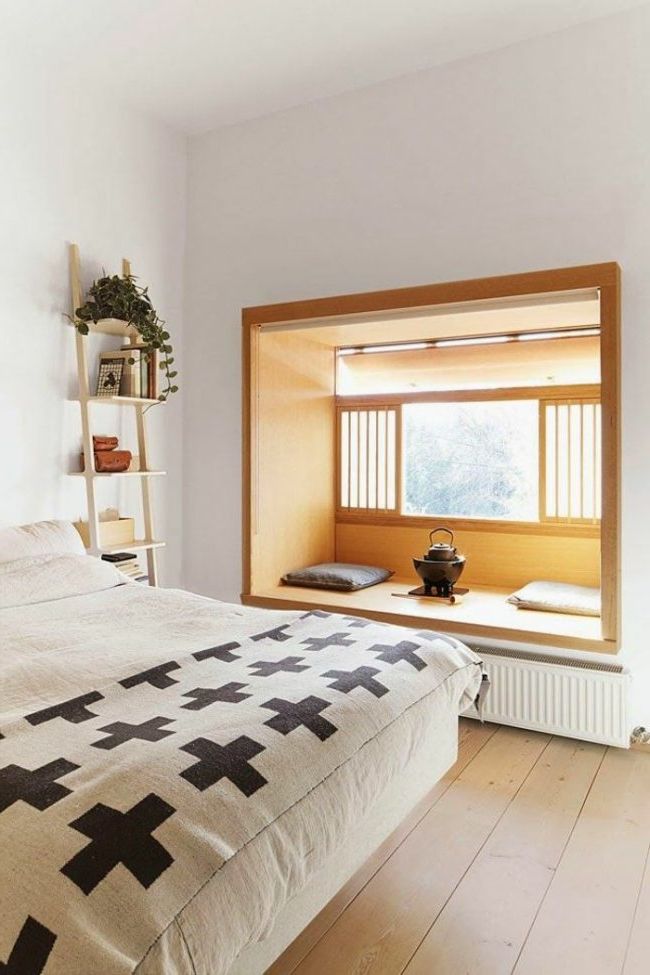 You can also use large western-style windows, and cover them with blinds, as we see in the image below.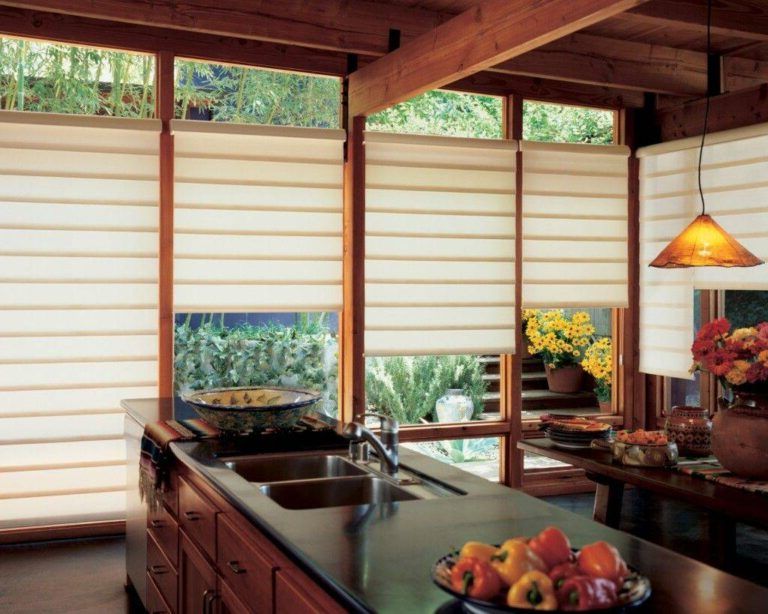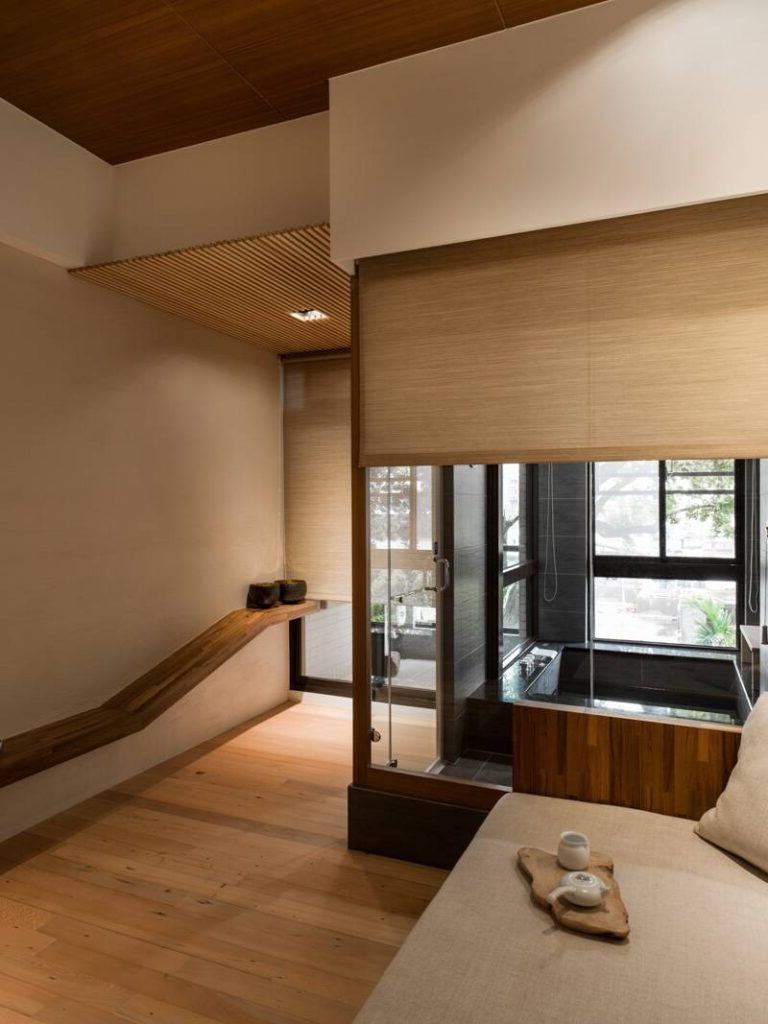 A characteristic of the curtains typical of the Zen style is the adoption of natural fabrics, such as linen fabrics or 100% natural cotton.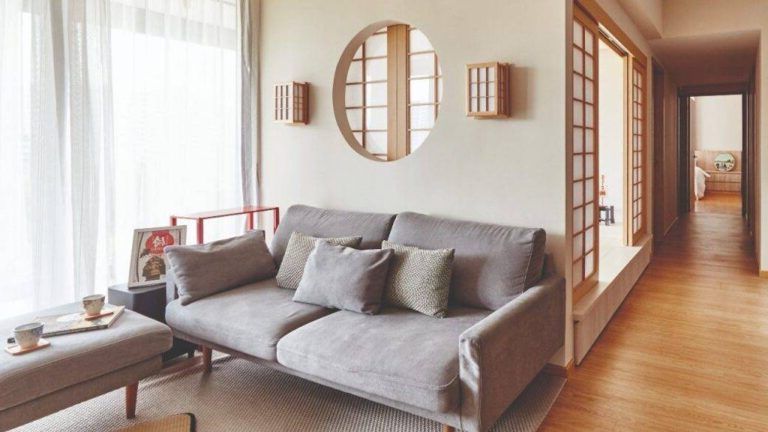 Japanese indoor gardens
For the Japanese, contact with nature is very important, therefore, whenever possible, an interior garden is designed.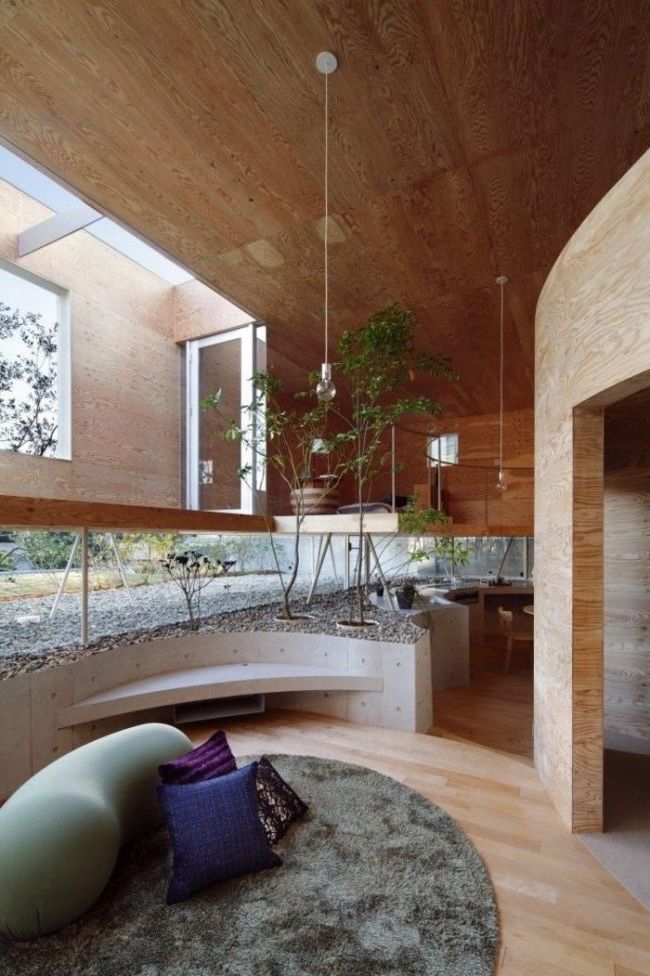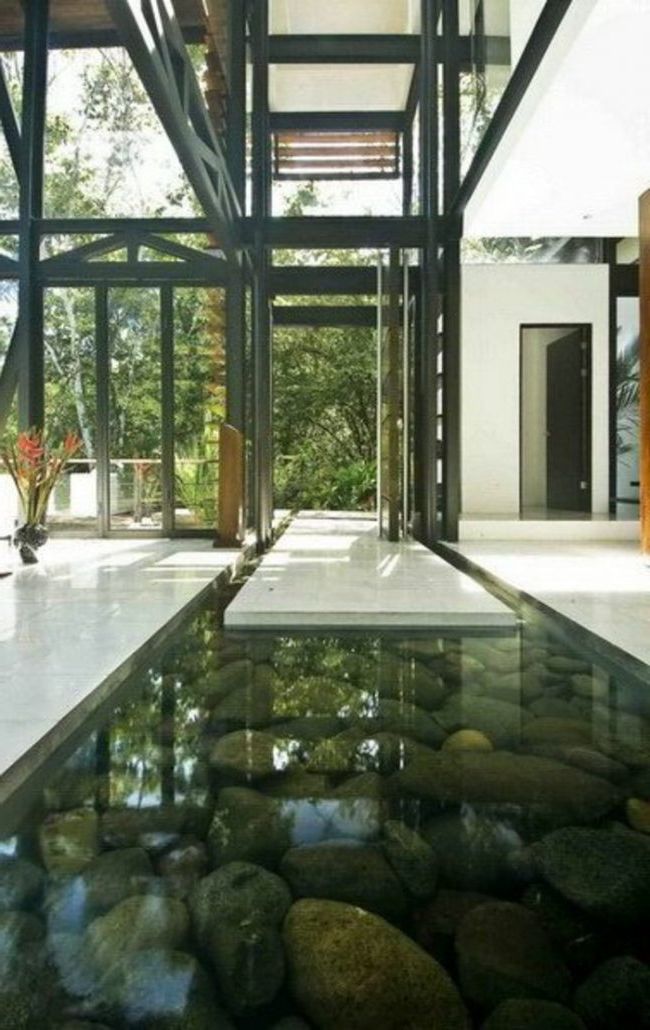 Art and accessories can do amazing things in a home, and this residence is proof of that. This home has been decorated using oriental and tribal art, adding an exotic feel to the elegant interior.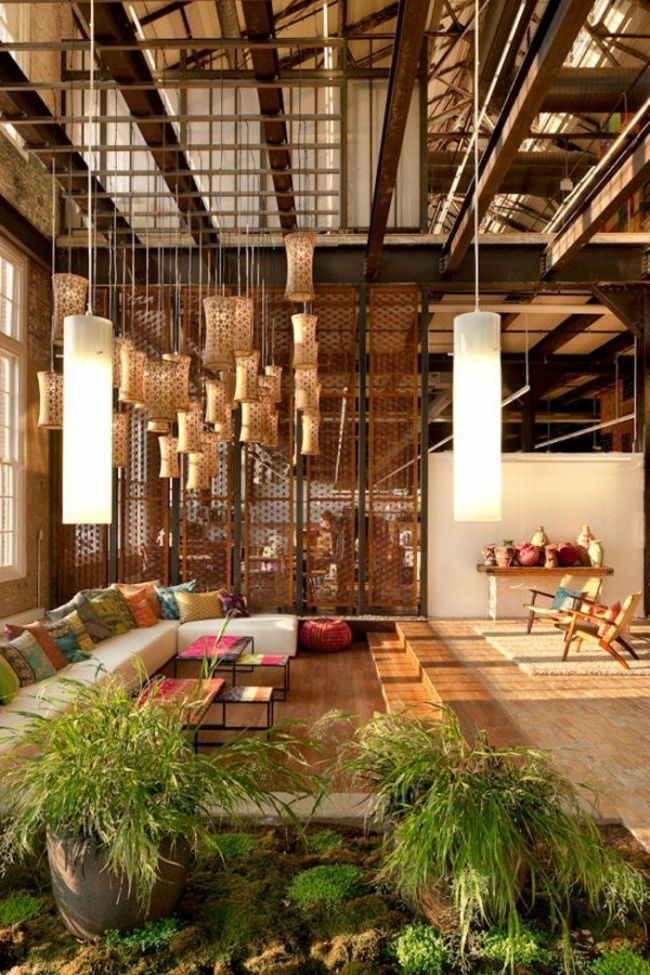 Every Japanese home includes a serious respect for nature, as part of its aesthetic of balancing the artificial and the natural. Aside from wood, another common natural feature of Japanese interiors is simple indoor rock gardens.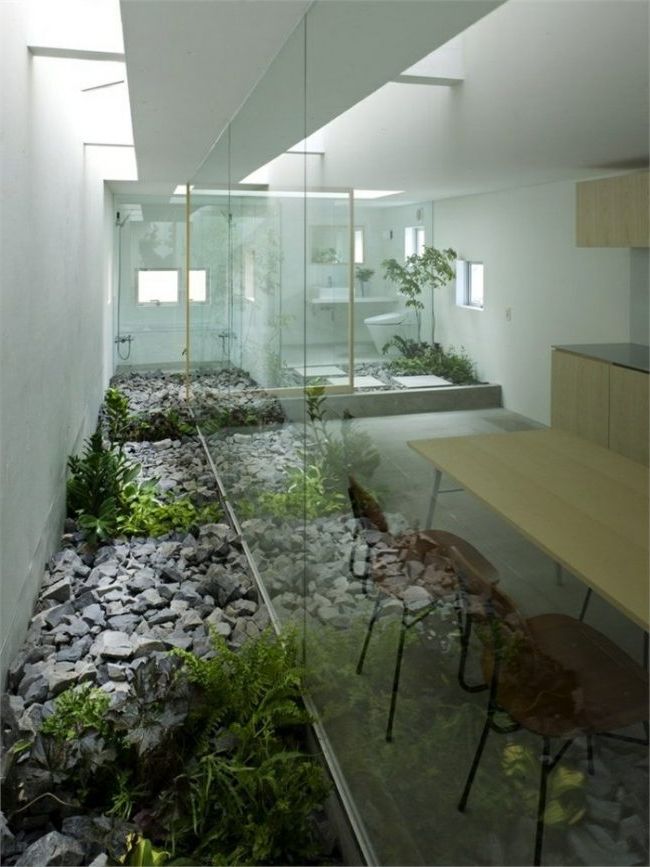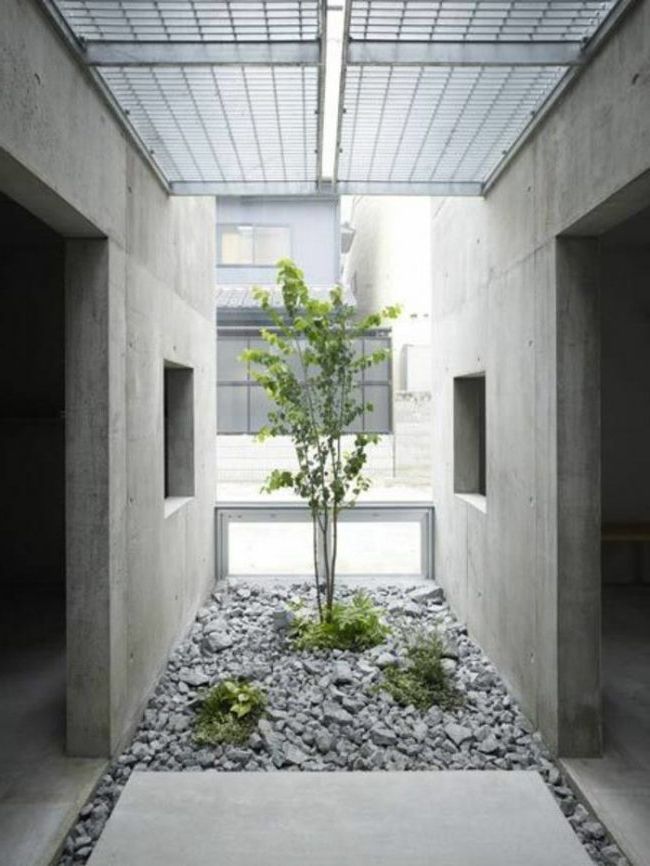 Gardens generally consist of rocks, water features, and some vegetation on sand or gravel. They were intended to mimic the essence of nature and served to encourage meditation on the meaning of existence.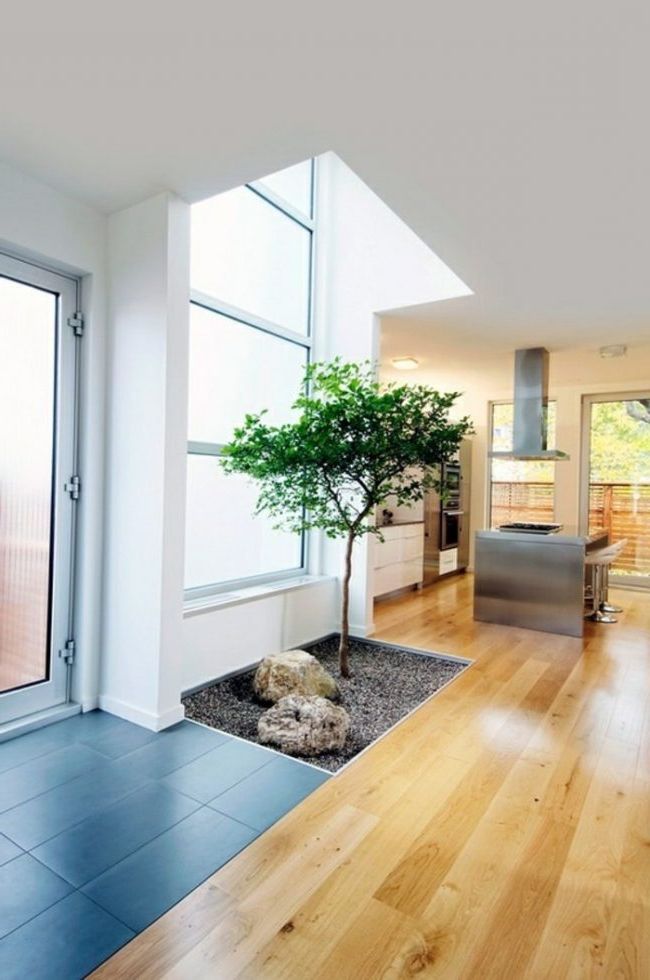 Japanese baths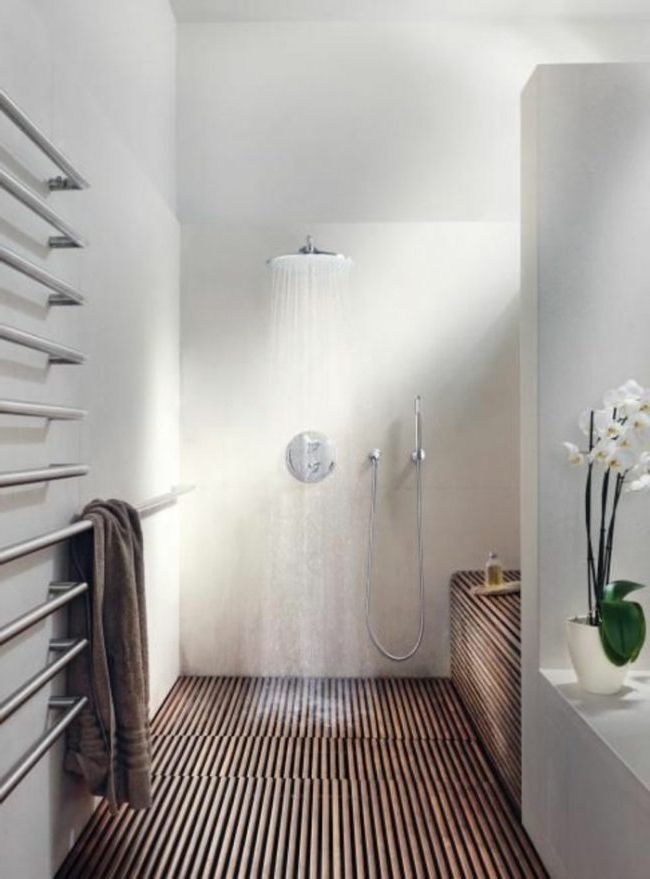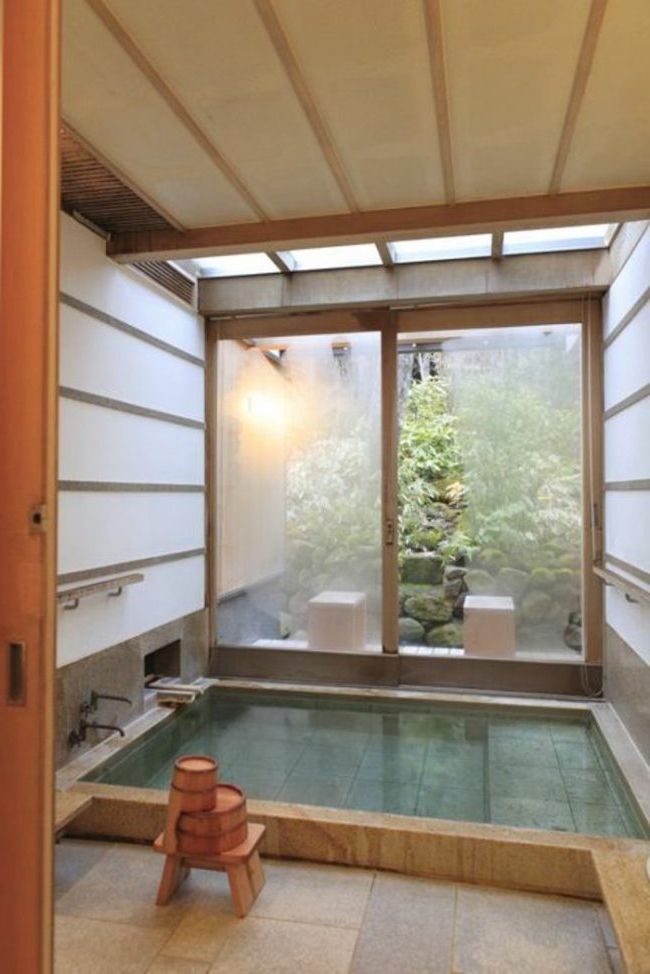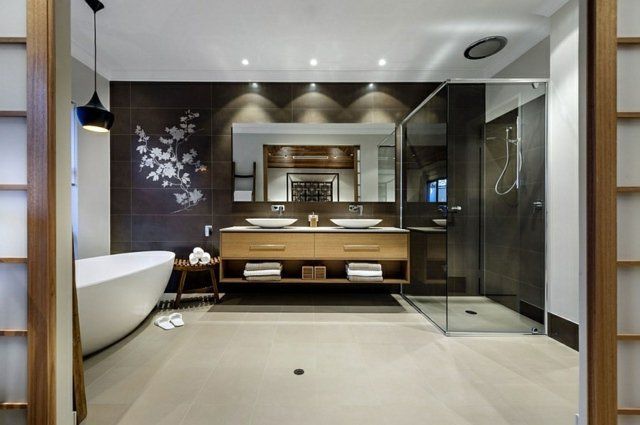 Ornaments
If you choose to have a plant inside the home, you can opt for a characteristic Bonsai, which, with today's sophistication, can be accompanied by a small waterfall, without leaving the size of the space of a bedside table.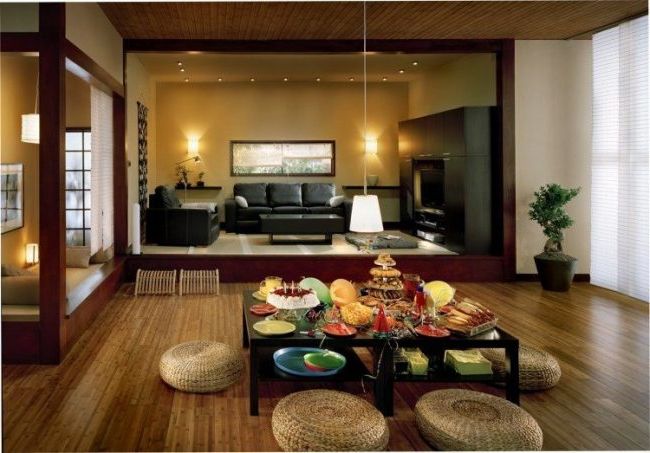 As far as decorative elements are concerned, Buddha statues, or Japanese inscriptions on cloth, as well as characteristic animals of the culture such as the tiger or even the dragon, are elements that can help achieve a good Japanese scheme.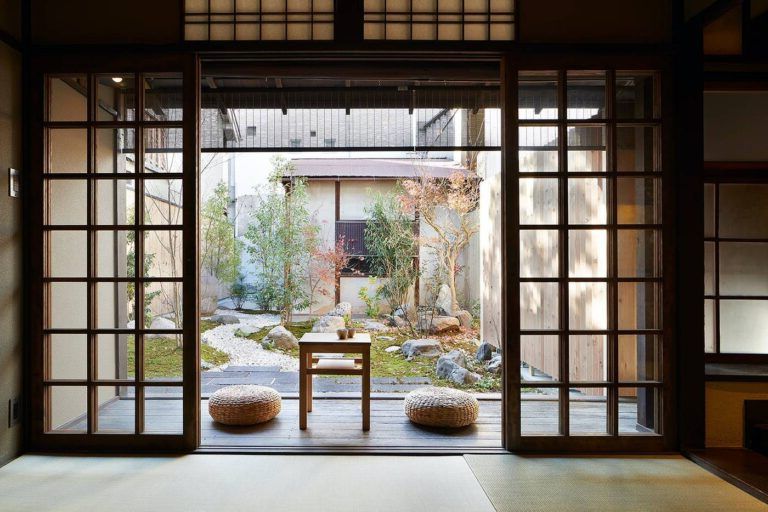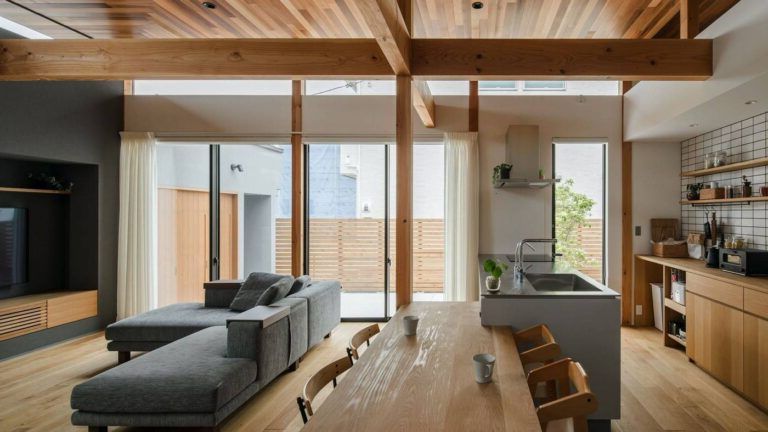 Low furniture
Of course, for everything to flow in harmony, you should look for furniture with an Asian accent, since otherwise all decoration would be in vain. Inlaid lacquered wood, large cabinets, side tables and logs are some of the characteristic pieces of furniture. Furniture with very simple lines is used, and wood is generally used in its construction.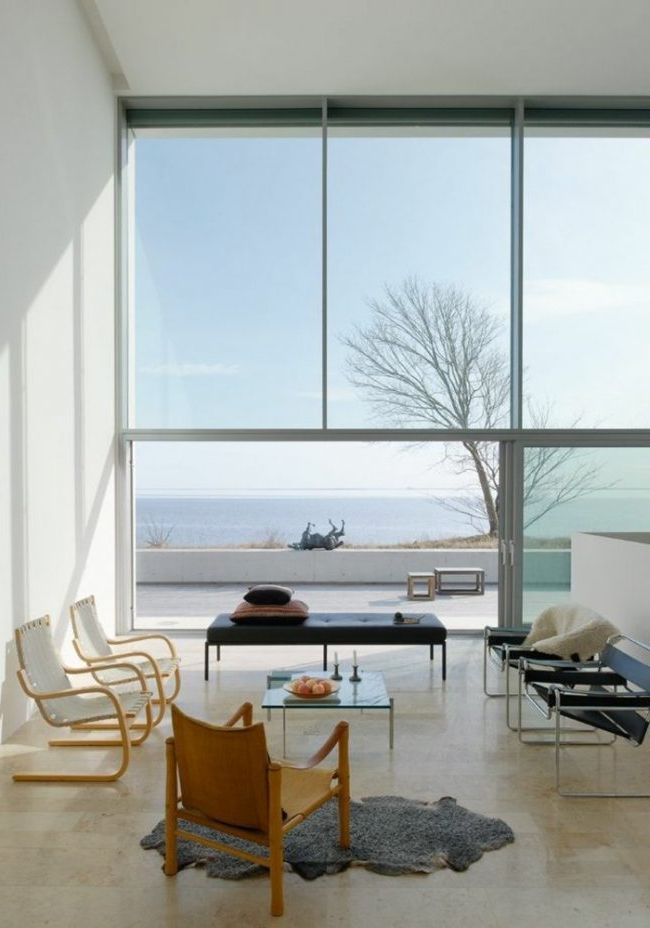 Most Japanese interiors include movable floor cushions forgoing actual chairs and sofas. However, most modern homeowners still require real furniture, so modern interpretations of this aesthetic are replaced with low-to-the-floor furniture. Incorporate them into larger pieces, like bed frames and sofas, to mimic this comfortable look.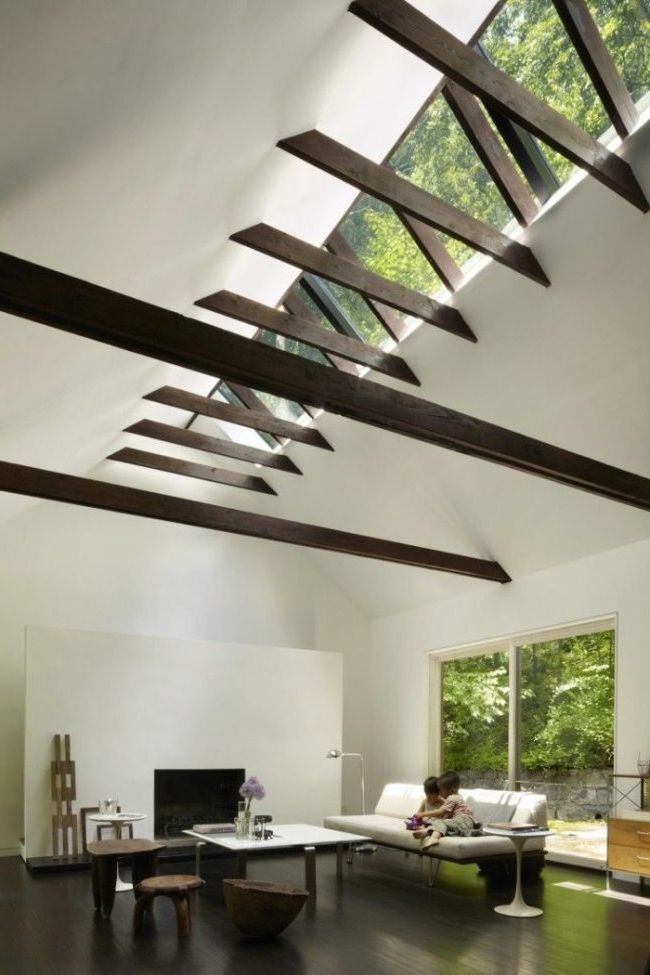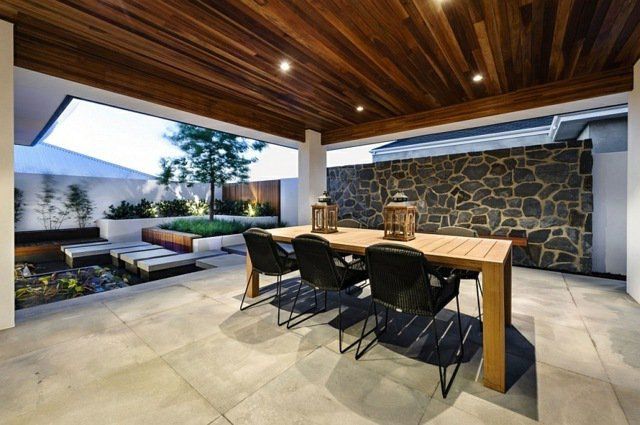 Japanese beds and bedrooms
Generally, low beds are used, futon style, that is, a simple wooden platform, and a mattress on top.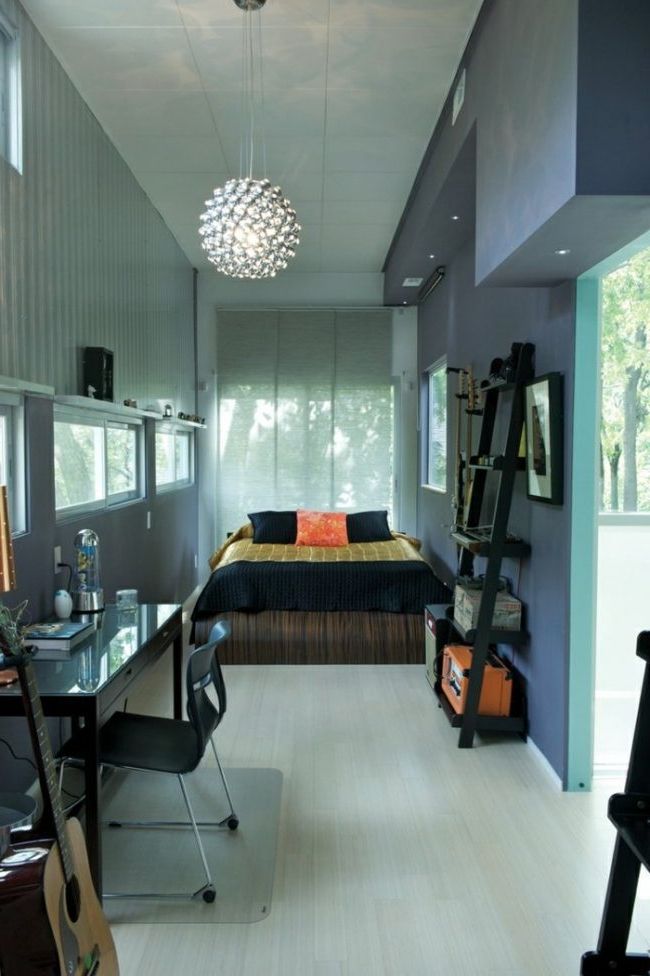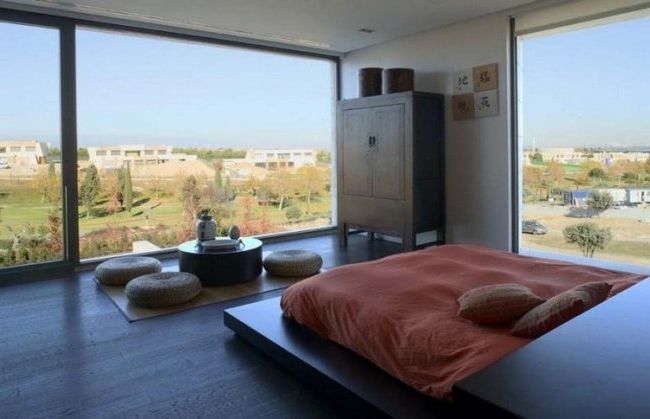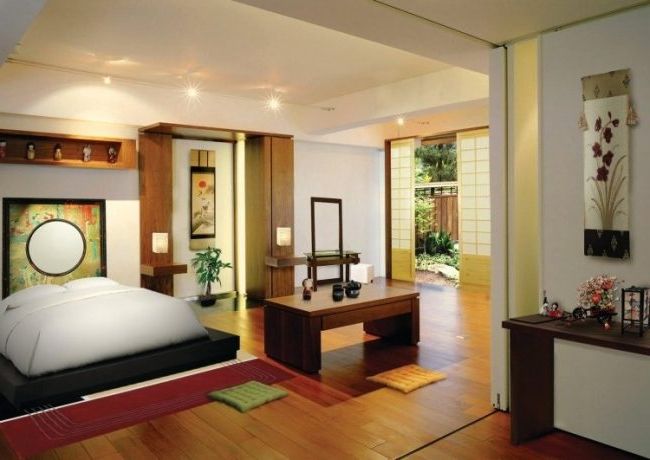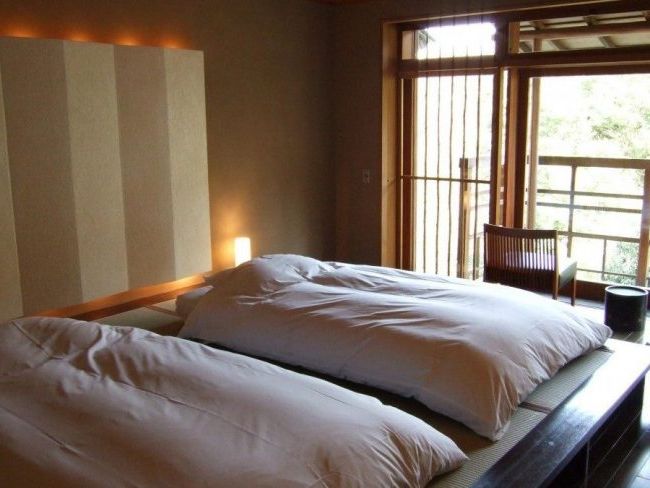 Colors in Japanese houses
Regarding colors, brown tones and their combinations with red are widely used, since red blesses the home with good fortune, according to tradition.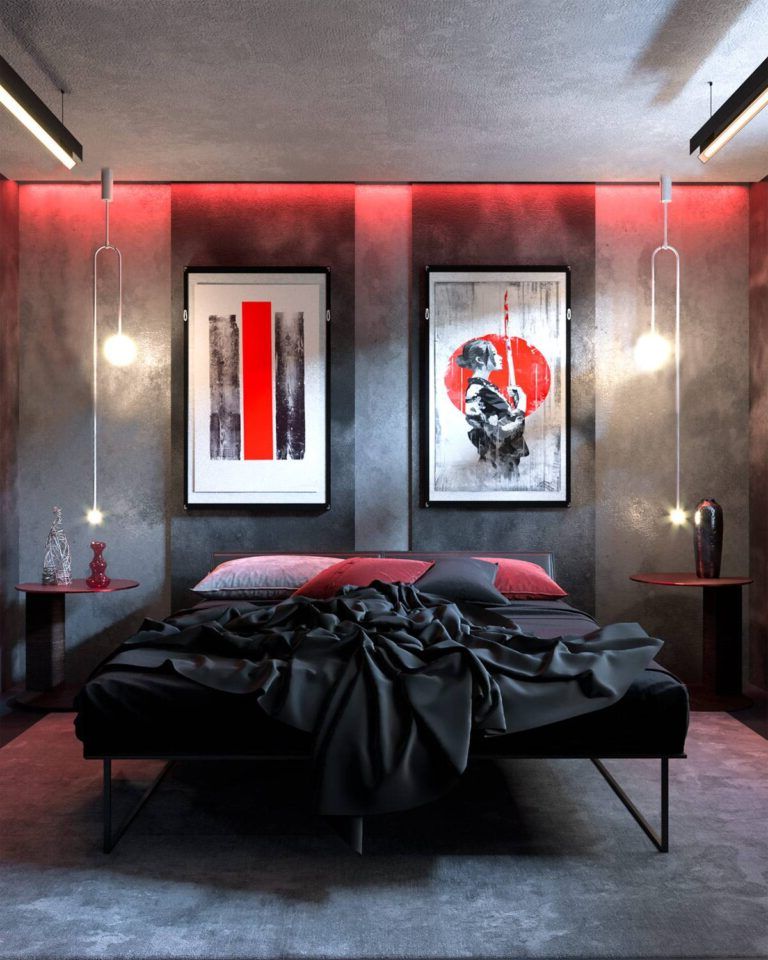 It is common to find soft colors and simple shapes in all the elements of Japanese houses; Within the colors, some of the most prominent in the style are beige, brown, green and white, all colors that provide perfection to the spaces since they are possessors of enormous elegance.