If you have a small living room and you want to modernize it, we show you some examples to optimize its meters and offer a more renewed appearance.
Small rooms do not have to be reduced to a limited number of decorative resources, quite the opposite. We can fill them with life and personality. The goal is to get the most out of it to achieve a more modern and sophisticated trend. For this reason, we explain how to decorate a small living room: 30 stylish ideas.
The main task is that we manage well all the space we have. We are aware that it is a small venue, but there are no limits to be set. The idea is that we achieve a degree of visual harmony and can create a feeling of spaciousness through certain elements that, in addition to decorating, contribute to generating more space.
Keys for mini rooms
The most important thing is that we start with the large pieces, which must adapt well to the space, as can be seen with the sofa. On the other hand, we can incorporate accessories such as cushions, shelves, tables and rugs that combine with each other and that occupy a prominent place in the room, even if they are living rooms with a dining room.
As far as the chromatic contributions are concerned, they come from the hand of plain fabrics, especially in ecru and white tones. A good bet is neutral tones and thus achieve a correct combination between all the items. Similarly, color richness is achieved through flowers, stripes and geometric shapes that provide a certain visual order. In this way, the spaces come to life without becoming small and dark.
Simple but striking decoration
The large curtains give way to simpler curtains, without folds, hence the success of blinds and panels. You have to allow the access of natural light in order to achieve a small and bright apartment; however, it must be screened in such a way that lighting is achieved in which the entry of sunlight is not excessive.
Among the materials to take into account, ceramics stand out, escaping from the kitchen and the bathrooms and also being installed in the living rooms. In the same way, wood plays a very important role, as can be seen in the furniture or laminate flooring. They are materials used to decorate an elegant living room. The result? Very original spaces that also offer depth.
Incorporation of functional and decorative resources
Of course, resources in light tones cannot be missing, as can be seen in the larger pieces of furniture, a way of purifying the room. To continue with this line, it is committed to functionality and storage spaces throughout the room: auxiliary tables, storage compartments, etc. The distribution of the living room must be studied carefully to achieve harmony.
Pay attention to all these ideas and discover the different types of fresh, beautiful and pleasant rooms that will come in handy to make the most of the few square meters of space. They will surely inspire you!
1 White and turquoise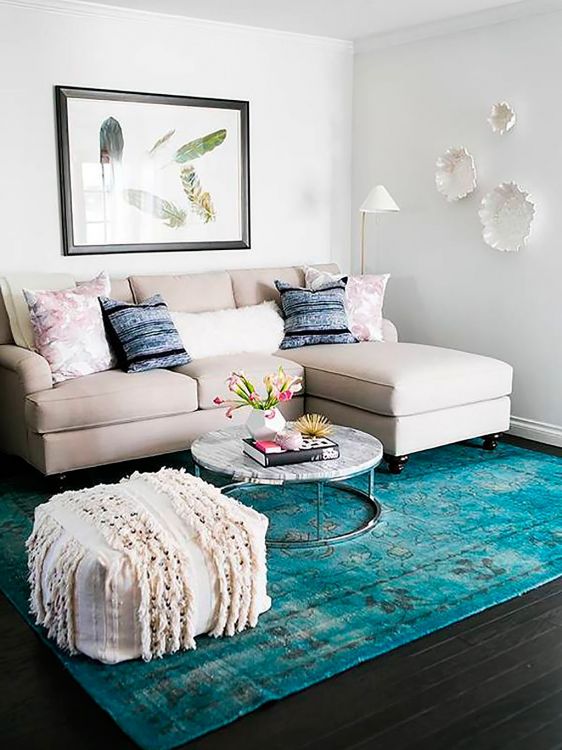 Not much else is needed in this cute little room. The tones that star in the room: turquoise and cream white. A small L-shaped sofa, a pouf and a coffee table, all covered with a rug. An elegant living room needs nothing more.
2 Minimalist and modern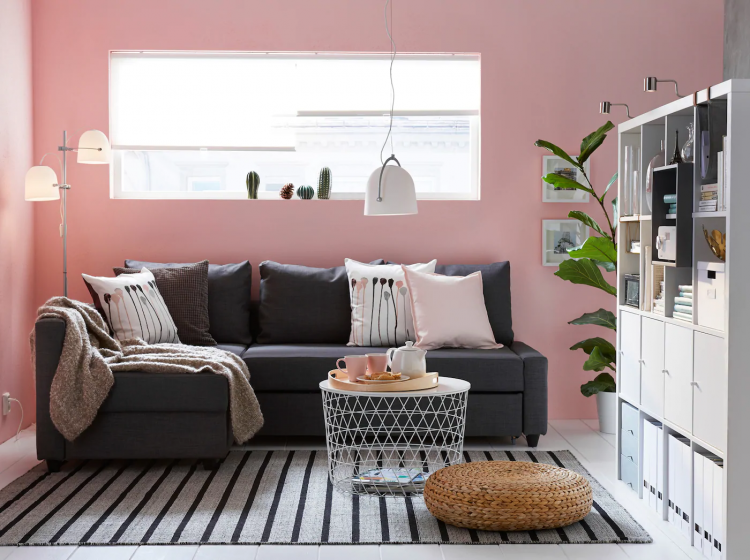 If having a collected, simple and straight-lined room has always been a dream for you, what you need is to decorate it with a minimalist style. Although this style seems simple to achieve, it is also very easy to fall into error, resulting in a dull and lifeless environment in which harmony is not breathed.
3 Industrial style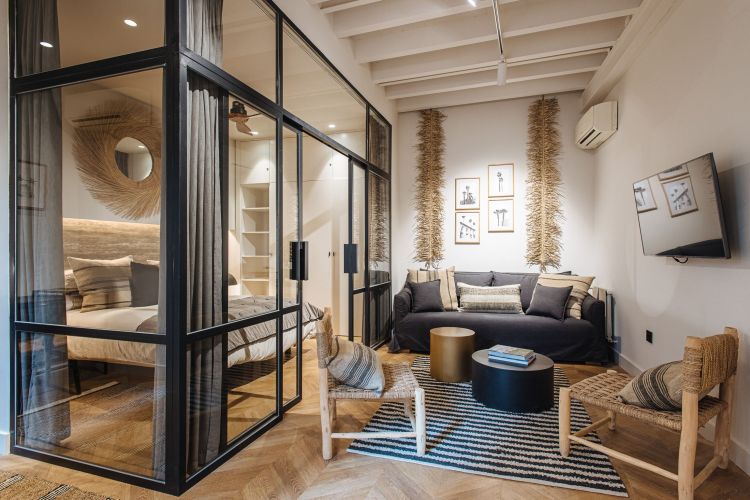 In this small duplex, space and light have been used to the maximum, changing partitions for glass walls to divide the rooms. Arancha Mato project.
4 Elongated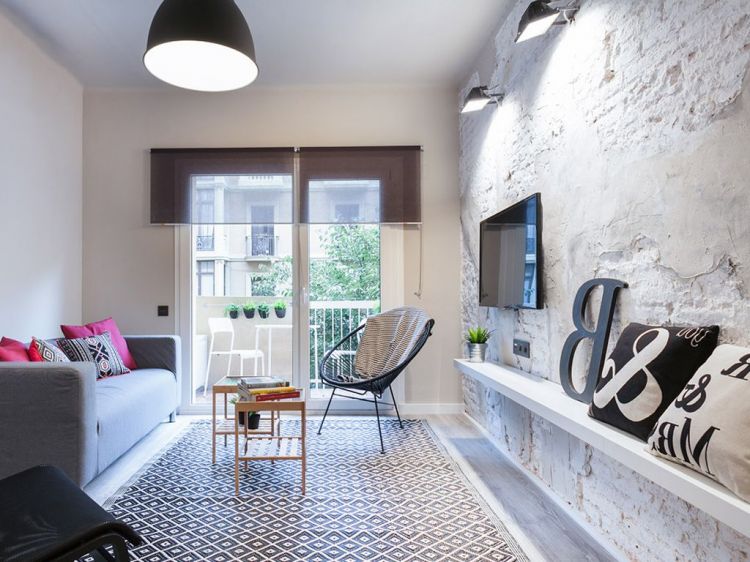 Elongated rooms deserve more attention because any piece of furniture will take up space for passage. In the living room of this renovated apartment in Barcelona, the solution has been precisely to dispense with auxiliary furniture. A simple shelf on the television wall is all that is needed. It is a Dröm Living project.
5 Wallpaper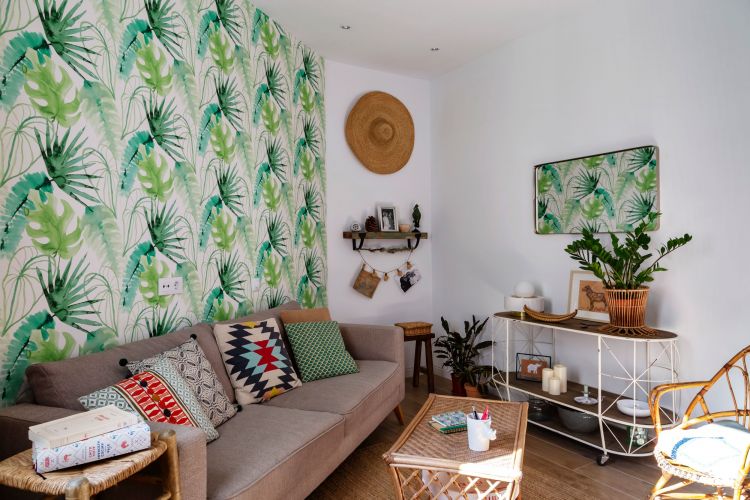 To give our mini space depth and personality, you can choose to put wallpaper in vibrant colors on the wall, just behind the sofa.
6 White: never goes out of style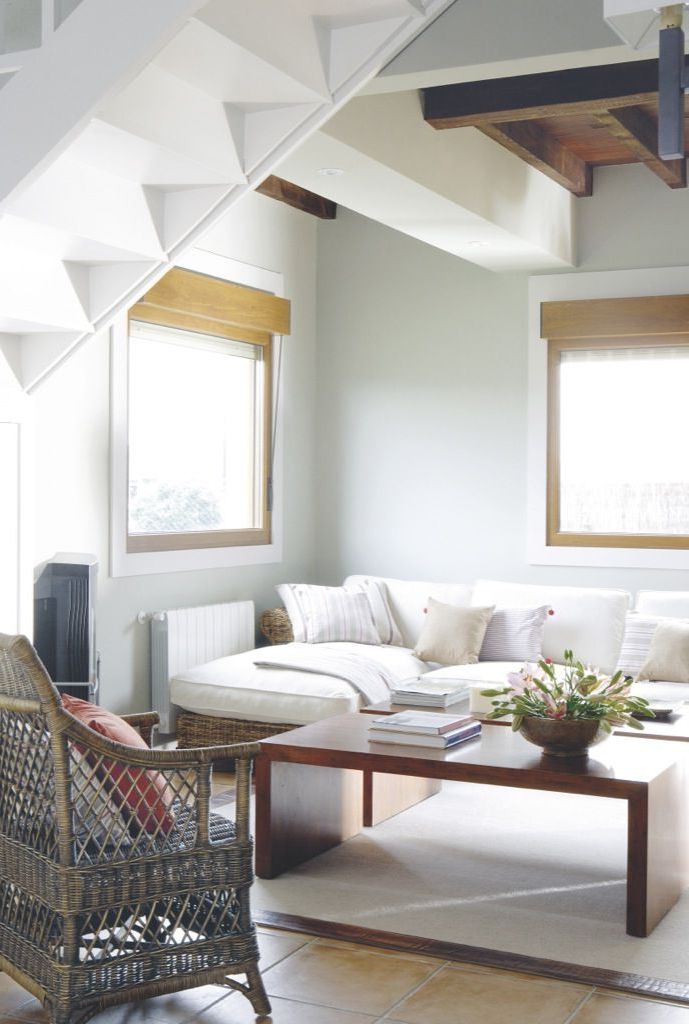 Especially if you combine it with wood or natural fiber furniture, which gives it that warm and welcoming touch that it does not have on its own.
7 Chocolate Color Finishes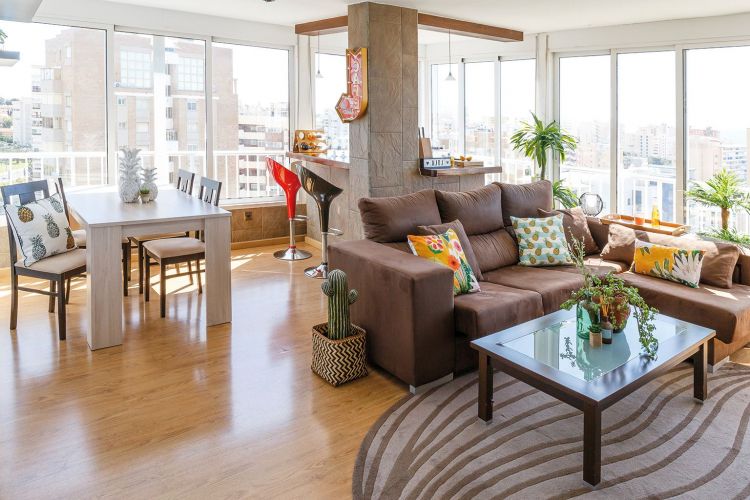 They are worn, above all, in the upholstery of the chairs, leather or imitation leather, and the finish of the coffee and dining table. To give them clarity, combine them with toasted textiles and touches in vibrant tones.
Thanks to chosen ornamental elements and a minimal investment, this beautiful penthouse in Alicante has become a unique viewpoint.
8 Leave open spaces, loft type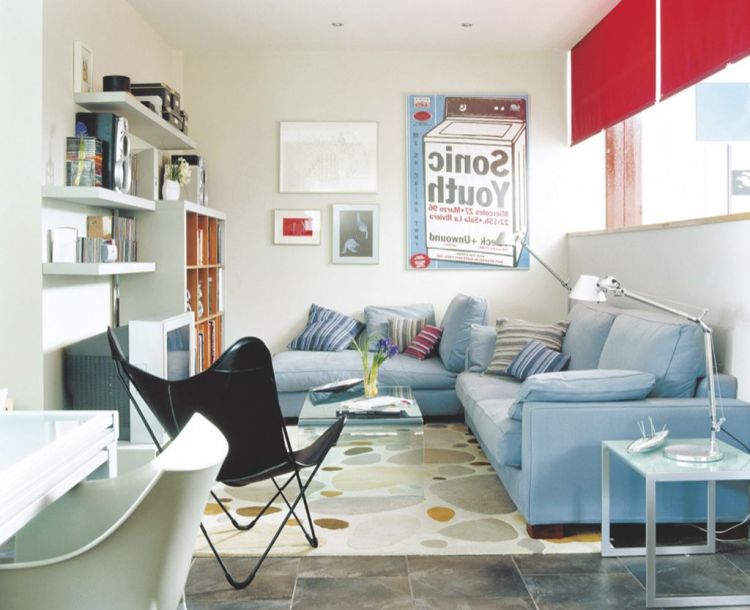 Eliminate the separations that are not strictly necessary and divide the rooms with partitions, screens, sliding doors… you will create a greater sense of space even if it is a small room.
9 Place a single piece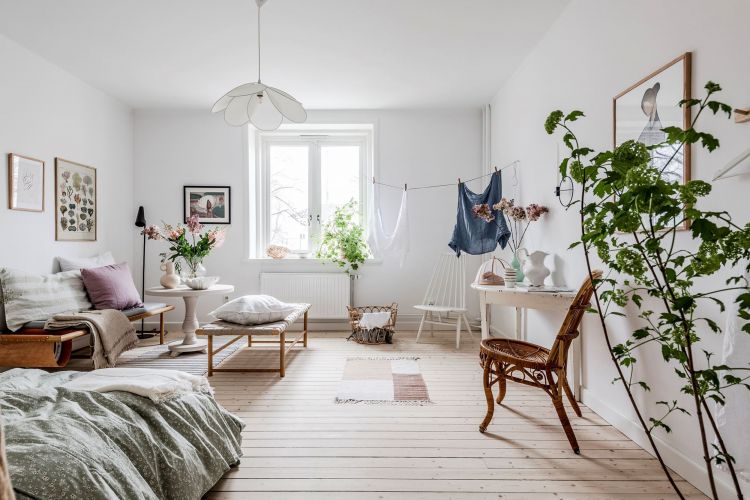 Although most of your furniture should have simple lines, place a special piece that takes center stage to make your mini room more welcoming. In this mini-apartment in which a single room contains the living room, the dining room and the bedroom, clarity is what provides a feeling of spaciousness.
10 White and wood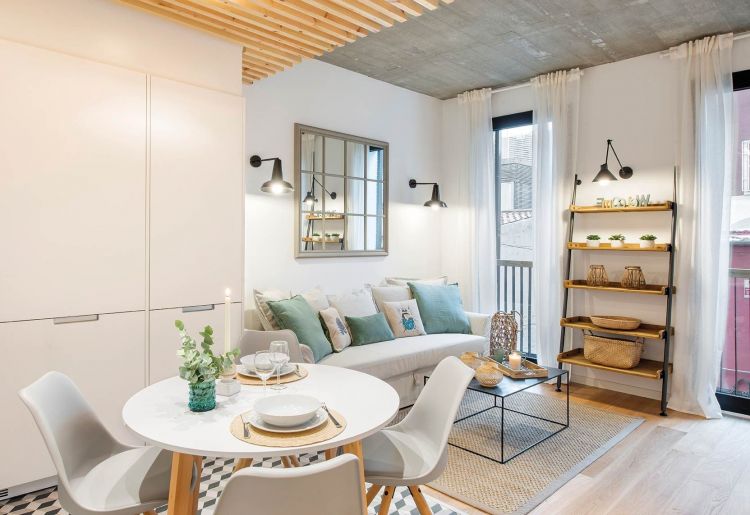 A good tandem to create modern and fresh environments. The white multiplies the light and the wood adds a serene touch to the decoration. In this 55 square meter apartment, the space of the living room (and kitchen), took advantage of a wall to place a whole front of paneled cabinets. Ideal!
11 With plants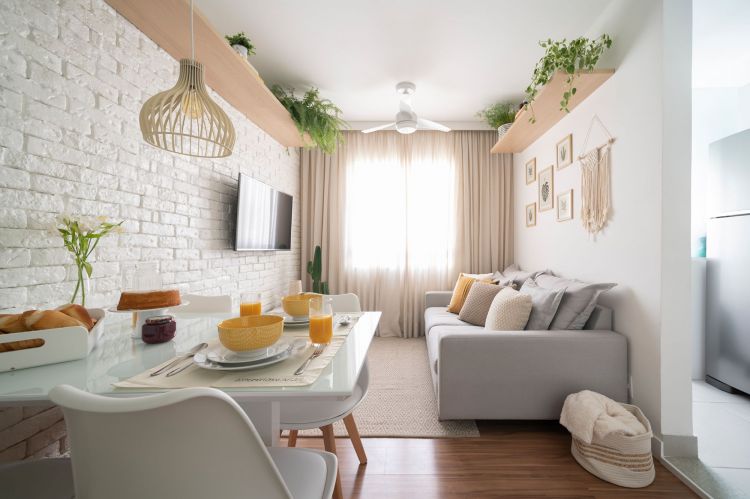 Despite the small size in this room, the decorative power of plants has not been dispensed with. The brick wall gives personality to the space without having to add decorative elements, rather than indoor plants that have been placed on two high shelves that do not take up space in the room. A small renovated apartment with a low budget and good ideas and creative solutions.
12 No couch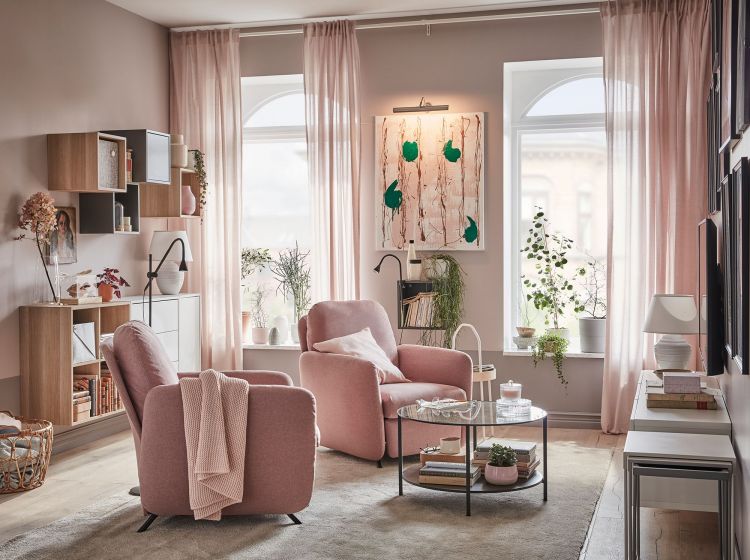 It is an interesting option for a small room like this. Instead, two comfortable armchairs and a coffee table create a living room as beautiful and functional as any other. From IKEA.
13 Open space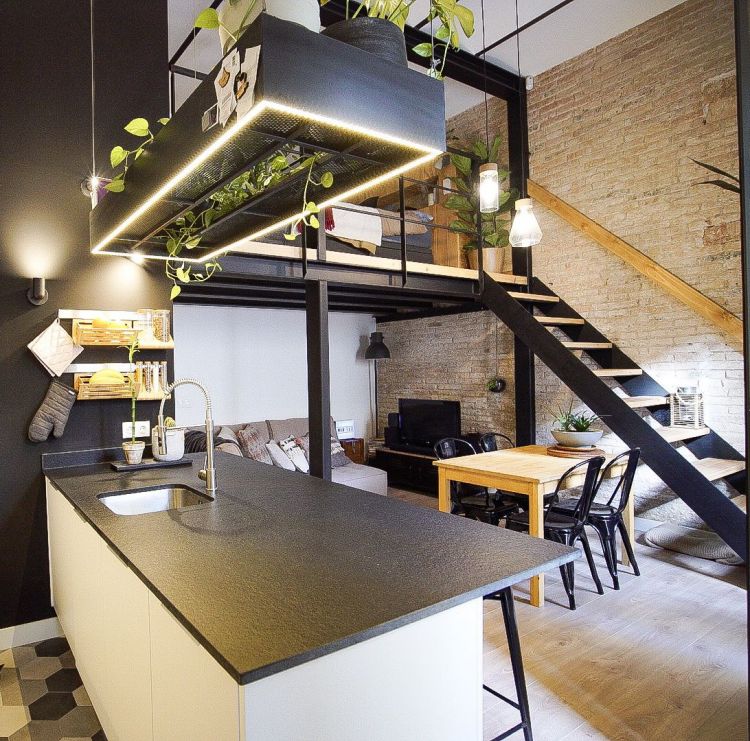 The loft concept is great for distributing small spaces. The open rooms so characteristic of lofts allow several environments to be integrated into a single space without the scarcity of meters being an overwhelming factor. In this small loft, light circulates freely through all the spaces without partitions.
14 with color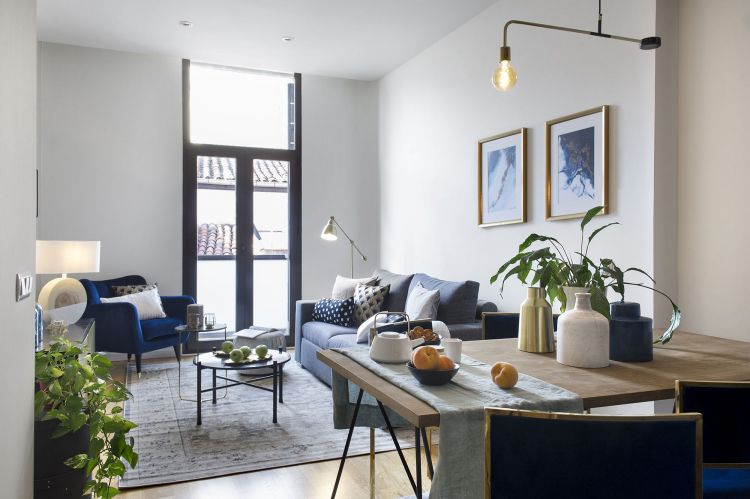 You don't have to give up color. While it's a mantra that small spaces should be painted white to make them appear larger, you can add color to the furniture. In this apartment, grey, blue and wood add dynamism to the decoration.
15 With a fireplace!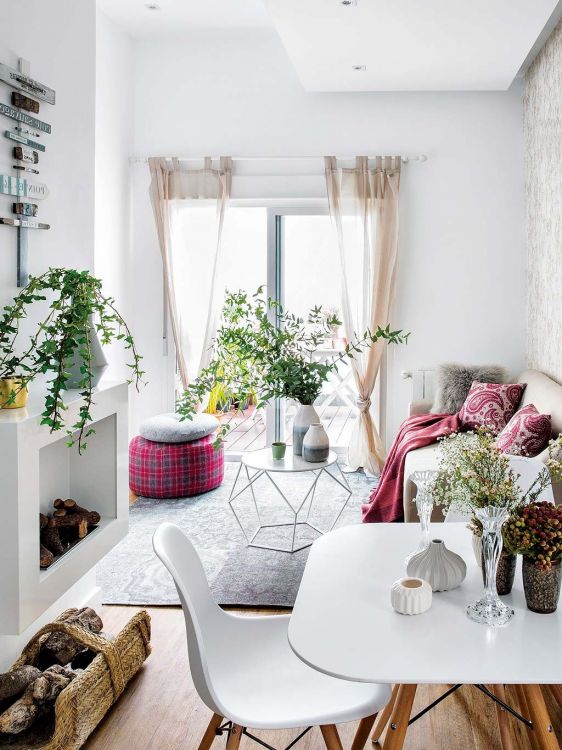 If you love the cozy and warm feeling that fireplaces provide, do not give up on one. You can place a white embrocation that does not take up much space, it will be beautiful. As in this small apartment of only 45 square meters.
16 Furniture that separates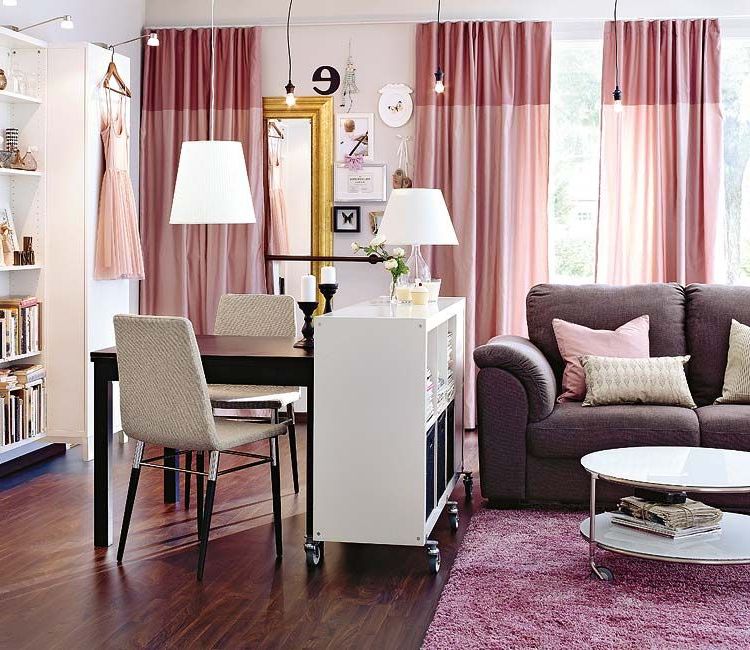 Although there are not many square meters in the room, there are very practical solutions to separate environments. Here, a low shelf on wheels separates the living area from the small dining room. IKEA vibe.
17 minimal furniture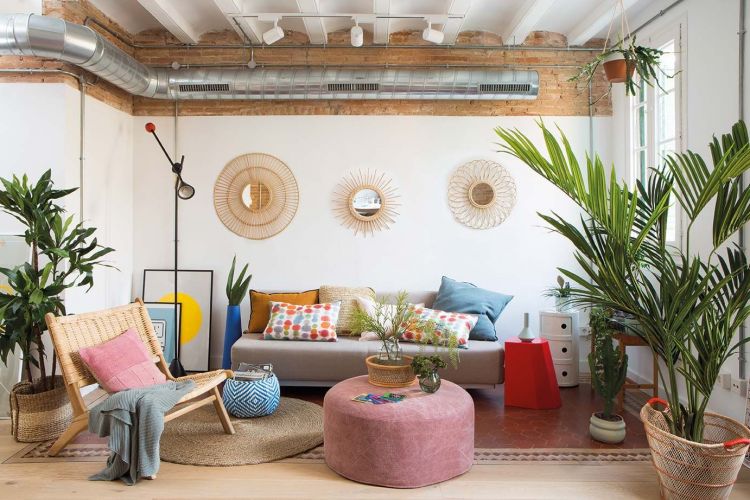 The arms of the sofas and armchairs abandon the curvatures and even disappear; the chairs have no artifice in their structure but are reduced to the minimum expression… The furniture aims to occupy the minimum visual and physical space, thus the room seems larger. On this floor, furniture with a double function was also chosen, take a look at the coffee table that is actually a pouf.
18 Furniture with wheels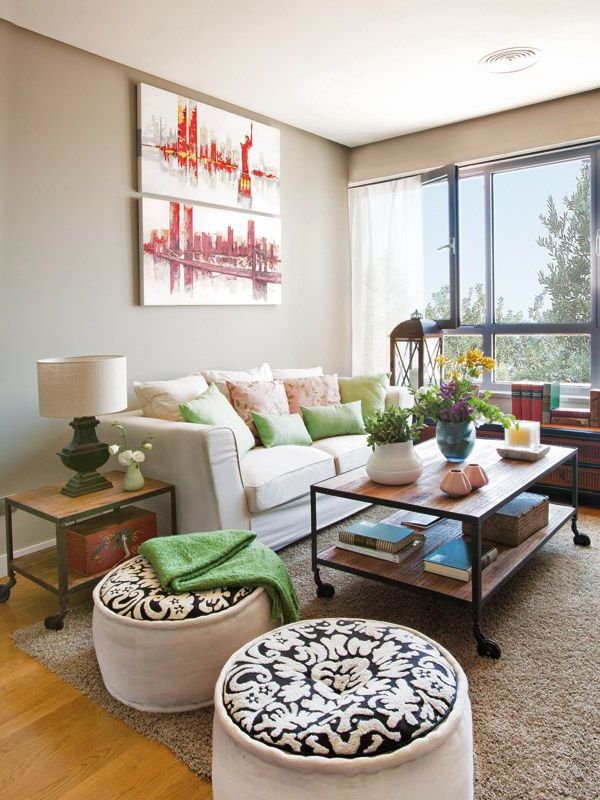 Furniture on wheels is a very good solution for small spaces since you can move it and change its place whenever you need it. In this 60 square meter apartment, the coffee and side tables with a beautiful industrial style combine perfectly with the raw tones of the sofa and the walls.
19 Mini furniture?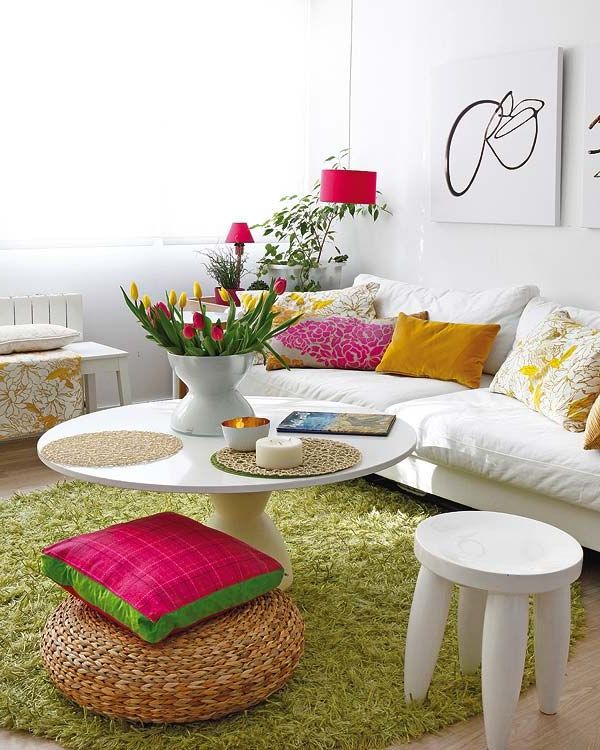 Yes, choose simple furniture with little artifice. In this room, the low-backed sofa hardly seems to take up any space. This space belongs to a 40-meter flat renovated and decorated by the interior designer Paloma Pacheco.
20 Put two twin tables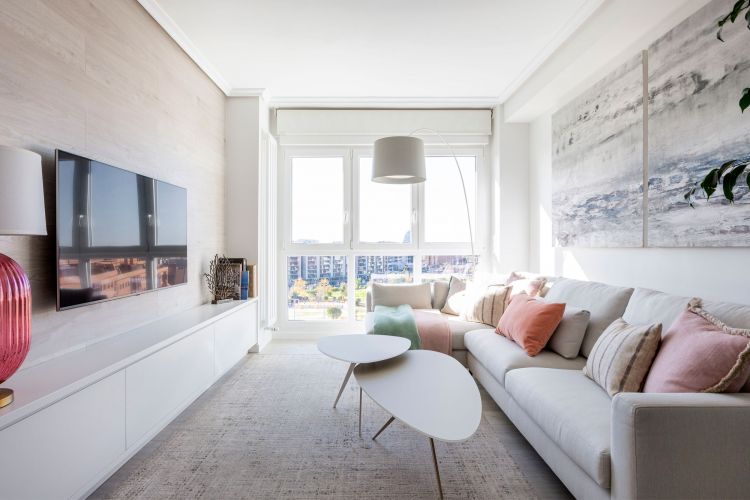 Instead of just one, you will achieve much more versatile and functional spaces, because they can be relocated and adapted more easily. Play with them and have fun! Refurbishment project for Melchora Vidal, from Crea Spacios.
21 Cozy Environments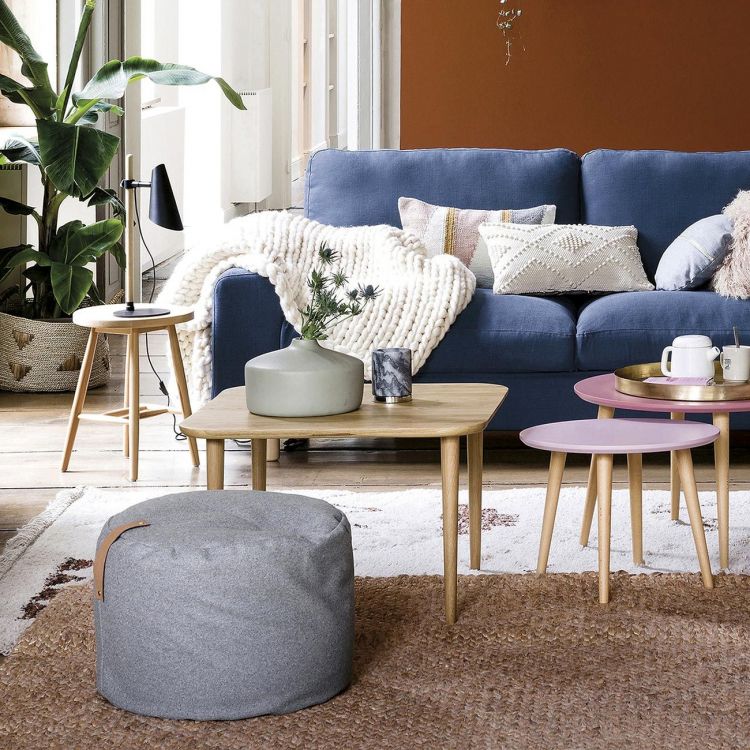 The curved furniture, rounded and without edges, soften the decoration. All from La Redoute.
22 Multifunction furniture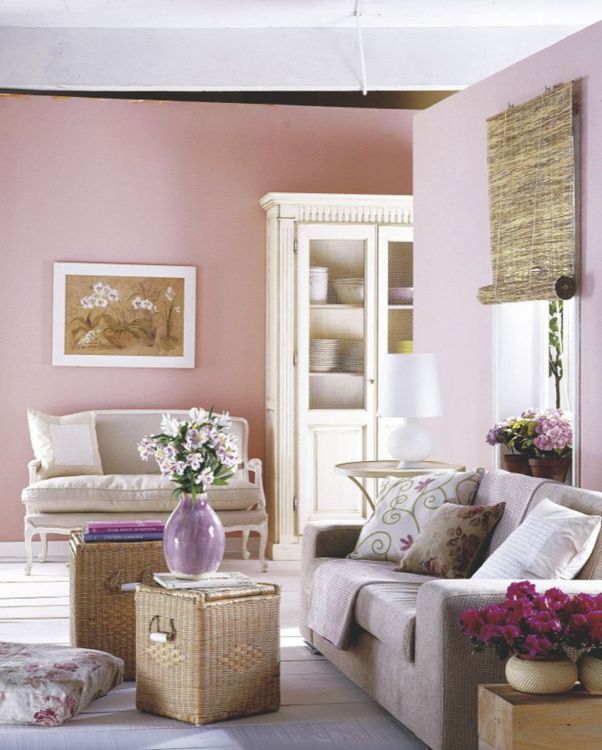 A sofa bed, a classic that has established itself as the ideal solution in small spaces or if versatility is needed.
23 Add a corner sofa and gain more seats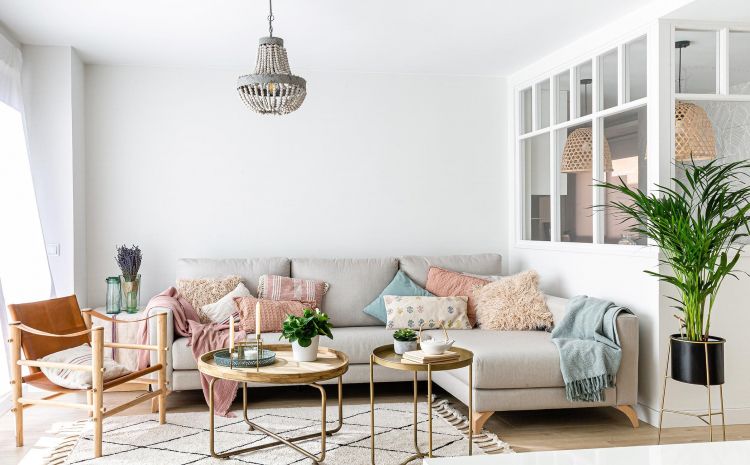 It is a successful solution to make the corner space more profitable. In this way, a chaise-longue sofa can be incorporated and, as a complement, an armchair without straight and simple lines also looks good.
24 Light furniture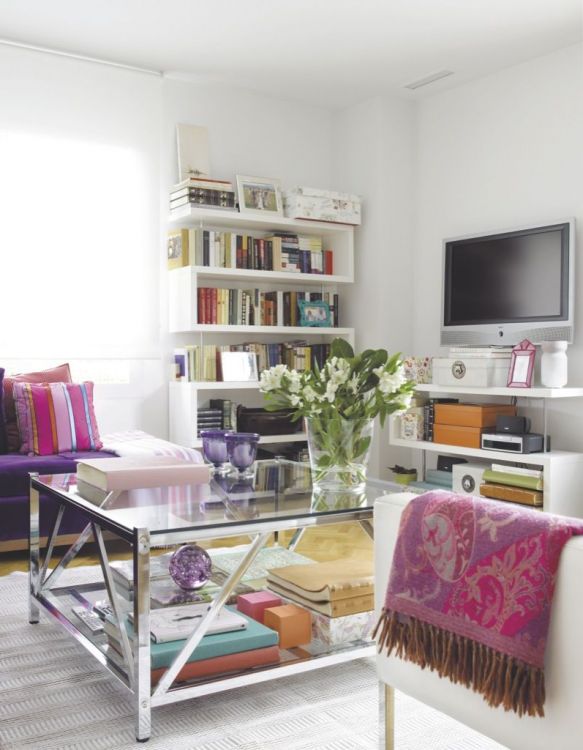 In the window, a roller blind will allow you to attach the sofa, a shelf… For the television you do not need a specific piece of furniture, a low shelf is enough.
The sinuous shapes of these shelves, without a back and without some sides, make them seem much lighter.
25 Uneven pitched ceilings?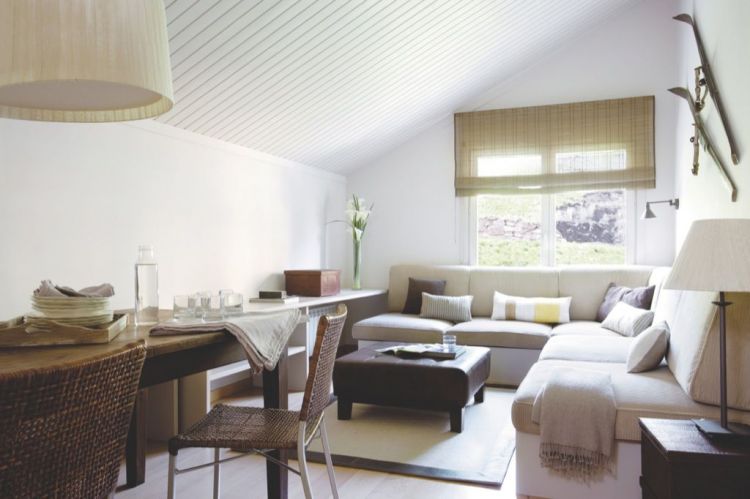 This type of ceilings become a decorative element. They are lined with white wooden slats.
26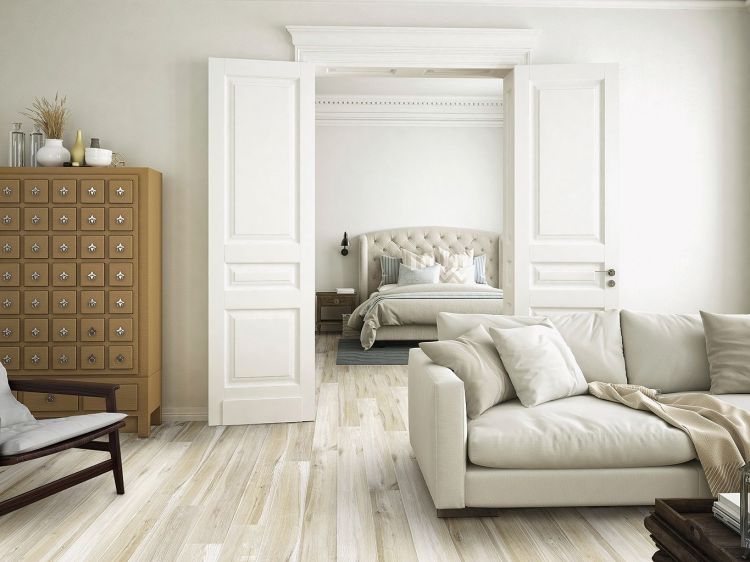 Laminates, vinyl and ceramics that imitate wood or marble; They succeed when it comes to covering floors due to their price and functionality. They are practical and hygienic flooring, easy to clean, whose color does not vary with sunlight and they do not need to be waxed or polished.
27 Let there be light!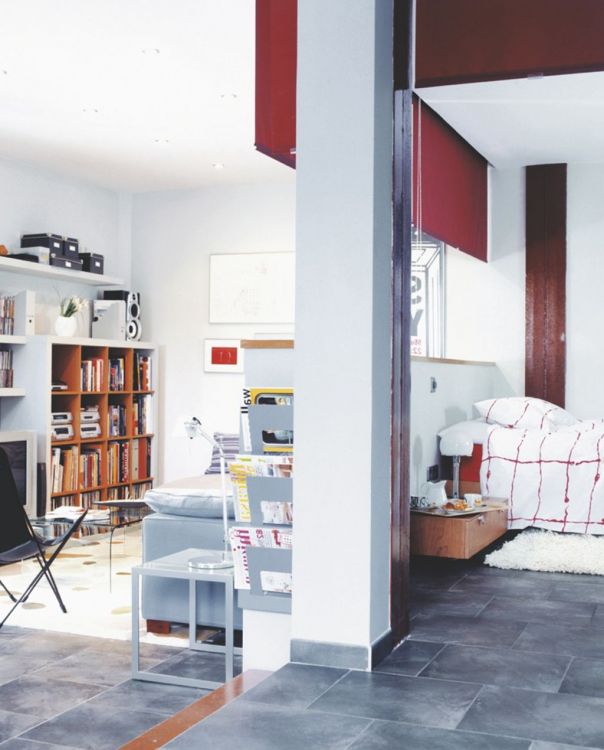 A room decorated with sky blue and ivory tones where natural light triumphs; in this way, it fills the space with life. In addition, the bedroom communicates with the living room. The light will flow more easily through the rooms.
28 Combine various materials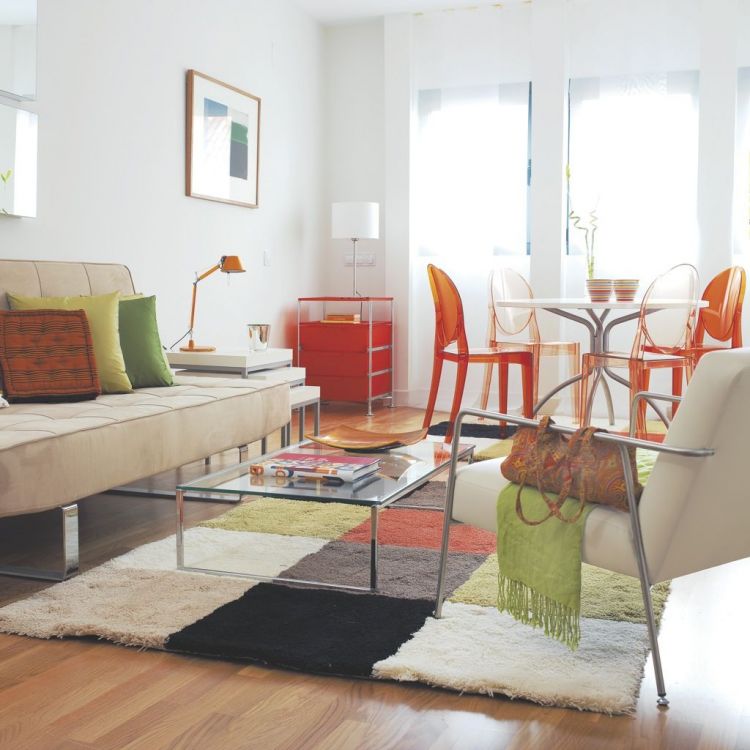 Undoubtedly, glass, metal and methacrylate are the essentials to achieve a current environment. In addition, they are perfect in mini spaces due to their lightness. Add paper details – hanging lamps are a trend – and colored textiles (rugs, cushions…) and success will be assured. Japanese panels filter the light and as they do not have folds they are not heavy.
29 The rustic returns with force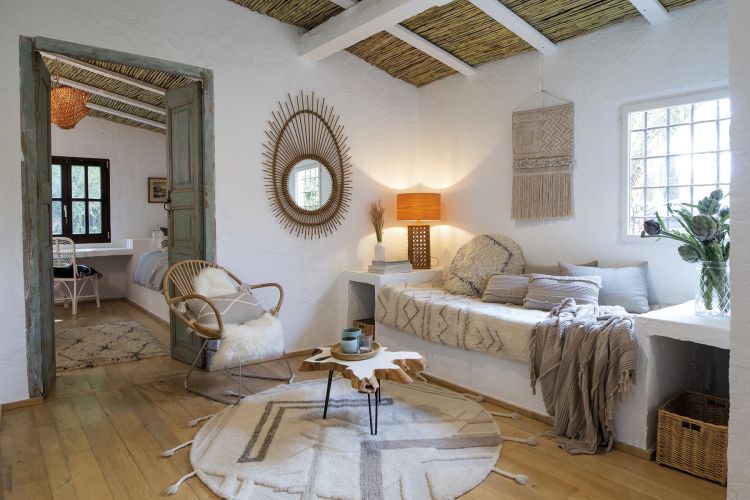 Shutters, wooden lintels and masonry structures like this sofa. Add a fiber rug and a wooden table and you will feel at home with your grandmother. To modernize, throw on some colorful upholstery and fill the living space. All Lorena Canals textiles.
30 Rustic and charming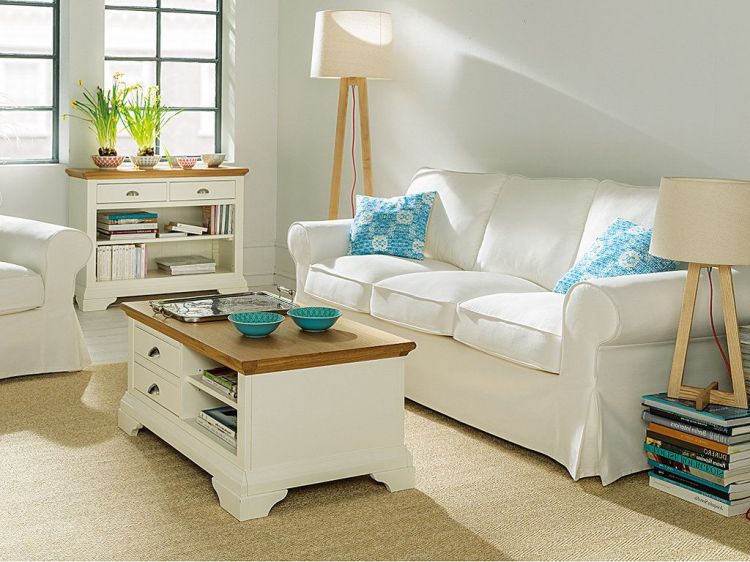 One of the advantages of the rustic style is that it uses very light colors, which give a lot of light to our space. You can always give small touches with textiles or auxiliary furniture so that it is not so flat. A white sofa will go with everything, it is a basic with which you can make your own compositions with the rest of the furniture and decorative details that are in your living room.