Luckily for many, including myself, bohemian or boho chic decoration, this year is going to hit hard. More than what is already hitting now.
That is why I am periodically bringing ideas to apply this beautiful style to our home.
And today, specifically, I have prepared photos and ideas to decorate a bedroom with a very current bohemian style.
It does not matter if your room is small, large, furnished, diaphanous or has another style already implemented, these ideas are valid for all cases.
Let's start with this batch of bohemian-style rooms.
In beige tones, with the bed on wooden pallets, like these beds at ground level. Naturally, tapestries are very appropriate for this style.
Likewise with a bed made of wooden pallets, but with a simpler and less ornate environment.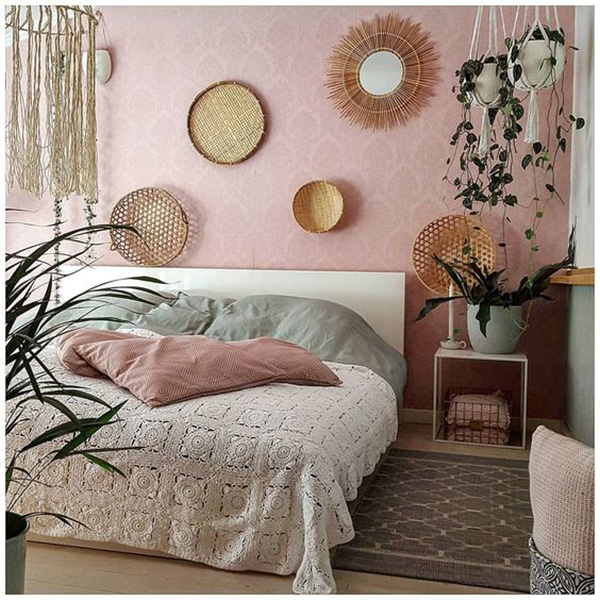 Dormitorio de Ilonka Dekkers @plinka_life
In precious pink tones, this other boho bedroom has a more modern but equally welcoming style thanks to the materials and textiles used that are characteristic of the bohemian style.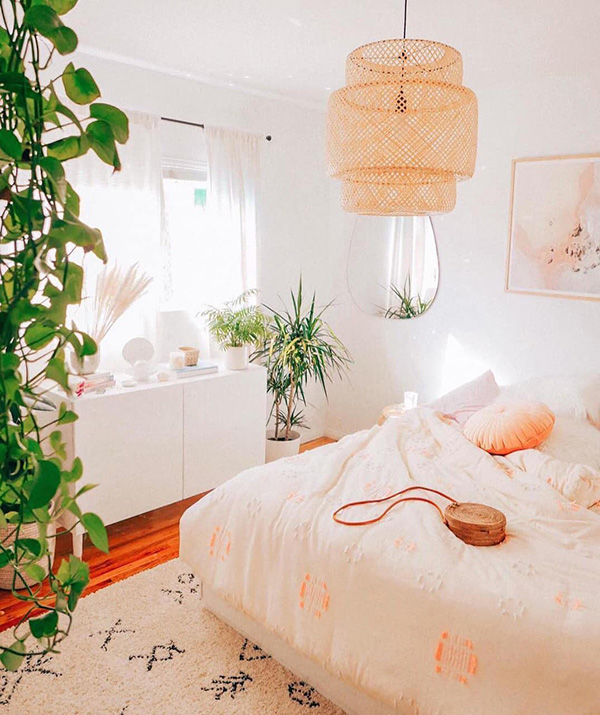 Erika Carlock's bedroom @erikacarlock
All in white with subtle pink accents, thick textiles, plants and vegetable fibers. The exact recipe for a bohemian bedroom.
WanderXluxe bedroom
With a more ethnic atmosphere and decorated in neutral tones, whites, greys, wood and vegetable fibers. A very stylish boho bedroom.
Bedroom at The Kristyncole
Carved headboards go great in a bohemian bedroom, and they add a lot of decor on their own.
Dormitorio de Marzena Marideko @ marzena.marideko
Although the textiles that dress the beds of the boho bedrooms will always be the absolute protagonists, whether they are multicolored or in neutral tones as we see above these lines.
Emma White's bedroom @apogee_interiors
Vintage metal beds in black are very popular in this style, they look great.
North Country Nest Bedroom
Another boho bedroom with a metal bed, where a shelf has been installed that occupies the entire wall to fill it with plants.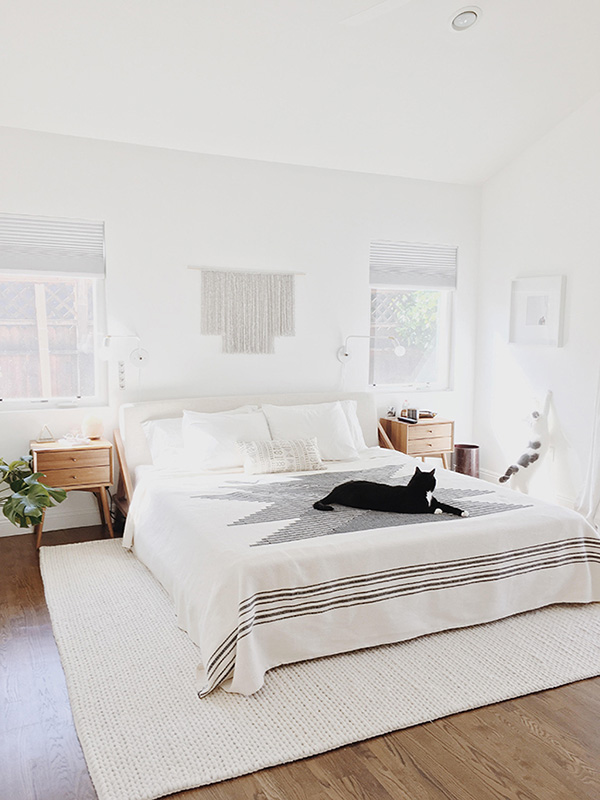 Photography Most Make Perfect
Molly's bedroom from Almost Make Perfect will always be my favorite bedroom. Soft, cozy, warm and extremely bright, with boho accents but in a subtle way.
Interior Design Mos Studio
In shades of green and with lots of carved wood, both in the Maisons du Monde headboard and in the trunk at the foot of the bed, matching the rug, all designed by the interior designer Rocío Mós.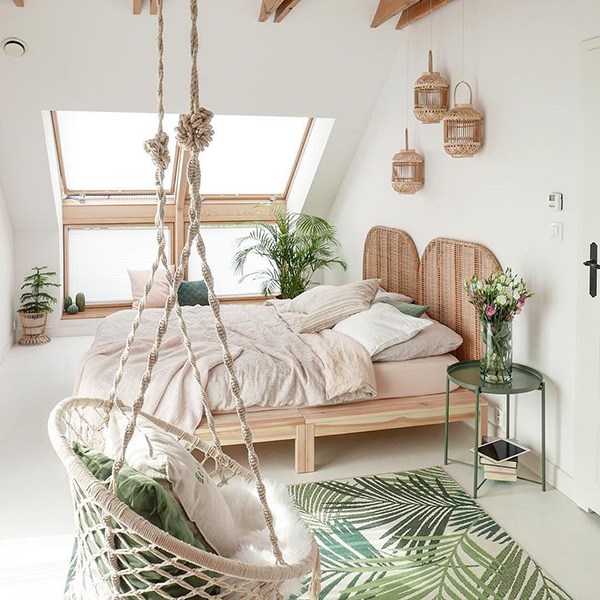 Dormitorio de Agnieszka Bancewicz-Welc @ makeagain.pl
This other boho or bohemian bedroom has changed the explosion of colors for a more serene palette of white, wood and green in plants and accessories.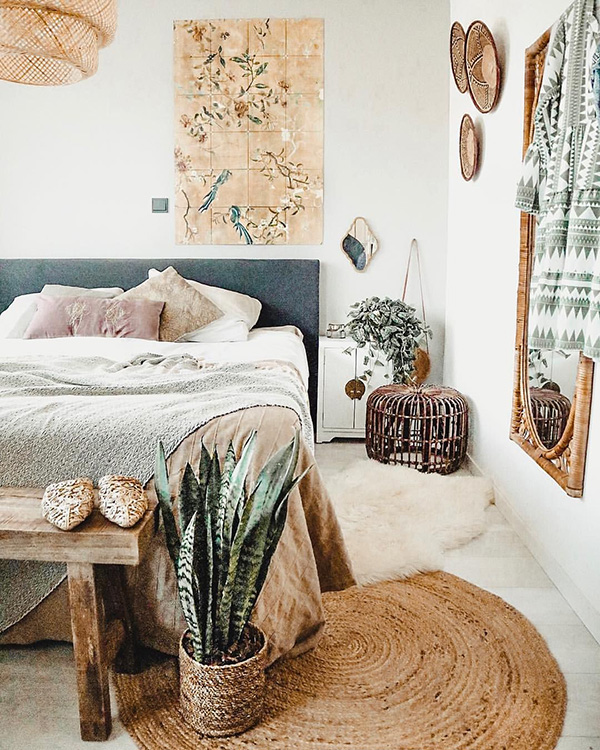 Dormitorio de Marit de My Styling Diary @styledbymarit
Modern in style but with many details of the bohemian style, such as the round rattan rug, the aged wooden bench at the foot of the bed, baskets, baskets and plants.
Bedroom @zebodeko
The canopy of this other bohemian bedroom made with natural branches where the plants hang is the great protagonist of the space. The bed, full of colorful textiles, is not far behind either.
Vanessa Strengell's bedroom @prinsessavanessa
If we add all the white textiles and create a monochrome, boho-style bedroom, like the one we see above these lines, we will create a romantic and enveloping space.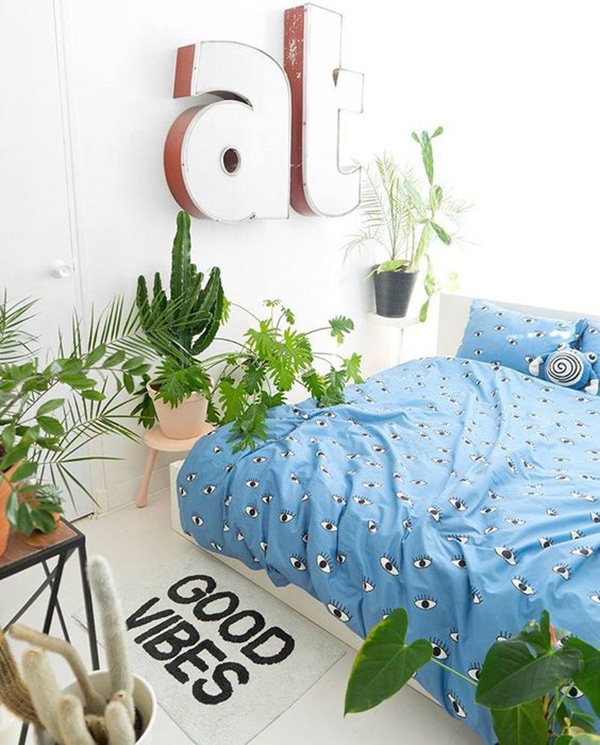 Full of good vibes, in white, blue and with many plants filling the bedroom with life.
With a classic upholstered headboard, an element that looks great in this style.
Risi's dorm @the_indigo_leopard_home
In earth tones, very appropriate for painting a bohemian bedroom since they are "natural" and combine wonderfully with other natural elements that are usually present in the boho style, such as wood or plants, among others.
Dormitorio de Sara Toufali @saratoufali
In addition to the plants, the macramé tapestries are another element that cannot be missing in a bedroom with these characteristics. Here you can see ready-to-hang macramé rugs and here you can meet some of the most popular artists in textile art right now and their incredible macramé rugs.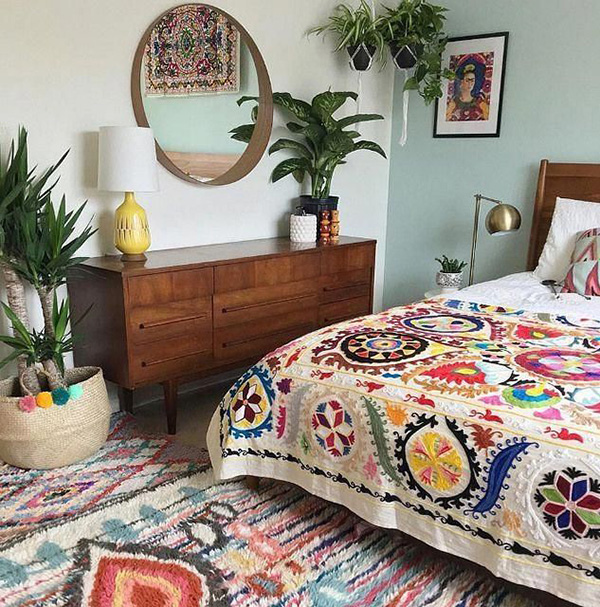 Timoney Honey @hello_little_darling's bedroom
Vintage cut, with Mid Century furniture, something that also fits in with the bohemian style. The rest, a multitude of textiles in cheerful and bright colors with aggressive prints.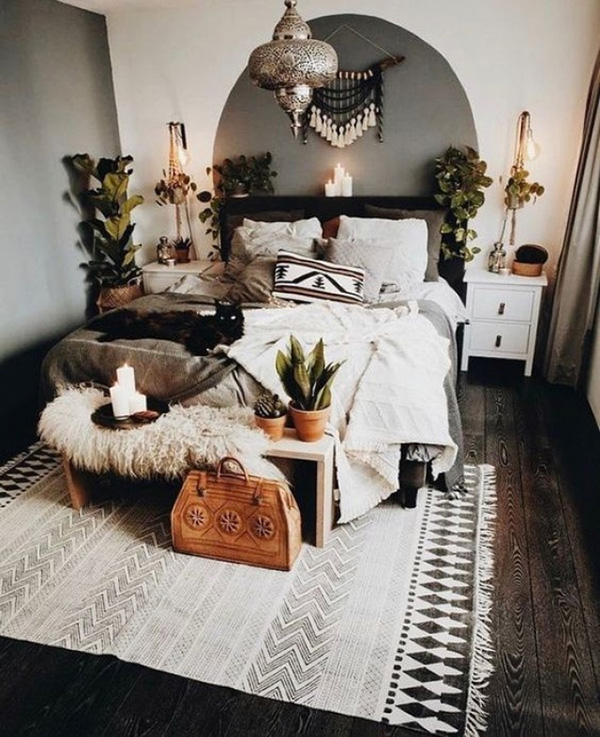 Tatjana's bedroom @tatjanas_world
Recharging, neutral and pretty. A modern bohemian bedroom with a lot of visual weight. Wood in dark tones is perfect for the aesthetics of the room.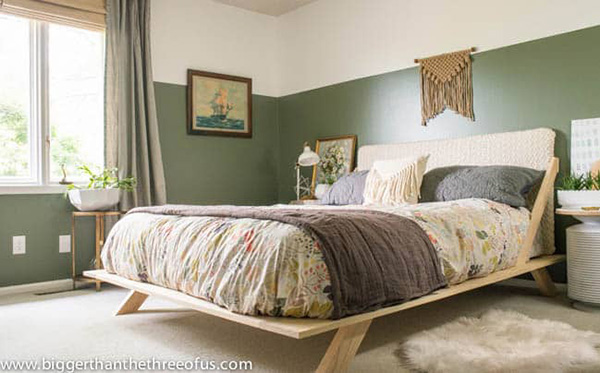 Dormitorio de Bigger Than the Three of Us
Much simpler but equally beautiful, this other bedroom with subtle boho accents. The bed with a light wood frame, plants, textiles, macramé decorating the wall above the bed, and the pretty leaf green on a painted plinth throughout the bedroom.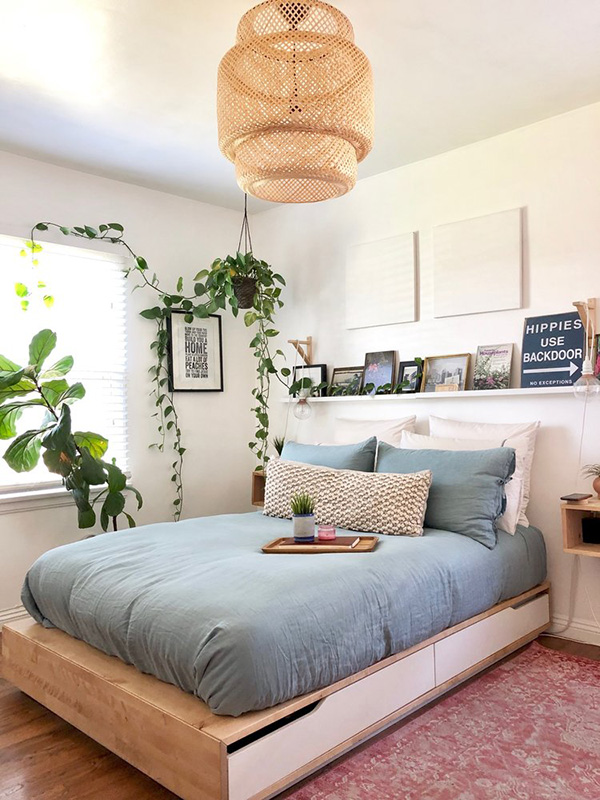 Flowers and Folk Bedroom
The IKEA Sinnerlig lamp is another element that looks great in bohemian style bedrooms, as we see in this one with the bed frame with drawers.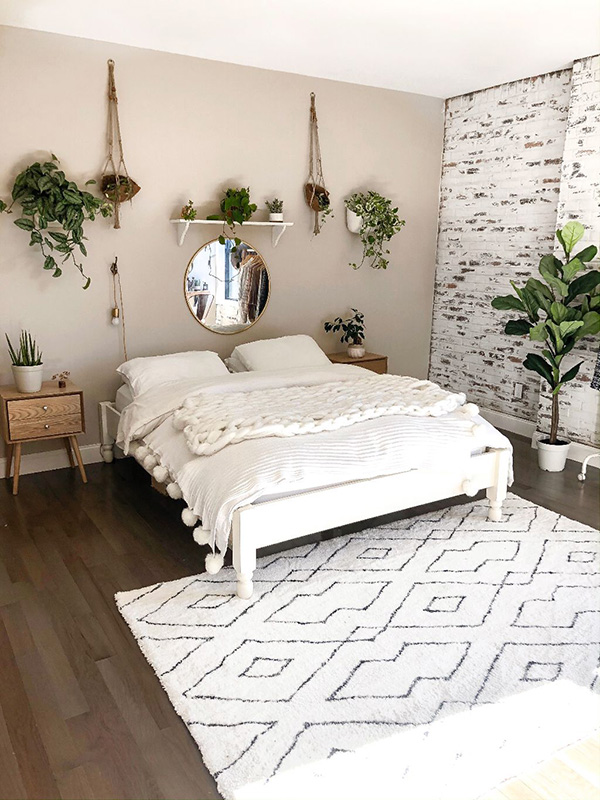 Grave and Vanity's Bedroom
Both the original exposed brick and the imitation brick wallpaper are also a success, and if it is painted in worn white, it is better.
Photography @Sally Fazeli
All in white tones combined with many natural materials creating a cozy and bright bedroom.
Tatjana's bedroom @tatjanas_world
Plants, neutral tones, dark wood on the floor and a beautiful Moroccan lamp in silver tones, all topped off by a large circle on the headboard wall in greyish blue tones.
As you can see, bohemian decoration is more versatile than it seems.
It can be applied in large doses or in small injections.
In addition, we can achieve a bohemian atmosphere, in the purest hippie style, or something more sophisticated, elegant, neutral or subtle, but always keeping that free touch that characterizes the boho chic style.
And, if you have looked closely, one of the fundamental and most effective accessories that cannot be missing in this style are textiles. Varied in colors, textures and fabrics.
What do you think of these bohemian bedrooms? Which one do you prefer? I have it clear, and I have already told you what it is. Now it's your turn.