Two colors that complement each other great, but you don't always dare to use them to decorate. If you only knew the game they play… Discover the potential of their contrast and their enormous visual impact. They will seduce you!
Is black masculine, sad or bland? Absolutely! You just have to combine it with white, also with wood, fibers, or add touches of colors with character, such as gold, mustard, red… to realize its possibilities.
In today's decoration, this duet triumphs in urban, minimalist, Nordic and norethnic styles. Decorative details that add to the trend: cushions, bedding, vases, lamps, prints, photographs, rugs… And for those who want a greater presence of black: walls, pillars, beams, stairs, closet doors, bookcases, shelves, furniture.
In coatings it is a duo with a visual impact since always. It is enough to remember the majestic checkerboard marble floors of the stately homes; and the retro pavements, with the beautiful compositions formed with hydraulic tiles.
Black polyethylene planter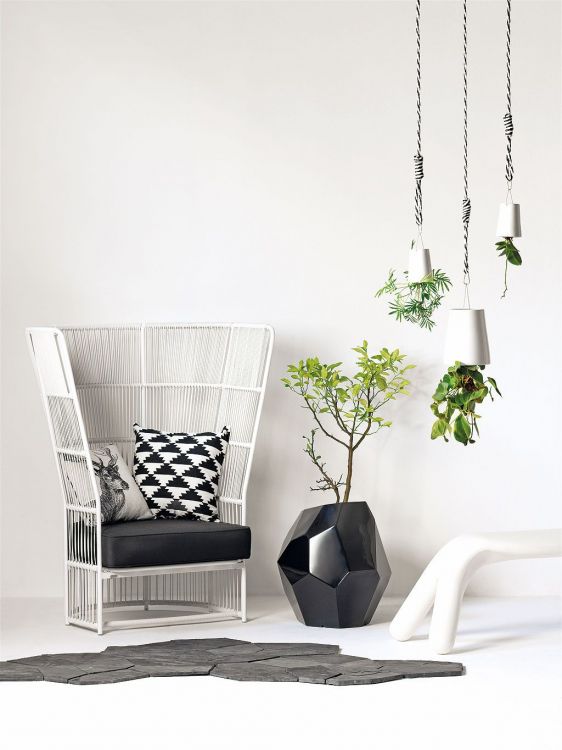 The secret is to find the right dose of each color so that the environment is irresistible. The Tibidabo armchair, from the firm Varaschin, in synthetic fiber, is enhanced with a black cushion and a pair of patterned cushions. The Secret planter, by Slide Design, in polyethylene, projects light and shadow with its faceted design. The Sky Planter hanging pots, for natural plants, that defy the law of gravity are from Boskke; more information on their website.
Cardboard deer trophy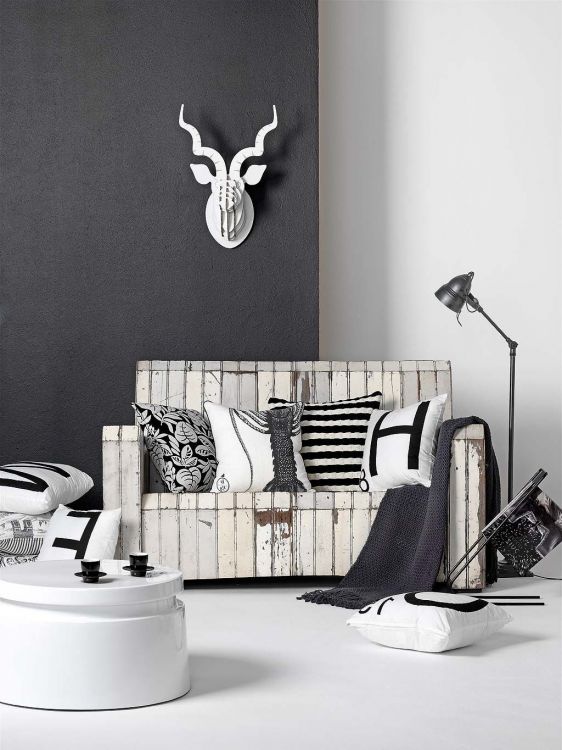 Singular pieces Factory & upcycling, two deco trends of the moment that win with
color and texture contrast. The first recovers industrial designs and the second is committed to transforming an object that is out of use or destined to be waste into another with value. Deer trophy, in cardboard, similar to Curiosite. A black wall brings dynamism to any space and draws attention to the objects located there. For this reason, they are also perfect canvases to display a gallery of photos and works of art. Smooth or textured wall? Look for options and effects in DIY and painting centers.
Metallic floor lamp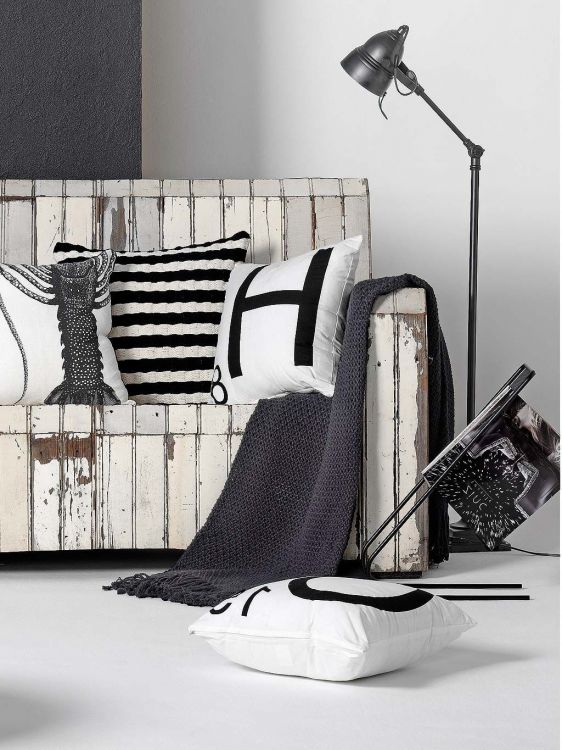 The metallic lamp, similar to Maisons du Monde, forms a good pair with the bench, made with painted slats that could well be demolition material.
Pimped cradle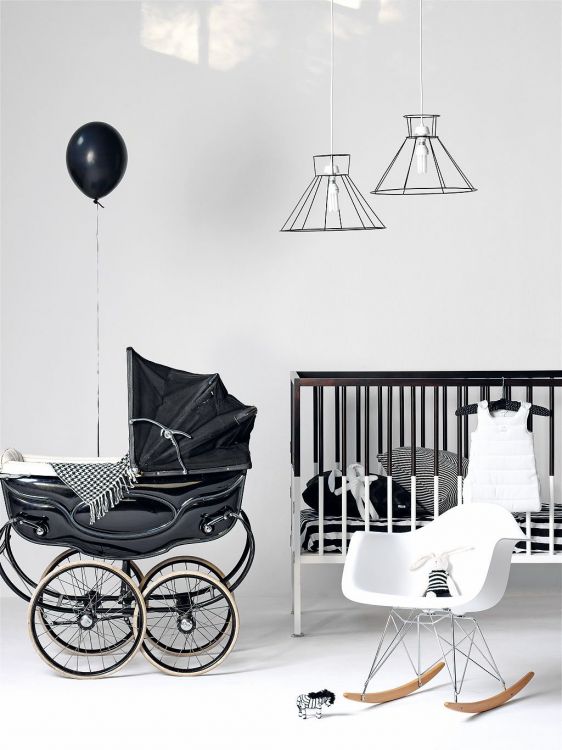 The black & white look is an alternative to the classic children's palette and unisex colors. Infallible, choose white as the main color and add black in accurate brushstrokes, such as details, vinyl, textiles or wallpaper. For the brave: tune the bars of the crib with the dip painting technique or submerged effect.
Black and white plates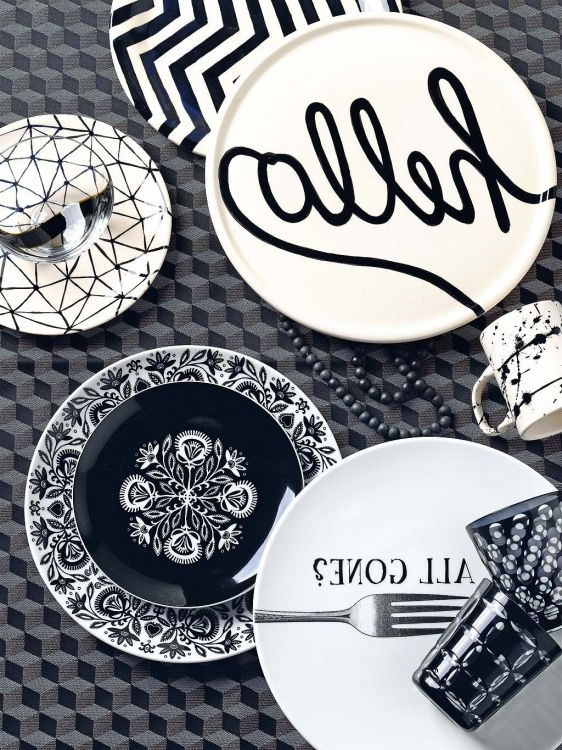 Enjoy a presentation that breaks schemes at the table. Spectacular and transgressive, the combination of black & white dishes. Yes to mixing disparate tableware! Classic, baroque, geometric motifs, dots, stripes, letters… Find your own mix & match with the variety of Zazzle plates. The three-dimensional fabric is the Escher Silver model, by Tessa Sonik.
Black and white striped chair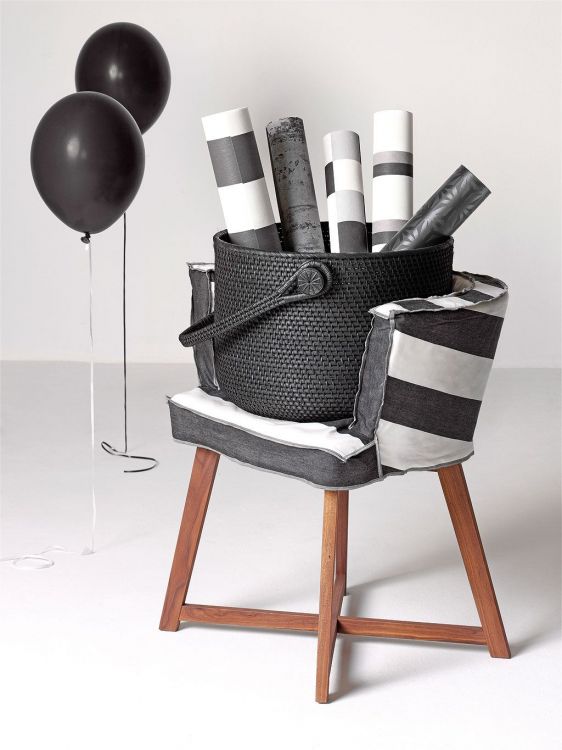 New scenario to create a serene atmosphere, a sophisticated point, the decorators resort to the black and white binomial. It is a background that harmonizes with many styles: classic, urban, minimalist, Nordic… Whenever white is combined with black or dark tones, it increases visual interest. Gray 26 armchair, by Gervasoni. In the basket, similar to IB Laursen, wallpapers, by Romo, Casadeco and Hertex.
White armchair and pouf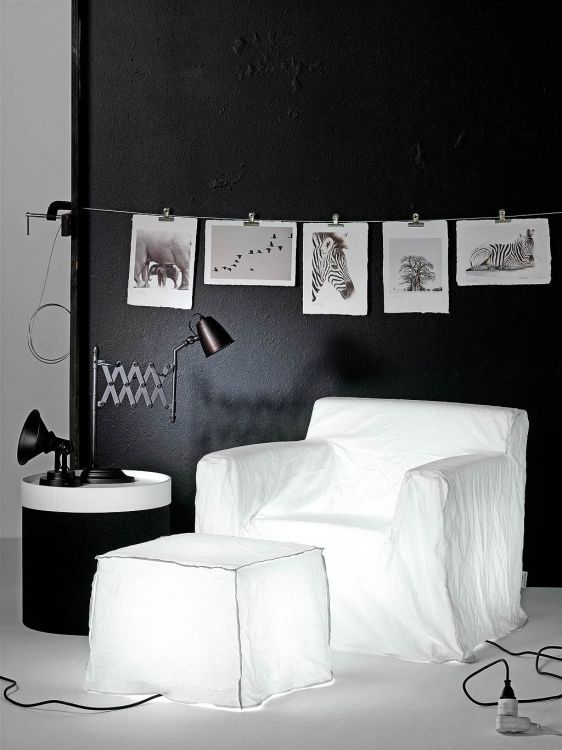 Black and white are the opposite poles… they attract each other. The only key: knowing how to illuminate these spaces. Right, the idea of creating a photo gallery, because it counteracts the intensity of the black background. The white tray on the bedside table also projects its light. The backlit armchair and pouf are from the InOut collection, by the Gervasoni firm. Drum nightstand, by Soft Line. Extensible lamp, similar in Maisons du Monde.
Polyethylene lamps with LED lighting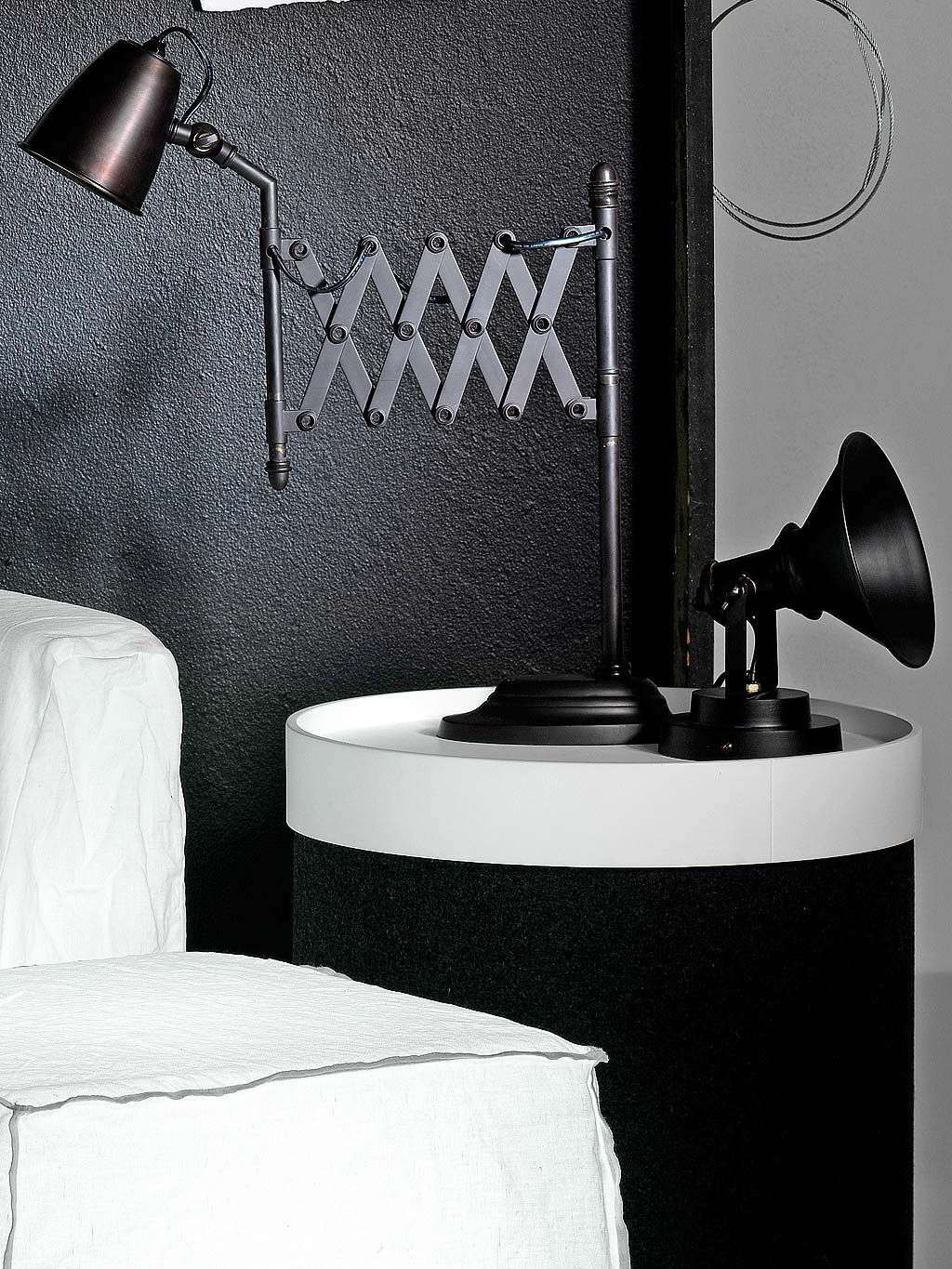 Furniture, pots and polyethylene lamps, which incorporate LED lighting, are a must in outdoor decoration. Pure magic in the evenings and summer nights, which can also be transferred to the interiors, decorated with a dark wall. Impeccable, the designs of Vondom and Gandía Blasco.