These are the best ideas to inspire you and decorate the coffee table with a personal style.
The coffee table is the point of reference in spaces such as the living room. It not only participates in the decoration, but also contributes in a functional way. In this way, a harmonization with the environment is sought by making use of other ornaments and accessories. For this reason, we want to present you with 40 ideas to decorate the coffee table with style.
The possibilities are multiple, you simply have to let yourself be carried away by your own tastes, the type of decoration and the meanings that are intended to be conveyed. All the elements collaborate in the aesthetics of the room and acquire a certain prominence; however, you have to study the way they are presented and, of course, make the right choice to have a multifunction room.
How to decorate a coffee table?
First of all, you have to keep in mind the type of style that is present in the house. The table will be a true reflection of the design that has been applied, especially if we want to seek originality and modernity with resources such as designer nesting tables. For example, if it is minimalist it will have clean and straight lines, if it is boho chic a more sophisticated and colorful touch is sought, if it is rustic then it will be made up of natural resources and wood, etc.
For a better understanding of how to work on a coffee table decor, we've rounded up tips from styling experts Emily Henderson, Studio McGee, and Will Taylor of Bright Bazaar. In this way, we will know the steps to follow and what to avoid when using this type of auxiliary furniture.
Steps to decorate the coffee table
These steps are decisive and become an illustrative support of what we must do. Let's get to know each of them:
Step 1: A tray. In it you can group different objects and make them look like a single unit; in this way, more order is achieved. Also, when you have to clear the table, you just have to pick it up.
Step 2: Add verticality. We already know the virtues of the trays, but they have a problem: they are very horizontal. To break the monotony, place a tall vase with rounded shapes to liven up the environment ; for this, nothing better than a glass vase.
Step 3: The boxes. Remote controls or coasters are not decorative pieces, but it is necessary to have them always at hand. The ideal is that we look for an element that is useful and demonstrates another way to decorate the coffee table with style; therefore, store them in a box with a lid and voila! This way you will get a comfortable, cozy and practical living room.
Step 4: Books and plants. Grouping books that are of interest to you is a good way for your visitors to get to know your tastes and personality. After all, they are the perfect tool to start conversations. The same can be said of plants, ideal for naturalizing the environment and dressing a spring table.
Step 5: Sculptural Forms. We already have something horizontal and something vertical; therefore, the next step is to add some sculptural element. To do this, try figurines, candle holders or natural elements, such as fresh plants or flowers. In this area, we have the possibility of working on crafts and decoration.
Step 6: In the variety is the taste. Make sure there are several colors and they are balanced ; deep down, between three or five are enough. In addition, it is important that there are different textures (wood, glass, natural fibers, ceramics…). And voila!
Below, you will find 40 examples of decorated coffee tables to inspire you. Remember that these tricks are to help you decorate the room, but the most important thing is that the result is one hundred percent yours.
1 White, black and yellow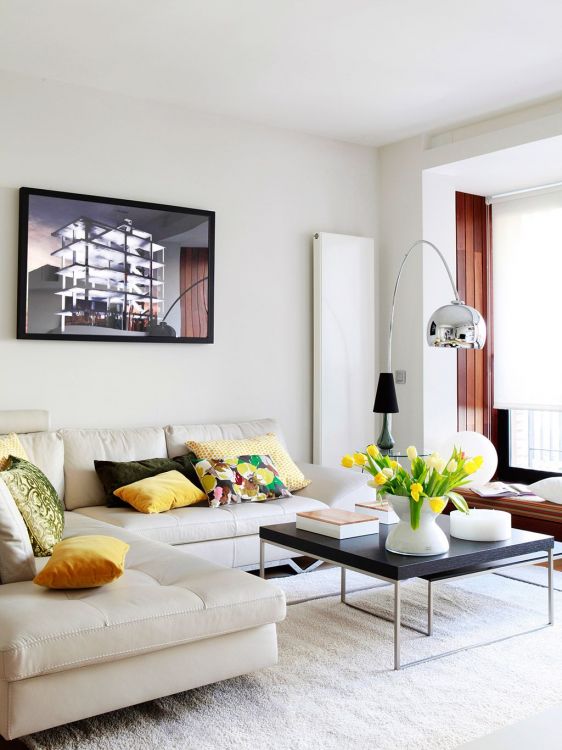 In the center, the square-format table that houses another accessory in case the need arises to use it. It is configured as a nest table and is decorated with plants and other simple resources in a minimalist style.
2 Touches of wood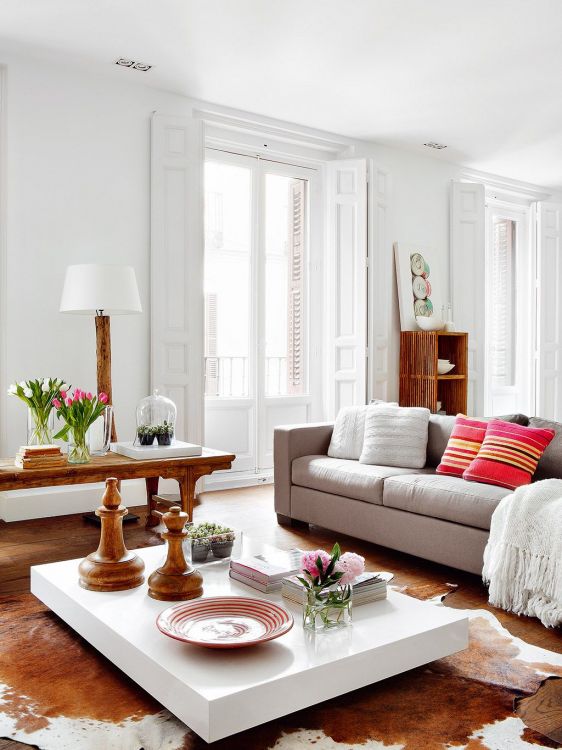 Another possibility is that the table is practically at ground level. This example is subtle and elegant, as well as clearly contrasting with the warmth of wood, ceramics, glass and books.
3 Two in one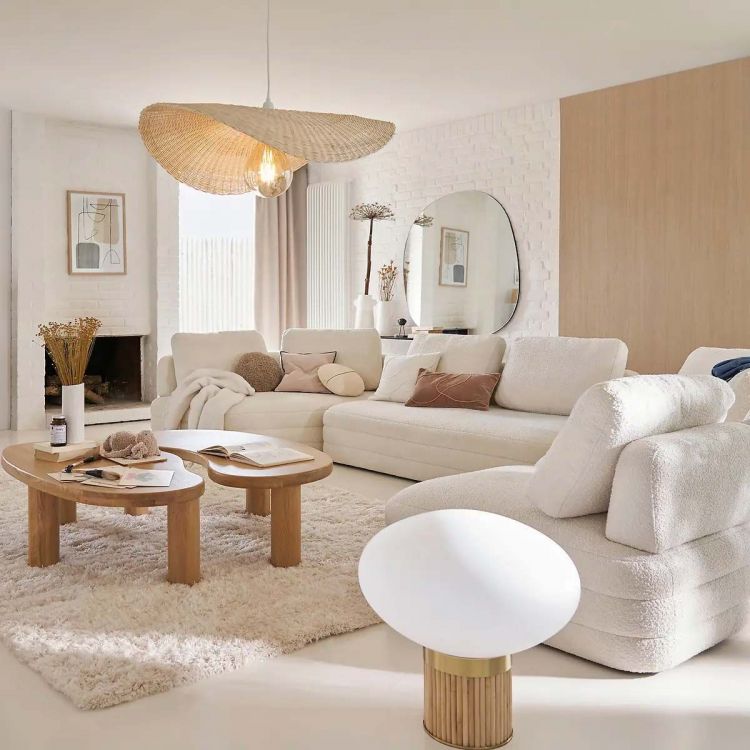 Because not only what you place on the coffee table has to surprise, but also the way you choose. We love these two organically shaped coffee tables from La Redoute.
4 Round table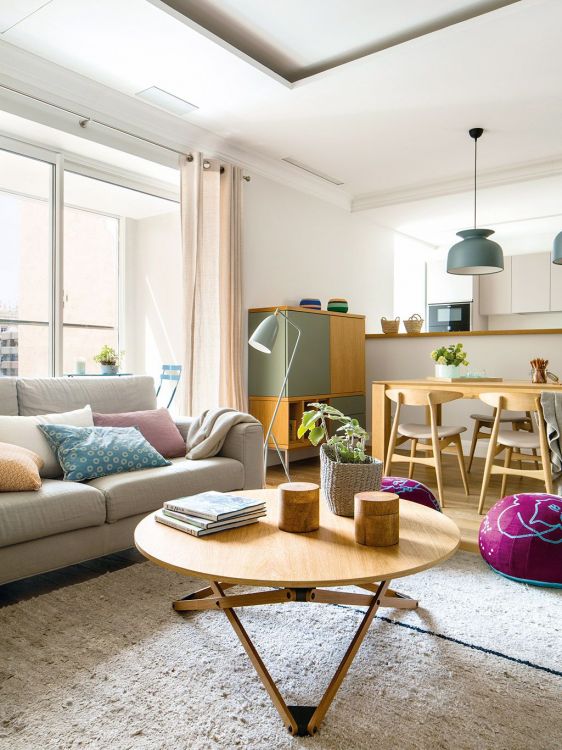 The table draws a lot of attention, but the resources arranged on its surface are also very good.
5 Romantic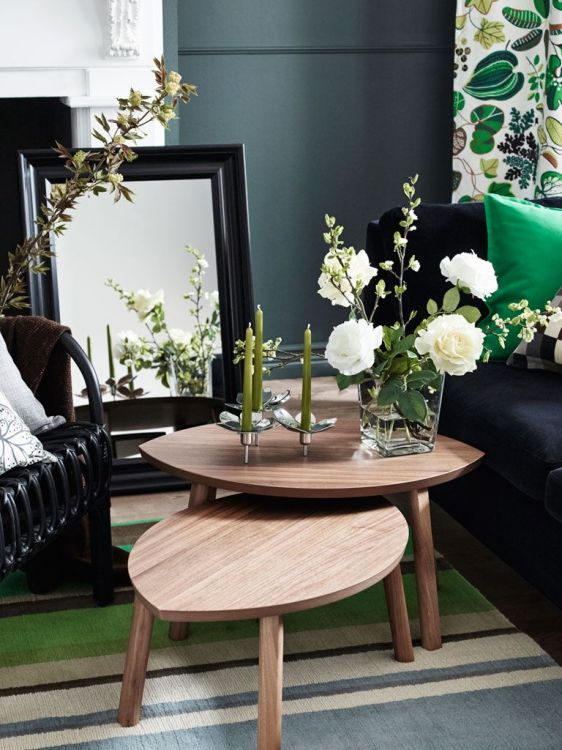 And natural. This composition is perfect for a couple of coffee tables (nest type) in wood and with a seventies design. A vase with fresh flowers and some candles.
6 Gold glitter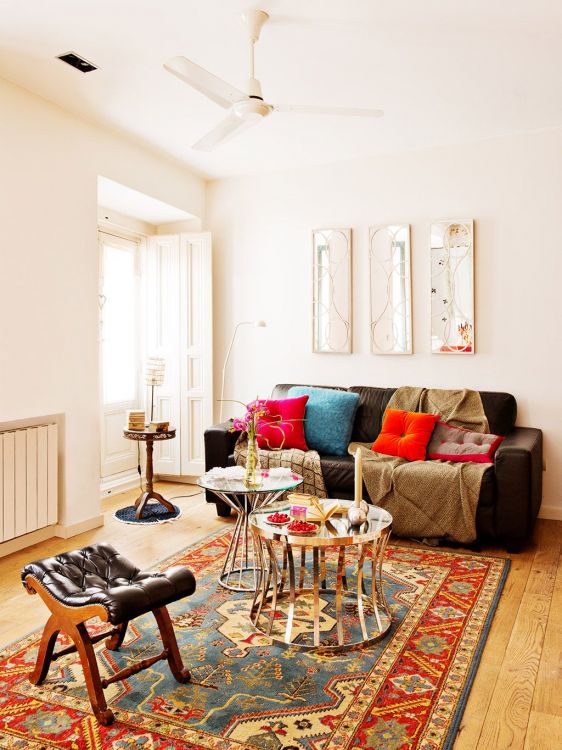 To complete the aesthetics of the table, some elements have been arranged on the surface in order to give it a chic and fashionable design.
7 The touch of wood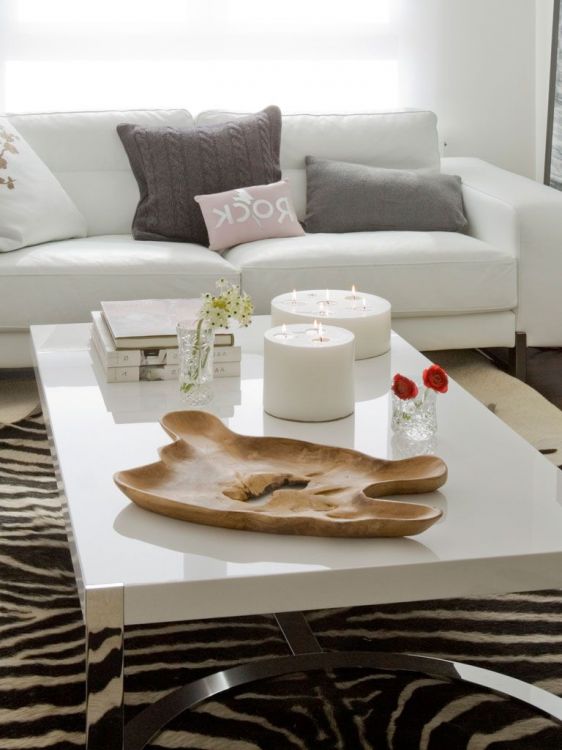 Candles and books on a white coffee table. The irregular wooden tray breaks the monochromatism. Some mini cut natural flower arrangements in a glass vase. An irregularly shaped piece, like the tray, breaks the linearity of square or rectangular tables. The reform of this house was carried out by the architects Armando Álvarez Torno and Ana Isabel Arribas Casado.
8 Always Natural Fix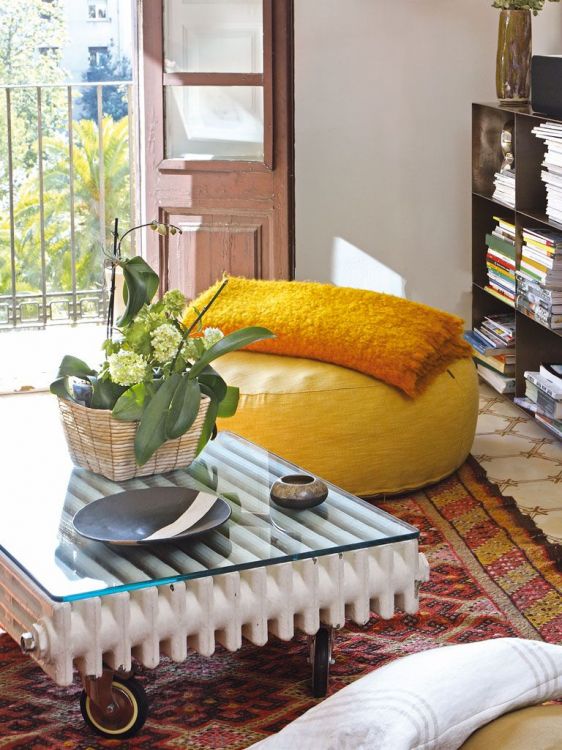 If they are natural flowers better; if the arrangement is artificial, unless it is well achieved. An idea design to set up a party table.
It is made with an old iron radiator and glass envelope. Above, a natural green arrangement in a basket, a plate and a bowl. The architect who signs this project is Kika Estarellas de Bonba.
9 Charming Pieces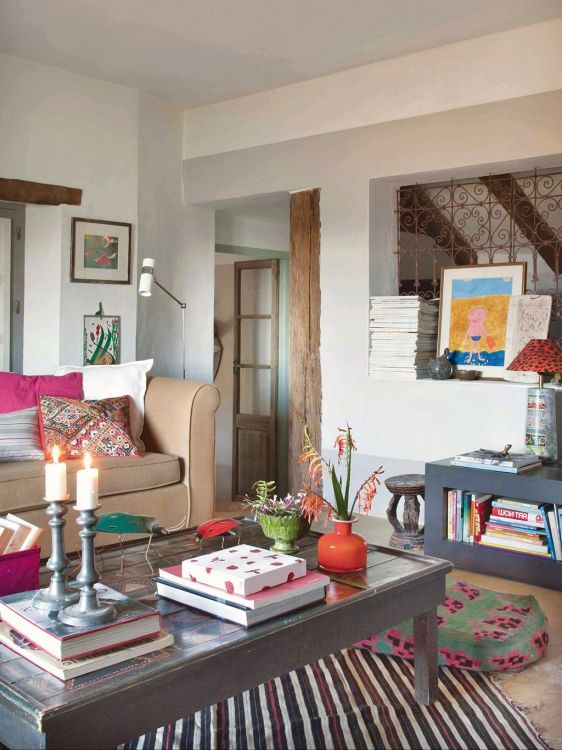 In this example, an old table has been recovered that has a little wear on the corners and other more modern elements are arranged, metal insects and candles that calm the environment.
10 Minimal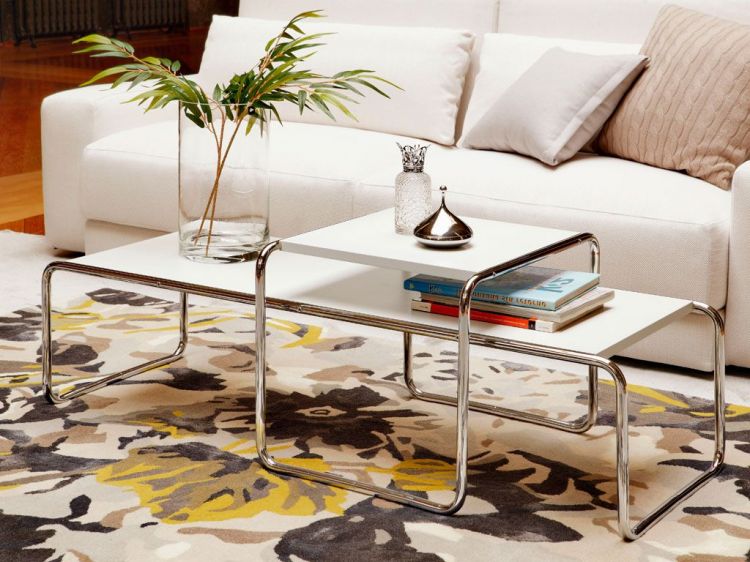 Two designs, one on top of the other, of different dimensions. Books, some cut leaves and a couple of boats.
11 Earth and pastel tones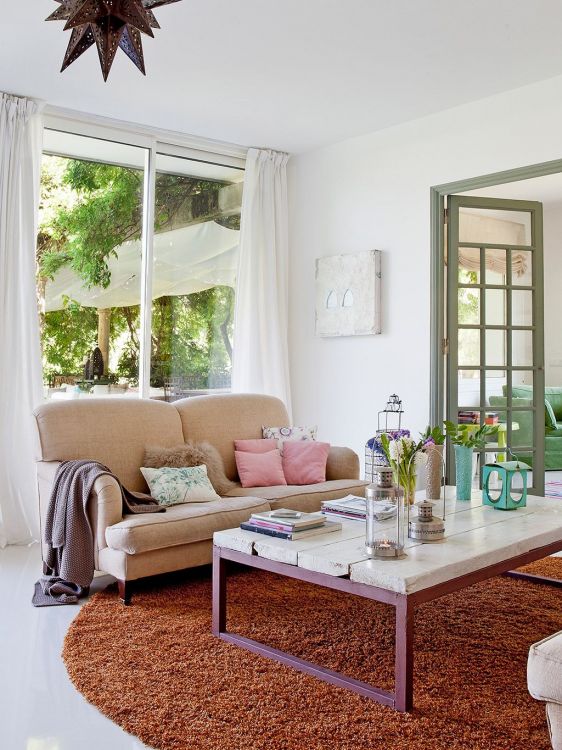 Wood can also be present alongside metal. This is reflected in this table that, in reality, transmits a certain informality within an elegant space with some gadgets that arouse a certain curiosity.
12 Full color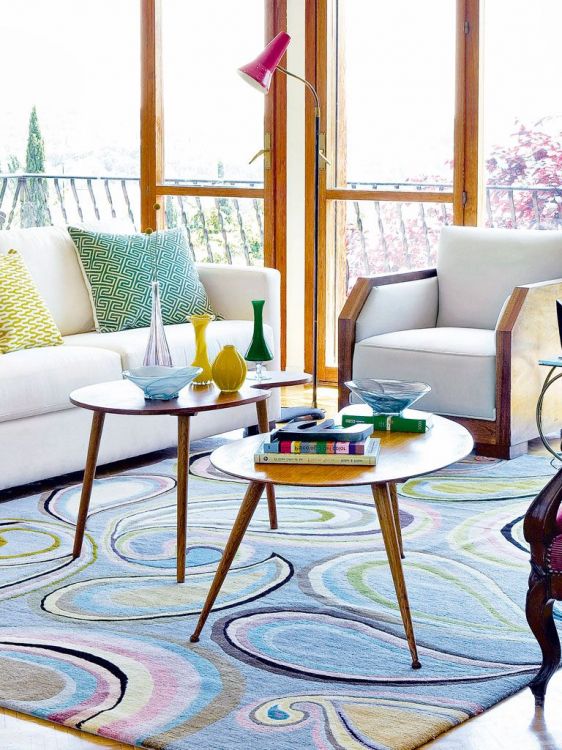 Matching the geometric patterns of the rug, two side tables as a coffee table. Only colored glass pieces. At one end, books stacked in order and a letter above them. The interior design is signed by Teresa Abaitua.
13 Ceramic Collection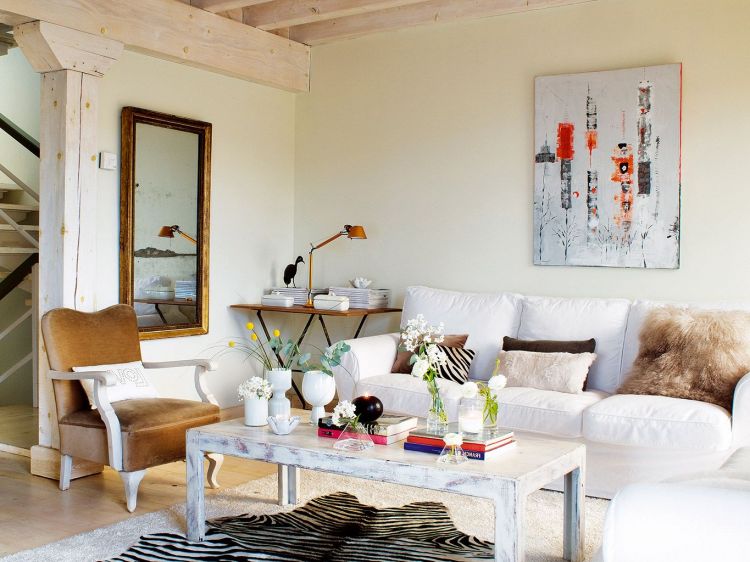 Through the use of ceramics we can embellish this table and give it a more sophisticated touch.
14 Small details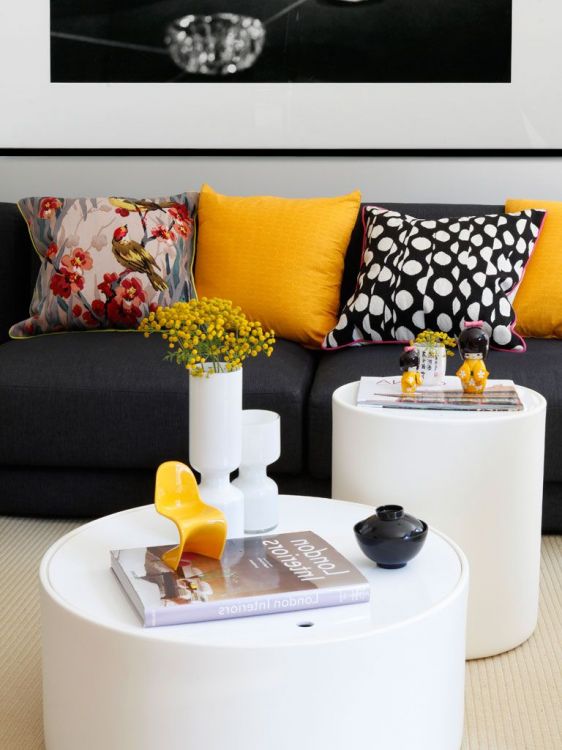 Vases with a touch of color, books, a deco doll and a miniature designer chair. These tables are containers too.
15 Rustic city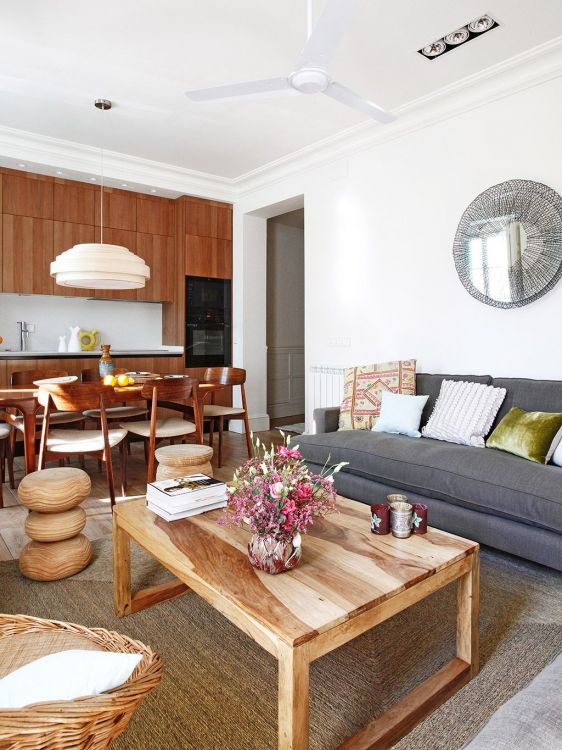 On a wooden table we can put dried flowers and other resources that create a rustic atmosphere.
16 Maxi tables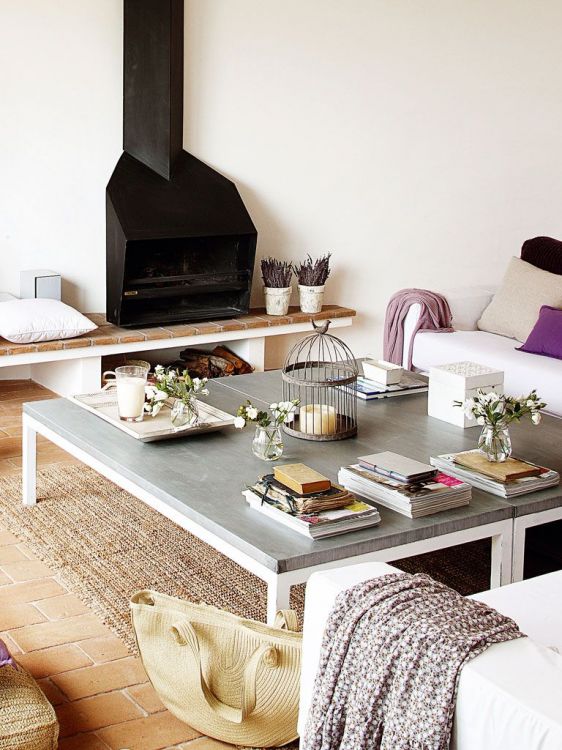 When the table is large, it is important to decorate it well so that it does not look "deserted". Here are two rectangular tables side by side, which can be placed depending on the needs of the meeting.
On it, books and magazines, a box (perfect to store the controls of audiovisual devices), a cage with a candle and some flower arrangements.
17 Flowers, boxes and candle holders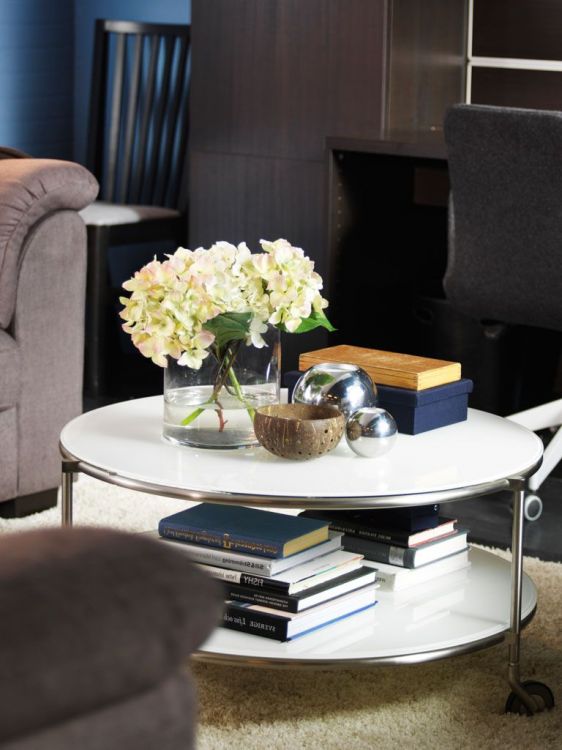 Circular table, everything in the center. Flowers, candle holders, a story and boxes. If the table has a lower shelf, take the opportunity to place magazines or reading books.
18 Wooden boxes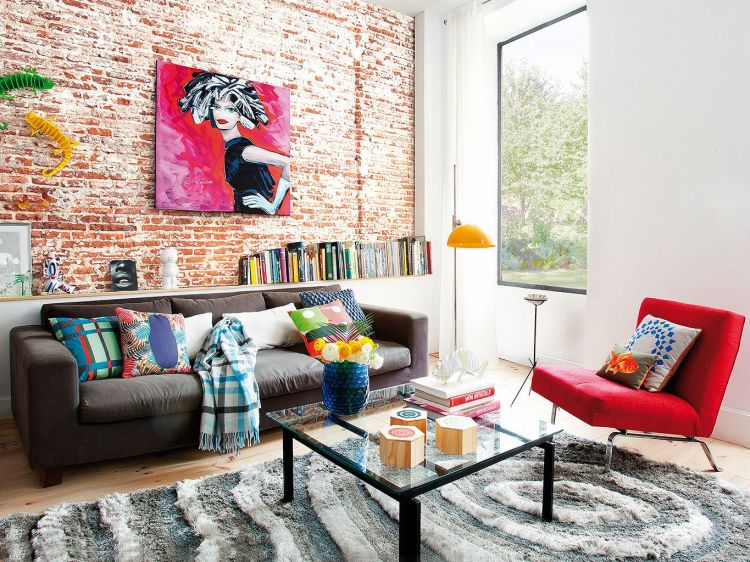 A very clear contrast compared to the glass table.
19 Rounded lines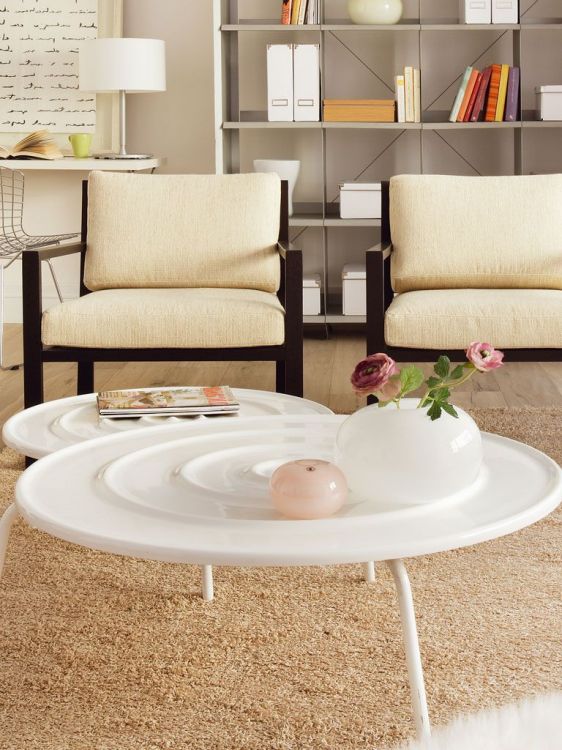 Circular table and ornaments with rounded lines and low height. Take into account the height of the elements that decorate your coffee table because the higher the more unstable. When passing near them, they can fall.
20 Across the table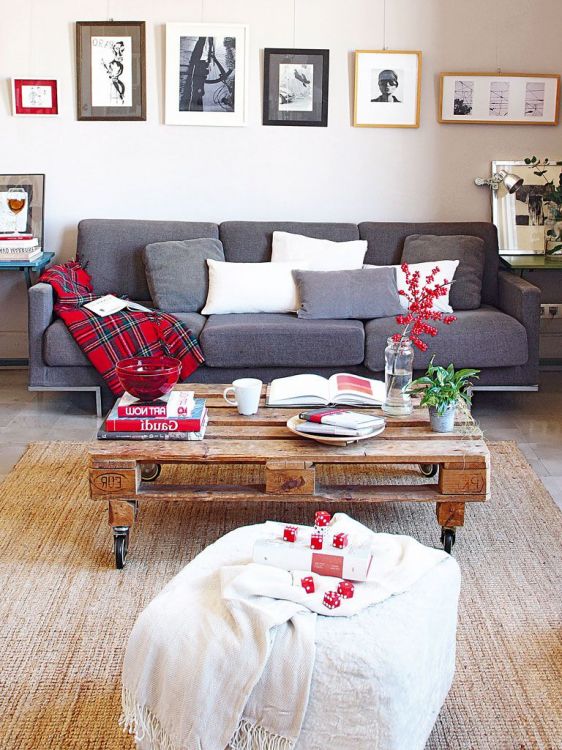 A pallet with wheels and a simple decoration : books, flowers and a tray. The decorations are distributed to occupy the entire surface of the table, they are not grouped.
21 Three tables grouped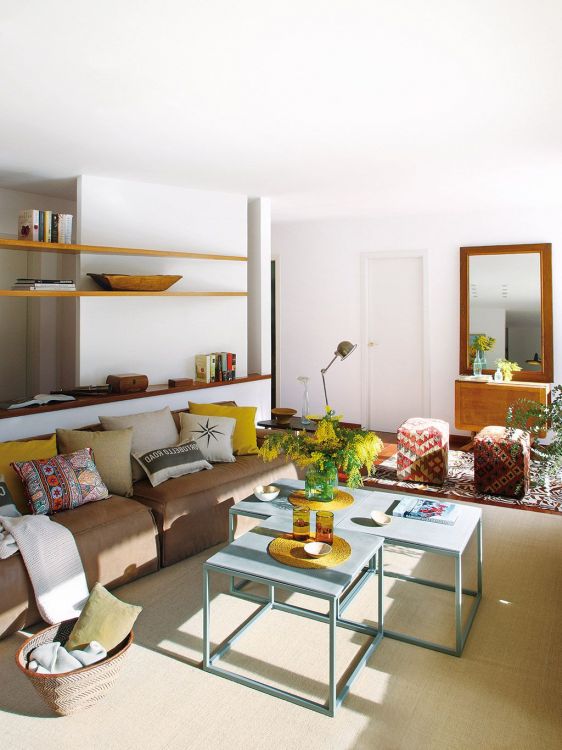 Glasses, plates and bowls take center stage on these tables.
22 With drawer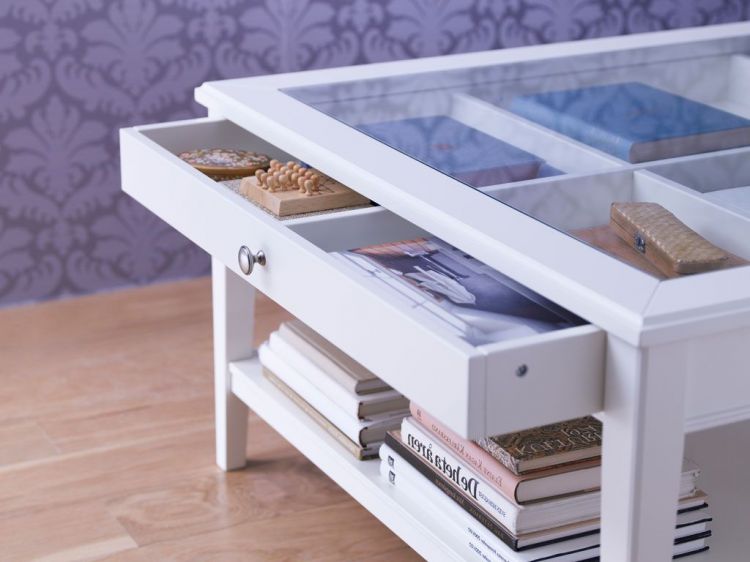 Everything in sight but preserved from dust. The tables with drawers under the top serve to organize your secrets. But with the glass top, it's a perfect display for travel souvenirs, heirlooms, collections…
23 Vegetable touches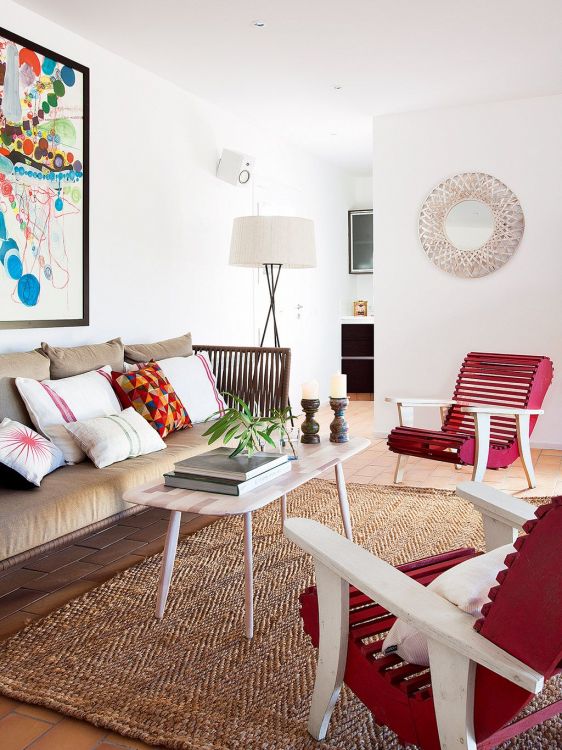 Candles, plants and books harmonize with each other to calm the room.
24 Nordic Simplicity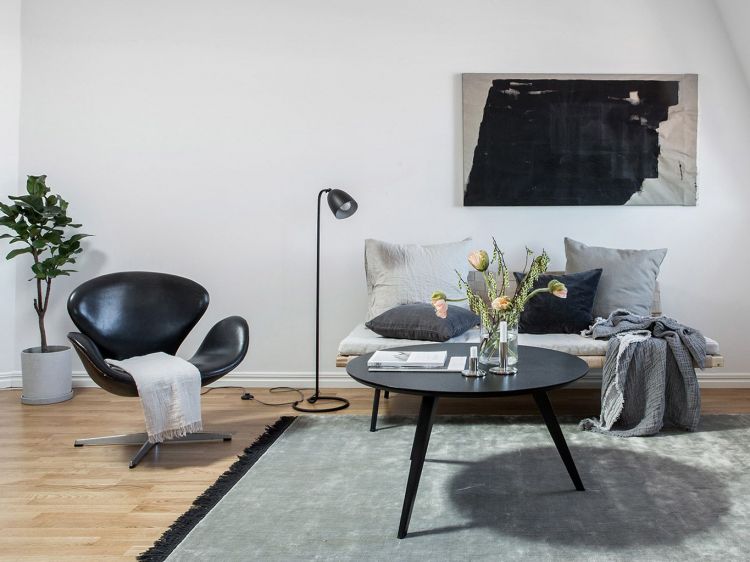 Seriousness and forcefulness in a more refined and resounding style.
25 Modern Classic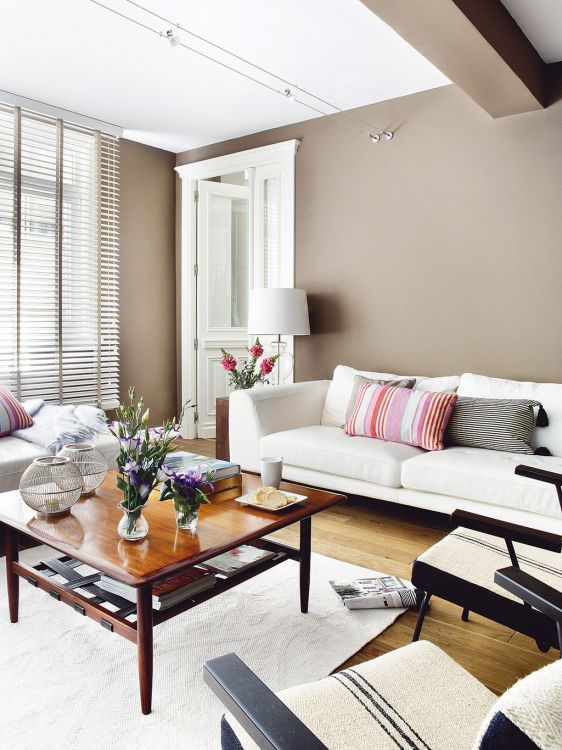 A way to resort to classic furniture but with a more modern decoration. Again vases, bowls and books for a subtle elegant look.
26 On a platter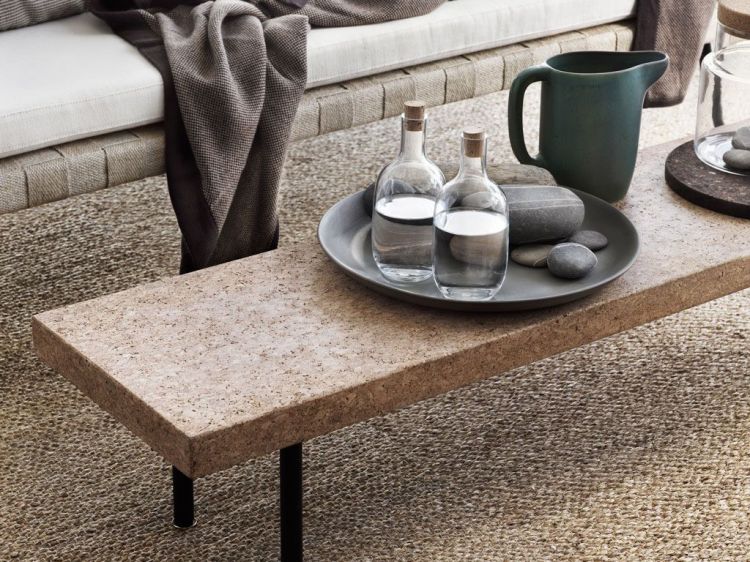 Grouping decorative objects on trays is practical to clear the table top in no time.
27 Glass vases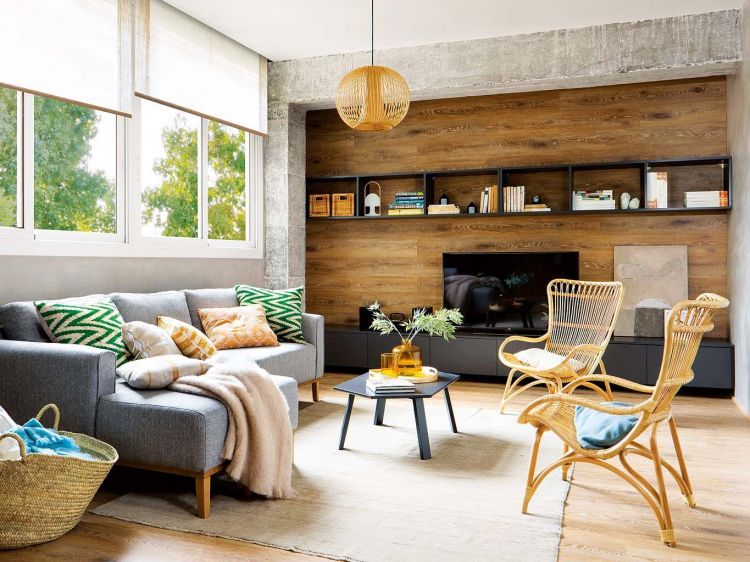 Another way of decorating using glass as an aesthetic reference that, without a doubt, attracts attention from afar.
28 With stone envelope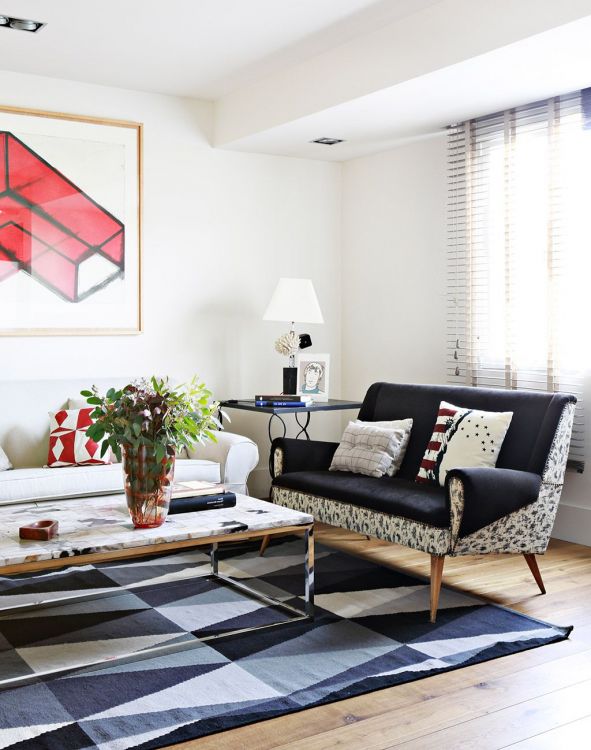 A table that attracts a lot of attention and that perfectly complements the plant that, without a doubt, becomes the main protagonist.
29 Maxi flower arrangement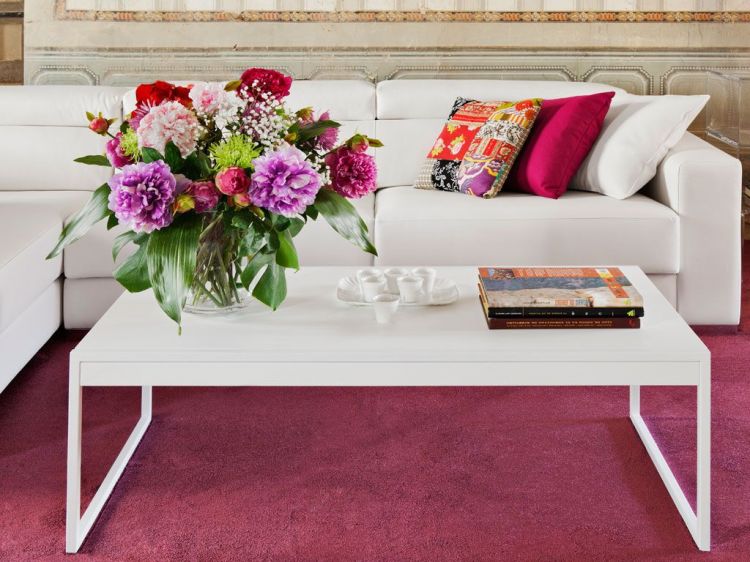 A maxi flower arrangement on the table is always effective. A way to bring color and enthusiasm to the place.
Total white table, for sale in La Oca.
30 colored crystals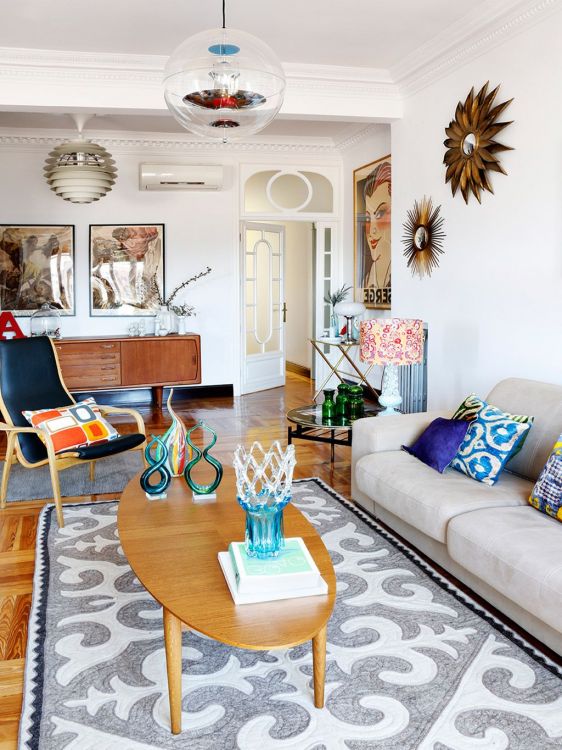 The shapes and colors draw a lot of attention and contrast directly with the table and the rest of the furniture in the room.
31 Various tables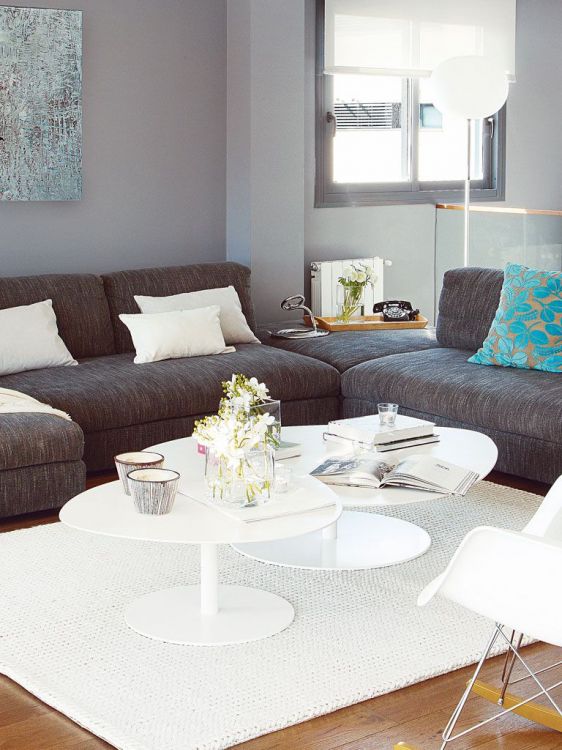 In a composition of several tables, distribute the decorations. You can leave one of them more clear, as a support surface, but never "bare".
Interior designer: Susana Sigüenza Sánchez.
32 With good handwriting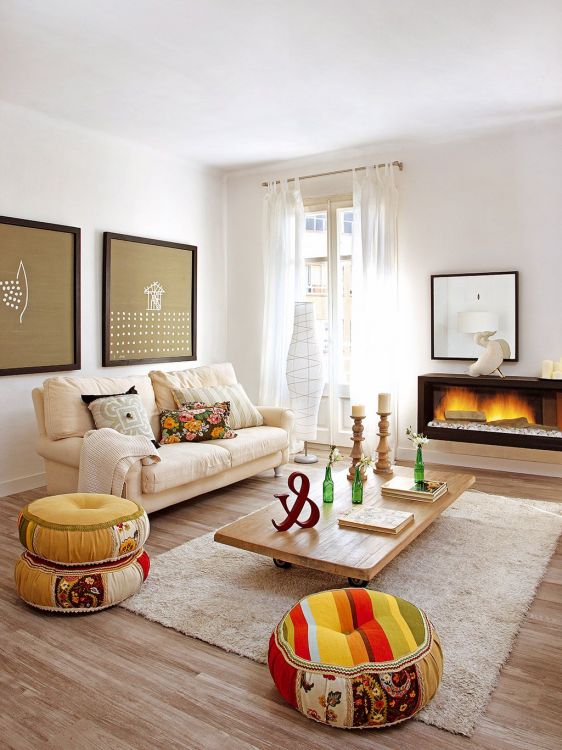 The letter "&" becomes the main attraction of the table which, on the other hand, is clearly different from the bottles and the candles.
33 Serene Elegance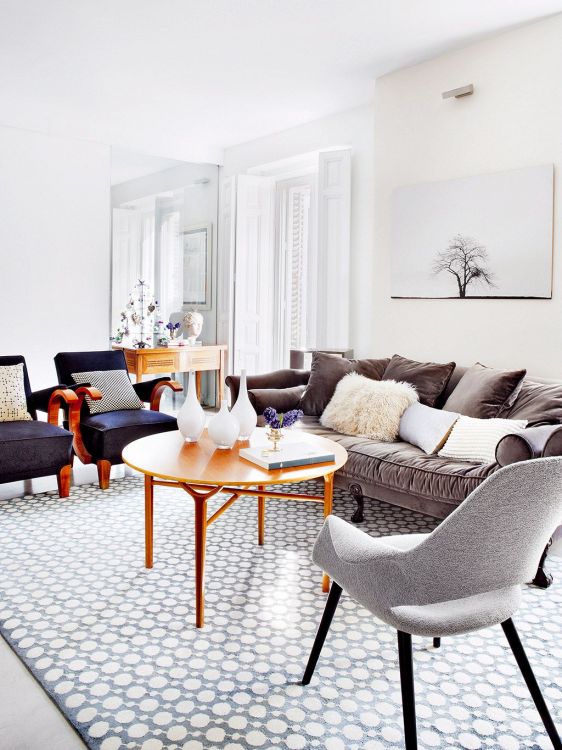 Instead of resorting to the typical extravagant decorative elements, we also have the option of looking for simplicity and not losing elegance.
34 A cute kitty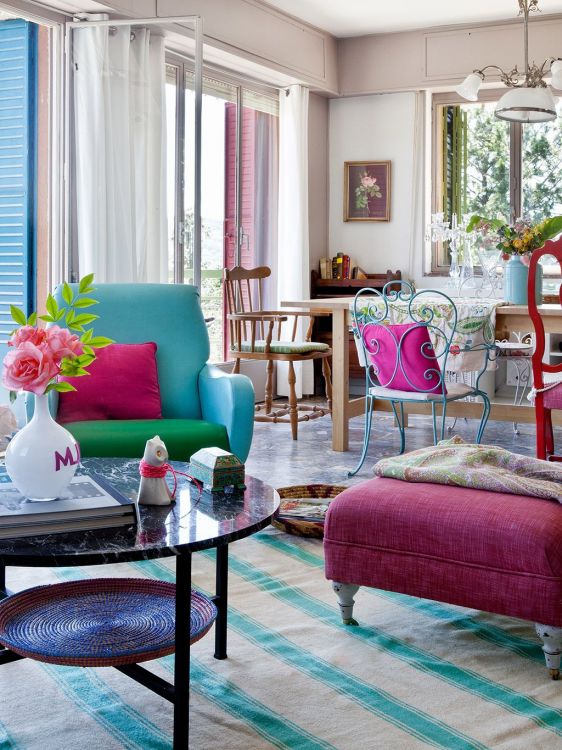 The box and the vase are more common, but the kitten is a collector's item that breaks the usual decorative dynamic.
35 Very cool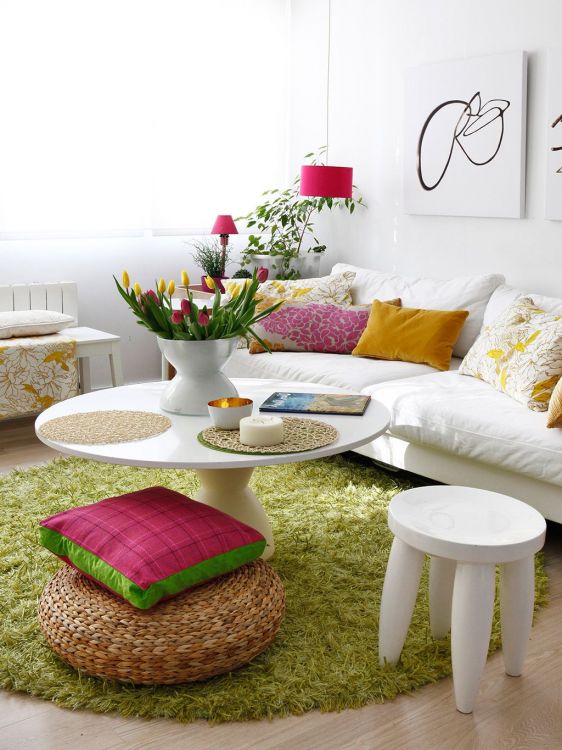 In this case, a white round table with a simple and simple design is used that combines perfectly with the rest of the resources that are placed above it and that contrast with each other to create a pleasant environment.
36 Informal meeting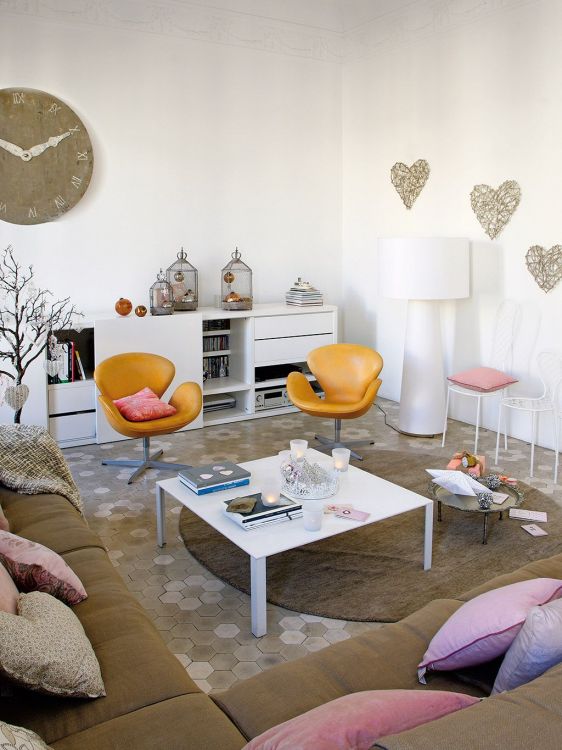 For meetings between friends, nothing better than decorating the table with some basic and elemental items that set the mood. There is always the possibility of using beautiful and original tablecloths to decorate the table.
37 Crystal Clear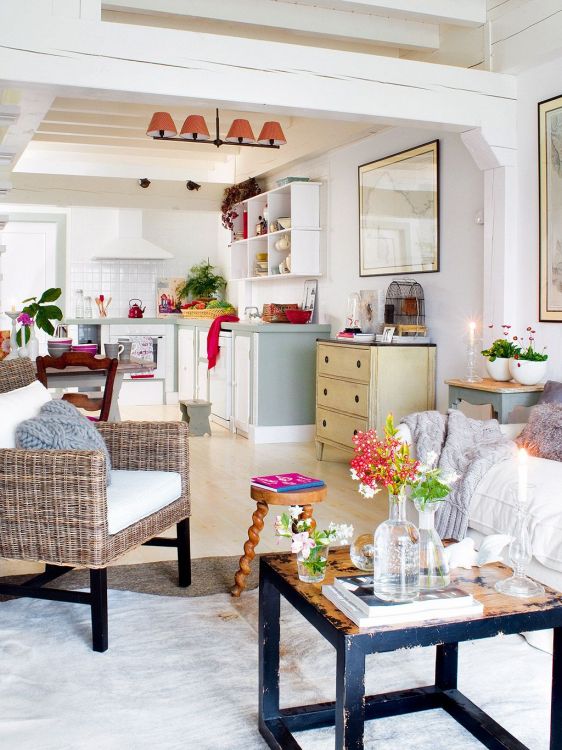 Glass is always a hit. In fact, if we accompany it with flowers, a beautiful and elegant game is achieved.
38 Natural charm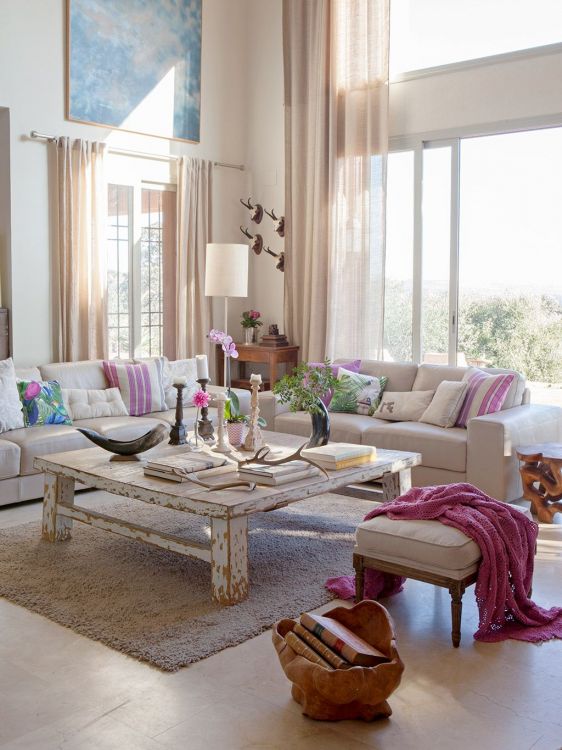 Naturalness is present in that worn wooden table with candles and other decorative resources.
39 Winning Simplicity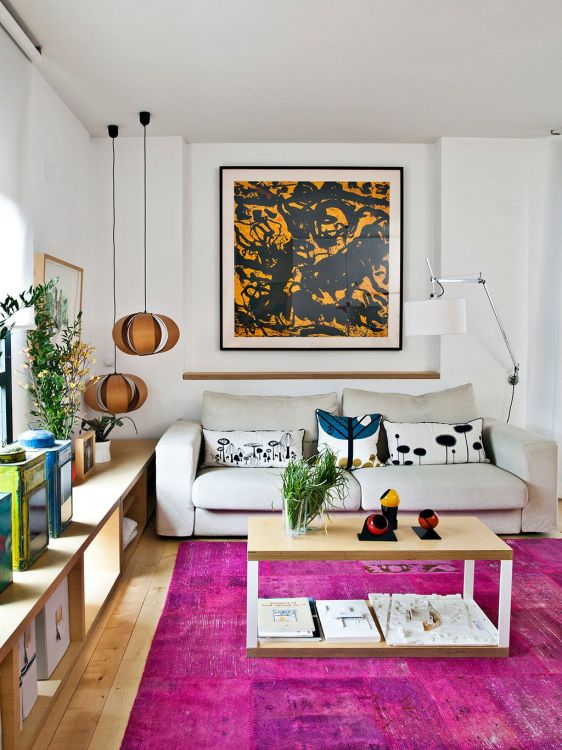 We have already said it before: to decorate it is not necessary to recharge.
40 A tea with flowers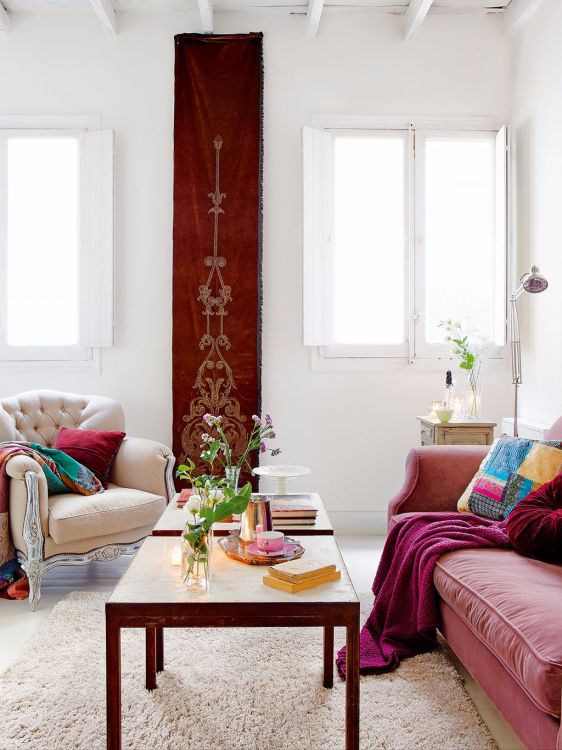 The tray with the tea set is undoubtedly a casual and sophisticated touch.