You will want to copy these original ideas to decorate your children's room. Get inspired by these minimalist, shared, small, creative environments…
Children need a personal space, their own universe where they can grow and develop. Having your own room immediately gives you the responsibility of keeping it tidy and clean, so from an early age you will be able to create habits that will last throughout your life.
How should the children's bedroom be?
The children's room is a pleasant and quiet environment, which needs silence. It is a place where they will be with their friends and also alone, even when it is a shared bedroom, it will be necessary to think carefully about how to organize the study area. Comfort and safety are very important for the intellectual development and to promote the self-esteem of the little ones. On the other hand, it is essential that you discover the mistakes that you should avoid in a children's bedroom.
Having a bedroom decorated by yourself is a source of pride, especially when your little friends come to spend an afternoon of study or games or if you organize a pajama party. Allow the child to choose the furniture or, at least, the accessories or decoration so that he can express himself freely and can create links with some of the objects around him.
A games area or playroom is more than convenient, especially from 0 to 10 years old, with shelves and baskets, where they will have their favorite toys and books close at hand. They will also like the love rugs, better if they are made of natural materials and are warm to walk barefoot, the poufs to sit on and the cute tipis. You will like to review these 15 play areas for the little ones to have a great time at home.
Shared children's bedroom or not? Take note of these ideas to furnish 5 shared rooms and their plans. We anticipate that this is a crucial issue, although it is always subject to the square meters of your house or you have a large family, because it will be almost impossible for each child to have their own room. Sleeping with siblings has many health benefits, although in preadolescence they already begin to request some intimacy. Experts recommend looking for separate bedrooms for siblings of the opposite sex, starting at age 10.
1 with canopy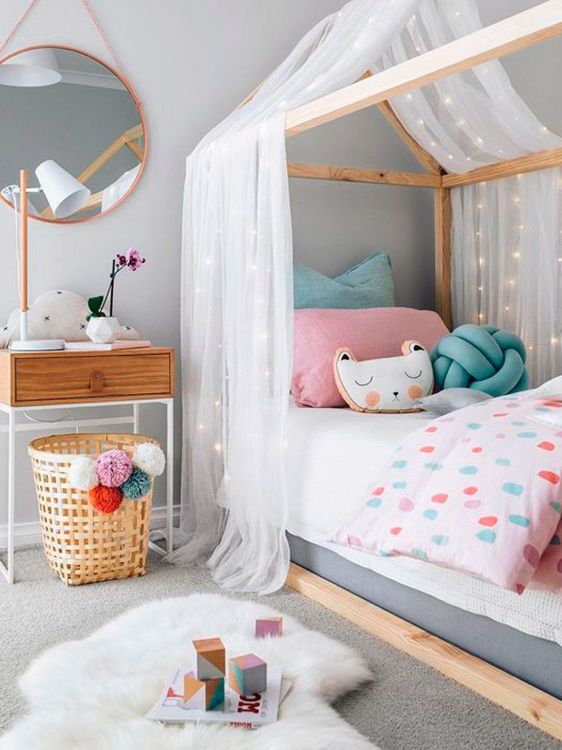 This children's bedroom stands out for its successful combination of colors and the idyllic way of dressing the wooden structure of the bed.
2 Long live pink!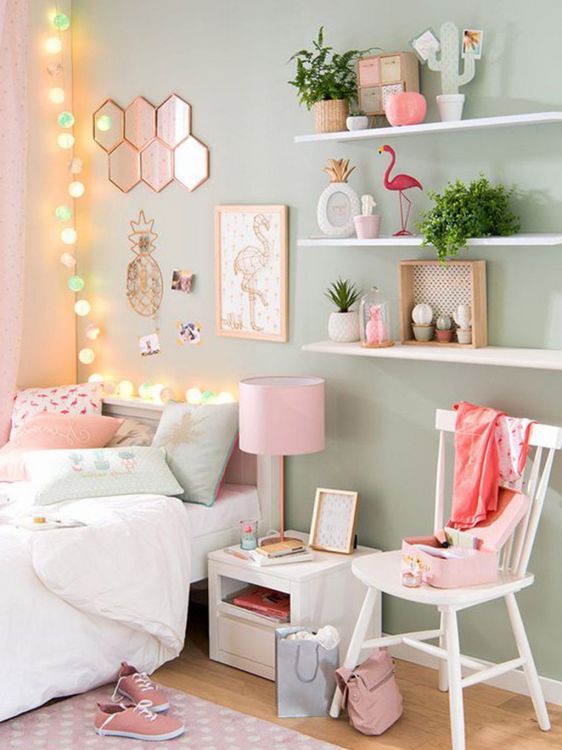 With only three colors a rich and harmonious decoration is achieved. In this bedroom they opted for pink, white and green. Maisons du Monde atmosphere.
3 time to read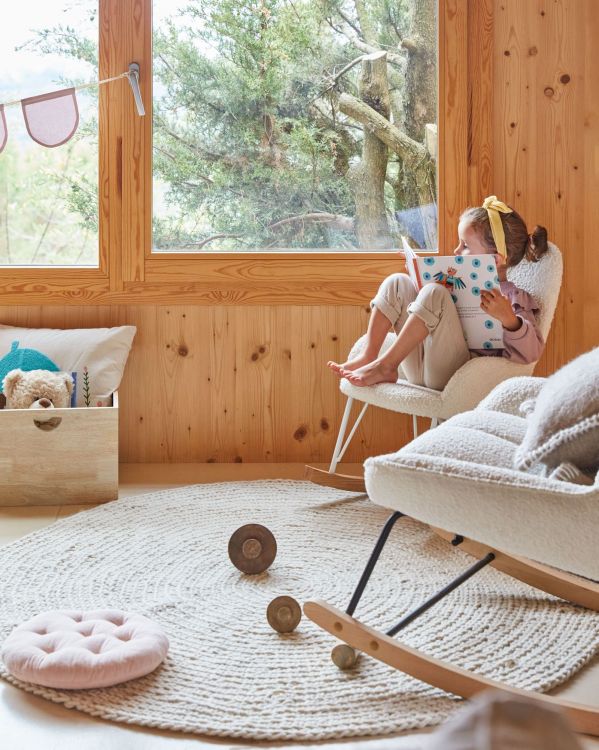 In this bedroom finished in wood, everything invites comfort. Kave Home chairs provide the necessary comfort to spend a relaxed afternoon dedicated to reading.
4 cool and nice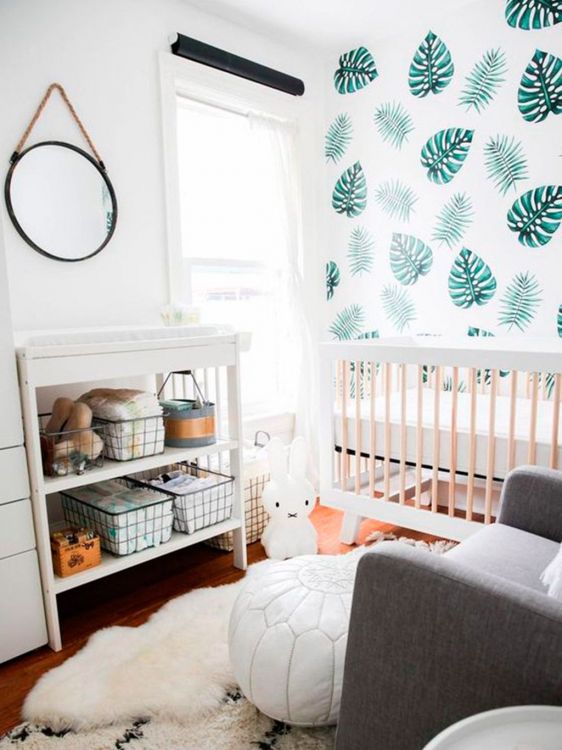 A small bedroom that plays with different styles to create a bright, fresh space with hints of color. We love the wallpaper and the sailor mirror.
5 Like a princess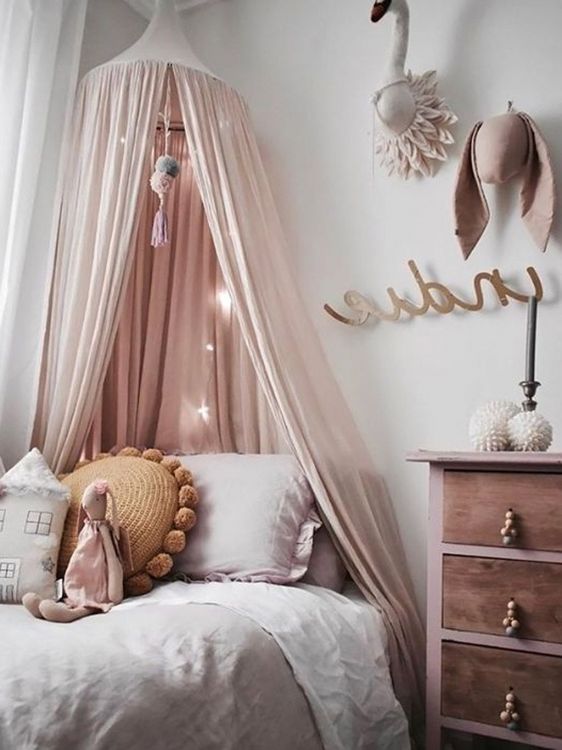 The powdery pink color, together with the bed canopy and a subtly magical decoration create a dreamy space that seems to be taken from a fairy tale. Istome environment.
6 Ethnic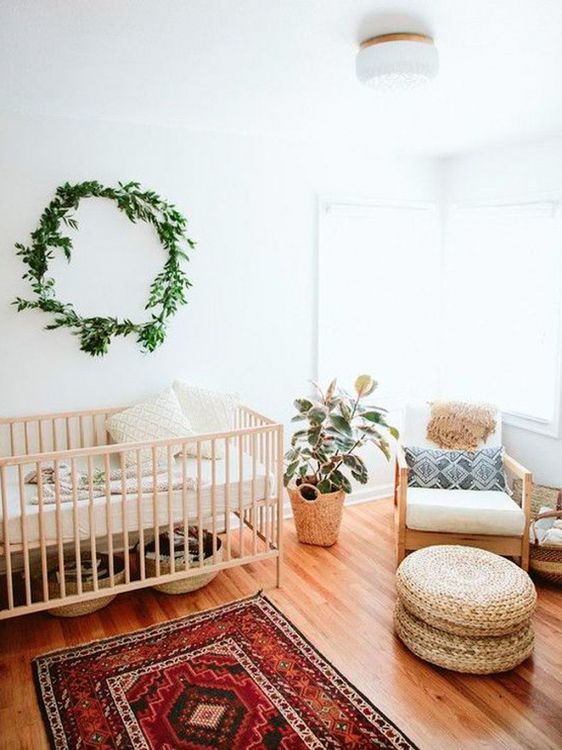 A very natural bedroom where they opted for wood, raffia and the green color of the plants. The luminosity of the white color combines wonderfully with the carpet in reddish tones. Bloglovin vibe.
7 A tiny house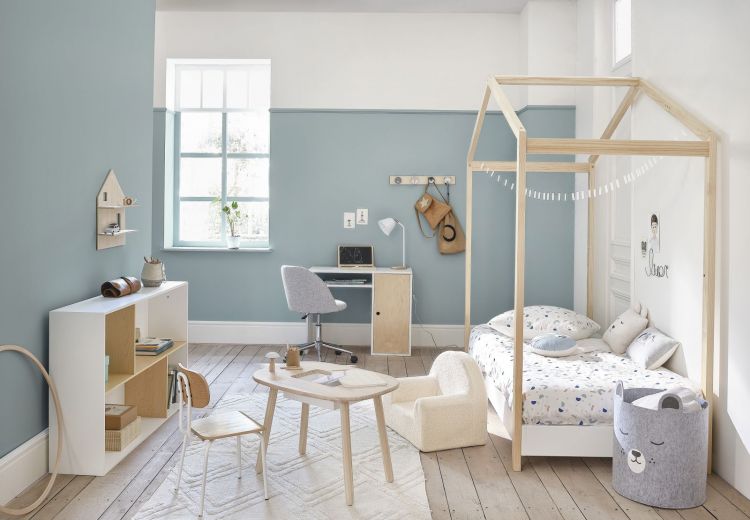 Put up a garland, hang net curtains or put on little lights… The structure of the Alesund collection, by Maisons du Monde, allows you to create a dream children's bedroom.
8 With personality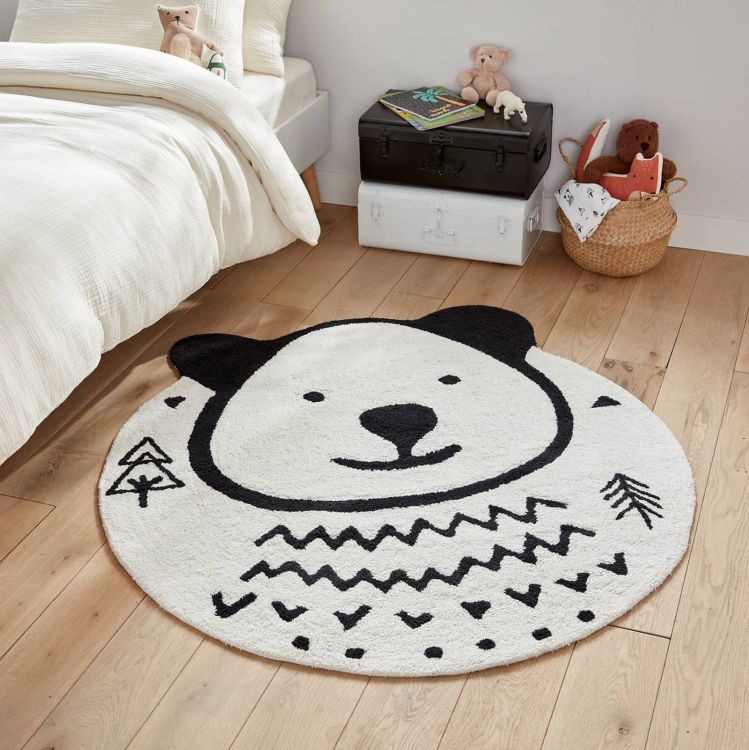 In this bedroom from La Redoute Interieurs you can see the double intention of making life easier for the child, with a comfortable bed at their height, a soft rug and a place for their toys. But, also a touch of style with the table made up of two suitcases.
9 In rustic style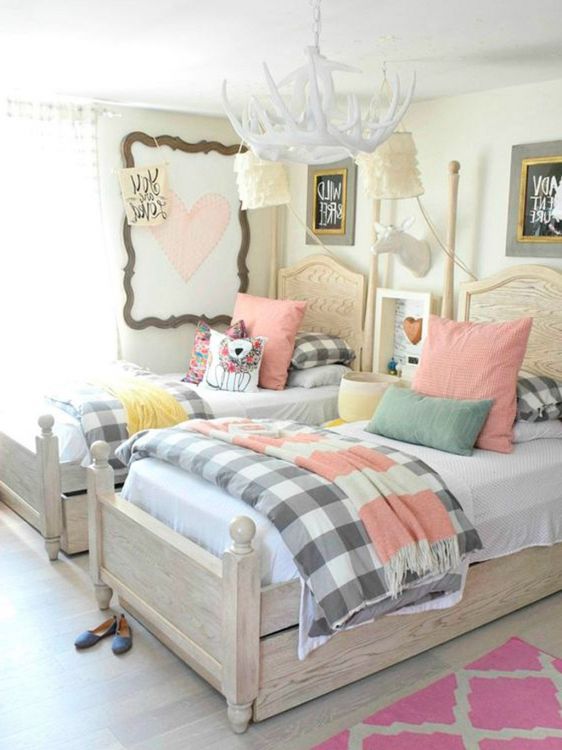 This pretty double bedroom, decorated in soft tones, would be perfect for a house in the mountains. Nesting with Grace environment.
10 Get down!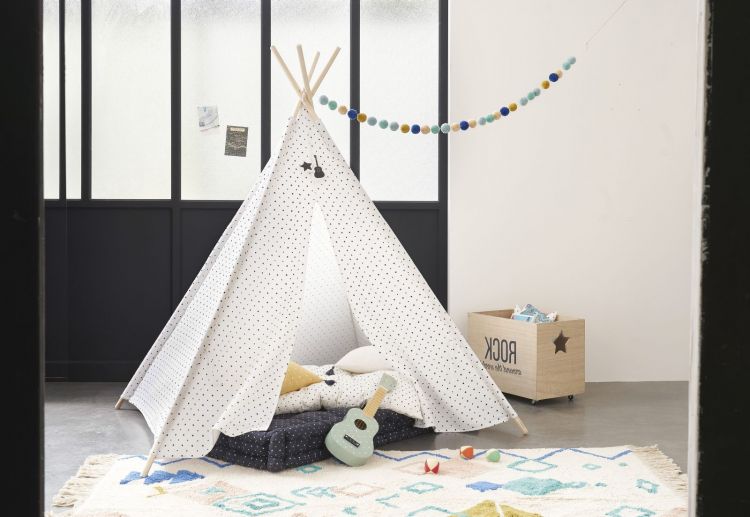 Children enjoy a lot barefoot and lying on the floor. Let them live these sensations freely with a special corner for their games, like the one in this comfortable environment from Maisons du Monde.
11 Wall with style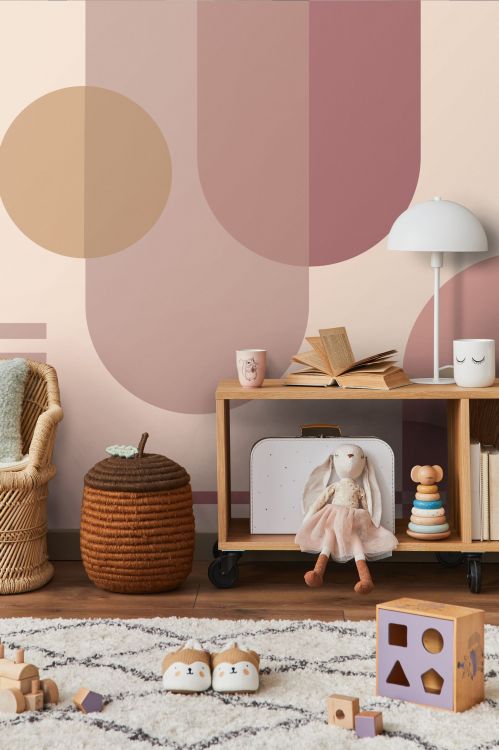 Vinyls transform an atmosphere in a practical and economical way. The geometric motifs of the Round mural, by Tenvinilo, are very elegant for this storage area.
12 all white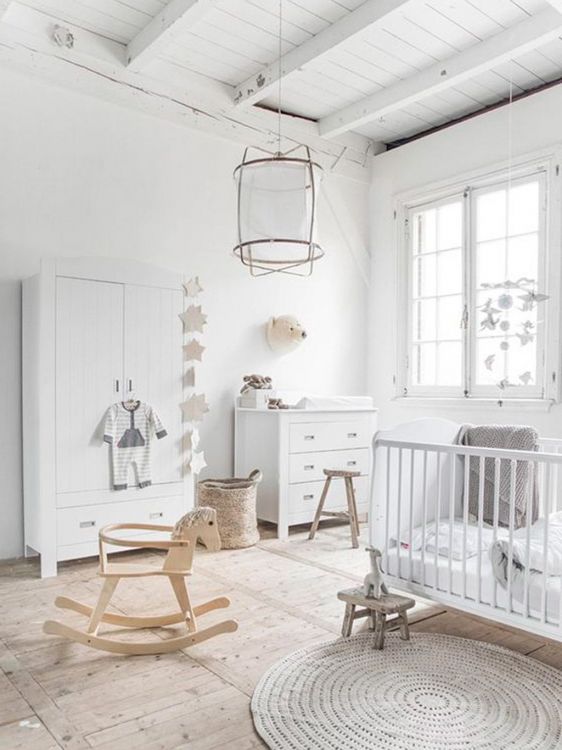 A nice Nordic-style bedroom decorated mostly with white furniture and pieces. The soft contrast of wood and jute do not disturb the tranquility and purity of the space. Make A Home environment.
13 at your height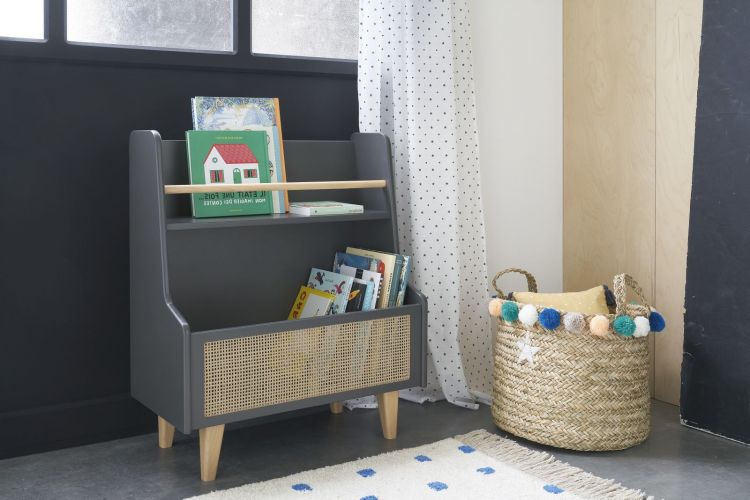 Put yourself in your child's place, better said: at his height. Try to see life through their eyes and you will find this bookcase from the Berlin collection, by Maisons du Monde, perfect.
14 A magical place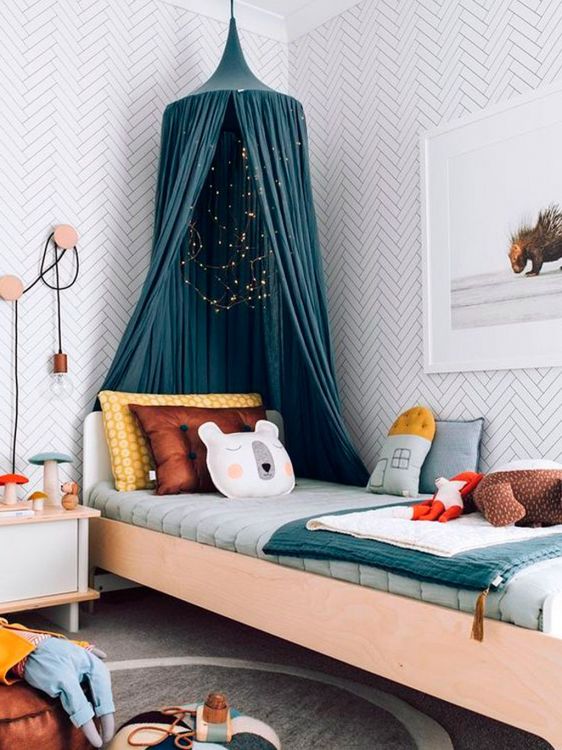 We love the wallpaper on the walls, the bed canopy and the wonderful combination of cushions. This children's bedroom could not be more ideal. An atmosphere of oheightohnine.com.au
15 Practical and simple room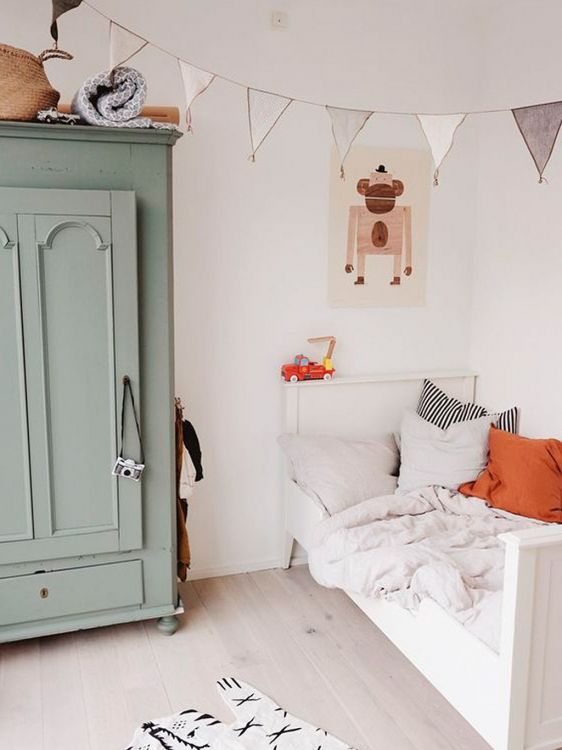 The simplicity and delicacy of this bedroom make it the ideal place to rest. The point of color is provided by the wonderful wardrobe. We love the combination of white, with light wood floors and small decorative details. We have seen this atmosphere on thewaywestroll.bloggersdelight.dk
16 A vegetable environment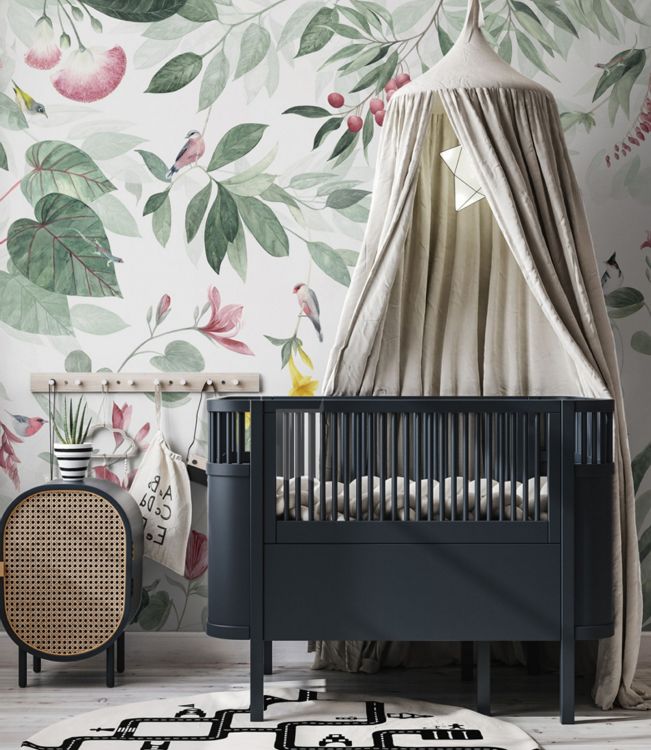 Wall decor is a total eye-catcher in this baby room. Pepe Peñalver conceives a very stimulating environment with the Bird Island mural.
17 Spartan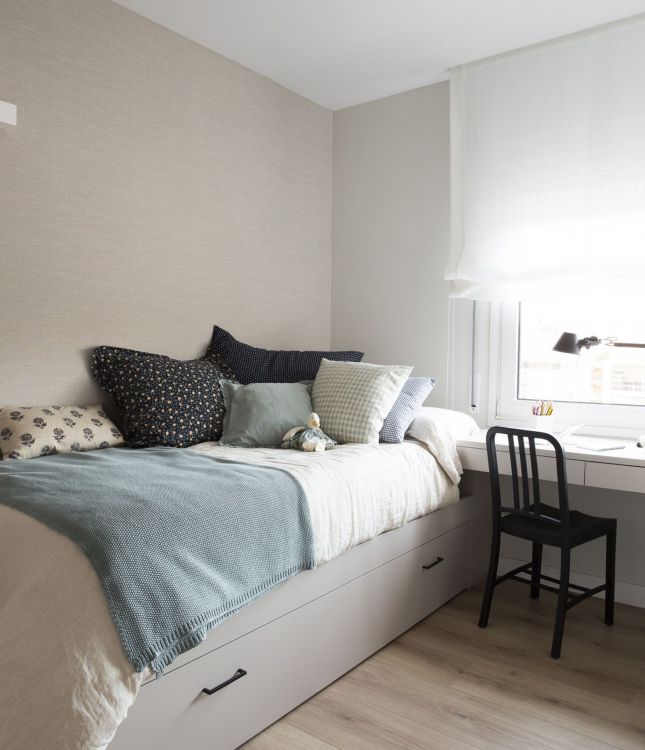 This bedroom has a youthful air, perfect for the vacation home, because it maximizes square meters. This is the Ganduxer project, which has been decorated by the interior designer Pia Capdevila.
18 Eco-friendly detail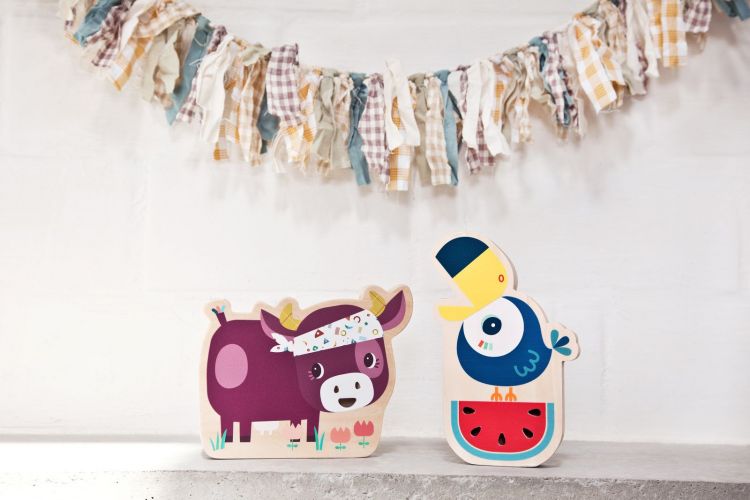 Ecology and sustainability are important. Lilliputians also think so, as in wooden toys or garlands in natural materials.
MORE IDEAS: 12 DIY IDEAS TO MAKE FABRIC GARLANDS AND DECORATE ANY CORNER OF YOUR HOUSE OR TERRACE.
19 Cheerful and colorful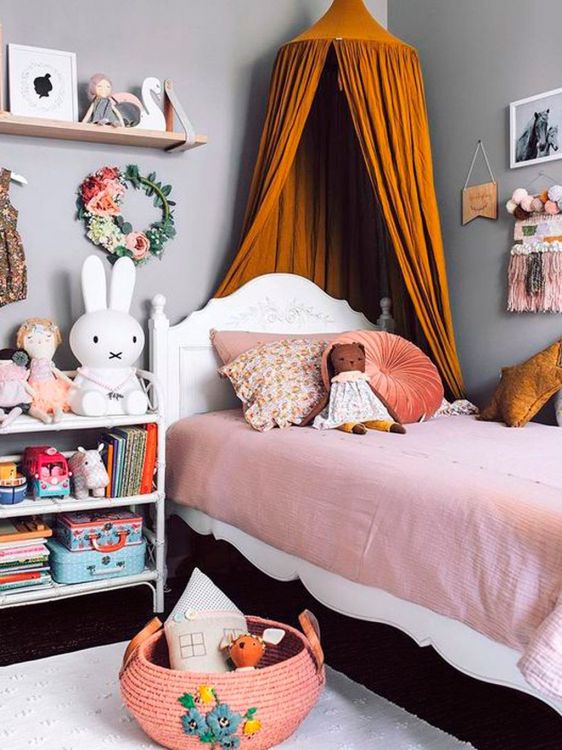 Small and full of charm, this is how this children's bedroom is decorated in warm tones such as the pink of the bedspread or the ocher of the bed ceiling.
20 Blank Bedroom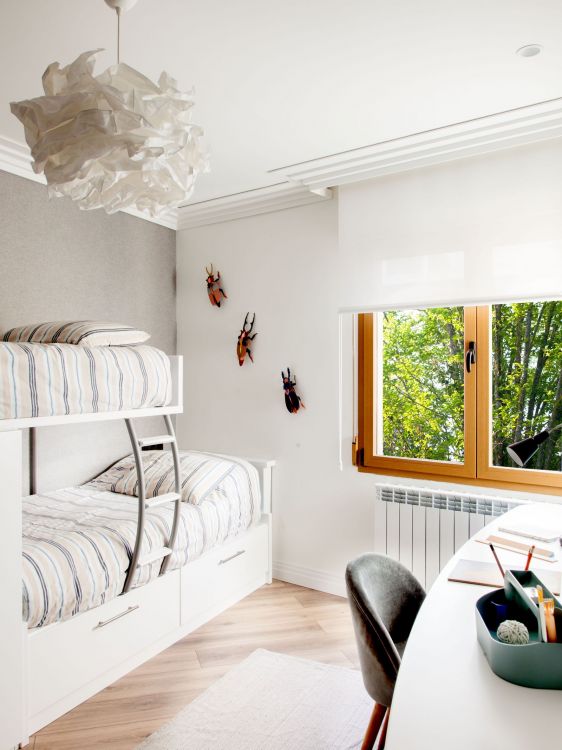 Curved lines dominate this proposal by RQH Studio to solve the problem of space in a shared room, with bunk beds and a very functional desk.
21 Room for three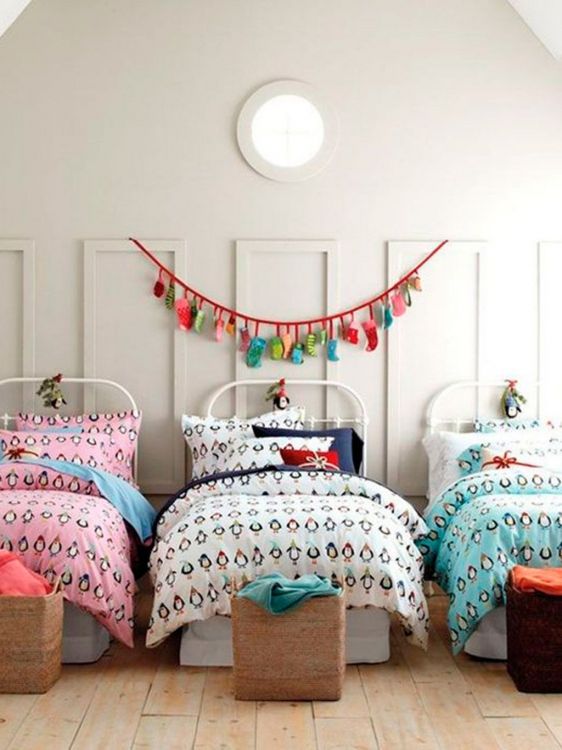 Sharing a bedroom can become a problem, it is best to copy the idea of the photo and create an orderly, cheerful and differentiated space.
22 For little artists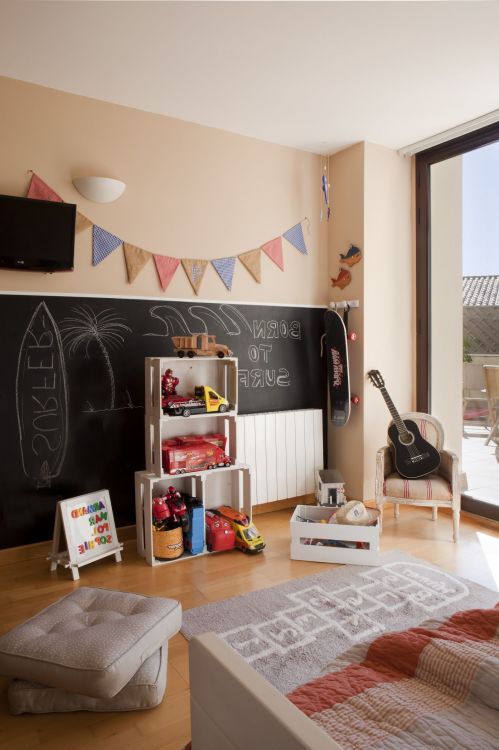 The atmosphere of this children's bedroom exudes creativity and is very inspiring for restless minds who want to play an instrument, draw or play on the carpet. The interior design is by Mar Gausachs.
23 with swing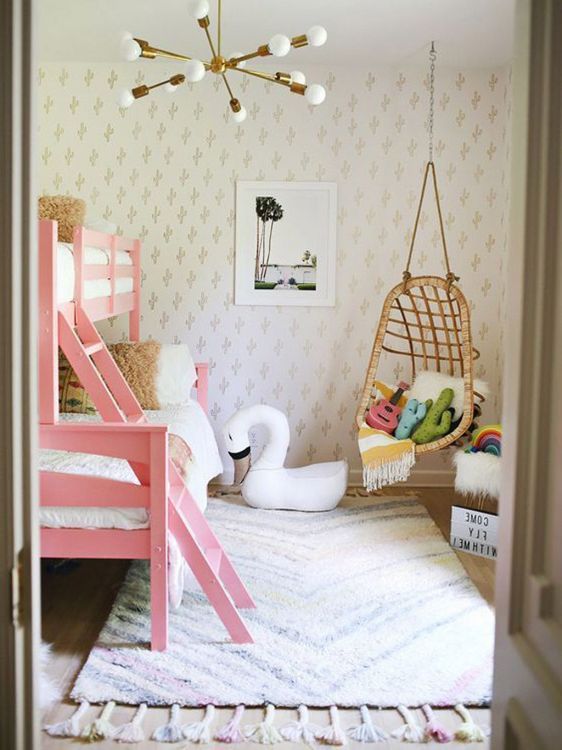 We love the swing chair, the pink bunk bed, the wallpaper on the wall and the designer lamp. So it's nice to share a room.
24 Blue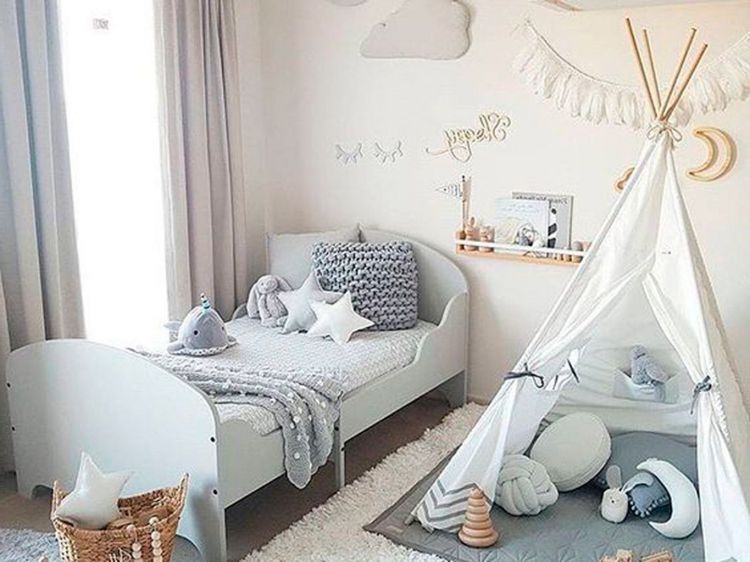 Pastel colors are the most chosen for the bedroom. We love the feeling of tranquility that the color blue conveys.
25 very complete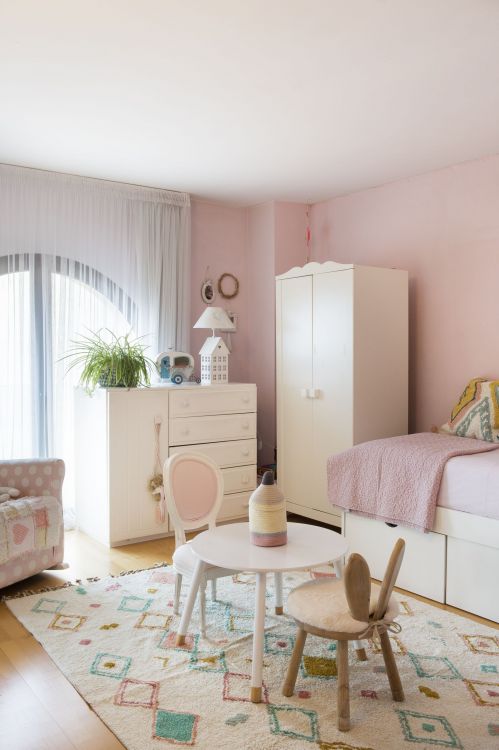 This environment, by Sincronía Integral, has it all: wardrobe, chest of drawers, armchair, trundle bed with storage and a table with chairs to do homework. Interior design, by Mar Gausachs.
26 A singular wall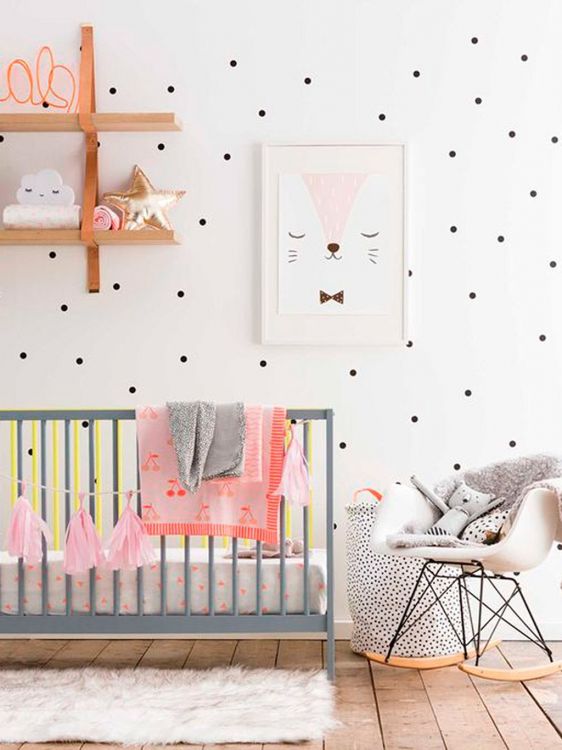 In this beautiful children's bedroom, the original wallpaper that decorates the wall stands out.
27 Two-tone bedroom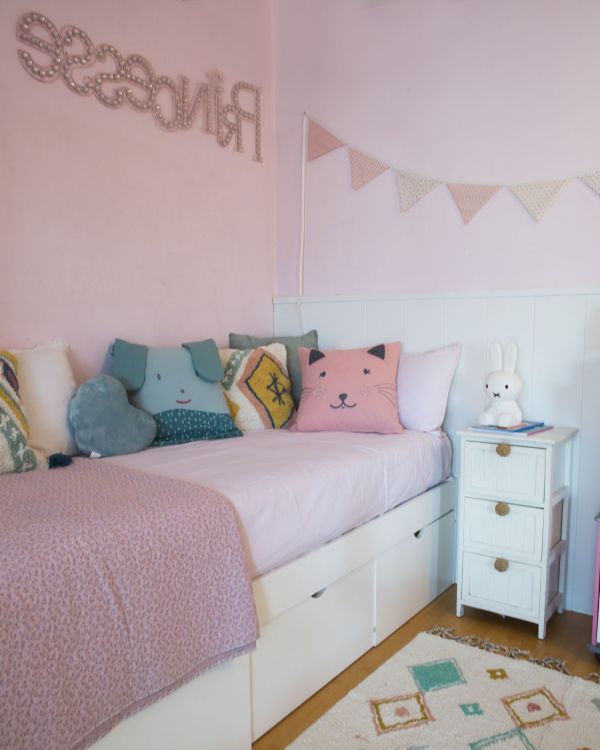 White and pink are a winning combination for this children's room from the Feng Shui project, designed by the interior designer Mar Gausachs.
28 Learn and have fun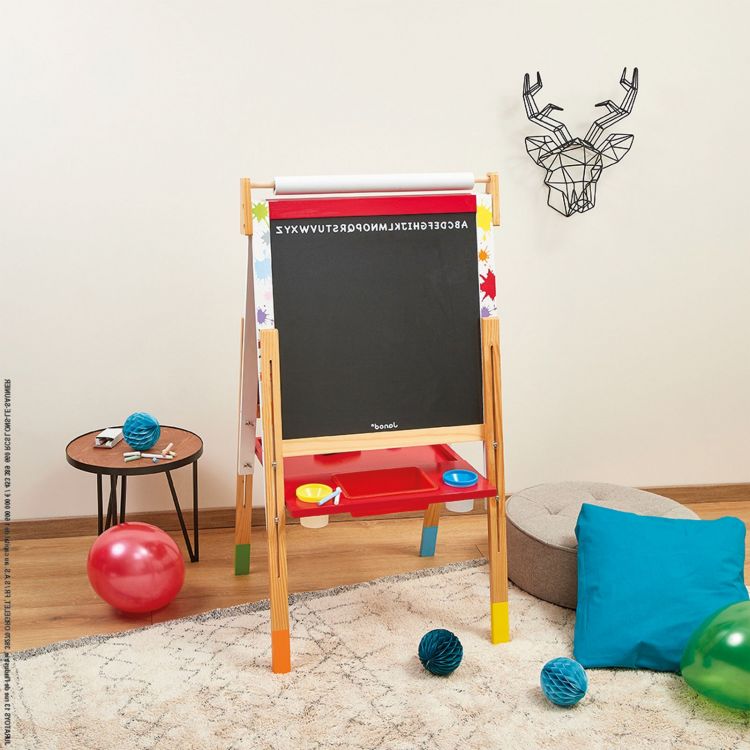 This blackboard has the entire alphabet, with magnetic letters, as well as a space to leave the chalk and draw. It's from Janod.
29 in full light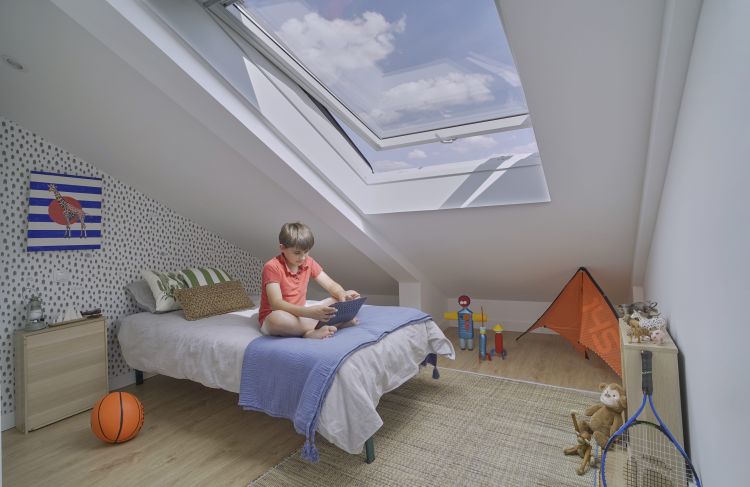 Attic rooms have many possibilities, because they multiply natural lighting with systems as practical as Velux roof windows.
30 evolutionary bedroom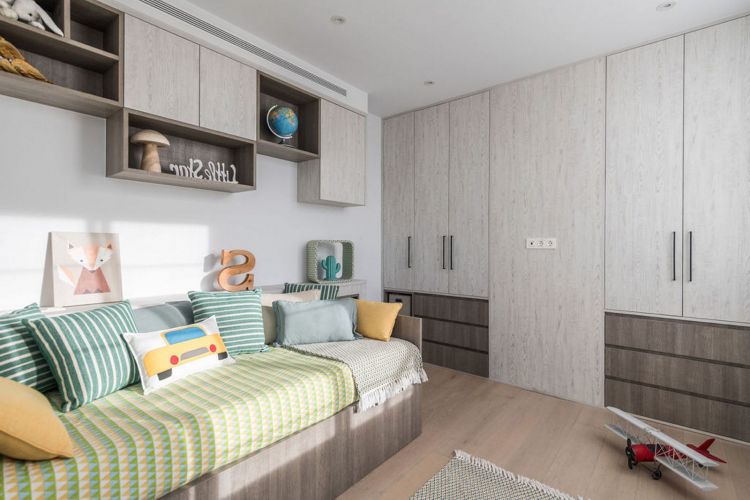 This Tinda's Project environment has been designed by the interior designer Eva Mesa so that your child can enjoy their room for longer. It has a large space dedicated to storage and the wood, in neutral tones, allows textiles to be given prominence.
31 Double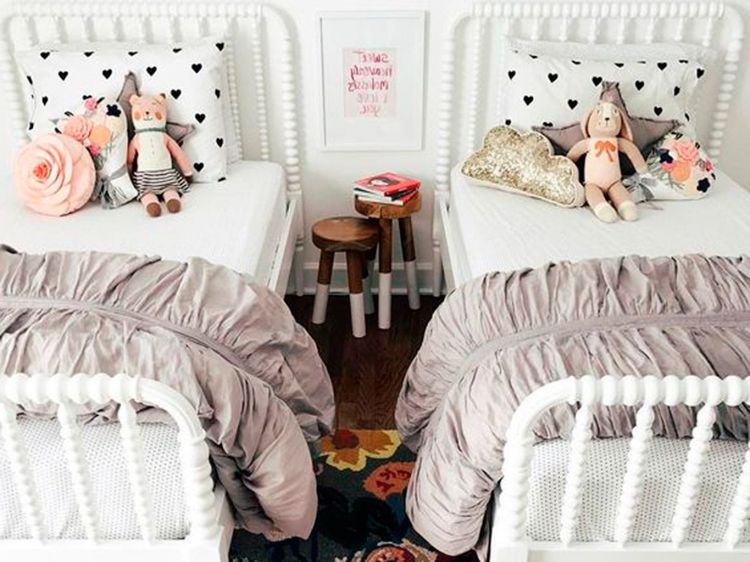 A bedroom decorated in white and with subtle (but necessary) touches of color. We love stools that double as nightstands.
32 Luminous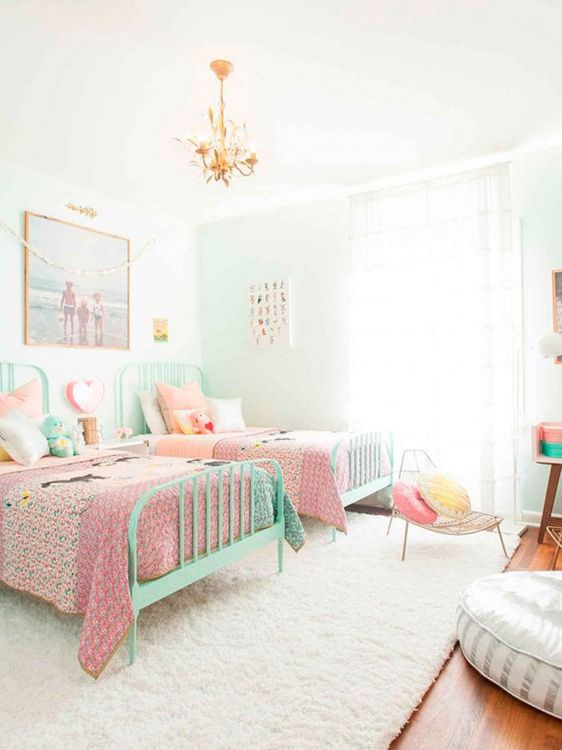 A very bright bedroom where the pink and aqua green beds stand out. The decoration is exquisite. The Little Club Baby & Kids atmosphere.
33 his own world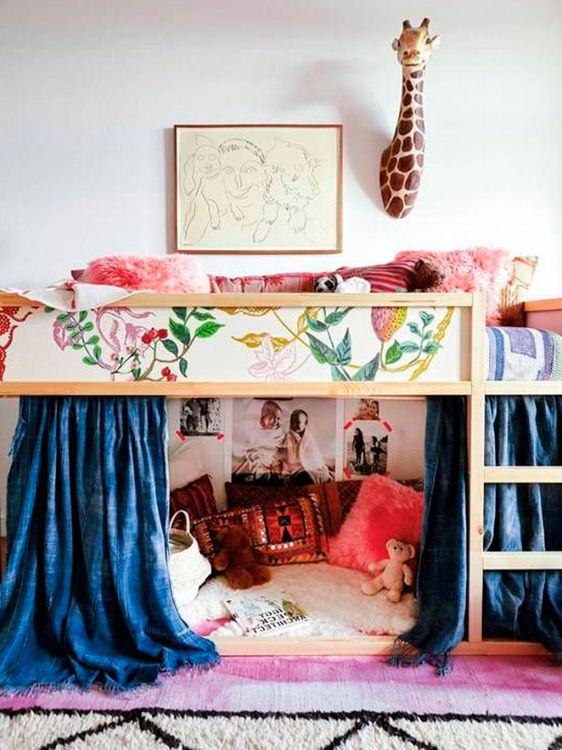 This colorful children's bedroom looks like the door to a world of fantasy (and we love it), thanks to this bunk bed with chill out space.
34 Dusty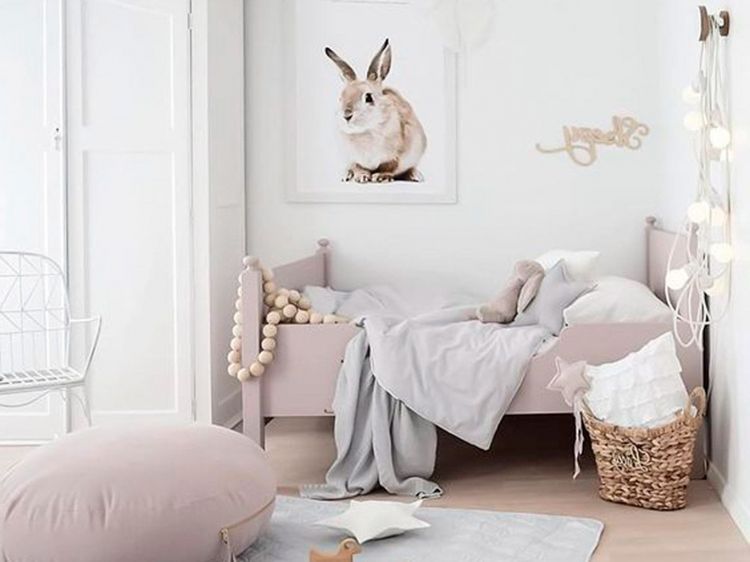 Cute, cute, that's how we would describe this beautiful children's bedroom, exquisitely decorated in soft colors such as light gray or dusty pink. Pure innocence.
35 pastel shades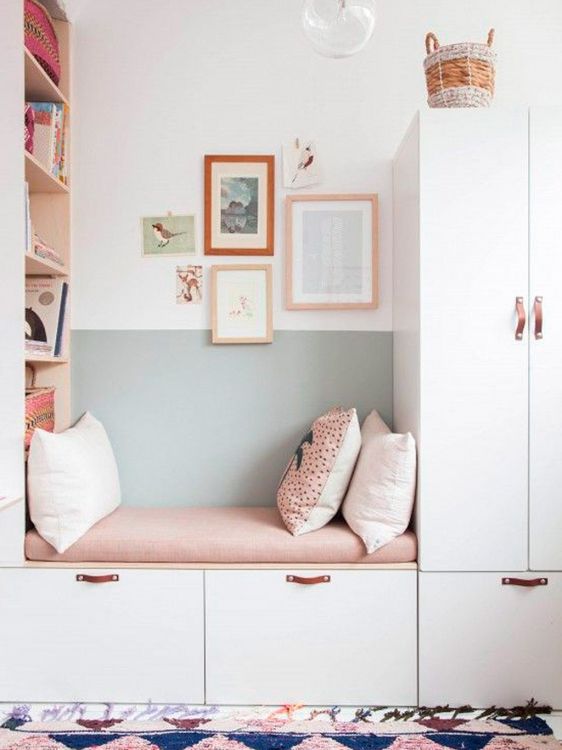 The bedroom should be a relaxing space and soft colors are ideal to achieve this. What we love about this children's room is its good use of space.