Save electricity and heat your home with gas, wood, water vapor, bioethanol, pellet stoves…
Evocative, romantic, comfortable and warm. Fireplaces inspire heat from home and emit it. Do you think about putting one? There are many designs and options. Get inspired by these living rooms with a fireplace.
How to integrate the fireplace in the living room
There are many ways to get heat in your home, so you have to know and choose a heating system that suits your needs. Built-in chimneys have the advantage that they are made to measure, but it is not recommended that they exceed one meter in width to be safe and efficient.
Do not let the idea of integrating the fireplace and television in the living room torment you. A good idea is to place an extra-flat screen over the mouthpiece, as long as it is not too high so that it does not force us to keep our eyes in an uncomfortable position. Keep in mind that the television has to be placed at eye level, about 60 cm from the floor, so it is likely that you will have to place the appliance on a shelf or piece of furniture, to one side of the stove.
Wood or pellet fireplace
Sustainability is imposed on our planet, so we have to look for alternative solutions to keep warm with very low CO2 emissions. This is the case of wood and forest biomass, both are natural materials with high energy power, although the latter generate very efficient and more stable heat, which is why they have become the first option in the coldest regions, as they are more profitable.. The briquettes made from sawdust, which form the pellet, do not take up much storage space, so pellet fireplaces are a good idea for small houses.
However, wood-burning fireplaces with ovens win points because they are a 2×1 alternative, emitting heat and allowing cooking at the same time. Can you imagine a cold winter day warming your hands while a delicious aroma of biscuit comes out of the fireplace? Well, it is a very comforting feeling, but this stove option should be placed in kitchens or in the dining area so that the smell of food does not flood the rest of the house.
Gas, bioethanol or water vapor fireplace
Heating an environment to make it more welcoming is the main objective to prepare the house for low temperatures. Gas fireplaces incorporate burners inside and have very avant-garde designs. They are very safe and especially resistant models and they have a plus: you can control the intensity of the temperature with the flame.
Bioethanol fireplaces need to be in open places, with more than 10 m2, and they have to feed on renewable fuel from time to time, two or three liters every five hours, so it is a detail to take into account. Its energy power compensates for that of a large radiator, so its use can be much cheaper. Other great advantages are that they are very simple to install and do not require a smoke extractor, because they do not give off any odour.
In addition, water vapor fireplaces optimize combustion and, above all, have a very powerful aesthetic. We have seen them in celebrity homes, such as the mansion that Chris Hemsworth and Elsa Pataky have in Malibu, or the family chalet that Sara Carbonero and Iker Casillas are selling. in many….
Decorative fireplace
Its added value in the world of interior design is undeniable. Electric fireplaces are good allies to decorate a living room, but stoves are also capable of optimizing space, improving the distribution of a room or separating environments. Corner fireplaces are very practical for decorating, because they save space, they heat several areas of the house if they are well channeled and they are very clean. And if you don't have a smoke outlet at home, don't worry, because you can install a beautiful molding or a LED fireplace, which does not emit heat, but perfectly imitates the movement of the fire flame.
1 Freestanding chimney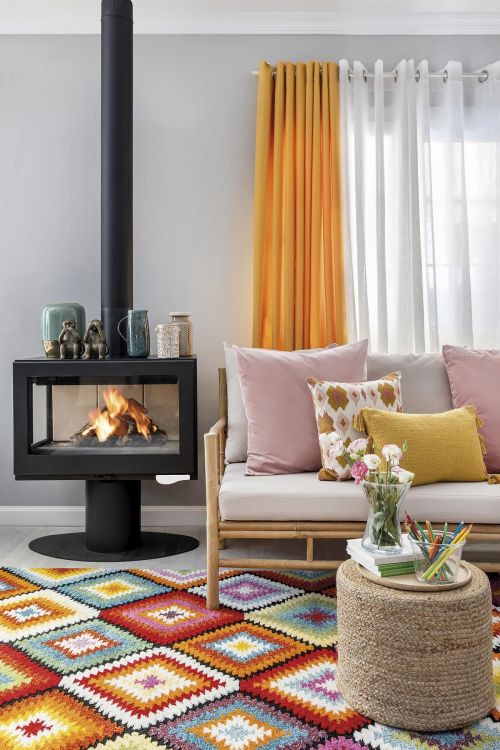 The star piece of this colorful room, without a doubt, is the charming free-standing fireplace, with an exit through a tube and that will foster wonderful warm winter evenings by the fire. Bauhaus fireplace.
2 Suspended fireplace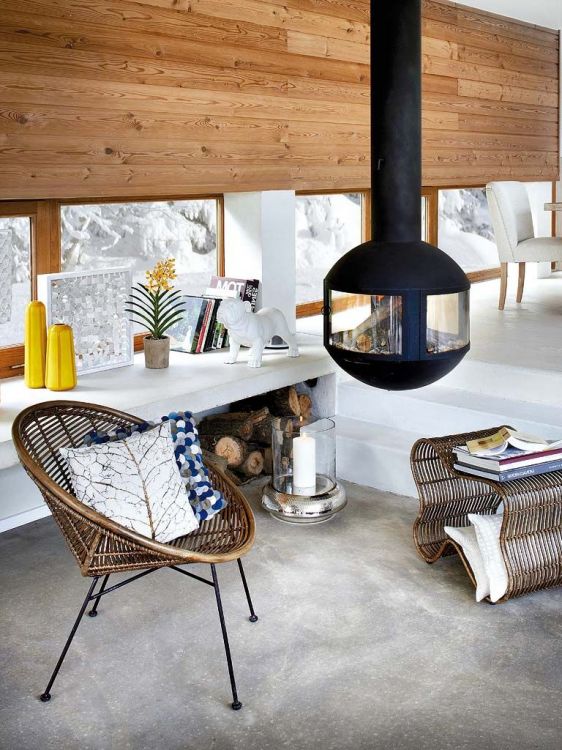 The models of suspended fireplaces are very striking. The best thing is that you can place them wherever you want without having to use space on a living room wall. Round retro chair (€399) and footstool (€199), made of rattan and metal; Tree cushion cover, in 40 x 40 cm (€39), and Abby cushion cover, 40 x 40 cm (€59). Everything, for sale in Sia.
3 Built-in fireplace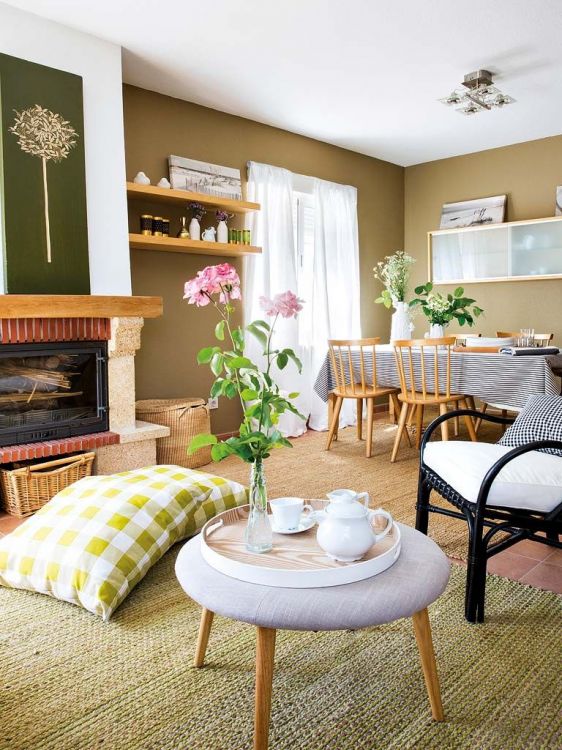 The contrast between the walls of this room decorated in green tones, painted in a warm tone, and the chimney draft, in white, matching the ceiling, resulted in a pleasant space where calm prevails. The two tones are from Jotun Pinturas. Dining room furniture from Ikea.
4 How to take advantage of the heat of the fireplace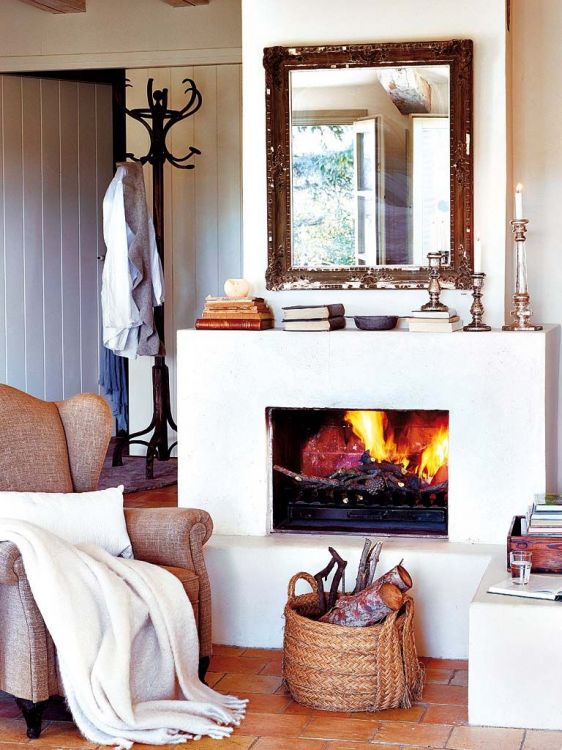 In classic wall-mounted fireplaces, 80% of the heat is lost through the draft if it does not incorporate any recovery system, such as air movement with fans or water circulation pumps. Technological advances offer the possibility of using wood-fired systems as a renewable energy source to support heating.
5 Living room fireplace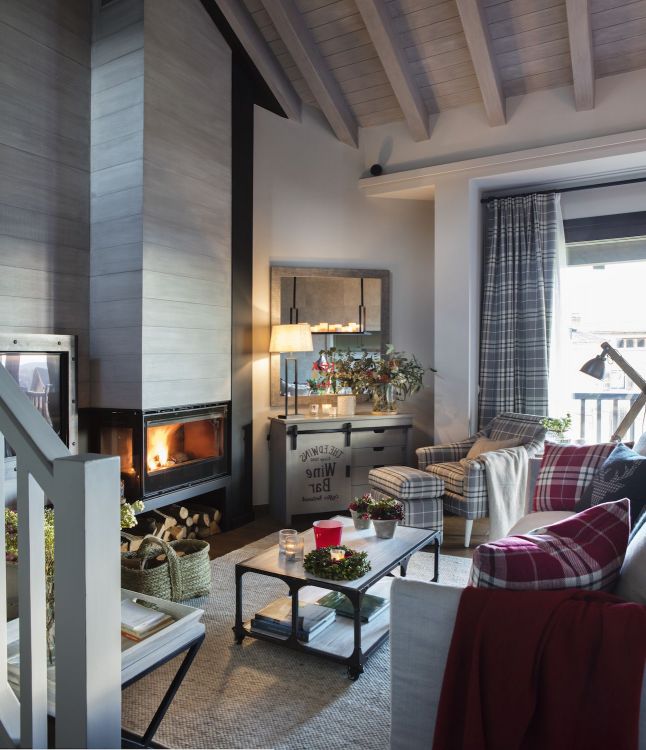 The fireplace in the living room of this house brings warmth to the industrial-style frame of the television, in iron and studs, which has been made by Knowhaus.
6 Iron chimney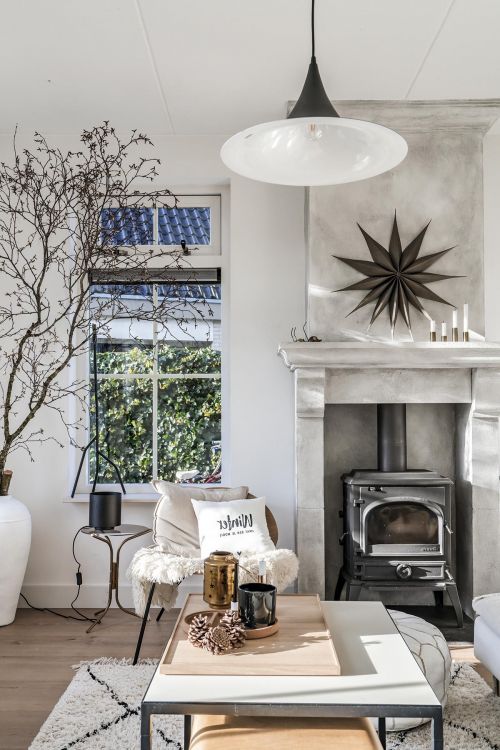 The retro-style fireplace reflects the 1930s construction style of this home. Its look is updated with a cement-look finish. At Christmas they decorate it with a large star over the mouthpiece. Sofa, white table and sideboard, from Ikea. Cushions, from Zoedt, Benio, Ikea and local stores. The Berber rug is a replica, since "with four children I prefer something affordable".
7 Modern style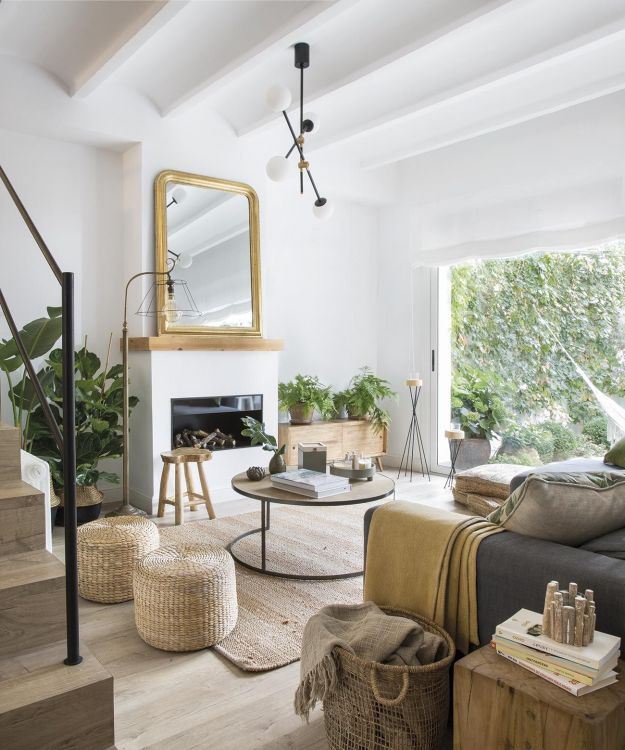 In this house, where the interior designer Montse Morales lives and works, after a very successful reform, a very modern and, above all, very comfortable room was achieved. Ceiling lamp, from La Casa de la Lamp. Mirror, from Maisons du Monde. The low cabinet is made to measure, by Llavavintage.
8 Rustic style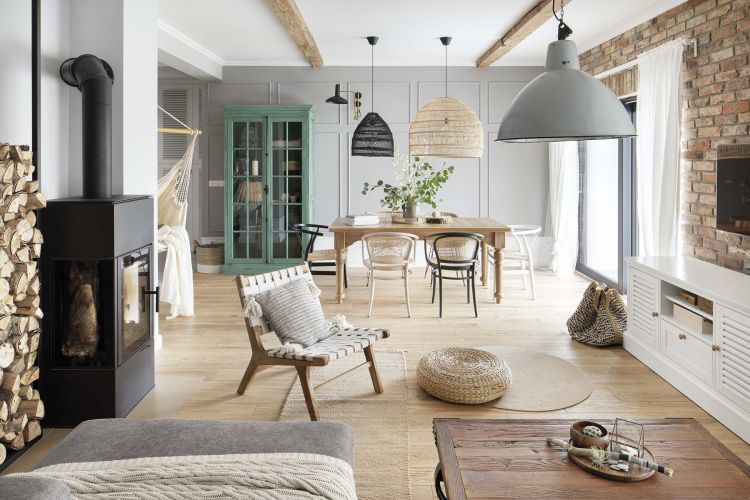 The owners of this house planned their house on a ground floor that takes advantage of the light and views from the outside. In the living room, they chose to integrate the living and dining areas, without creating barriers. The free-standing fireplace integrates perfectly with the decorative style of the room.
9 Classic style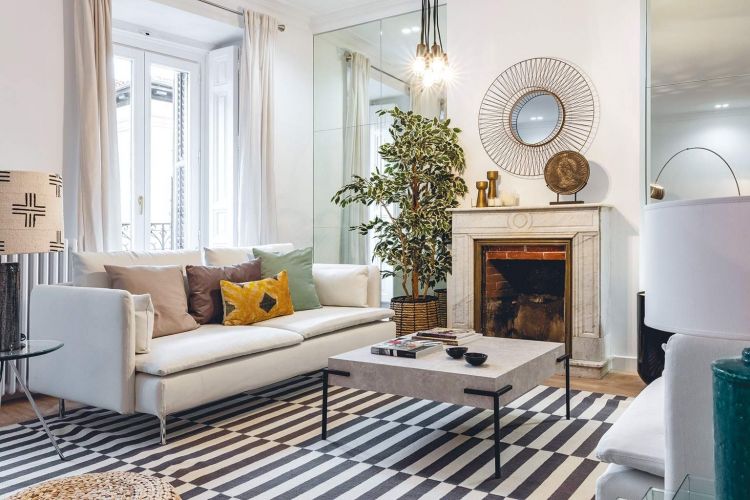 The generous living room of this Nordic-style apartment is divided into two different living areas. In this first one, the marble fireplace stands out, restored and flanked by XL mirrors that visually enlarge the room. Above the fireplace, mirror in gilt metal, by Kave Home. Plant, from Euroflor.
10 Bohemian Style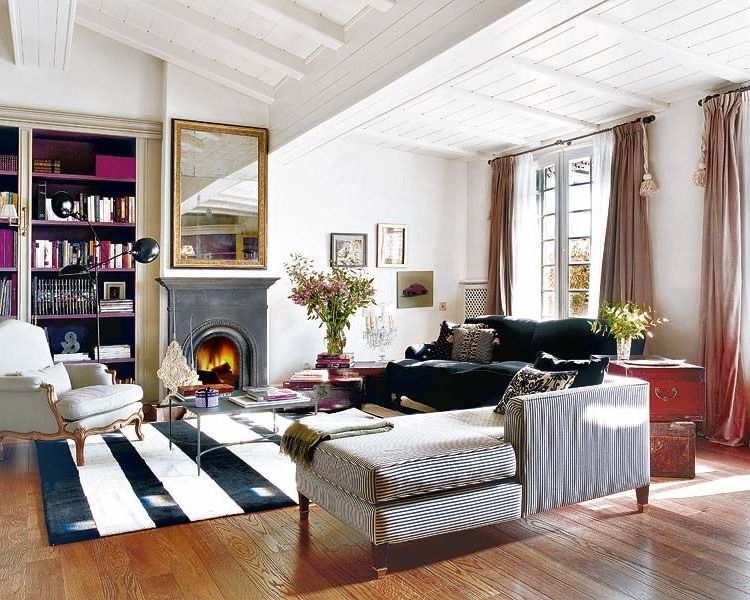 The combination of plain and striped fabrics enriches the living area of this apartment decorated in a bohemian style, with seats perfectly arranged for chatting. In addition, it has a plus of style: the recovered fireplace. Mirror, by Mavi Lizán. Fireplace, from Otranto.
11 With distributor wall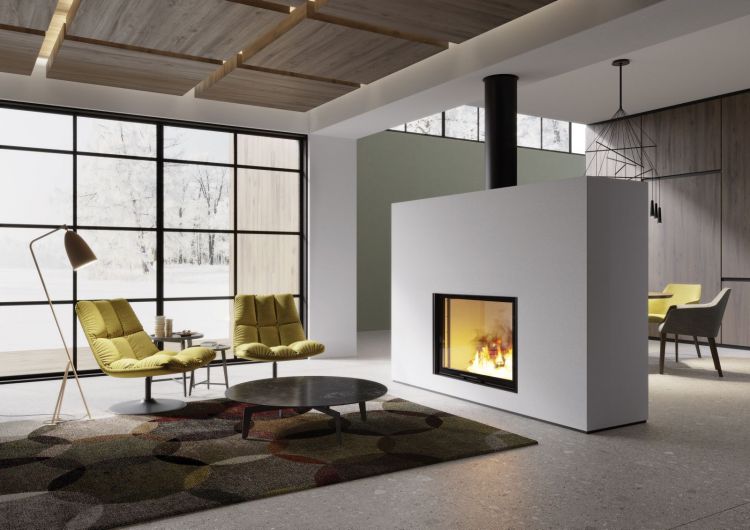 This solution from the firm Edilkamin has a high performance due to its power, but adds points in terms of aesthetics. The Windo fireplace is insertable and diaphanous to allow you to enjoy the crackling of the fire from the armchairs of this design room.
12 Double glass and steel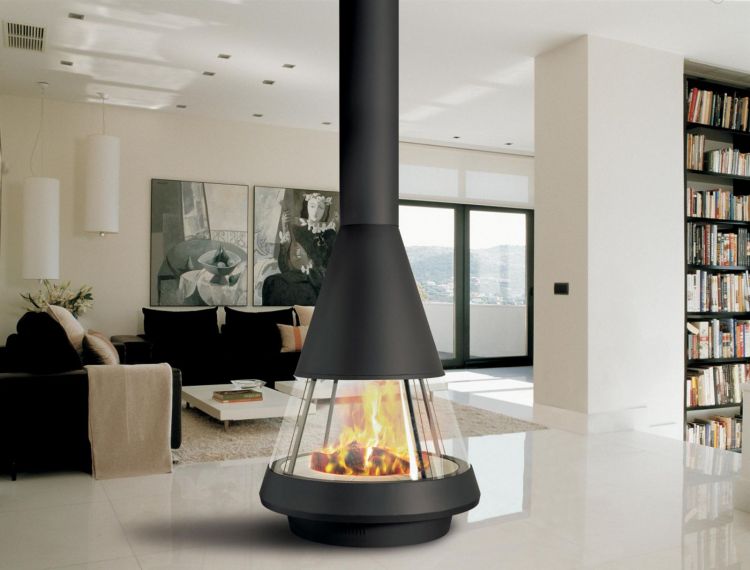 The Mallorca wood-burning fireplace is from the firm Hergom, for sale on Amazon. It incorporates interior light and has double glazing to withstand very intense heat. It is a spectacular design, perfect for rooms that have many square meters.
13 Revolutionary Design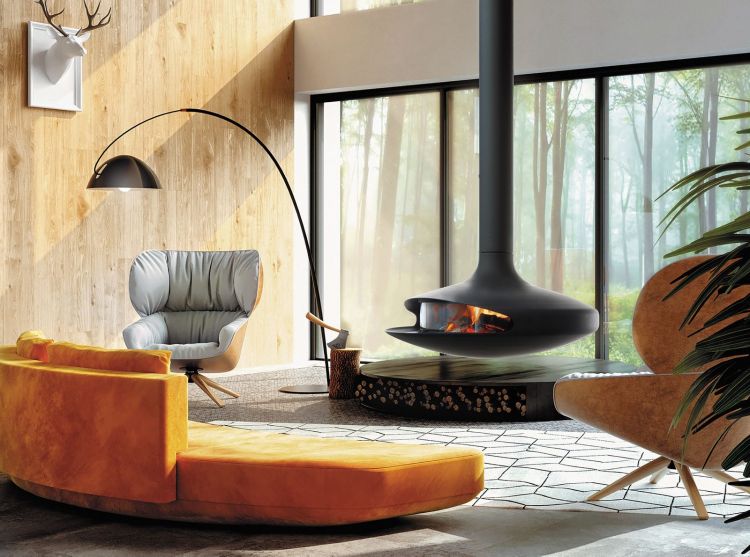 The exclusive Gyrofucus model devised by Dominique Imbert is still in vogue. The suspended wood-burning fireplace has a 360º pivoting design and great thermal sensitivity. The Focus firm ensures that its installation is very simple and it is available in white and matt black.
14 Manor House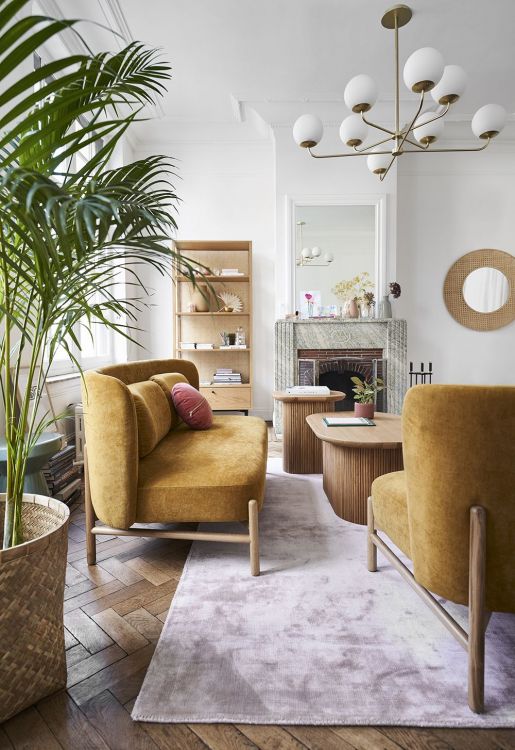 The size of this chimney is colossal, it can be seen that it belongs to an old palace house due to the height of the ceiling, the moldings on the walls and the herringbone wooden parquet. La Redoute Interieurs has updated the ambience with a Nordic-style seating area, with curved sofas, in mustard, and an oval coffee table.
15 Save electricity with pellets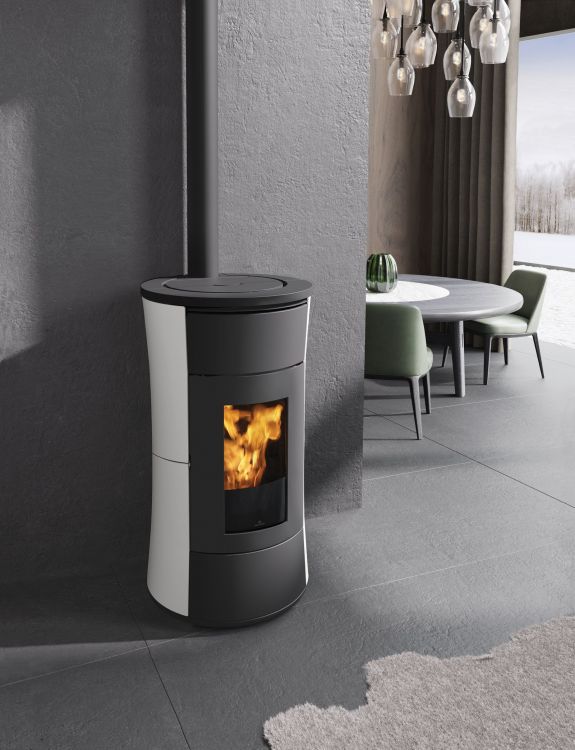 Pellet fireplaces provide continuous and very comfortable heat, perfect for the living room. In addition, the use of this ecological fuel means a reduction in your electricity bill. With the Cherie Evo model, in two-tone steel, by EdilKarim, you will control spending, thanks to a pellet reserve alarm. You can program the stove daily or weekly.
16 Slim Stove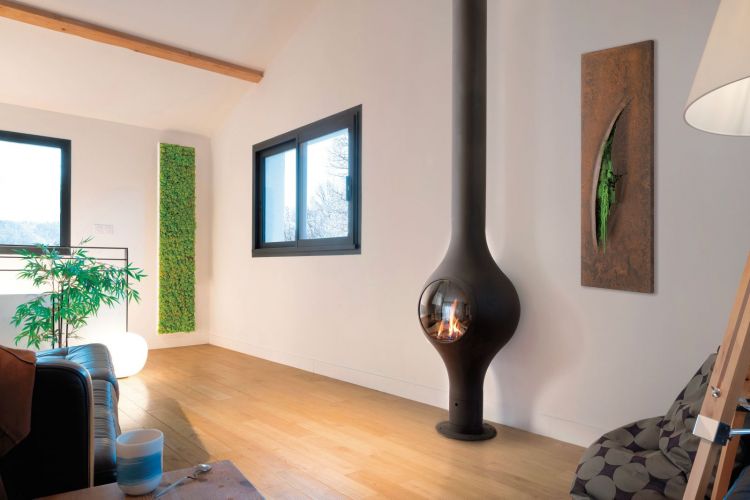 The Boafocus wood-burning fireplace is inspired by the drawing of a boa with a hat from the children's book The Little Prince, by Antoine de Saint Exupéry. The Focus firm presents this model powered by gas and with a closed hearth for rooms with high ceilings, where its slender appearance can be shown off.
17 With door in the home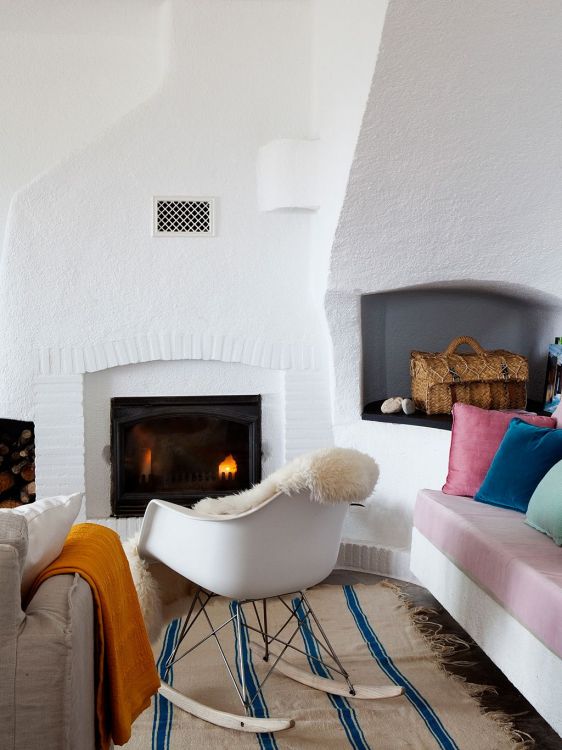 Built-in fireplace, all whitewashed, with integrated cassette with door. The project for this Ibiza-style living room is by the interior designer Jessica Bataille.
18 Decorative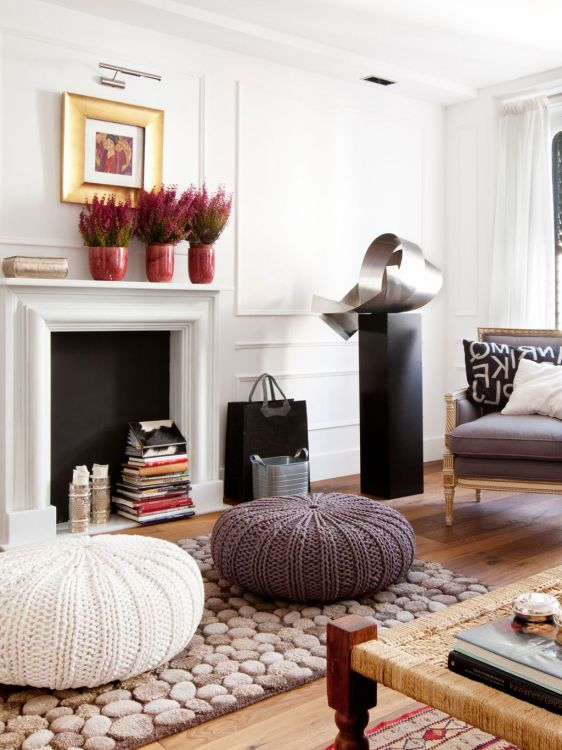 A decorative fireplace with a marble mouthpiece. It is not used, it is cancelled, but it has been kept as an aesthetic element. This atmosphere has been designed by the interior designer Jaime de Pablo-Romero Rojas.
19 Integrated in a piece of furniture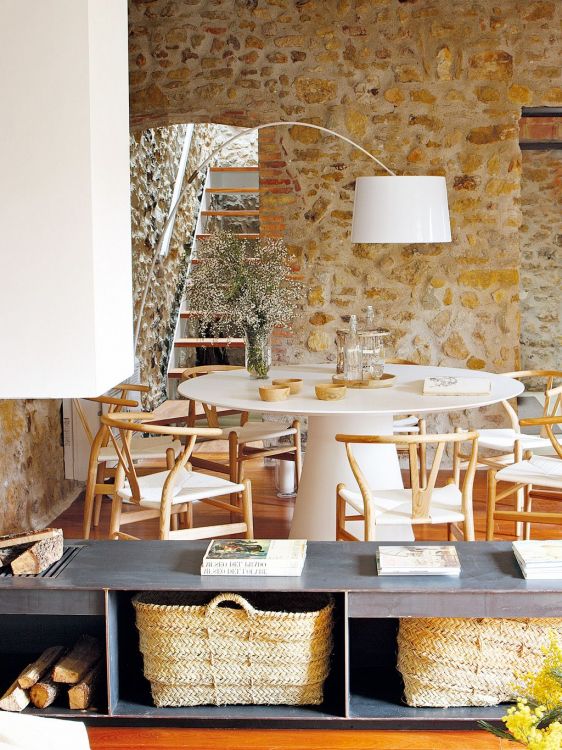 Fireplace integrated into a low iron cabinet, which supports the heat. Barrier-free, totally open. The draft of the smoke outlet is located just above. It is located between the living room and the dining room to enjoy the fire in both environments. The project is signed by the architect Glória Durán Torrellas.
20 Masonry chimney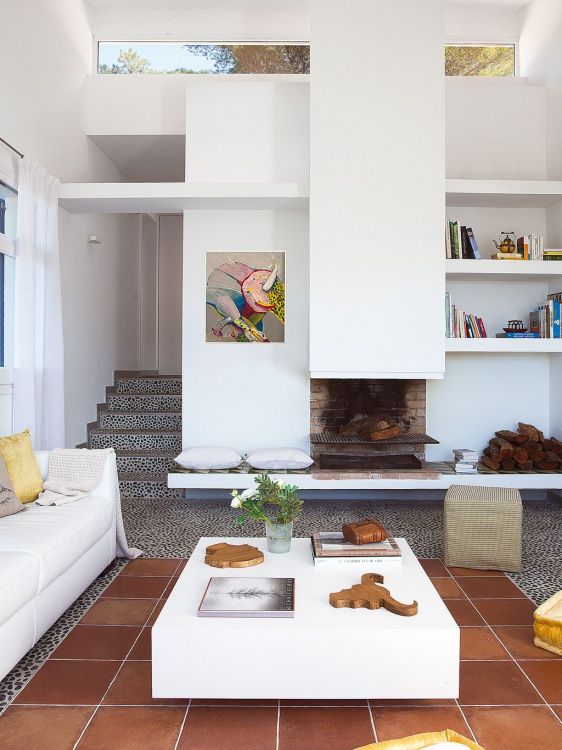 Built-in fireplace with cantilevered bench and built-in shelves to one side. Open, with brick interior. The architect Jaume Coll Fulcará has been the architect of this room in two heights.
21 In black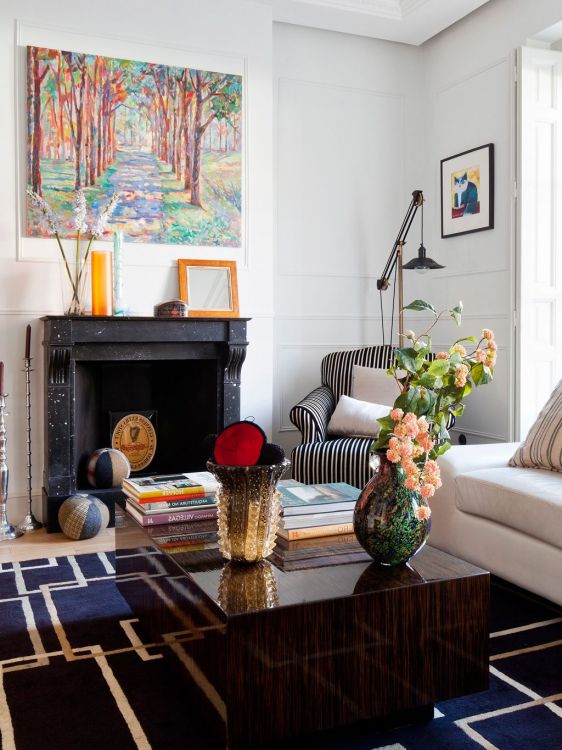 Fireplace with mouthpiece in black marble. An elegant touch that breaks with the dynamics of this room, with interior design by the Atelier HR studio.
22 Full Throttle…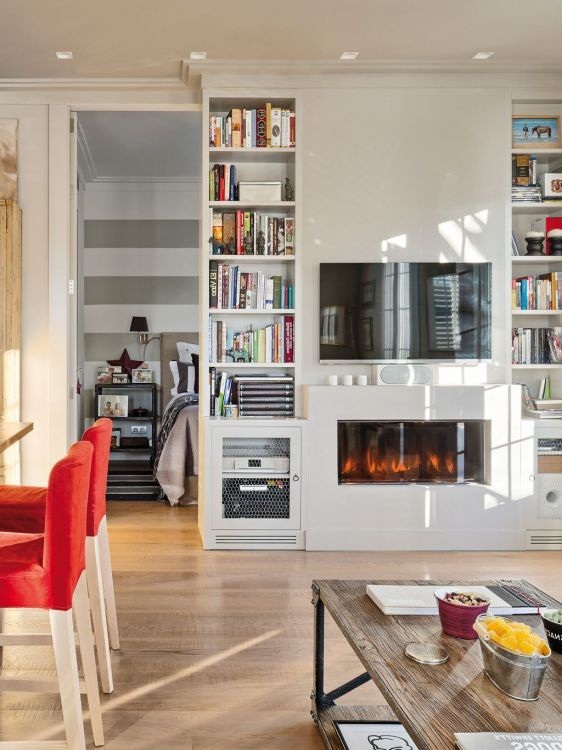 Double-sided gas fireplace. It is visible from the living room and the adjoining bedroom through a glass front.
23 A modern house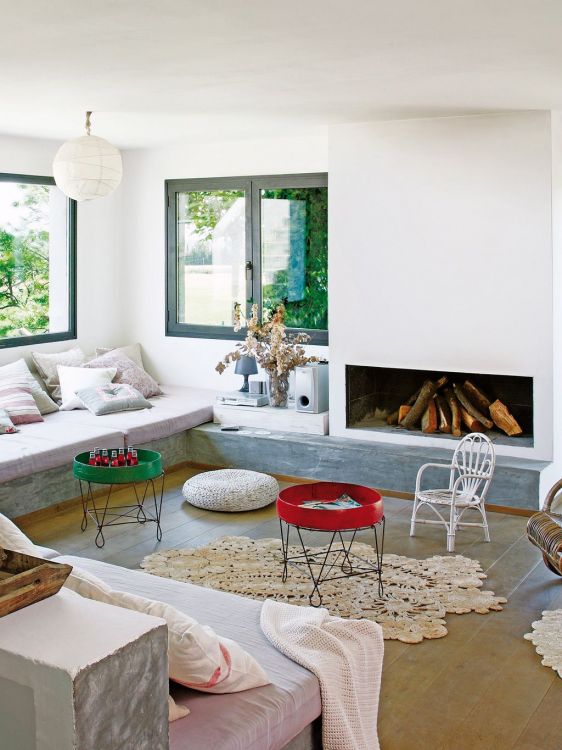 Fireplace with a modern and clean design, designed to share a lot of time with family and friends in this large open-plan living room, equipped with a built-in corner sofa, in white and gray cement. The architect is Cristina Casanovas and Silvia Rademakers has decorated it.
24 iron stove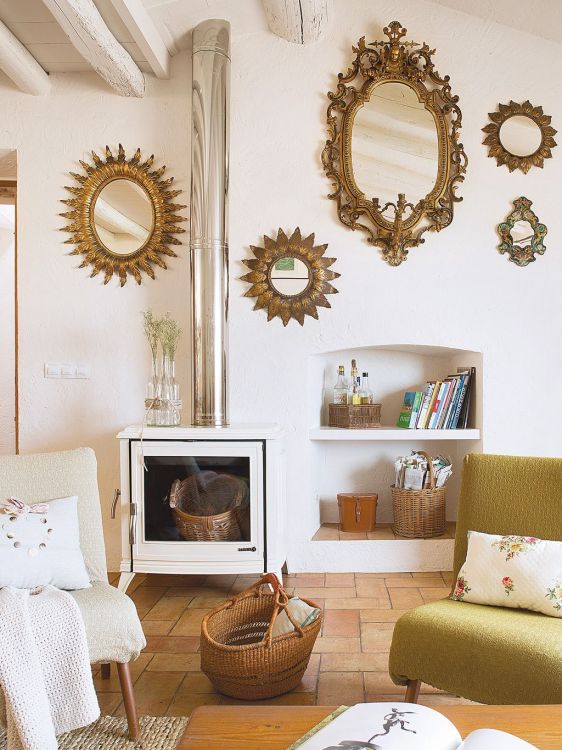 In white and with a retro flavour: iron stove with draft for smoke outlet. To heat and at the same time set the mood for the living room, it is the idea achieved by the interior designer Josep Curanta, with the consent of the decorator and owner Tara Flanagan.
25 Marble embossing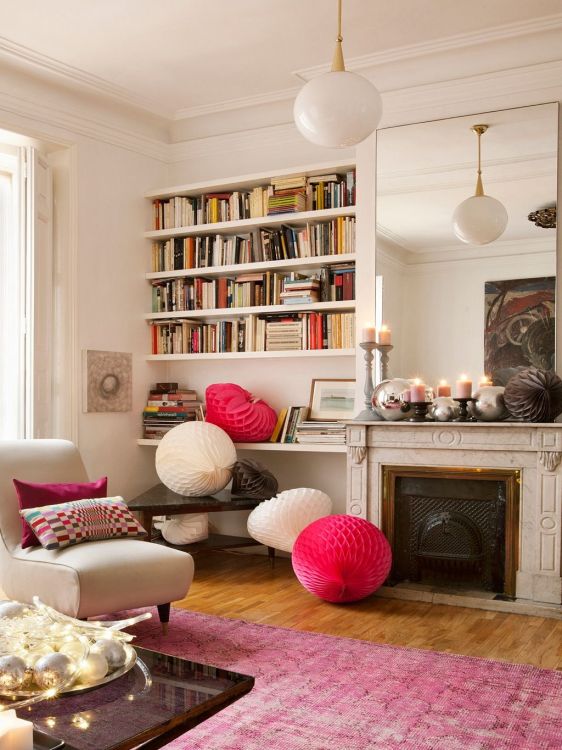 A very classy room always has a nice fireplace. In this case, with a marble mouthpiece, and an XXL mirror to give depth to the entire room. The adjoining wall has been taken full advantage of, creating a bookcase front.
26 Embedded in stone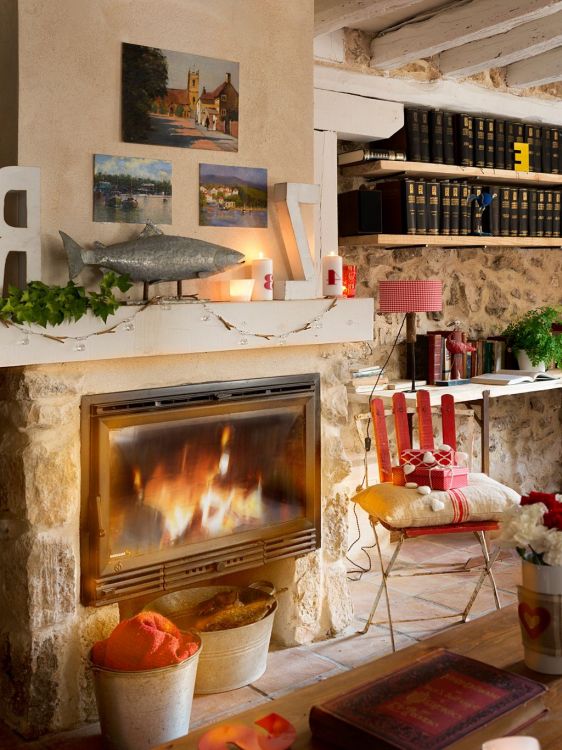 The rustic style multiplies its charm with the love of fire. This cassette type fireplace, integrated into a stone structure, is ideal. The interior design is by Lola Rodríguez and Eugenia Mateos. They make you want to be there!
27 Fireplace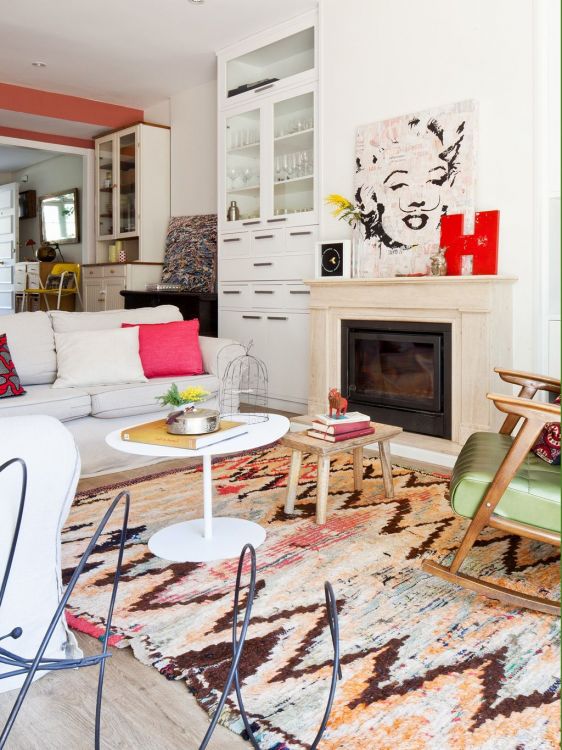 A traditional mouthpiece, classic style with the convenience of adjusting a cassette to the space so that the fireplace can be used without smoke coming out or embers or ashes flying.
28 Rectangular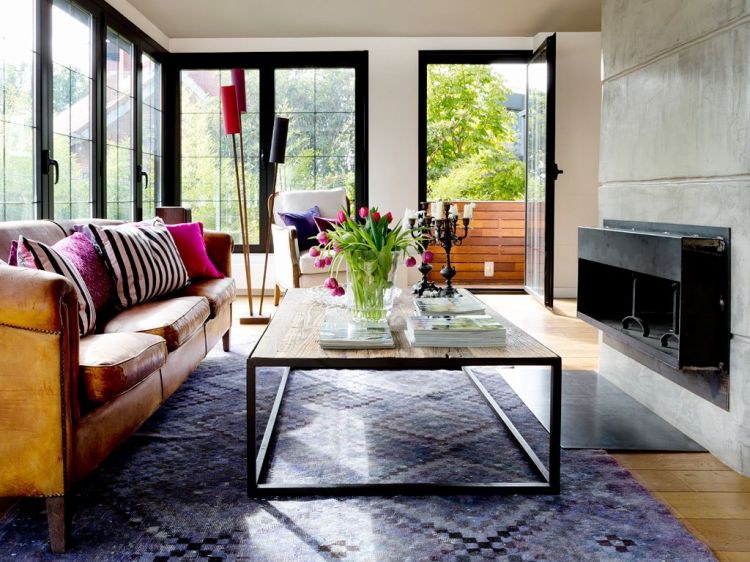 The interior designer Alicia Sánchez Moreno, from the Mill-House studio, planned this room completely turned towards the outside and equipped with a large fireplace, with a rectangular design in black iron, which has been embedded in a wall.
29 Double Sided Cassette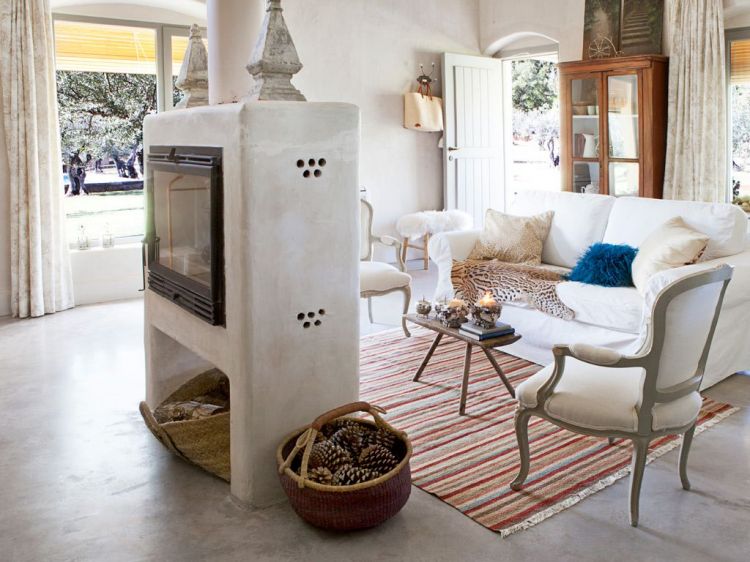 A cassette fireplace, installed in a piece of furniture made to measure, in a rustic style, whitewashed, with ventilation and a lower hole to place baskets with firewood. It faces two sides and is the Vaquería CantaElGallo rural house, a project by the architect Alfonso Monteagudo.
30 In classic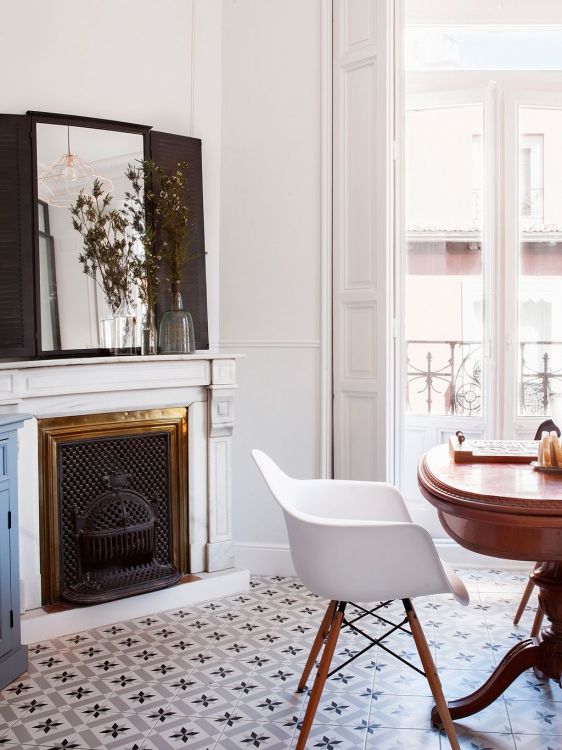 Pure elegance in this room with this hydraulic floor and a classic fireplace, with an ornate mouthpiece in gold and a black grille. It is a project by the Ateliers HR studio, which decided to include a design piece with the Plastic DAW Chair, by Eames.