With these tips your house will be so warm and cozy that you won't want to leave it until spring.
Without a doubt, the seasons in which we spend the most time at home are autumn and winter. Therefore, preparing our home and making it cozy to be able to hibernate during the cold months is very necessary. A blanket, lots of cushions, a fireplace (or some candles if we can't have a fireplace at home), tea, a good book… Can you think of a better plan?
Decoration is a great ally to shelter your house. The colors, textures, prints, smells… will help you achieve it. To make those evenings at home perfect, follow these 12 steps and create your private haven.
Make your home your refuge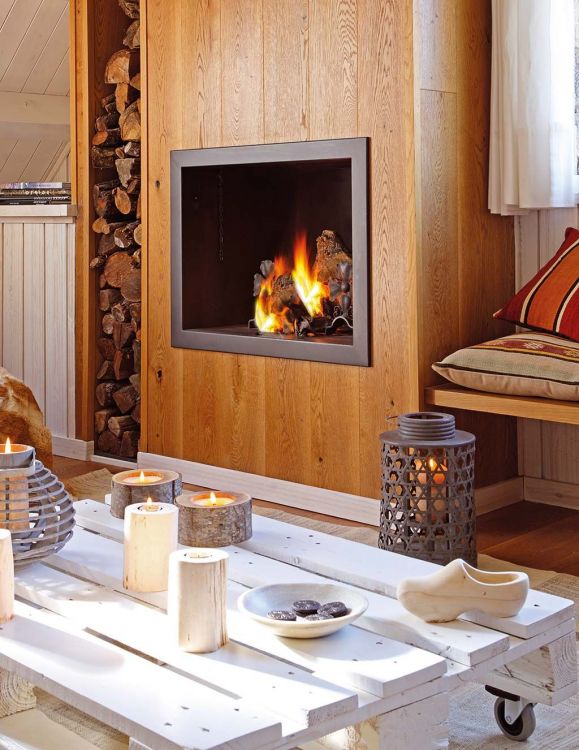 One of the warmest materials is wood. Use it on furniture and floors, and extend it along the wall to give your home that cozy cottage feel. In this room, the same oak flooring covers the wall of the fireplace and the lateral woodshed. If you decorate with candles and lanterns, you will warm up the atmosphere even more. Project, by the interior designer Cristina Carbonell.
FIREPLACES: Is it the same fireplace as insert or cassette ? No. The insert does not need work, it has fans, it heats up slowly and distributes the heat to other rooms. The home requires work, it does not usually have fans, it heats up quickly and accumulates heat only in the room where it is located. Fireplace, from Fugar.
Hibernate at home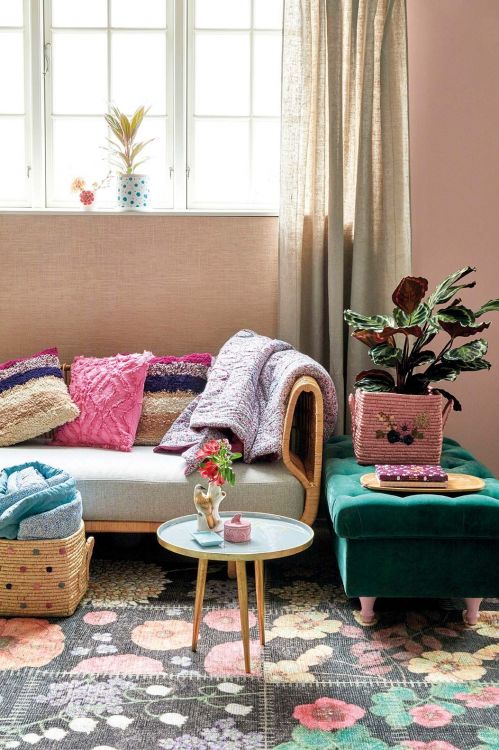 In your kingdom —the sofa—, surround yourself with textiles that protect you from the cold with warm textures, such as velvets, corduroys, wools… whether in upholstery, plaids or cushions that invite you to practice nesting while it's pouring rain.
Windows are a key point where heat escapes. Maybe it's time to change yours for others with a thermal bridge break. In Gancedo they advise dressing them with light curtains that let in the few rays of light in winter and adding thicker curtains that provide privacy and warmth at night.
In the image, cushions in 40 x 40 cm, pink (€29.90) and stripes (€39.90); quilts (€99.90 each), baskets (€43.50 each) and hand-woven rug (€304.90), all from Rice.
Choose fall prints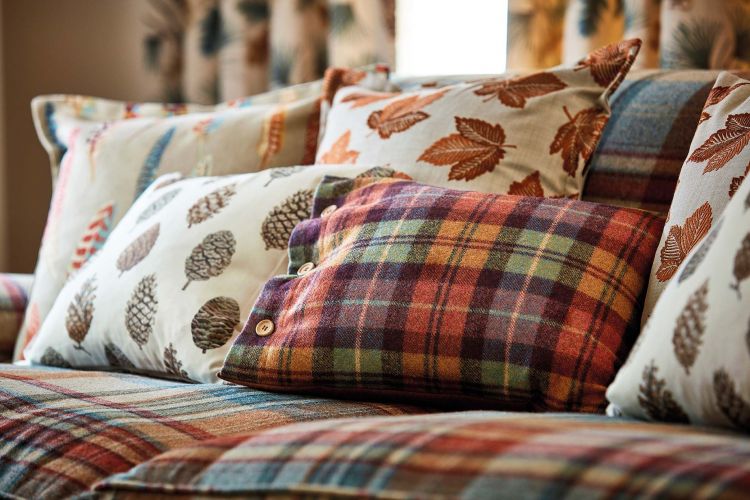 In addition to warm materials and dark colors – grey, navy blue, green or burgundy – opt for motifs that evoke the change of season with botanical designs or the tartan print, which is still on the rise. Sanderson fabrics: for the cushions, in 140 cm width, with leaves (€83.84/m) and pineapples (€70.13/m), from the Elysian collection; on the sofa and checkered wool cushion, 142 cm wide, from the Islay Wools collection (€128.57/m). All, in Gancedo.
Shelters the wall… and the rest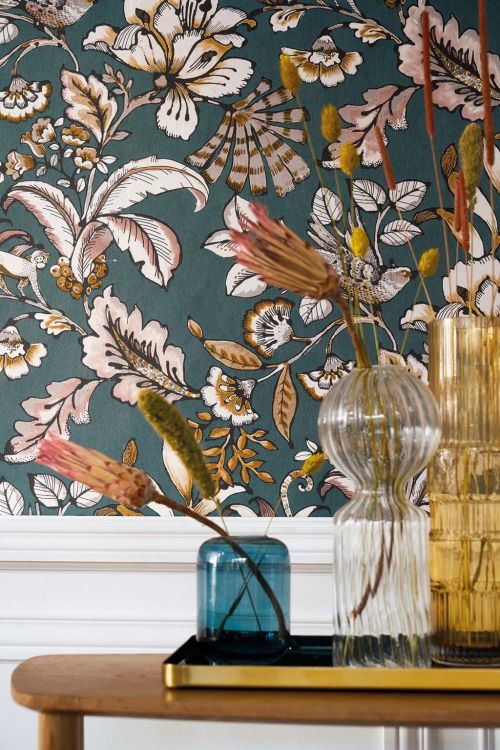 Wallpaper is a good resource to raise the visual temperature of your home a few degrees. The usual thing is to use it on the wall, but you can also embellish ceilings, the inside of drawers or the bottom of the shelves with it. Surrender to the beauty of country, vintage or vegetal designs, such as the Paiony wallpaper, from the Ceylan collection, by Casamance; in 10.05 mx 70 cm (€131.64/roll).
Cover the ground with rugs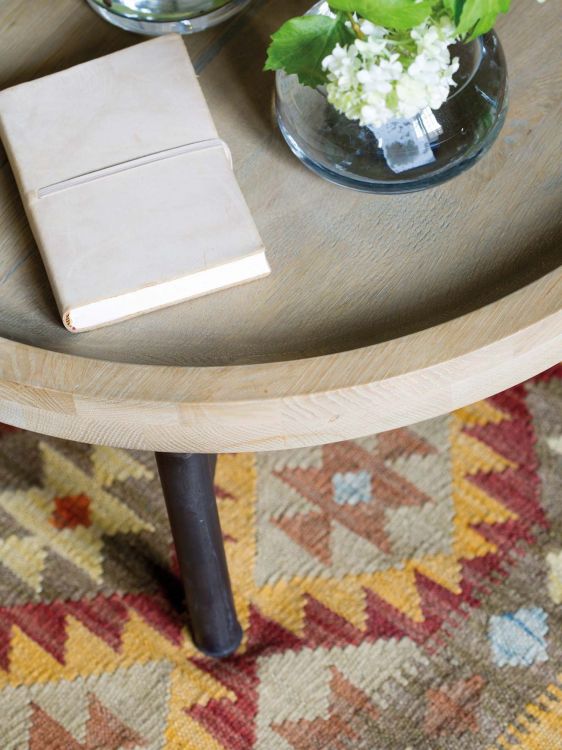 How much did the Russian tsars know, who used them to insulate themselves from the frigid temperatures in their territories! Choose models that transmit warm sensations through their fabric —wool, cotton…— through their color palette —reds, maroons and oranges— or through their warp: the greater the number of fibers accumulated per cm2, the warmer they are. Long-pile Berber rugs are very much in the news, as are short-pile dhurries or kilims, like this one from Sacum, chosen by the Egue y Seta studio.
Change the bedding and pull out the blankets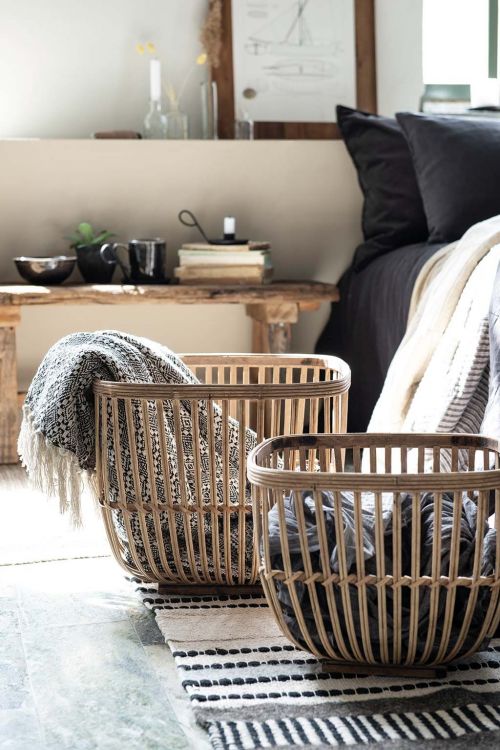 Did you know that the darker an object is, the more heat it absorbs? In the bedroom, choose a duvet and accompany it —as suggested by the Gancedo textile firm— with bedding in neutral and dark tones, cushions to be comfortable and a rug that provides warmth. When you go to bed, you can leave the cushions in baskets, next to the bed. From the firm Ib Laursen: bamboo baskets (€90.75/2), striped rug (€215) and cotton blanket (€20.75).
Put a Nordic in your bed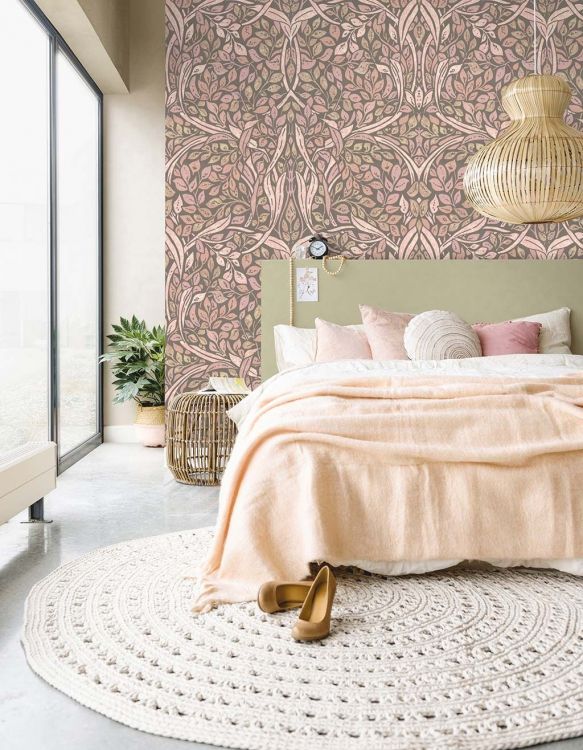 Are you cold? The advantage of the Nordic is that you can choose the filling from a wide range of possibilities. So that you do not wake up in the middle of the night with excess heat, choose a light one —that does not weigh too much— that is breathable and has good thermal insulation. There are different materials depending on how cold you feel at home. You have fiber with anti-fungal and anti-mite treatments, and also feather and down: the higher the percentage of them they contain, the better their quality.
Whether it's geometric, paisley or floral motifs, XL designs look better on large surfaces – like this wall that the headboard rests against – and can warm the space better than mini ones. Carmen paper, from the firm Eijffinger, distributed by Coordonné (€296.61/3 x 1.5 m mural).
Bet on warm tones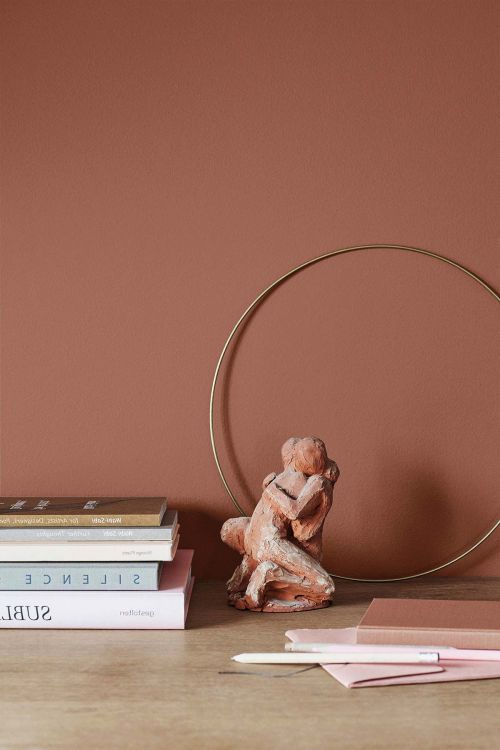 The traditional color palette that evokes nature, based on warm colors such as sienna, ochre, walnut or mustard, is expanded during the colder months in both tones and nuances. The objective? Achieve a cozy and sophisticated atmosphere, like this one. Majestic Pure Color extra matte ecological paint, in Amber Red tone, by Jotun (€39.90/4 l).
Have comforting drinks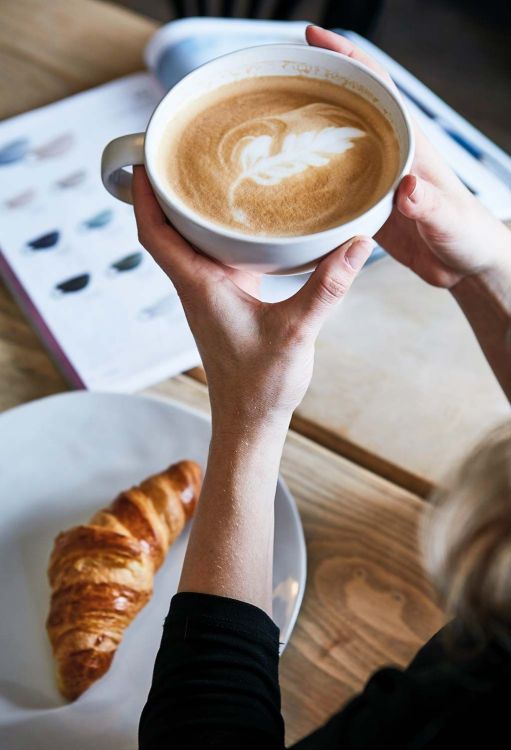 If you arrive home out of temperate, this wise resource is infallible to warm you up. Make yourself a steaming drink and serve it in a large bowl. The feeling of embracing it with both hands and feeling its warmth is priceless. Would you like to become an expert barista and learn how to draw pictures on your cappuccino? Sign up for a Latte Art course or one of the advanced tastings offered by the Spanish Coffee Institute, www.iecafe.es. Mug, from the firm Affari (€7.45).
Connect with nature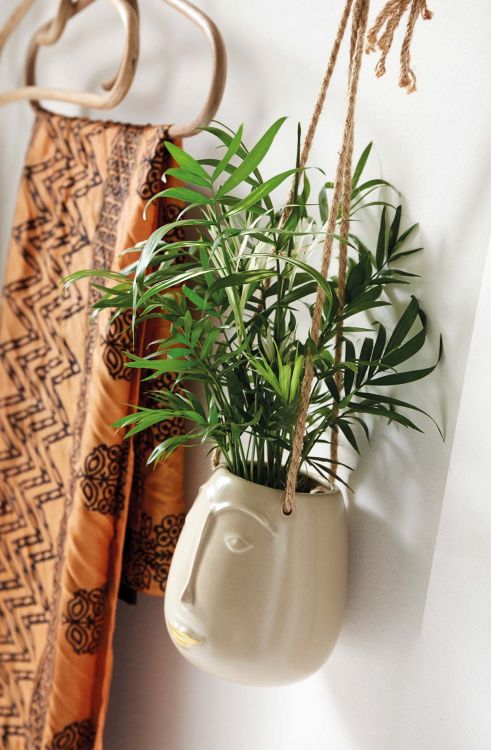 Seasonality means the end of flowers and the entry of other interior options more in line with the new season, but just as beautiful! Take a tour of the nursery and choose green plants to decorate your house. Place them staggered – on the floor, a stool and a side table – or suspended. From Nordal: hanging planter (€18), plaid (€135) and rattan hanger (€9).
Place a fall flower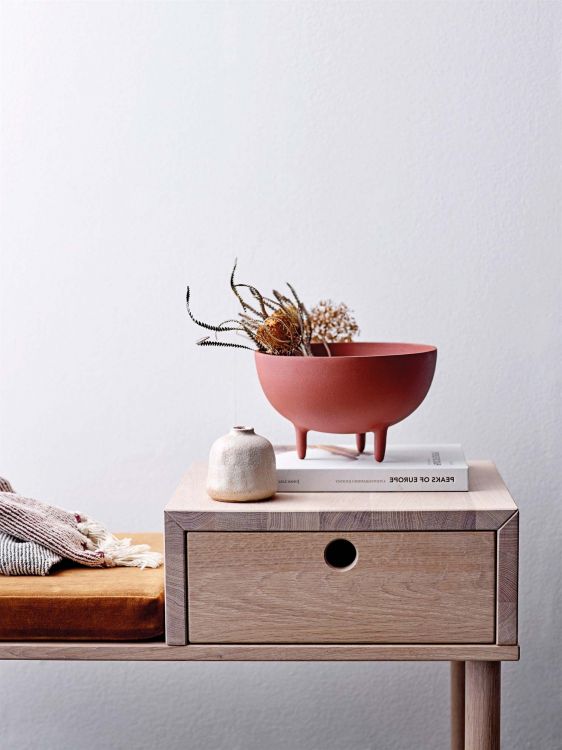 If your favorite varieties do not grow during this season, opt for dried or preserved flowers and you will achieve a warm atmosphere. The former are achieved by natural dehydration and are ideal for achieving a rustic look, but they soon lose their color. The latter are treated, replacing the sap with glycerin and other plant elements. That way they maintain their natural appearance and last for years —explains the florist María Sánchez, from Flores en el Columpio—.
In the picture, bowl (€57), vase (€11.50) and Lenny bench (€719), from Bloomingville.
Opt for evocative scents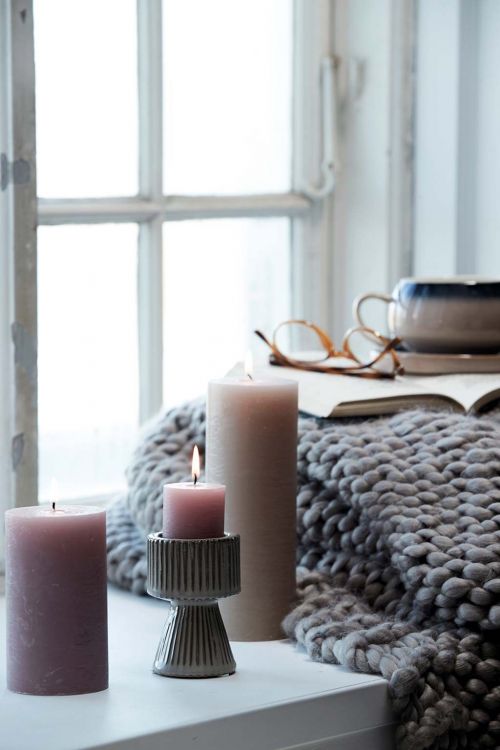 Bring into your home, through scented candles, the unmistakable scents of the most suggestive winter: roasted chestnuts, firewood, cinnamon… From the firm Lene Bjerre: candles (from €3.75), Cinetta candle holders (€8.75) and Kumari knit plaid (€180).