Minimalist dining rooms consist of only the essentials. That is, a dining table with chairs, all lit by a pendant light, and little or no decorative trimmings. It can be divided into several styles, from a vintage, industrial or Scandinavian dining room that pays homage to wood through a slightly futuristic contemporary environment.
A minimalist aesthetic in a dining room can provide a clean backdrop for enjoying meals with family and guests. If you are looking for inspiration, take a look at these ideas that transform the table and chairs into a beautiful focal point in the room.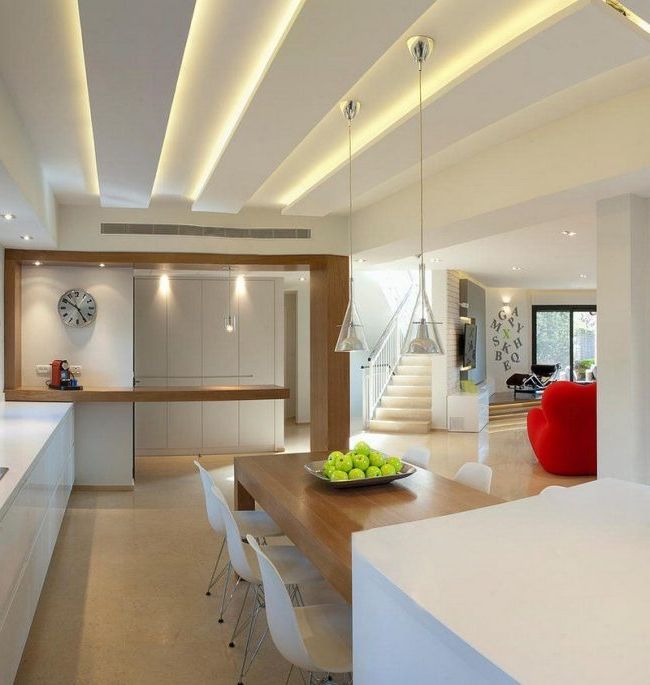 Industrial minimalist dining rooms
The use of metal and raw wood, which combine perfectly, is especially evident. In general, they consist of a large wooden table and chairs, sometimes different from each other, designer chairs, or wooden benches. Above the table, to illuminate the whole, you can choose an important pendant lamp, which can be retro chandeliers, minimalist luminaires or lamps that are currently in trend, bulb lamps that leave the light bulb visible.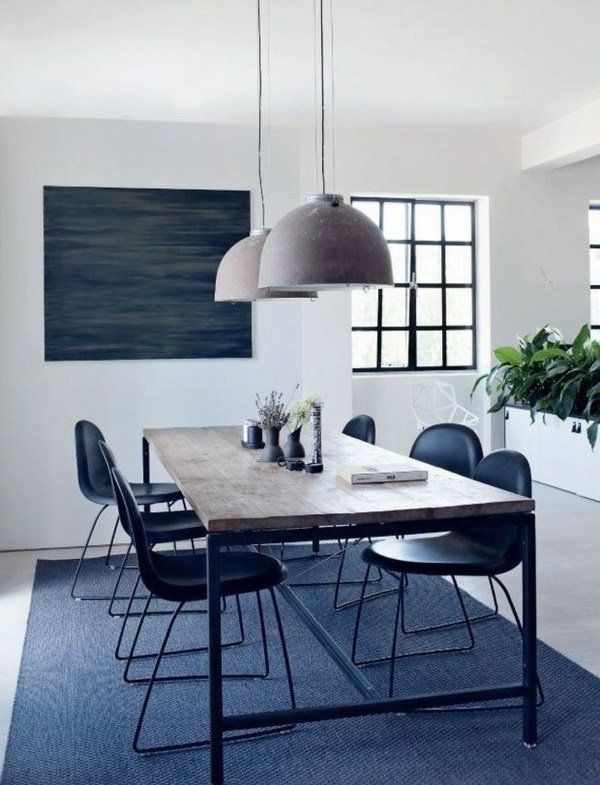 This type of decoration does not require having to think for hours and hours where you are going to place the different decorations, because there are practically none.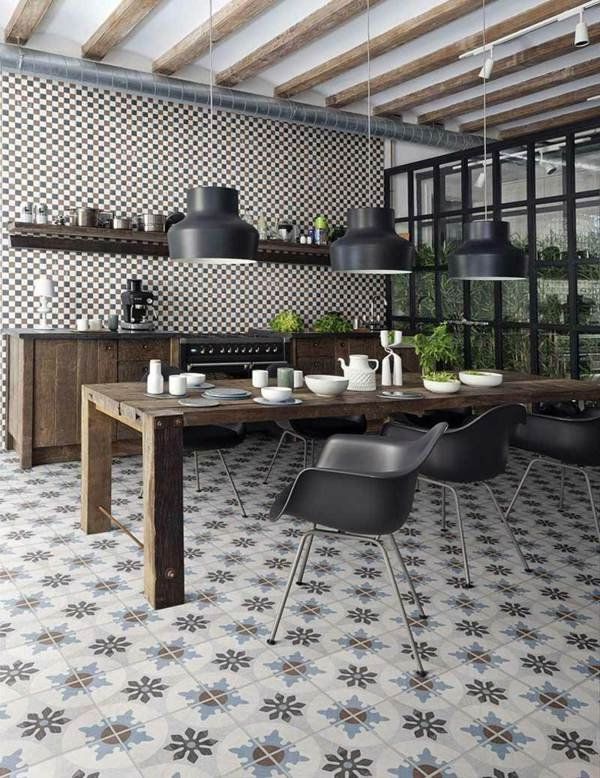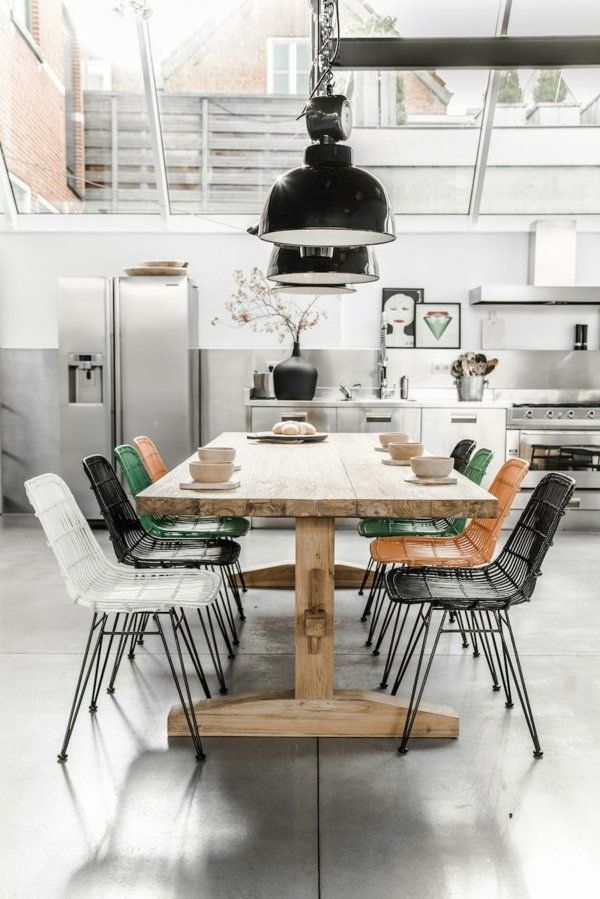 One of the main advantages of opting for this decoration is that you don't have to waste a lot of time cleaning different decorations, since the basis of this decoration is "the less the better".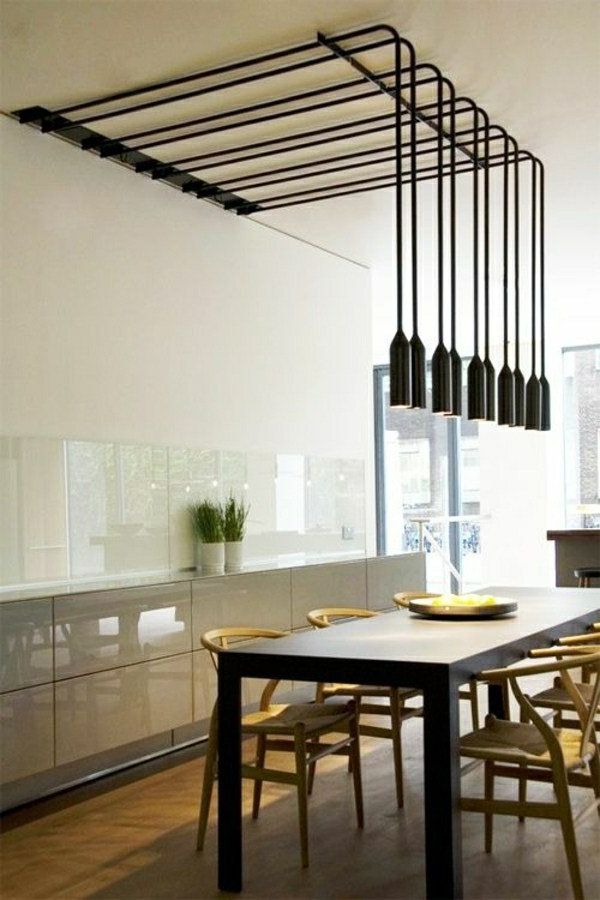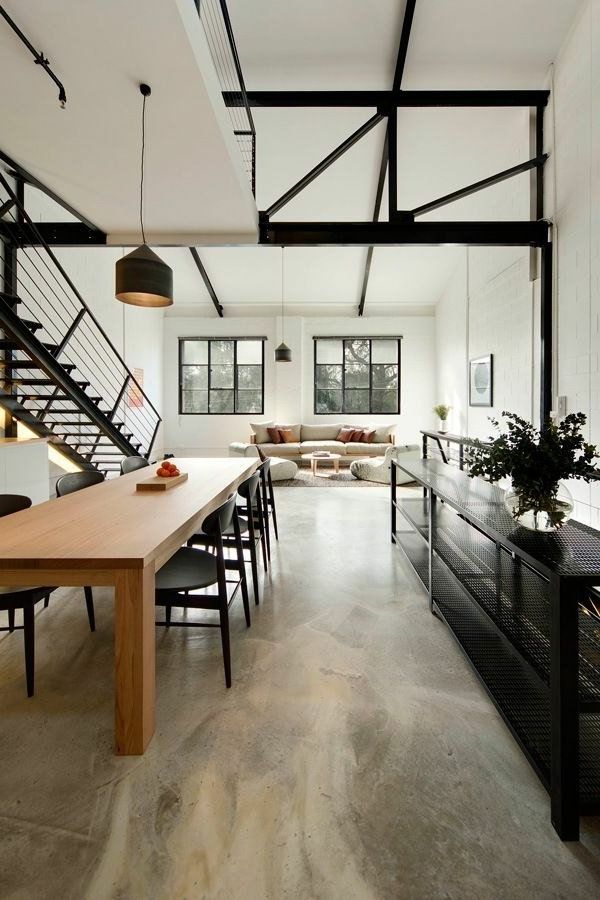 In a minimalist house, cleaning is easier, since cleaning a lot of objects, sweeping or vacuuming around a lot of furniture, is usually much more complicated. The houses are full of furniture, to keep them clean it takes a lot of time and it is very tedious to do it.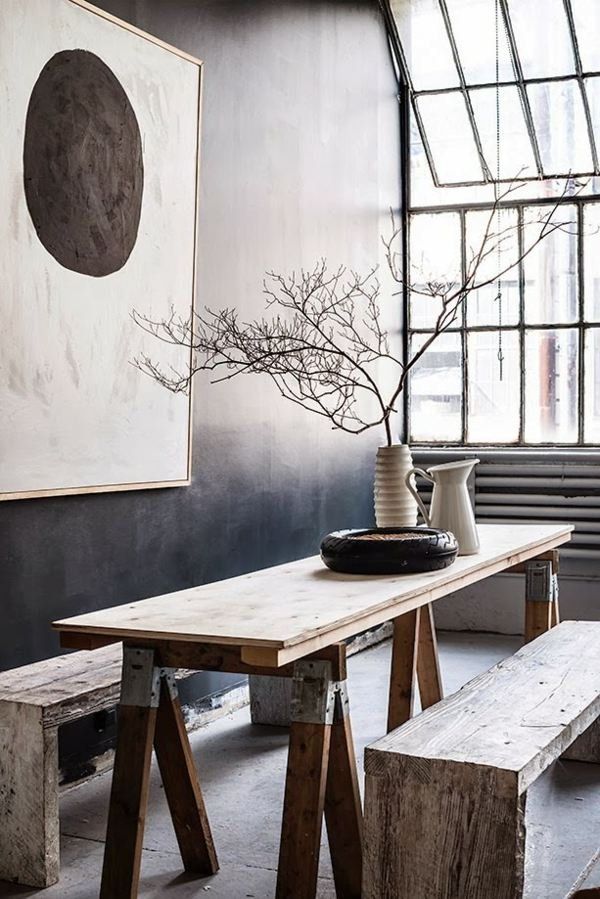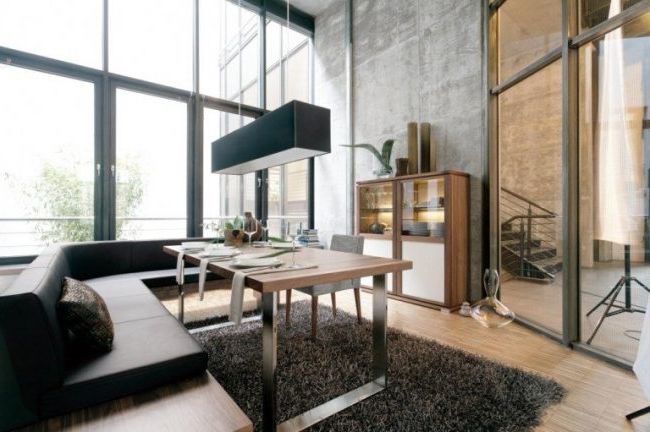 Think about how easy it is to clean an empty room versus one with 50 objects in it. That's an extreme example, of course, as this article doesn't recommend you have an empty room, but it's just to illustrate the difference. Minimalist architecture uses the idea that less is more.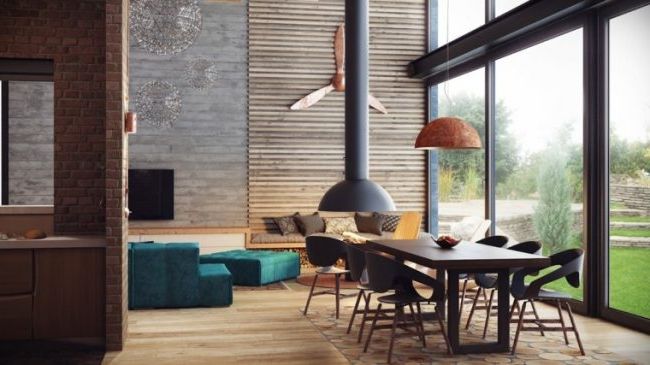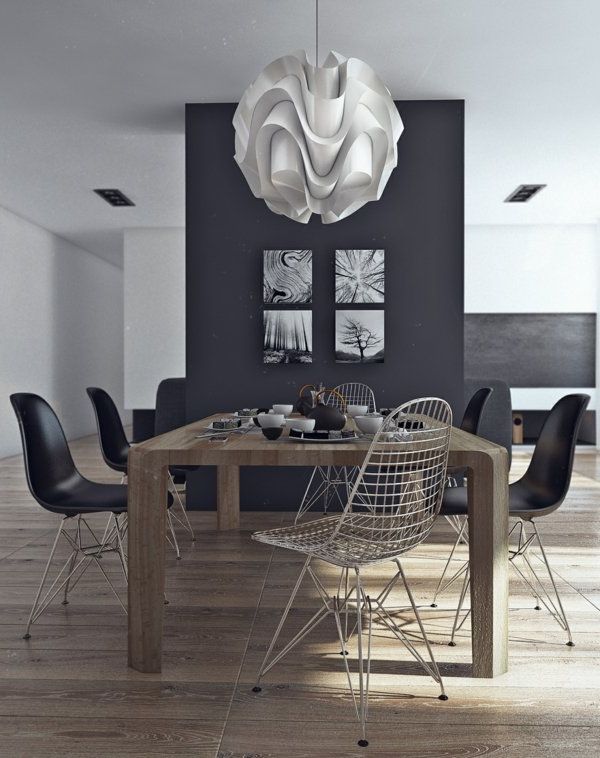 A minimalist house is less stressful. Clutter is a form of visual distraction.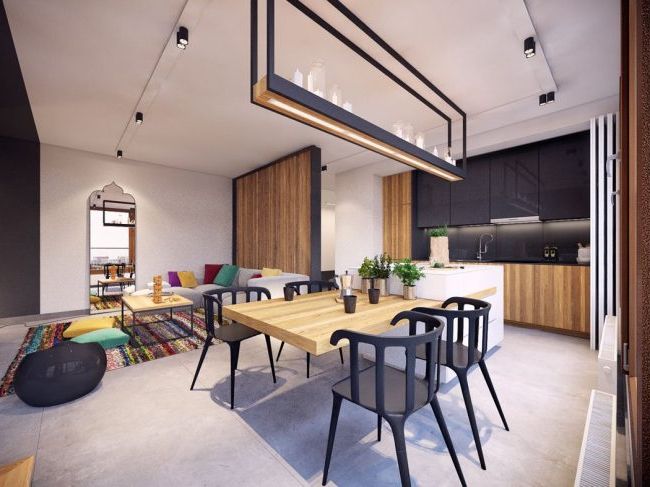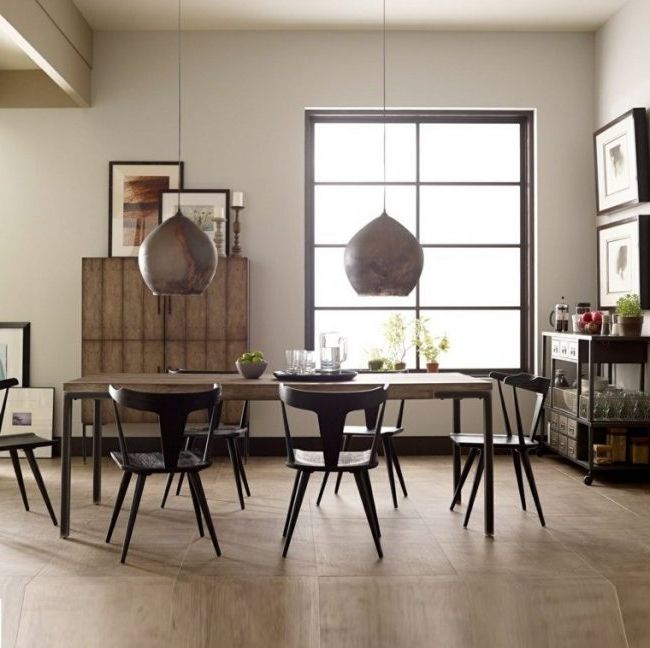 Vintage minimalist eaters
They usually emphasize black and white. The idea is to create a special and personalized atmosphere, looking for furniture from previous decades and achieving a minimalist decoration but with interesting designs.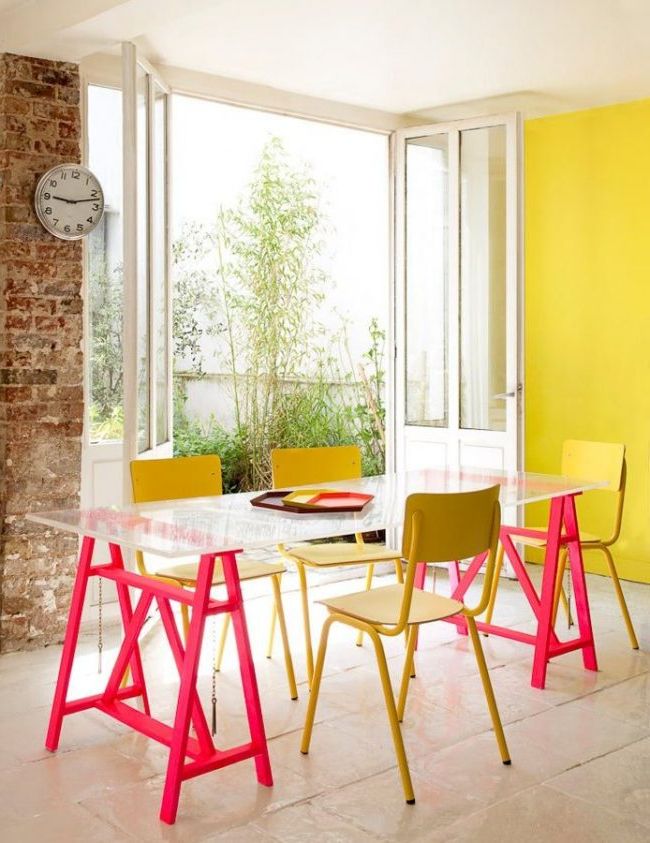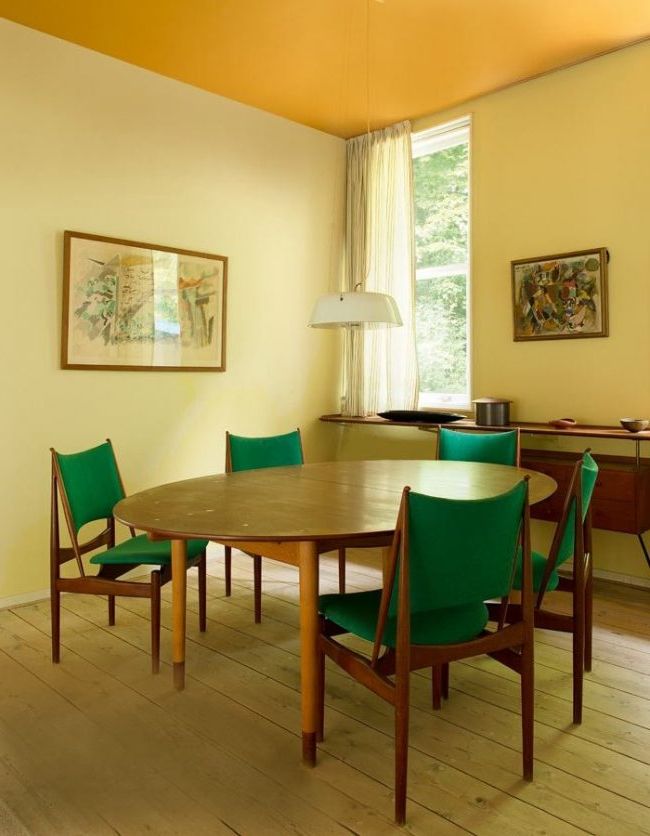 For example, a white table and chairs in different bright colors: one black chair, one red, and two blue chairs. This trick allows you to bring color to a dining room in a very simple and original way.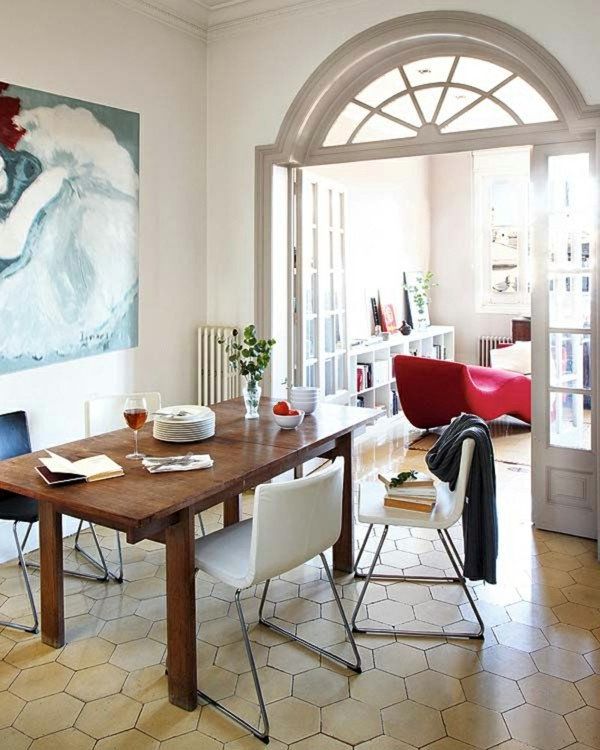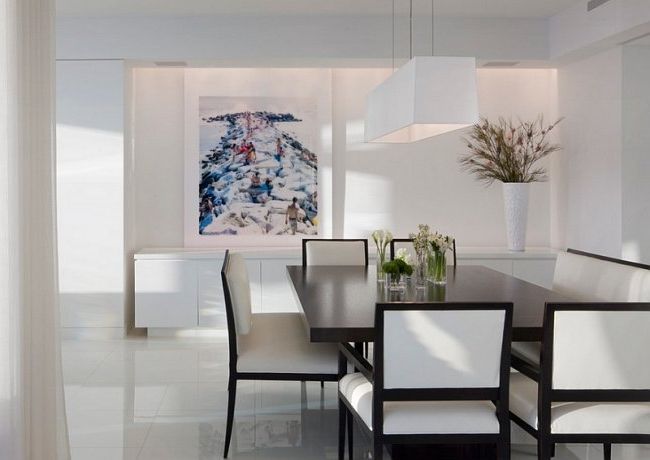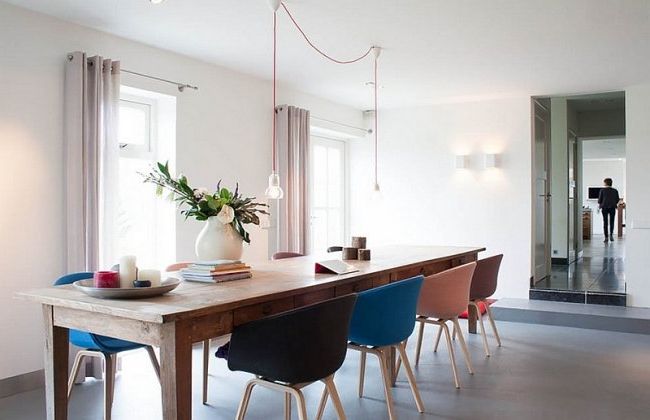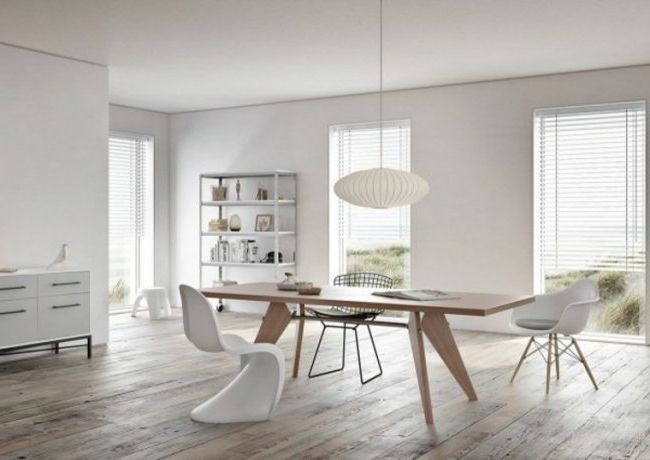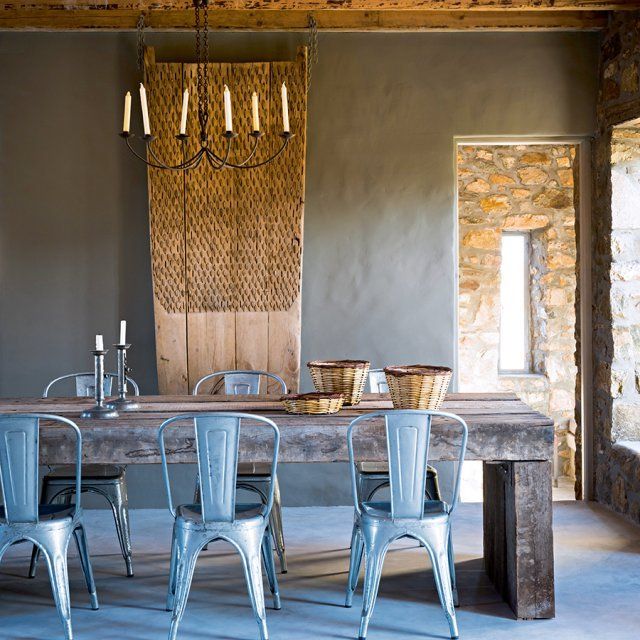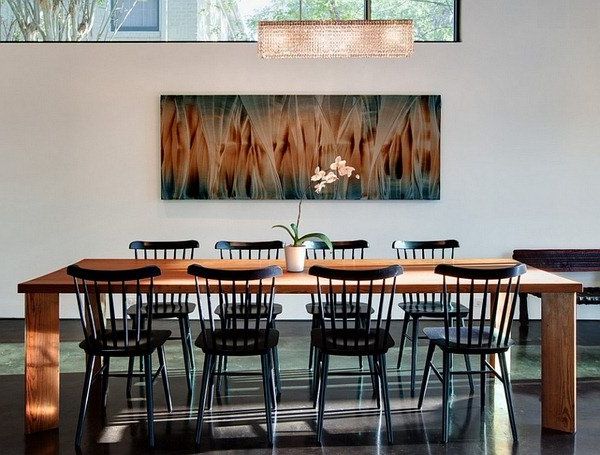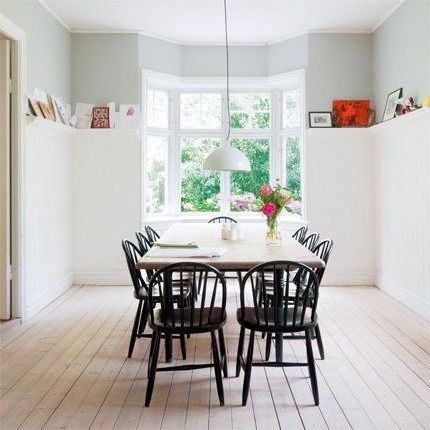 If you are thinking of opting for this type of decoration, but you do not know very well where to start, we recommend that you do so by removing all the furniture in the dining room and keeping the minimum. The second thing you should do is remove all the decorations, the only thing you should leave is a couple of decorations and a painting.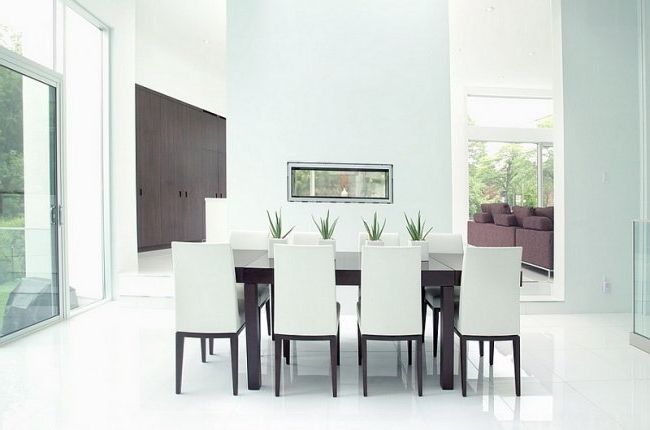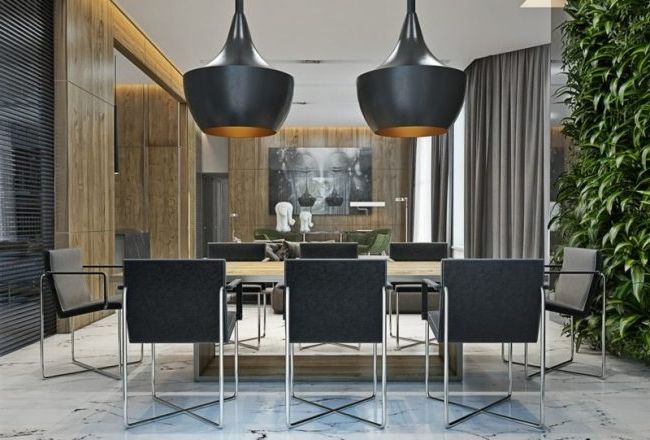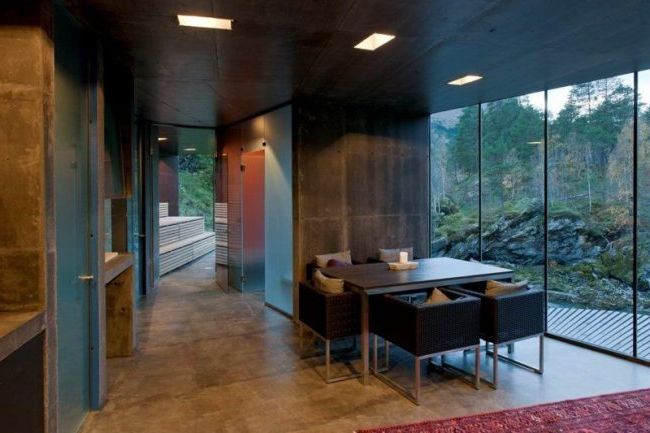 The dining room can be set up in two different ways. The first is to create a natural and authentic style, where the dining table, chairs and even the light fixture will be dressed in wood.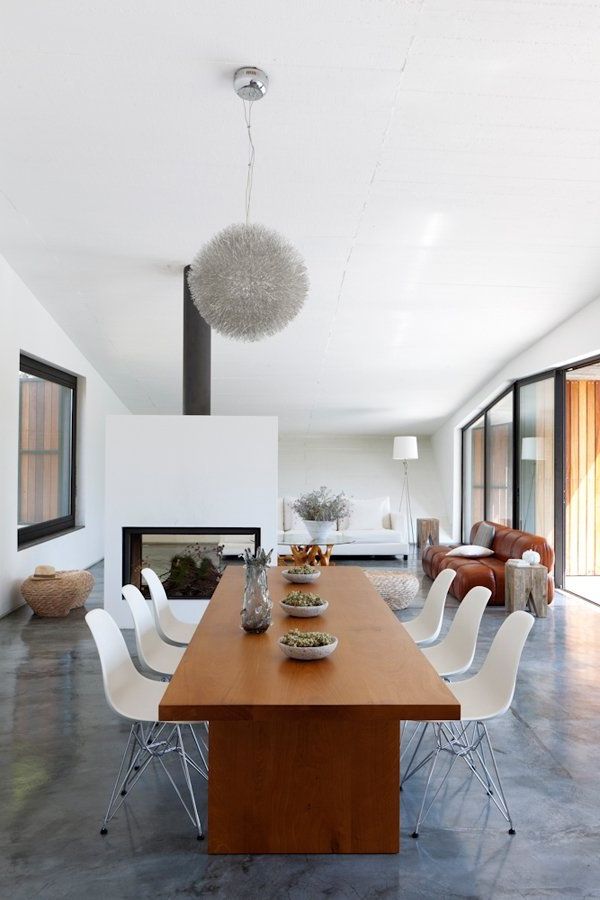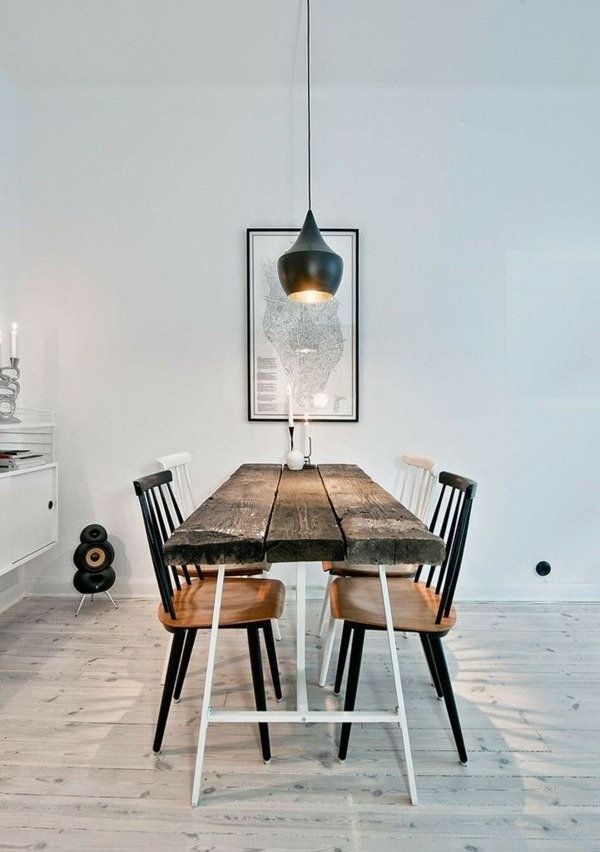 The second is to create a more sophisticated little universe that highlights two fundamental colors of the Scandinavian style, beige and black. For example, fill the space with a wooden table and complement it with black chairs. Classic furniture can work very well.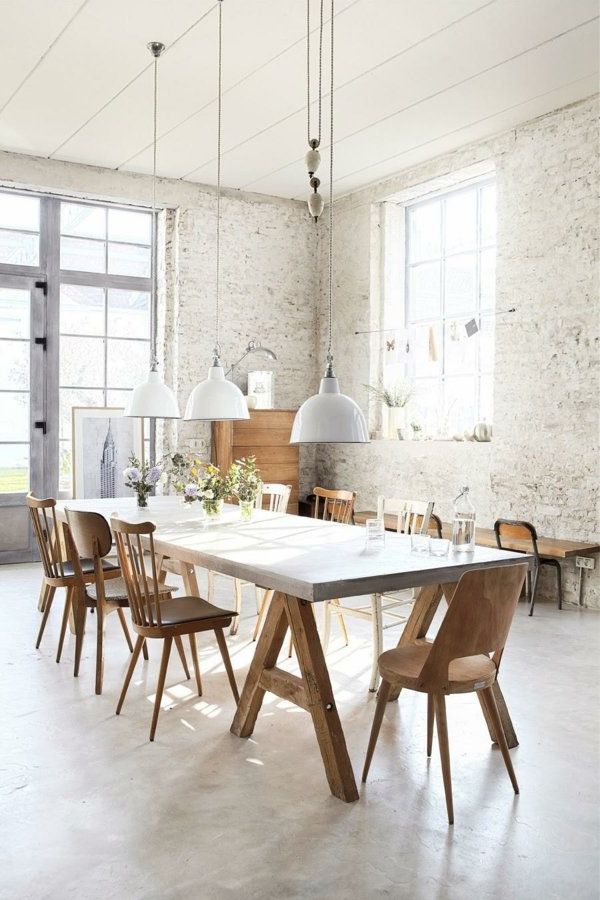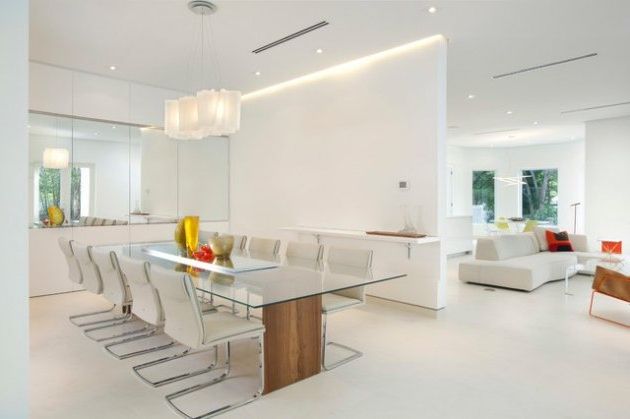 White is the color that reigns par excellence. Simplicity is the key, so much so that we could say that Nordic and minimalist decoration are synonymous.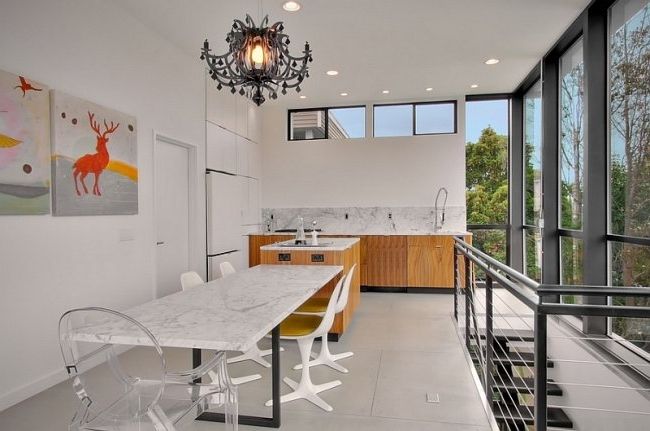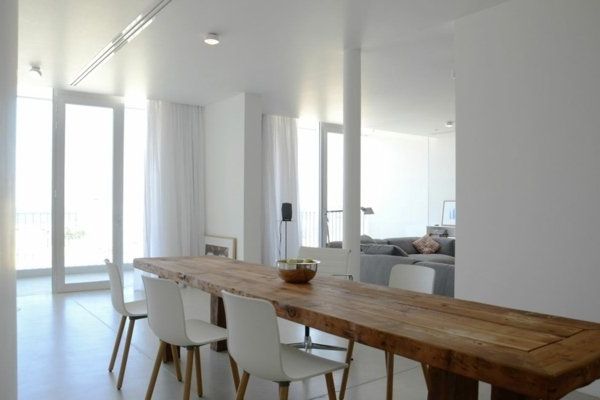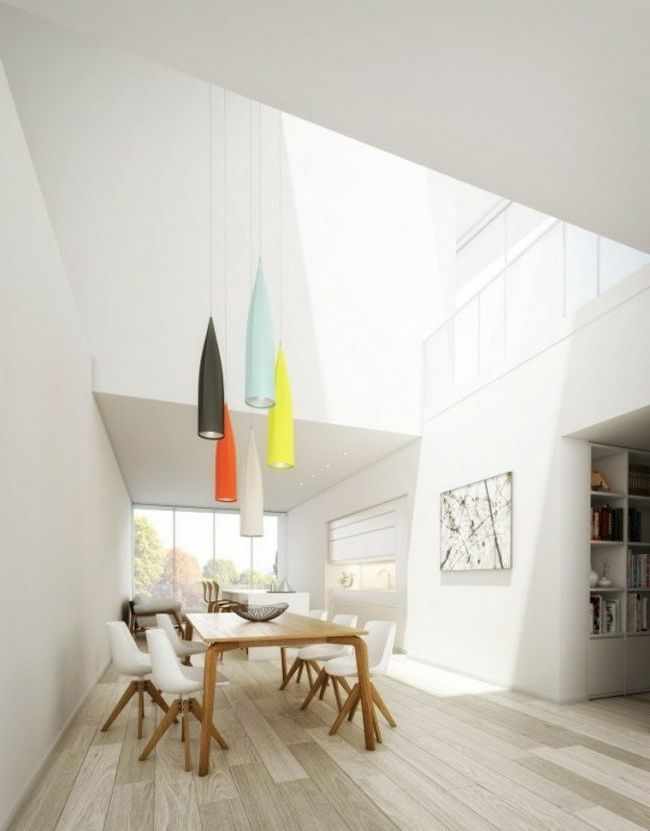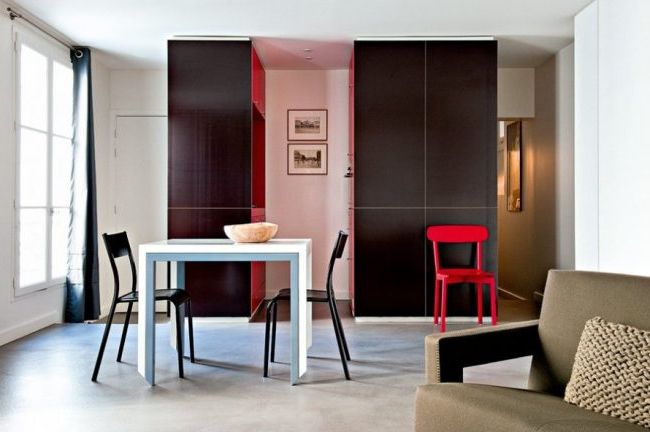 Steps for a minimalist style
There are no set measures to make your home minimalist, this article is limited to presenting you with some ideas on how you can approach changing your home to such a style.
Start with the furniture. The biggest things in any room are the furniture, so it's always best to start simplifying a dining room by looking at the furniture. The fewer pieces possible, the better (within reason, of course). Think about what furniture can be removed without sacrificing comfort and livability. Go for a few simple, plain furniture pieces with solid colors. Keep only the essentials. Throw the rest away and start renovating the house one room at a time.
All surfaces of both the floor and the table must be empty of any type of objects, whether they are magazines or other items. The same with the walls, leave at most two decorations hanging on the wall per room.
Anything that can be stored on shelves that cannot be seen with the naked eye should be stored, whether it is a library, or a collection of records or movies.
Leaning towards plain colors, no mix-ups with flowers or other patterns, that creates disorder.
It is important to note that after a room has been transformed, it can be revisited in a week, your eye may see something else to take out. But above all, always remember that in a minimalist design, quality over quantity is superimposed and that "less is more".