As children we have all longed to sleep in the tree house. Make your wish and that of your children come true and prepare a getaway in style.
Cabins for children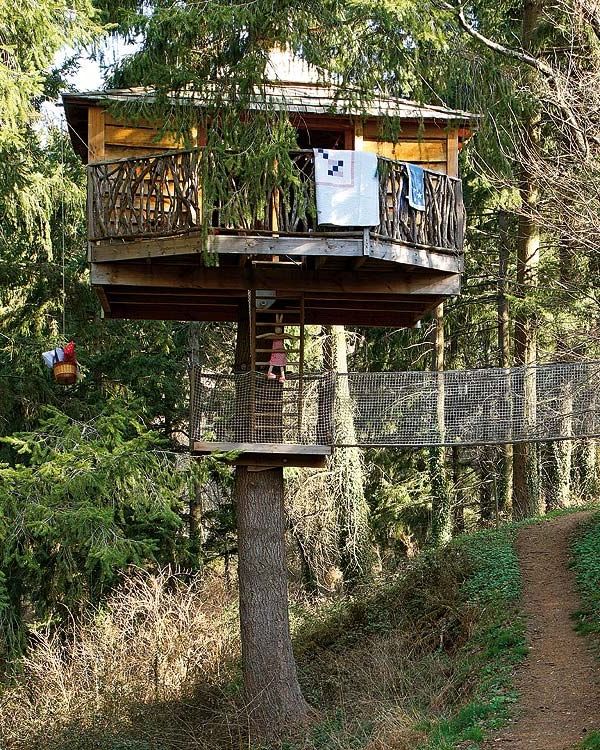 As if it were a nest, in full contact with nature, such are the cabins of Cabanes als arbres, rural accommodation, located in the Montseny Natural Park, in Catalonia, which bring us closer to the forest and its ecosystem in an unforgettable experience. for both children and adults.
Copy the idea in your garden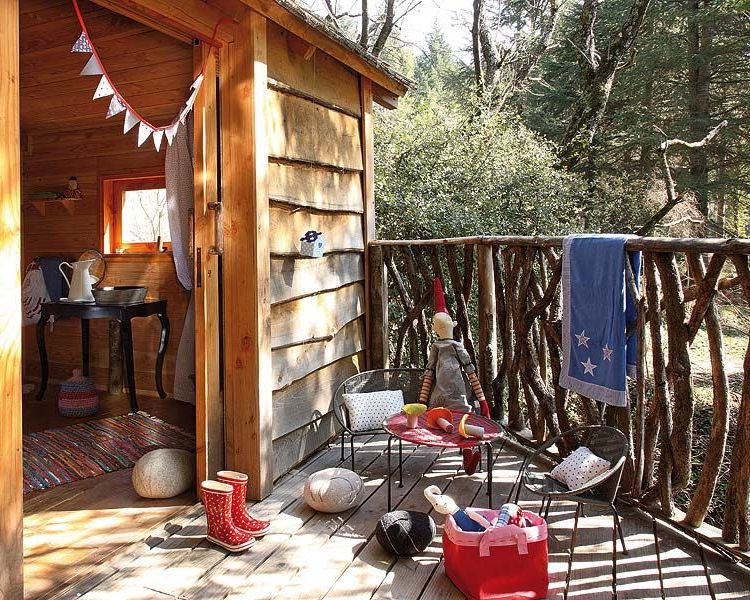 If you have a small plot of land and a tree to house a wooden house, build a shelter for your little ones that includes a terrace to enjoy the scenery and feel nature from an eagle's eye view. Table and benches with cushions of little stars and cars and cushions in the shape of stones, by Nobodinoz. Red and pink basket, by Filocolore. Doll, for sale in Piccolo Mondo. Towel, Texture.
The front door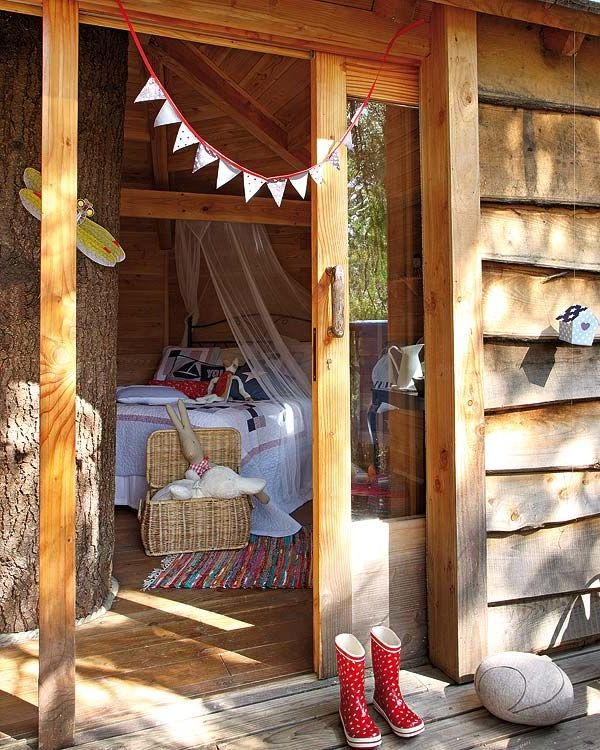 The cabin receives the greatest amount of natural light through the sliding access door. It has a large transparent glass panel from which you can enjoy the views of Montseny and the Pyrenees, even when it is closed. Wreath and wellies, by Nobodinoz.
Your pets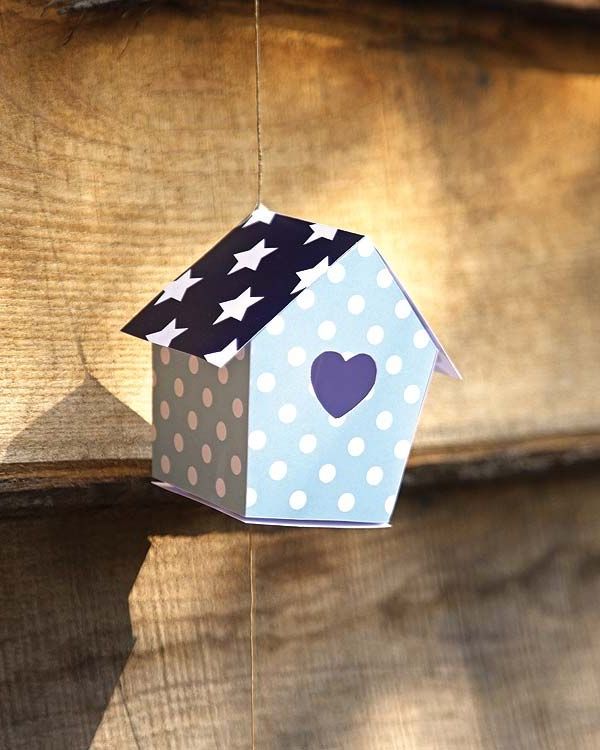 Among the holm oaks, cork oaks, oaks and beech trees that populate the Montseny massif, it is rare not to have the opportunity to enjoy the animals in their habitat. Place a birdhouse and you will enjoy the visit of one of these little animals. This one, with moles, is from Nobodinoz.
A terrace to enjoy the outside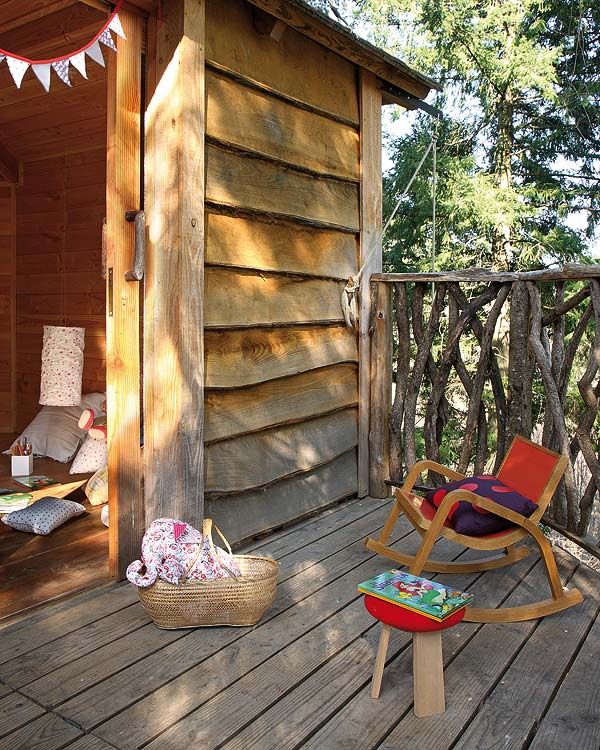 It is not easy to see a hundred-year-old and robust oak growing in the garden of the house, with interwoven branches that welcome the cabin of our dreams. We have to be realist. Give the tree that gives you shade a chance. You can build a raised wooden platform with a small covered area. With some textiles and accessories you will achieve an ideal place for your little ones' adventures or for them to enjoy reading outdoors, as in this terrace decorated with a rocker, cushion, wicker basket and stool, for sale in Nobodinoz. Stuffed elephant, from the firm Coco-Mat.
The interior of the house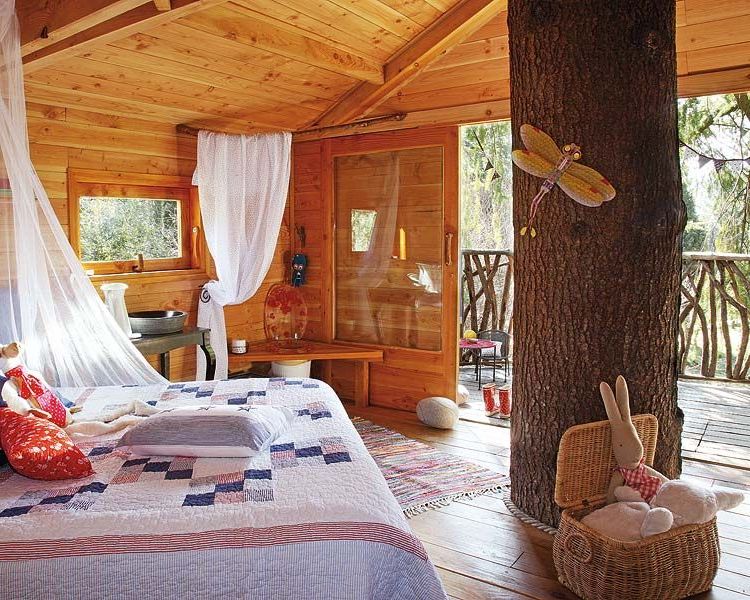 The trunk of the tree is the central axis of the cabin and runs through it vertically. It is accessed by a suspension bridge and a staircase. Inside, wood continues to be the main construction material. The ideal is that there are no dividing walls and thus make the most of the space. To avoid insect bites, it is essential to place a light mosquito net around the bed. Quilt and cushions in shades of blue, from Textura. Doll, by Nobodinoz. Wicker basket and stuffed animals, for sale at the Piccolo Mondo store.
Decorative butterflies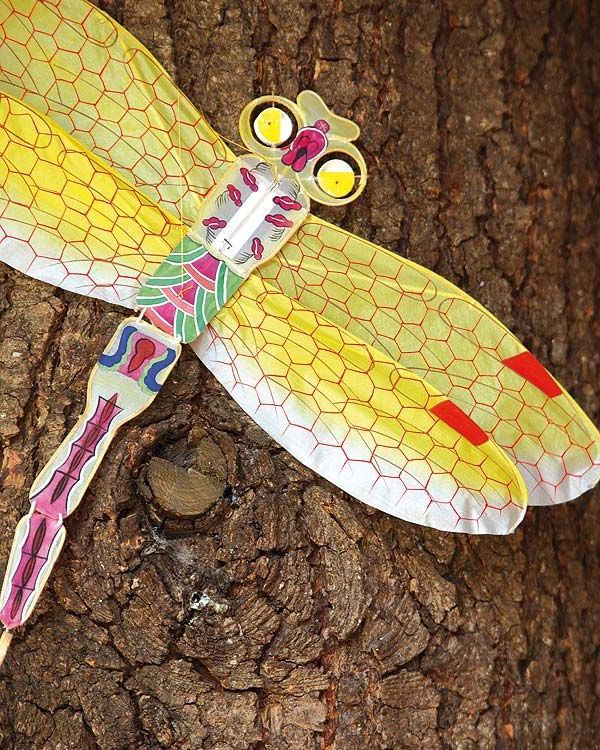 Accessories inspired by nature blend in with the environment. Like a perch resting on the trunk of the tree, this paper dragonfly, for sale at Nobodinoz, is the perfect decorative object.
House for plays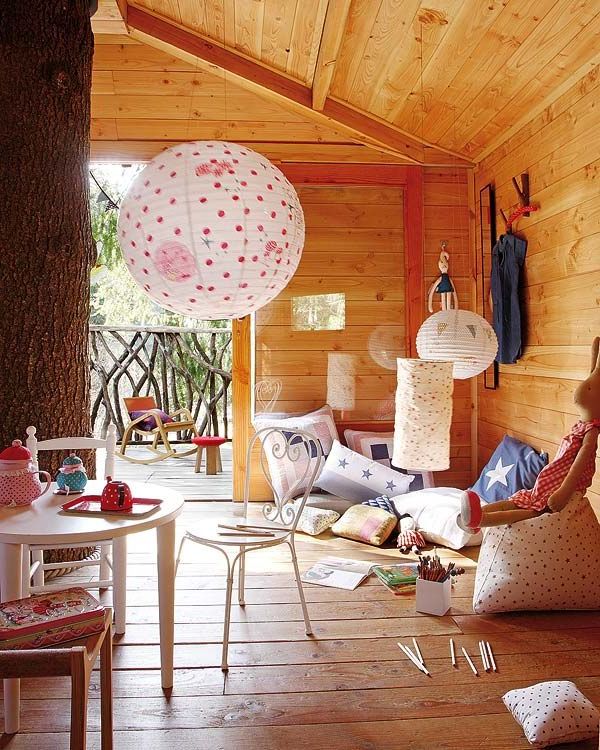 The main objective of a cabin is to share games and secrets with siblings and friends. Reserve an open area for meetings. A few cushions on the floor will be enough to create a cozy chill out corner. You can lay down a play mat or fiber rug to insulate the area from moisture. Cushions: in the shape of a house and with a small star print, by Nobodinoz; the rest are Texture.
Children's furniture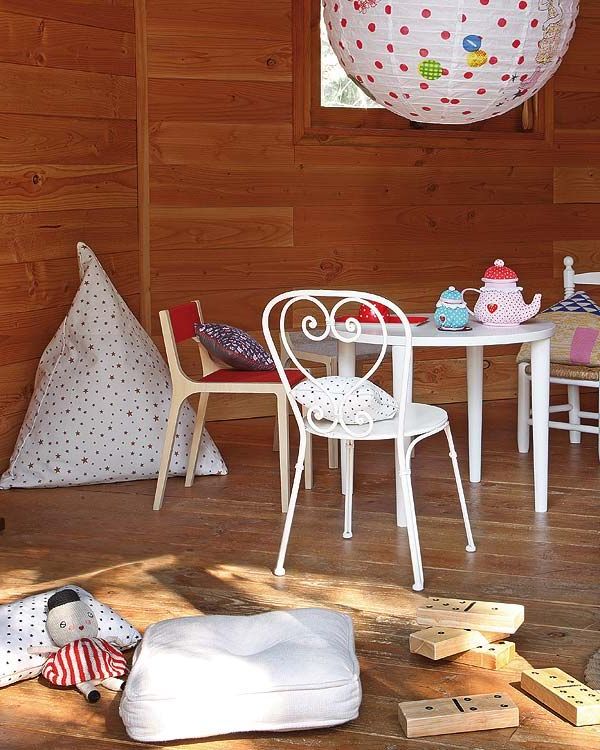 As the space is reduced, the furniture must be light. A small table and a few chairs are enough. White table and chairs, for sale at Piccolo Mondo. Square cushion and wooden dominoes, by Coco-Mat. Pouf with little stars, by Nobodinoz.
The game is key in its development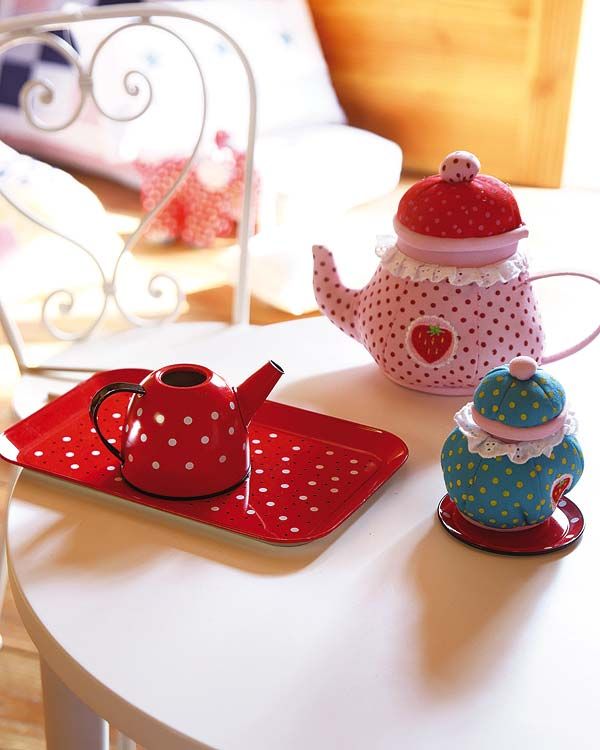 This activity is essential in all facets of the child's development. How they enjoy playing kitchens! That a tea set is not missing inside the cabin, to prepare the snack. The one in the photo is from Coco-Mat.
Сushions everywhere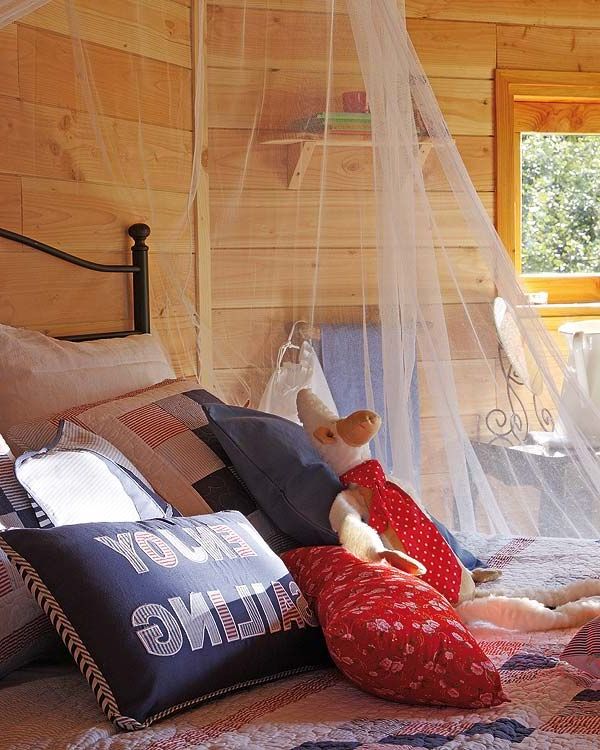 Essential accessories in a cabin: cushions, allies for moments of rest after an afternoon of mischief.
Washable textiles. No matter how careful you are, when you are outdoors, it is inevitable that the ground will get dirty with dirt and mud. Choose cushions with washable fabric covers. So that they do not stain so much, choose to create seats with colorfully painted pallets. Doll, by Nobodinoz.
practical hangers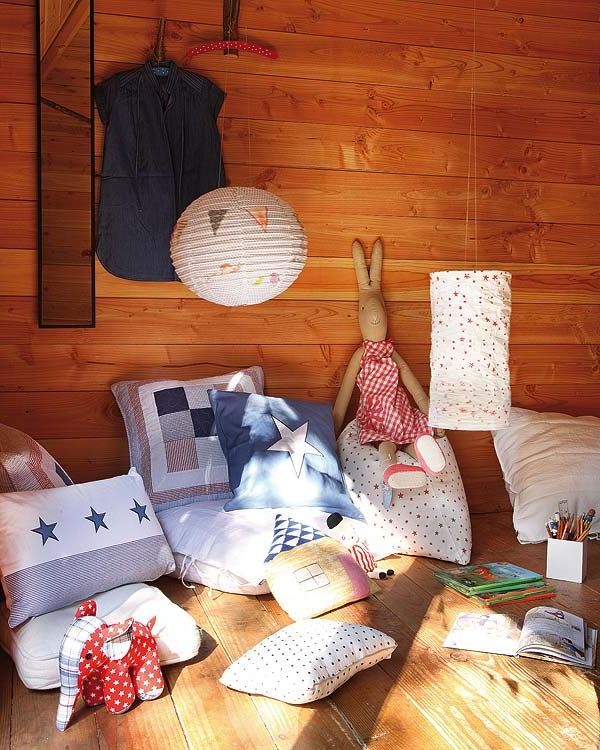 The hangers to hang the clothes that are left over when the heat tightens are also essential. Hanger, from Filocolore. Dress and elephant, by Nobodinoz. Printed cushion, by Filocolore.
A very natural stool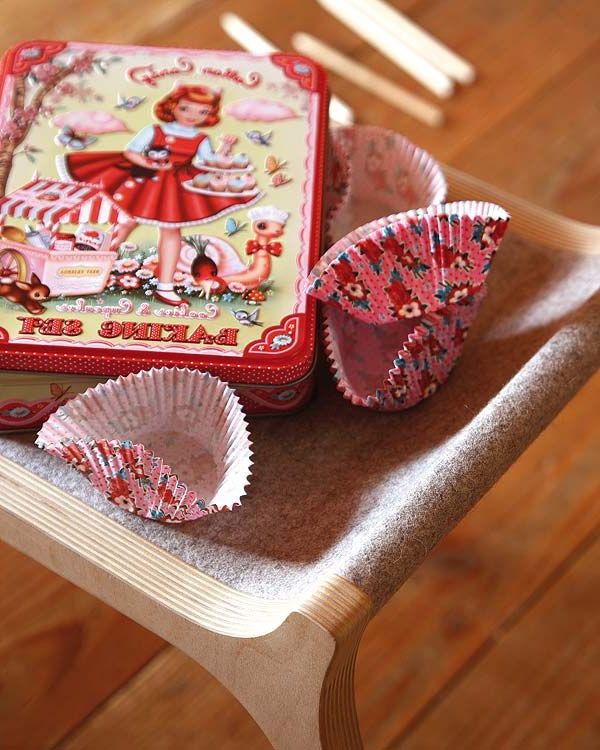 Because of the wood in a soft tone of its structure and because of the felt that covers the seat, it is the ideal piece for an environment like this. It's from Nobodinoz, like the box above it. Why not spend the afternoon making muffins in the kitchen and enjoying them in the cabin for a magical lantern-lit evening?
A very natural bathroom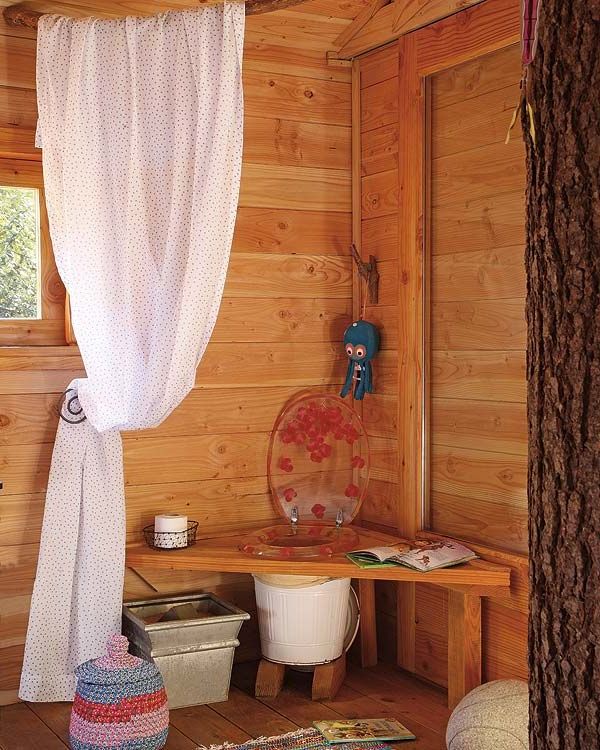 How to maintain some privacy in such an intimate corner? Here, a shower curtain hides a very natural toilet, installed on a wooden structure that fits into the corner. Shower curtain and towels, from Textura. Stuffed octopus, for sale in Filocolore. Colored basket and rug, from Zara Home.