More and more of us are working from home, and I'm really glad.
Being your own boss and being accountable to no one is one of the greatest releases we can achieve.
But leaving this issue aside, it is true that, having to work from home, you have to find a hole somewhere to set up an office, where you can work as comfortably and efficiently as possible. Don't you think?
And, although I have already published 40 ideas to integrate a home office, in this article I wanted to focus on a more specific place, in the bedroom.
So, let's see these ideas to integrate an office or work area in the bedroom.
As there are not many ideas that work for everyone in general since each bedroom is different, with its own space, furniture, distribution and others, I would like to advise you, regardless of what your space is like, that you use, whenever you can, the brightest area of the room to create the office.
Of course, this zone is always in the window. Either under it, or to the side, if you can, create your office there to receive the greatest amount of natural light.
Photography @Susanna Hawkins
Of course, if you have an empty space between a pillar and the wall, as in many bedrooms that have exposed structural elements, you should take advantage of it to find a custom desk and install it there.
Alice in Scandiland Photography
I imagine that if you have an ordinary bedroom, you will not have much space, as we all do. In this case, wall desks are the most suitable, since they extend in a vertical plane, leaving practically free space.
Or if not, use the versatile and mythical String shelf, with which you can compose your own vertical desk, with as many shelves as you want.
You can use one module, two, three, with shelves only, with drawers, with a top for a large or small desk, in white, black, red, and many other colors.
Well, what am I going to tell you about the classic String that hasn't already been said. If you are going to create a vertical desk unit for your bedroom, one of the best solutions is the String shelf.
At Ambiente Direct we can configure our own shelving with its configurator and have it sent to our home.
Let's continue with other examples to put a wall desk.
Photography @LustLiving
We can also use a shelf with wall drawers, like the one we see above these lines from the IKEA firm, the EKBY VALTER model.
It is a simple system to install that leaves the floor free and provides us with a space to work in addition to two large drawers.
Photography Livingonabudget
If we do not have space, we do not have to put a desk with a shoehorn either.
We have to use ingenuity and look for practical solutions, like the one we see above these lines for example, where a simple wall-to-wall plank of wood serves as a desk.
Simple, without taking up much space and fully functional.
Then you add a nice chair and some chest of drawers and complete the office.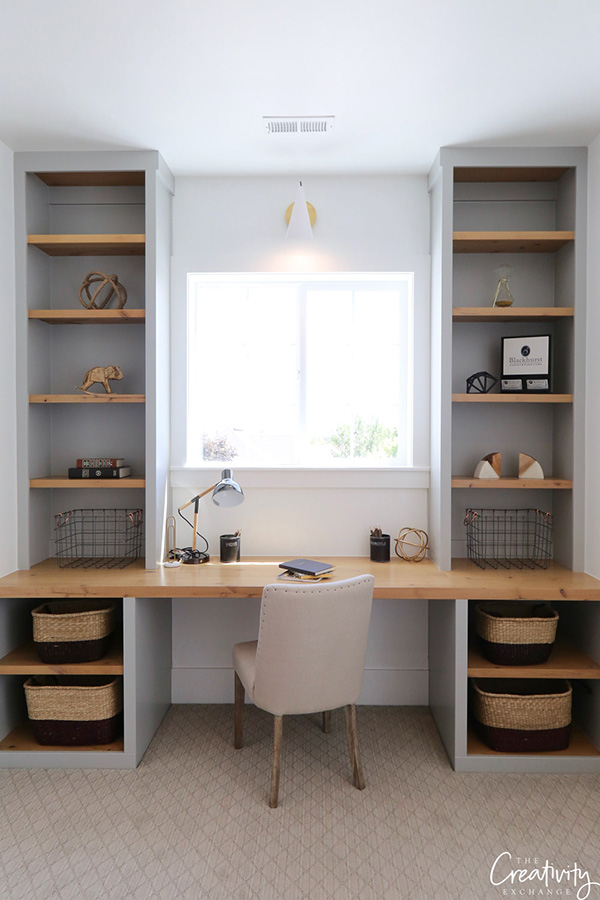 Photography The Creativity Exchange
Do you remember when you designed and chose the furniture for your son's room? You needed a desk area, right?
Well, this is the same premise but for an adult bedroom.
In the space that you have free, if you are going to work from home, use it to create a custom desk, well prepared, with cabinets, shelves and other storage space so as not to create chaos in the office that dirty the aesthetics of the entire bedroom , and have a work area as God intended.
Photography I Heart Organizing
It is not usually very common to have a small closet that we can use. But if you have your clothes and other belongings in another place, you can turn the closet into the desk area.
Photography @tabitaaundal by Tabita Aundal
Keep it simple and stylish.
The office is inside your bedroom, so integrate it with the decoration, create a beautiful space, according to your tastes, and keep it simple and simple.
It is not necessary to recharge the space to show off a beautiful style.
Photography Santy 2 Chic
Another alternative to putting an office in a room is to put it in a corner next to the bed, since these areas are usually free. Although it is true that there is usually not much space in them.
If you see that it is very ornate, use transparent polycarbonate furniture, which, in addition to being very fashionable, is decorative and does not overload the space visually.
Project and photography Studio Marcos Mela
At the foot of the bed, we can also put a nice desk that goes with the style of the bedroom and take advantage of the space, as the interior designer Marcos Mela did in this small bedroom.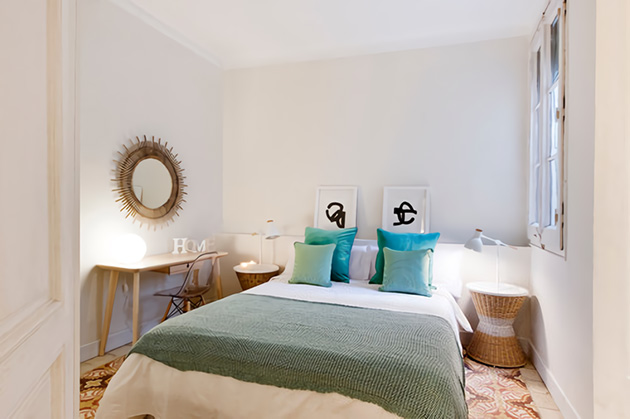 Nice Home Barcelona Project
On one side of the bed. If we have the necessary space, we can add a fine desk, which adds decoration and serves as an office, as the Nice Home Barcelona studio did.
Again, we see how a transparent polycarbonate chair makes the space less burdensome by adding a desk next to the bed.
Photography @interiorbysophia by Home Elements
You can also remove one of the bedside tables and replace it with a nice, slim writing desk, which will serve as both a bedside table and a desk.
It is one of the most used ideas and not only because of how practical it is, but because the space of the bedside table is always available in almost any bedroom, and adding a stylish desk gives a certain different touch to the bedroom.
It's like a decorative plus.
If you have been wanting more, you can see these other ideas to integrate a home office.
And if you found it interesting, I advise you to subscribe to the weekly newsletter, so you don't miss any article.