End-to-end borders and air systems create a reliable, transparent design. Glass in the interior is the most unusual material that is used in decoration and construction. It can maximize space and increase light output. The unusual atmosphere of the apartment with an abundance of glass begins to amaze guests as soon as they crossed the threshold. We will figure out how to choose glass components, taking into account the style of the premises.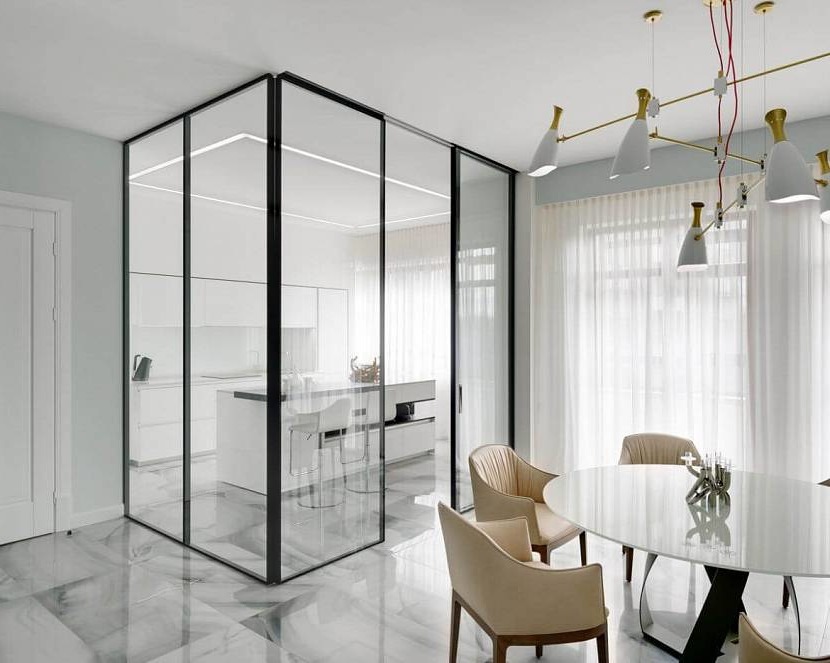 Glass interiors
Innovative technologies make it possible to use a glass of different thicknesses for interior decoration design. We offer you to see photos of examples of interior design using glass.
The traditional-style kitchens blend in stained glass. The use of glass in the interior of the kitchen looks elegant, in the light, they maintain color saturation, the play of which forms a special atmosphere.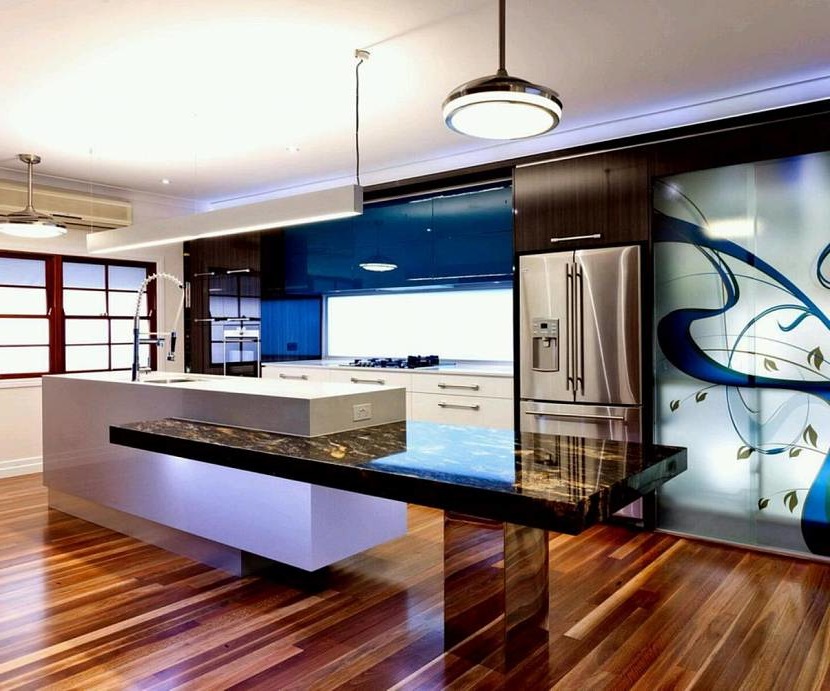 Modern living room – glass interior or a transparent partition in the form of a cube gives the room an unusual mystery and charm. Thanks to this move, the room has become more and effectively divided into functional zones. In order not to rest your eyes on the eternal wall between the kitchen and the hall, just slide the glass partitions and sit the guests at a large table.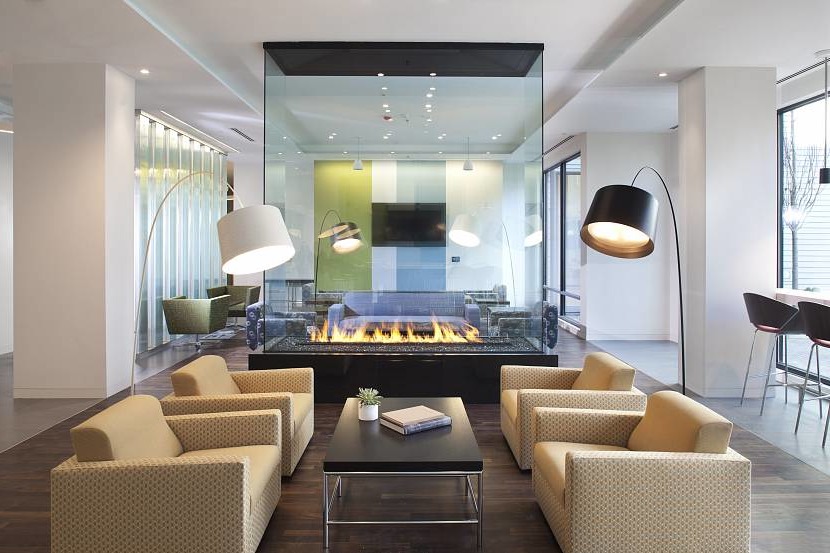 Glass structures and innovative bedroom design projects often contain transparent sliding systems based on a thin duralumin profile and glass. The internal sliding installation is quite functional from the point of view of use, as it takes up little space, practically opens and closes.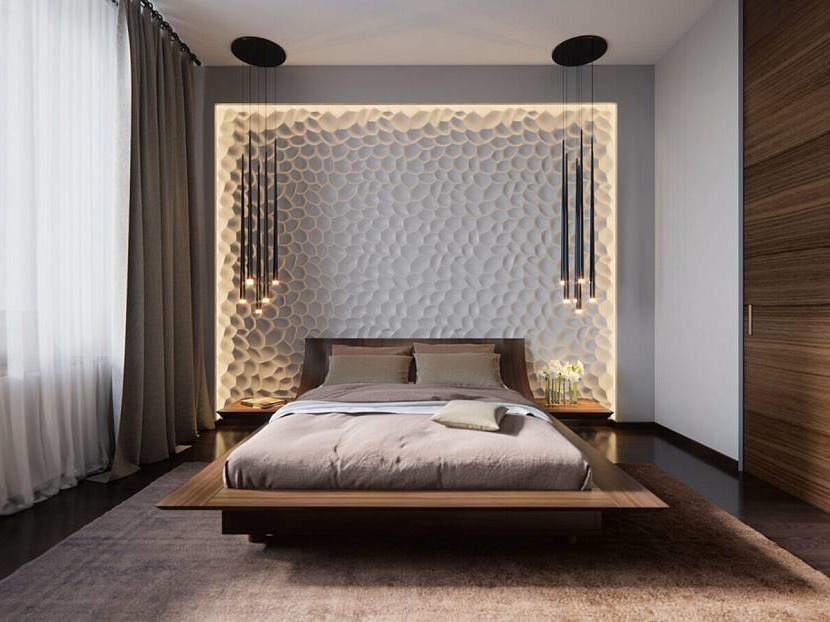 Glass in the bedroom interior makes it possible to divide the area for rest from the boudoir or to form a work office. A common solution when dividing a room and a bedroom are combined designs.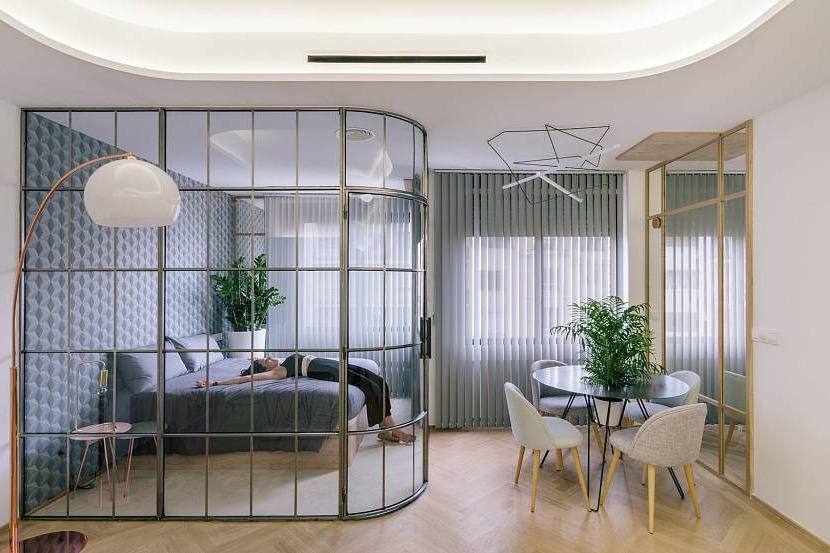 Selected photo ideas for using glass surfaces in the interior will help you choose the right direction for any room.
Types of Glass for Decoration
Glass decorating techniques are improving every year, new ways of drawing patterns appear. A variety of methods and the affordable price of artistic decoration provide the opportunity to add an original, exclusive look to any interior decoration, embodying the most courageous ideas of artists and architects.
Glass in the interior – transparent opportunities for arranging the kitchen, living room, bathroom, and other rooms.
Stained glass
Stained glass in the interior gives colorful highlights that scatter along the walls, play on surfaces, give the interior decoration romance and individuality. Traditional patchwork stained-glass windows are made of multi-colored glass, cut precisely according to the outline, united among themselves.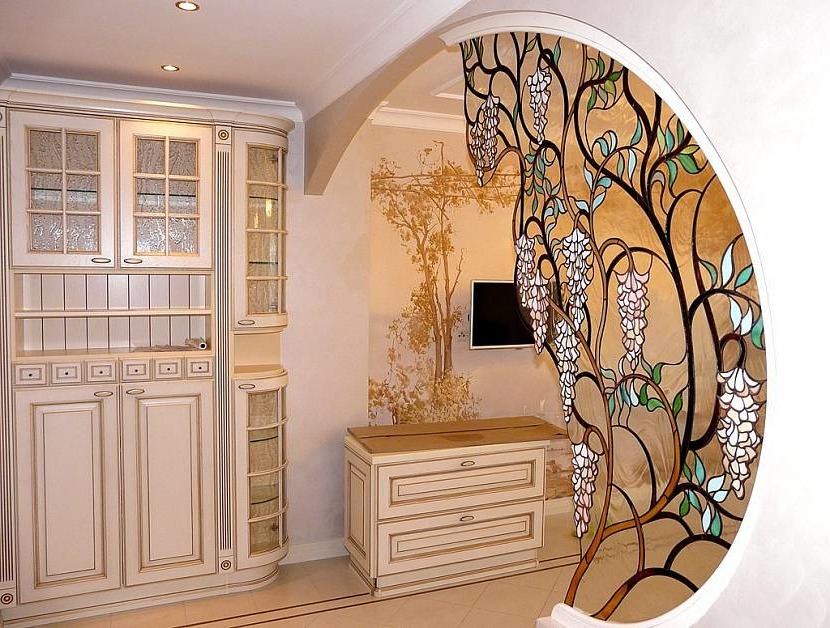 Smooth glass
There can be various shades of them that can be chosen to match the wallpaper or curtains. The shape of the glazing can be very different, as traditional: rectangular and arched, and round or even triangular.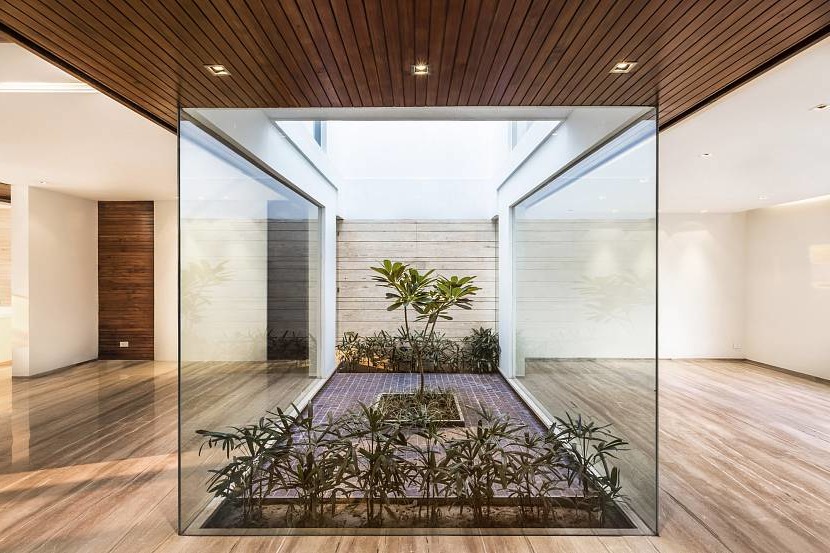 Black smooth glass in the interior sets off, focuses on the overall design of the room. Thanks to the dark base, colorful silver, gold, multi-colored engraving are made the most vivid and noteworthy. Quite often, black glass surfaces are produced, which are both easy to maintain and have an attractive appearance.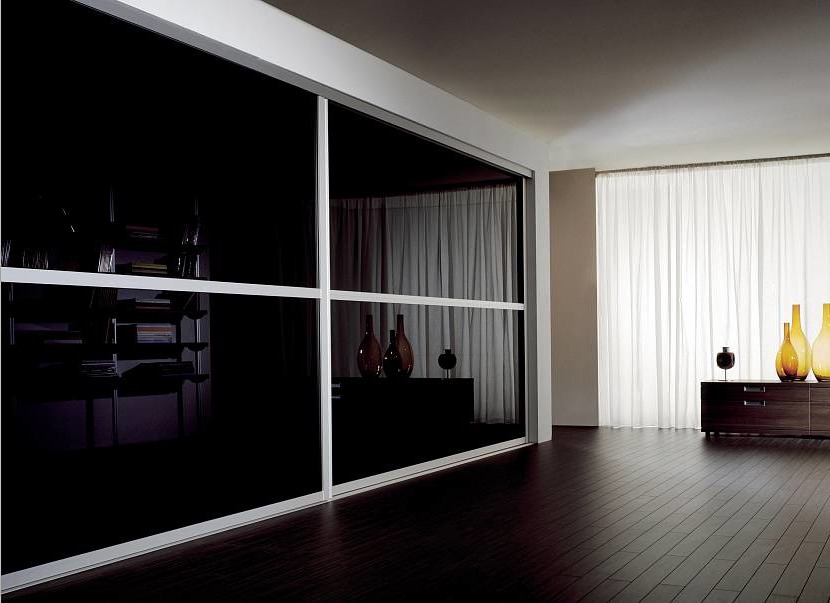 Engraved
The processing method consists of removing the upper layer of the product with a milling cutter or a laser, followed by applying deep sections or slots. Artistic drawing can be applied to windows, inserts in interior doors, as well as on glass furniture elements.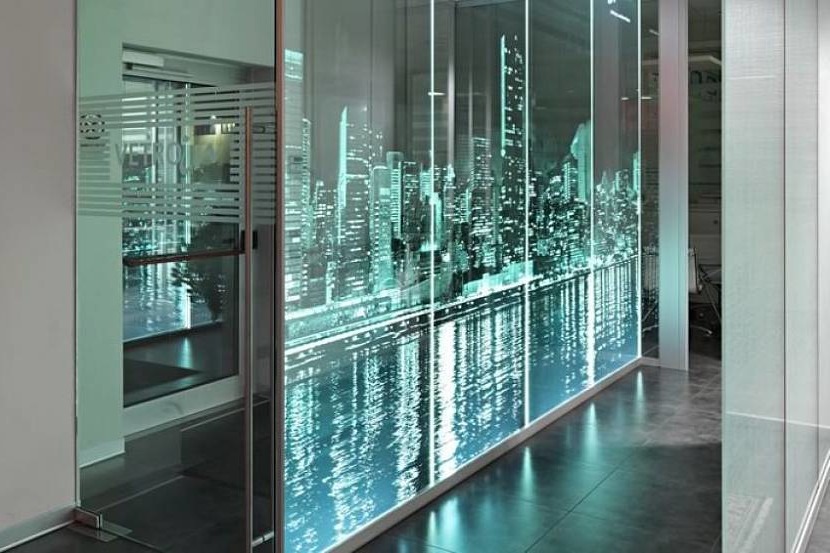 Painted
Painting on glass has incredible expressiveness, any image acquires volume and depth. If you place a large structure with painting and a perfectly symmetrical arrangement of parts in the center, then it will effectively shade all the details.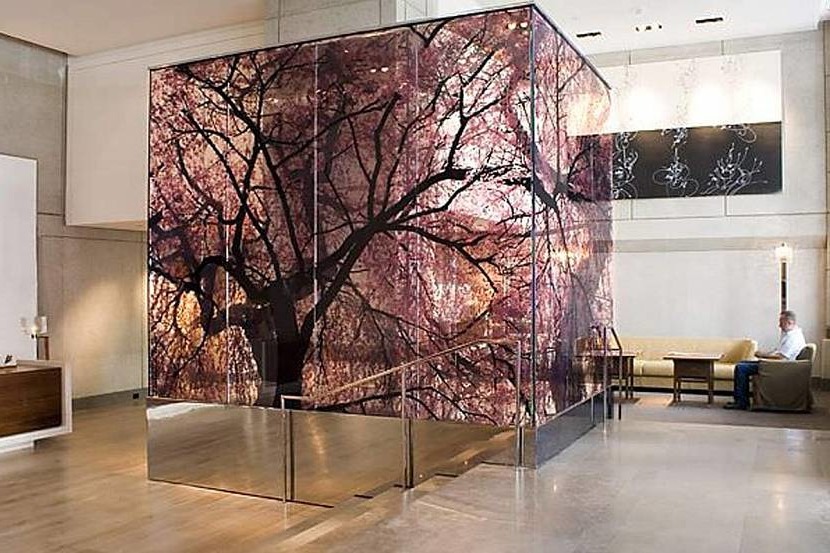 Frosted glass
It is widely used in the interior. It is stylish to make partitions in the form of doors. This is a good method of zoning an area.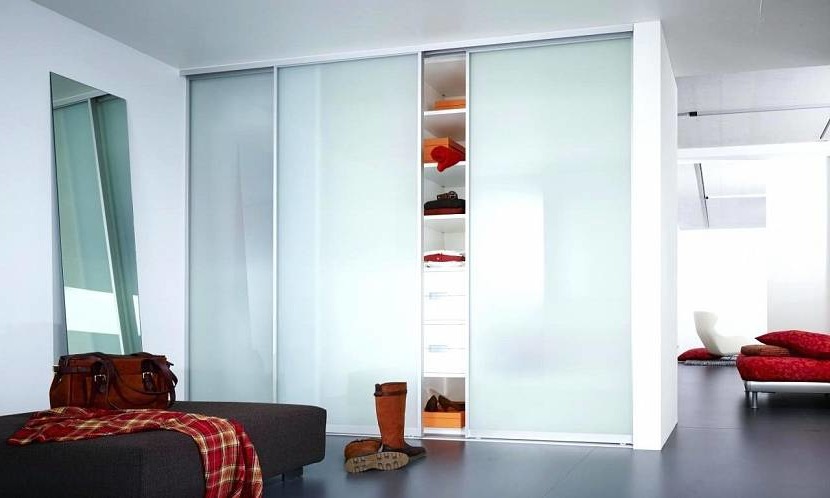 Bent glass
Molded or curved glass can be bent over almost any radius. In this way, radius doors, design partitions, and various decorative elements are made. The unusual curved shape of the product will help to break the symmetry and plane of the room. It is also noteworthy that such a method will not interfere with the design, for example, photo printing, stained glass.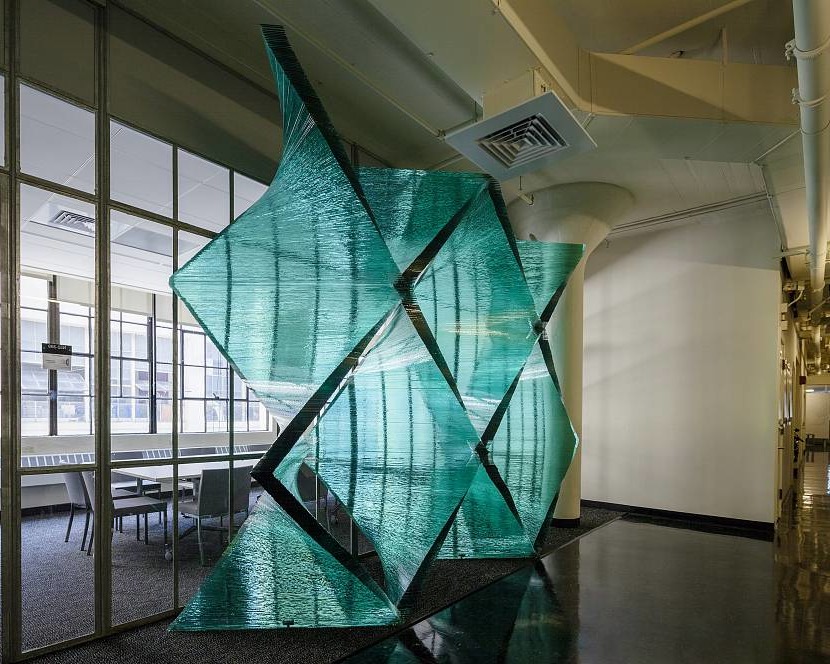 Sandblasted
Sandblasting allows you to create a matte pattern on a glossy background or a matte background with a glossy pattern. Using sand from the glass, the outer layer is removed by a stencil.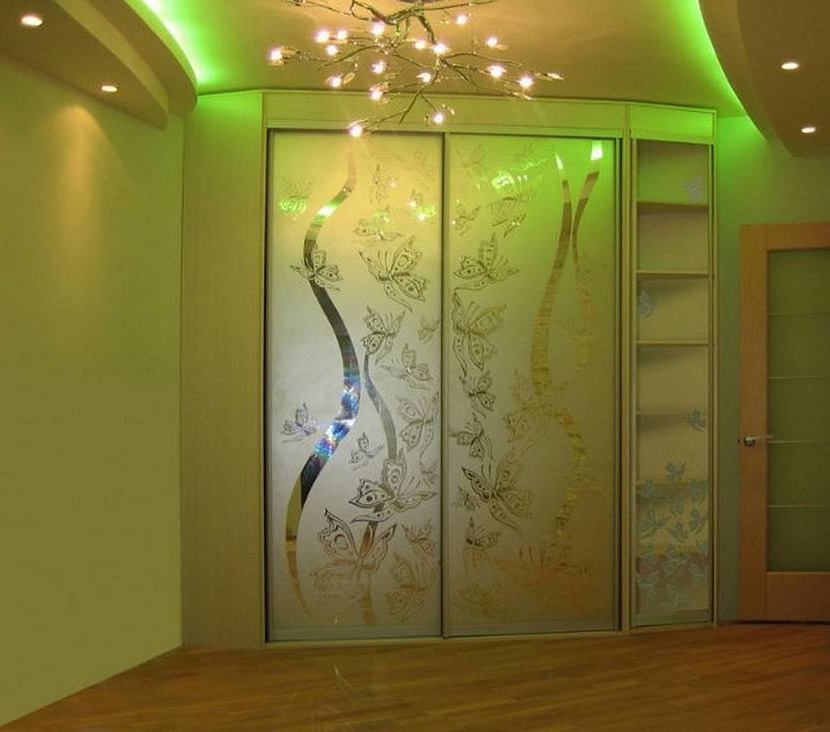 With 3D printing
3D printing has a three-dimensional effect. Such techniques look beautiful on a kitchen apron, doors, partitions, posters. Such glass in the interior is an impeccable and transparent design.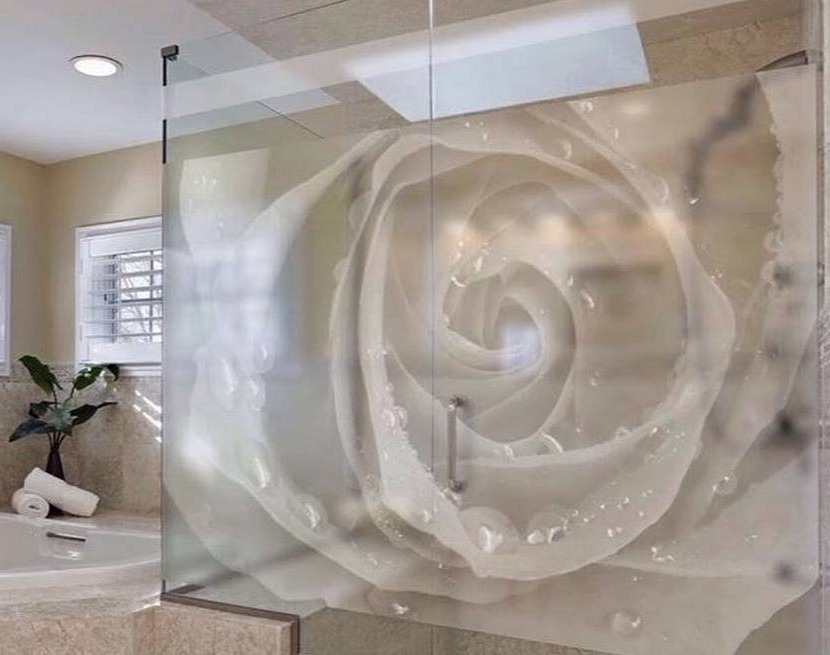 With decorative film
Films are easy to install and quickly transform any home. It can be glued to different surfaces, decorate furniture, and home decoration. PVC decorative films are used to decorate window openings, glass and mirror facades of cabinets, doors of kitchen sets.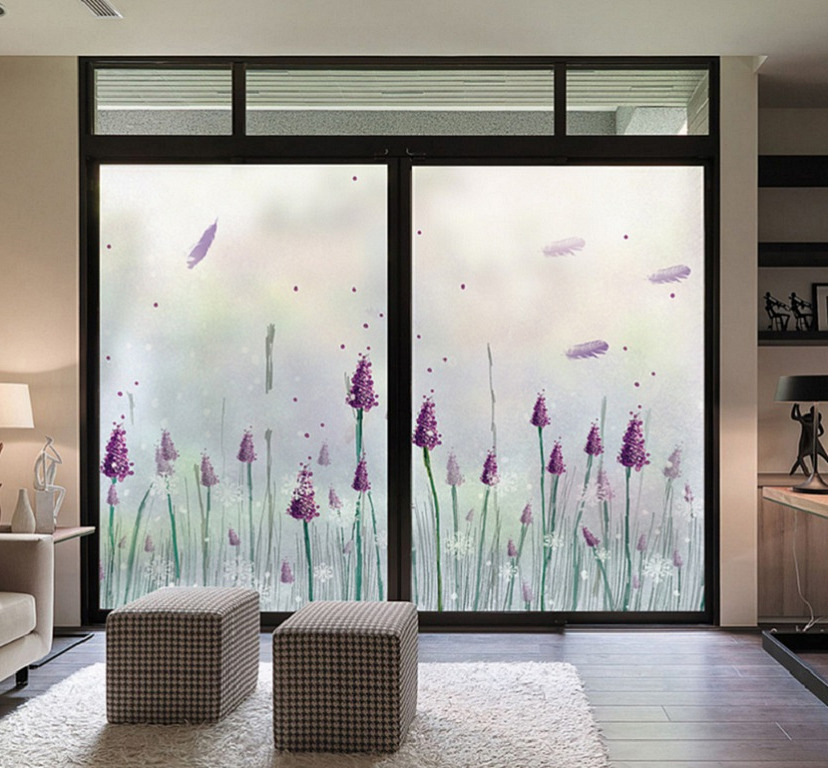 Embossed
Such glasses open up great opportunities when creating design projects, harmoniously blending into modern interiors. Due to their bright and saturated colors, they can be used as decorative elements of furniture: stained-glass windows for doors, kitchen facades, plafonds for lamps.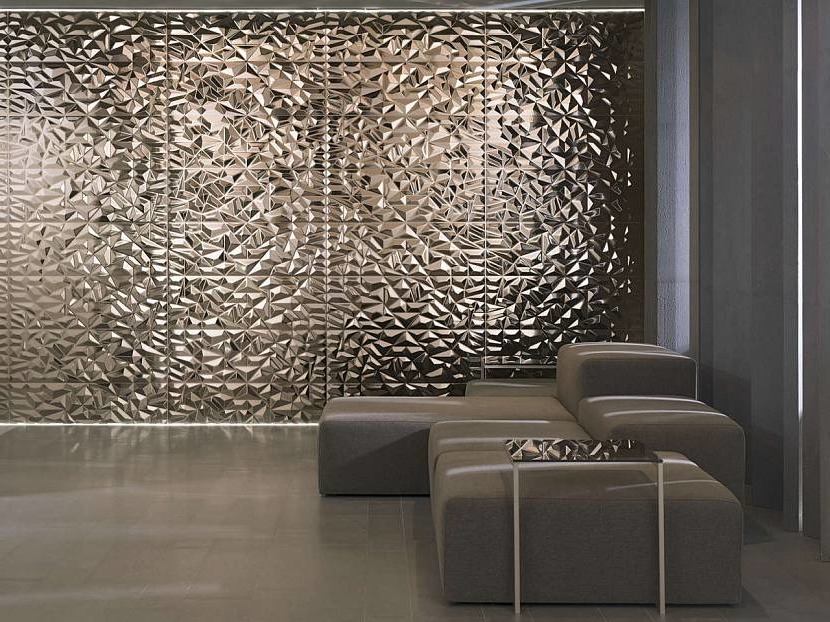 Chemically treated
Etched drawings make it possible to create patterns with sophisticated lines and exquisite designs on glass. The image is modeled on a PC, or drawn manually. The result can be easily confused with sandblasting, but the chemical processing method gives a more complex and transparent result. The use of glass in the interior of rooms, thanks to such processing, has no boundaries.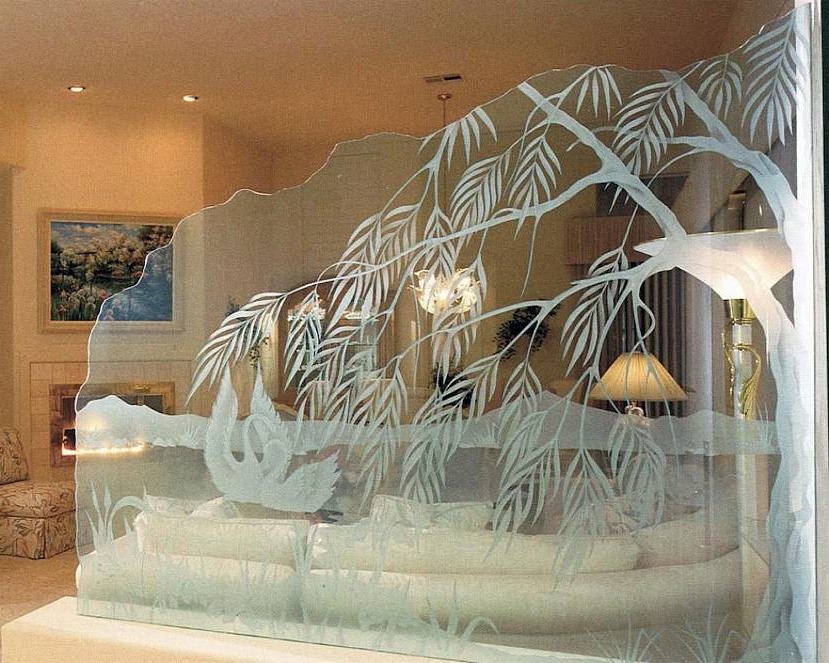 With LED
LED structures can be a light in the evening, and in the daytime look like a simple window that transmits lighting. The cable for supplying electric energy is located around the perimeter of the sheet and, if necessary, is covered by a frame, and LED components to go along the entire area of the glass.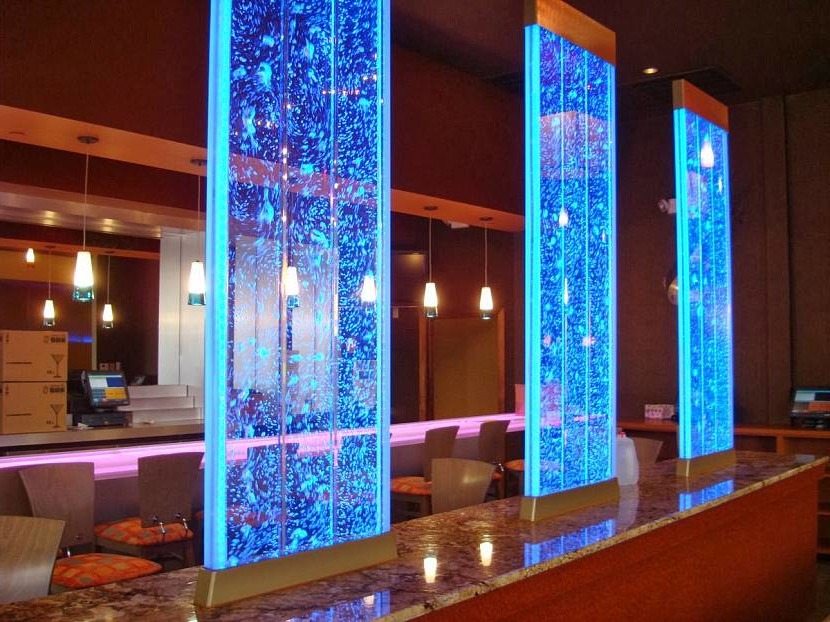 Using glass in different styles
Dimensional glass systems have already thoroughly entered the design of advanced cabinets, restaurants, apartments. They withstand the load, have soundproofing, and decorating qualities no worse than wooden ones. Let us consider in more detail in which interiors glass is most often used.
Avant-garde style
These are any unusual figures and decisions. Such an image, of course, is suitable for creative people with unusual thinking and unique taste.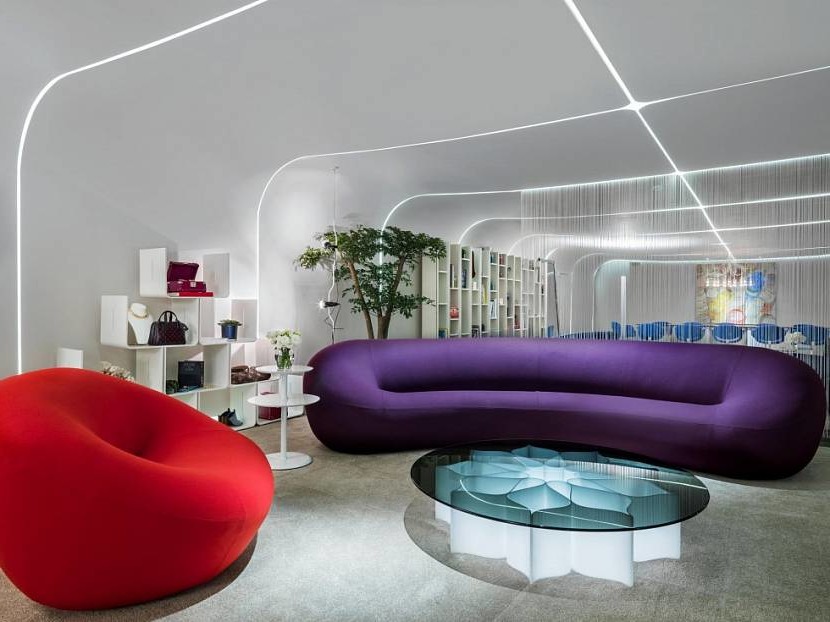 Empire
The glass design in the empire genre looks pompous and solemn. Patterned systems, a glazed floor, status furniture arranged according to a special palace etiquette, large mirrors are appropriate here.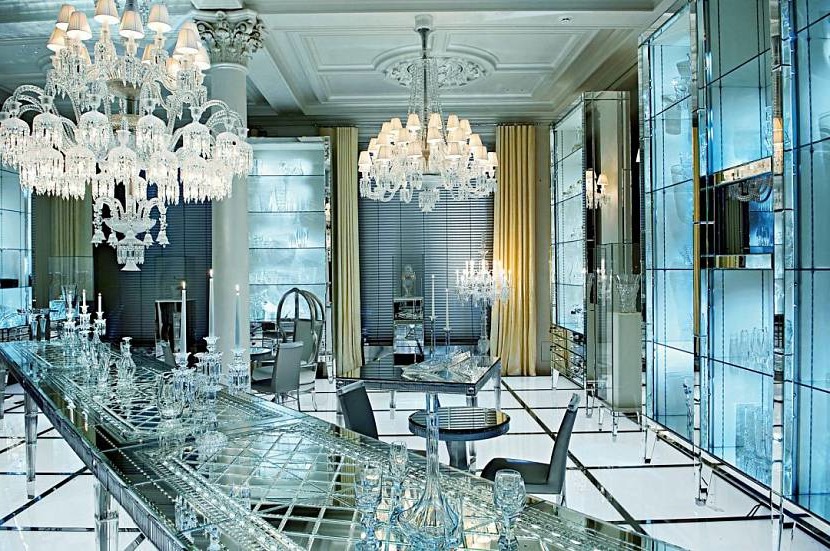 East style
Combines the interiors of Asian and African countries. Stained glass with Asian motifs organically fit into such an ensemble.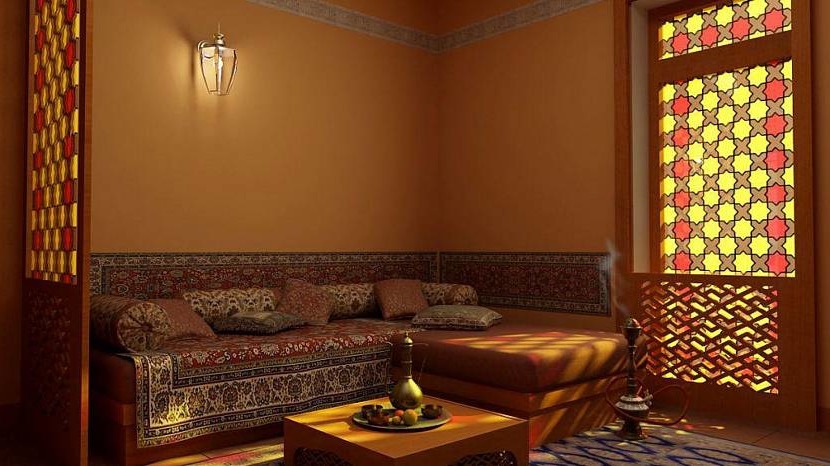 Gothic
In the Gothic style, glass compositions reinforce the sense of mystery and religiosity. Luxuriously looks the floor laid in the form of glass mosaics or stained glass arched window openings with creating diffused lighting.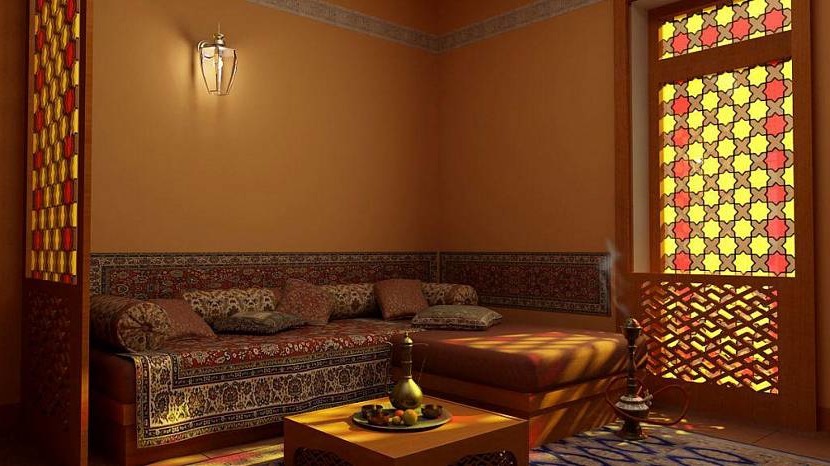 Minimalism
The use of glass in a modern interior is the best way to embody the minimalist style. Panoramic windows and glass partitions allow you to create a sunny space, making the room unique, devoid of decor. This technique emphasizes the simplicity of the forms of furniture and space and gives a feeling of freedom and freshness.
High tech
The most popular style promoting industrial aesthetics of materials. Here glass constructions are used literally in everything and can have the most extraordinary configurations.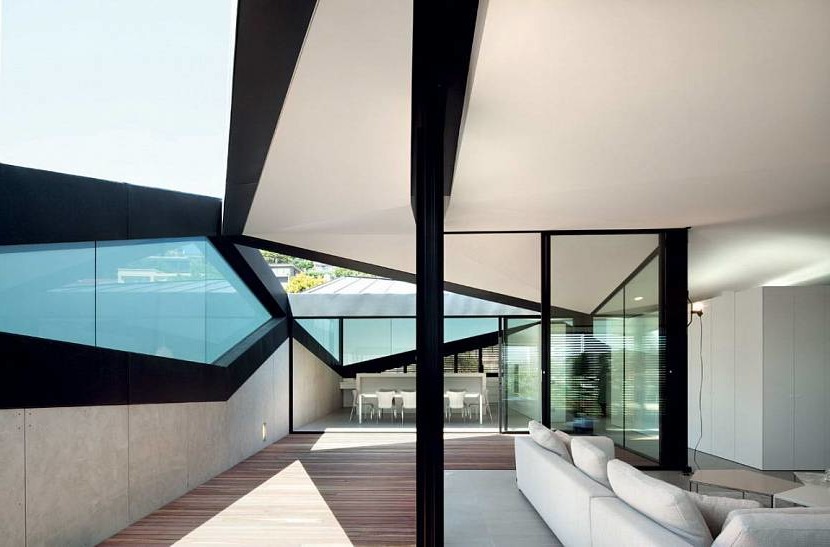 Beautiful and unusual ideas
There are many ways to use glass in the interior, we will talk about the most unusual and new ideas.
A glazed ball is an extraordinary place to relax, complemented by soft pillows, mattresses. Modifications can be suspended, stand on a leg, or have a frame. Transparent outlines are proportionally introduced into the design without overloading the area, adding notes of lightness, weightlessness, isolation from being, and absolute freedom.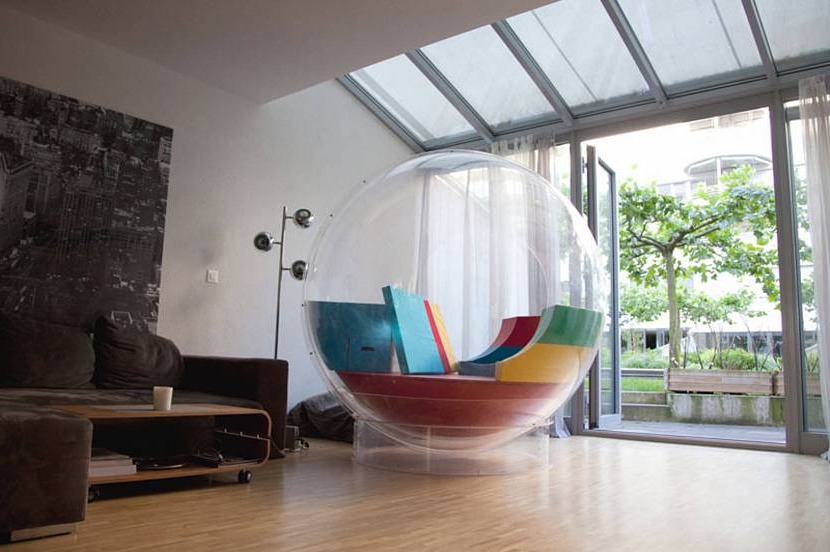 Glass jewelry in the interior allows you to create real masterpieces that attract eyes. In skilled hands, this material becomes a real work of art. A huge chandelier, falling to the table, will impress even the most sophisticated guest.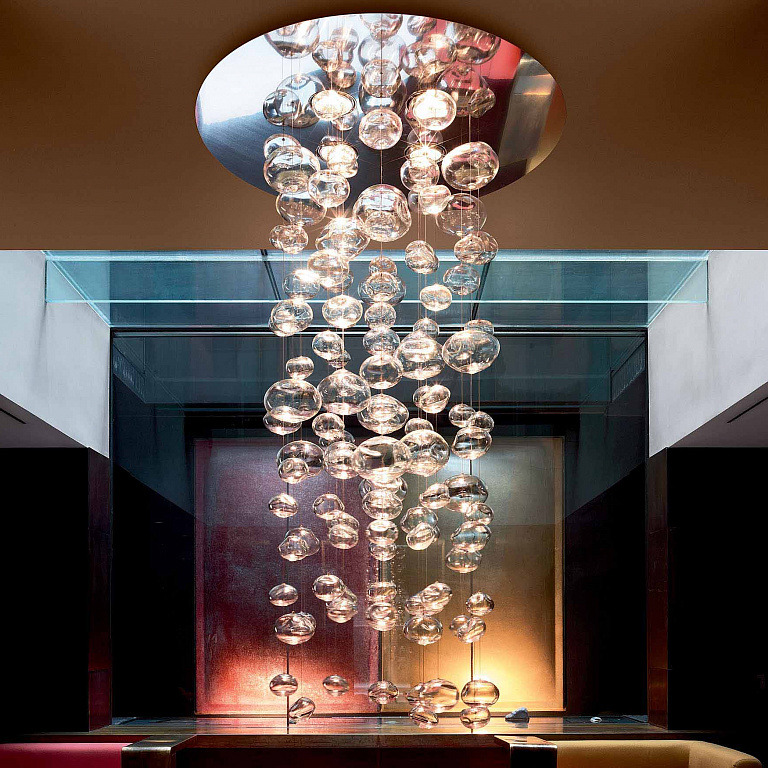 Glass items in the interior can expand any space. Transparency and the ability to reflect light make the room more comfortable and lighter. Round glass tables are suitable for both large and small rooms. The table and chairs should be made in the same style.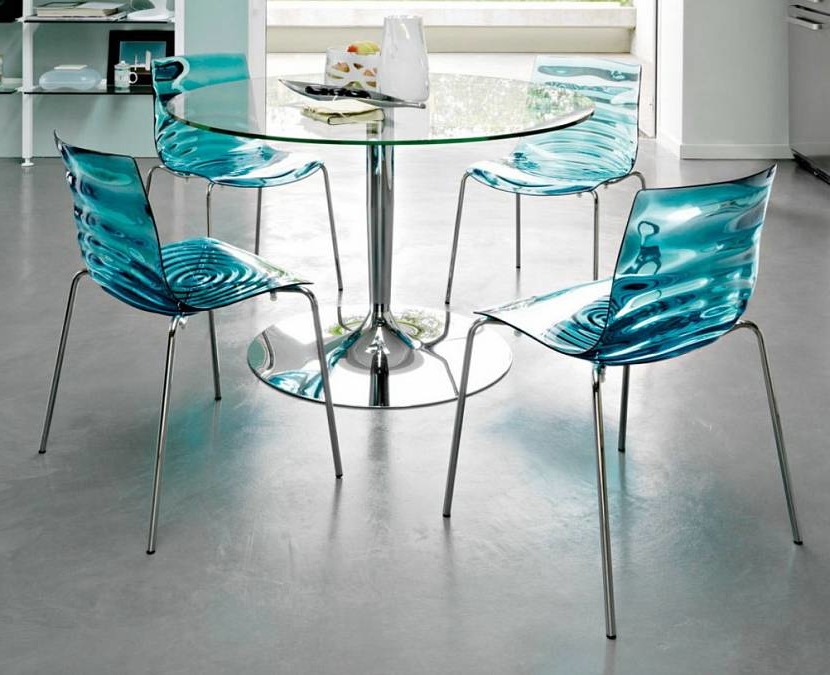 A decorative element created from a glass of different colors in modern rooms looks harmonious. With natural highlighting, such rooms begin to play brightly with colors and tints. Colored glass in the interior is used for windows, interior partitions, doors, furniture, shelves.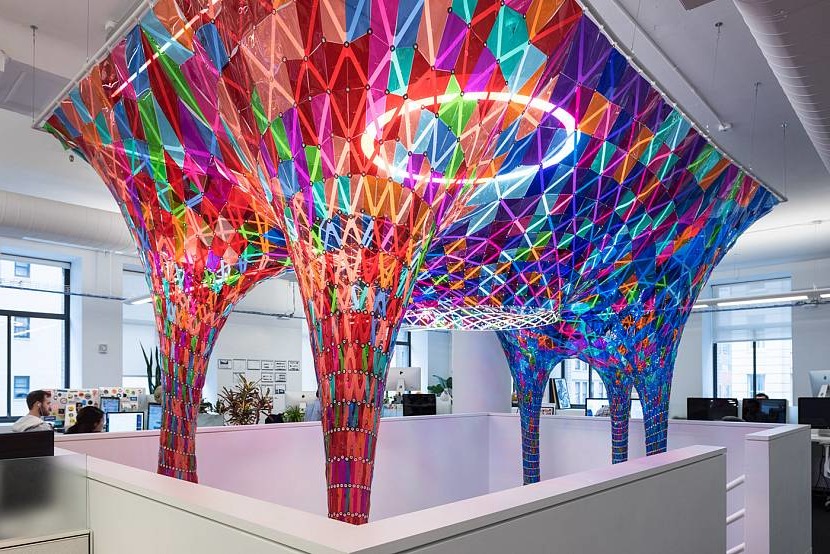 Glass in the interior of the bathroom is almost always used in various interpretations. Thanks to its unique properties, you can realize almost any, even the most extraordinary projects. They are made of glass in the interior: furniture and decor, for example, sinks, shelves, plumbing fixtures.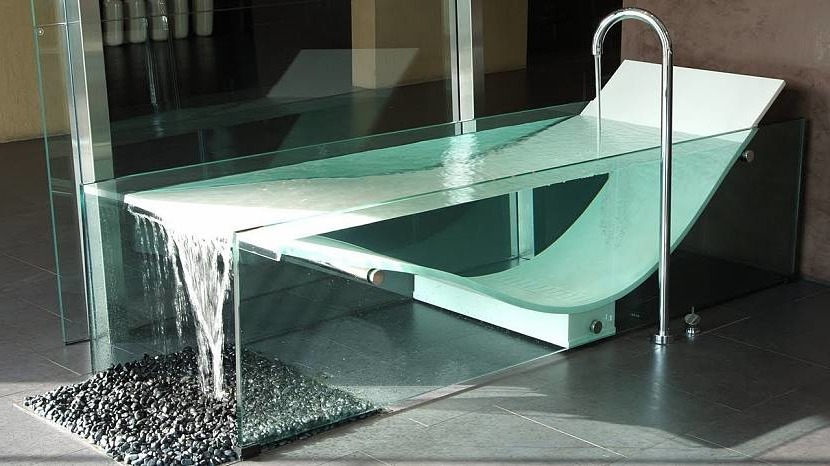 Transparent office space
Design ideas for the use of glass in the interior of various rooms allow you to properly zonate large spaces and stand out from competitors. Partitions are made of triplex or tempered glass and can be reinforced with aluminum or steel frame. They have a long service life and save electricity on lighting.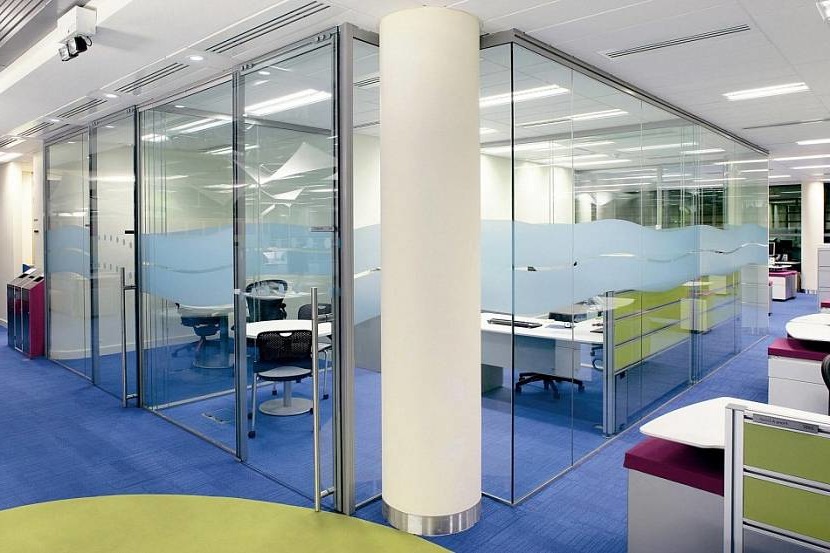 Safety glass for the interior from which the products are made does not break or scratch. In order that the glass does not have fragments upon destruction, it is tempered. Specialized double-glazed windows make it possible to isolate the room from third-party sounds, do not form allergens, smells, and other toxic elements. It is enough to clean such systems and they will have a new fresh look.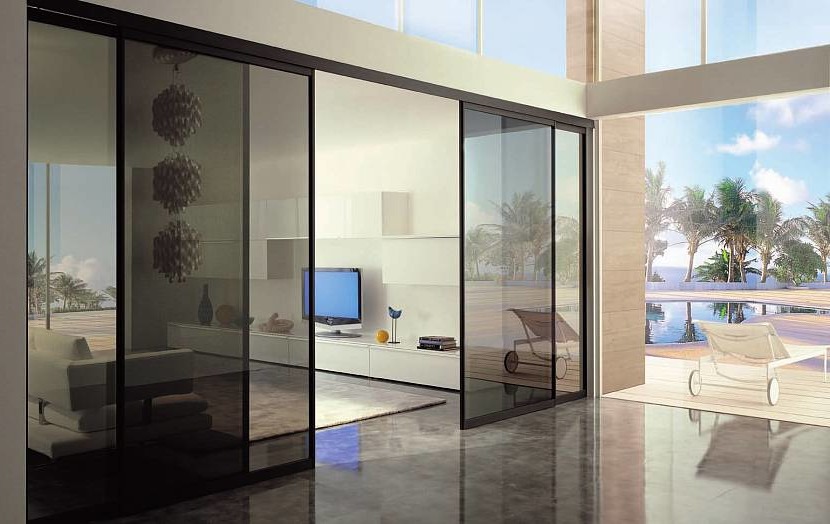 French full-wall windows look very elegant and fashionable. But only private house owners can afford this luxury.
Innovative multifunctional glasses make it possible to keep comfort indoors both in winter and in the summer season due to their special qualities.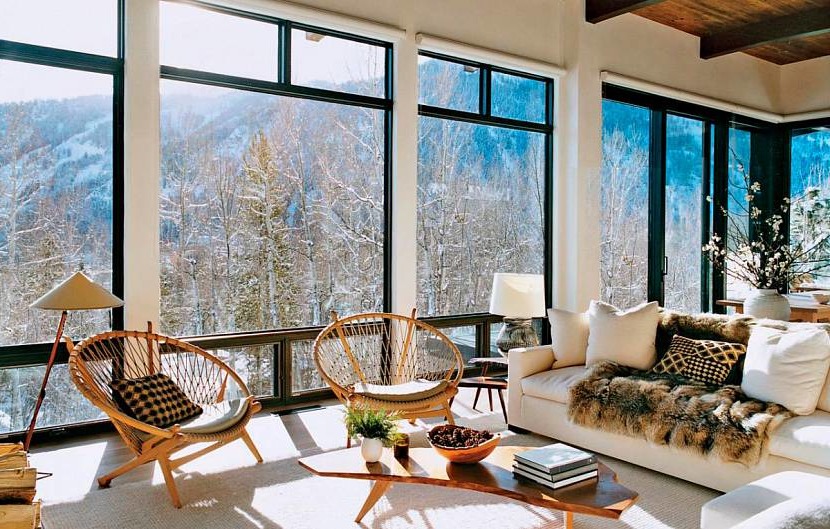 High heat-insulating properties of glass are achieved by the multilayer design of double-glazed windows and the use of various insulating materials.
Despite the high cost, the advantages of this transparent material are undeniable. Windows freely transmit light, are quickly mounted, have a long service life. There are many ways to use glass in the interior.
Conclusion
Glass decoration has become one of the means to achieve the aesthetic appearance of the building, both inside and out. Glass is used for room decor in the form of furniture inserts, doors, shelves, partitions and other interior elements. The most acceptable style in which glass reigns is high-tech, avant-garde. Less applicable glass in a classic interior.