Goodbye to doubts! Get inspired by these ideas to show off your plants at home and make flirty and original compositions to improve home decoration.
Home decoration is also based on the correct arrangement of plants. We usually place them in those points where there is more light and where they are more visible, but we also have to take into account some aesthetic aspects that help us give a more sophisticated touch to the interiors.
If you want to answer your questions and find decorative solutions, we present 12 ideas to place plants at home and make them look good.
Create pretty designs with plants
Inspiration doesn't come alone; For this reason, we have gotten lost for a while on Pinterest and we have selected the ideas that we liked the most to set up green corners at home. Compositions with indoor plants to decorate a wall or a table. The objective is that we manage to make beautiful designs in rooms such as the living room, the kitchen or the bathroom.
First of all, it is essential to know what plants we have and which ones we can incorporate. The variety is very wide, without forgetting that the image of the containers also influences; For this reason, we can count on large and beautiful planters or small pots for those species that can be placed on a window sill.
The main task is that cheerful compositions can be created. It's all a matter of making combinations of plants or arranging them in such a way as to achieve a curious image for the room, hence the importance of choosing the indoor plants that we like the most.
How to put plants at home?
When it comes to arranging the plants, it is necessary to set clear objectives. On the one hand, it is convenient to assess the possibility of using small tables to put those species of reduced size: cacti, succulents, etc. On the other hand, shelves have always been the ideal surfaces to place plants at home, so they remain visible and high.
Another possibility is that we use pretty hanging pots with plants such as ivy or ribbon. It is a way of creating relaxed designs to liven up interiors and that can also be decorated in height.
Of course, there is always the option of making a vertical garden. You only have to dedicate one wall to place the plants and make this surface a much more interesting space. This can be worked both indoors and outdoors; even, it also looks great on the porch or terrace.
A fresh touch for the home
Plants are necessary for daily life. They help us to refresh the environment, provide pleasant aromas and give interiors a natural color; In this way, we can consider that, in general, they are essential to achieve beautiful designs and subtle environments such as Feng Shui plants to convey peace.
If you want to get some ideas and solve any doubts you may have, these solutions that we present below are really interesting to decorate with plants.
1 Cactus in mini pots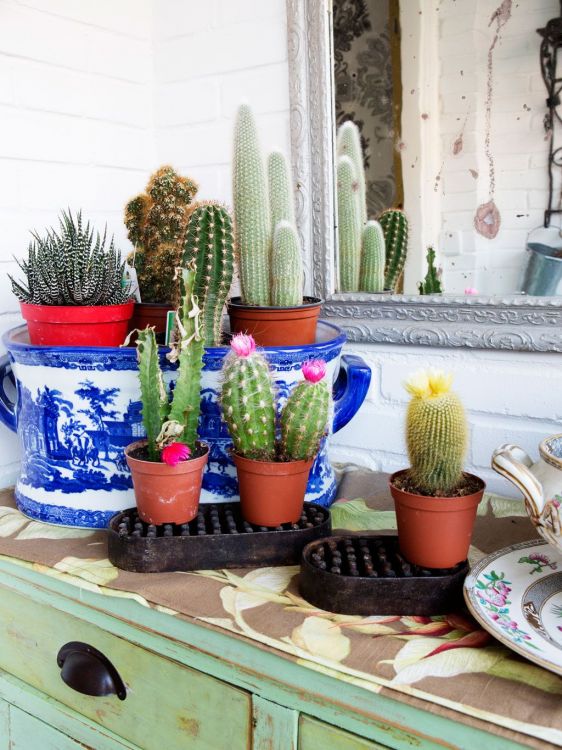 Cacti in mini pots. To decorate a worktop or a chest of drawers, these types of plants are small and adapt perfectly to any surface; In addition, they have various aspects to create curious compositions.
2 Hanging on the wall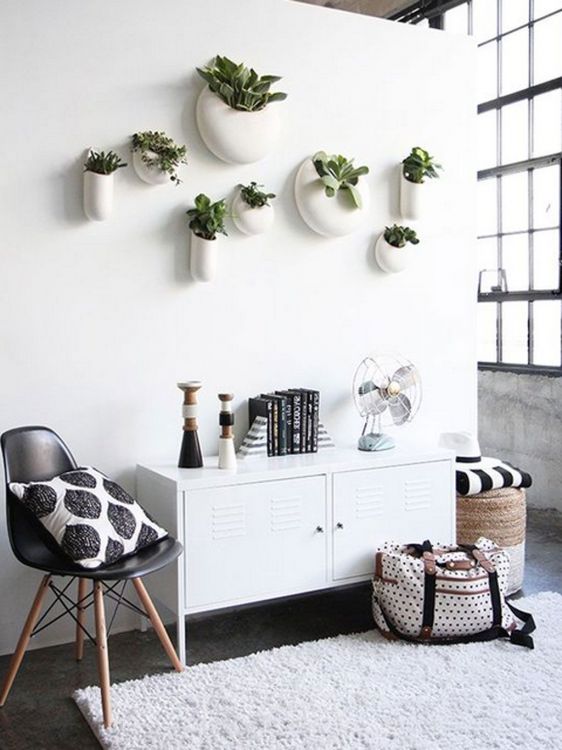 A fresh idea to decorate a wall. These pots allow us to hang the plants and make another type of alternative decoration to what we commonly know. In addition, they help you maintain perfect plants.
3 Various decorated containers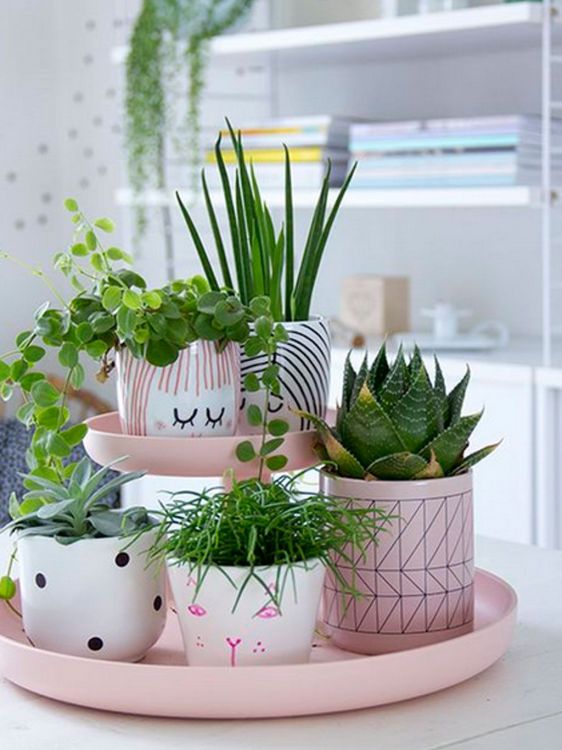 Pots with different motifs, grouped on a tray and at various heights. In this way, the set can be arranged in rooms such as the kitchen or the bedroom to thus have a green and subtle touch.
4 On a stool or side table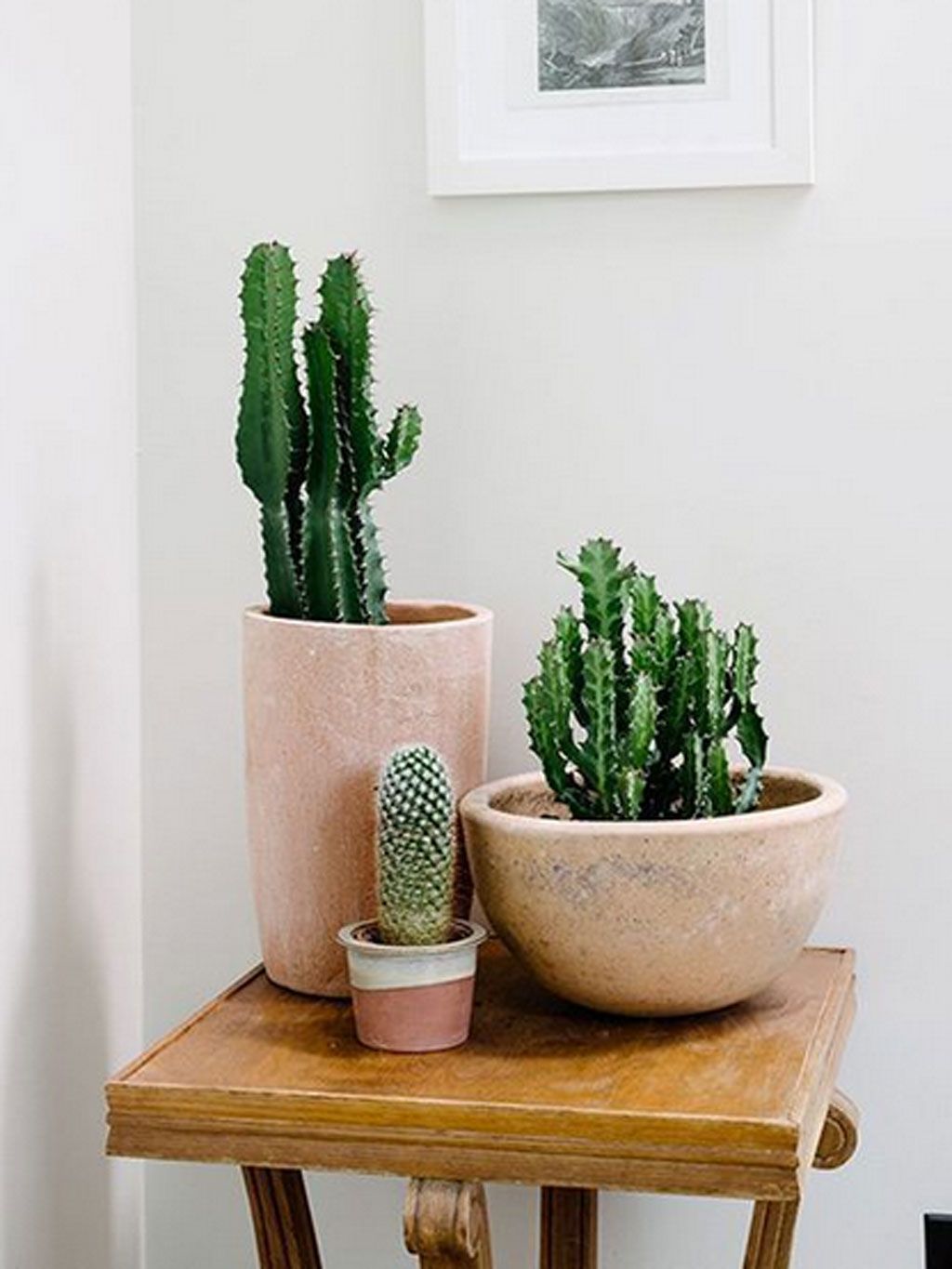 In clay pots of different sizes on a wooden stool or side table. To decorate a corner, this design is ideal.
5 Fiber baskets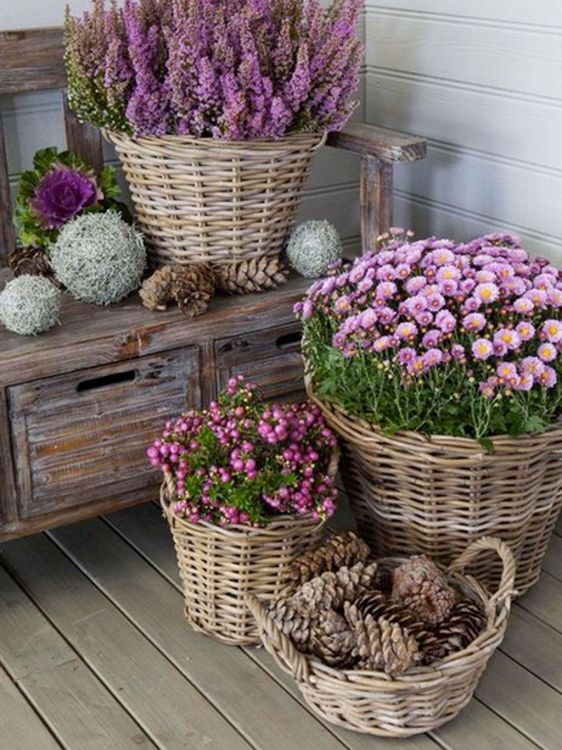 In the event that we want to decorate the terrace or the porch, these aromatic plants are formidable to give a more country atmosphere to the exterior of the home.
6 Set a corner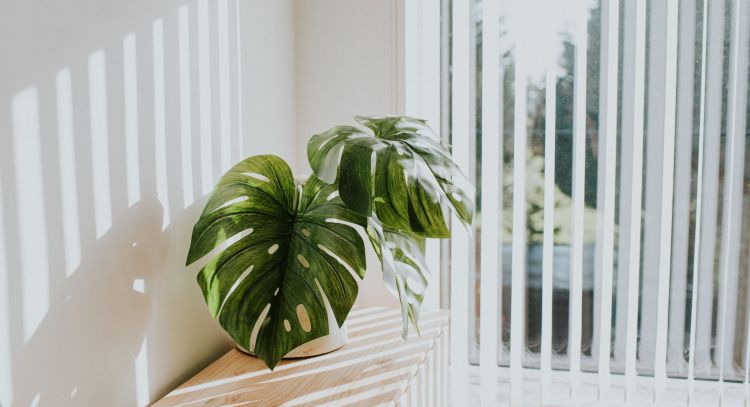 So that certain corners are not left soulless, it is important to have beautiful plants such as monstera. Its large leaves make a corner acquire greater prominence.
7 On mini wooden shelves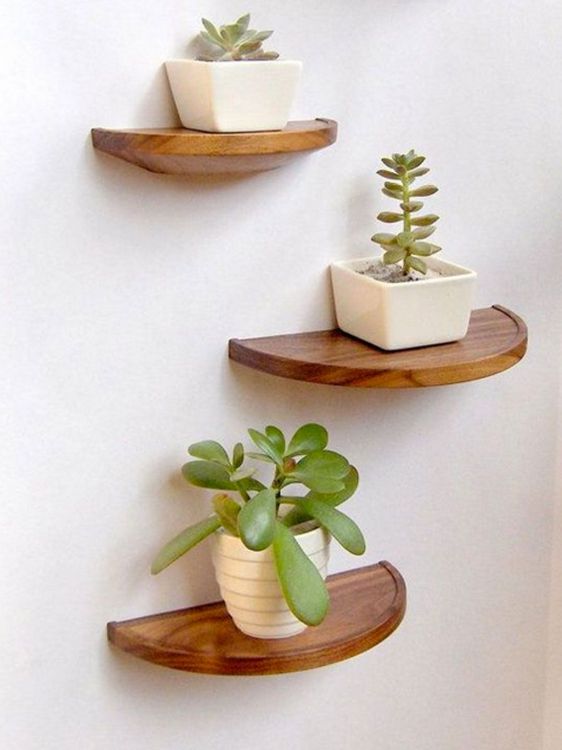 These shelves can be used to put small plants, such as succulents. In this way, the wall is not bare and we offer a more careful image in the home.
8 DIY Containers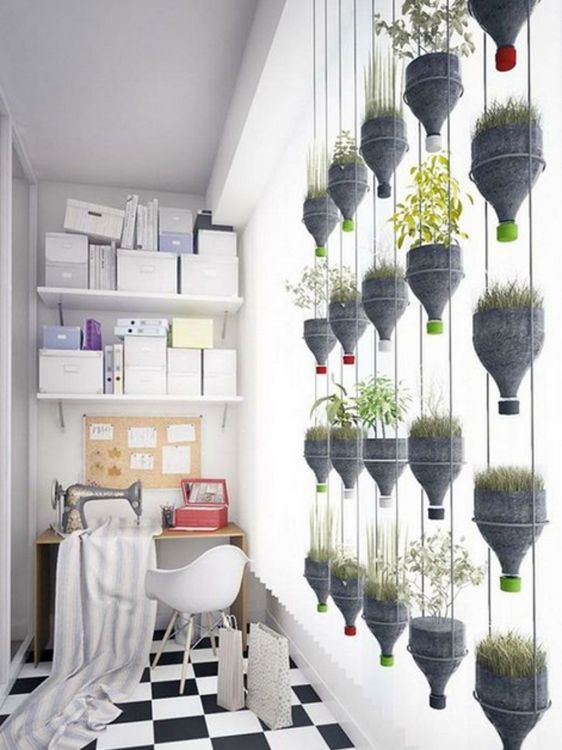 With plastic bottles cut and hung in front of the window. A different way of decorating while carrying out an ecological action: recycling.
9 Mix of sizes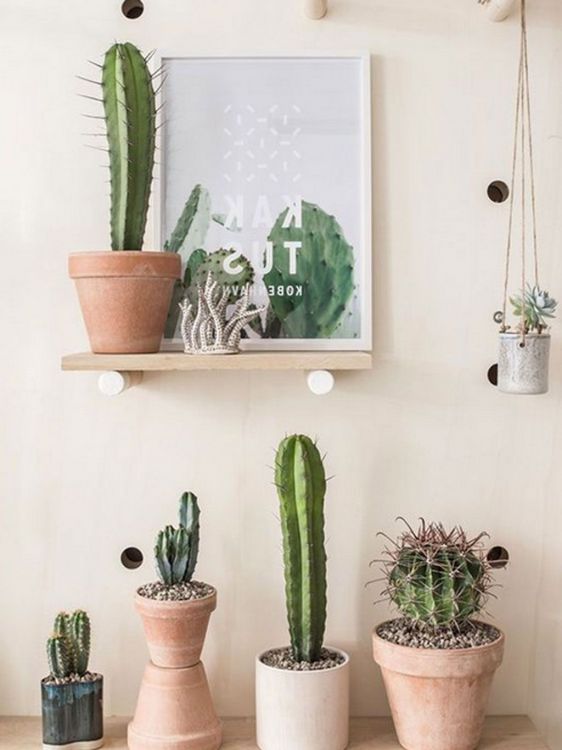 Cacti are the perfect allies for interiors. They adapt perfectly to any surface or furniture and also contribute positively to creating sophisticated designs. These have been placed consecutively, as if they were small trophies.
10 Hanging plants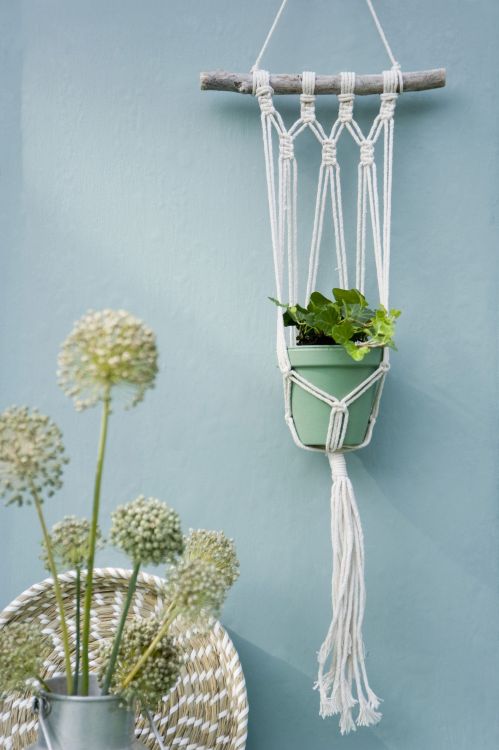 When it comes to decorating the interiors, you can use plants hanging from the ceiling that energize the image of the interiors. Another way to embellish rooms such as the living room or kitchen.
11 Large plants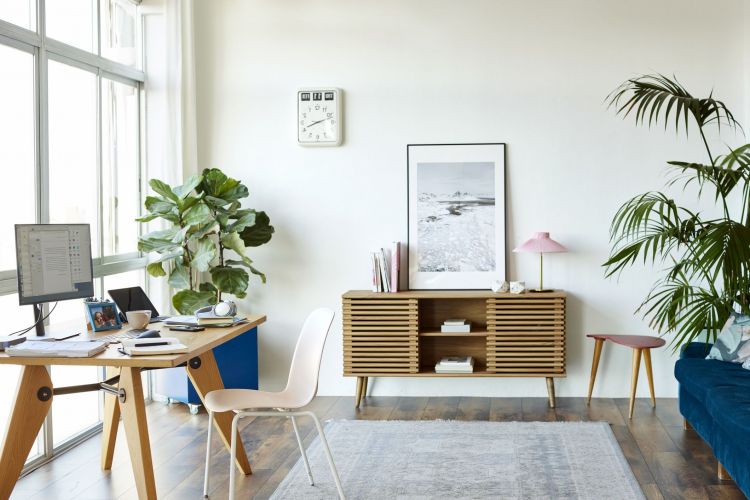 To decorate some parts of the house, nothing better than large indoor plants that help set the mood and get a certain prominence along with the rest of the furniture.
12 Vertical garden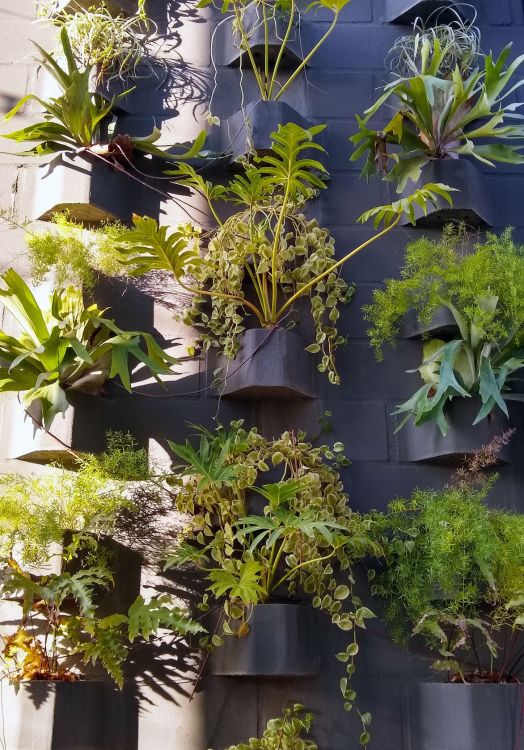 A vertical garden is a good solution for the exterior of the house. On a porch or terrace it can look great; even a more naturalistic and wild feeling is created.